This is part of the Eastern Great Plains Spring Break 2012 Road Trip series.
Greetings, and welcome to Day 6, Wednesday 4 April 2012, of my Spring Break 2020 Road Trip. Day 6 of the trip takes place in southwestern Minnesota and eastern South Dakota, a day after a friend and I traveled there northward from Omaha before getting some pictures in the locations that we would visit on this day, too.
This day was very memorable, as it involved plenty of chasing and photographing trains in a segment of what had recently been – and, critically, very much still looked like – the Dakota, Minnesota & Eastern Railroad, which itself is important to me because, even in 2012, it looked very much like a railroad of 20 years before, hence the reason that we came this far to see, experience, and photograph it.
Due to the gigantic quantity of images made on this day, I have split the set of pictures into four parts, presented chronologically. Click on the "Part" descriptors at left below to open the respective pages.
We start at Brookings, South Dakota, at dawn, work our way west, intercept a much-hoped-for eastbound train – with solid blue-and-yellow DM&E-IC&E Spartan-cab power – coming out of Huron, and set up at Cavour, where we had a couple of weird encounters with some local people who stopped to inquire about what we were doing, for some good first shots of it.
We continued chasing our train from Part 1, Canadian Pacific Railway train 276 with solid old-school locomotives east from Cavour, South Dakota, all the way to Lake Benton, Minnesota, where we intercepted its counterpart train, the 277, also with solid blue-and-yellow Spartan-cab locomotives and begin to chase it westward.
We get some final images of the 276 at Lake Benton before catching up with the 277 and chasing and photographing it westward.
We chase the 277 farther, from Manchester to Huron, where we photograph some other railroad scenes before heading back southward, stopping in Mitchell to view the Corn Palace and associated attractions.
It was an appropriate day for what is essentially the climax of the trip.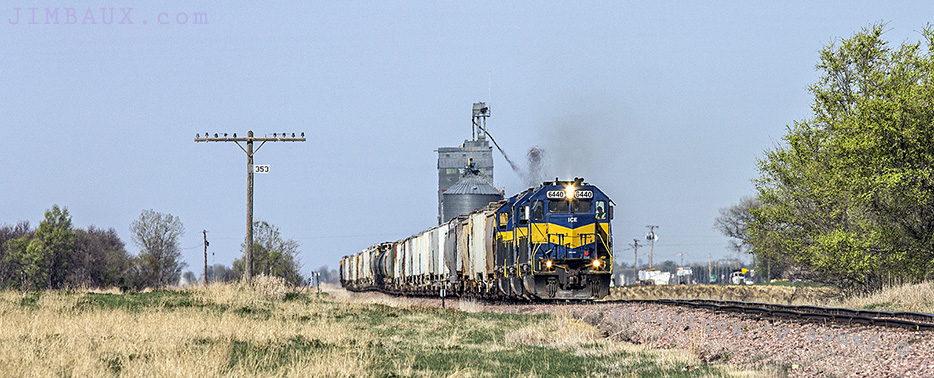 Thanks for checking them out!
Jim