This is part of the Eastern Great Plains Spring Break 2012 Road Trip series.
Greetings, and welcome to Part 4, the final part, of Day 6 of Jimbaux's Spring Break 2012 Road Trip, the last of many, many pictures made on Wednesday 4 April 2012.  Part 1 started with us in Brookings, South Dakota, and heading our way west until we found a great eastbound train in great lighting at Cavour, South Dakota, and chased it eastward.  Part 2 continued from there with this train all the way to Lake Benton, Minnesota after and where we had caught a westbound train.  Part 3 started with that westbound train in Lake Benton and ended with the same train at Manchester, South Dakota.
That's where and when Part 4 starts. Here is Canadian Pacific Railway train 277 westbound, with two Iowa, Chicago & Eastern locomotives, the second of which I saw and photographed last summer in Maryland and saw when I first came here in 2008 as the third locomotive on the first DM&E train that I photographed, pulling the train.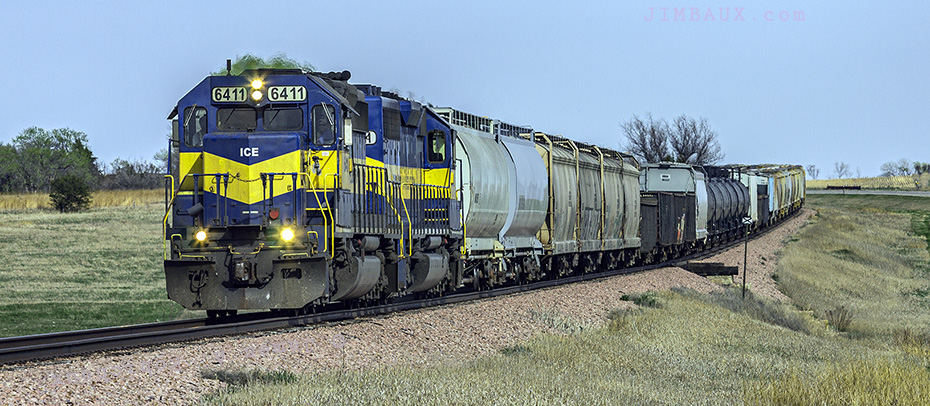 I like this plenty, and it's very much a Great Plains scene. This is not an Alabama or even a California landscape.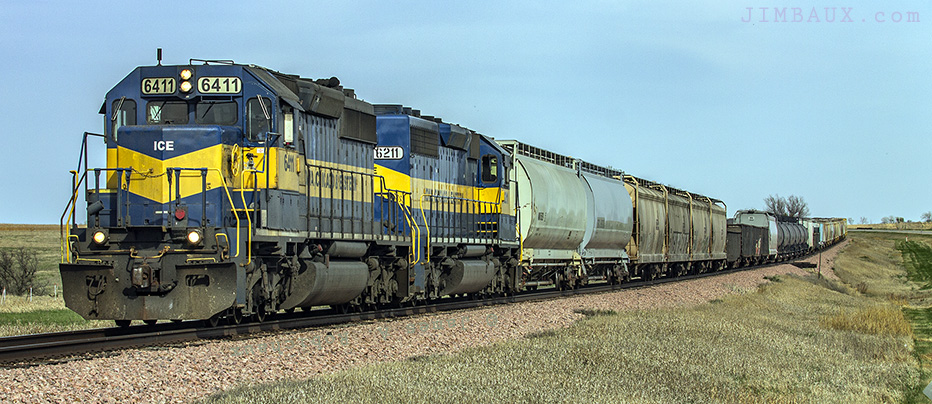 The crossing seen in the distance in the below image is where we shot the 276 coming through Manchester this morning, as seen in Part 2.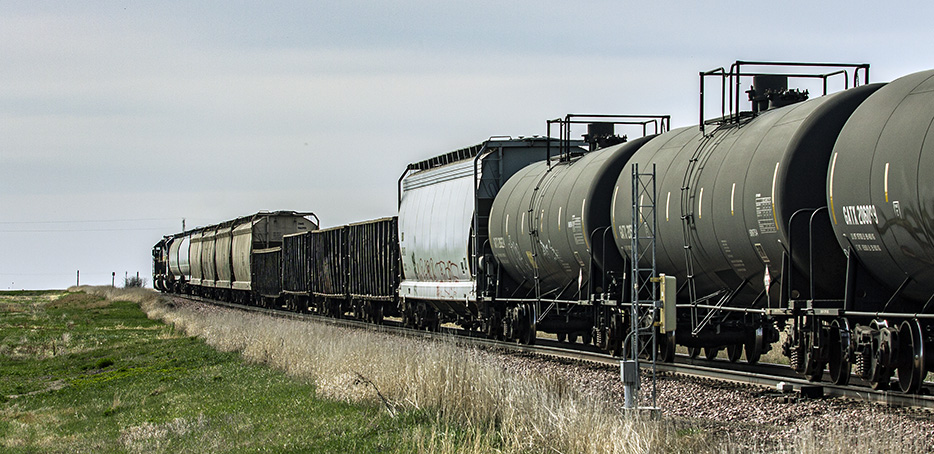 Also, check out the reader there. I wonder when it was installed.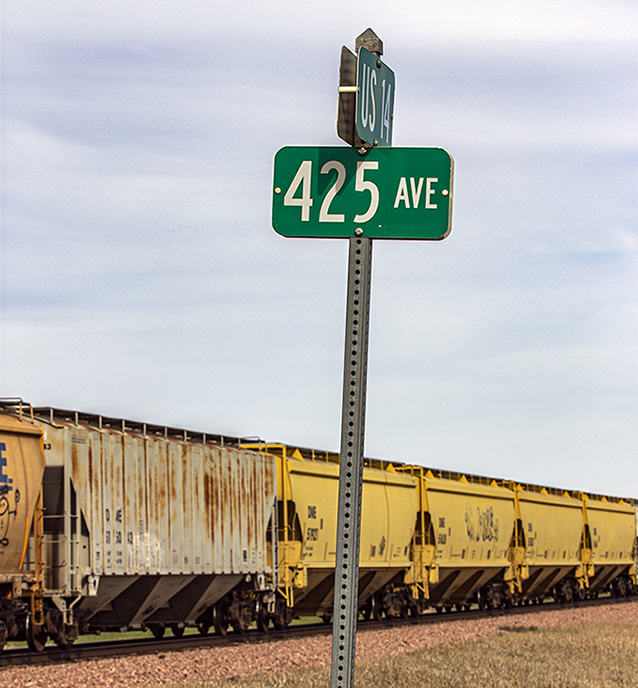 I like the orange DME hopper cars.

Let's make our final looks at Manchester.

Oh, no, look at that truck at the crossing!

Well, it got out of the way in time, but barely.

Next, we are at Iroquois, and the lighting is getting bad.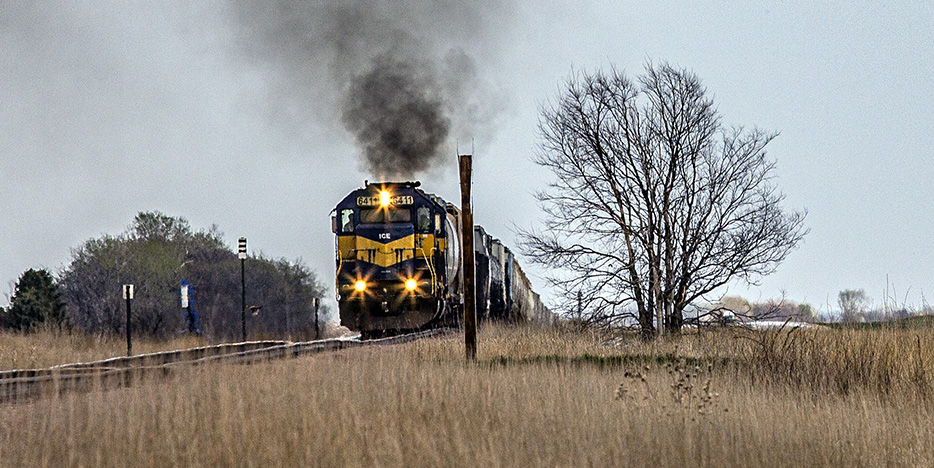 We are 344 railroad miles from Winona, Minnesota!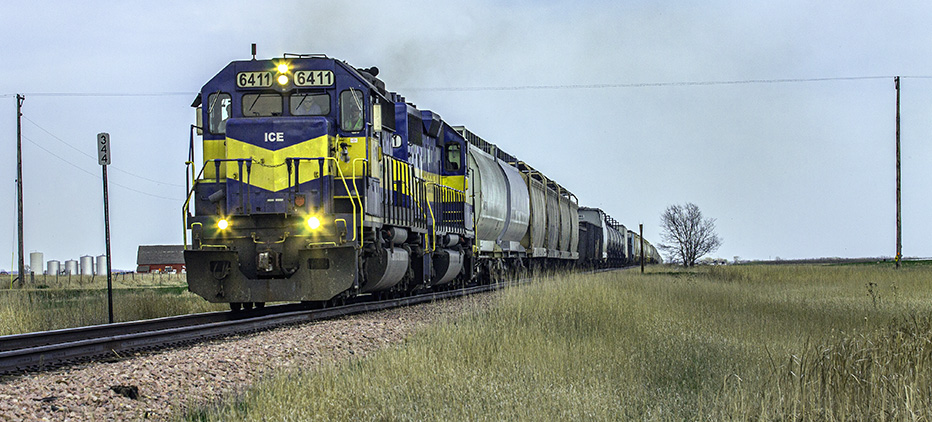 Now, does this look familiar?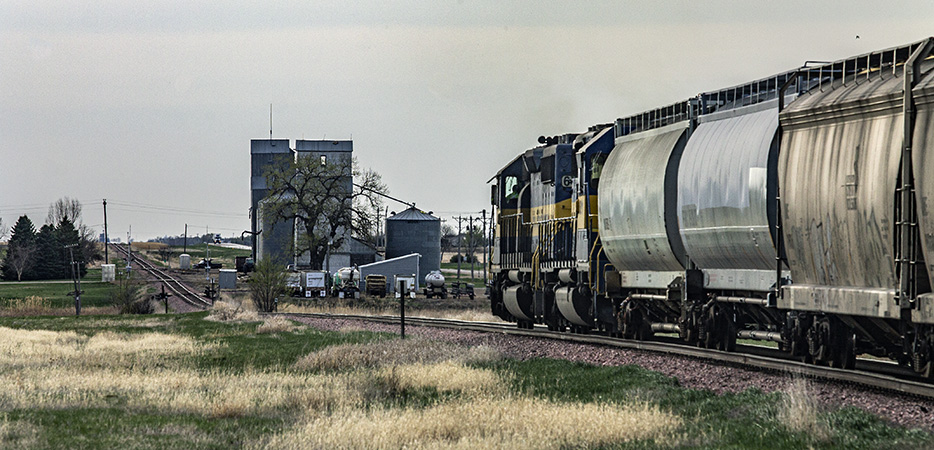 You can even (barely) see the Cavour elevator, which you saw in Part 1, in the far distance.
We went to Huron, the location of the terminal.

Wow, look at all that lease power! I am so glad that we didn't see any of it out on the line, except for that CITX 3089, which we saw this morning in Lake Preston. That it is here after we saw it in Lake Preston this morning suggests that that train was some kind of westbound train and that we were right to – perhaps because we may have known that it was a westbound train – blow past it as if it wasn't there.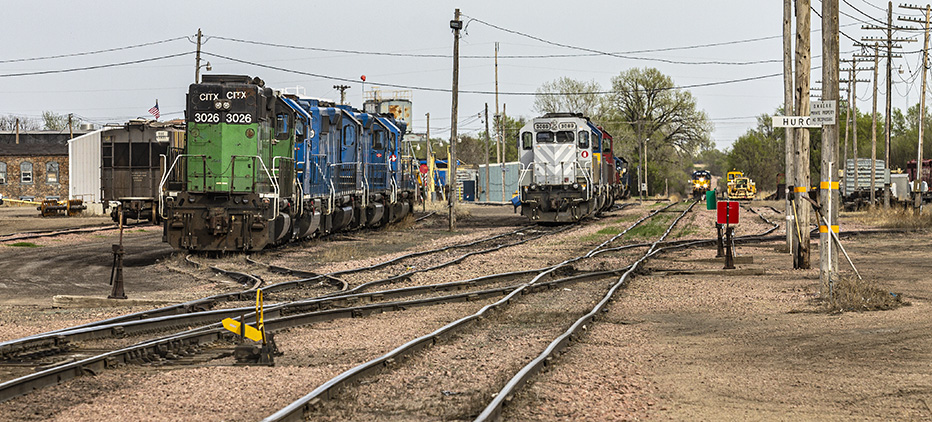 Hey, see those headlights on a blue-and-yellow locomotive? Is that our train?

Well, it looks like it's not.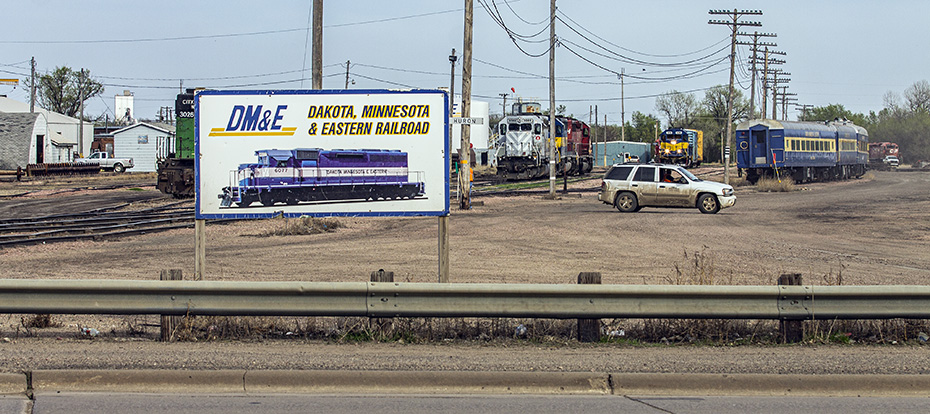 It looks like some local train or switch job, as it has two cars and one locomotive.

There is what looks like a building-materials supplier east of town, and I am guessing that that is where this job, at least the empty centerbeam flatcar, had just left.

Oh, and, look, we're back in jointed-rail land!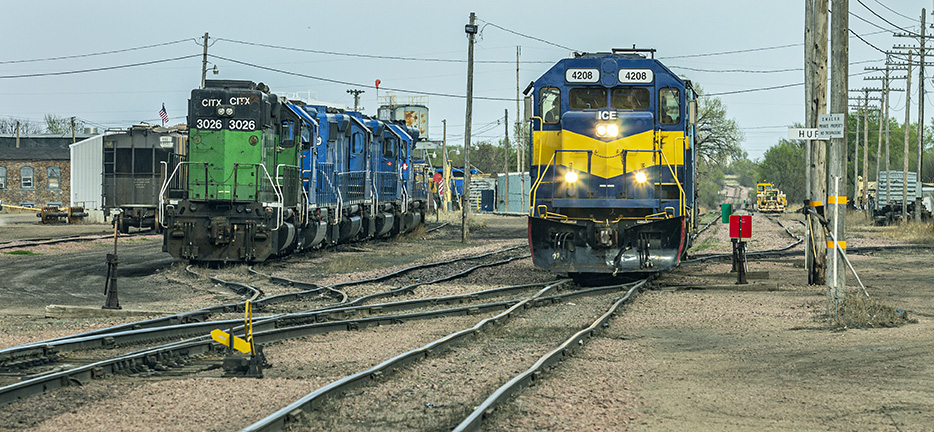 Let's turn around and look west for a moment.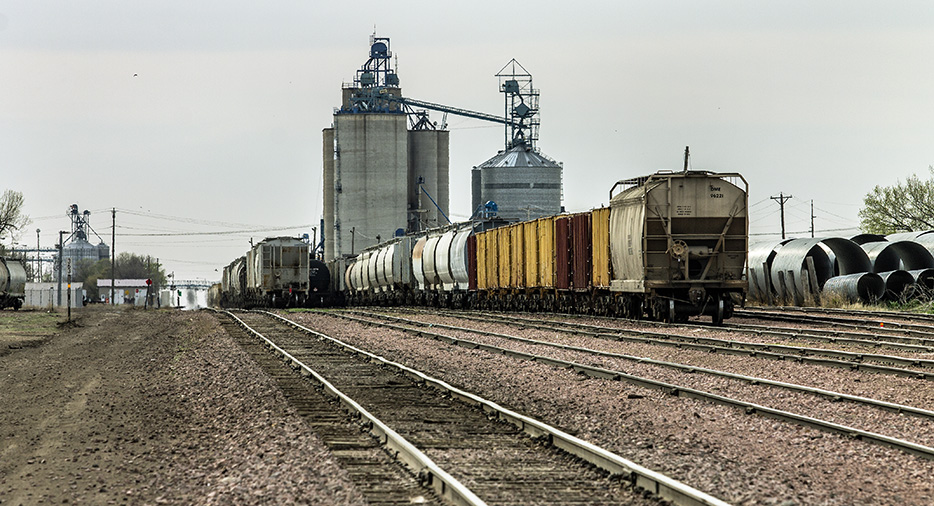 That's the real yard. What we see on the eastern side, where our little switch job is working, is the locomotive and car-service area.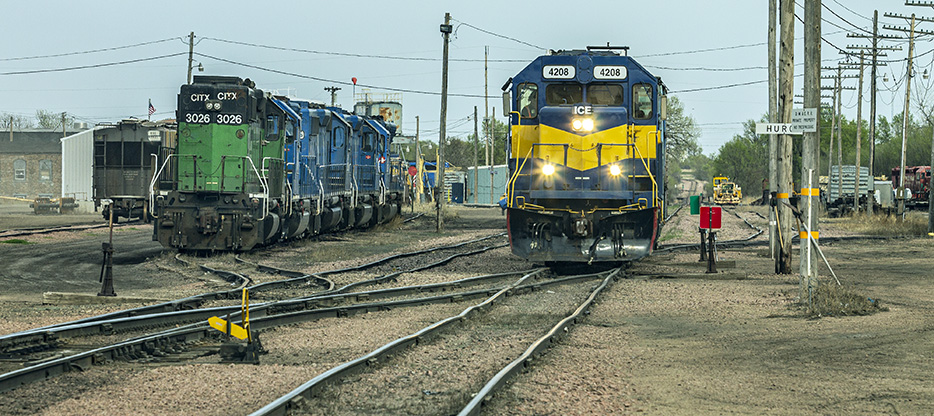 The crew has dropped the centerbeam flatcar but not the boxcar.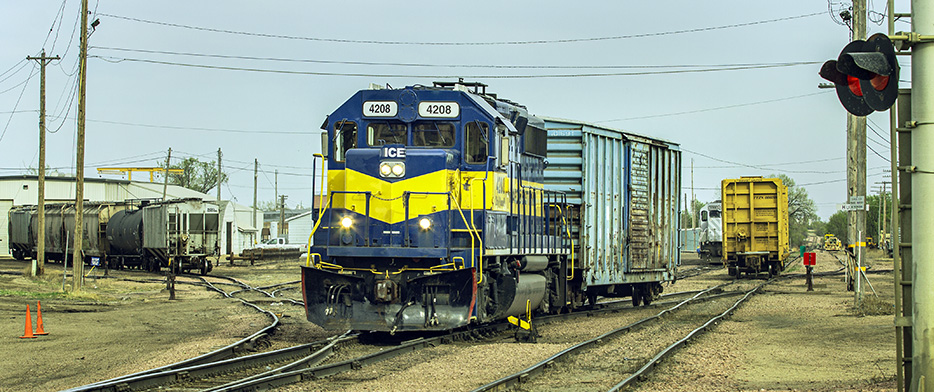 I wonder what this locomotive's pedigree is.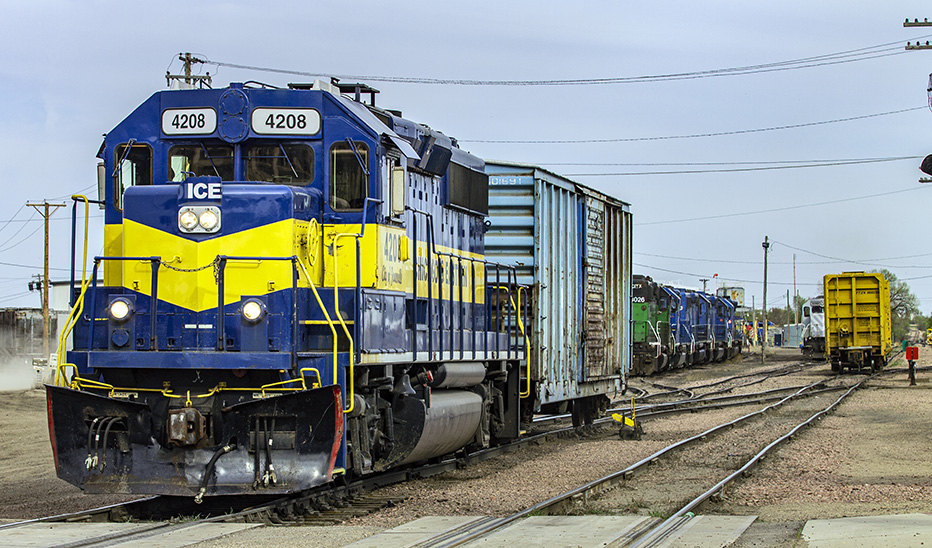 I remember this place being a bit dusty.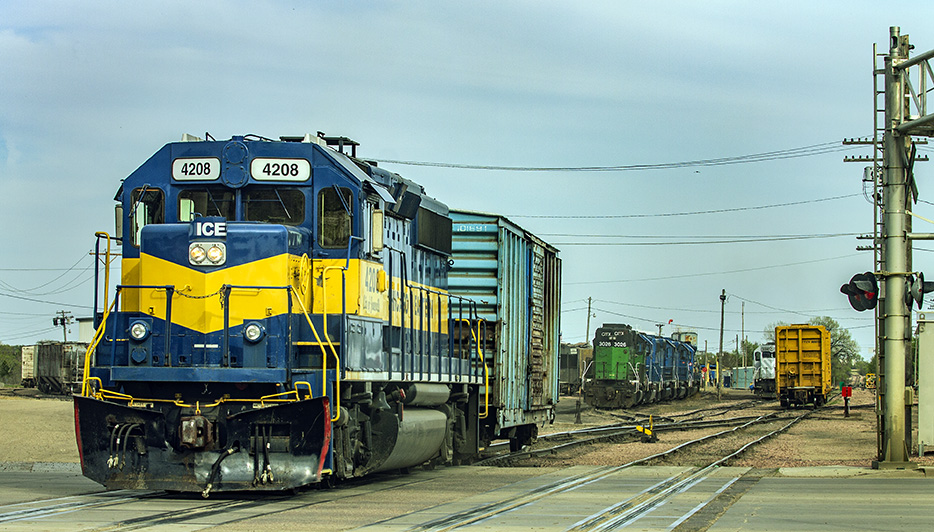 They're now setting out the boxcar.
That sign is not there anymore. I'm surprised that it was still there at even this point.

There are some RCPE signs there now.

What's this, a black trainman in the middle of South Dakota? How did that happen?
This is a four-axle locomotive.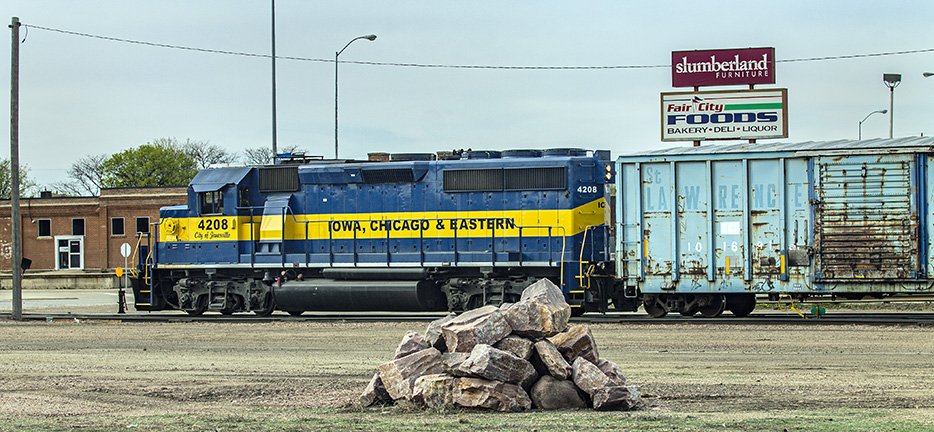 Boxcars are rare here, even compared to the rest of the North American railroad system in 2012. I don't think that we have seen one before this one today.

I like this view of this locomotive that I like.

This view with the storefront in the background intrigued me.
Again, I like how we can see clearly under the locomotive.

I like the story of this railroad.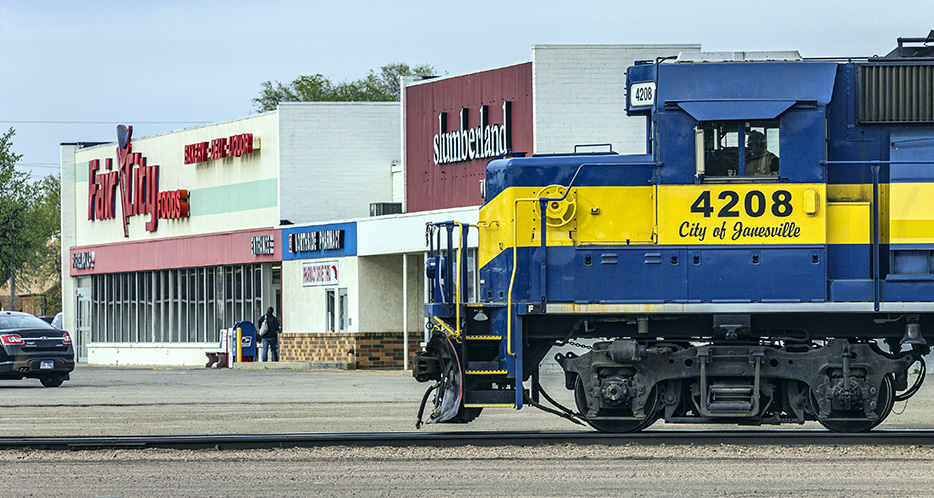 Let's get one last shot before we leave Huron.

At my friend's behest, we broke away from the DM&E and went southward instead of following the DM&E back to I-29.
We went to Mitchell, as my friend wanted to see and to show me this Corn Palace, which he thought was stupid!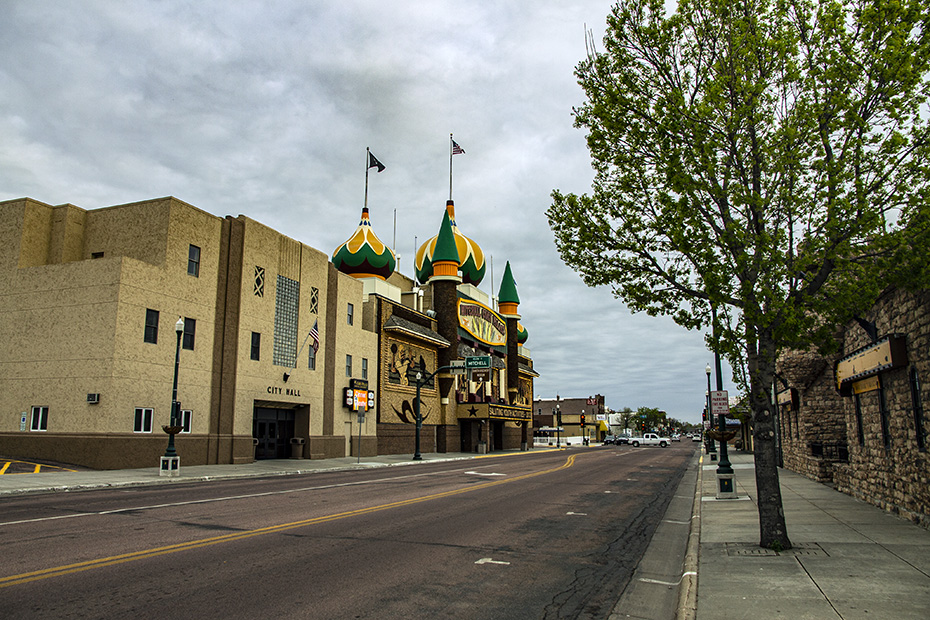 Yes, it's a facility with a corn façade in this corny region.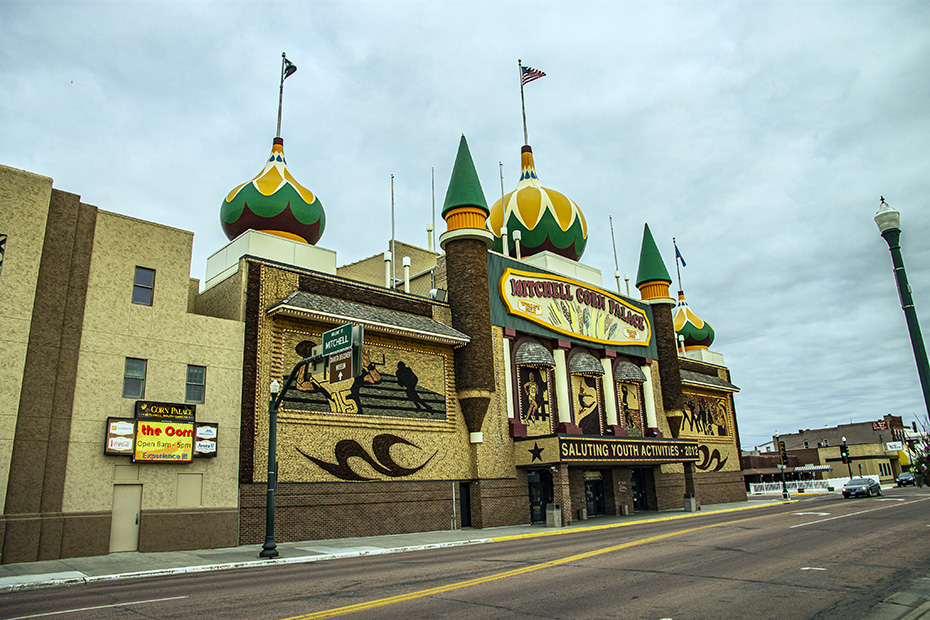 It's weird.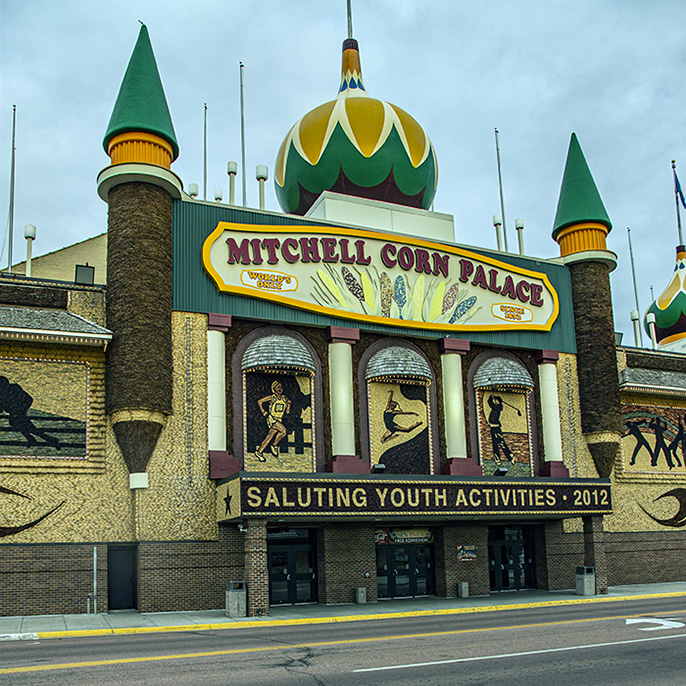 I don't know what to think.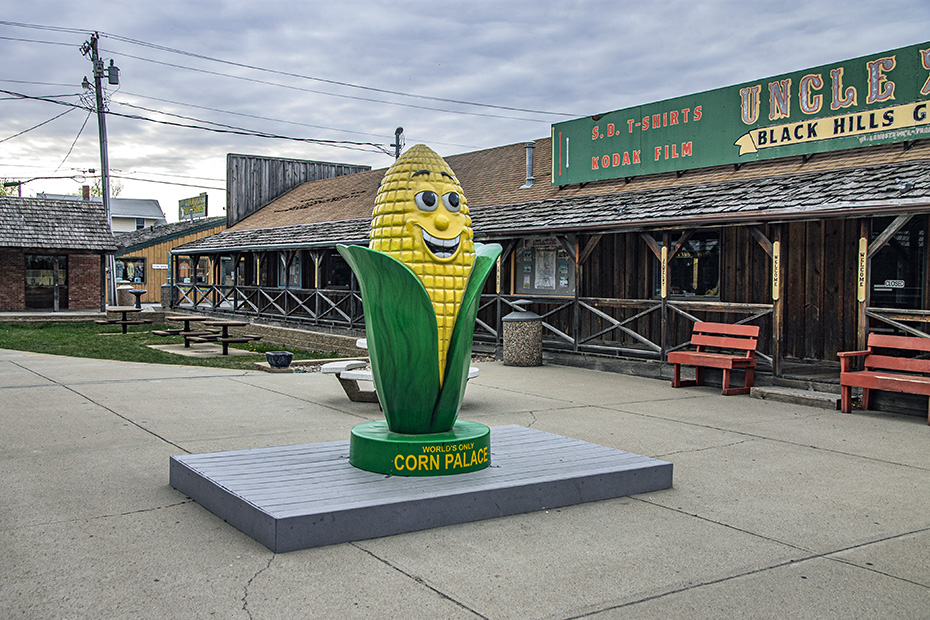 Let's get a closer look.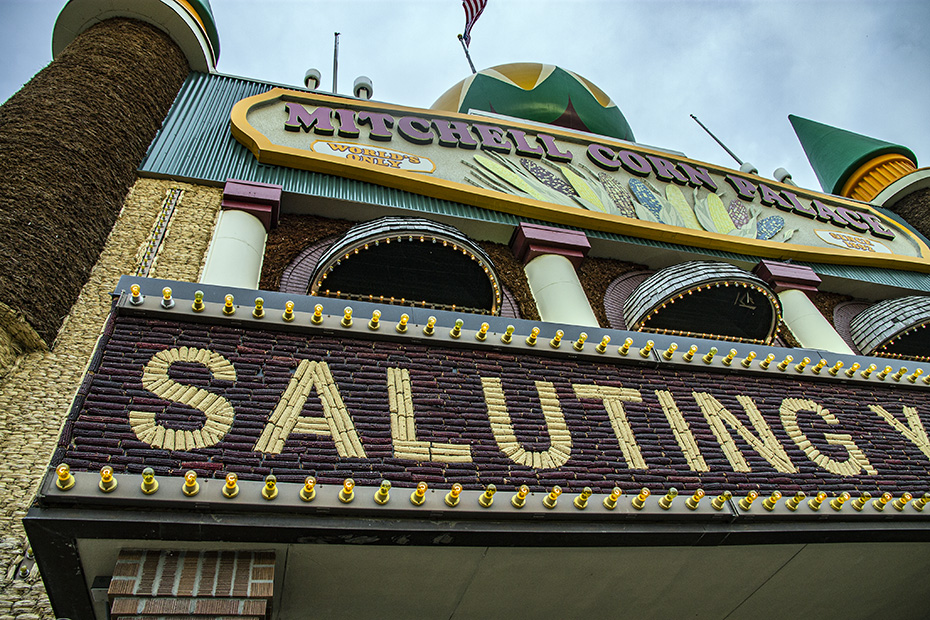 This strikes me as a fire hazard.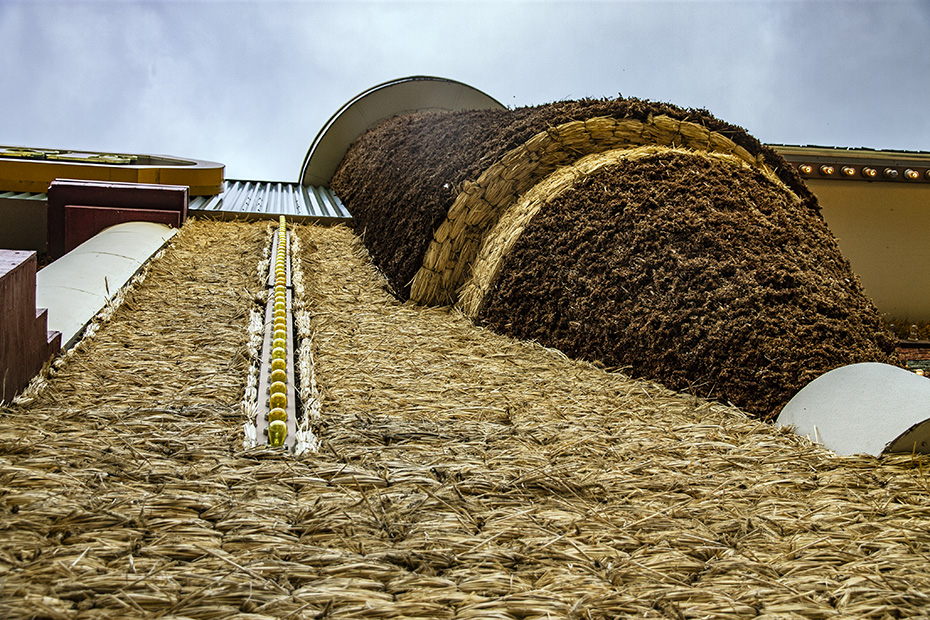 There has to be some explanation for how it is safe.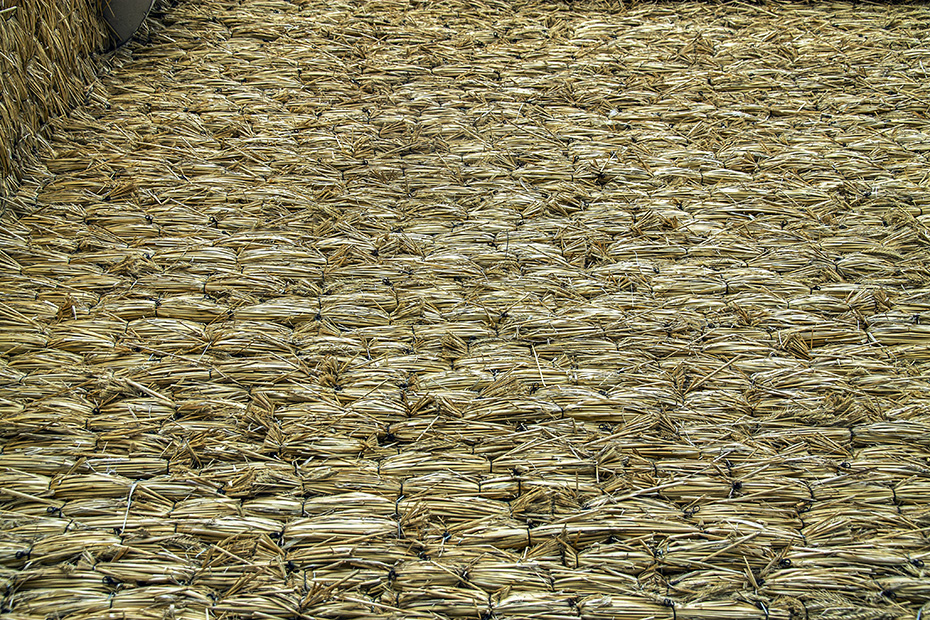 This is Mitchell.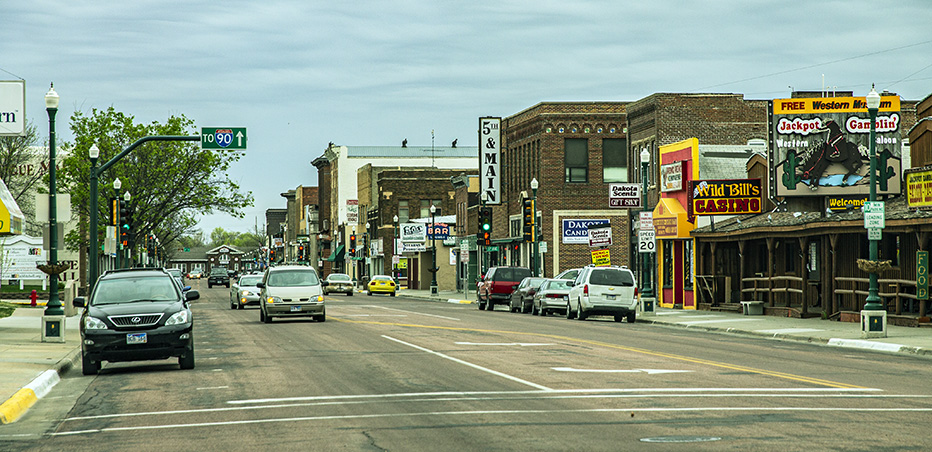 Next, my friend raised his middle finger to the Corn Palace, and I got some memorable pictures of it, but, of course, I shalln't publish them.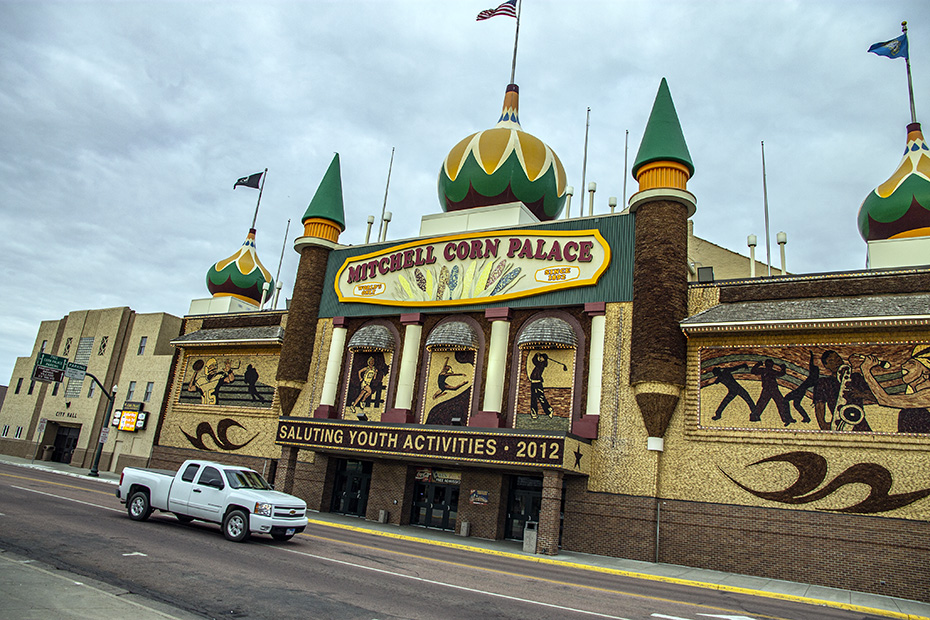 This is a weird way to end the day, given what we actually did today.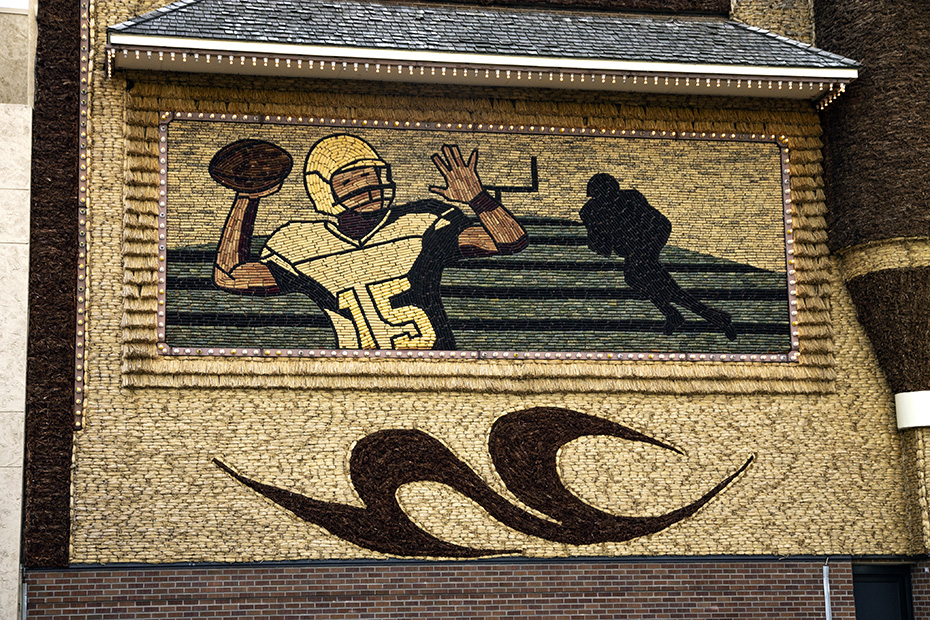 Then, we went to Rotary Park.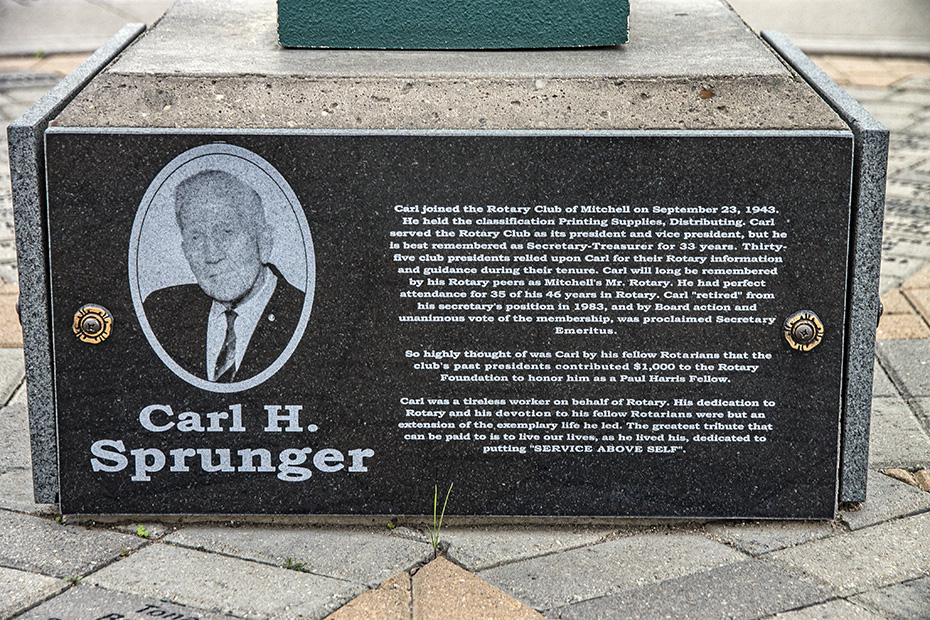 What does this mean?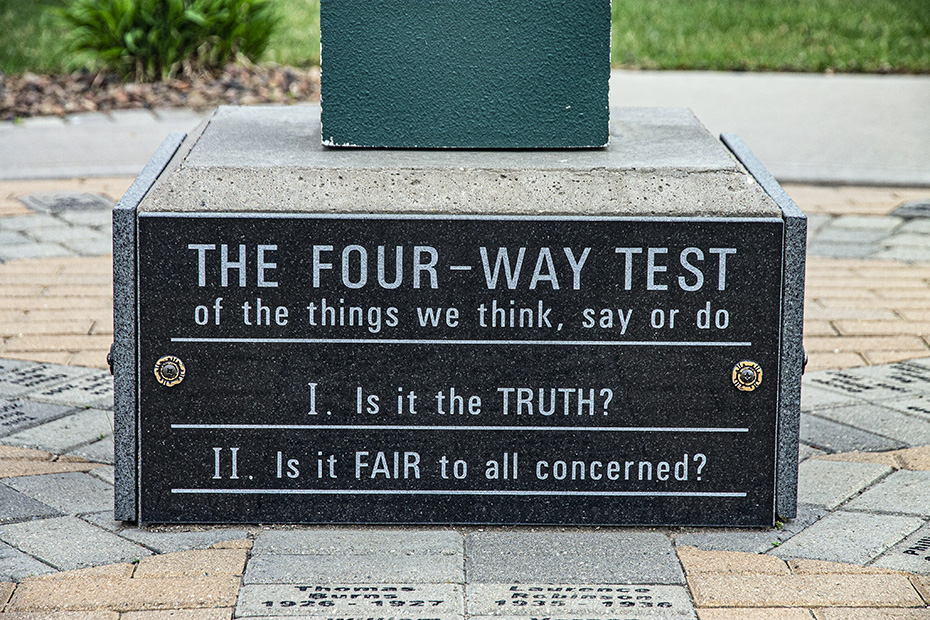 I am intrigued, and it makes sense, but what is the story behind it?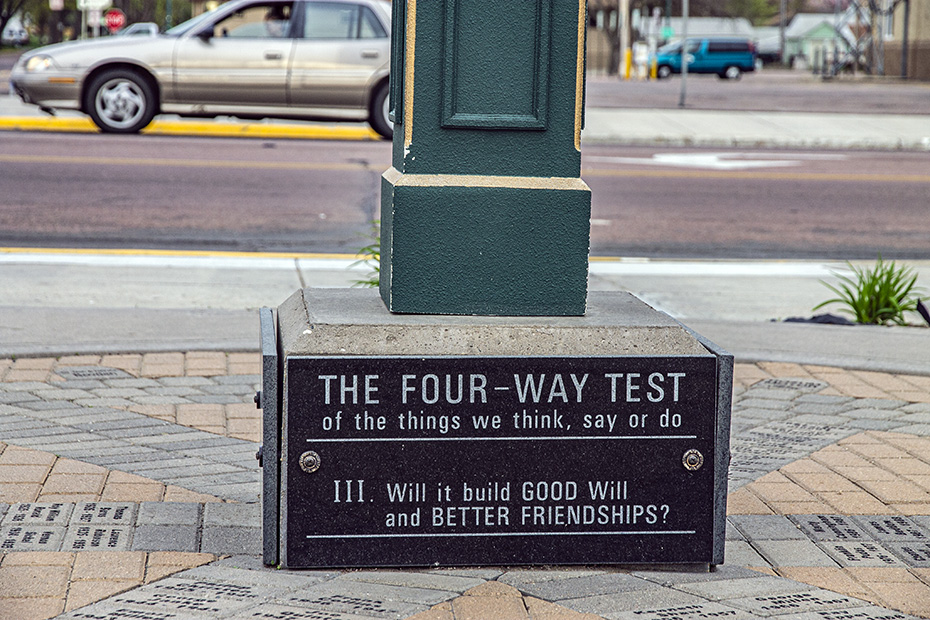 Let's get one more shot before we leave.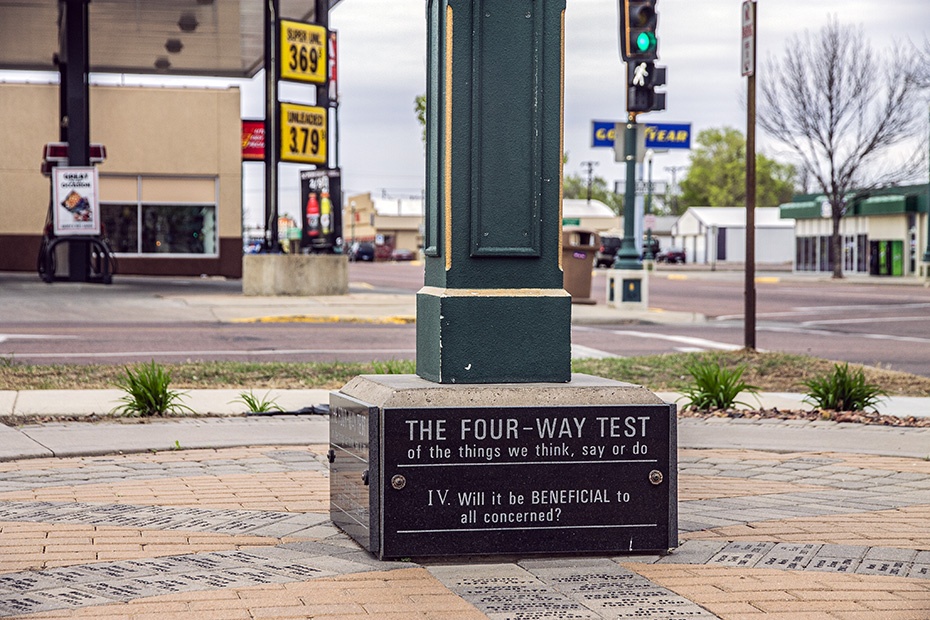 I have no memory of anything that happened after this last picture until we returned to Omaha (or even anything that happened once we returned to Omaha.) I presume that we went east on I-90 to catch I-29 at Sioux Falls. Actually, the only way that I know that we even returned to Omaha at all is that that's where my pictures the next day start – well, that plus the fact that we wouldn't have stayed in a hotel in South Dakota or Minnesota just to be in Omaha by late morning the next day.
Anyway, this was a wonderful day and a wonderful experience, as I felt like I got to, for once, or, maybe more than once, since I came through this area in the summer of 2008 and got similar images, get a glimpse of – and an experience chasing and photographing – the Spartan-Cab-led trains of what remains of the granger railroads about which I read when I was a child.
I hope that you have enjoyed Day 6 of my Spring Break 2012 Road Trip, I hope that you read and enjoy the essays of the subsequent days of the trip, I invite any commentary, and I thank you for reading all of this.
Merci.
Jim