This is part of the Eastern Great Plains Spring Break 2012 Road Trip series.
Greetings, and welcome to Part 2 of Day 6 of Jimbaux's 2012 Spring Break Road Trip, 4 April 2012.  In Part 1, we started at Brookings, South Dakota, and headed west, almost to Huron, until we intercepted an eastbound Canadian Pacific Railway train – train 276 – with a solid set of locomotives still wearing full Iowa, Chicago & Eastern Railroad paint on this former Dakota, Minnesota & Eastern Railroad line and photographed it first at Cavour.
That is where we are starting Part 2, as we continue watching the 276 pass 410th Avenue east of Cavour.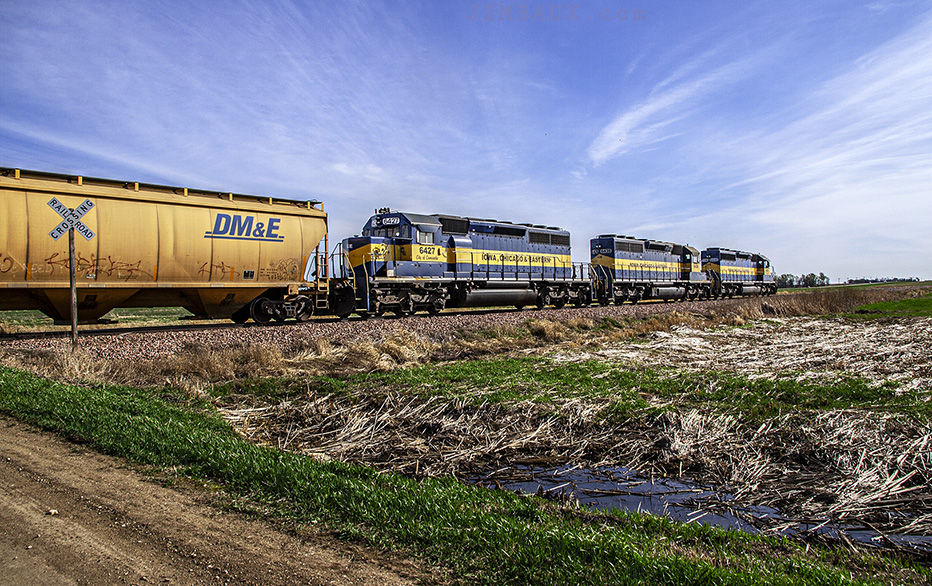 I like that DM&E hopper car, and I like that it's the first car on the train!

I don't recall noticing this "Hill and Griffith Co." labeling on this hopper car.
Also, there are more DM&E hopper cars on the rear of the train, but it's too bad that they are badly tagged.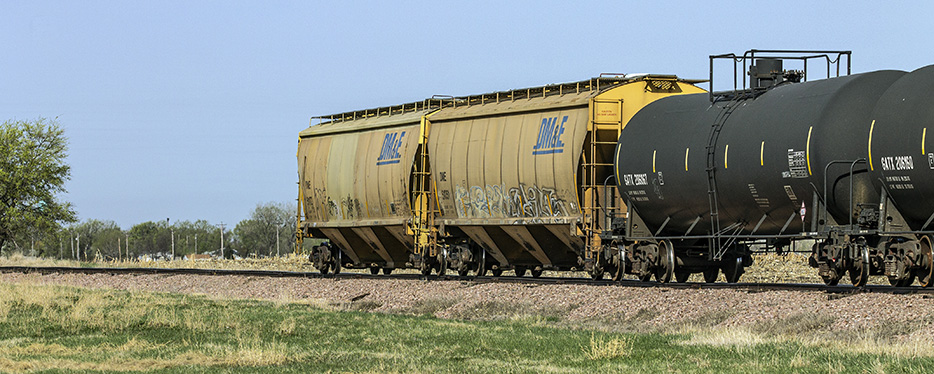 There goes the train.

Just two minutes later, some eastbound Maintenance Of Way equipment follows the train past us.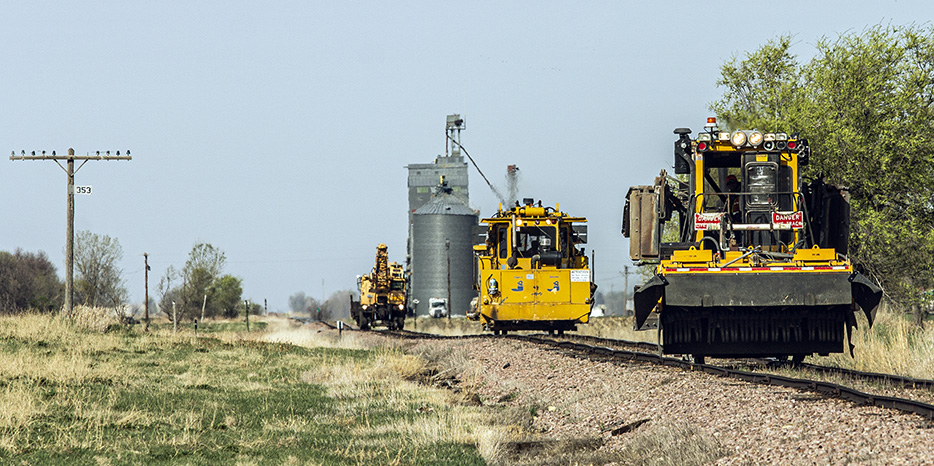 Well, that's interesting.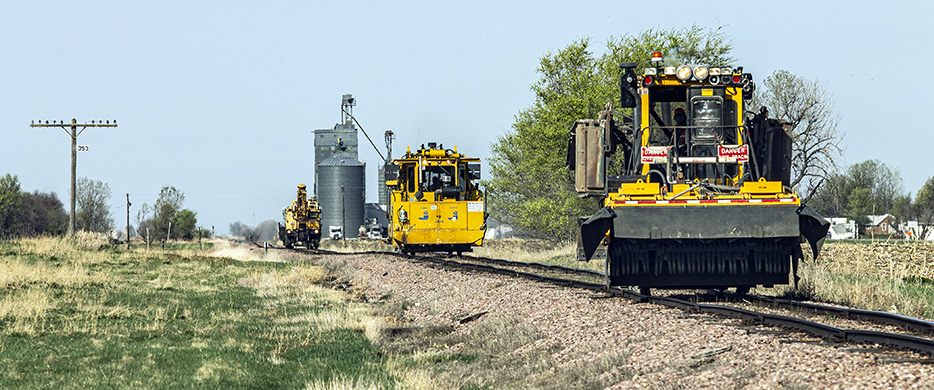 Next, we are at Iroquois, the next town to the east.

I guess that that dip in the track is cool.

Here is the train!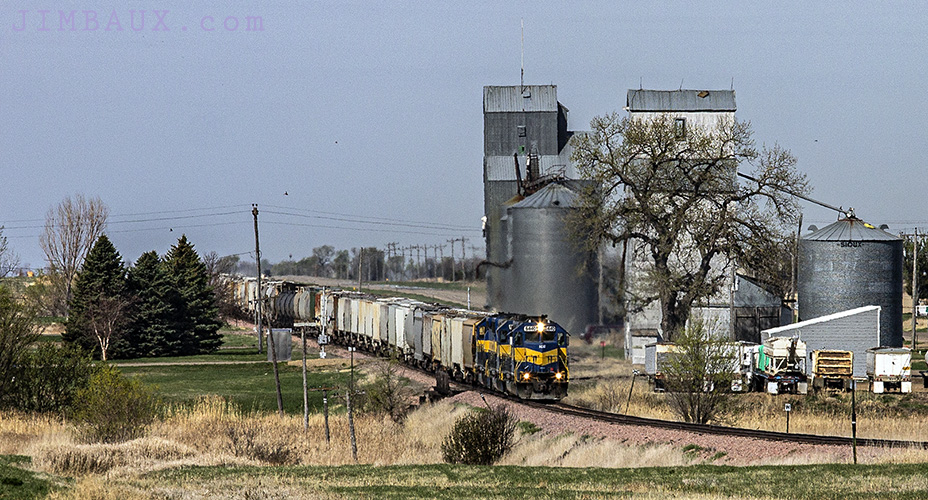 I'm being repetitive again, but I think that it makes a difference whether the lead locomotive is in front of the elevator or in front of the tree.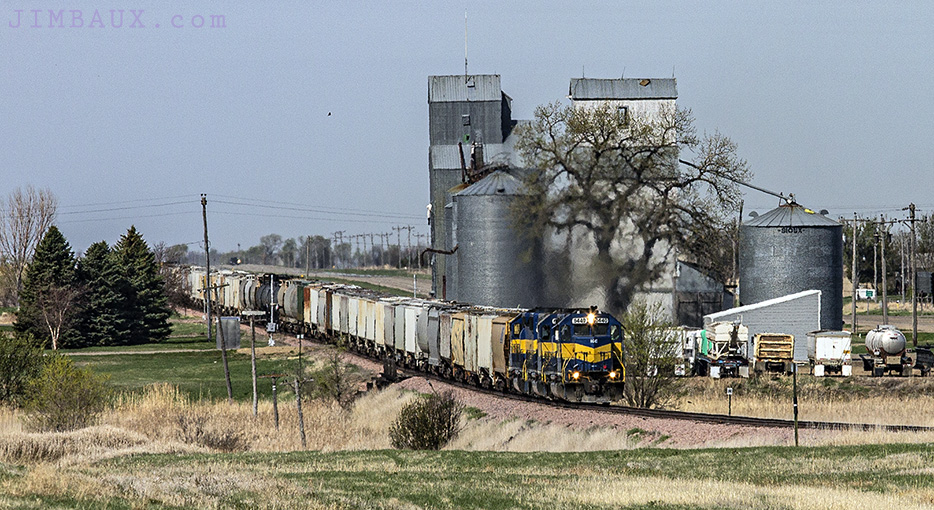 Now, we are dealing with the problem of a merging horizon.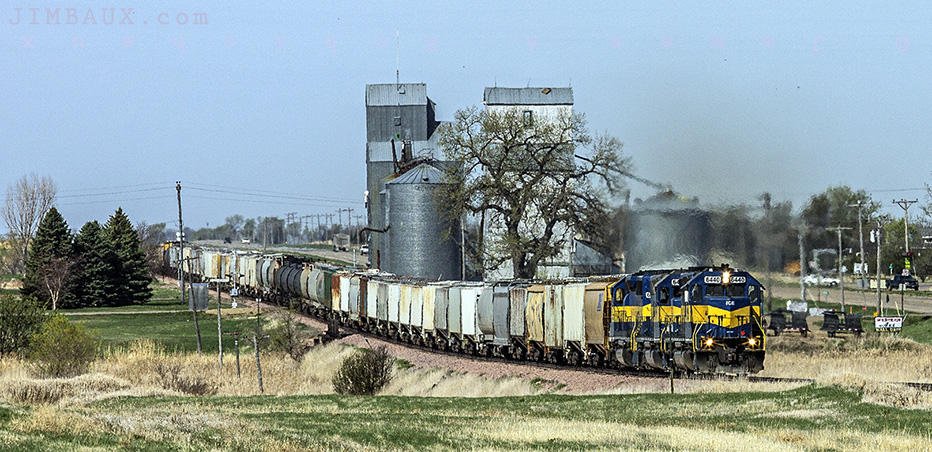 Still, this is pretty cool and, like with the Cavour shot, what I came here, so far from home, to get.

Here are a couple of wider views as the train crosses US Highway 14.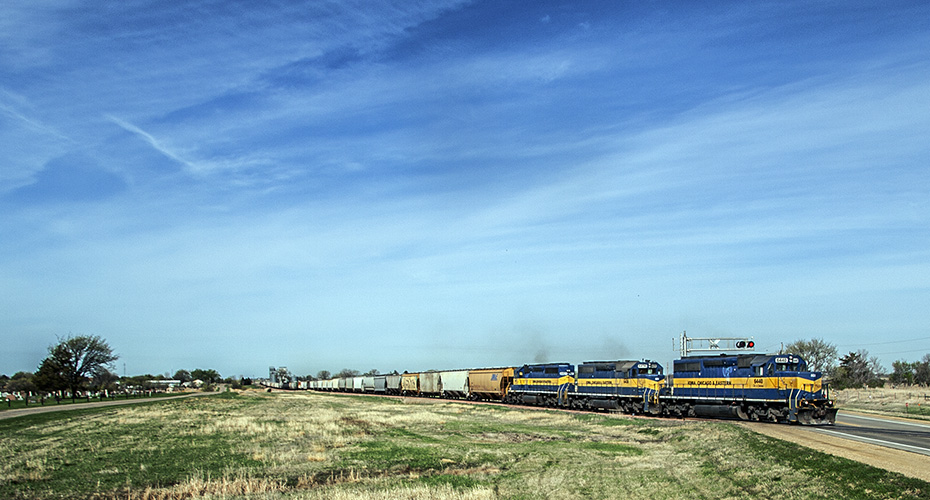 Speaking of home, and speaking of a Highway 14, I'd learn later this year that I would lose my home.

By the time the train was east of Iroquois, it was picking up speed, with the jointed-rail track past the last car, as we see it approaching now with a bit of speed at Manchester.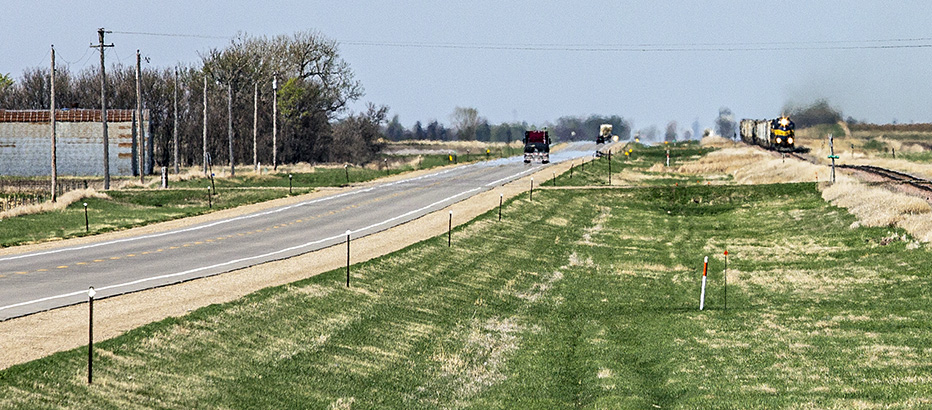 Something is happening here.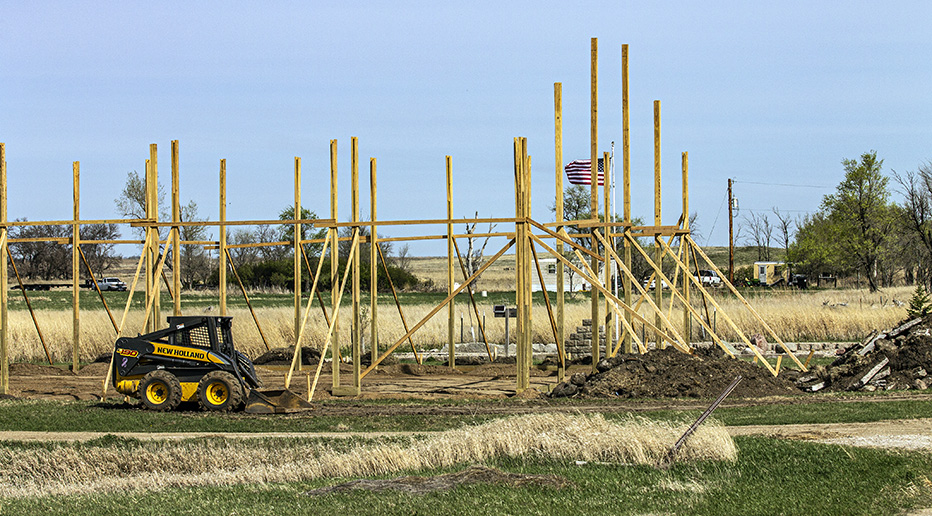 I'll rate these Manchester views as better than the Iroquois views and not as good as the Cavour views.

This, too, is what I came here, so far from home, to do.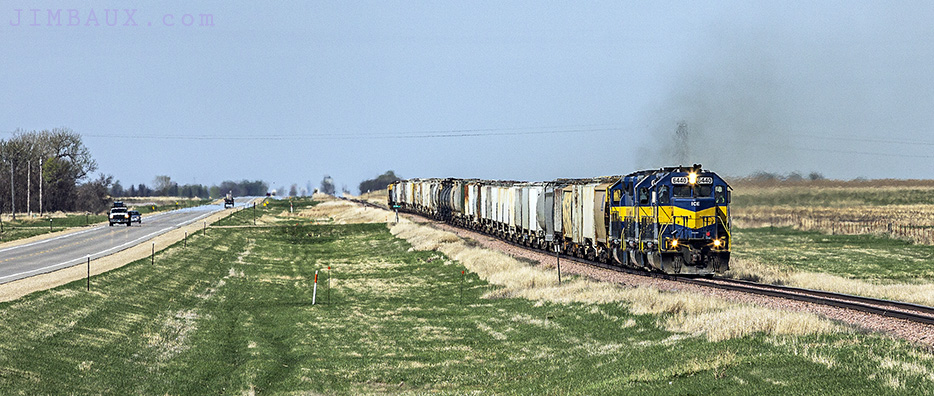 This helped cleanse some of the shame of the previous two years.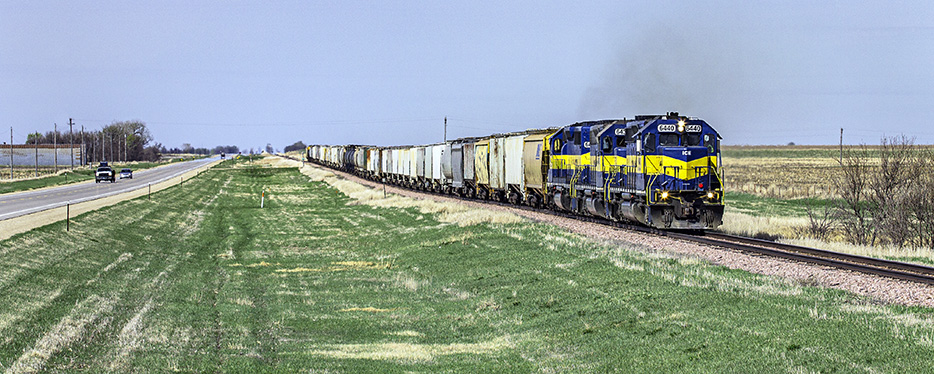 I like the 'clean' nature of this image.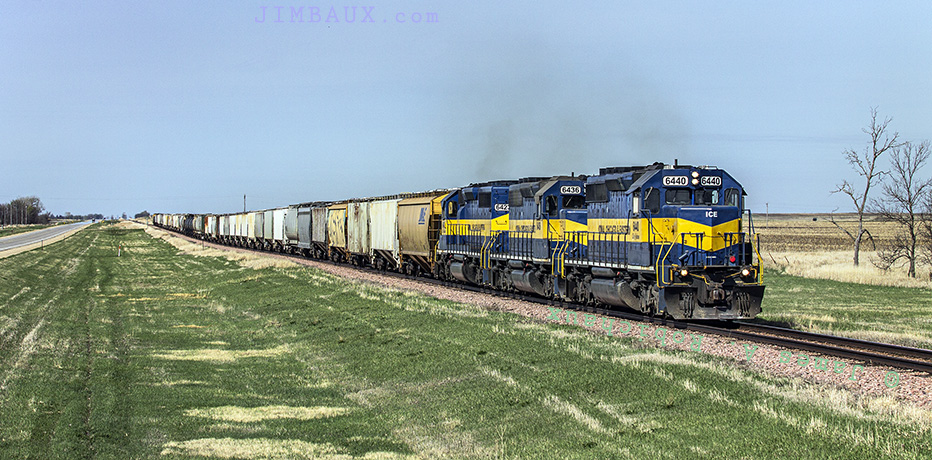 Next, 51 minutes later, we are at De Smet. I am not sure what the reason for the delay is, as this is only 10 miles to the east of the last image at Manchester.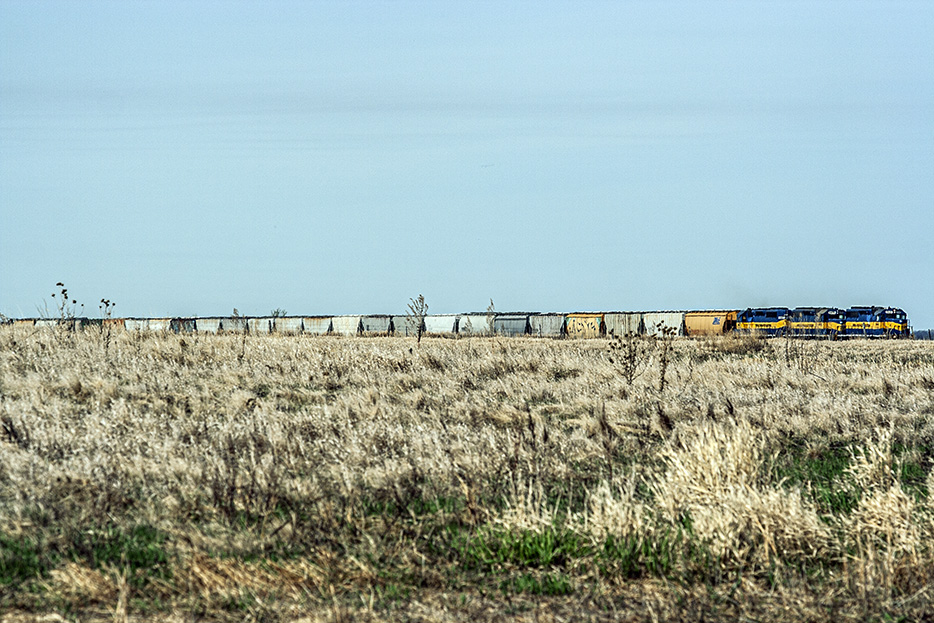 What I can say is that I really like the broadside views here, and it was the perfect time of day for such views.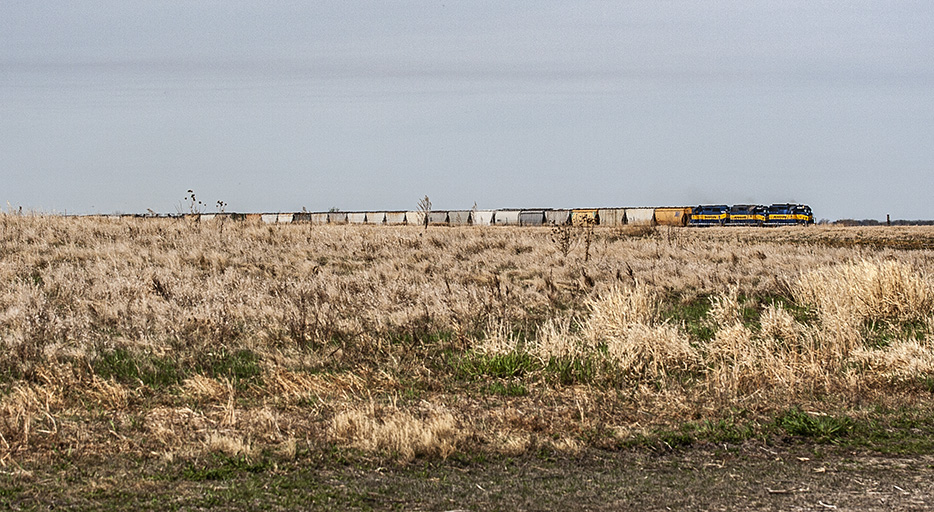 It gets better. Just wait!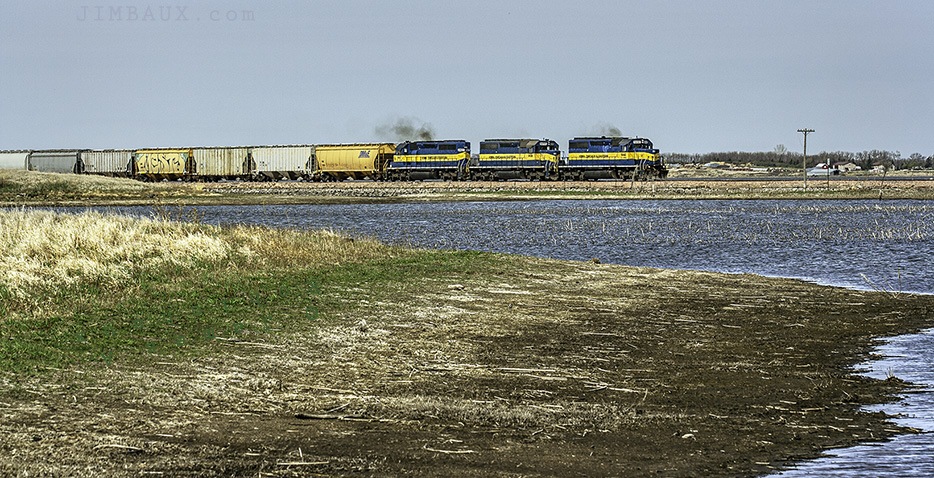 It's getting better!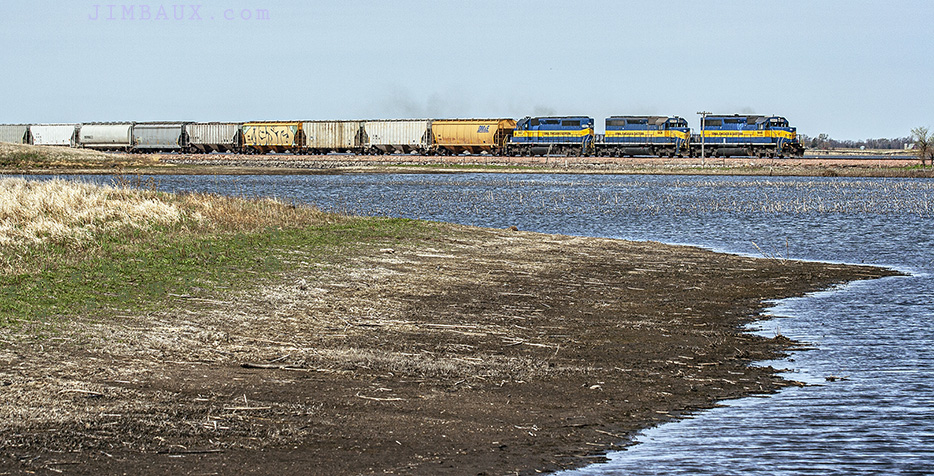 Yes, sir or ma'am, I like it.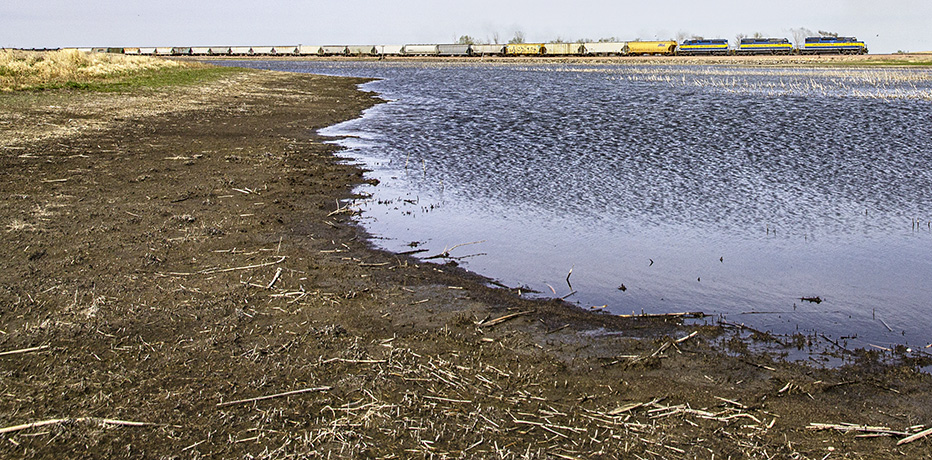 It gets better!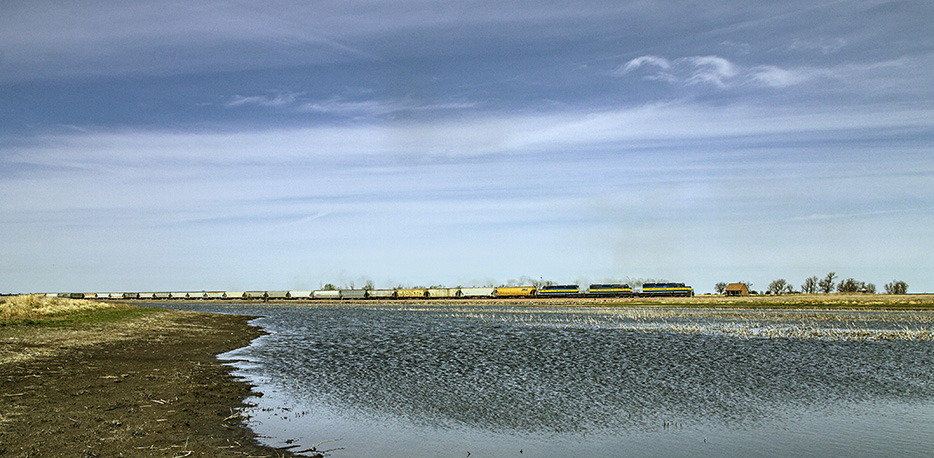 Broadside shots are great, I think.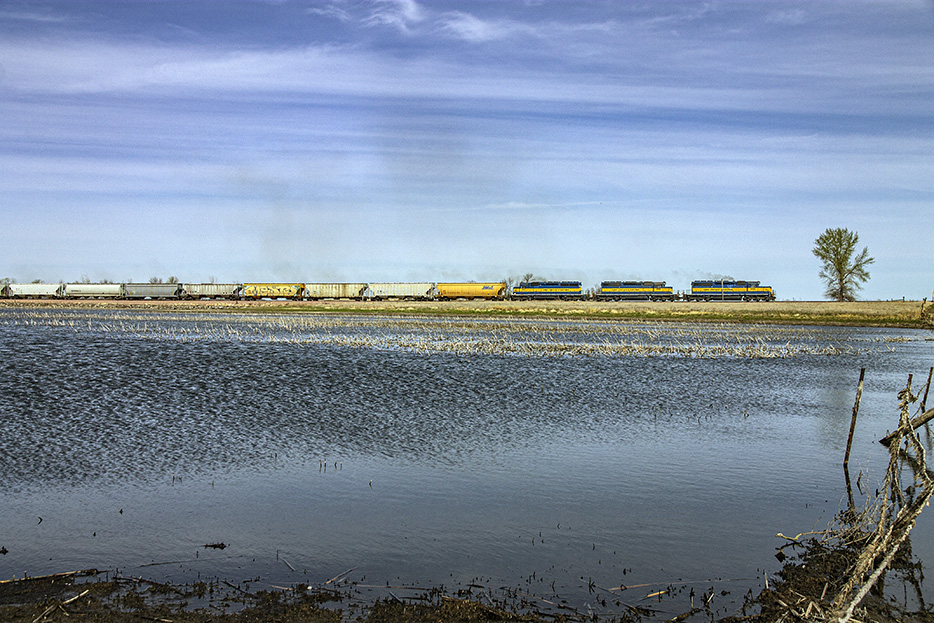 Yes, I am being repetitive here.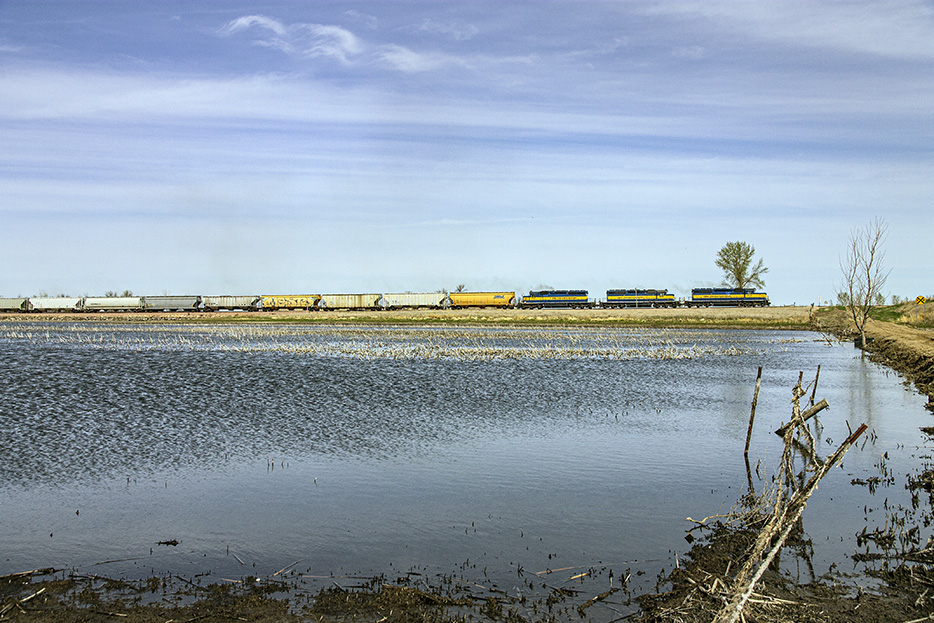 Good broadside picture opportunities are difficult to find, as they require plenty of open space free of clutter along with a decent background on the other side of the track, plus a way of getting yourself, both physically and legally, to the location that the camera needs to be to make it work.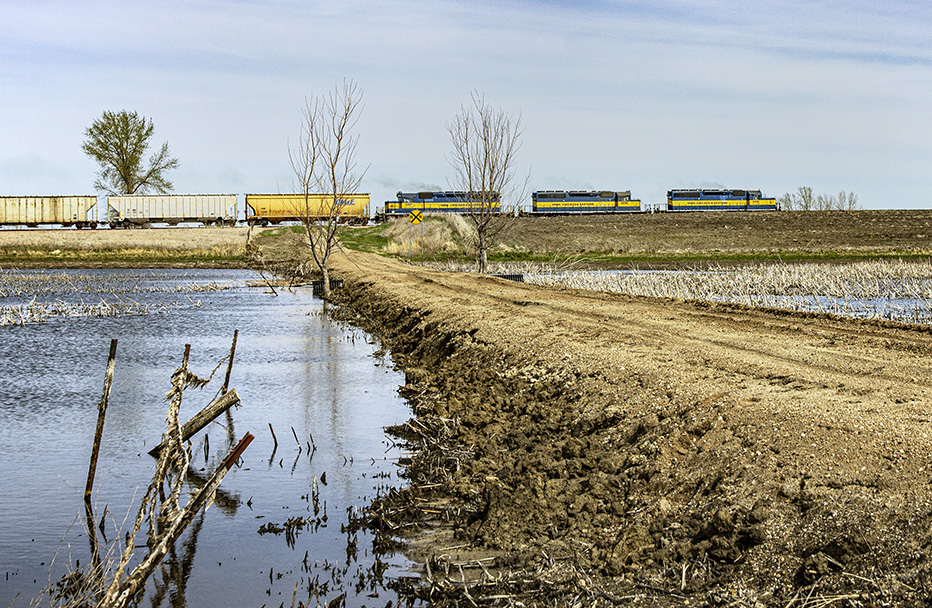 Apparently, this body of water is called "Silver Lake".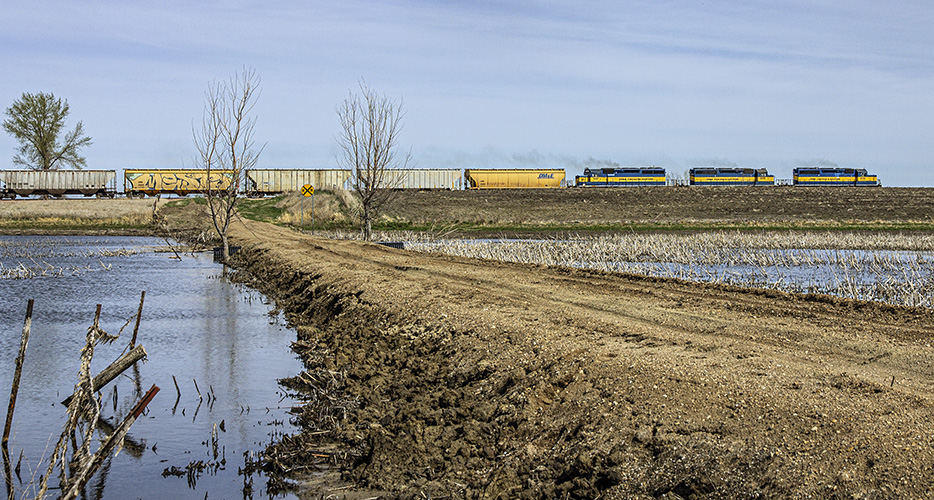 I even like how the locomotives look now that they are sinking behind what appears to be some kind of levee.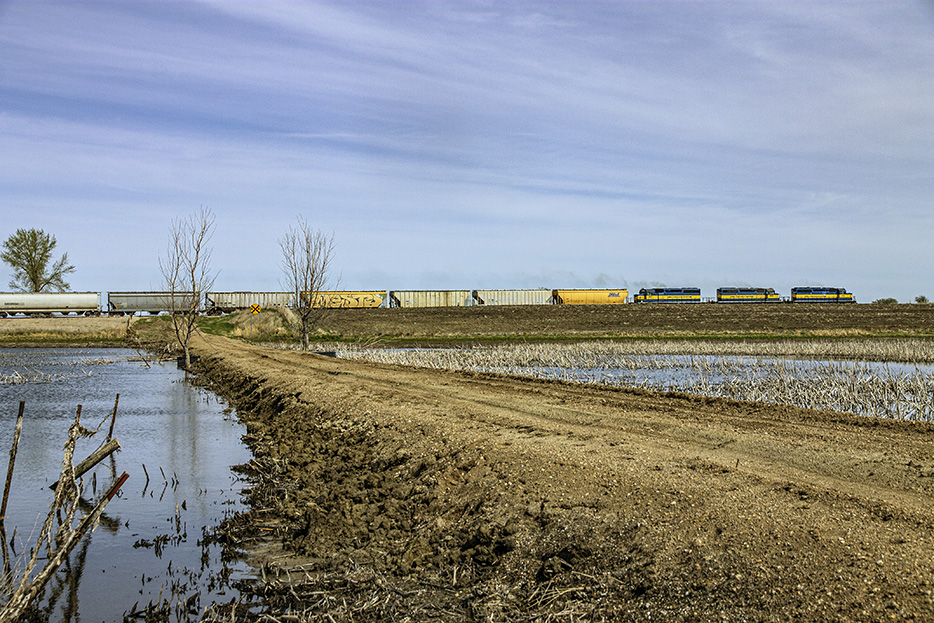 Next, 14 minutes later, we are at Arlington, and the train is moving at a momentous speed now.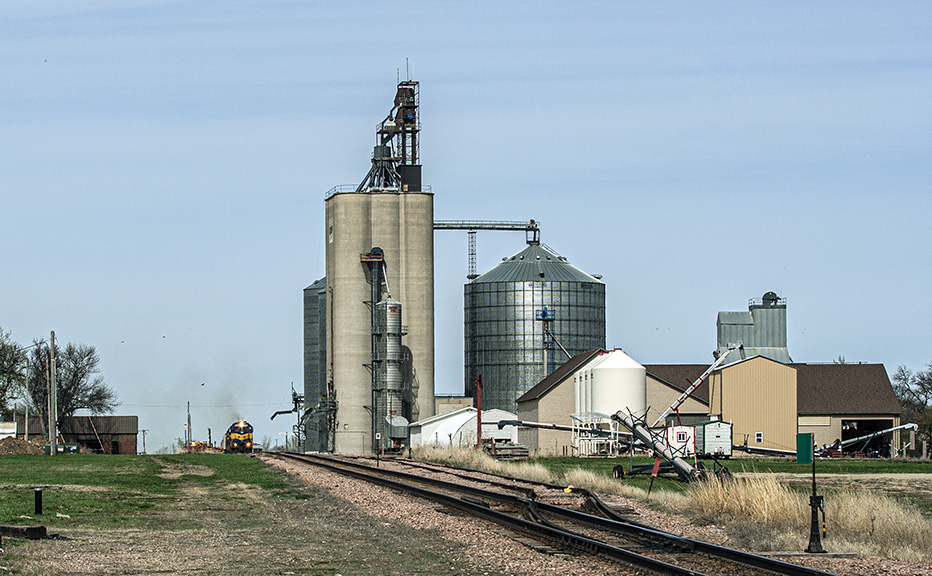 Yeah, it's not that great, but we are here, so is the train, and we have better places to which to chase it and others, I hope.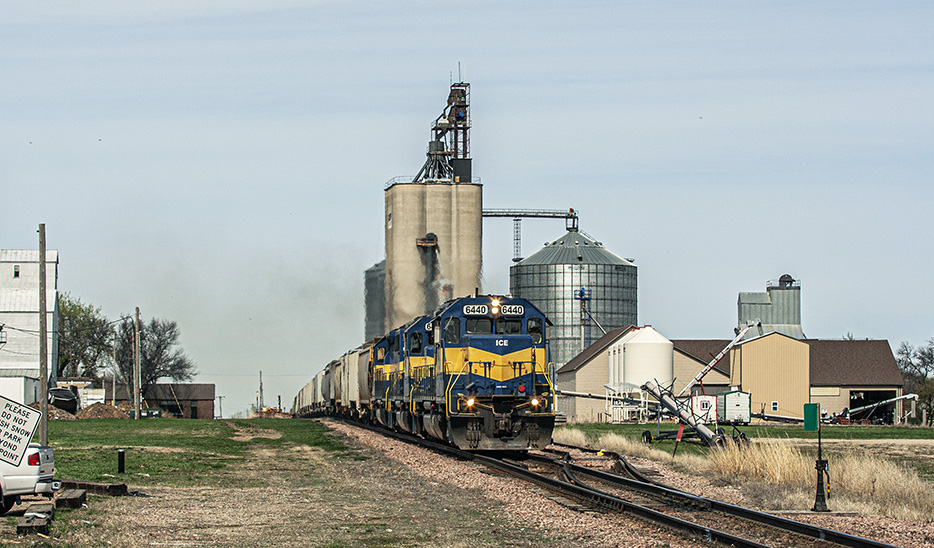 Here is a shot from, as I vaguely recall, the truck as we are on Highway 14 approaching Volga.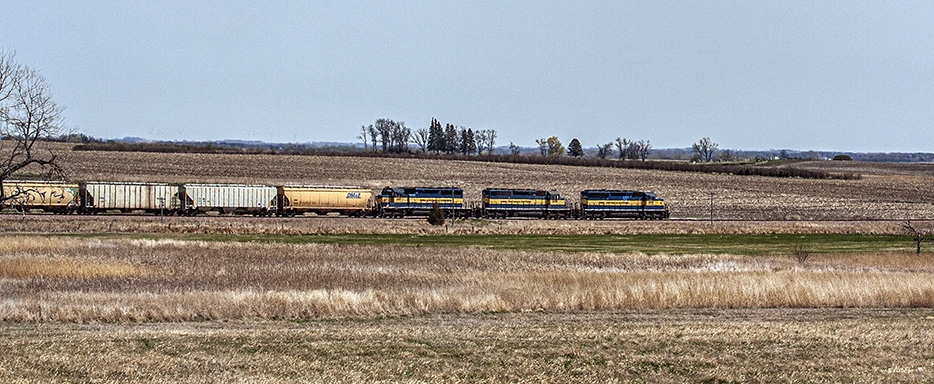 Apparently, we did pull off of the highway here.
Check out the water tower and other structures in Volga.

Since it's about midday now, the lighting is no longer great for views from ahead of the train anyway.

Let's see a cropped version of that image.

About an hour passed between the previous picture and the next picture, as did 30 miles that spanned a border between two US states. We may have stopped somewhere to get food and drink, and, if we did, it may have been Culver's, but we may have just gone straight to Lake Benton, Minnesota, where this part ends.
We got word that a much-desired westbound train was somewhere east of Lake Benton, and I think that we got this information from radio chatter that indicated that the eastbound train that we had been chasing from Cavour would meet this westbound train at either Aurora or Elkton.
The train that we had been chasing since Cavour was CP train 276. At Lake Benton, south of town, while the 276 was waiting at either Aurora or Elkton, we intercepted its counterpart, CP train 277.

Yes, heat distortion is degrading that view, but we were very pleased that, just like with the 276, the 277 had solid DME-or-ICE power!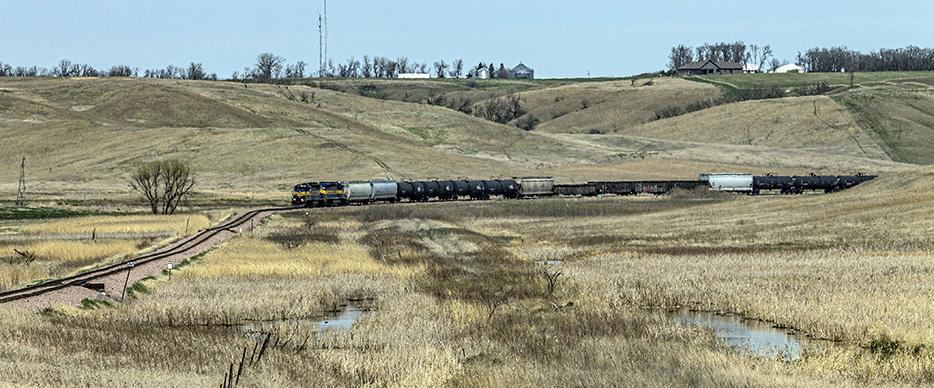 I'd still have been somewhat pleased if these trains had had CP power on them, especially Spartan-cab CP power, but this was great!
I am going to end Part 2 right here and start Part 3 as the train gets closer to the camera, with what I think are some much better views.
Stay tuned!
Thanks for reading Part 2 of Day 6 of Jimbaux's 2012 Spring Break Road Trip.
Jim