This is part of the Eastern Great Plains Spring Break 2012 Road Trip series.
Greetings, and welcome to Day 7 of Jimbaux's 2012 Spring Break Road Trip, Thursday 5 April 2012. On the previous day, Day 6, Wednesday 4 April 2012, we had a very intense and memorable day with plenty of pictures, hence my decision to break the day essay into four parts, chasing trains on the former Dakota, Minnesota & Eastern Railroad in Minnesota and South Dakota, and we returned to Omaha late that night.
Because of that intensity, and because two friends just want to visit at one's house, we didn't have an early rise on this morning of this day, Thursday 5 April 2012, and that's just fine.
Our first pictures are not until almost eleven o'clock, and they were made on the Old Lincoln Highway in Elkhorn, Nebraska.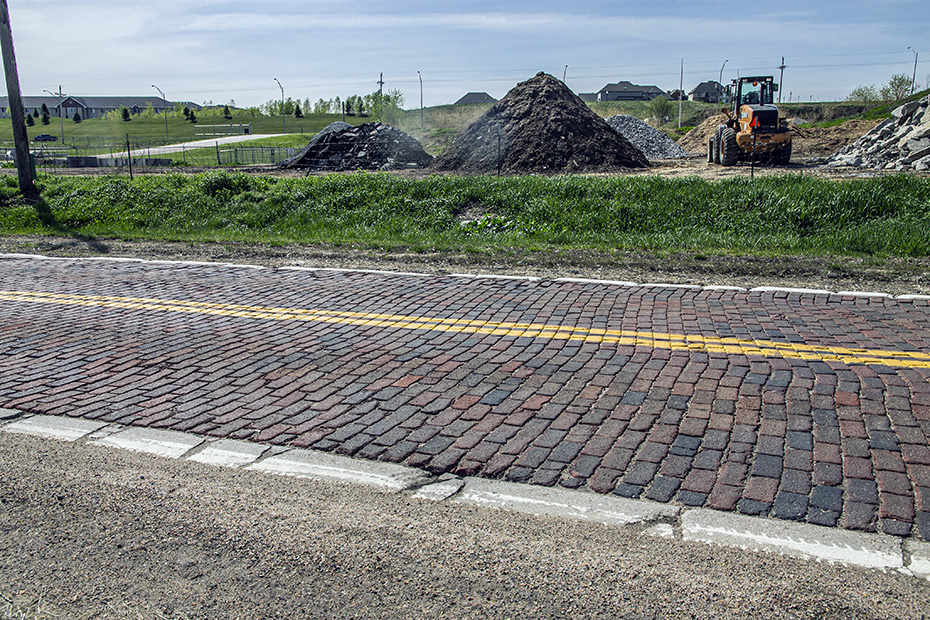 Check out the bricks!!!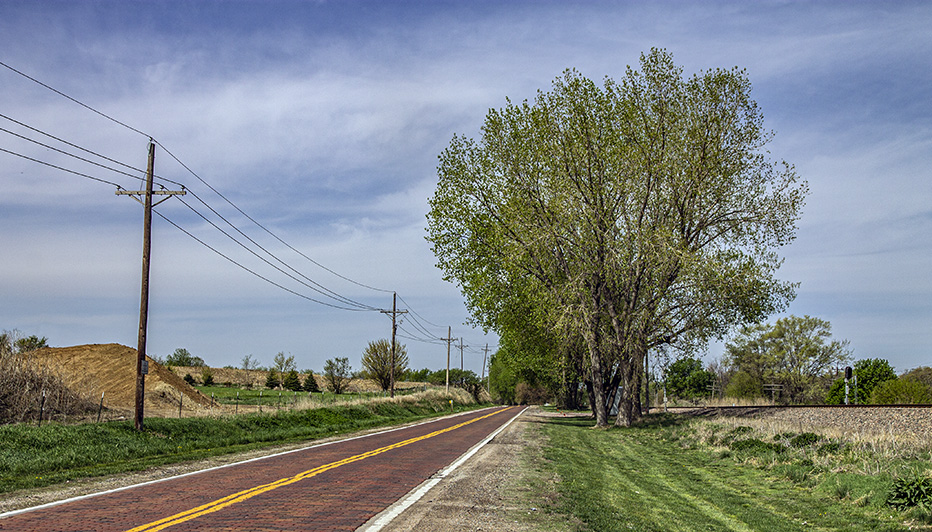 This is neat, isn't it?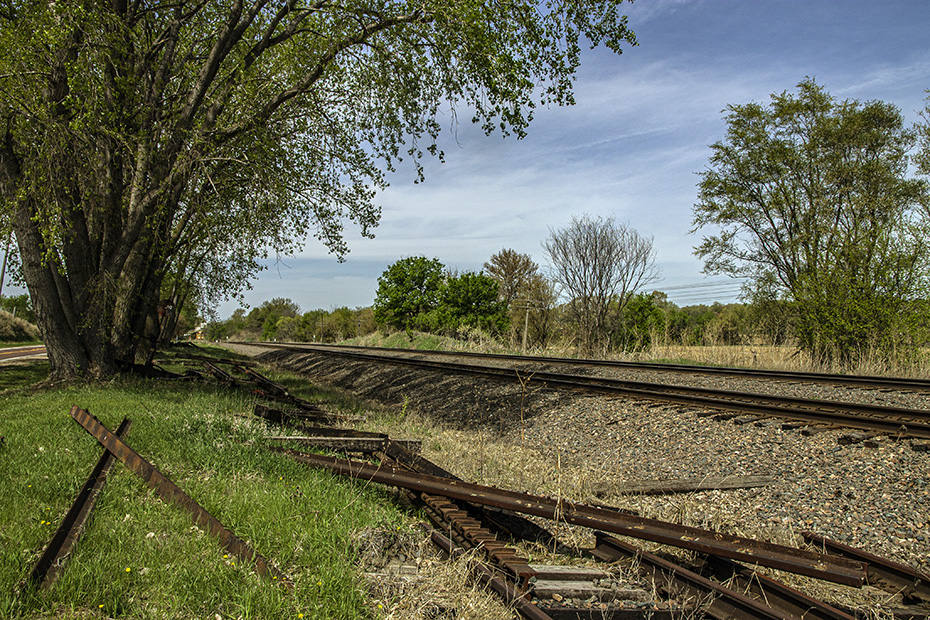 There, at right, is the original Union Pacific Railroad mainline, a few miles from its start, oh, and there is a UP train rolling eastbound on it, too!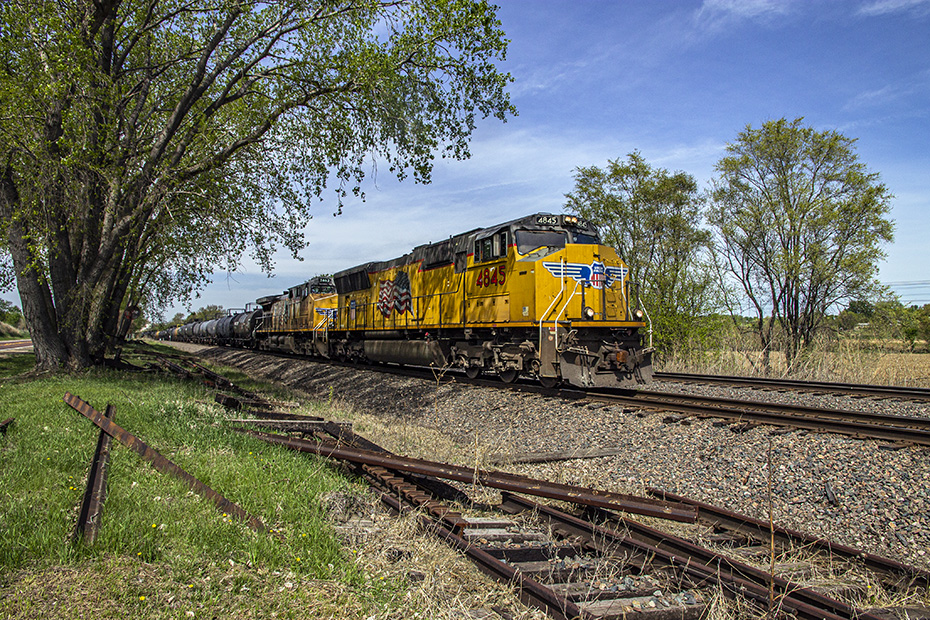 It's still remarkable to think that, until the early 1980s, UP was, with some exceptions, 'merely' a gigantic Y-shaped railroad with the ends of the three legs being Omaha (and Kansas City), Los Angeles, and Seattle and Sandpoint, meeting in northern Utah, dependent upon intermediate granger railroads (and the Wabash and later the Norfolk & Western) reaching Omaha and Kansas City to access eastern railroads.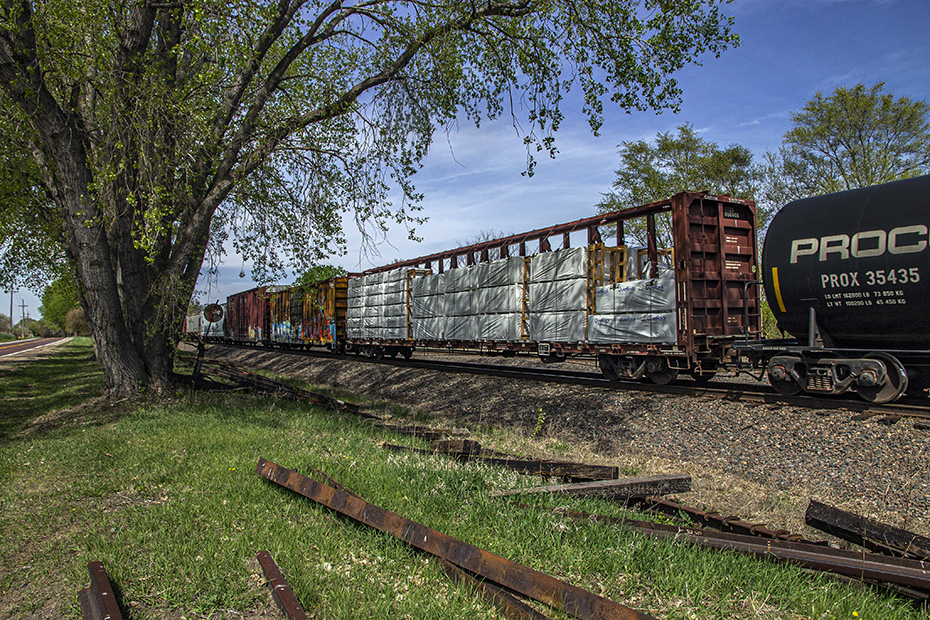 We then went to North 204th Street, but, before climbing the overpass, we stopped to photograph some turkeys – or whatever these things are – crossing the road.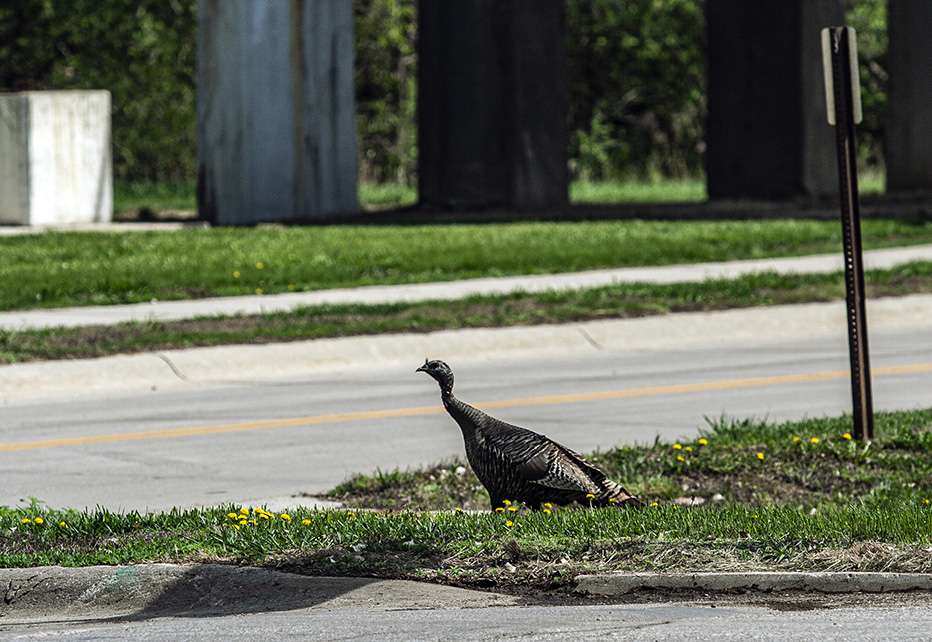 Let's see a cropped version of that image.

I wonder if they are interested in trains.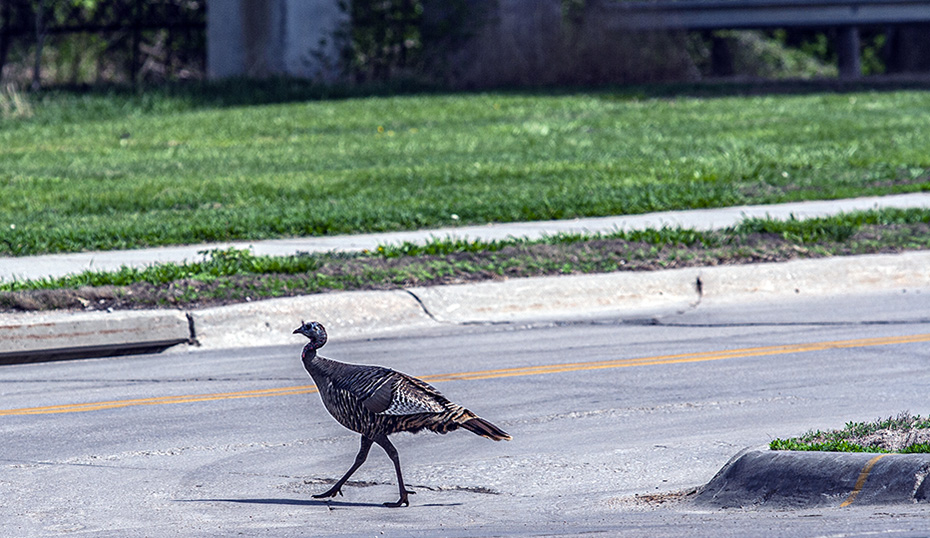 Well, this is not what I came here to see and photograph.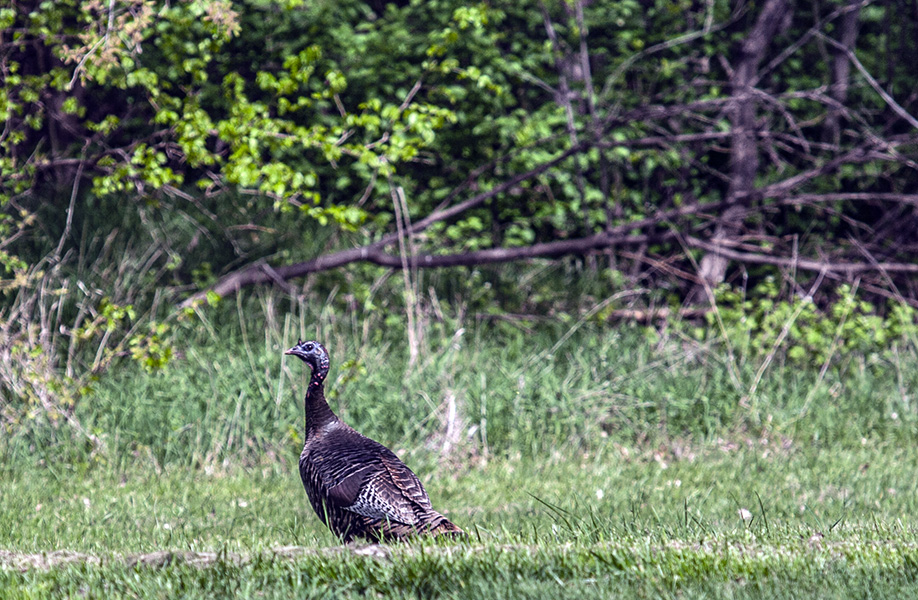 On the overpass, we see a westbound hi-rail truck.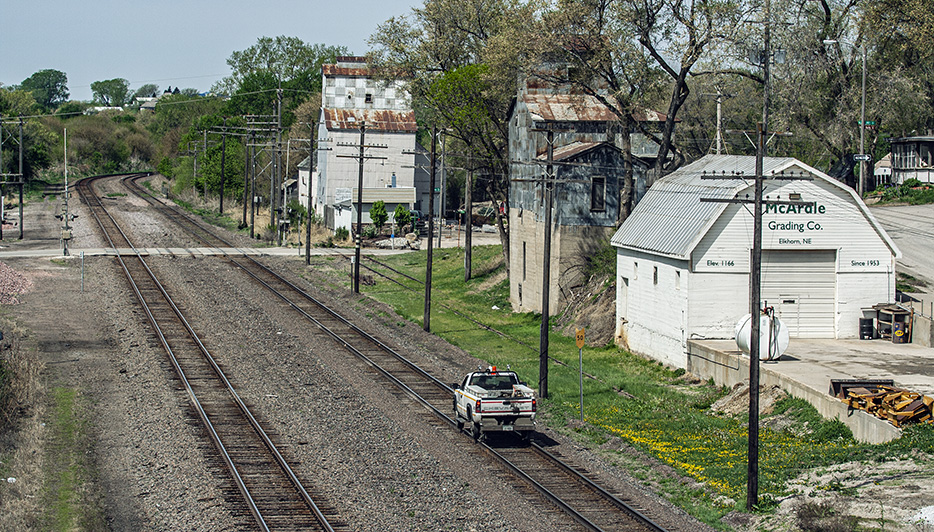 It's an interesting scene, I guess.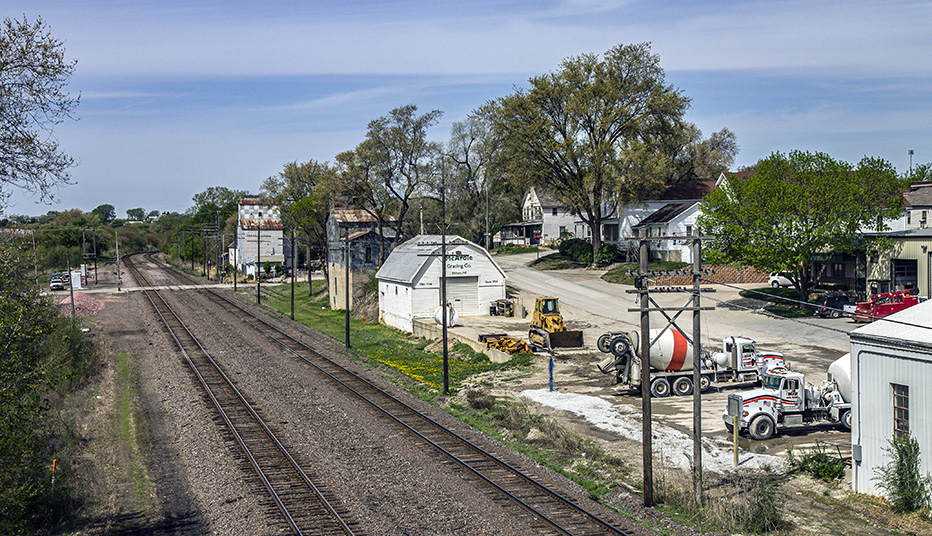 I like how the signage in front of the building tells us our elevation from sea level; of course it's a grading company!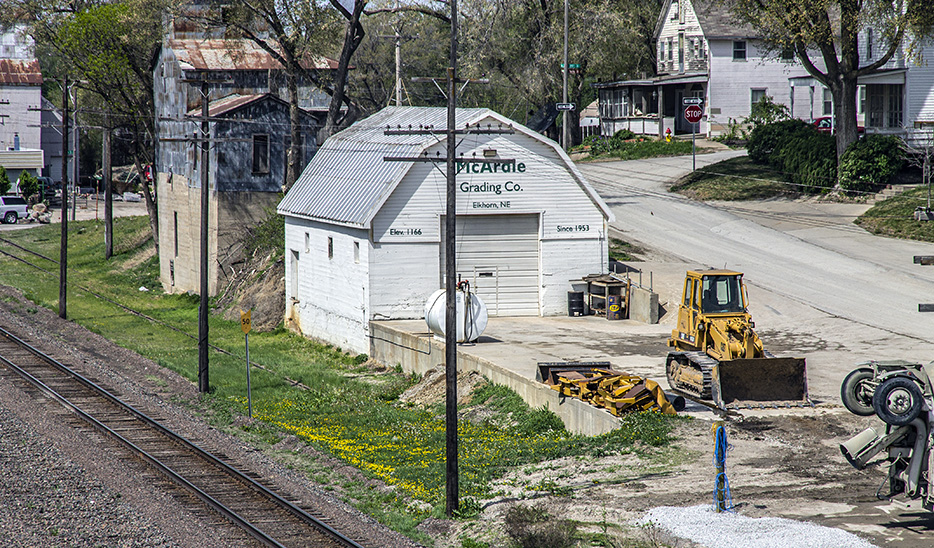 Here comes a loaded coal train, eastbound.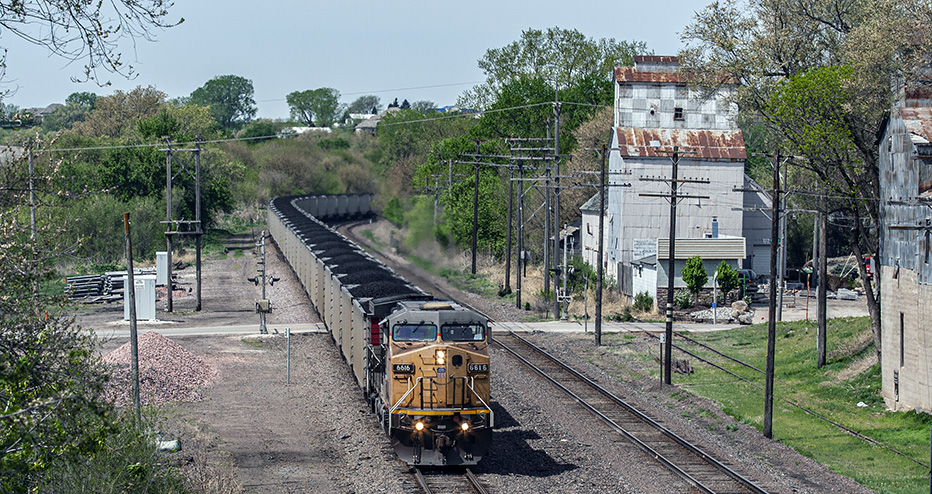 Yes, even though I am far from home in a new place, I am somewhat going through the motions here, as I am already sick of coal trains, though these are UP coal trains, a very slight variation from the BNSF Railway coal trains of which I got sick three days before.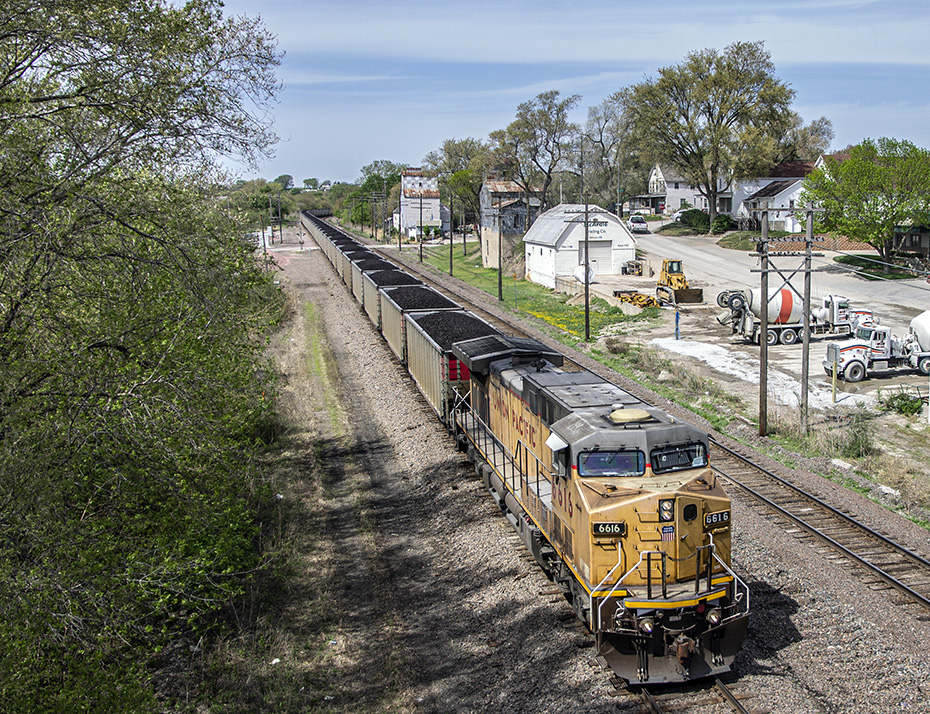 Here's the end of the train.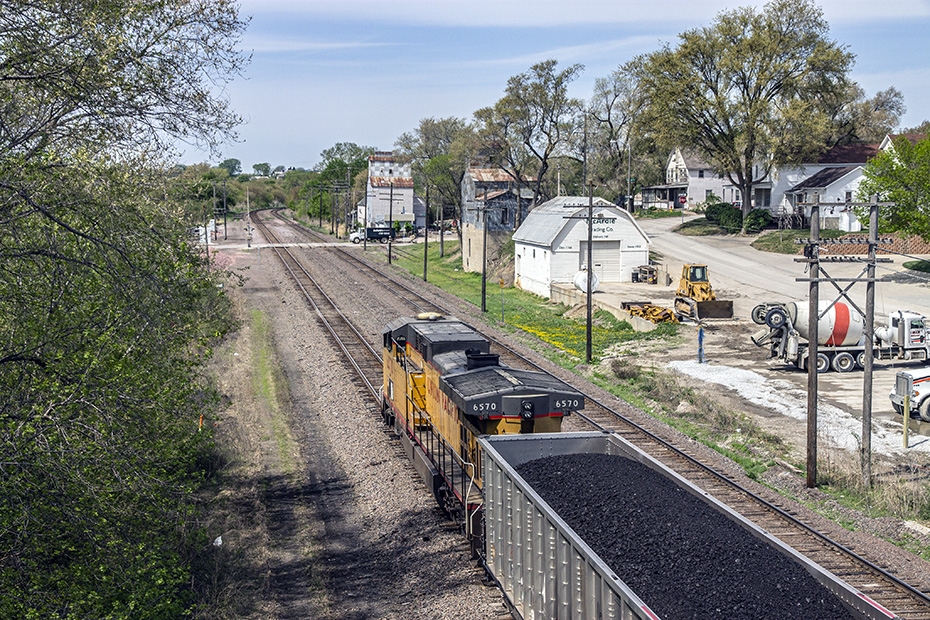 That's all for that brief outing. We went back to my friend's house in preparation for him to go to work, and then I went foaming in my rental automobile which I may not have driven since I arrived in town more than two days before.
I was intrigued by that area around California Junction, which we visited two days before on the way northward to South Dakota and Minnesota, and went and explored the former Chicago & North Western railroad line around there, starting east of there at Missouri Valley.

I didn't have to wait long for a train to show up!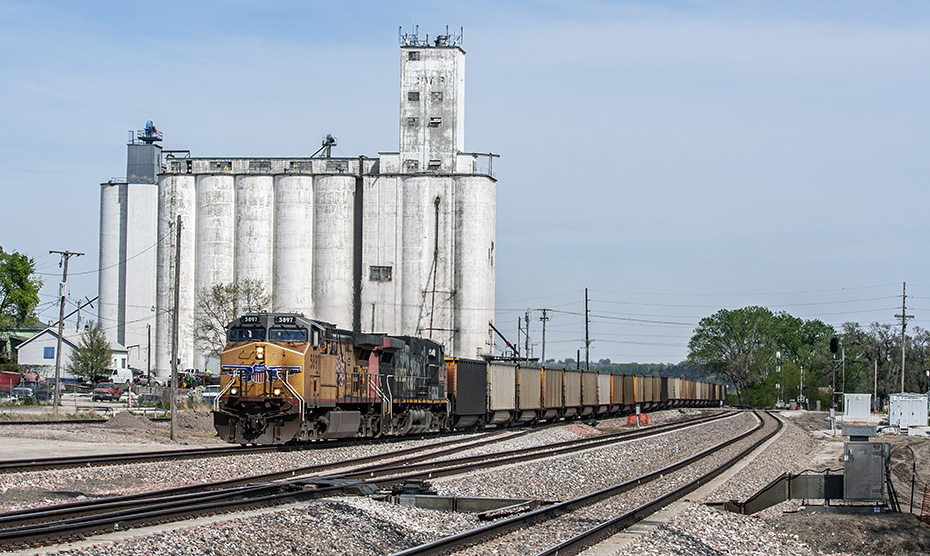 I think that I said something about how I feel about coal trains.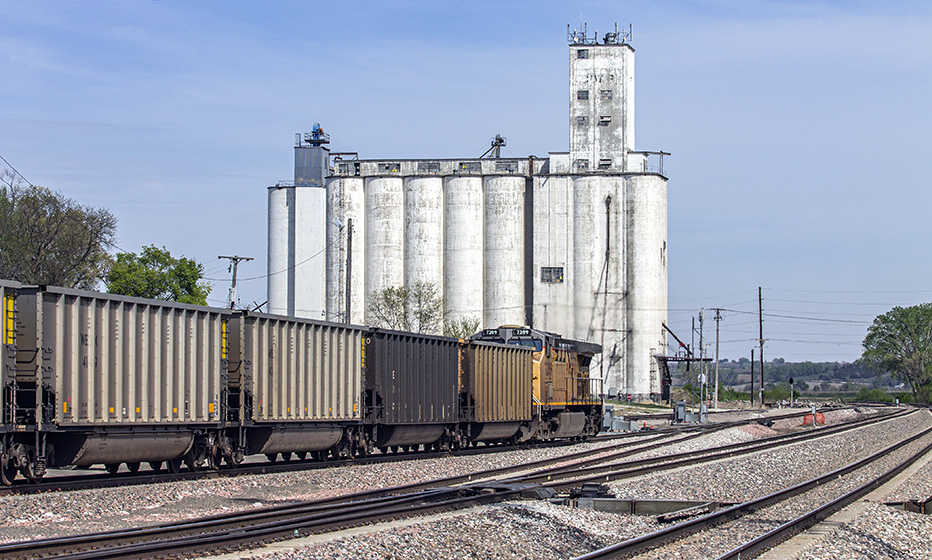 I mean, the absence of the coal train almost improves the view.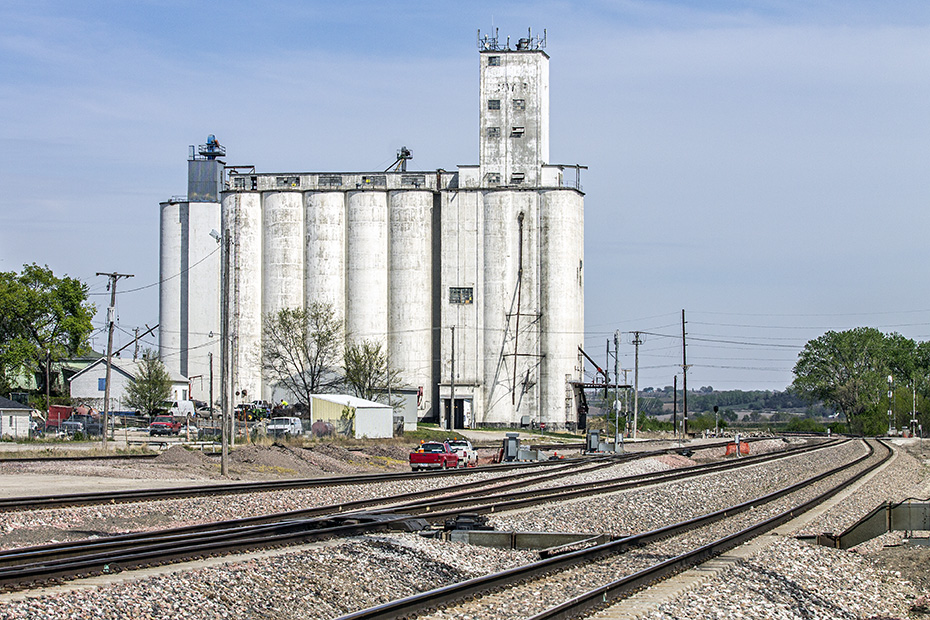 I wanted to get to the point east of Logan in which this ex-CNW line was almost right alongside the former Illinois Central Railroad line now owned and operated by the Canadian National Railway, so close to each other that you could potentially get a shot showing a decent amount of one train on each railroad at the same time, provided that two such trains were there simultaneously.
I didn't make it that far, but I got very close. The reason that I didn't make it that far is that, right before I got there, UP sent me a westbound manifest train.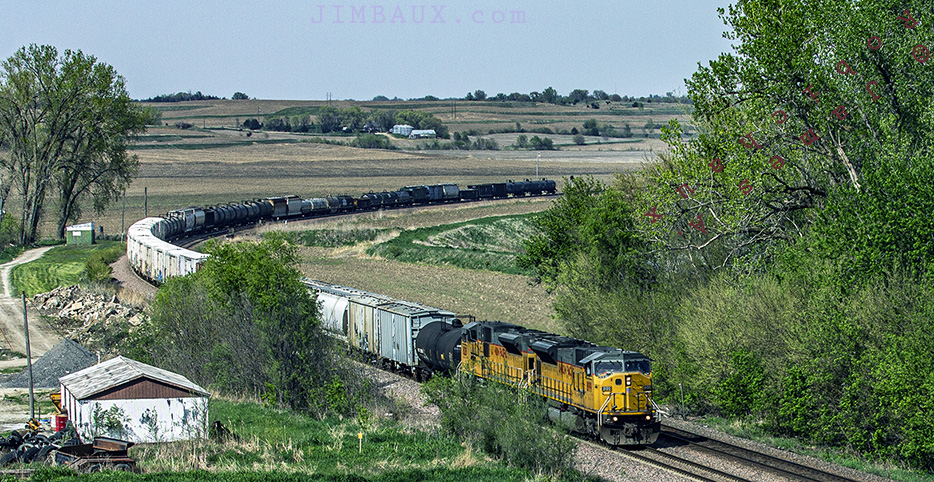 Here I am at Logan.
This is the Chicago-to-Council-Bluffs manifest train, with some neat relatively-local traffic.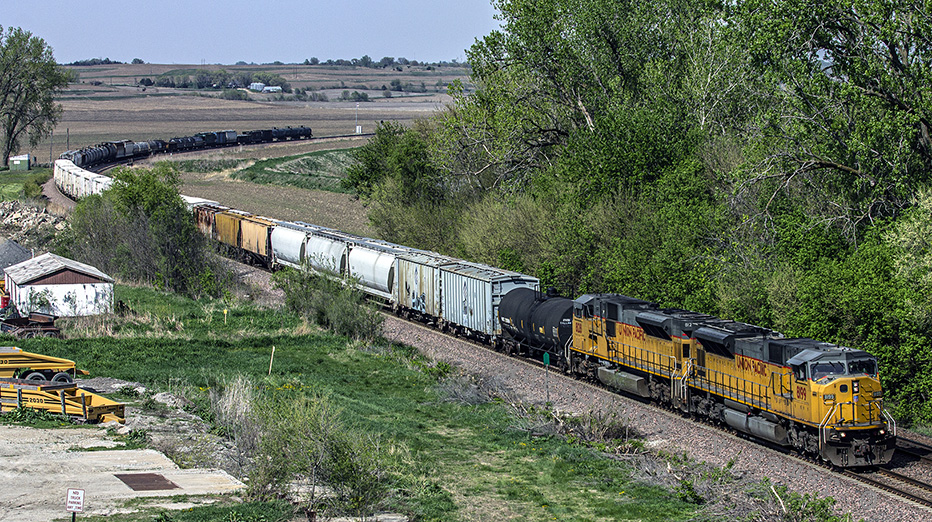 Because of the way in which this train looked, I decided that I'd chase it, but this meant that my search for action on the CN line today was aborted, and, since I wanted to get to Fremont, Nebraska, before dark and since I couldn't stay in the area for too long tomorrow before heading south back toward home, my search for CN trains in Iowa may be aborted indefinitely.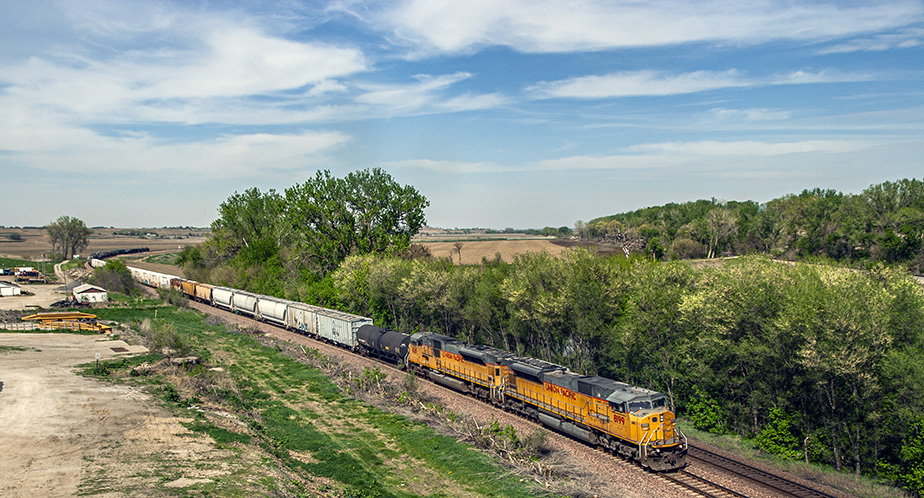 I mean, look at those Airslide Hopper cars! Is this 1985?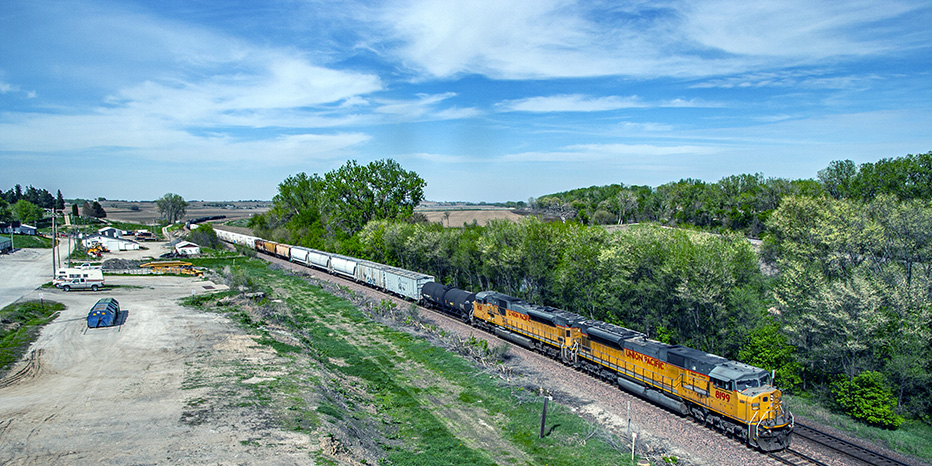 Well, the shots of this thing coming into Missouri Valley won't be that great.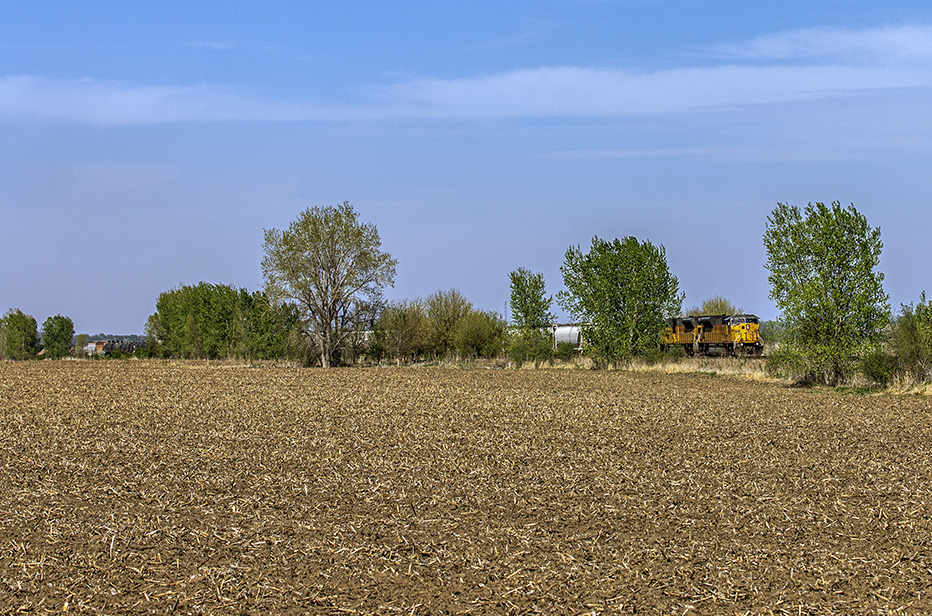 It's the best that I could do here.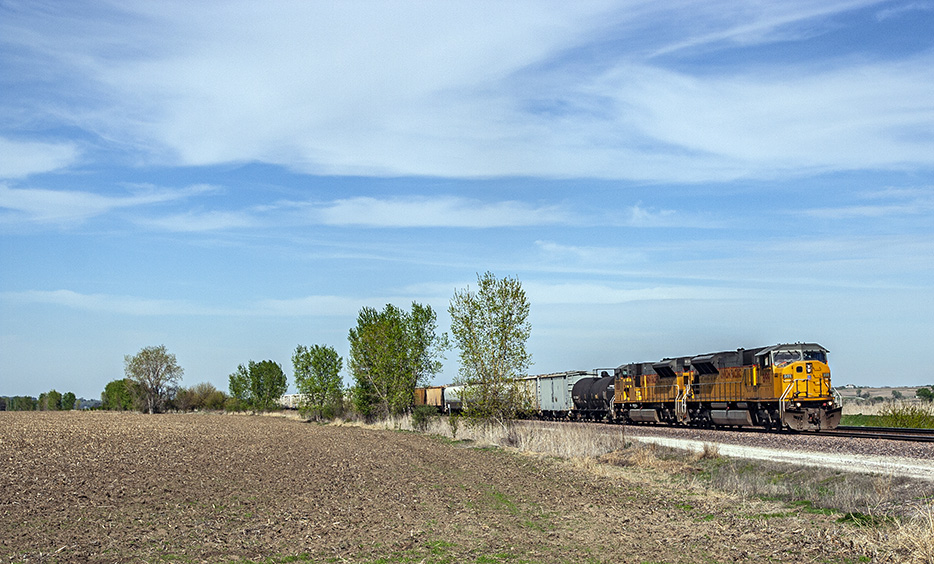 Here is the train at Missouri Valley at a location at which we have already seen a train today.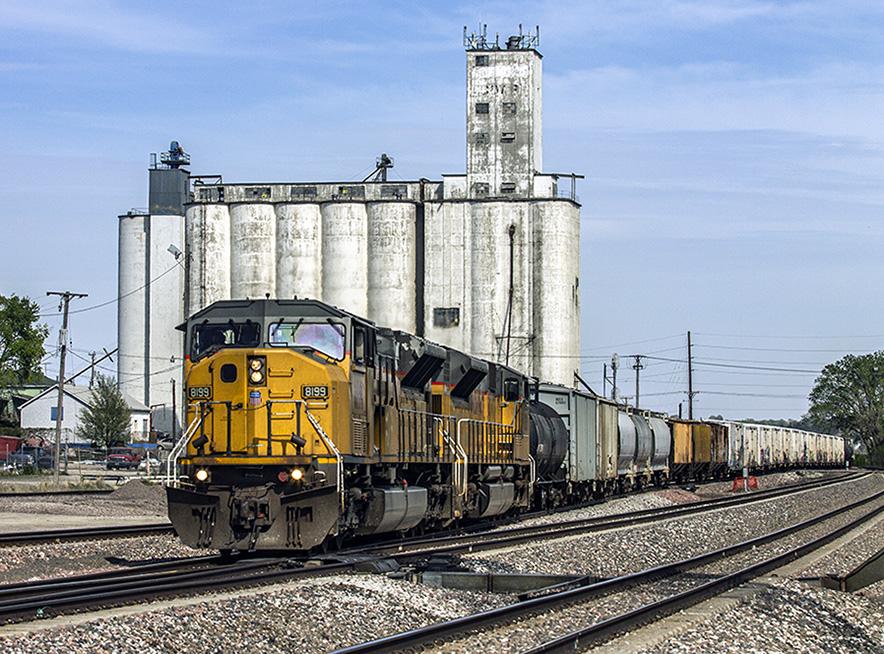 So, I am on the Lincoln Highway overpass west of town, but I don't know what I am doing.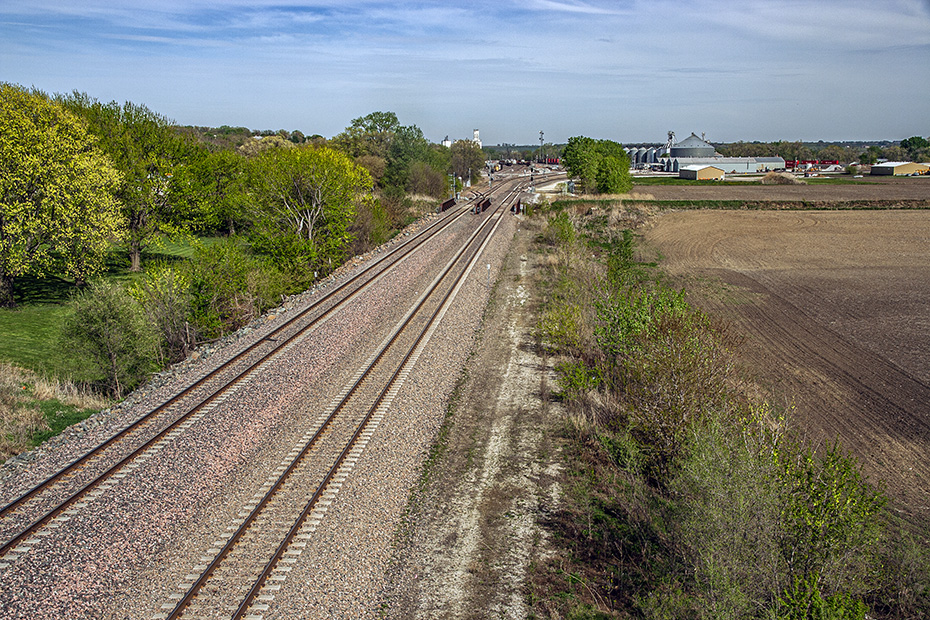 Okay, so, here is where and why what happens on the UP around here gets difficult to understand just by observation alone.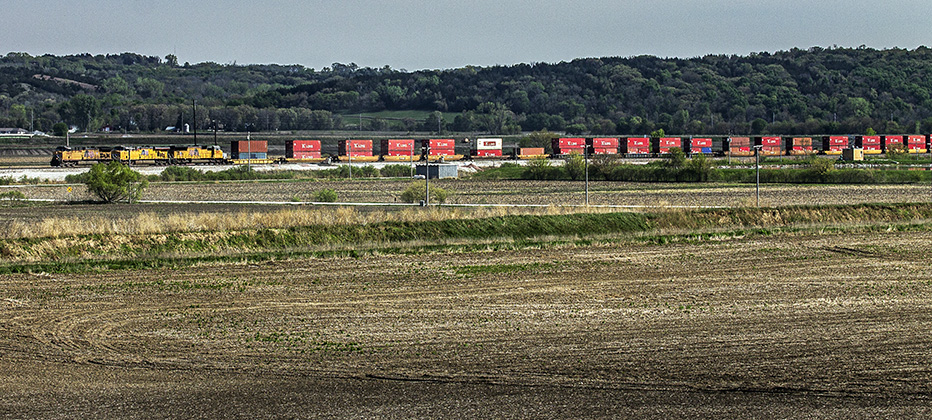 There is this UP intermodal train coming northbound, but it may not really be a "northbound" train, because, at Missouri Valley, in a few thousand feet from where it is in these pictures, it must turn either east or west, even though about the only reason that it might go west is to turn back to the north a few miles later at California Junction, and I don't think that many if any stack trains use that line.

So, point being, probably most and maybe all of these "northbound" trains are really eastbound trains, heading to or somewhere in the direction of – including past – Chicago, but we really can't tell just by looking.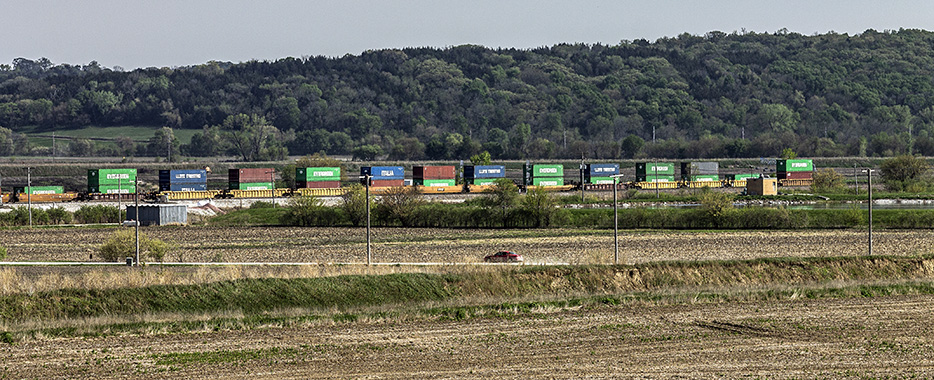 What happens here is that UP uses its route through Omaha and the line connecting that line to here in Missouri Valley for eastbound trains, while sending westbound trains via the shorter route via Blair and Fremont, bypassing Omaha, as a directional-running operation.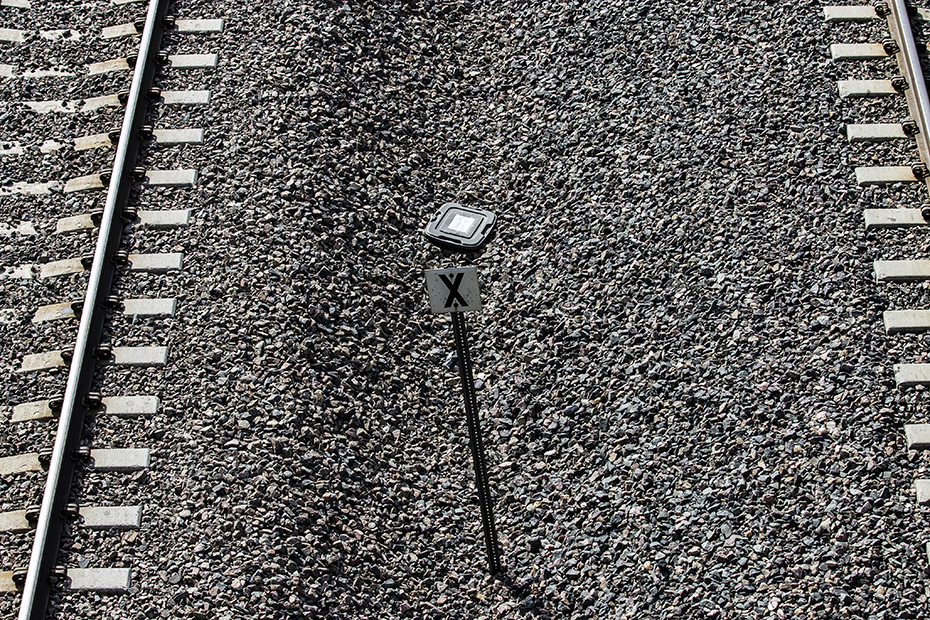 So, this "northbound" coal train is almost certainly turning east here.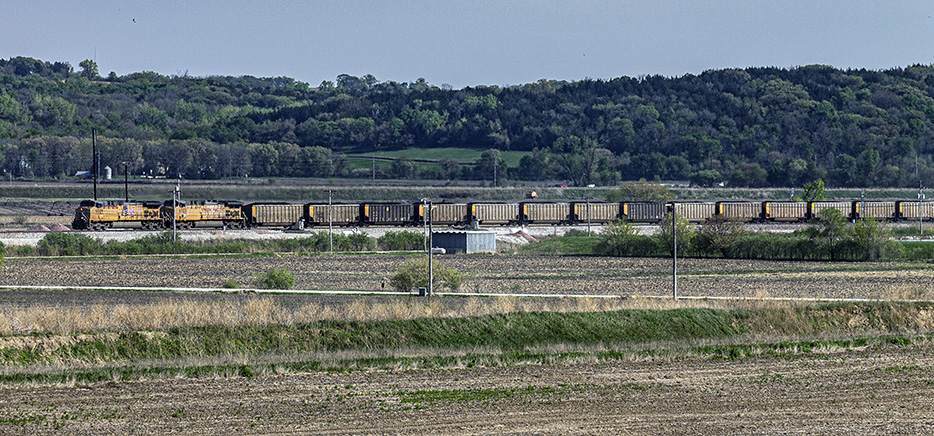 The same is probably true for whatever this next train is, looks like some kind of oil train.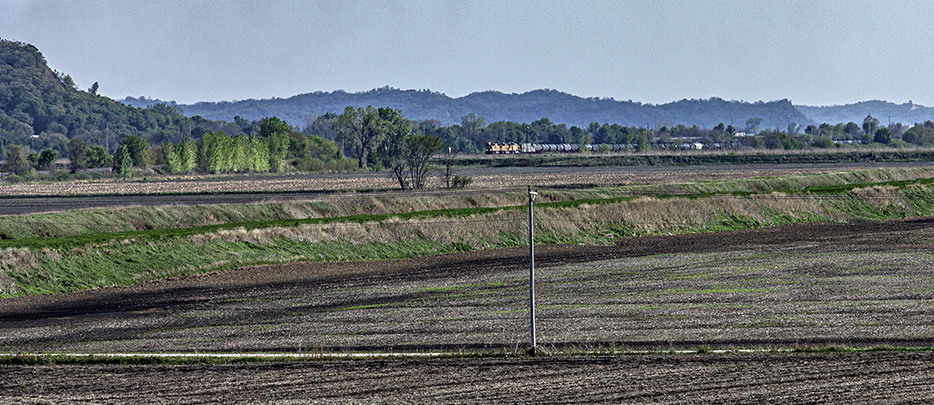 Here's a peek into the yard at Mo Valley.
Here is this tank-car train one more time before we get out of here.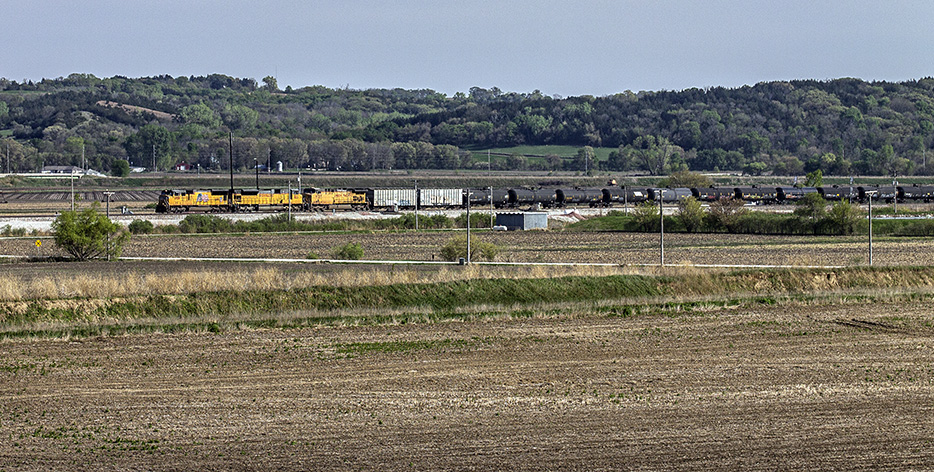 Okay, I am moving west now, toward Nebraska, about to say goodbye to the state of Iowa for the day.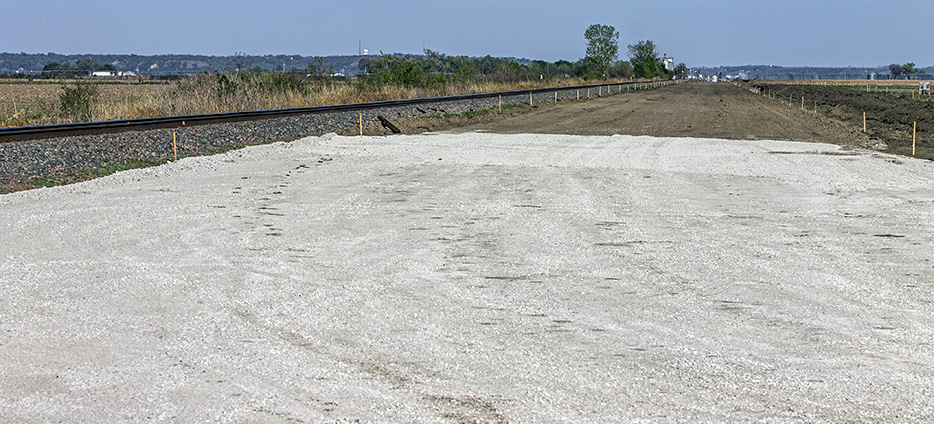 This is California Junction, where we were two days ago, and it appears that some construction is about to be happening here.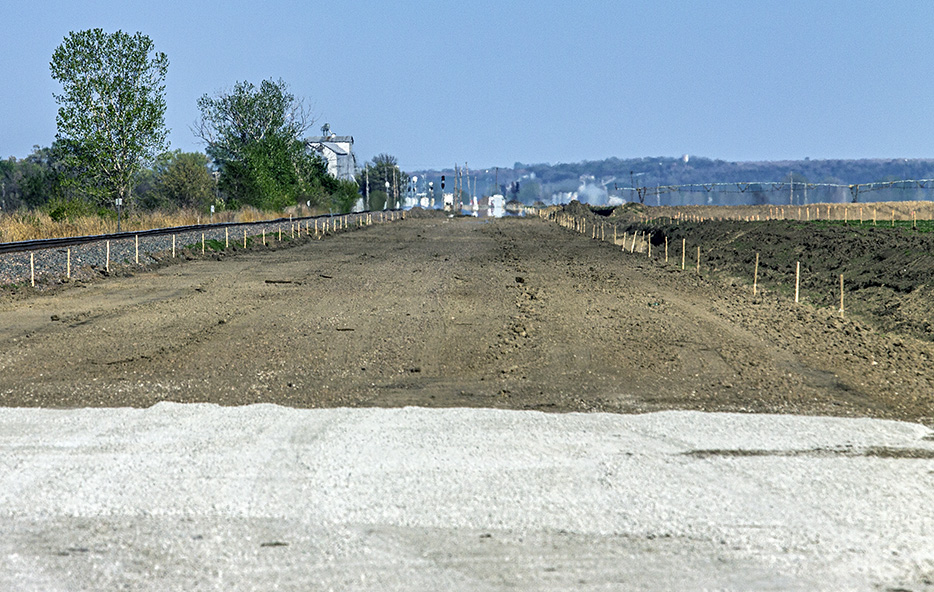 So, I continued eastward and left Iowa for the day.
I vaguely remember crossing the Missouri River on US Highway 30 here and entering the city of Blair, Nebraska.
I don't remember doing so, but I left Blair and passed through Kennard before I took out the camera again.
Here I am southwest of Kennard, looking south at the old C&NW mainline.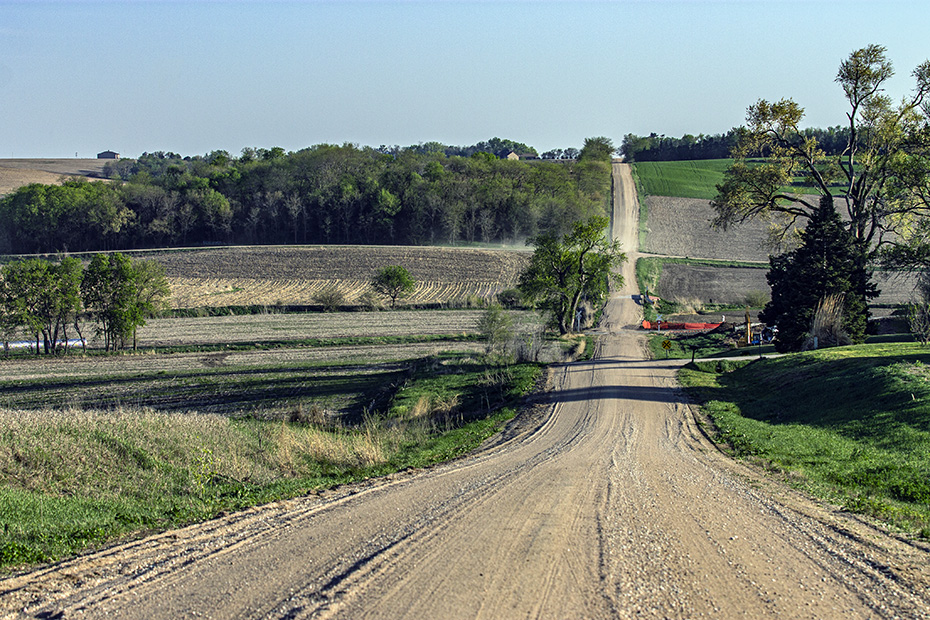 Here is an eastbound UP intermodal train moving against the typical westbound directional-running flow, something that happens here when there is an unobstructed track, because it's shorter than going through Omaha.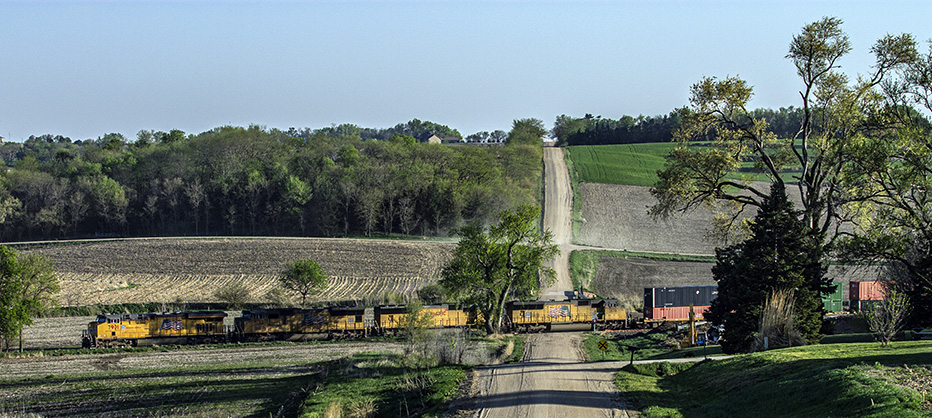 It looks like this thing, whatever it is, is getting interchanged to CSX in Chicago.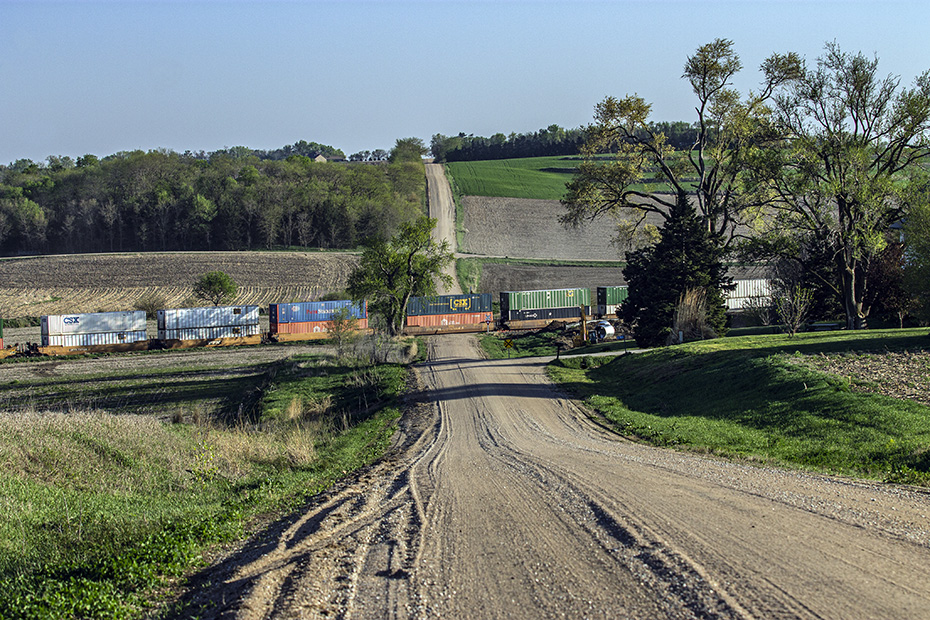 That could mean that it or at least some of it is going to Boston or New York.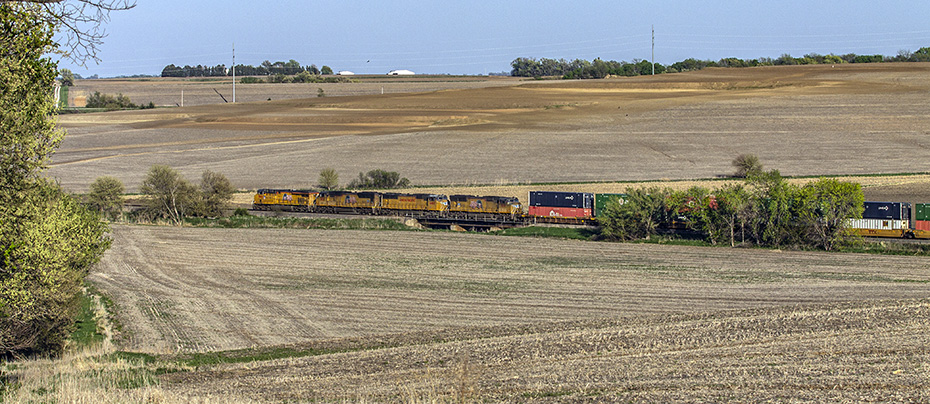 Yeah, you can do these kinds of going-away shots here.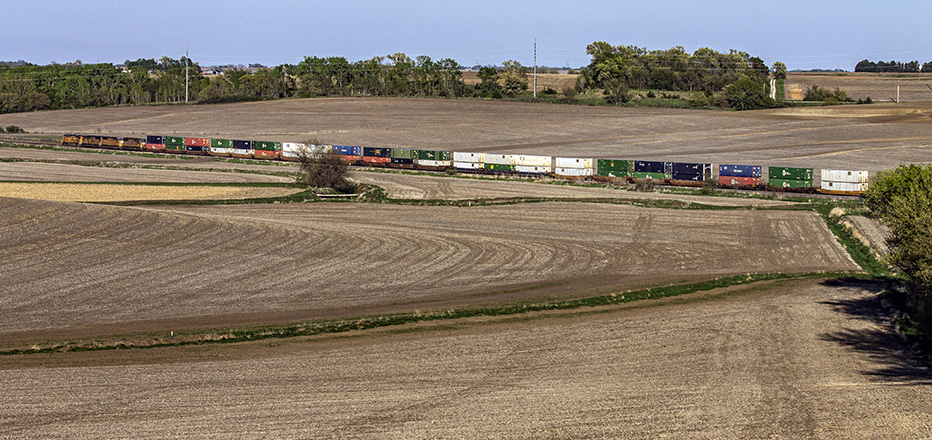 You can barely see the US Highway 30 bridge in the below image.

You'll see more of it soon.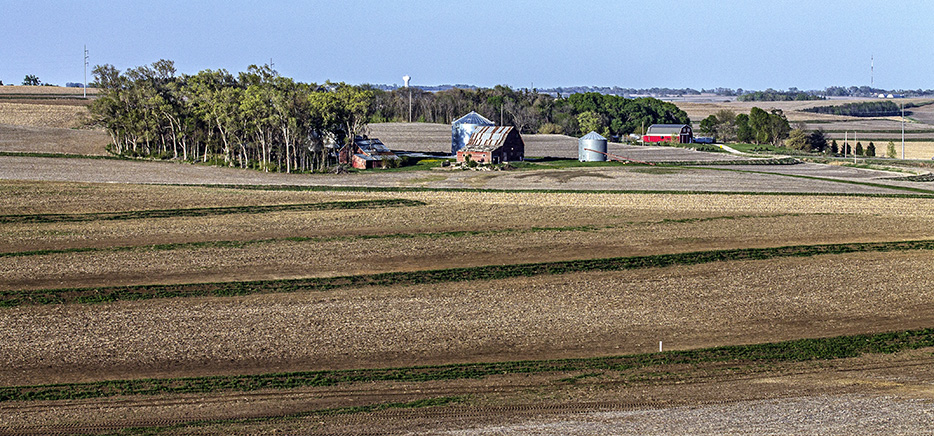 Okay, this train is not that Chicago-to-Council-Bluffs manifest train that we saw earlier, but, with that assortment of cars, it may be even more interesting.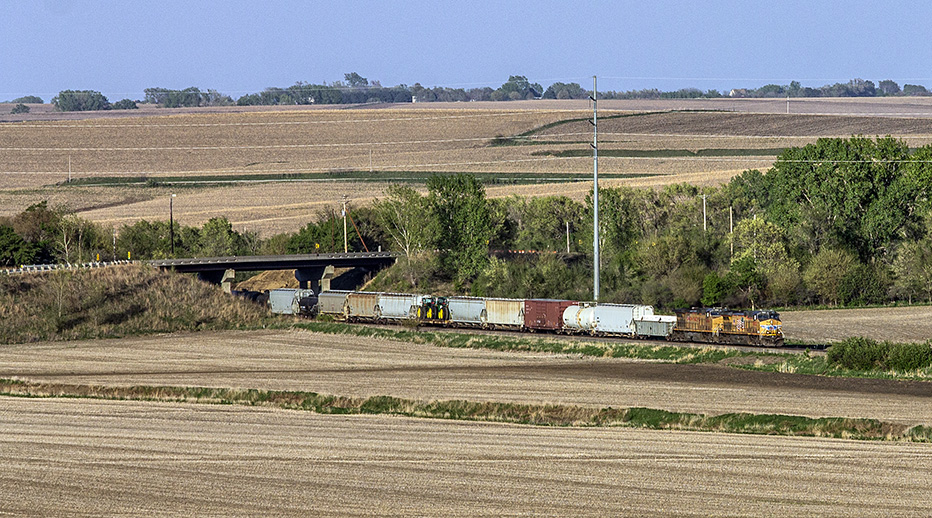 Check out that flatcar with the tractors and the yellow – probably CNW – hopper cars in addition to the covered gondola car and the boxcars.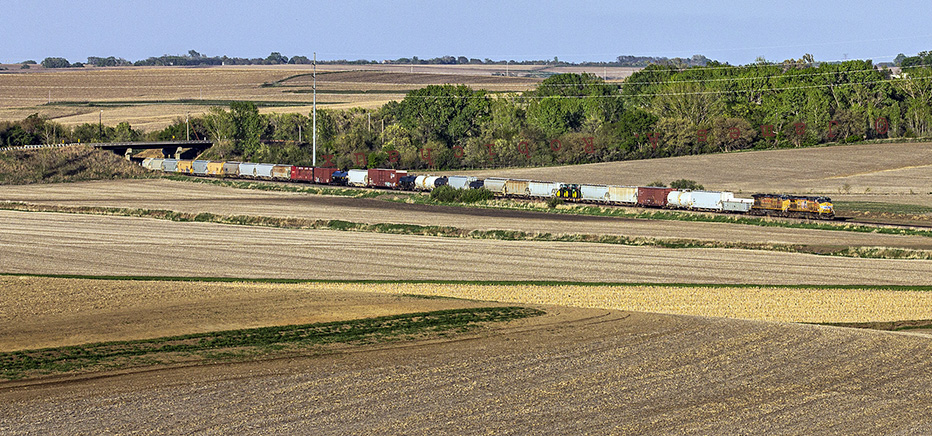 Again, for being a decade into the 21st Century, that ain't so bad of a train.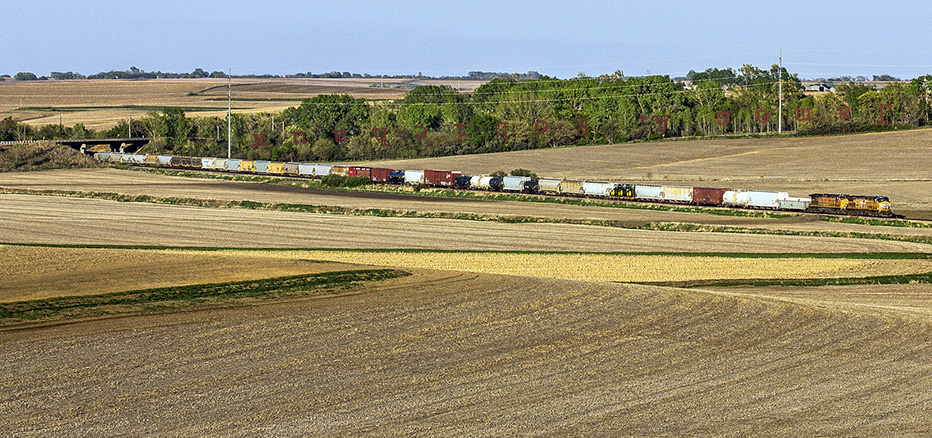 I like the contours of the fields here.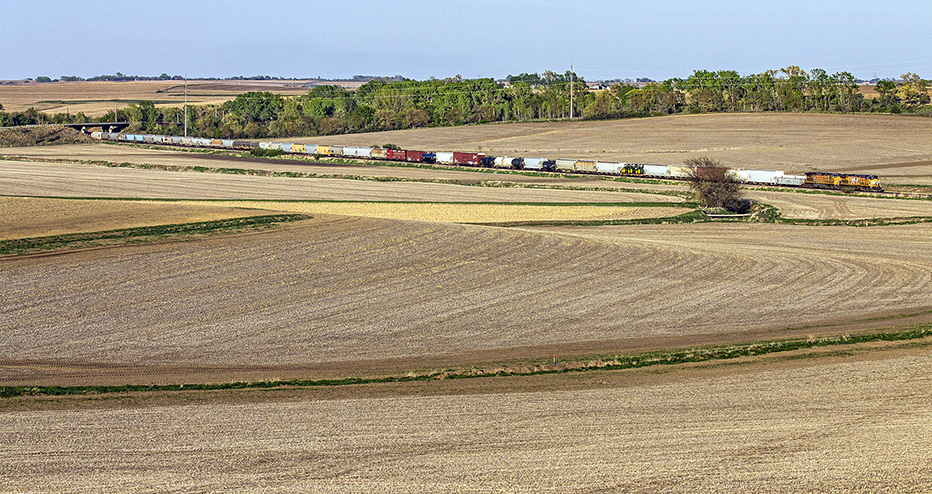 Let's get one last view, showing plenty of the train at a wider angle.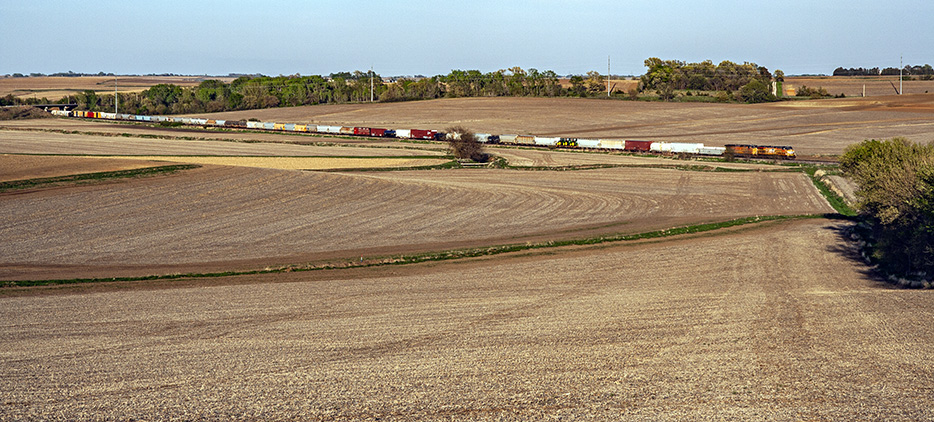 I like that.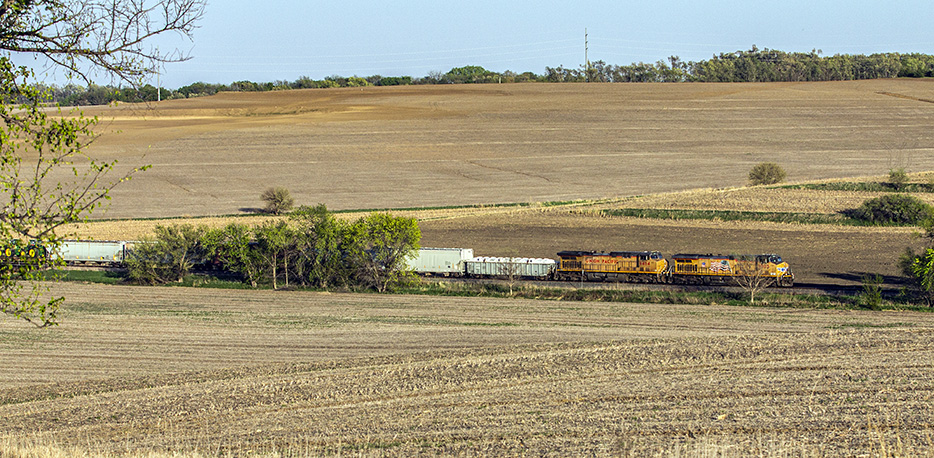 Check out that covered gondola car.

Yes, that's very Great-Plainsy.
Next, we are at Arlington.

I remember how, for lack of a better word, "sharp" the light was getting here.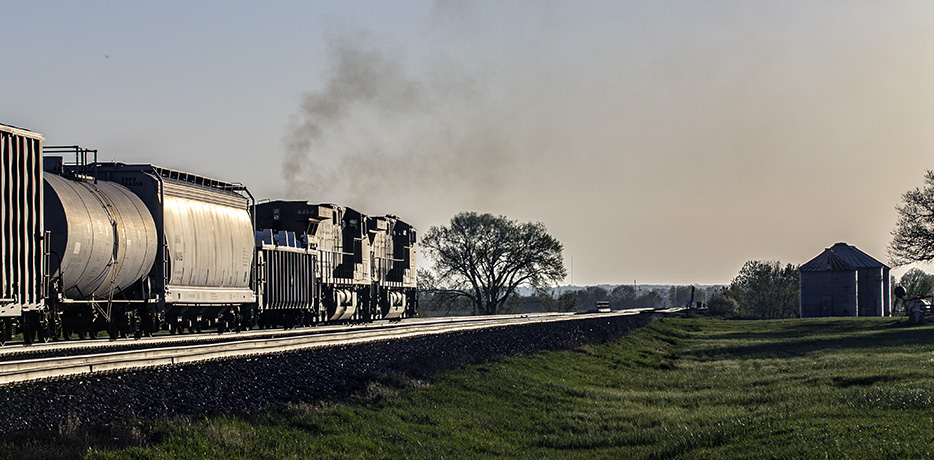 I guess that this is not a bad way to end the day.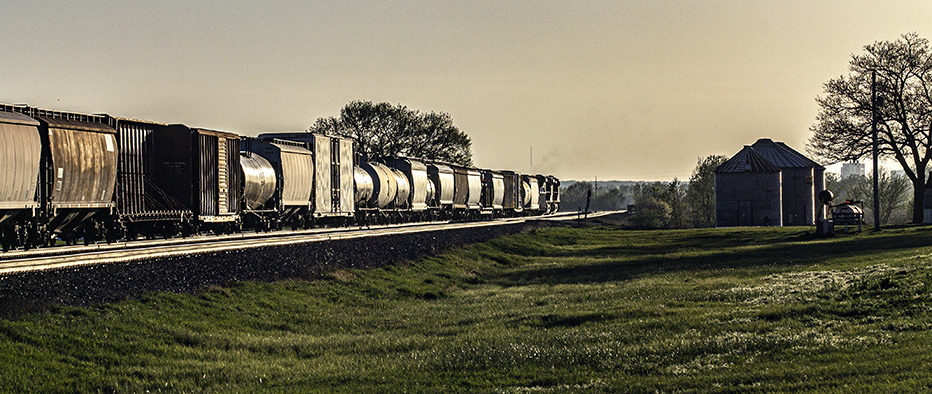 Of course, I had been hoping for more on this day, but maybe that is a bad habit of mine.

Check out those empty centerbeam flatcars, likely headed to one of the Pacific states, and check out that harvested corn field.

I arrived in the fabled Fremont, a town about which I had heard so much in the railroad press in my youth. This is where C&NW's line from Chicago basically merged into the main UP mainline extending westward from Omaha.
I found this grain elevator with what appeared to be, appropriately, a former CNW locomotive.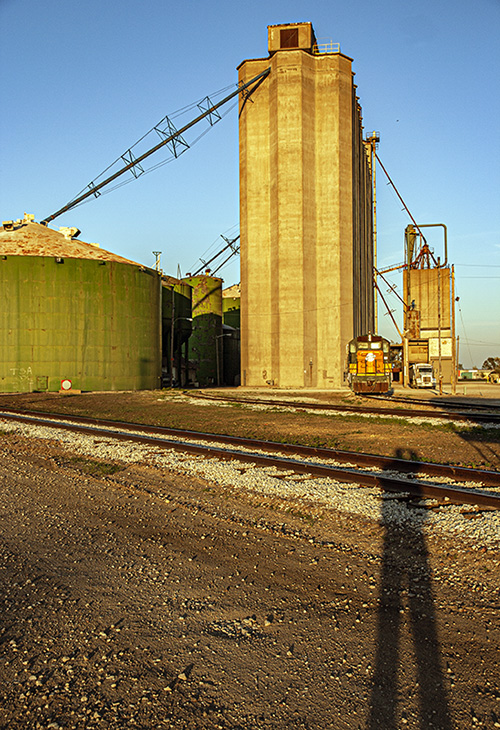 Is that the moon off in the distance in the below image?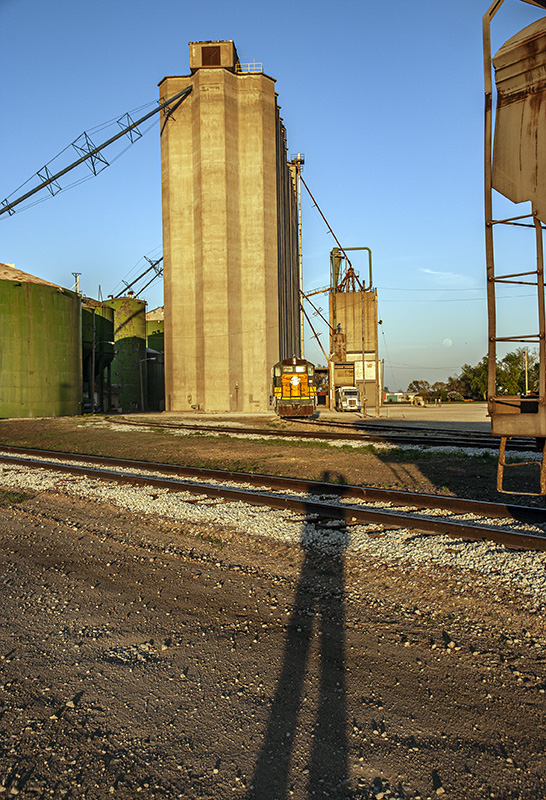 Anyway, that's cool, but I didn't really find the magic that I, perhaps foolishly, came here to find.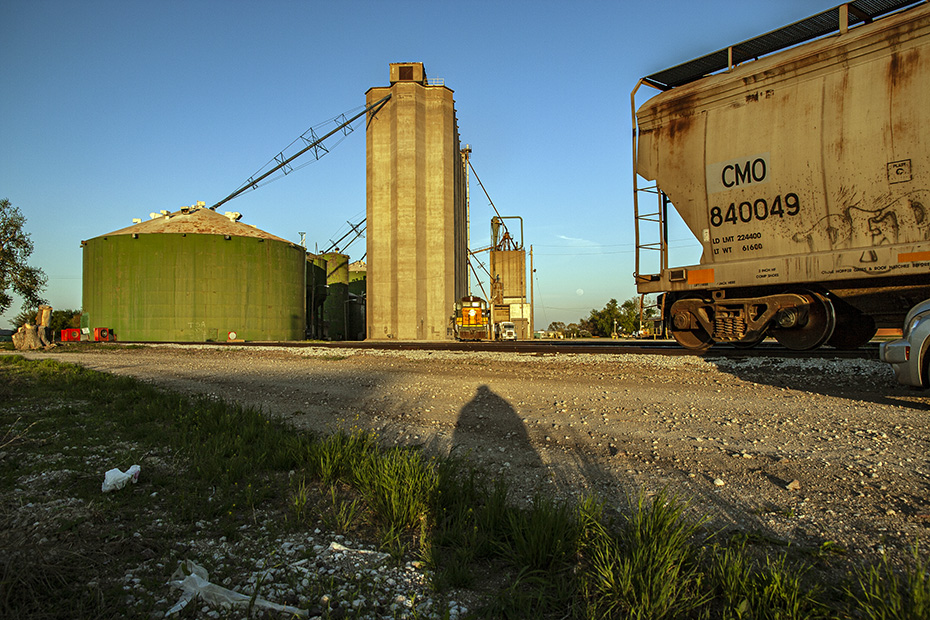 I sent a brief text message to my friend in Omaha: "Fremont Sucks." Before I returned to his house, we talked on the phone and expressed interest in hearing why Fremont sucked once I returned to his house.
I also ate at a Jimmy John's for the first time in my life, and, like with Fremont, I was not impressed.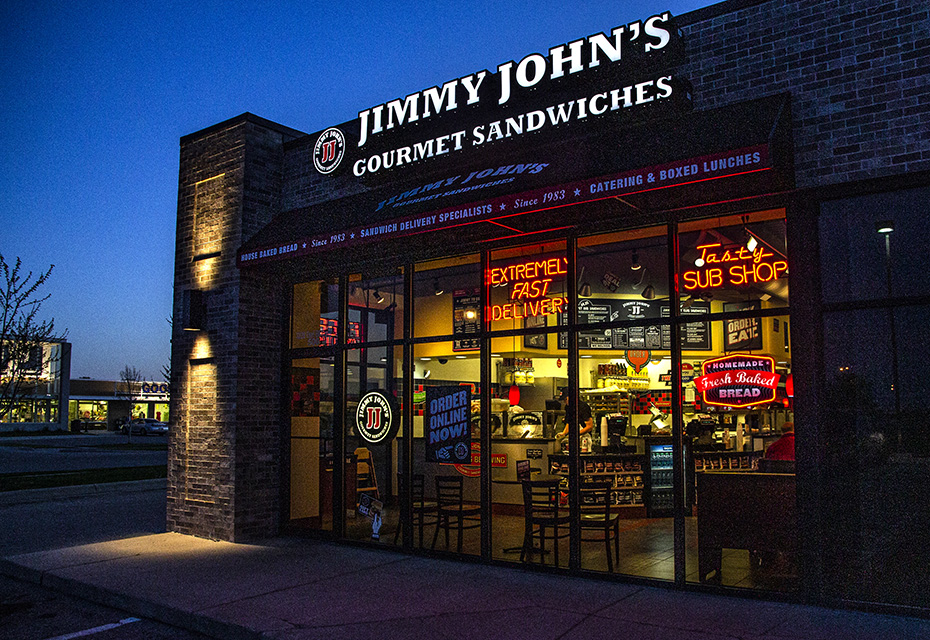 This was probably before Drew Brees became associated with the franchise, which is why I thought Brees's association with the chain was a bit laughable. The sandwiches are okay, but nothing better than I can make at home, and I'm not that great at culinary matters.
So, that's all for the pictures for Day 7 of Jimbaux's 2012 Spring Break Road Trip. The next day, I'd get back in my rental automobile and begin making my way southward back home alone. Stay tuned for that, as it takes a bit of a different turn.
Merci.
Jim