This is part of the Eastern Great Plains Spring Break 2012 Road Trip series.
Greetings, and welcome to Day 8 of Jimbaux's Spring Break 2012 Road Trip, Friday 6 April 2012, Good Friday.
This day was both anticlimactic and emotional. Done were the big train-hunting days with huge catches, like Day 6, two days before, and done, too, were moderate-sized train-hunting days with moderate-sized catches, like the previous day, Day 7.
I don't remember this day, Day 8, Friday 6 April 2012, being Good Friday, but I remember very well – and the pictures will demonstrate this as a day with the documentation of human suffering and hardship, given what I saw and photographed in the middle of the day.
We start in Omaha, after I told my friend goodbye and began the long, lonely journey southward to Louisiana.
Here is a westward view on Jackson Street in Omaha.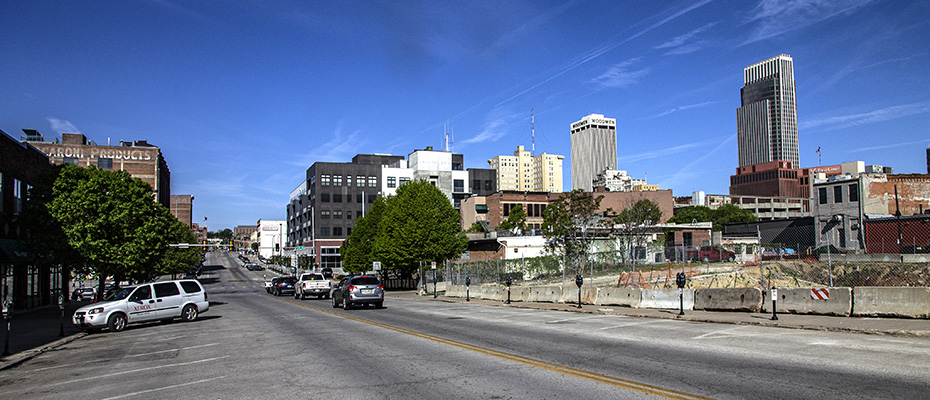 Next, I made a very quick visit to the Amtrak station, just enough time to get these pictures.
I may not have even gotten out of the sedan here.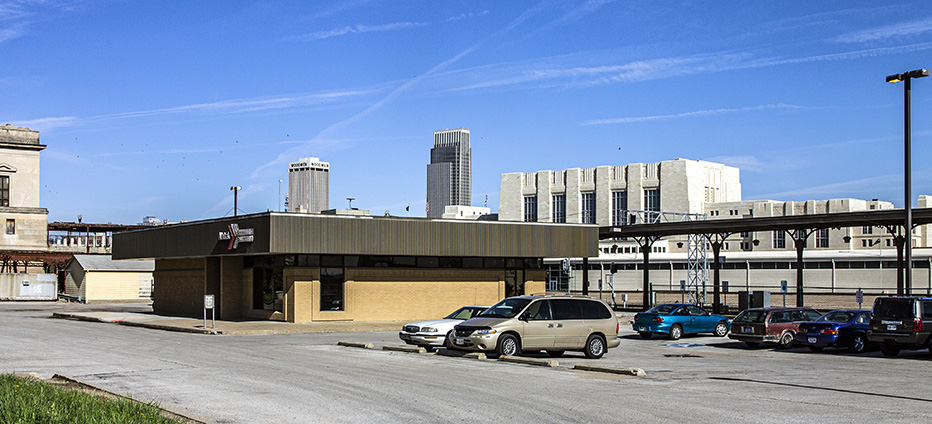 Here we are in the 1300th block of South 6th Street.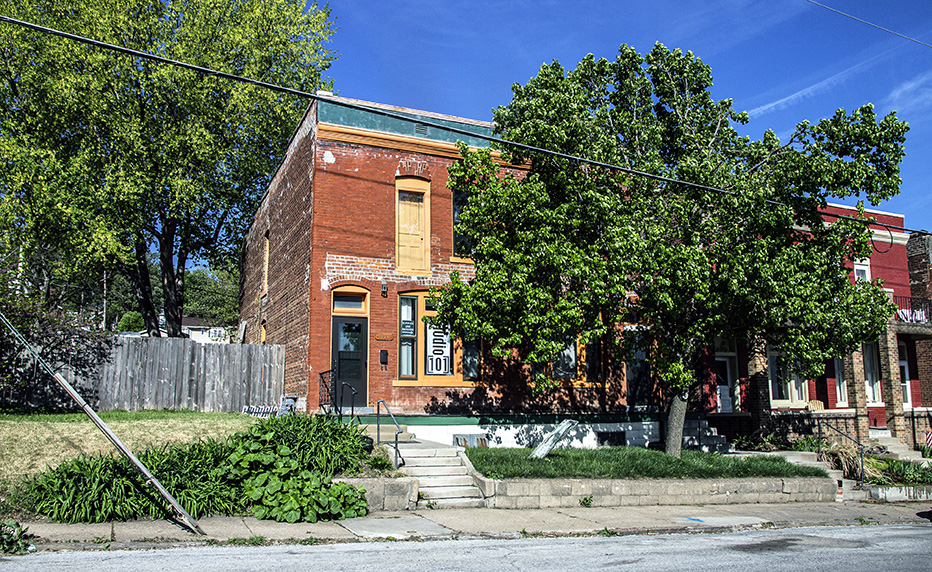 This is an old part of town with some interesting history.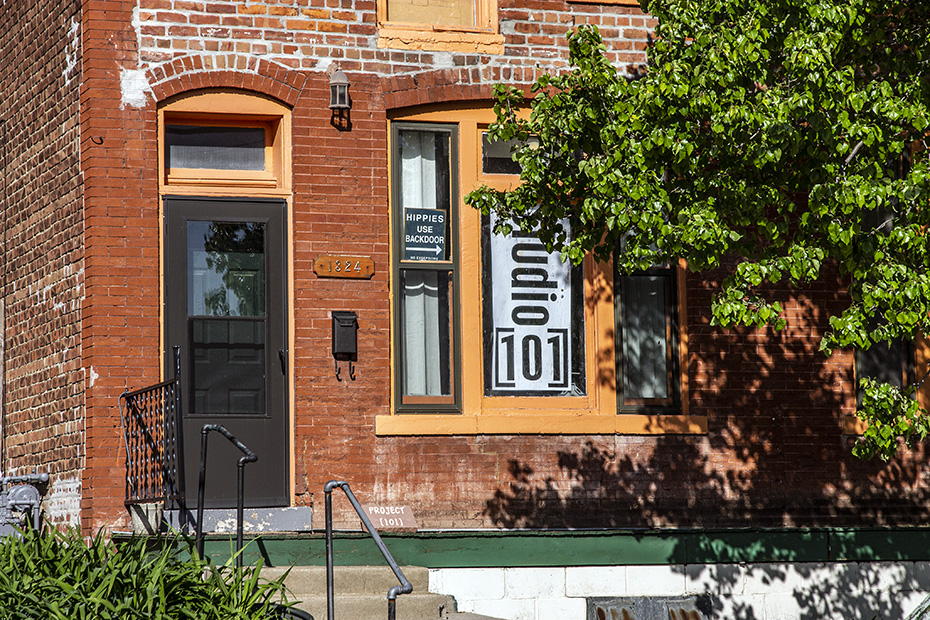 Okay, so long, Omaha, and, in a few minutes, I'd be saying goodbye to Nebraska, too. Whereas my northward journey a few days before had me entering Nebraska from Kansas, my southward journey would not be from Nebraska past Omaha.
I really wanted to check out Council Bluffs, but I didn't have time. As you shall see, I had too much else that I wanted to do today.
Soon, I was in the little village of Pacific Junction, Iowa, which, as you might imagine, got its name from being a railroad junction.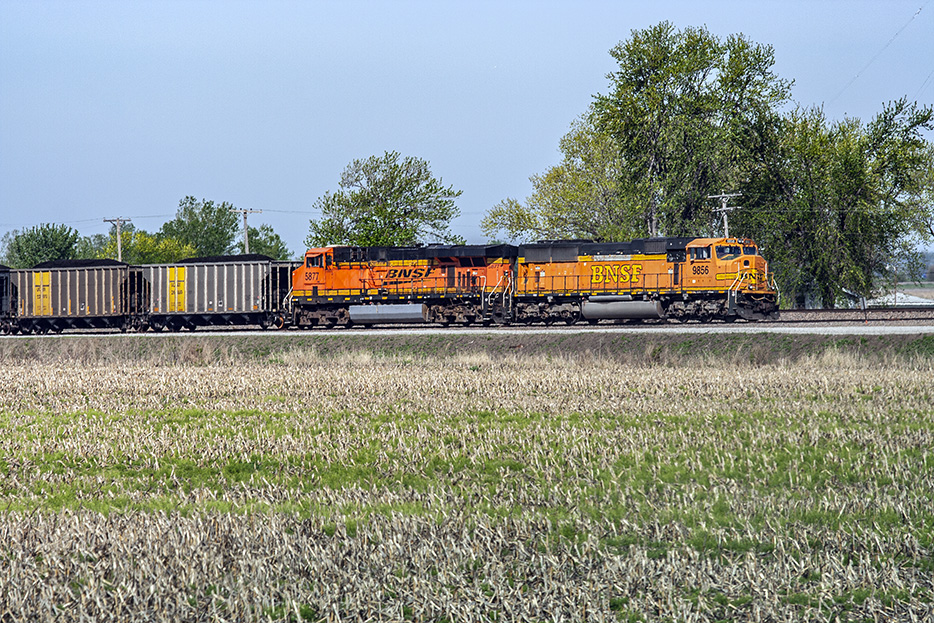 As you can see from the map, two railroad lines cross here. All of them are BNSF Railway lines, and all of them are former Chicago, Burlington & Quincy Railroad lines.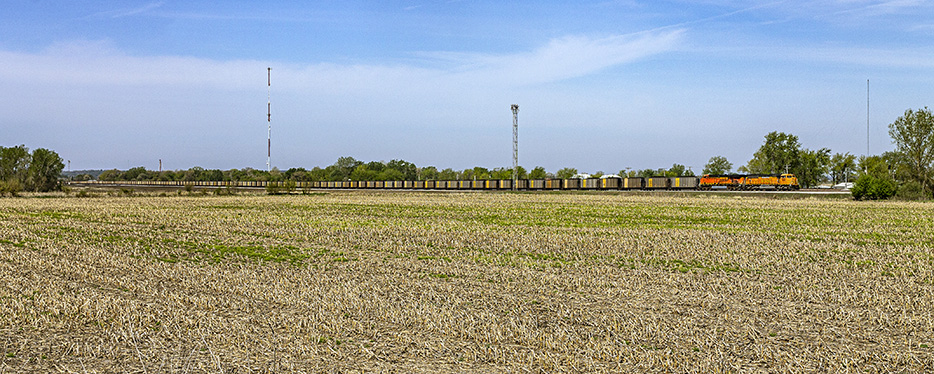 The old school building here is interesting.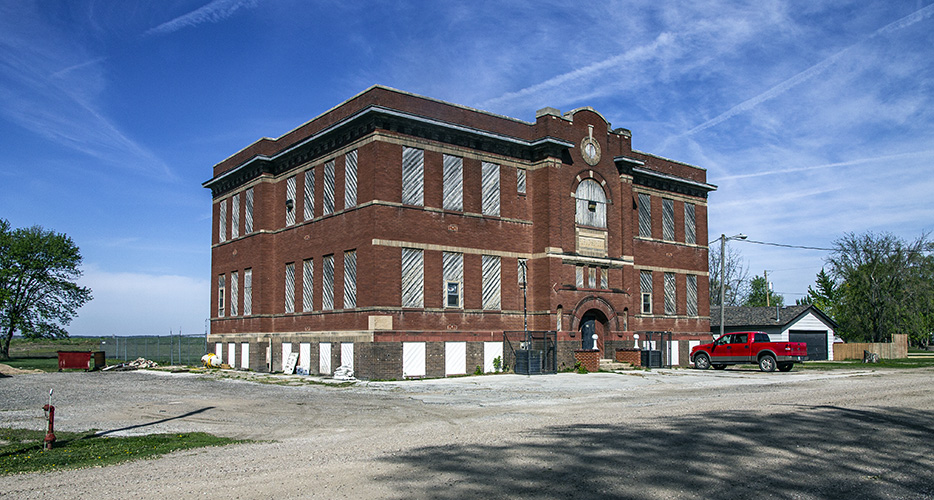 I feel like it has potential as on office building for teleworkers or something.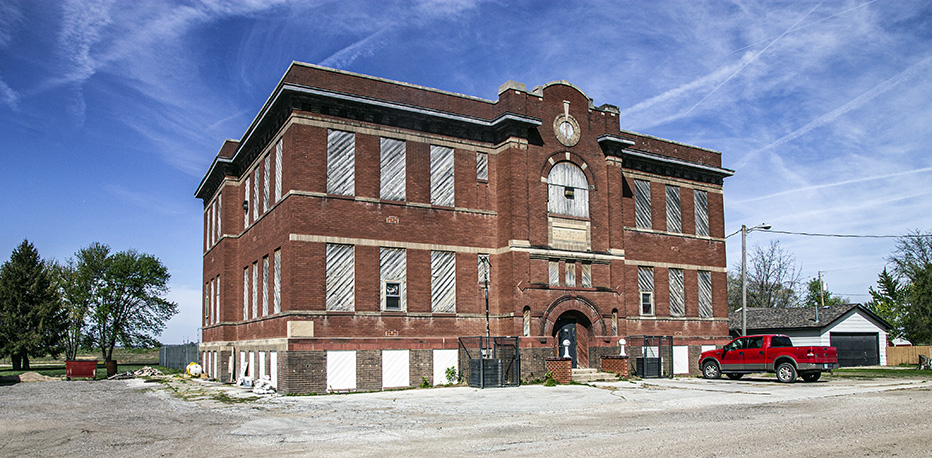 Well, this place is a good idea, at least.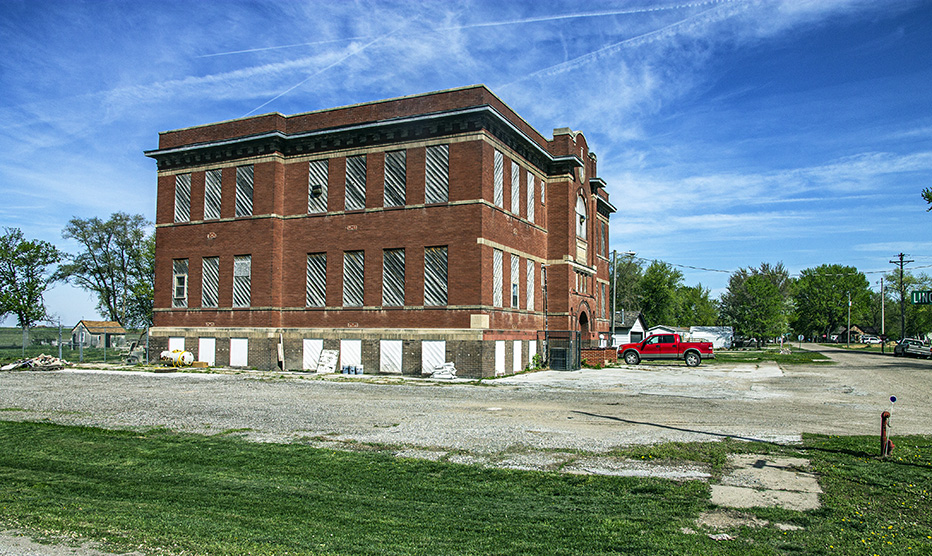 Okay, soon, I would traverse through the southwestern corner of Iowa and leave the state into Missouri. I said goodbye to Nebraska this morning, and now I was saying goodbye to Iowa, too.
In the Day 5 post, I made a brief mention of the Missouri River flood that happened here the previous summer as I entered Iowa for the first time north of Omaha. We didn't have any time to look more at flood damage, as we were trying to get to the Dakota, Minnesota & Eastern Railroad line in South Dakota.
Most of my information that there had been a devastating flood here came from the blogger who had influenced me since 2003, and he said that national media was not adequately covering the destruction of the flood. So, I had intended long before I made the trip that I wanted to view the effects of the flood, knowing from my Katrina experiences to not be a gawker about this, to do this properly and respectfully, the Missouri River flood of 2011.
I got off of I-29 at Rock Point and started exploring.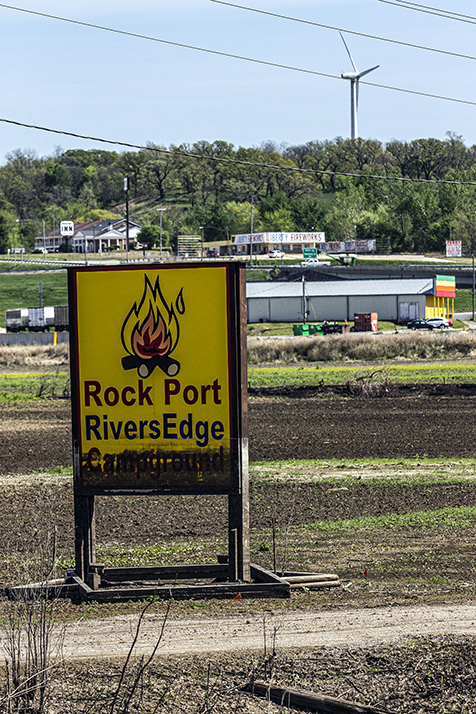 Though I left Nebraska almost two hours before and would not enter it again on this trip, I still was only a few miles from it the whole time, as I-29 runs close to and parallel to the state border, and now I was slowly moving toward Nebraska again and was only a few miles from it.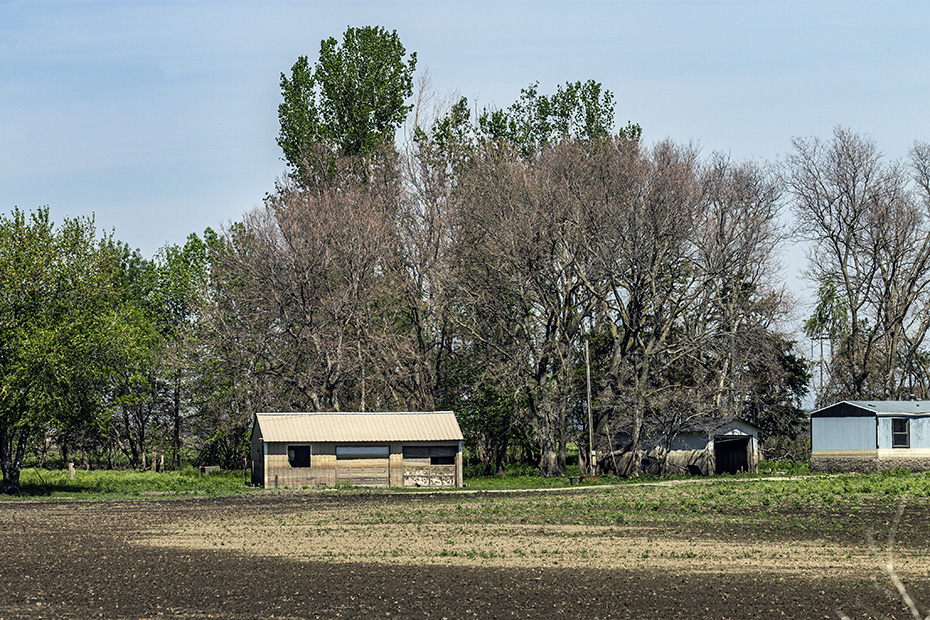 There is an old campground an RV park here, and basically all of the structures and edifices that I saw in this floodplain still had watermarks from the flood almost a year before.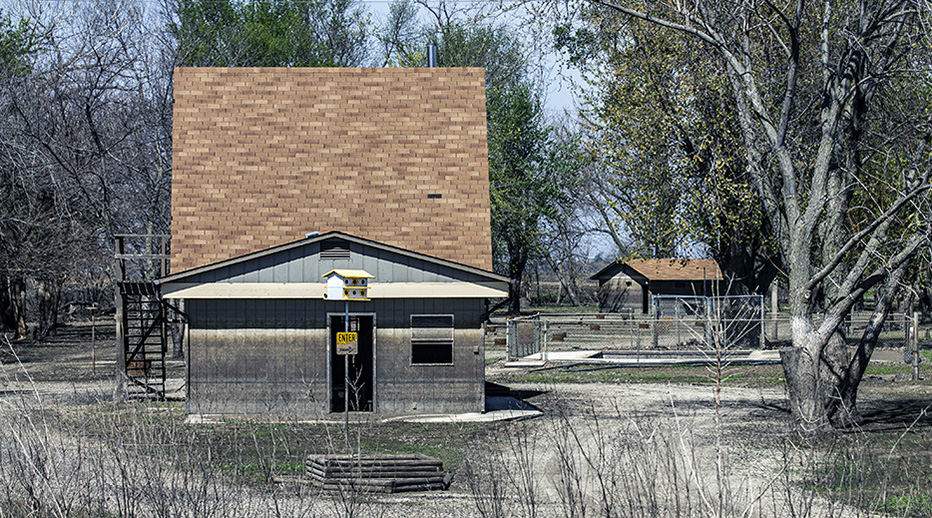 It's as if nothing has happened since the floodwaters receded.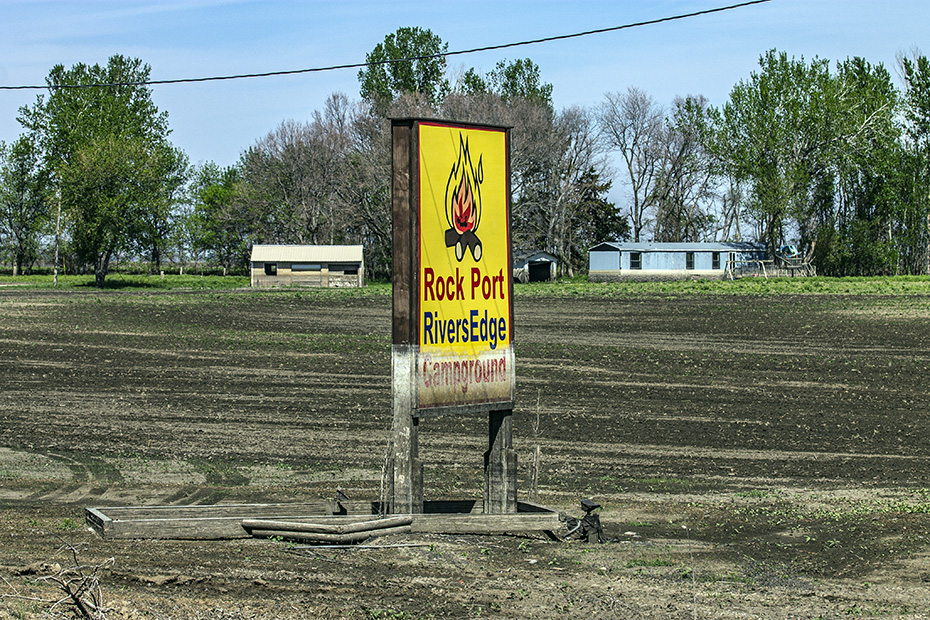 According to Google Street View, this structure is no longer there.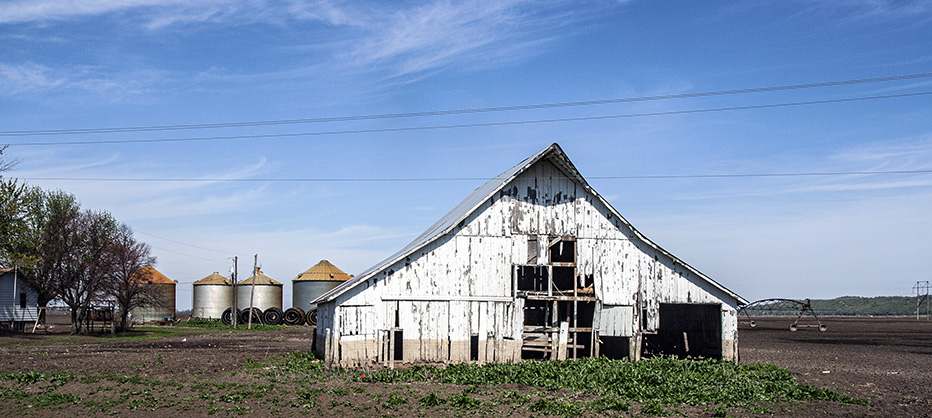 This view looks back toward the east, toward I-29.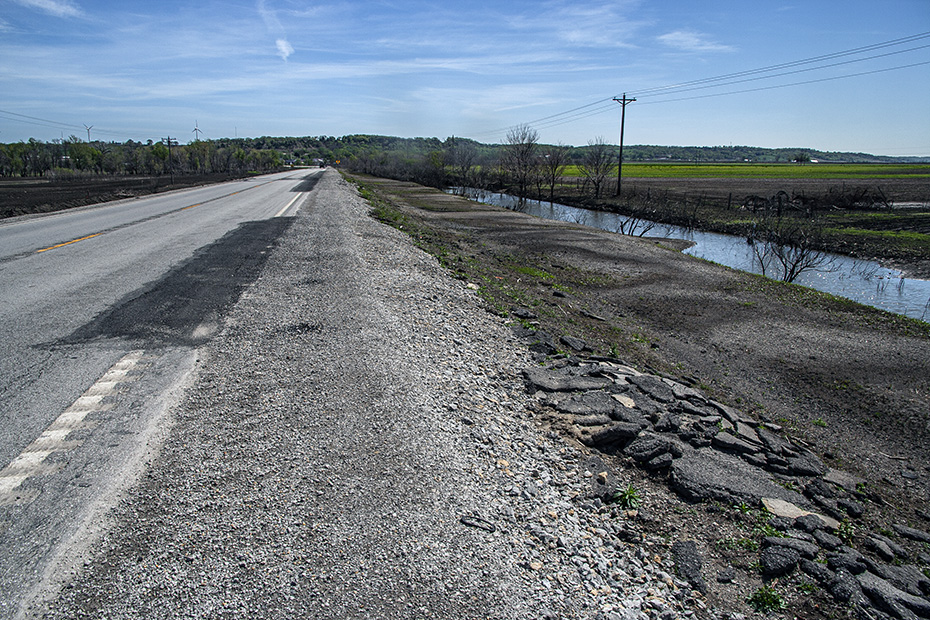 Images of this structure are stuck in my head.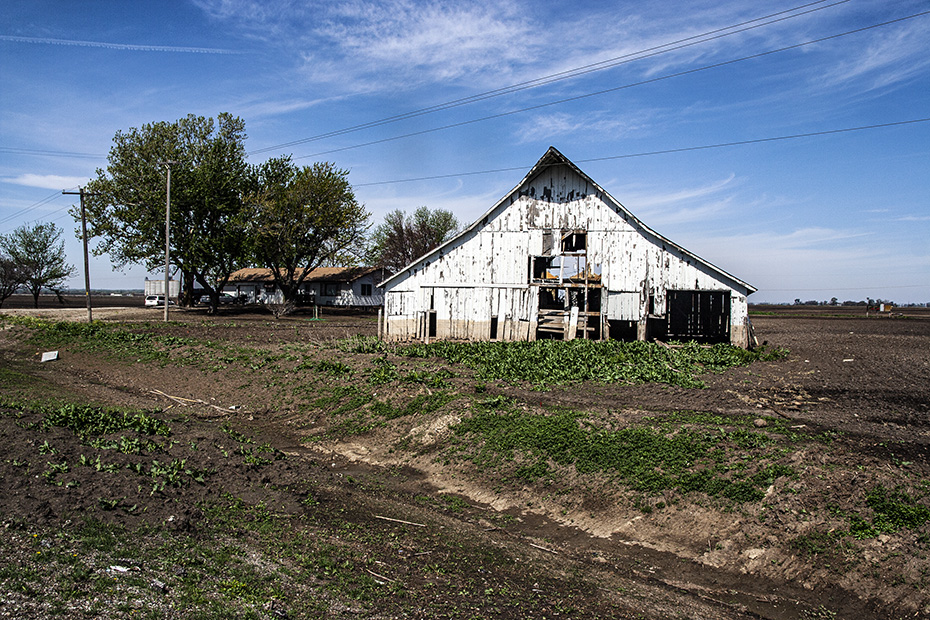 I guess that the flood dropped plenty of silt and-or sediment here.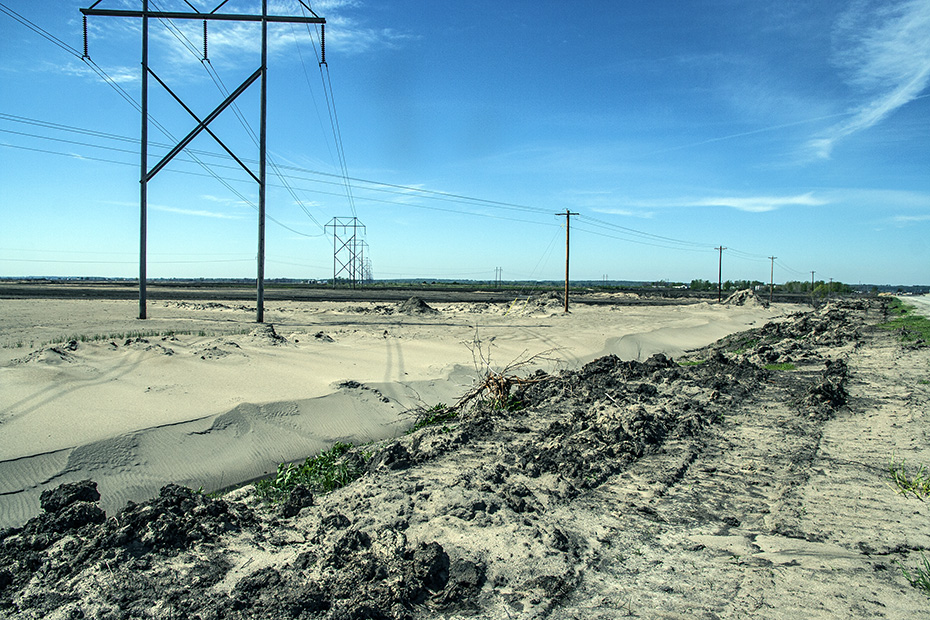 So much of this area looked like a moonscape.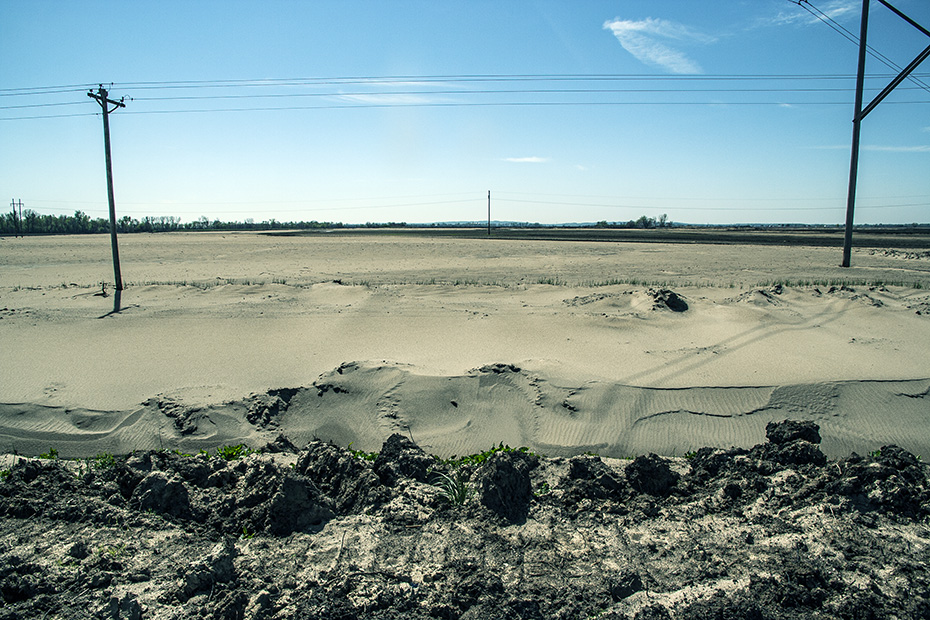 I do wonder what has happened with the area since then and if it has recovered.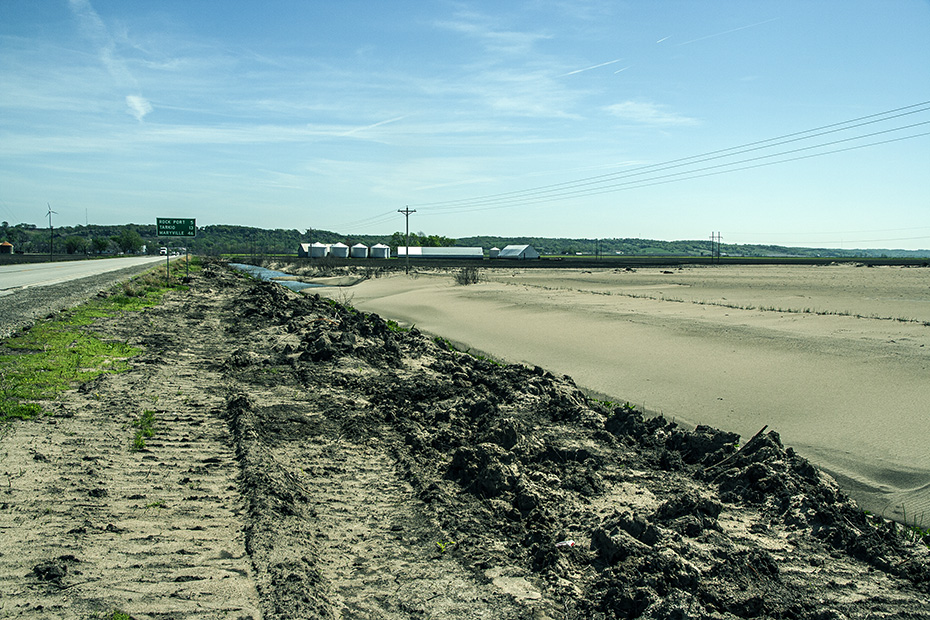 I imagine that the population of Phelps City had, by this time, drastically dropped since that sign was put there.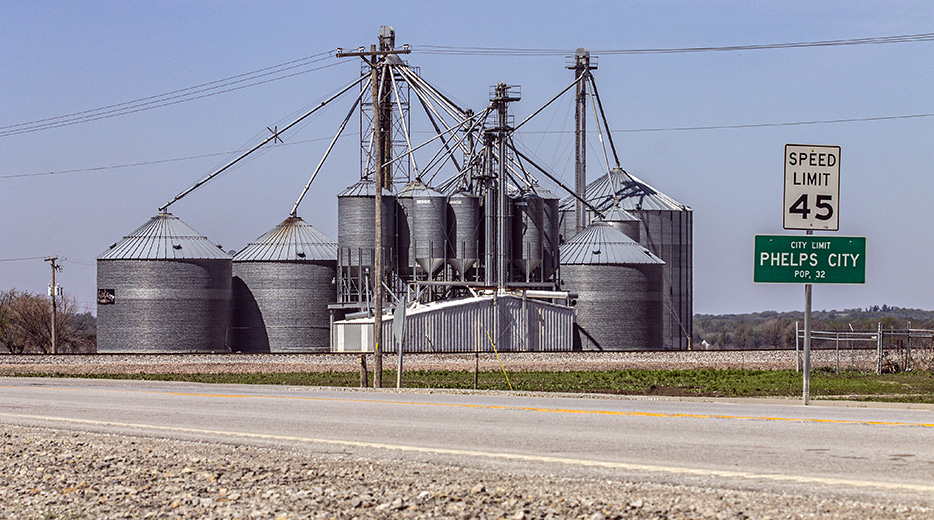 I wonder if this control box was raised like this only after the flood.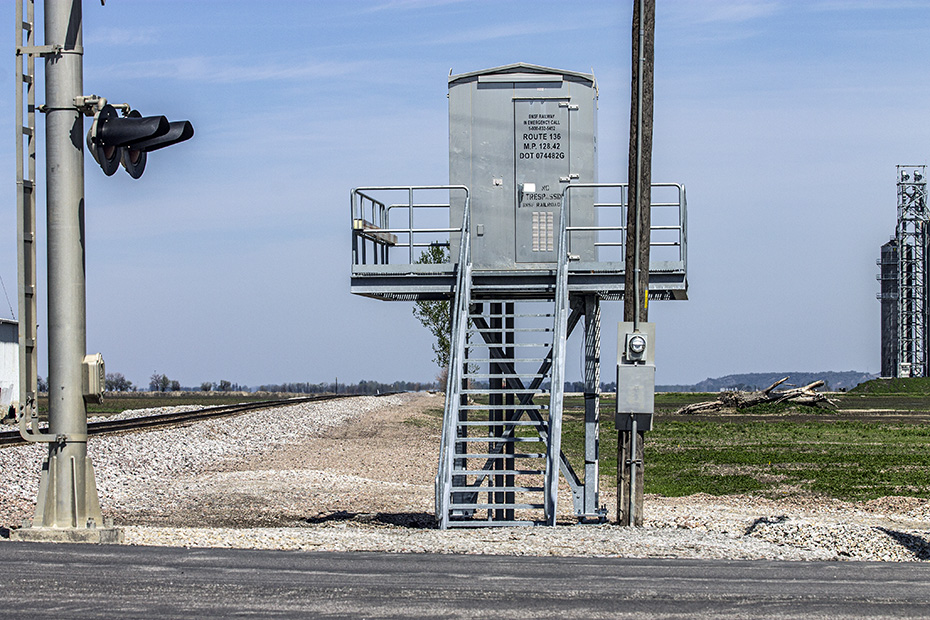 After this trip, I noticed that the New Orleans Public Belt Railroad was installing elevated control boxes like this.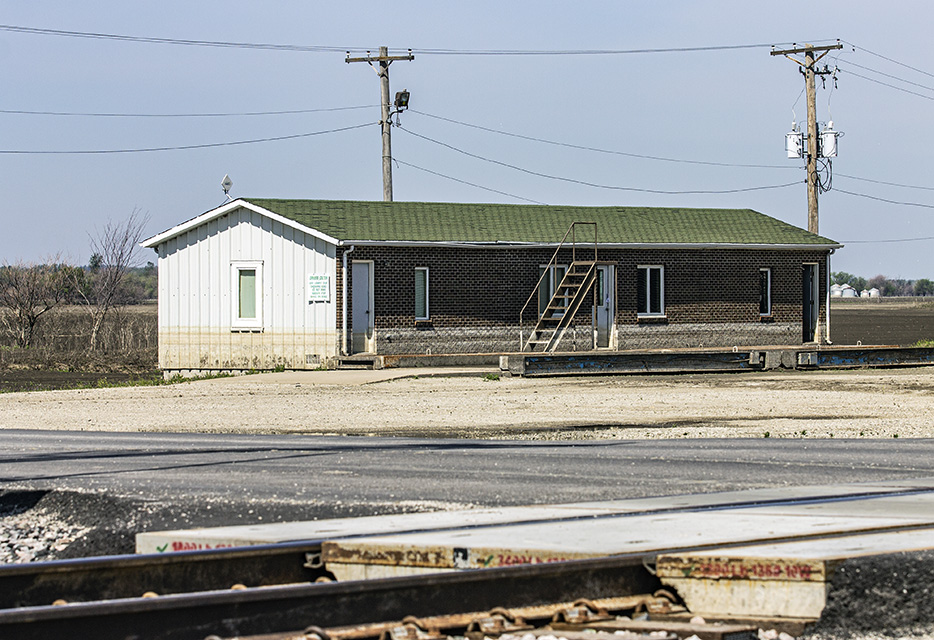 This is the former CB&Q line from Omaha and Kansas City, which is the north-south line that crosses the CB&Q's Chicago-Denver line at Pacific Junction, where we visited earlier.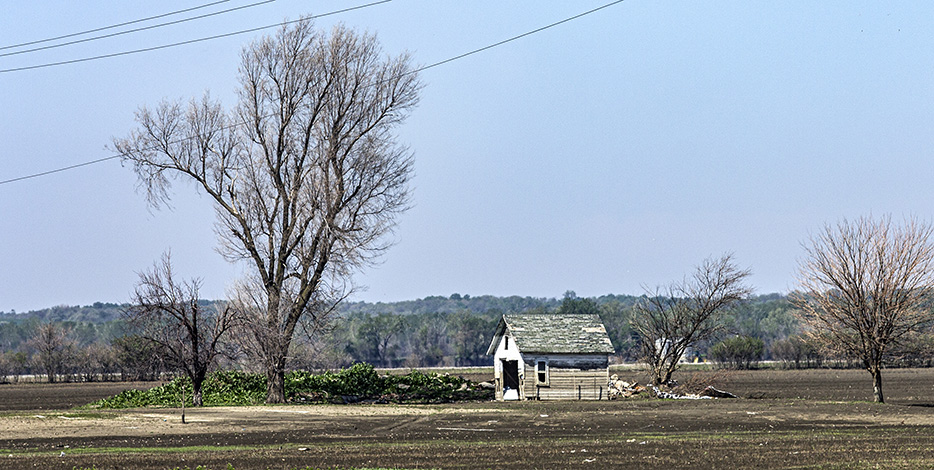 There is this big grain loadout facility here.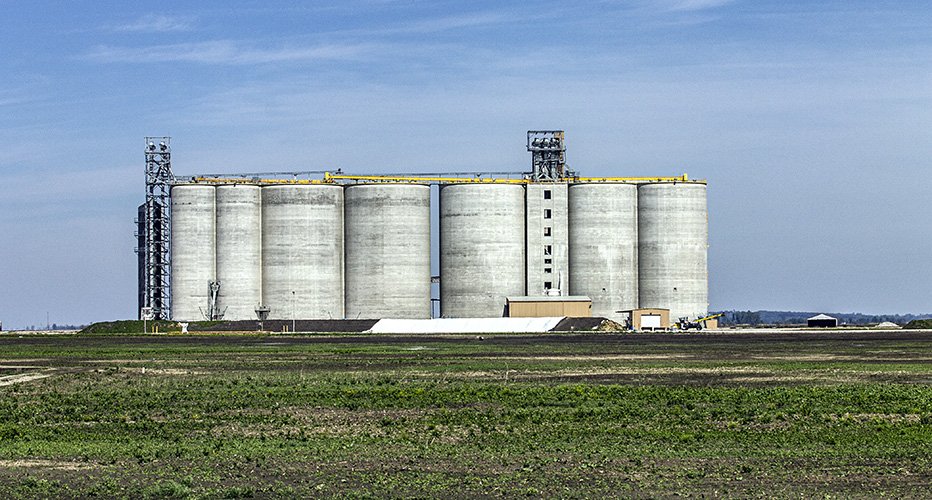 Yes, it has a name.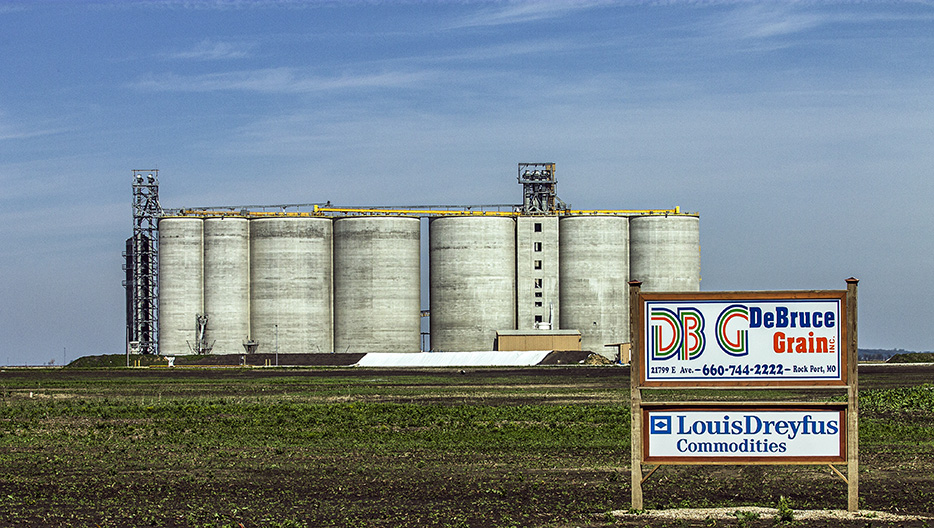 There you go.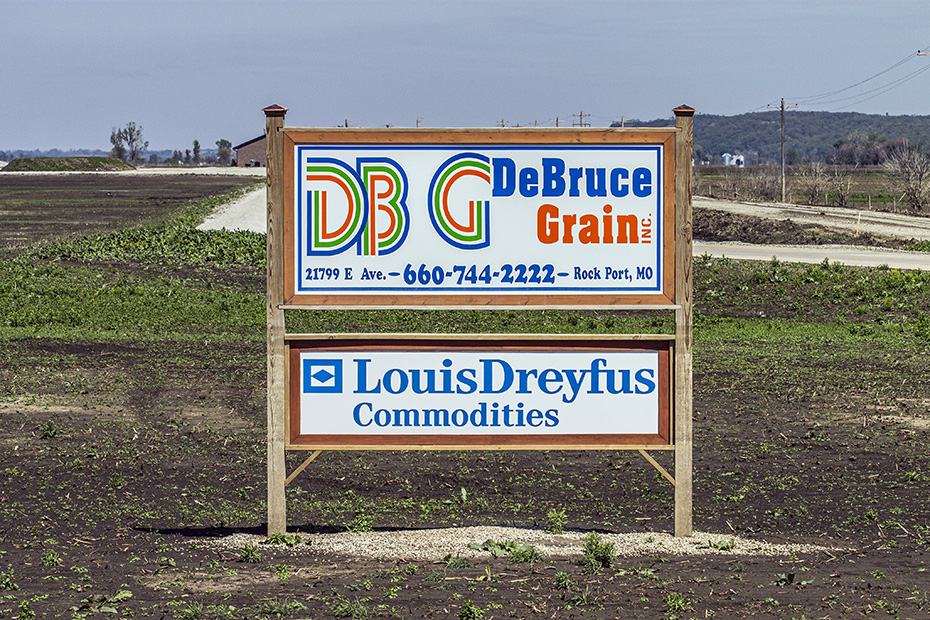 See the watermarks.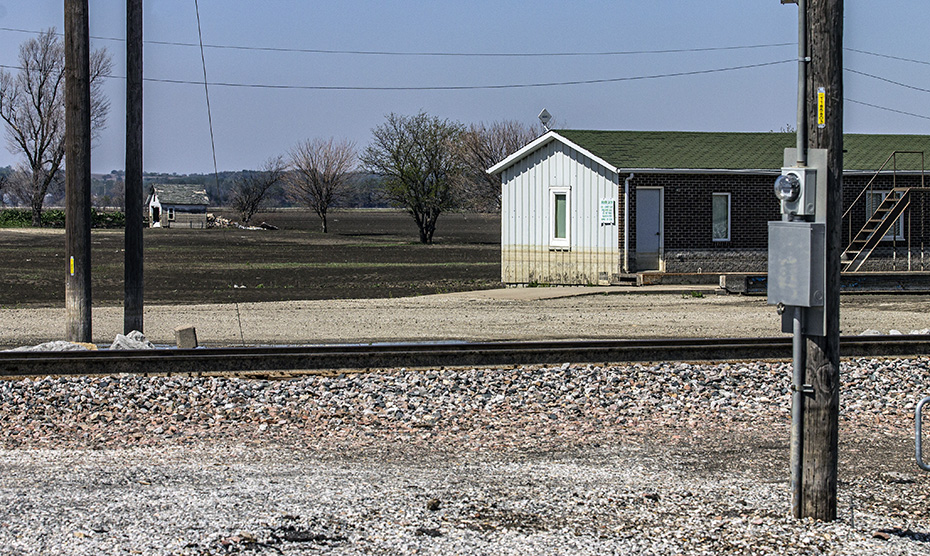 It is all just so sad.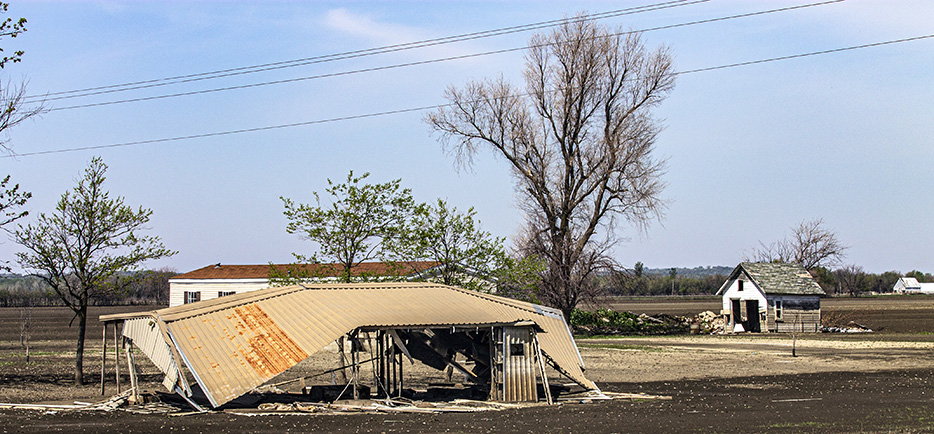 And it is just life.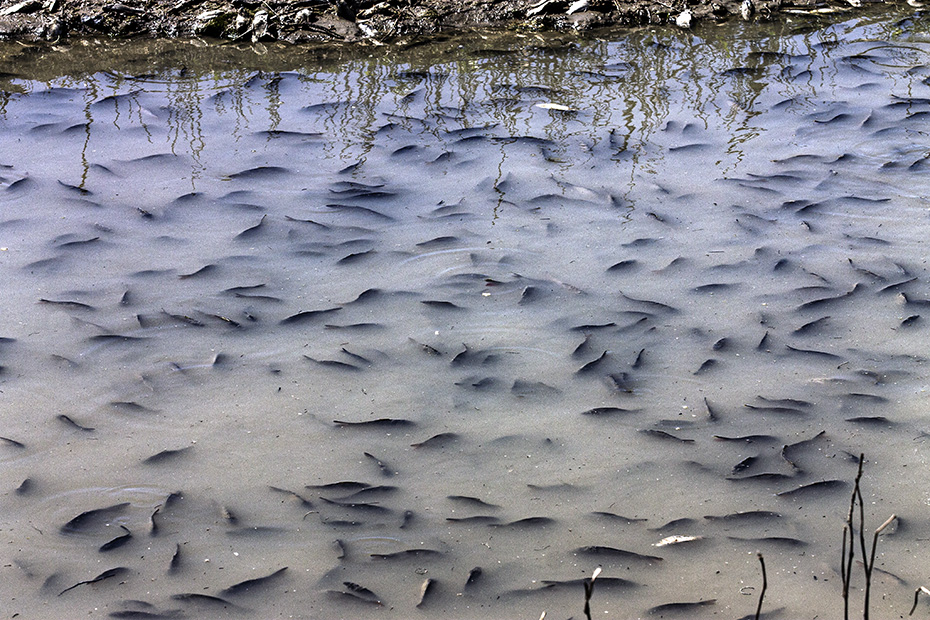 And it is just death, too.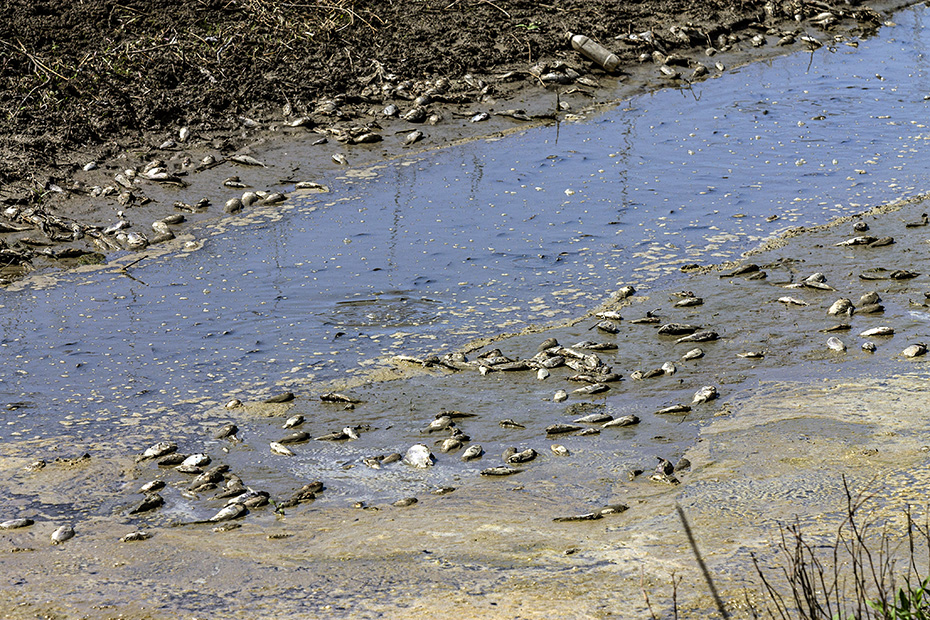 These poor fish didn't make it.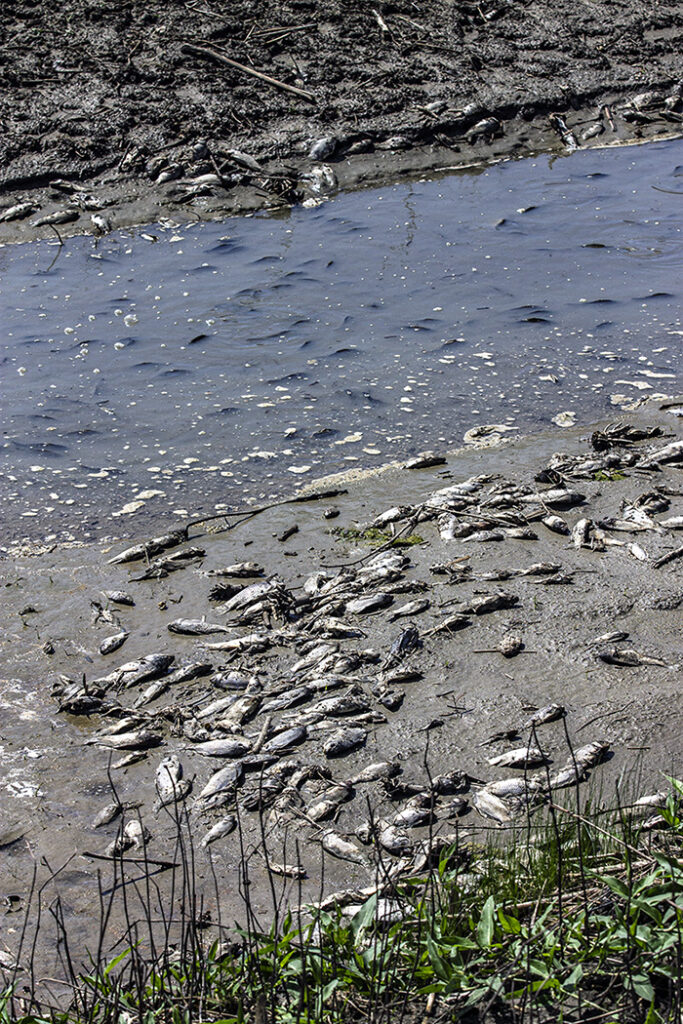 I presume that they got caught here as the floodwaters receded.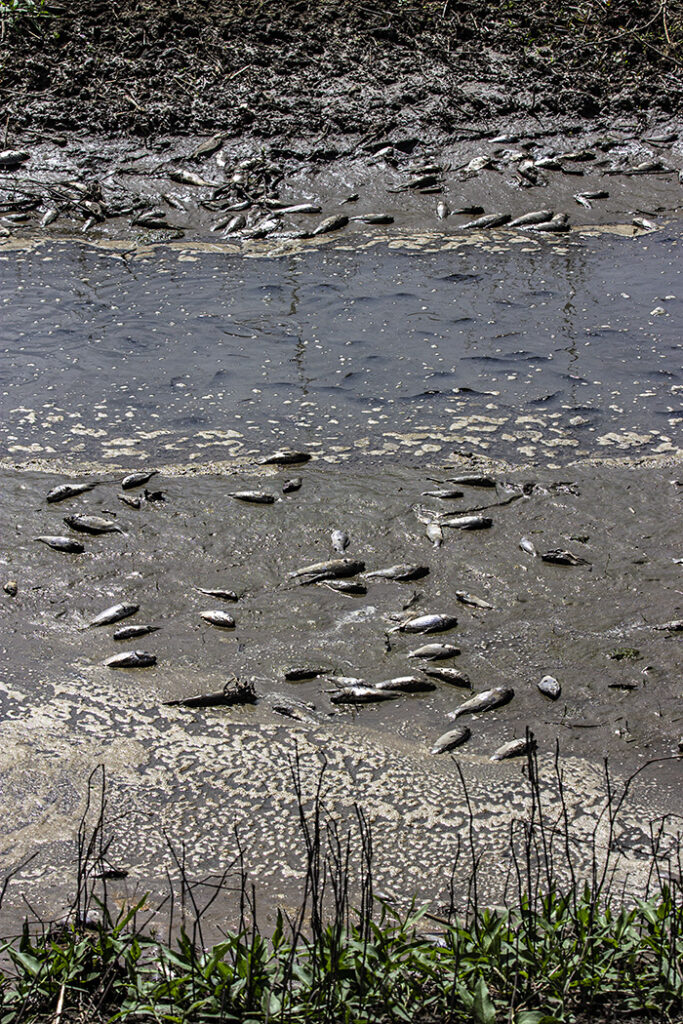 It's such a waste.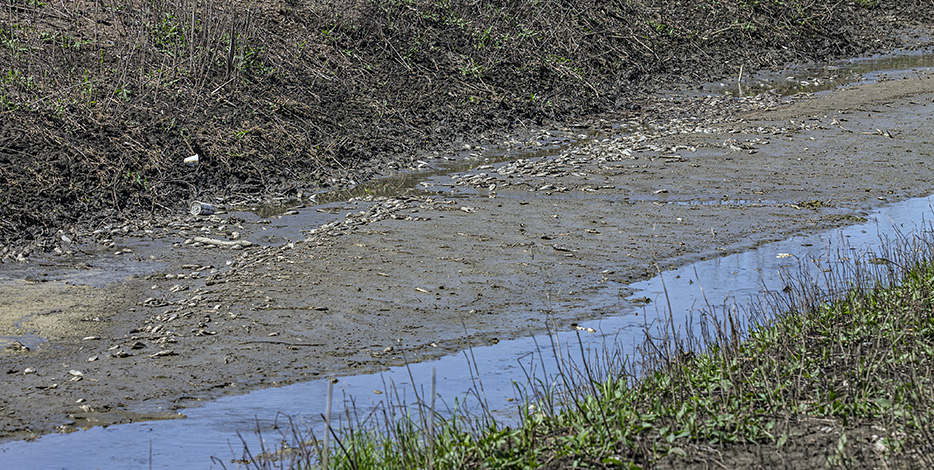 It's a waste even before you consider how many people these fish could have fed.
It's all so sad.
I did come here intending to be humbled, to be reminded of the fragility of life.
Moving southward on Highway U, I found this house.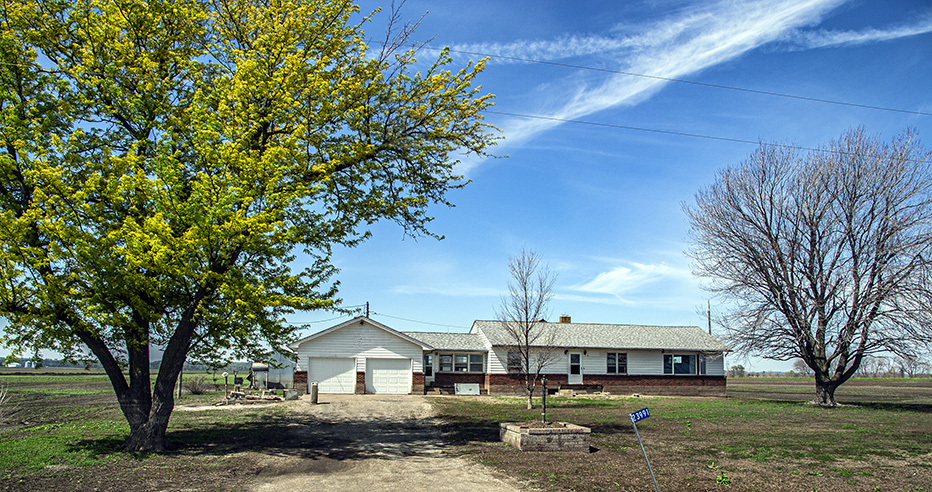 None of these structures appeared to be occupied.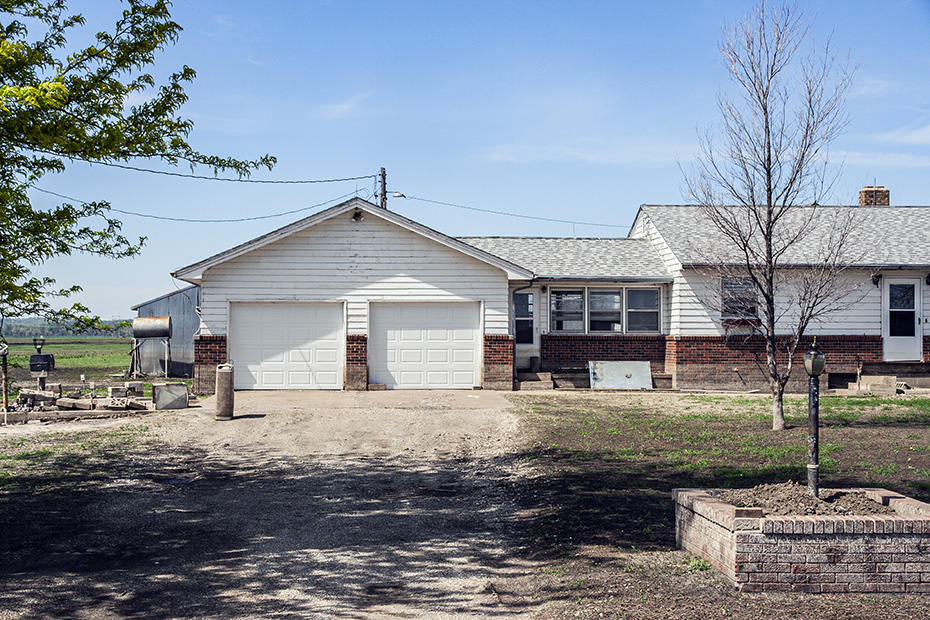 It was such a ghosted feeling.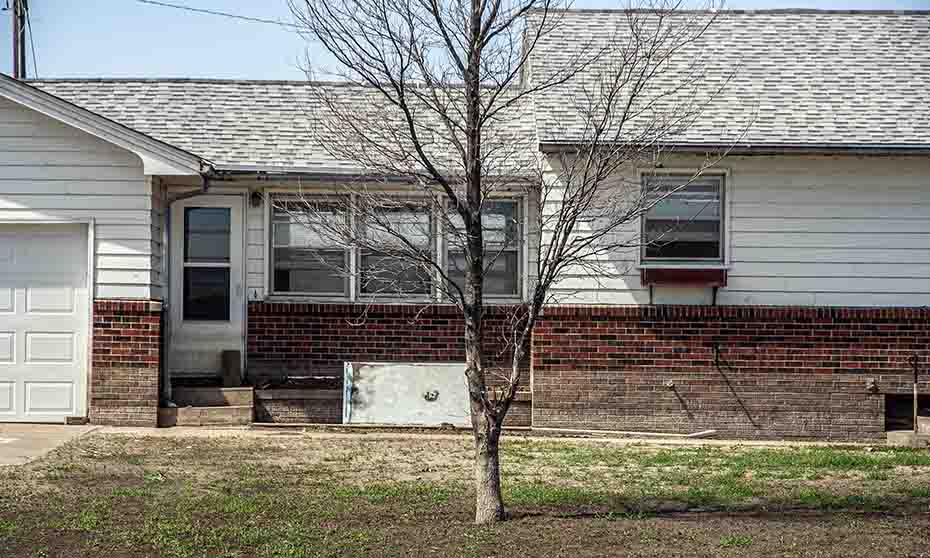 What had been a fertile river valley had, at least temporarily, become a wasteland.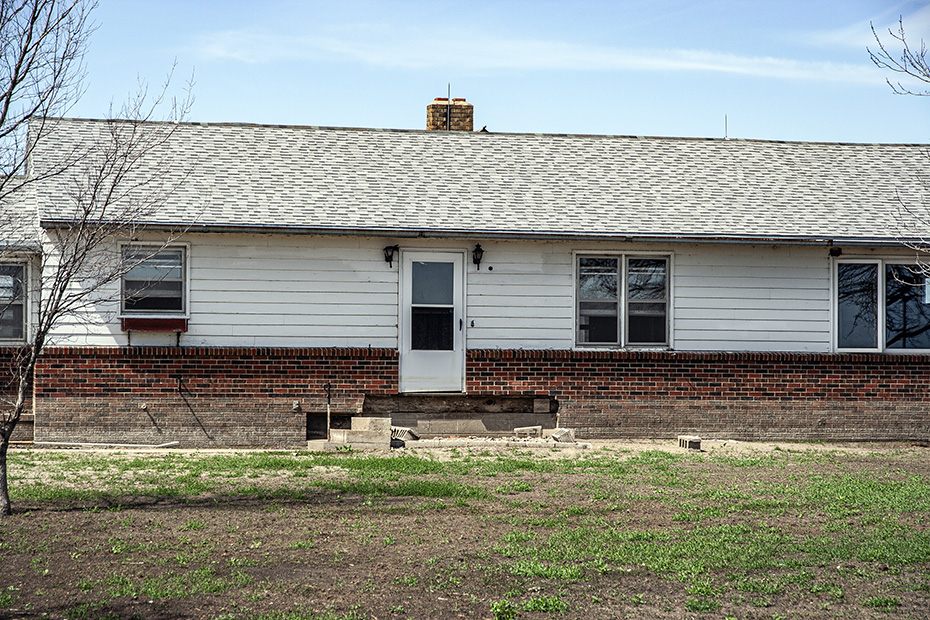 In subsequent years, Louisiana would suffer from various floods not related to hurricanes.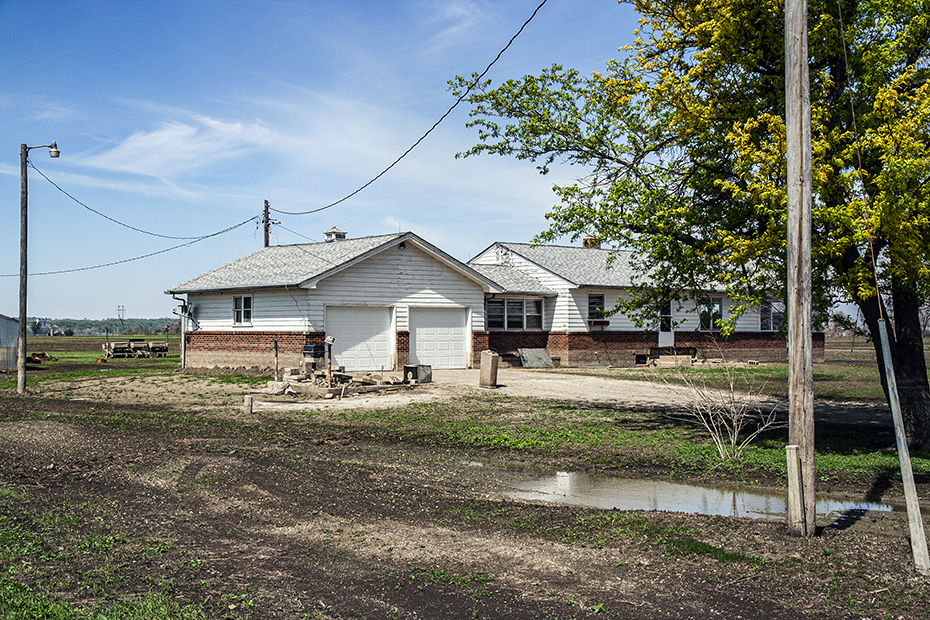 Well, I should keep moving southward.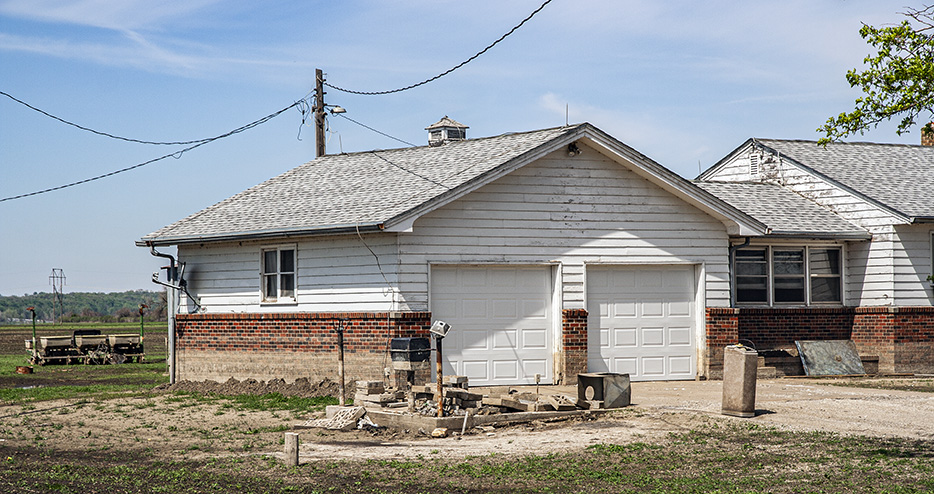 I'm not sure, but I think that those trees in the background of the below picture, at least the ones farthest up, are in Nebraska.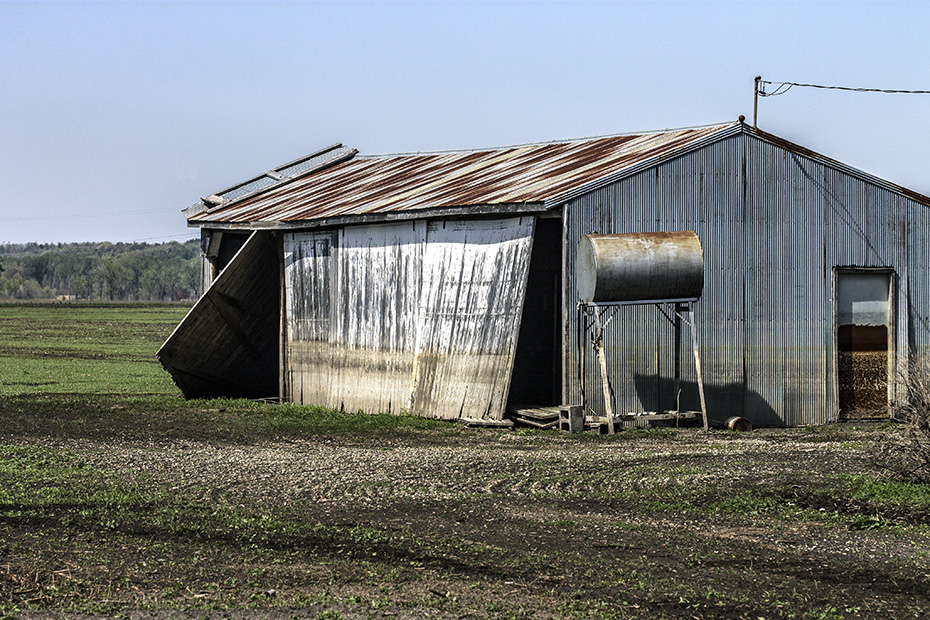 Somebody's barbecue pit flooded.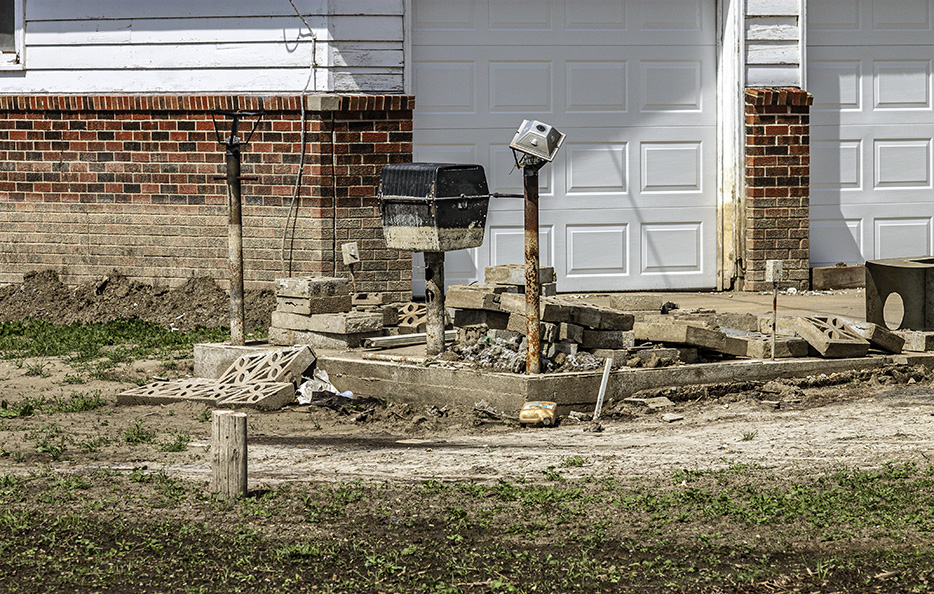 Imagine that.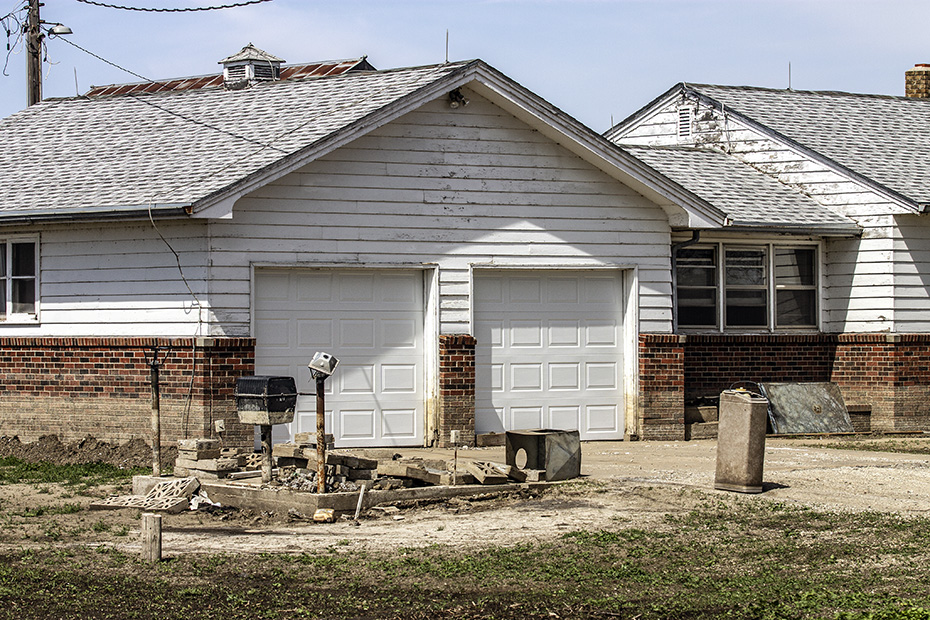 Somebody's house, too, flooded.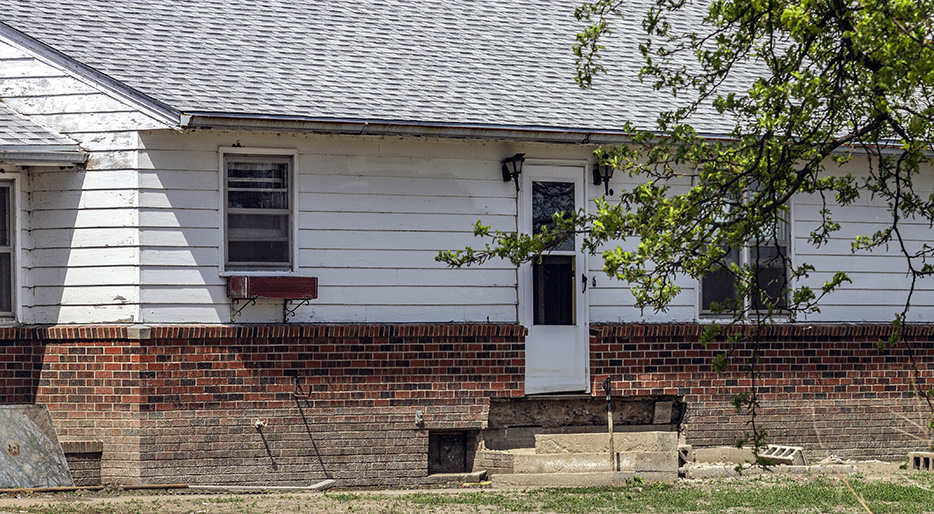 Look at how the watermarks on those hoppers reflect the uneven ground on which the vehicle was sitting as the floodwaters receded.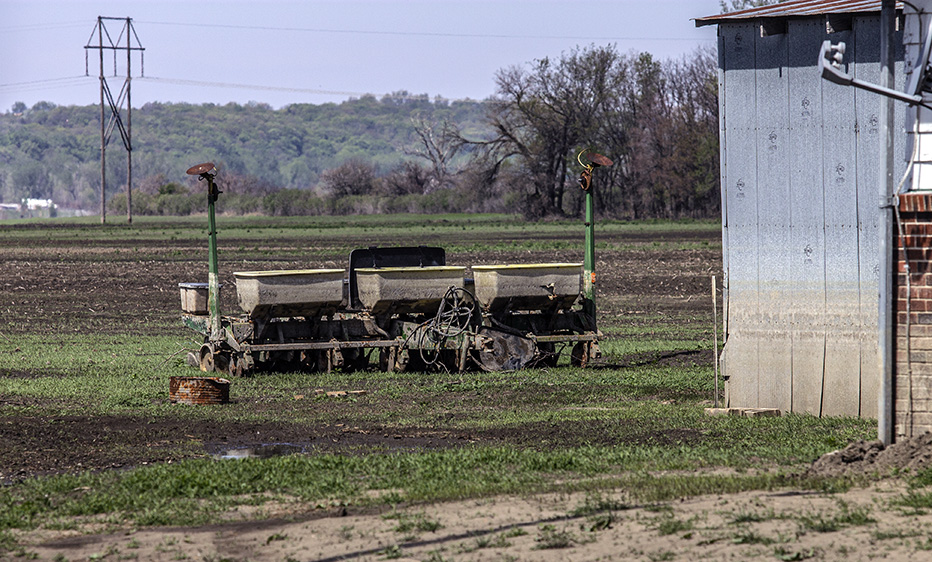 This land feeds you.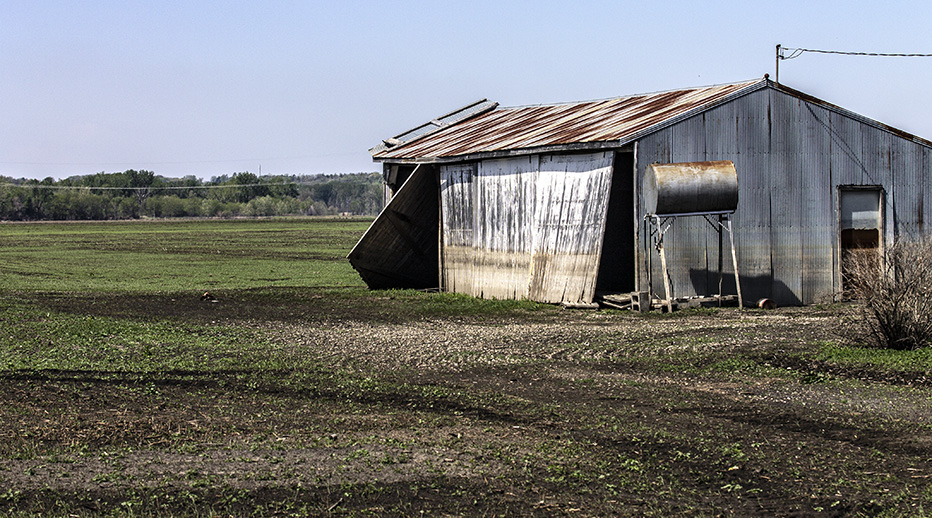 Four minutes later, I am to the south and looking northward along the Saint Joe line, which is this BNSF Railway line along the Missouri River.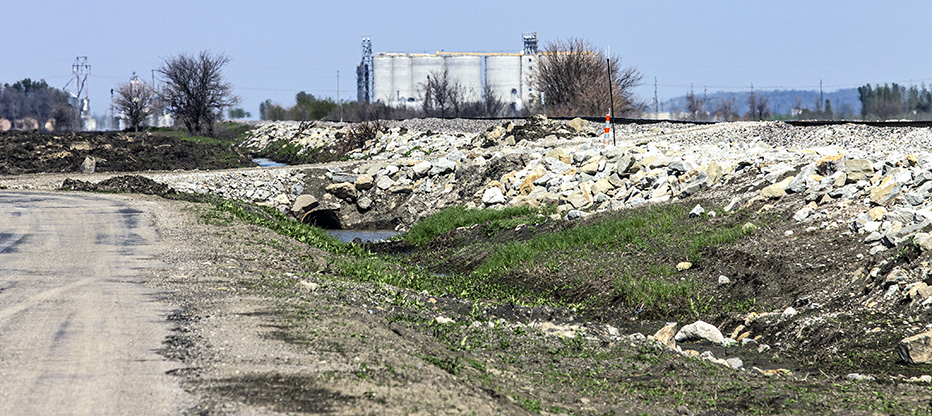 That rip-rap may be new.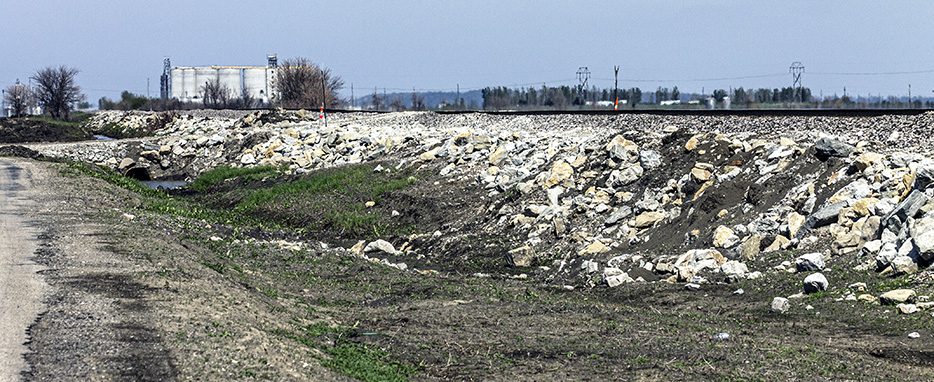 I imagine that BNSF would have had to do some work to rehabilitate the line after the flood.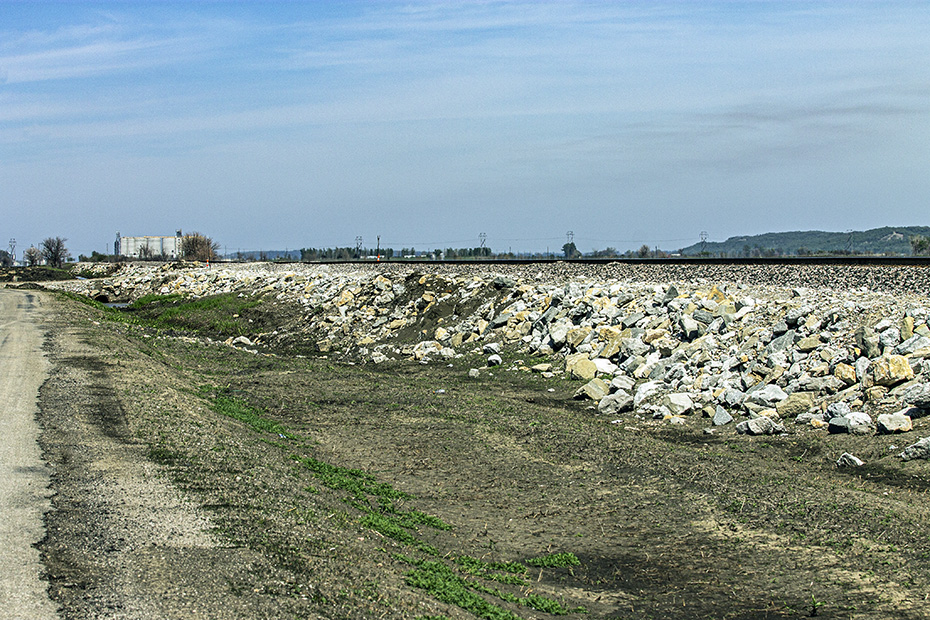 The next picture – and the fact that pictures have timestamps, and the fact that there are maximum speeds that I could have been traveling as I made these images – helped me figure out the locations of many of the images that preceded it and many of the images that followed it.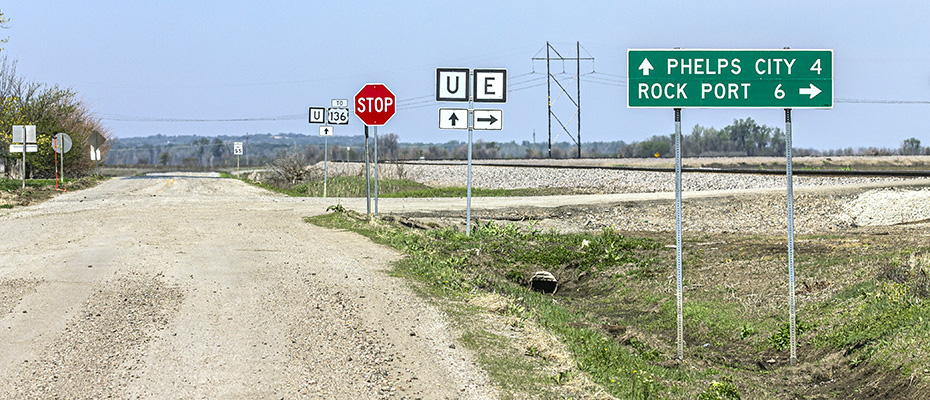 That's true for many of the other images made from this trip for which I either didn't take sufficient notes or cannot find notes that I took.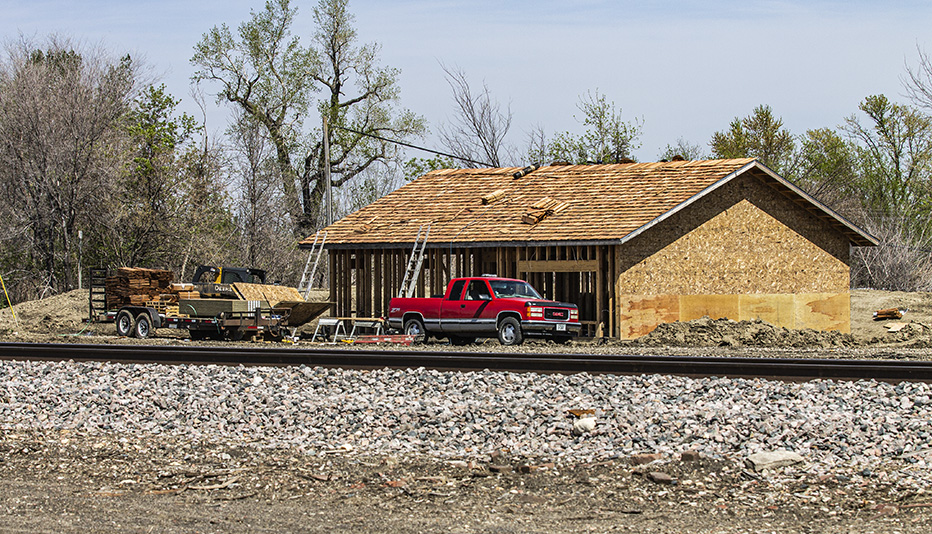 This is Langdon, Missouri.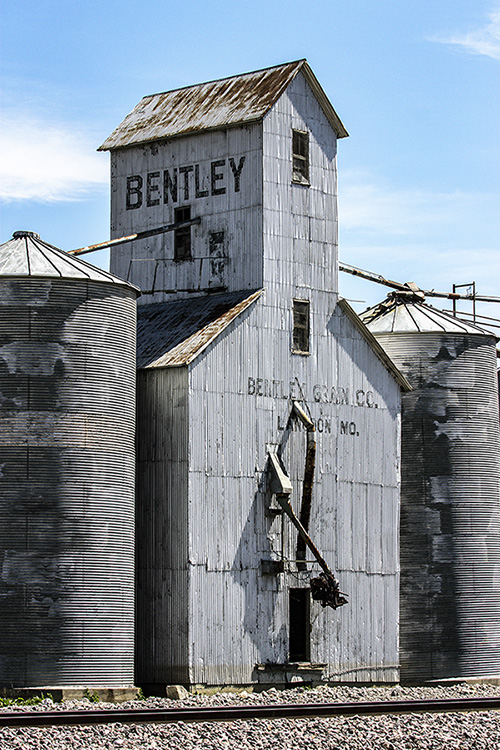 Real people had lived and worked here.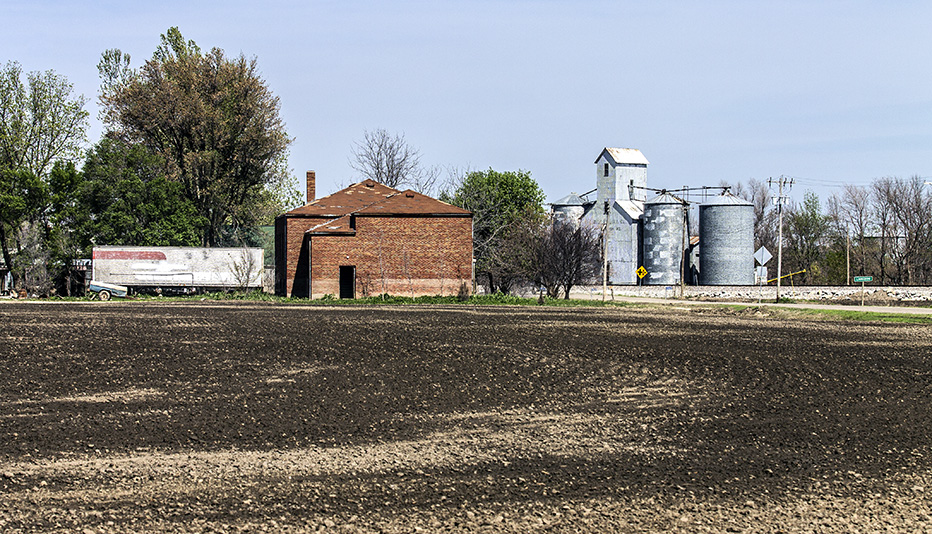 I like this sign or set of signs clustered as such.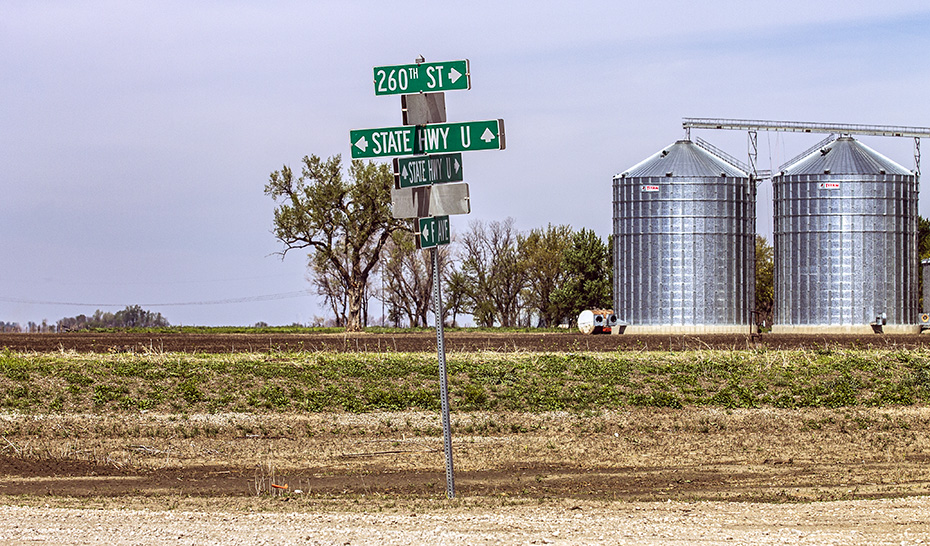 This is just south of Langdon.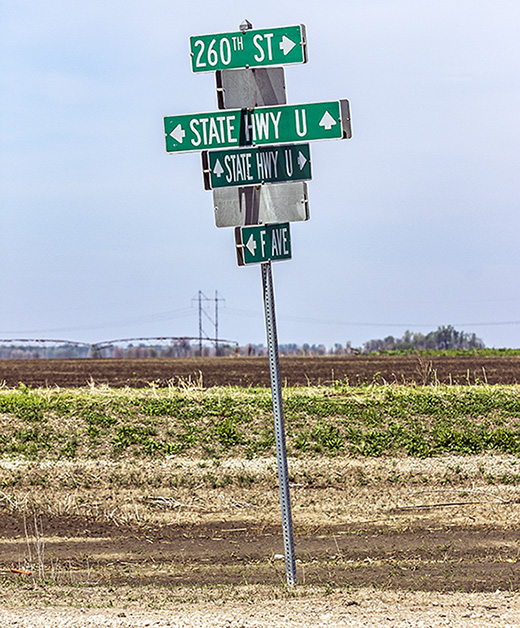 People lived and worked here at once time.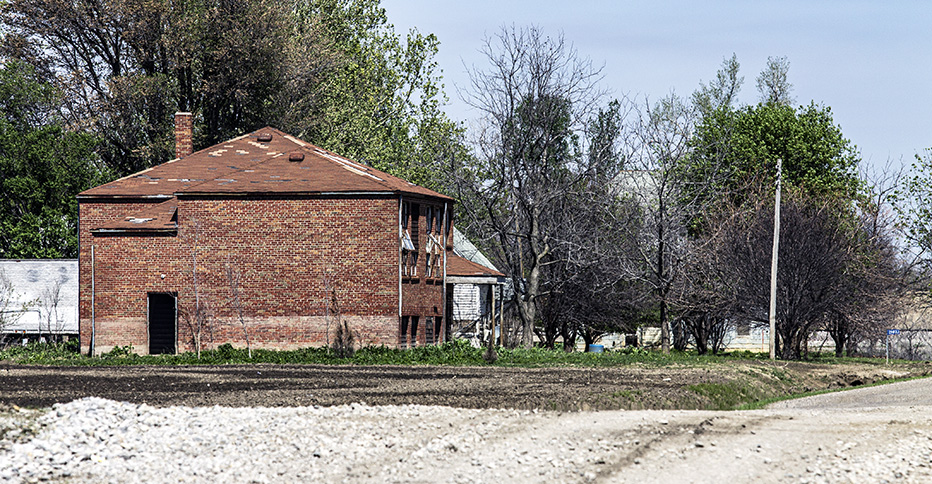 It made me think of Hurricane Katrina.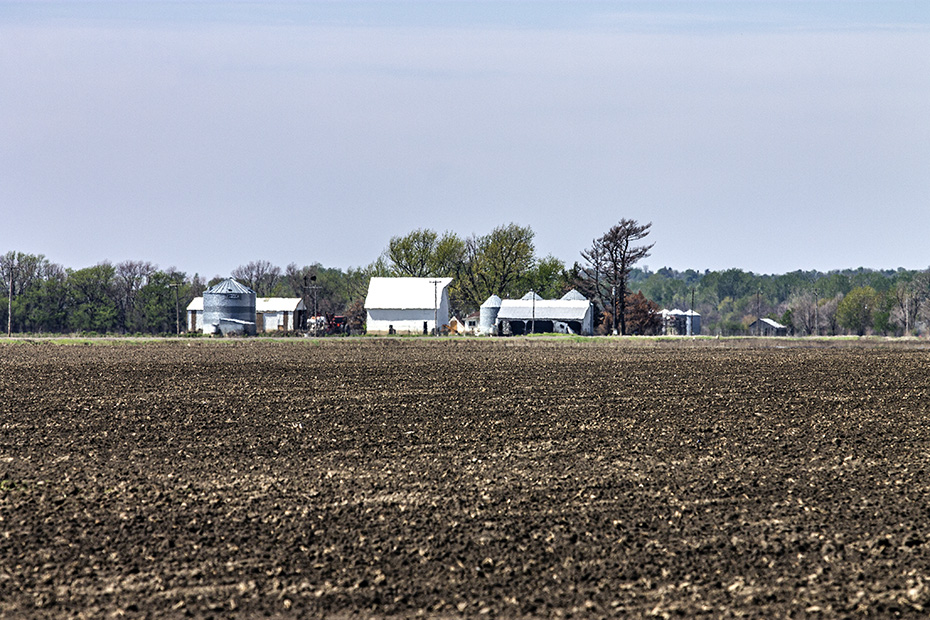 I am imagining grey CB&Q F units passing on that track.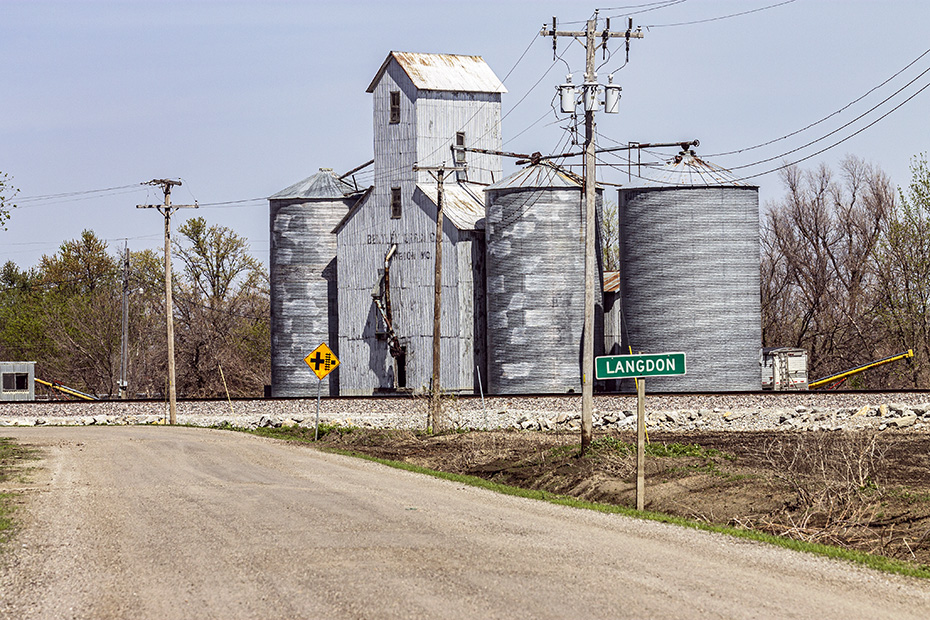 I wonder what the purpose of that building was.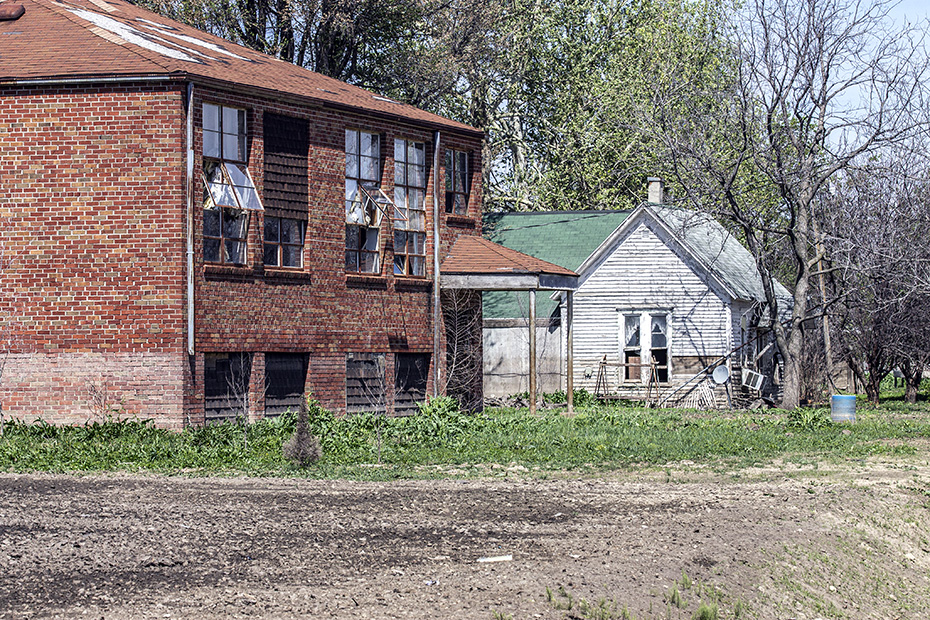 Perhaps it was a school.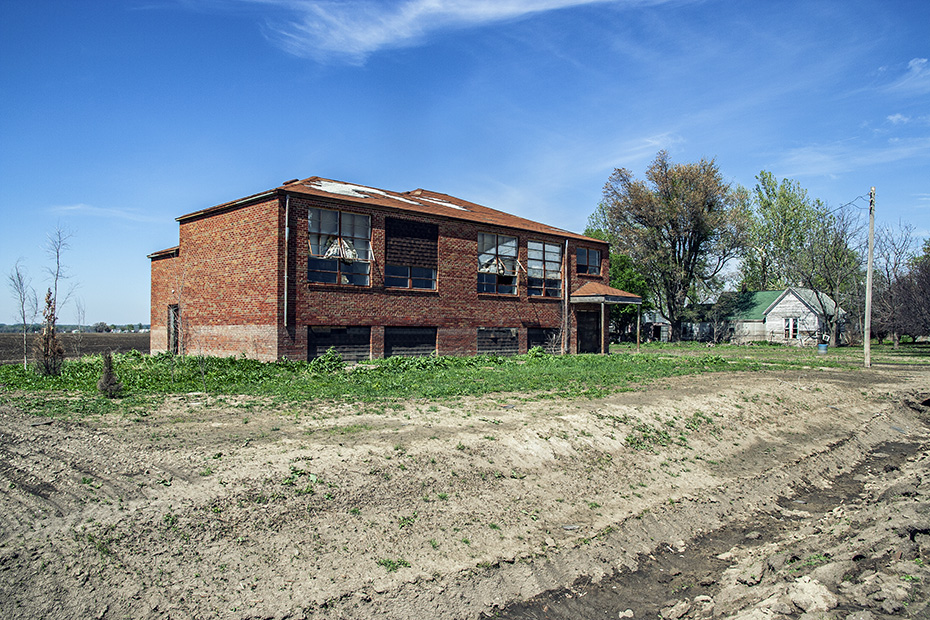 But it's a sign that there was once life here.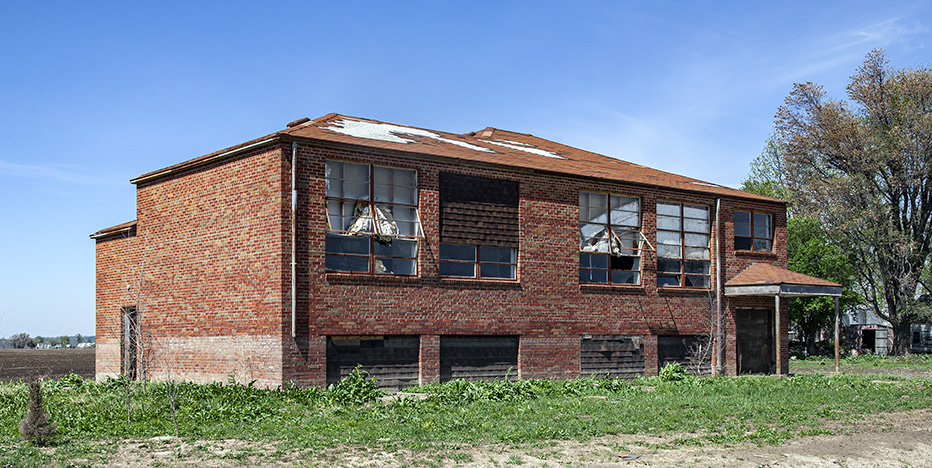 This was someone's house.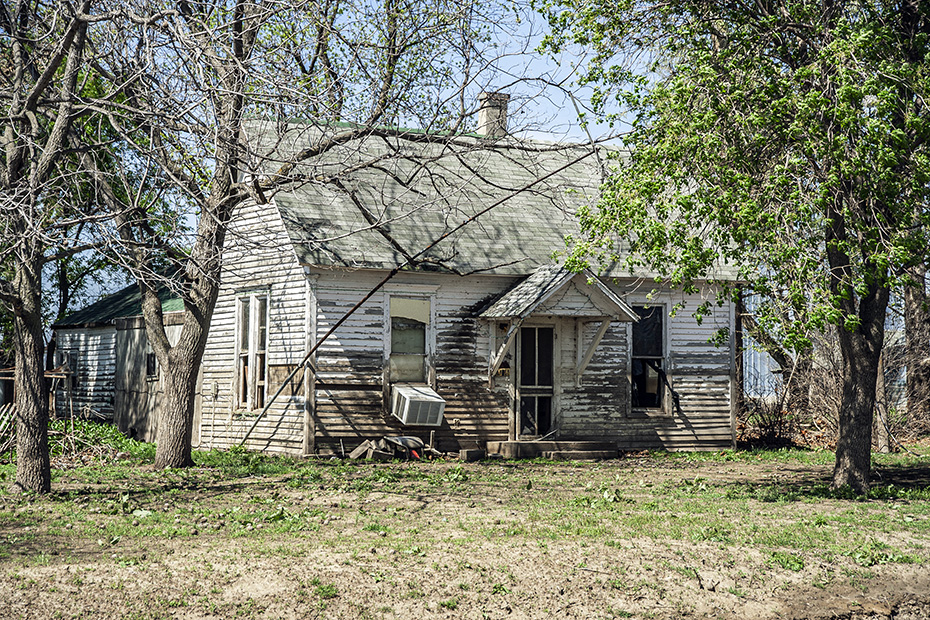 It's a flood-damaged, unoccupied mess now.
It's a sad thing to see.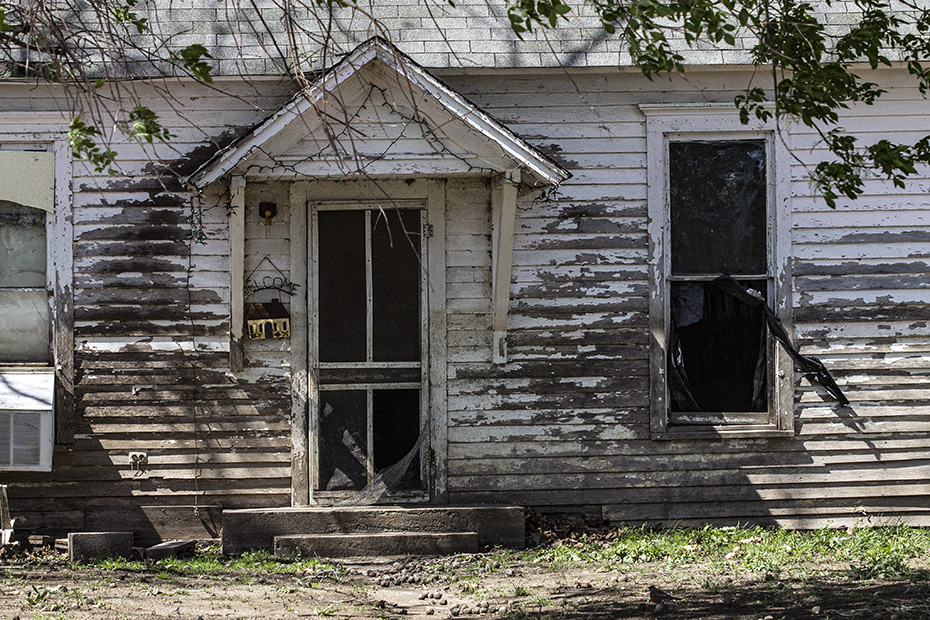 I posted about this experience not long after I returned home.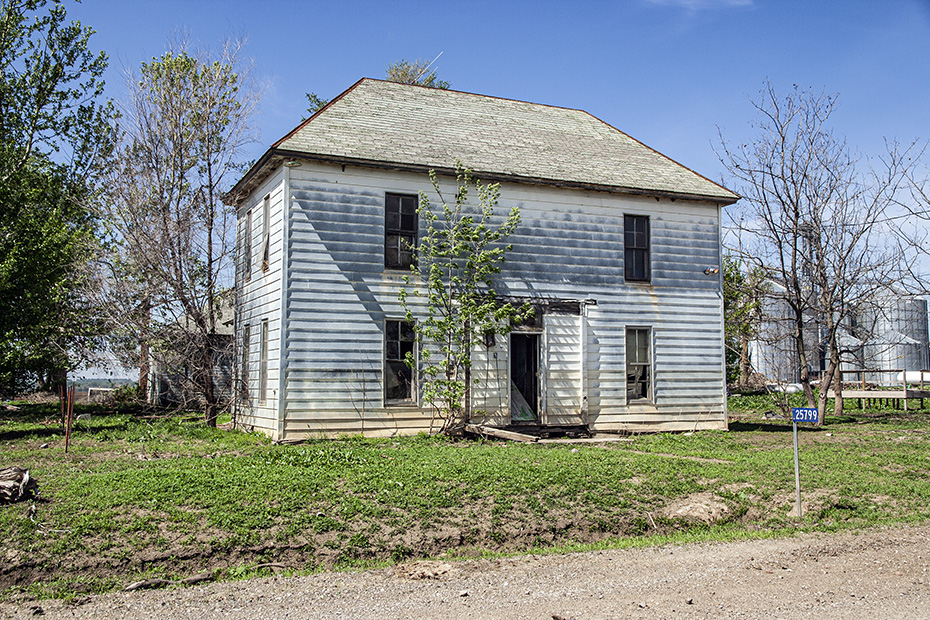 Here is another unoccupied house, and notice that the front door has fallen inward.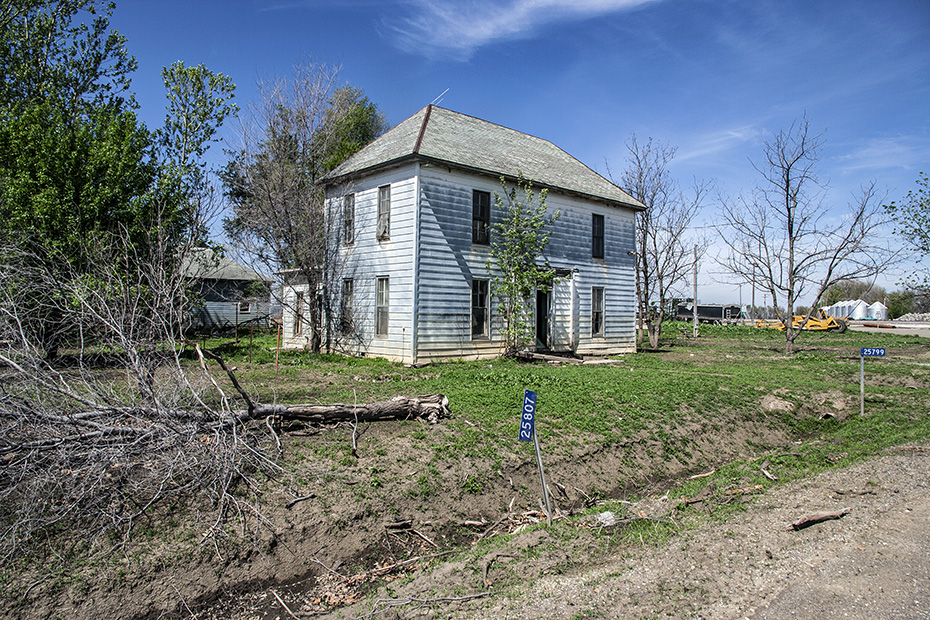 Imagine living in that house 40 years before and having great afternoon views of trains of the new Burlington Northern Railroad.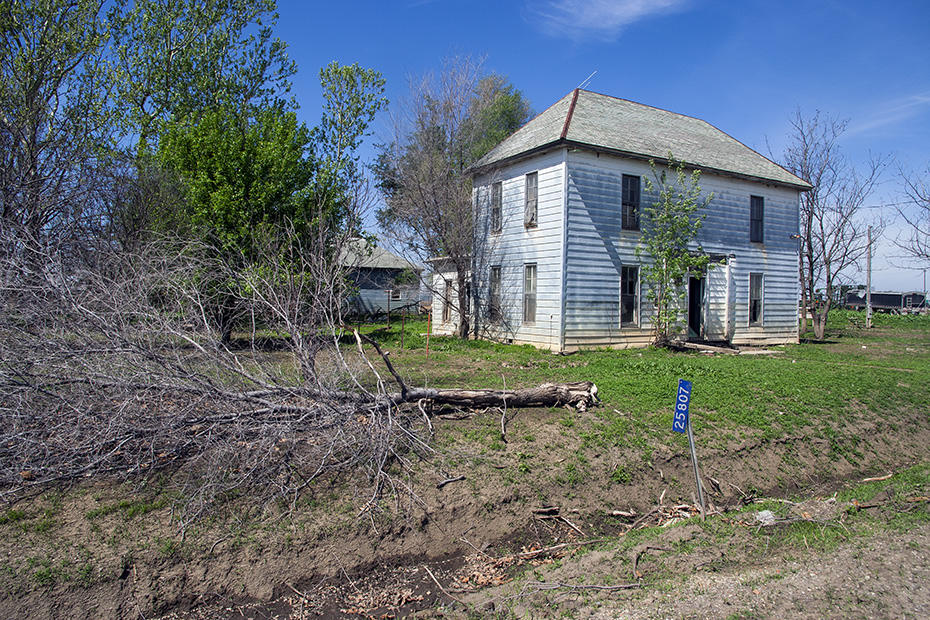 Of course, it's also close enough to the track that the trains at night would have awakened you.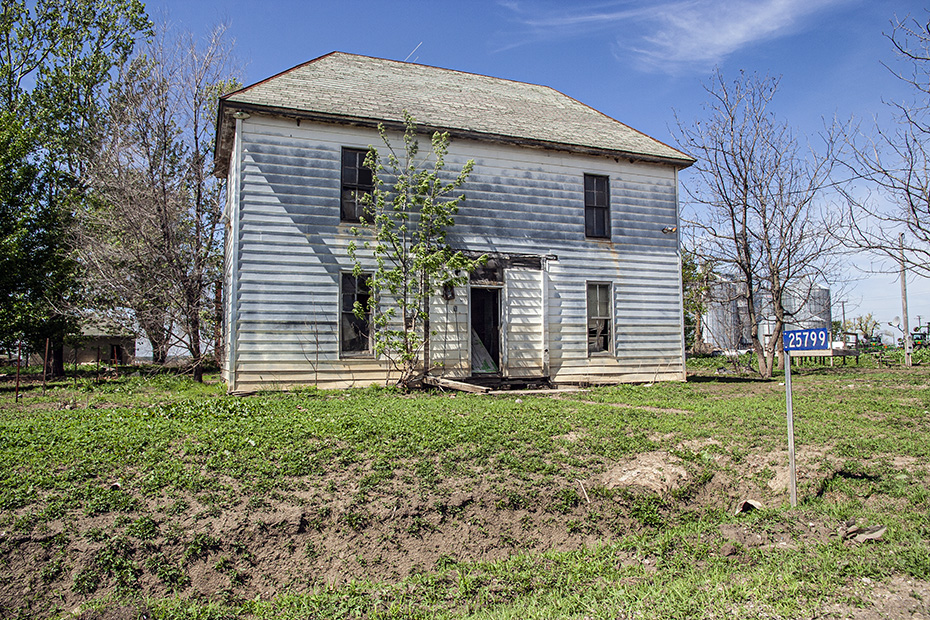 Here is another house – I like this set of house and shed – hollowed out by the flood.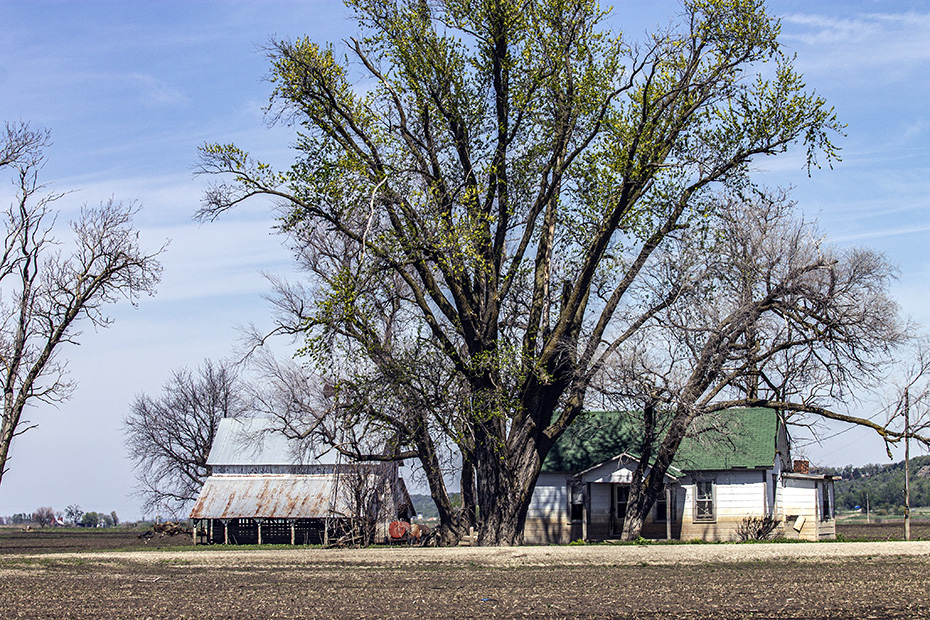 This is the end of my images of damage from the Missouri River flood. I then got back on I-29.
I got off of I-29 at US Highway 159 and headed back into the valley, this time for a different purpose – different than seeing flood damage – which you will soon see, but, before I achieved that purpose, I encountered, 25 minutes after taking the prior picture at Langdon, a controlled burn of some sort.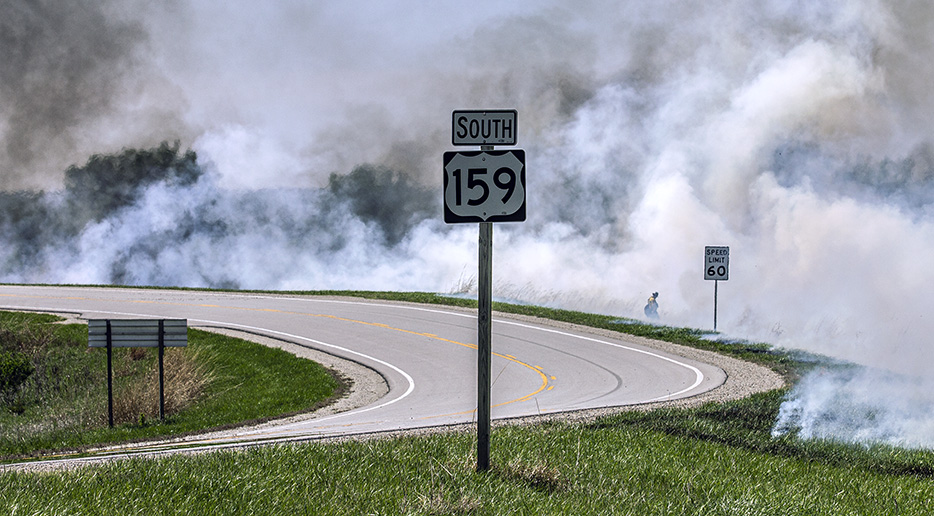 The fire was just west of the junction of US Highway 159 with Missouri Highway E.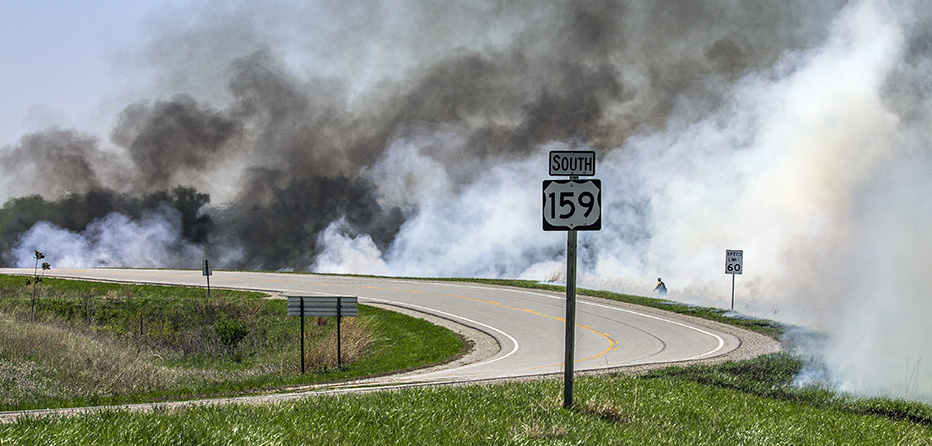 This was an amazing scene.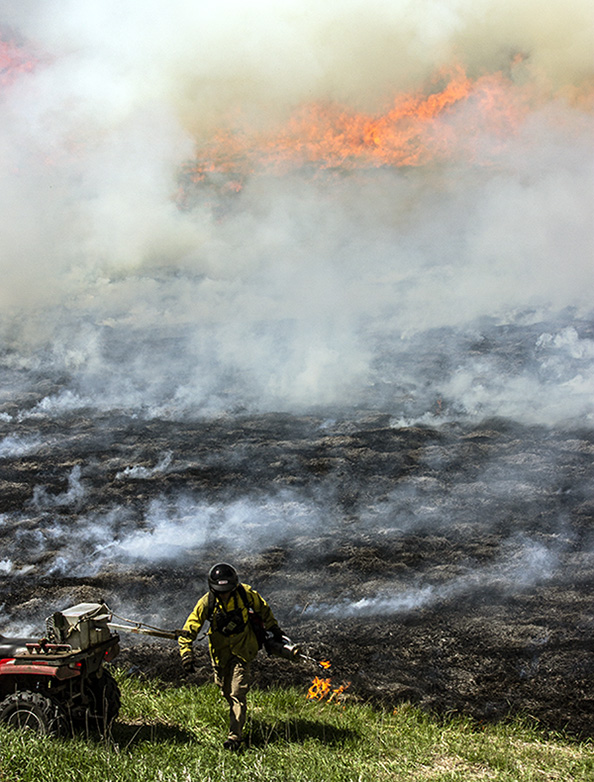 I want to know more about why this happens and why this method is the method chosen to achieve whatever ends were trying to be achieved here.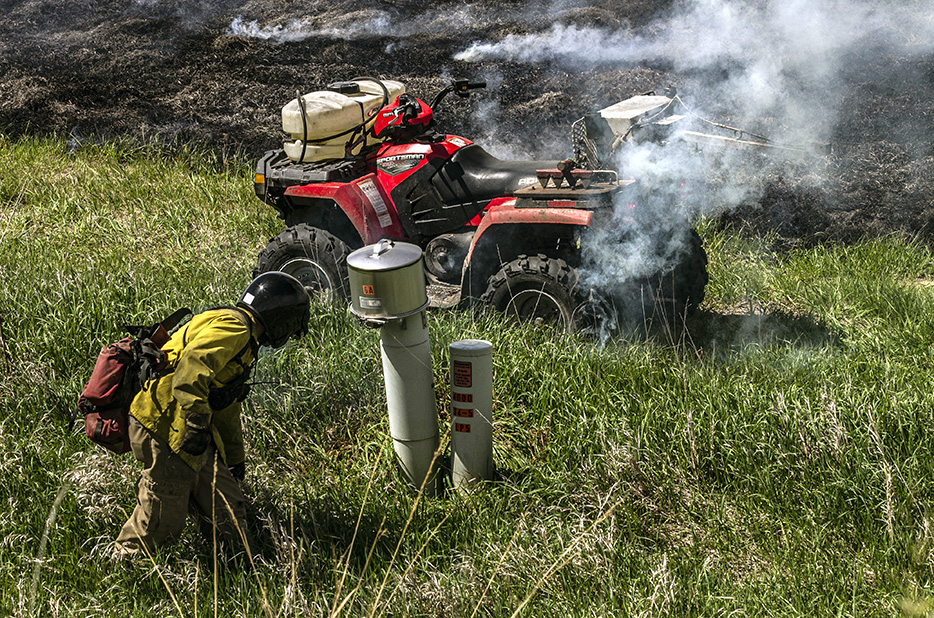 After I see the effects of flood, then I see fire.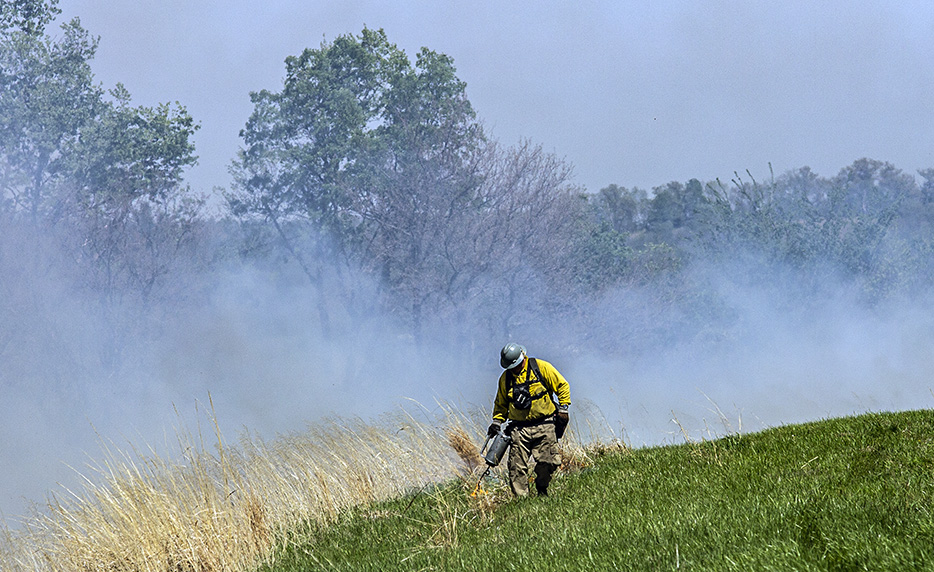 There is meaning to it all, I guess, or, maybe, there isn't.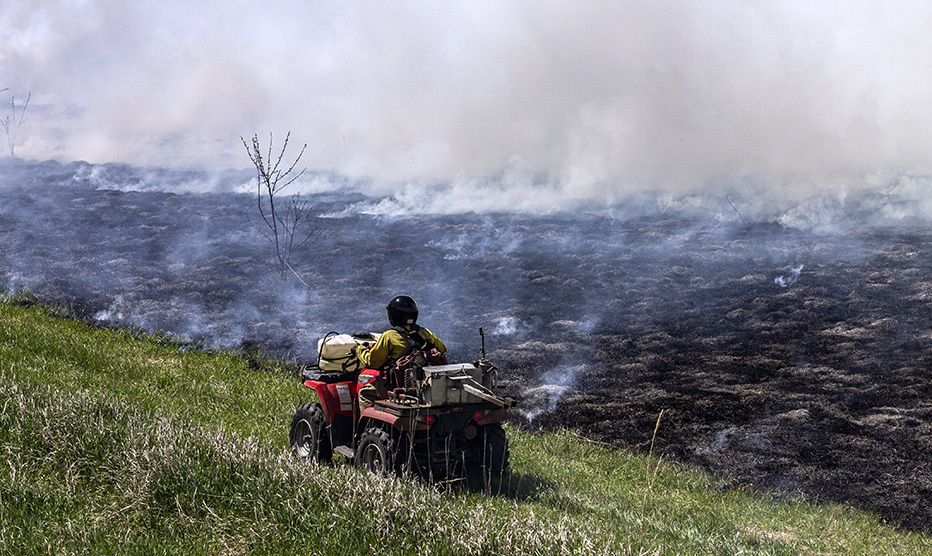 There was something both haunting and beautiful about it.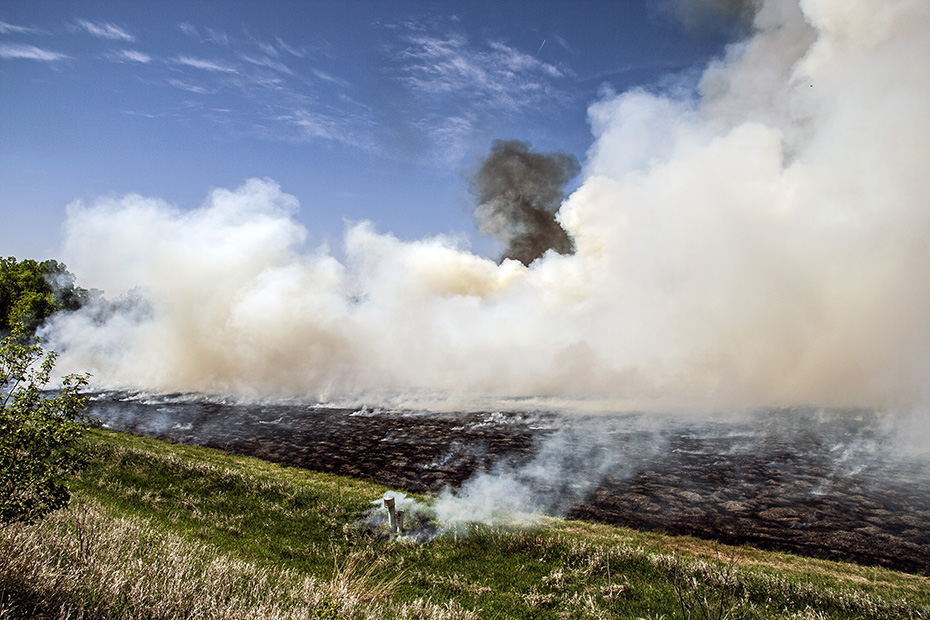 I think, though, that seeing this right after I saw so much haunting flood damage affected how I perceived these fires, because, especially because I am from sugarcane country, this is hardly the first time that I have seen a controlled burn.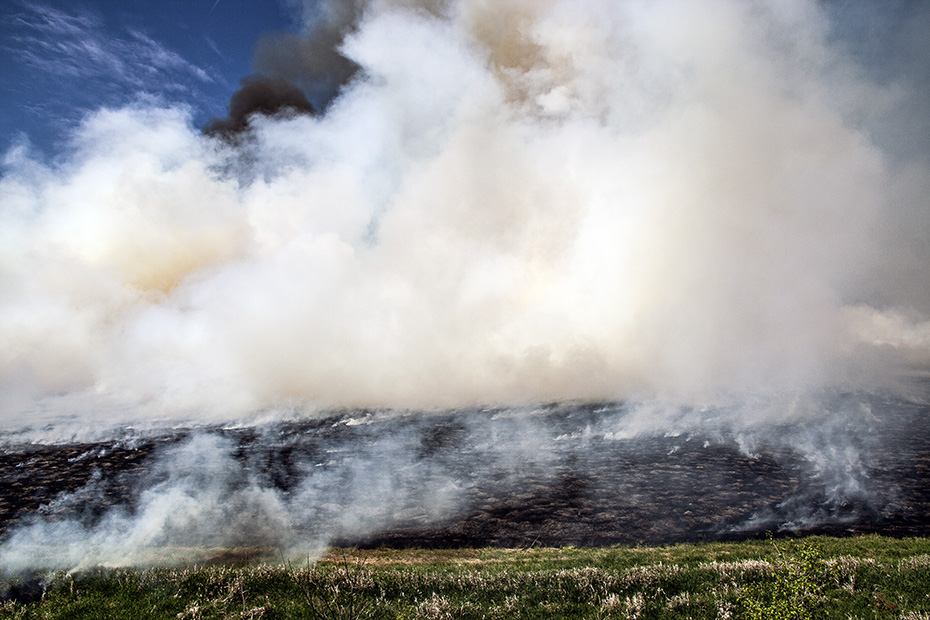 It looks like a steaming black sea.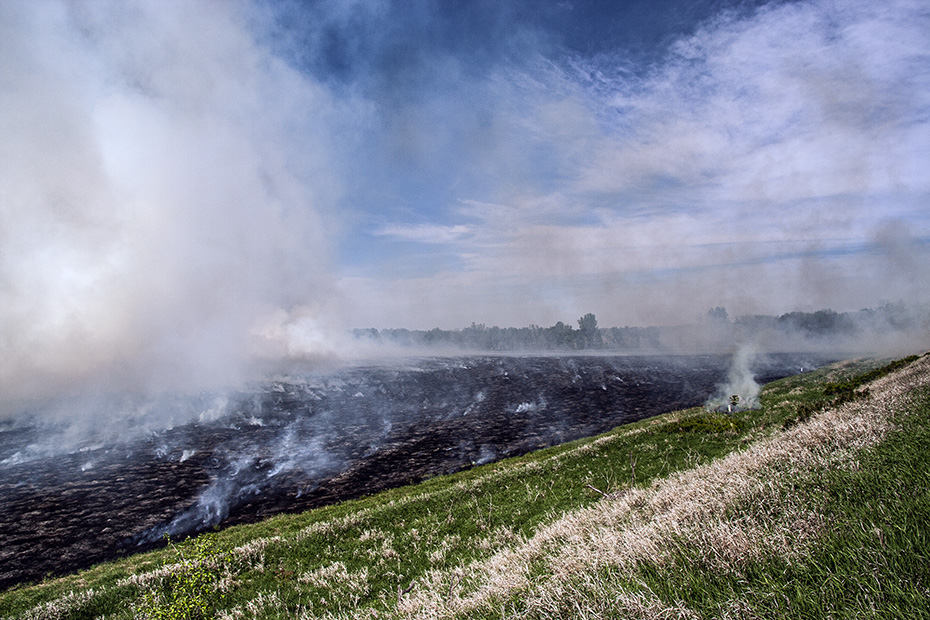 The plume is what is so impressive, I think.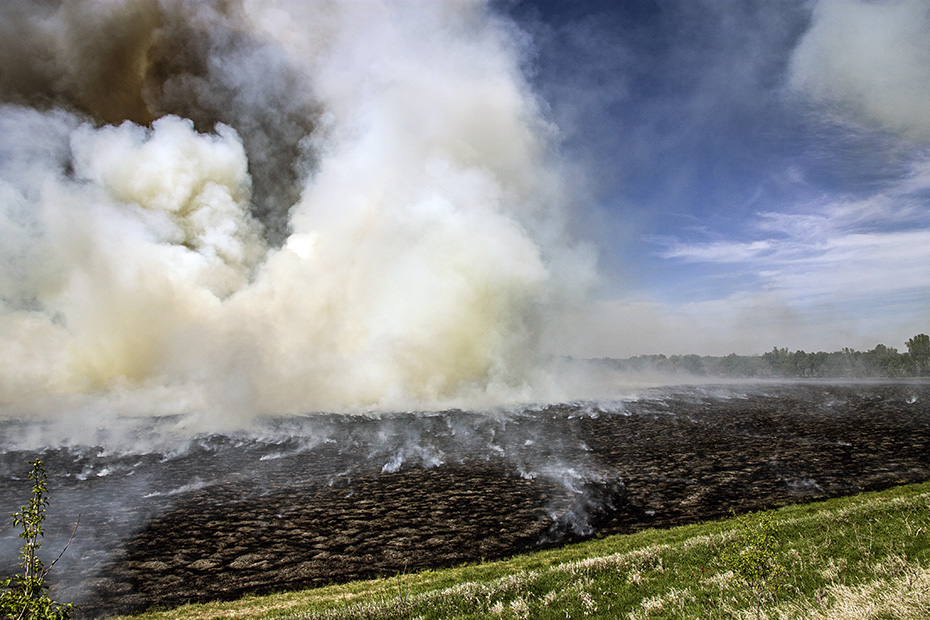 Why do I ascribe an other-worldly feeling to something that is so common?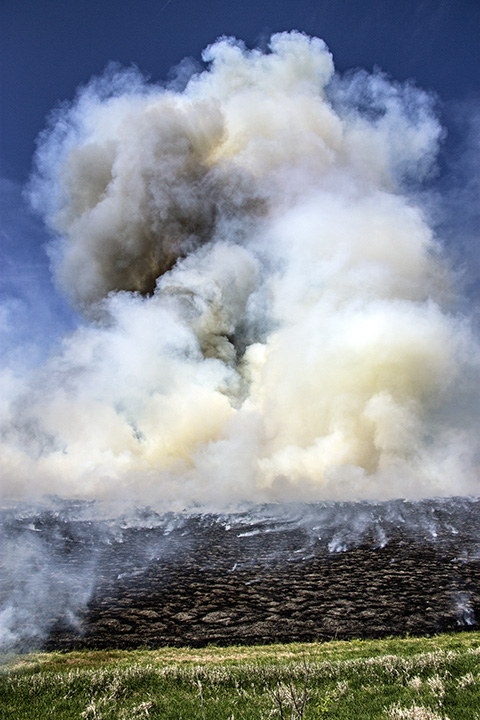 Why does photography matter?
What does any of what I do here matter?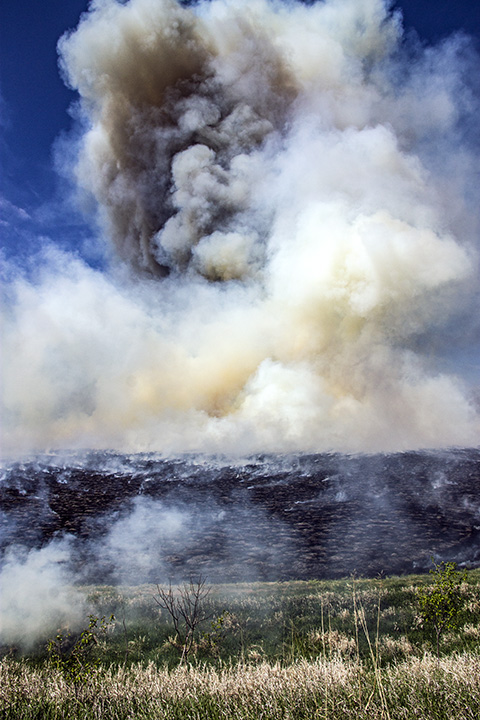 Why do I do it?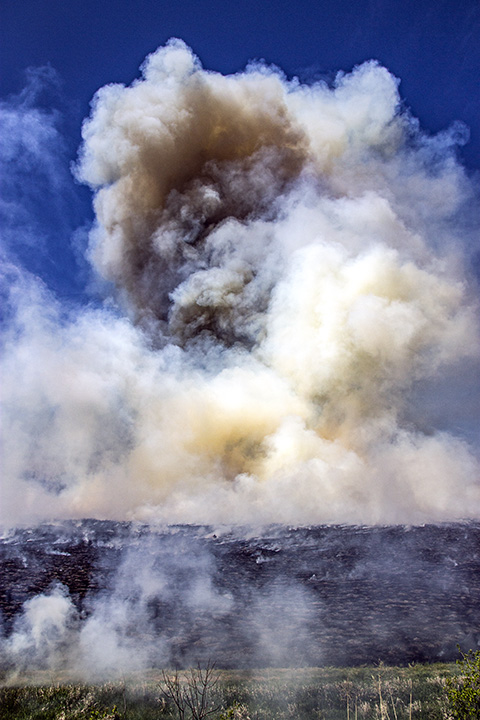 So, so far today, you've seen, from me, a few scenes of downtown Omaha, a few scenes of a stopped train and an old school in Pacific Junction, plenty of scenes of flood damage, and plenty of scenes of fire.
This is very different than the trip that I made north across these latitudes far on the other side of the Missouri River a few days before.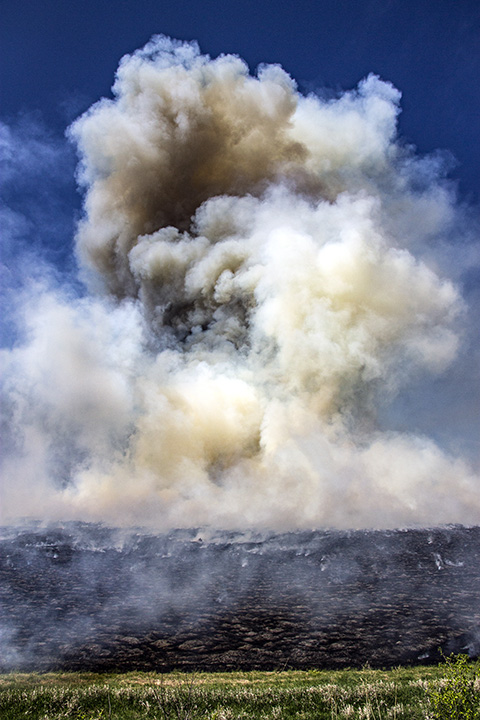 There is a human face to these events, too.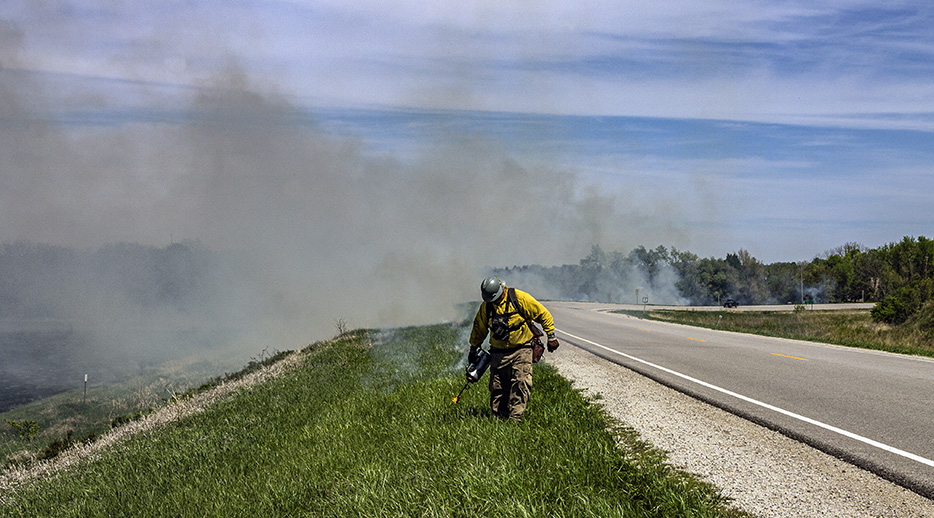 I cannot recall whether I talked to the guy.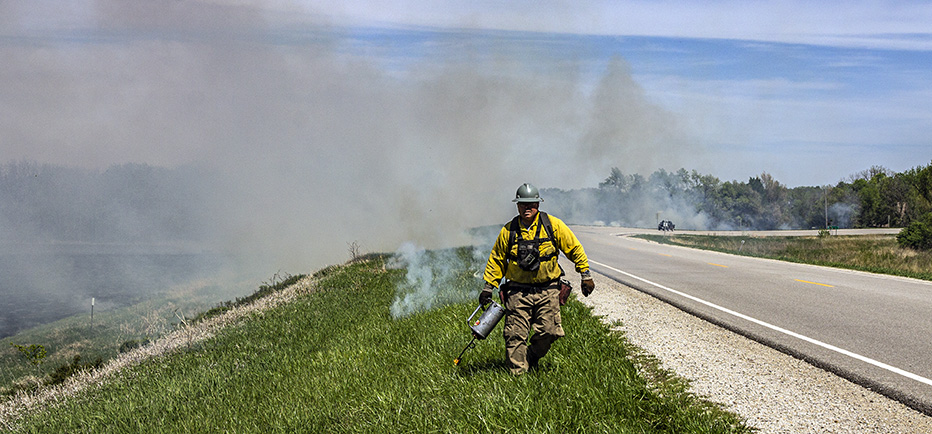 It seems likely that I did, though.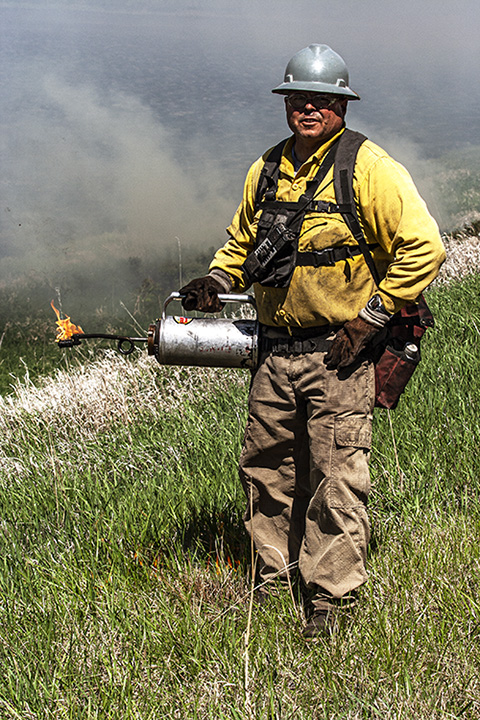 In the end, I make a portrait of a man at work, which, after my teacher burnout, is about the best work that I myself can do anymore.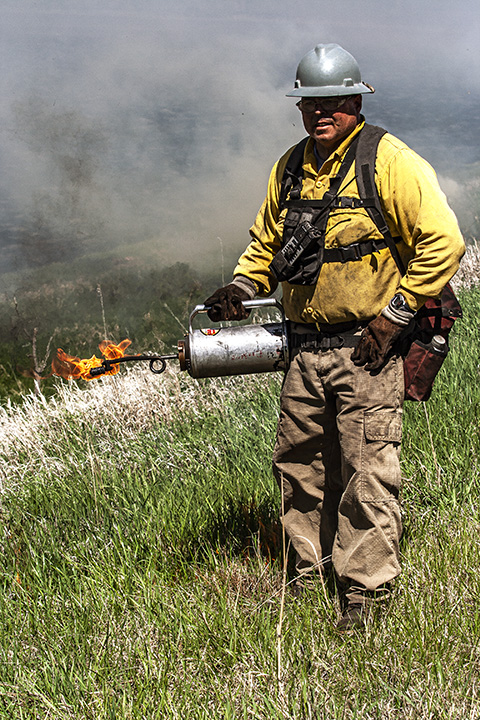 That's all for the fire pictures.
The reason that I exited I-29 at this point is that it provided the first opportunity to really follow the Saint Joe Line trackage from local highways starting at Napier.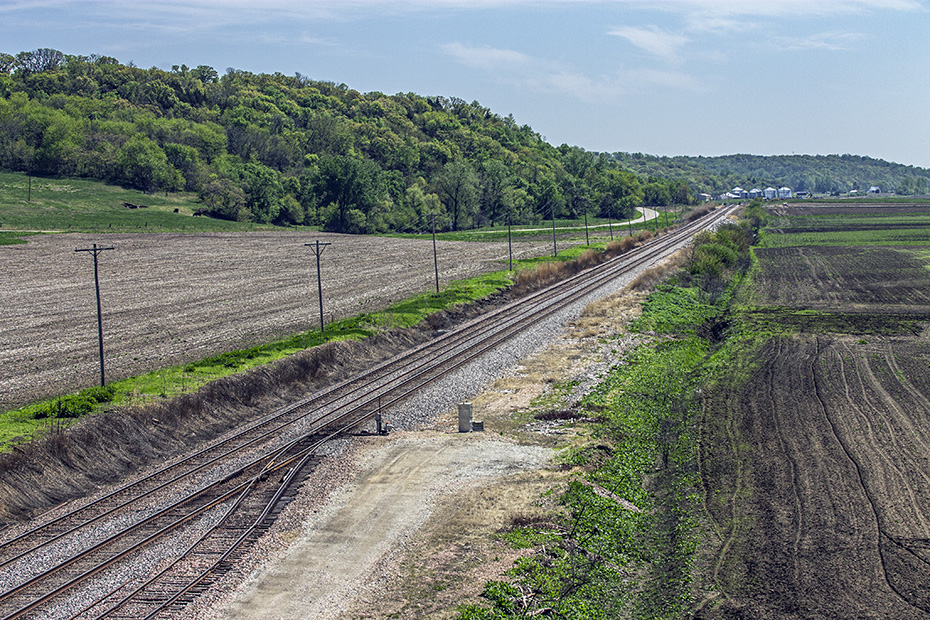 Above is the view southward from the crossing over the railroad here, and you can see the local highway in the distance, and, below is the northward view.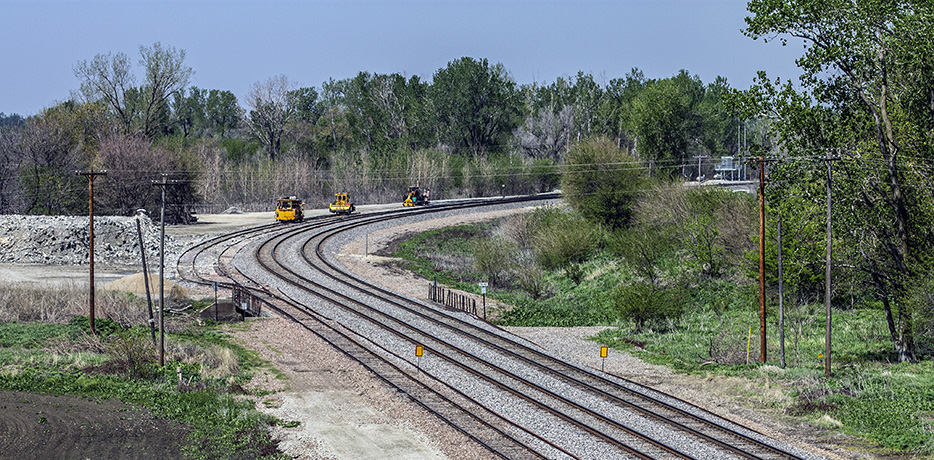 The Saint Joe Line is really interesting because it largely hugs the base of the bluffs on the eastern side of the Missouri River, meaning that pictures on the line often show trains against what looks like one continuous hill on one side and open fields on the other side.
I really enjoyed this drive!
More than a half hour after the last I pictures at Napier, I am at West Nodaway.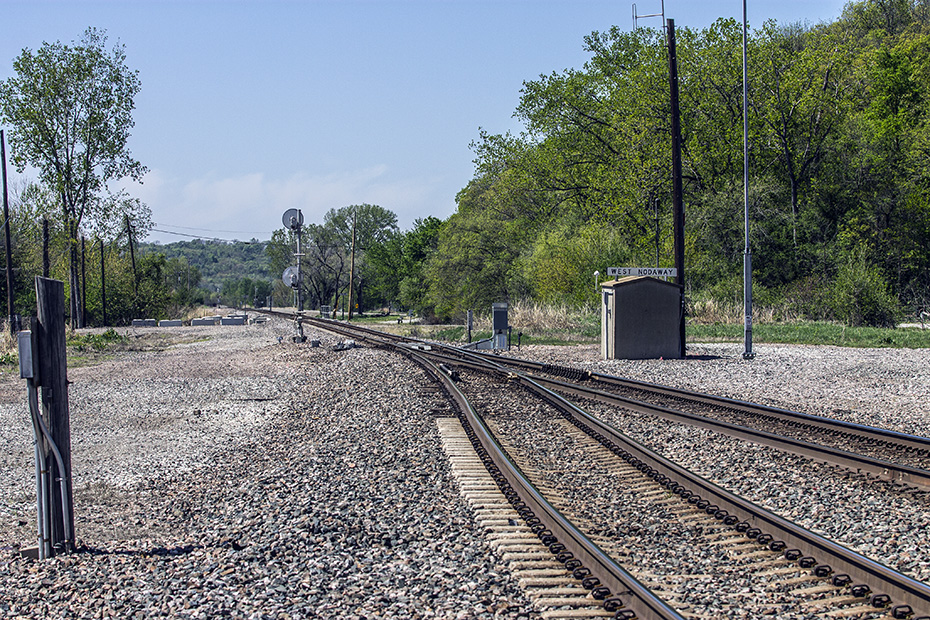 Two minutes later, right here at West Nodaway, I photograph the only moving train that I would photograph on this day, this northbound BNSF Railway empty coal train.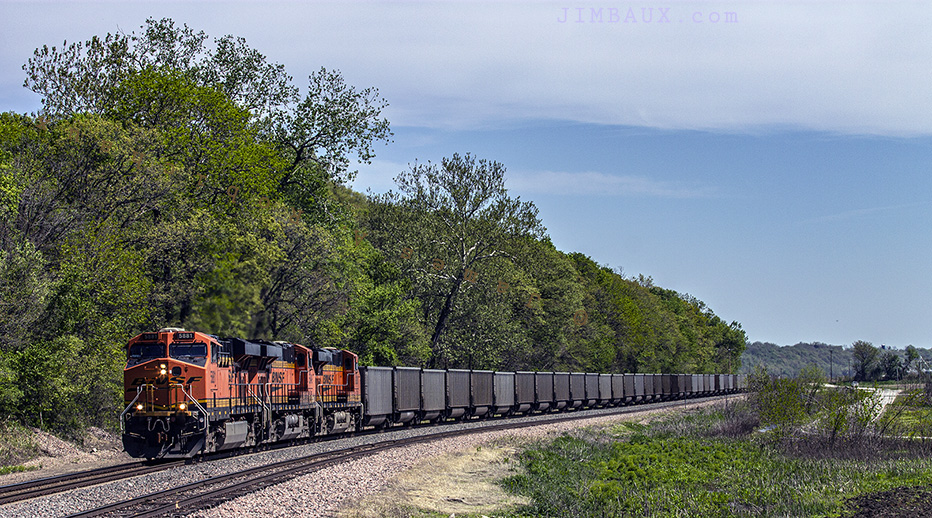 Yes, the shot suffers from high sun and sidelighting, and, yes, because I have somewhere to be almost a hundred miles of non-limited-access highways away before dark, I didn't want to stick around, even though I wanted to do some work here.

These last three images from my visit to the Saint Joe Line are from the other end of the siding.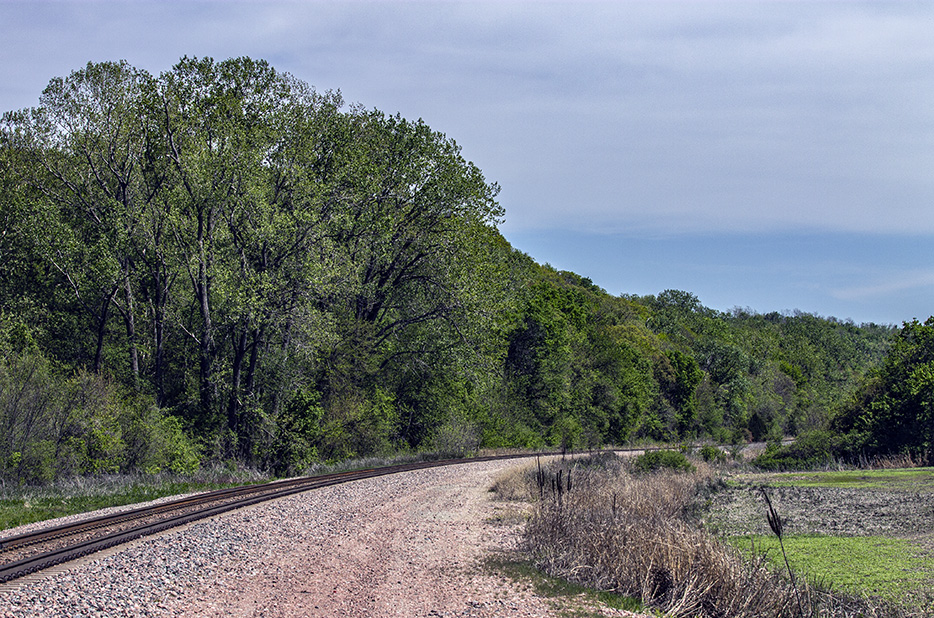 Well, I guess that I'll just have to enjoy other people's pictures of trains on the Saint Joe Line.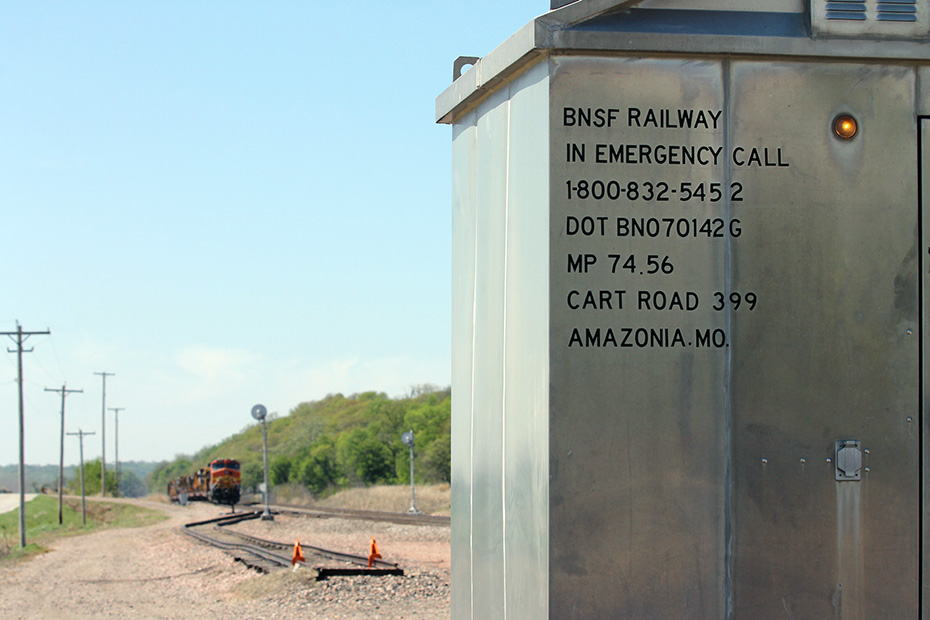 Almost an hour passed before I took out the camera one or two last times – 13 minutes apart, but for what is essentially the same event, just either ends of it – for the day, even though there were plenty of hours of daylight left.
Judging by the short length of the shadows of the pylons in this view as, in a traffic jam, I approach the Missouri River on Missouri Highway 92 at East Leavenworth, there is still plenty of daylight left.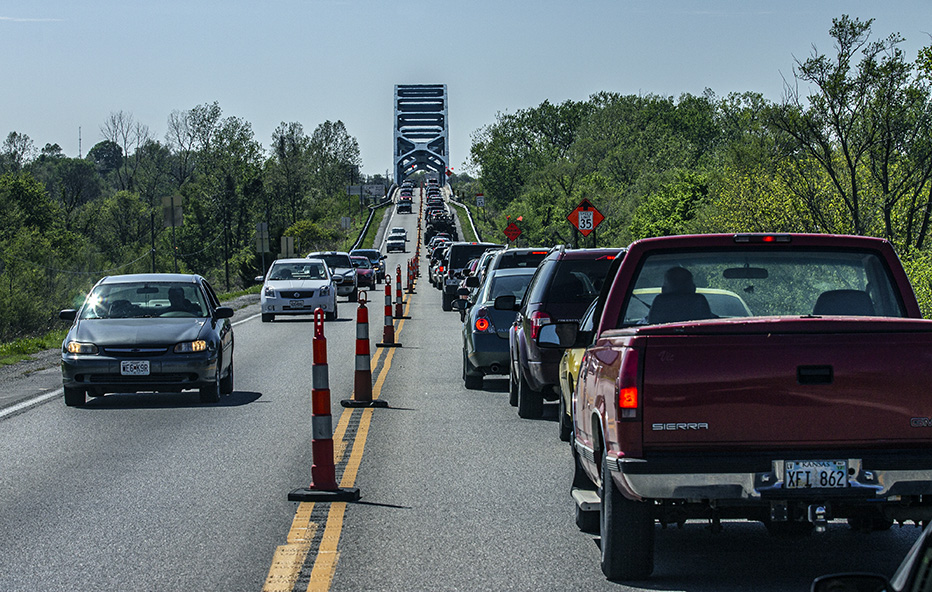 My last image of the day was made 13 minutes and one mile later, after I had gotten past that traffic jam and crossed the river into Kansas.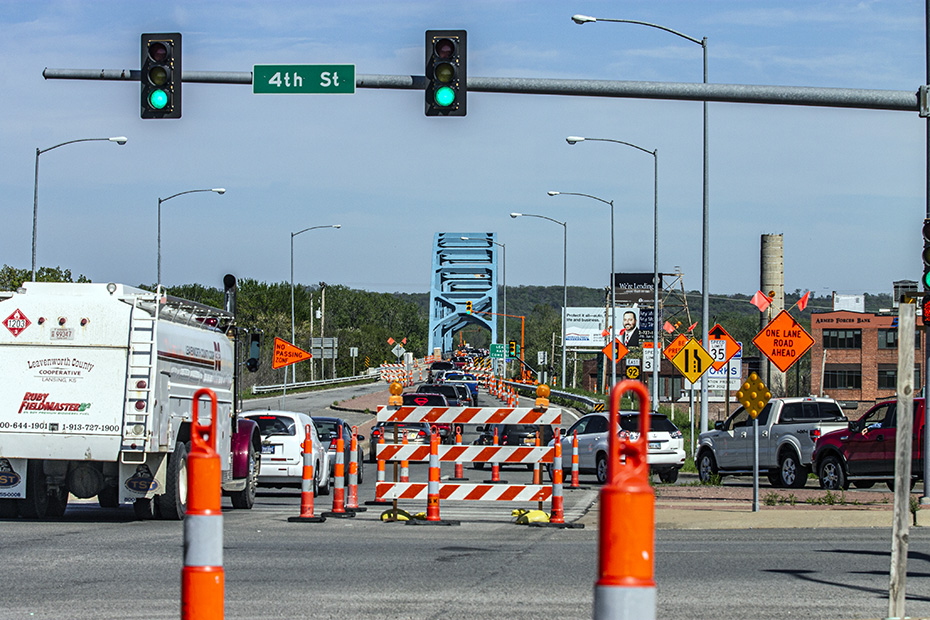 This is my only picture of Leavenworth, Kansas, and my only picture of Kansas today.
I then, without delay, headed south to Olathe to meet an old friend there, at whose house I would stay that night, a friend whom I visited when I came this way in 2008. It's a friend whom I met when I was at summer school in Mexico years before.
We went somewhere to eat pizza and drink beer.
He likes to play drums, I like to play guitar, and we got to jam out together. I remember it so well, but what I most remember how euphoric and even hopeful it made me feel.
I slept really well that night, and I'll talk a little bit more about that in the next essay, the Day 9 essay.
Thanks for reading Day 8 of Jimbaux's Spring Break 2012 Road Trip.
Peace.
Jim