This is part of the Eastern Great Plains Spring Break 2012 Road Trip series.
On the previous day, I started in Omaha, Nebraska, went through the southwestern corner of Iowa, spent time exploring flood damage and the BNSF Railway's Saint Joe Line in northwestern Missouri, and then crossed the Missouri River into Kansas before landing at a friend's house in Olathe.
This trip had plenty of shades of my trip to North Dakota and the Canadian Great Plains in 2008, and one of them is that I visited this friend in Olathe on the way back south in both trips.
I slept every well on this night and slept a little late. We went and got breakfast at some place that he wanted to try (I barely saw his wife while I was there because she had just come in from work travel and went to some soccer game to watch nephews the next day), and then I departed not long after that, which must have been around 11:00. That, of course, was a bit late if I wanted to get to Heavener and still do anything meaningful along the way, as we shall see.
When I left Olathe, I went west to Ottawa before heading south, and I was happy to see how quickly things became rural when I went west!
I had to go and check out something north of Ottawa, something in Baldwin City, some place that I had been along the way. I took a few pictures there that I will not publish here for personal reasons.
While I don't recall which route I used to leave Ottawa to go south, by coming to Ottawa at all, I crossed the path that I made while heading north six-and-or-seven days before. The big loop that I made from here to Omaha was closed.
My next time taking out the camera on this day was to get this shot.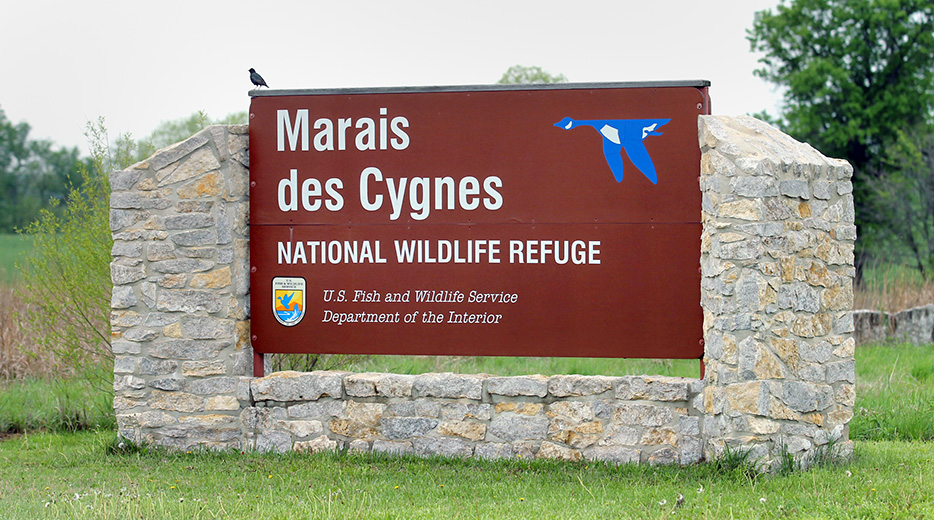 I don't recall doing anything else at this place other than photographing the sign.
It would be more than an hour before I took another DLSR-camera picture.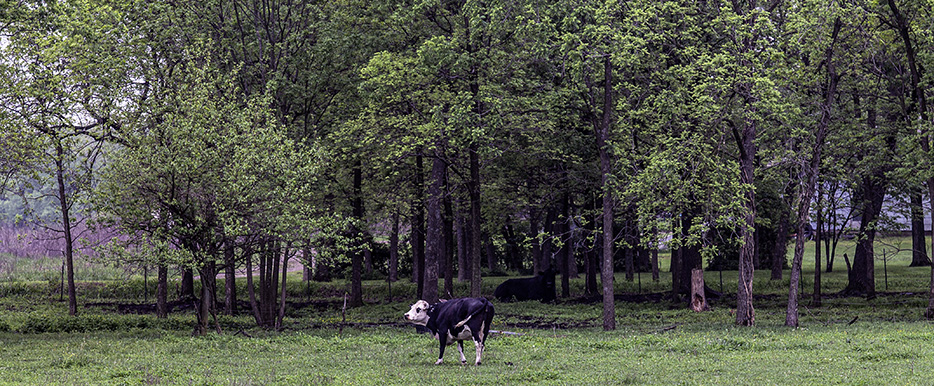 Yeah, I am sorry, but this is weird.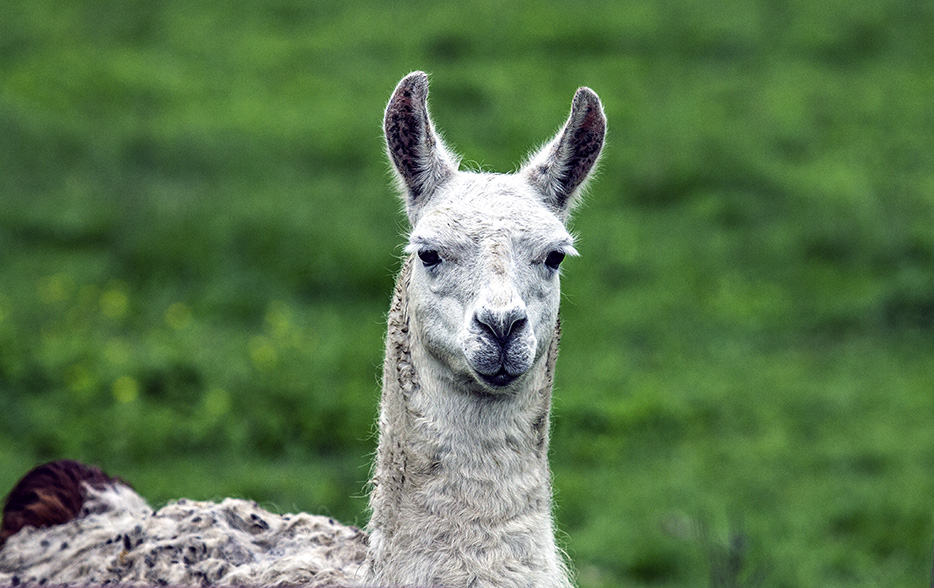 I don't recall what, exactly, I was trying to accomplish in my choice of my southward routing, but it seems that I stayed as close to the Kansas-Missouri border as I safely could in the vehicle in which I was traveling, and this meant that I frequently crossed that border back and forth.
The most obvious goal would have been to find and follow the Kansas City Southern Railway mainline, the Pittsburg Subdivision, to explore that area and maybe even find some trains.
That's what I was doing here by this property with a variety of livestock.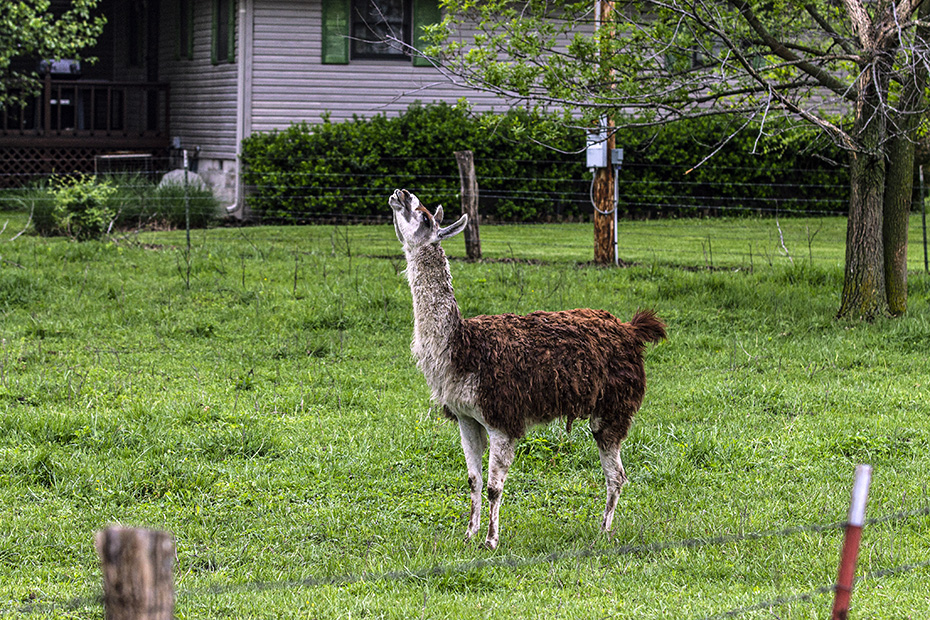 This property is alongside Missouri Highway K just west of the crossing of the KCS mainline in Missouri just east of Arcadia, Kansas.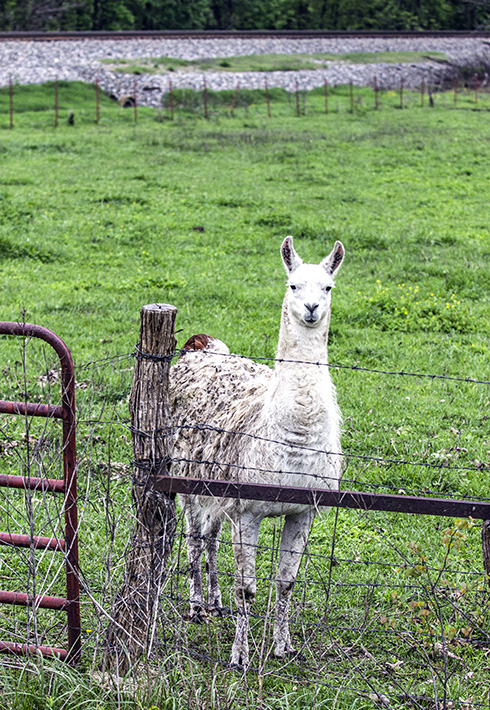 Another thing that I was doing, however, was searching for the crossing of the KCS mainline with the BNSF Railway's old Frisco line from Fort Scott, which is a couple of miles south of here.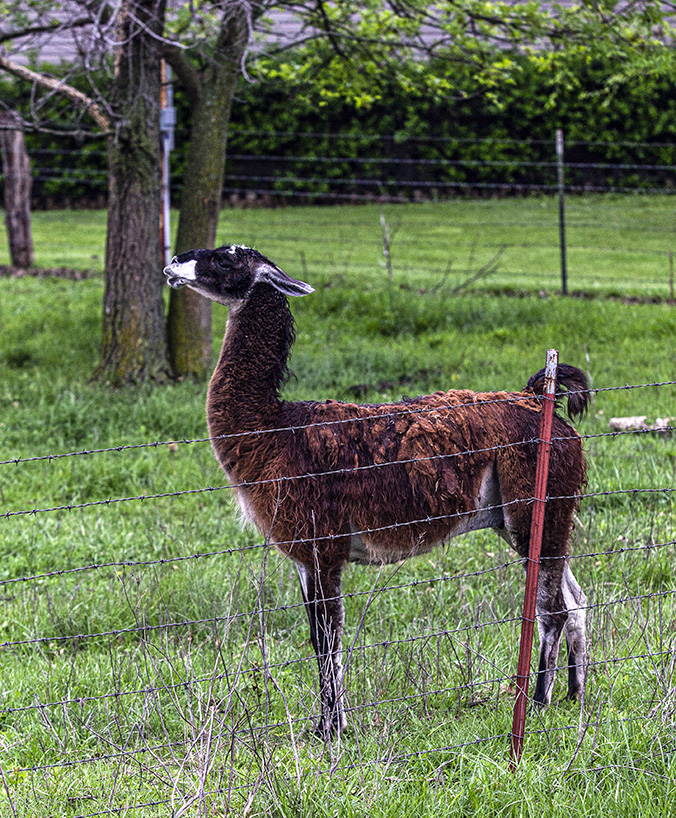 I'd eventually try to find it but couldn't, as I guess that it's not publicly accessible.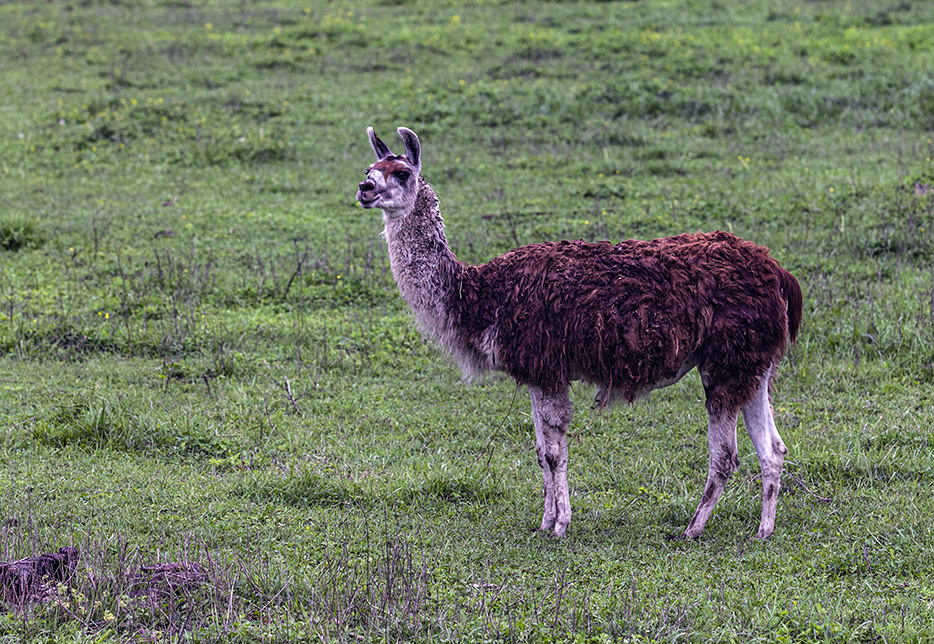 For now, you'll just have to enjoy these llamas, or whatever these things are.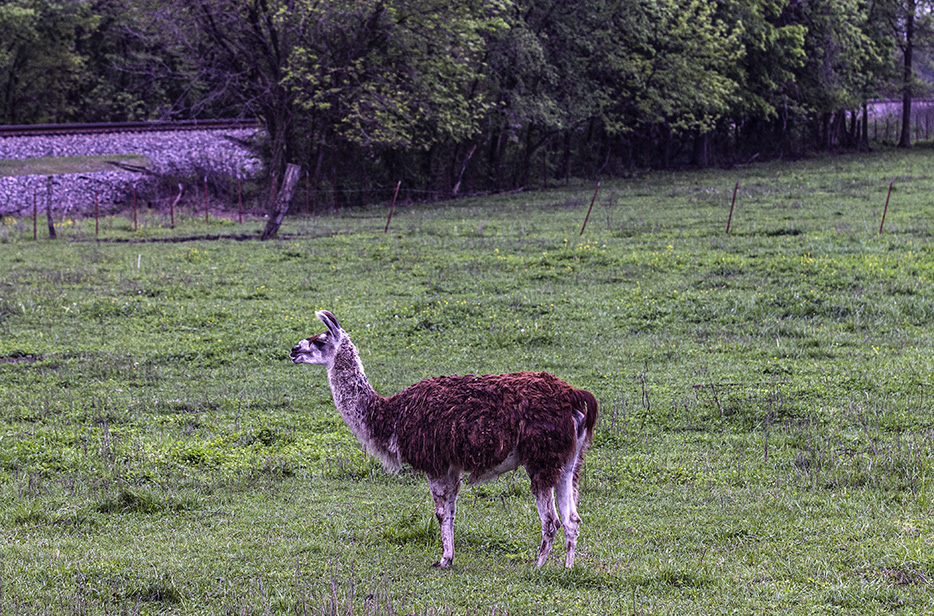 This is a very interesting area in all of its banality.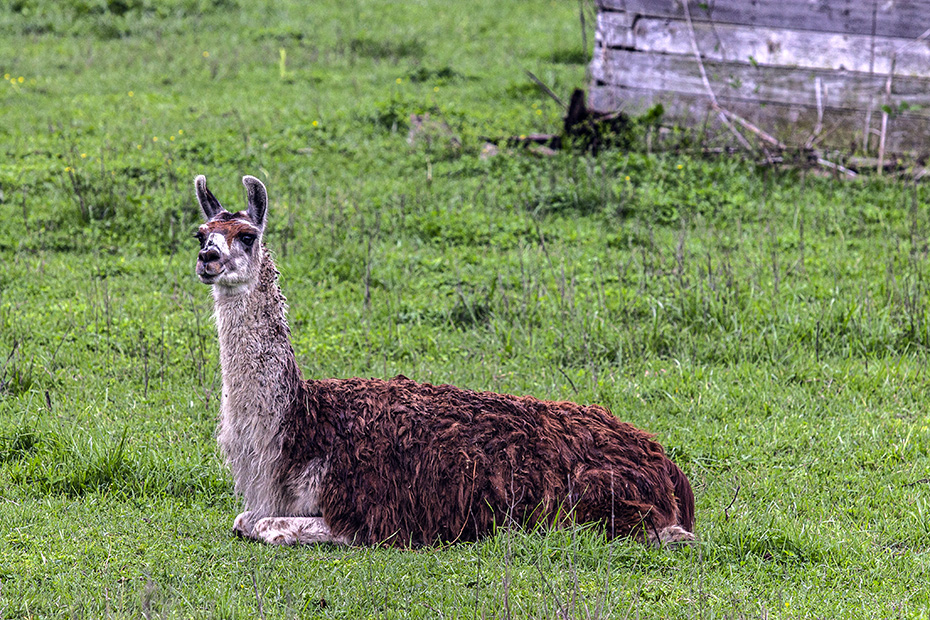 I like it.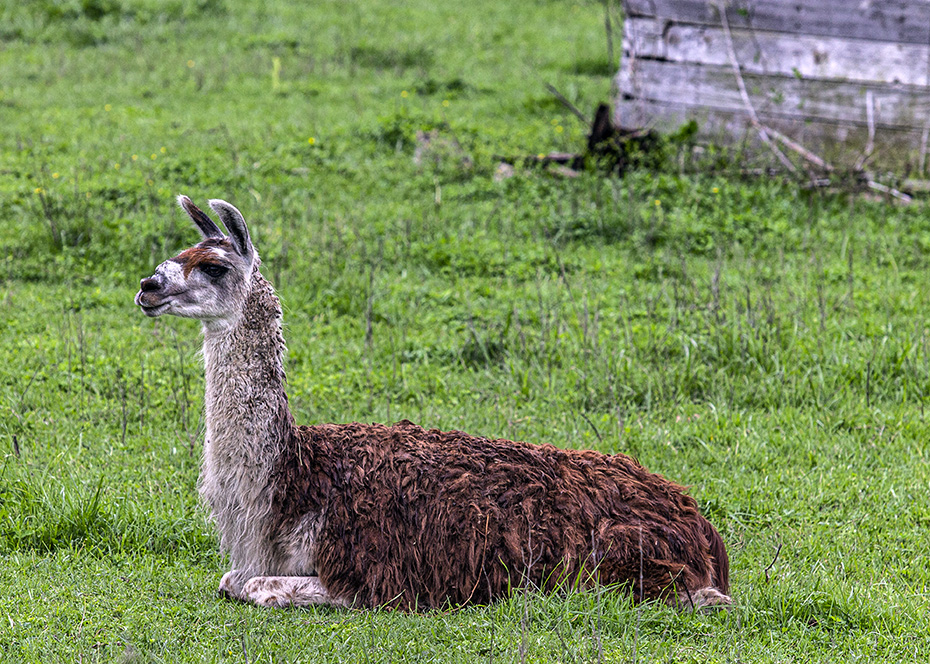 Here is the rental sedan by the KCS track.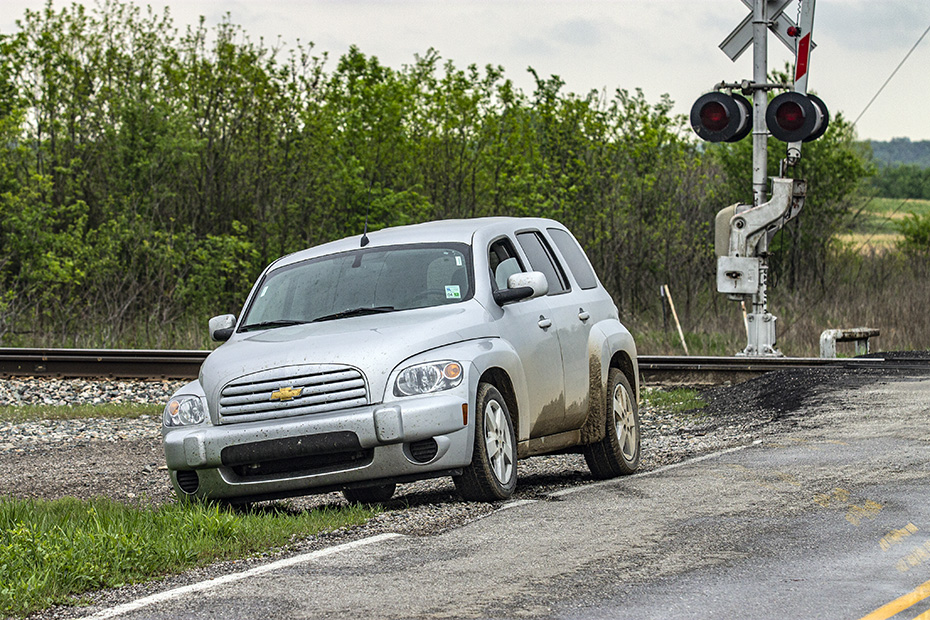 Yeah, this is very different than what you saw here from a few days before, or even the previous day, isn't it?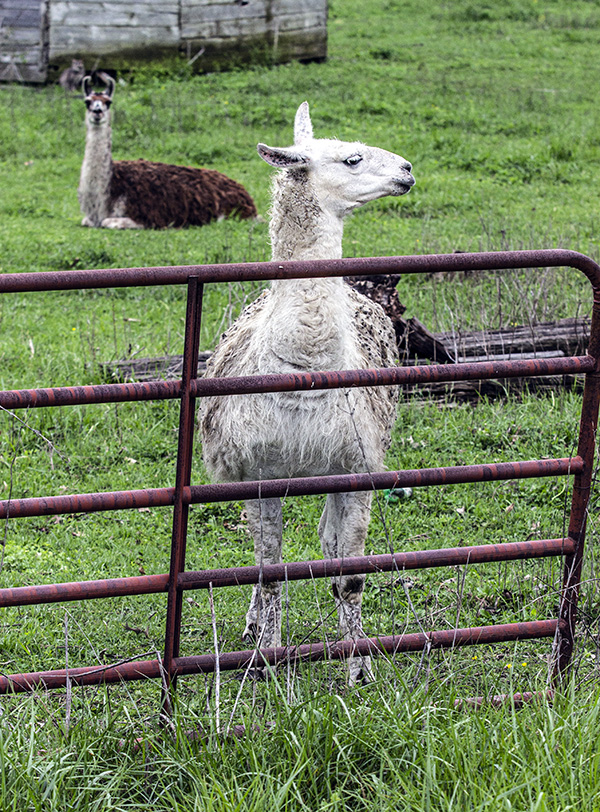 Look at the cat!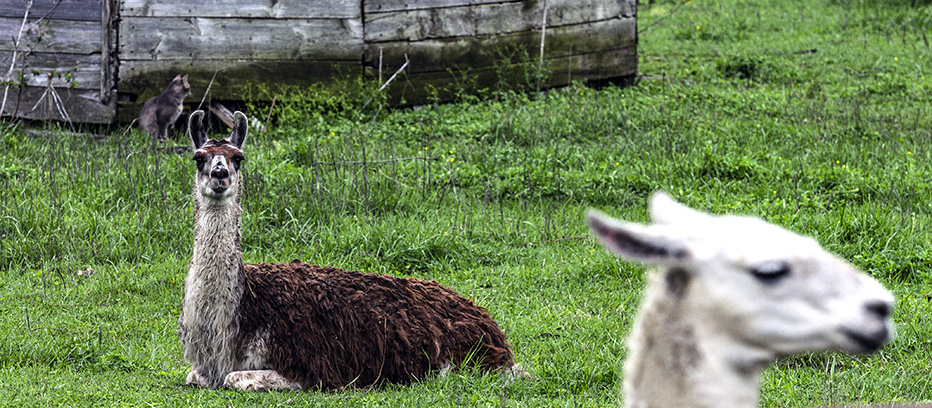 Here is a northward view along the KCS mainline.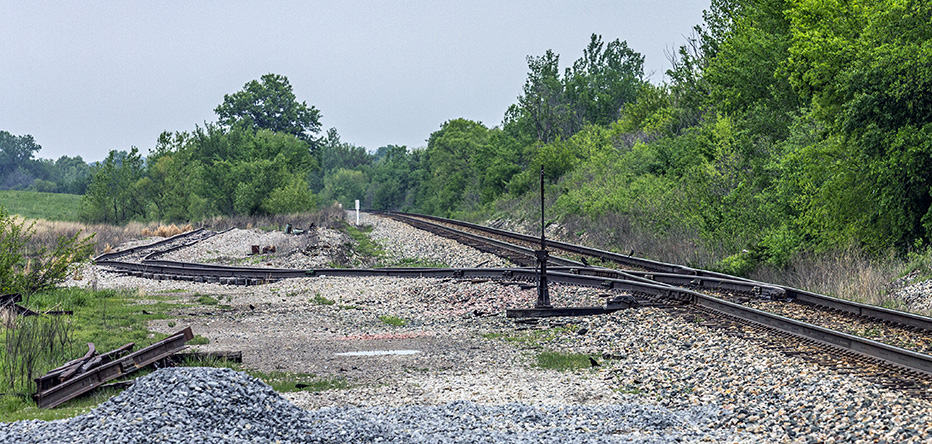 I guess that that track has a name.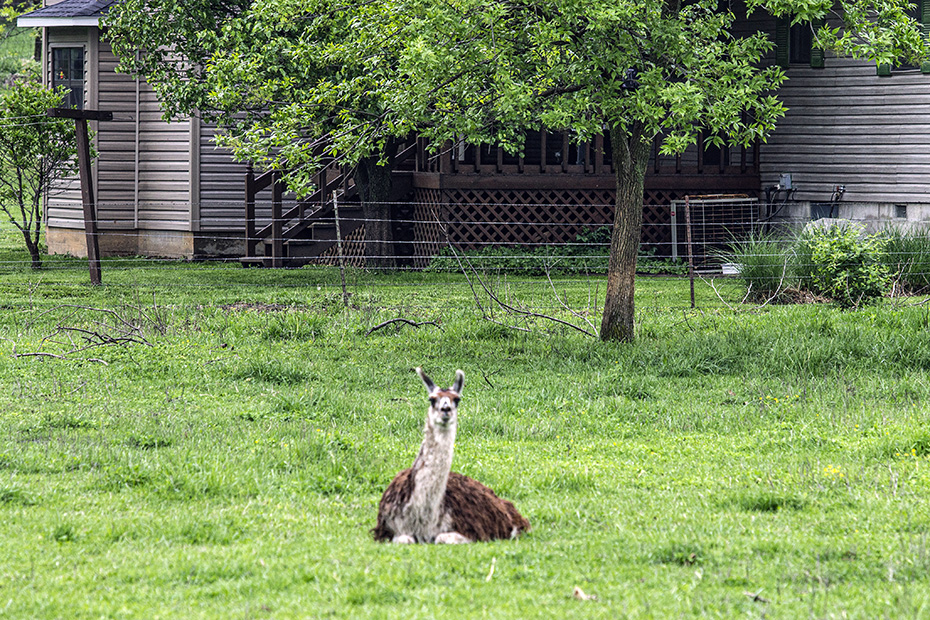 That's all for the pictures from this location.
I go west about a mile. The sign is in Kansas, while the photographer is still in Missouri.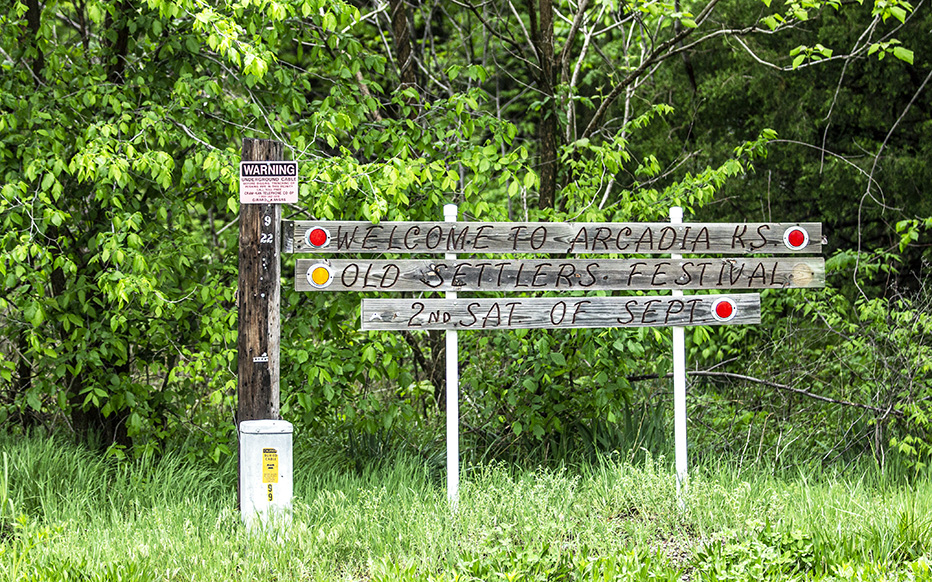 Since the state line might be in the center of the road that intersects the highway – Missouri Highway K – at its end here, I am not sure if the state-line sign is actually on the state line.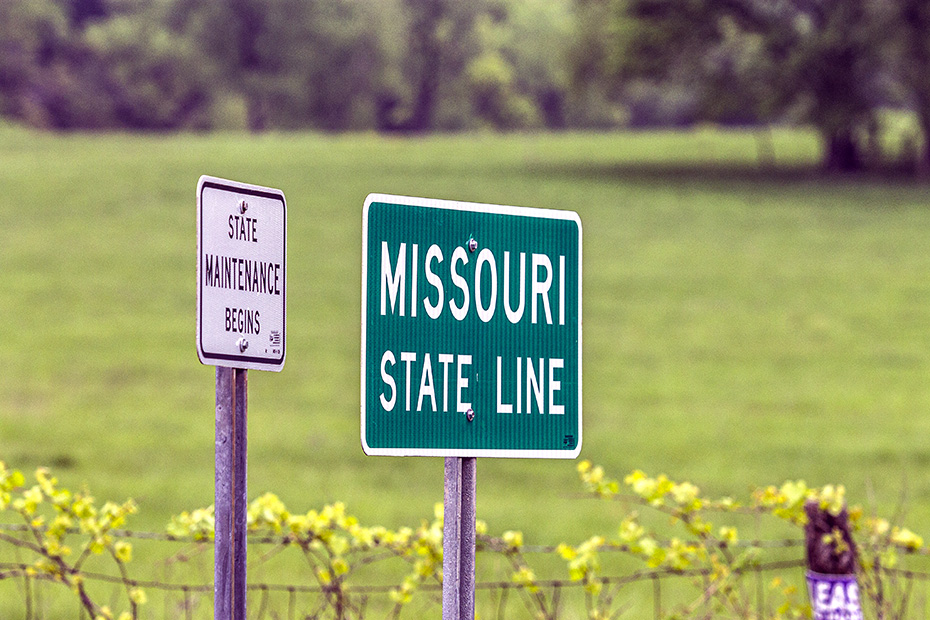 The same may be true for the city limits sign on the other side of South State Line Road, assuming that the city limits go to the state line.
I don't know where the next three pictures were taken, but they were taken somewhere in the vicinity of Arcadia or Mulberry to the south, or somewhere in between them, as this was when I went and searching for the intersection of the KCS line with the BNSF line.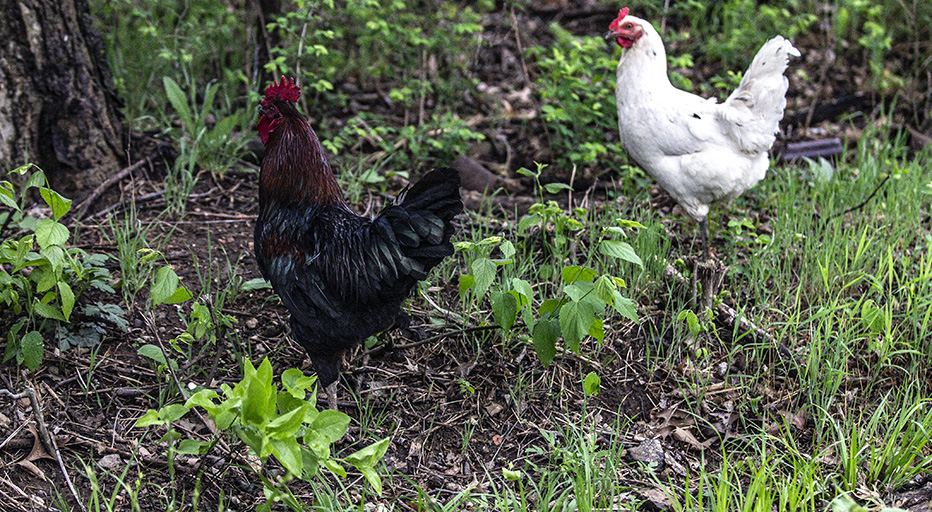 You're going to lose sleep wondering if these chicken pictures are from Missouri or from Kansas, aren't you?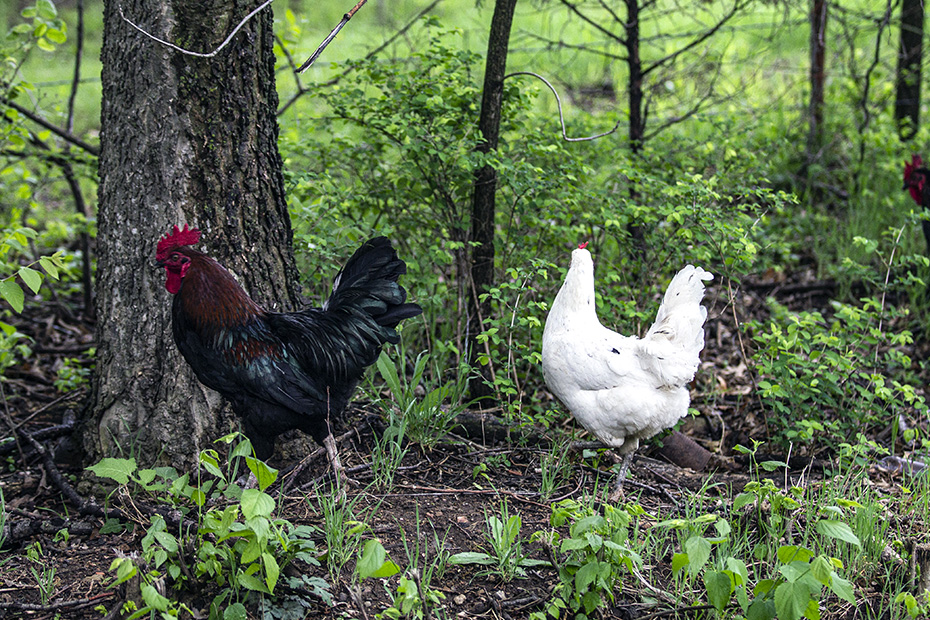 I don't know what is happening here.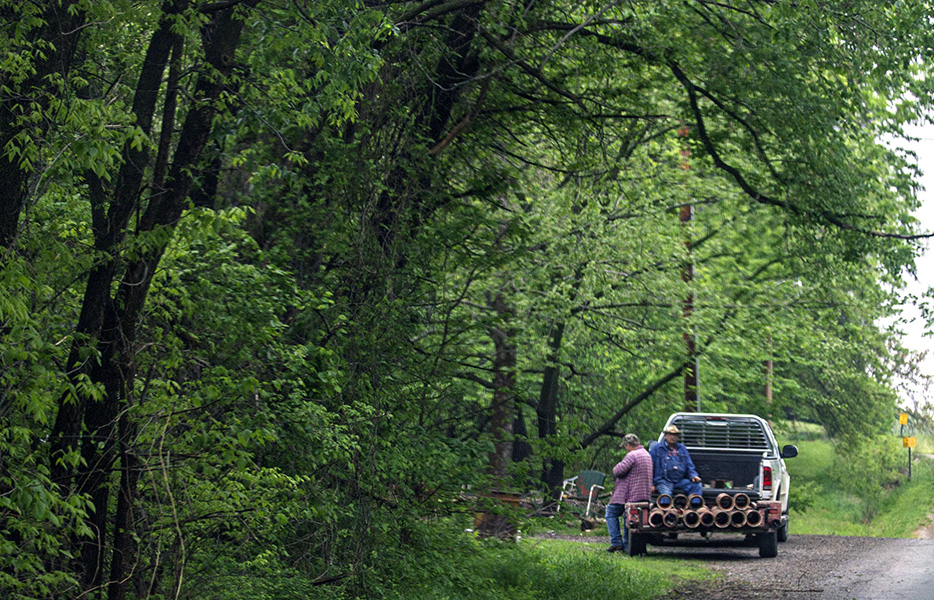 Next, we are in Mulberry, and I am extremely intrigued by whatever this is in the middle of a street.
What is it? I'd love to know.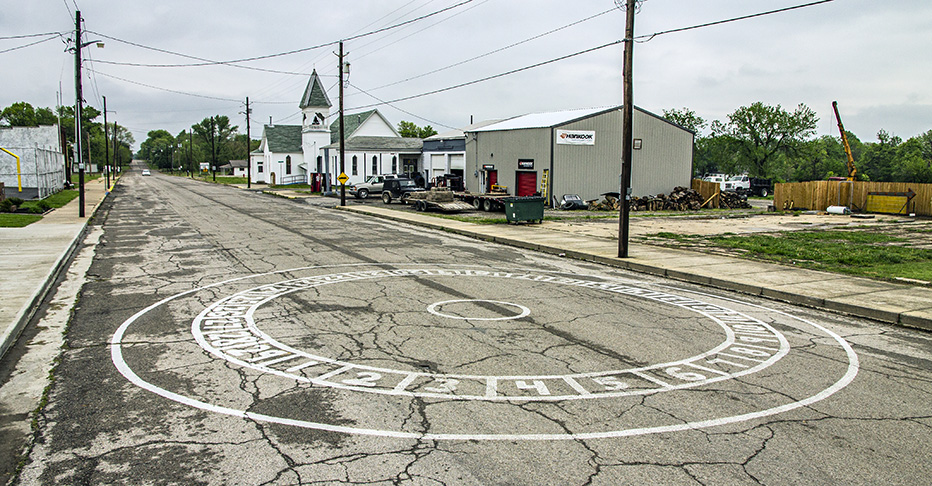 This is South Military Avenue.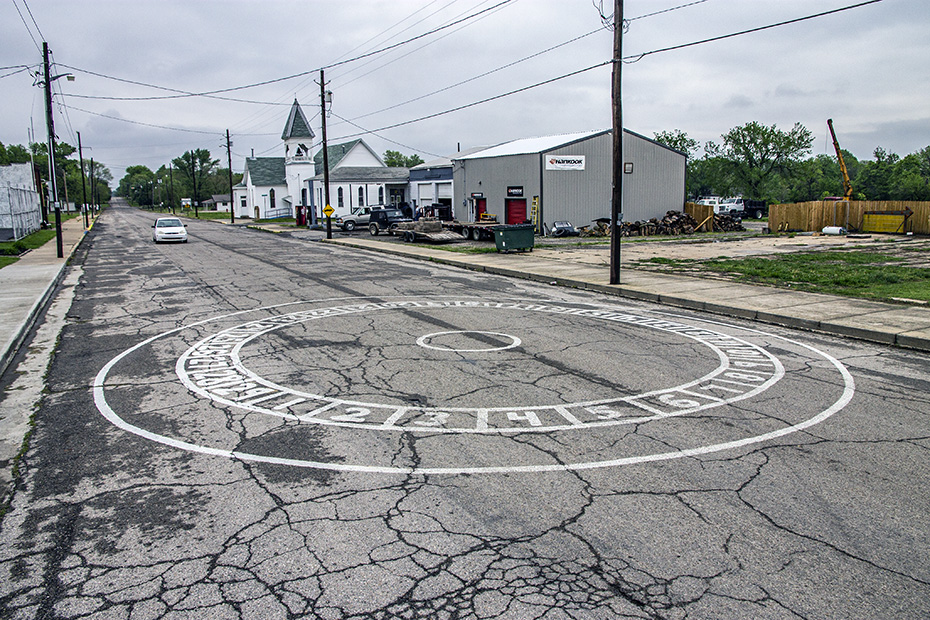 What does it mean? Is it some weird, spiritual, US-culture thing about individuality, community, exploration, and frontierism, something to do with sunlight patterns or moon patterns, here not far from old Route 66?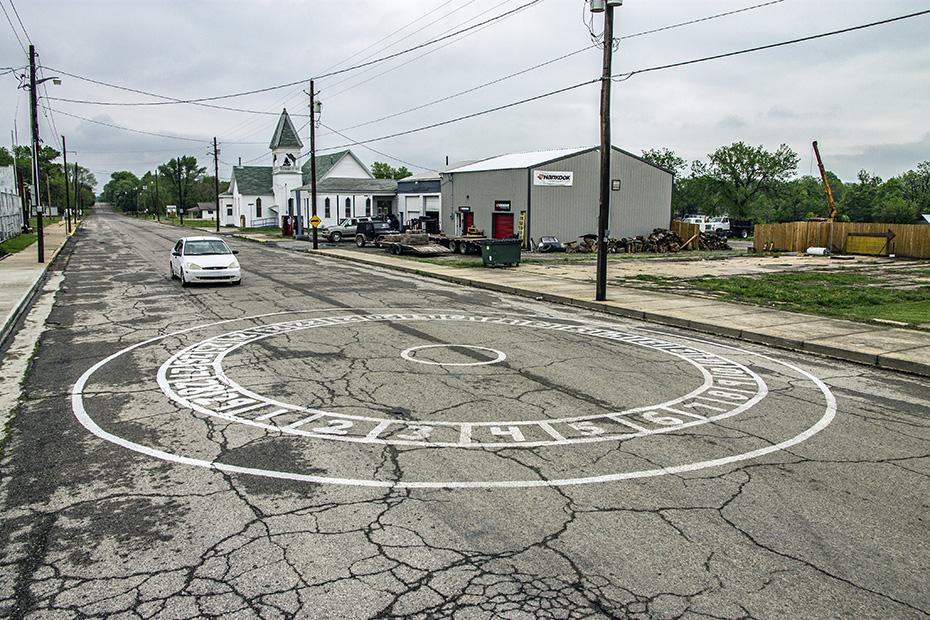 What does it all mean?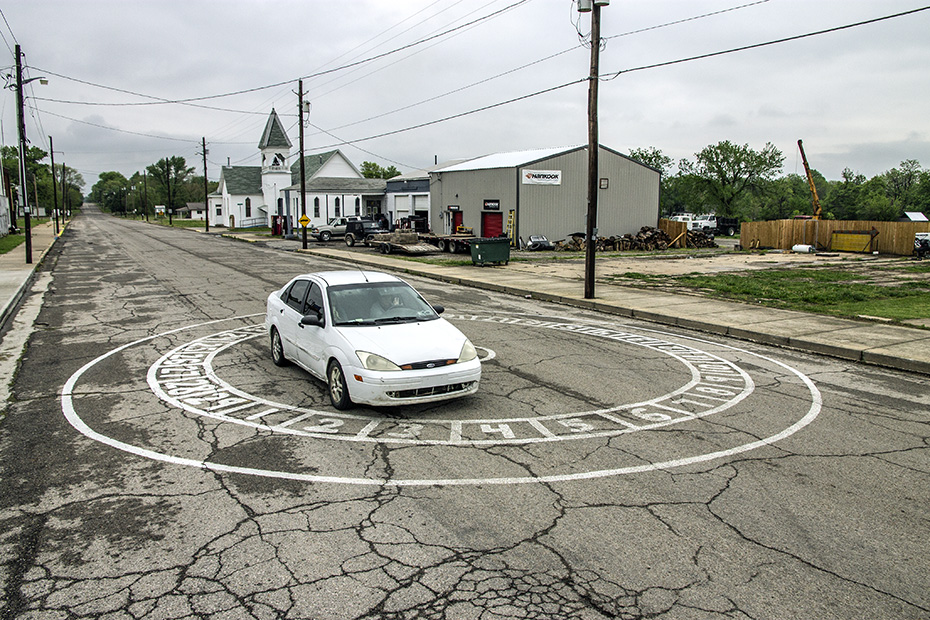 It's probably going to be something that disappoints me, in a way that would make me feel relieved, once I learned it.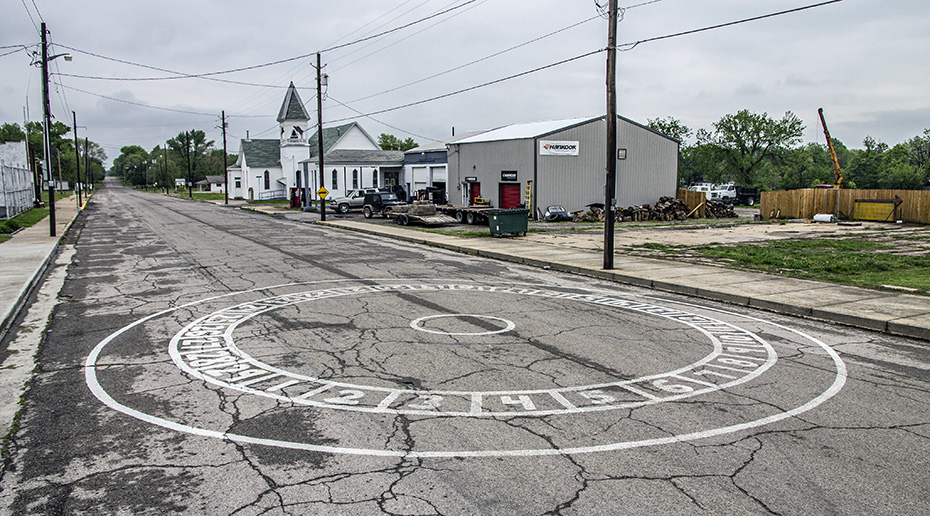 That's all from Arcadia, and, as best as I can tell, all from Missouri, too, as I would not return to Missouri on this trip.
Next, I would be in Pittsburg, which is about 10 or so miles away.
Here's what is strange. Despite Pittsburg being a terminal on the KCS, where I got many photographs of trains in the late afternoon of Day 2, I got no pictures in Pittsburg other than this shot of the cemetery on South Broadway Street.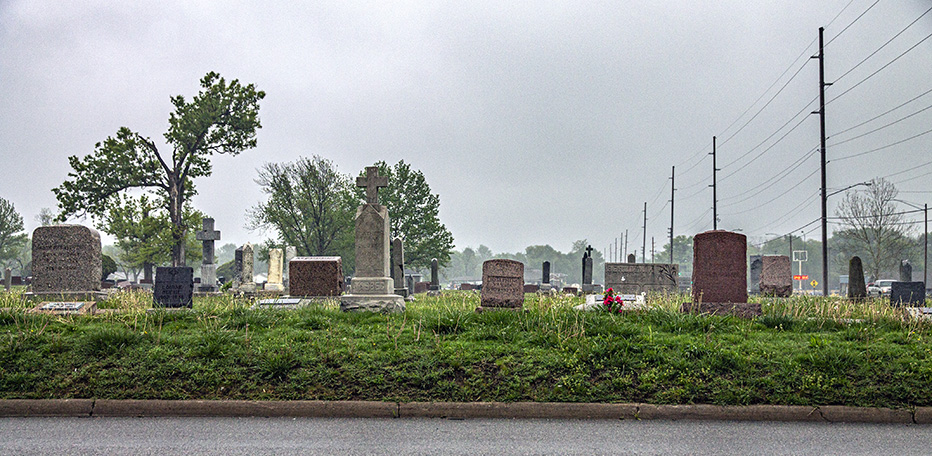 Also, that picture was taken more than an hour after the last shot in Arcadia, only 11 miles to the north. So, that suggests that I spent many minutes doing something not worth photographing during that interim, which was probably eating at Braum's.
Not much more than 20 minute later, I go to a place in the southeastern corner of Kansas that I had not visited since I first came through here alone in 2003.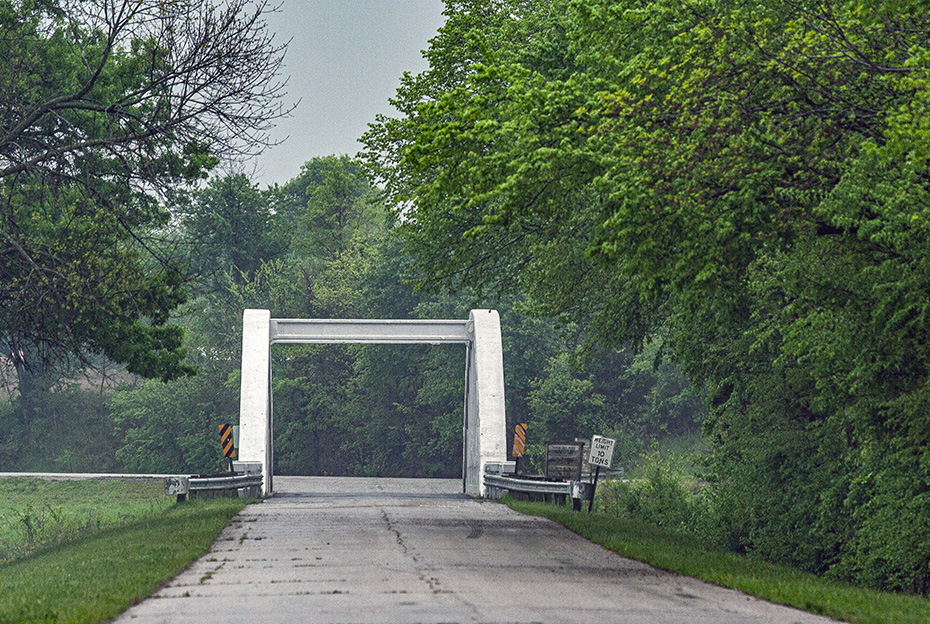 This is the famous Rainbow Bridge on Route 66.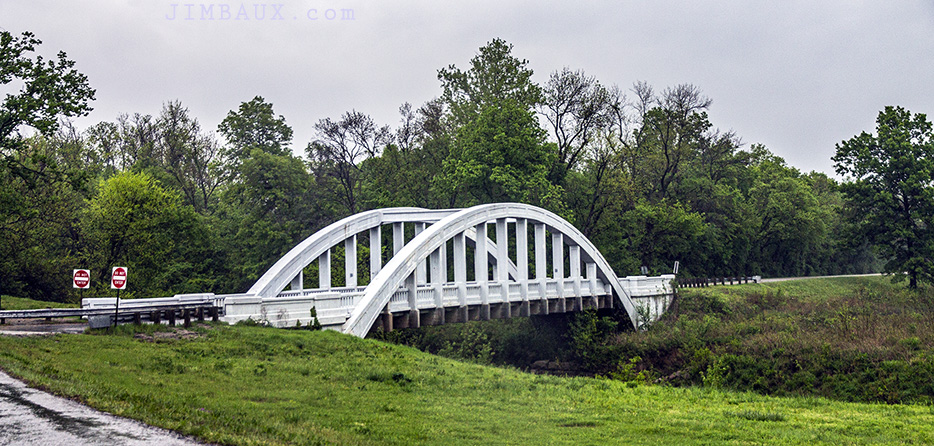 A long time ago, if you drove an automobile from Chicago or Saint Louis to California, you were very likely to use that bridge.
So long, Kansas.
The rest of this essay is nothing but KCS Railway scenes.
I have zero memory of the drive, nearly 200 miles and more than three years, southward for the rest of the day.
I even have no memory of taking these next to pictures at some location that has basically no spotting features.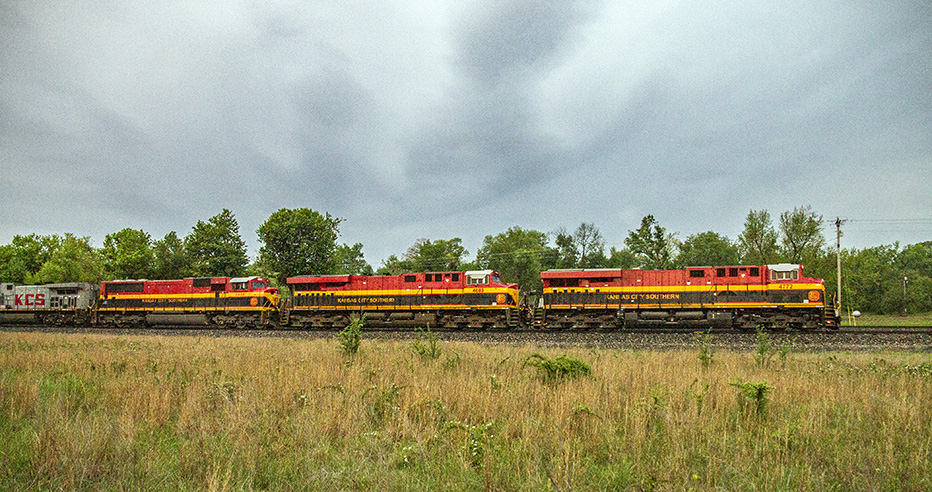 This is, however, a northbound KCS train in Watts, Oklahoma.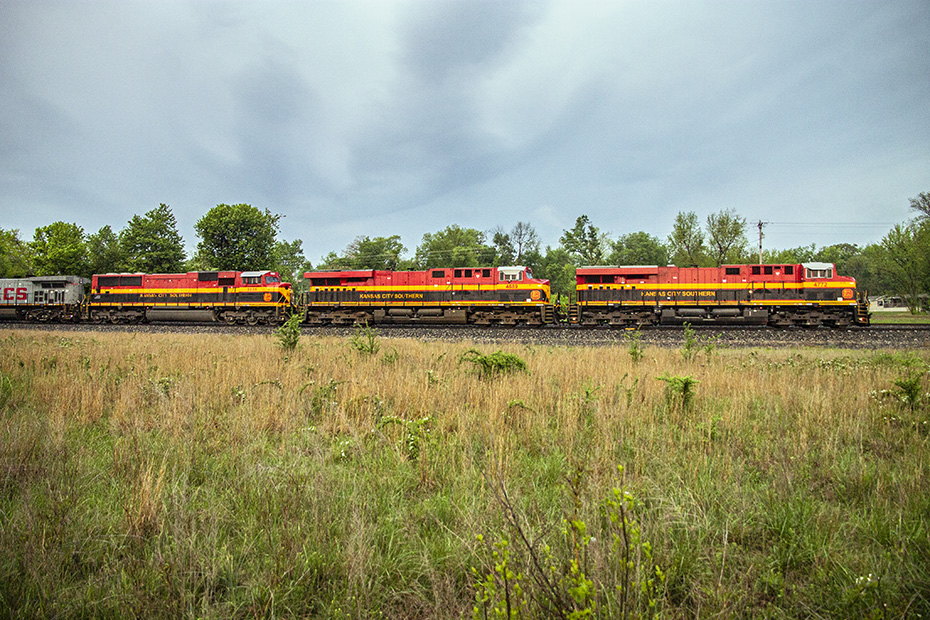 The only way that I was able to figure out the location of these images is that house on the right, and the only ways that I knew to look in Watts is that the time stamps on the images suggested that they couldn't be in or near either Pittsburg or Heavener and that there is a track there – like, maybe a siding – along the mainline here.
More than two hours later, I am in Heavener.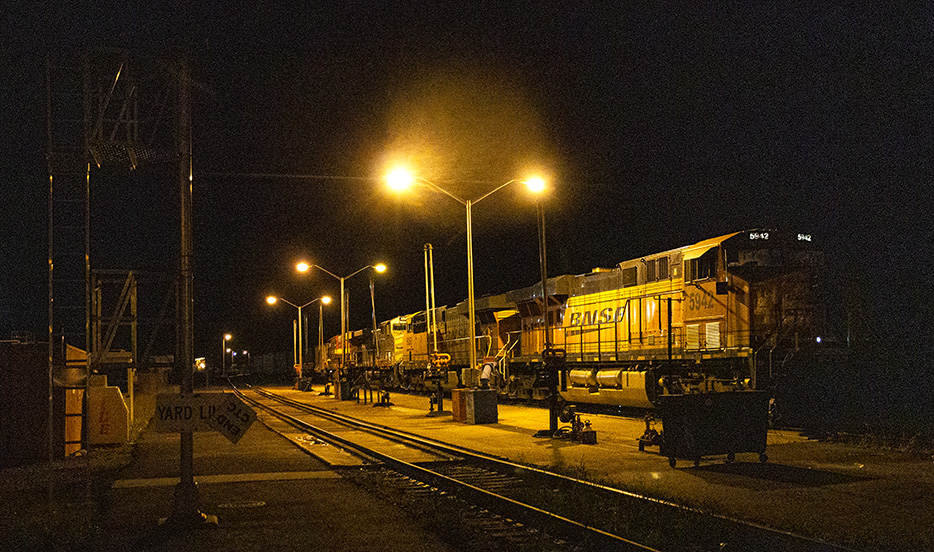 This is train C-TUKC.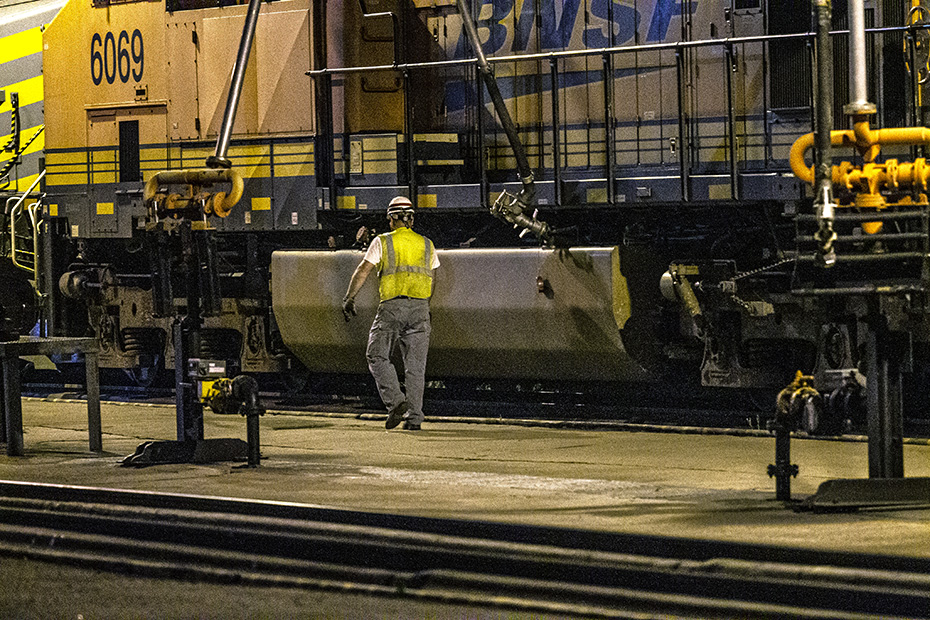 This is an empty Texas Utilities coal train.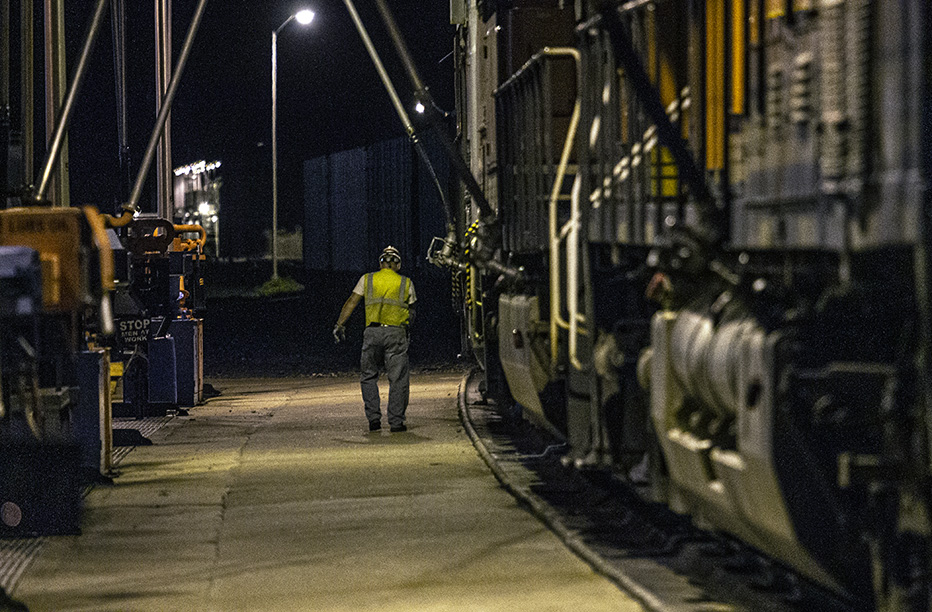 This is the mainline fueling facility north of the yard in Heavener.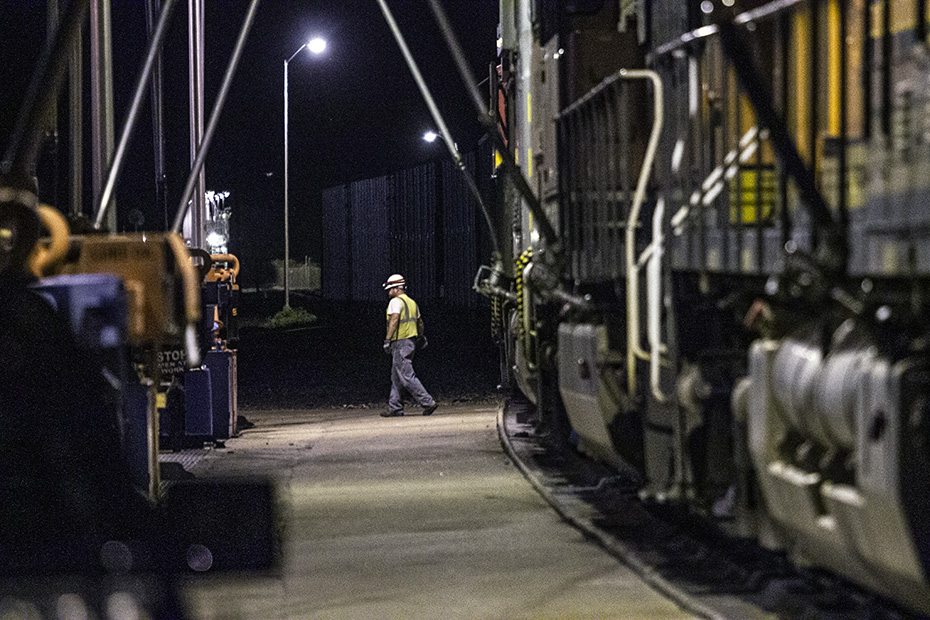 We see an employee fueling the locomotives.
This train will not need fuel again until it arrives in Kansas City.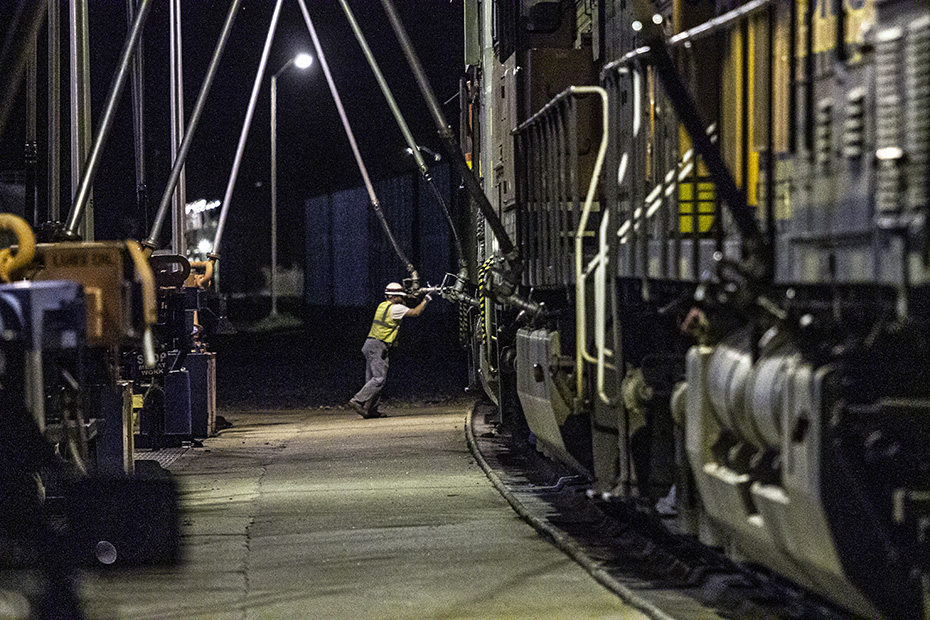 Some of the locomotives are likely to be removed at Pittsburg anyway.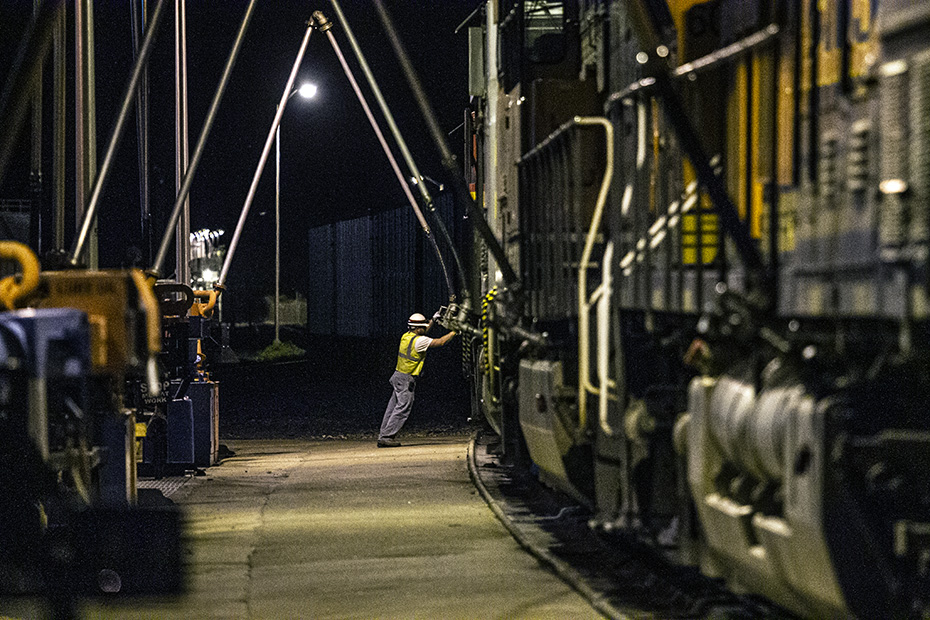 This is Holy Saturday night.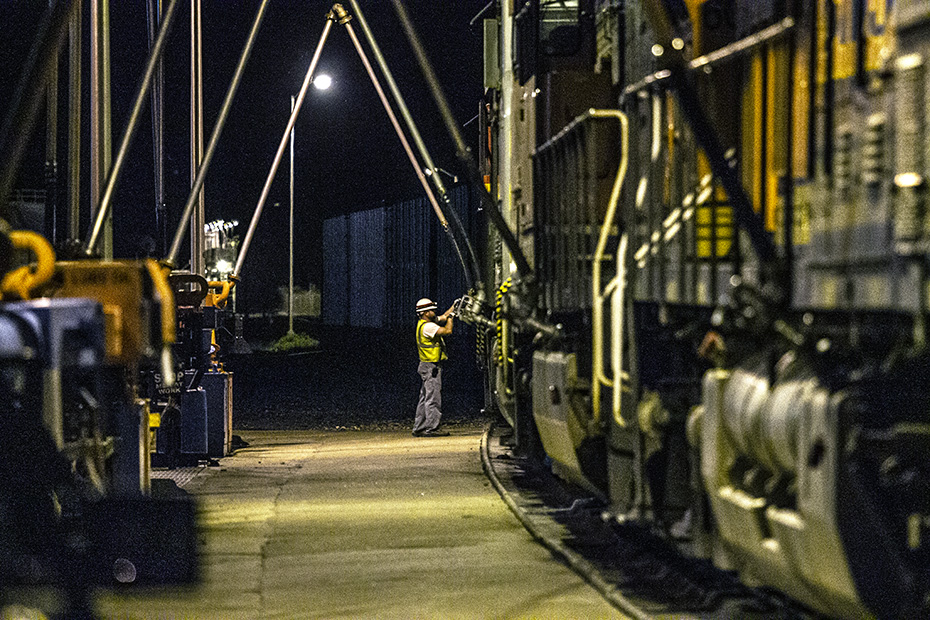 Easter Sunday is tomorrow.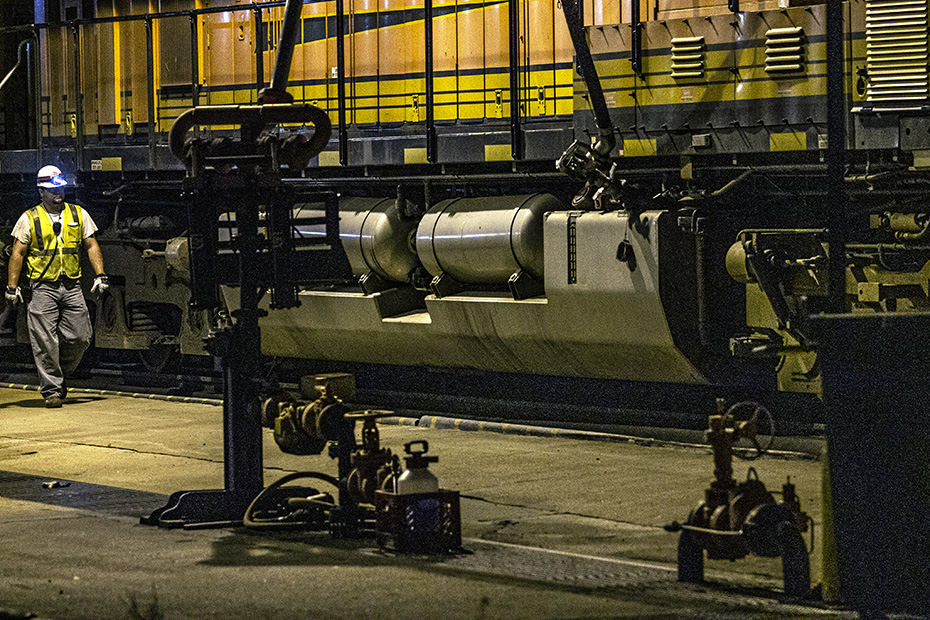 The employee uses a flashlight to check the fuel gauge.
Next is a northward view of the racks on the other side of Industrial Road.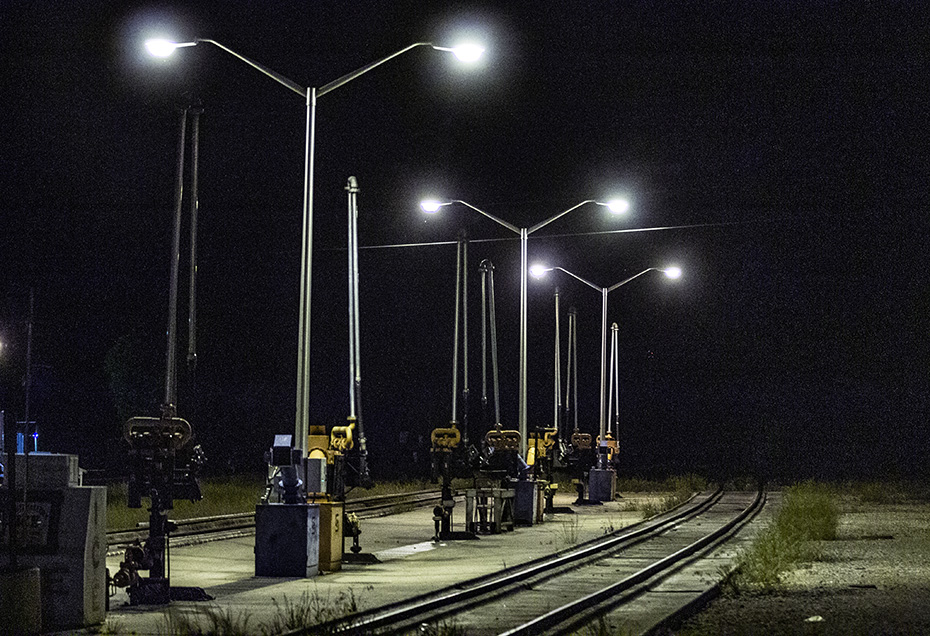 Nighttime when there are no trains there is the best time to appreciate the pumps themselves.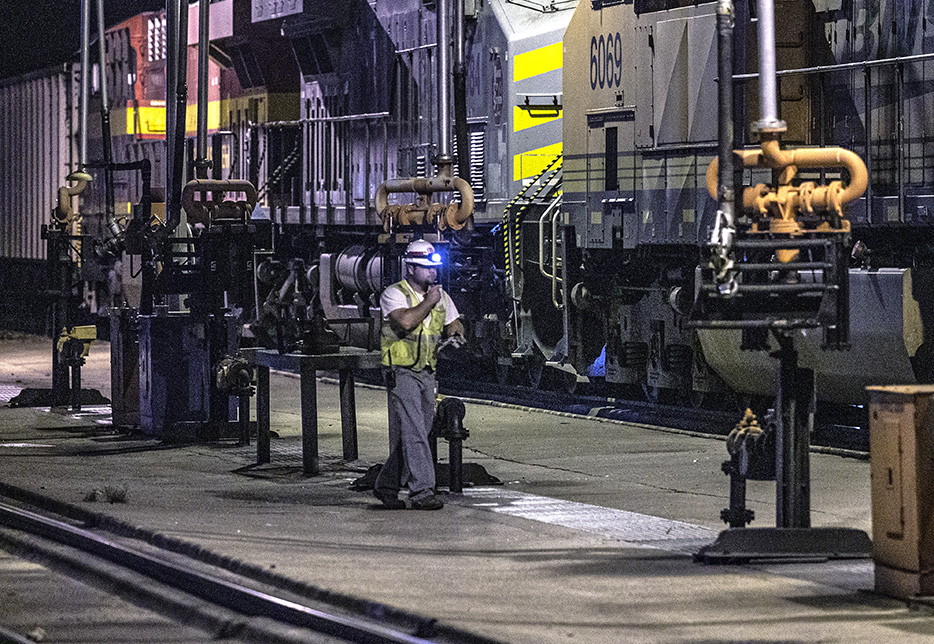 Note the pump still sending fuel to the BNSF 5942.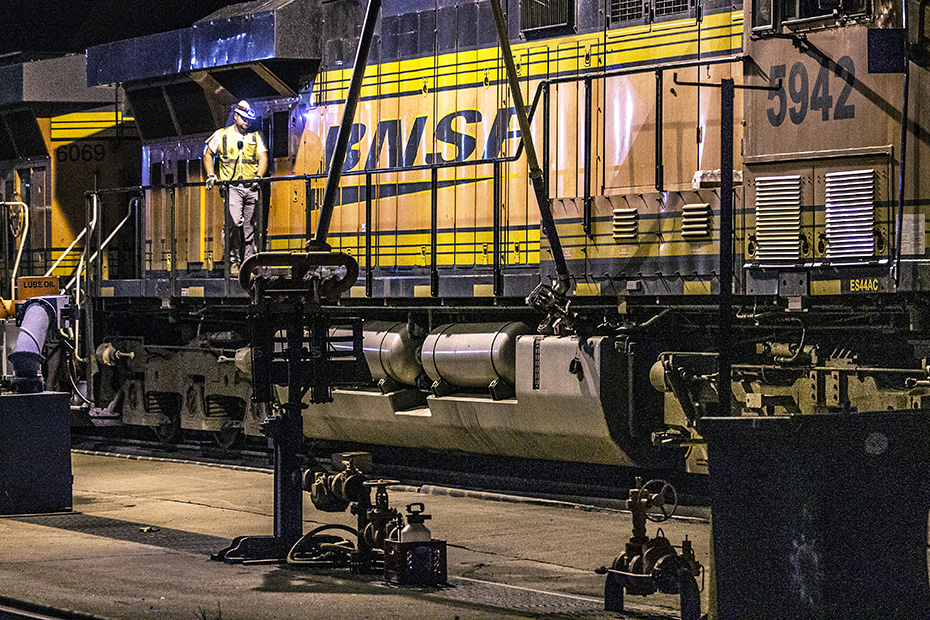 This isn't as cool as regular train shots, but I like it, especially since I don't care for these new locomotives anyway.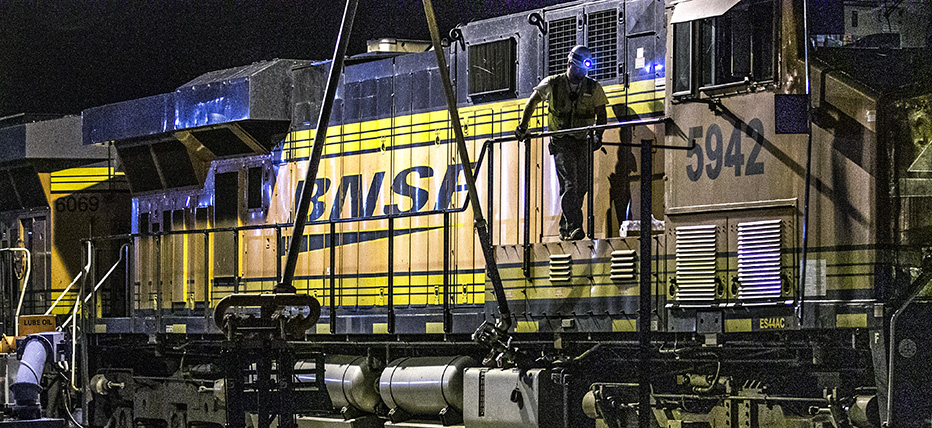 I posted a version of the next image on Facebook from the hotel that night.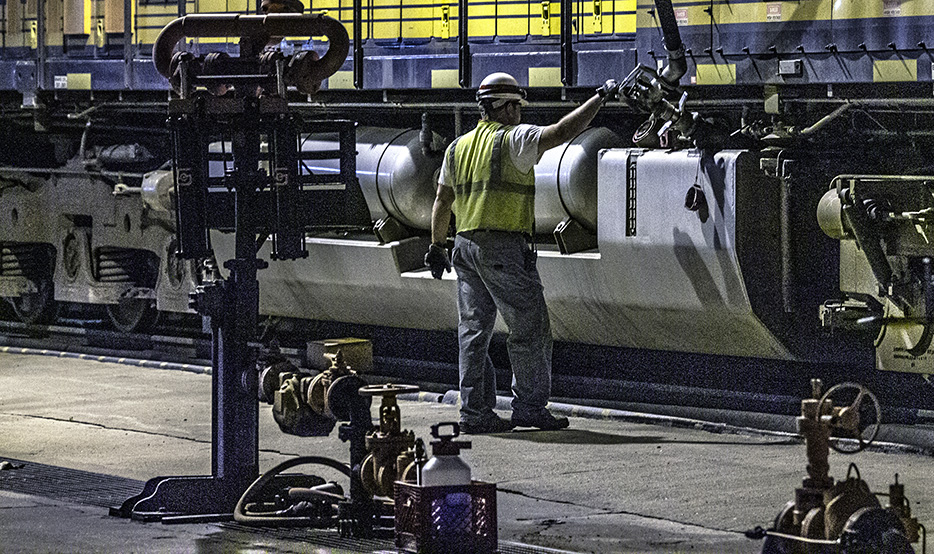 I once-again stayed at the Green Country Inn.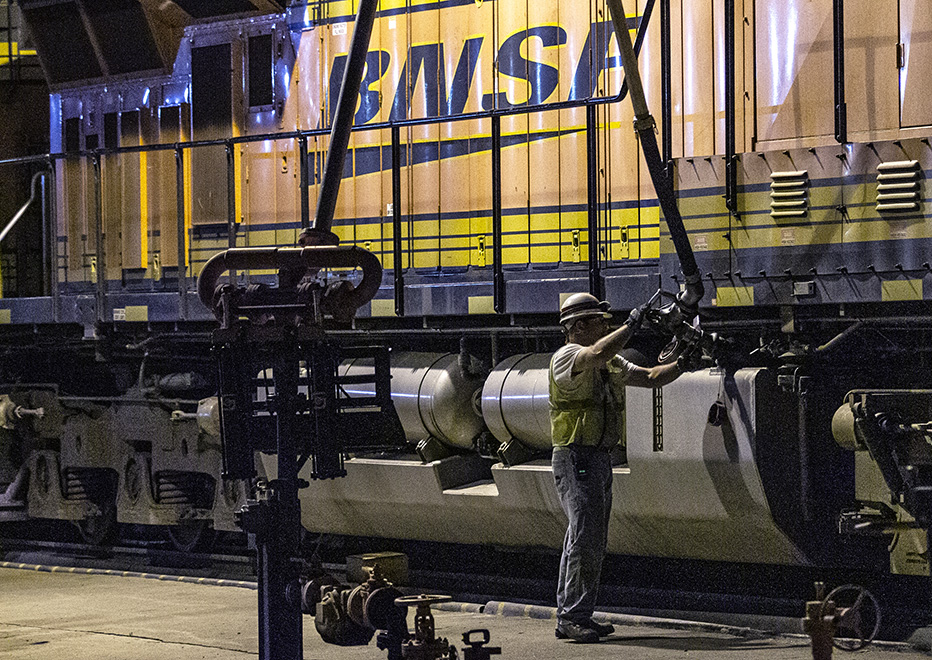 Probably, the KCS locomotives will come off at Pittsburg and then be added to some other southbound train.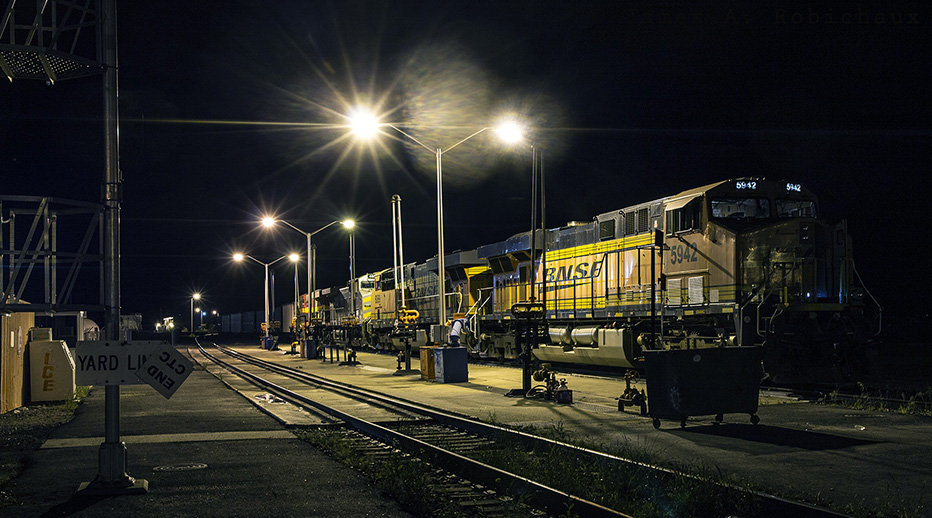 I wonder if I realized that I was saying goodbye to this place that I had visited so often over the last decade.
At the yard office, we see the rear end of the C-TUKC.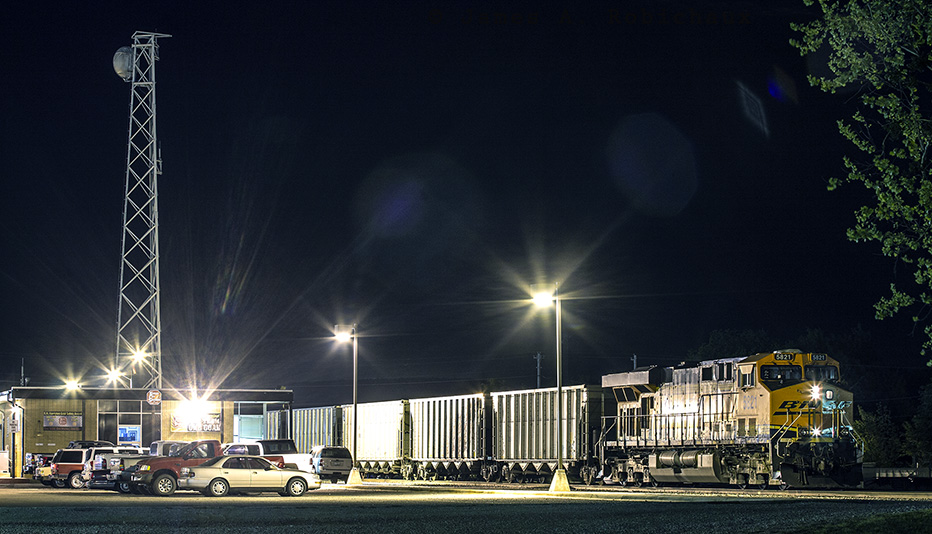 Well, you know what the temperature was.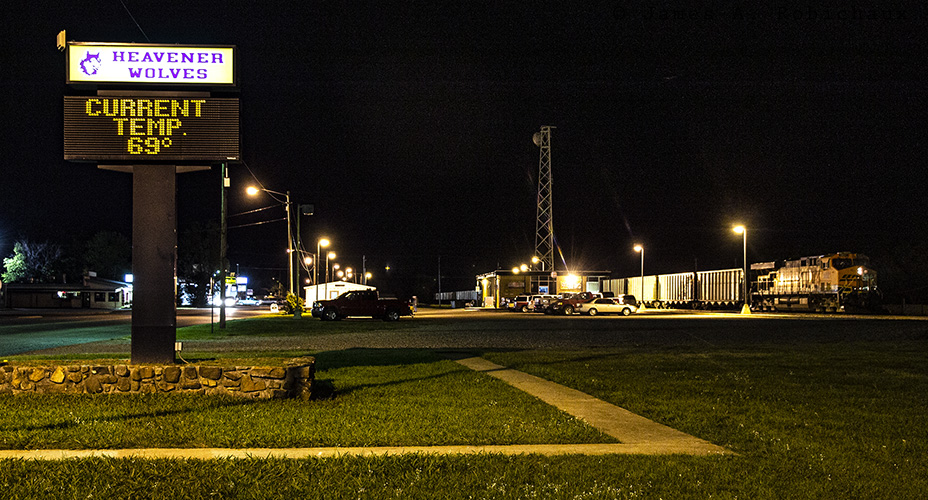 I should mention that one reason that I really wanted to take this trip was so that I could come to parts of the world that I had not heretofore visited in the spring and, north of here, had heretofore visited only in the summer.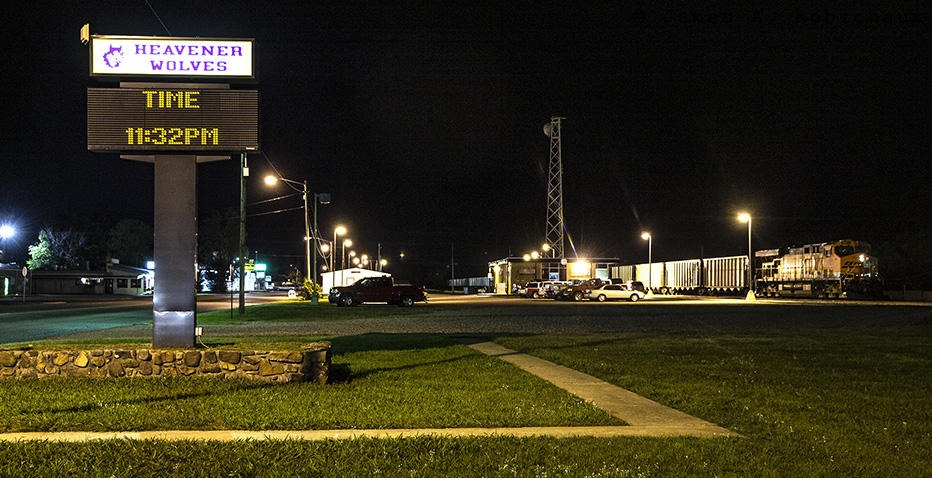 You know what time it was, too!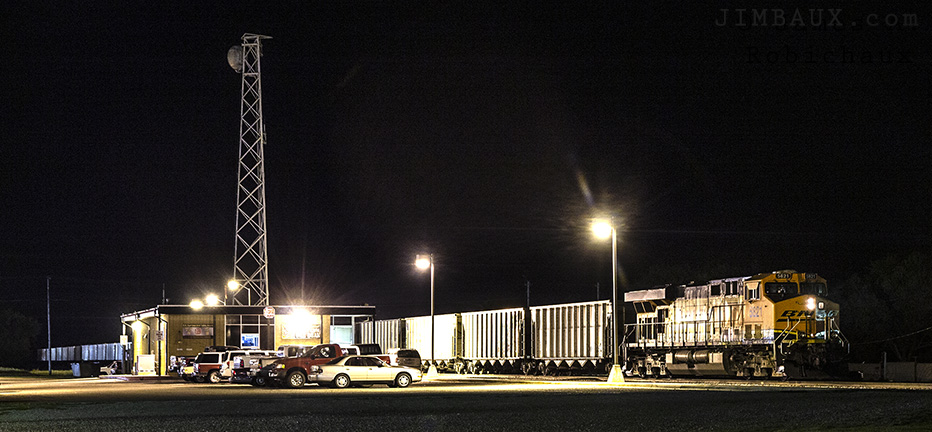 Let's head back to the fuel rack before we call it a night.

This is the front end of train Q-KCNL-07, the "NL" here standing for Nuevo Laredo and the Q prefix meaning that it's a high-priority – "Quality" service – train.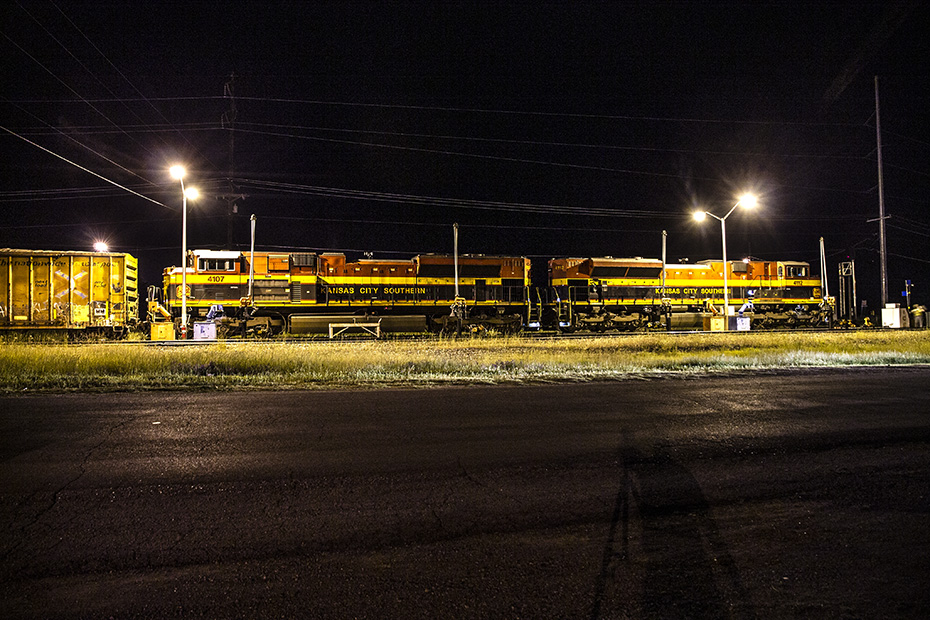 That is a self portrait!

I should mention that the times for all of my images on this trip are jacked.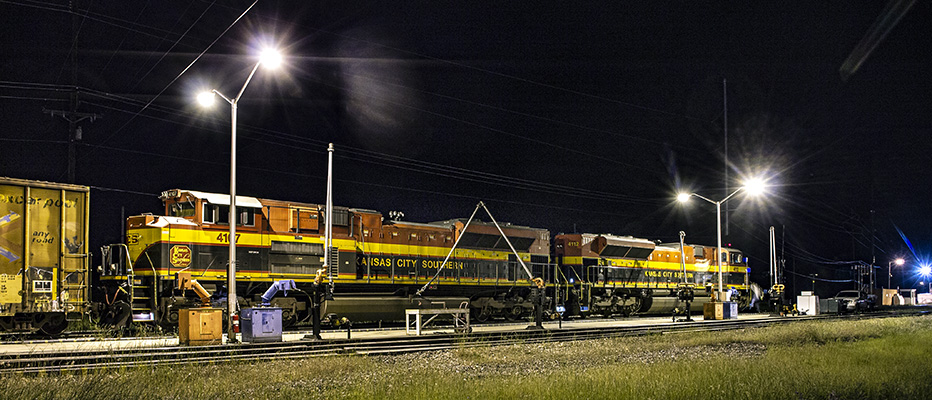 The main camera that I was using was new, and the supporting camera that I was using wasn't even mine but effectively was and remains mine.
Anyway, this must have been before I settled on the practice of setting the time in my cameras to Central Standard Time and just leaving it like that all the time, no matter where I go or what time of year it is.
The problem with changing the camera's clock to Daylight Saving Time or some other time zone in which I might find myself is that forgetting to put the camera back to Central Standard Time is very easy, and that's bad, because I really want to be able to get accurate information about my pictures.

I want to be able to look at a picture and make determinations about what is possible at the location of the picture given the light angles and patterns at various times of year, and I need a standard time anchor by which to make such measurements.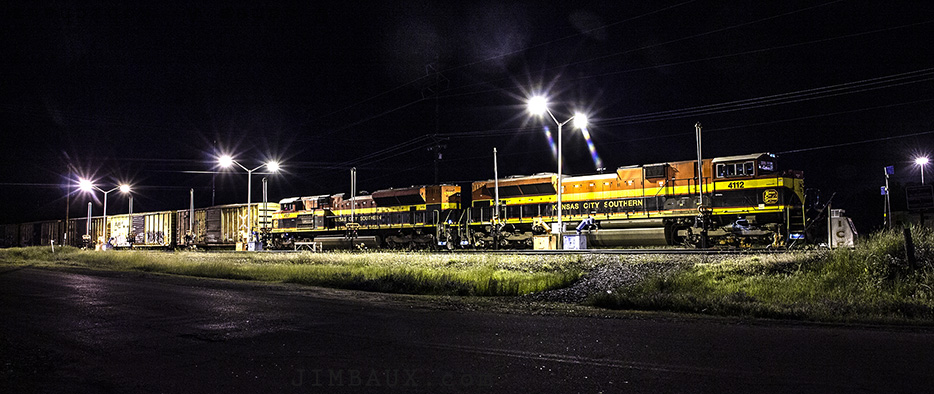 Obviously, since I live in the Central Time Zone, and the middle of it at that, and since Standard Time is the most-nearly-real time, I use Central Standard Time now, always.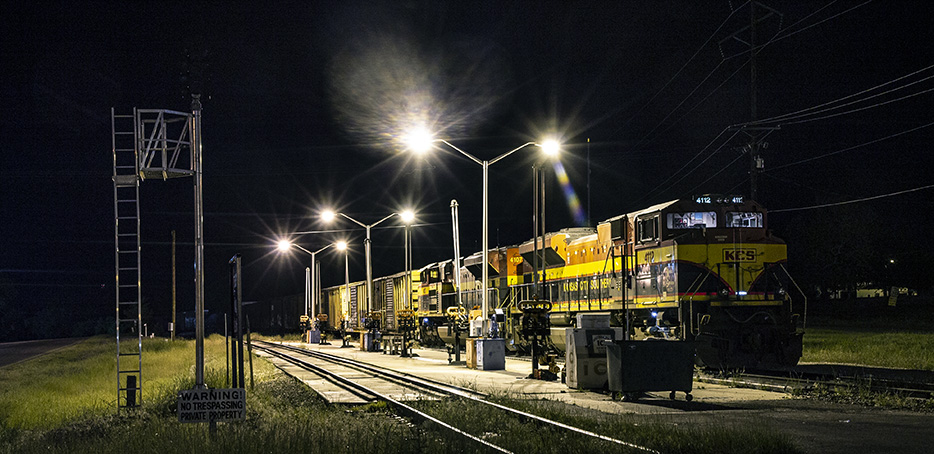 The only way that I would ever change it is if I ever would permanently move out of the Central Time Zone.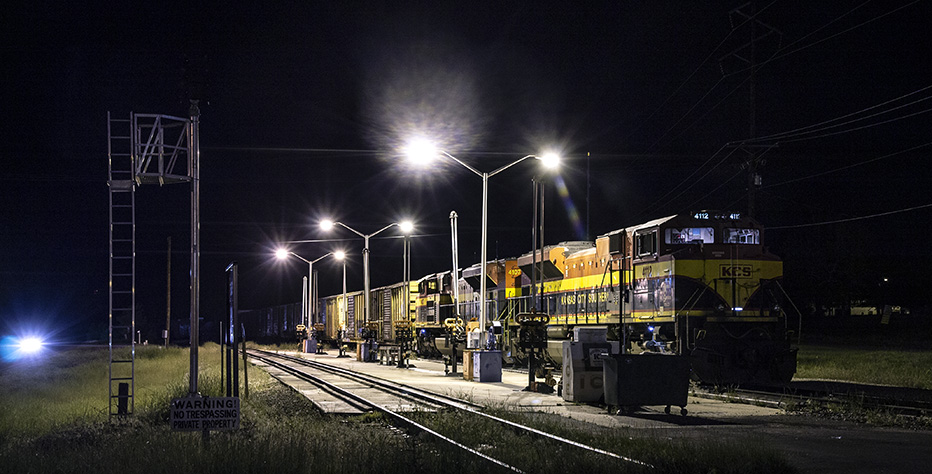 I am not sure that I would do it even if this atrociously moronic idea of year-round Daylight-Saving Time ever becomes a reality.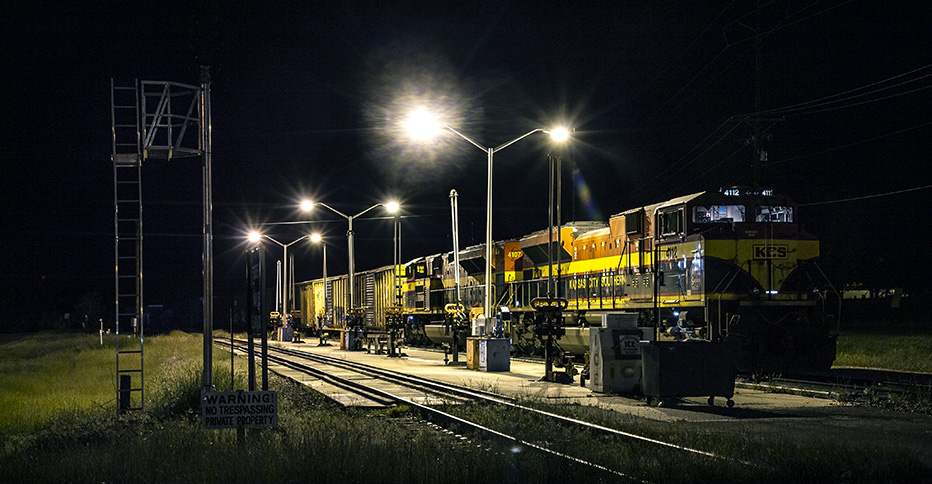 Well, that's all for the night.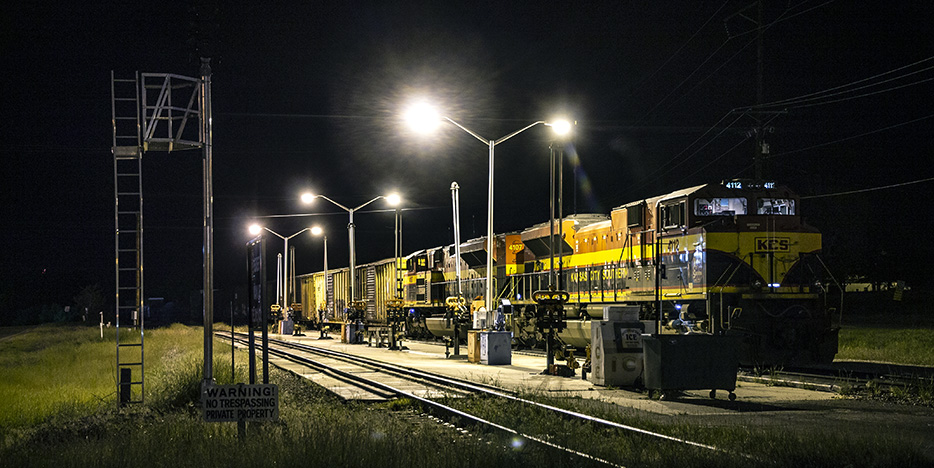 I headed to the Green Country Inn, where more than half of the rooms were occupied by KCS train crews, and got some sleep.
Stay tuned for the last day of Jimbaux's Spring Break 2012 Road Trip. I hope that you have enjoyed all of this.
Merci.
Jim