This is part of the Eastern Great Plains Spring Break 2012 Road Trip series.
Welcome to Day 5 of Jimbaux's 2012 Spring Break Road Trip. On this day and all of the following day, none of the drive was in an automobile in my name (even rented), I didn't do any driving, I entered a US state to which I had never before been, and I got pictures of trains in three US states, including the one that I had just entered for the first time in my life.
Picking up after my arrival in Omaha the night before after I spent the day exploring in southeastern Nebraska, we left Nebraska at about midday on this day and ventured to places more obscure and, in their own way, more exotic.
Even a decade later as I type this, I remember much of this day fairly well. It was time well spent with a great friend. It was very intense. It was also a visit to a neat old-school railroad just as it was losing that identity.
Our goal was to head north to what had until recently been and still very much looked like the Dakota, Minnesota & Eastern Railroad, which was about the only railroad that still looked like other railroads looked 20 to 40 years before.
Until the late aughts, a few years before these pictures were taken, the Kansas City Southern Railway was remarkable in that, of the remaining Class I railroads, its trains still looked like other railroad's trains from more than a decade prior, as most of its non-unit road trains still had traditional "Spartan Cab" locomotives. In retrospect, I see that this was actually only a really brief few years to which I attribute outsize significance because it happened to have occurred right after I entered adulthood and was able to drive around and take pictures with SLR cameras. By the end of the 2010s, the KCS was about as comfort-cabbed as other major railroads.
The DM&E still wasn't, even though it had lost its independence, having been – along with its sister railroad, the Iowa, Chicago & Eastern Railroad – fully acquired by the Canadian Pacific Railway in 2008. As you will see in these images today and tomorrow, despite having been swallowed by the CP more than three years before, the DM&E still looked like the DM&E. That would begin to change a little bit more than two years later when CP sold these lines to the newly-created Rapid City, Pierre & Eastern Railroad.
The Journey Begins
My friend is driving, and we are in his truck. I do not recall exactly the route that we took to enter Iowa, but I presume that it was the I-680 bridge across the Missouri River, and our eastbound crossing the river on that bridge was my first entry to the US State of Iowa. I supposed that it's not how many people not from the Great Plains first enter Iowa.
Anyway, it was around here that I first got a glimpse not only of Iowa but of something else that I wanted to see while I was here: effects of the Missouri River flood here the previous year.
Our first stop out of Omaha – our first stop in Iowa – is California Junction, Iowa.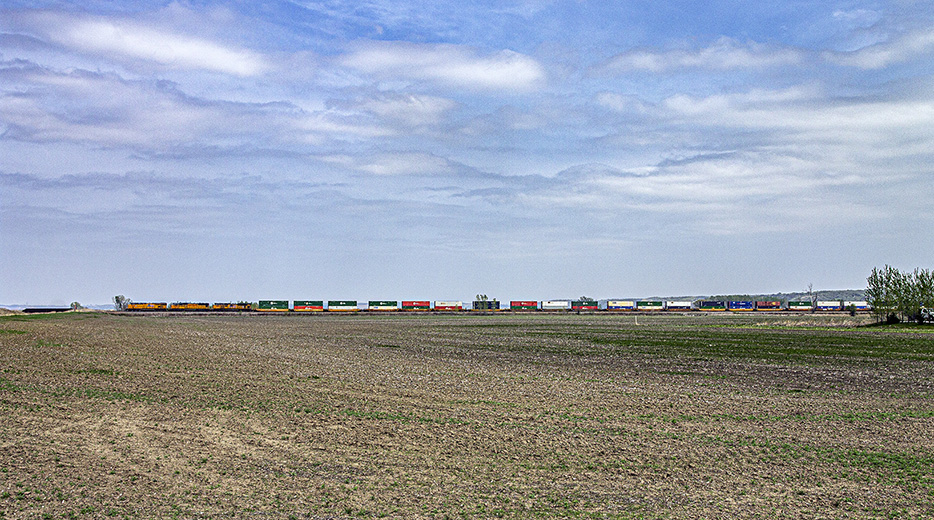 That's parked Union Pacific Railroad train KG1LA-03 on the east-west line, and this is parked train GBLSNG-02 on the Sioux City line.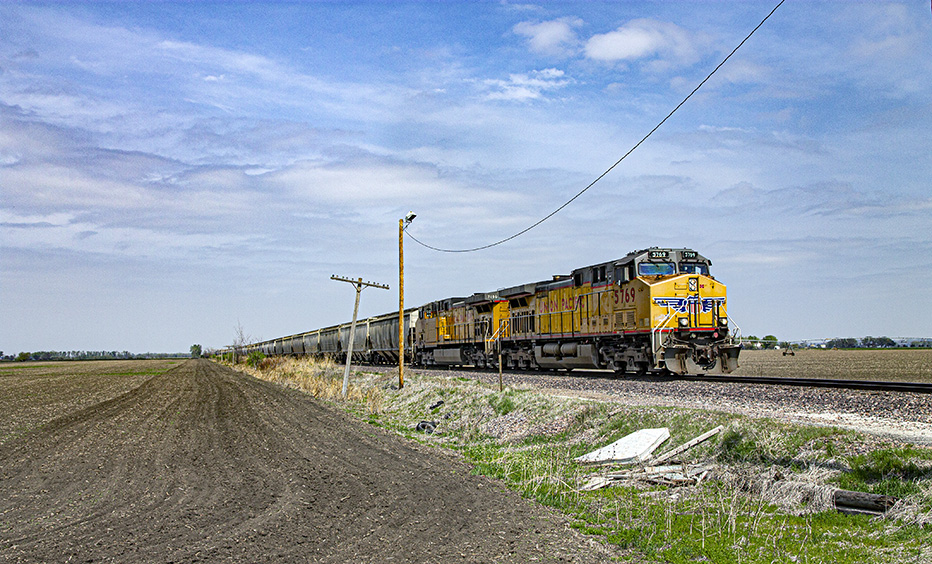 All of these lines are former Chicago & North Western railroad lines.

Now, the KG1LA-03 is on the move.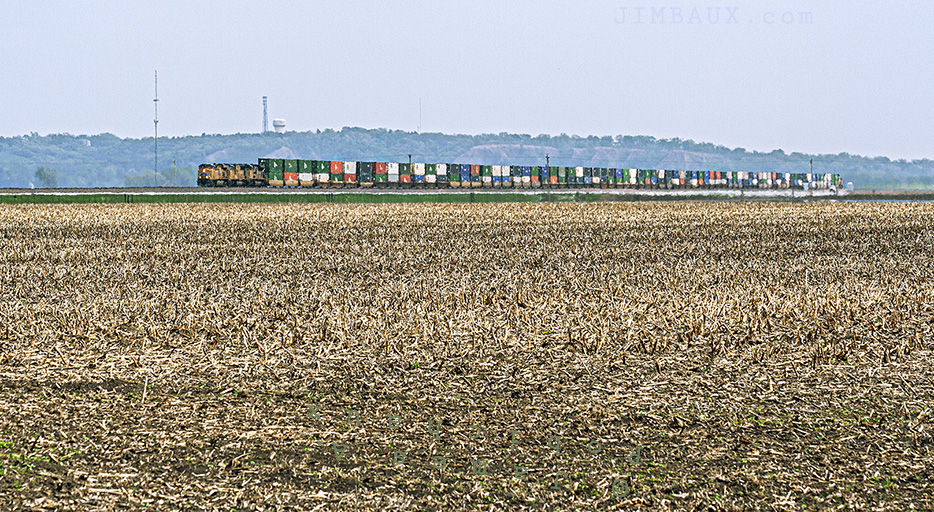 This train is coming from some Chicago-area container terminal and going to southern California.
This isn't nearly as interesting as the DM&E, where we are bound far to the north, but it's still interesting.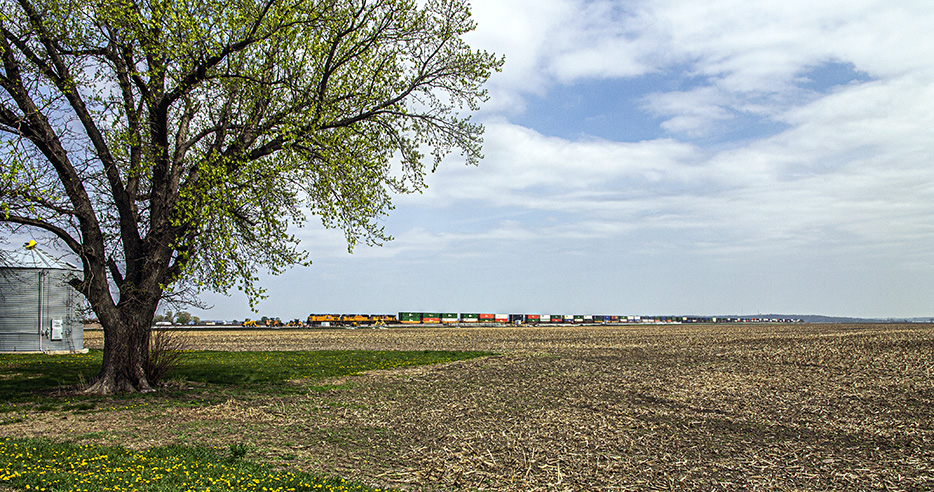 Here comes the rear end of the train, with another locomotive, this one pushing.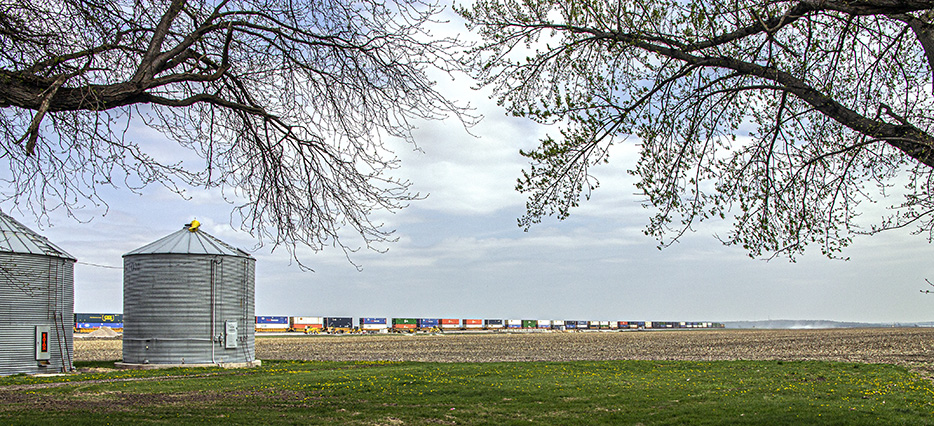 Speaking of rear ends, an often-used picture of me was taken right at about this moment.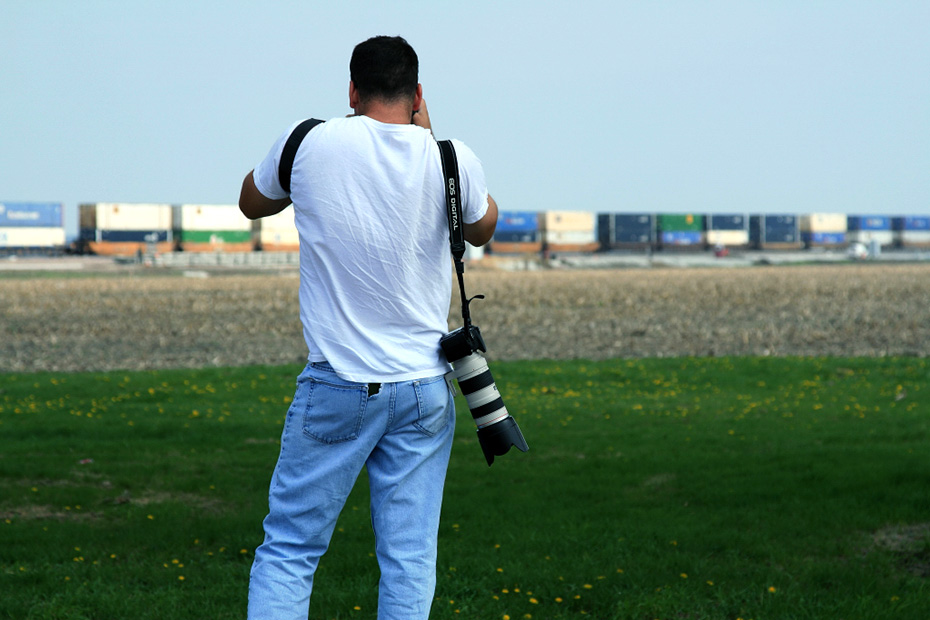 Yeah, that's as good as it gets.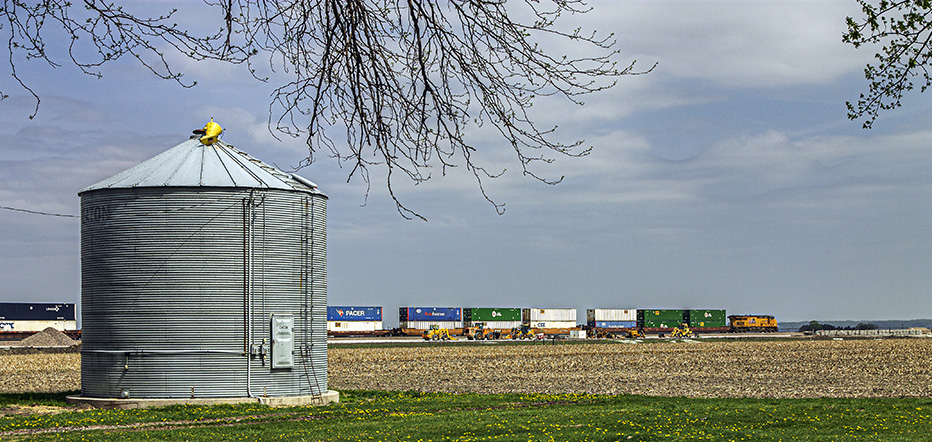 I have to include the bean bins.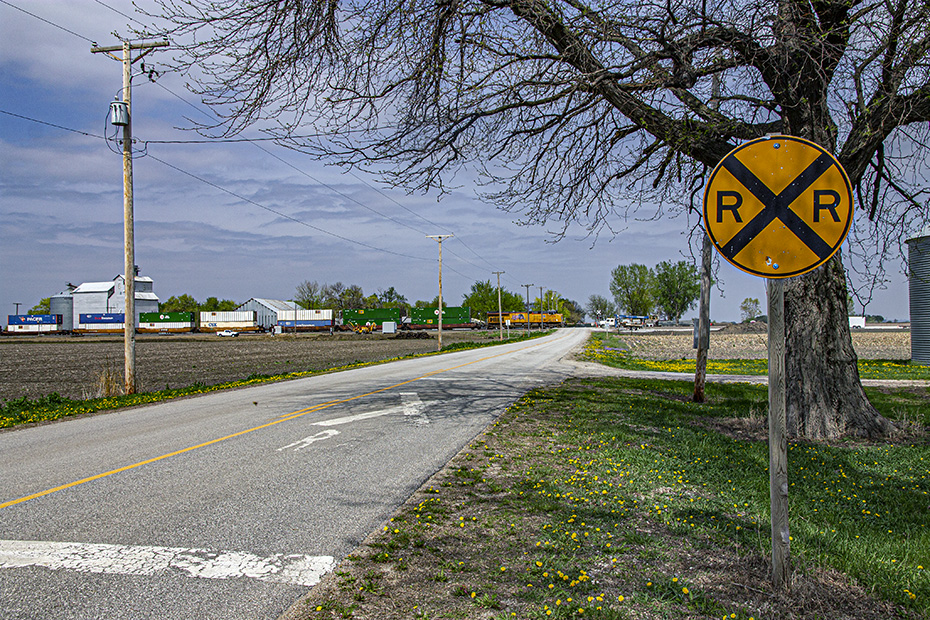 This is California Junction.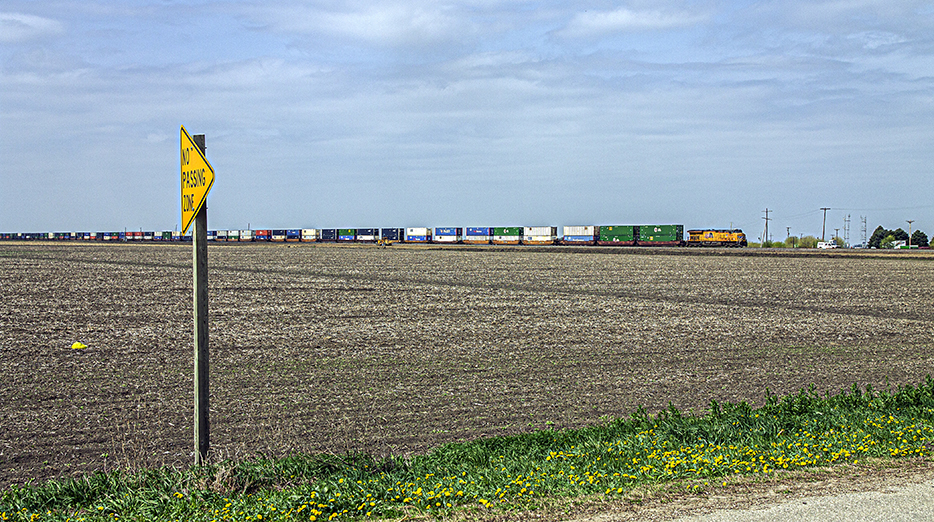 Look at the light power on the junction train, the west leg of the wye.
So long, stack train.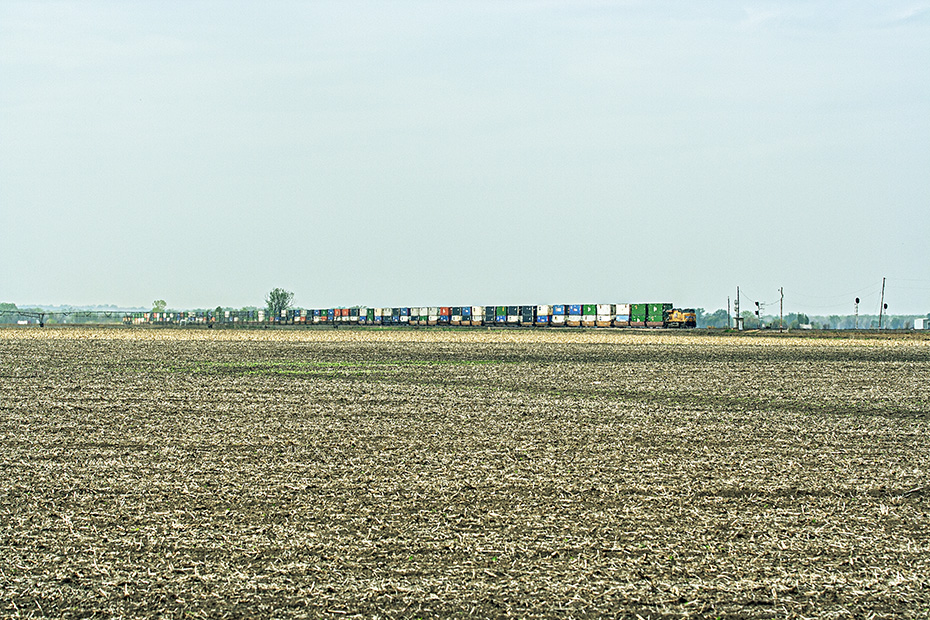 And so long, California Junction. We then left from our brief visit to California Junction and resumed our northward journey.
Here's a weird sight from somewhere along I-29 north of Missouri Valley.

Okay!
So long, Iowa.
Our Real Destination
We stayed on I-29, which means that we went right on into South Dakota. I think that we ate at a Culver's in Sioux Falls, but, other than that, we stayed on I-29 until we go to the DM&E.
I don't recall what the calculus was once we arrived in Brookings, but we may have gotten some radio chatter about an eastbound loaded ethanol train preparing to depart the ethanol facility in Aurora.
So, eastward we went in search of a shot.
Borderlands
More than three hours after my last picture, after being in South Dakota for hours, our next picture is from when and where we had just crossed into Minnesota.
This is a place of wind turbines in cornfields along the border between Minnesota and South Dakota along US Highway 14, and finding the exact locations of these images on Google Street View was exhilarating!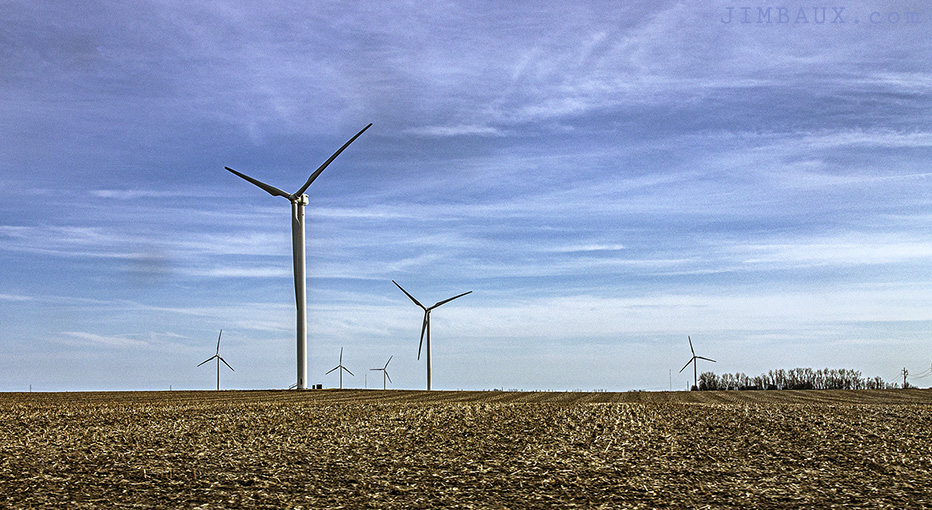 We determined that a train would be heading east from Aurora, and we landed on a hill south of Lake Benton to wait for it.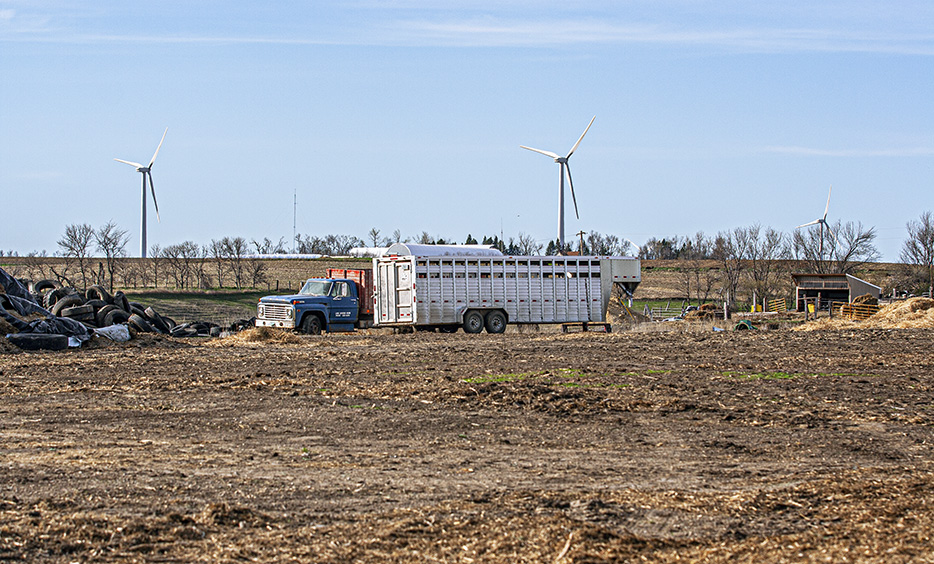 This is 120th Street in Lake Benton, south of town.
Here comes the train.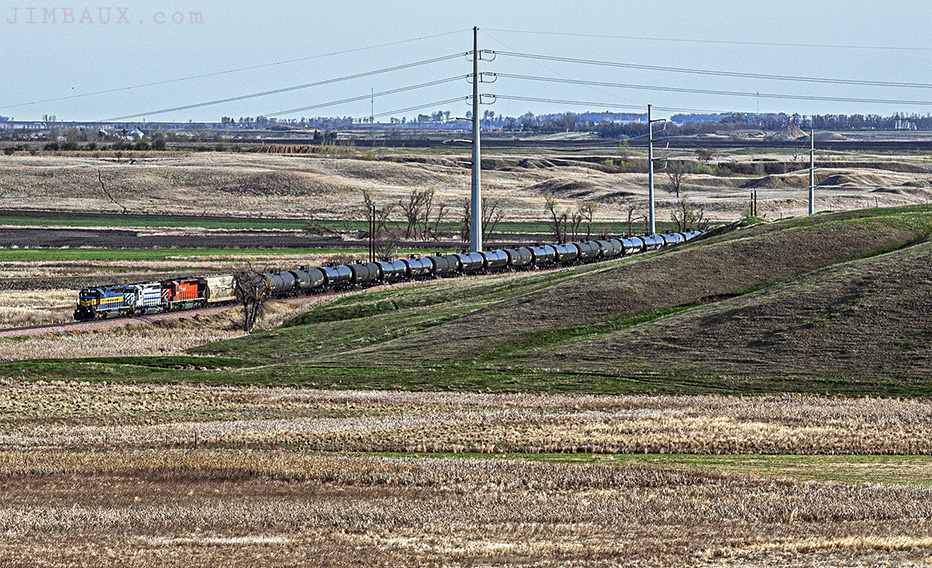 I'm going to get repetitive here, and I am sorry.

This may be repetitive, but it's not Louisiana.

I guess that there are some field burnings that have happened here.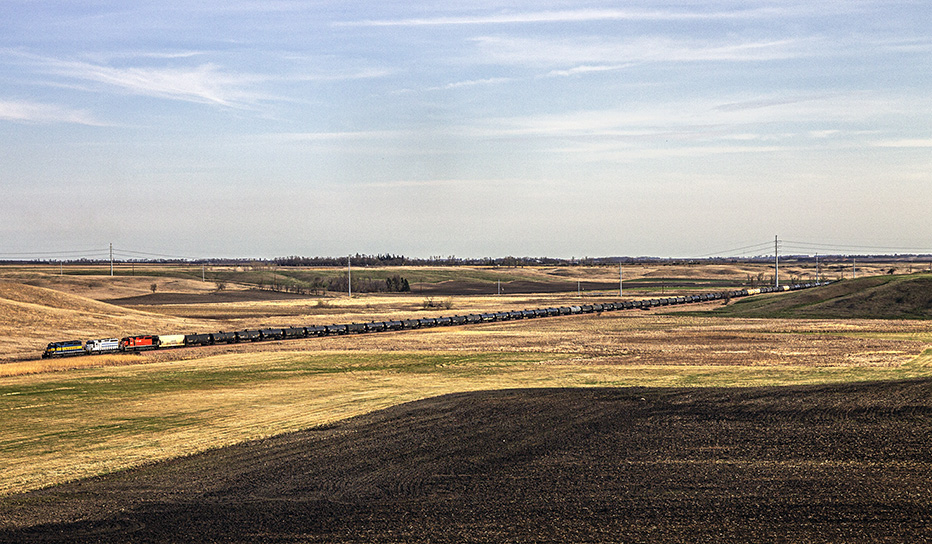 Now, we're getting really wide.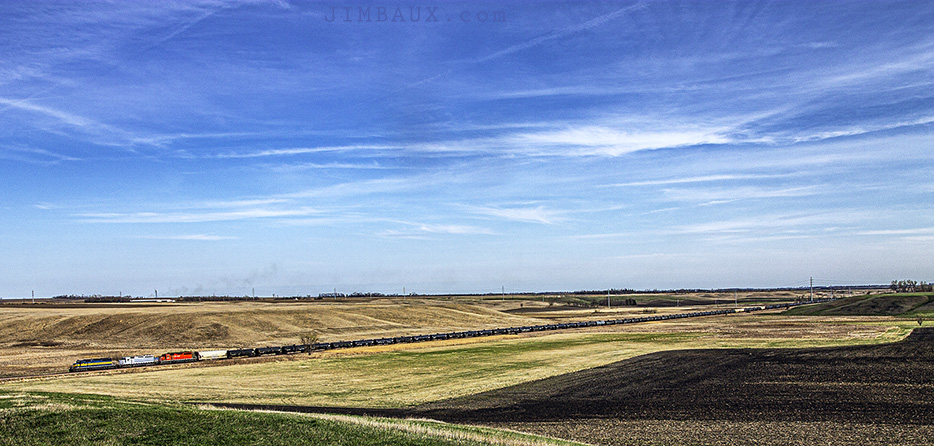 See that red Canadian Pacific Railway locomotive?

It would be about the only red locomotive that we'd see on this trip.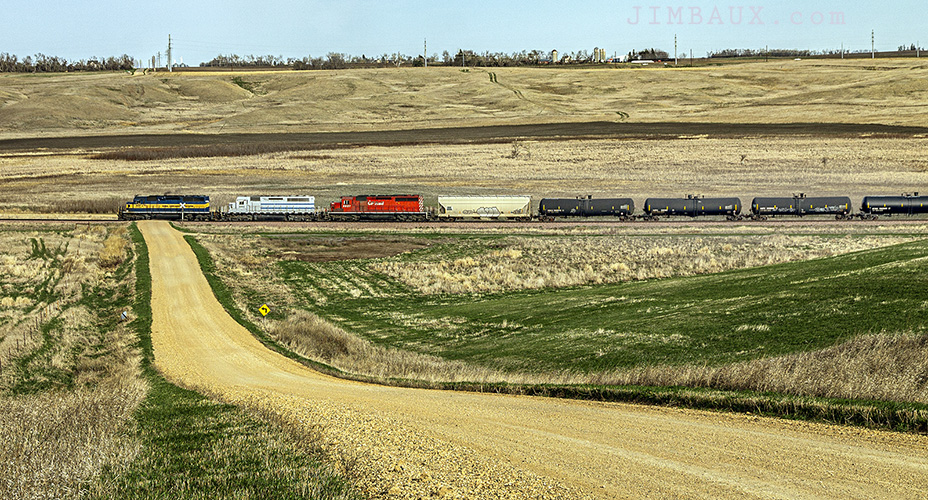 I like those old red CP locomotives, but I came here hoping to see more blue-and-yellow DM&E and IC&E locomotives, and we weren't disappointed.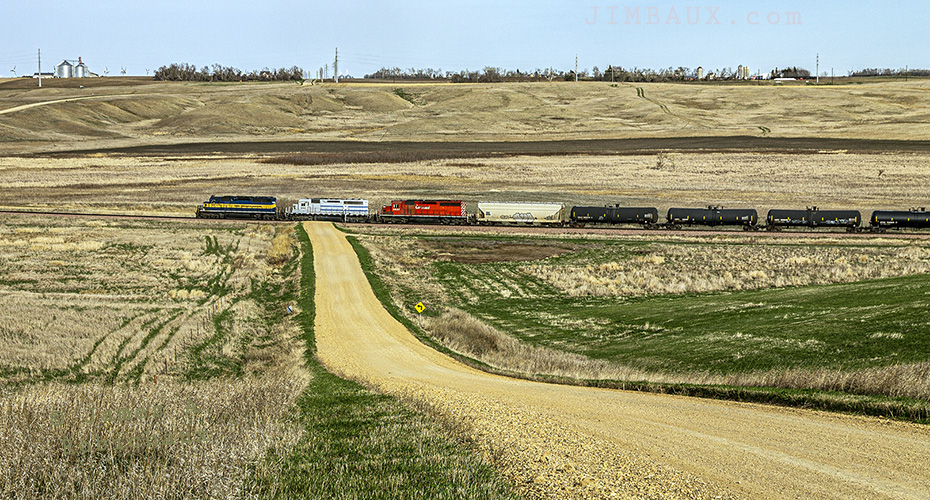 I think about a Minnesota friend lost to Trumpism – or revealed by Trumpism to not be a friend – when I look at some of these pictures.

I mean, it's good that people with suppressed repugnant views revealed their repugnantness.
This is CP Railway train 632, an eastbound ethanol train.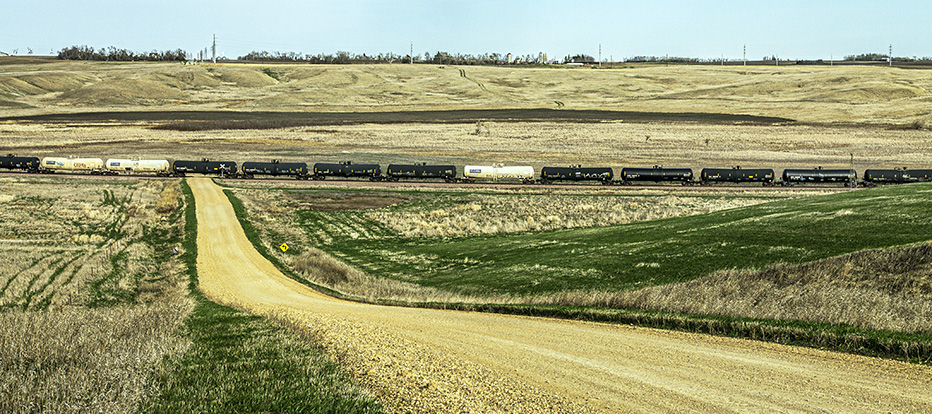 Perhaps it's going to the same place in Maryland where I saw and photographed some DM&E/IC&E locomotives leading an ethanol train, probably from here.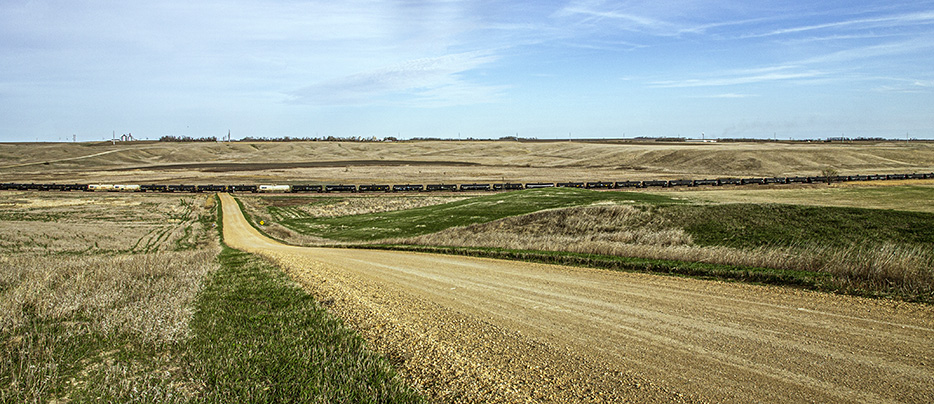 It's industry, and it's the Great Plains.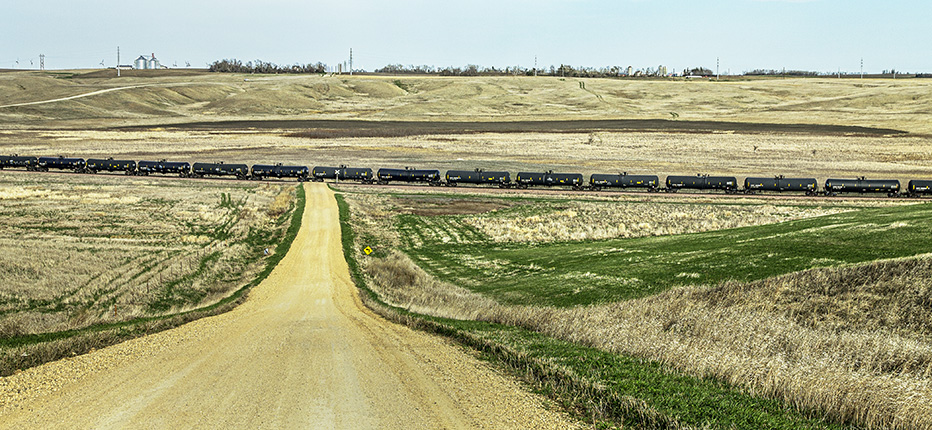 I want to know what this place means.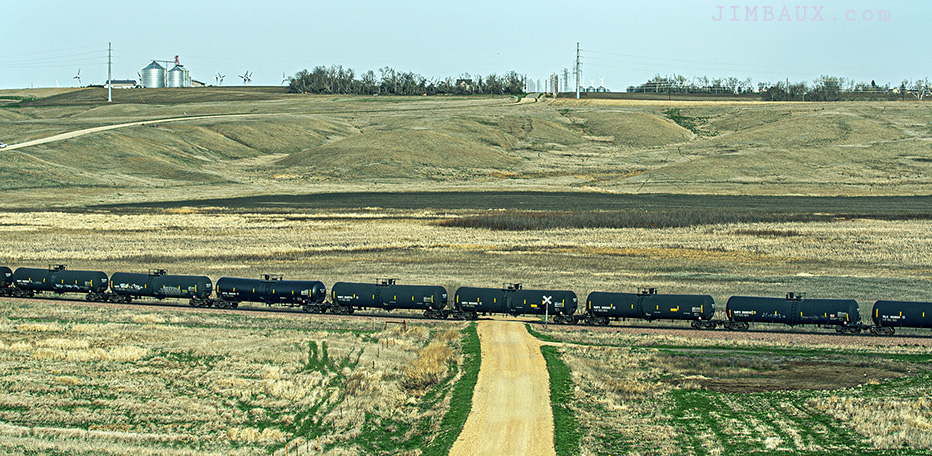 Here is the end of the train.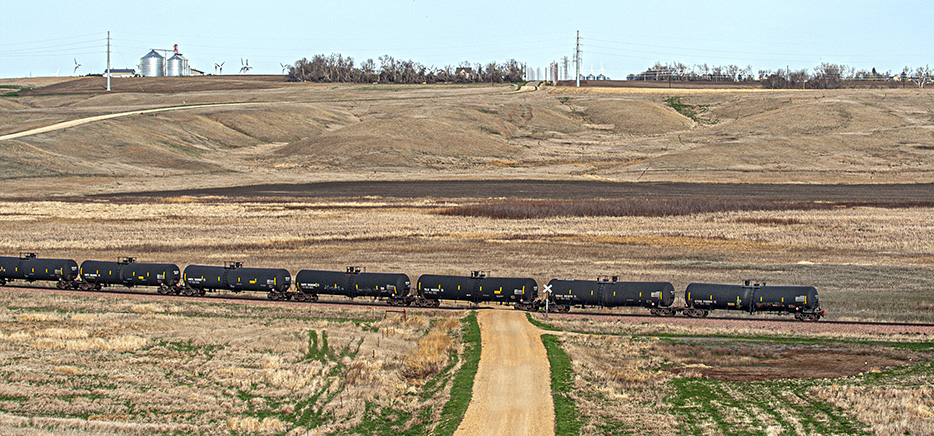 Yes, this is what we do when we live in a world in which we now have far more food than we have people who can eat it: we turn food into gasoline. So, how do we still allow people to go hungry and worry about if they'll be able to pay for their next meal?
Back To South Dakota
We then returned to Brookings and ate and maybe got a hotel, too.
Here is dusk in Brookings.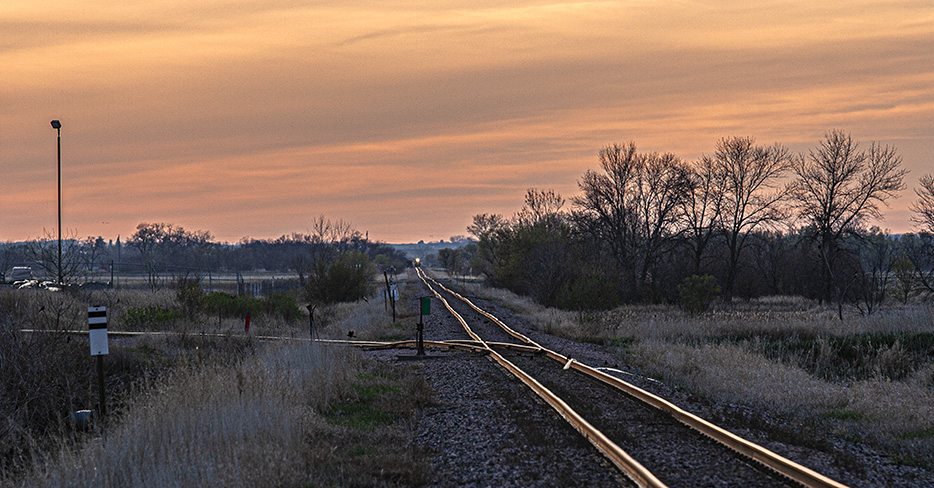 Let's see a cropped version of that image.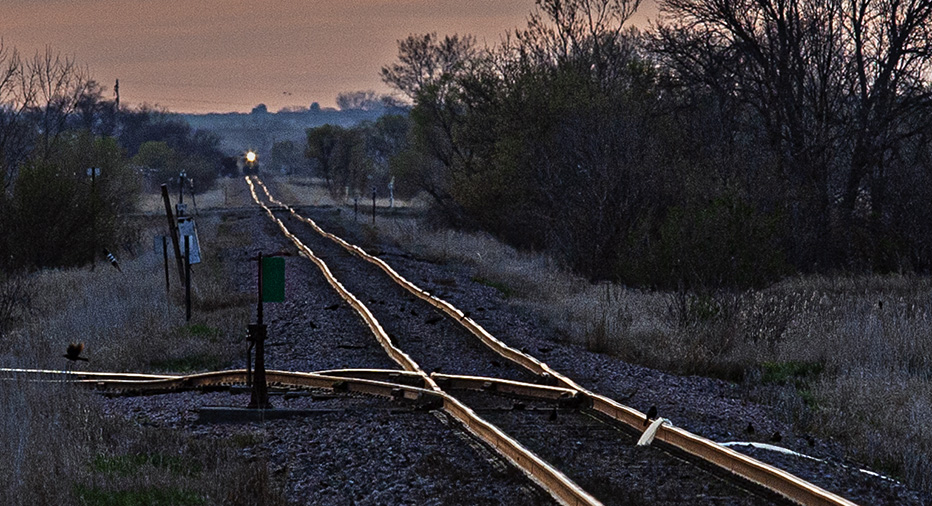 Well, the sunset here is nice.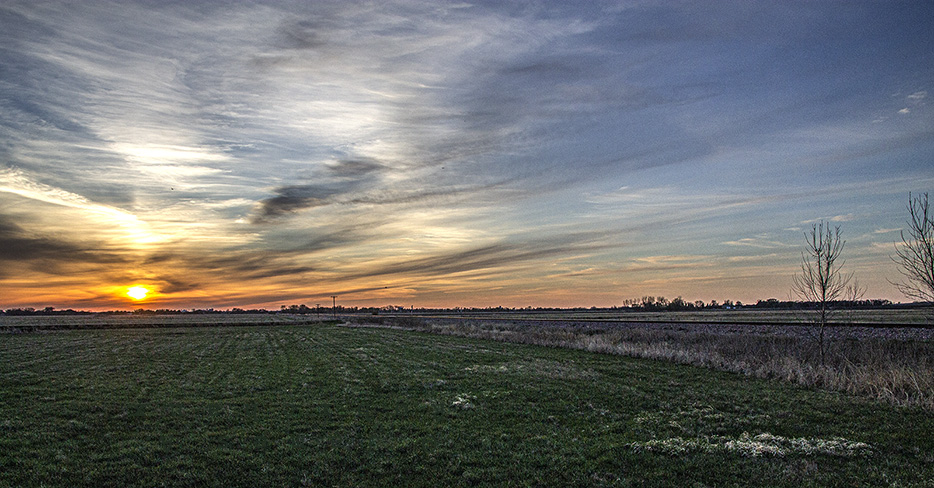 We hung out by the airport.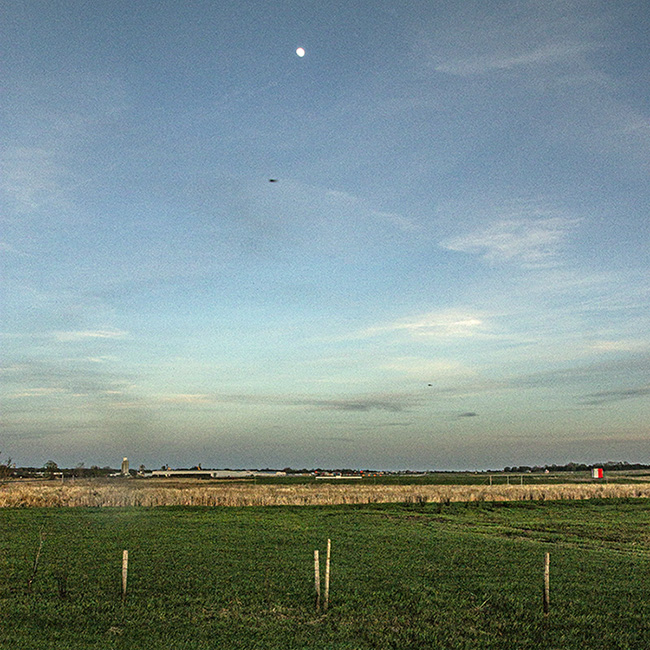 We saw airplanes.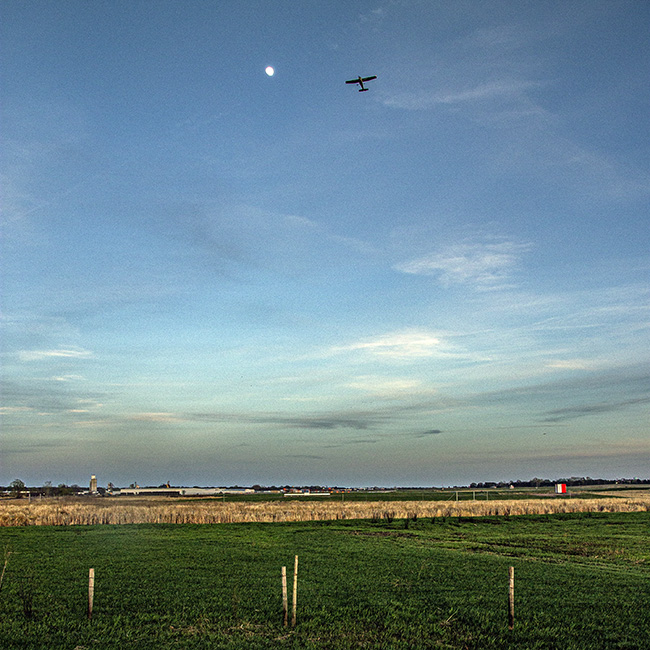 I'm glad that I didn't become a pilot, because I'd probably be dead by now.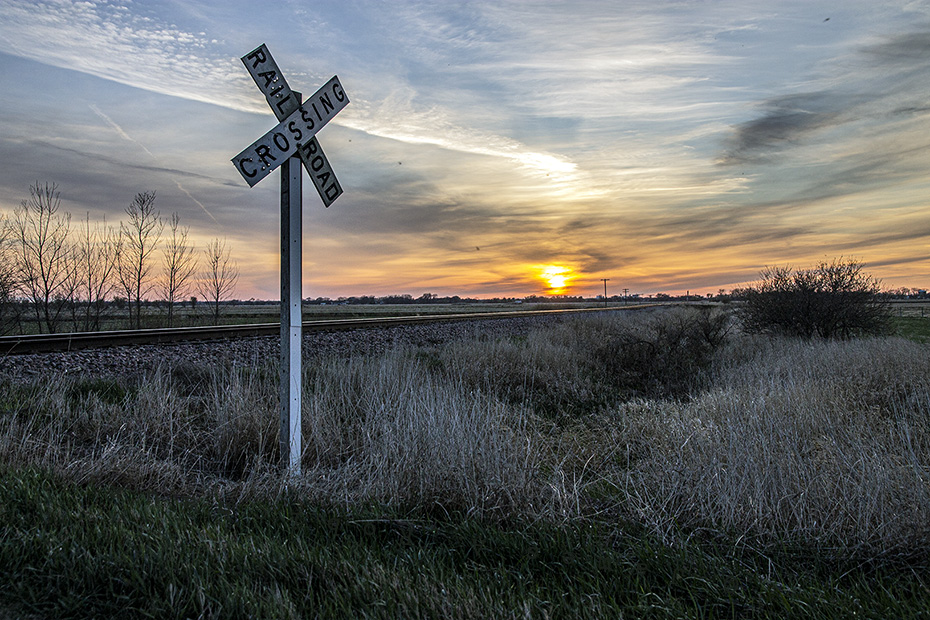 Yes, so, now, we are going to get a few images of the sun setting before we get some more train picture action.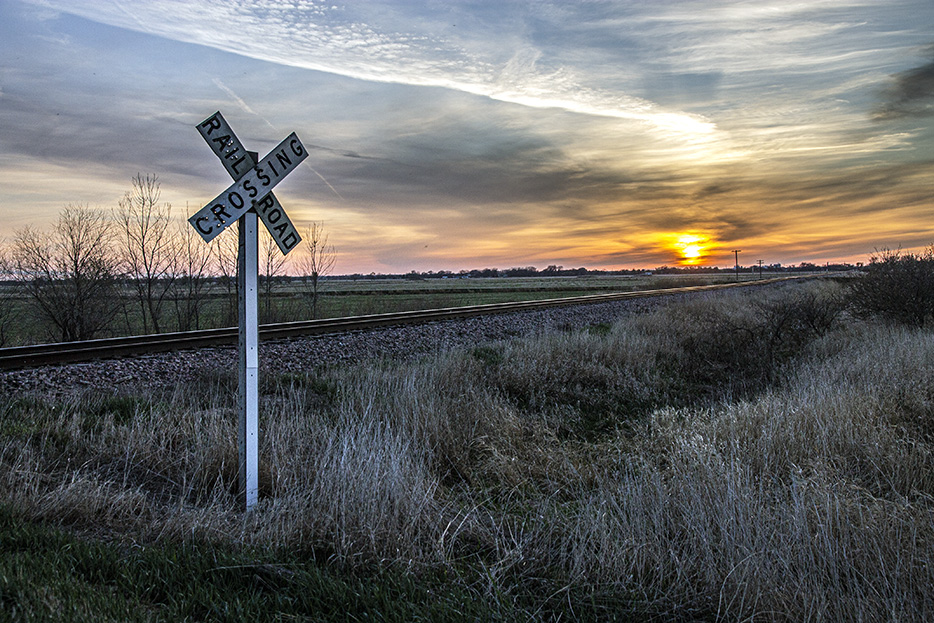 I feel strange using italics to stress inflection on a word when the exact same style change is used for names of books, trains, railroad cars, magazines, and other such things; perhaps there could be a better way.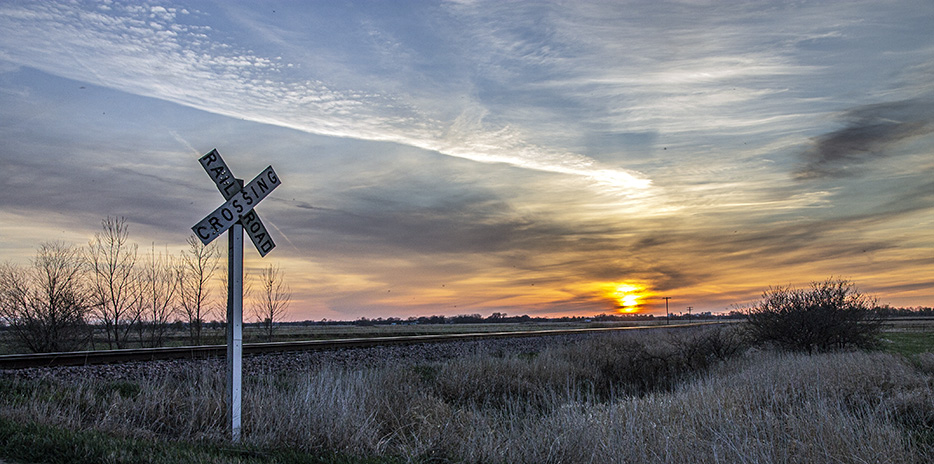 Well, 12 minutes later, we're a few miles to the west at some processing plant, getting some duskish shots of the Brookings Wayfreight.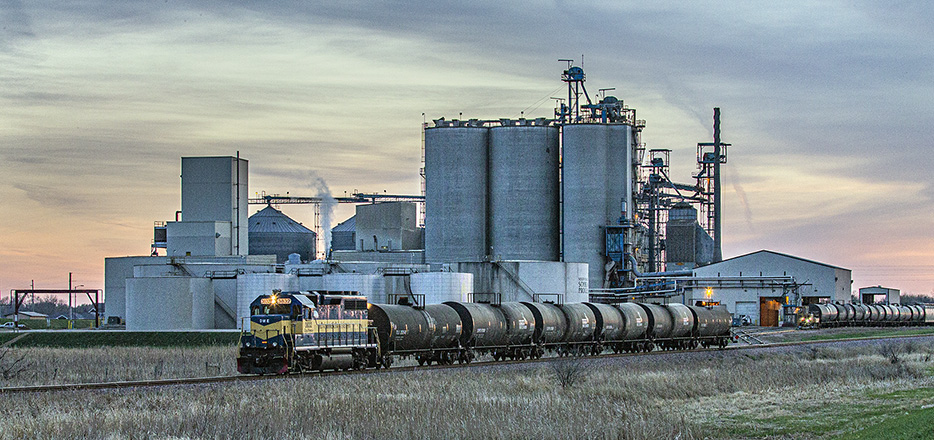 This is a good way to end the day, I think.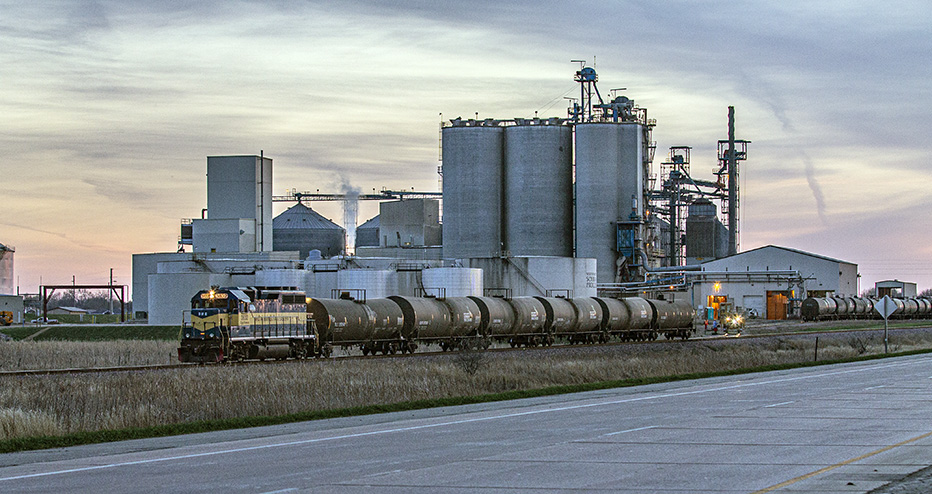 That's all for pictures. On this day, I got pictures of trains in three US states, one of which I had just entered for the first time in my life: Iowa, Minnesota, and South Dakota. Had we started early enough in the morning, we could have easily gotten a train picture in Nebraska.
While that was the first time in my life that I got pictures of trains in Iowa, Minnesota, and South Dakota in one day, I am also nearly certain that it will be last!
Next, with the picture-taking and train-chasing for the day done, it was time for some food, some good Mexican restaurant we visited, and then to the hotel, where, as I recall, I had trouble staying awake to chat.
Thanks. I hope that this essay was educational.
Jimbaux