Today is Monday 28 December 2020, the Monday after Christmas. This is the third post that I make in the last week, when I hadn't posted anything since the end of November, which was the first post since late October, and it's related to my project of wanting to get a few "firsts" in before 2020 ends. Last Tuesday, I photographed a train on the Acadiana Railway's old branch from Eunice to Crowley for the first time in my life, and, then, two days ago, I went to Beaumont and got my first train pictures in Texas in nearly a decade.
Today was another day of firsts for me, as I did two major photographic firsts.
Today, my first target was the Port Rail train that serves the Port Of Lake Charles, a line on old Missouri Pacific Railroad trackage that has some trough-street running. I had previously been unable to get a grip on what its operational patterns were like.
I had figured that the train had to run in mid-late morning some time. So, I scoped out the line and then arrived at the port at 09:11. I saw a locomotive, the GMTX 106, moving, and it was the first time that I see anything moving on this line.
The impression that I got was that the GMTX 106 was building a train, the first car being an SIRX hopper car that still had a Chicago & Northwestern logo on the side, and I eventually decided to go east to set up for a shot.
At 09:33 at West Walnut Street, I grabbed my first shot of a Port Rail train.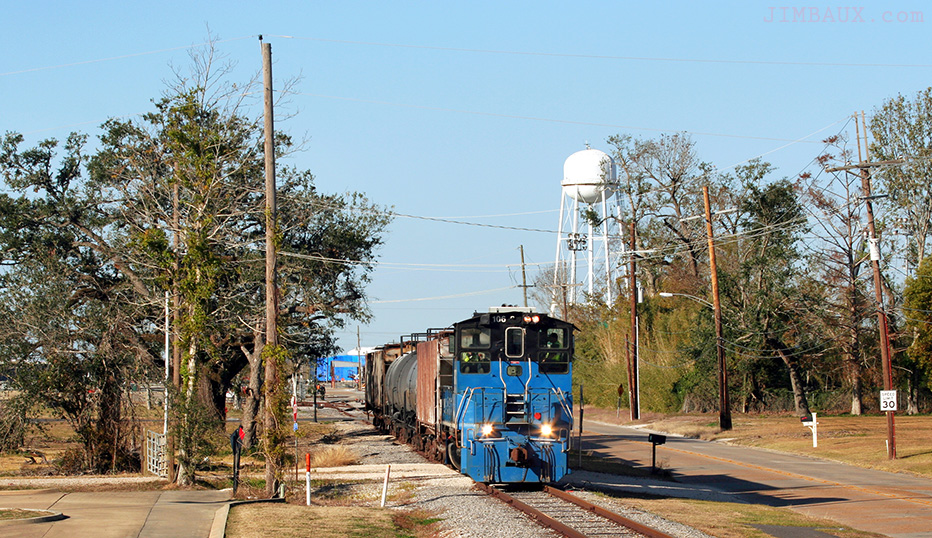 I like this!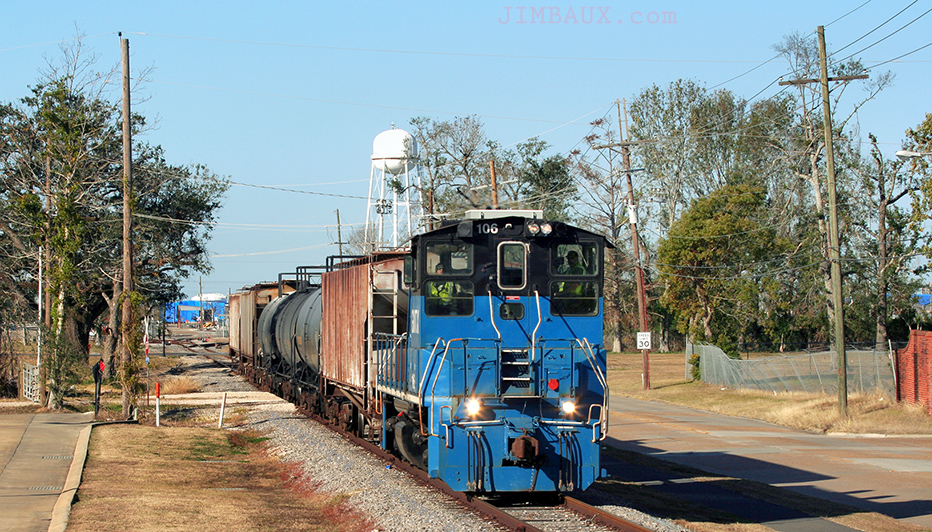 What do you think?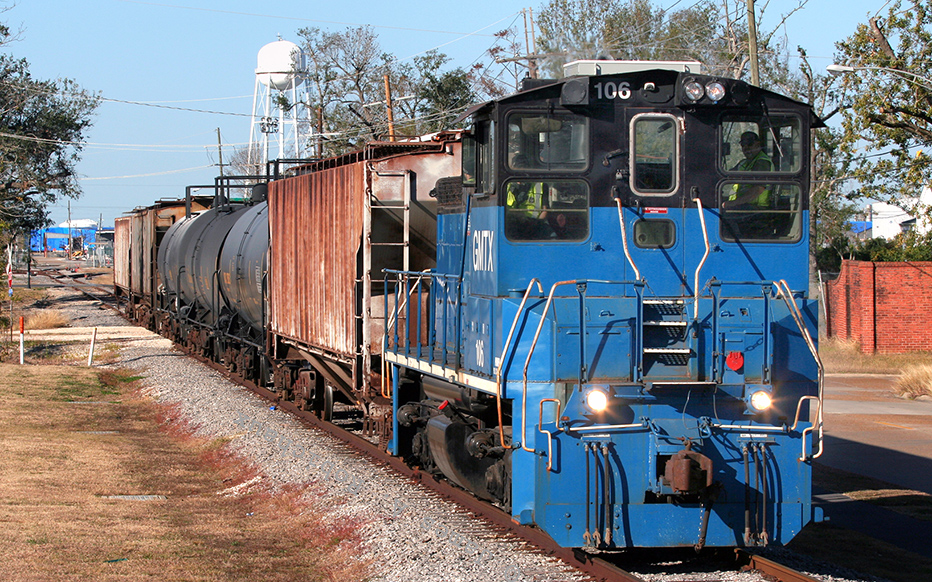 Next, I am at Lake Street.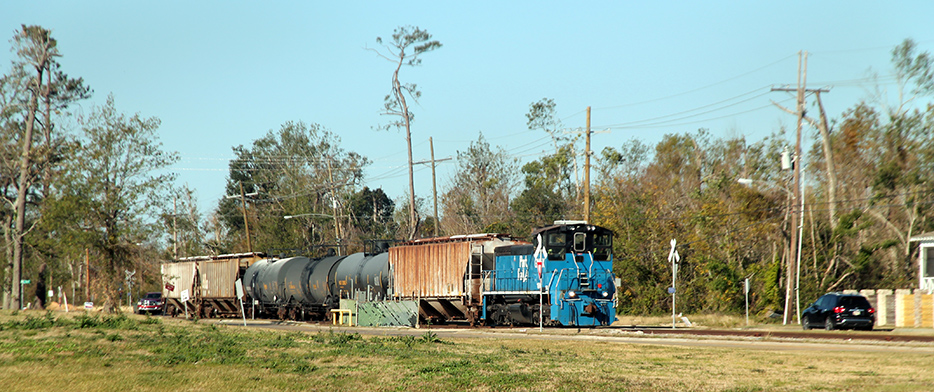 This is a six-car train of decent-looking cars pulled by a nice-looking switcher locomotive.

I am being repetitive here, but do you think that this is neat?

I had to get some automobiles in here to demonstrate that this is the part of the line in which the train is between the lanes of Sallier Street.

I like this!

That solitary cloud helps, and the train is like a perfect length with a perfectly-oriented locomotive.

Now, it's time to chase this thing down Sallier Street!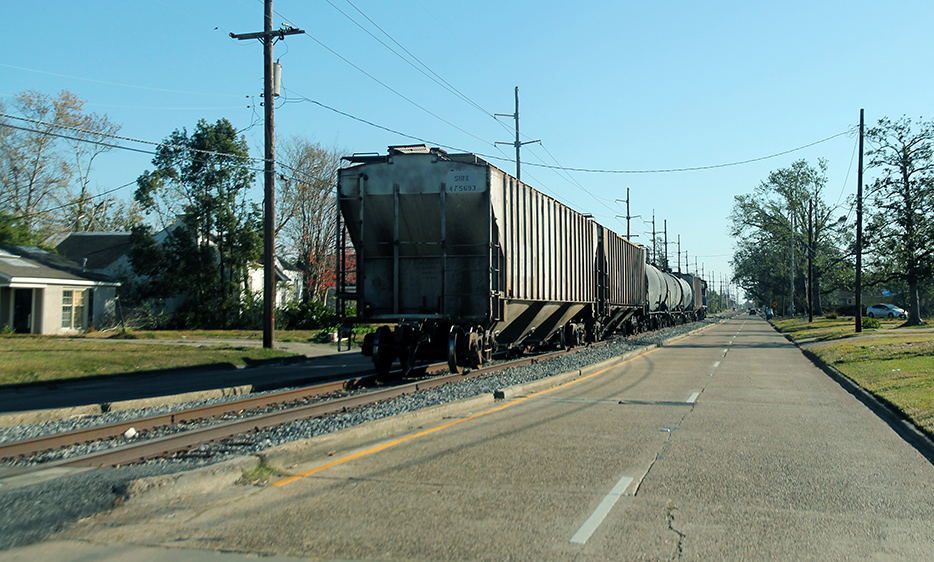 Man, check this out.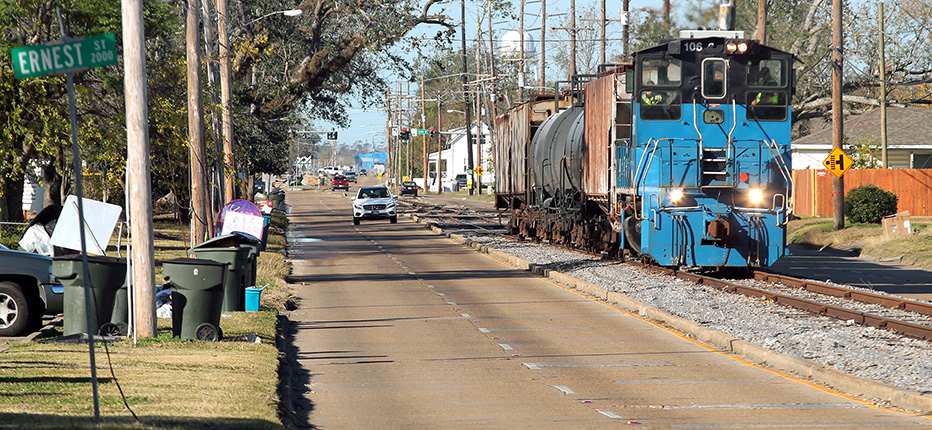 I really do guess that I can learn to live with this.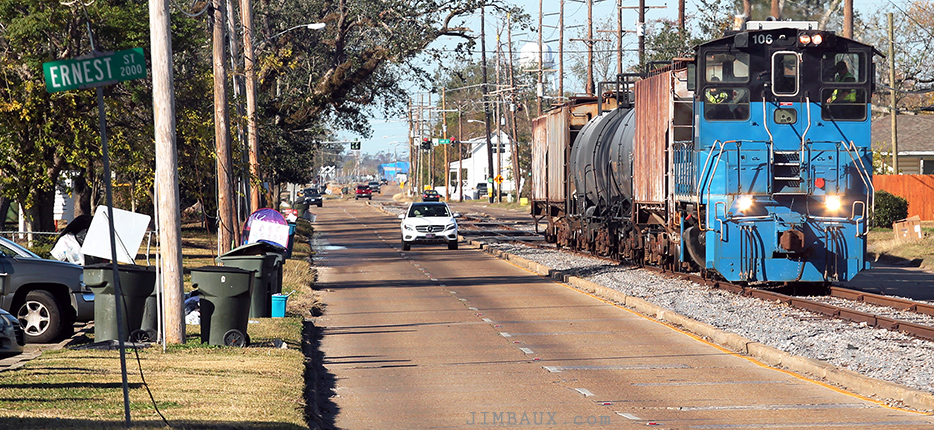 Now, why I am saying that I can learn to live with something that I am experiencing for the first time, something that I had wanted to get done before 2020 ended?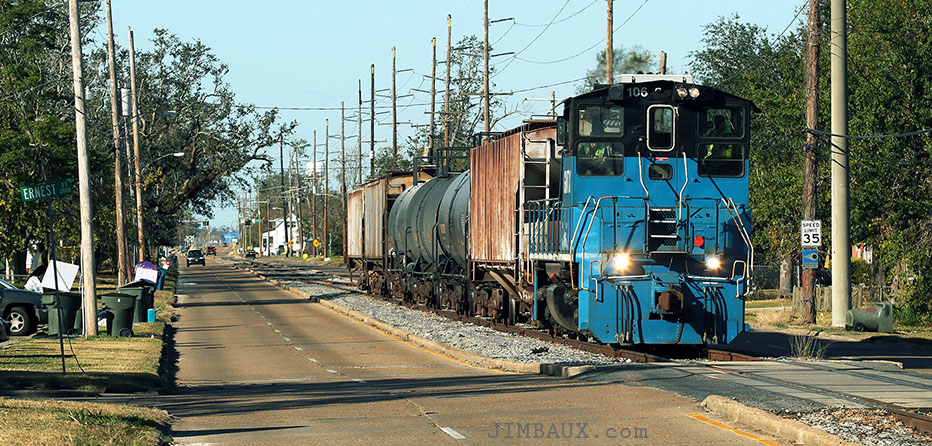 Well, here's the deal: I may be forced to move to Lake Charles and live in Lake Charles full time.
Yes.
I mostly hate that prospect, and, so, I am trying to find the good things in this place.
This is a good thing in this place!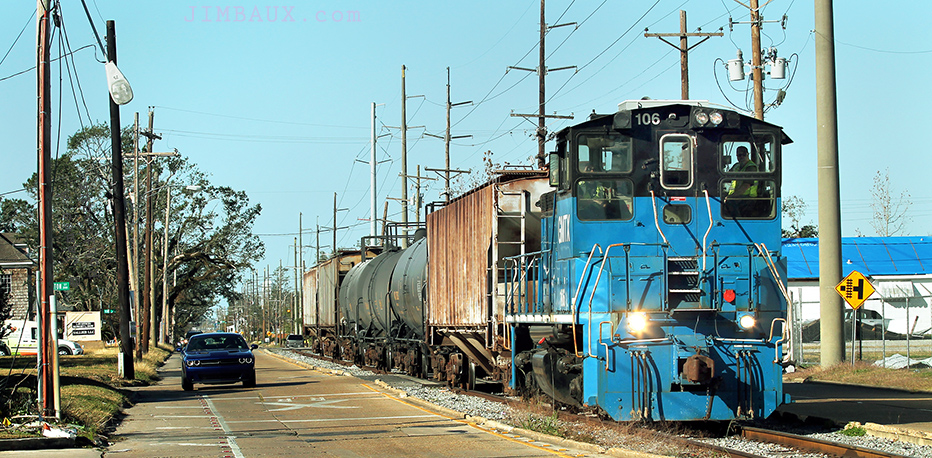 We are right here at Ryan Street, by the Walmart Neighborhood Market.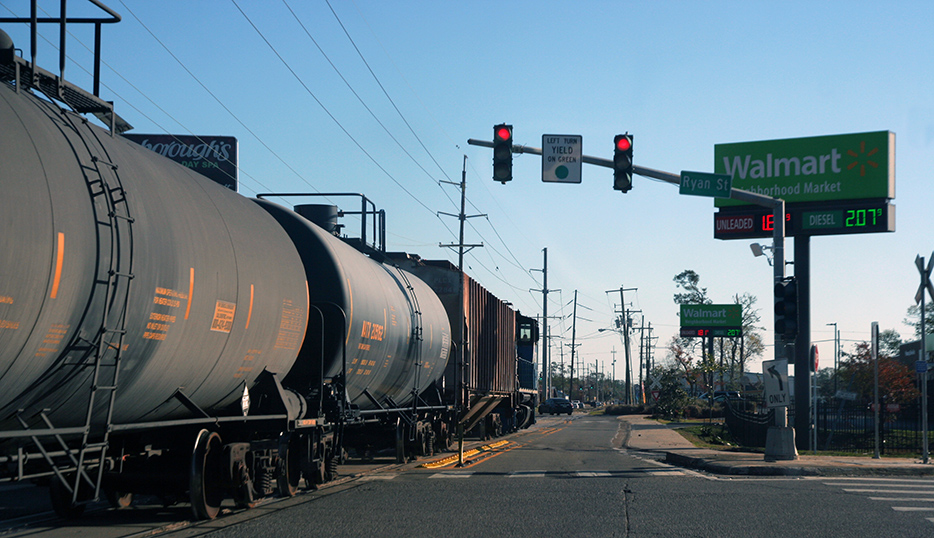 Next, we are off of the street trackage and are where the track has turned slightly to the south, here at 2nd Avenue.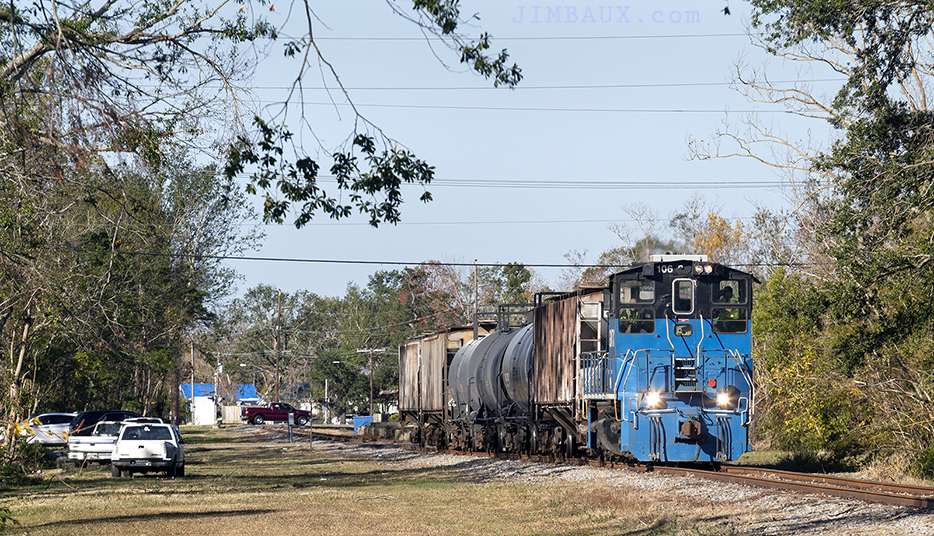 My dearest readers, this is neat!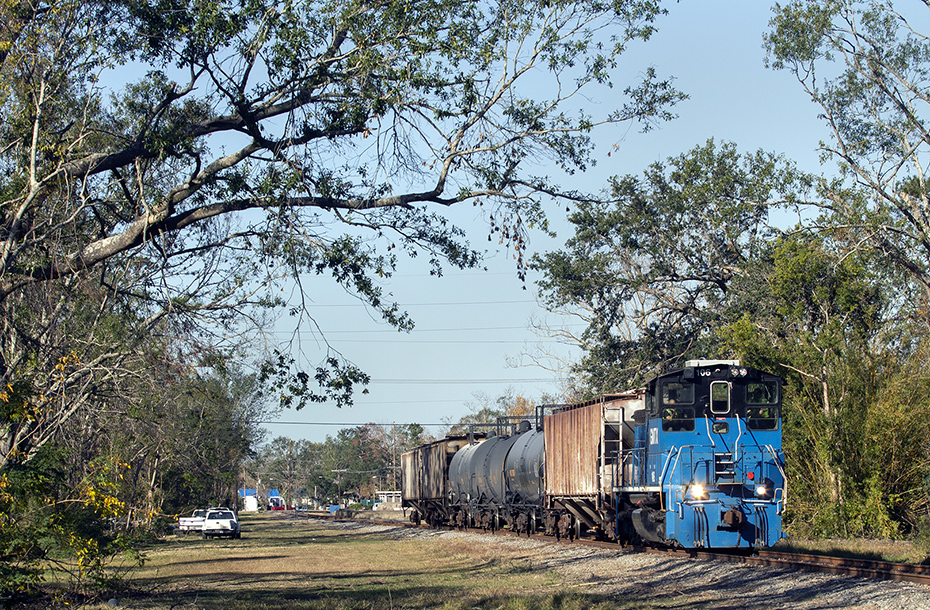 The Missouri Pacific Railroad yard was somewhere around here.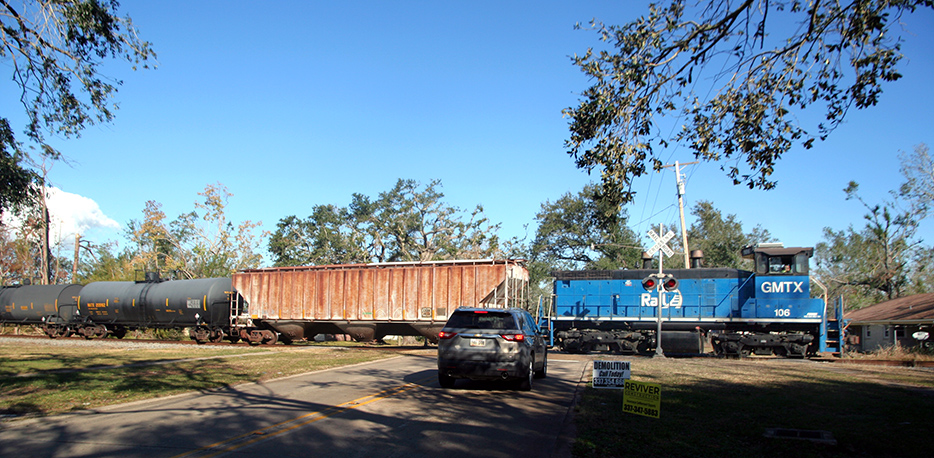 Next, I am at Gerstner Memorial Boulevard.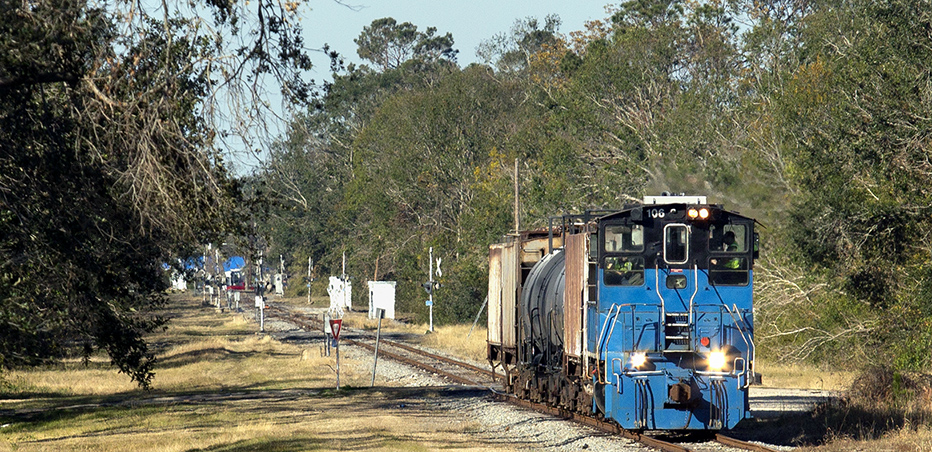 There is a Union Pacific Railroad facility just to the right of the picture.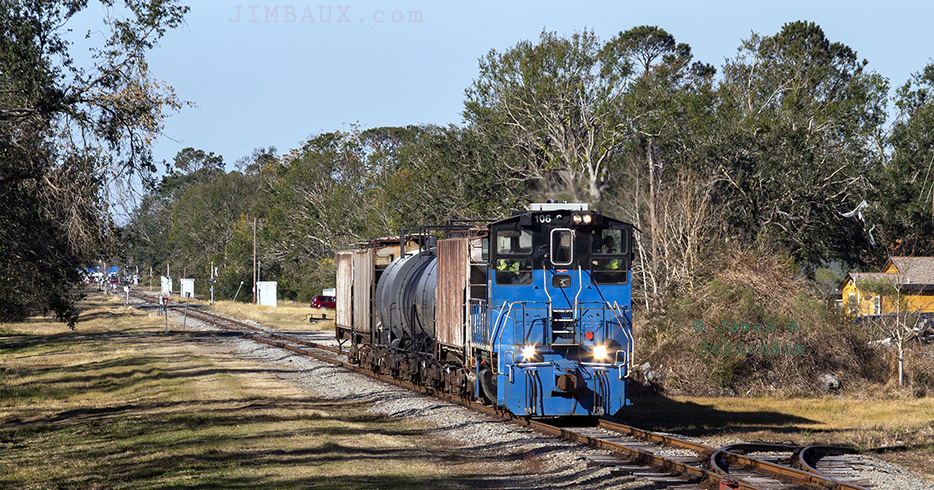 I imagine that the lighting would be better here around the equinoxes.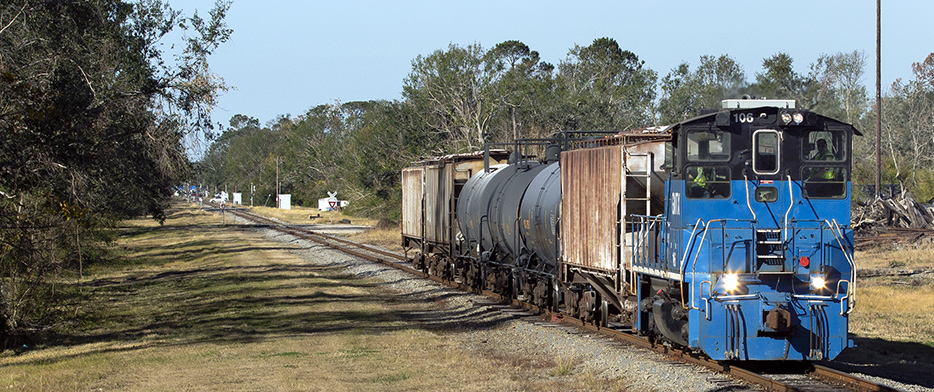 Here, the train is entering the yard under Interstate Highway 210, which you can see in the background.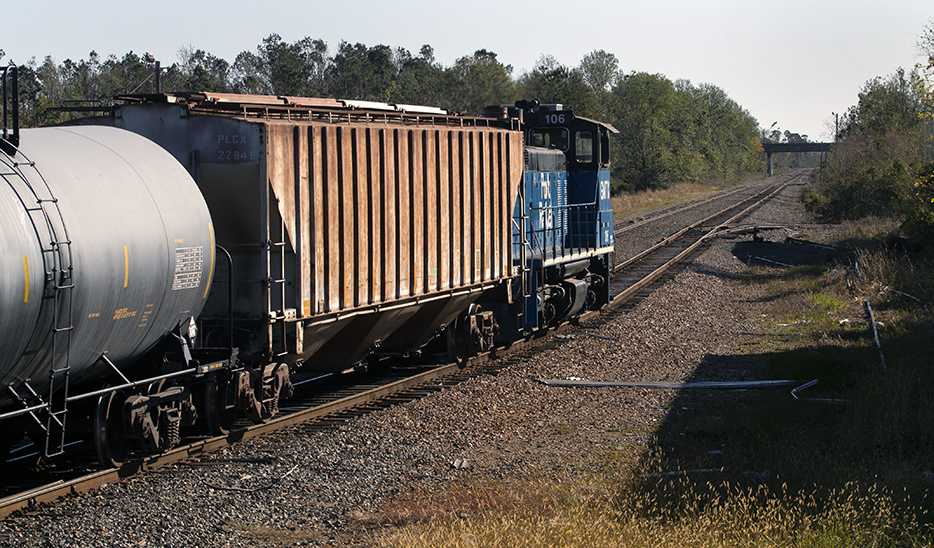 There is evidence of more carload customers in this area.
I moved eastward to try to get the train going to the UP yard on the eastern side of the airport, thinking that that's where the interchange would take place.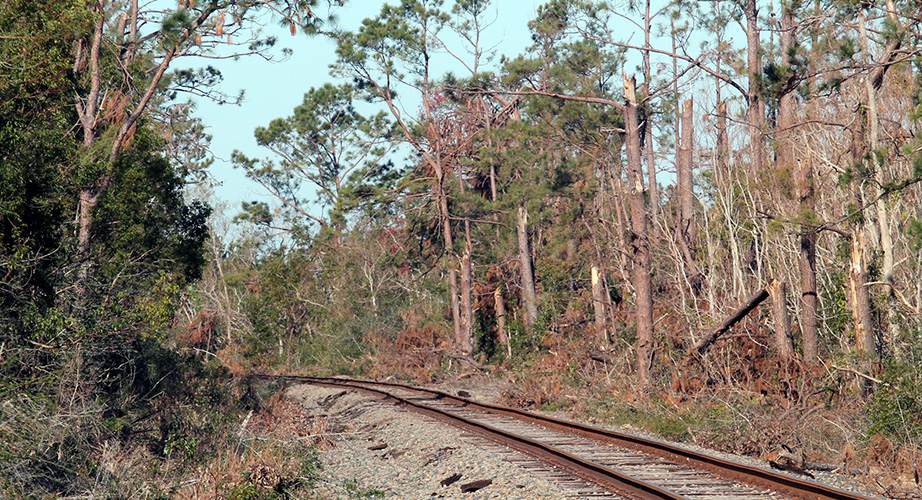 Apparently, that's not how it works. So, one of the things that I learned today on my first chase of a train on this line is that the interchange happens in that yard just east of Gerstner Memorial Drive.
I am starting to think that maybe, when I saw the two GP38 locomotives out by Highway 397 over Thanksgiving weekend, they were there to pull the big unit train of empty wind-turbine-blade cars that I saw on the morning of November 30.
Anyway, I went and checked out what was happening at – or what was parked by – the Farmers Rice Milling Company.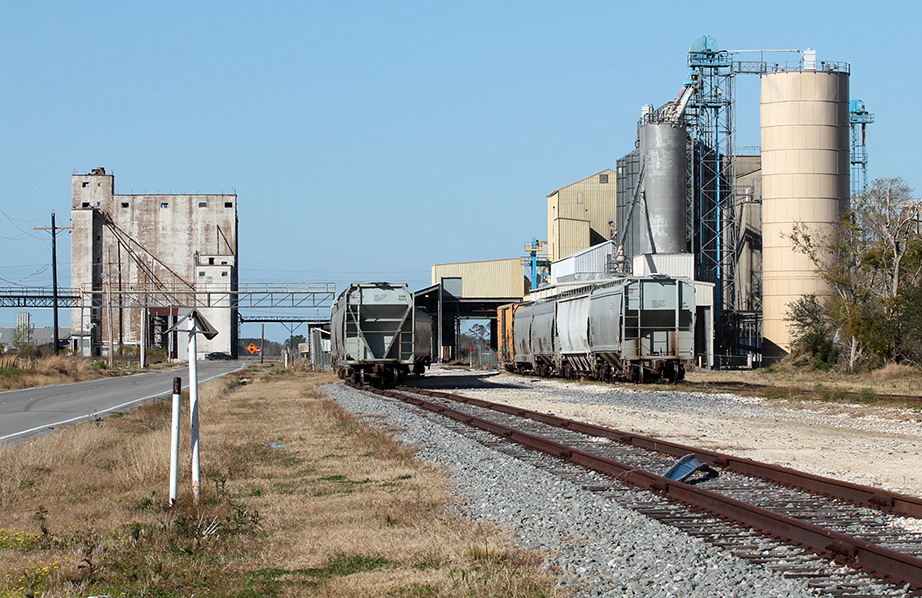 Hey, look, there is another solitary cloud! It may be the same one as before, somewhat reconstituted.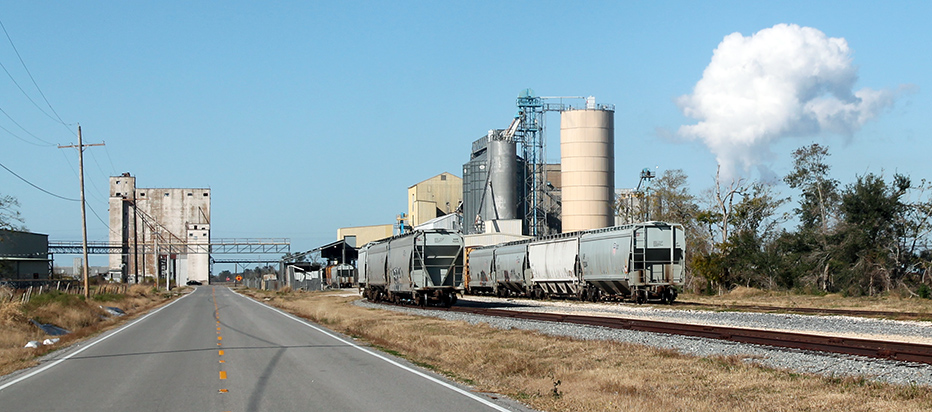 I had another first to do today. Really, the Port Rail chase was what I was doing on my way to my other goal today, but, as it turns out, the Port Rail chase took so much time that there wasn't much time for the second goal.
I went north. At 10:45, I turned west at Westlake from Highway 378 to Highway 379 by the Burger King.
At 11:09, I arrived at the old KCS depot that is now a museum in DeQuincy, Louisiana, my second time in this town.
I scoped around and then decided to go and look for action in the only place it made sense to do so: north of town. So, I kept going north, both for the purpose of seeking trains and just to get to know new area.
At about 11:40, I found a southbound manifest train led by Banana 7220, the first time that I see one of these Banana locomotives, in the siding at Singer.
I had lettuce in the truck. This is not good.
Why do I foam? Because I can't do anything else.
At 12:22, I am back in DeQuincy, and I made my first pictures in DeQuincy.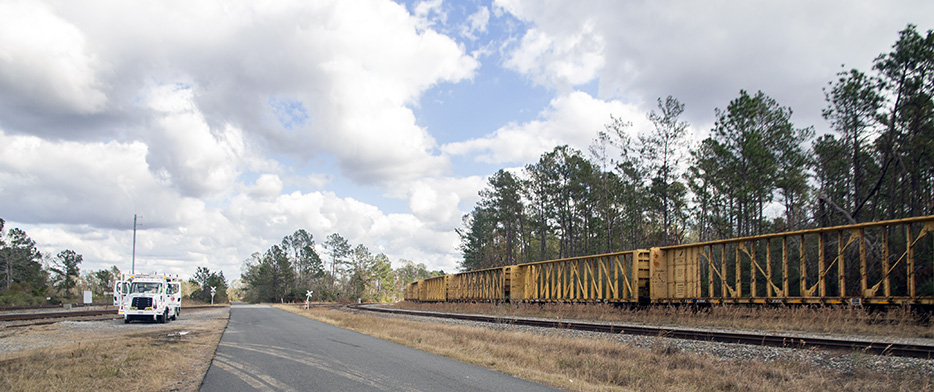 At the left in the above picture in the western edge of town is the Kansas City Southern Railway mainline from Kansas City to Port Arthur and a track that goes across the road to the Union Pacific Railroad yard at right.
Below, I am a little down the road in the above picture and looking back the other way, with the UP yard at left and the KCS mainline at right.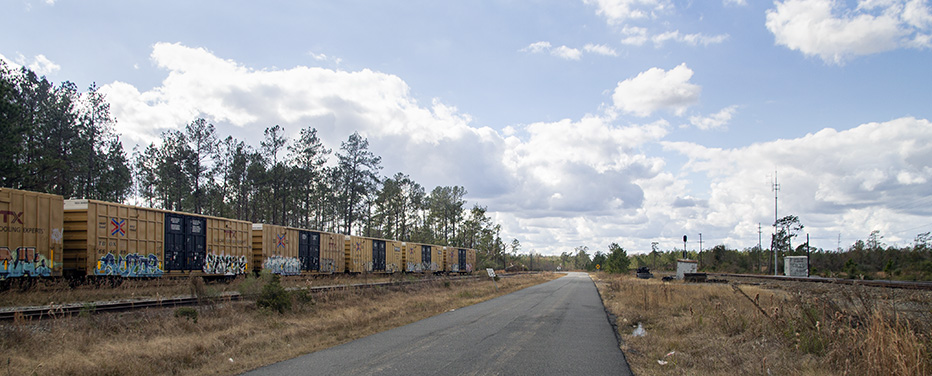 There are strings of these Railbox boxcars and, like in Beaumont, empty centerbeam flatcars in the UP yard here. I wonder if they are just being stored there.
Next, I am looking back east down the road – Yoakum Avenue, almost certainly named after B. F. Yoakum, magnate for the Rock Island and for the Frisco, which was the original owner of the Gulf Coast Lines route across Louisiana here, at right, to the Mexican border.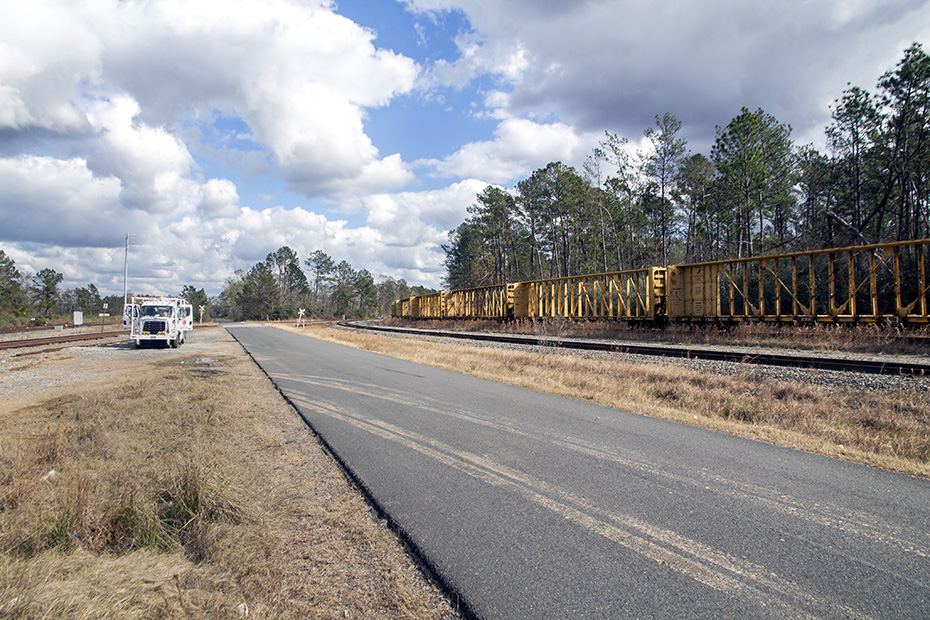 Here are the signals at the western end of the KCS yard.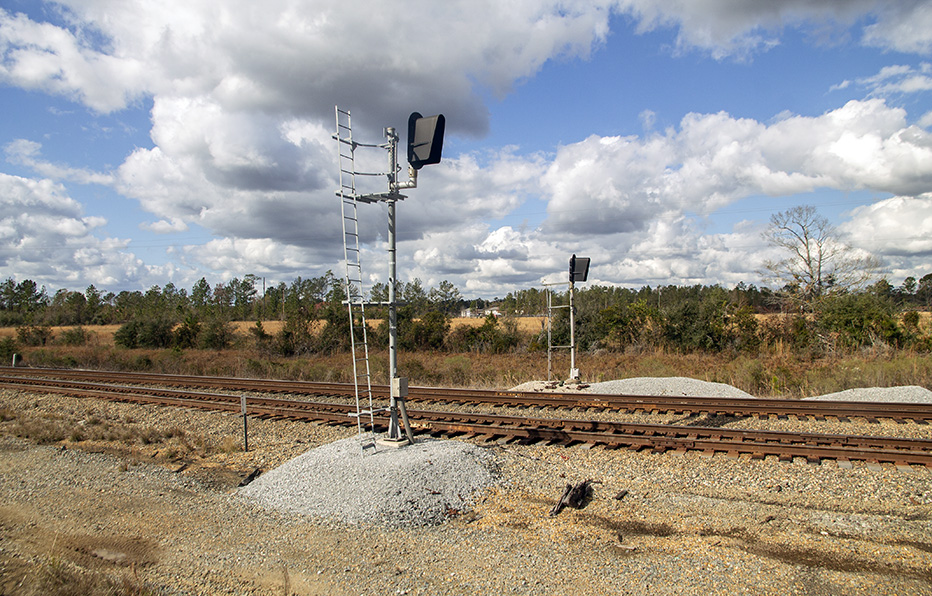 Donovan has gotten a couple of good shots in this area.
KCS Beaumont Sub – DeQuincy, LA – KCS3962 | Donovan Reed | Flickr
UP DeQuincy Sub – DeQuincy, LA – NS8389 | Donovan Reed | Flickr
Here comes a train!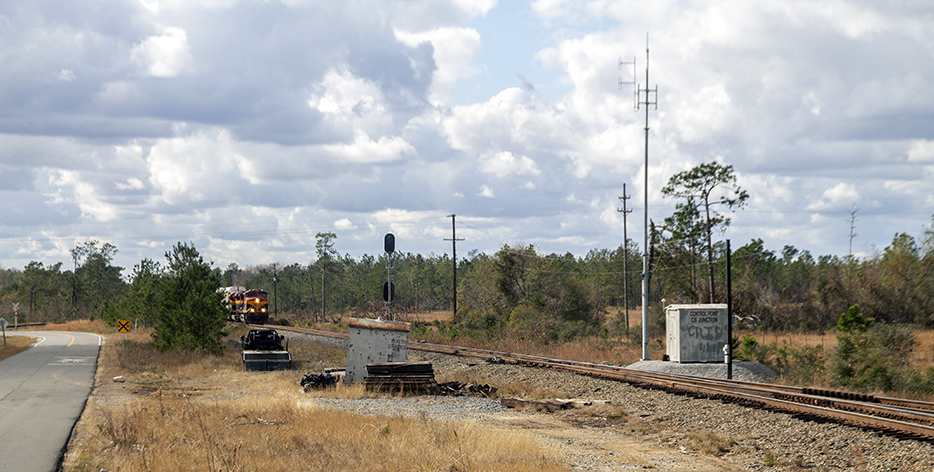 This is the first photograph of a KCS train on the KCS Beaumont Subdivision that I have made outside of Shreveport or Beaumont.
The train was slowing to a stop; so, I got more pictures of the junction.
I am pretty sure that this sign next to the KCS mainline means "Union Pacific maintenance limit."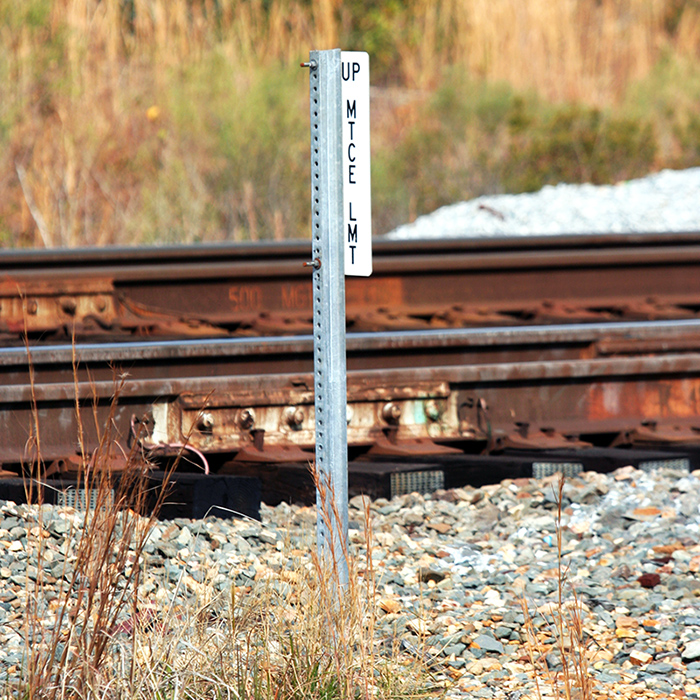 A maintenance of way job is waiting to get onto the mainline, presumably for this northbound train to pass, and the track right behind it is that connecting track between the KCS mainline and the UP yard.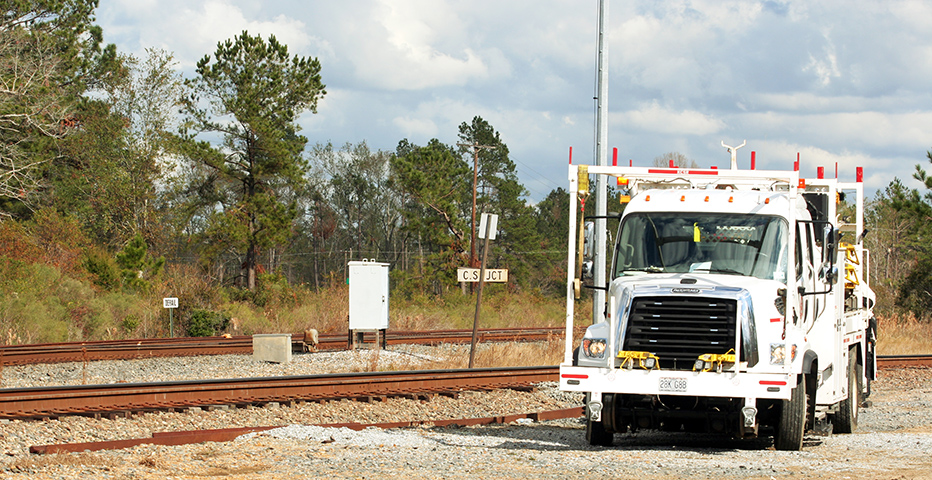 These next couple of pictures were about the best train pictures that I would get in DeQuincy on this day.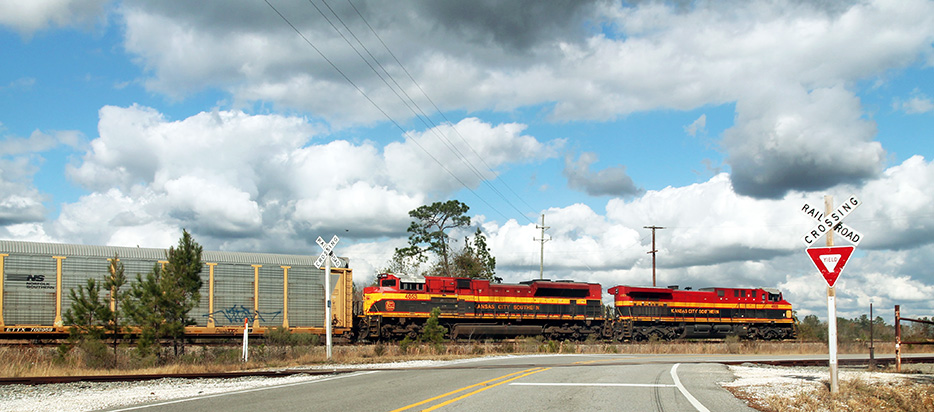 It's the clouds and the crossbuck that make this otherwise insipid view a good shot.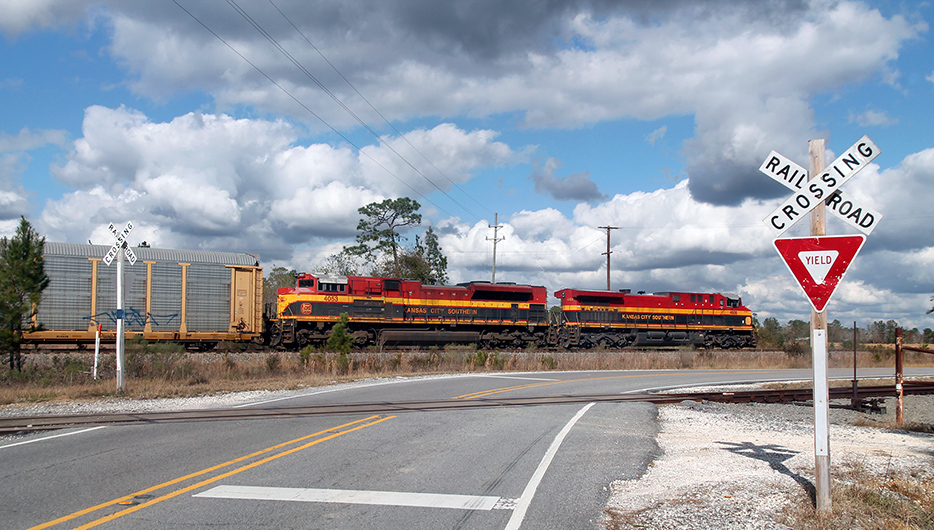 Then, in the hopes of getting a more real-train-shot shot of this train, I relocated to South Frazier Street.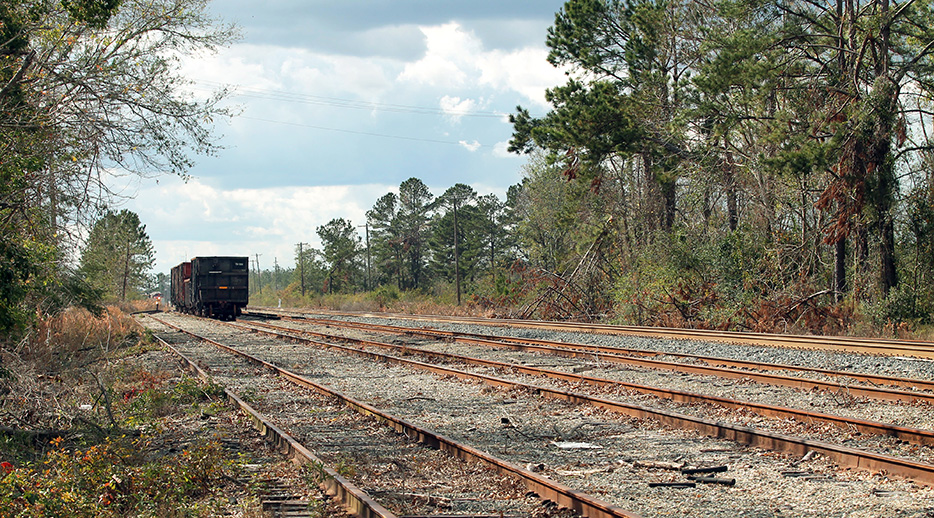 Okay the train is stopped that Control Points CS Junction. It's warm and I am sweating; the train is stopped.
I was thinking earlier about how like this is this reminds me of foaming on Rich Mountain and it's just like Rich Mountain minus the relief. I mean both the geography irrespective of relief; the physical geography, except for the lack of relief, and the cultural geography are so similar!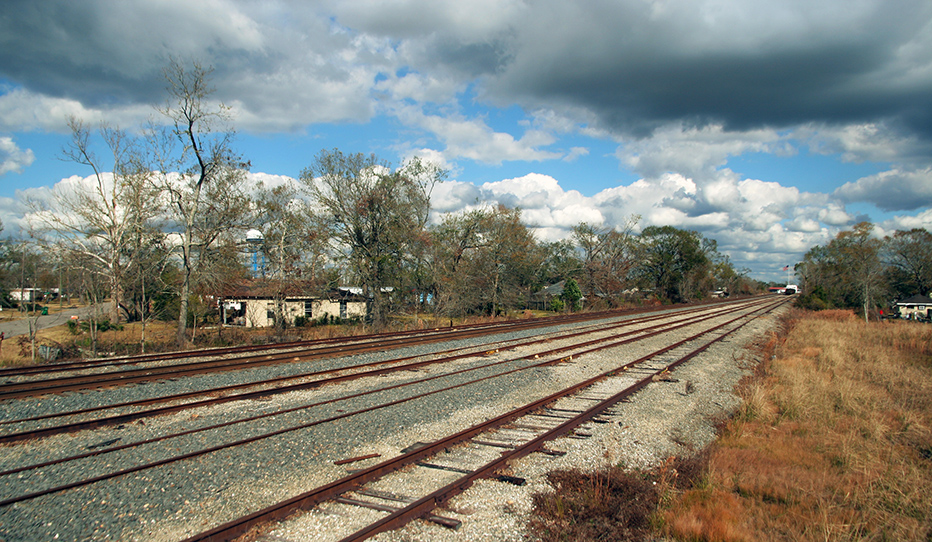 But the real constant thread is the Kansas City Southern Railway.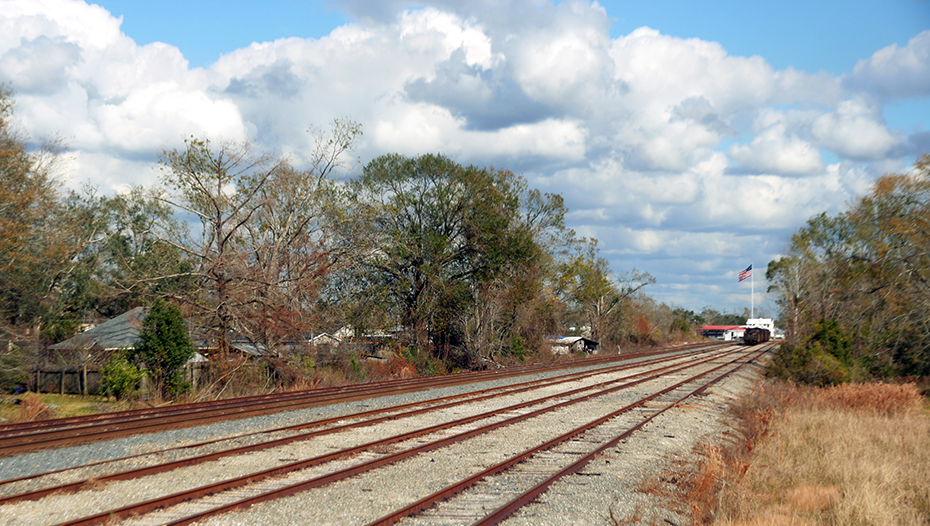 Here comes the train!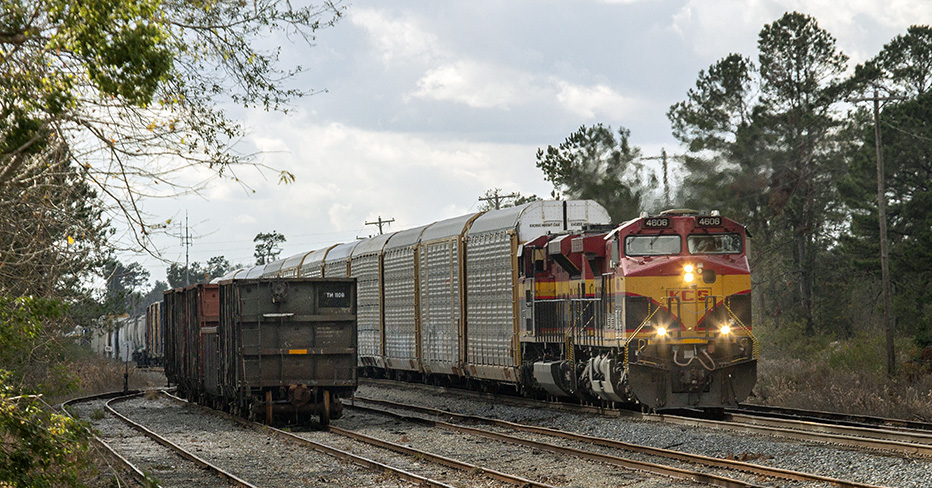 But the train stopped. Why?
So, shortly before 1300, I got set up for what I thought was a meet about to happen at South Frazier Road, but the train that sounded like it was coming from the north, probably the train that I saw at Starks, didn't come here. It must have gone on the Lake Charles subdivision.
Well, imagine a train passing here, because that's all that we can do here.
The northbound train from Beaumont had pulled up to South Frazier Road and stopped, and I didn't know what that means or what to do.
MW 0526 stopped to ask me what I was doing. He didn't stop to chat. It was an awkward conversation, even in its brevity. He asked me what I was doing. I told him that I was taking pictures of trains. He did not respond verbally. He just huffed. He seemed to not know how to respond to the answer that I gave. There was a long pause and a strange facial expression from him. I felt judged. In my youth, I would have been bothered by that. He said, "well, you are not fouling the track." I said, "I don't do that." He then left.
It may have been around this time that I learned, via some news report on my tablet, of a drive-by shooting in Crowley, not far from the Acadiana Railway track where I had foamed six days ago.
So, as I came to find out, there was a big southbound train going on to the KCS Lake Charles Dubdivision that was stopped at the light at the UP diamond in DeQuincy, and this was holding up traffic throughout town, holding up automobile traffic. It's why that northbound train from Beaumont held back at South Fraser Street.
So I went North to try to get around this train which ended up being a mistake, because it meant that I put myself in a position to have to cross this train's path again south of town if I wanted to get ahead of it, because I didn't know enough about this town to avoid that problem by bypassing the crossings by using the streets in the southwestern part of town.
I got back to the main highway junction east of the wye, and, when a green light came on, I couldn't move because the big truck at at the intersection wanted to go right and couldn't do so because of train.
I am cut through a gasoline station around, which probably didn't help much. I will have to make a note that if it happens again I should take a detour through the western part of town.
I couldn't get ahead of the train. There were so many automobiles ahead of me on the highway south of DeQuincy to Mossville that I couldn't pass any of them. I wanted to get a shot at Buhler, but that didn't happen.
I finally got ahead of the train and in position, hoisting myself atop the truck, for the only shot I'd be able to do of this train, at the Highway 379 crossing just west of the big coal-fired power plant. Here is a view looking south, showing a milepost that shows us how far from Kansas City we are.
Here is the train, passing the switch to the power plant.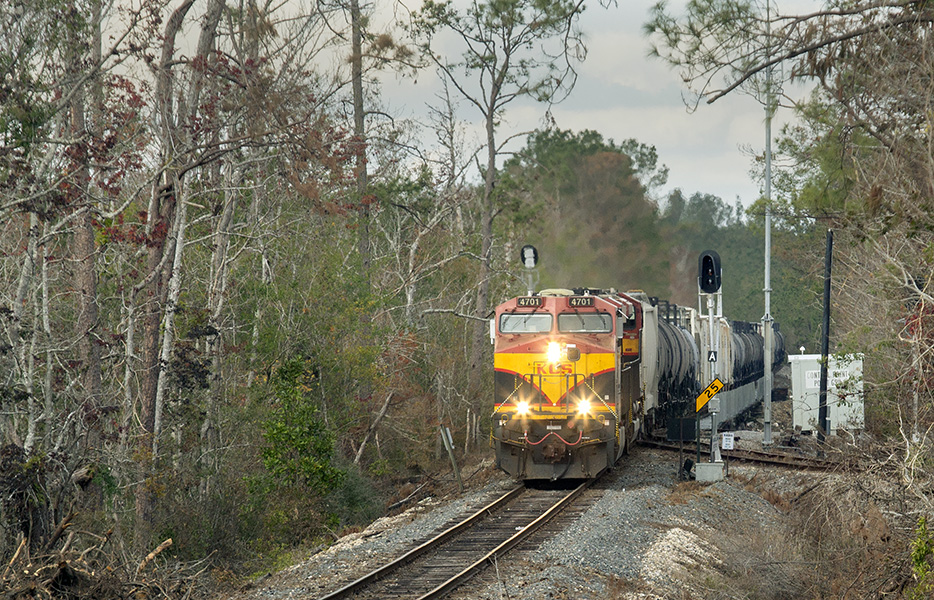 Well, there we have it: I now have action railroad shots on the KCS Lake Charles Subdivision.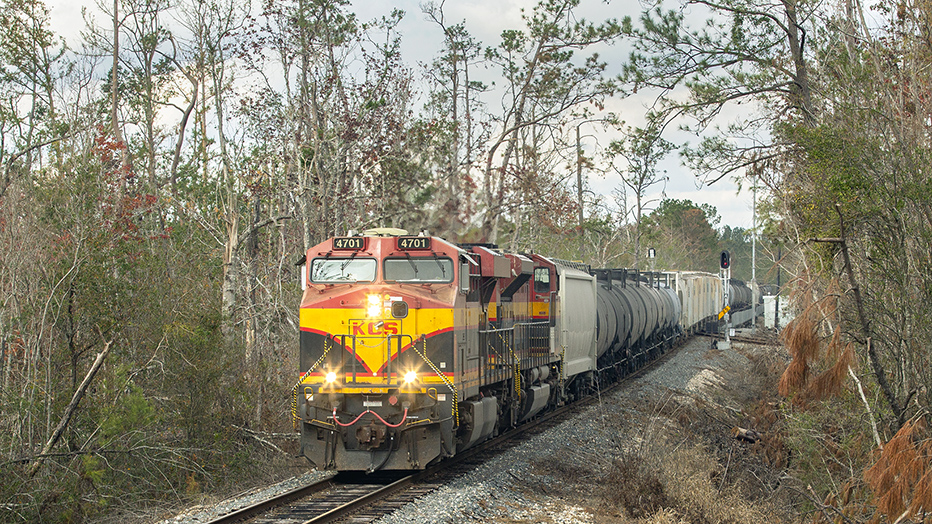 It's not that great, but it's okay and presentable, and maybe that's the best that I can do here and now.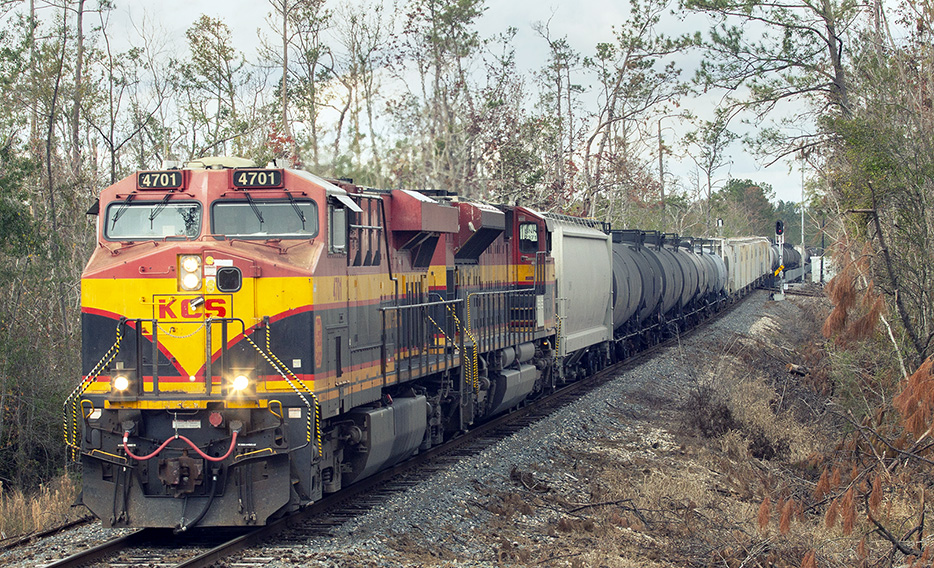 The only railroad-owned hopper cars on this train were a few Norfolk Southern Railway hopper cars.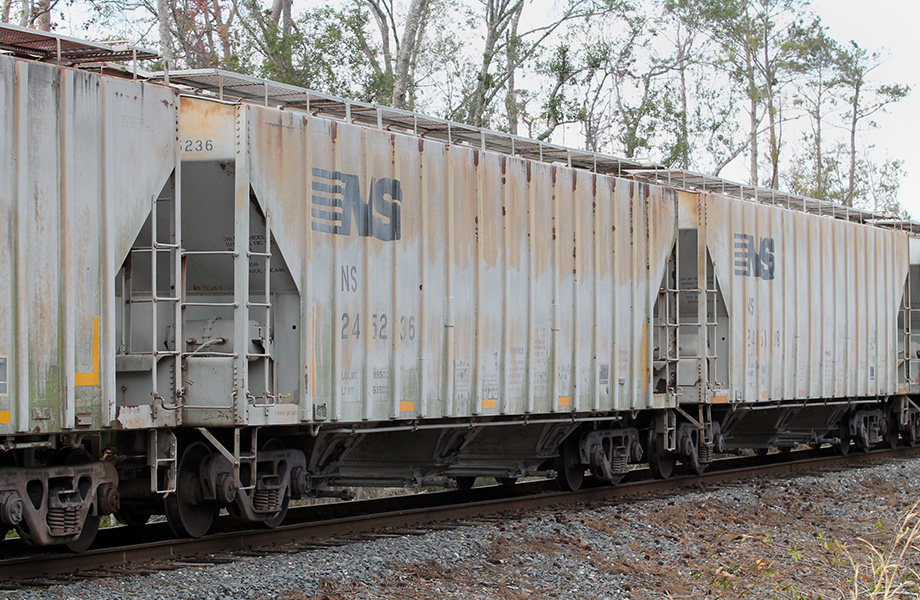 I wonder what they are carrying, the purpose of the product that they carry, where they originate, and where they are going.
It was at this time that I squandered the opportunity to get a photograph of Amtrak's westbound Sunset Limited coming through either Westlake or Sulphur. I called Julie, Amtrak's automated agent, and she told me that the train had arrived in Lake Charles, which I interpreted as meaning that it had just passed through here, but then, just a little bit later, after I had committed to a path getting me on the big, old, dangerous I-10 bridge, I had realized that she didn't tell me that it had departed from Lake Charles and that I was a couple of miles to the west of Lake Charles. I could have gotten some shot, albeit rather insipid, of this train somewhere in Westlake or Sulphur.
My butt was hurting. I didn't take a walk this morning, and there were not extended periods of standing on today's expeditions. I went and visited the where the KCs yard is in Mossville, and the place was very depressing to me, all chemical planty and devoid of character. East of there I saw a Union Pacific yard that had a bunch of cars and locomotives stored in it. It had plenty of empty centerbeam flatcars in it.
It's time for me to leave the area and head back to the homestead.
I photographed cows at the western end of Lane Road.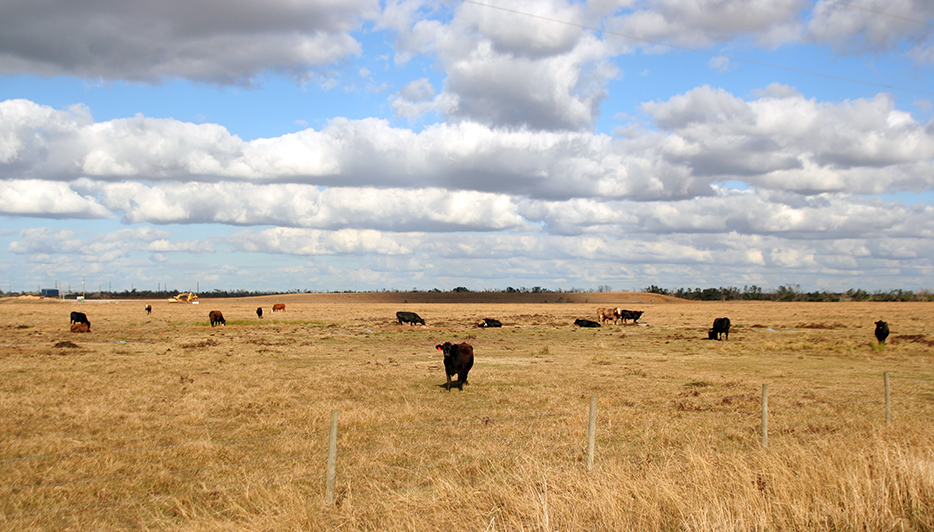 I stopped at the park in Hayes and walked around in the basketball area for a little while and arrived at the homestead at 16:10.
I then had to leave to go to KSJ's office to get my new telephone, the same model as my old one. Were it not for the pandemic and the dangers of going indoors to shopping places, I'd have finally gotten a smartphone. So, I'm just going to continue, for the time being, my habit of using a full-keypad telephone and also a tablet that has all of the features of a smartphone.
At the rice mill in Abbeville, I saw this.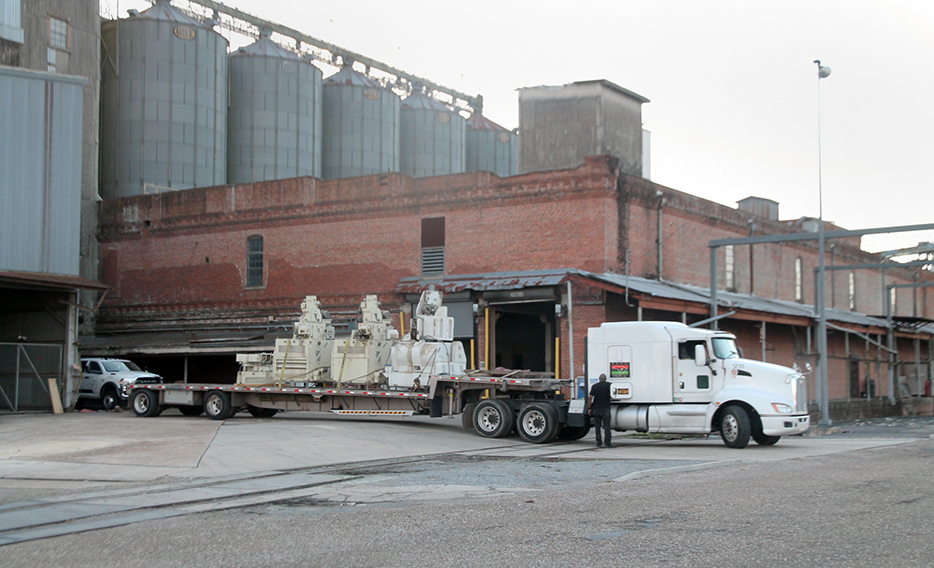 This is really depressing. You know what this means, right? This is big equipment being hauled out of the mill. So, the place is being gutted of machinery, further decreasing the likelihood that it will ever again mill rice or anything else. I am glad that I got the last trains on this line earlier this year.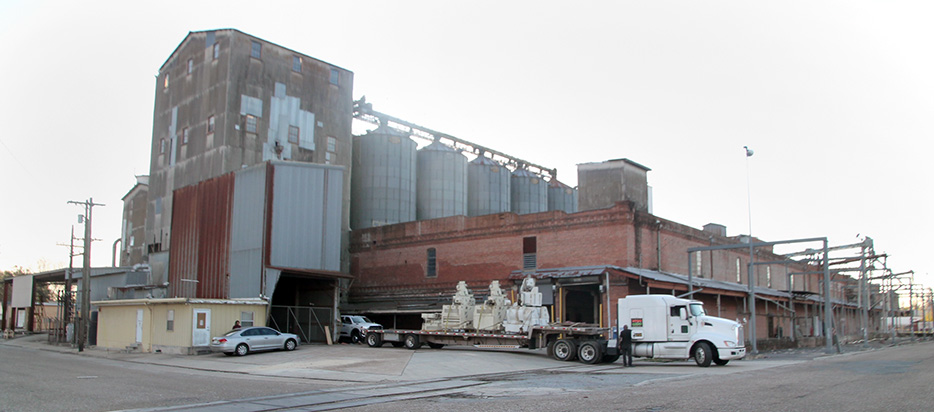 It's so sad. My memories of trains at this area, less than a year old, seem so foreign and alien, like a different era of my life and of history itself, to me now. I guess that they are.
I got the telephone and then got and ate food from Popeye's, and I was exhausted. I am glad that I didn't try to stay trackside until dusk. I can't handle that like I did in my 20s anymore; damn, I feel old.
That's all.
Jim