Jimbaux knows that though the course may change sometimes
Rivers always reach the sea.
Today is Saturday 26 December 2020. Four days ago, I made a big chase of the train on the Acadiana Railway branch from Eunice to Crowley, getting a colossal amount of pictures in the process, my first-ever chase of any train on that line. In that essay, I mentioned how, while I had been wanting to check out that line, I also wanted to get it done before the end of 2020, given all else that I had accomplished photographically this year.
I had a few more goals, one of which I did today, which was to enter Texas for the first time since June, which itself was my first time in Texas in nearly a decade, and get my first train pictures in Texas in more than a decade. I did it.
I decided that, on the way Texas, I'd follow the track near where the highway is next to the track near Vinton. Well, not only did I get lucky, but I got there with absolutely no time at all to spare.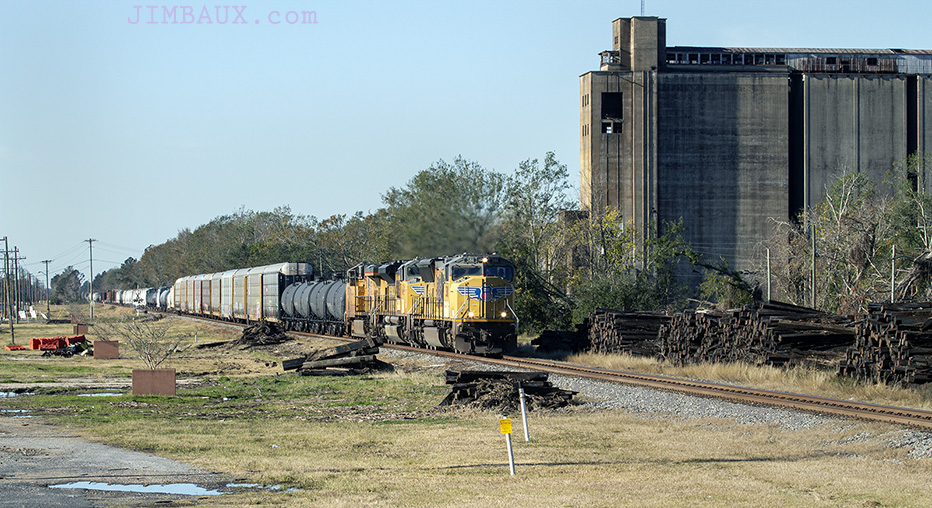 The first shots that I took were basically immediately once I got a top the truck and got set up.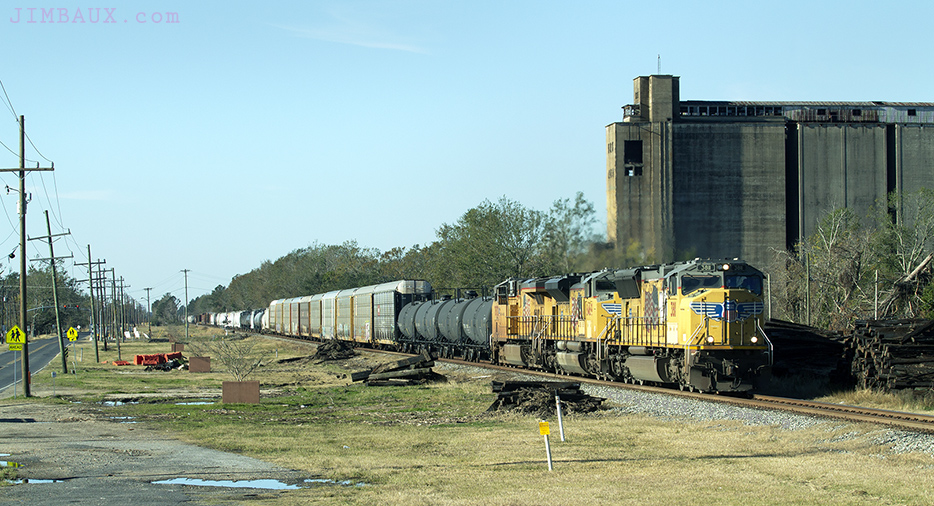 I like these Conrail coil cars, I like the boxcars and wish that they were free of graffiti, and I love the flatcars.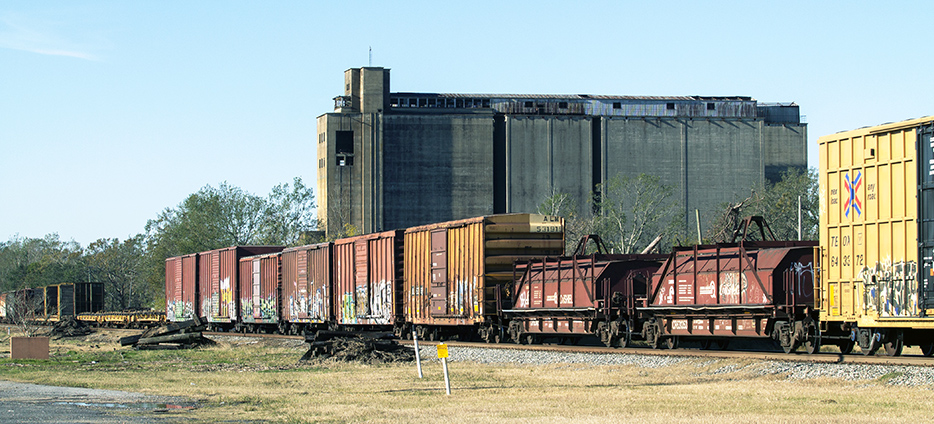 Well, that was nice. I got my first pictures in Vinton!
As I was coming westbound out of Vinton along the old highway, there was another eastbound manifest train right behind the first one. I guess that it's the post-Christmas rush, but I really have no way of knowing whether this was an abnormal morning or a normal Saturday morning.
At 09:50, I crossed into the state of Texas.
East of Beaumont, I found the KCS mainline and followed it and saw some interesting trains at around Vidor that were too difficult to photograph.
As soon as I arrived in Beaumont, I bought food from Whataburger and I ate it, a very Texasy experience!
Shortly thereafter, at 11:32, I shot a UP job with three locomotives and 20 tank cars passing west by the Amtrak depot in Beaumont, my first action photos of a train in Texas in more than a decade, and my first digital train picture in Beaumont (gosh, I feel old.)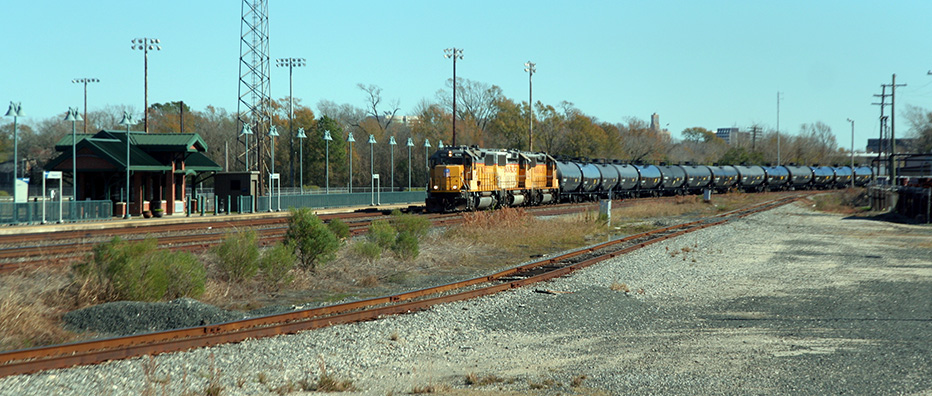 This is not bad for 2021, I guess!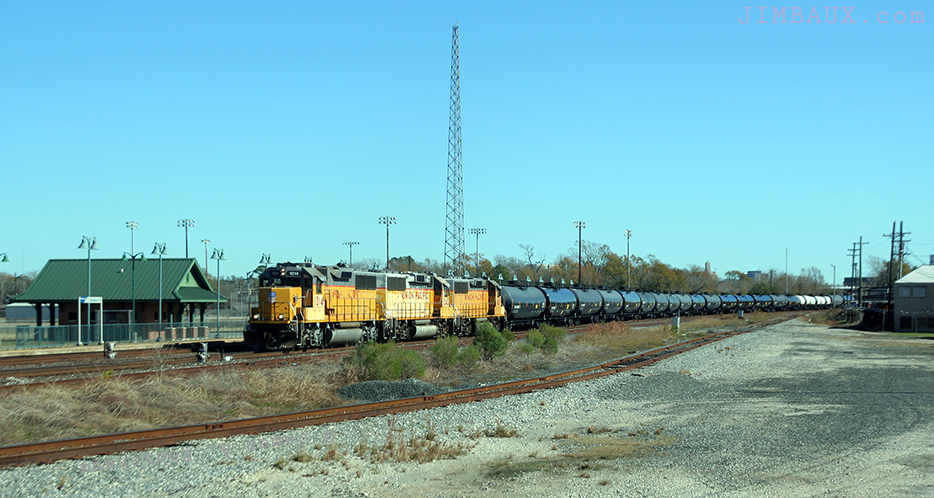 I like UP four-axle locomotives, plenty.

Hey, look, here are some GP60s!

These things pulled hotshot intermodal trains when they were new, but, only about a decade later, they started being relegated to local yard stuff like this.
That's neat!
A half hour later, I'm down at the port, which I think has a neat railroad operation, and I see this.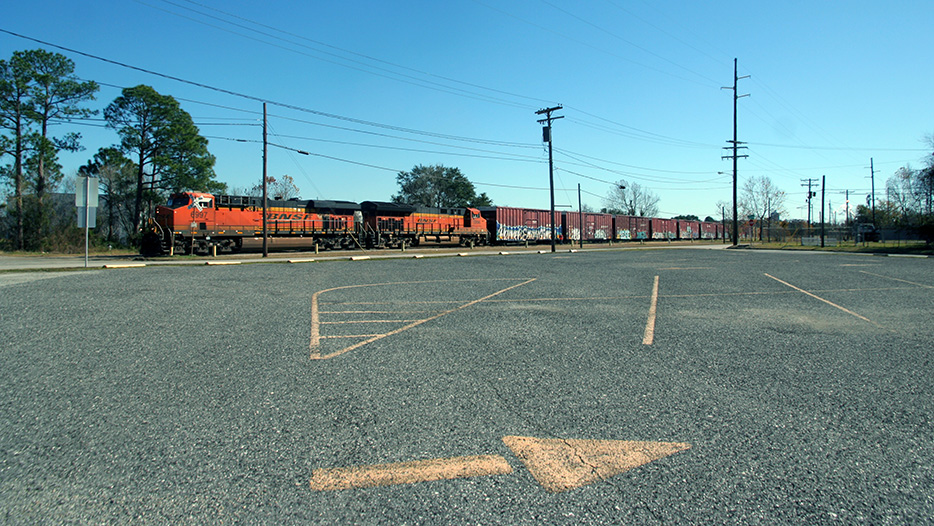 I quickly turn around and scurry to get set up for a shot on the Long Avenue street-running trackage.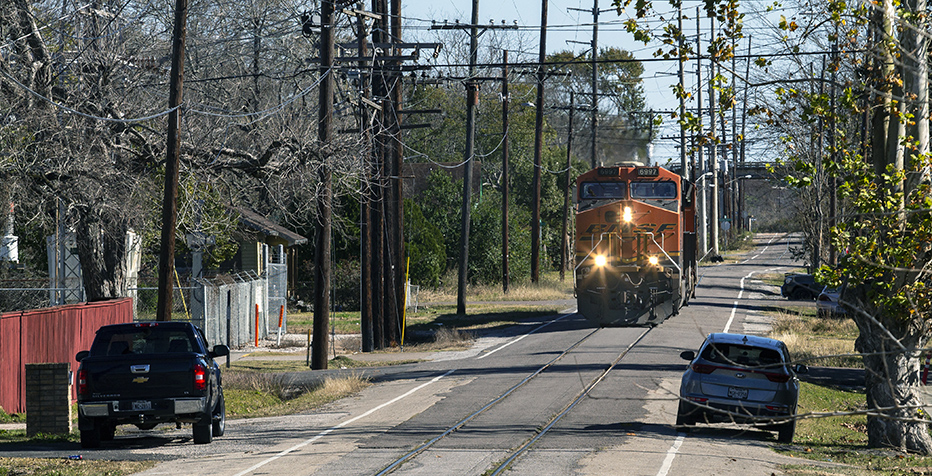 Well, it's cool, but it's not as cool as Fourth Street or Madison Street in Gretna or even Sallier Street in Lake Charles.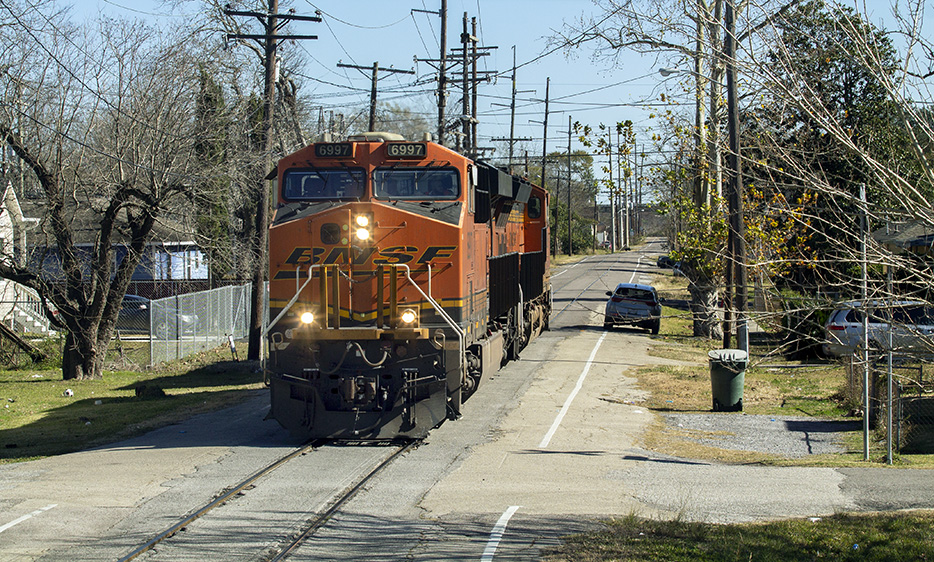 Damn, it's just these big locomotives, and no train?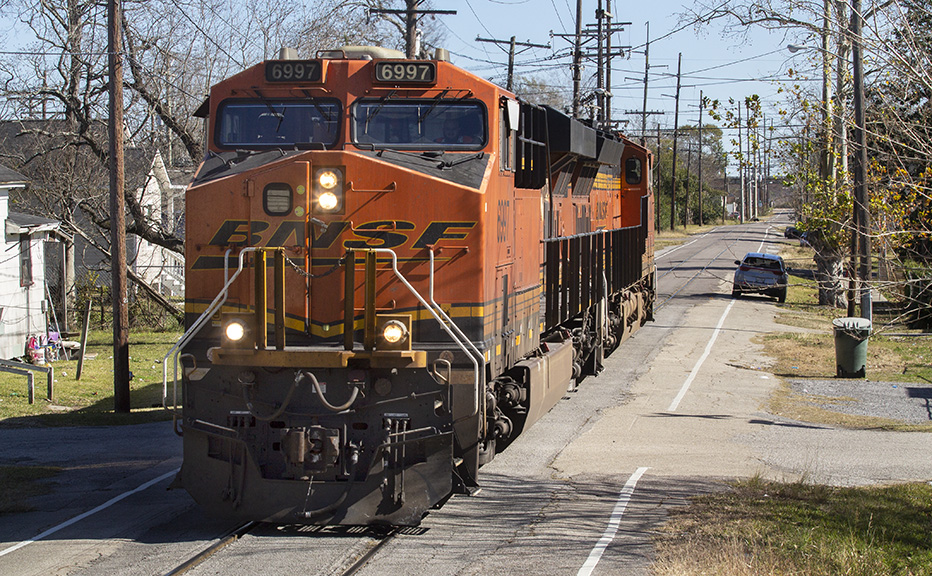 Well, I did that.
More than 45 minutes later, I am at the UP's main yard, which I think is the old Southern Pacific yard, where I see some classic second-generation locomotives being moved.

I like these "old" locomotives.
Hey, it's a snoot!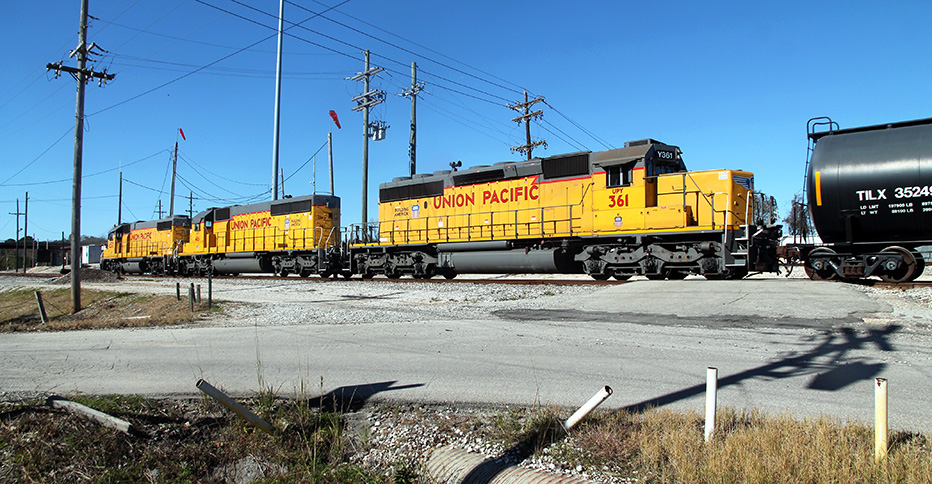 I left that yard and rode around and then saw this string of centerbeam flatcars, apparently there for storage (I guess), by College Street.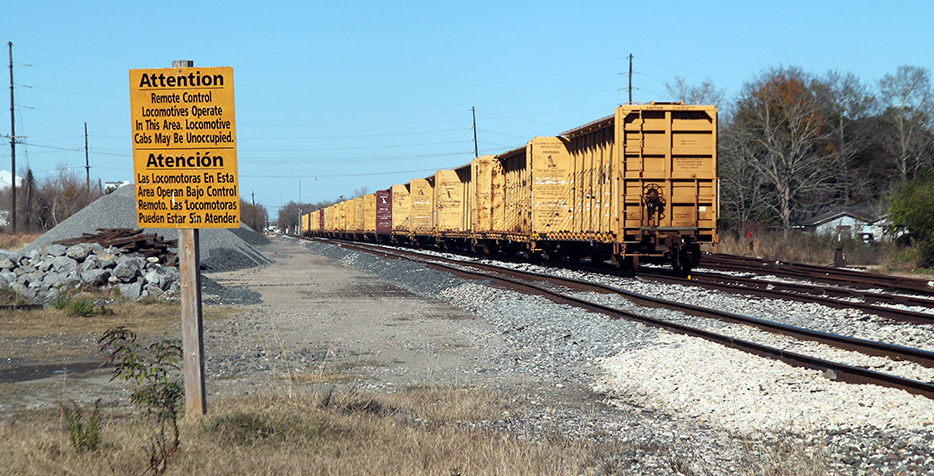 I then went and hung out by the lift bridge downtown, where Donovan has done some great work, including with a drone, and didn't see any train movements.
So, eventually, seeing that I had not much good in the way of options, not having a radio scanner anymore, I decided to find the one train that I could relatively easily track without radio intelligence: the westbound Amtrak Sunset Limited.
So, I decided to return to Louisiana and scope out a shot that would be good given the orientation of the track, the absence of obstructions, and the light angles at this time of day and this time of year.
At 14:00, I passed through Vidor, eastbound.
At 14:16, I reentered Louisiana.
I saw a westbound BNSF Railway manifest train west of Vinton.
Being thirsty and needing something sweet, I went into a store – the little E-Z Mart right across Highway 90 from the track – for chocolate milk, and there was nobody with any mask on anywhere to be seen; both employees there were without masks. I am surrounded by people trying to kill me and other people, and it's horribly demoralizing.
At 15:21, I saw the headlight.
At 15:24, I got the shot.

This is neither great nor bad.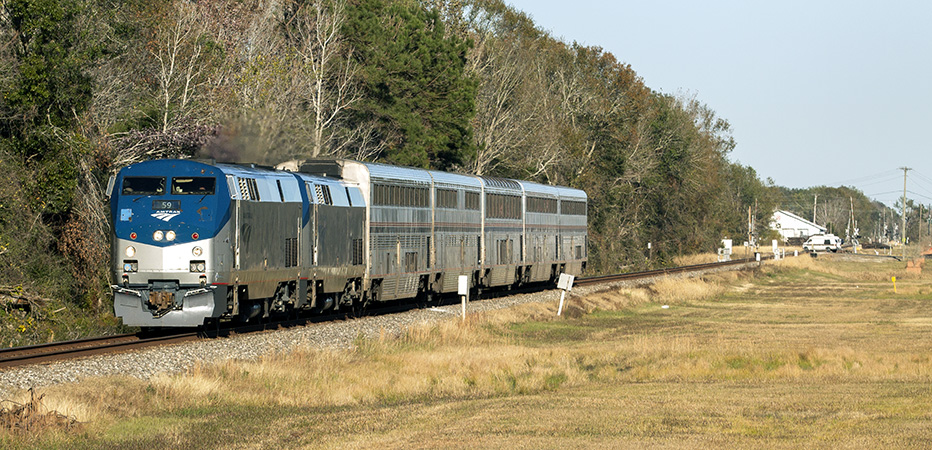 That's fine, and I got a friendly horn toot from the engineer, but I miss Schriever and Chacahoula. I want to go home, but I can't.
Almost an hour later, here is a westbound manifest train at Edgerly.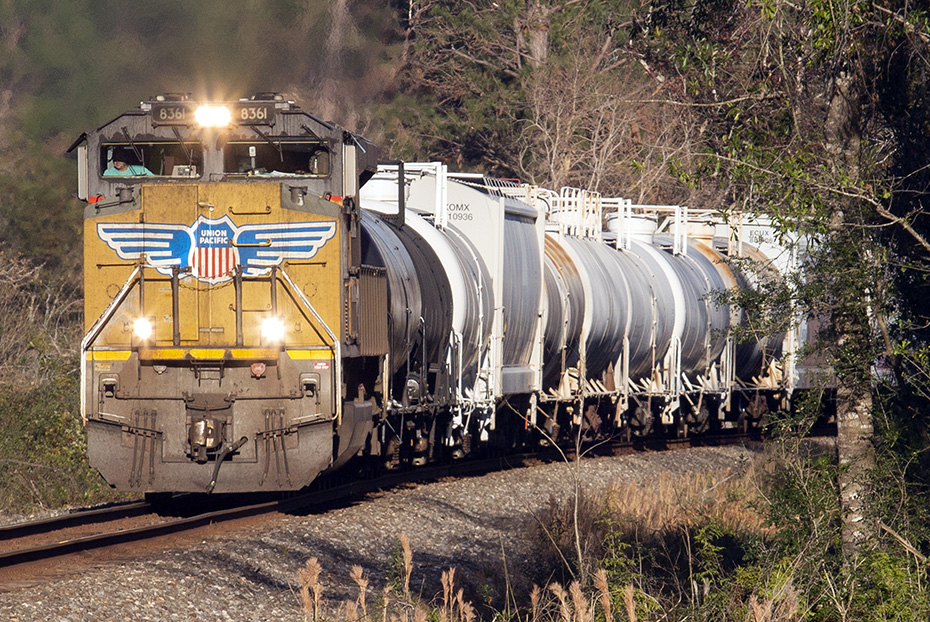 I had seen it at some storage yard east of here, and I chased the train farther to the west, to the eastern edge of Vinton.

Okay, I did that, and then I returned to Lake Charles.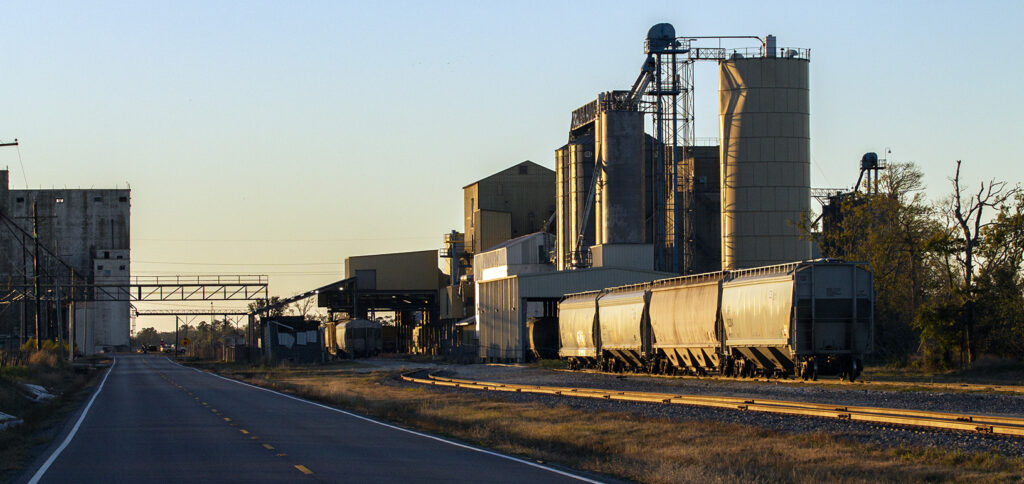 A thought occurred to me, perhaps today and perhaps while I was watching those older UP locomotives today, perhaps after recently seeing so many pictures posted to railroad-enthusiast forums showing old railroad cars. As much as I miss the old locomotives of my childhood and before (even though I can't really "miss" something I didn't see, at least not in the more narrow sense of the word), I actually miss the cars even more. If God Himself came down and said, "Jim, I will not make the railroads today look like they did in your early childhood, but I'll either make the cars today look like the cars of your early childhood or I'll make the locomotives today look like the locomotives of your early childhood, but not both," I think that I'd pick the cars!
Part of the reason that I'd pick the cars, not just because the cars back then looked so much better than the cars of today, is that many of the locomotives that were moving hotshot trains back then are working – and working well – on local movements today!
Anyway, that's enough for today. I hope that this was pleasing to you.
Jim