Jimbaux got fuel to burn, got roads to drive.
I thought that I had used that title already.
Today is Friday 31 December 2020, the last day of a crazy year. I moved out of New Orleans permanently, I got probably my last pictures in Mobile, I got maybe my last pictures in Gulfport, a pandemic started, Trumpism got worse, it got outvoted, but it's still there, the rice mill in Abbeville closed, I got plenty of pictures of almost every train that served the mill in 2020, two hurricanes struck my area, I got some pictures on the Acadiana Railway branch from Eunice to Crowley for the first time, I got some train pictures in Texas for the first time in a decade, I got my first pictures of Port Rail action on the railroad line to the Port Of Lake Charles, and, on the same day, I got my first pictures in DeQuincy; also, today, I got my second set of images of and made my second chase of an Acadiana Railway train on the Eunice-Crowley branch.
I dreamed this morning that I got in a fight with Nazilla. I am less interested in why I dreamed such a thing and more interested in why this particular morning is when I had the dream; I wonder, I fear, if it was because of what I was planning on doing today and how that obliquely relates to him.
I rolled out of driveway at 07:06. I rolled out of Burger King at 07:14. There was not as much traffic on the roads this time, and it was cloudy and cool.
I crossed the Sunset Route mainline at 07:38. At 07:41, I stopped to urinate on L. Boudreaux Road as "Rockin' In The Free World" played on the radio and thought about photographing the pleasant pastoral scene that I saw as I was looking south and realized that it would not render well in a photo, which got me to thinking that photographing so many things can be a hoarder mentality, like I am trying to take stuff with me and can't just live in the moment.
Condon Uncensored? Wow, is this 1998? I had Eagle 98.1 on, and it's like nothing has changed – but so much has changed – in 20 years. I listened to Condon as an impressionable kid, and I am realizing, now that he is a Trumper, how bad of an impression it had on me.
It was actually painful to listen to that garbage. I had to turn it off.
At 07:52, I made the turn at Branch.
At 08:07, I arrived at US Highway 190.
At 08:10, I was about to turn north on North Martin Luther King Jr. Road to go and check out the interchange track when I saw lights at the railroad crossing ahead on Highway 190.
Well!
I had thought before that that I had heard a slow-moving horn.
I quickly get to South East Street where I hurry south to get set up for this shot.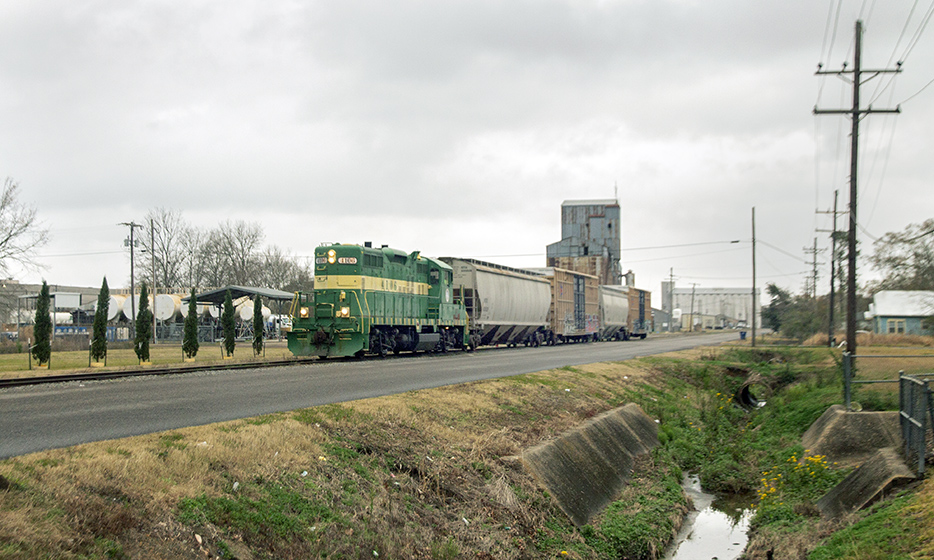 Hey, that's not a bad way to start the day!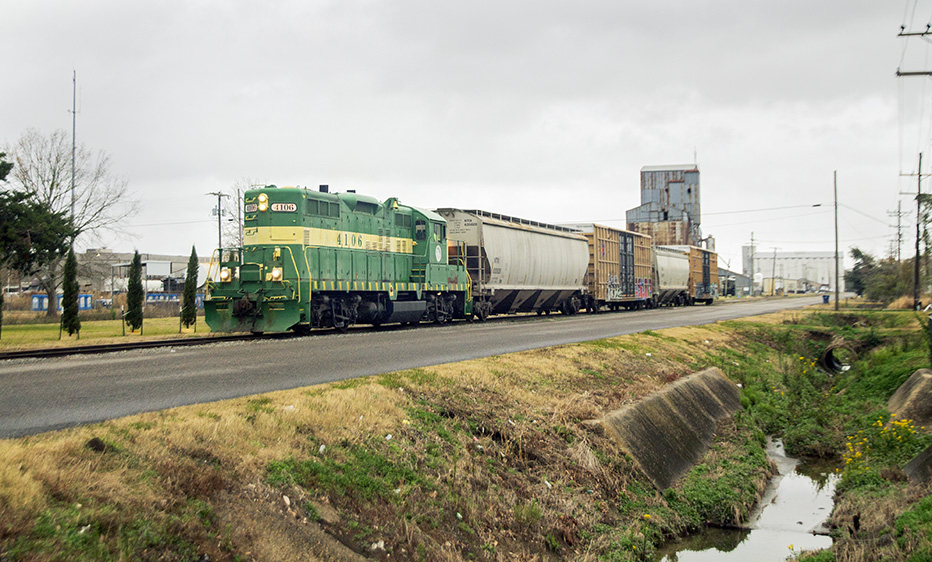 Dammit, both boxcars are graffitied.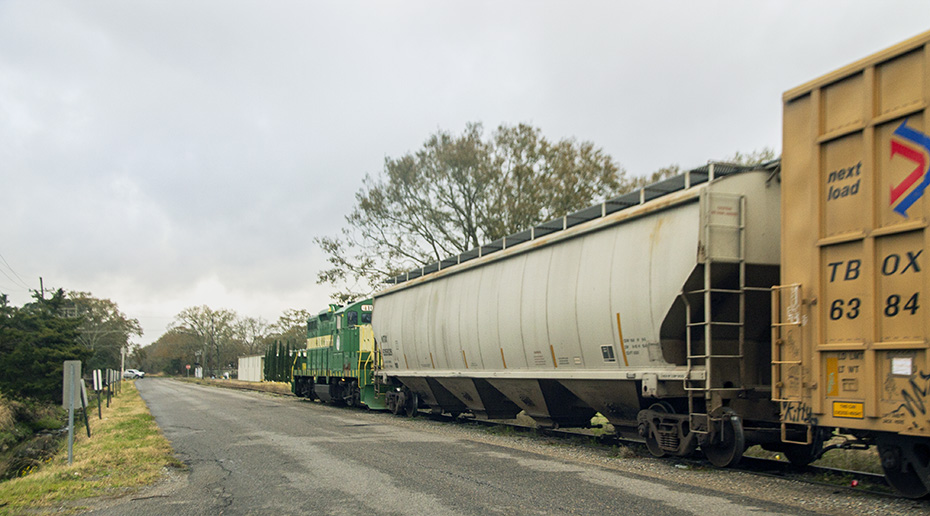 I hate graffiti, hate it, hate it, hate it.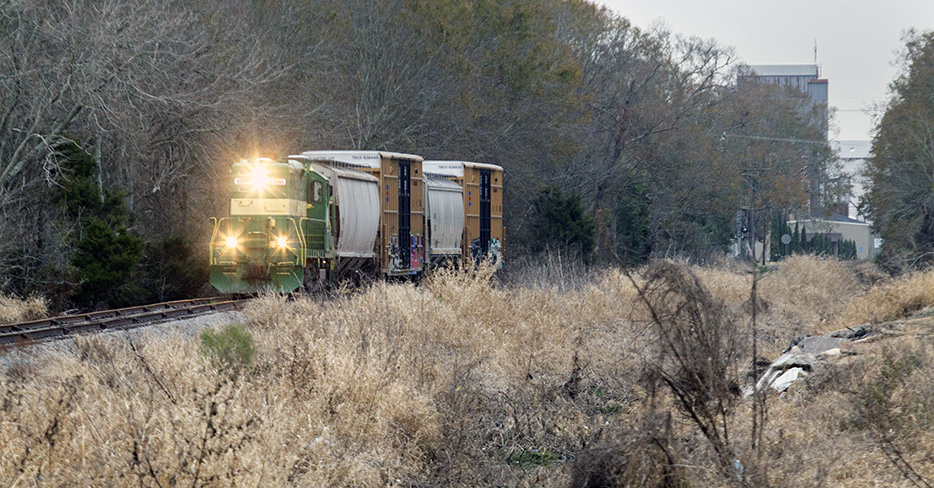 So, I have to take what is a good, short train, short enough to do some great shots not at a sharp angle to the track, and get closer to it than I'd care to get.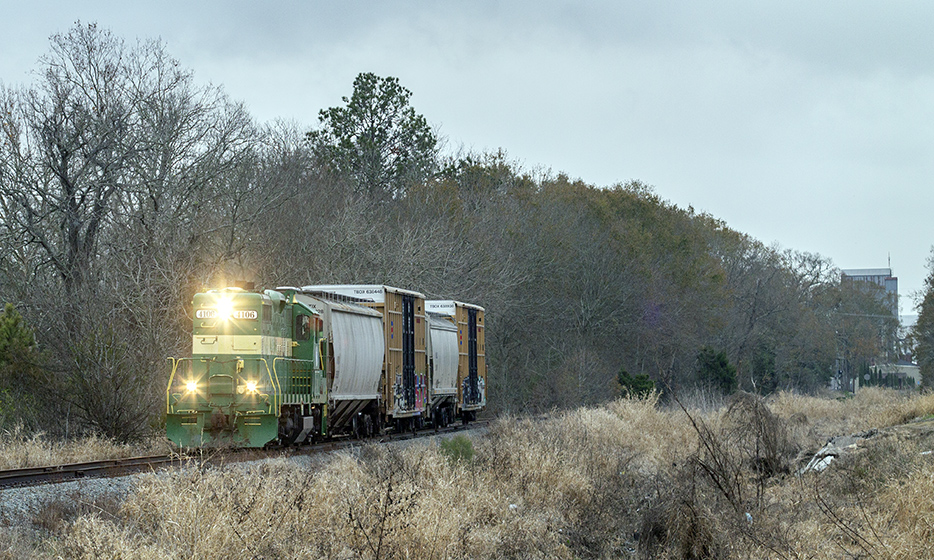 I really do like these forested area.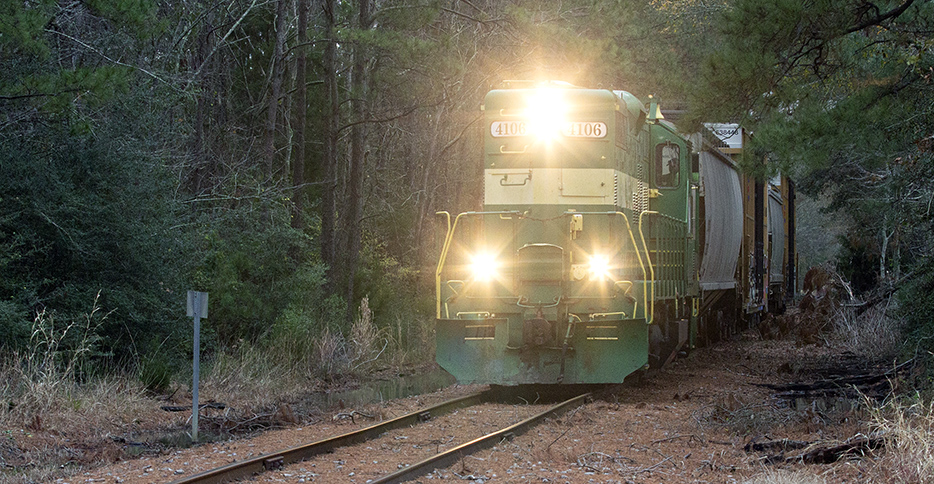 This isn't the alluvial bayous of Teche-Terrebonne-Lafourche here!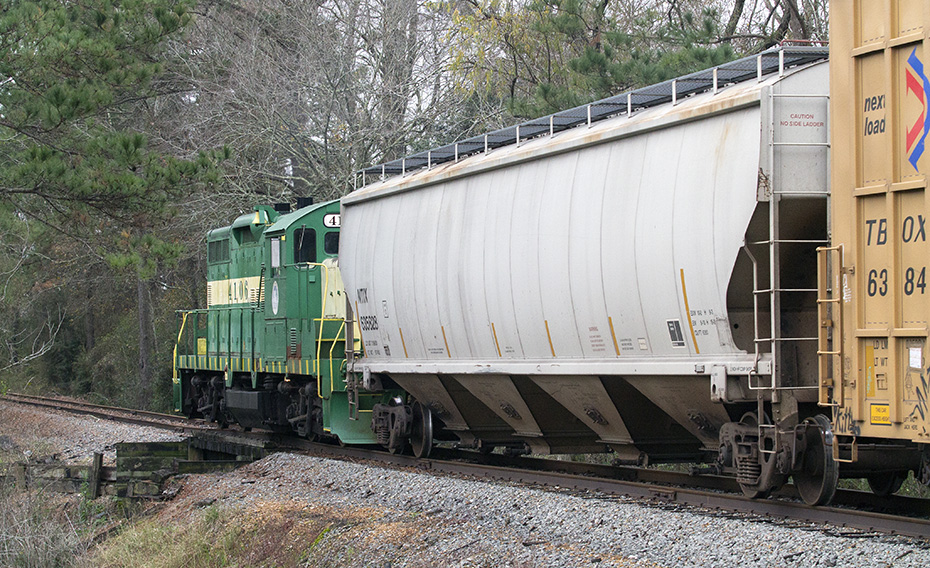 Pine trees are here and there.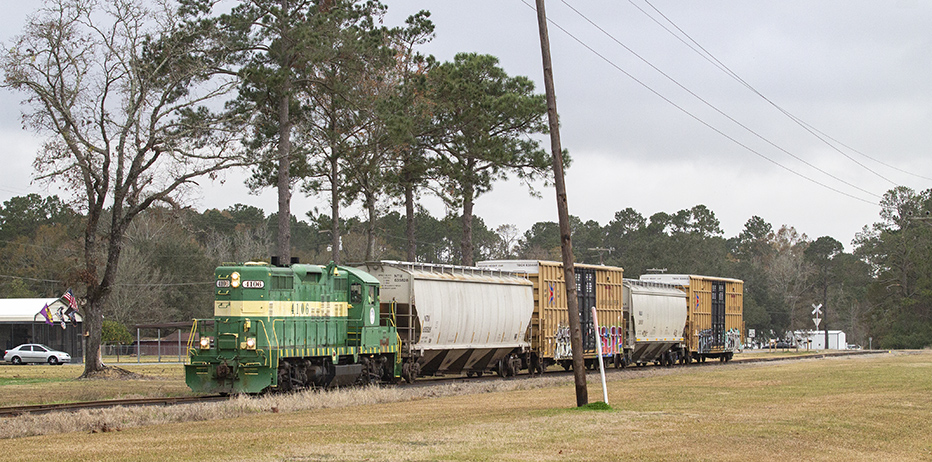 Let's get a view of the end of that old Canadian National Railway GP9R.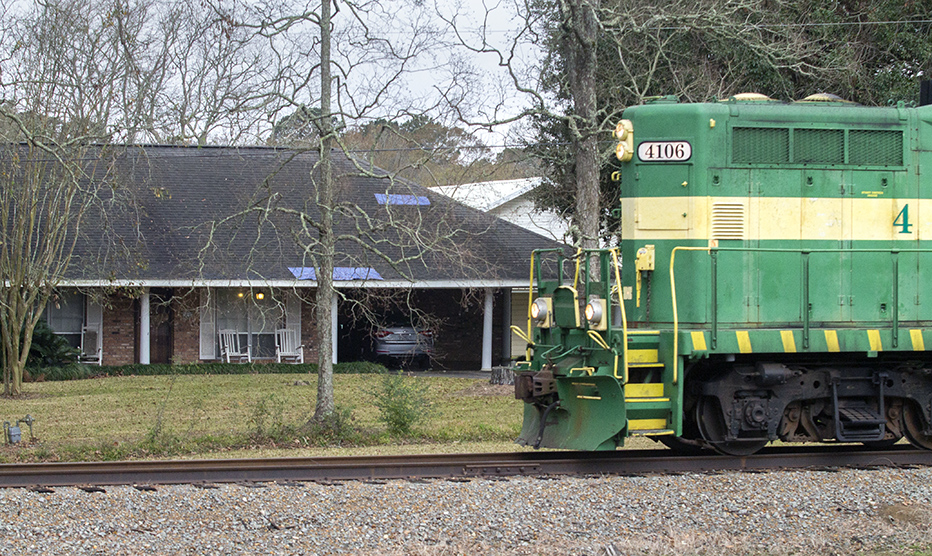 When I was out south of Eunice along this Acadiana Railway line, I was thinking about drone photography and how so many modern railroad photographers put those drones up really high, and I was thinking how I think they did too high, how if I had a drone I would use it like I would a bucket truck; I wouldn't probably get more than 50 or so feet high with it, maybe 60 or 70 feet.
Here we are at Bates, at Highway 370.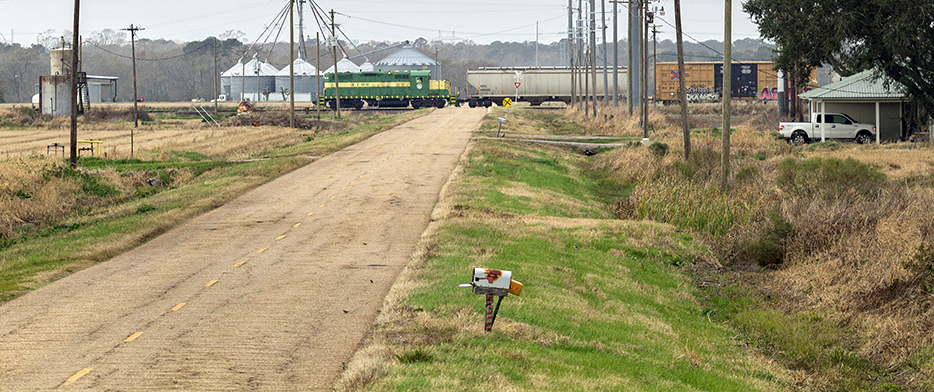 That's somewhat neat; except for the 21st-Century pickup truck, this looks like a scene from the 1980s.
Next, we are on the other side of Mowata, two miles south of the rice dryer there.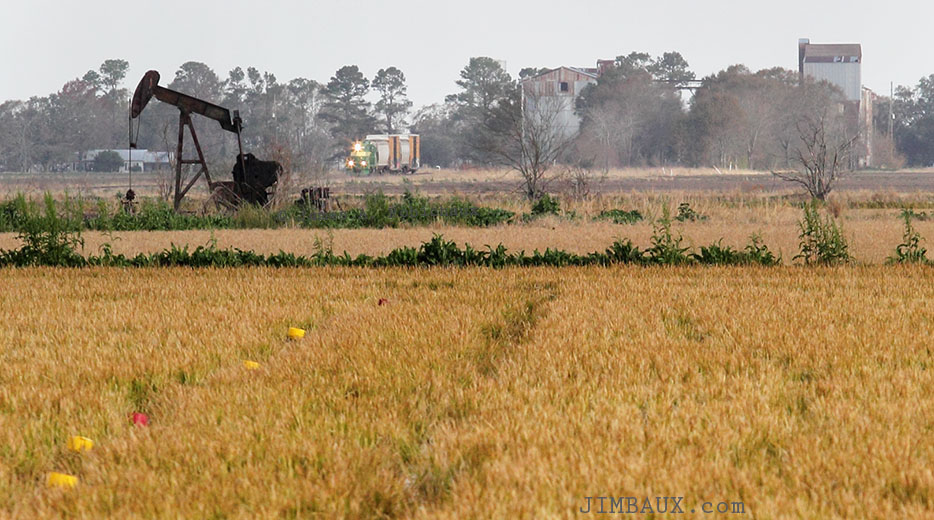 If not for the hi-cube boxcars, this looks like a scene out of the 1960s!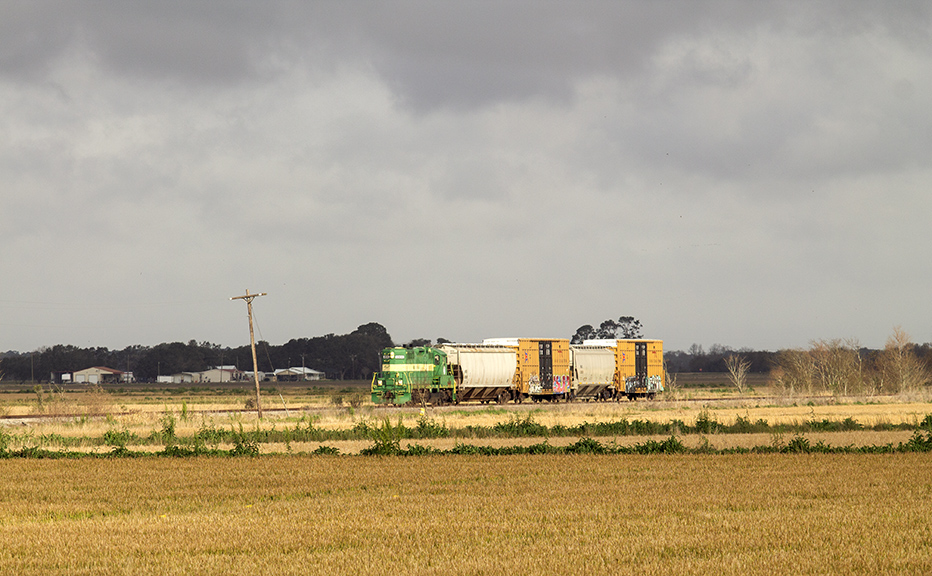 I am at Thevis Road here.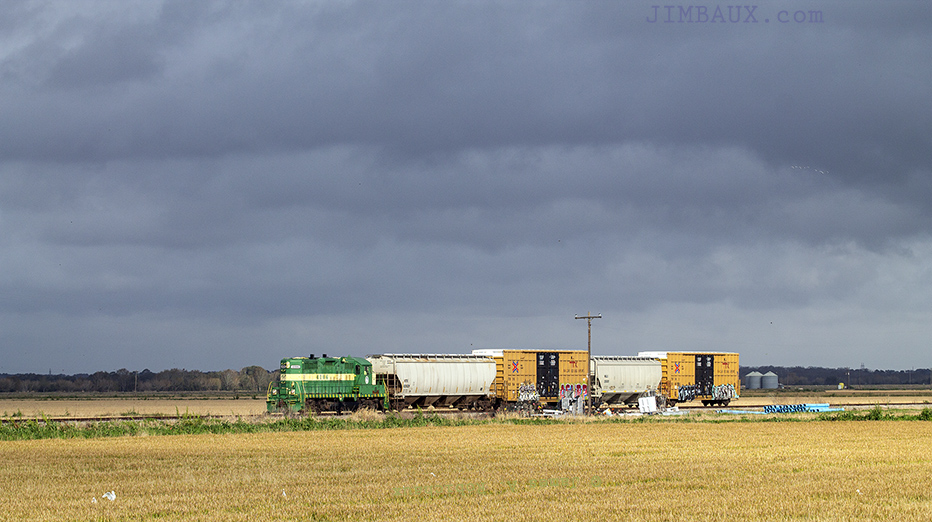 I like the clouds, and the farm equipment, too, is cool.

The below image is something a little bit different, and I like it.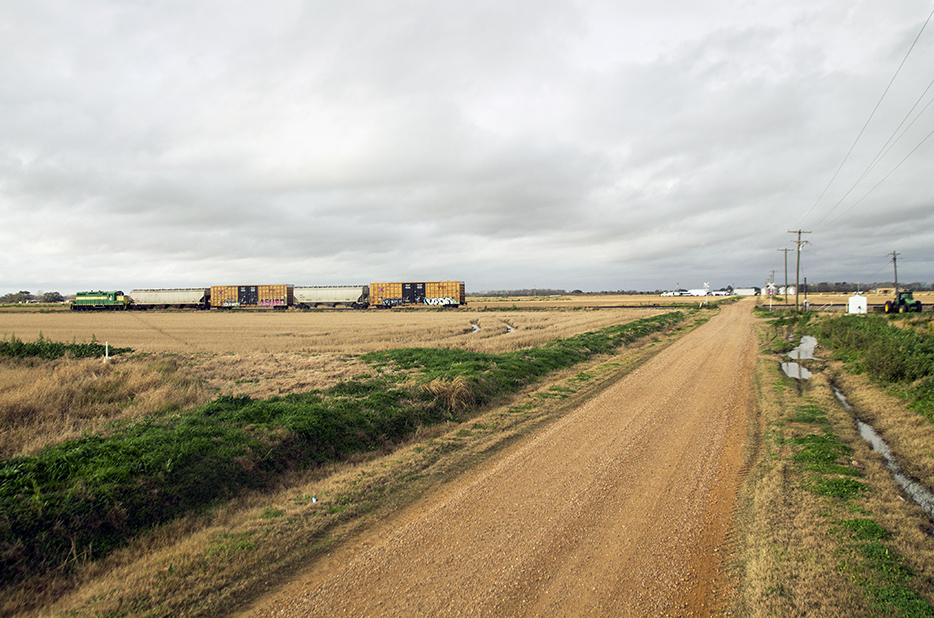 The "merging horizon" problem aside, I like the next image for the same reason.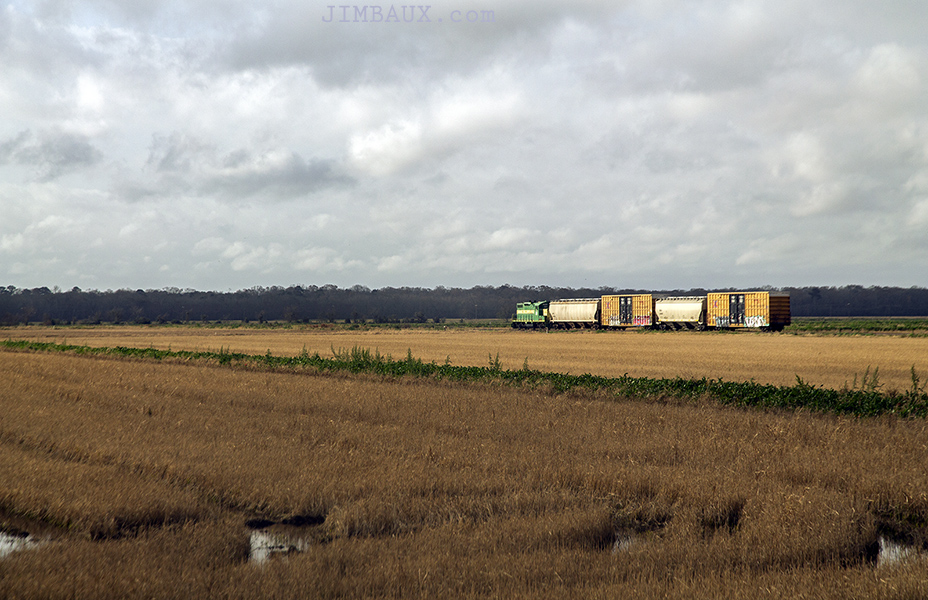 Next, we are at Ellis Road.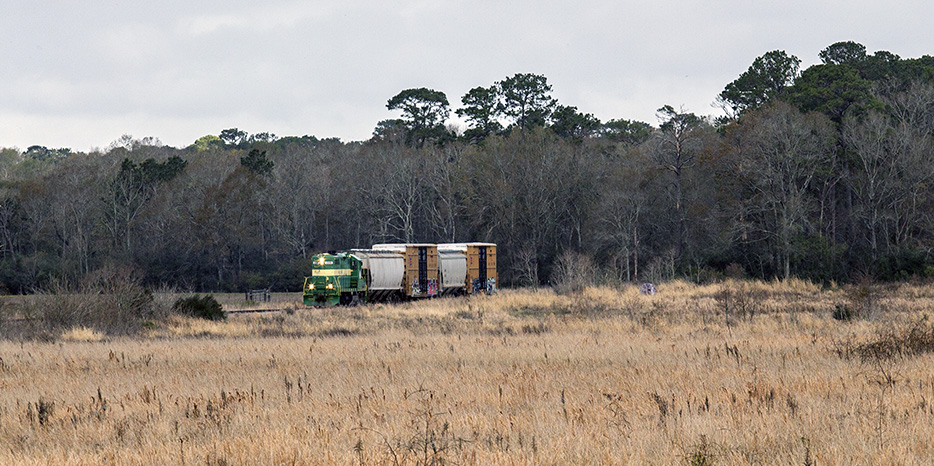 I want to know what Missouri Pacific Railroad trains looked like here!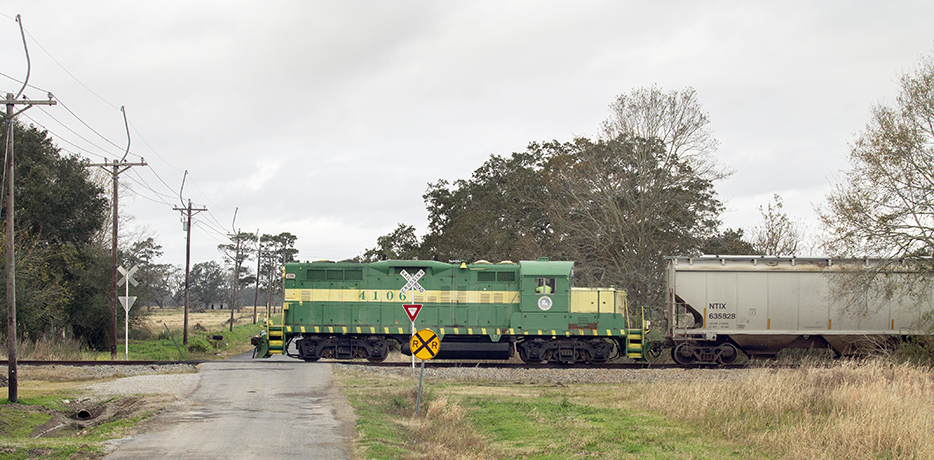 I imagine living here.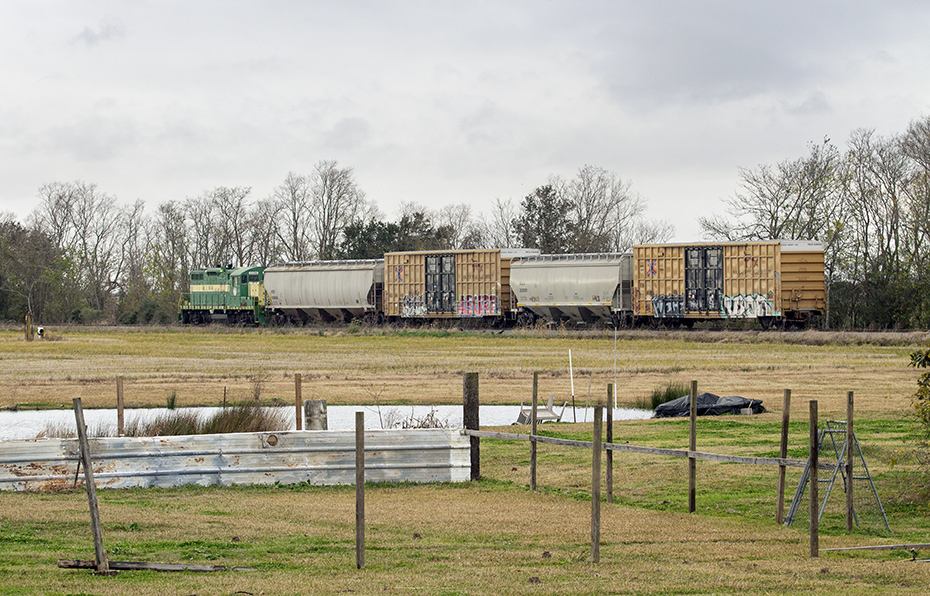 Some people do.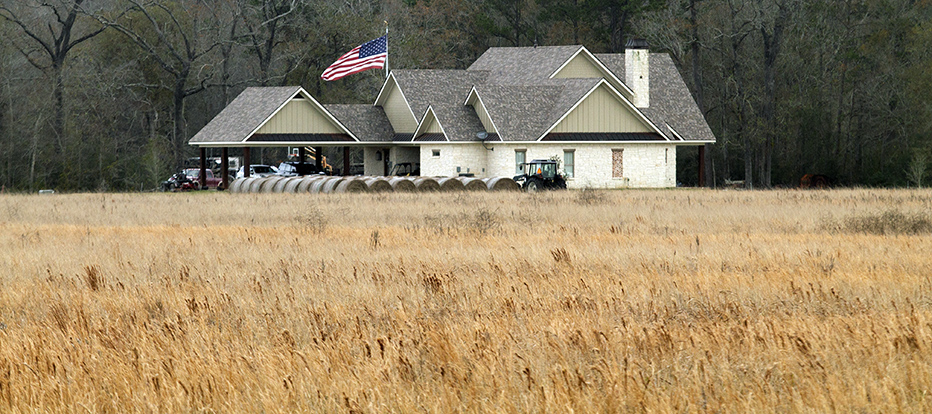 Next, we are at a physically-lovely place: Stakes Road.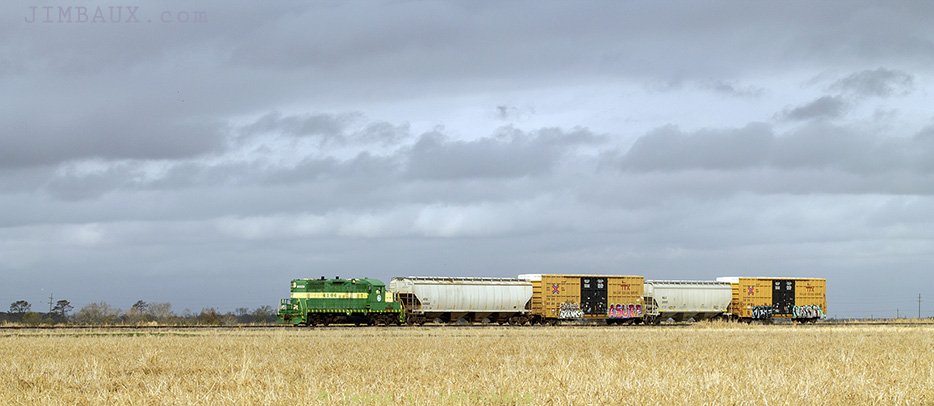 It's only physically-lovely because it's culturally gross, with the Trumpers who live right by here.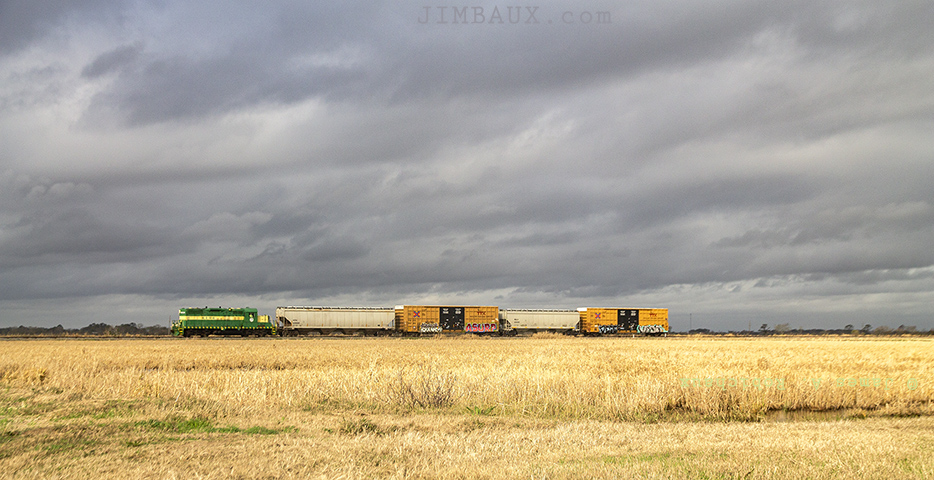 I think that repetitiveness is warranted here! Look at these clouds and the rice!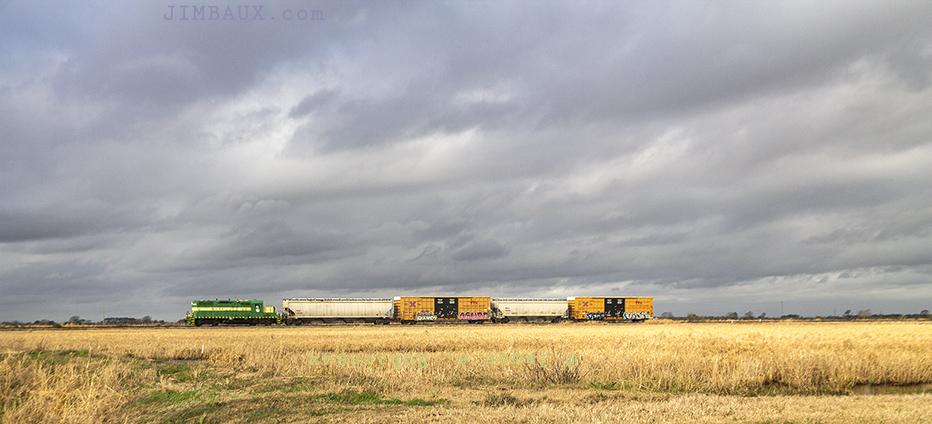 What do you hear when you see these pictures?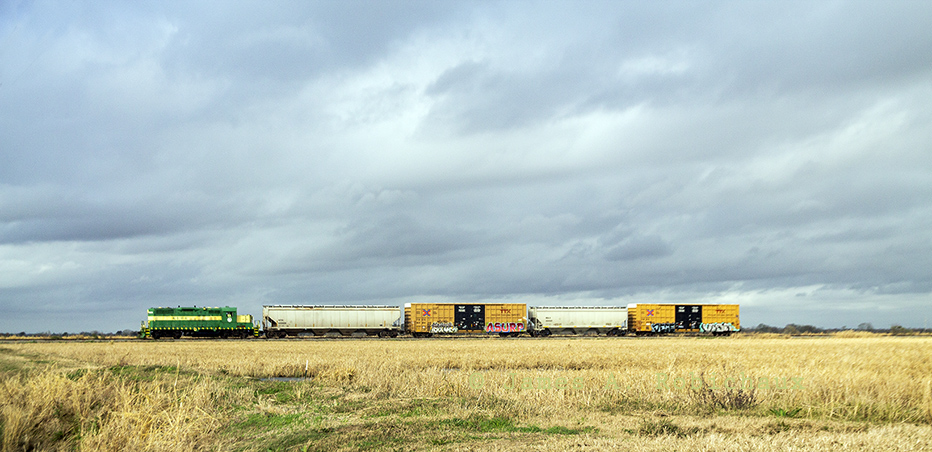 And doesn't this feel like a flatter version of South Dakota?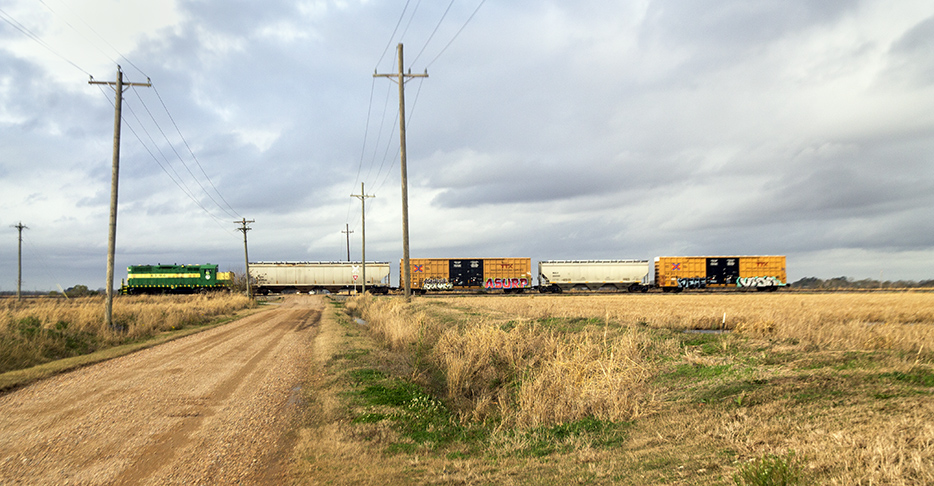 The wind got stiff after I did this Stakes Road shot. I love winter.
Here we are in Crowley.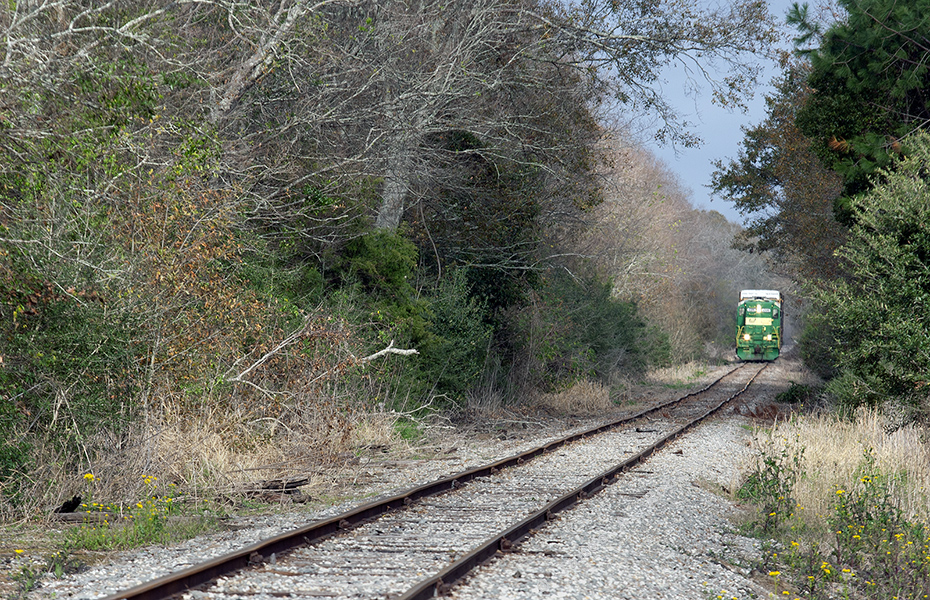 This is West Northern Avenue, looking northward in the above image and looking southward in the below picture.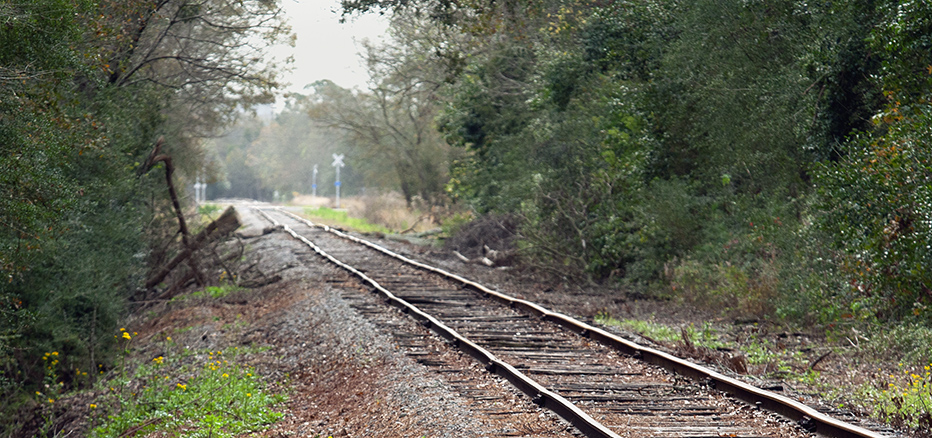 I really like this picture, even though it is 'tight.'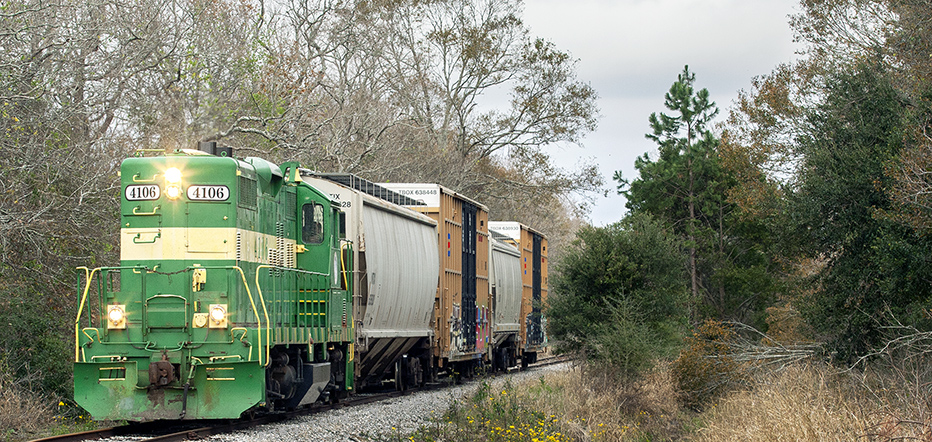 Here is some more train.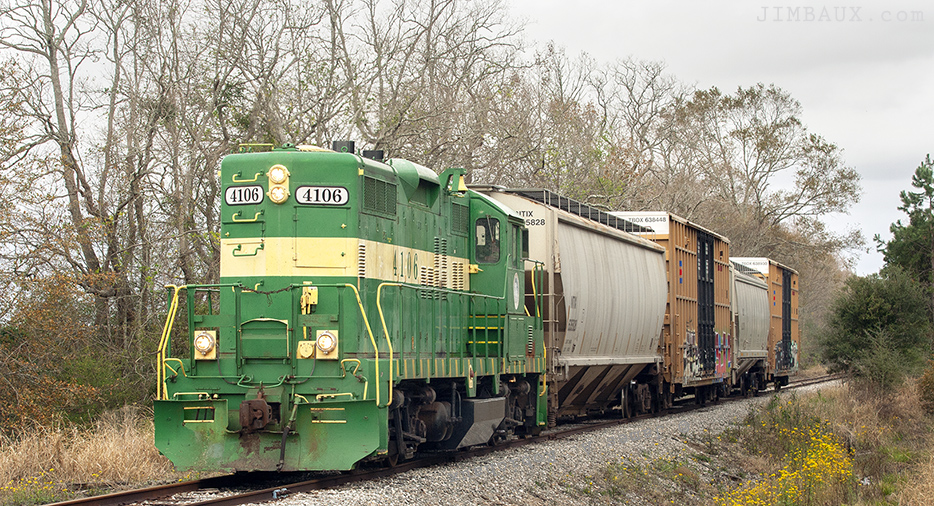 Here is the going-away shot.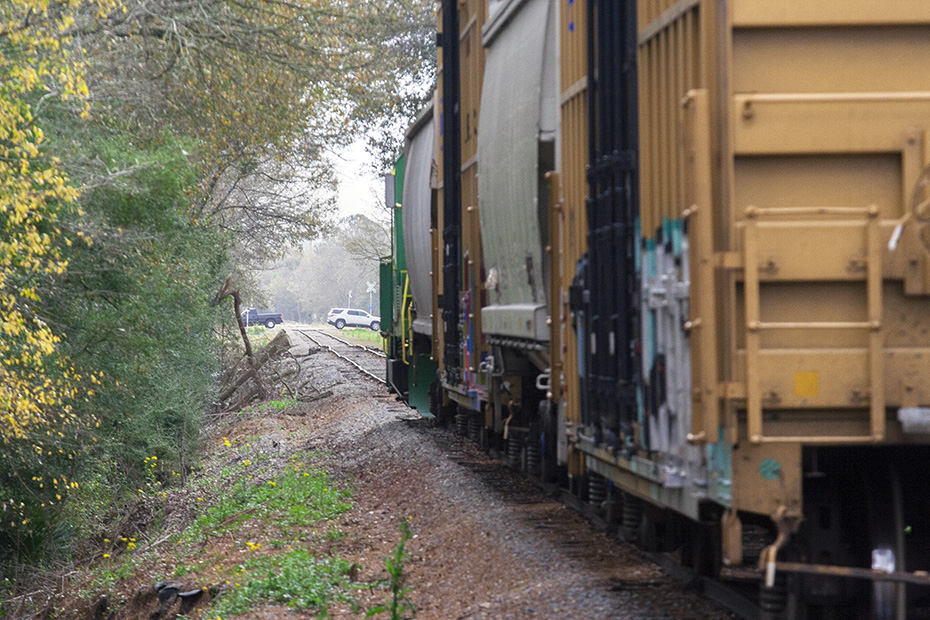 I saw the train stop by the Dr Martin Luther King Jr Community Center, the place right by the track in Crowley, and the crew took the first car off of the train and went somewhere with it and left the other three cars by the park by the community center.
Well, here is the somewhere, the track that crosses the Sunset Route mainline west of the Supreme Rice mill.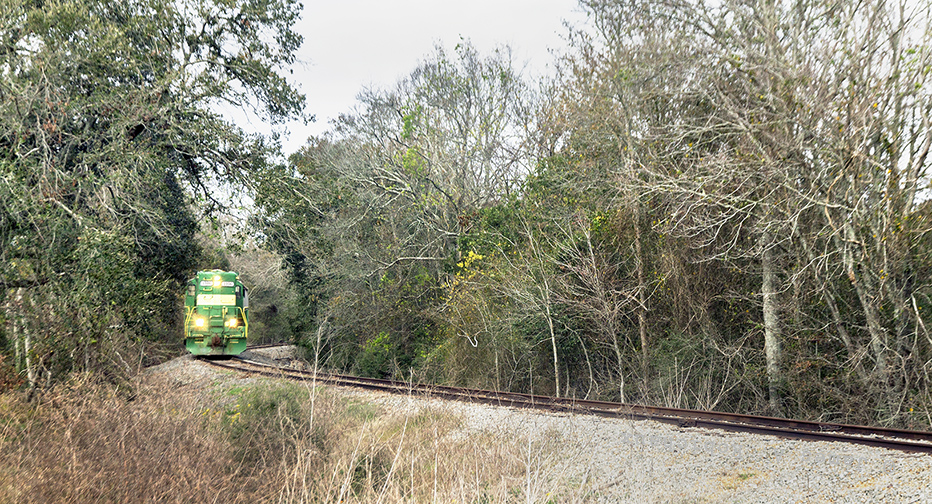 I wonder what the commodity being shipped here is and where it is going or originating.
What is happening here?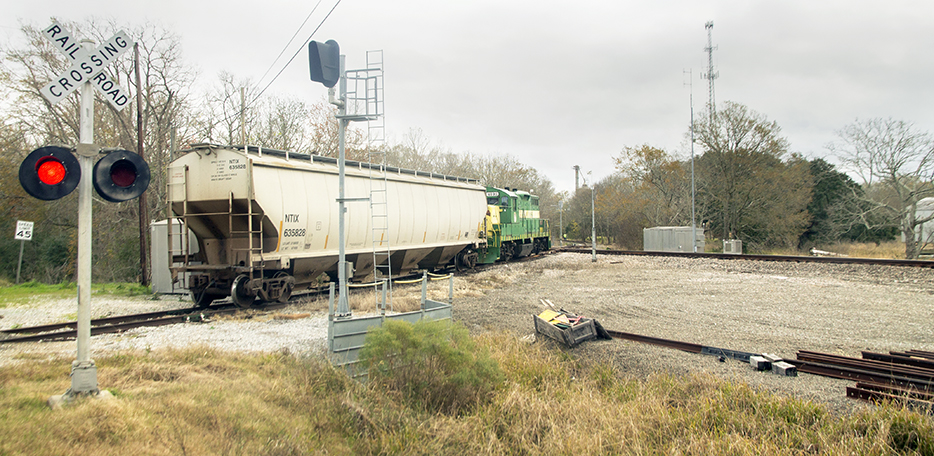 Crowley is full of junked automobiles.
Almost 45 minutes later, we are at the mill, or across the Sunset Route mainline from the mill, where the AKDN 4106 is switching the mill.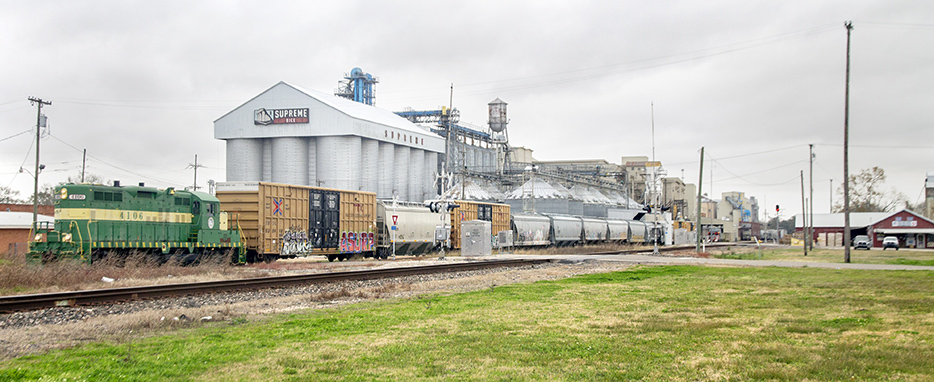 Now, the outbound cars are being shoved westward back to the Acadiana Railway interchange tracks.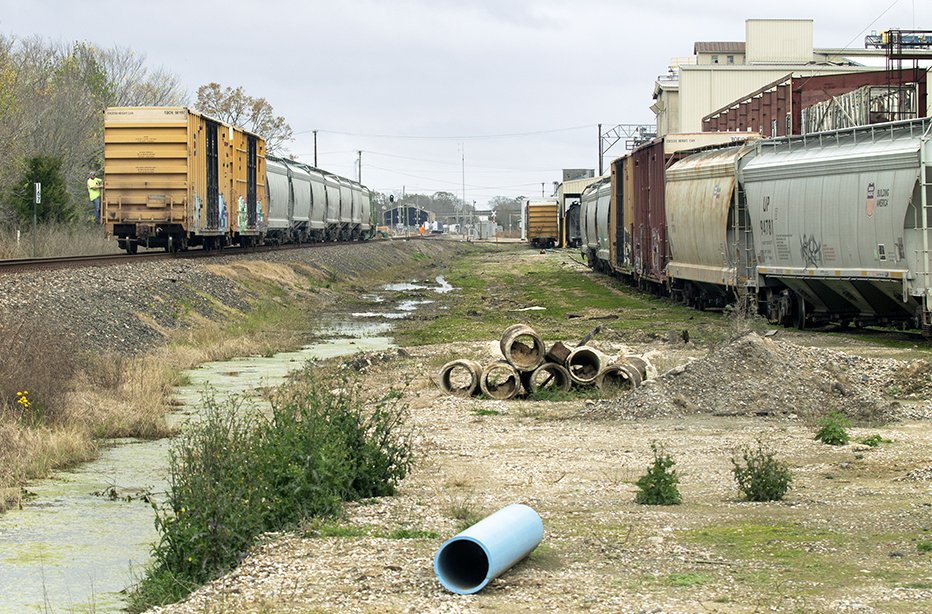 Please note both the trainman protecting the shove and the milepost, Milepost 167, to his right.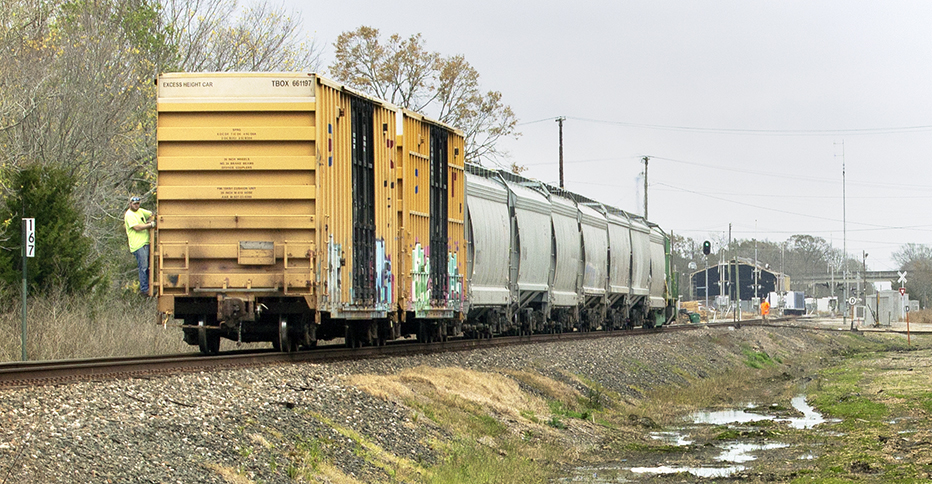 So, now, the cars are being shoved off of the ex-SP BNSF mainline and onto the ex-MP Acadiana Railway line.
This would be a great view if that stupid graffiti were not there.

There is a sad starkness to this place, though.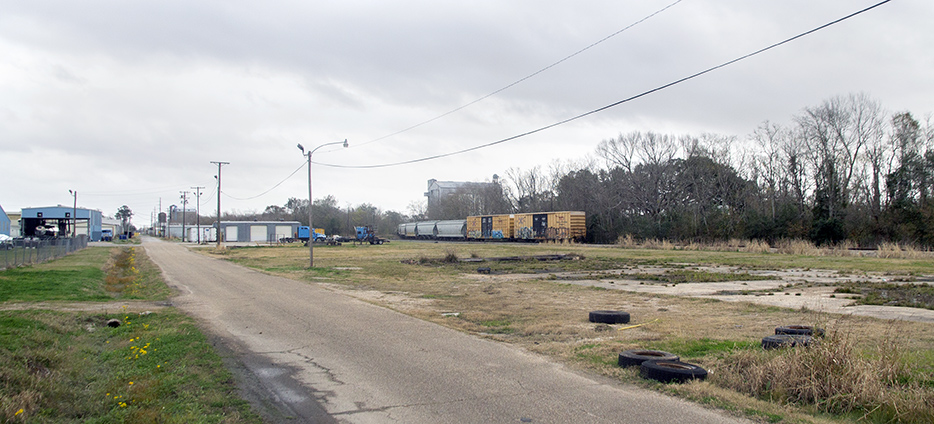 Now, the train is crossing Highway 90.

Give me more cars like that CNW hopper car!


Now, the locomotive breaks off from the train to go south past the switch to get on the other track to run around the train.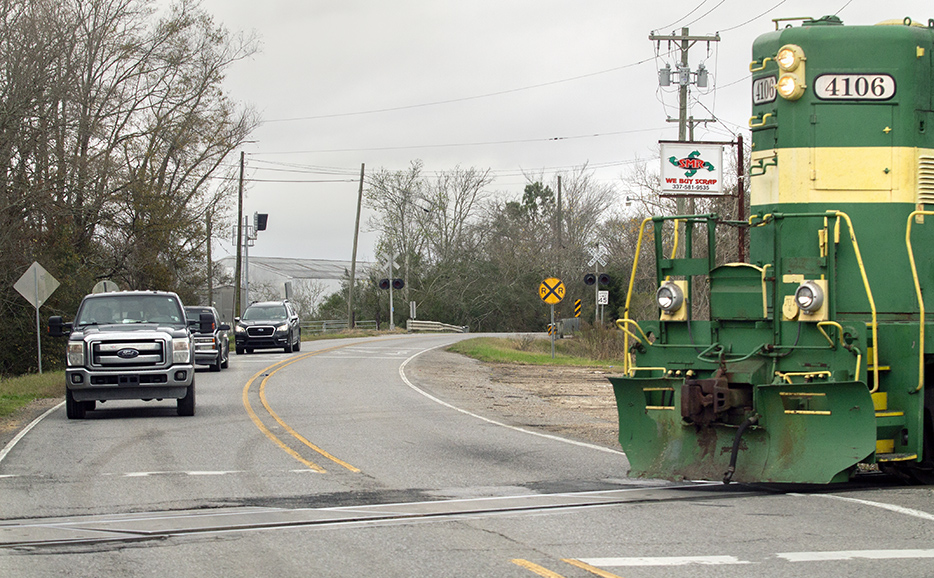 This is good.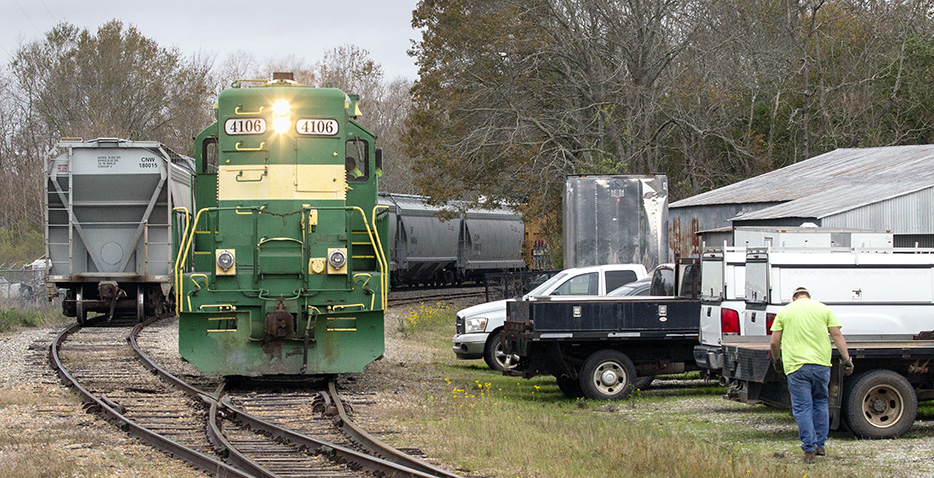 I like that paint scheme on the locomotive.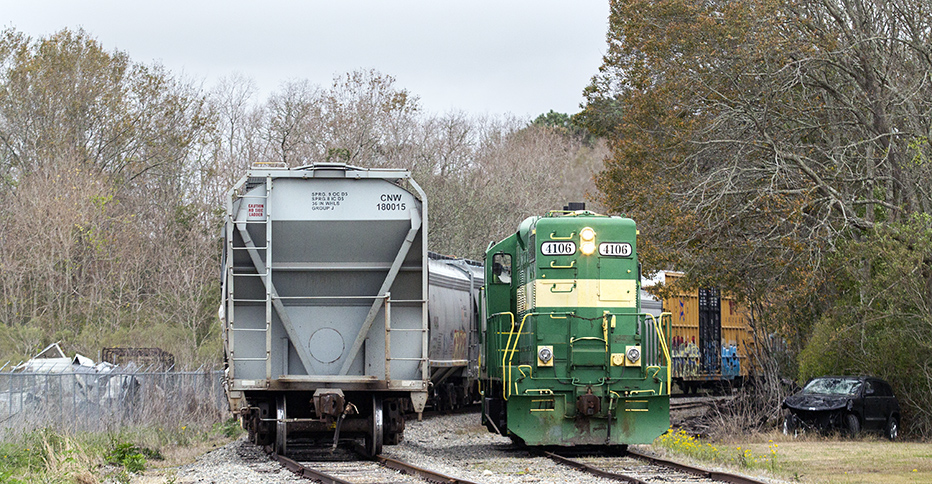 So, I went around to West Hutchinson Avenue.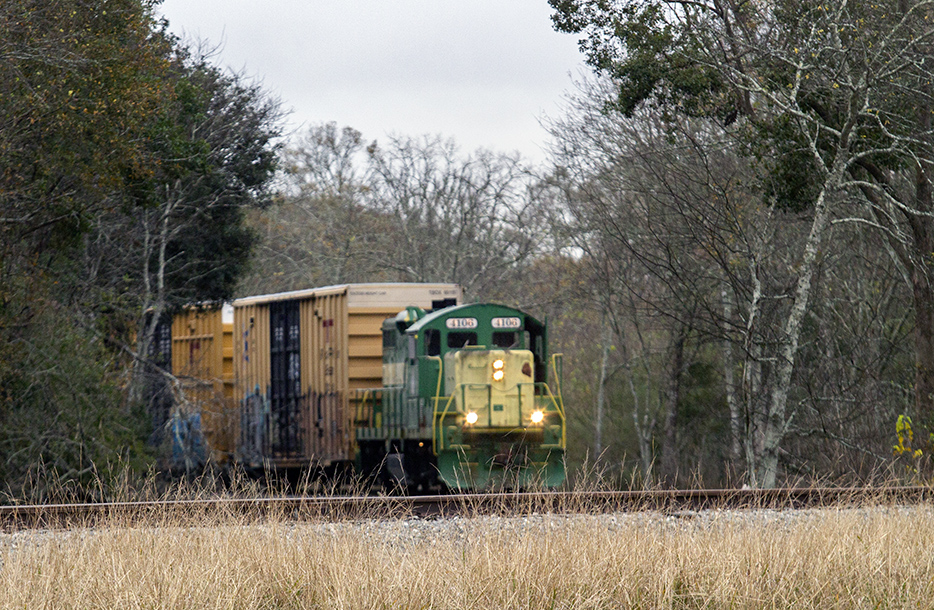 I relocated the truck and got on top of it, and this view shows the track where the train is and the runaround track with it, with the track at right being the track that crosses the BNSF line on a diamond that we saw earlier.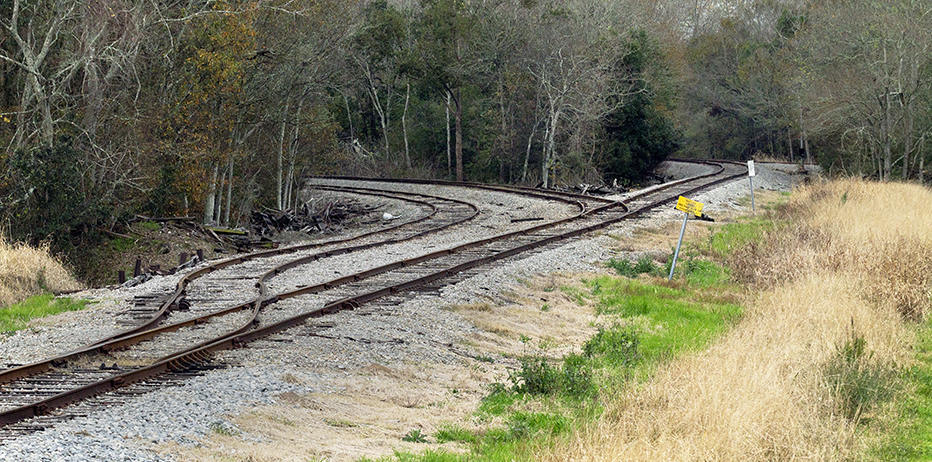 Here is a view eastward along West Hutchinson Avenue, where there was a double murder a few days ago, which is so sad.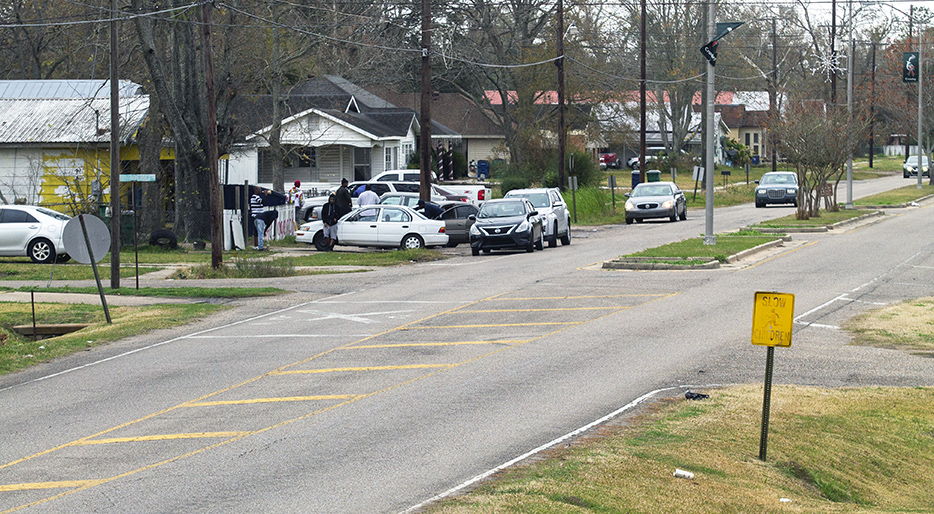 Two persons were shot and killed, and a suspect has been arrested.
I wish that society was not like this. Some families are having a not happy new year.
Here comes the train, but I am trying to hide that graffiti.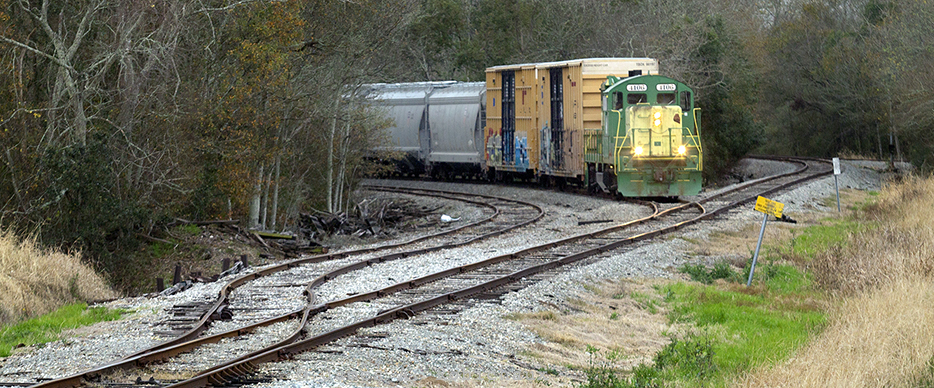 There is some of what appears to be unused public housing across from the track.
And, then, the rains came!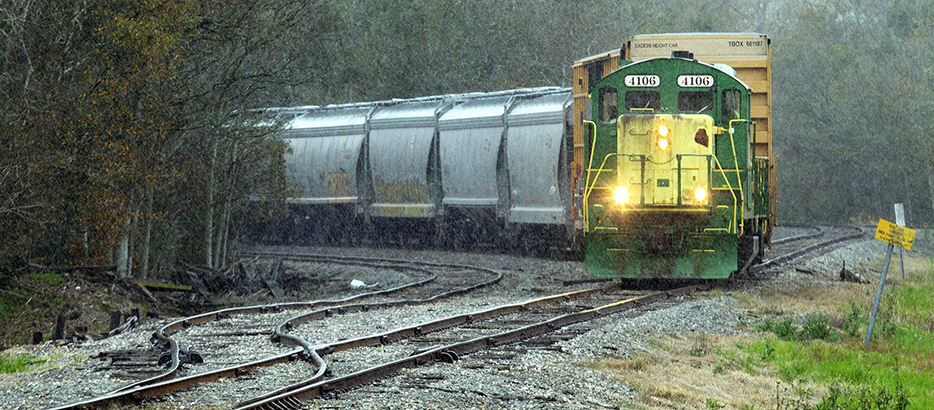 I don't remember what happened or why any switching needed to have been done here, but I again reoriented the truck and hoisted myself back atop it in the rain for this shot!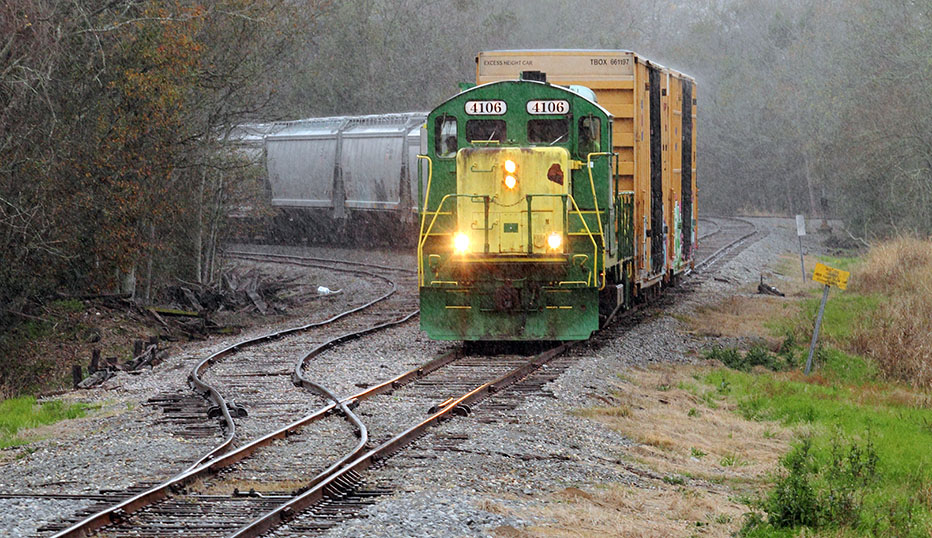 That was the best that I could do to hide the graffiti.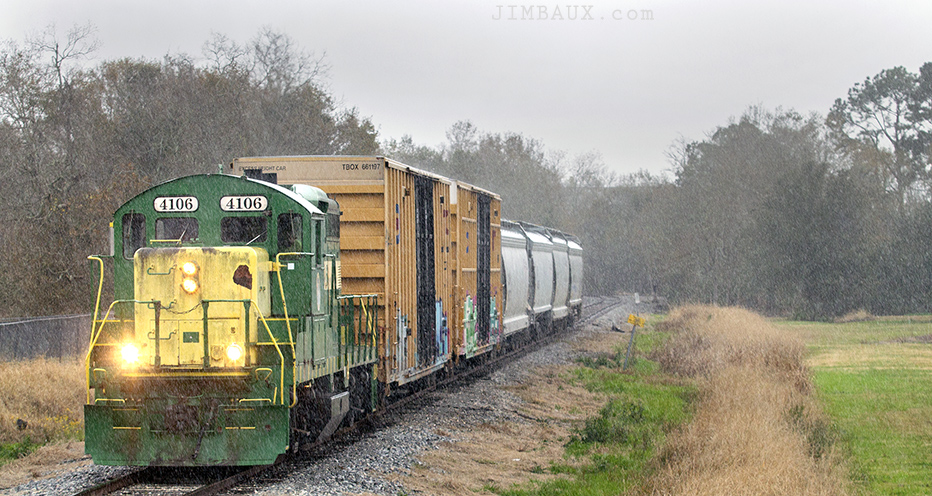 This is not bad, really.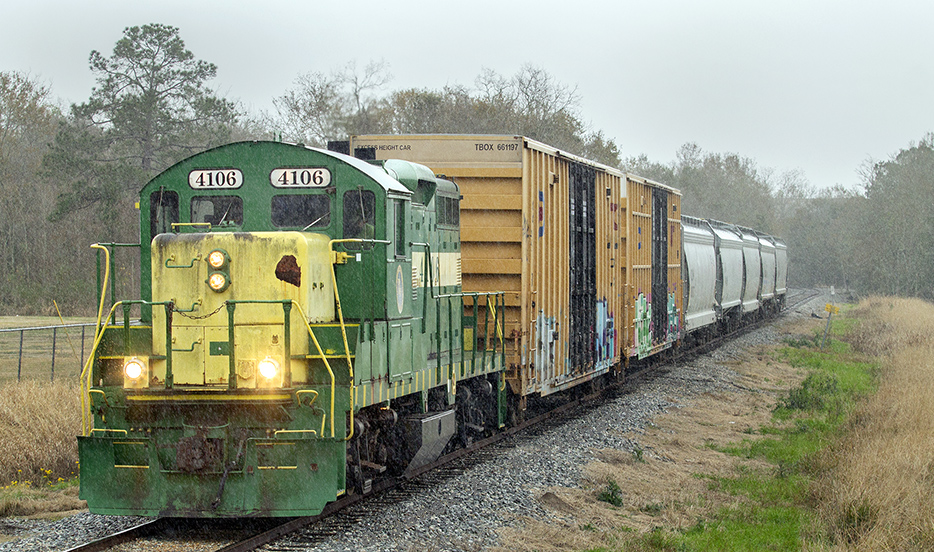 So, that's it, a nine-car train from the rice mill going northward in the rain.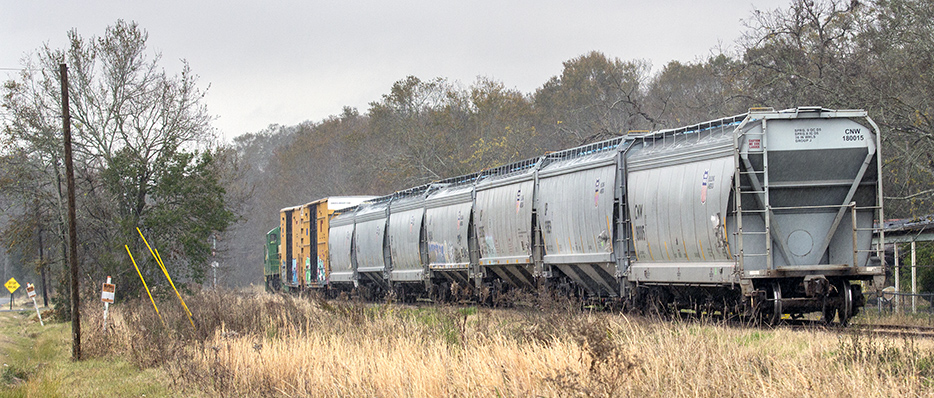 The time on that shot is 11:58 CST, relatively early for what I expect this train I have almost no experience chasing to be leaving Crowley to return to Eunice, but maybe this is normal.
At this point, I decided to abandon chase of this nine-car train. I had to go to Lake Charles, and, now, chasing this thing back north would put me farther away from Lake Charles, not to mention add to the huge backlog, plus it's raining, plus I'm tired of this, and, critically, the cars near the front of the train are badly graffitied on both sides; had this train been graffiti-free, I'd have chased it, probably all the way to Eunice, but the graffiti made me unenthusiastic about doing so.
At 14:16 CST, I was at the Farmers Rice Milling Company on the eastern edge of Lake Charles, where I got the next ten or so shots.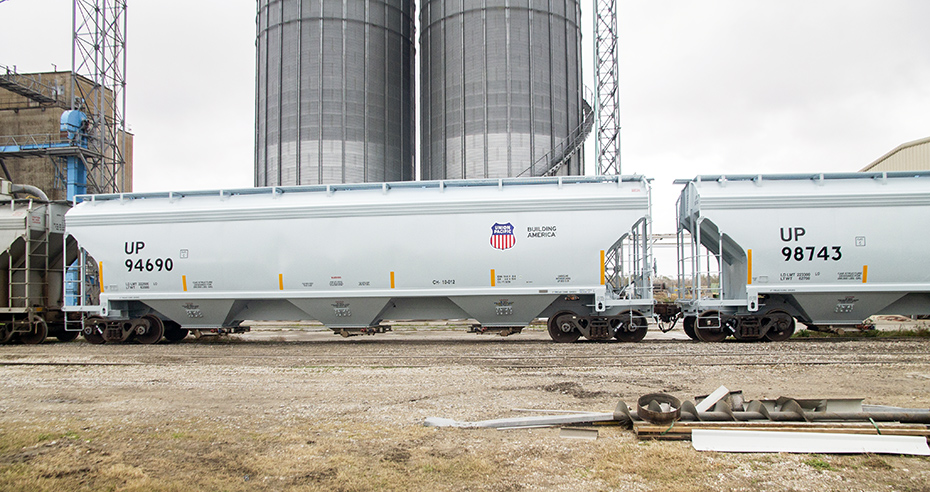 Hey, look, it's some clean, graffiti-free Union Pacific hopper cars!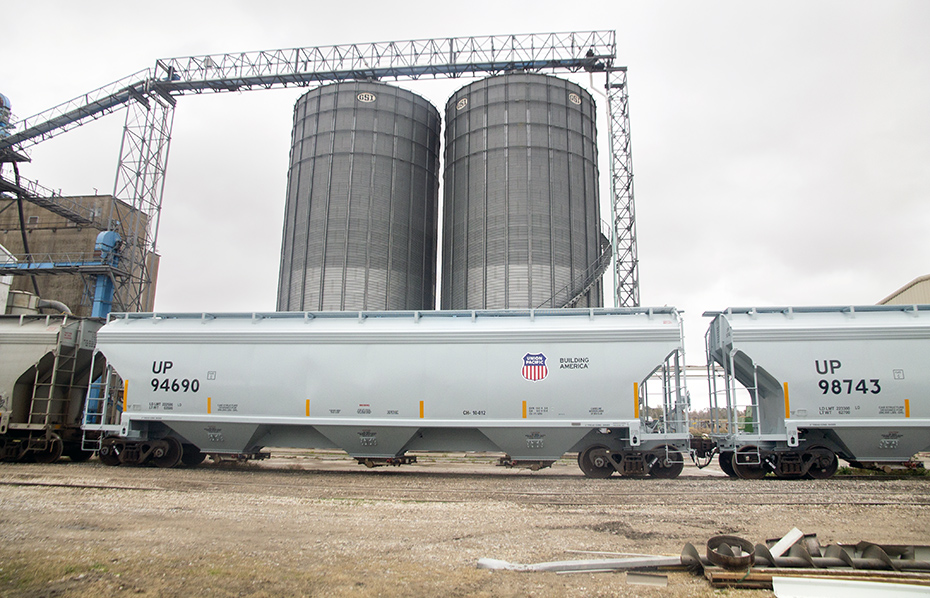 I'd chase a short train of these things.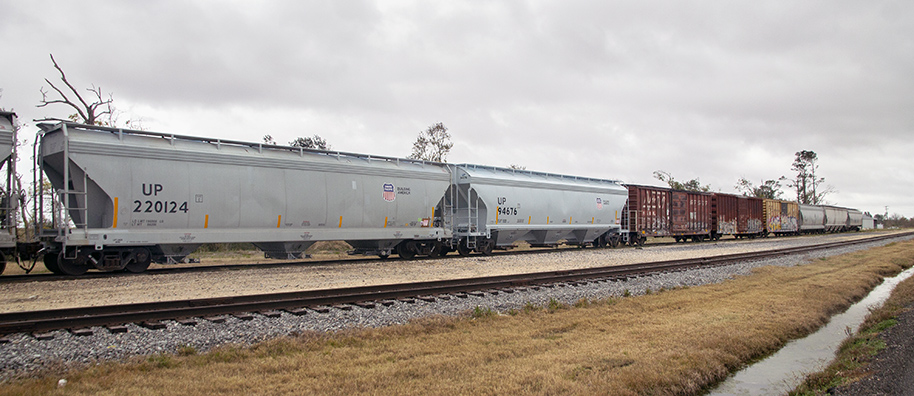 But, damn, why do I even do this?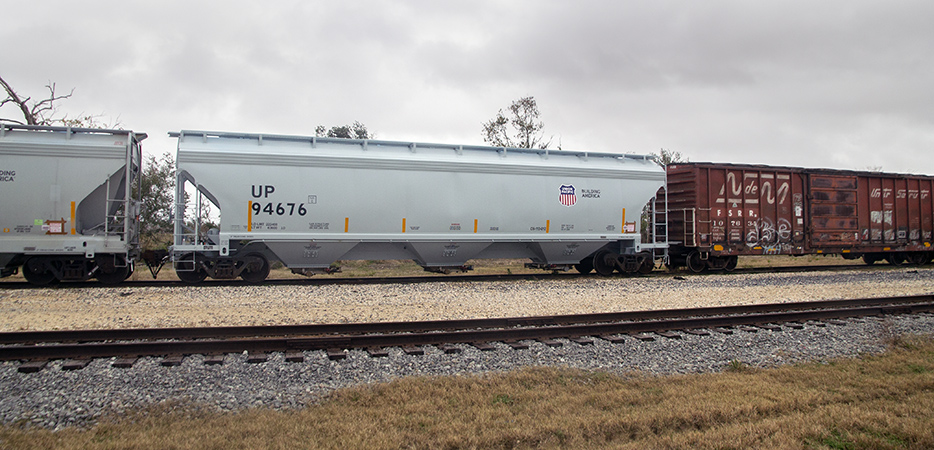 I do love the old Nacionales de México boxcar, and I do wonder why such cars, with Ferrosur reporting marks, are so often here!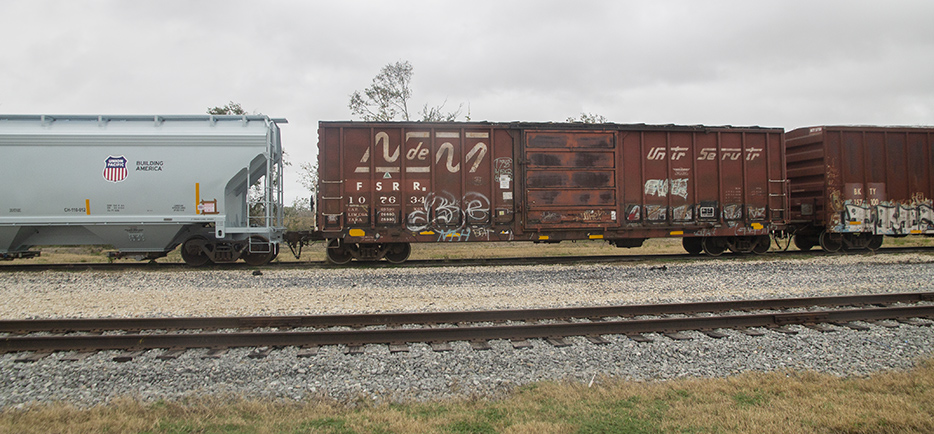 That NdeM paint has to be at least 30 years old.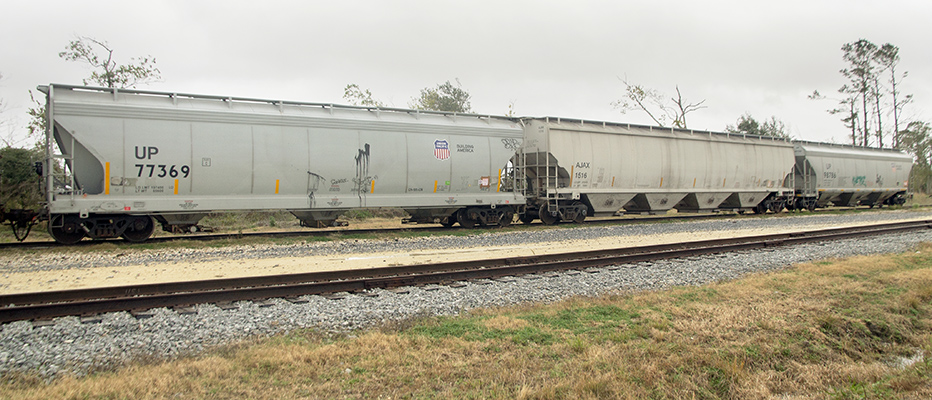 Across the road, here is some debris from Hurricane Laura and maybe from Hurricane Delta, which picked up much debris from Laura and moved it more.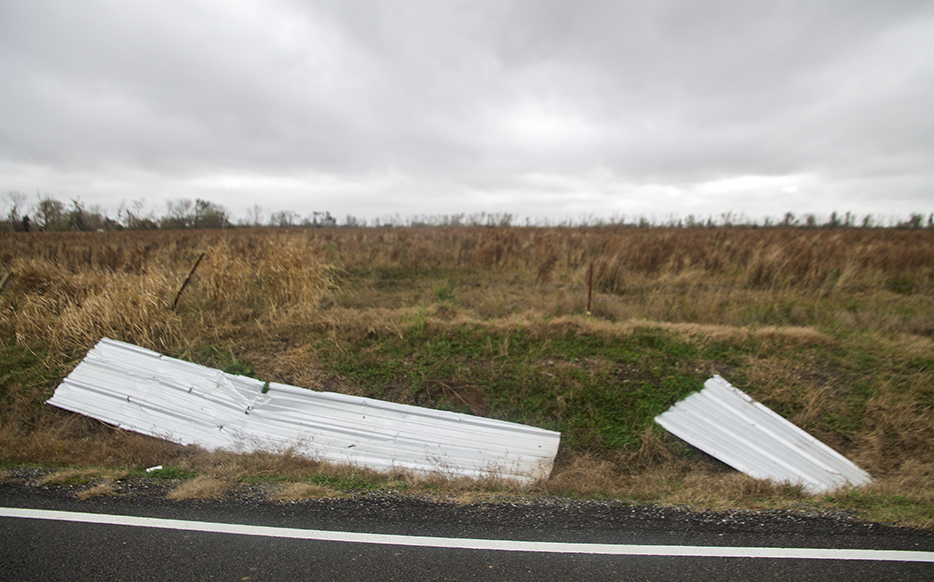 I am not sure what this facility was.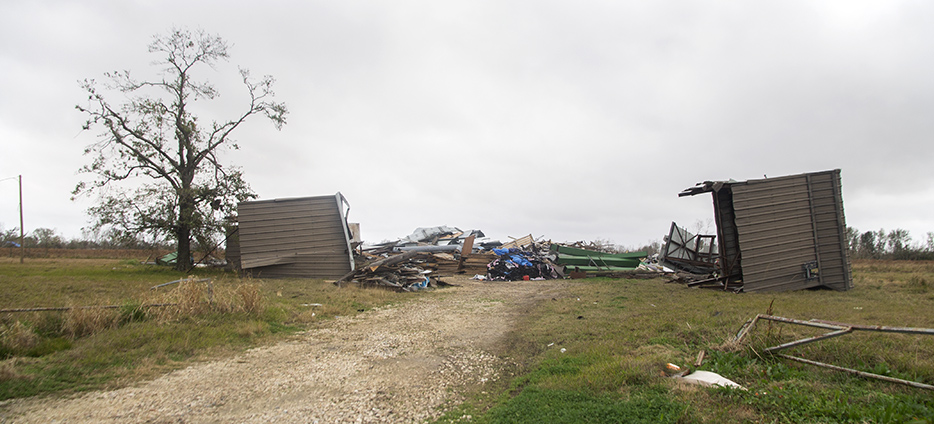 It seems to have been related to the rice mill.

Here is the western part of the mill.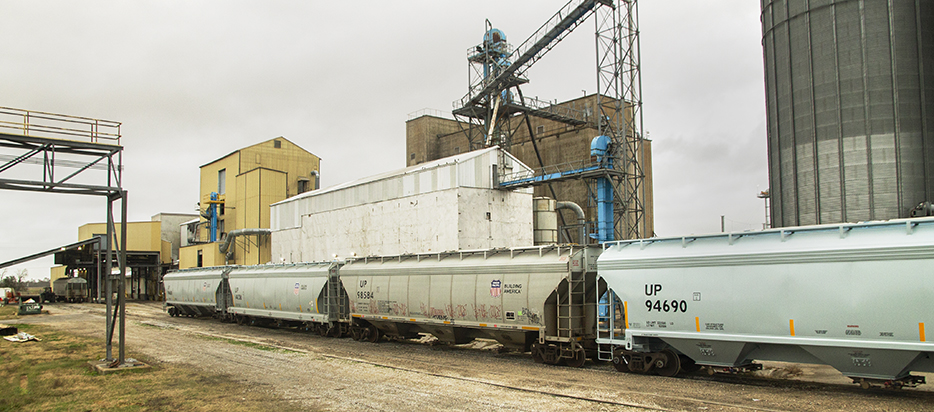 Here is another UP hopper car with fresh paint.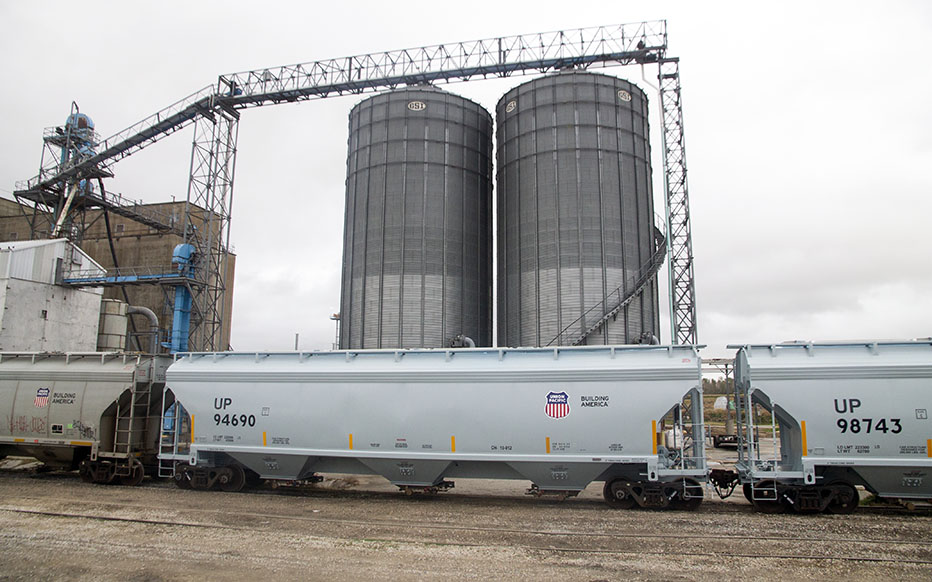 So was New Year's Eve 2020 at the Farmers Rice Milling Company in Lake Charles.
Some 20 minutes later, I am at the major UP yard, the former Southern Pacific yard in Lake Charles, in Lake Charles, where my photography in the year 2020 will end.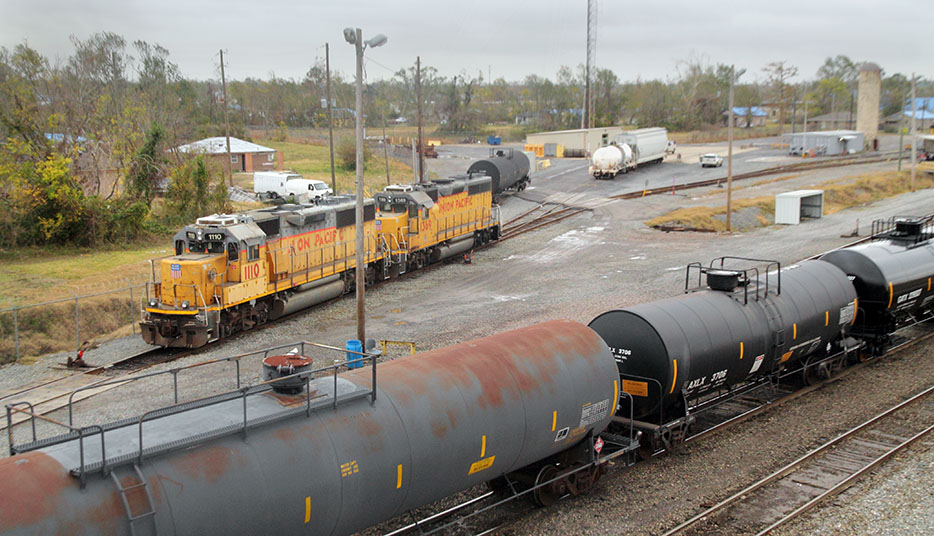 I like GP60s.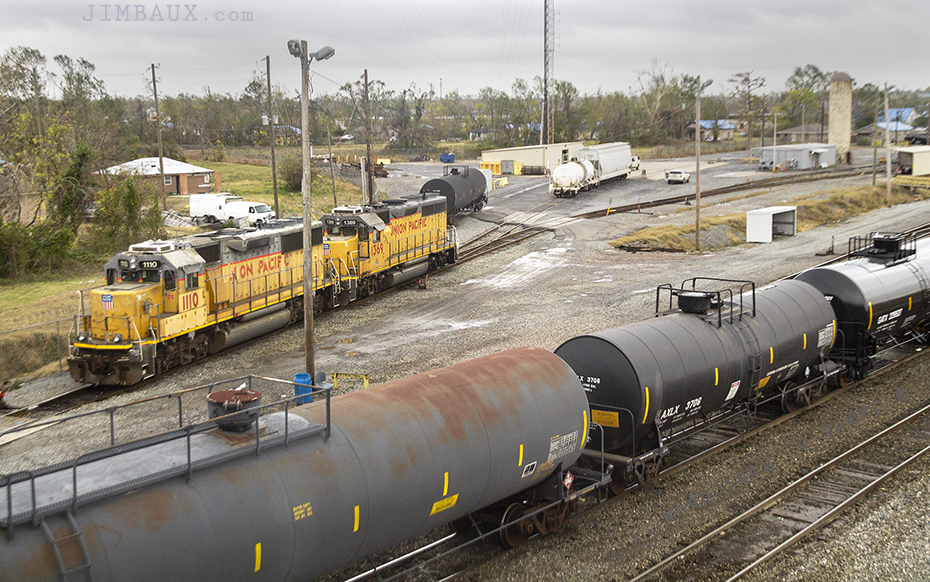 So, for a year in which I had plenty of pictures in different places across the central Gulf South, that right there is how it ended.
There was some severe weather in the area today.
Arrive at the house in Lake Charles at 15:10.
Dammit, we need money.
Also, there is some big Tennessee Pass news today.
I am sorry that I don't have any insightful end-of-year commentary here, on a big photographic day for a crazy, eventful year.
That's all.
Happy new year. Let's hope that 2021 is better than 2020 was.
Peace.
Jim