Hi, and welcome to the December 2009 Sampler essay. The year in which my passport got more use and in which I traveled more miles than I did in any other year came to and end with me in a country other than my own.
What Does It All Mean?
As I mentioned in the August 2009 Sampler essay, I had, though I didn't see it at the time, reached some sort of peak in life. A decade later, the year that I am typing this, I read an essay entitled "Wanderlust Is a Vice, Not A Virtue" that really felt like a punch in the gut but that was, at the same time, a relief.
I don't agree with every single assertion that the essay makes, not all of its assertions with which I do agree apply to me, and I still very much think that I and others – including you, the consumer of my images and the stories behind them – have mutually benefitted from my travels and all that all of us have learned from them, but the reality is that I was indeed using all of these travels as a way to distract myself from problems inside of me, and I was, fortunately, able to admit that to myself as early as the following summer.
Seneca wrote:
Do you think that you are the only one this has happened to? Are you amazed to find that even with such extensive travel, to so many varied locales, you have not managed to shake off gloom and heaviness from your mind? As if that were a new experience! You must change the mind, not the venue. Though you cross the sea, though 'lands and cities drop away,' as our poet Virgil says, still your faults follow you wherever you go.
As I had to finally acknowledge a year later, that was true. A few years later, I had to acknowledge that I am apparently autistic, and that has been a relief, really.
So, I am not entirely sure that the idea that "wanderlust is a vice, not a virtue" is unequivocally true, but the idea certainly has a tremendous amount of merit.
Ending A Wanderlustful Year
Anyway, after a summer that included a robust amount of international travel for a lower-middle-class proletarian like myself, I decided to end the year 2009 in kind without the involvement of any aircraft. Five and a half years before, I had spent the summer in Mexico, getting to, around, and from there in my own automobile; two and a half years later, three years before December 2009, I returned there via air and rented an automobile for my 10 days there. Now, I would be returning for another New Year's trip to Mexico, being in Mexico for the change of the year, and I would be this time doing it in an automobile that I owned. This meant that I didn't get to experience the neat experience of flying to Mexico, but it meant that I got to experience the neat experience of driving through southern Texas and the part of Mexico between Monterrey and the US border.
Aside from a desire to return to Mexico, and aside from a desire to return there when the weather would not be hot, the reason that I chose this specific trip for this specific time is that due to the way that the holiday schedule worked with the day job at the time (school teacher) and due to how Christmas Day and New Year's Day being Fridays (practically on weekends) allowed me to make a week of travel without and still attend all Christmas gatherings with family, which turned out a year later to be even more important, as it would be my grandfather's last Christmas.
Trees Are Extremely Important
The only time that I took out my camera in the month of December 2009 before Christmas was for some stuff at the day job, which you won't see here, and of some trees in the New Orleans neighborhood of Mid-City on the 19th.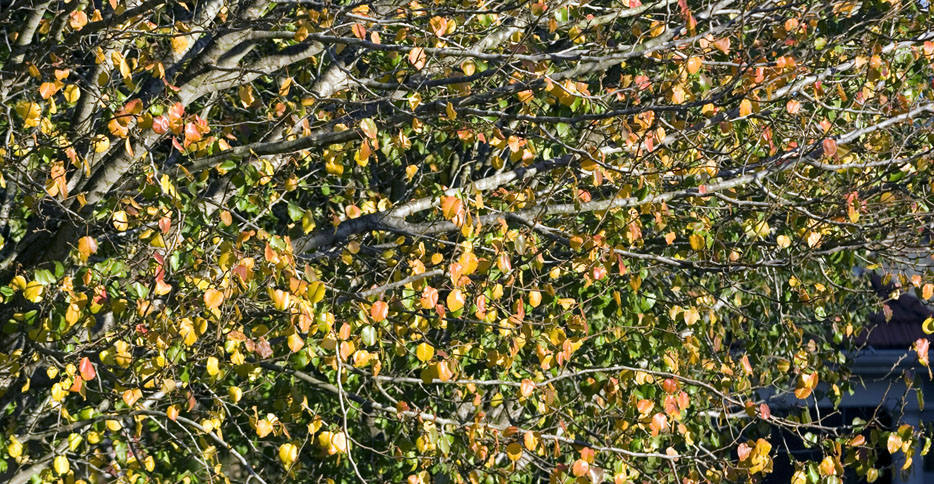 Trees are extremely important.
I also won't show Christmas Day images here for personal reasons.
So, the rest of this post is really about my Mexico trip, and isn't that enough?
Sunday, The 27th
Part of the reason that I do these "sampler" essays is that I lack the time and energy that processing, writing about, and publishing all of the good pictures from each would require but want to get some samples of the story of each of those days published. That's great, but the one problem with that is that deciding which one of many presentable images from any given day to show is itself somewhat time-consuming.
Instead of showing you here an action shot of a train from that day, which exist, I show you downtown El Campo, Texas.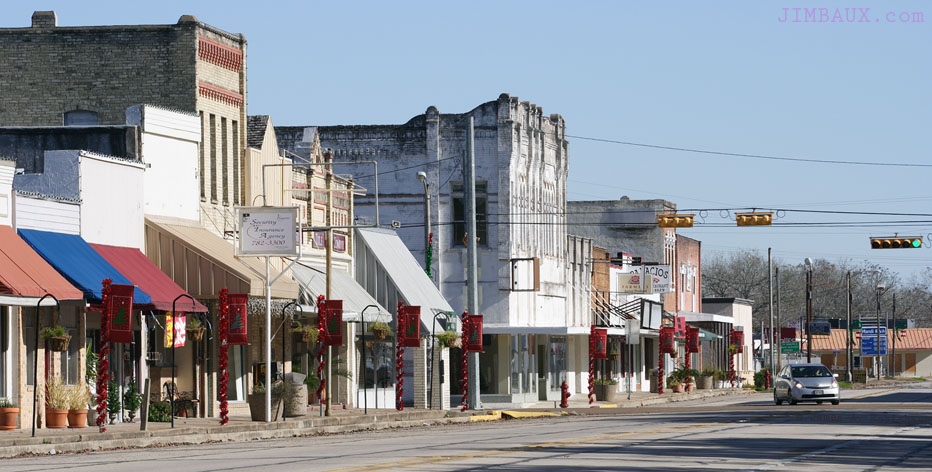 Later that day, I photographed one Kansas City Southern Railway train at El Toro and another at Victoria.
I spent the night in Laredo.
Monday, The 28th
I had real problems crossing the border at Puente Colombia, up from Laredo, because I didn't have the necessary paperwork for my automobile. These processes confuse me.
I don't even remember anymore, but I may have made it all the way to an interior checkpoint, many miles past the border, before turning around and heading back to the USA for the right paperwork.
In any case, three years to the day after I entered Mexico by air over this same area, at 17:13 on the 28th, one year to the day after I shot the M-CSXLAL at Chacahoula, I made this image on the Autopista at Puente Picahos III on my way into Monterrey, the paperwork problem resolved after I had unfortunately made a fool of myself and unnecessarily burdened some American worker in resolving the problem.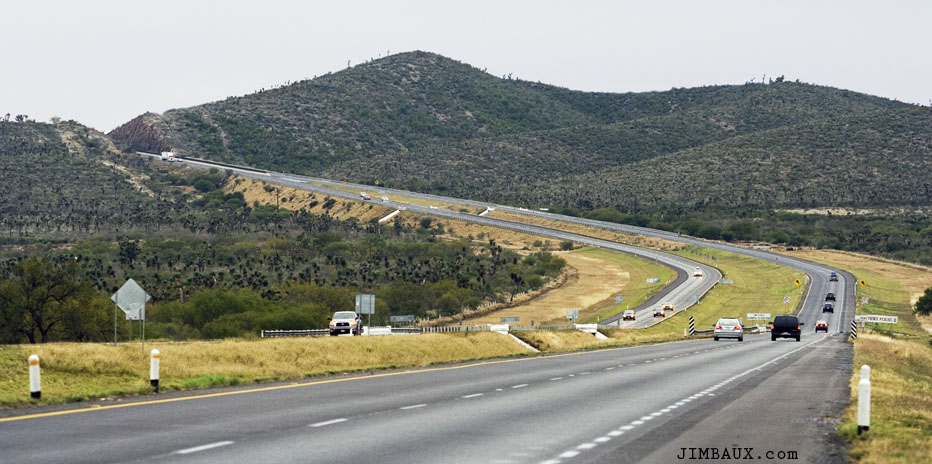 After getting settled in to my room at the Villa Deportiva, I met up with Victor and Arnulfo at Martin's!
Tuesday, The 29th
On my first full day in Mexico on this trip, three years to the day after the first full day back in Mexico of my 2006-2007 trip and one year to the day after I made my first visit to the railroad to Bogalusa, I go foaming!  Of course!
I went northward on the Kansas City Southern de México line between Monterrey and Nuevo Laredo, and I caught the tail end of this northbound KCSdeMéxico train crossing Nuevo León Highway 1.
This is a really interesting area, but views of the track are difficult to access here due to there not being good shoulder space on the highway and various shrubbery. A drone would do wonders here.
Wednesday, The 30th
This was the day, three years to the day after I visited the KCSM Monterrey Yard for the first time and one year to the day after I chased the Chip Local with an interesting locomotive powering it from Schriever to Chacahoula, on which I went to Saltillo, a very memorable day.
On my way there, on my way out of Monterrey, I got this image on Avenida Morones Prieto Poniente.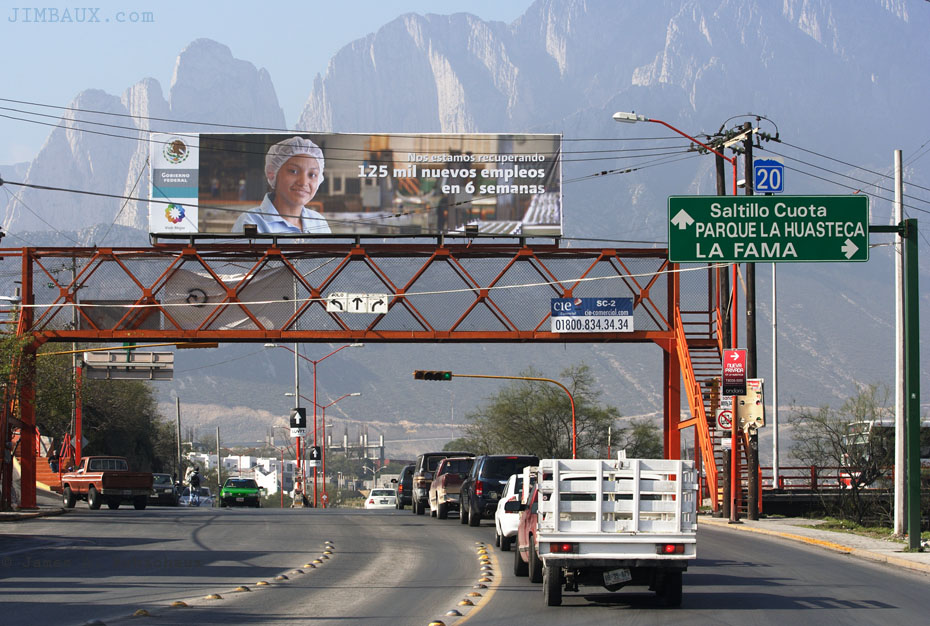 I did two things in Saltillo. I met up with a friend from my time at ITESM, and I rendezvoused with a group of Catholic missionaries from back home in bayouland who were in town for some mission work.
Seeing and hanging out with my friend, who lived in the USA but was from and grew up in Saltillo, was really great. He then accompanied me to the mountainside church where the missionaries were, which enhanced that experience, and, after visiting with some of the missionaries, we parted ways there.
One of the most entertaining and memorable parts of the experience was the shock and awe that the missionaries expressed upon not only discovering someone from their own home at this church but also that he had driven his own vehicle there; they had plenty of questions for me!
Later, I watched them go and hand goodies to the local poor children. I never told anybody until almost a decade later, but something about the entire spectacle – all of these middle class white Americans handing toys to these brown children – just bothered me, just seemed rather grotesque, though I could not figure out what it was.
When the Trump phenomenon happened, I read some critical analyses of this phenomenon, and I felt seen, felt less alone, felt no longer bad for having the bad feeling about what I saw on this second-to-last day of 2009.
Thursday, The 31st
Sinué and I went hunting trains on New Year's Eve, three years to the day after I went foaming on the north line and one year to the day after I chased the westbound Sunset Limited from Schriever to Garden City, but we didn't find anything moving.  Apparently, the railroad was, unlike three years before, shut down for the holiday; that's a recession for you, but it's great that the railroaders got some time off.
We did find this parked train on the bypass track just west of Conexión Norte.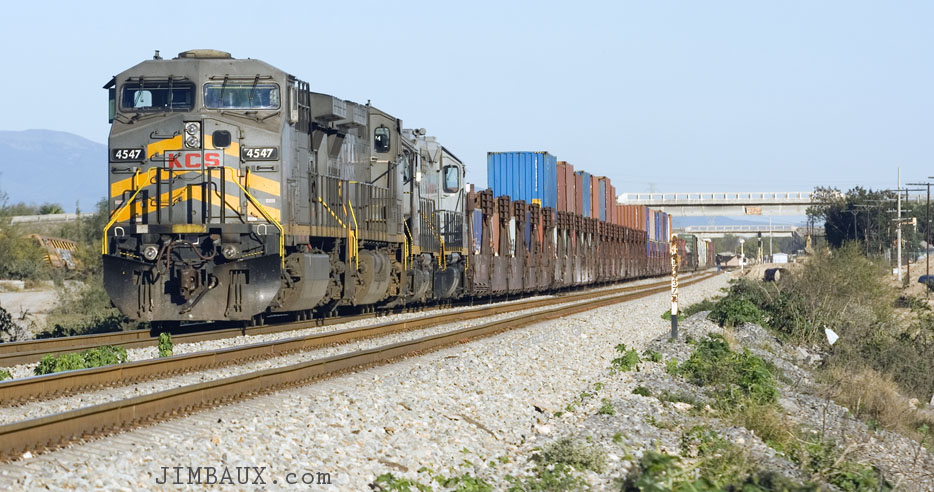 After that, it was time to get to the room and shower and head over to the La Cadena home for the New Year's gathering.
That is how my 2009 ended, in Mexico, after going to the United Kingdom, France, and Canada, and, also, Mississippi, Alabama, Florida, Georgia, South Carolina, Texas, Mississippi again, Alabama again, Tennessee, Minnesota, Washington, Oregon, and Texas again, all in that year.
This was the third time in five and a half years that I visited Mexico. Sensing a changing future for myself, I feared then that it might be the last time for a while, if ever. As I type this a decade later, I not only haven't returned to Mexico, but I also have been out of the USA only once, less than a year later (you'll see those pictures in the July 2010 Sampler essay), as both health issues and finances have precluded such travels.
However, given what the article about wanderlust being a vice, not a virtue, tells us, isn't that the medicine that I need?
This sense of powerless is not what I need, but I also wouldn't need to exert – and expend – power that I lack by more of this kind of travel.
So, that's all for 2009. I hope that you learned plenty. I did.
Merci.
Jbx