[Jimbaux just needed . . . to realign.]
¿Cómo están ustedes?  Have you enjoyed the pictures from my arrival day in Monterrey?  Those were taken the day before the pictures you see below, my first full day back in Nuevo León, and we have some good railroad action on the TFM . . . . eh, KCSM!
Old, New, And Good!
When I spent the summer of 2004 in Mexico, I was taking pictures with that arcane medium known as film (you may have heard of that stuff), which seems unbelievable now.  As soon as the sun rose on the morning of 29 deciembre 2006, I was out by the track, and I'd soon get my first digital Mexican train pictures!  I recorded some scenes that probably could not be recorded today, like a train led by a solid trio of GE C30-7s still in FNM two-tone blue!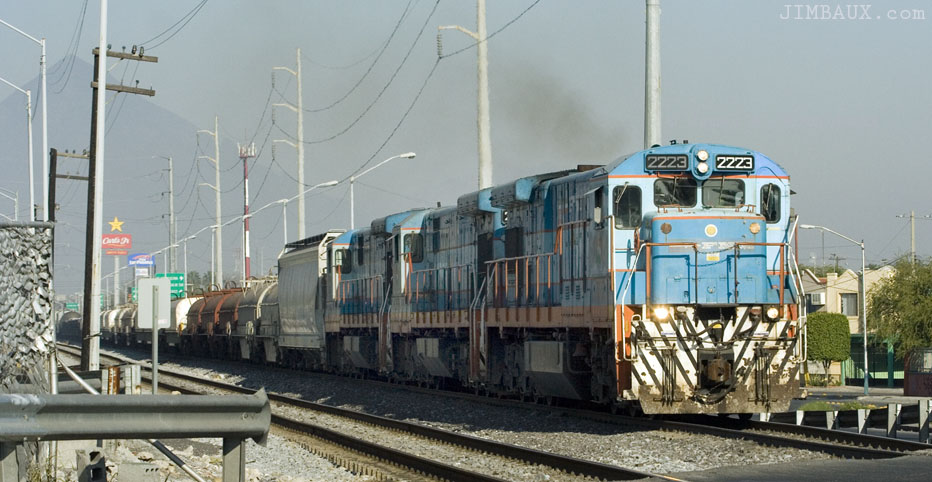 For those of you who don't know, FNM is Ferrocarriles Nacionales de Mexico, the nationalized railway of Mexico until the republic privatized its railroads in the late 1990s.  So, to catch a sold set of locomotives still wearing that paint scheme nearly a decade later is a real treat!
The above shot is of a southbound manifest soon to enter the city yard.  Most likely, all of the traffic in the train is bound for Monterrey or Matamoros, and those coil cars are probably empty and on their way to being loaded with local steel, as this train has already passed Conexión Norte, where the bypass to the rest of the KCSdeMéxico system is.
Oh, and I think that I ate at that Carl's Jr. a few times!
You Also Would Not See This In The USA
Here's a shot of something that you would not see on railroads in the United States anymore.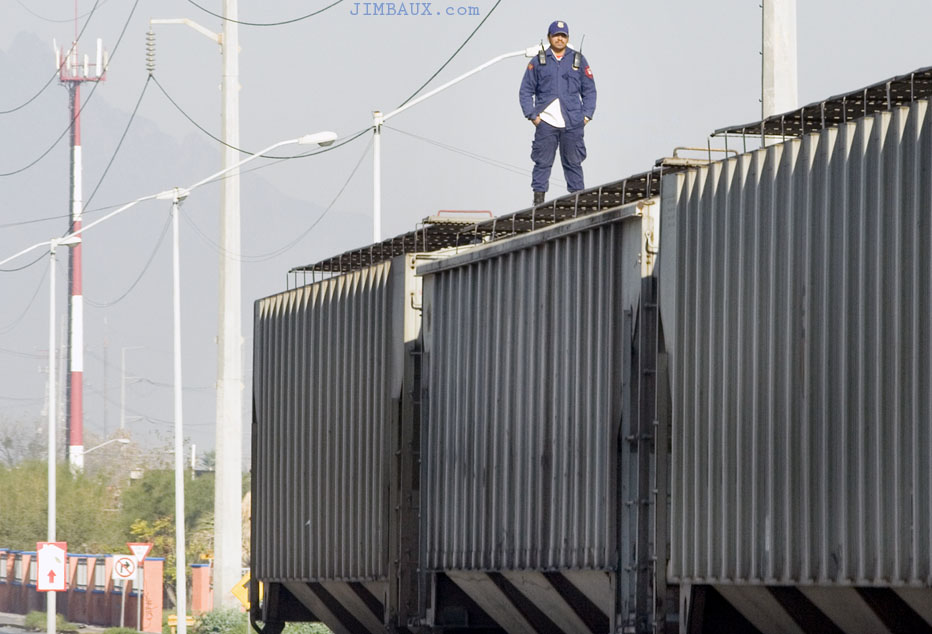 A security officer riding the top of the car like that would not be standard practice in the USA, and I'm not even sure it's legal, but I think that it was common a century ago.
The Catch Of The Day . . . . And Maybe The Entire Trip!
So, after shooting the above train, I kept going north as was my plan to see what was happening at Conexión Norte, which is actually outside of Monterrey in the community of Escobedo, and, if nothing at there, to also check out Salinas-Victoria and the line going north from there.
There is a little steel industry just west of Conexión Norte.  Imagine my delight when I got there and saw this: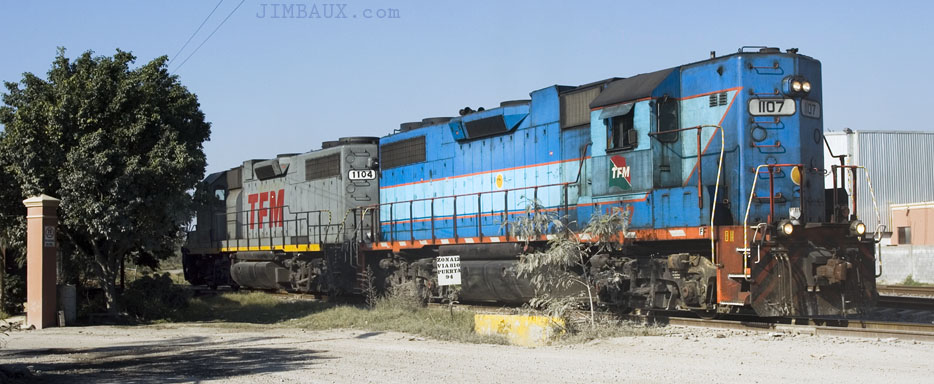 Wow!  A high-nosed GP still in FNM two-tone blue!  Wow!  Sweet!
Please note that this was in late 2006, and such a shot is impossible today.  Not only have all of these locomotives been painted out of this scheme, but none of them retain the high-noses today.  This would be the first, last, and only time I'd ever see one of these things in action.
Look, It's Chip!
Well, maybe not, but the switch to this industry is just under a bridge, and since this Norte Local seems to be one of the best railroad jobs in the area, perhaps I've met the KCSM in Nuevo León version of Chip, eh?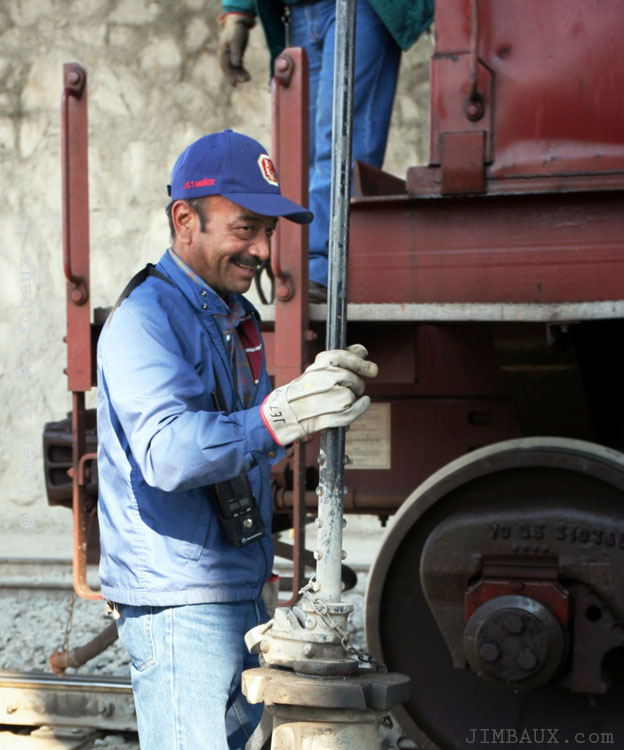 Check out the KCSM hat that he's wearing too!
Rounding The Curve Back To The Old Mainline
There is a wye arrangement of trackage at Conexón Norte, and the Norte Local is coming off of the relatively new bypass track and turning more than 90 degrees to the south to go back to town, back to the yard.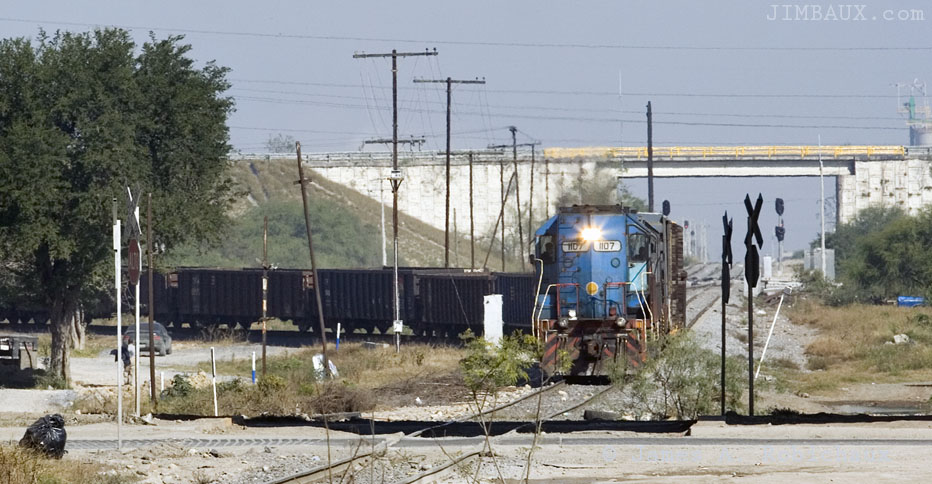 The photo above is looking almost due north, and you can see that there is a double-track mainline going north under the bridge.  The majority of rail traffic there takes the conexción track (hidden behind the train in the picture) there to bypass the city for points farther south in the republic.  Even the Salinas-Victoria intermodal facility that serves Monterrey is north of here, meaning that you won't see any intermodal trains coming into the city on the old mainline trackage in the foreground where this local is going.
Here is a going-away shot from the same position: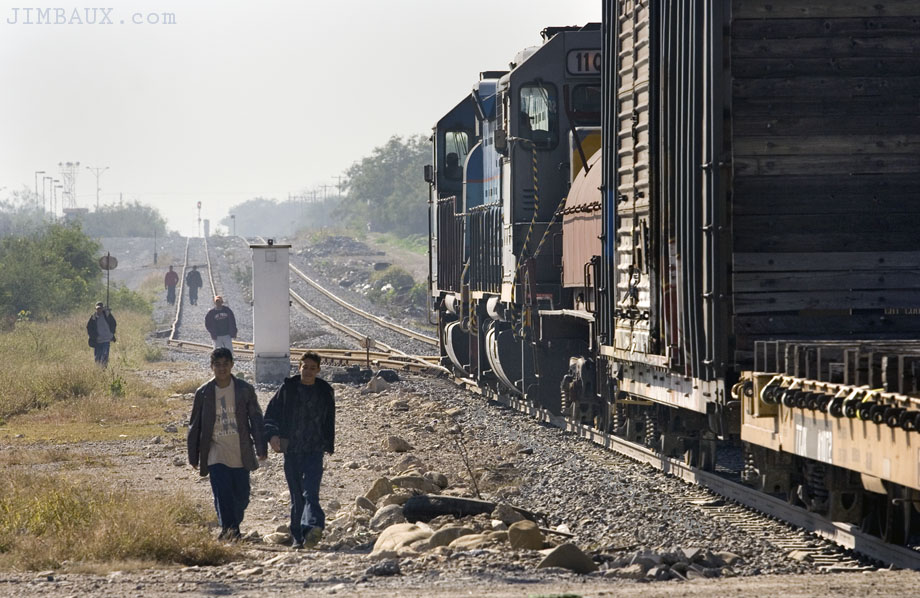 It's hard to chase a train around here, particularly once one gets to Monterrey proper, where a motorist has to deal with a multitude of traffic lights and legions of intense motorists.
Back In Monterrey
There's only a chance for one more shot before he disappears into yard trackage away from Av. Manuel Barragan.  Here it is: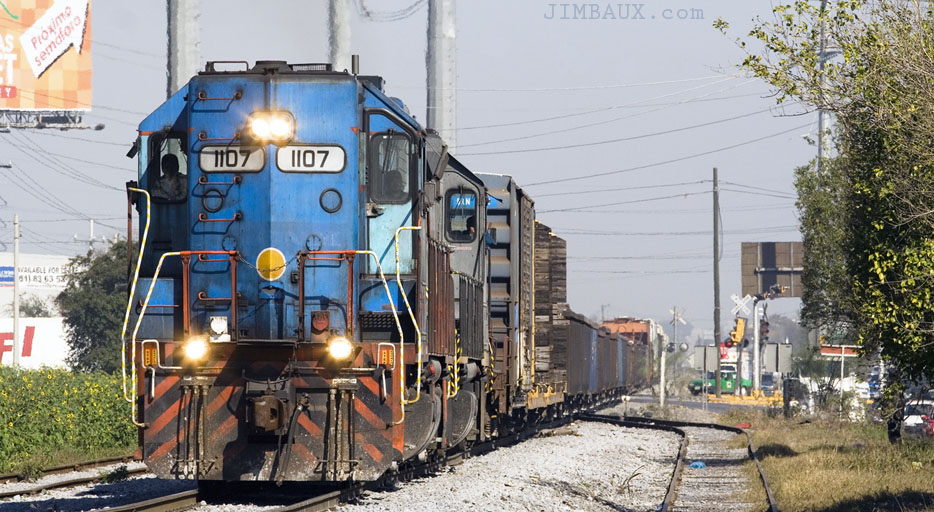 Do you see the faded "FNM" band on the nose of the locomotive?
Northward Into The Desert
Now it's time to head back north again, and this time bypass Conexión Norte (since there's no longer anything happening there) and go to some neat places.  The first stop is the Salinas-Victoria where the TFM intermodal facility is.  The problem is that it's really hard to photograph, especially in the morning.  So, let's shoot a shot of the rental car and the mountain.
How's that?  Here's a shot of the fence, what appears to be a mesquite tree, and the mountain.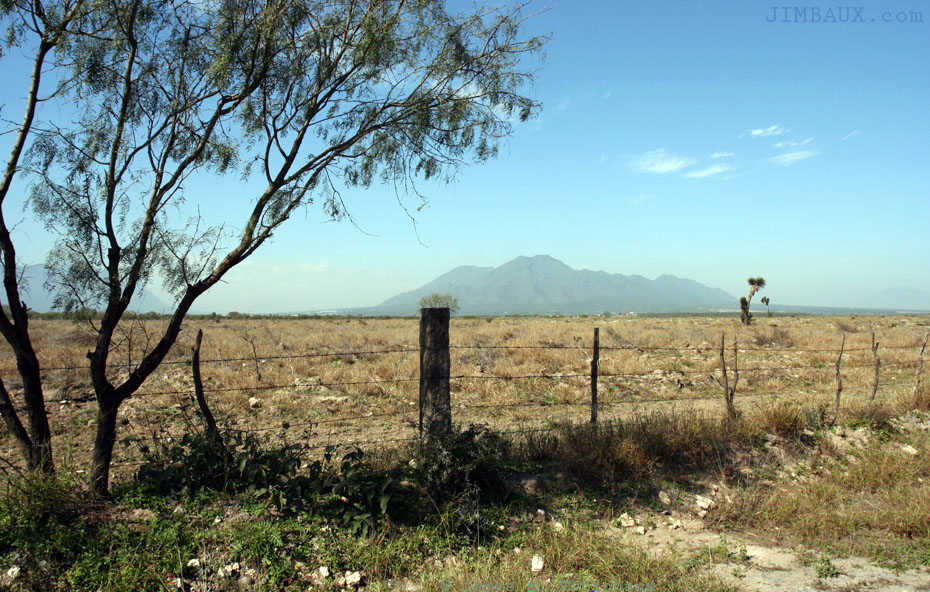 The intermodal facility, which you won't see here, is on the other side of the highway.
"The Chicken Siding"
A few dozen miles to the north, we come to what I call "The Chicken Siding" since I don't know its real name and since there are two chicken feed places, conveniently located to receive railcars of American corn, right there alongside the track.  Here's a southbound intermodal train.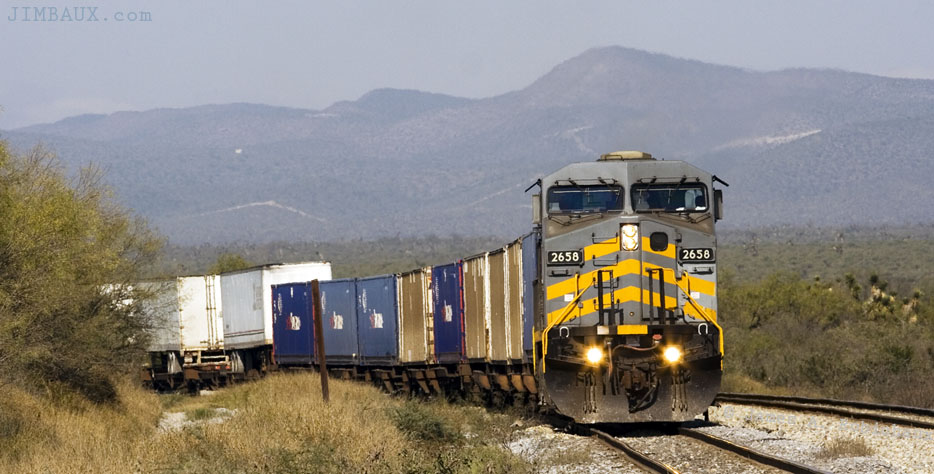 Yep, Toto, we're on the Kansas City Southern de México, but we're not in Kansas anymore, nor or we at Rich Mountain nor anywhere close to Louisiana!
Foreign Rail
Yes, it looks like some of the rail along this line is foreign.  Check this out: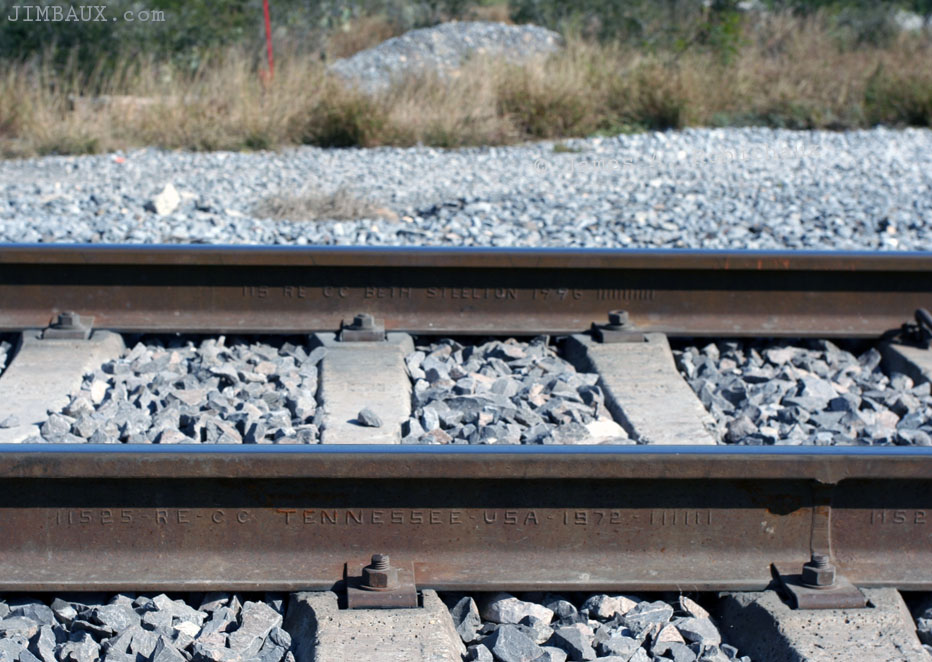 Stay tuned.  You'll see something similar soon.  For now, we need to go back south.
Have You Missed The KCS's SD60s?
The former TFM SD70MACs came to the USA, apparently in a trade for these things.  Here are four of them leading a unit coke train from the USA at Leal.
Leal, due to its position just north of Conexión Norte, is a relatively new crew change point.  One of the tracks (I think the one at right with the auto racks) is new, and you can also see a third track being built in the distance.  I seem to remember this place being single track, and I'm positive that the line between here and Salinas-Victoria (a few miles to the north), in 2004.
More Foreign Rail
Here's some more foreign rail for you, but note that this one comes from a far different place than the one you've seen above!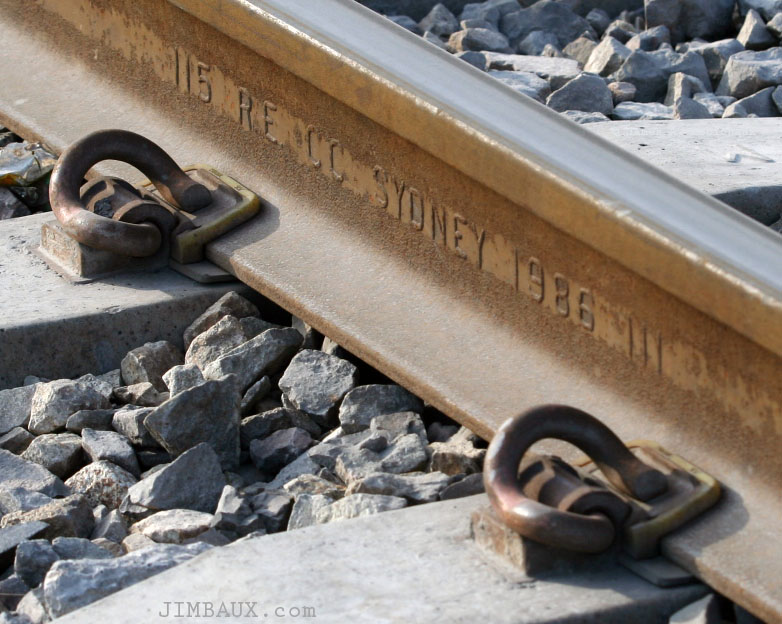 How's that?  The KCSM uses Canadian (Sydney Steel in Nova Scotia, thanks to The MEXLIST Man for the correction from my earlier statement that this rail was Australian) and American rail!
Let's Go To Town!
Let's just drive around Monterrey for a little while.  Maybe we'll find some trains.  Maybe we'll find some other interesting stuff along the way.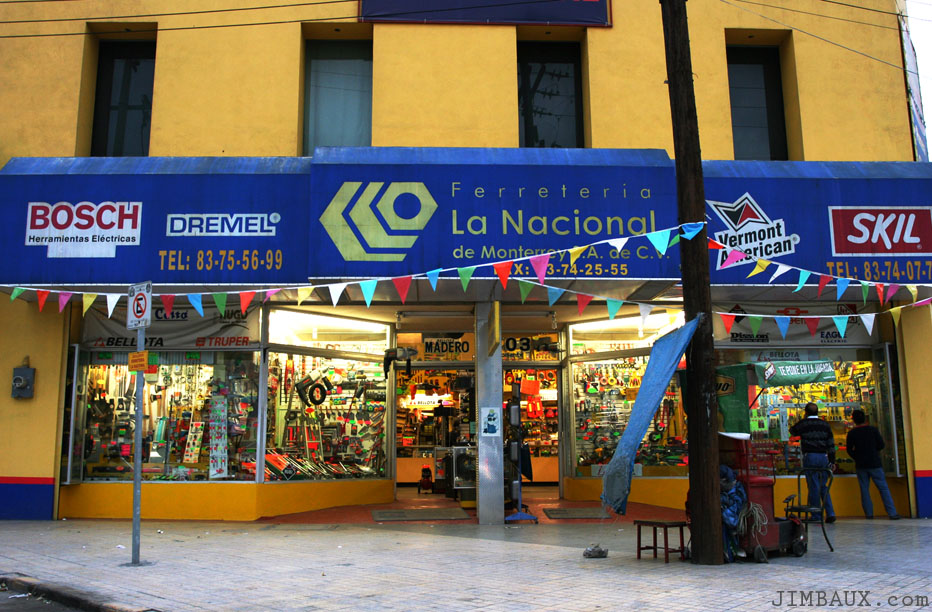 Especially as someone who has a construction background, I like to photograph a good hardware store – la ferreteria.
Hey, it's not Monterrey without street musicians!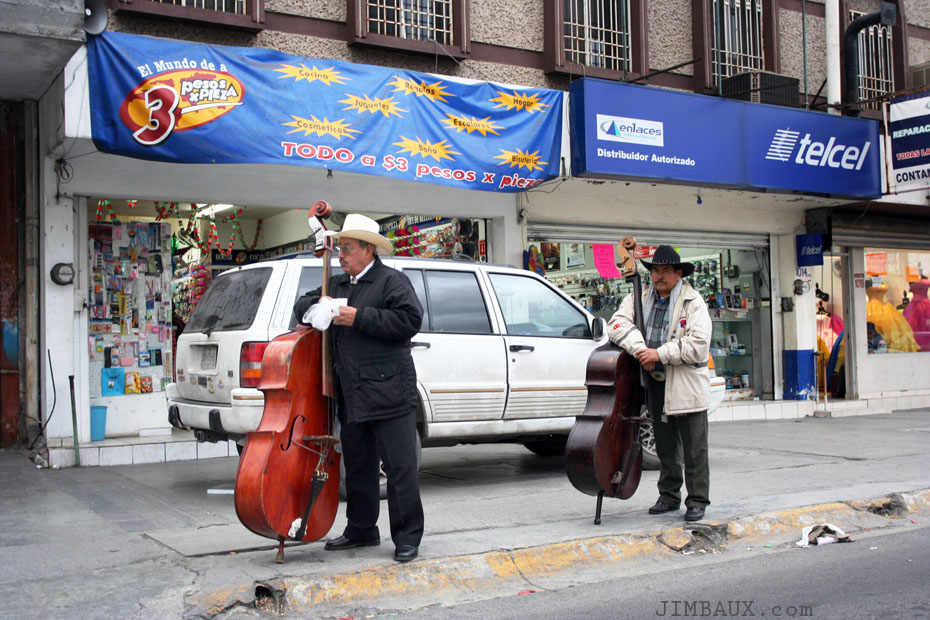 It seems that one of them was taking a food break.
A Switch Job
My last photo subject of this date, of 29 December 2006, would be of this pair of TFM switchers switching the Cemex plant along Av. Ruíz Cortines.  The locomotives have just emerged from the industry track, and the trainman in the below picture, clad in his denim KCSM shirt with a KCSM shield, already having lined the switch back for the industrial branchline mainline, has just radioed to the engineer to begin shoving back towards the train.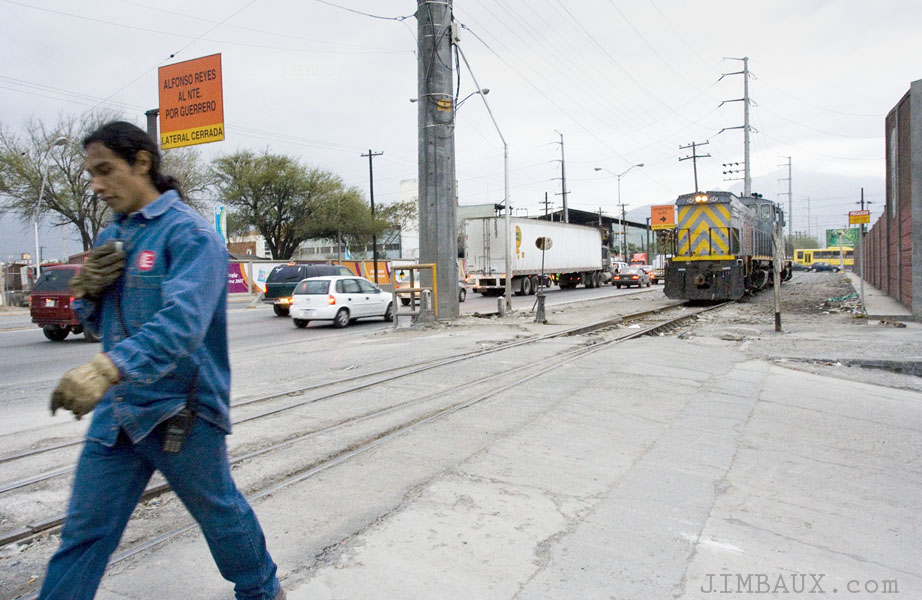 Here's a shot looking back in the other direction toward the TFM switchers rejoining what remains of their train before pulling forward, presumably to go back to the yard.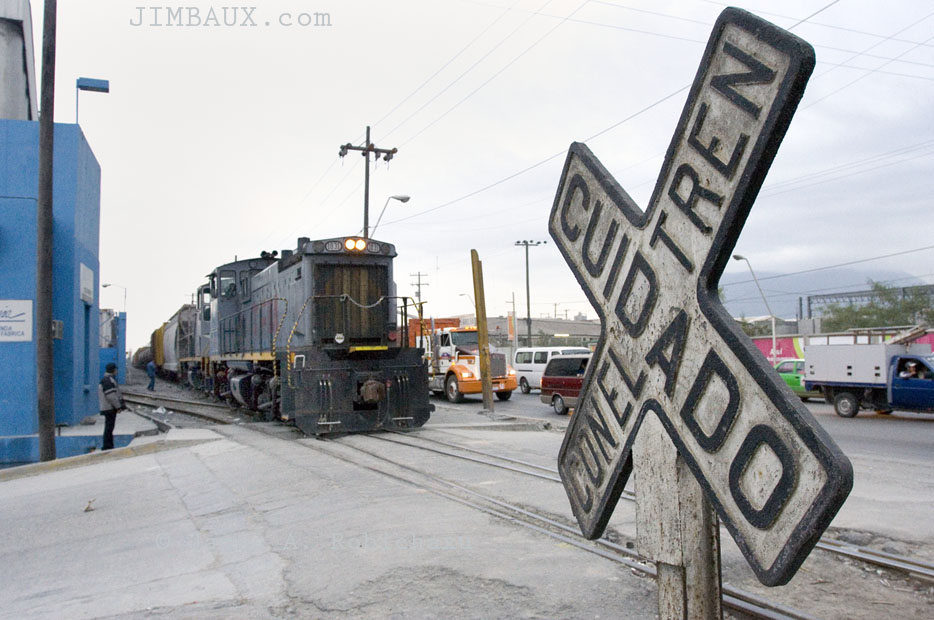 I show this last show below to show you the Cemex logo on the Cemex boxcars, which I presume to be loaded with bagged cement or possibly concrete blocks as opposed to the raw cement that would ride in hopper cars, but I guess the hombre on the scooter adds a nice touch.
That's it for this installment, dudes. If you're enjoying this photographic foray into Mexico, remember that we have nine more days of this!  If you're enjoying this and would like to keep up with the updates, join the Facebook fan page if you haven't already done so by going to the below site and clicking "Like" when logged into Facebook.
I hope that you have enjoyed it all!  Just writing about it really takes me back to that great time and place where I'd love to return (and did in 2009-2010.)
Thanks.
Jimbaux