[If Jimbaux ever falls in love again, he will be sure that the lady is a friend.]
Shai
I heard that song as I was out-and-about on Friday; I hadn't heard it in a really long time, but I remember when it was new when I was a kid in the early 1990s.  The song makes plenty of sense, I guess.  Ah, what do I know?
Friday was quite ridiculous, but I hope that you at least enjoy the pictures from the stupidity, and these include both some shots that have never before been seen on Jimbaux's Journal, as well as I shot I had never done at all.
An Unexpected Assignment
If you've been paying any attention at all lately, about the only train I really care to see or shoot on the Lafayette Sub is Union Pacific's LLS51, the Morgan City Local out of Avondale, also known as The Chip Local, named for the conductor who has held down the job for as long as I've known, more than a decade.  Other than that, I really don't care much about any of the other trains on this line (at least, the ones that normally run daily, particularly during daylight hours), even the westbound Sunset Limited, but I have photographed that several times in the last two weeks, only because it is predictable and that Chip usually follows it closely behind.  Since I can't be by the track all of the time (and wouldn't want to be by the track all the time even if I could be), I make use of my limited time by the track to photograph The Chip Local and whatever else I can grab in the process.
However, an unexpected call to glass was heard around 08:30.  I received word that a BNSF track geometry train was making its way eastbound, that it had passed through New Iberia at around 08:00.  Sweet!
I went out west in search of it, but it apparently got by me, as I heard the Chacahoula detector spout out an axle reading of 16 axles.  I hurried east to catch him, and I neglected to set my exposure, as I still had it set really wide open from the pictures I took at the Bridge Lounge the night before.  I got to Horseshoe Road, and the gates were already going down!  Man, this thing is really cooking!  I fired off one terribly overexposed shot, and then I was able to tighten things up with absolutely no time at all to spare to get this fuzzy shot.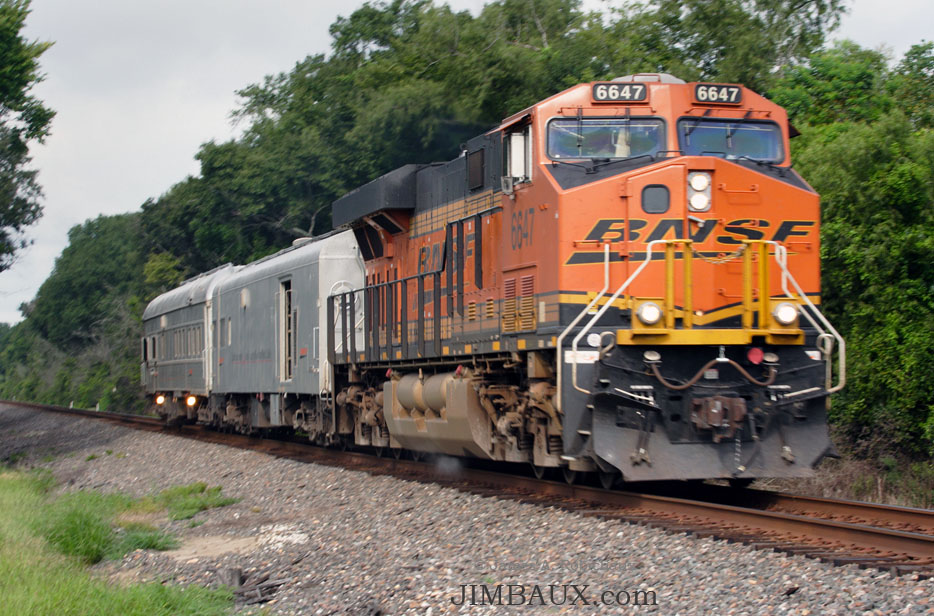 Yeah, I didn't mean for this shot to have that 'motion' look to it, but, again, I had no almost no time to set the exposure and had to do the best I could.  We're at f/14 and 1/100 second here, obviously not what  I would have chosen had I had more time, but maybe it's not so bad, right?
In any case, this is the first BNSF train that I photograph in 2011!
After that, it was time to leave foaming behind for a few hours.
Back To The Track
Wasn't that a song from Metallica's Master Of Puppets?  Anyway, after 13:00, it was near to Amtrak time, and hopefully Chip time too.  I arrived back on the scene just in time to record the #1 blasting through Chacahoula.  For some variety, instead of standing on top of my truck, I sat on top of my truck.  See the difference it makes?  Oh, I do!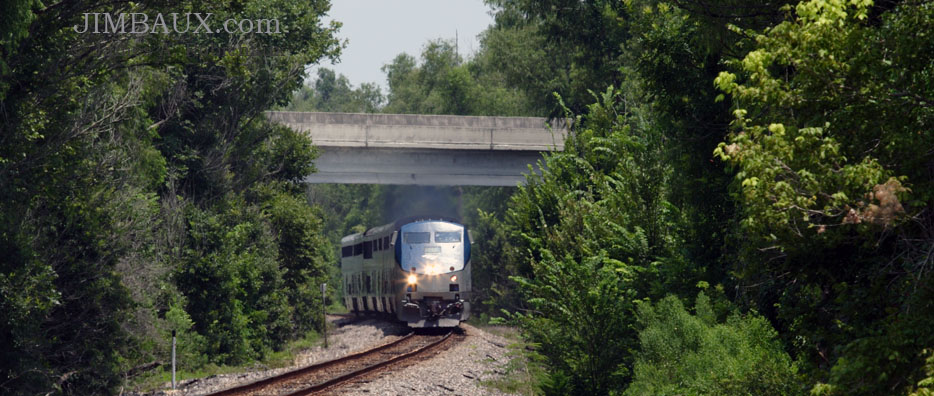 How do you like the wider view that doesn't crop out the high-sun-lit foliage?  Anyway, here's a view a few seconds later: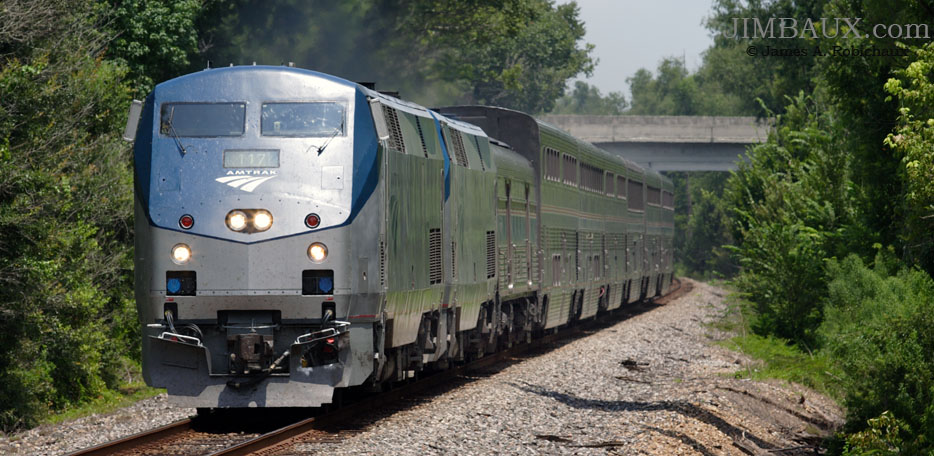 Amazingly, the colors were good enough today that I did not convert the above image to greyscale!
Where's Chip?
Now, it's time for Chip to pass through.  Well, at least that's what I'm hoping!  In a perfect world, he'd show up at Chacahoula 12 minutes after the #1, like what had happened two days earlier.
This Is Not A Perfect World
There was no sign of Chip, at least none that I could ascertain, and I didn't feel like wasting away the afternoon waiting.  Actually, the day before, he only went as far as Raceland (MP 41), and The Railgoat texted me that Chip arrived back at Avondale around 14:00 (only four hours after his on-duty time) with one tank car.  Although I hadn't thought of it at the time, there was actually very good reason he'd make it past Schriever (MP 55) today.  I'll reveal the reason later in this post!
Regardless, in so many ways, this is not a perfect world, so I went and did other things for the next several hours.
Back To The Track – Part II
After getting all of my other work done, it was time to go back to the track again just to see what was happening, possibly in the vain hope of catching Chip.  Before I could see the track, though, I could hear a crew over the radio talking.  What sounded like an engineer told what sounded like a conductor something about the "Amtrak depot," and I was wondering why BNSF crews would refer to the building as the "Amtrak depot" since BNSF MofW uses it as an office.
Imagine my surprise when I got back to the track and saw this: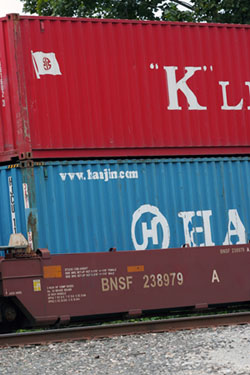 Wow, an intermodal train!  I had not seen an intermodal train here in a few years ever since UP took all of its through trains off of the Lafayette Sub (and onto the Livonia Sub) in late 2008.  The BNSF intermodal trains, the few that there are a week, usually run in the middle of the night.
The funny thing about this thing was that with all these Hanjin containers, it didn't look like the BNSF intermodal train to/from New Orleans that I'm accustomed to seeing.
UP Is Back!
When I finally had a chance to see the power at the head end of the train – two UP SD70Ms – I finally realized that this wasn't a BNSF train afterall!  Here's why that took me by surprise, for those of you not versed with the ways on this line.  BNSF owns the line due to the UP-SP merger, and UP retains trackage rights over it.  For much of that time, UP used the line in "directional-running," only sending its westbound through trains via the Lafayette Sub while the eastbound trains moved over the ex-MP ex-T&P Livonia Sub.  However, when the Great Recession hit three years ago, traffic sharply decreased, and in December 2008, UP rerouted its remaining westbound through traffic onto the Livonia Sub, leaving only the MAVBT (the Avondale-to-Beaumont superlocal that has setouts and pickups in New Iberia and Lake Charles) and the LLS51, the Chip Local.
Why is the UP sending this train via this line?  I wonder if it periodically sends trains this way just so that crews can maintain qualifications on this line, but, then again, this may be due to the derailment in Mineola, Texas, on the UP.
Is The INOLB Back From The Dead?
I didn't see any CSX or Pacer containers on this train.  It looked like all of the containers were maritime containers.  Is the INOLB back?  The INOLB was UP's maritime intermodal train that came from the CSX in New Orleans originating on the CSX in Atlanta and going to the port of Long Beach, California, but the train was abolished right after Hurricane Katrina when it and the domestic intermodal train were combined and consolidated into one train.  Is it back?
Nope; This Is Something Else
Actually, the containers didn't seem like the those that are on the regular Atlanta-California train.  I would soon learn that this was the IAVLB – yes, an Avondale, La., to Long Beach train, originating only about 50 miles east of here!
Anyway, here it is, shown parked in the siding at Schriever with the conductor on the ground.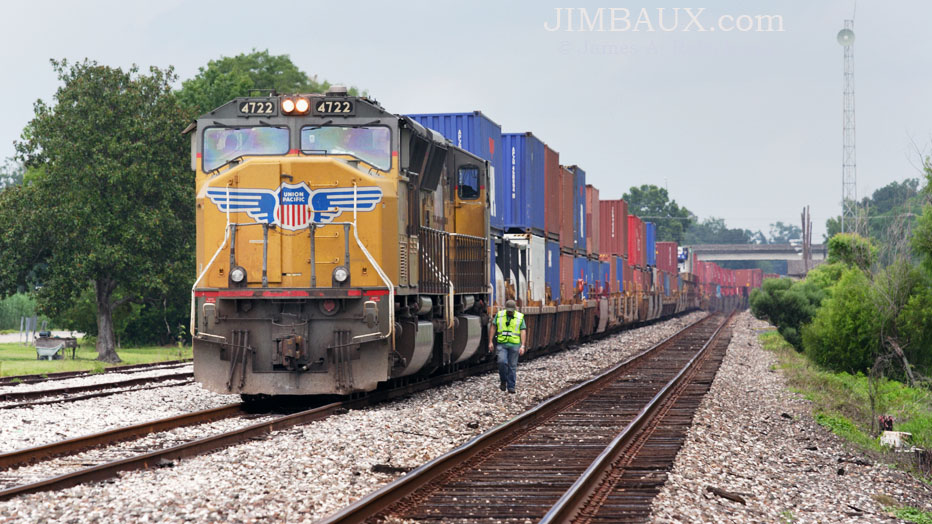 Because the train was in the siding, and because the conductor walked from the rear end to the front of the train, I assumed it was waiting for the #2 (the eastbound Sunset Limited), but comint later revealed that the eastbound on which this train was waiting was a BNSF train.
Where's Chip?
Comint also revealed that Chip had indeed made it through here already and was about ready to go back east from Boeuf or Ursa.  I guess my assignments this afternoon consisted not only of rendering the IAVLB but of finding a way to shoot Chip as he moved eastbound.
Eastbound Baretable?
Apparently, the train on which the IAVLB was waiting at Schriever was an eastbound BNSF baretable train, which I thought was really odd.  Anybody know why this happened?  This must have been a really important train to have the conductor of the IAVLB close the east switch at Schriever for him.  Also, the dispatcher said he had a ride for the crew back to Lafayette as soon as the train got to Avondale.
Chacahoula
I guessed that the only thing I really had to do was shoot this neat IAVLB at Chacahoula, a shot that is not good when trains have plenty of locomotives, since it doesn't allow one to see much of the train, but this train only had two big locomotives on it.  So, I ought to be able to clearly tell that it's a stack train!
Chicken Time
Since the IAVLB was a really long train, and since he'd be coming out of the siding, I knew I had time to stop at the store in Chacahoula and get some fried chicken and a Cherry Coke before the train showed up.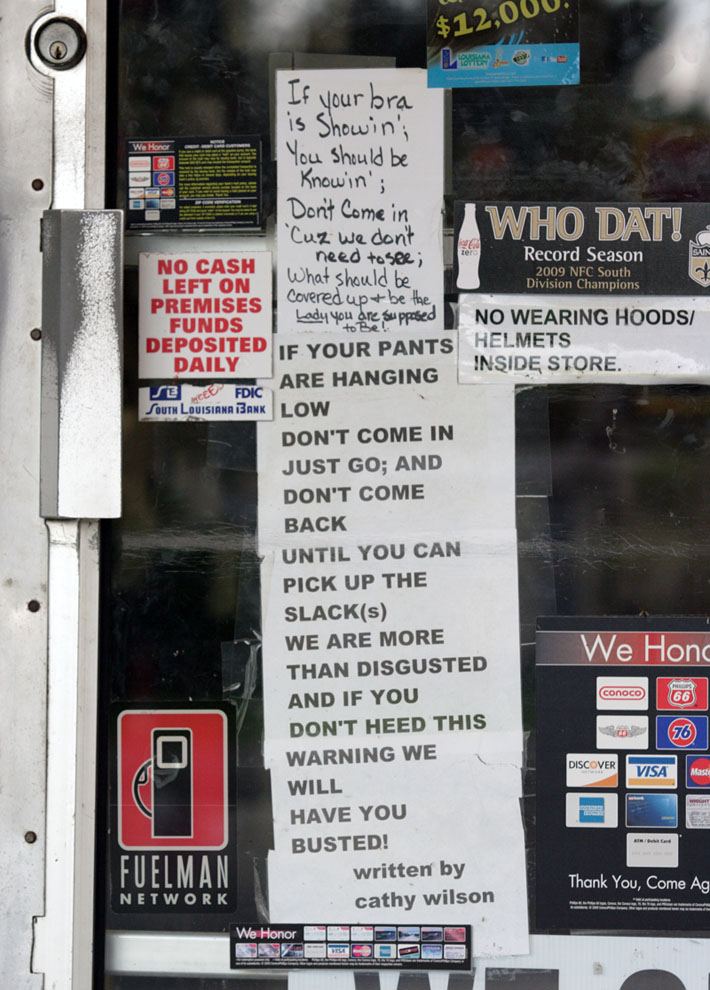 Is that the way it should be?  You tell me.  What do you think?
I May Become Even More Famous
A friend joked to me that if I kept photographing the #1 and the Chip Local at Chacahoula and posting the results on the internet that eventually I'd have groupies show up to see me, perhaps even to take pictures of me as I stand atop my truck to get the pictures.  Well, while I was sitting on top of my truck munching down the chicken tenders waiting for the IAVLB to show up, a car passed southbound, and a woman in the passenger seat took her smart phone out and took a picture of me!  Well, I sure wish some fortune will come with my increased fame.
Anyway, the train finally showed up not long after I had put down the last of the chicken tenders.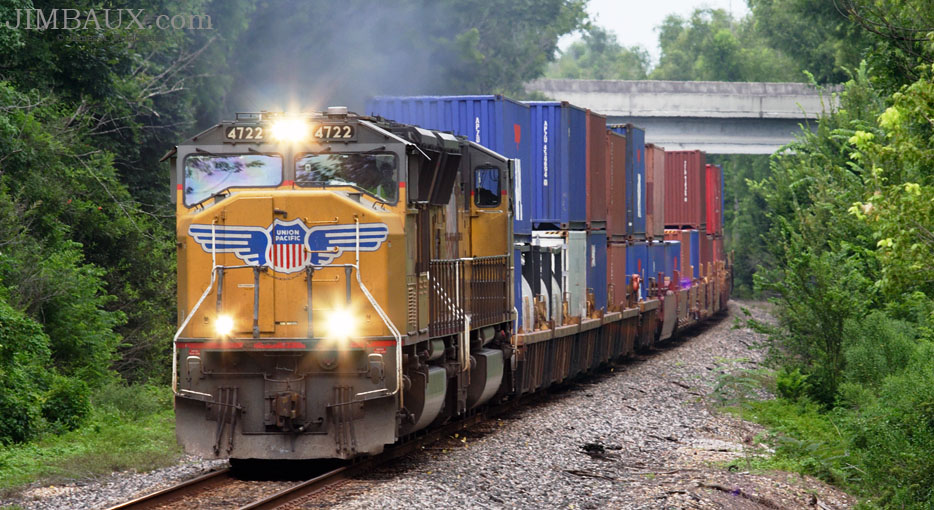 Well, that wasn't too bad now, was it?  What do I do now?  Oh, here's the store, and hold your mouse over the picture to see more about it in the filename.

Anyway, before the end of the train passes, I get this shot: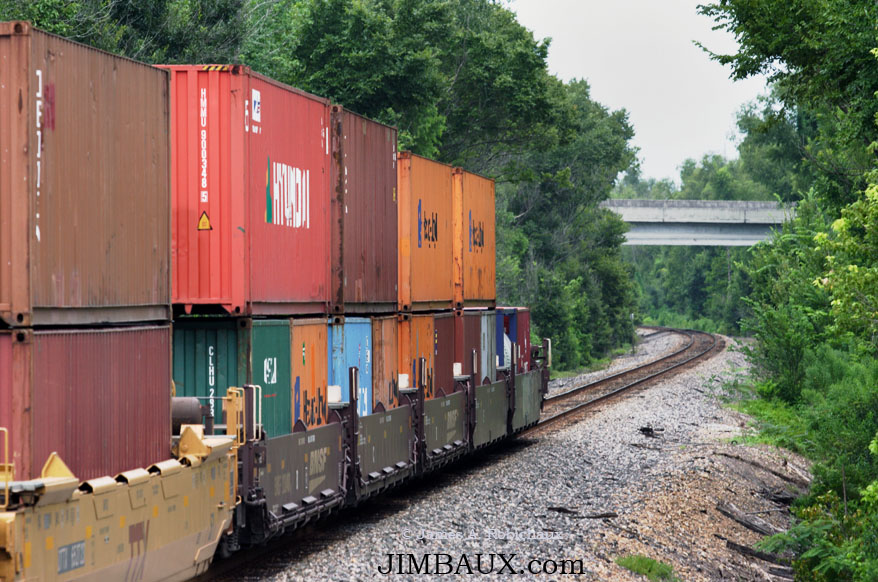 As far as I can remember, this is the first intermodal train I photograph at this shot since going digital more than six years ago.
I am really wondering what is in those containers.  It seems to me that not only is southeastern Louisiana not a big manufacturing center, but that the stuff that is manufactured in southeastern Louisiana — like ships, boats, and refined crude oil — isn't the type of stuff to fit in standard shipping containers.  There must be Zapp's potato chips somewhere in that train!
Now what do I do?
Go West, Young Man
And that's just what I did, even though there was another westbound behind the IAVLB.  I wanted to find Chip and also possibly get another shot of the IAVLB.
I got to Boeuf where Chip was, but I didn't take the time to visually verify that he was there.  However, he had permission to leave only after both westbounds were past him.
I decided to go farther west than I had yet been in 2011 and photograph the train at the Bayou Ramos bridge, where you may have seem my pal Porkchop's picture there too.  For the first, last, and only time on this day, I pulled the 70-200mm/f2.8 lens off the camera and put that piece of junk (but not for shooting people), the 15-85mm/f3.5-5.6 on to snap this photo where I had not taken a picture in several years.

The first time I did the above shot was probably in late 2003 (and no earlier than 2002), and one day then, a Saint Mary Parish sheriff's deputy stopped to see what the heck I was doing.  After I told him, he said he had  never heard of such a hobby.  Besides going to work to protect and to serve, apparently, there was another reason why he had gotten out of bed that morning; he learned something!
To Wyandotte?
Had my head not been metaphorically stuck in a warm, dark, and stinky place, I'd have headed west a couple of miles, put the big lens back on the camera (which I eventually did anyway), and done the overhead shot at Wyandotte, a shot that I don't think I've done since going digital more than six years ago.  I was worried that if I had gotten too far west, that Chip would start going east and that I'd never catch him.  I did not yet know that he was waiting on that second westbound still.  Had I not been worried about Chip, I may have taken this rare opportunity to photograph a stack train in beautiful lighting at Bayou Sale, but today was not the day to do that.
I went back east to Boeuf, found Chip at Ursa, and saw the westbound BNSF manifest train but did not see its power.
Chip And Carbon Black
Earlier, I mentioned that I should have known that Chip would indeed go this far west today.  It wasn't until about the time that I got to Boeuf that I finally put two and two together, and I need to give a little history lesson here.  See, back in the day, the Louisiana & Delta Railroad would move its UP tonnage from New Iberia eastbound to interchange with the UP Morgan City Local (i.e., Chip) at Morgan City, Ursa, or Schriever.  Nearly all of this traffic is carbon black.  Well, apparently, BNSF gave the shippers a better rate on this, and much of this traffic has gone to BNSF.  The eastbound UP tonnage that L&D generates has dwindled to the point that it only moves once weekly, on Thursdays, when the Schriever job goes to New Iberia to pick it up.
So, this being Friday, and with the knowledge that Chip only went as far as Raceland the day before, I should have known he'd come this far west, and he did!
Some Of You Are Already Sick Of The Long-Hood Forward Operation
Yes, and now that we're about to see Chip go eastbound, some of you will be happy to see the HLCX 3863 short-hood forward!  The trick was to find a shot (or two.)  I knew that the west siding switch at Schriever would be good, but that is almost 15 miles away, and there's got to be something better between here and there!
A New Shot
Up until now, all of the shots that you've seen in this article are shots I've done at least once before, even if long ago.  Much of the right-of-way is in a swamp, and much of it is shrouded in trees, there are not many curves, and I knew that finding a shot would be tough, especially if I had never done it in all my years of foaming on this line.  I found something acceptable at Benoit Crossing in Chacahoula, about a mile west of my more 'famous' westbound shot (eastward view) in Chacahoula that you've already seen in this post.
A Jimbaux Original
I often say that the eastern part of the Lafayette Sub now bores me because I've done all of the shots there several times, and it's just not thrilling or fun anymore because there's nothing new about it.  Well, this evening, I found a new shot.  This is a Jimbaux original; I've never done this shot before, and, as best I can tell, neither has anyone else (especially since not everyone is able or willing to climb atop his truck, and not everyone has good telephoto glass), nor is it likely that anyone else ever will.
How's that?  I'm not sure what you think of this shot, but I happen to like it.  We're actually not done here, because we have one more shot to show from this location about three seconds later.
The train had one locomotive and 27 cars, more than half of which were carbon black covered hoppers.  You'll also notice a string of open-top hoppers on the rear; you've already seen these going west two days before.
Yeah, I don't really care for that triple striping on the nose where the UP shield once was, but it's nice to see the other end of this locomotive, isn't it?  Here's a more cropped and grey version of the exact same picture as above.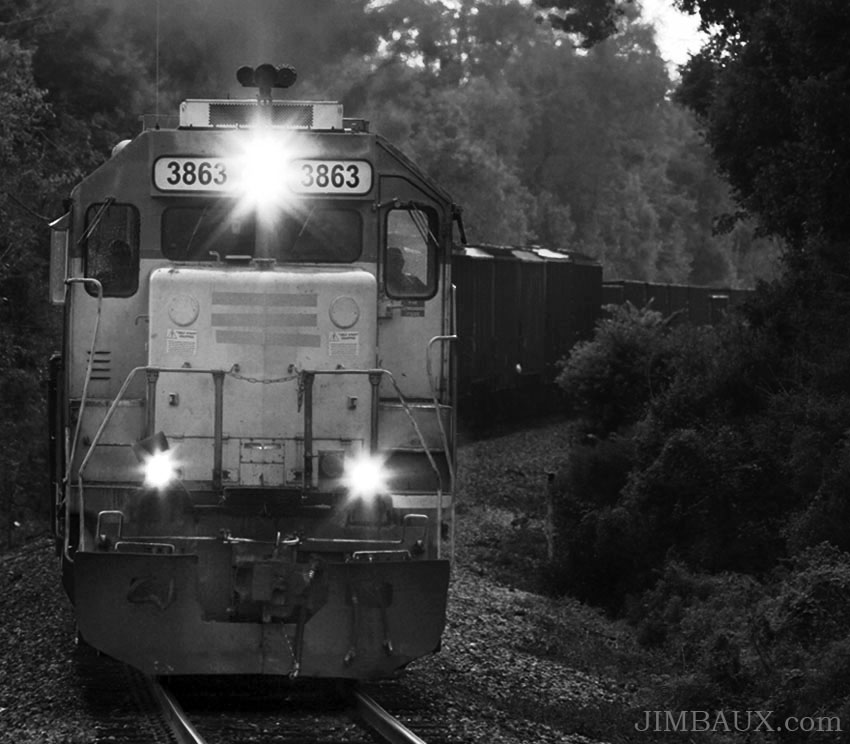 How's that?  Although I've shot the Chip Local several times in the last two weeks, this may have been the first time Chip noticed me, since all of my shots before were of it westbound, and he'd have a tough time seeing me with the long hood forward since I'm on the south side of the track for my famous Chacahoula shot.
The Grand Finale
With only a few seconds to spare, I made it to Schriever to photograph the train blasting through the west end.  I remember the first time I tried this shot of an eastbound train in the late afternoon, probably around 2006.  I was on the phone with a foamer friend, and I told him that an eastbound was coming.  Since it was late in the afternoon, he said, "You can't do nothing [photographically] with that" [since the train isn't 'properly' lit.]  Just to prove that it could be done, I took a picture in the same place as the one below and that almost looks as good as this:
How's that?  By this point, Chip recognized me.  He had a warrant all the way to Salix, meaning that there was no way I'd be able to beat him to the shot at the Kraemer Road crossing.  So, that was a fine end to the day's foaming, and I got far more than that for which I had hoped or planned.
So ends today's photo journey.  I hope that you have enjoyed it!
Remember, if you like what you see here, I don't always post stuff to the foamer forums; so, please join the Facebook fan page by clicking the icon below, click the "Like" button once you get there (and are logged into Facebook), and then new updates will show in your news feed!
Maybe I really will have groupies show up at Chacahoula if site readership increases enough!
Salination Normal: All Fouled Up?
In the unlikely event that you're not tired of reading at all after reading all of this, I direct you to this article on water desalination from National Geographic.  Humanity does have a looming freshwater crisis, and it's important that we do something about it.  I mean, you can't blame everything on Obama, can you?  Oh, wait; some of you can.
All for now . . .
Jimbaux