[Hey, Mister, can you help Jimbaux?  He's a loner on the run; he's just looking for tomorrow, and he ain't going to hurt no one.]
Ah, yes, Jon Bon Jovi's Blaze Of Glory album, something that I associate with the Colorado (and northern New Mexico) narrow gauge railroad system, for reasons of it being very new music the first time I explored that area as young teenager.  I've never actually seen the movie, and I don't particularly care to see it, for I'm afraid that it might spoil the music for me!
The Past, 2001 and 2006
Today, I present to you something very different here on Jimbaux's Journal.  Today, I present to you the oldest of my photographs that I have yet shown here on Jimbaux's Journal, only the third time I present scanned film here.  (I went digital in the summer of 2005.)
The Land Of Enchantment
The state of New Mexico has a very special place in my heart.  Indeed, it is a "land of enchantment," and Jimbaux spent plenty of summers there as a teenager starting in the 1990s with family.
I Don't Ever Seem To Get Enough; Still, I Guess I Can't Complain
(You're not listening to today's song?)  The sad thing about the photograph that I'm presenting here today is that it was the last time I went to New Mexico.  I've wanted to get back there very badly since then, but it hasn't happened.  I hope that it will soon, but, as the song says, I guess I can't complain, since I've been able to visit, explore, get to know, and imbibe many different places since then.
We see below the morning of 8 August 2001 in the hamlet of Chama, New Mexico, a place that is a living museum, a truly amazing place.  This is a well preserved part of a once vast network of narrow gauge railroads mostly in southwestern Colorado, but also in the extreme northern parts of New Mexico.  For those uninitiated about railroads, "standard gauge" in North America (and much of Europe) is 4 feet and 8.5 inches between the rails.  The gauge for the former Denver & Rio Grande Western line you see below is three feet, which was good for building railroad lines into the steep mountains.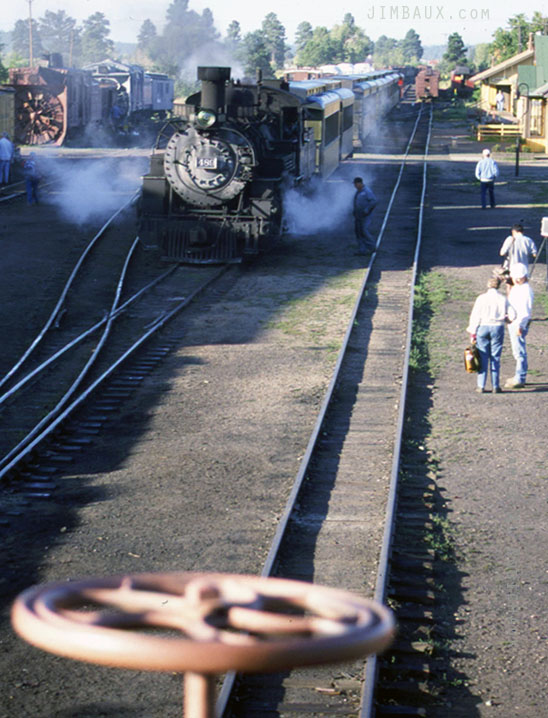 Why was I standing on top of a boxcar?  Well, as a few of you already know, Jimbaux is something of a carpenter too, and I was part of a group of volunteers restoring antique equipment.  It was a great honor to be working not only on this old equipment, but also with people from not only around the country but also around the world!  My work partner for that week was an older man from Australia, but I do not remember his name.  One thing I do remember well was that since I was the young buck there, I was the one on top of the boxcar pulling up with a rope the part of the roofwalk with the grab irons that we had pre-assembled on the ground!  Fun times, and I wish I really wish that I could return.
I Didn't Find A Truth; I Only Found An End
One thing that we see above is some rather raw photographic talent; if I were standing atop that boxcar now, I'd compose the photograph a little bit differently.  Care to guess what I find deficient about the above picture?
No?  Well, the main problem, and the only problem that I see with it, is that I left a little bit too much dead space between the brake wheel and the locomotive.  This could have been corrected had I merely squatted a bit lower to close the distance between the two objects (or stood a bit further back to achieve a similar result.)
It should be noted, too, that as I've recently written, I got my first SLR camera in May 2001 with the help of my father.  It was a Nikon N80, and, thanks to digital technology, it was soon obsolete.  However, I had been doing SLR photography since the summer of 1998 with my father's 1960s Pentax camera; coincidentally, the first time I used it was in these same places in New Mexico!
'Cause What You Get In Life, You Take It
I lament that I can't make it back to the Land of Enchantment and to the Cumbres & Toltec Scenic Railway, but I should not fret.
Summer 2006 On The Branch
Since I posted a picture above that is also of a subject near (or maybe far) and dear to me, I ought to post some pictures taken five years minus one day later of a subject that it is indeed both near and dear to me: the Lockport Branch.
They Say Good Things Come To Those Who Wait, But It's Life That Goes So Fast
As I wrote in February the first and only time I've yet featured the Lockport Branch on Jimbaux's Journal, the Lockport Branch is probably not long for this world; there hasn't been a train on it in about two-and-a-half years.  In all likelihood, the only train that will ever run on it again is the one that pulls up the rails.
On 7 August 2006, just a little bit more than a year before Valentine Paper in Lockport, to which the four boxcars in the below picture were bound, shut down for the last time, I snapped the below pictures in a place where a train has not run in more than two years, a place where vegetation is reclaiming the track much like the sugar cane is seemingly swallowing the train seen below.
Don't you love how the train appears to be just wading through the sugar cane field.  Actually, the train is about to make a very sharp to turn to its left; the track goes out to the right frame of the picture, but you can't see it behind the soon-to-be-harvested sugar cane!
Winners Are Losers, And Losers Will Have To Face . . . All Those Yesterdays
Further down the line, the same train (on the same day) is seen at one of my favorite photo locations on the line, approaching Myrtle Drive.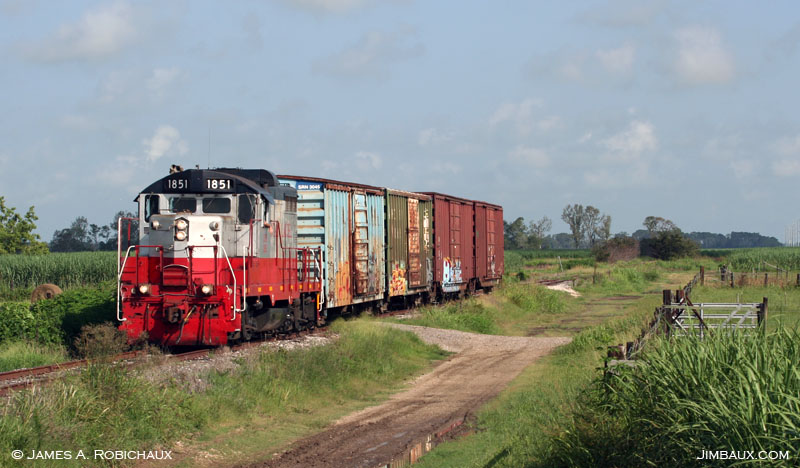 I'm not even sure if the LDRR 1851 is still on L&D property, or, if it is, is still in that cool red-silver-black Mountain Laurel paint scheme that I miss so much!  Below, we see the going-away shot of the train from essentially the same location.
That's about where the photo record ends that day on the Lockport Branch.  I seem to recall that I had a dentist appointment that day, and that must be the reason why I abandoned chase of the train that day.
Apparently, after my dentist appointment, I got back by the tracks just in time to not only see the L&D Schriever job, the train you see above, arrive back in Schriever, but also to see the westbound Sunset Limited arrive there with the private car Hialeah on the rear.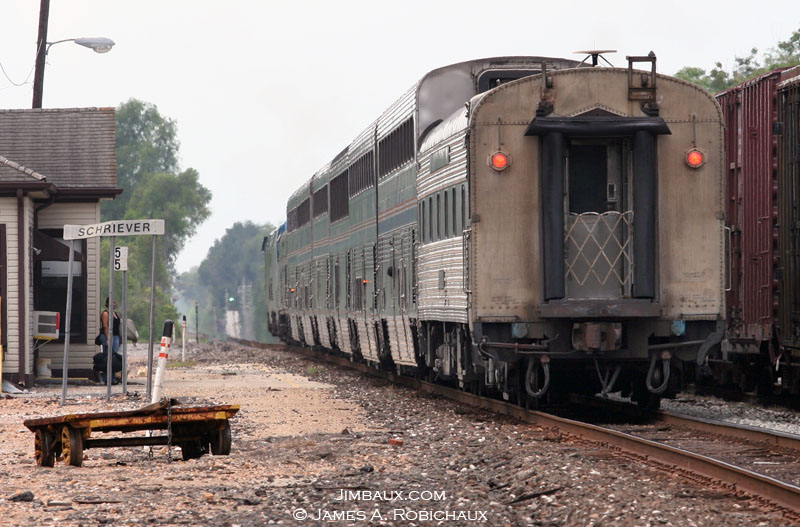 Schriever is a flag stop, an unmanned station, the first stop the #1 makes after leaving New Orleans.
Have The Ghosts Of Justice Brought You Here To Me . . . To Taste The Barrel Of A Loaded Gun?
(You're still not listening to today's song?)  Thanks for accompanying me on this journey, not only into my past, but meaningful parts of it in meaningful places.  Remember, if you like what you see here, you might want to click on the below icon when logged into Facebook.
For those of you reaching this via some posting on some internet forum for railroads or photography, remember that I don't post all updates there, especially those that don't have anything to do with railroads, especially those groups specific to some railroad, area, or even a train (like the Sunset Limited.)  So, joining the Facebook fan page is, for now, the best way to be alerted to site updates.
Each Day You Kiss The Rising Sun
Thanks for stopping by and visiting.
All for now . . .
Jimbaux