[Jimbaux is listening to "The Warmth" by Incubus, a song that he associates with the seemingly-doomed Lockport Branch.]
The Lockport Branch
The pictures I present here today were taken within about 1,000′ of where my grandfather was born in Valentine along the eastern bank of Bayou Lafourche.  These pictures were also taken on the day that I took more pictures than on any other day of my life.  The total picture count that day was more than 1,200, more than 9GB worth of raw images!  Until yesterday when I processed these shots, I had never processed any shots from that day.  I had neither the time nor the appropriate medium to express them, and Jimbaux's Journal is not even the best place to put them; my yet-to-be-launched site will be.  Anyway, what that means is that until now, nobody has ever seen any of these pictures from that monumental day, though I often get requests from people: "When are we going to see those Lockport Branch shots?"
Some background information about today's subject matter is warranted.  These images were taken at the end of the Lockport Branch, a 14-mile stretch of railroad from Raceland to Valentine along the eastern bank of Bayou Lafourche, Jimbaux's homeland and the homeland of his ancestors.  Growing up along railroad branchlines, with their simplistic and pastoral nature, has led me to a fondness of branchlines, especially as they are the stretches of railroad most likely to be removed.  Although the rails are still in place in the pictures you see here taken two years ago, in all likelihood, only one more train will ever pass here: the one that pulls up the rails behind it.
The pictures here were taken on Thursday 5 February 2009.  This was the last ever railroad delivery to Valentine Chemicals, though it was not by the choice of the customer.  The closure more than a year before of the adjacent Valentine Paper facility doomed the Lockport Branch, as the less-than-monthly shipments from Valentine Chemicals were not enough to justify keeping open a 14-mile branch of railroad.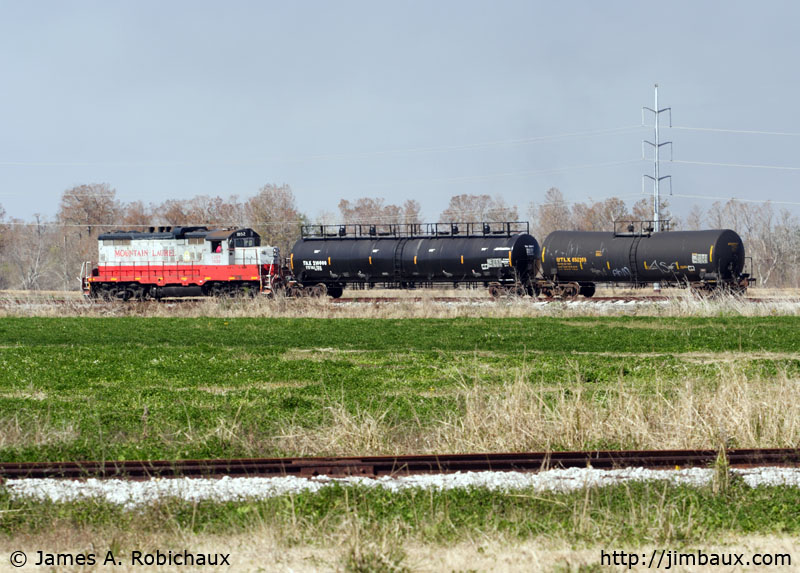 In the above picture, the track in the foreground is the spur into the Valentine Chemicals facility, which is unseen to the left of the frame.  The train off in the distance is shoving two tank cars along the branch mainline toward the track seen in the foreground.
Some months later, another train came to pick up these tank cars, but I wasn't able to be there to witness it.  So, what you are seeing here is the second-to-last train on this railroad, something I keenly knew when I was taking these pictures.
Death and Funerals
As I was out taking these pictures on this glorious sunny cool day, knowing that I'd likely never do this again here, I got the sensation that I was at a funeral, that I was watching someone perform his last wonderful acts before passing onward and yielding to inevitable death, that I was watching the celebration of the end of a life well-lived, a life whose time had come.
A branchline railroad such as the Lockport Branch, I have long known, is something of a magnificent anachronism, and I've long known that I've been fortunate to have the opportunity to see and experience and photograph the Lockport Branch.  Like with my grandfather born during World War I, there is not much place in the 21st Century for branchlines like this one.  All good things must come to an end.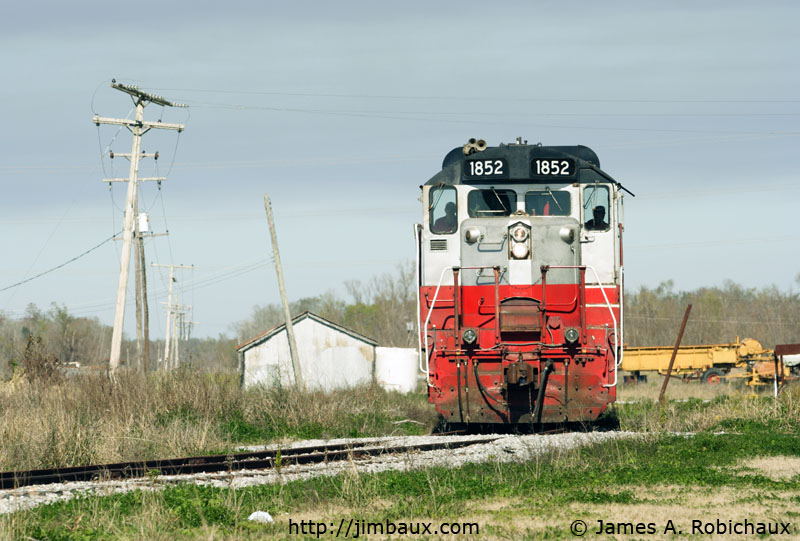 As a product of the 1950s, the locomotive that you see in these pictures is also something of relic of the past, still earning its keep nearly a decade into the 21st Century.  My grandfather was a window into the past, like all ancestors, a window to yourself.
At this point, I'm reminded of a joke from the comedian Mitch Hedberg:
One time, this guy handed me a picture of him, he said,"Here's a picture of me when I was younger." Every picture is of you when you were younger. "Here's a picture of me when I'm older." "You son-of-a-bitch! How'd you pull that off? Lemme see that camera.
In some ways, photography is about the past.  I think that there's something of a hoarding mentality to the acquiring of numerous pictures.  Whatever the case, Jimbaux's Journal and another site I have yet to launch allow me to show pictures that I've 'hoarded' for a decade.
Letting Go
Hoarders, those whose homes are cluttered with items that they often don't use and don't need, are motivated by fear, that tricky emotion that can be so destructive.  They cannot let go.  They cannot look forward to the future because they are stuck in the past.  I'm immensely happy for the transition to digital photography, because it means I can store 100,000 photos inside of an object the size of my wallet.
My grandfather's death was a lesson in letting go, in the idea that acceptance is truly virtue – a lesson that I needed far more than I had realized.  I had stayed in Louisiana out of a sense of obligation for being there when such an event  happened, and I am grateful that I was there – that we were all there – on that fateful day in November, a day that was as cool and beautiful and sunny as the day that I shot these thousand-plus pictures on the Lockport Branch.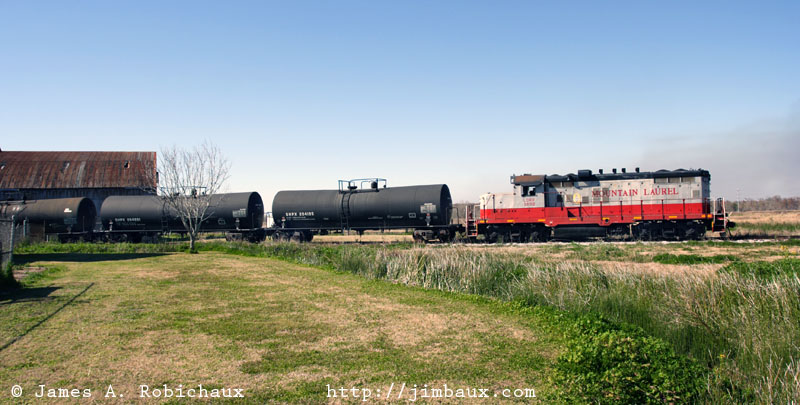 Above, we see the LDRR 1852 pulling tank cars out of the Valentine Chemicals facility.
I have let go of the Lockport Branch.  I'd love to see a miracle happen and for it to somehow live onward with newer rail traffic, but I have accepted that, like my grandfather, it's a part of my past, a part that will live on, like my grandfather, in memories and pictures and lessons and love.  I dearly miss both of them; a part of me each will always be.
Get out there and photograph – and experience  – what is here today and will be gone tomorrow.
Jimbaux