[Even when Jimbaux loses, he knows how to win!]
So Sick Of You Preaching All The Time
What, you're not listening to today's song?  Like honey attracting flies, the Lafayette Sub attracted me today when it was time for the #1 and the Chip Local to pass through, despite the heat and the lack of cloud cover, which I think makes the Chacahoula shot much better (except in very late afternoons close to the winter solstice.)  It was damned hot, and these shots were taken only about an hour after noon, hence the harsh lighting, the reason for the unsurprising conversion to greyscale.
So What If I Want To Be Numb All The Time?
Based on some comments that were posted to recent posts on this site (like this one), I will remind all of you that caption information for pictures on this site can be found in the filenames, which can be seen by holding your mouse over the picture in question.
And, Now, For Some Action!
Today's #1 was running about 22 minutes late, and it stopped in Schriever to pick up a few people.  Here he is six miles to the west blasting through Chacahoula.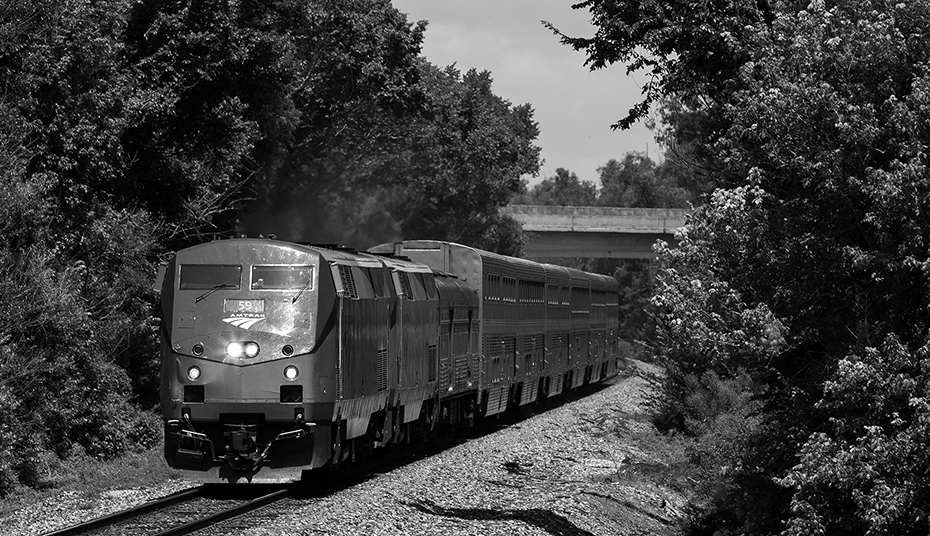 Compare the above shot to the shots under the clouds from Monday; myself, I like the cloudy shot(s) better.  What do you think?
Right as I was taking the above picture, the dispatcher calls Chip to see where he is.  The fact that I could hear Chip's reply indicated to me that he was very close and that I should just maintain my position rather than head east to try to intercept him as is my customary practice.  Great!  I don't need to burn any more fuel.  I moved my truck a little bit closer to the track, and 12 minutes after the above shot was made, here comes Chip:
Today's train had 13 cars, but I really liked that high-cube boxcar in the front!  Neat, eh?  That's all of the picture action for today, of course.
Hugs in Victoria
Those of you in the southwestern corner of British Columbia or the northwestern corner of Washington (the poorly-named state, not the city) who are in need of a hug should check out this video.  It's Rita's "Year Of Hugging Fearlessly" about which you can read more on her site.  Check it out, and make sure you tell her that Jimbaux sent you, a'ight?
The Dark Side Of The Sexual Revolution
Yes, kiddies, there's a dark side of the sexual revolution.  A friend passed this great article along to me, and I totally get what it's saying.  Let me know what you think, ya hurd may?
Do You Miss Winter Yet?
Check out this post from yesterday on the Expedition Oklahoma site.  Yes, it's about 110F everyday and Oklahoma now, and I'm sure many there would rather have the snow!
So Sayeth Doc . . .
That's all we have time for today, my dear Jimbauxlings.  In the meantime, I'll leave you with some words of wisdom that one of my mentors for the last decade just told me: "The right thing will happen when it should happen."
All for now . . .
Jimbaux