This is part of the Eastern Great Plains Spring Break 2012 Road Trip series.
Welcome to Day 3 of Jimbaux's 2012 Spring Break Road Trip. On Day 1, I stopped at the Kansas City Southern Railway yard in Shreveport, ended the day in Heavener, Oklahoma, and got some pictures between the two places. On Day 2, I chased a train up Rich Mountain and got some shots in Heavener before heading north and eventually getting some shots of KCS action at and near Pitttsburg, Kansas, before continuing northward through southeastern Kansas before dark.
As I mentioned toward the end of that essay, that's when things got weird.
They would be weird all morning on this day, Sunday 1 April 2012
Maybe I Was The April Fool
I should forgive myself, though, because, if I am a fool, so, too, are so very many others.
What do I mean? Let's go far back in time.
In my early adulthood, in early 2003, shortly after my first adult visit to Rich Mountain, I was referred to a blog of railroad photography. The identity of the particular person who referred me to this blog is itself rather ironic even if not particularly relevant, though I'm not sure that I would have found this blog any other way, as, afterward, the only other references to it that I encountered anywhere were extremely vague.
I was so enamored and amazed with what I saw in the way of photographs and read in the way of narrative and ideas – and the artistic way in which they were presented – on this blog. It had a huge effect on me, to the point that it's having an effect on you, because it inspired the creation of Jimbaux's Journal, which is something that I must pondered now, as I type this a decade after these pictures were taken in 2012, that I have long outgrown the "Jimbaux" character and also this blogger whom I am describing.
This blogger seemed like a really intelligent guy, and he was also someone who loathed George W. Bush. It may shock many of you to learn that I wasn't that bothered by Bush – I preferred him to Al Gore – until the Iraq invasion, and this blogger helped radicalize me against Bush and even make me liberal.
That's why I began to communicate with him.
That's also why I was shocked, saddened, horrified, and dismayed that, like so many other people, he revealed his true hateful self during the Trump era, at which point I ceased communication with him.
In retrospect, I can see that so many signs were there, both in him and in me. He seemed to think of himself as very smart and, as such, most other people as not so smart, as he was always talking about how stupid people are, and, so, it felt good when he would respond to my messages or writings in ways that suggested that he thought that I was smart or insightful! In retrospect, I can see that the multiple hints of self-loathing that were sprinkled into his writings, too, were a sign, both about him and about me, given my attraction to it all.
All of it has left me with plenty of confusion.
In another way, though, it's nice to look at these pictures that I made a few dozen miles west of Kansas City and realize that I've come a long way since then, even if, in some other ways, I have not.
So, here is our first train of the morning, and this is not my lens.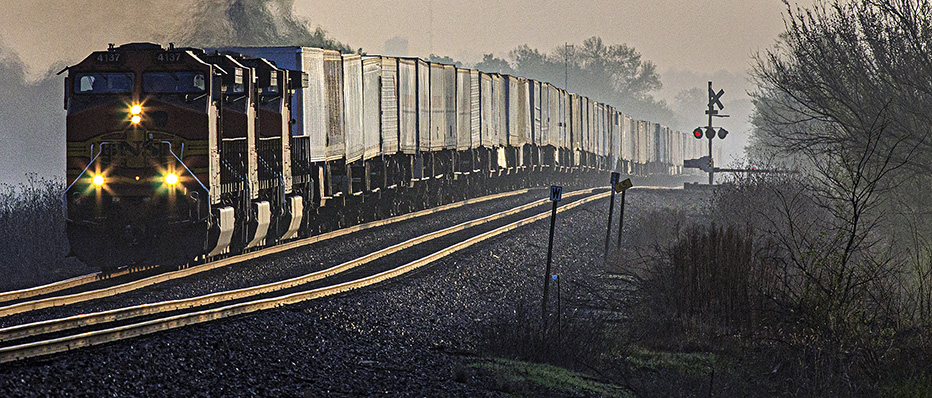 This is BNSF Railway train Z-WSPALT6-31 westbound, and, in the going-away shot, you can see BNSF Railway train M-HUTKCK1-31 coming.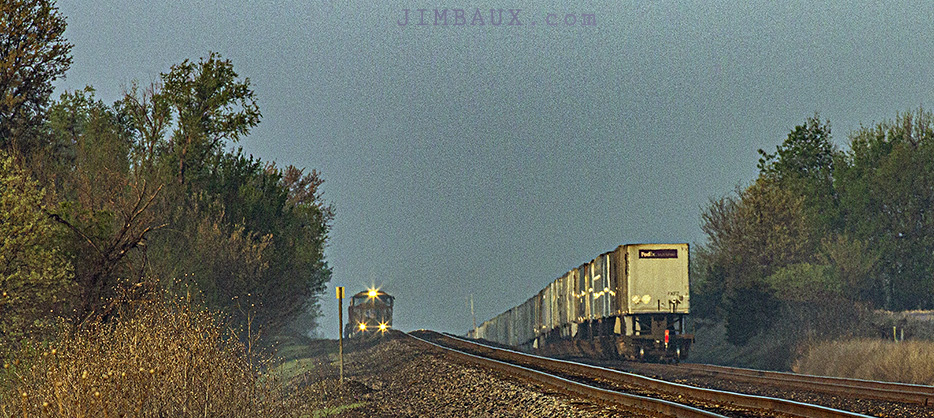 The Z-WSPALT6-31 is a high-priority train, hence the "Z" prefix, moving from Willow Springs, Illinois, just southwest of Chicago, to Alliance Terminal, just north of Fort Worth, Texas, and the M-HUTKCK is a regular carload manifest train, hence the "M" prefix, coming off of the Emporia Subdivision, moving from Hutchinson, Kansas, to Argentine Yard in Kansas City, Kansas. The "31" at the end of both train symbols means that the trains originated on March 31, the previous day.
At this point, I took a picture of him.  It's not funny anymore.  I feel betrayed.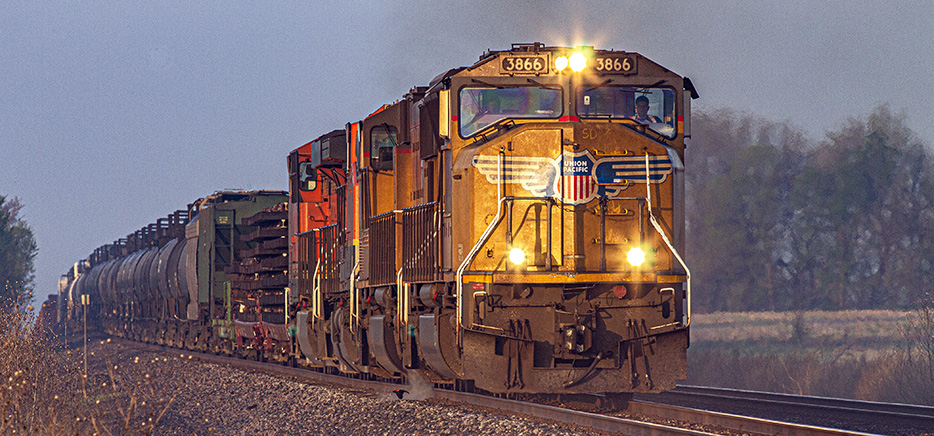 This bird was in a bad spot!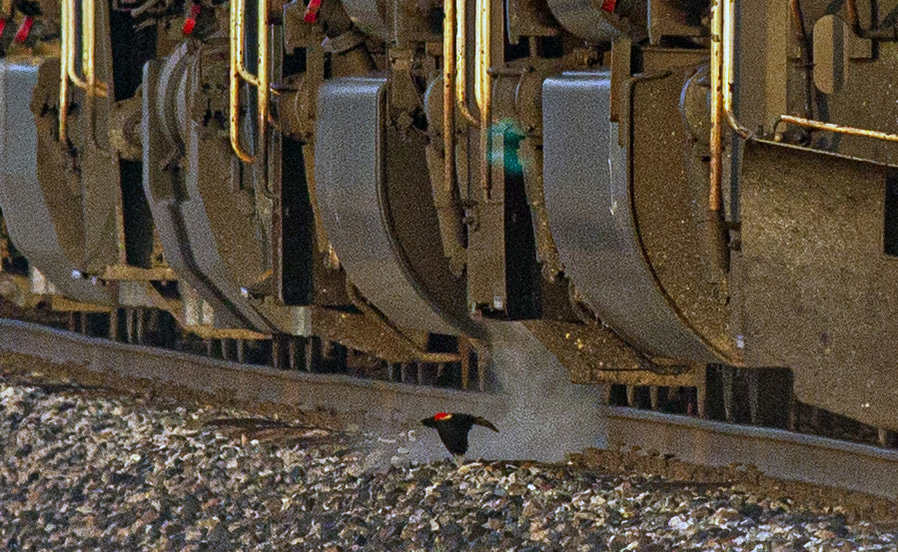 It's strange to reflect on the degree to which the me of the aughts was influenced by this guy.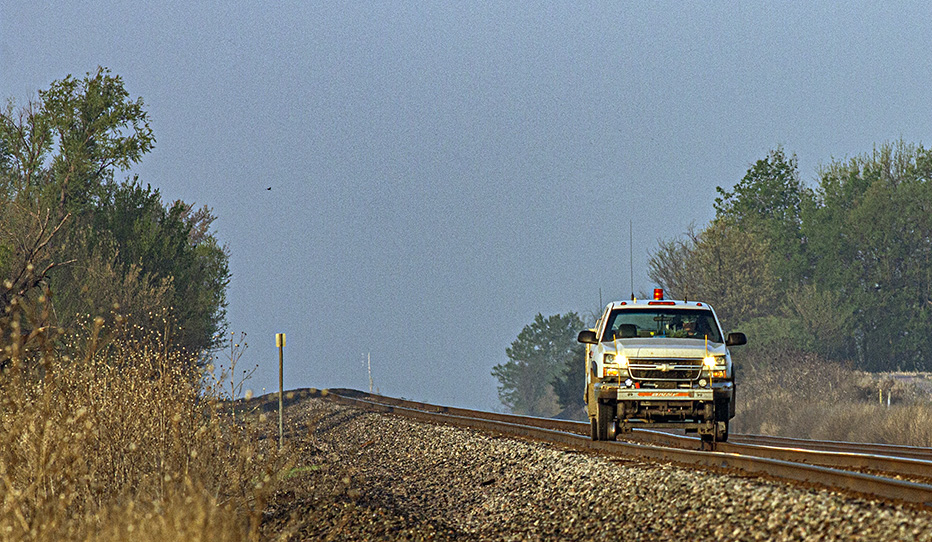 It's scary, actually, but people need people, even people like me.

This train was nothing but old hopper cars. It shows as a
U-GALLAJ5-31, Galesburg, Illinois, to La Junta, Colorado, but I have no idea why.

The Burlington Northern Railroad's logo was so snazzy.

It's like I am in the area of "real" trains, whatever that means.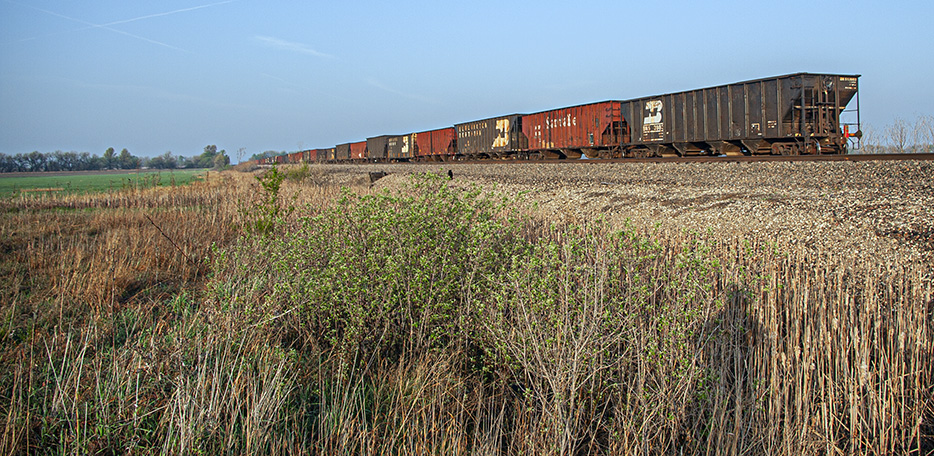 Here is an eastern-Kansas structure.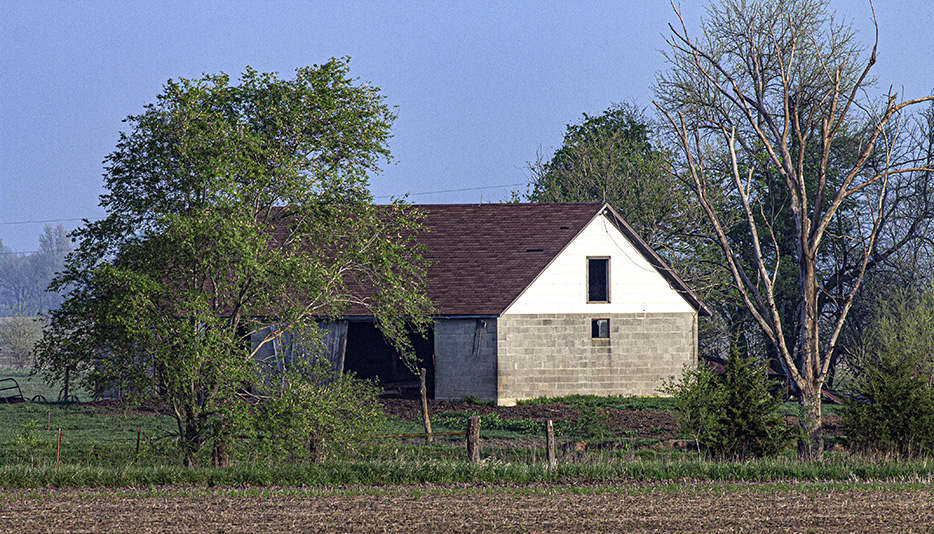 I enjoyed playing with this large lens.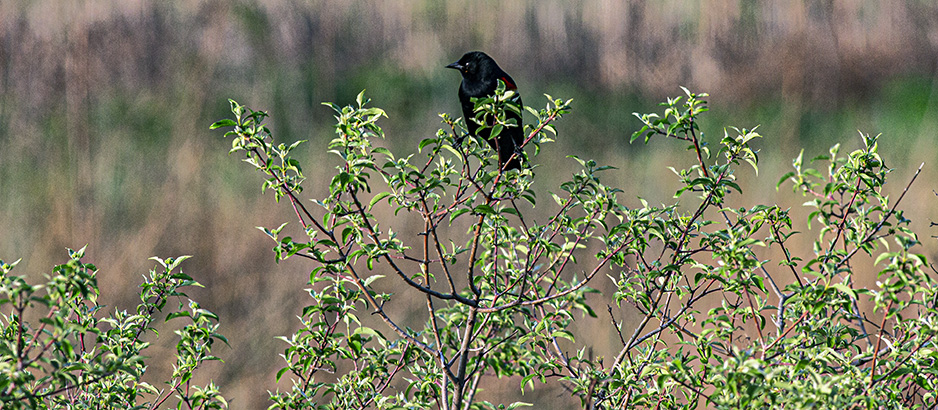 I could use such a lens, or, at least, I could have used it (more than just this morning) back then.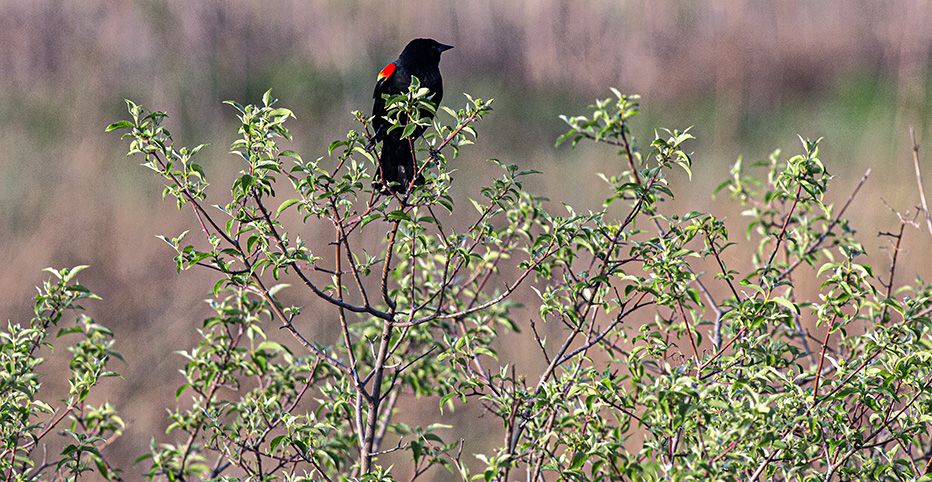 Let's see a cropped version of that image.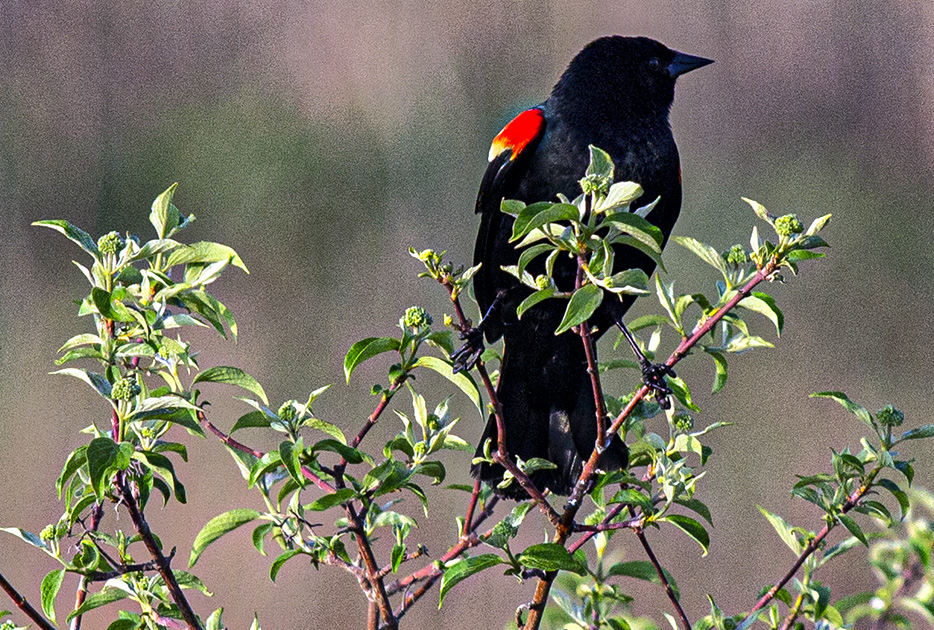 Here comes BNSF Railway intermodal train Z-NBYWSP7-30 eastbound, from North Bay, California, near Oakland, to Willow Springs Illinois, originating on the 30th, which is only two days ago, meaning that this thing must have stopped only long enough to swap crews and refuel along the way.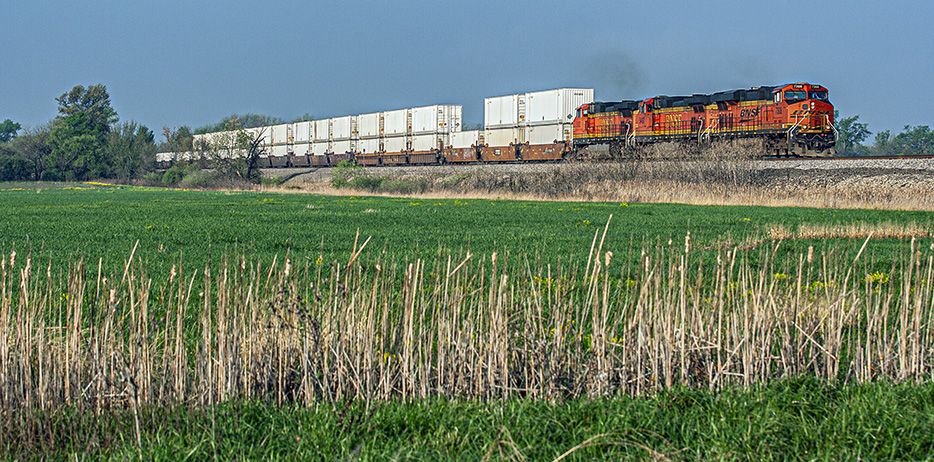 I did a self portrait with the train.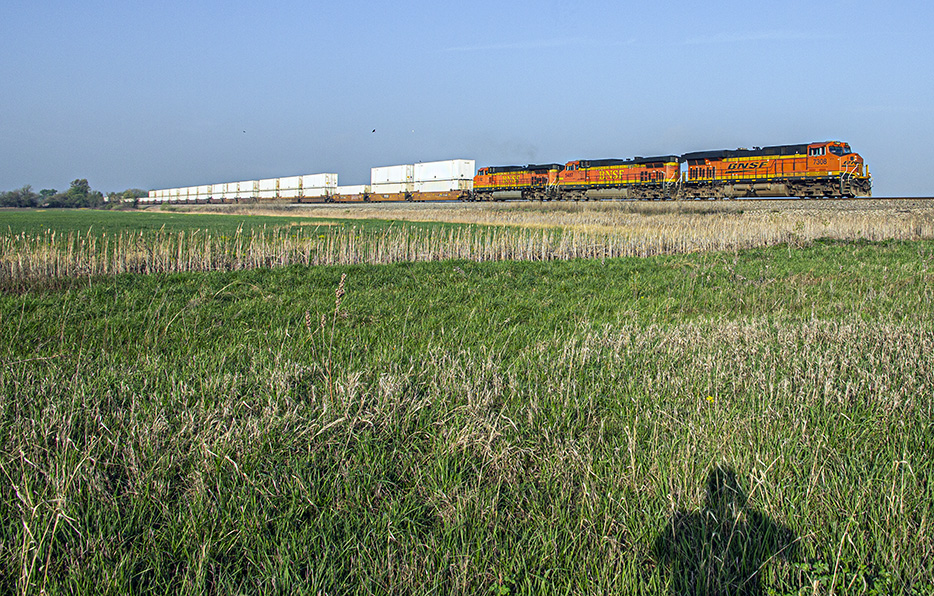 Look, it's good old trailers on flatcars!

I like this!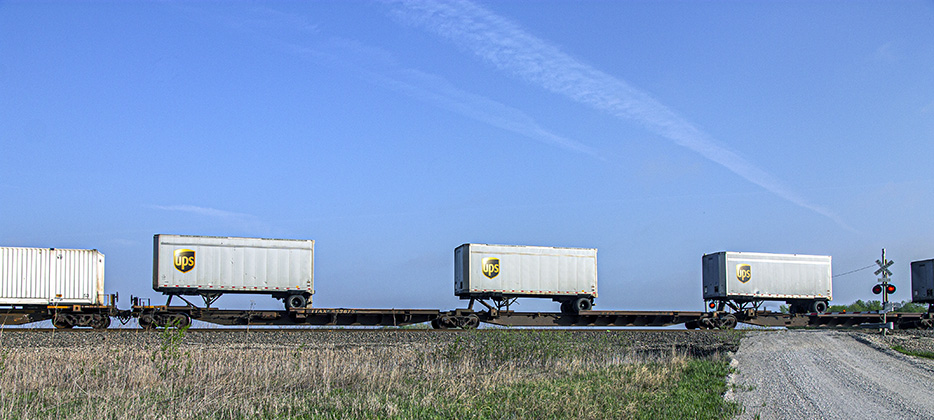 We don't see that in southern Louisiana, not anymore, even back then.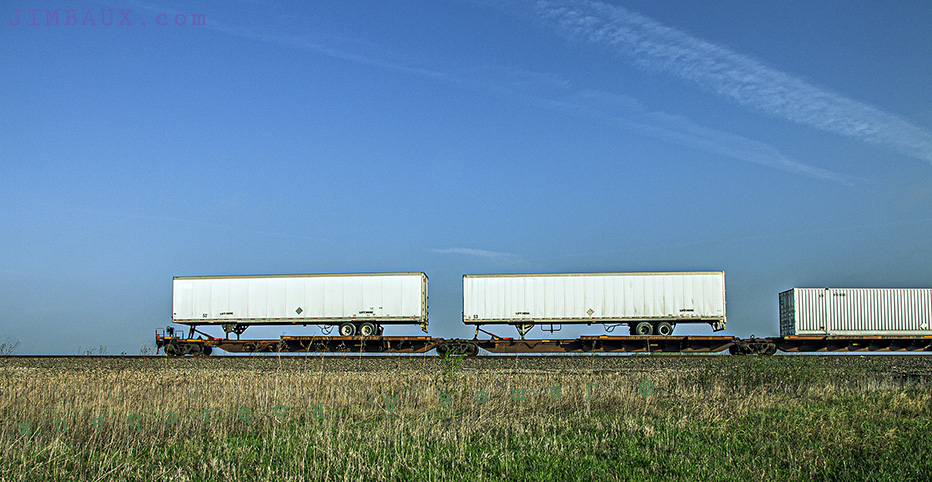 Next, here comes BNSF Railway train S-LHALPC1-29 eastbound, coming from Los Angeles Harbor Pier A to Logistics Park Chicago, which is in Elwood, Illinois.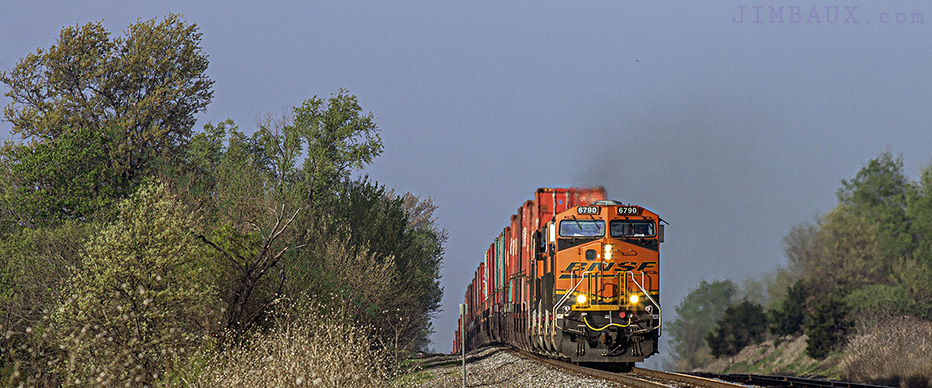 This next shot is one of my favorites of my shots from the day.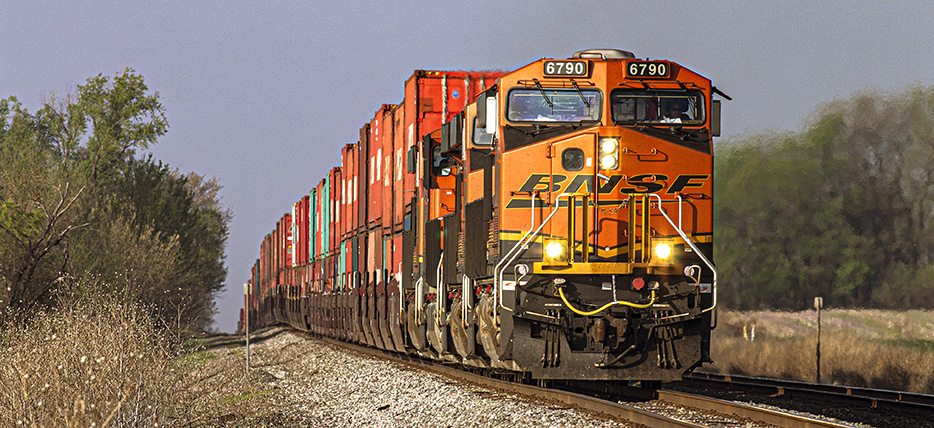 Man, I'd love to have that lens.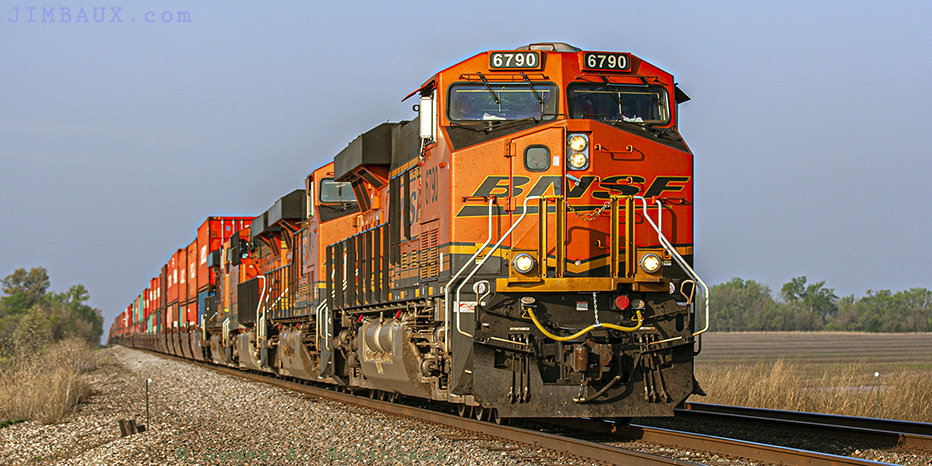 Here are some views of the train with the regular zoom lens.
That bird is still there!

Next, about 12 minutes later, here is BNSF Railway train Z-CHIPHX7-31 westbound, and I think that you can figure out that that means a highest-priority train from Chicago to Phoenix.

Next, about 14 minutes later, here is BNSF Railway train H-GATGAL9-29 eastbound, a high-priority manifest train from Galveston, Texas, to Galesburg, Illinois, originating on the 29th.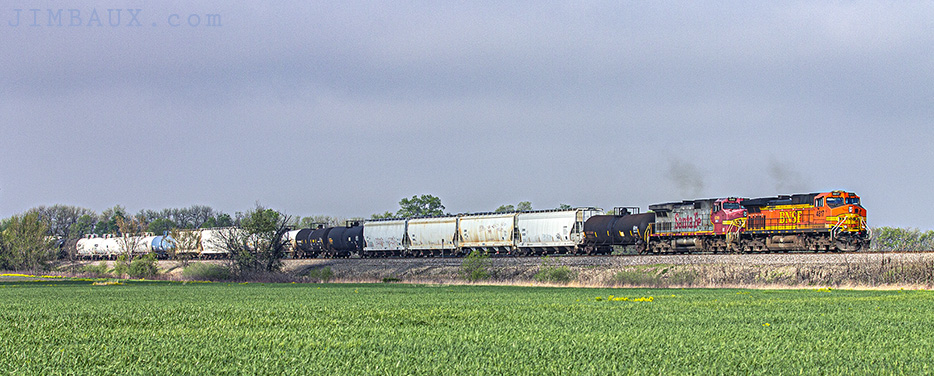 I like the wide view, whereas my host characteristically stayed closer to the track.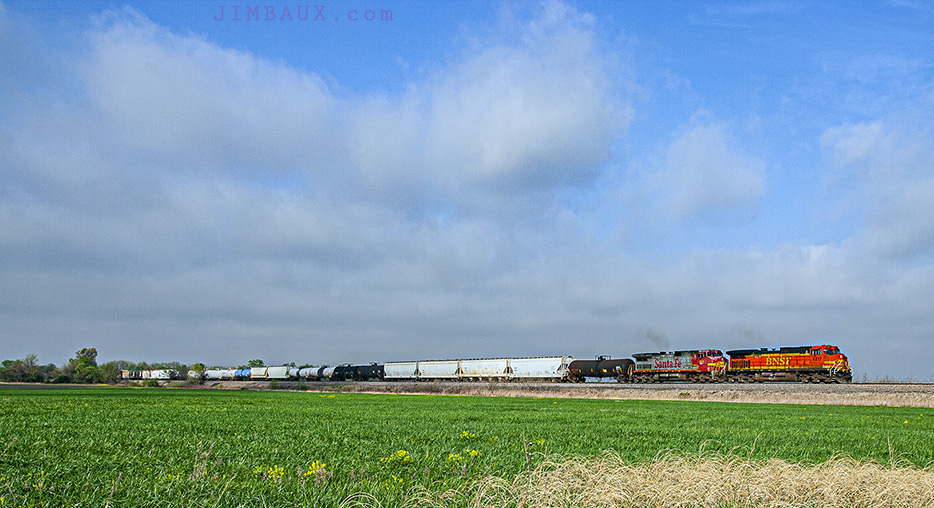 Supertelephoto views are cool, but wider views away from the track, too, show so much.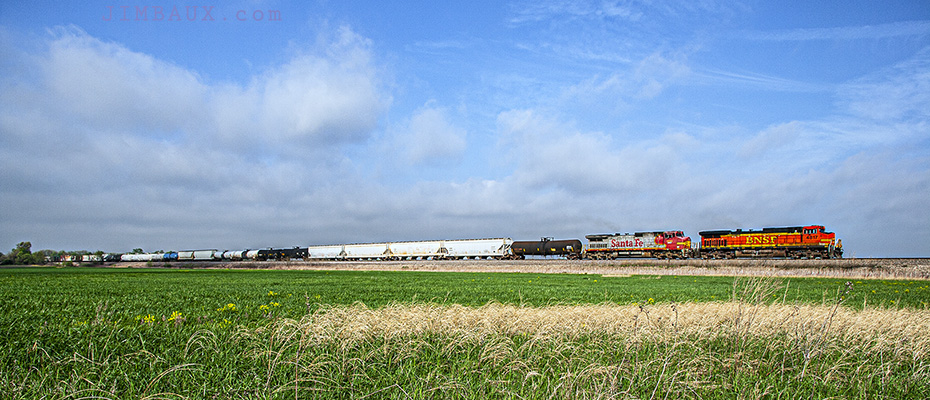 I like what is essentially a broadside view, which is possible here due to the road intersecting the track at an angle not close to perpendicular.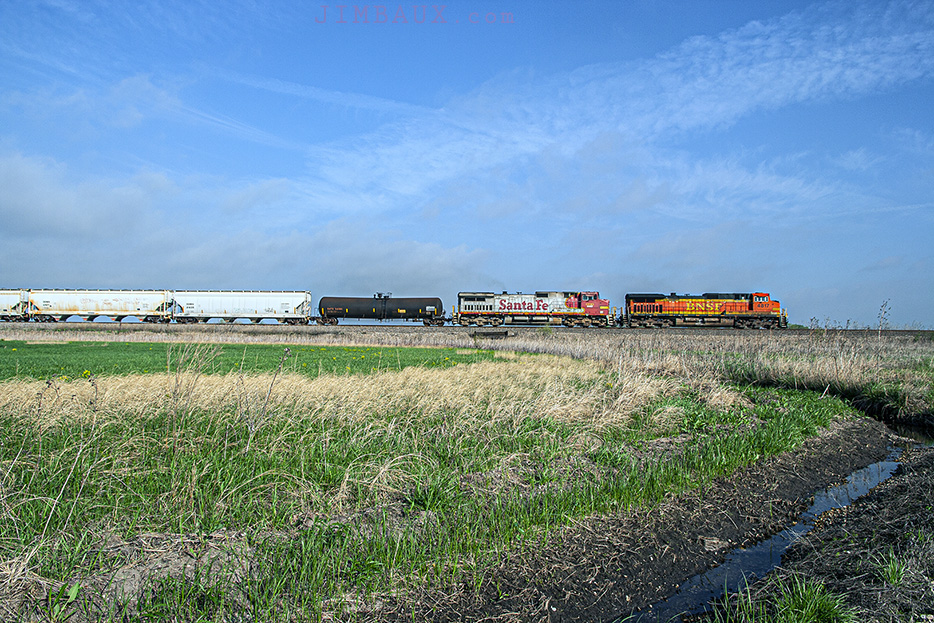 I thought that some cars – or sets of cars – on this train were worth photographing separately.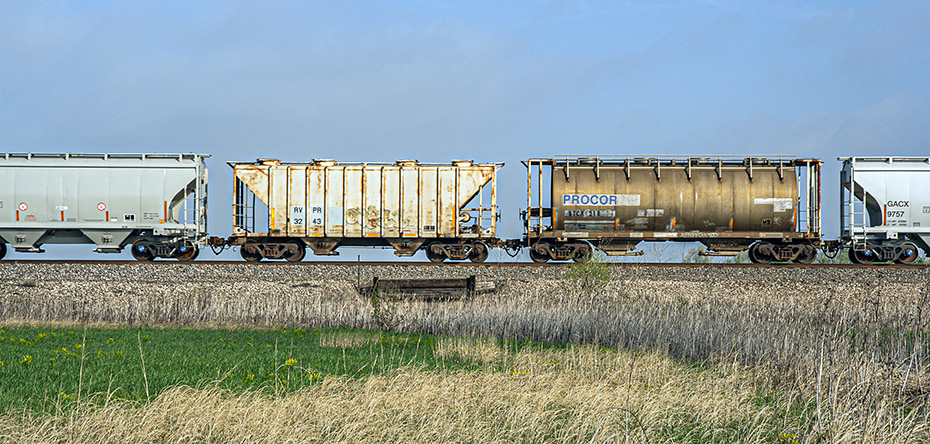 I like short hopper cars.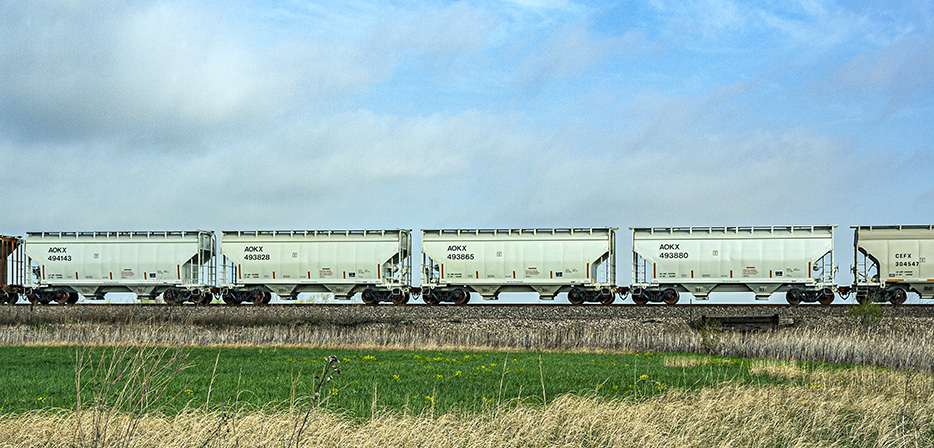 About 12 minutes later, we get our last train at this location as BNSF Railway train Z-FRSCHI7-30 eastbound approached on its way from Fresno, California, to Chicago.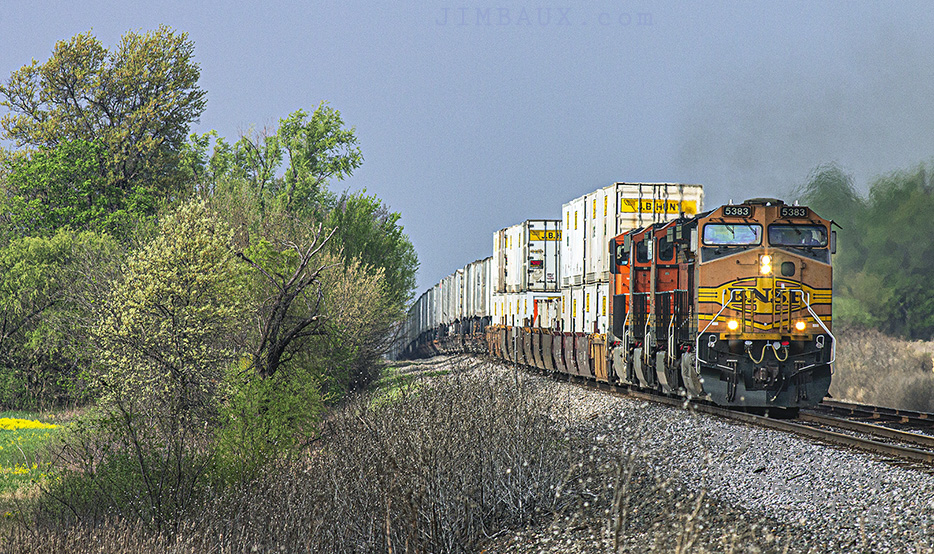 Look, it's a bunch of trailers!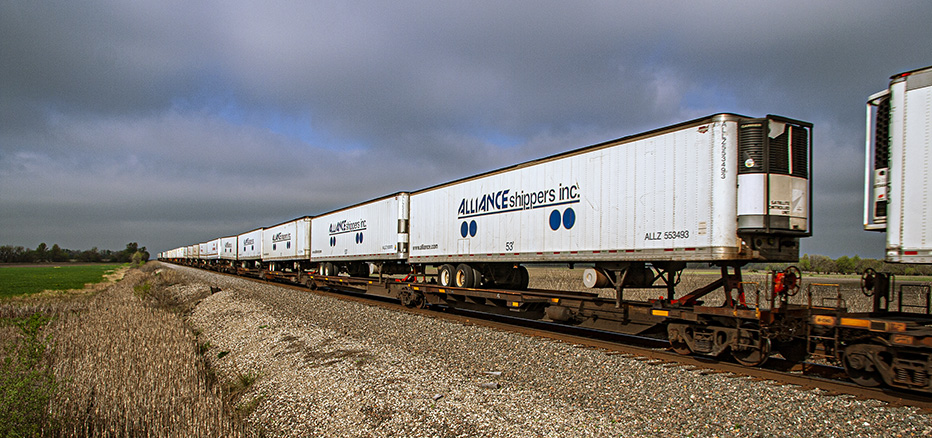 I like that, even if stacks, too, are cool, as we don't see that in southern Louisiana anymore!
We went to Ottawa, where we saw BNSF Railway train X-FTXNOY3-31 eastbound, coming from Friona, Texas, and going to Noyes, Minnesota, just south of the border with Manitoba on the line going to Winnipeg, probably an empty fertilizer train.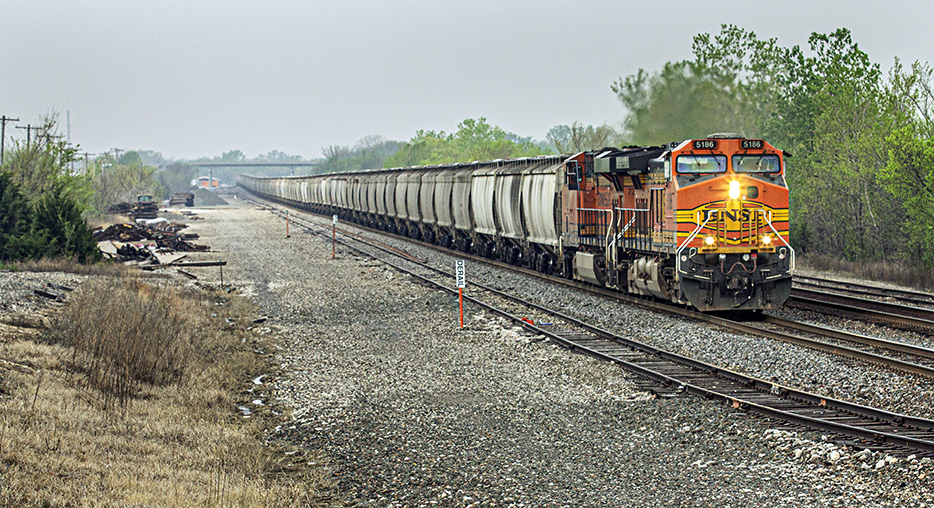 That's all the pictures from the Transcon for this trip.
Next, we stop and visit the Midland Railway Historical Association.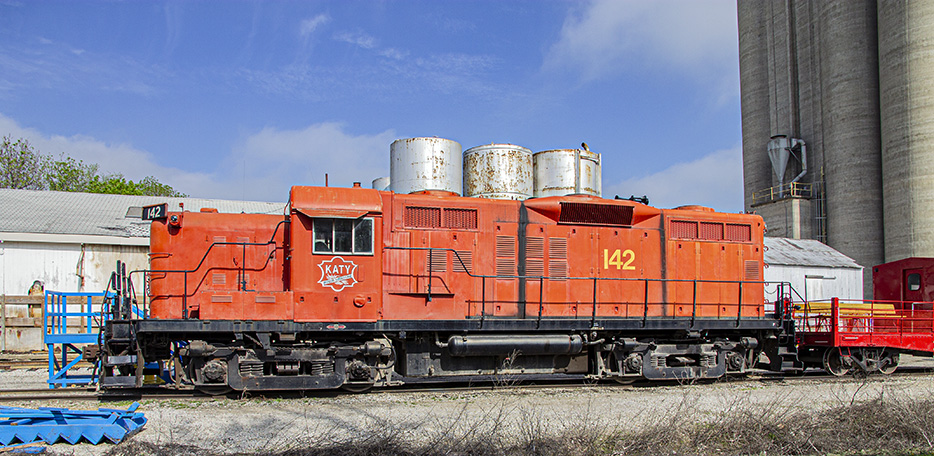 The railroad Midland Railway (Kansas) – Wikipedia has this strange old ALCo RS3 with the long hood of an old EMD first-generation GP locomotive.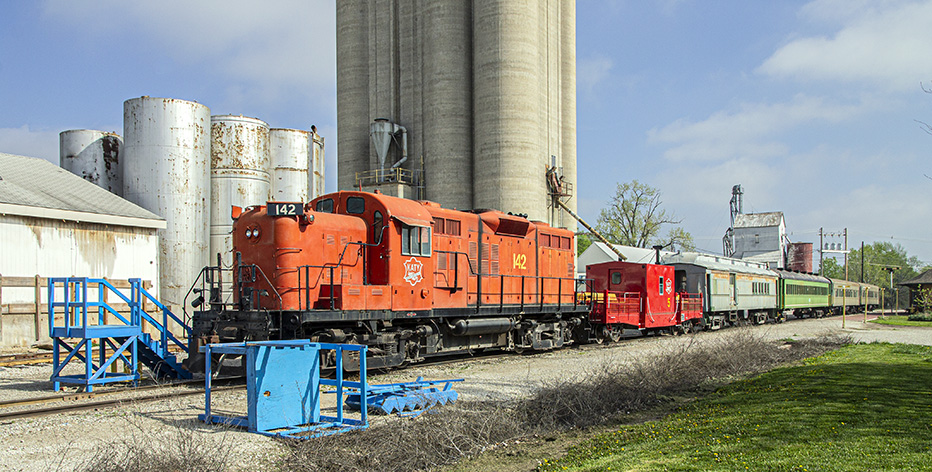 There is some potential for my business idea of a warehouse and transload facility.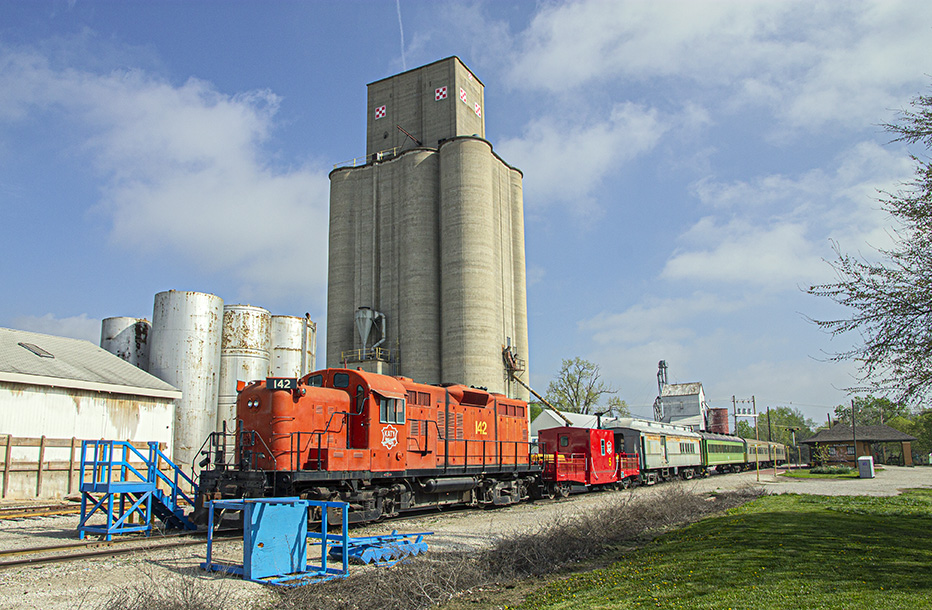 I have seen almost no coverage of this line in the railroad-enthusiast press.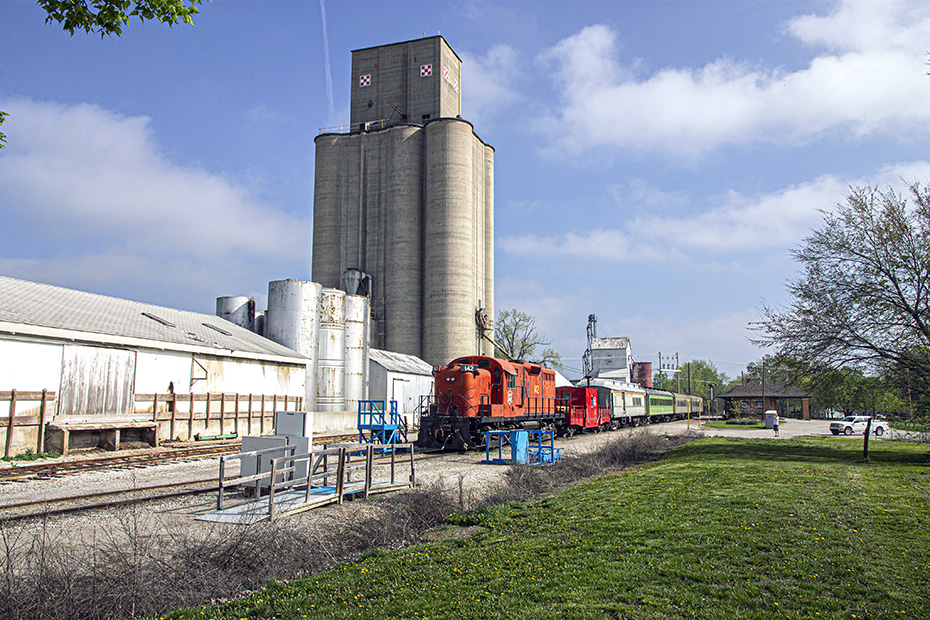 Here is the old depot.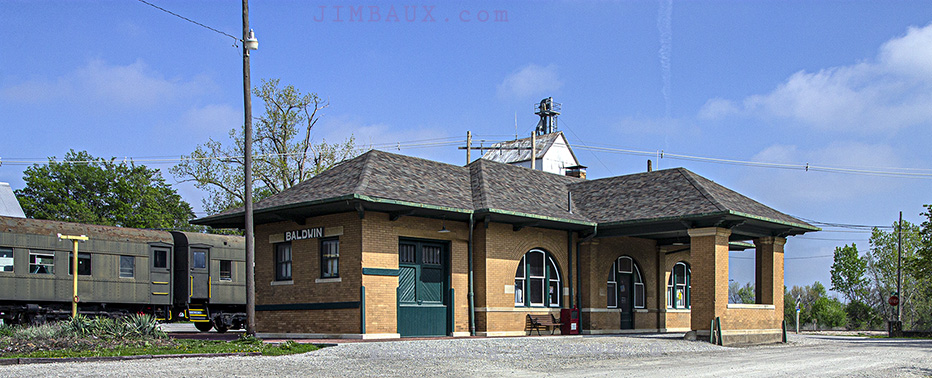 That's a neat-looking depot!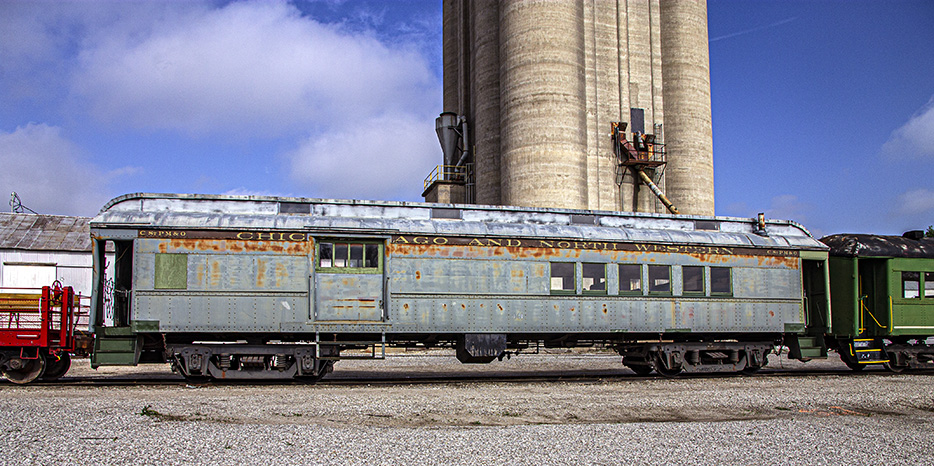 That's all for the morning outing. It was time for me to return to the ranch before I resumed my solo northward journey.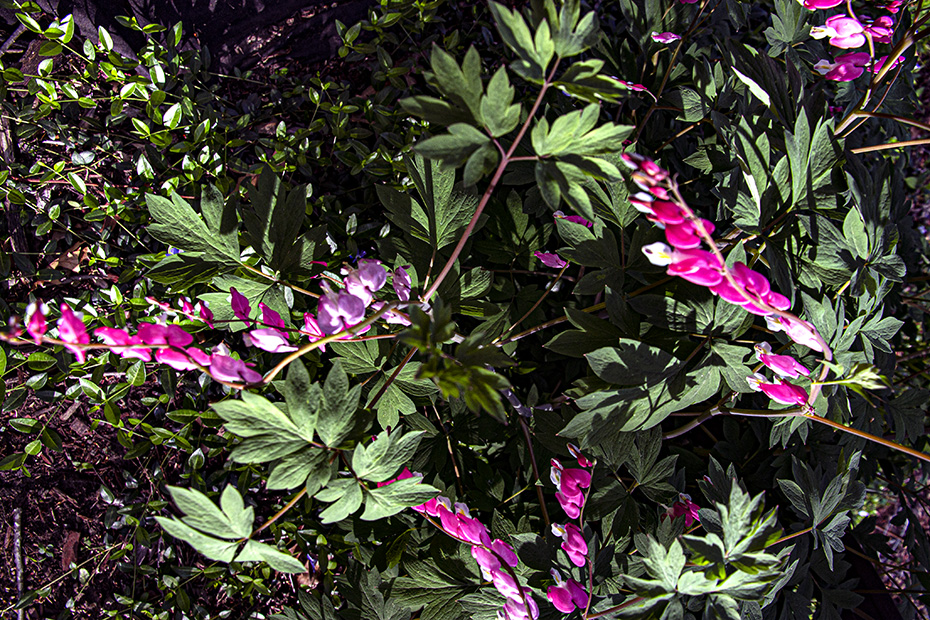 This was a strange experience after the decade that preceded it.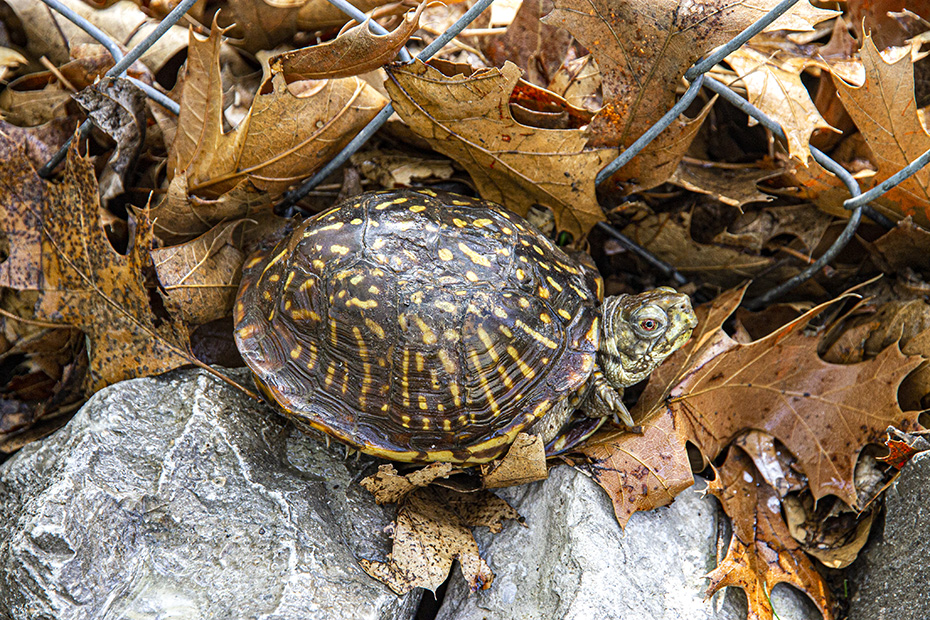 That's all for the pictures for Part 1 of the 1 April 2012 pictures. I foamed with the guy. Only a few years later when the Trump Phenomenon happened did I have to reassess him and my perception of him.
He had helped get me into Nietzsche, who is hailed by the alt-right, but I think that none of them really understand Nietzsche.
One of the reasons that I wanted to do this huge project of processing all of the pictures from this trip and make these sequential decennial retrospective blog articles is that I want to process the loss and grief of realizing the horror that I have realized about people whom I had respected and admired.
That's what I am doing here.
That's all. Stay tuned for Part 2.
Jim