Today is Monday 31 May 2021, Memorial Day, and I tried to get some quiet meditation by the track for the last time until the weather cools off in the fall, but it wasn't that great. Yesterday was rather cool, and I perhaps should have tried to do this yesterday.
Six months ago yesterday was the first time that I saw wind-turbine blade cars – albeit empty – moving in Lake Charles, even if not technically on port track, and first time that I saw the AKDN locomotive and first time that I went to Eunice as an adult, and it's hard to believe that it was only six months ago, given how familiar I have gotten with both operations in the meantime!
Seventeen years ago today, I left home for Mexico and arrived in Laredo that night. I feel so old.

I am really out of shape. I stopped at the McDonald's on Admiral Doyle Drive on the way here, arriving at this spot just east of the depot just after 07:00. I had not been far east of the homestead in months.
I think that it was before I could even finish eating the food that I had a visitor.
I really don't even feel like talking about this, considering who it was. It was someone I had never met before. It was not a law-enforcement officer. The person asked me what I was doing. The person asked me if I needed help.
The person then said that I was on "federal property."
I don't know what to call this particular habit that I hate about humanity, but there is an element of fakeness and an attempt to hide the truth while scaring people here. The "federal property" claim seems to contradict the "private property" claim that has been used to keep people away from railroads and off of railroad property over the years. I was not told to leave, but, since this is supposed to be a republic, it would be odd to leave an area on the basis of the claim that the area is publicly-owned; it seems to me that I could have told this person back "yes, this is federal property, which is why I can be here; I am a legal US resident and a US citizen."
To be sure, a military base, too, is "federal property," and I definitely wouldn't argue that it's okay for anyone to walk all over it unrestricted, but the case for restricting unauthorized people from a military base doesn't rest on it being "federal property," because the National Mall in Washington, DC, too, is "federal property."
Sure, railroads are, for very good reasons, federally-regulated, and a part of that regulation seems to be encouraging railroads to discourage people from being on or near their property, but, again, this reality and this understanding is not conveyed by saying that railroad property is "federal property," and people need to say what they mean and mean what they say.
In recent years, I have come to very much question the merits of being so restrictive on non-residential land, and, while I still discourage anyone from trespassing, and I still hate that awful, stupid practice of portrait photography on railroad tracks, I am of the mind that, as long as I am not on the track or climbing on equipment or in someone's way, I should be left alone.
Fortunately, that's what happened, but this person might not have left me alone were I not a regular train-watcher in these parts and able to connect in this person's mind to a recent incident and this person's supervisor!
I just wish that more people in society had the thought of "you shouldn't treat me this way not because you shouldn't treat me this way but because you shouldn't treat anyone this way," which reminds me of the times in my life in which I have been accused of wanting special treatment when I don't think that anyone should have been treated in the manner about which I was complaining, and, of course, I am far from the only person to experience such, as the experience seems to be rather universal.
Anyway, with that unpleasant and unsettling – but contact-making – experience out of the way, I got a few shots of the locomotives by the depot.

The locomotives here by the depot are the LDRR 1850, the LDRR 1846, the LDRR 1709, the LDRR 1707, and the LDRR 1717.

With the last CF7 taken out of service, and with the LDRR 2009, which was still in Utah Railway paint, sent off of the property, the Louisiana & Delta Railroad's roster is now about as homogenous – i.e., uninteresting – as it ever has been.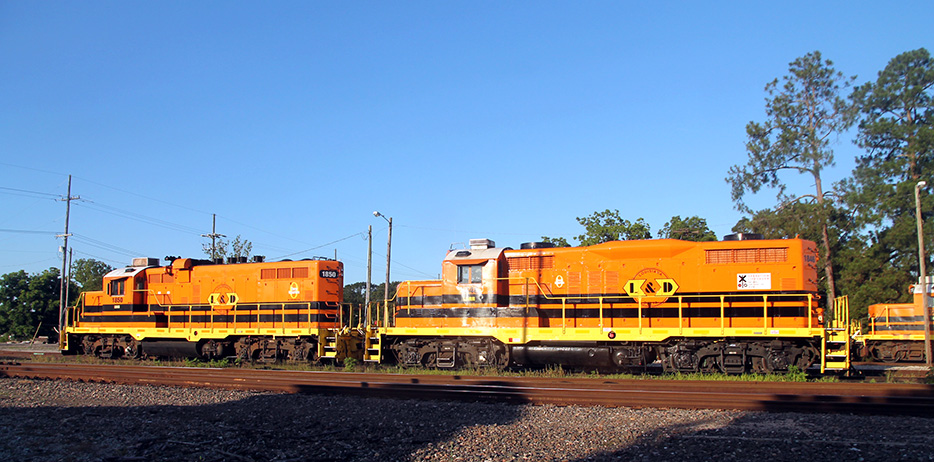 Such is the nature of modern railroading, unfortunately.


That's the depot, and it was about where I was standing that the aforementioned encounter happened.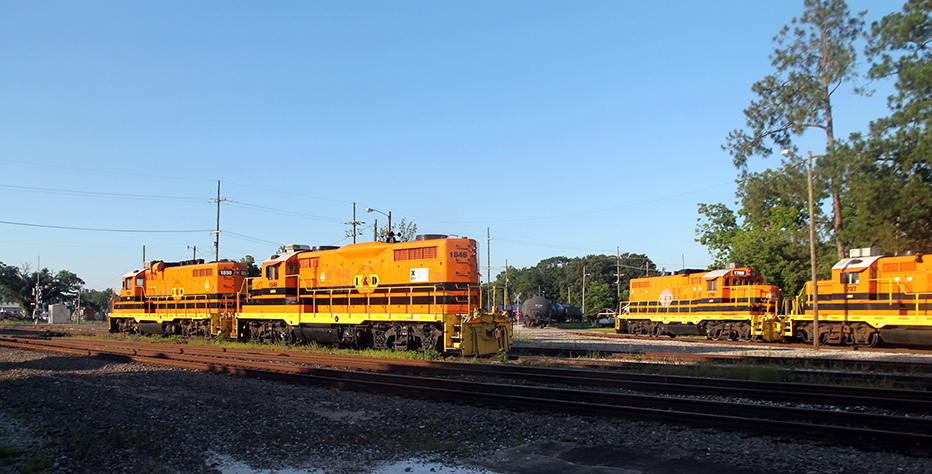 So, for the first time either ever or in the very earliest days of the L&D, all locomotives on the railroad's active roster wear the Genesee & Wyoming paint, and the model variety is no more diverse than GP10s to GP18s.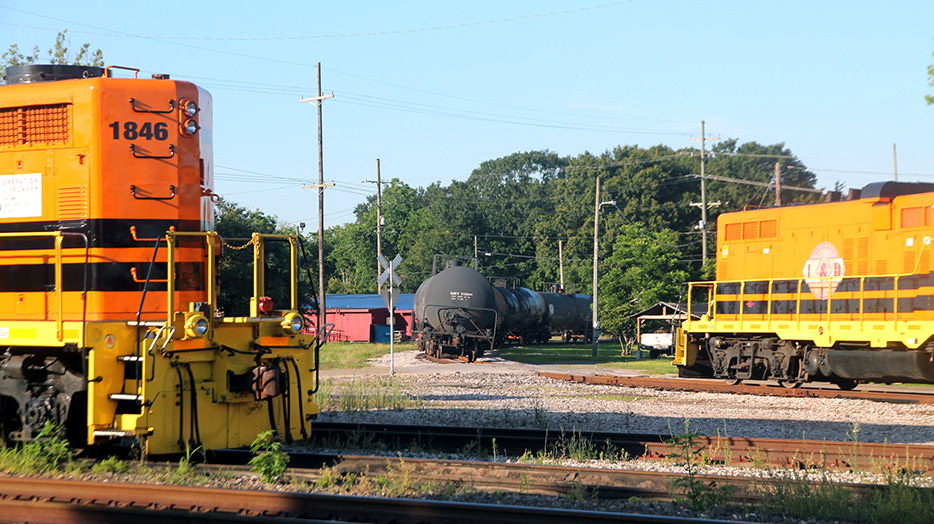 I still haven't seen the 1536, the newly-acquired GP15-1, and I hear that, due to issues with it not being PTC-compliant, it's mostly confined to the Cypremort Branch.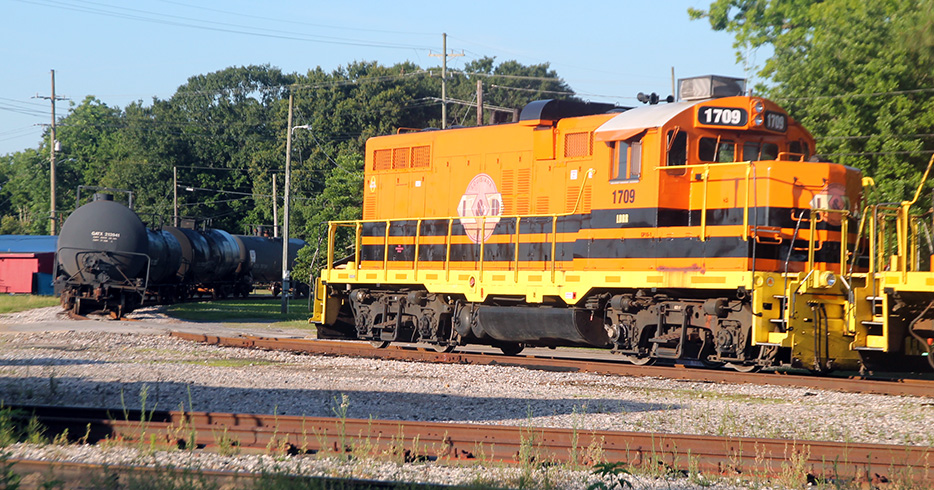 This isn't the L&D of my childhood or even my early adulthood, unfortunately.

I come here for silence and solitude. If there were other people hanging out here, I probably wouldn't be here, and that would definitely be true if they frequently made noise.
I like the old passenger platform extending from the depot.
So, with all of that done, I headed west for some reason, apparently in a likely-vain attempt to intercept a train, and, actually, that's what happened!
This is an eastbound BNSF Railway manifest train.

This is about as interesting as railroad cars get in 2021.

This train had DNJX deep gondola cars with build dates of 2021.

I always love bulkhead flatcars.

Done with the train, I headed back to the depot, and you can see that the light is now more harsh as we are getting into mid-late morning.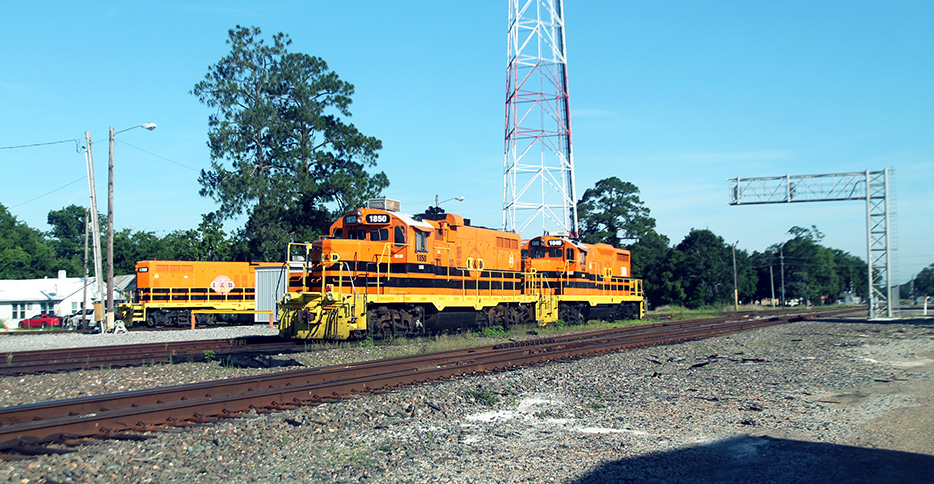 That was the end of New Iberia foaming this morning. It was tolerable in the shade but getting warm in the sunlight, unlike yesterday. No L&D crews have showed up, and the time is almost 0830, indicating that at at least some crews have off for the holiday.
At 09:10, and I may have just had an epiphany about haulage rights! I don't remember it, though!
I am also about to leave, as I have been hanging out near South Jefferson Street for the last half hour or so and realized that, without any cloud cover, the westbound Sunset Limited will pass here in very high sun times. I have stuff to do at the house before going to Lake Charles this afternoon. 

I left the spot at 0915.  The temperature was 77F.
There were plenty of boxcars in the Interchange yard, and almost all but one of them are graffitied, and the one that I say is not graffitied is one that I can see only on one side. 
I think that, this morning, I have become slightly more at peace with letting go of the truck.
I returned to the homestead and met with The Duke to go to Lake Charles and get stuff.
We got to Lake Charles.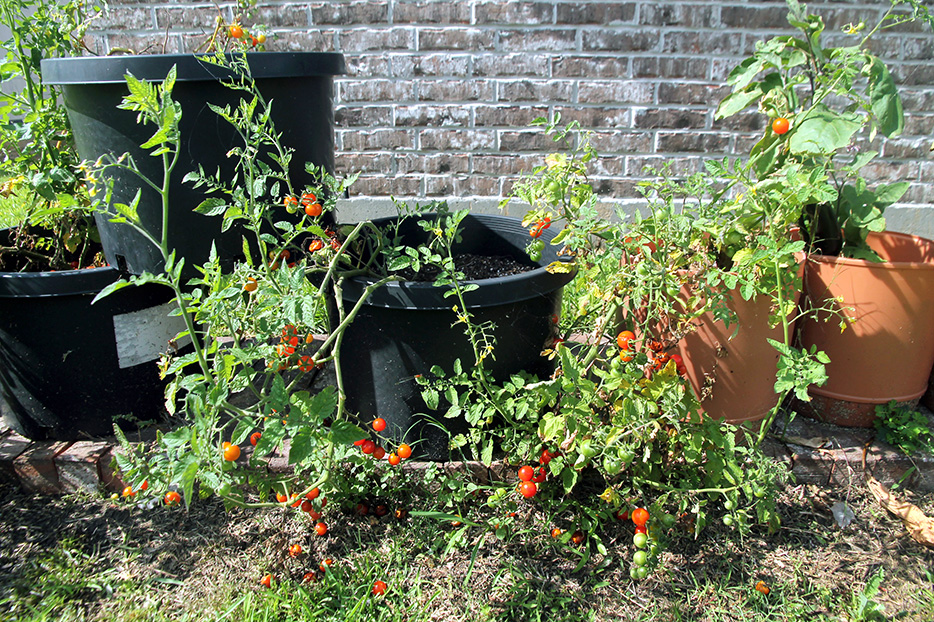 We got the bell peppers.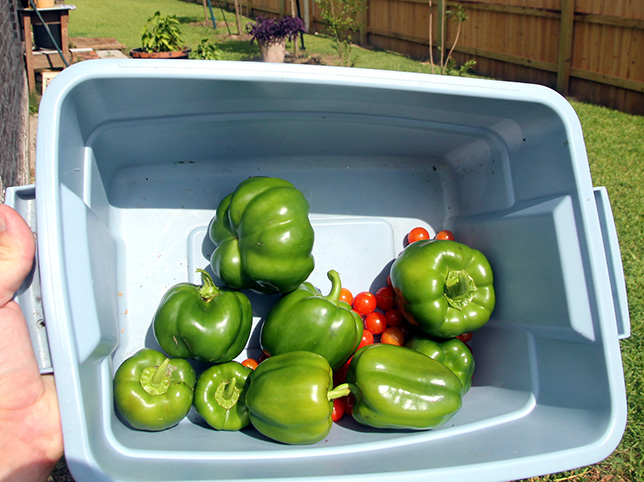 That done, we went and checked out the Chenault yard, but, on our way there, we passed the UP facility on Highway 14.
UP 1365 – no, not the 1369 this time – is a locomotive parked next to the freight house on Highway 14 at 16:45. There was at least one box car in one track in Harbor Yard, and there were some hopper cars in another track. I really do wonder what the boxcar was doing there, as I don't see boxcars on this line!
Anyway, we left there to go to New Yard, where we found blades.
Yes, there are wind-turbine blades here!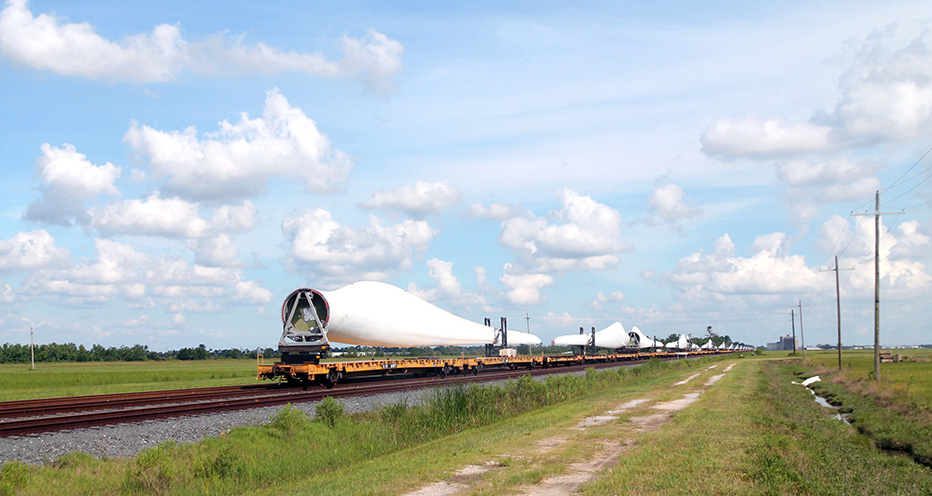 The Duke thought that they were interesting.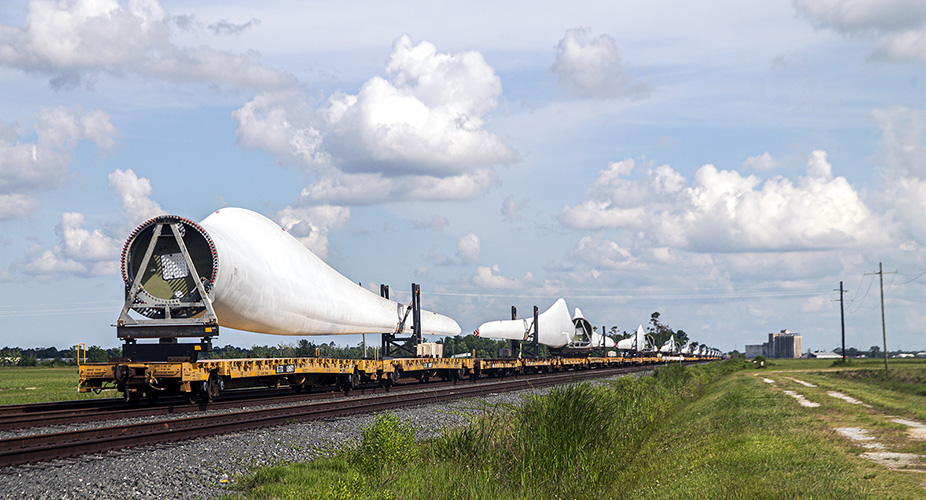 This locomotive, the UP 6811, needs to be washed.
That's all for the pictures today, and I'm not likely to take many new pictures until the weather cools off in the fall, and I am not likely to take many pictures even then.
Today is Memorial Day.
I am weary.
I feel somewhat hopeless.
I look forward to getting this backlog of pictures out of the way, finally.
This is all that I can do.
I am a self-diagnosed autistic person.
There are so many unpleasant truths about the world.
We must address these issues.
Facing truths is difficult.
We need to work together, to help each other.
I am not sure that this Sunday Sermon From New Iberia is a good idea even during cool weather times.  This place is just not as interesting as it was even just 10 years ago, let alone 20, and it was noticeably more interesting even just five years ago. The only exception is the Union Pacific local train power, which is not here today because today is not Sunday, which just made me realize that there is one possibly good reason for doing Sunday sermons from New Iberia! I could then chase the train eastward a ways.
Anyway, though, New Iberia lacks the coziness and intimacy that Schriever has that made it a great spot for quiet weekend meditation among railroad rolling stock, track, and structures.
So, that's a thought.
That is all.
Jim