Today is Tuesday 9 February 2021. Yesterday morning, I chased the Port Rail train out of the Port Of Lake Charles, hoping to have seen a loaded centerbeam flatcar that I saw and photographed moving empty to the port on Friday.
First, I present to cell-phone snaps from the port before I present any DSLR-camera pictures from the chase.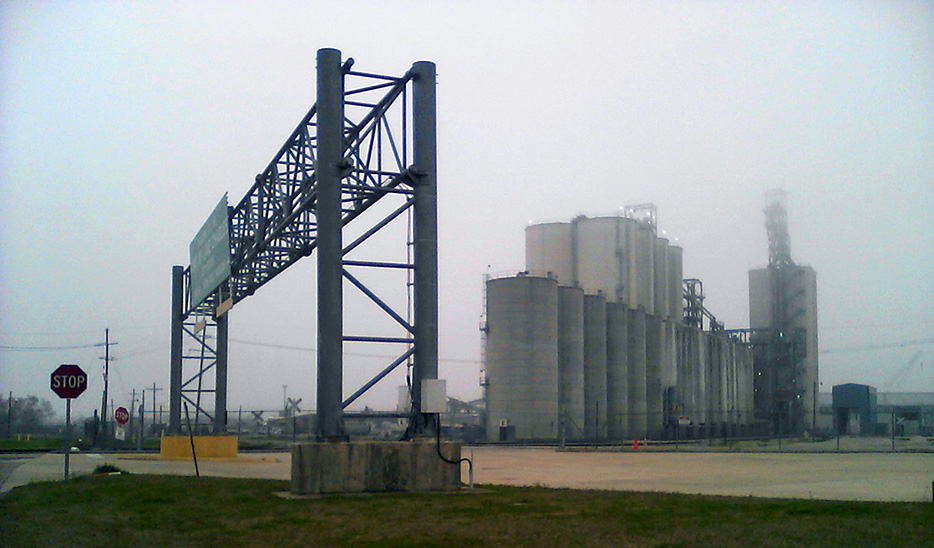 Hey, look! It's a Port Rail locomotive with a loaded centerbeam car!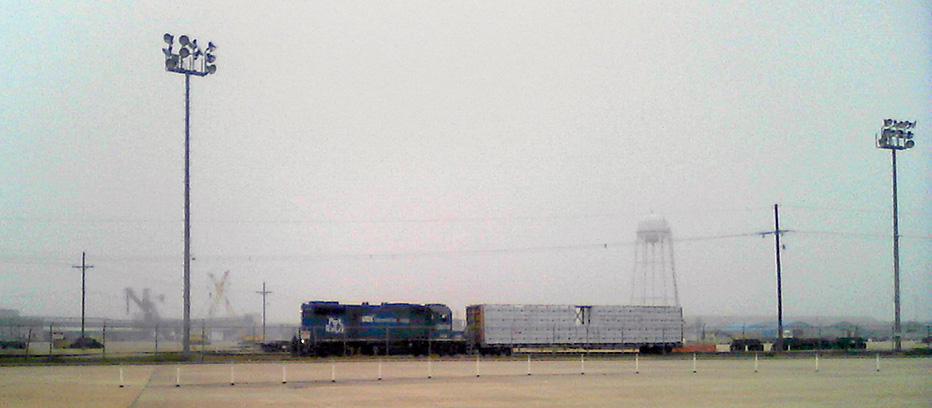 It's the same car that I saw and photographed moving to the port on Friday, right?
I sprinted with the DSLR camera in my hand up the stairs at the office to get the first shots of the full train leaving the port.
I like this!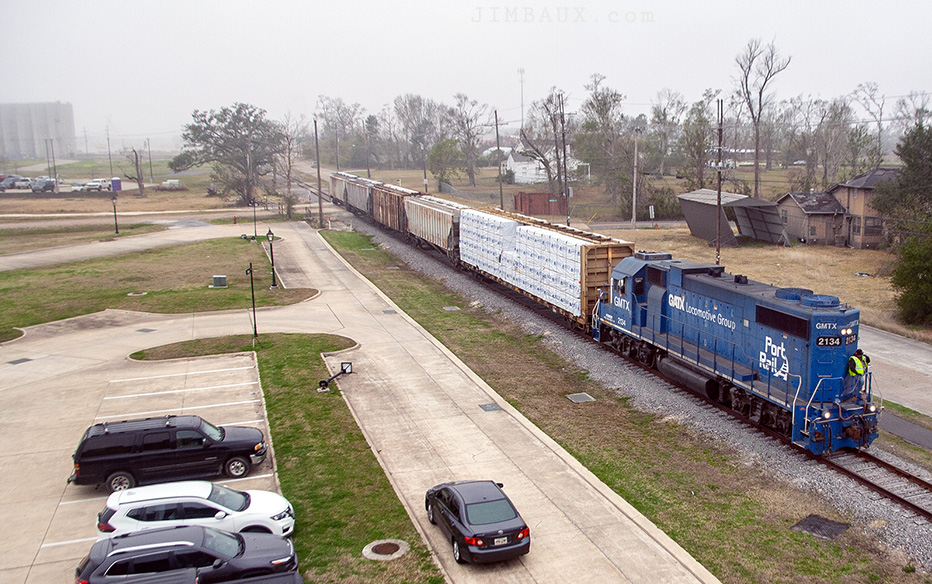 Look at the trainman again riding the platform. Is this normal here? If so, why?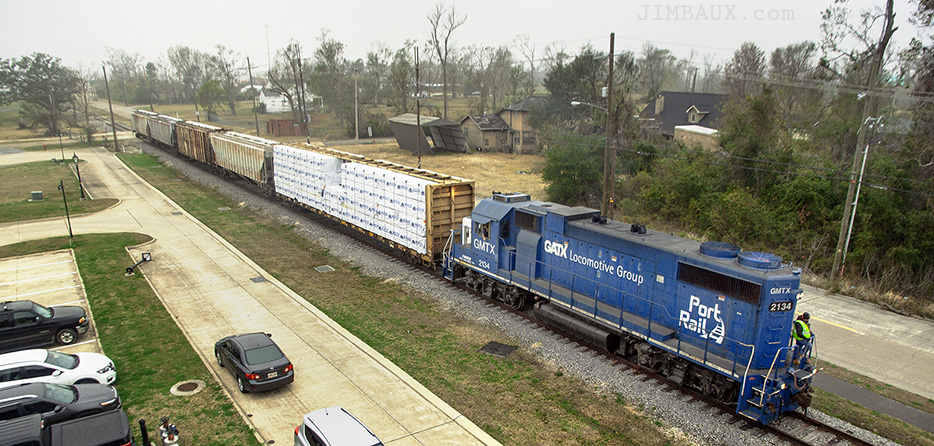 The lumber load makes this train more interesting!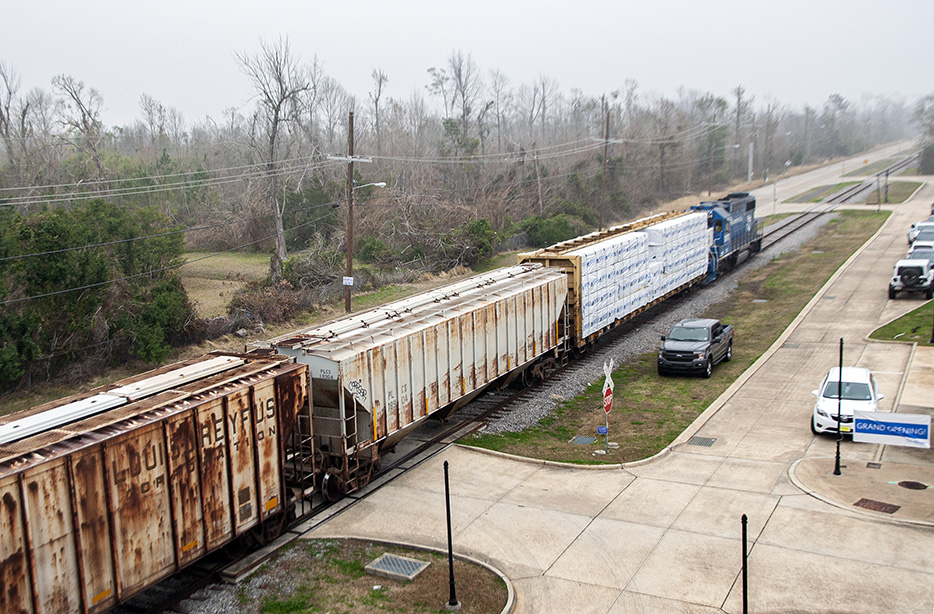 Also, I love how I can get the entire train in this shot. That's another of many reasons that I like shortlines and local trains.
Next, in a from-the-truck-and-through-the-windshield shot, we see the train crossing the eastbound lanes of West Sallier Street.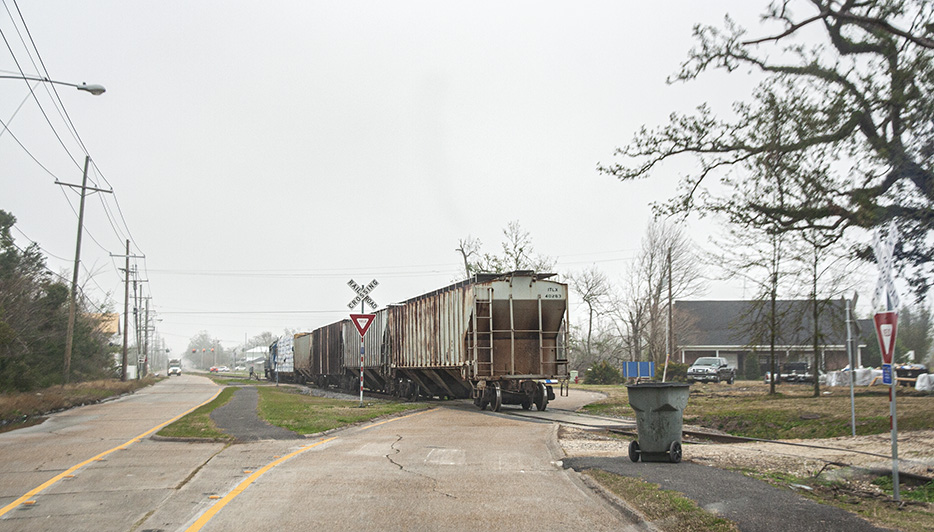 Next, probably less than one minute later, we see the train, from the front end, approaching Lake Street.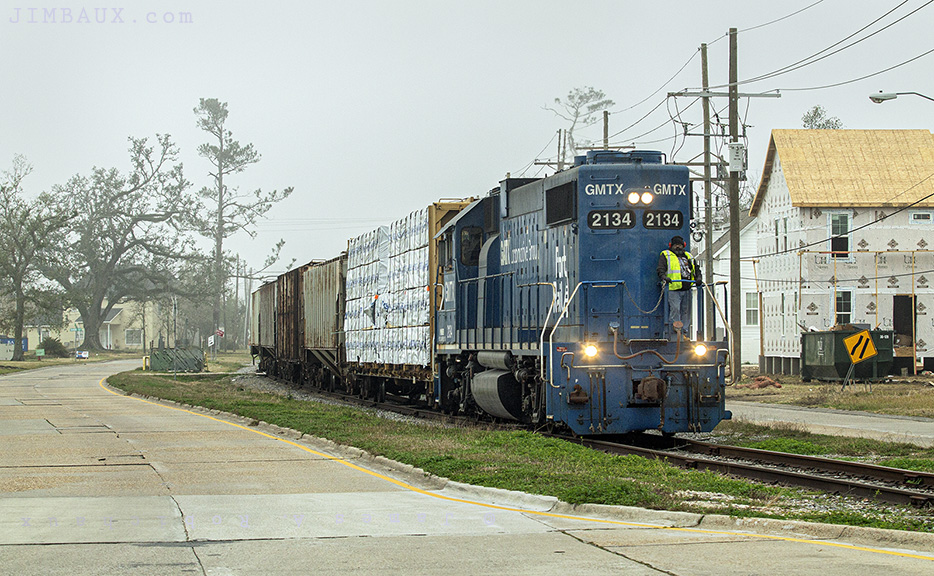 I like the juxtaposition of a carload of lumber passing a construction site.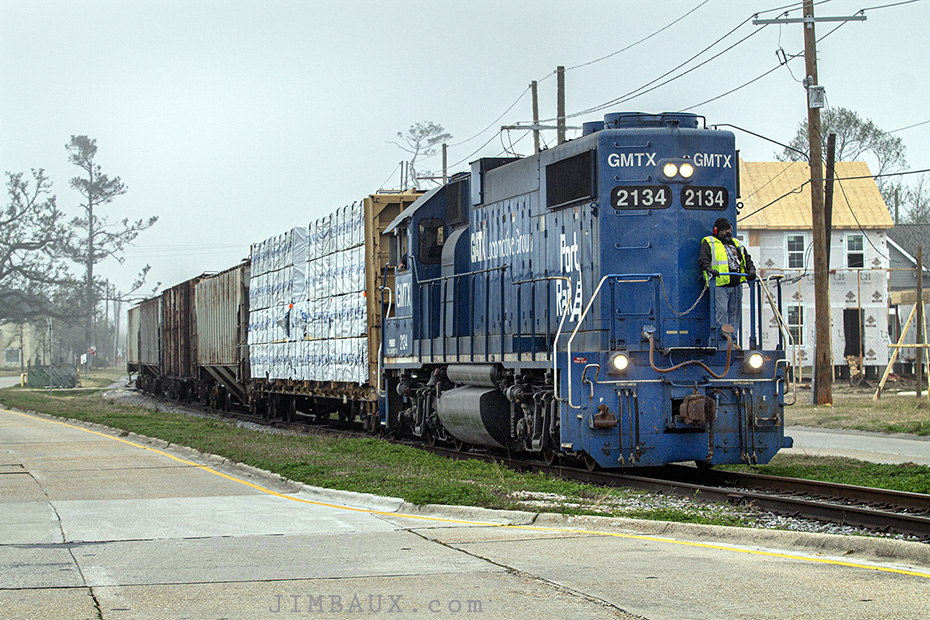 I like that!
Next, we are at Alvin Street.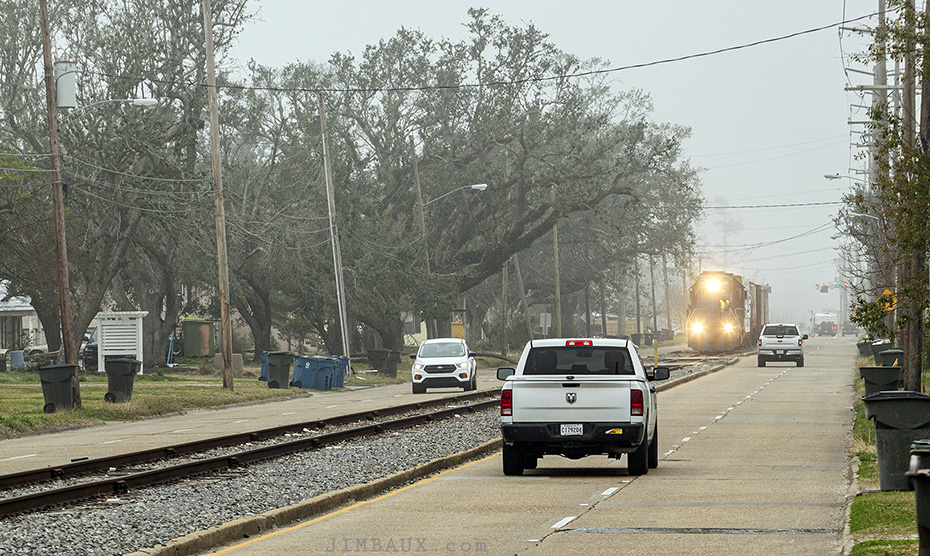 I like this, too, and the wrapping on the lumber load makes a good contrast for the otherwise darkness of the train on this misty morning.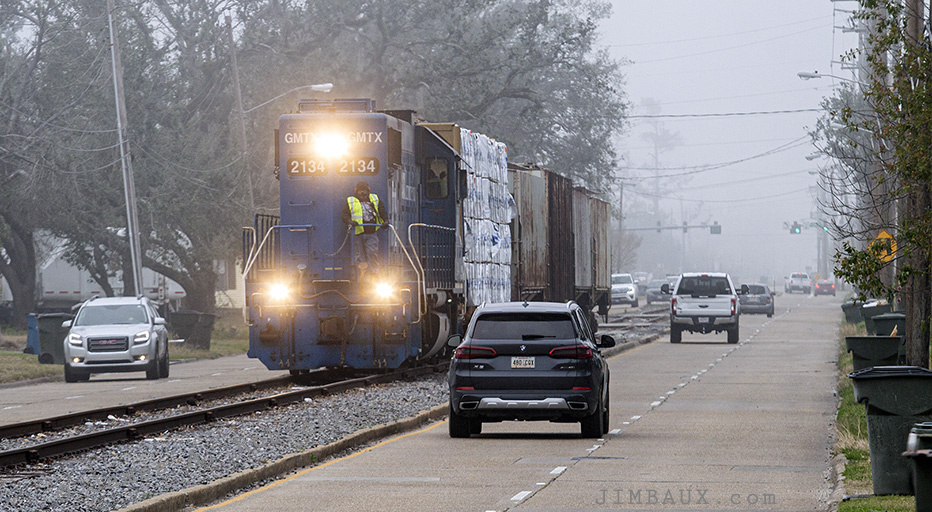 The changing position of the automobiles from one image to another is my excuse for being repetitive here.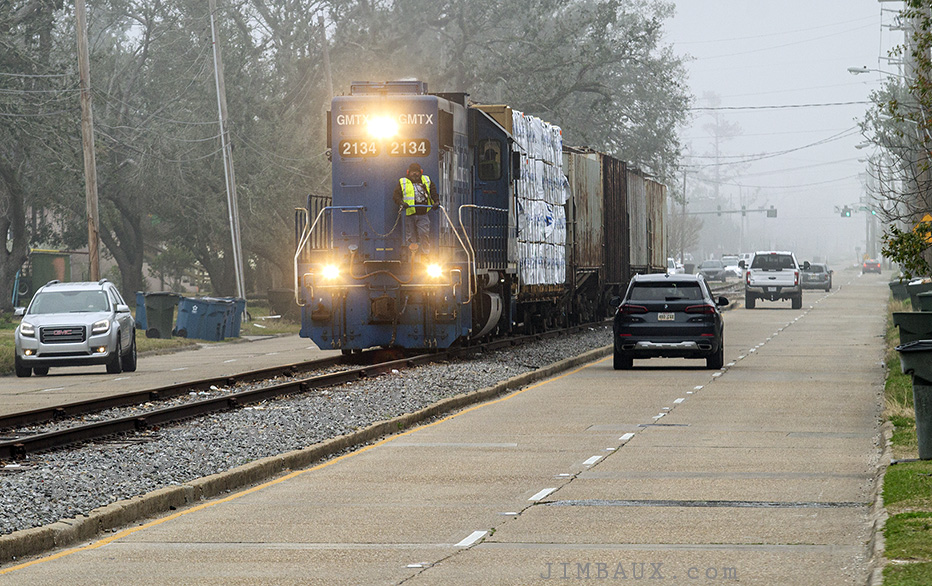 How is this?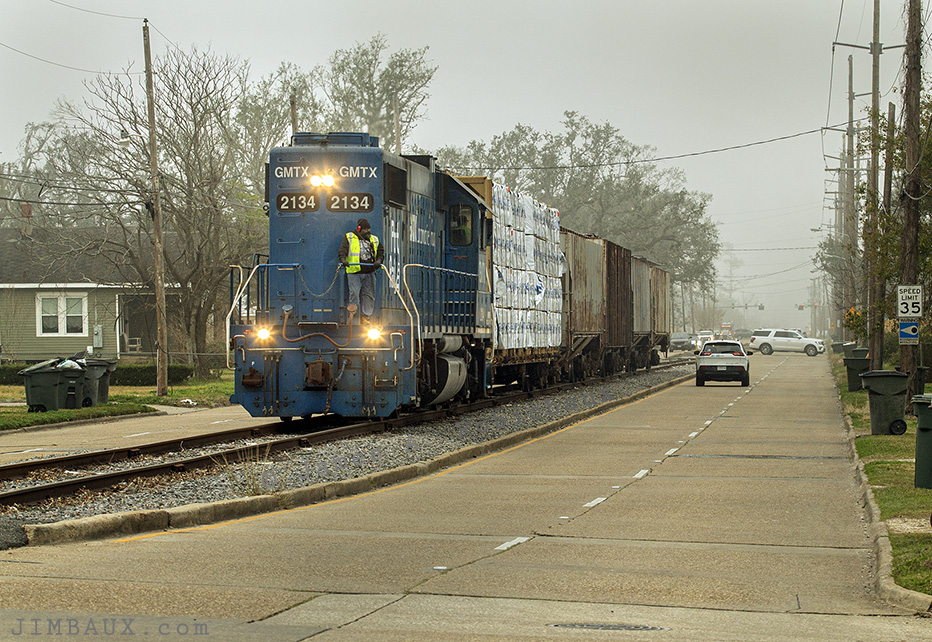 I like it.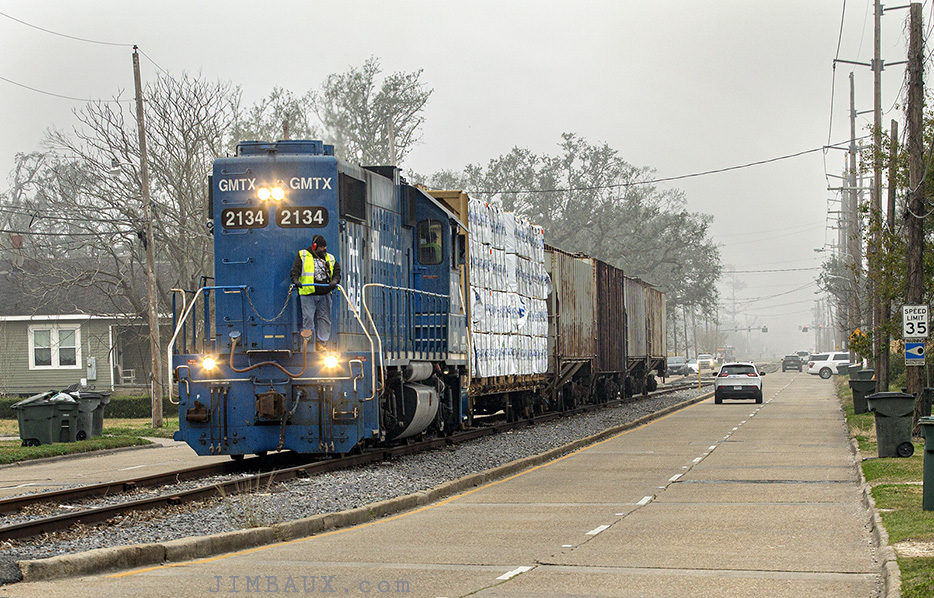 As I have said recently, this is great railroad action for being two decades into the Third Millennium.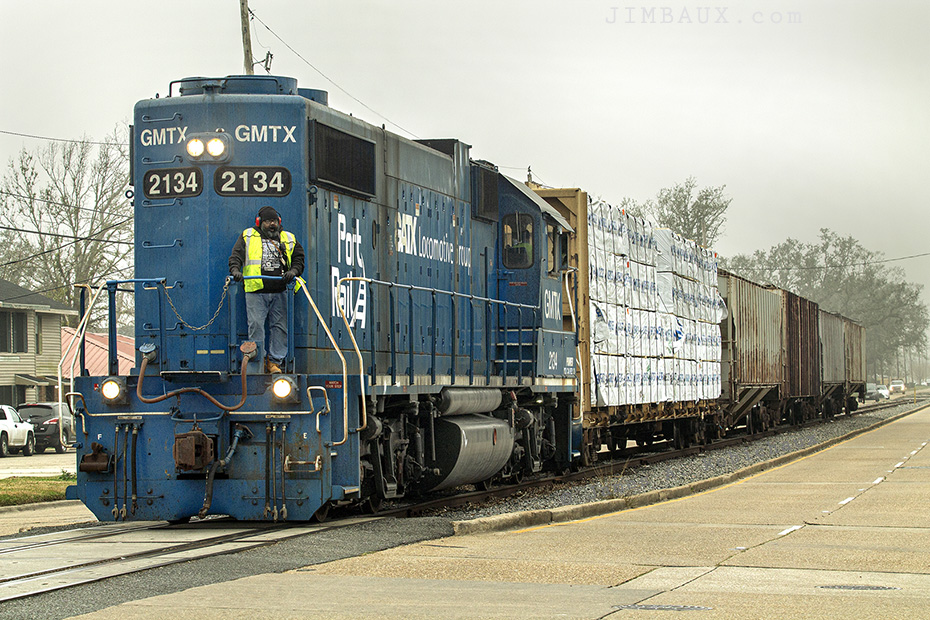 The kinds of scenes that you are seeing here are examples of my recent epiphany that I miss the cars of my earliest childhood even more than I miss the locomotives of that time, that if God Himself said that he could make the trains-minus-the-locomotives – i.e., the cars – of today look like the trains-minus-the-locomotives of 40 or 50 years ago or just the locomotives of today look like the locomotives of 40 or 50 years ago, but not both, I'd chose the former, because, as we see here, on some local trains, the locomotives of today do look very much like the locomotives of 40 or 50 years ago, because, essentially, they are those old locomotives!
Here is a closer look at the centerbeam flatcar and the packaging on the lumber.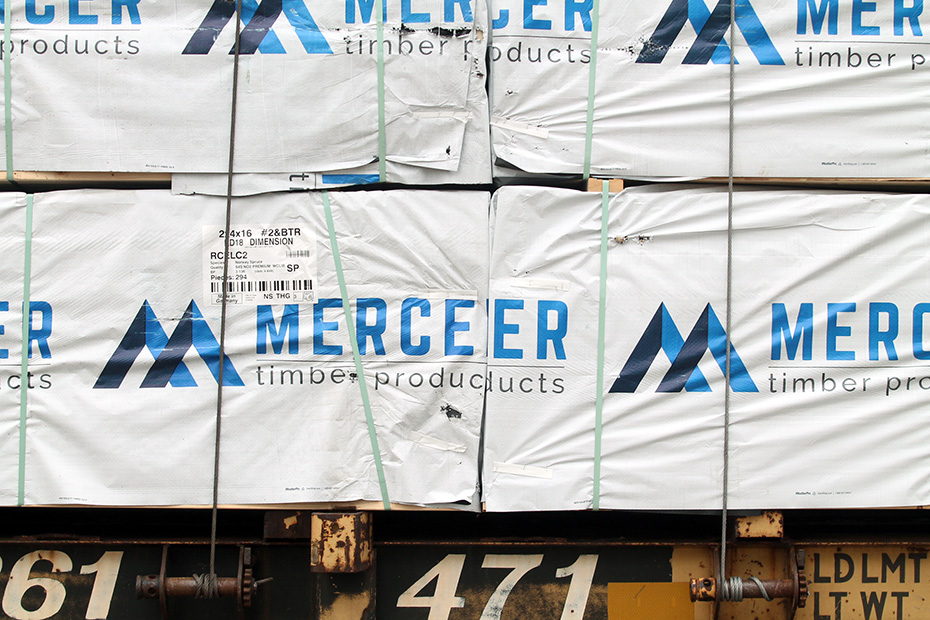 So, it seems to be some German-made lumber.
Also, while I don't think that I realized this at the time, this was not the same car that I saw on Friday. Apparently, this car was already at the port when I saw that apparently-other centerbeam flatcar on that train on Friday.
Here we are at Moss Street, at a location at which I had not photographed before.
Getting a decent shot between Ryan Street and the curve at 1st Street is difficult, and this is the first time that I have tried.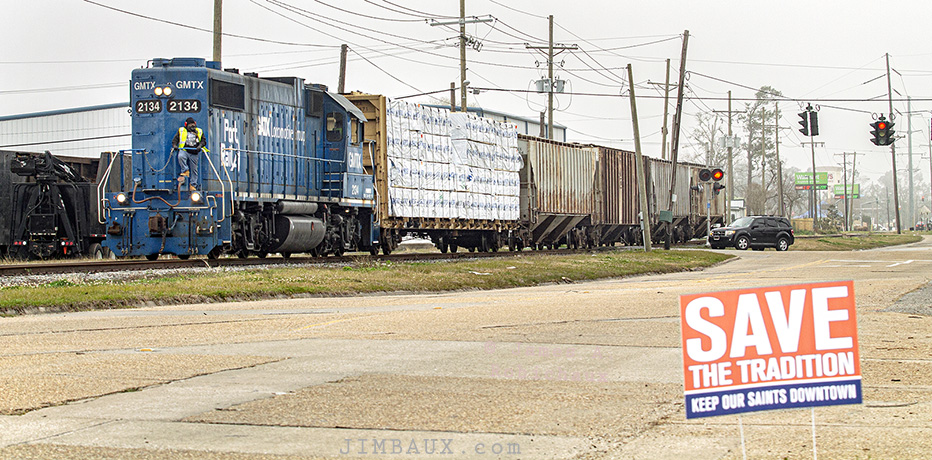 Next, I tried to find that boat that I saw yesterday at 2nd Avenue, but I couldn't find it, perhaps because I maybe didn't go to 2nd Avenue and did go to 3rd Avenue instead.
Regardless, I am at 4th Avenue for the next four images.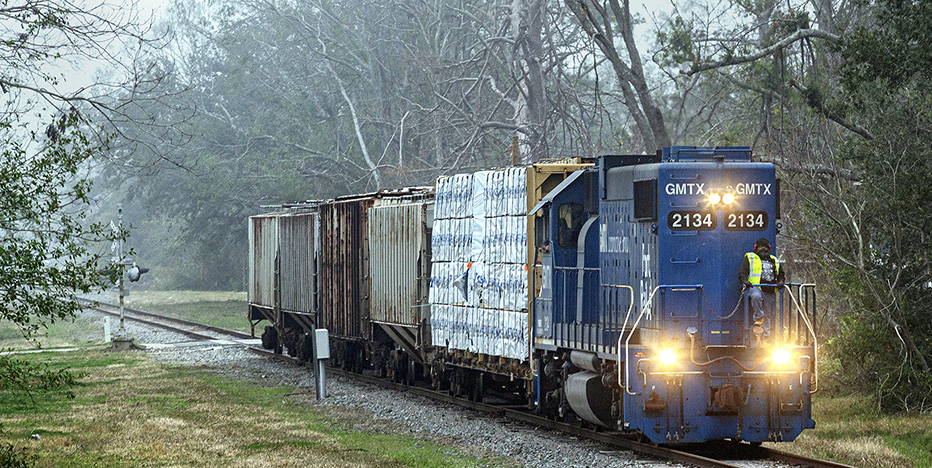 Again, I have to say that I really like this!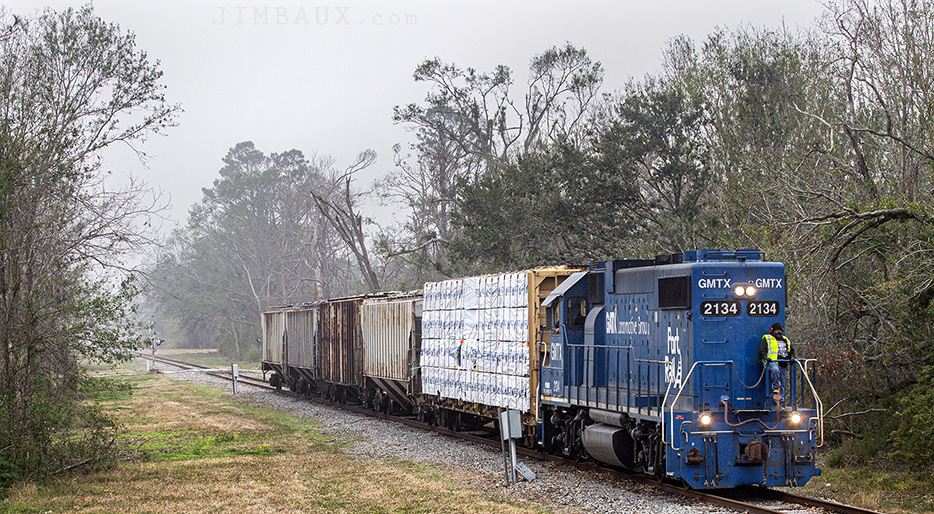 Now, let's switch lenses as the train gets to the crossing.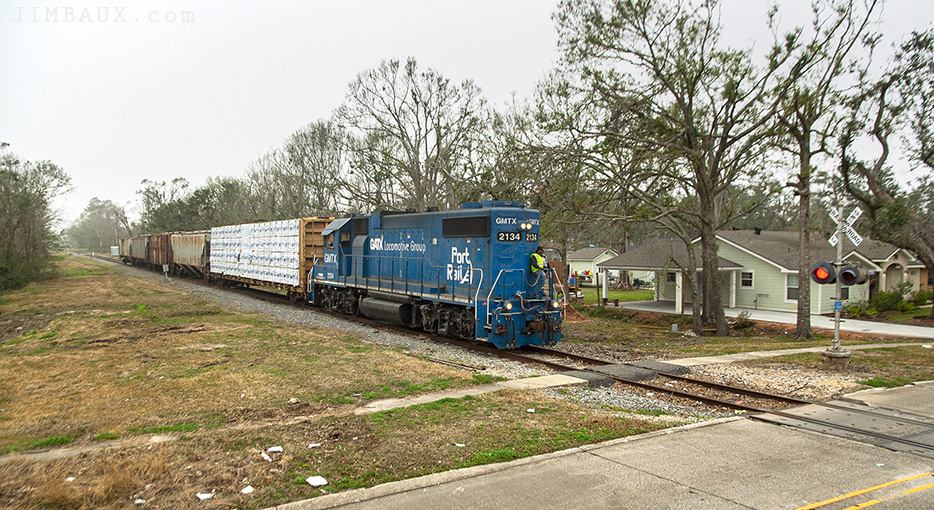 This is cool, isn't it?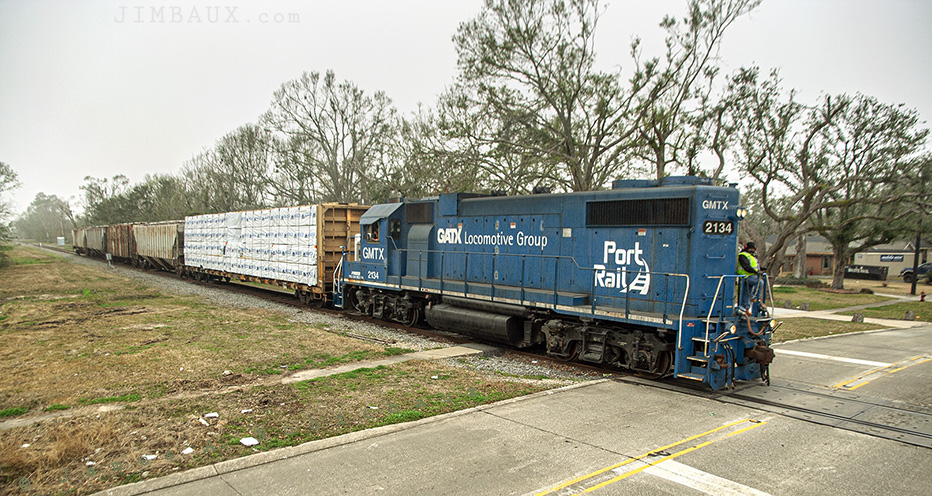 That's all for the eastbound train.
Thirty minutes later, I am one street over and-or back to the west, at 3rd Avenue, waiting on the westbound train.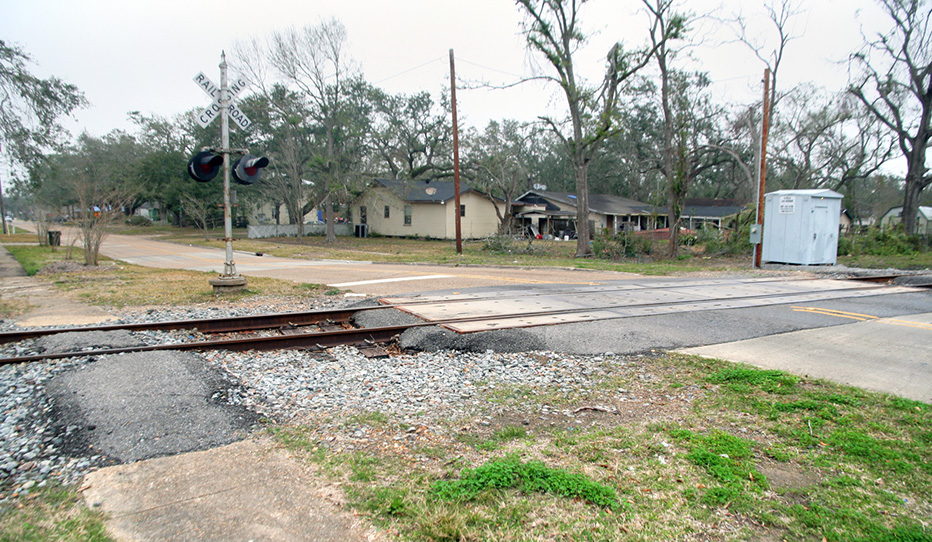 I'm just getting some detail shots of the crossing with the surrounding neighborhood.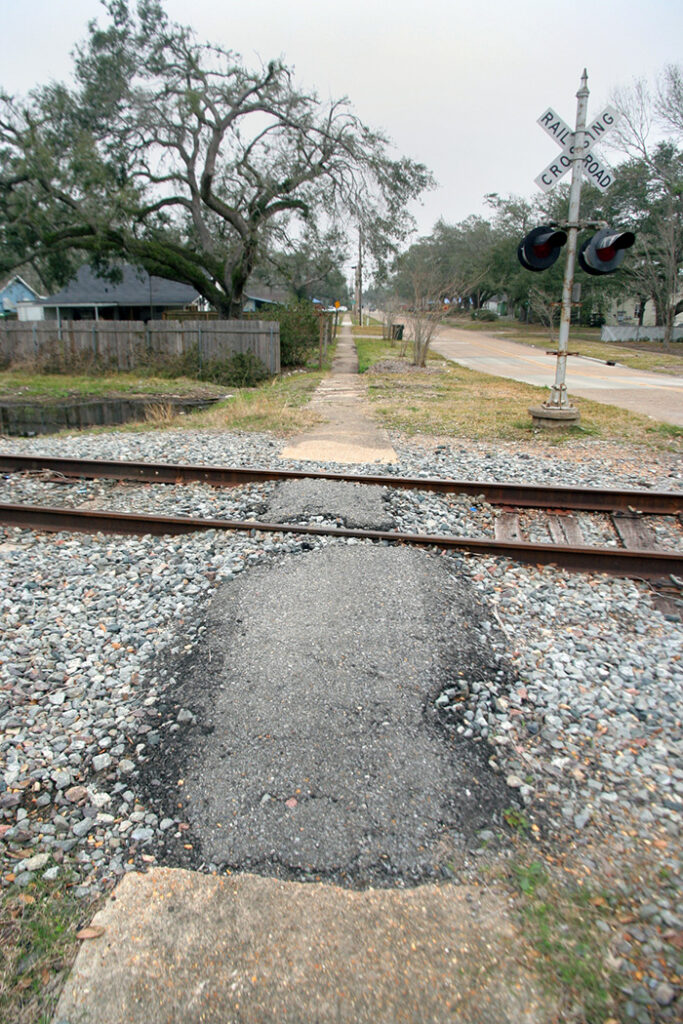 At 10:10, almost 45 minutes after the eastbound run passed this location, here comes the westbound run.
The train had nine cars.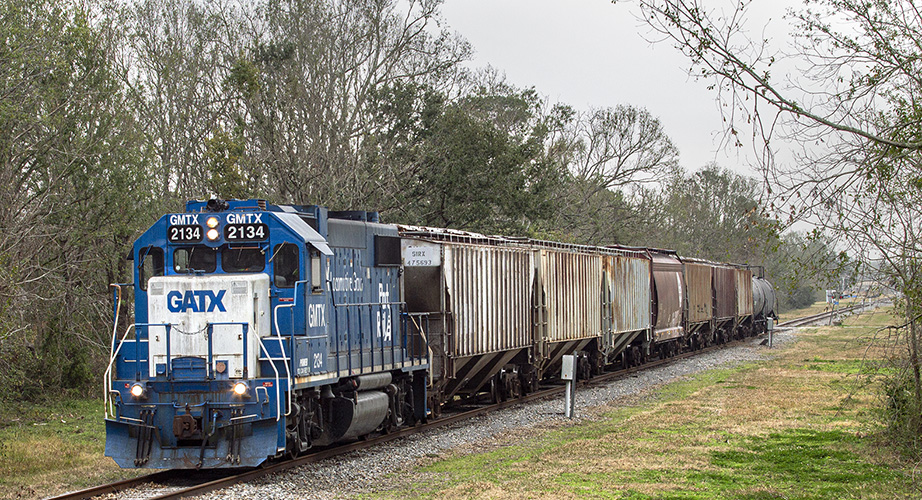 So it is at 3rd Avenue.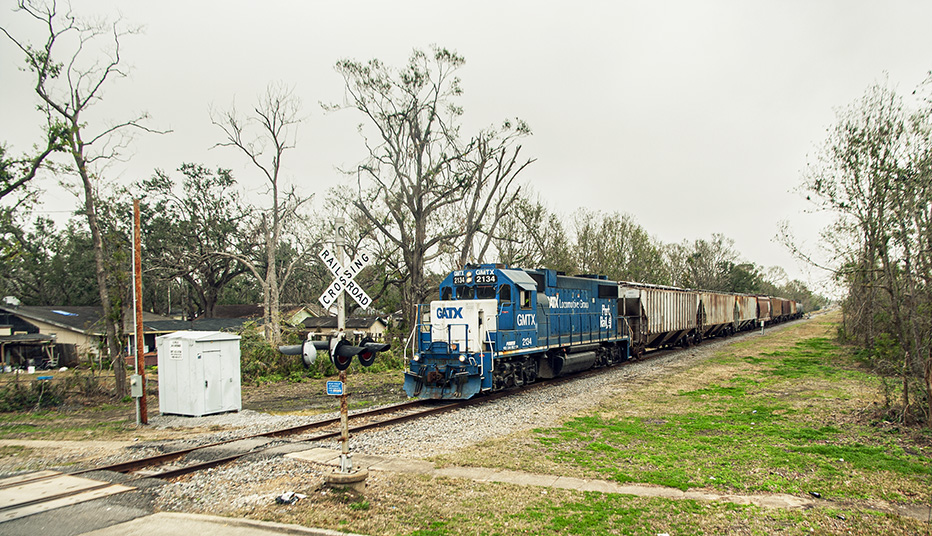 This is a classic EMD profile here.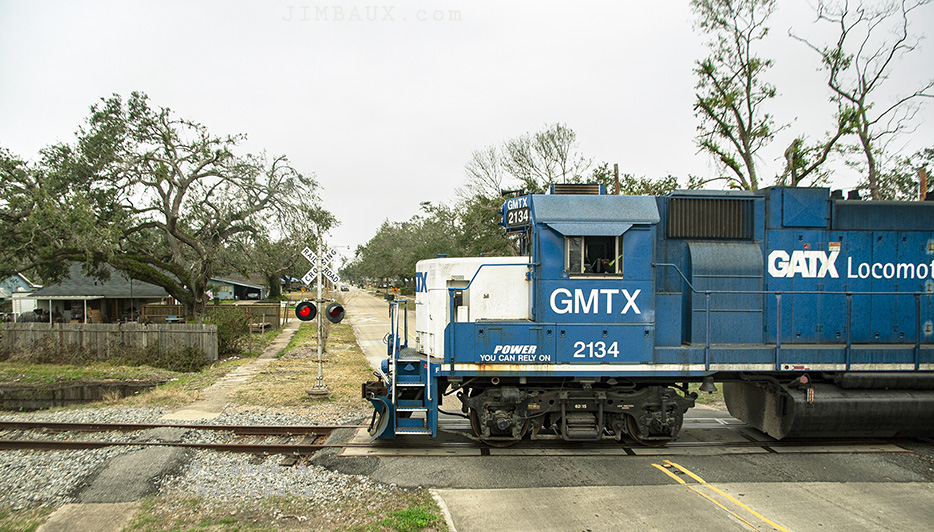 Here is a cropped version of that same image.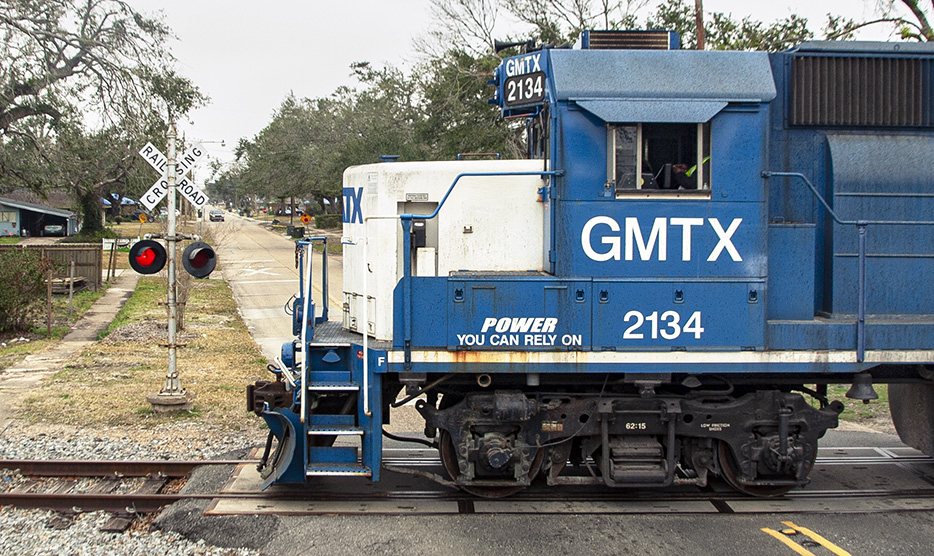 I hope that you don't mind the repetition.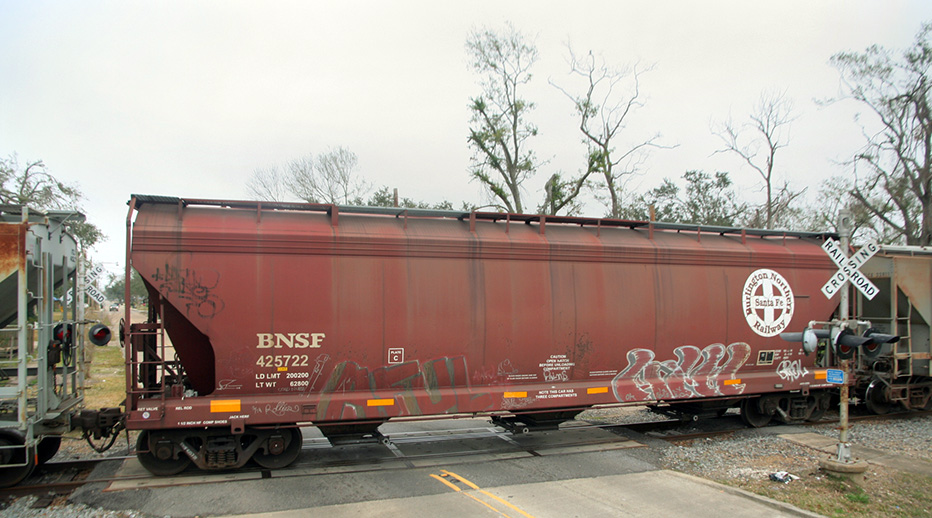 It's interesting to see BNSF cars on this line that is essentially captive to the Union Pacific Railroad.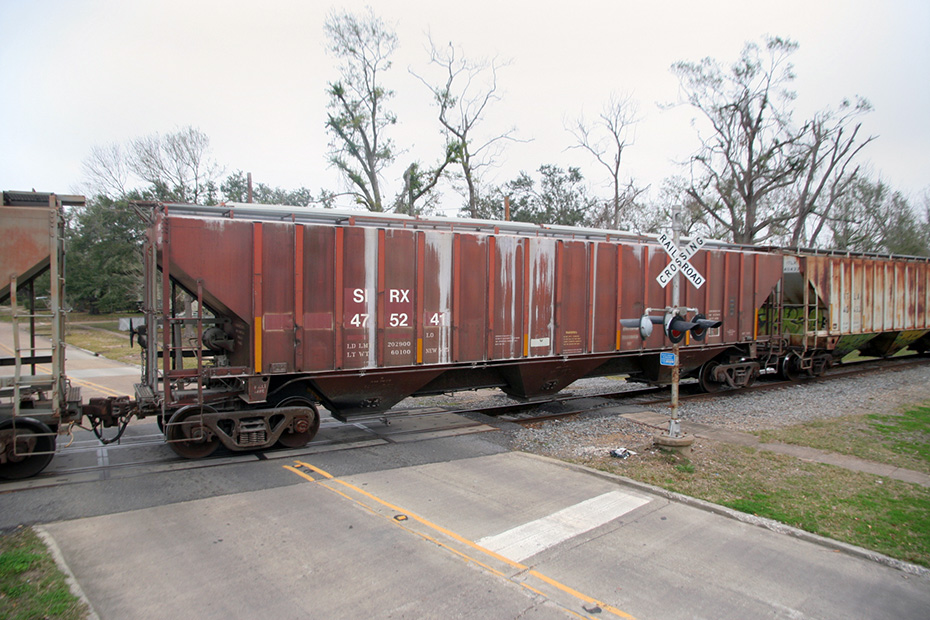 The two tank cars at the end of this train had "2922" hazmat placards.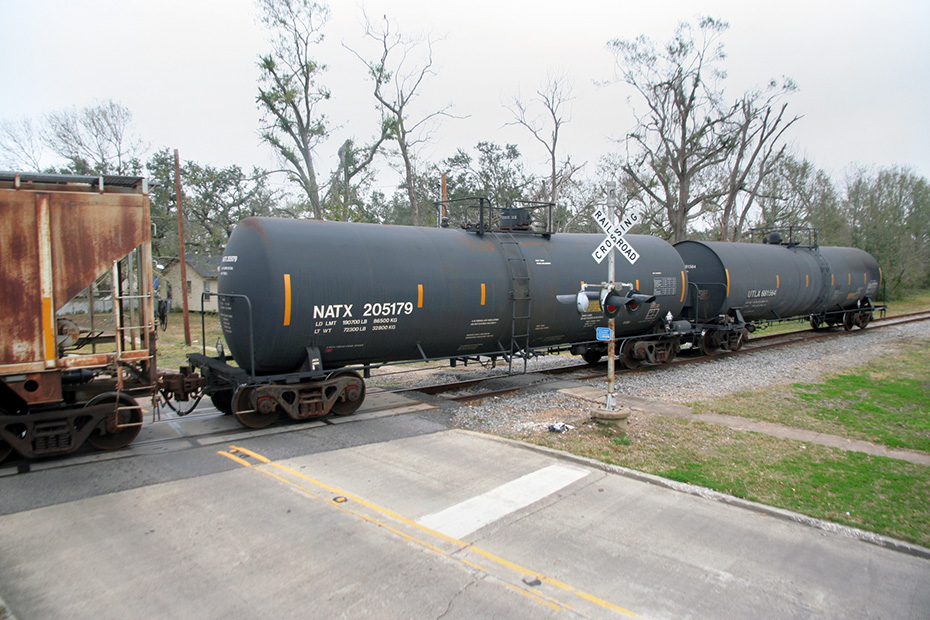 What does that tell you about this overall operation?
Next, we are Westwood Street, a shot that I have never before done.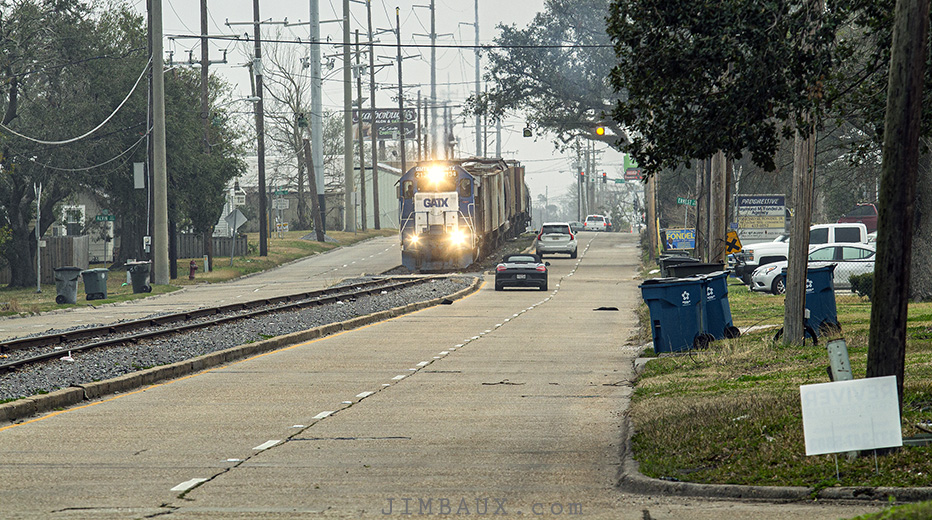 Below is a cropped version of the above image.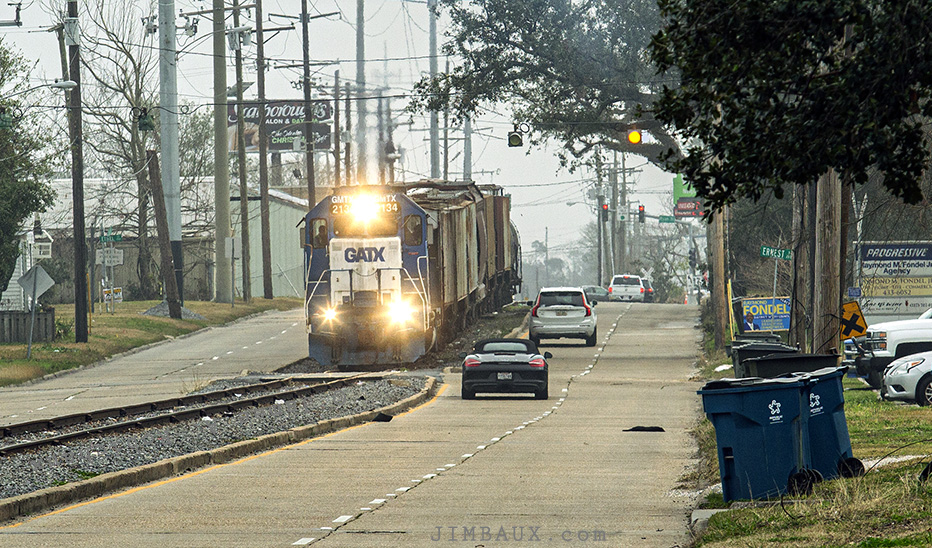 I didn't think that I'd be getting good new shots well into 2021!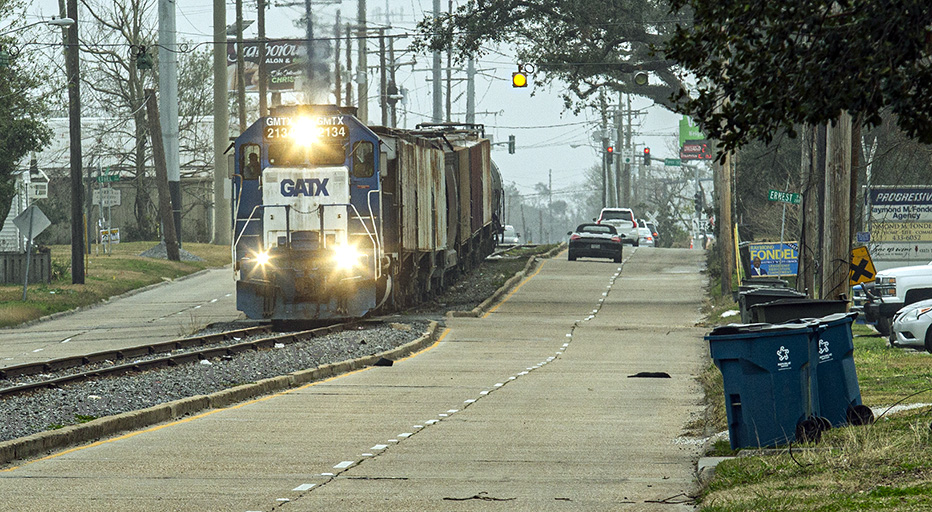 Hey, there's a boat!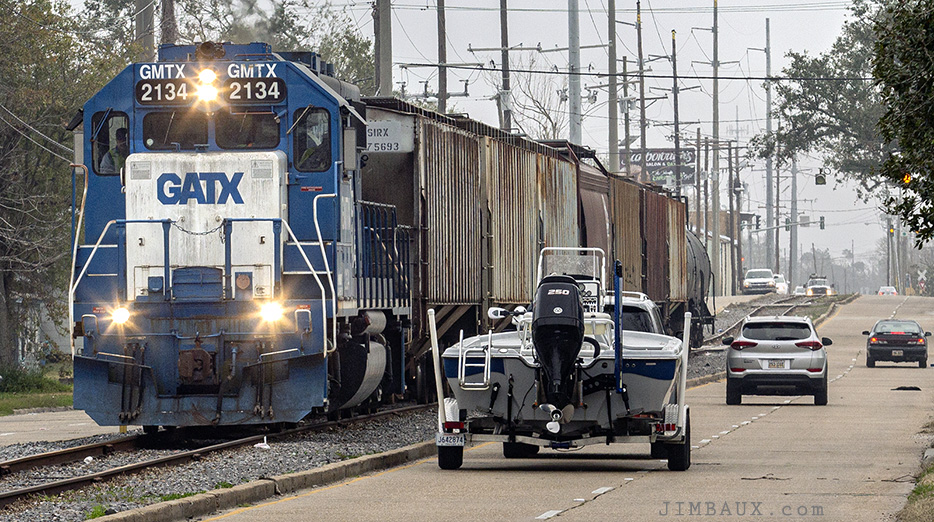 As I said on December 28, the first time that I photographed a train on this line, I really could learn to live with this.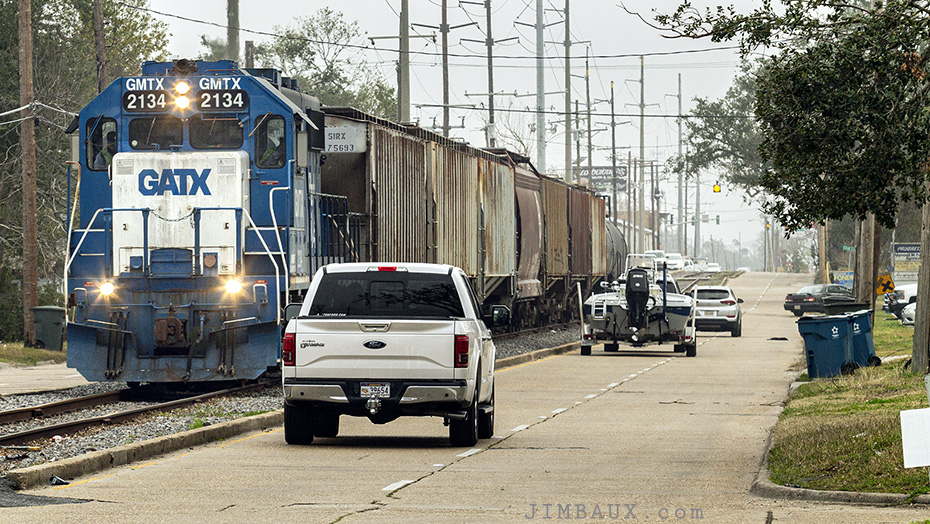 Of course, the revelation that KSJ made to me on the 29th might mean that I may not be living here afterall, but I really don't know.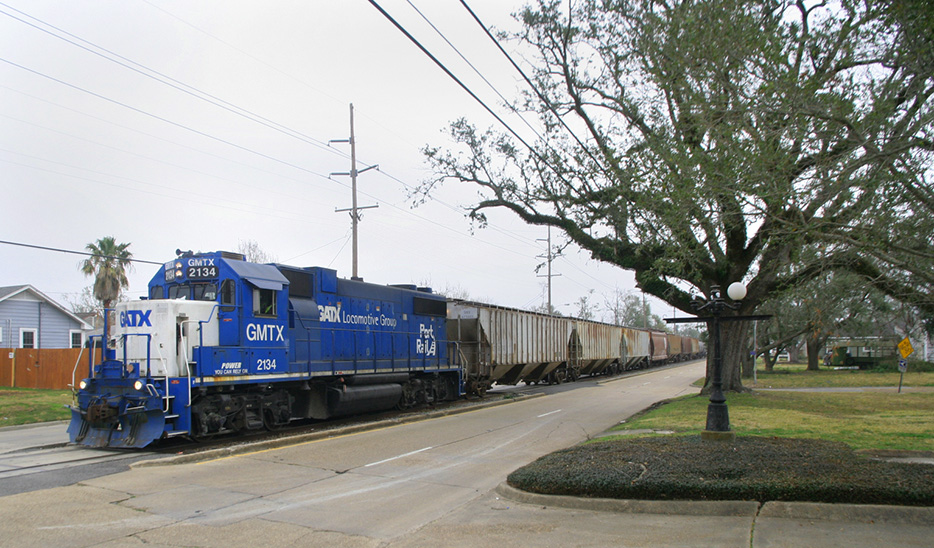 These wider-angle shots are rather lame. I couldn't rescue the washed-out sky in them, because, in an effort to be frugal, I took them as jpegs; I have learned my lesson!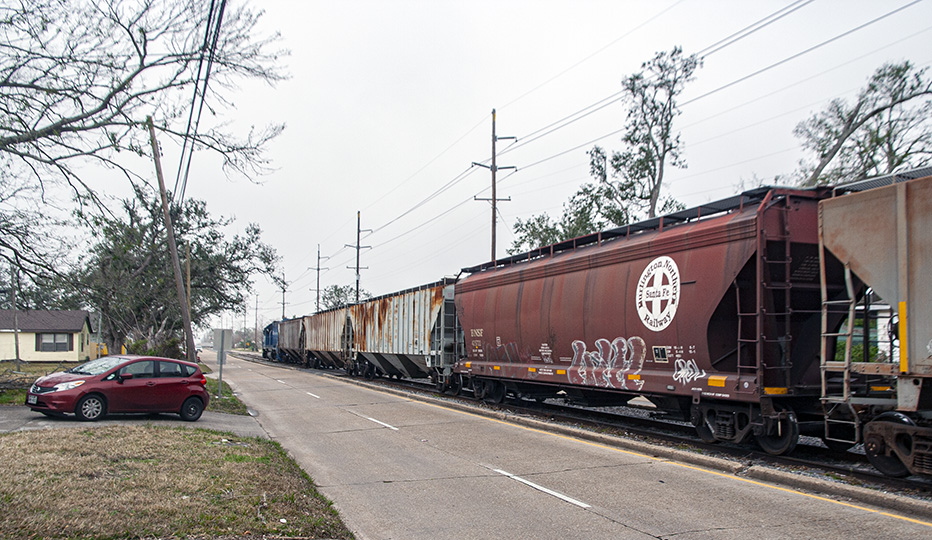 Next, we see a couple of going-away shots at Lake Street.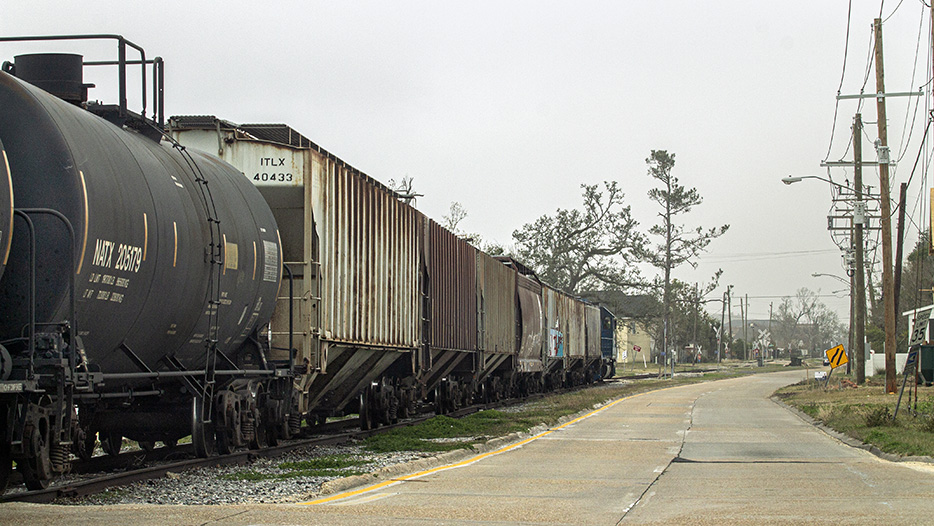 These turned out better than those prior, partly because I shot them as RAWs!
Next, I end this bi-directional Port Rail chase the way in which I began it, with a third-story shot at West Walnut Street.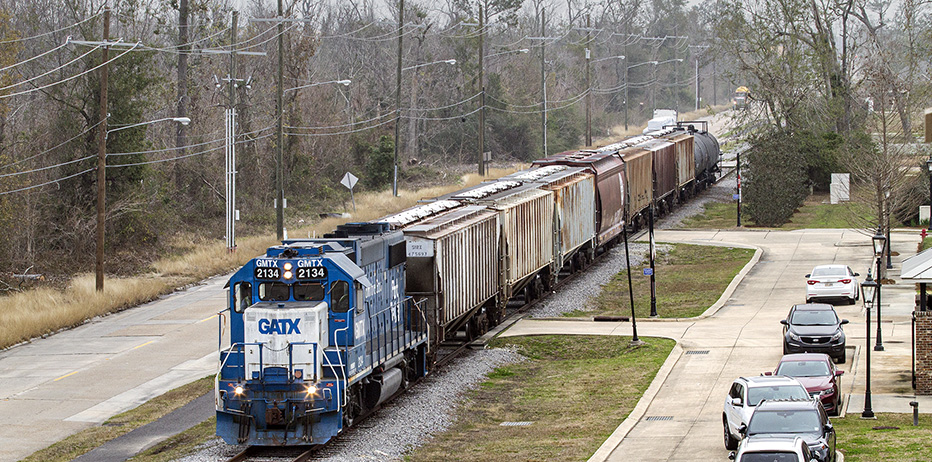 This is a really cool view, I think.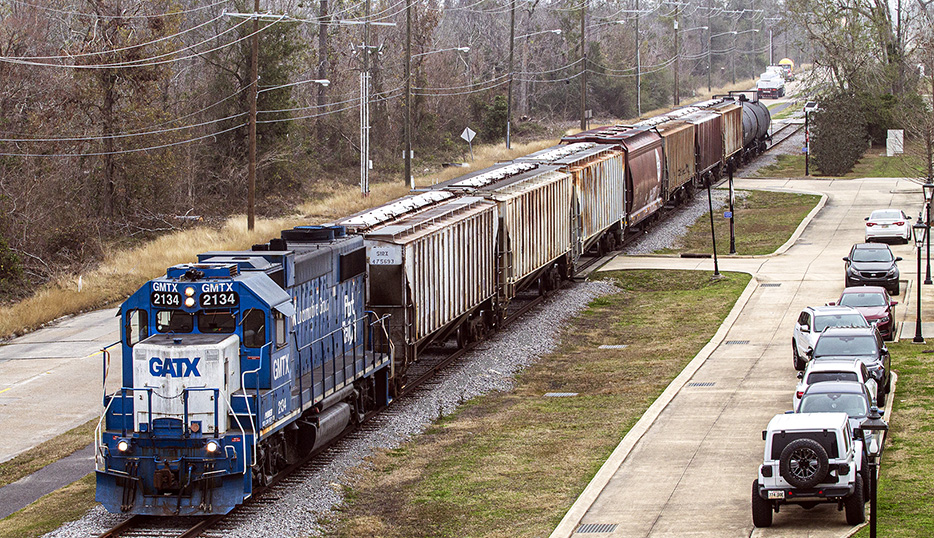 What do you think?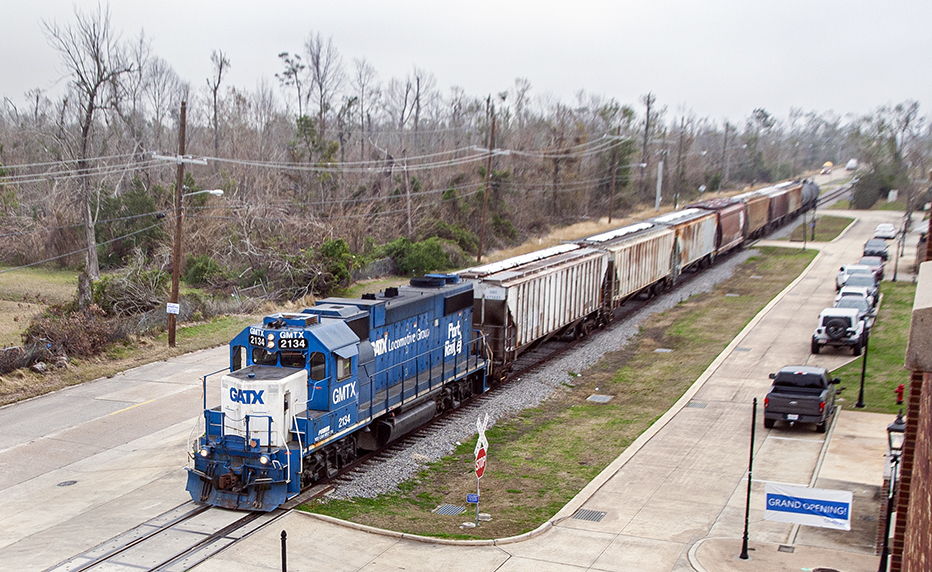 These are the kinds of pictures that I would make if I had a drone.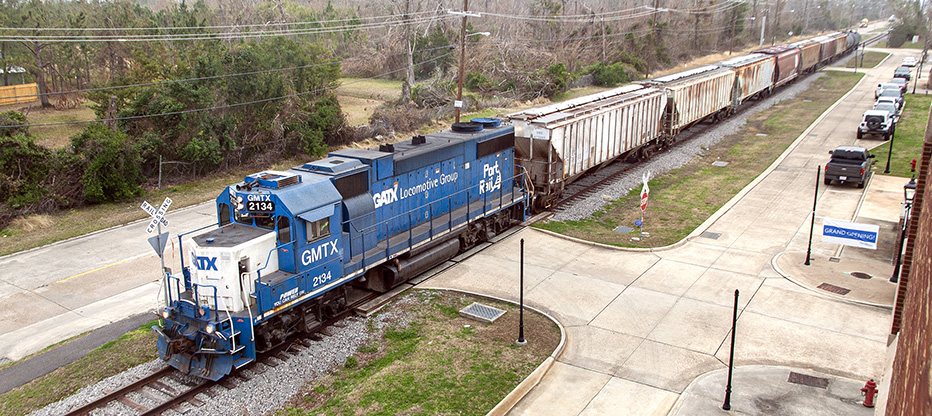 That was good!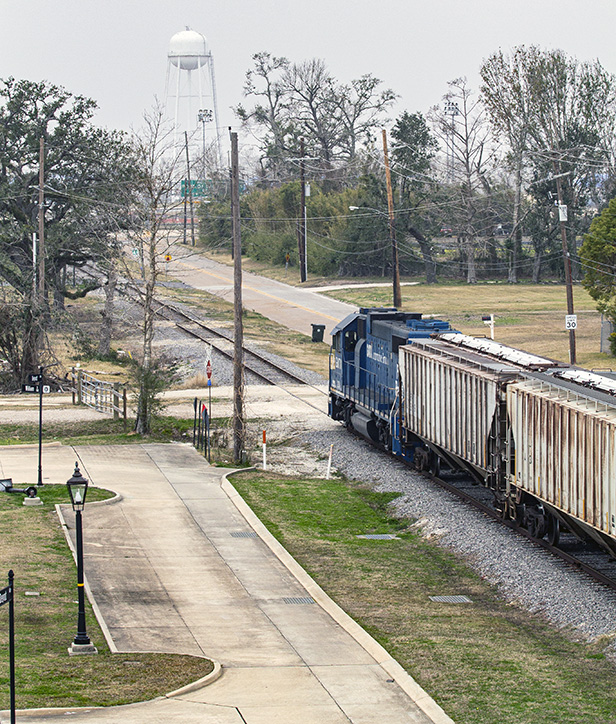 It was foggy this morning, as you could ascertain from the images, and I had a jacket with me in the truck but didn't wear it and ended up getting sweaty, probably both due to the humidity and due to running up two flights of stairs twice!
Perhaps now that I have seen this lumber car move out of the port, loaded, I can return back to the homestead now, or maybe tomorrow after I do the same thing with tomorrow's Port Rail train!
What I didn't realize when I recorded that thought, though, was that I hadn't today seen the same car that was on Friday's train. So, maybe I definitely should check out tomorrow's train.
In the meantime, I went to the beginning of the old SP Lake Arthur Branch, or near the beginning at Fruge Street, and I found this.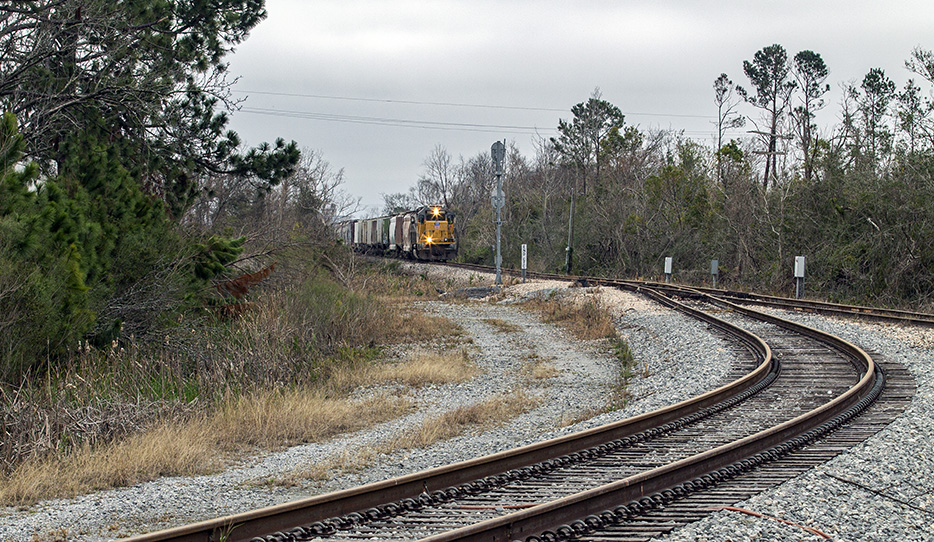 So, this is the UP job that serves this Lake Charles Industrial Lead, from which the port trackage diverges, and do you recognize that cut of cars at the beginning of the train?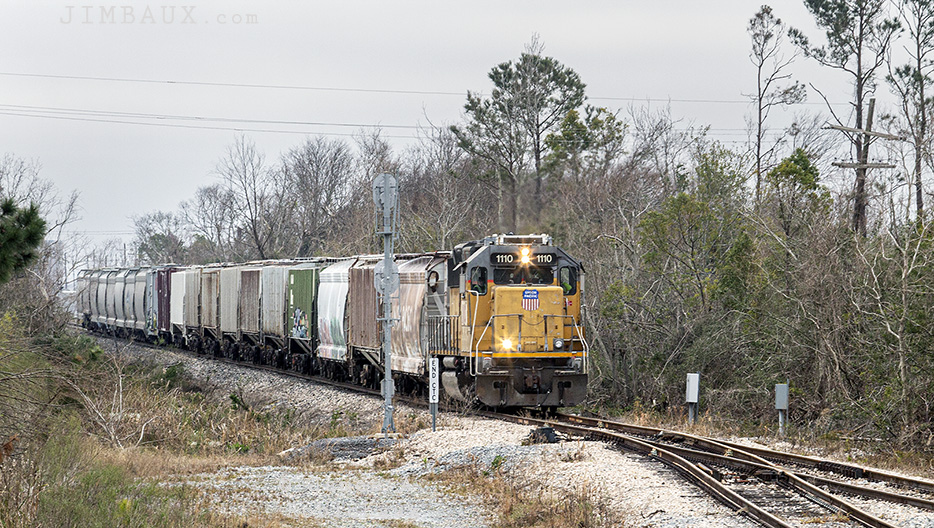 That's yesterday's Port Rail train between the locomotive and the cut of rice mill cars on the back!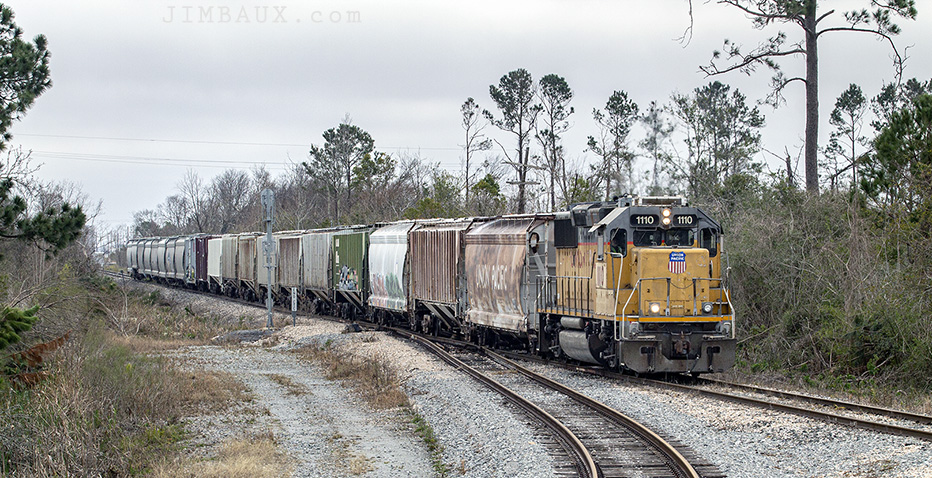 The cars in the back are coming from the Farmers Rice Milling Company.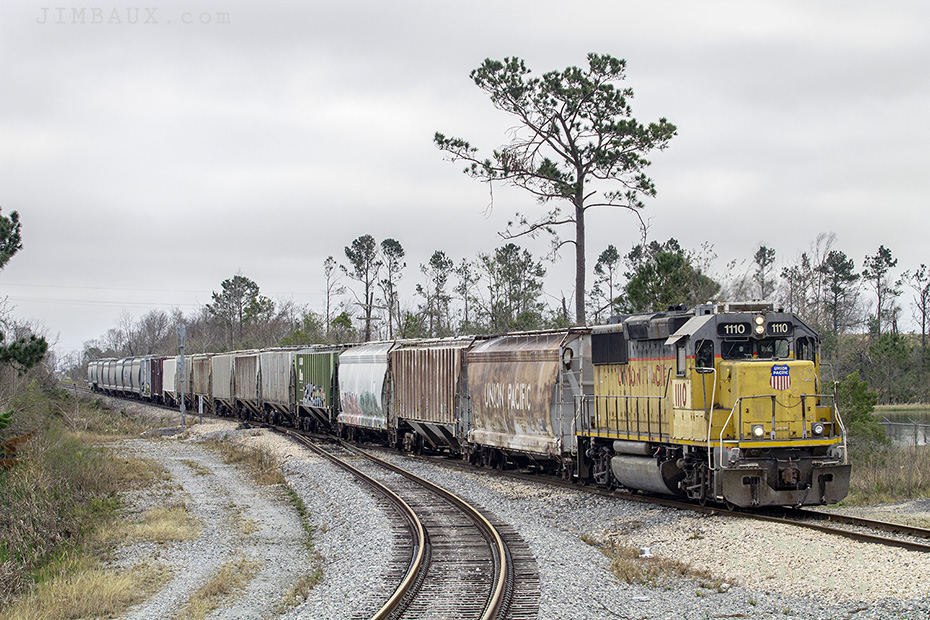 Next, I went to the rice mill, and I saw this.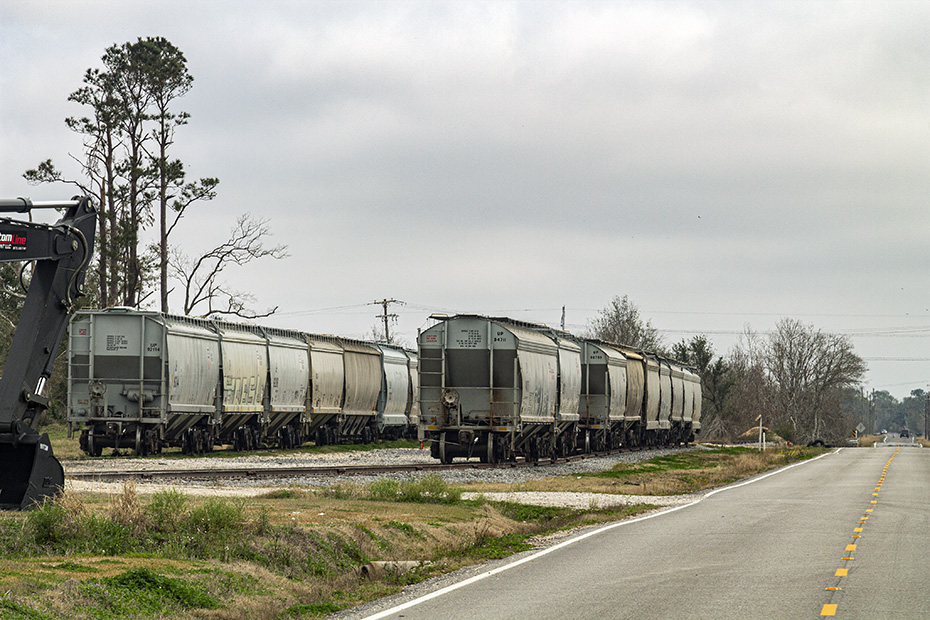 Okay, that's all for the pictures today.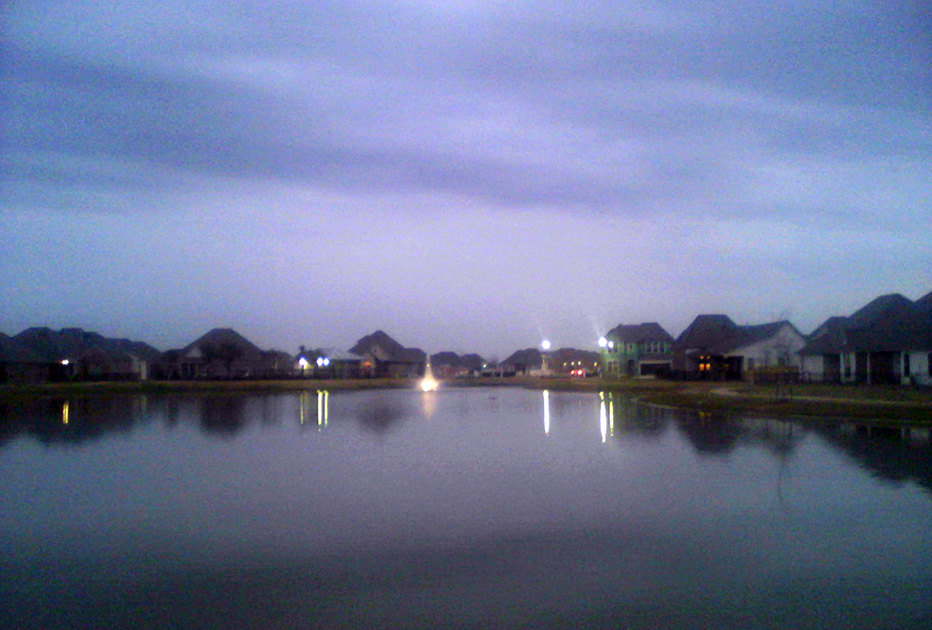 I guess that I will stay another night in this somewhat dystopian place and try to foam the port line again tomorrow before returning to the homestead.
This chase was largely uneventful, even if it yielded some great pictures, which is why I don't have much to say here. It's very matter-of-fact what you see here.
In the shower this evening, I came up with the idea of far-away producers paying me to store rail-delivered stuff close to their customers.
I think that going to Schriever, as I did 10 days ago, is being a tourist in my own mind now. That's weirdly scary.
Also scary is the news now.
It's good to see local black people calling out what a fraud Shaun King is, that we know that Gary Chambers is associated with him before we elevate Chambers to office.
Well, that was interesting.
Bobby Jindal also went from being hero to zero.
Our society needs help.
This is a heck of an insight here.
That's all for now.
Maybe there will be a good train tomorrow from the Port Of Lake Charles, and maybe a good train tomorrow to the Port Of Lake Charles.
Jim