Sorry To Have Been Away, And Sorry To Be So Brief Now, But
Greetings, and welcome to the November 2009 Sampler essay, which means, welcome back to the "Sampler" essays after the three-month – or, depending on how you want to define it, the two-month – hiatus that was foretold at the end of the August 2009 Sampler.
After an incredibly intense summer of travel and photography, which included a trip to Western Europe and a trip to western Canada via Minneapolis and back home via Oregon, I took almost no pictures – but spent time at nights and on weekends processing images from the summer – until Thanksgiving week.
Such was my life at the time, and this essay will be even more brief than my November 2008 Sampler essay.
October
There is one barely-shareworthy image from October 2009, and I didn't want to make a post just for it; so, here it is.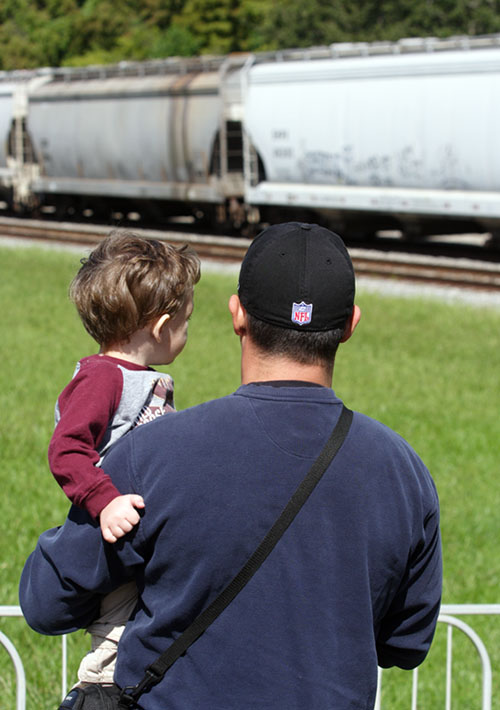 That is El Chico De Norco and son at Steam Fest III at The Fly at Audubon Park, watching a train pass on the New Orleans Public Belt Railroad.
November
Due to the schedule that I kept back in the day, being an active schoolteacher who had to stay busy working with planning and grading (grading is terrible) on weekends and nights, my photography didn't really happen other than Thanksgiving Week.
The 13th
I initially didn't plan to post this picture, and I am still not sure that posting it here is a good idea (and that's not because it was taken on Friday the 13th), but here it is.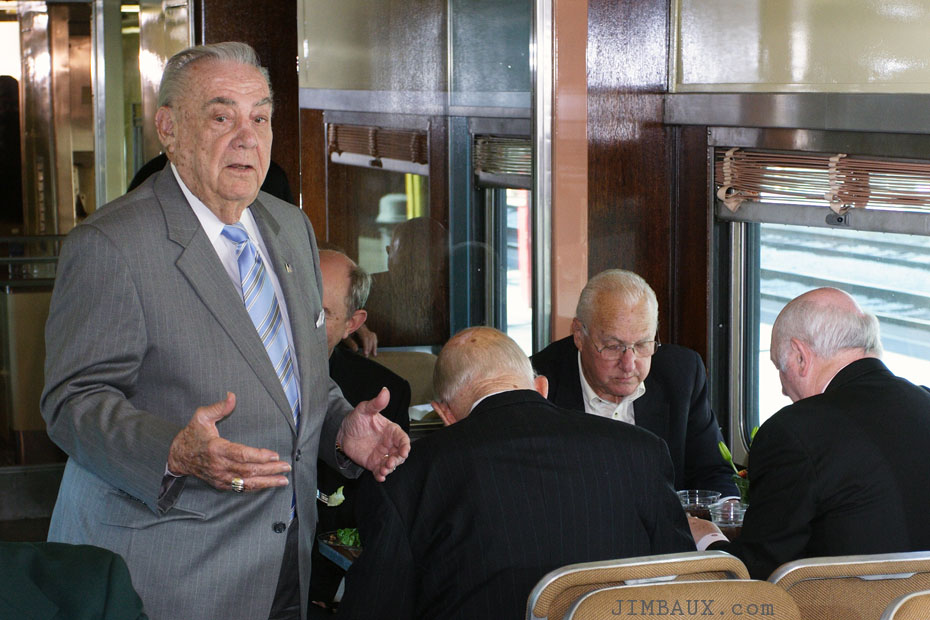 That is Jimmy Fitzmorris speaking at a celebration in his honor, for his 87th birthday, aboard a New York Central passenger car at New Orleans Union Passenger Terminal, and event organized by two local veteran Kansas City Southern Railway conductors.
For being nearly a nonagenarian, Fitzmorris was remarkably spry and mobile, and, as of the publication of this essay a decade later, he lives. Fitzmorris has been affiliated with the KCS since before World War II, when he went to work as a message boy for the railroad and later became one of its vice presidents; he still works as a consultant for the railroad. He served on the New Orleans city council and was later lieutenant governor of Louisiana for eight years.
In the image above, former New Orleans mayor Moon Landrieu – father of former (and then-)US Senator Mary Landrieu and now-former and then-future New Orleans mayor Mitch Landrieu – is seen facing in the general direction of the camera, while seated with their backs to the camera are Dave Dixon and then Jefferson Parish President Aaron Broussard; Dixon, who died the following year, helped create the New Orleans Saints NFL franchise and was instrumental in the decision to construct the Louisiana Superdome.
The 23rd
On Monday the 23rd, I made my first real action shot of a train (the October picture at the beginning of this piece doesn't really count) since August 3 in British Columbia, my first photograph of a train in Louisiana since that static shot that I did of a parked Norfolk Southern Railway job on the Chalmette Branch in New Orleans in early June, and my first action shot of a train in Louisiana since May!
After photographing the LDRR 1850 working the Discovery Gas Plant in Paradís, I was in sacred Schriever, milepost 55 of the Sunset Route, where I photographed the westbound Sunset Limited stopping at the depot.

I then chased the train to the Atchafalaya River and photographed it there, as I have done before.
The 25th
Two days later, on Wednesday the 25th, the day before Thanksgiving and one year to the day after I got images of action of trains of all three railroads operating in the Schriever area, I am in "De Berrie" for some Louisiana & Delta Railroad action. I don't remember what my actual target there was, but it probably was branchline sugarmill activity on the remains of the old Missouri Pacific Railroad branch from Port Barre, the short stretch extending northward from the ex-SP mainline in New Iberia to the Cajun Co-Op sugar mill near Loreauville.
I shadowed Peartree and Giles all day, starting on the ARA spur and then moving onward to the old MoP yard, where we see Giles protecting the shove of tank cars across Highway 677 – Sugarmill Road – into the former Iberia Sugars site, with Peartree at the controls in LDRR 1503.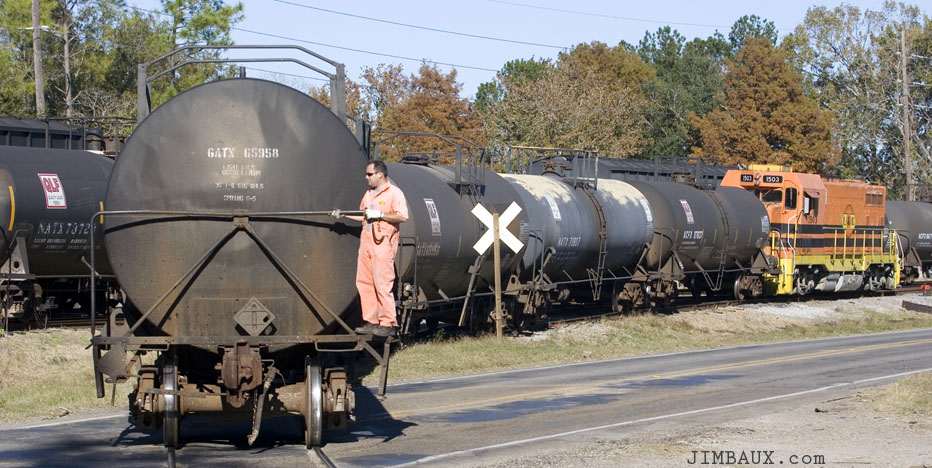 Iberia Sugars closed after the 2004 season. For a few years afterward, molasses or syrup from other nearby mills that don't have direct railroad service was trucked to the loaded racks here for loading into tank cars, which is the purpose of the activity in the above images, but that activity, too, has since stopped, I believe due to the opening of the transload facility in Jeanerette, and, since then, as you can tell due to satellite images of the location of the spur, the railroad spur, like the mill, is no longer there.
After the crew did the work on this spur that day, it went up the old branch to its now end at the Cajun Co-Op mill, worked the mill, swapped ends with the LDRR 1506 in the lead, and returned to New Iberia, ending the day's work.
Sadly, both locomotives, magnificent old CF7s, have since been scrapped.
The 28th
On Saturday the 28th, I was back in New Orleans.  So, too, was The Mid-City Marine.  We went out foaming, and I made what were my last railroad pictures in Louisiana in 2009, my last action railroad images in Louisiana until 15 February 2010 when I made some Amtrak images, and my last non-Amtrak action photographs of trains in Louisiana until the middle of March 2010.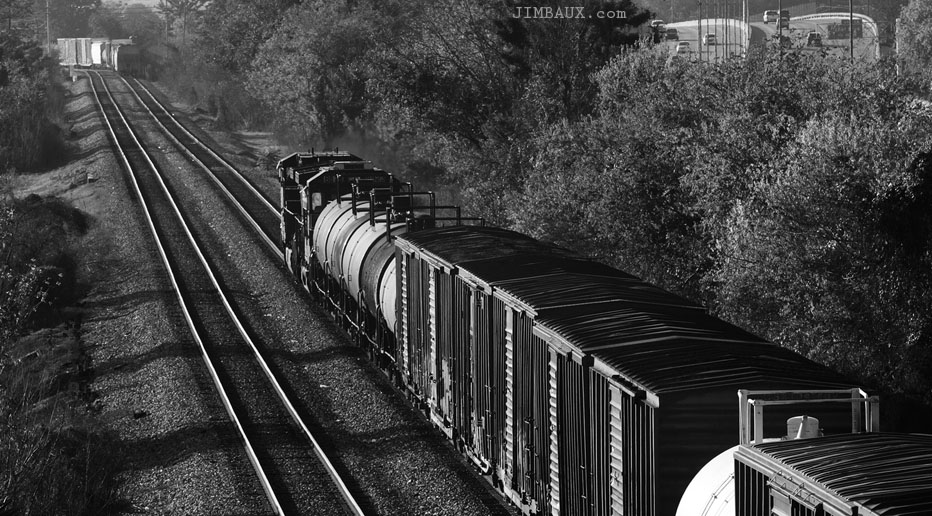 That is a going-away view of Norfolk Southern Railway train 393 on the NS Back Belt, seen from the since-replaced-with-a-foamer-unfriendly Wisner Boulevard overpass, in City Park. Since, as you can see, there was a train parked ahead of it, the 393 would stop at Marconi, possibly for a crew change, in which a Union Pacific Railroad crew would board.
Five years to the day later, I got some UP and L&D photos in the environs of Lafayette and New Iberia.
Okay, that's all for November 2009, and, yes, in all of the second half of 2009, all of my railroad action images were made on three days. There will be a December 2009 Sampler, and it will have some interesting and unusual scenes; stay tuned!
Merci.
Jbx