Jimbaux is prepared now.
Today is Saturday 31 August 2019.
This is already getting to be a habit, this same old routine of shooting pictures in New Orleans in the morning and heading west in the afternoon, and part of the reason that I am actually stepping it up even as I feel that it is now repetitive and outdated is that I feel that my time in New Orleans is coming to and end.

This is, like I am, getting old, and I just ain't as good at it as I once was.
Morning New Orleans Trains
I start out by the New Orleans Public Belt Railroad's France Yard.
NOPB 3003 is working a cut of these plastics cars.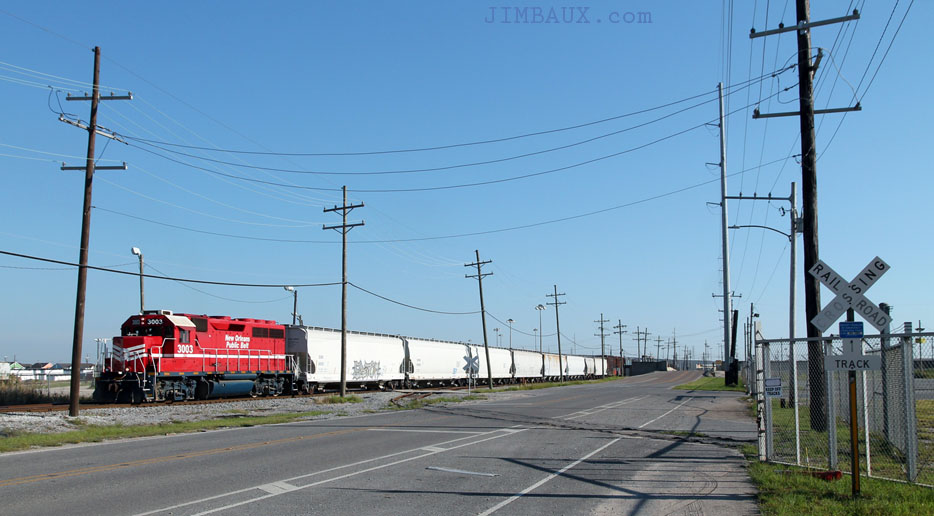 I then head north, because a BNSF Railway job is approaching the CSX yard on CSX trackage.
I guess that this is the M-DYTCSX, or whatever the daily manifest train that BNSF sends to the CSX in New Orleans is called now.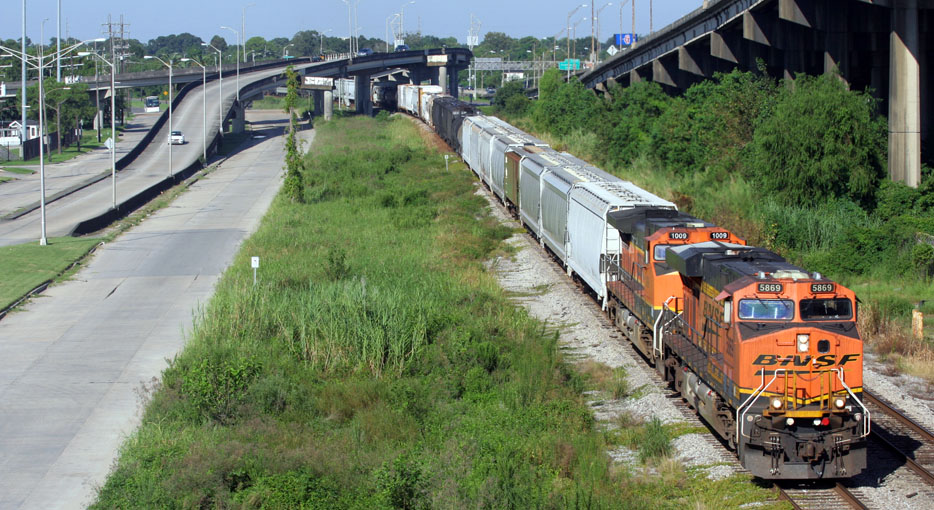 Yeah, I hope that you like these pictures, and I hope that you think of viewing them as a good use of your time, but this isn't as fun as it once was, and that's . . . good?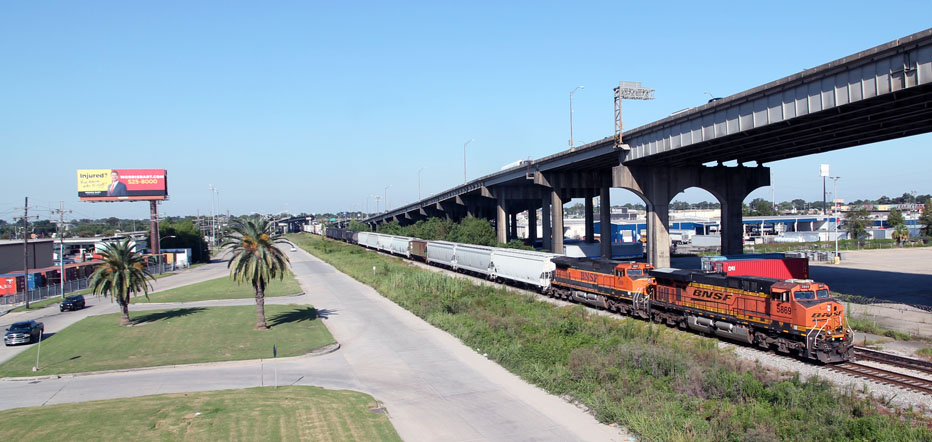 Moving on is a good thing, and I have done it before, but, as much of a "thrill is gone" feeling hangs over me as I do this, I am, again, motivated by the thought that my chances to do it are going away.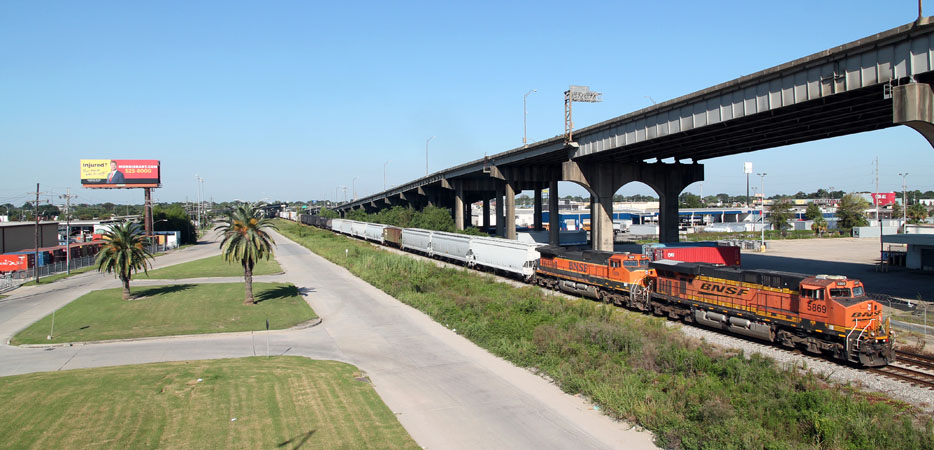 Barring some drastic change in the realms of "employment" and money, my time in New Orleans will end permanently at the end of January.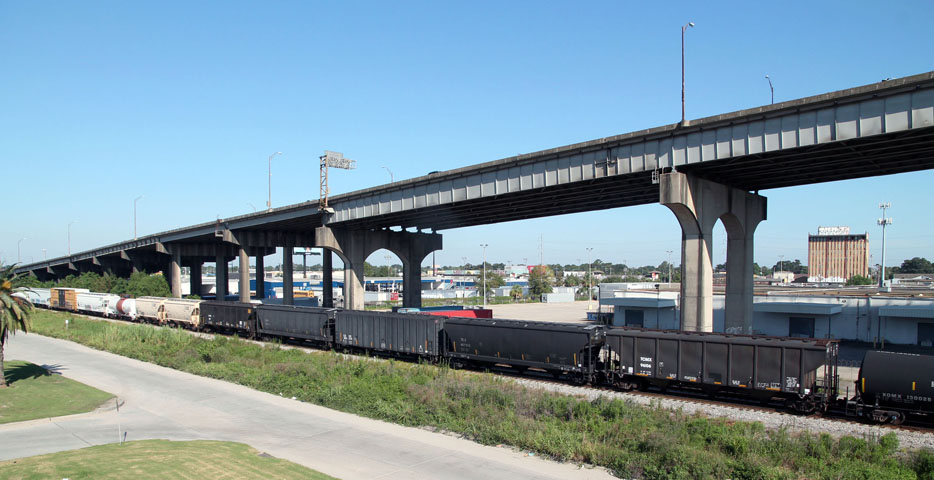 Those carbon black cars are likely coming from one or more of the carbon black plants in Saint Mary Parish.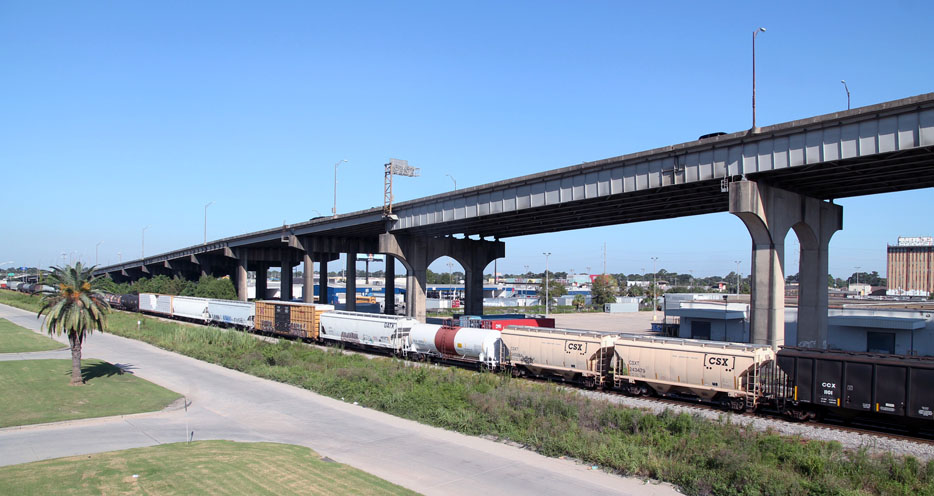 I like lumber cars and coil cars.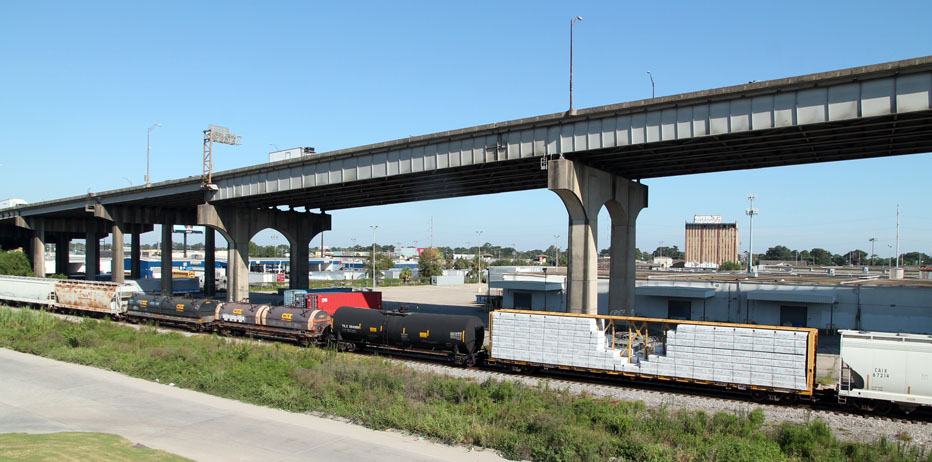 I like bulkhead flatcars.
I am not all that thrilled by empty pipe flatcars, but here they are.

Let's get out of here.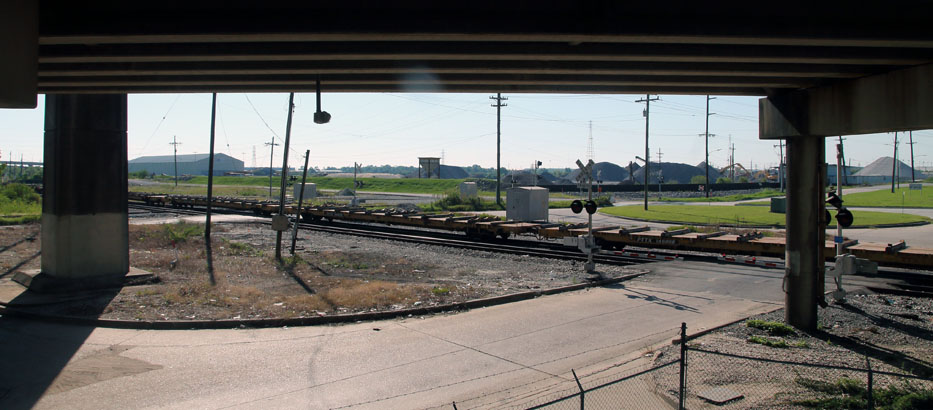 Hey, this is better.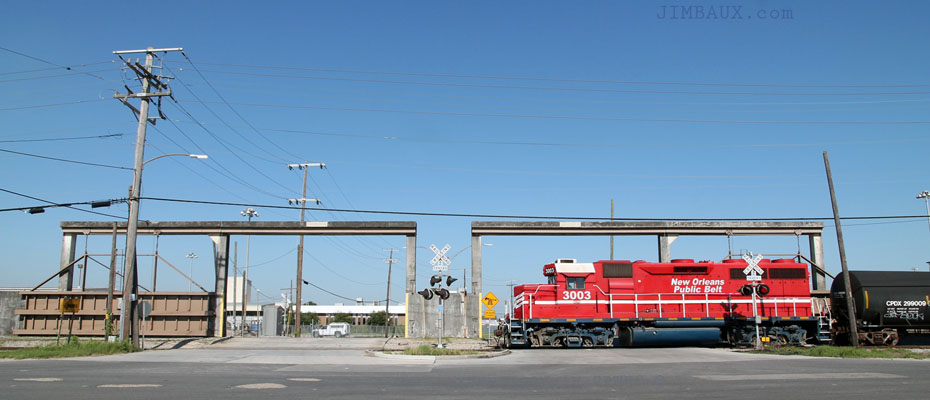 I like the floodgate effect and the fact that a locomotive with the word "New Orleans" painted on it and of a New-Orleans-based railroad is in the image.
Let's see a cropped view of that image.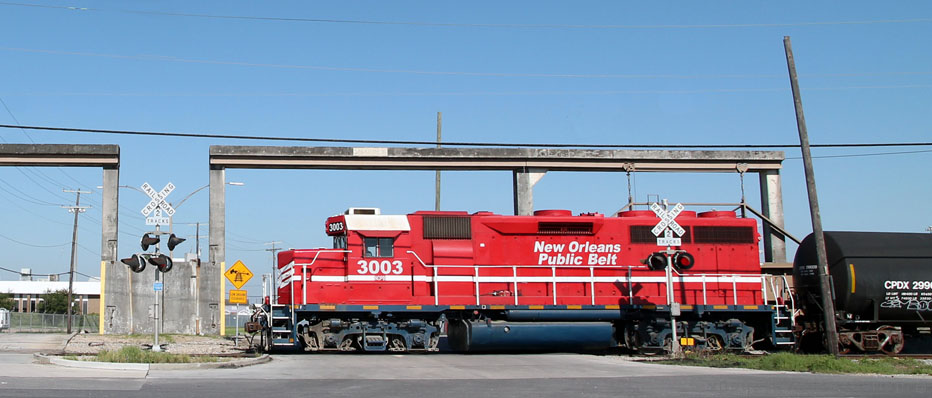 I like it. My morning is complete.

I went to the PJ's Coffee place on Canal Boulevard.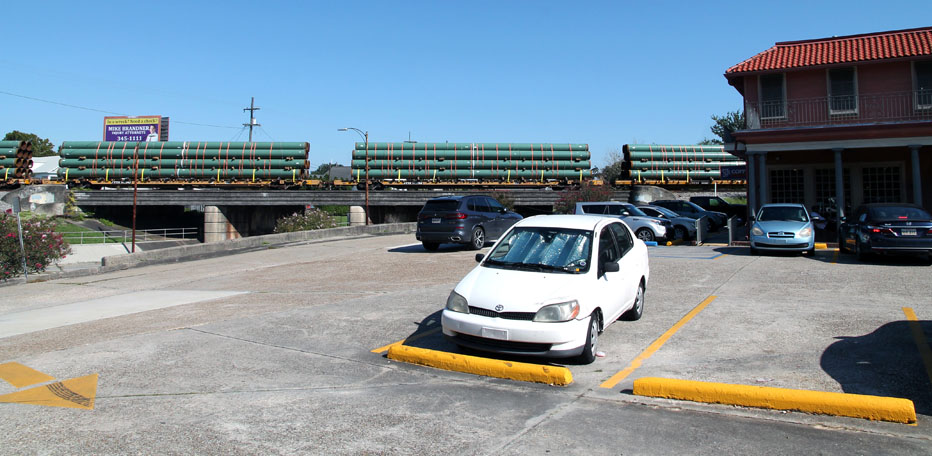 It is the former Plantation Coffee House place that is central to the story of my whoadiehood.

I had hopes here.
Let's go to the northeast at East City Junction to see more of this train.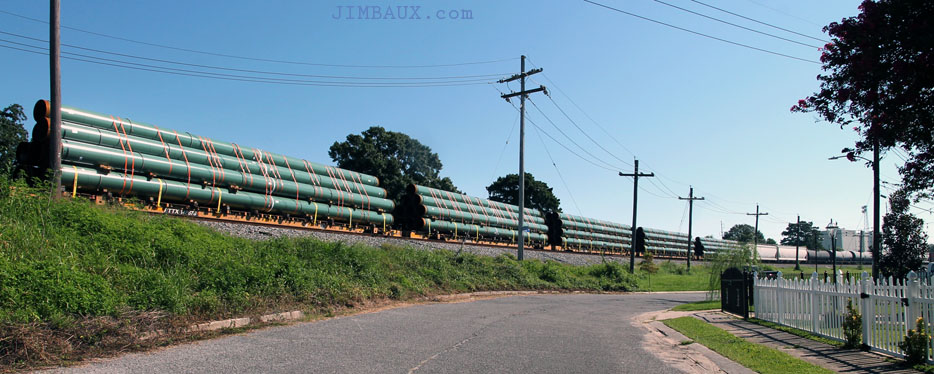 Here comes the CSX's CN transfer run.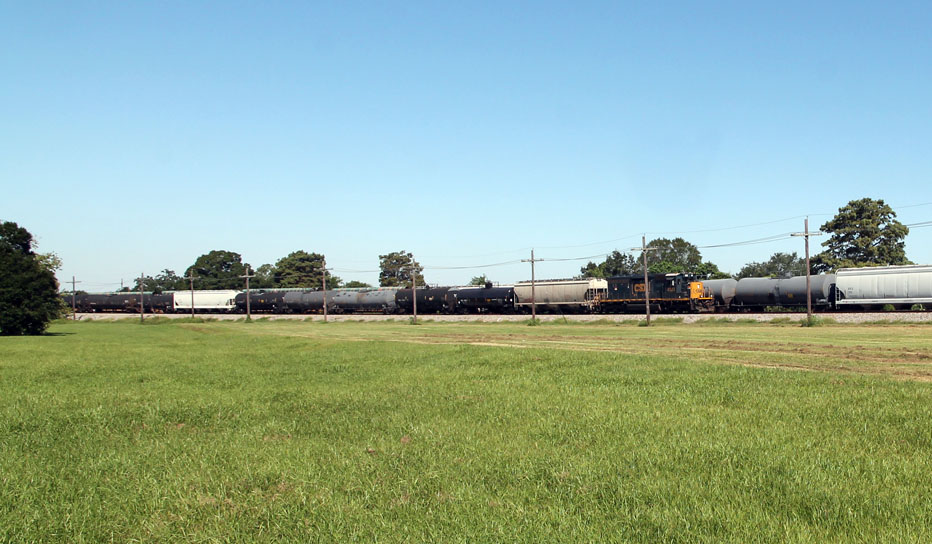 Yeah, the lighting is getting harsh, and I need to quit this. My glory days of railroad photography in New Orleans are done. I'll swing by Bernadotte and then head to the crib to shower and wash dishes and get prepared to go west.
At Masonry Products, there was only one car, and I don't think that I have seen more than two cars here at a time in the last year.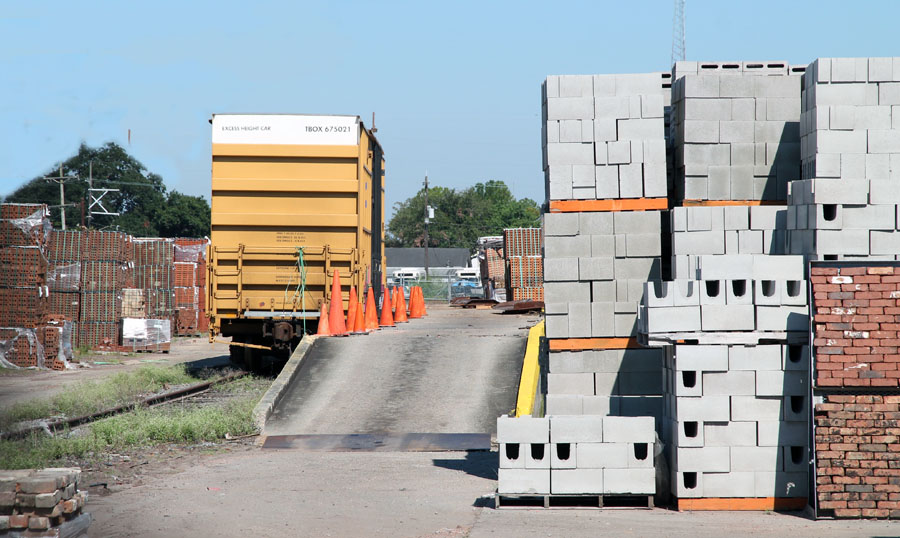 It's sad, as this is all that is left of a once-much-more-busy urban branchline that I myself did document more than a decade ago in its only-slightly-better times.
Chasing The New Iberia Turn Westward
So, three days after coming eastward into town, I am heading west for a while again; this is my life now.
At 17:29, I drove over the Lockport Branch, this part of which appears to be in decent shape even after all these years, and Bayou Lafourche like as if it was nothing.
At 17:44, I drove over the track at Chacahoula like it was nothing.

My goal on my journey westward was to catch the Union Pacific Railroad's New Iberia Turn as it, too, moved in a westwardly direction from the New Orleans area to Acadiana, and I caught up with the train at 18:10 at Calumet. The train has no hopper cars for the rice mill in Abbeville, which is disappointing.
With the lighting not right for much else, and hoping to emphasize the Southern-Pacificness of the lead locomotive, I elected for a broadside, a new shot at Ricohoc.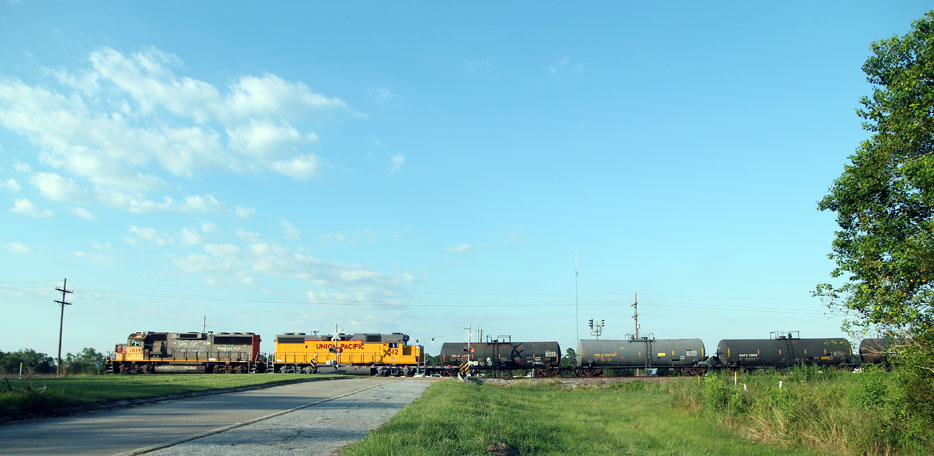 That's not bad, but I didn't realize how badly faded the "Southern Pacific" lettering on that side of the locomotive is. That second locomotive, the 512, looks great, though.
I got far enough ahead of him to get to Bayou Sale the back way just in time, and, not having time to climb the overpass, I decided to try something different: that shot, basically, but from the ground.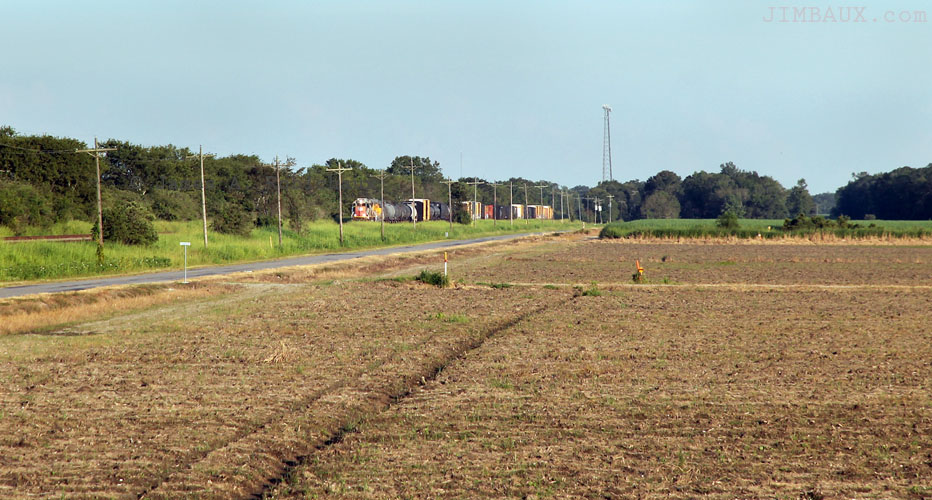 Hey, while the poles might be annoying, I actually like this!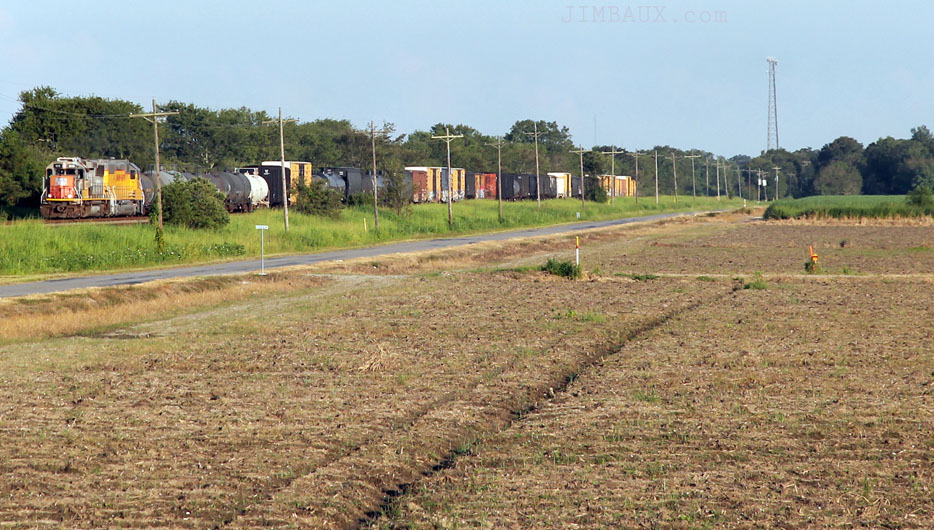 We end the day with a self portrait.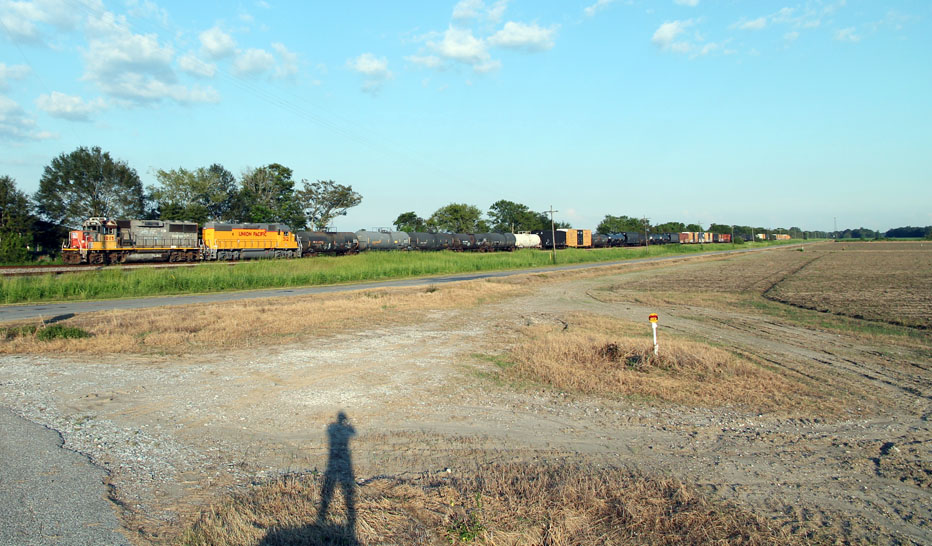 I tried to beat him to a shot in New Iberia, but I had to stop in Jeanerette to get gasoline, he had nothing but green signals ahead, and the fact that three miles of roads with traffic lights stood between Highway 90 and the track in New Iberia did not help me.
I ran into Perry at the parking lot of the bank past the west siding switch New Iberia. He was watching the train arrive. He wanted to see what such a big train had. The train had 45 cars.
Oh, well, this was still an okay afternoon, and I am grateful to be in air-conditioned quiet.
Peace out.
Jbx