[Jimbaux saw a thousand angels go singing, here making a thousand voices while flying.]
Two days after I shot the Bernadotte Line getting served in a rare daylight move, I got to see and photograph it again, this time in its more usual nocturnal workings.  What fortune I had in seeing and photographing this neat historic urban branchline twice in three days!
I arrived on the scene just as the locomotive was starting to run around the one boxcar that it had come to deliver.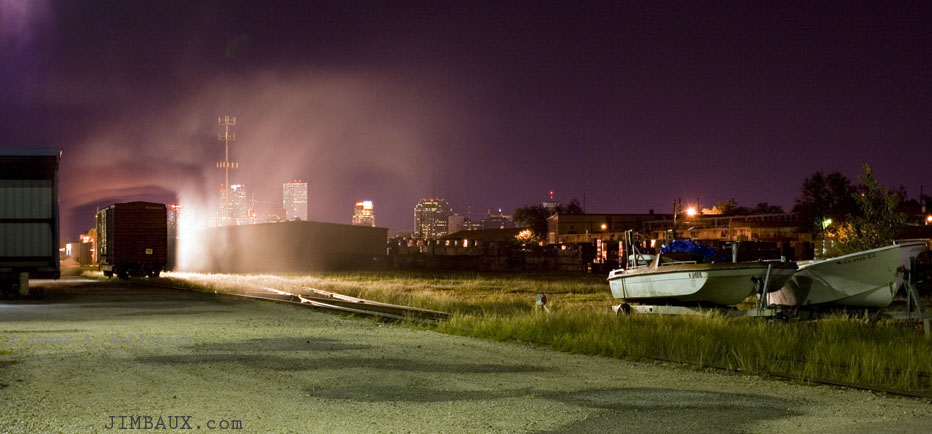 So, just like two days ago, we're going to witness one empty boxcar – the one that we saw get delivered loaded two days before – pulled from the brickyard (seen in the background in the above picture) and one loaded boxcar spotted there.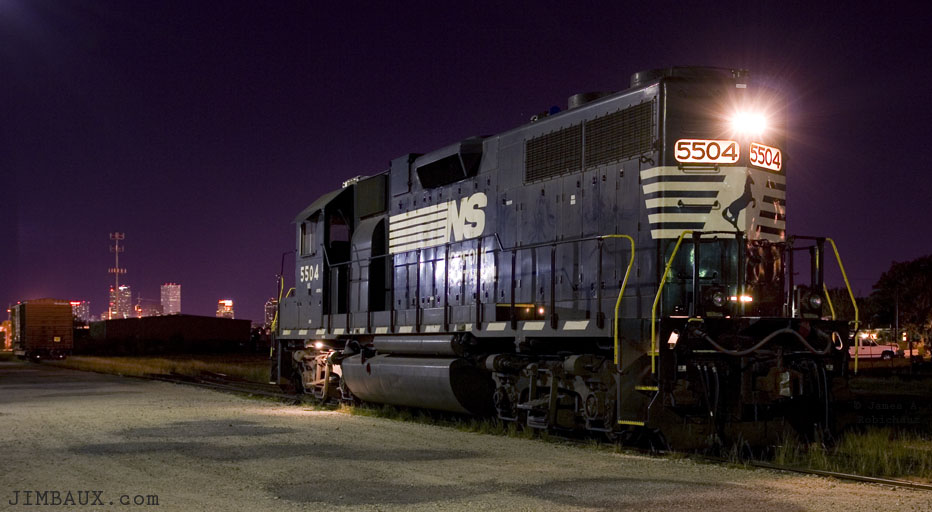 And, look, even our locomotive is only five numbers down from the one used two days before!  Below, we see it getting into the brickyard to retrieve the empty boxcar.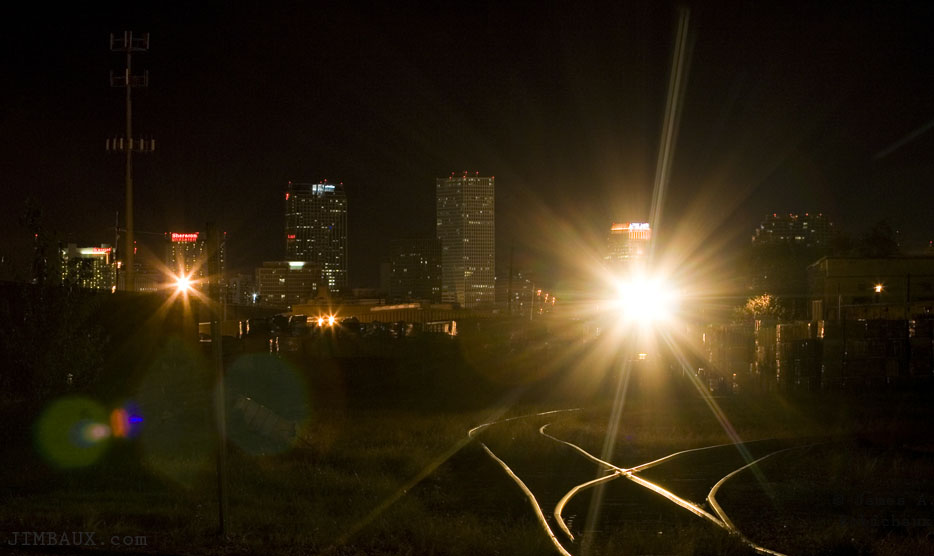 Now, the empty boxcar is being shoved towards a coupling to the loaded boxcar.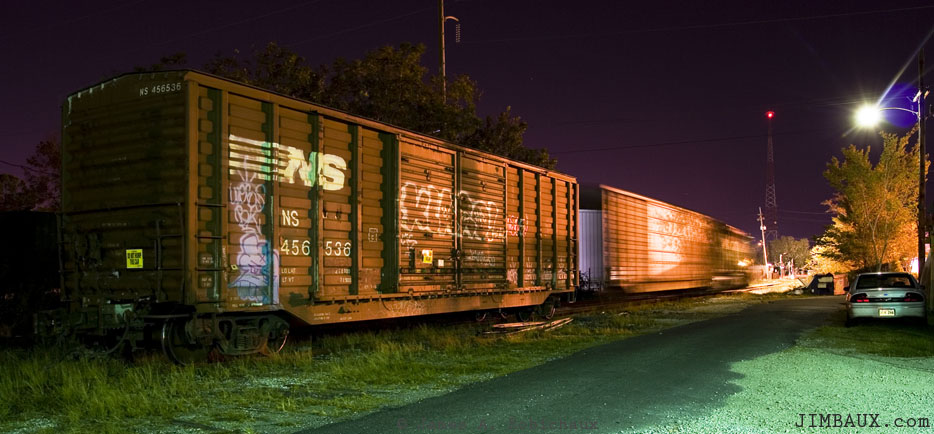 Okay, now, the train is motionless, as they are actually coupled, seen below.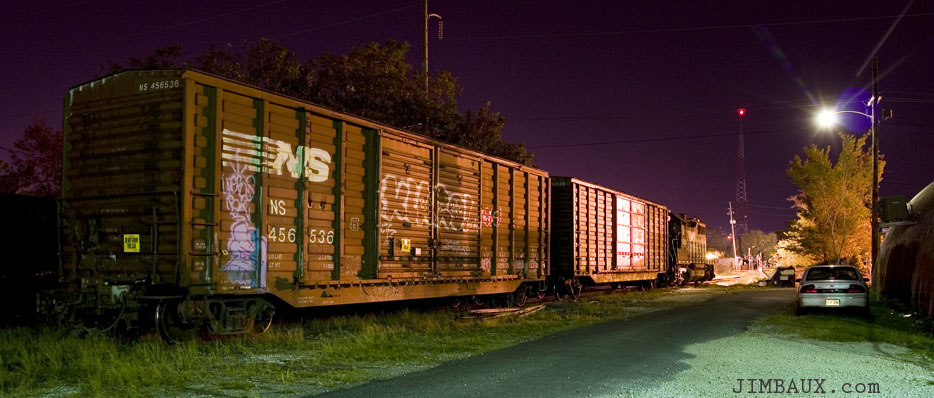 Yes, kiddies, you should recognize the number on that boxcar from our previous episode.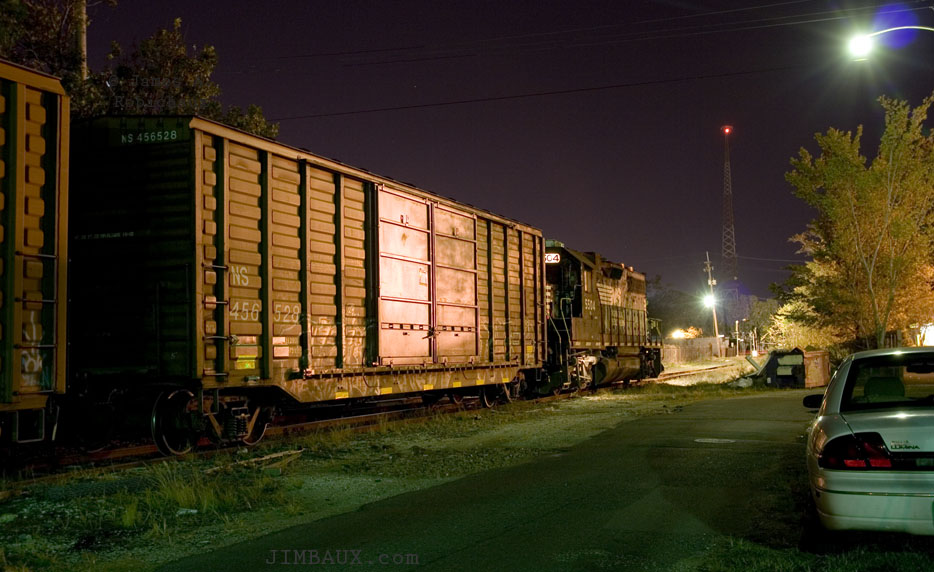 I didn't stick around to see and photograph the loaded boxcar being shoved and spotted into the brickyard because I wanted to get into position at North Anthony Street to try a new shot, as seen below when the train stopped.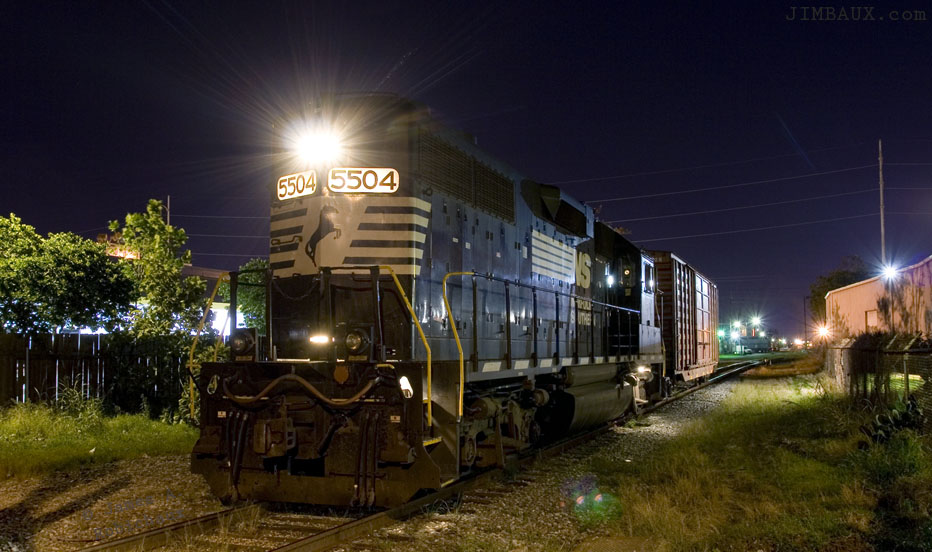 Why did the train stop?  Well, the switch needs to be closed, but it seems that the crew – specifically, the engineer – wanted to talk to this crazy foamer with a tripod, camera, and lenses.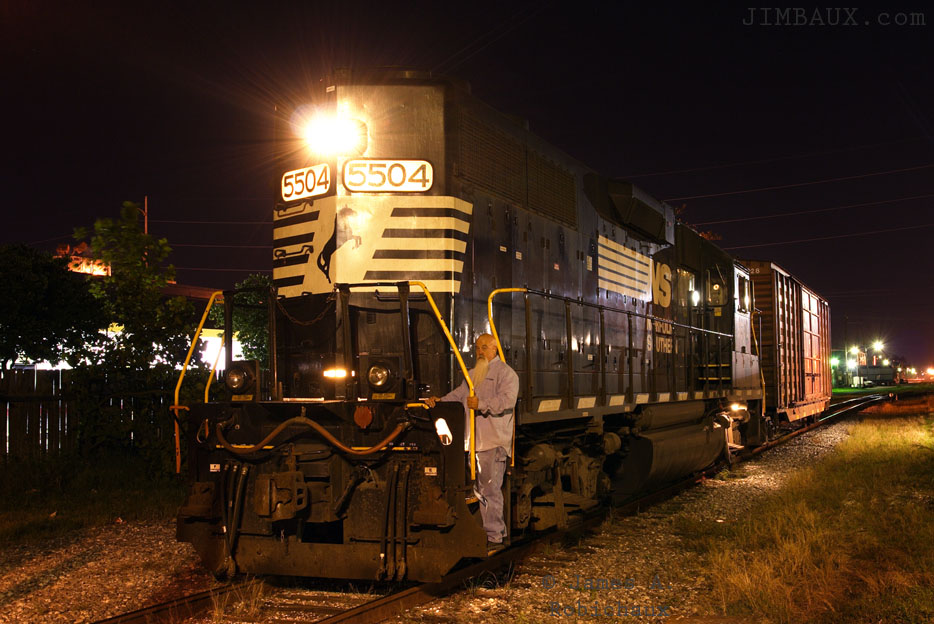 That is Engineer Johnny Black – yes, that's a rockin' beard too – posing on the steps of the NS 5504, though he didn't quite like that pose spot since it doesn't show him as engineer.  We'll fix that with the below picture.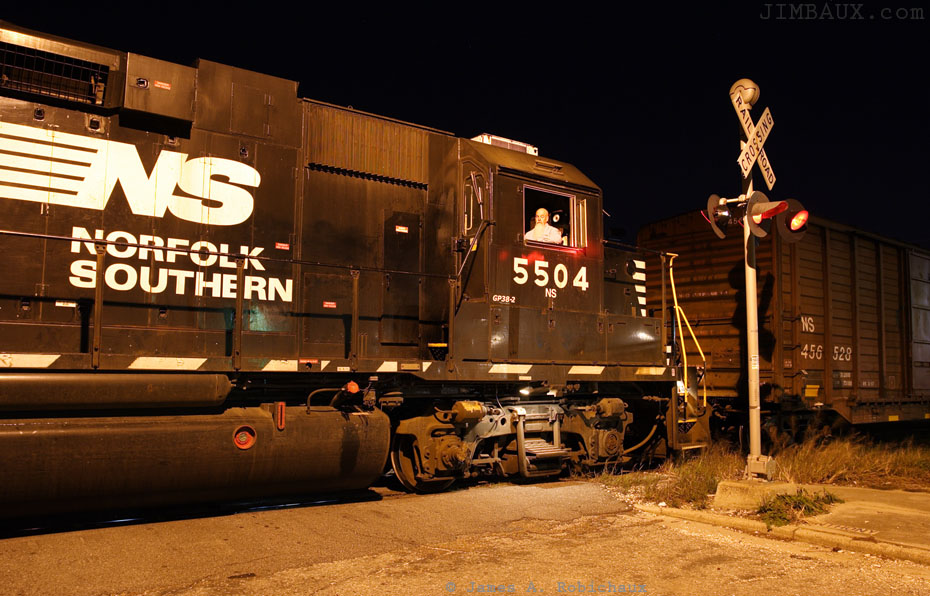 Engineer Black went to work for the Southern Railway (NS's predecessor) in the late 1970s and worked his first day as a railroader on a bitterly cold (for Louisiana standards, which, in case you are wondering, usually means somewhere in the 30F area) on the Bernadotte Line back when there was a daily job based on it.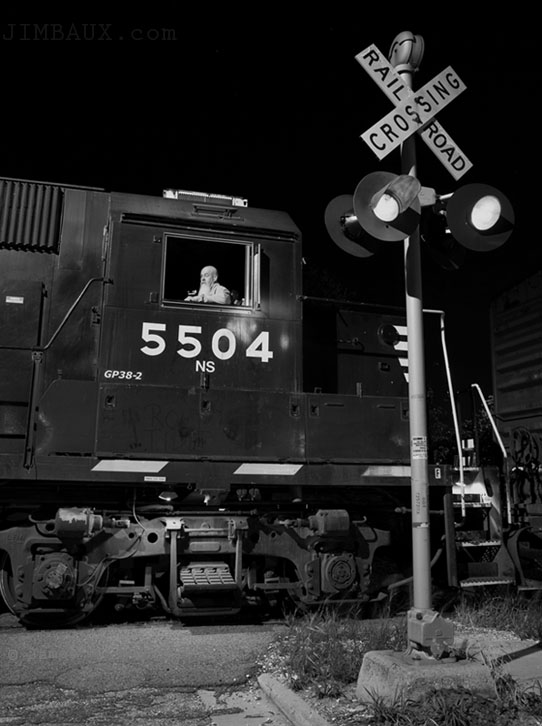 The much younger conductor, whom you saw two days ago, joined Black for a pose here at N. Anthony.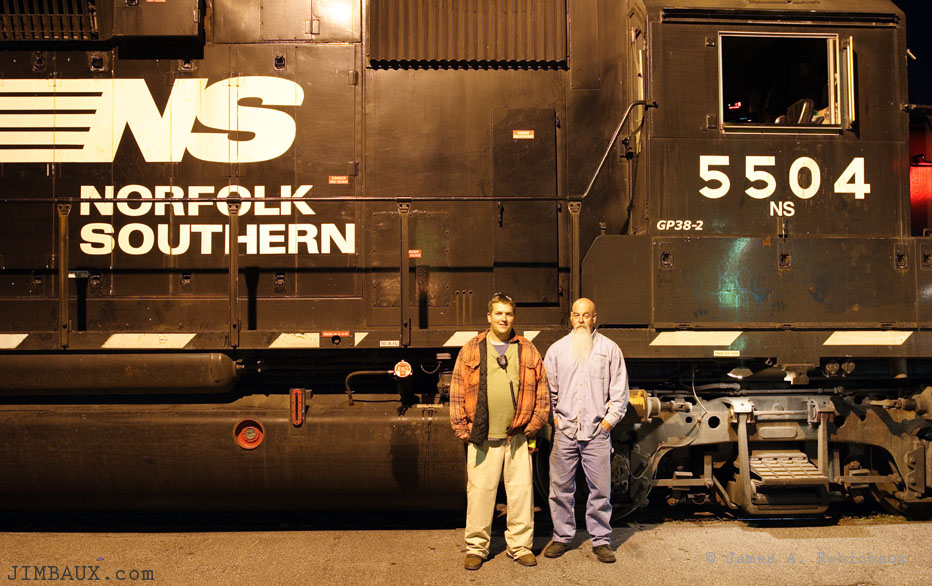 We had a good discussion.  I'd see and photograph Engineer Black a few more times before he retired the following spring after more than three decades of railroad service.  For now, we'll get one more shot as this one-car train heads back to the NS Back Belt and then to Oliver Yard.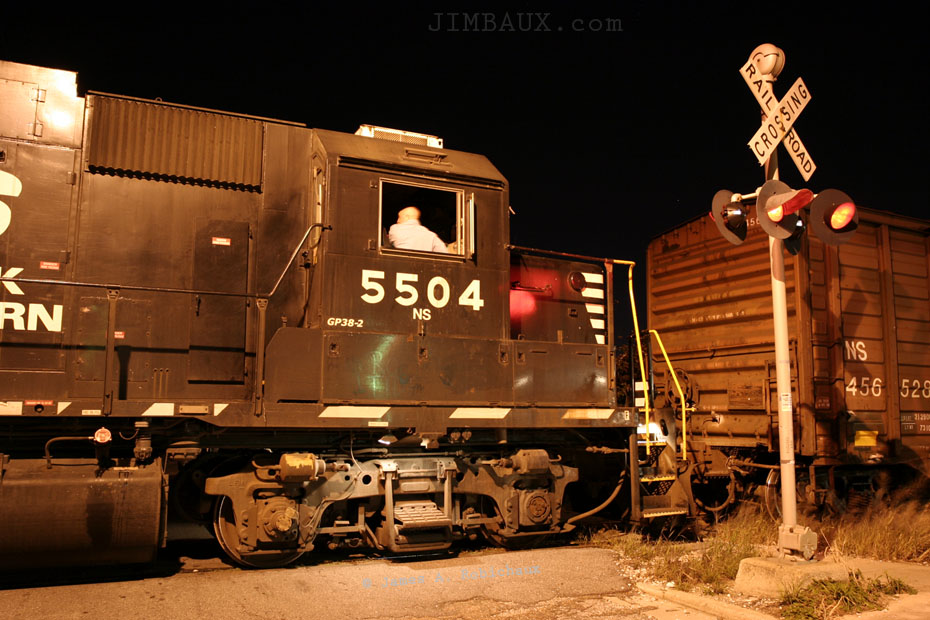 Everything changes, as the Staind song says.  As I wrote last time, a big part of why I have tried so much to document happenings on what is left of the Bernadotte Line is that, like so many other branchlines, both urban and rural, it is a stretch of track that is more likely than just about any of comparable length to be gone in my lifetime.  Five years to the day after I took these pictures, my family and I would bury my maternal grandmother, my last grandparent, and yet when I took these pictures, all three grandparents who were alive when I was born were alive.  Like with family, and like with trains and railroads, change is constant, and everything is temporary; get out there and document, experience, photograph, sing, and love while you can, since none of it lasts.
Merci,
Jimbaux