[Jimbaux wonders if this is just real life, or if this is just fantasy.]
Thanks to some osint in the foam world, I was alerted to the fact that Norfolk Southern's Go-Rail locomotive, which I photographed in New Orleans in April, was leading a Kansas City Southern Railway military train into New Orleans on the morning of 8 October 2014, and I was not the only one, for when my disabled and wretched self arrived at Central Avenue (in Jefferson Parish, a couple of miles west of the city of New Orleans), I saw that Kurt was already there taking pictures.
After getting some shots of Kurt and chit-chatting, I got a few shots of the trains parked there, where the KCS crew was detraining the train.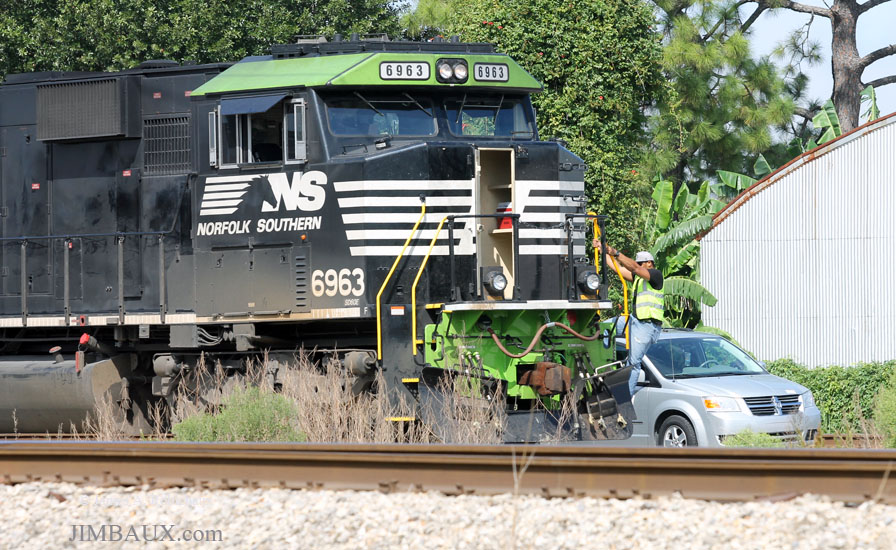 What I haven't told you yet was that there was on the Mays Yard tracks another train with an equally colorful locomotive consist parked just next to this one.
That right there is New Orleans Public Belt Railroad's daily transfer run to – and, in this case, from – the Canadian National Railway's former Illinois Central yard, and, today, it had a rare foreign locomotive.  You can barely see the KCS military train at right.
This train exists for three purposes: interchange between NOPB and CN, interchange between BNSF and CN, and interchange between Union Pacific and CN.  The BNSF-bound cars are put into BNSF train M-NWOLAL, built at NOPB's Cotton Warehouse Yard on the riverfront, and the BNSF's inbound CN cars arrive in one block on train M-BNTNWO, one of which was seen on this site four days ago crossing the Atchafalaya River.  Not all that long ago, both Union Pacific and BNSF – for just a few years after breaking up with the NOPB – ran their own transfer trains into and out of Mays Yard, but not anymore.  So, seeing some Armour Yellow on this track was a bit of a flashback, but this is the most advanced UP power that I have ever seen on this train!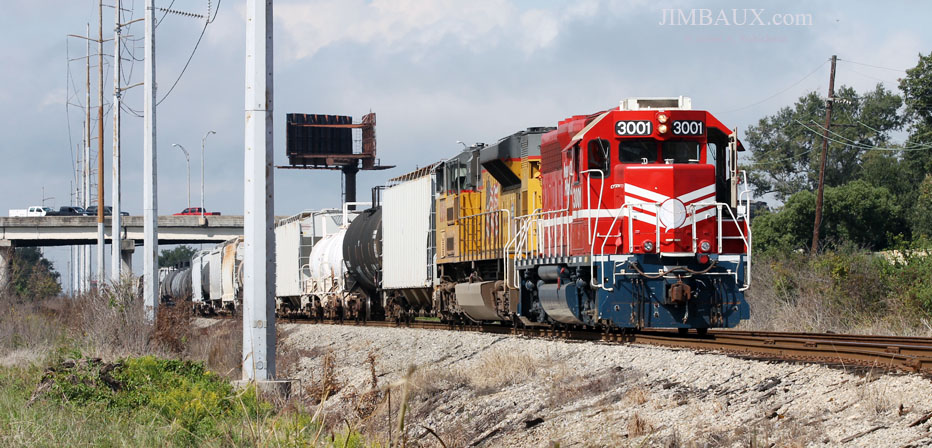 Now, we get to see nice red NOPB power on this train.
Moving ever closer, we get the final head-on view, and, yes, I felt impelled to remove the annoying billboard from its most inconvenient location.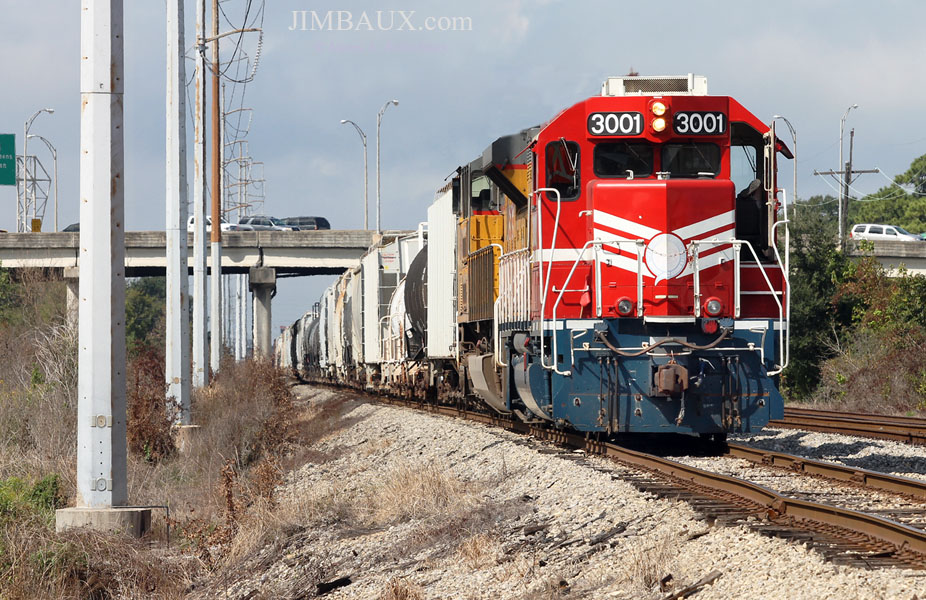 The puritans who feel outraged and indignant should know that I have not done anything to them, or to anyone else.
Turning a little bit to the right, we get a better view of the interchange military train with the happy foreign power.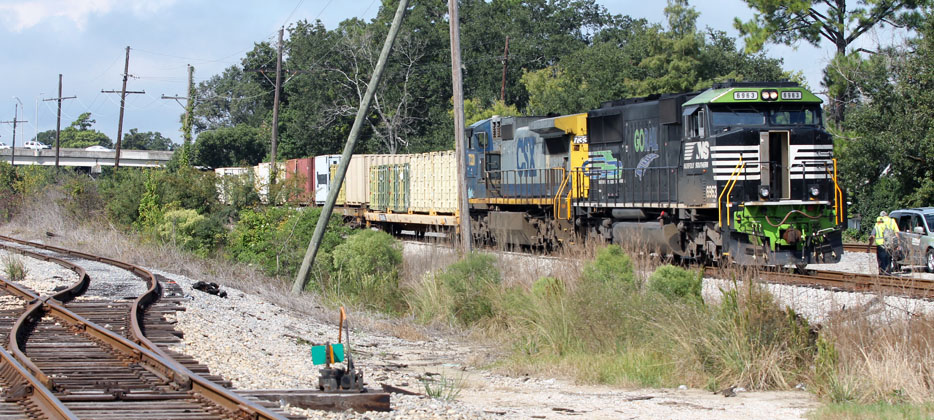 That Go-Rail locomotive has gotten dirty since I photographed it six months ago.
There were a total of four automobiles on hand for this handoff, and I believe that the white SUV is that of a special agent.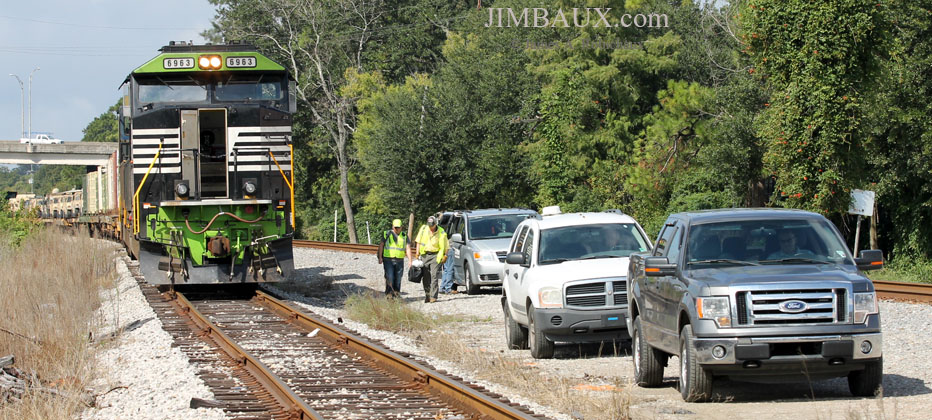 This is the CSX crew boarding the train.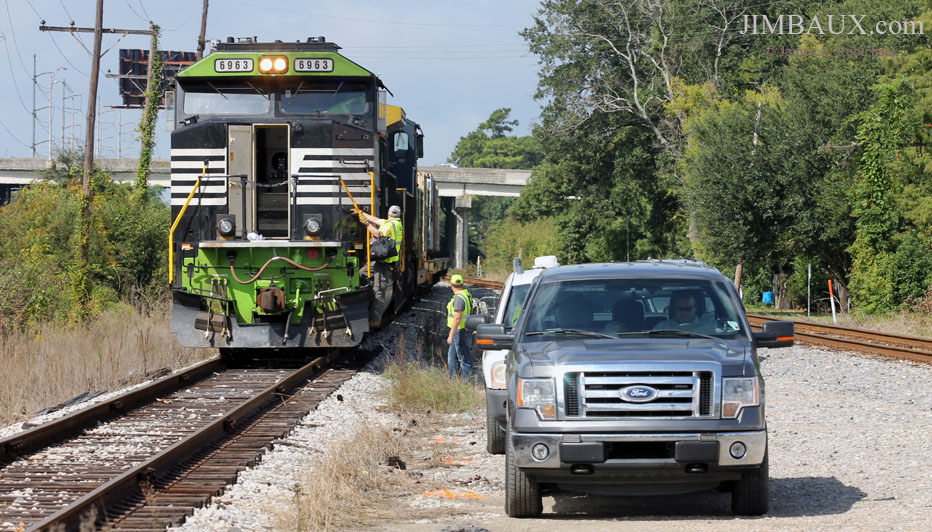 Modern locomotives apparently require some ducking to get into the nose doors.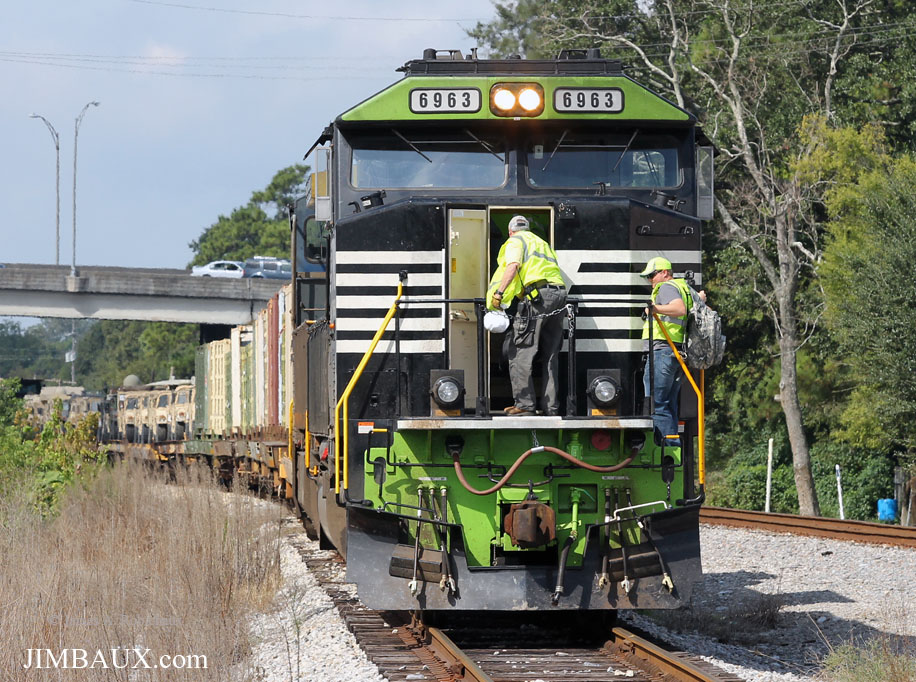 Now, before it is too late, it is time to get some profile views of the interesting and rare – interesting partly because it is rare – juxtaposition of the NS Go Rail locomotive and an NOPB locomotive.

I like that.  I'm not much of a roster shooter, as you know, but this was a good reason to be one, even if this is not – and is better than – a roster shot.
Now, we get one view showing both trains as much as both can be simultaneously shown before one of them moves.

Very soon thereafter (if I remember correctly, after the westbound Z train went up the bridge), the NOPB train started to move; very soon thereafter, I, too, moved, and this is what I saw on my way to where I needed to be.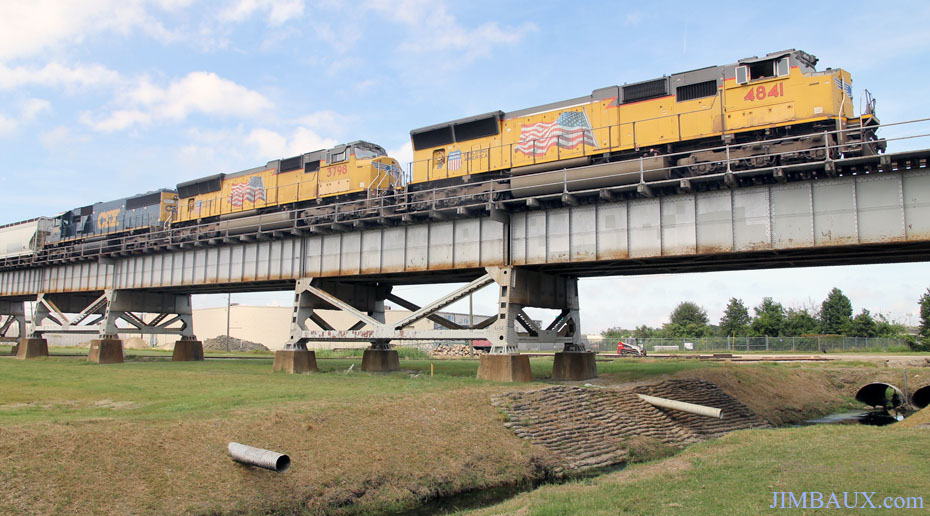 Yeah, okay.
Later on on the W'ank, we see more work being done on the new tracks in Harvey on the UP's Gouldsboro Subdivision that is leased to the New Orleans & Gulf Coast Railway.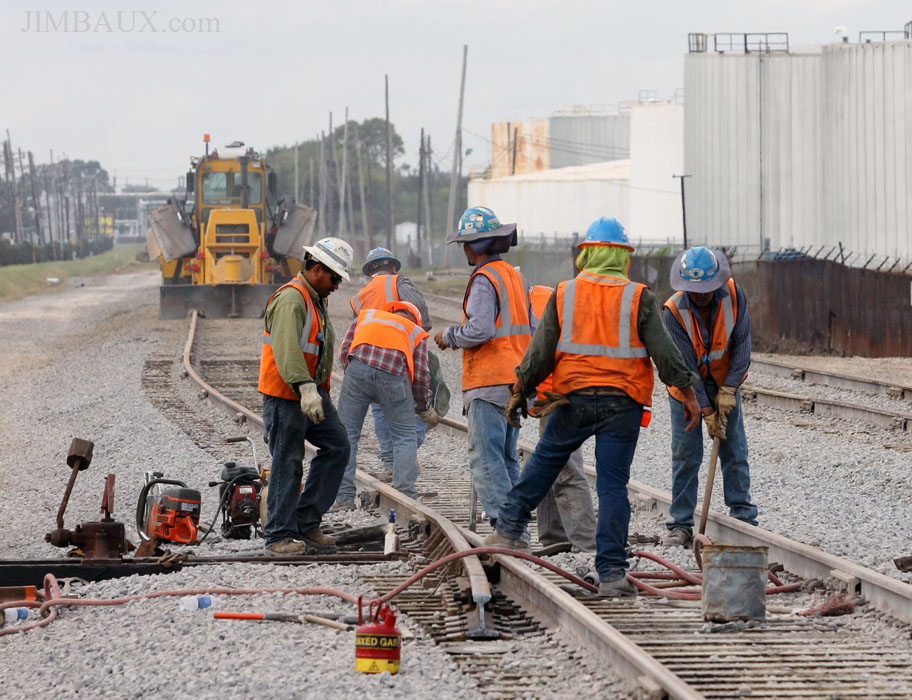 Well, that's just interesting.
Apparently, UP was doing some work on the Gouldsboro Subdivision near the beginning (or end) of the Westwego Yard track too.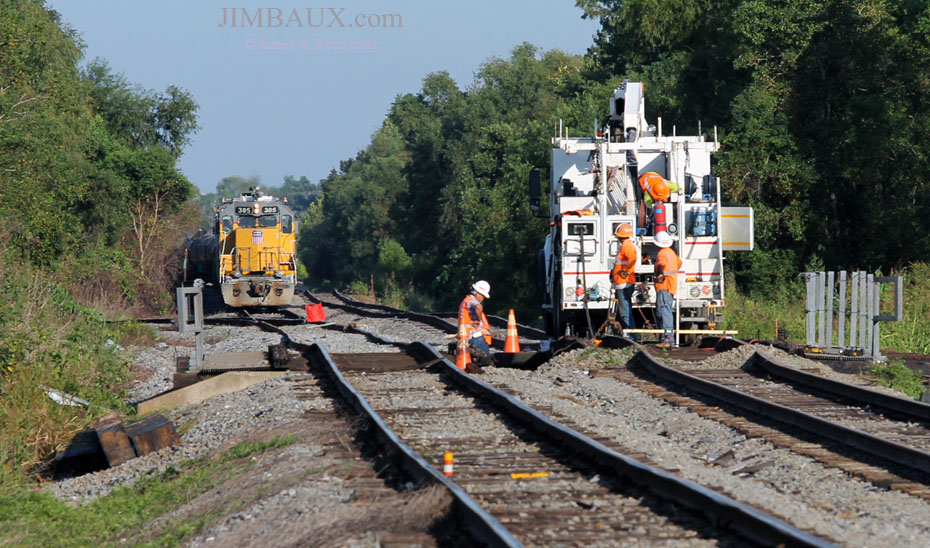 Okay.
Now what?  I need to end this, but I need to head west for another reason too; conveniently for the purposes of railroad photography, so too did a train.
Here's a new shot, a view that I did for the first time here.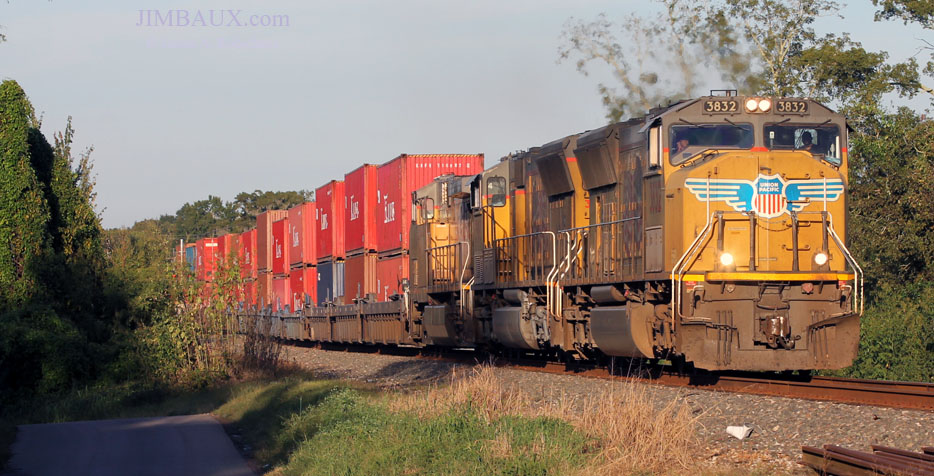 I don't think that I'll be doing it again, except maybe on rare occasions when I need to get a shot of a particular train for some reason.  Needing to get a shot?  Oh, gosh, yes, this railroad photography thing really is some sort of mental illness; well, no, I should give myself some credit and instead point out how the rest of the world is messed up, how spending money, time, emotion, and attention watching sports every weekend is really a sign of mental illness, if either of the two activities are signs of such.
I had not done this shot in a long time.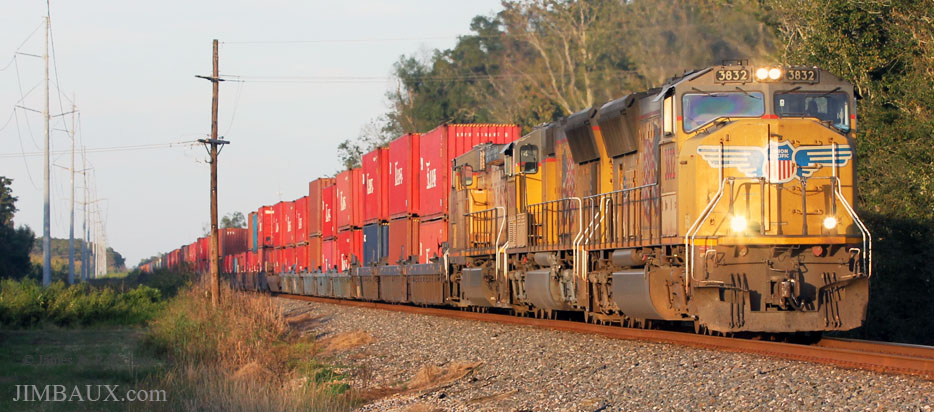 I apologize that the writing that is accompanying these pictures is very much sub-par; there are multiple reasons for that.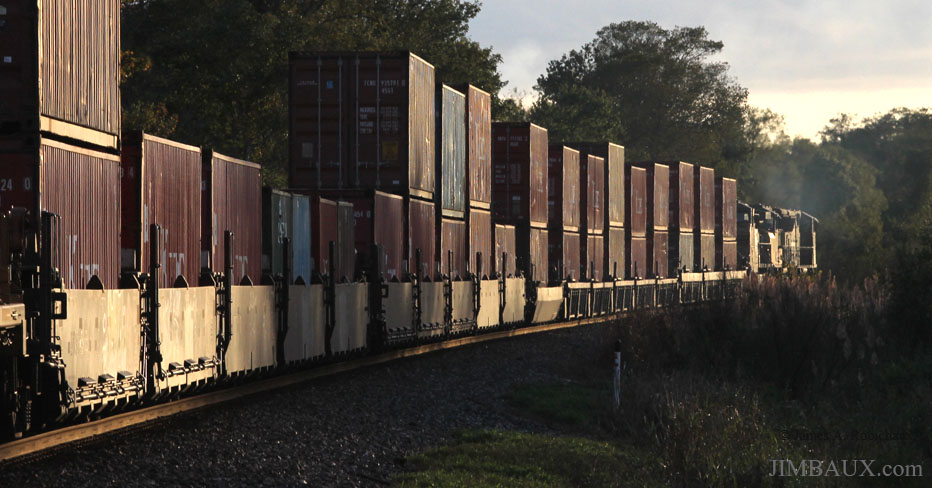 This needs to end.

So be it, jedi.
The Best Laid Plans . . .
I had long intended to write with this article a follow-up on the piece that I wrote in August about the issue of artists being forced against their will to perform personalized, customized, and completely unnecessary services, or at least only those that happen to be gay-related.  (Hey, think about it: the first pictures in this article had a gluttony of color! and today's great song was appropriate too!)  I'm just really tired, and it has taken me long enough to get this article published; so, I'll write that piece later.
For now, though, I will say this: it is almost always completely wrong to frame these situations as instances of some provider "refusing to serve" some customer "because the customer is gay," and it is therefore very wrong to say that this is "no different than how black people were denied service" in businesses a long time ago!  (Even if the comparison would be justified, whether it matters – or should matter – in cases of superfluous, personalized services is another topic.)  There simply is not enough evidence that the providers "refused to serve" the customer "because the customer was gay"; therefore, framing it that way is highly disingenuous, wrong, misleading, destructive, shallow, and myopic.  If these cases actually were cases of someone "not being served because he or she is gay," then, yes, for non-personalized, non-superfluous goods and service, I'd agree that there should be legal penalties, but such is not the case in these cases, which I'll explain in the future whenever I can finally collect and organize my thoughts on the matter.
Until then, go and peace, and remember to leave other people the heck alone.
Regards,
Jimbaux