[Jimbaux wants you to please just let him be, as he finds it hard to breathe.]
Let's Do This
This article will be very similar to and shorter than the "One Or The Other" article from nearly a month ago because the pictures from this article and the pictures from that article are taken in essentially the same place, looking in essentially the same directions, at essentially the same time of day.
I caught, on this afternoon of Monday 20 October 2014, what has become one of my favorite trains: the New Orleans Public Belt Railroad's daily transfer run to the Union Pacific Railroad.  This time, it had some unusual foreign power added to the usual UP SD60s used on this train: two Canadian National Railway SDs.  Wow, that right there was two consecutive sentences with one unusual thing in common: the use of a colon by Jimbaux!  Dammit; I just did it again!
The CN noodle leading a train on the Huey P. Long Bridge is a rare sight; even NOPB power on the bridge is now a rare sight on the bridge, but the only railroads whose locomotives regularly use the bridge are those of the Big 4: UP, BNSF, CSX, and Norfolk Southern.  There, I just had a sentence with both a semi-colon and a colon; how's that?
How's this?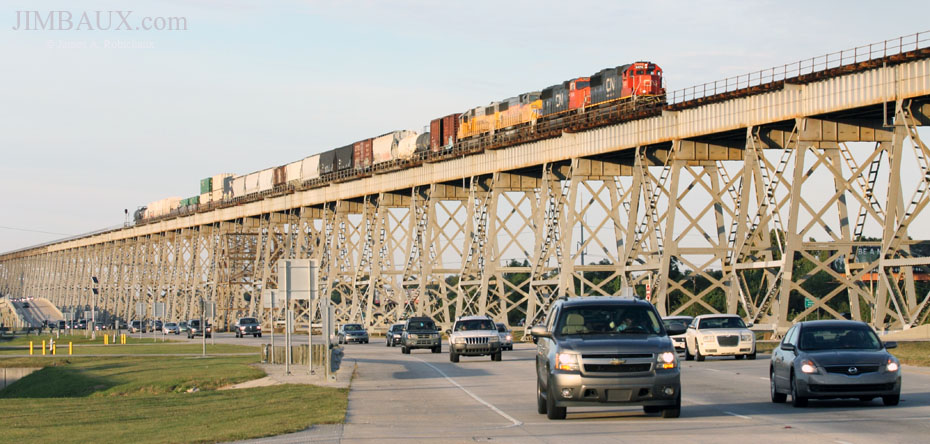 Yes, that is quite an overpowered train; I wonder if the CN units are just horsepower-hour paybacks, as I had seen them in Avondale a few days before, but then I wonder how economical a use of payback power this is at all.  Anybody know?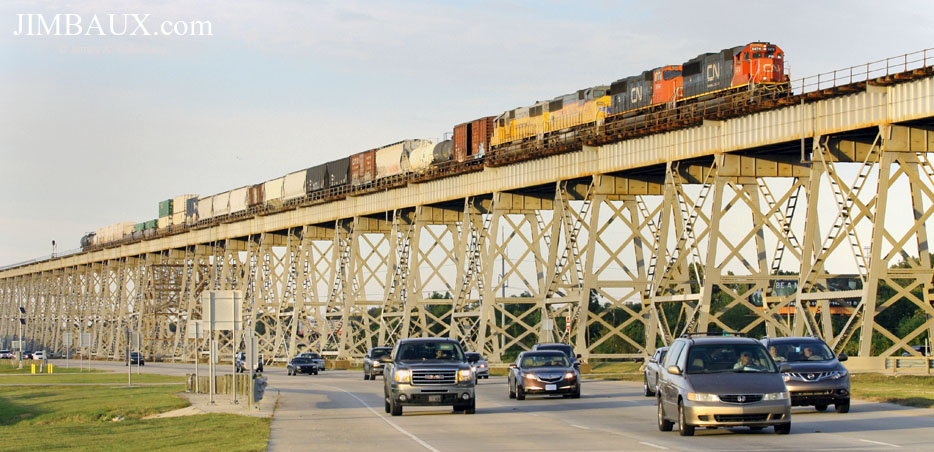 Normally, I am inclined to think that the majority of cars in this train come from the CN, but I am not so sure today.  Note that there are three refrigerator cars toward the end of the train, and I would love to know what the containers are doing on the train.

Well, so long; I'm out.
JbX