[Jimbaux wonders what he has become.]
HTFYI?
Hello.  Here's a weird set, not one of my best, but different enough to be good.  These pictures were all taken on Wednesday 29 October 2014 (which I say for future readers who might care about such things, but remember that all caption information for pictures on this site can be read by reading the filename, which can be read by holding one's mouse arrow over the picture.)
We'll start at Alvar Street on the CSX, where we see Union Pacific train QLIHL shortly before it enters CSX's Gentilly Yard.

I guess that that is okay.  I don't care that much about that shot to get on top of the truck, but worsening health problems kept me from mounting it; that I could not do it – not that I did not do it – is depressing.  Such is life.  I guess that I just have to find ways to do what I can.
By Popular Demand, and By My Own Curiosity
Again, those house pictures from a month ago were popular.  Well, we shall do something similar today on the W'ank, and we shall start with what is more of a street shot in Algiers Point.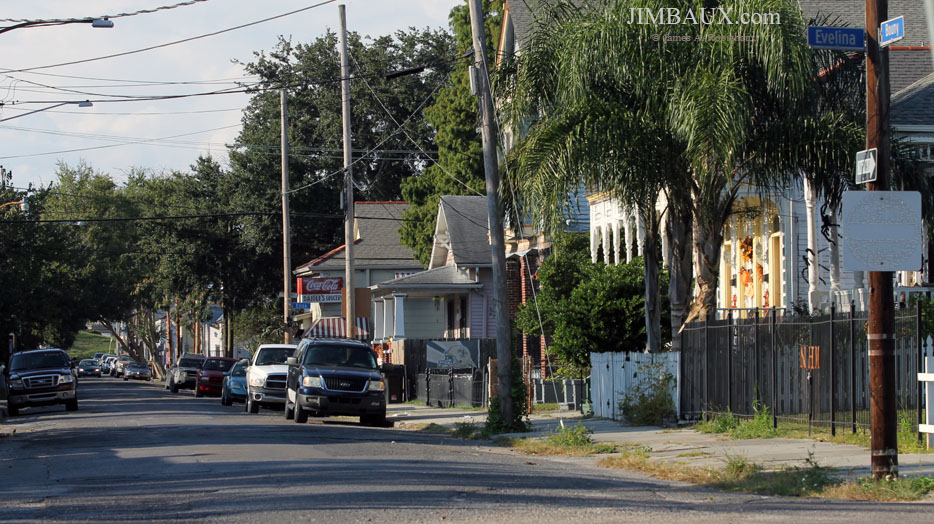 This is an interesting neighborhood.
Further to the west on Teche Street, we see this.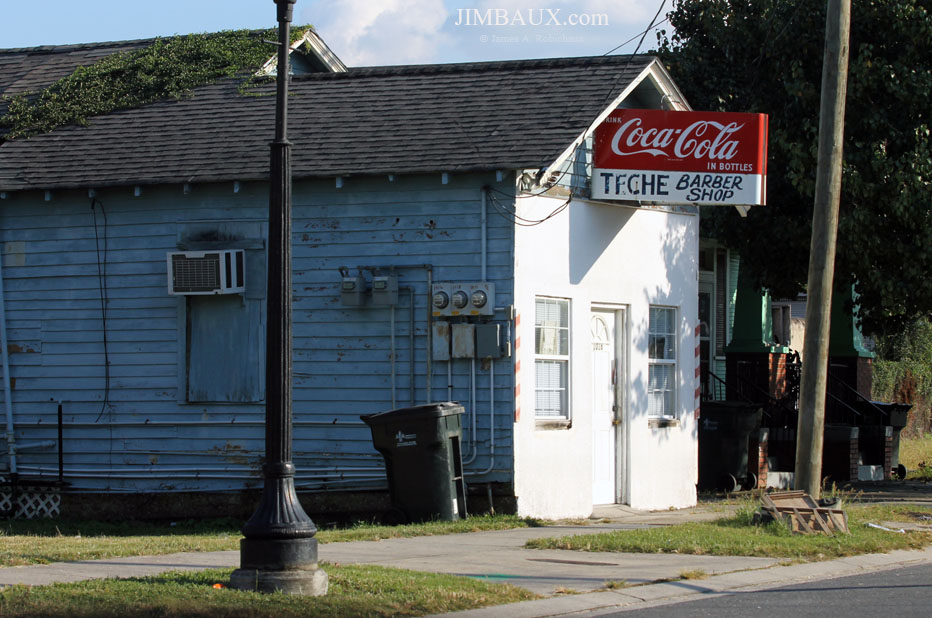 I don't know if the place is even still a functioning business.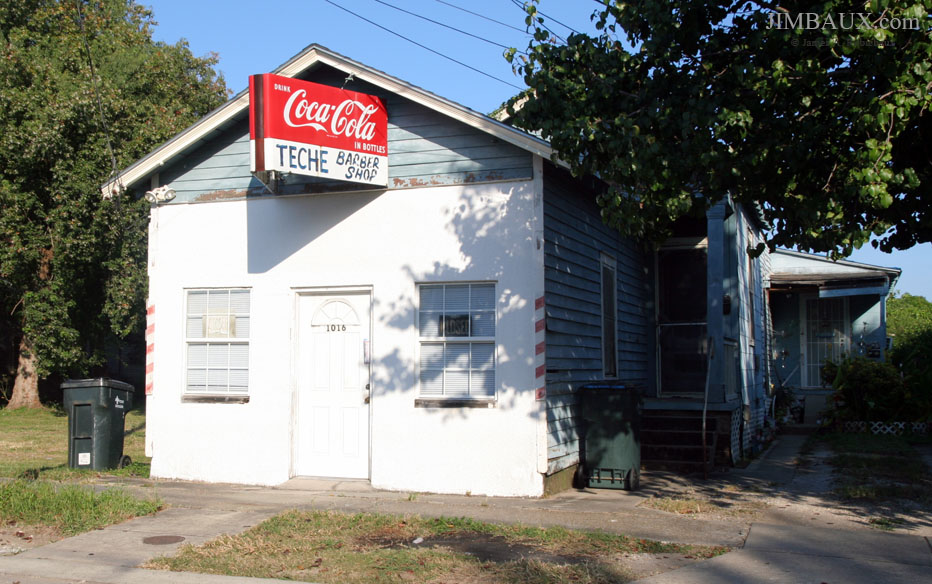 It's as if I simultaneously want to know and do not want to know; perhaps a picture is enough.  Nothing more need I do here.
Moving into Gretna, here are a couple of houses on Madison Street.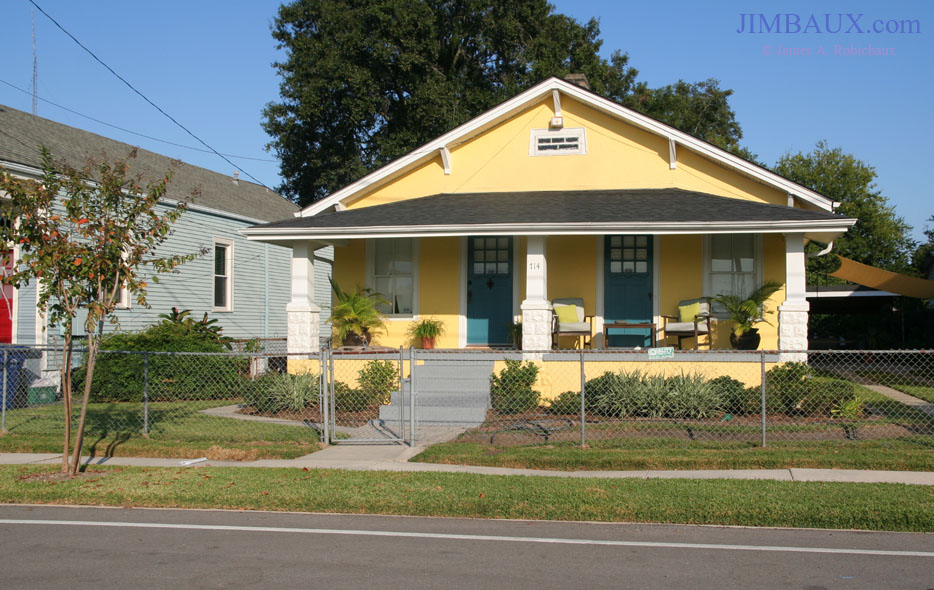 Regular readers of this site will know from the pictures that a railroad line runs down the middle of Madison Street.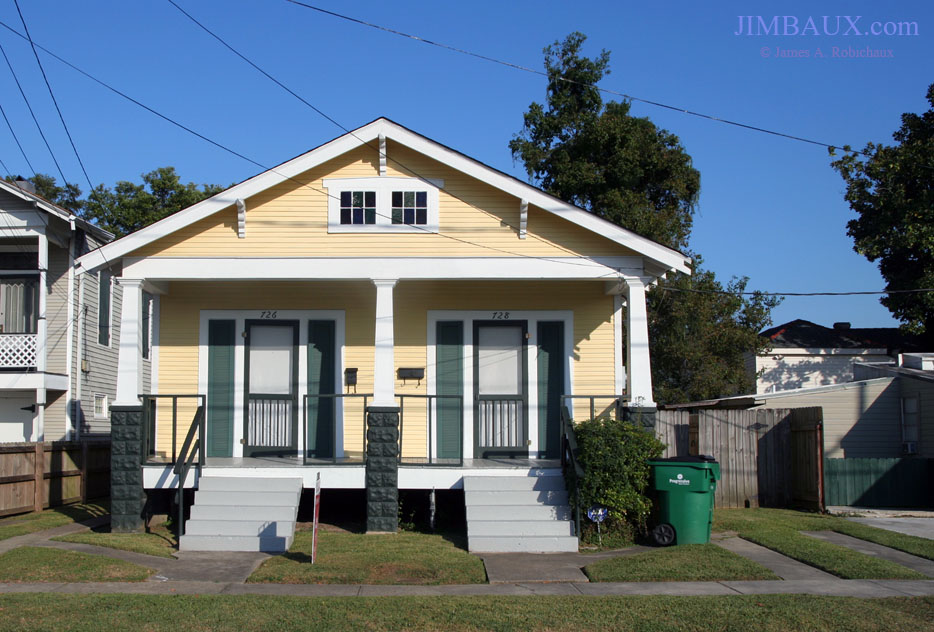 Many on and near this street do not want the proposed unit coal trains coming through the neighborhood, as the sign – along with the sign for Sen. Mary Landrieu, who is in the electoral fight of  her life – here along Washington Street near Gouldsoboro Yard says.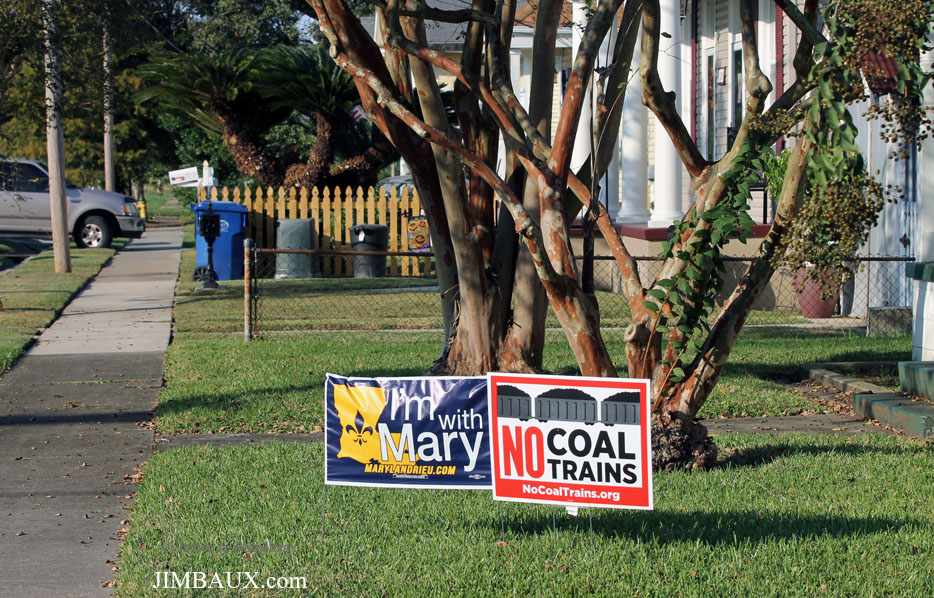 Since long trains need to double-over to get through Gouldsboro Yard, since this takes a long time, and since there are no or few alternative routes, I greatly sympathize with these people.
Locomotives
It's not a great picture, partly because the interesting locomotive has something coupled to either end of it, but we see the NOGC 1229 again (that we saw two months ago at the head-end of a train), an old SW9U.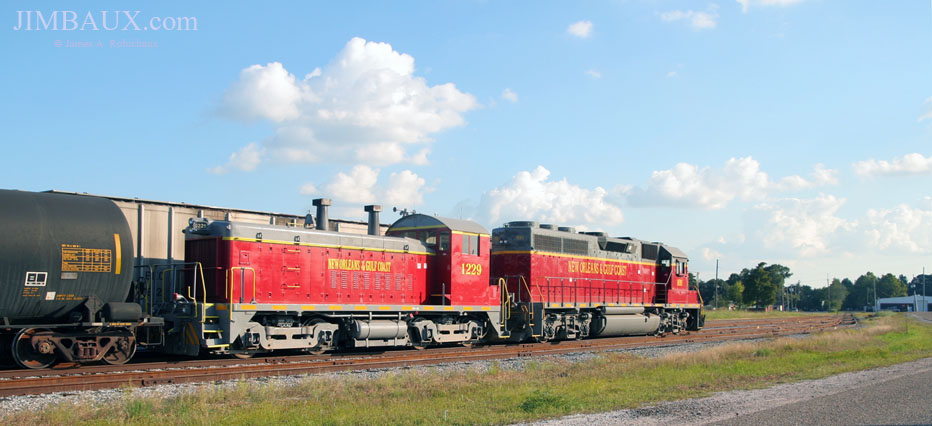 I worry that every time that I see this thing might be the last time.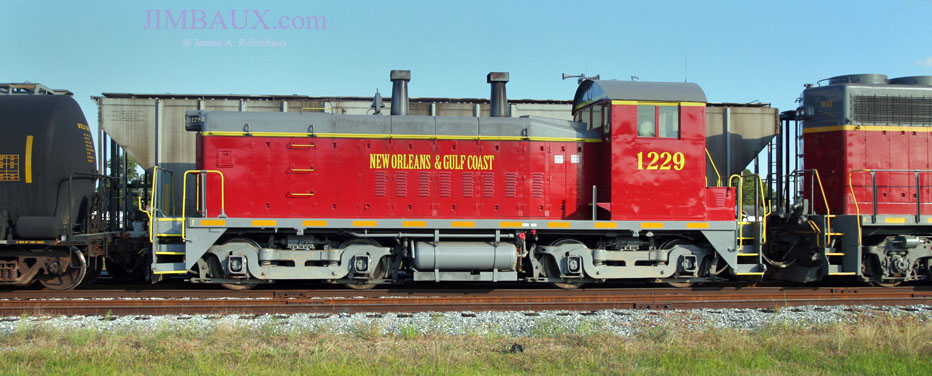 I have too much to do to wait for this thing to move; so, out of here I went.
Mexicans!
I then saw an odd sight at the grain elevator in Westwego.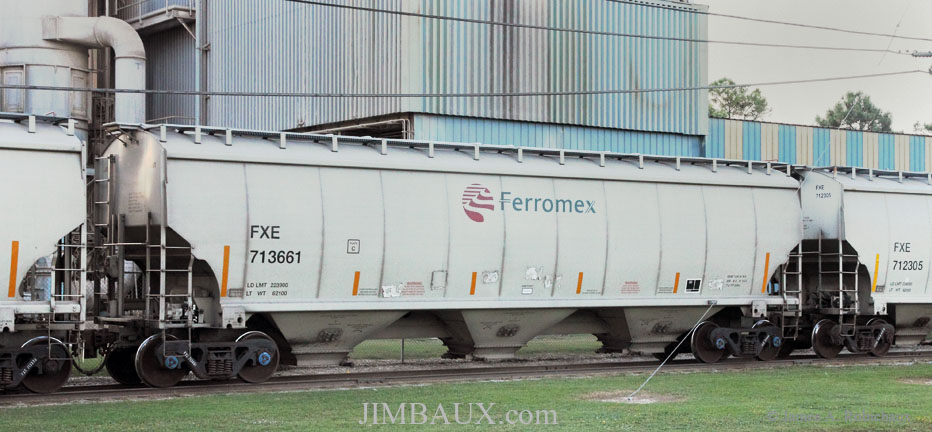 This was, with UP locomotives, a grain train of nothing but these Ferromex hopper cars.  Any information on where this shipment originated or why Ferromex cars were used would be appreciated.  Is it possible that this train was loaded here at the Westwego facility to send to Mexico?  That seems highly doubtful to me, but I'd like to rule out the possibility if possible.
UPDATE, 2014 November 25 22:53: I am told that these cars are on lease to Cargill.
Three Trains At Live Oak, Including An Old Friend
I was in plenty of pain at this point (the reason for the selection of today's song, a song that has unfortunately become my theme song since the beginning of 2013), and-but I was determined to, while I was already out-and-about and before the light went away, see a few more trains; and so I went to Avondale and to Live Oak, where some train with an unknown symbol – I heard what sounded like "QMTNO" or "UMTNO" – was told to come off of the Livonia Sub via the "South Side" and into the yard.

What in the heck is this?  This train had nothing but empty flat cars and empty gondolas, some NS family and some UP family, and it was led by this one locomotive.
Next, the KLBAV (Intermodal: Long Beach, Ca., to Avondale, La.) – which I had not seen in a long time – came off of the Lafayette Subdivision, and I caught the rear-end DPU of it like so.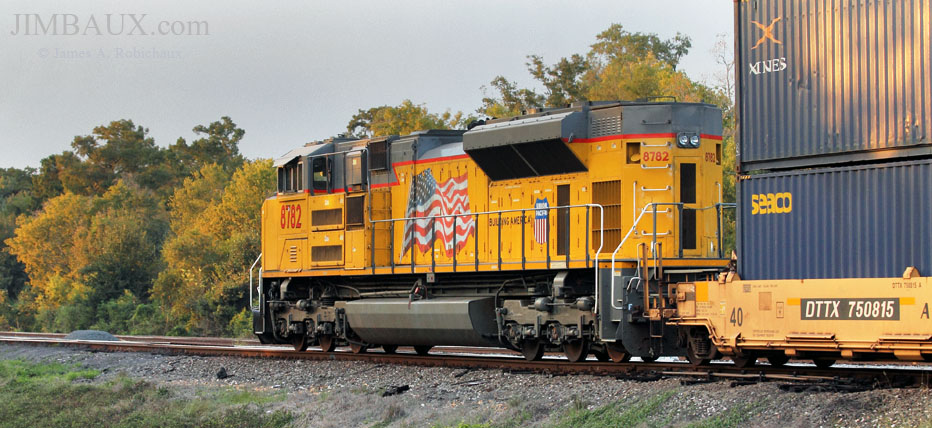 Yeah, the colors are a bit jacked, but, whatever.
I heard that the "Fifty-One Local" was making its way back this way; this is the erstwhile Chip Local, and I think that it had been well over a year since I photographed it.  Two minutes after we saw the rear end of the KLBAV, here is the LLD51, which will, unlike the KLBAV, take the crossover just to the right of the frame.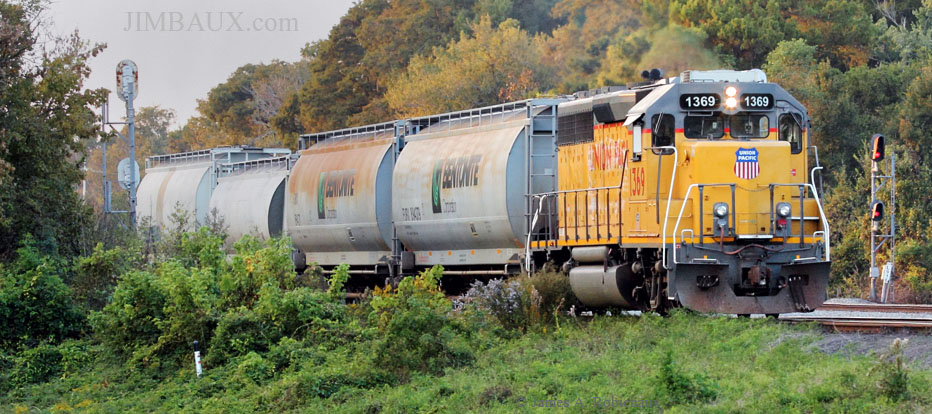 That 1369 had been the power for the train for a few months.  (I had seen it a few times, usually at Avondale, but never been able to photograph it.)  Check out the two Bentonite hopper cars; those are part of some new business at the port of Morgan City, where UP recently resumed service for the first time in about a decade, as shown in the recent "Reliefs and Rationalizations" article.  The last two hopper cars are most likely from MTI in Raceland.
Great.  Now it's time for a pain-killer pill and some horizontality.
Of course, since 'this' is Jimbaux's Journal (and not my real life), it's time for a little bit of philosophizing and opining.
Proactive And Non-Alienating Governing
I have not said anything publicly (and almost nothing privately) about the whole mess in Ferguson, Missouri, but I'll say something briefly about it now, and probably not what you think.
Before I say what I really want to say about it, I need to say something "background" about the facts of the shooting.  Indeed a real death occurred, and indeed it was a real tragedy, but, similar to the Trayvon Martin situation, this was a case in which the facts of what happened leading up to the death are not clear, not provable, and thus a gold mine for the media who try to agitate us and get us to take sides on something about which we have no knowledge in the first place!  The reality is that we don't know what happened, and that's exactly why the media love stories like this!
That said, there is something that we do know: there is a long history of tension between the people of Ferguson and the government there.  That people would riot in the streets over such a shooting in which the evidence is not clear seems itself to be good evidence of that, but there are other indications of this long-standing tension.  I doubt very seriously that a police shooting of someone, even if it was known to be unjustified, would result in riots and general unrest in a community with no substantial long-term history of such tension between the law and the people.
So, while the shooting case needs its own attention, and while "justice must be served" (whatever that is or will be), the real challenge for leaders and policymakers is to work toward improving that relationship with the community.  To do so would honor the memory of – and even 'avenge' the death of – Michael Brown and "establish justice" far more than a conviction of the police officer would.  This is one of the many lessons of Confucius Lives Next Door, the book that I continue to recommend.
Law enforcement officers in the area just ordered more riot gear, and federal officials are training them in how to handle a riot and use the gear.  That is an appropriate response for the short term, but a long-term goal on which leaders should work is making the community into a place where riot gear is essentially unnecessary.
Jimbaux