[Jimbaux somehow gets by.]
It was either the 393 or the 345; I don't know which train it was, but it was one or the other.  I caught it coming across the river on the Huey P. Long Bridge late in the afternoon today, Wednesday 24 September 2014.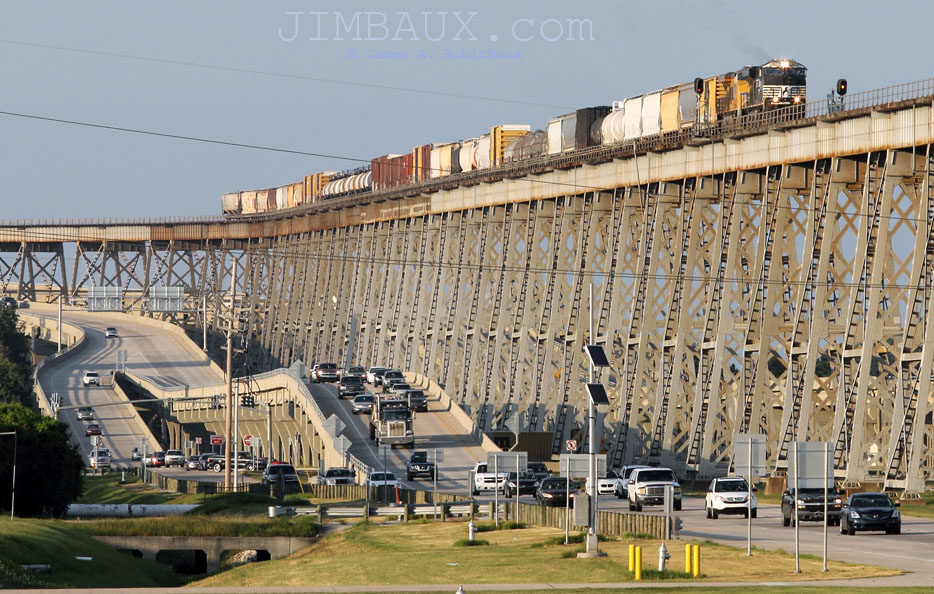 Absent from this train today are the pipe loads that help identify NS train 393, but present were the chlorine tank cars and NS coil cars that are usually on the 393.  That the train had several big boxcars, though, made me think that it might be the 345.  It had one carbon black hopper car; the 345 usually has several of those, and I don't recall seeing them on various 393 trains.
Oh, well; it's either one or the other.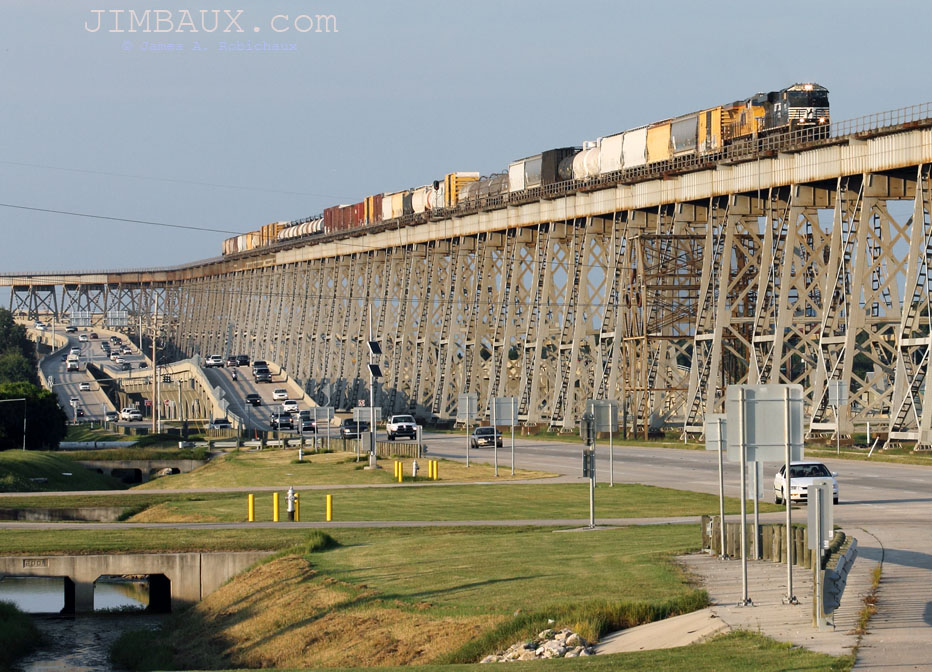 I guess I just don't know much anymore; that naturally makes one question what he supposedly knew in the first place.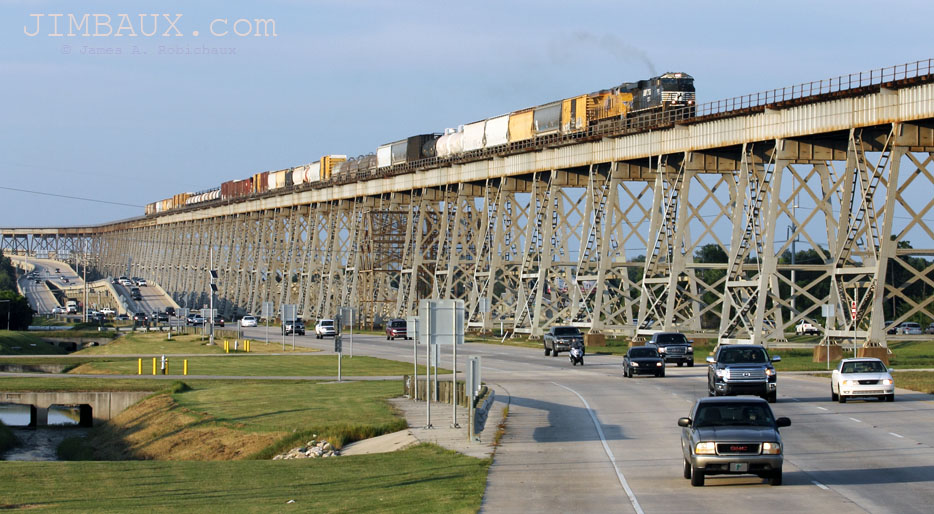 What we do know is that this is one of the two carload trains that the Norfolk Southern Railway sends – interchanges – to the Union Pacific Railroad in New Orleans, and we only even know that through years of observation, years of inquiry, and years of monitoring railroad radio communications.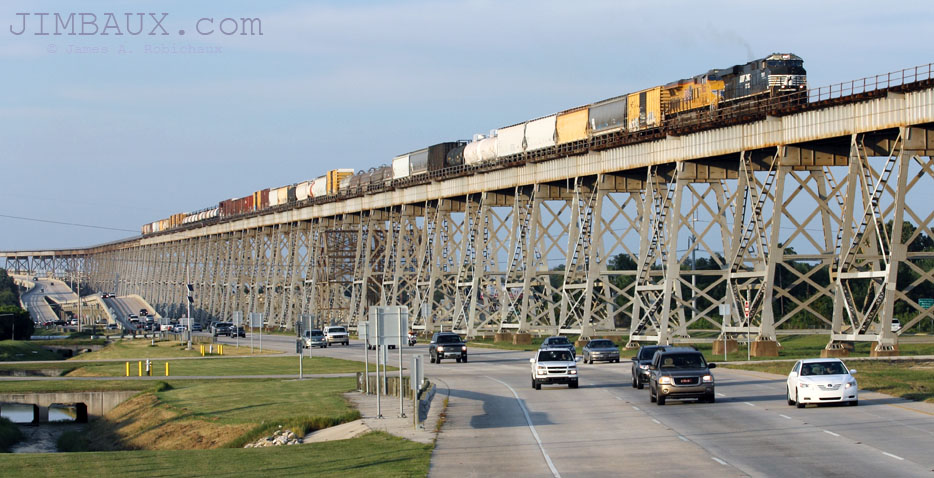 In life, not only is it important to be aware of what we know but also to be aware of what we do not know, that there are some things that we just do not know – perhaps we cannot know them.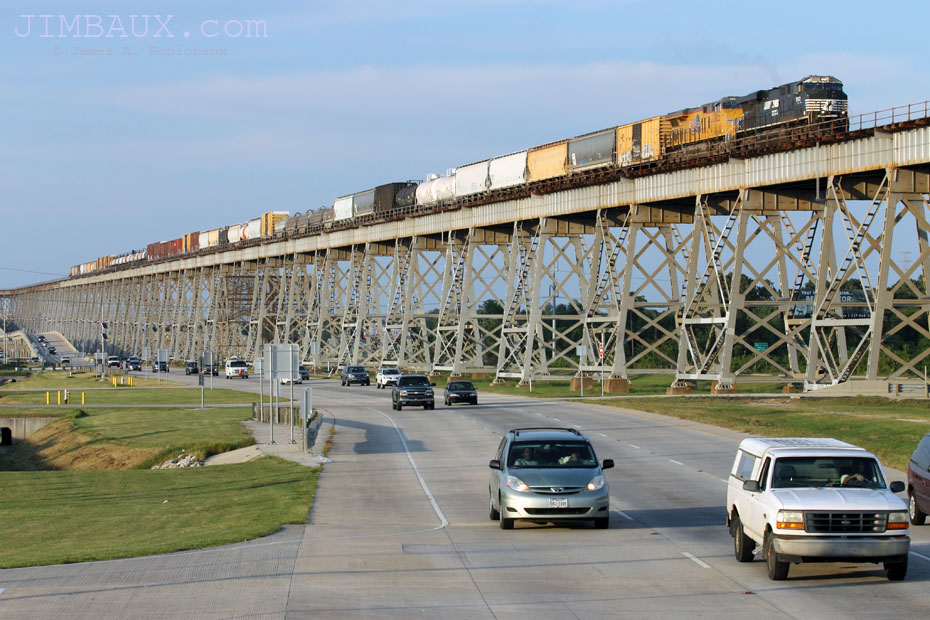 Perhaps the worst habit of common people is that of making up reasons for something happening even if there is insufficient evidence of why said thing happened; apparently, simple uncertainty is far too much for some people to bear, but that doesn't excuse the toxic practice of what is often called "fundamental attribution error."  It's not always one or the other.

Later this evening, I saw parked at Bayou St. John in New Orleans the NS-to-UP carload train that this train seen in these pictures was not.  I saw plenty of old covered hopper cars and some LPG tank cars; the former made me think that the train was the 393, and the latter made me think that the train was the 345.  Regardless, in this case, it almost certainly was one or the other.
This second train had two locomotives that both had what we once called "standard cabs": NS 9749 and NS 6651.   Therefore, I wish that I could have photographed that train in the daylight, but, on this day, in terms of Jimbaux photographing an NS-to-UP train in (or near) New Orleans and showing the results to the world, it had to be one or the other.
That is all for which we have time and energy today.  Have a blessed and peaceful night, week, and life.
Until next time,
Jimbaux