[Jimbaux says, "Don't ask me; I don't know."]
What, no non-railroad-related and non-photography-related comments on the previous article, with the new views and all of the "views" discussed after the views?
Railroad Pictures
Damn, It's Hot
Fall showed no sign of approaching today, as the heat and, especially, the humidity were quite oppressive.  Before I get to the "yellow" and "dusk" pictures, let's see one shot of typical Maintenance Of Way work being done on the Huey P. Long Bridge.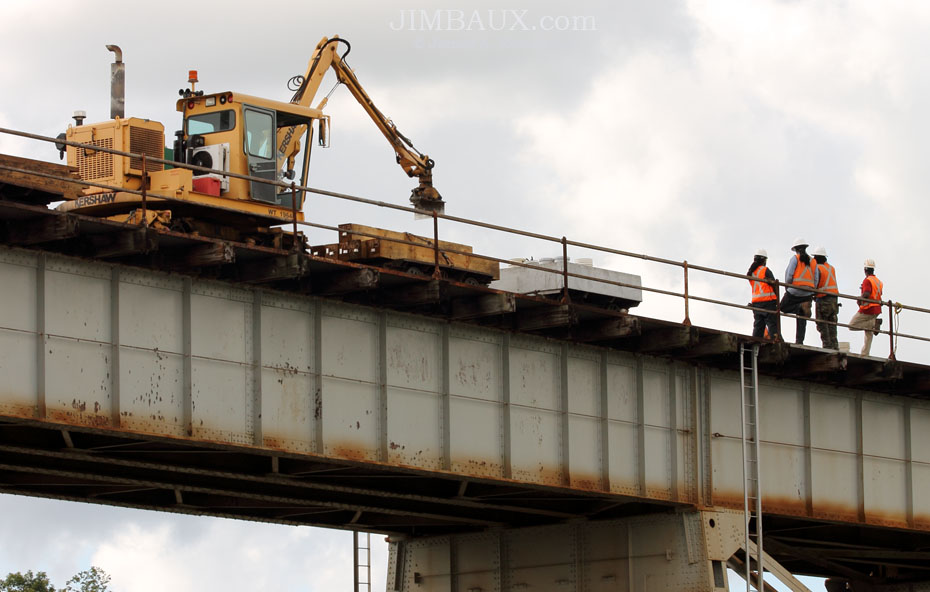 On major purpose of showing this picture is to convey that even though the bridge has two tracks, during the daytime when maintenance needs to be done on the bridge, the bridge is effectively a one-track bridge.
Afterglow
Late in the afternoon (or early in the evening), I went by Avondale and saw several things.  I saw what looked like the MAVBT – or, more specifically, the New Iberia setout – without any locomotives.  I also saw, as seen below, the tail end of a BNSF unit crude oil train with DPU parked next to what looked like a UP bare-table train with a crew on board at Avondale Garden Road.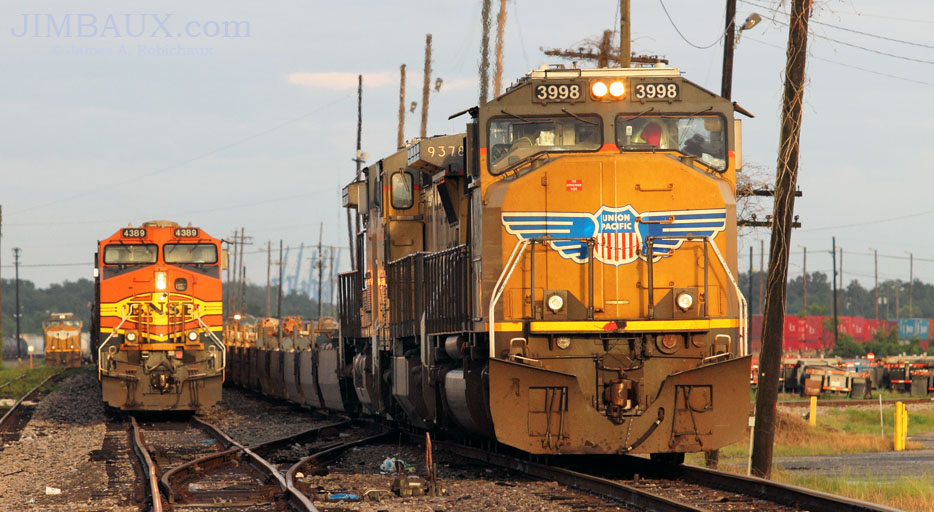 There's something peculiar about that 3998; I can't figure out what it is.
Three years ago today, I was taking pictures of Chip and his train just a few hundred feet to the west at George Street.
A Steamy Dusk Intentional Interception Of An Unintended Target At Live Oak
Comint indicated that an eastbound train was leaving Salix and would soon arrive at Live Oak; so, since I was nearby, and since the light was still good and interesting (and would not last for much longer), off I went to Live Oak to intercept the train.  Upon arriving there, I saw that the Lafayette Subdivision track – the former Southern Pacific mainline – was already covered in shadows for the evening, but I soon noticed that there was a southbound train coming off of the Livonia Sub and that that track was still illuminated – and also enveloped in steam!
I neglected to get a telephoto picture of the train – the Luling Local – from between the mainlines, a view that would have better showed the steam around it, and I got set up south of both mainlines (or both sets of mainlines) just in time to blast off this picture of the 31-car train.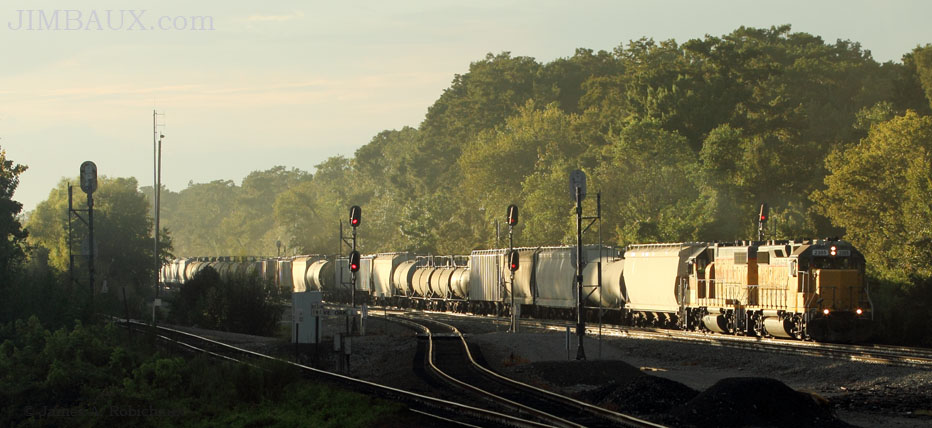 Probably the best brief set of pictures that I took at roughly this exact location was the set of three pictures of two trains – including the Luling Local – that I took here in late November 2012.
To refresh the memory of those who have forgotten and to inform those who never knew in the first place, the track at the left foreground is the ex-SP Sunset Route now owned by BNSF, and the parallel set of tracks in the distance where the train is is the former Texas & Pacific and former Missouri Pacific mainline up the western bank of the Mississippi River; the crossovers – there is another one going in the other direction unseen to the right – were installed after the UP-SP merger, and most inbound trains off of the Livonia Subdivision take the crossover to the old SP mainline.
Shot Of The Day
You might like the above picture better, and it certainly has its own merits, but if I had to pick a "shot of the day," it would be this one taken a couple of seconds later.

There are too many shadows for my likes, but, whatever.  Sorry-not-sorry for the inconsistency in the color correction between these two shots.  'Tis nice to see solid UP Armour Yellow power on a local train like this, given the preponderance on the UP of lease locomotives in other paint, even though the lead locomotive here is itself a lease locomotive, GMTX 2305; the other locomotive was the UP 305.
One More For The Road
Since I had to go in that direction anyway, I figured I'd shoot this train at Willswood in a type of shot that I'm trying to do more: the down-the-road broadside.  Here is the result.

Yeah, though this view has merit, this kind of shot just doesn't really work well in the pancake-flat lands of southern Louisiana, at least not without a drone!  I've seen this type of view – and done it myself (in Nebraska) – in areas of gently rolling interior plains where train isn't pushing against the sky and where the road can be seen beyond the train, the train being at the bottom of a slight valley.  How a man and his perception of the world are affected by the topography of his homeland is an interesting topic indeed.
That's all for pictures this time.
Musings
How 'Bout Those Roosevelts?
Have you watched the PBS series on the Roosevelts?  I am, not at all to my surprise, finding it fascinating!
At the beginning of the summer while in a state of debilitation, I finished reading my college US history textbook; I picked up right at the beginning of the Theodore Roosevelt presidency.  One impression that I got was that, to TR, progressivism and conservatism were not mutually exclusive; in today's discourse, and perhaps always, the two are too often portrayed as being opposites, and doing so is not always (or ever) healthy.
There was an example in my history book that I did not see in this week's PBS series (it may have been in there, as I haven't been able to sit down and watch it in its entirety from start to finish) that really summarizes one of my own philosophies on the matter.  I don't remember what the law or executive action was, but it seemed to do with something about how workers are treated.  TR, apparently responding to a statement that what he did was revolutionary, said that what he did was absolutely not revolutionary, that it was an action taken to prevent revolution.  That sentiment – which I greatly respect and with which I can very much identify – is still relevant and useful today, as exemplified by a recent article entitled "The Pitchforks Are Coming . . . For Us Plutocrats" by Nick Hanauer.
If nothing else, helping make sure that workers aren't treated too poorly helps, as Hanauer explains, to keep the peace for everyone else, but as TR's niece Eleanor would later come to know, none of us are truly free if large segments of the population needlessly suffer at avoidable levels; I say "avoidable levels" because I definitely am one who understands (or at least accepts) that "inequality" is mostly inevitable (and, perhaps, not entirely bad), that there is only so much that society and individuals can do about that, and this shows that you can be both conservative (realistic) and progressive (idealistic) simultaneously.
With all of that said, I feel obligated to point out that fear of "revolution" should not be the only reason to be concerned about the well-being of those whose lives are difficult; if that is the only reason, then it would suggest a dearth of empathy, and it might even mean that "progressivism" isn't an applicable label to efforts to reduce the suffering of others.
More Or Less
As usual, there is plenty more to say about all of this, and I'd like to read your thoughts.  I would write more about various topics, including the issues regarding the National Football League and issues, like capacity problems, facing railroads today, but I'll save that for another time.
Until next time, be well.
Jimbaux