[Jimbaux has plenty of reason to think that at this point, if not for back problems, things can only get better.]
Good morning.  Good afternoon.  Good evening.  Whatever.
After and eventful but painful weekend that saw me chasing the IAVLB from St. Charles to Berwick followed by a trip to Slidell to work on a music video, I awoke on Monday hurting and sweating, as my back worsened and the cool front burned off.  Still, if it weren't for worsening health problems, Howard Jones's tune might be quite appropriate.  (You're listening to it, aren't you?)
We start this morning in a place that I rarely photograph: the southern throat of Norfolk Southern's Oliver Yard in New Orleans.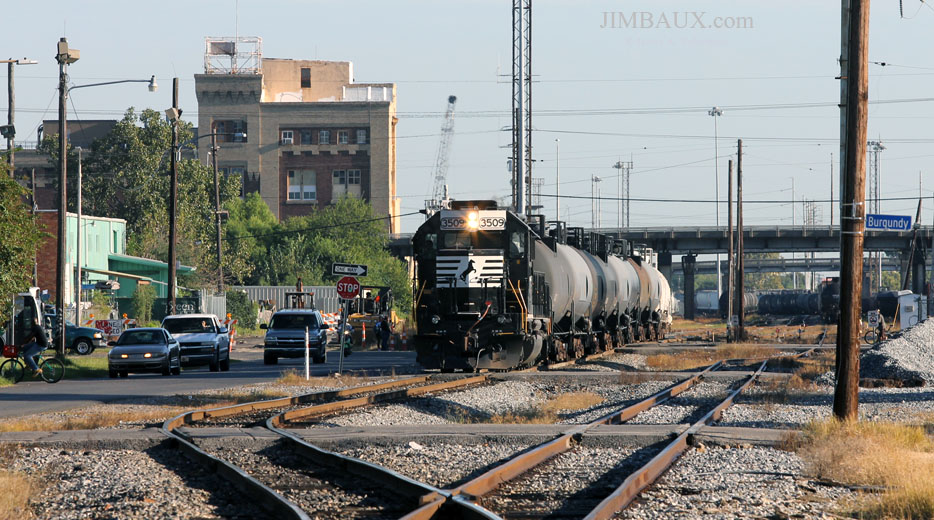 The last time that I photographed here was almost a year to the day before.
This is a neat and unique little area shortly downriver from the French Quarter.

Railroadwise, though, this is far from one of my favorite places, which may surprise you.  I just don't know why I don't much care for the railroad action here, except that it is generally some uninteresting yard action.  I'd like to one day catch the New Orleans Public Belt Railroad transfer here, though.  In the meantime, this NS geep and a few big tank cars will have to suffice.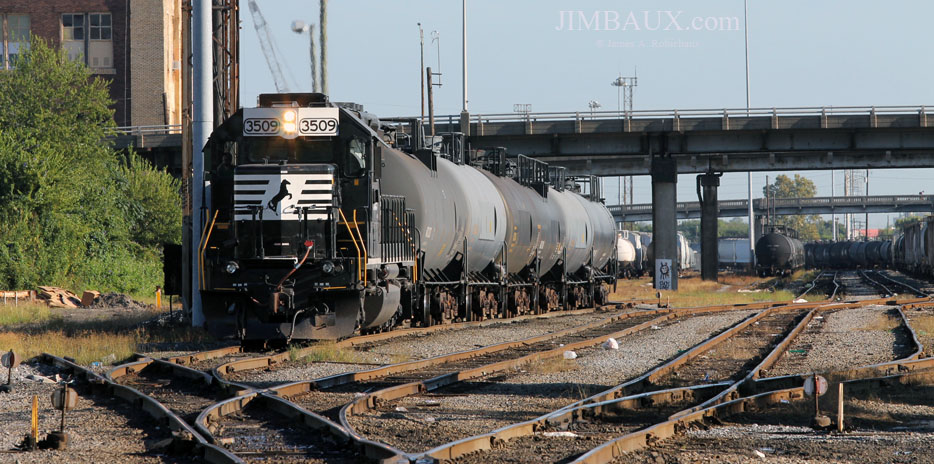 Well, that's certainly enough of that; it's time to head over to the CSX-NOPB junction to see what is happening there before attending to the day's real-life chores.  We find the Q179 – which is an intermodal train I believe from Jacksonville, Florida, but I'm not totally sure – coming out of the yard to shove a block back into a track.

Yeah, at first I thought it was a bare-table train, but then I went a little way to the east and saw this.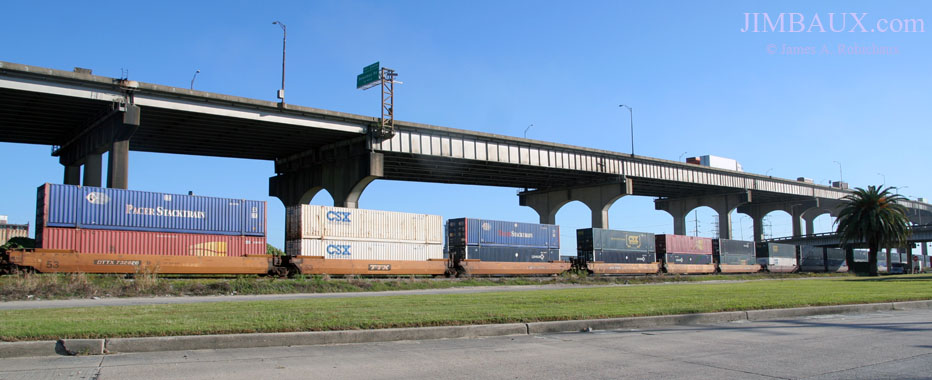 I just do not know very much about what CSX does east of here!
Let's make a quick check of the New Orleans Public Belt Railroad's France Yard, where there is the usual not much to see except for this.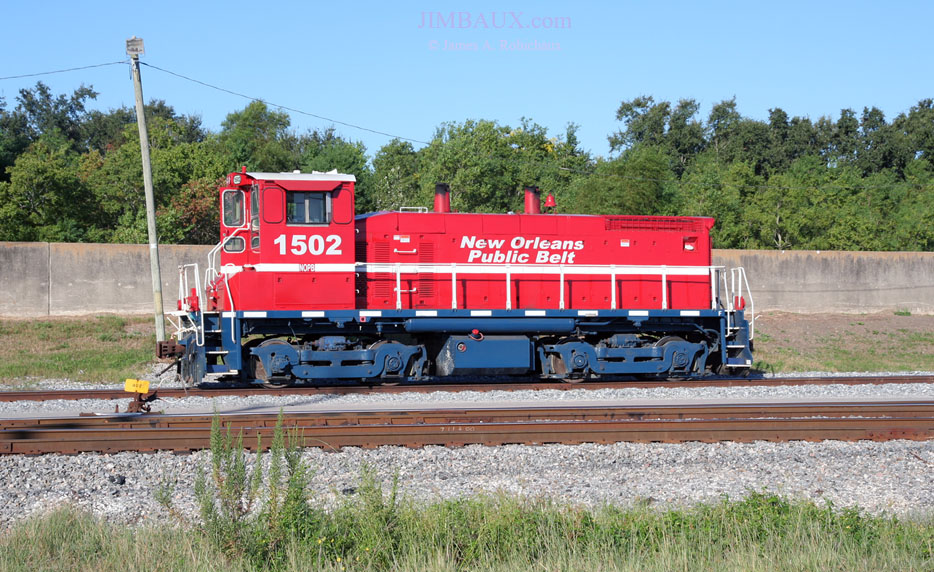 Okay.
Now, I am really, really, hungry, and I am going to use this opportunity to do an experiment that I have been meaning to do, but, first, we'll get one more view of this Q179 as it shoves back into the yard, and, in showing you this picture, I am going back to my past ways by engaging in a practice that I had otherwise seemed to have given up.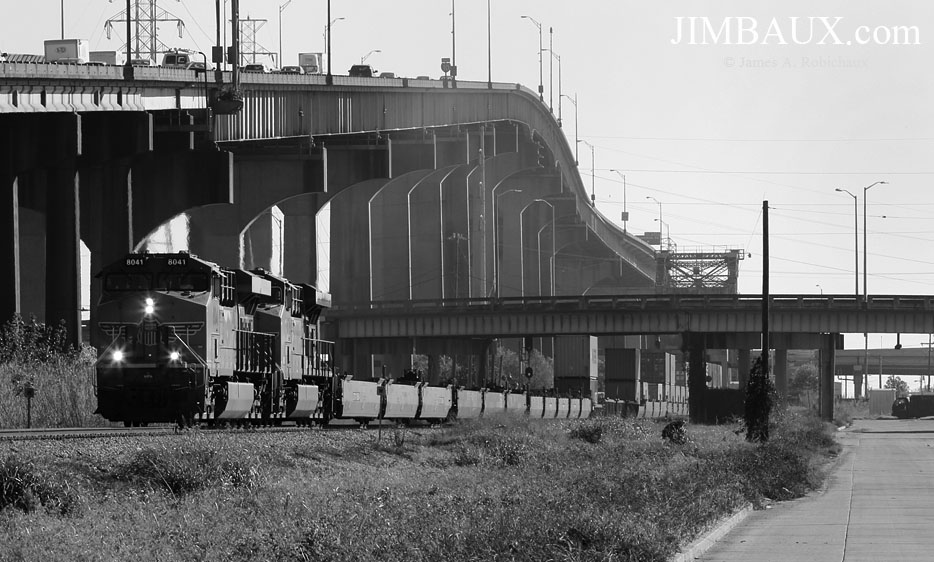 Back in the old days, it was quite common that I would process one or two photographs from a set into black-and-white, but this is the first time that I do this in a long time, and, furthermore, when I have recently (the last three months) gone back and reprocessed pictures from three-year-old blog posts, I often replaced pictures that I had originally shown in black-and-white with a color image.
Apparently, I have, this picture aside, about a year or two ago, stopped the practice making black-and-white images, and I wonder why.  First, I have, now (and since late 2012), a better camera, better in that it renders low-light situations much better than older cameras with their older processors.  Many and perhaps most of my old black-and-white digital images were made under cloudy skies; newer cameras render such settings much better, even in color.  Second, perhaps I just continue to improve in photography skills; choosing to go grey was often a result of poor lighting of under non-cloudy skies, as seems to be the case with this picture, but maybe I have just gotten better about it all.
I don't know, nor do I need to know.
Now, it was time for breakfast!  Where?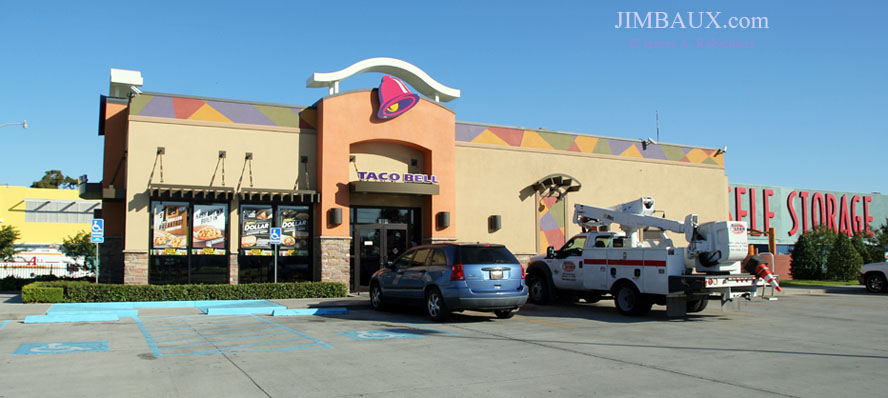 Yes, this morning was the first time that I tried the Taco Bell breakfast, and, I must say, I loved it!  That grande scrambler is great!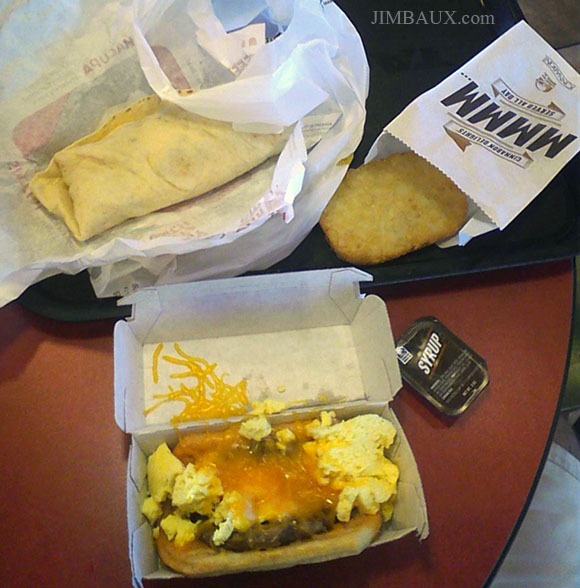 That's the waffle taco at the bottom of the picture.  Noteworthy, too, is that this Taco Bell is in Gentilly, which is in the city of New Orleans.  Until recently, there had not been a Taco Bell in New Orleans (except one as part of a food court on Tulane University's campus, which one could not see if not inside the building.)  I have had Taco Bell breakfast a few times since this day (I'm typing this weeks later), and no other fast food breakfast in that time!
Well, now I really have to go, 'cause I gots responsibilities, but, damn, something good is coming, and I need to hurt myself to get a shot of it.  So, here we go, and it's one of my favorite old locomotive body styles.
That GP30 body is really cool!
Damn, it's really getting hot out here.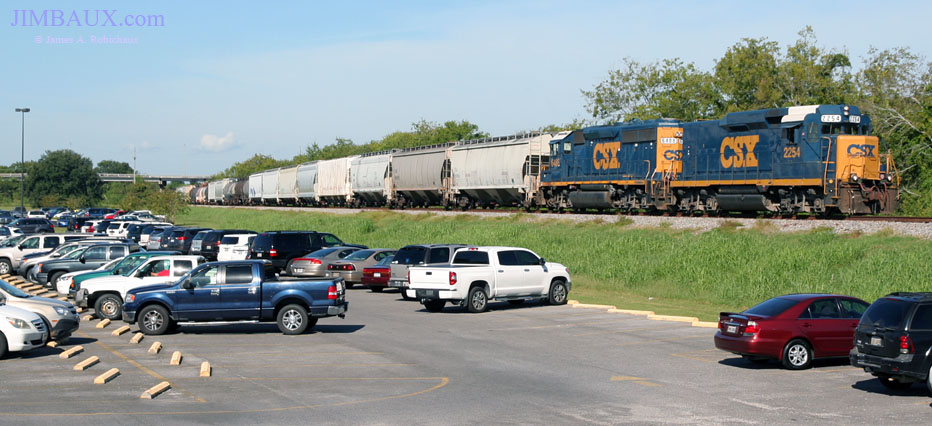 To make this last shot of this train just right, I had to do a little bit of digital tree removal; you can hate thank me later.

Okay, let's get out of here.  I recall that my house pictures from eight days ago were well-received.  So, so too should these be.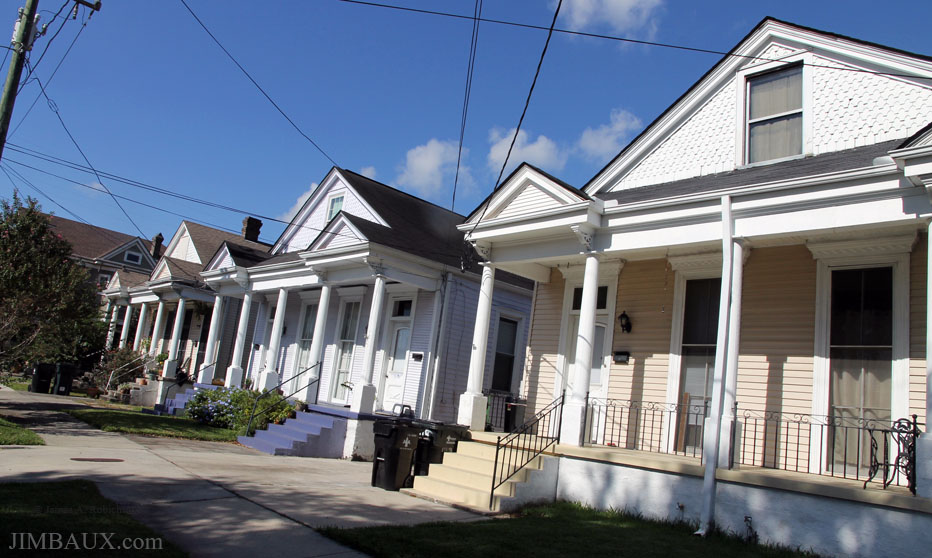 How's that?  I love Mid-City!
Don't forget that caption information for each picture can be seen by reading its filename, which can be read by holding your mouse arrow over the picture.
Okay, let's get out of here.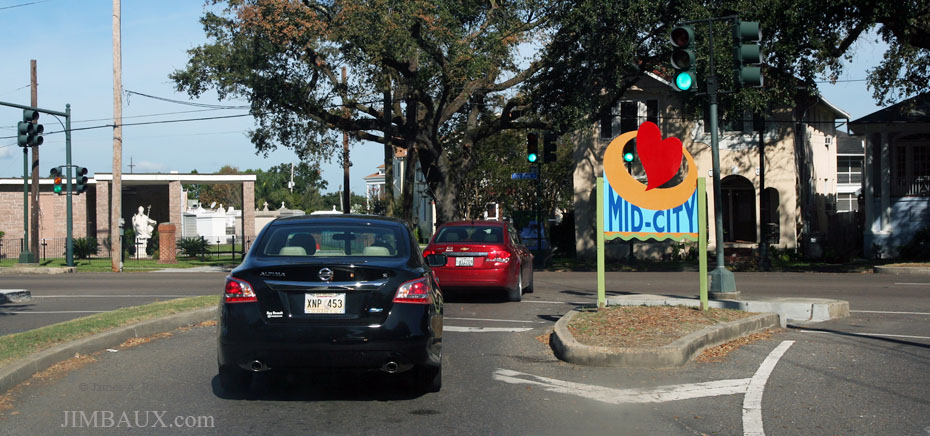 But, wait, something is coming, and this something is something different.  Well, I have to once-again delay my responsibilities for this, right?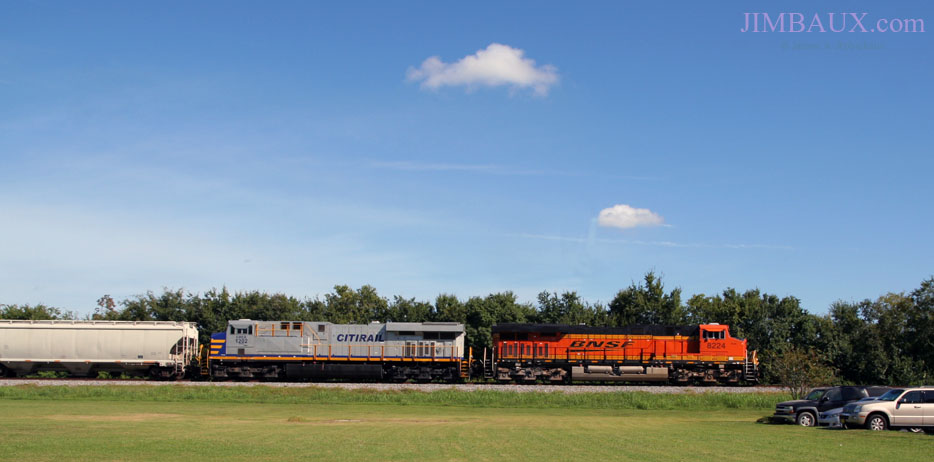 Yeah, that did not work out so well.  Okay, really, now it is time to get out of here.
Hours later on the W'ank, something unusual caught me eye.
Ah, yes, the Gretna Heritage Festival had taken place over the weekend, and the SP 745 and its train of old cars had crossed the river to get there; the train was parked here, and I did not see any human beings around.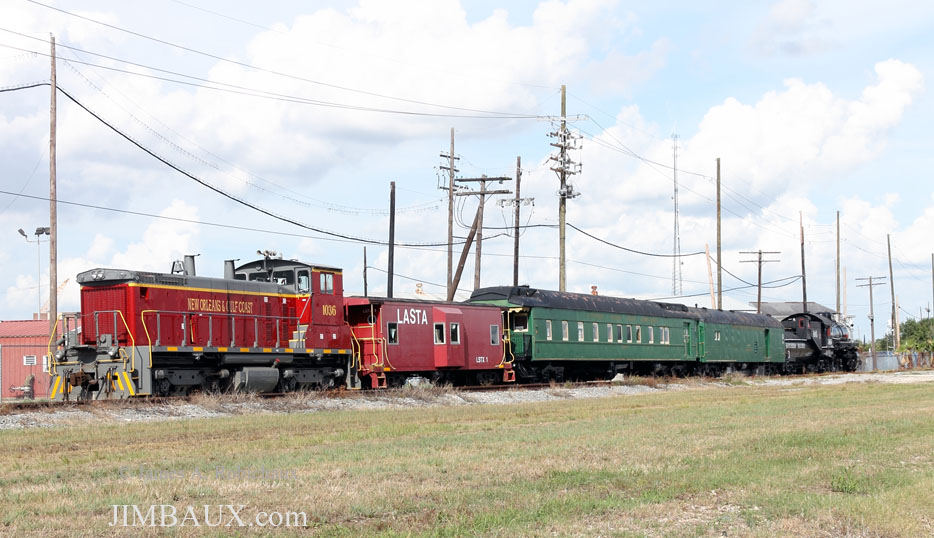 Finally, a few hours later and about a mile to the west, I got my first pictures of the interesting construction taking place just west of the Harvey Canal.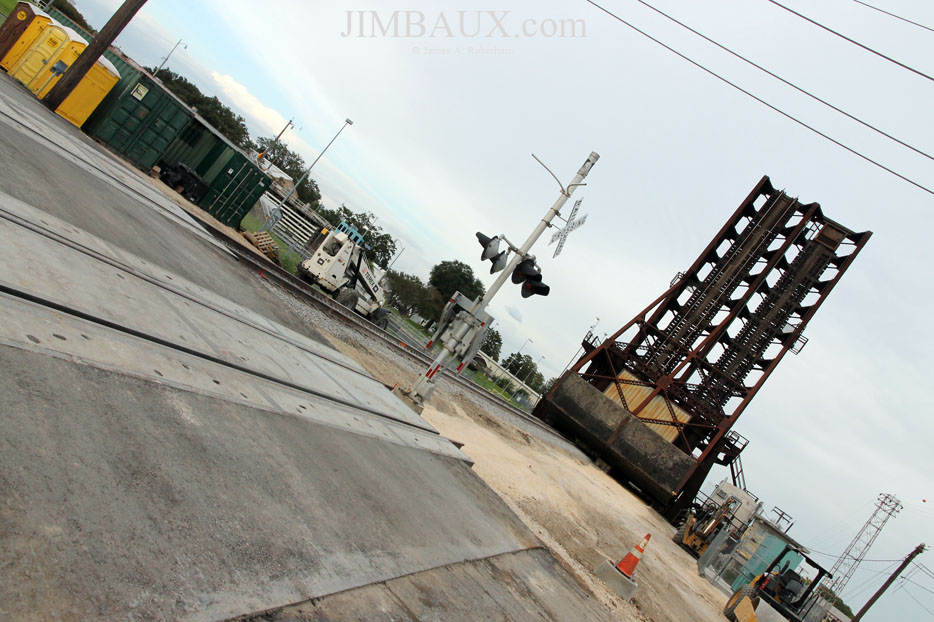 This is surely interesting; having two tracks going across the Harvey Canal here made sense when there were two competing railroad companies in the area (until or before the UP-SP merger), but I'm not sure what sense it makes now.  Whatever the case, the managers of the New Orleans & Gulf Coast Railway have decided that it makes enough sense to spend the money to make it happen.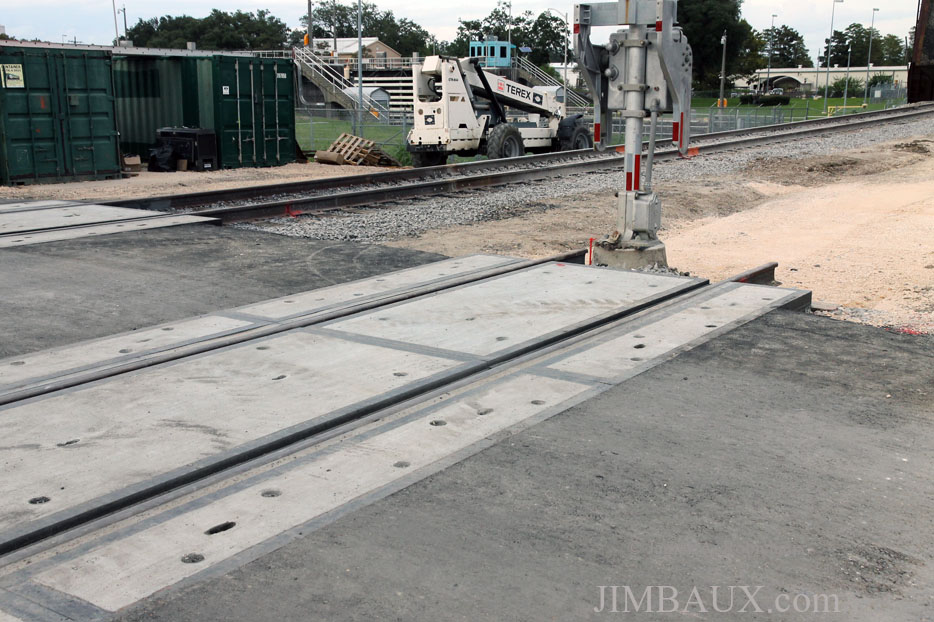 The new track is being laid where the Southern Pacific track was; the track that had been there all along was the Texas & Pacific track, which is seen at right in the below picture, and to the right of it is the Kinder-Morgan tank farm, a major NOGC customer.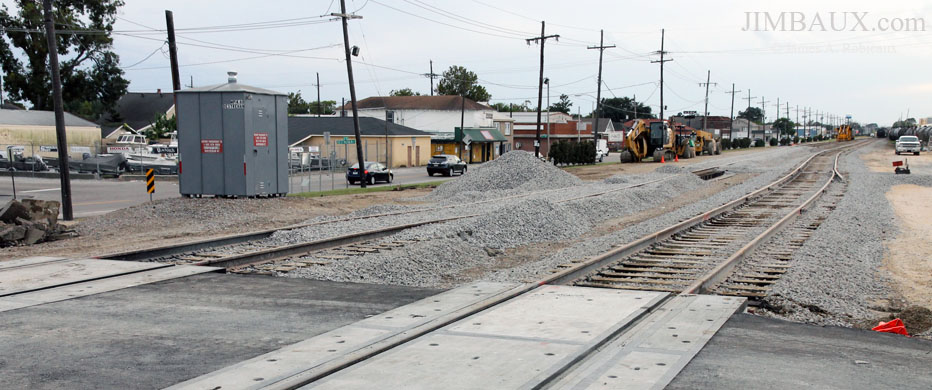 Well, that is really a wrap, and it's about damned time, too!  I'll "see" you next time.
Jimbaux