[Jimbaux is back in the saddle again.]
A Day To Be Remembered
Wow, what a day today!  This will be day long remembered.  (The Mid-City Marine would probably tell me that it is not wise to say "this will be a day long remembered" for the same reason that it is not wise to say "I've got a bad feeling about this.)  What happened today – Wednesday 9 April 2014 – is worth breaking my three-month drought of posting new material as opposed to posting five-year-old and 10-year-old material on the site.
GameOver340 reported yesterday – Tuesday 8 April 2014 – a report that the Norfolk Southern Railway's "GoRail" locomotive was leading NS train 355 toward New Orleans.  Thanks, man!  The 355 is the 'super local' from Birmingham to New Orleans that also carries what remains of NS intermodal and automobile shipments to New Orleans; it picks up and sets out cars for the local trains along the way.
Digression
For those of you who are not railroad enthusiasts, some explanation is warranted.  In modern times, the major railroad companies – but particularly Norfolk Southern and Union Pacific – have painted certain locomotives in a commemorative or special paint scheme, and almost always to only one locomotive for each such paint scheme.  The largest and most celebrated example is NS's heritage unit program done in 2012 for its 30th anniversary (the Norfolk Southern Railway was created in 1982 upon the merger of the Southern Railway and the Norfolk & Western Railway); NS painted about 20 locomotives into the paint schemes of "fallen flag" locomotives – only one locomotive receiving the paint job for each former railroad represented – that have been over the decades absorbed and merged into what became the NS to make it into the large railroad that it is today.
For railroad enthusiasts, this move by NS has been very popular, as so many railroad enthusiasts remember the days when the railroads represented in the revived paint schemes actually existed, and even railroad enthusiasts who are too young to remember those railroads can appreciate the historic railroads.  As for me, I'm too young to remember any railroad reflected in NS's heritage program except for Conrail (and that almost entirely from the proliferation of Conrail locomotives shortly after the Conrail split in 1999, in which NS and CSX split Conrail, causing it to cease to exist), but I can appreciate most of the other heritage locomotives – even if I don't get as excited about them like many other railroad enthusiasts do – because I have read so much about those railroads and seen pictures of them.
The "GoRail" locomotive is not a "heritage unit," but it is, like NS's Veterans unit, a special, one-of-a-kind locomotive because of its paint, but only because of its paint; it is a locomotive just like any other, mechanically identical to those of the same model.
My Powers of Prediction Served Me Well Today!
I had a hunch that the next assignment for the GoRail locomotive – NS 6963 – would be the morningly transfer run to the Canadian National Railway's former Illinois Central Railroad yard in Metairie, Louisiana, and that if it was on this train, the cab would be facing east (into the rising sun), since the locomotive led southbound into New Orleans.  Perhaps I rather vainly thought of the possibility that someone in Norfolk Southern's public relations arm thought that the locomotive would be more likely photographed by someone – likely me, since I have photographed this train so many times over the years (the one linked in this sentence being one of many examples), and since NS's social media accounts follow mine – if it was on that train, since, of all of the logical next assignments for the locomotive, that is the only one that did not have it going back north out-of-town or stuck in the yard for awhile.  (Even if the Louisiana Southern line into St. Bernard Parish can handle six-axle locomotives, I have never seen one there.)
The Hunt
So, I got out a little bit earlier than usual this morning in the perhaps-vain-but-apparently-substantiated hope of finding and photographing the train.  There was what looked like a QLIHL waiting at NE Tower with its tail end hanging on to the Back Belt around St. Anthony, but the radio was otherwise quiet.  At Oliver Yard, I photographed a yard job with auto-racks at Florida Avenue, but this is not why we are here.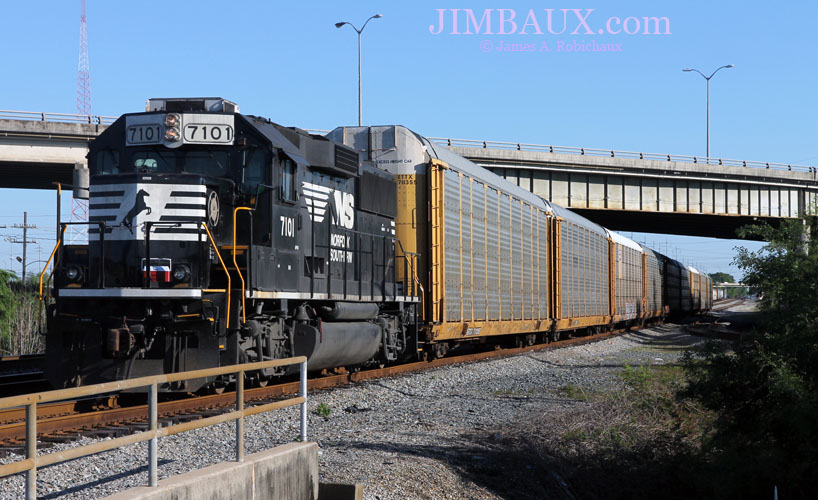 I made a quick run over the yard on the overpass that crosses the locomotive servicing area, and I did not see the 6963.  So, maybe it was out on the line somewhere, maybe back into Mississippi going north not to return indefinitely; it was probably time for me to give up anyway, as I have somewhere that I need to be.  Maybe the transfer run had come back into the yard anyway, meaning that, even if it did have the 6963, it was already too late to photograph it.
I Found It!
I make one quick and easy check of the Back Belt before I give up, and, lo and behold, I see, parked at St. Bernard Avenue, NS's morningly transfer run from the CN with, yes, the NS 6963 as the sole power!  Sweet!  Now I need to quickly devise a plan on where to shoot this train.
Uncharacteristic Commemorative Locomotive Fanboyishness From Jimbaux
At this point, some more digression is warranted, and this time, unlike the earlier digression, the digression is personal.  Generally speaking, I don't share the level of excitement and interest that many railroad enthusiasts have about one-of-a-kind commemorative units or even most heritage units, even those, like NS's, using the actual paint scheme.  I will seek and photograph them, but I won't go very far out of my normal way to do so like many railroad enthusiasts do (some railroad photographers go pretty far out of their own way to catch these things), particularly of heritage units of railroads of which I had little or no knowledge, like the Interstate Railroad, the Illinois Terminal, or the "original Norfolk Southern" (one of NS's predecessor lines was also called "Norfolk Southern") unit, the only NS heritage unit that I have ever photographed.  (I have seen the Illinois Terminal unit but have not photographed it.)
A huge appeal of being a railroad enthusiast to me is that nobody, not even the railroads, are telling me that I should pay attention to their trains.  The railroads would not cease to exist or even be affected if I (and other railroad enthusiasts) stopped paying attention to them.  Conversely, forms of designed entertainment like, for example, the NFL would completely cease to exist if people stopped paying attention to them; in other words, they exist to get attention.  The fact that railroads are not seeking and do not need attention makes paying attention to them far more "authentic" of an activity to me, and the same thing could be said of many other industrial or natural things.  So, the idea of getting excited about a paint scheme that the railroad specifically wanted to stand out from the rest of the locomotives – and thereby get my attention – doesn't really work with my no-I'm-not-doing-that-just-because-you-think-I-should circuitry.
There are several factors that led me to want to make somewhat of an exception (only "somewhat," because I am already in the area anyway) for the 6963 this morning on this train.  I'll explain them here, and if you're not interested in them, just scroll down until the next picture.
First, as has already been mentioned, this train – this morningly NS transfer run to and from the CN – is one of two or three NS trains that I have regularly photographed over the last decade, as regular readers of this site know.  So, the specific train to which the 6963 was assigned today mattered to me, making the special locomotive on it matter to me far more than it would have mattered to me on almost any other train.
Second, since this train normally has only one locomotive, that almost guarantees that the train will have a "solid consist."   One reason why I am not infected with the heritage unit bug as much as others are is that since nearly every train has more than one locomotive at the front, there can almost never be a "solid consist" of a particular paint scheme, and I increasingly prefer solid sets.  On top of that – and this is like reason 2.5 – there is often the problem that the commemorative unit is not leading.  The pleasure of seeing and photographing a heritage unit is greatly diminished if it is not leading the train and, therefore, easily visible, especially the cab end.
Third, although everything that I yet know about GoRail comes from the description in the aforelinked NS railpictures.net image, I really like it!  We seem to share similar missions.  I aim to edify as much as I entertain, and, particularly, I endeavor to educate people far beyond the community of railroad enthusiasts about railroads, an endeavor which has had some success.  I also don't see it done much elsewhere; although the seasoned railroad enthusiast may easily and understandably get tired of my breaking down of railroad topics for the non-enthusiast reader, I am somewhat of an evangelical railroad enthusiast, and, when I read websites created by many other railroad enthusiasts, they are often so jargon-filled as to be almost useless to anyone who doesn't already know much about railroads.
Fourth, fresh paint is always good!  Furthermore, this paint scheme is snazzy!
Again, I Need To Devise A Plan, And Quickly
One problem with photographing action on the Back Belt at this time of year (spring or summer) is that the sun doesn't cross over to the southern side of the track until late morning, and the northern side of the track is mostly inaccessible (or has poor views where it is accessible.)  Where the train was parked when I first saw it was a poor photo location.  So, as soon as the train got permission to move, my options were very limited.  I remembered from my one time doing such a picture that the Elysian Fields Avenue overpass provides a very tight view of the northern side of the track, tight because the old Southern Railway cantilever signal at Elysian Fields blocks much the view of the track, forcing a tight perspective.  So, that is where I went, knowing that if I shot the train there that I probably would not be able to beat it to another location to shoot it.
Here Is That "Tight Perspective," But It Gets Better!
As I am climbing the bridge, I could tell that the train was moving.  Oh, crap!  I need to hurry!  At this point, I did something that I had not done since January.  I ran.  This is significant, because it is the first time that I run since emergency back surgery in early February.  My lungs are out of shape due to how my back has hindered my mobility, and my lungs were hurting far more than my back was hurting; my back, thankfully, was not and is not hurting from this brief jog.  My physical therapist last year told me that short runs shouldn't be a problem but that I should avoid running long distances, which is fine, since I have never been much of a runner.
Here is a heavily-cropped and therefore fuzzy view of the train, but it gets better.  I got there just in time, huffing and puffing.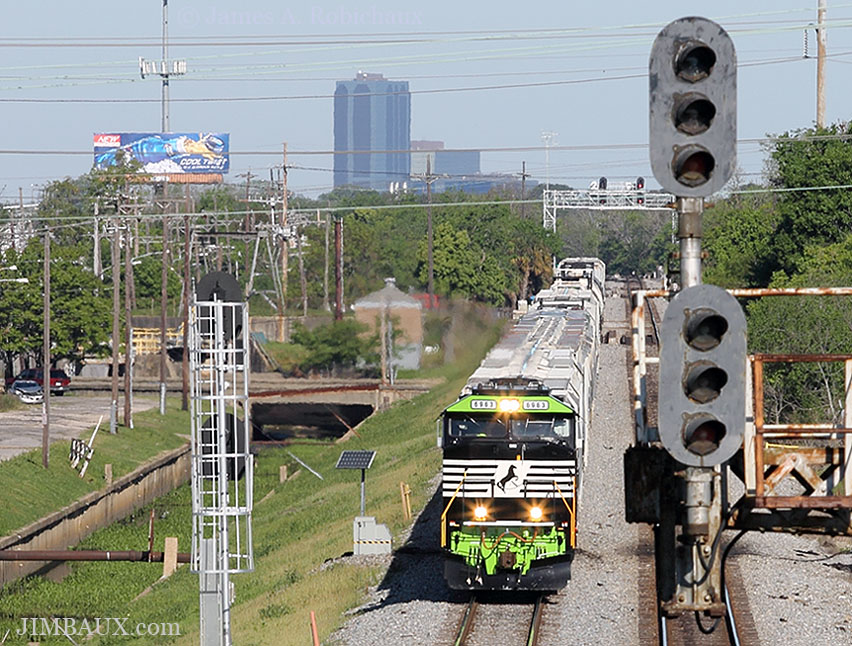 That is downtown Metairie (on Causeway Boulevard) in the back.  Notice the new signal at Frenchmen Street and the new signal bridge in the back at Broad Street.  What you see at right is the still-standing cantilever signal at Elysian Fields, meaning that the aforelinked shot of the northbound Crescent in 2010 may be the only picture that I have taken that shows both cantilever signals.
You can see what I mean when I say that going any further to the right would block the view of the train.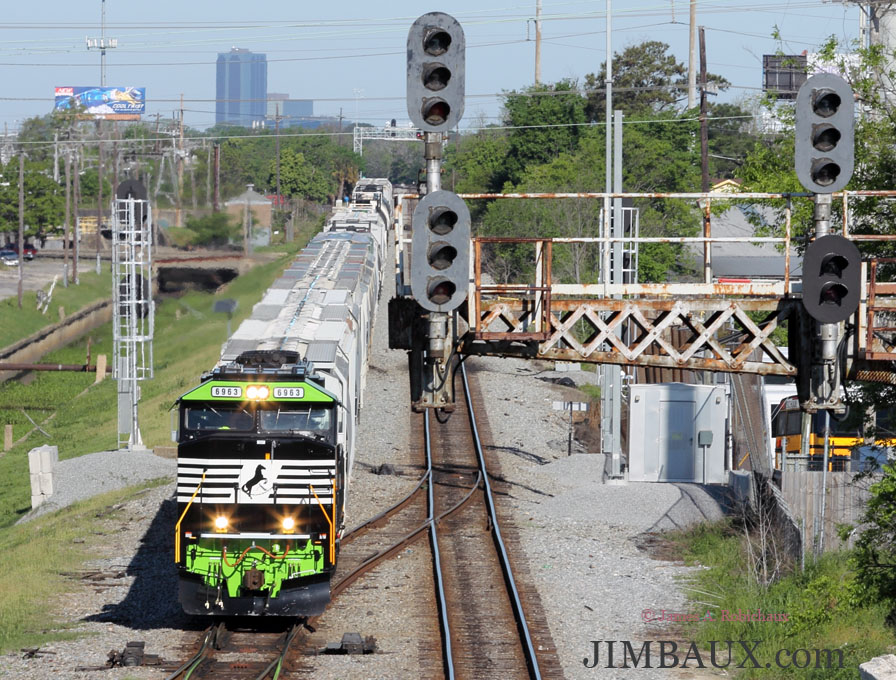 I think that it is the only remaining cantilever signal bridge on the Back Belt and possibly the last one around here; I don't want to see that neat old – and, therefore, historic – cantilever signal removed, but when that does inevitably happen, it will make the spring-summer morning shot options here better.
At this time, I was getting really frustrated by how poor this shot was due to that signal bridge being in my way, and I was mad at myself for pissing away the opportunity to do the "sure thing" shot at People's Avenue, but, something then happened that made me realize that I was in the right place!
Success!  Redemption!
I knew that as soon as the train got to the curve that I should move to the right anyway to stay on the northern side of the train as it went under the signal bridge, but then an unexpected surprise – but, actually, something that I should have at least expected was possible – happened: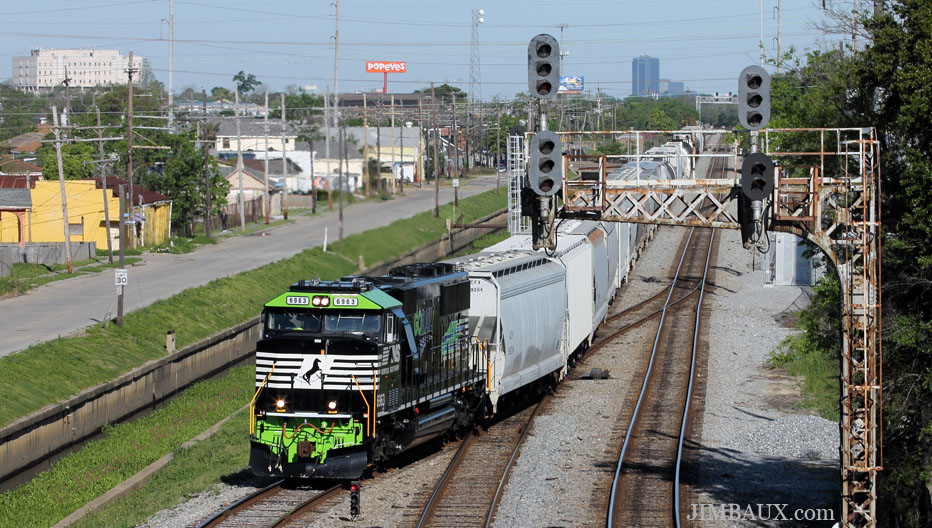 Yes!  The train is turning into the "Freight Lead" track, which gives it no choice but to go into Oliver Yard (which is convenient, since that is where it is going), but this train does sometimes stay on the Northbound Mainline the whole way.  In the background of the above picture, you can see the LSU Dental School at left, near which I have taken many other pictures, most recently a southbound loaded NS grain train.  You can also see my favorite Popeye's location in the world!  That Popeye's at Paris Avenue has a great view of the track!
Yes!  I was even cheering out loud!  Now, I can get some great shots, even though the below shot is a little fuzzy, apparently due to focusing error.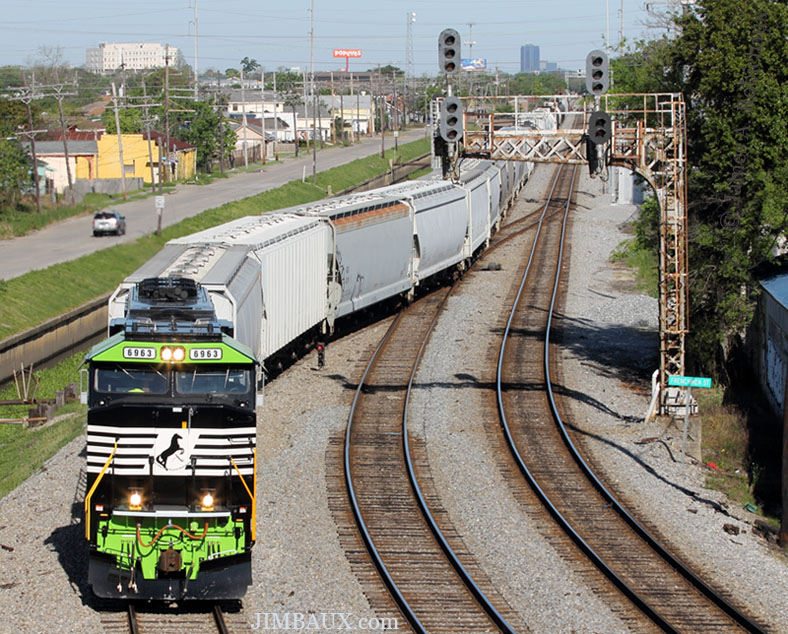 That shot's fuzziness disappoints me because I think that it is perhaps the best composition of the day.
The engineer extended his arm and a clenched fist in a friendly manner out of the window toward me!
I jogged down the bridge in the hopes of getting one more shot of the train before it arrived into Oliver Yard, but I figured that I would not be able to get  set up at People's Avenue in time.
New Shots
So, I therefore, for lack of any options, tried something new.  Here is the train seen from Florida Avenue going under Almonaster Boulevard.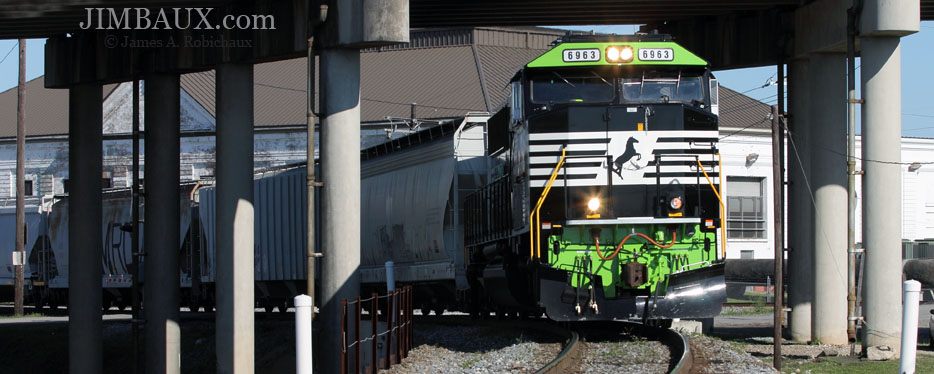 That is the distinctive Sewage & Water Board building in the background.
The train now enters Oliver Yard, which was expanded and renamed from "Press Street Yard" in the 1950s.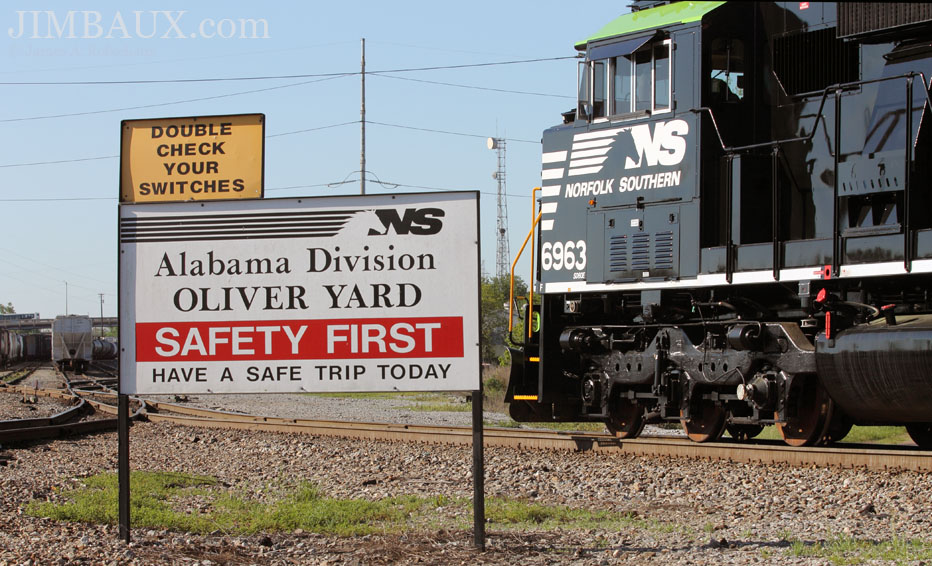 The below two views show Oliver Tower, where the yardmaster not only dictates yard movements but also controls traffic on the branch down the river and relays movement instructions to trains using the Back Belt.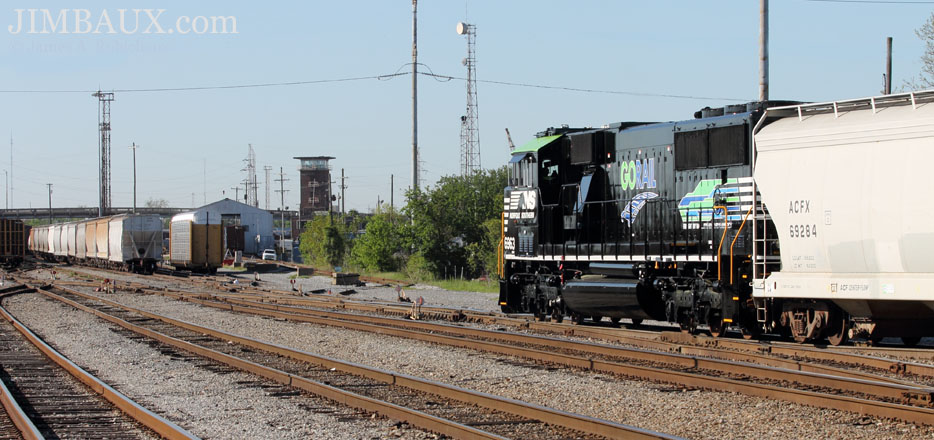 You can see, just to the left of the tower, the car-repair shed.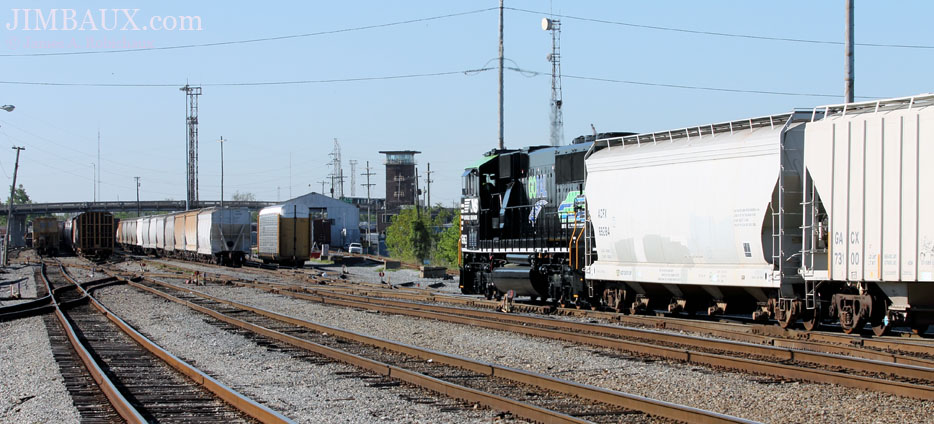 I did not count cars, but the train seemed to be its usual 40-50-car length.  The train included a lumber load, which almost certainly came from the Weyerhauser facility in Holden on the Hammond District, as did the lumber car on the last such returning NS-CN transfer that I photographed in December.  However, the three cars at the end of the train – GTW 187573, GTW 187852, and CN 187141 – really caught my attention; they were all coil cars, something that I had never seen on this train.  From where did they originate?  Any information would be appreciated.
Now, it was time to get out of here.
More Weirdness
As I was departing the scene quickly, I saw another odd sighting on the Back Belt.  An eastbound train with BNSF and CN power lead a manifest train of plenty of CN family cars – plenty of boxcars, gondolas, and flatcars.  I thought, at first, that this was yet another BNSF reroute, as BNSF has, as of late, been rerouting some trains that normally go through Memphis through New Orleans instead.  Apparently, Memphis is very clogged.  Two nights ago, I finally photographed one of these trains.
I had no time to stop and photograph this train, as I had somewhere to be.  I soon learned that this was CN train A488 from Jackson to Mobile that was detouring through New Orleans due to flooding around Mendenall, Mississippi; the train would go north on the NS to Hattiesburg where it would rejoin CN rails.  The A488 and A489 do work in Hattiesburg and probably at least one other place between there and Mobile.  (I say that because, if the train did not have work to do between Hattiesburg and Mobile, leaving New Orleans on the CSX would likely be a more logical route to get to Mobile.)
So, that ends our morning.
Dusk Coal Detour
I got out this afternoon just in time to make good use of a piece of intel provided by High Speed Kurt.  At 17:09, he reported that an eastbound loaded coal train with CN and BNSF power was moving on the Back Belt.  Sweet!  CN normally sends coal trains down the line to Mobile, with some going to the docks at Mobile and some going to the Mississippi Export Railroad to the docks at Pascagoula, in both cases for export.  This is turning out to be a really interesting and memorable day!
An Impossible Task
I was able to get to the track just in time to make use of Kurt's information, but the problem of getting an acceptable shot proved, to no surprise, to be infinitely more daunting than our morning GoRail catch.  I say "to no surprise" because not only does simple geographic knowledge tell you that photographing an eastbound train shortly before dusk presents great challenges, but my own well-honed knowledge of New Orleans railroads made me know how limited my choices were.
The sad reality is that even for trains traveling west, the spring-summer shot selections on the Back Belt and on the part of the CSX west of Gentilly Yard are as rare as they are uninspiring.  This is partly for a reason mentioned this morning, that the I-610 is just to the north of the track, making access to that part of the track difficult, but this problem is exacerbated by the practice of right-hand running, which aids picture quality in the fall and winter but puts you too close to the train in the spring and summer.
Consolation For Recording This Event For Posterity
That this train was highly unusual was the only reason that I photographed it here at this time of day.  This is a "new shot" – one that I have never done before – that I am not likely to ever do again.

Yeah, I'm not impressed either.  Here is a going-away shot, one that you should not try without a high-ground-clearance vehicle and the ability to climb on top of it (just like the previous picture too.)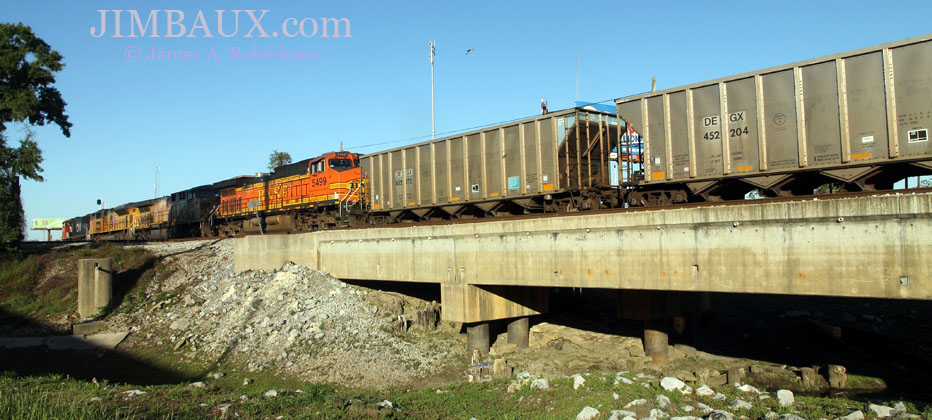 Whatever.  Let's go home.  Actually, I checked out the shot possibility at Alvar Street, but it was undoable, as I suspected.  I would have needed the entire western sky to suddenly cloud up for that to have worked.
Speaking of going home, I realized that there may have indeed been a better place to shoot this train.

Maybe not, but that is where I shot the only UP heritage locomotive that I shot when I got the Western Pacific unit last summer; that essay together with the pictures help to explain why I don't care for heritage units being in trailing mode.
Okay, now, really, it's time to go home.  So, that is all for pictures.  Now, it is time for more analysis, as if you need to read more of that!
Thoughts

Speaking Of Heritage Units And Solid Consists
As I said already, a big reason that I don't spend much time, effort, and emotion on heritage units – which, again, share some but not all characteristics of other non-railroad "commemorative" units like the GoRail unit and the Veterans Unit – is that it is essentially impossible to have a solid consist, and the heritage unit is usually not leading; some reports indicate only that a heritage unit is coming into the area, not if it is leading, and I don't want to spend plenty of effort to go and find it if I don't even know if it is leading.  I have thought of a solution to this "problem" – a totally First World Problem indeed – that involves another recent development in the world of railroad locomotives.
Recently, both Union Pacific and Norfolk Southern – coincidentally, the two major railroads with "heritage unit" programs – have been either acquiring or upgrading (or both) some older locomotives, particularly SD40-2s, though Canadian National has recently acquired some older GE locomotives.  There are a few reasons why these locomotives make perfect candidates for sets – or, at least, pairs – of heritage units.
The first reason is the most obvious reason (which is why it is the "first reason"): the SD40-2s are old.  More specifically, they have the old-style cabs, which was once called (and should no longer be called) the "standard cab."  Painting these units in the paint schemes of old railroads is more appropriate, since the SD40-2 usually was a model to which those old paint schemes were applied, if not something close to it (with the same type of cab.)  While it is neat to see long-gone paint schemes applied to modern wide-nose locomotives, many of us rightly associate those paint schemes with the type of locomotives to which they were actually applied in those old days.
The second reason has to do with the type(s) of trains on which these locomotives would be: transfers and super-locals.  On those types of trains, it is much easier to keep a set of power together for a long period of time.  If NS decided to have three or four ES44ACs painted into the Conrail paint scheme, even if the railroad had the best of intentions in doing so, it would be impractical for NS to try to keep those units together in locomotive consists unspoiled by anything else, since modern power goes on any train that goes over great distances on the railroads.  However, transfers and super-locals often do keep the same power over a long period of time, meaning that it would not be terribly impractical for a railroad to make sure that it stayed like that for awhile.
CN train L516, a super-local, often keeps the same locomotives for a few weeks at a time.  In our example, NS could paint two of these "new" SD40-2s into the Southern Railway's paint scheme and keep them on train 355 and its northbound counterpart, always cycling back and forth between Birmingham and New Orleans.  Later, NS could move the pair somewhere else (preferably on former Southern Railway territory) for the entertainment of trainwatchers in other areas, or just have more such pairs of locomotives!
Over in my homeland southwest of New Orleans, UP could use one or two pairs of "new" SD40Ns painted in Southern Pacific's paint scheme on one or two trains to replace the MAVBT.  The MAVBT (Manifest – Avondale, La., to Beaumont, Tex.) is something of a super-local that also carries traffic bound for Englewood Yard in Houston in addition to New Iberia setouts and pickups.  The UP has been steadily losing carload businesses in the area to BNSF, and one reason may be that there is no eastbound counterpart to the MAVBT, meaning that it takes awhile for eastbound traffic to cycle back to Avondale.  UP could put all of the non-New-Iberia traffic into some Livonia-bound carload train and, instead, run New Iberia Turns both from Avondale and from either Houston or Beaumont or maybe even Lake Charles.  A train from each direction could work its way to New Iberia, set out cars, have the crew lay over, and then pick up outbound cars and work its way back home the next day.  UP could thus serve New Iberia thrice-weekly from each direction and could win back some traffic from BNSF.  Anyway, these would be great trains for a pair of Southern Pacific SD40Ns!
Similarly, a pair of Rio Grande SD40Ns could work between Denver and either Salt Lake City or Grand Junction – or between Salt Lake City and Grand Junction.  A pair of Chicago & North Western SD40Ns could work the train between Chicago and Council Bluffs.
It could happen.  If not, a guy can dream!
Bye

I have written enough and should end this now.  Thanks.  Comments are welcome in the comments section.  When commenting, those of you with accounts at railpictures.net, flickr, rrpicturearchives.net, Twitter, YouTube, or any other such site can use your profile for those sites where it asks for "website" (which is optional.)  It would help, too, if some of you got Gravatar accounts, so that a little avatar of your choosing could be put along with your name.  Just search the internet for Gravatar, and you'll see what I mean.
Peace,
Jimbaux