Our Close Up week was ending, and Friday 13 February 2009 was the day that we would go home, but we had a late flight out of IAD, meaning that we had time to do some things before we left.
One of my students was interested in going to college for journalism (and has since done that and graduated with a degree in journalism) and wanted to visit the Newseum, which was great because I wanted to go there too!  The new location on Pennsylvania Avenue (I had never visited the previous one, even though I had been to Freedom Park in Rosslyn) had just opened less than a year before.
Since the Canadian embassy is right next door, just to the east, we stopped to briefly check it out before going into the Newseum.  We are looking almost due east here, with the Capitol Building unseen off to the right.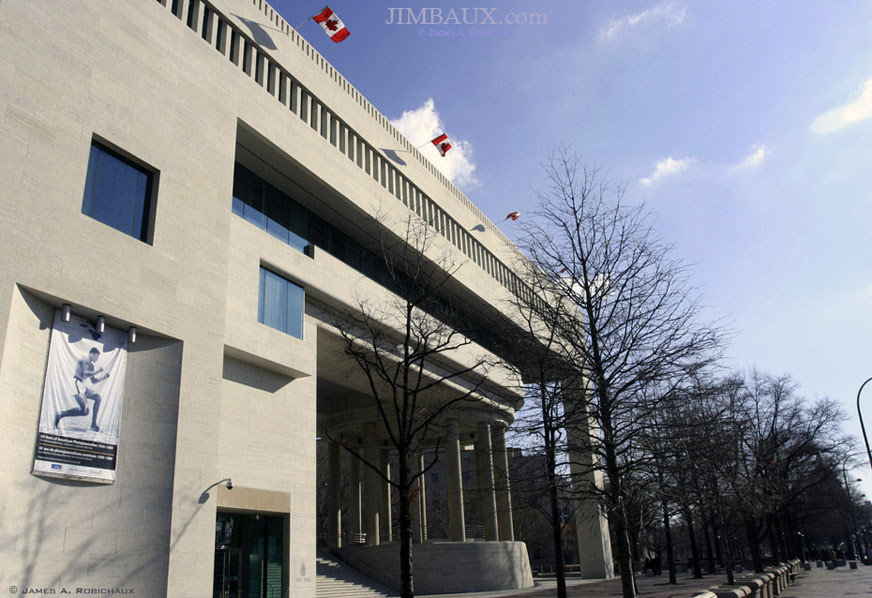 I seem to remember that each one of those posts at the bottom center of the picture represents a Canadian province and had the provincial shield (or some such) at the top of the respective post.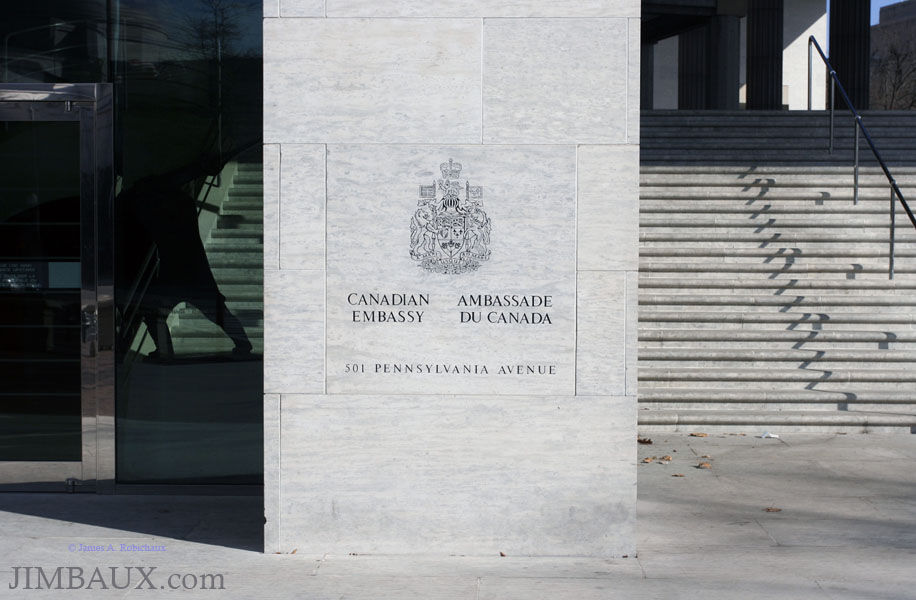 Most of the embassies in Washington are located in the "Embassy Row" area along Massachusetts Avenue to the northwest (on the other side of the White House) , and the Canadian embassy was originally there before the current structure was built in the 1980s.  Due to Canada's "special relationship" with the United States, its embassy is right here in 'prime' area along Pennsylvania Avenue between the White House and the Capitol Building, the closest embassy building to the Capitol Building.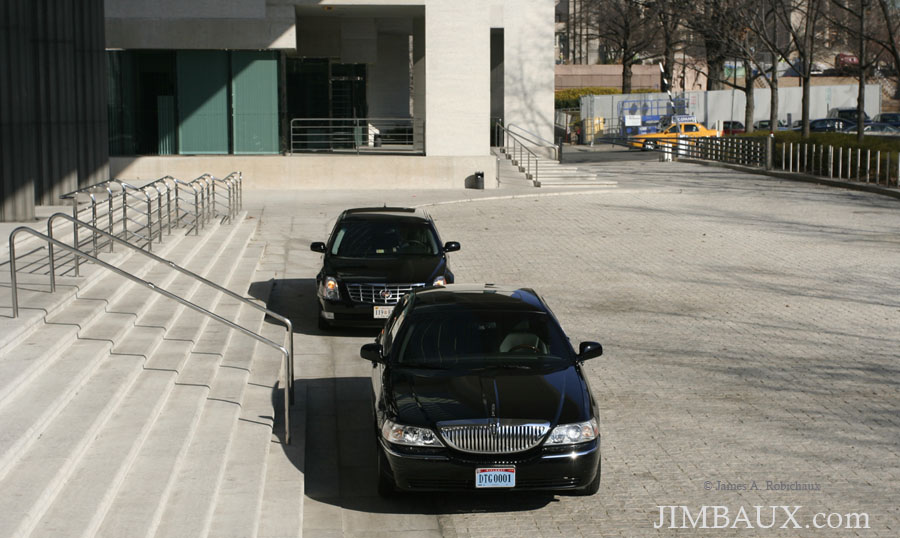 It was time to enter the Newseum.  I don't have many pictures from inside the museum, but this view from high up Pennsylvania Avenue toward the Capitol Building is great.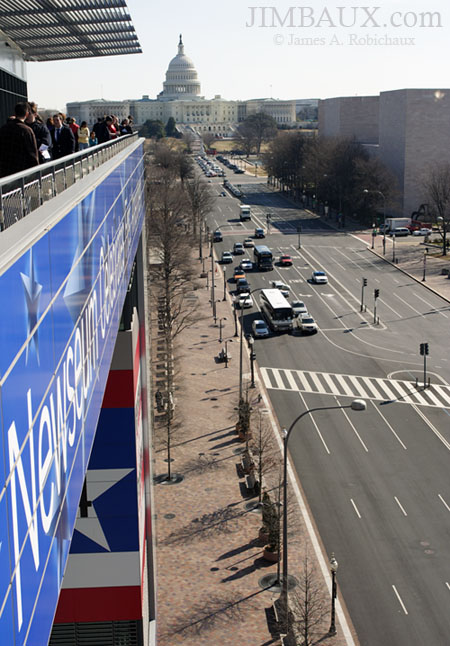 Turning around and looking in the other direction, we look west-northwest toward the White House.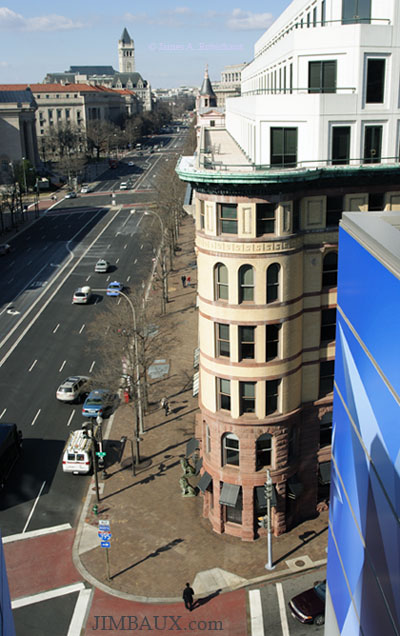 Then, we go to the other end of the deck for one of my favorite views in the city, with the already-seen Canadian embassy at left, the Capitol Building at center, and the Supreme Court Building barely visible between them.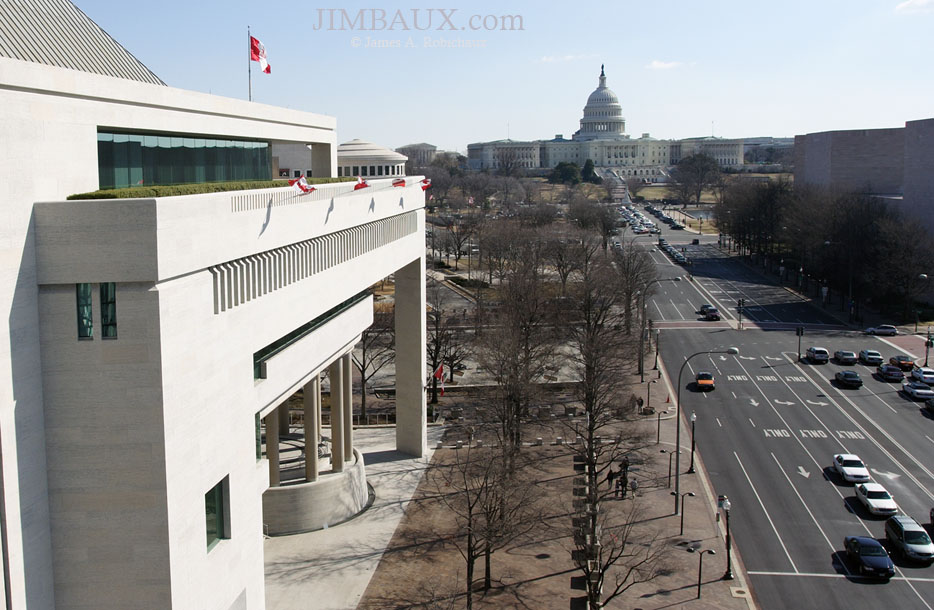 There are some interesting displays in the Newseum.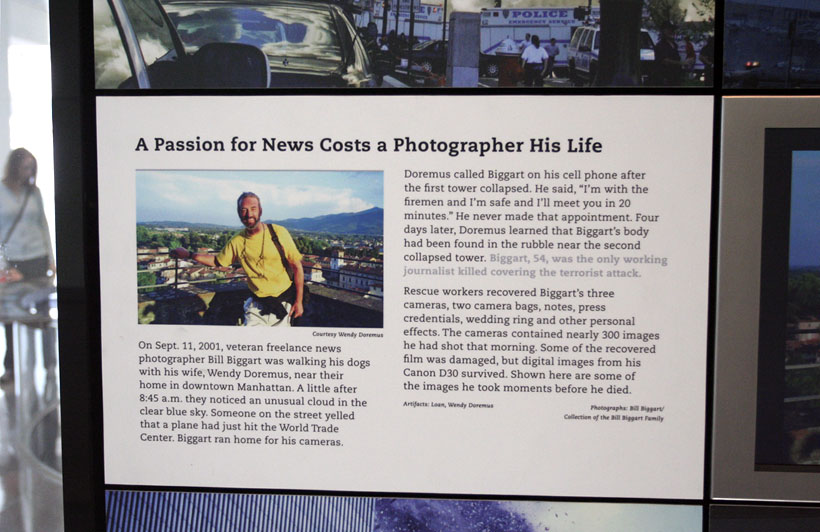 It is worth a visit, even the admission fee, which does exist, unlike for the Smithsonian museums.
Every day, the Newseum displays front pages from newspapers from around the world.  This Honduran newspaper El Heraldo caught my attention.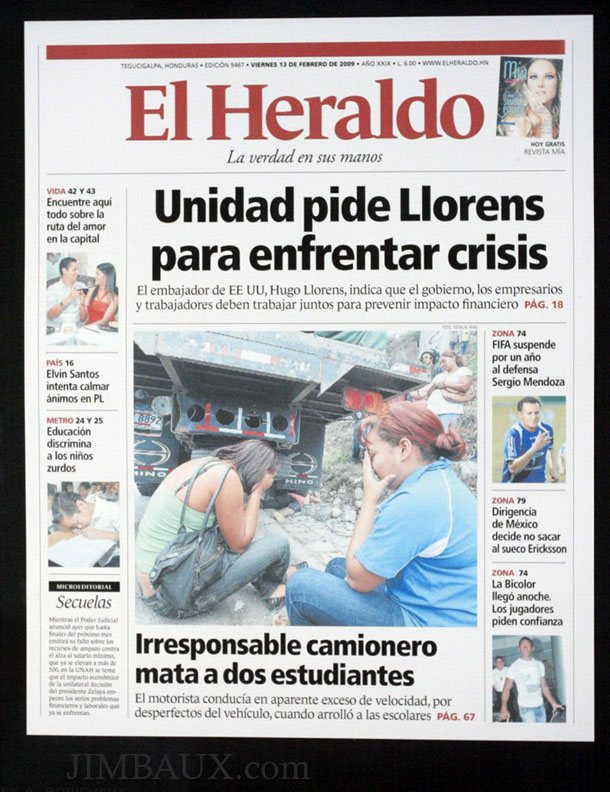 Pictures do a great job of telling a story, something that any regular readers of this site should not be surprised to hear me say, but being knowledgeable (but not fluent) in Spanish, I could immediately read the headline at the bottom: "Irresponsible Trucker Kills Two Students."
If I try (though not necessarily succeed) in conveying anything both to my students and to my readers, it is to be lifelong learners, that education is entertainment.
Below, we see the set of This Week with George Stephanopoulos.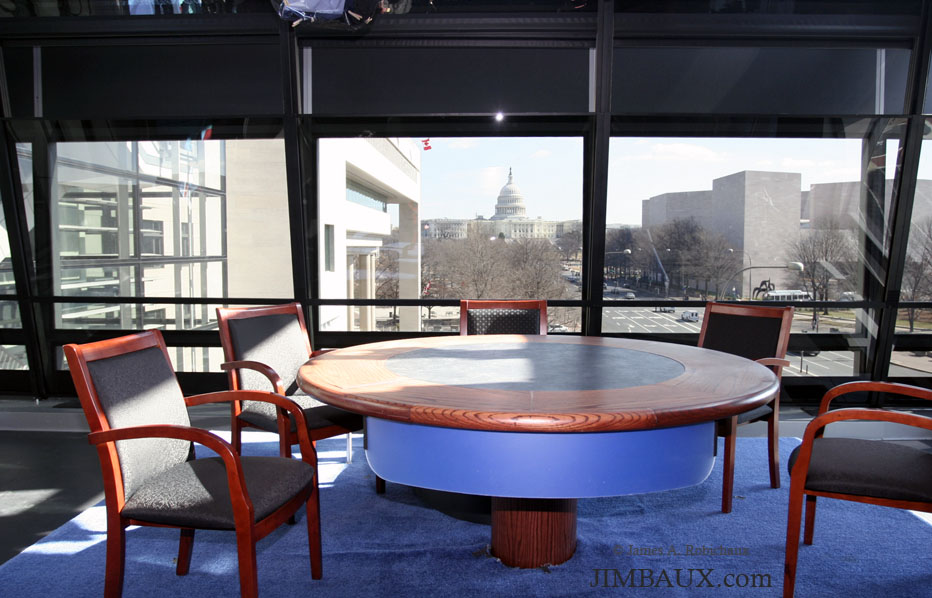 Although, as regular readers know, I am a frequent critic of the media, though only because they reflect the aggregate failings of the populace, I do believe that the Sunday talk shows are a bastion of respectability, sensibility, and sobriety on television (even though I rarely watch them anymore but did when I was more of a government junkie and wanted students to know the same, as when these images were taken.)
We end the pictures of this day across Pennsylvania Avenue so that we can get a view that includes both the Newseum and the Canadian embassy.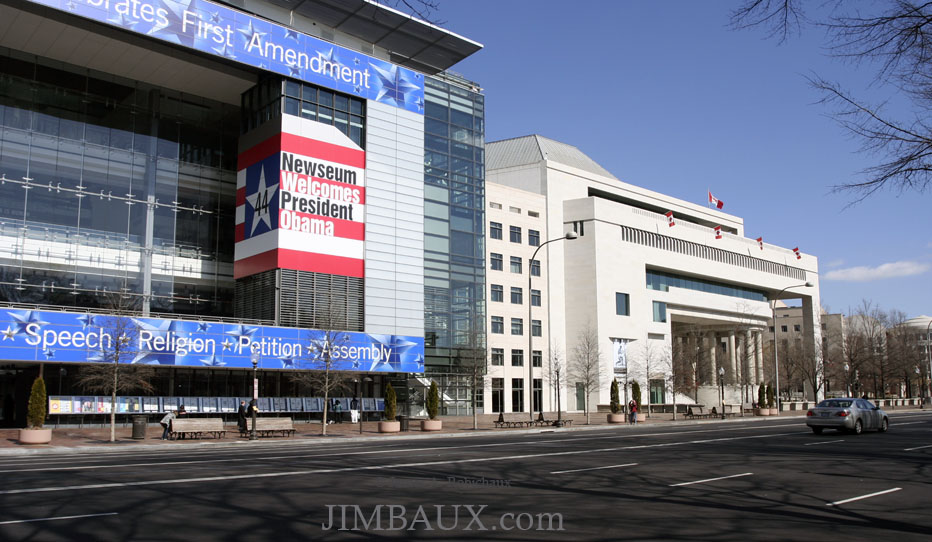 How is that?  What do you think?
While waiting for our flight back to New Orleans (I seem to recall that we actually had a direct flight this time), we experienced one small benefit of the Close Up program being one day shorter than it had traditionally been.  Rep. Steve Scalise of Louisiana's 1st District was also waiting for the same flight!  He was going home for the weekend as many members of Congress do (and should do, as a way to "keep it real," for lack of a better phrasing.)  I recognized him, approached him, introduced myself to him, and told him about Close Up and asked if it was okay that the students talked to him.  He was, and I gestured for them to come over and talk to him, which they seemed to enjoy.
Normally, on Close Up, students from a school are only supposed to talk to their own representative, but the boundary between the 1st District and the 2nd District zigzags over the New Orleans area.  It is heavily gerrymandered, with the 1st District being very white and very Republican and the 2nd District being very black and very Democratic.  So, while a school itself can only be in one district, the area that it serves can actually be split between two districts.  Such was the case with the three New Orleans area schools that were on this trip.
We made it back home to New Orleans safely, and we had a wonderful experience.  It would be my last Close Up trip as a teacher, though I did not realize it at the time.
My interest in both the program and the subjects and areas that it addressed could in retrospect be seen as an obsession or a religion, and like with any obsession or religion, while adherence to the obsession or religion often can in many ways be admirable, with the education, self-betterment, and service to others that come along with it, its adherents often have their decisions clouded by the obsession, and other people can sometimes find it difficult to deal with them.  I was likely guilty as (self-)charged.  It's a classic case of one's better qualities simultaneously being one of his worse qualities.  As I have changed greatly since these pictures were taken, it is easy only now for me to see this.
This obsession and the desire for self-betterment and education and experience – and the feeling like I really needed to be there where the action was, get involved, that my growth as a person depended on it – would lead me to move to the DC area two years later, and I jumped right into recording things like a peaceful demonstration outside of the Egyptian embassy as the Mubarak regime crumbled.  Within six months, though, a wonderful thing happened: I got sick of it!  I got jaded!  I stopped caring!  Better still, I had some logical and defensible reasons for my attainment of apathy, an attainment that I in some way feel was only justified because it was preceded by the passion and obsession that is reflected in this post and the four that preceded it.  Perhaps I feel like I have earned the right to not care anymore, or at least not be as intense and obsessive.  However, totally apathetic I am not; moreover, I am still passionate, and about a great many things, and five years after these pictures were taken, not only do I have a better idea about what those things are and about my beliefs, but I realize that I don't need to be in some physical mecca (or even an urban area at all) to make positive change, that I can affect positive change in decentralized interactions between individuals.  Furthermore, anyone who has been following this site since mid-to-late-2011 knows that upon coming home I passionately photographed the railroad scene and other things in ways that I had not done before.  You can't come home unless you leave.
Hopefully, that "affecting positive change" or at least teaching is what I do here with each picture and with each word.  I hope that you have both enjoyed and been entertained by this different sort of journey, as my educational philosophy has been that education should always be as entertaining as possible without betraying the objectives of education.  We'll resume our regularly-scheduled railroad and Louisiana stuff soon.
Merci,
Jimbaux