This, my dear Jimbauxlings, is not actually something that I'd normally put on Jimbaux's Journal, but since my last site still isn't up yet, I'm putting it here.  Actually, this allows me to put some personal commentary on it, which you may or may not like!
And Now For Something Completely Different
Yesterday in DC, there was a large demonstration outside of the Egyptian embassy to protest the Mubarak regime, its tactics, and the US's support for Mubarak.  Jimbaux was there to record the scene, camera in hand.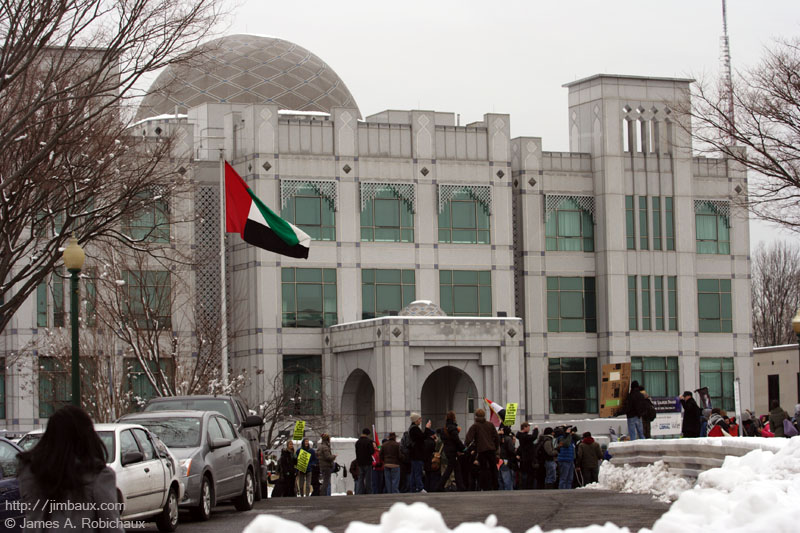 That's actually the embassy of the United Arab Emirates in the background.  The Egyptian embassy is to the right of the frame, unseen.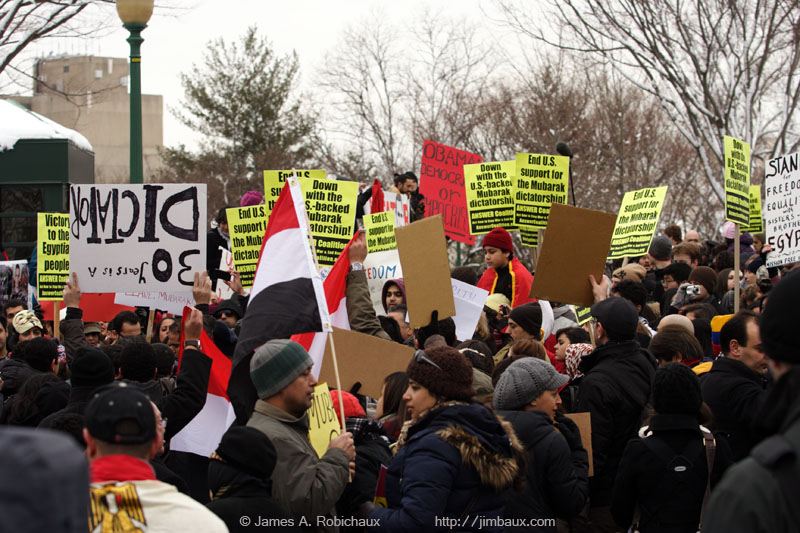 The crowd consisted mostly of Egyptian-Americans.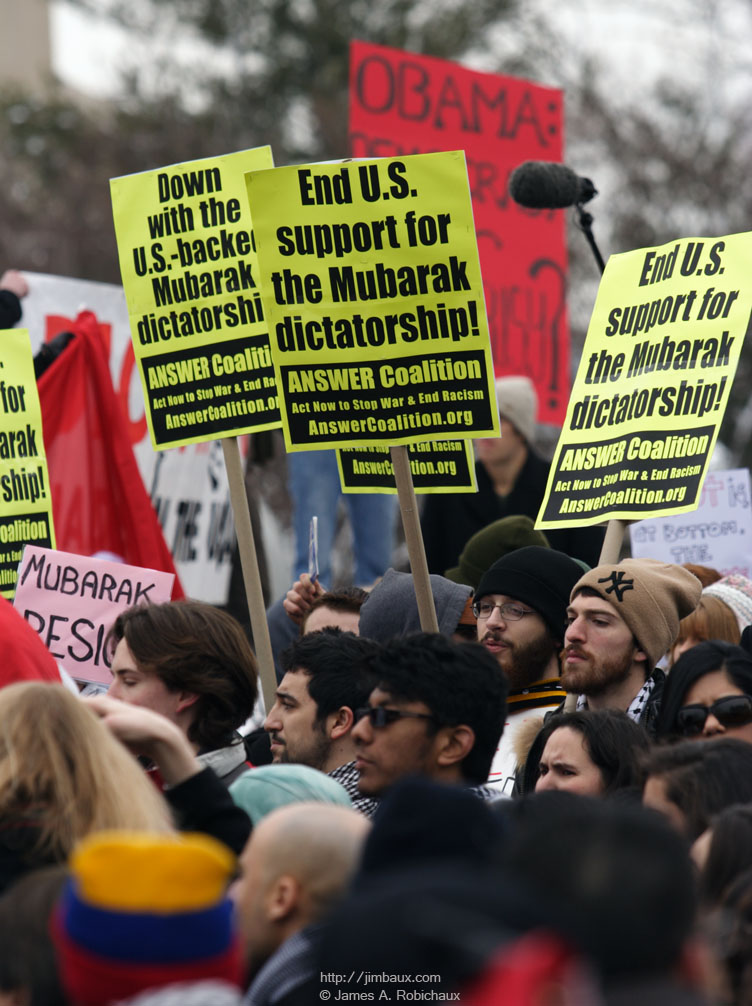 Below is Tuy Mour, who was born and raised in Europe to Egyptian parents.
"As you can see from my poster, I really like Mubarak, and I want to extend him an offer of a one-way ticket to any destination of his choice.  The only condition is that he doesn't return," Mour said.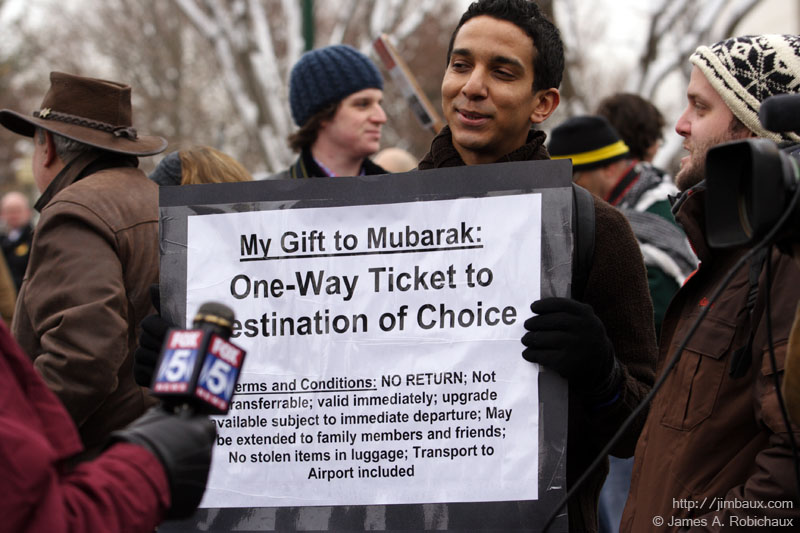 "I'm here to protest in support of my people in Egypt that are demonstrating for more freedom and democracy," he said.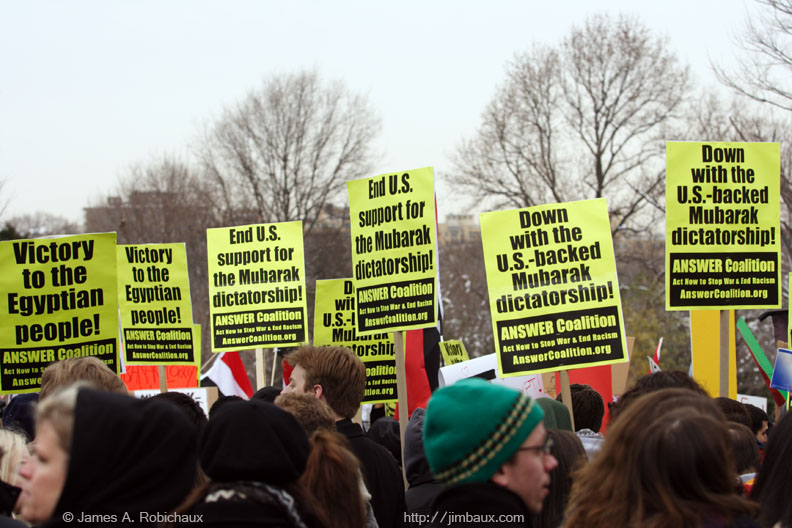 The guy on the right in the below picture tried to sell me one of those copies of the Socialist Appeal for $2, telling me that it was printed with union labor.  Let's see, I run Jimbaux's Journal on my own and have yet to make a penny from it, and it would take more than a tenth of the money I've earned from a year of the NOLA Post to be able to afford that.  No thanks.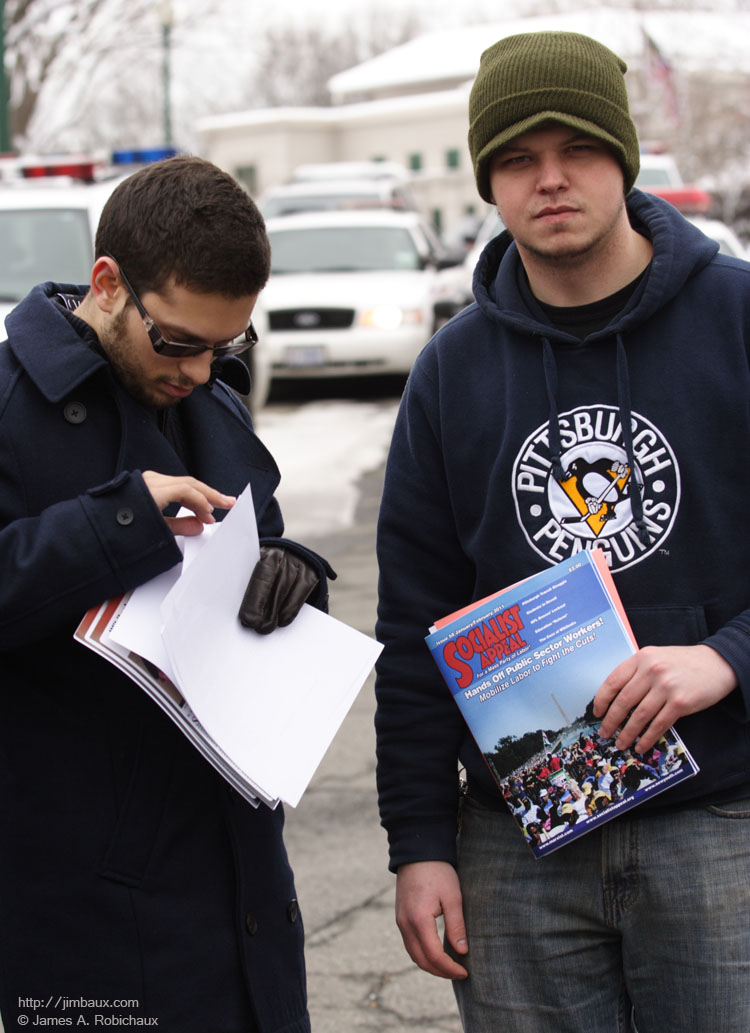 "I'm here to aid my comrades in the Socialist Appeal in showing our solidarity for the revolutions going on in Tunisia and Egypt," said Reza, at left.  The man on the right is Karl, but both of them asked me to not use their surnames.  Okay.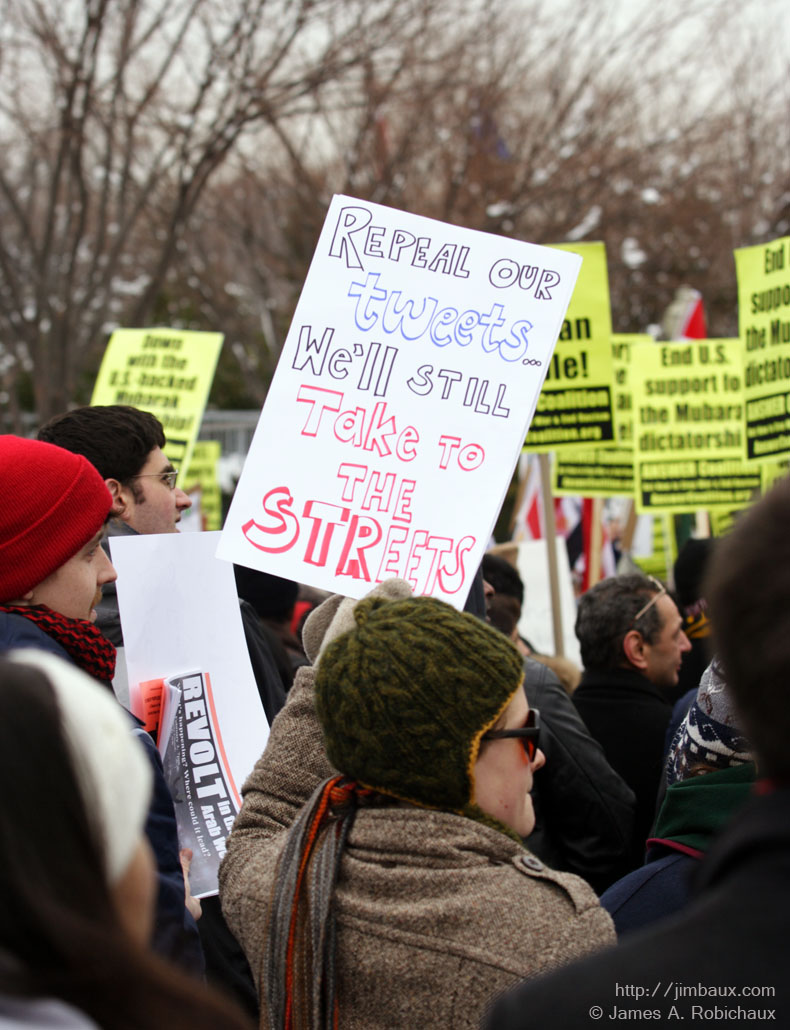 The headline for the Washington Post yesterday read "Cairo Descends Into Near-Anarchy".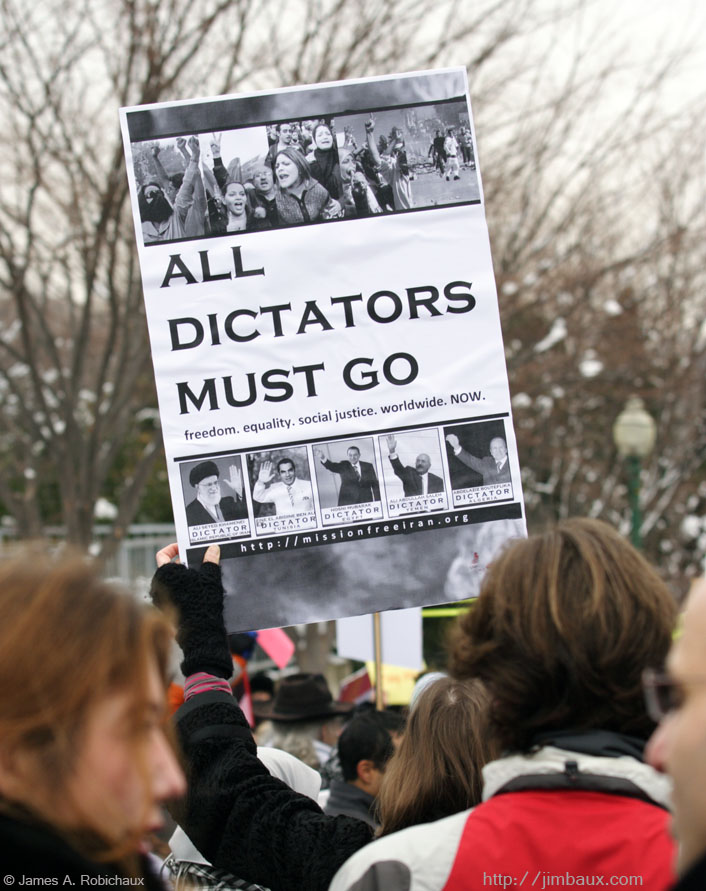 The stars and stripes were out flying here too.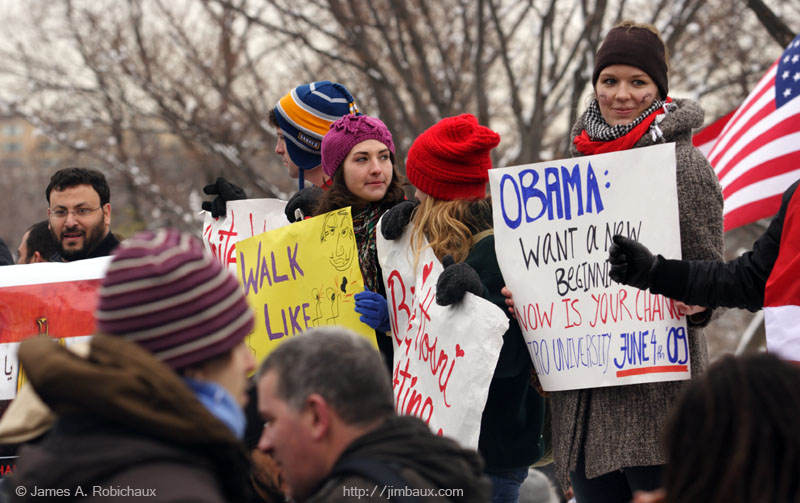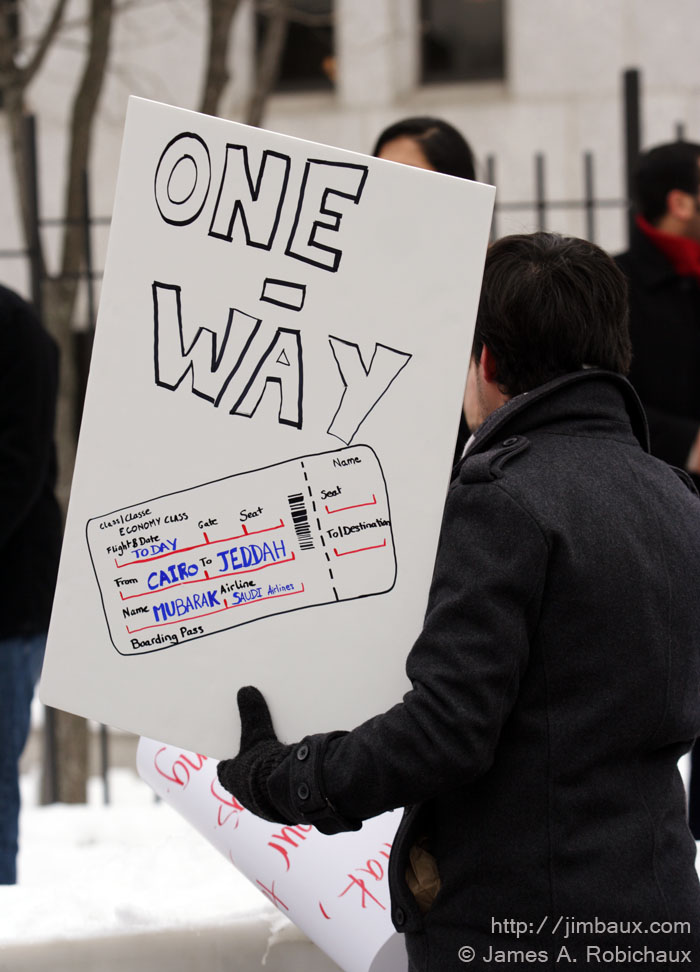 And, of course, many of the demonstrators were quick to point out the role of the United States in the Mubarak regime's hold on power.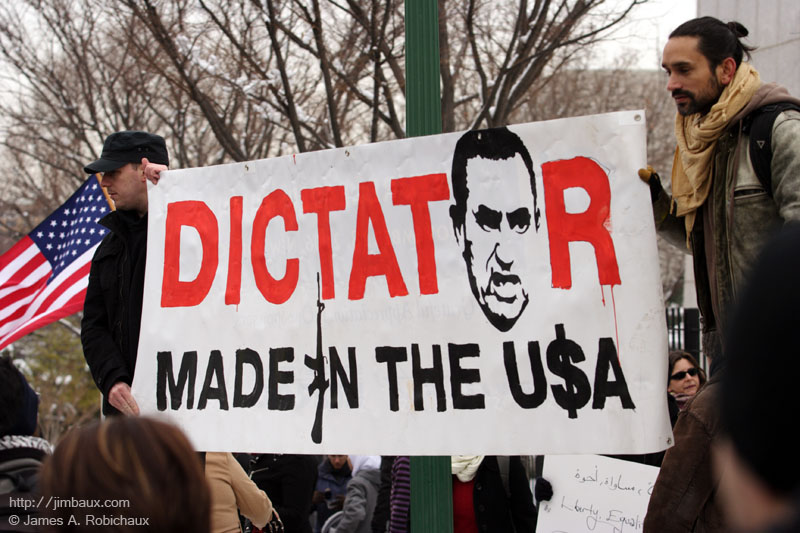 Ah, pop culture!  You're everywhere, my dear!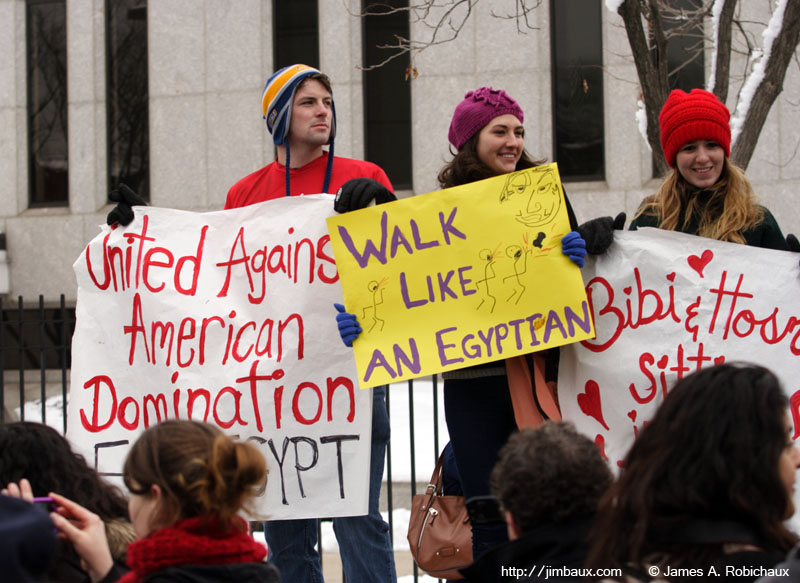 This man seen below was leading many of the chants at the demonstration.  Since half of them were in Arabic, and since I don't know a lick of Arabic, I didn't understand half of them!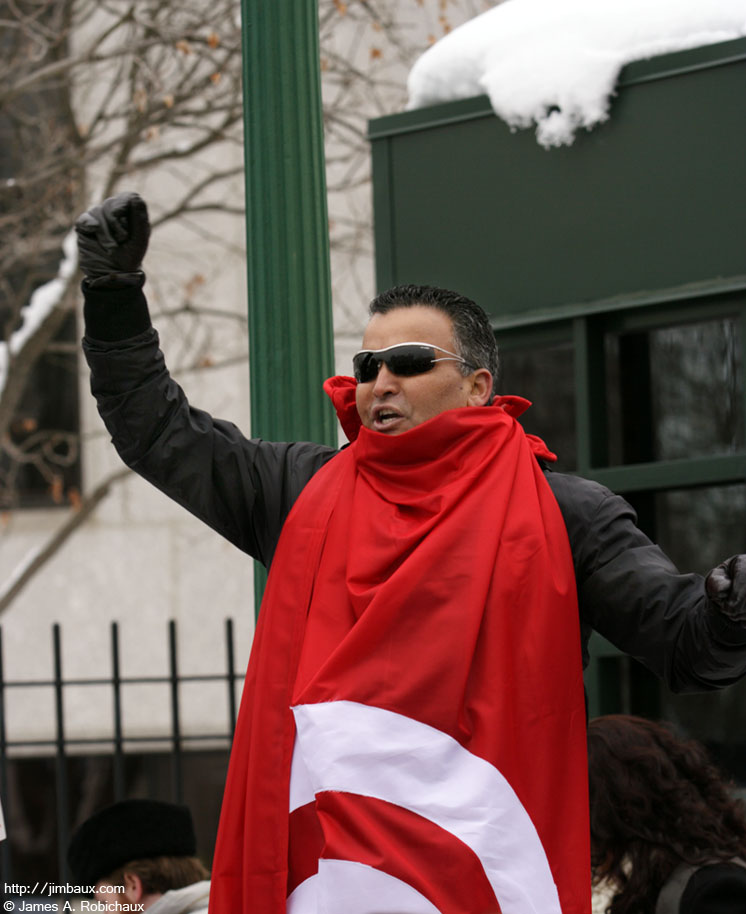 As is usually the case with me, I find that distance allows one to see things clearer.  This is true in so many ways.  Anyway, that's the Egyptian embassy building at left.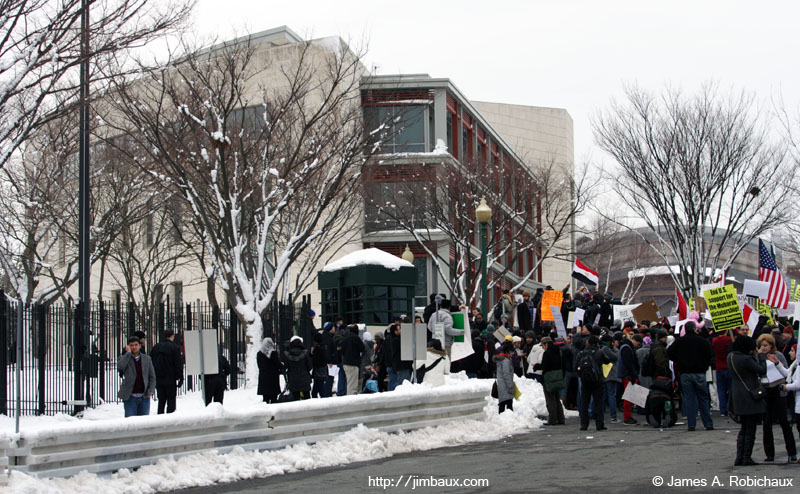 The overall image quality of the below photograph is not good, but there are two things to note in it.  First, note the name on the Egyptian embassy building in the background.  Second, note the two young ladies praying at the bottom of the picture.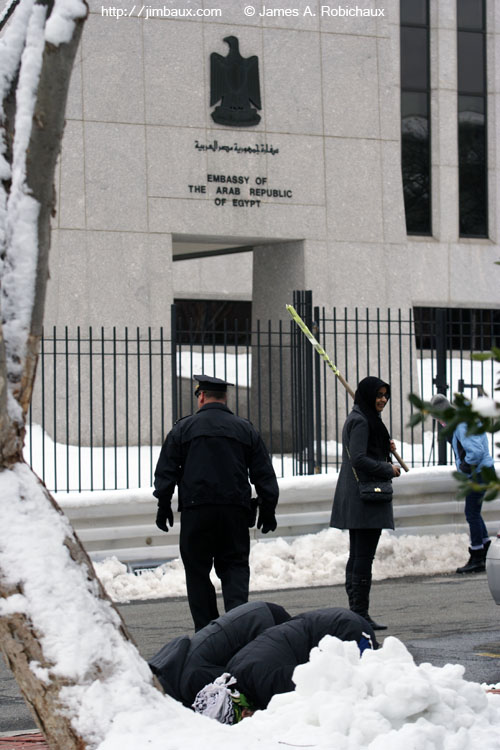 From left to right, their names are Sundus Nada and Ayah Bajookah.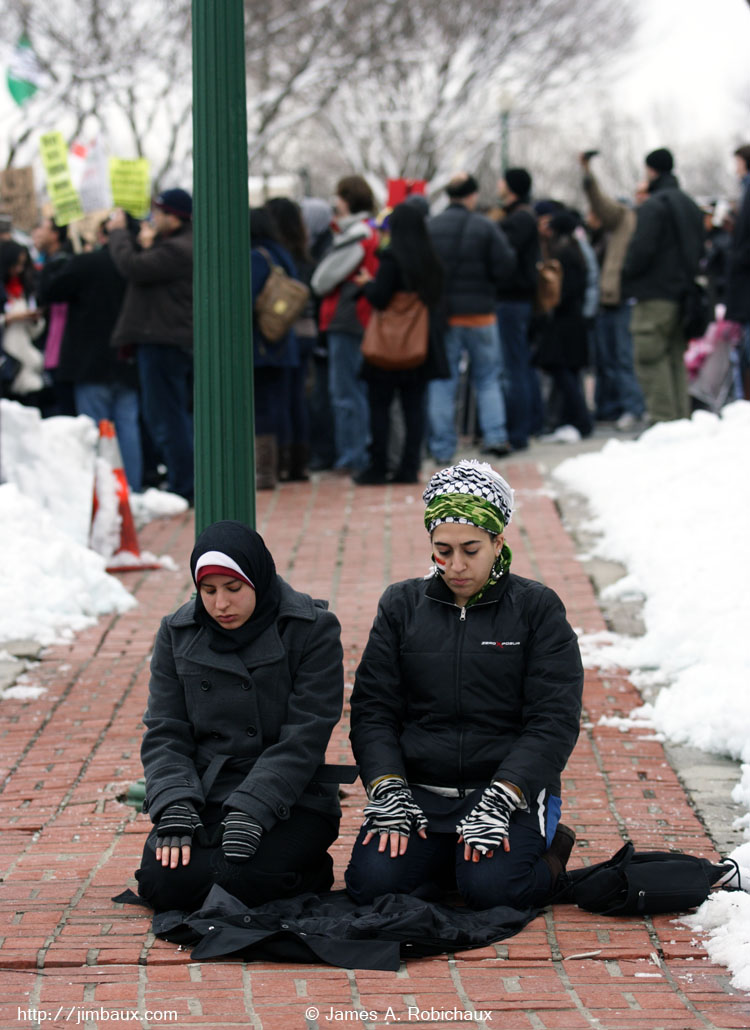 This scene, five-times-daily occurrence for them, was really by far the most touching moment for me on this day.  Y'all know that your pal Jimbaux has a soft side, and seeing the passion evoked here by these ladies almost made my eyes wet.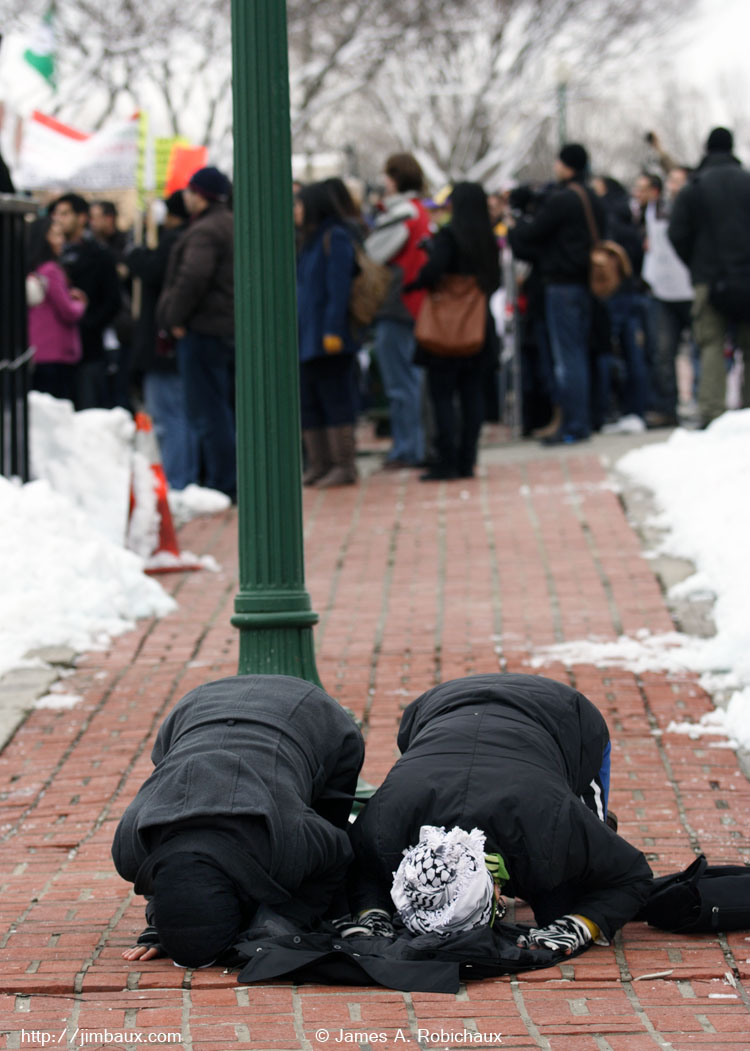 "I haven't had contact with my family in the last week," Bajooka said.  Egypt has stifled communications among its populace.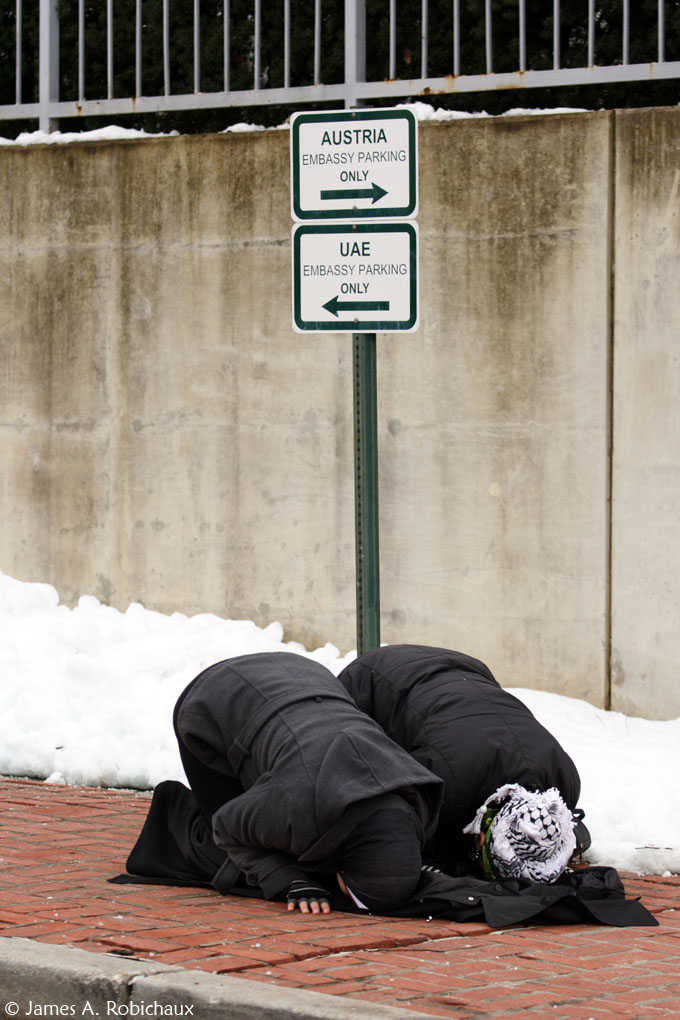 "It's Egypt, and, honestly, I've seen my family oppressed, and I can't stand it anymore," Nada said.
Oh, and in case you're wondering, there wasn't anything happening outside of the Slovak and Austrian embassies!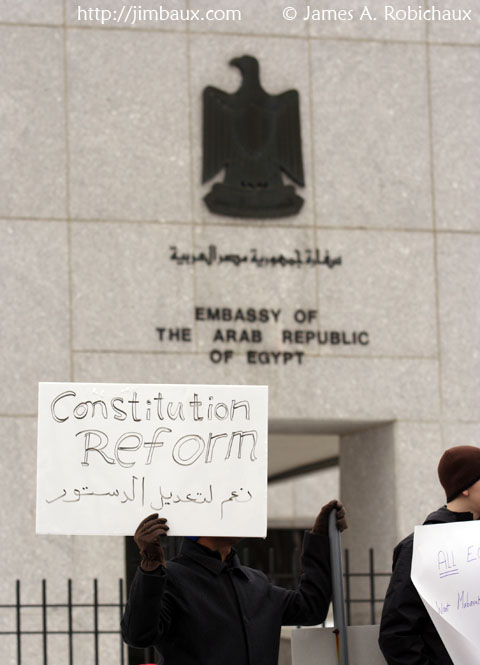 I really love this place, love DC, and I have for many years.  Seven years ago this week, I was in the middle of a visit to this place, a visit that truly changed my life and has led me here now via northern Mexico, New Orleans, and North Dakota.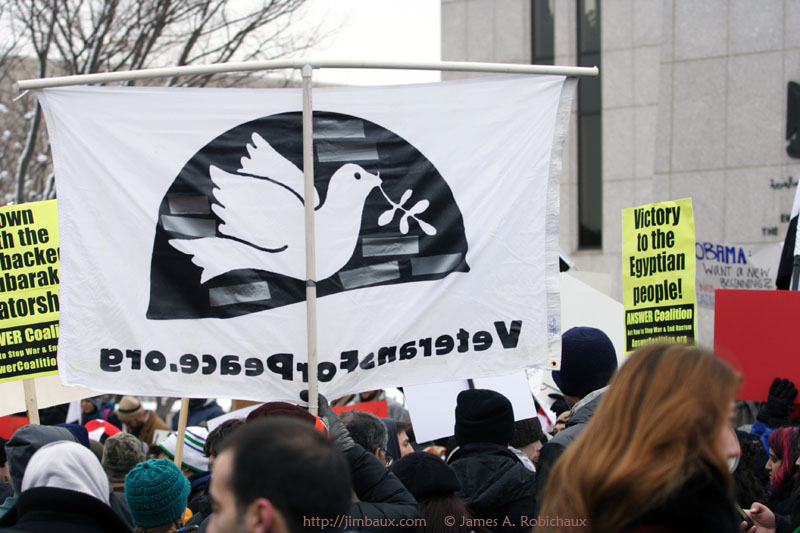 Below is Deena Elazzazy, who came with her Egpytian-born father Mark Elazzazy from Pittsburgh that  morning.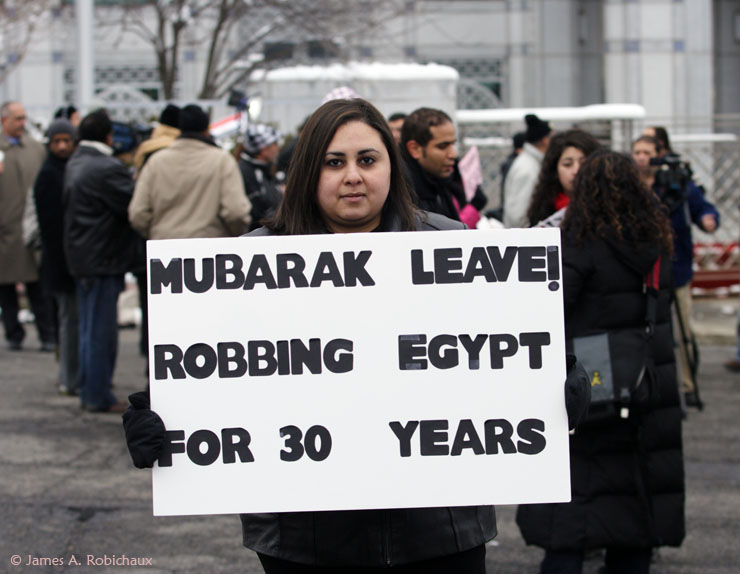 "I'm against Mubarak; I want him to leave.  I love my country," she said.  The Elazzazys said that they were returning to Pittsburgh that night.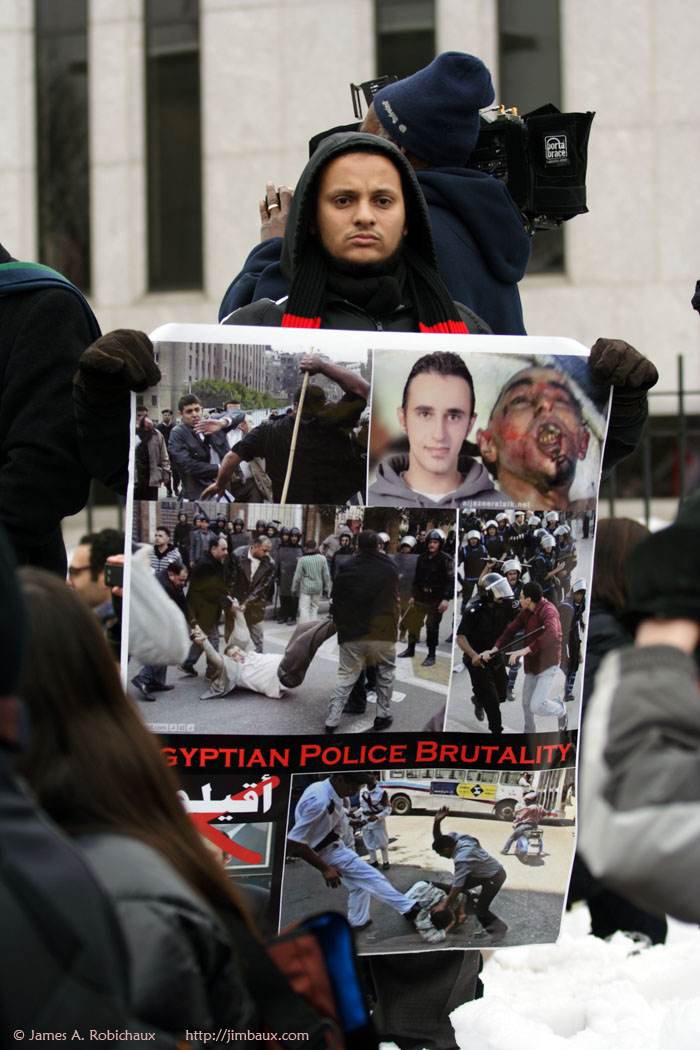 The Mubarak regime has been criticized for its police brutality.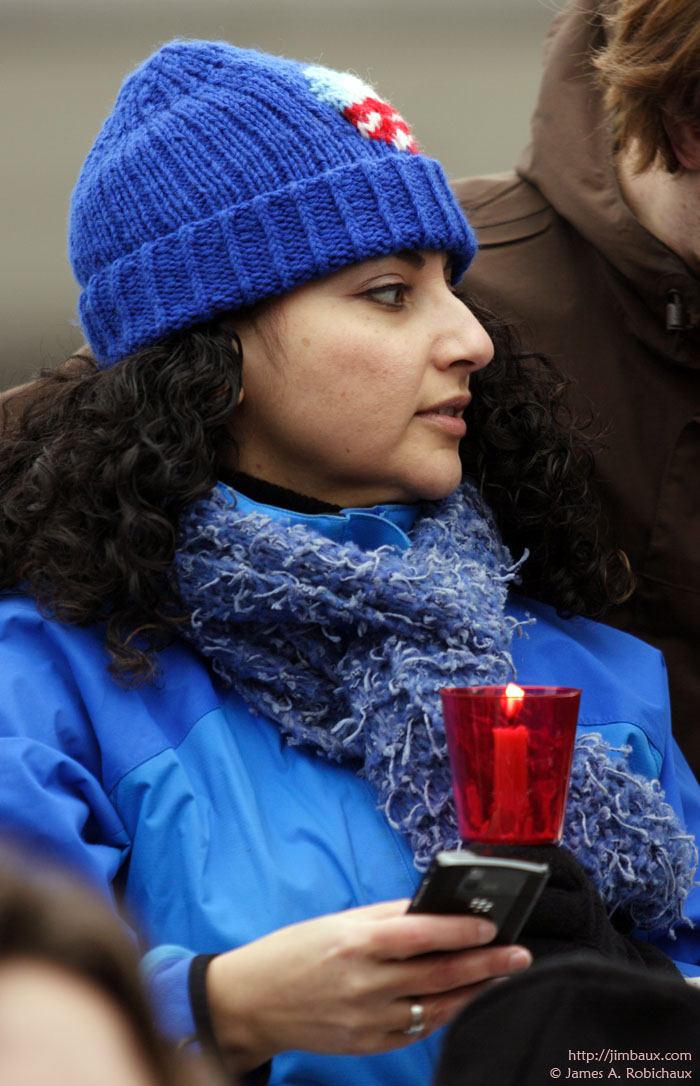 This man was at the door of the UAE embassy drawing on this shirt.  Note at the bottom left, a ball and chain attached to his leg.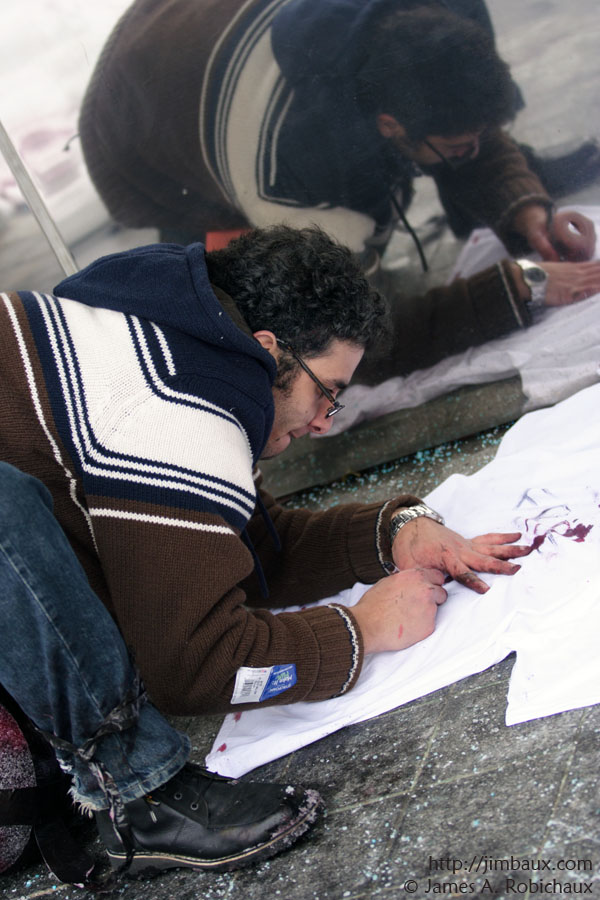 He was drawing the Nile River on the shirt.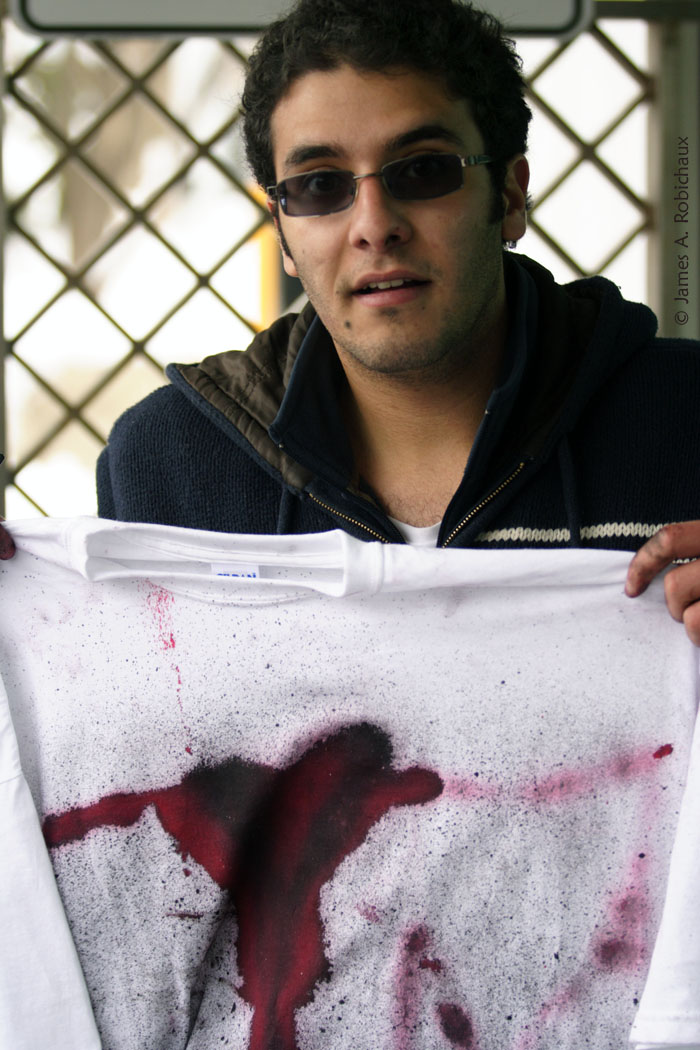 The demonstration was followed by a march to the White House, but Jimbaux did not photograph that.
I Want One Of Those
Well, I'm actually talking about that 28-105 lens that she has.  I hear that those things are nice for zooms of that range!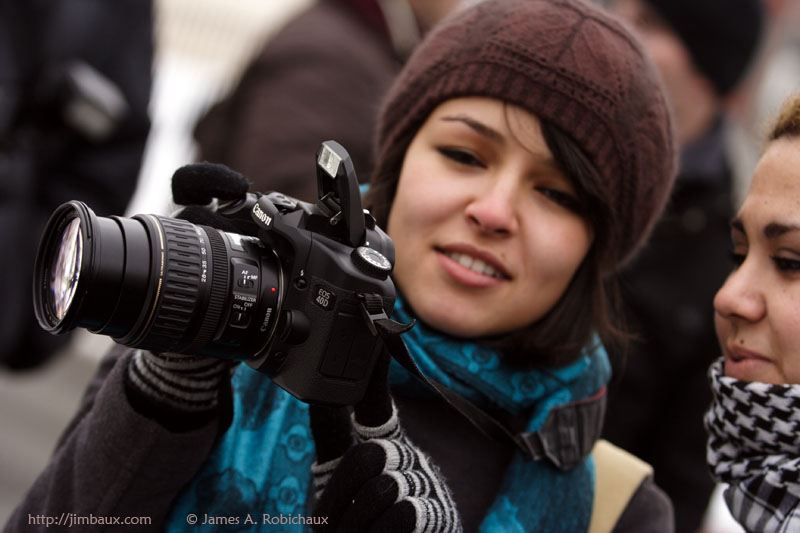 She wasn't the only pretty young lady with a camera  in attendance, but we'll get to that soon, okay?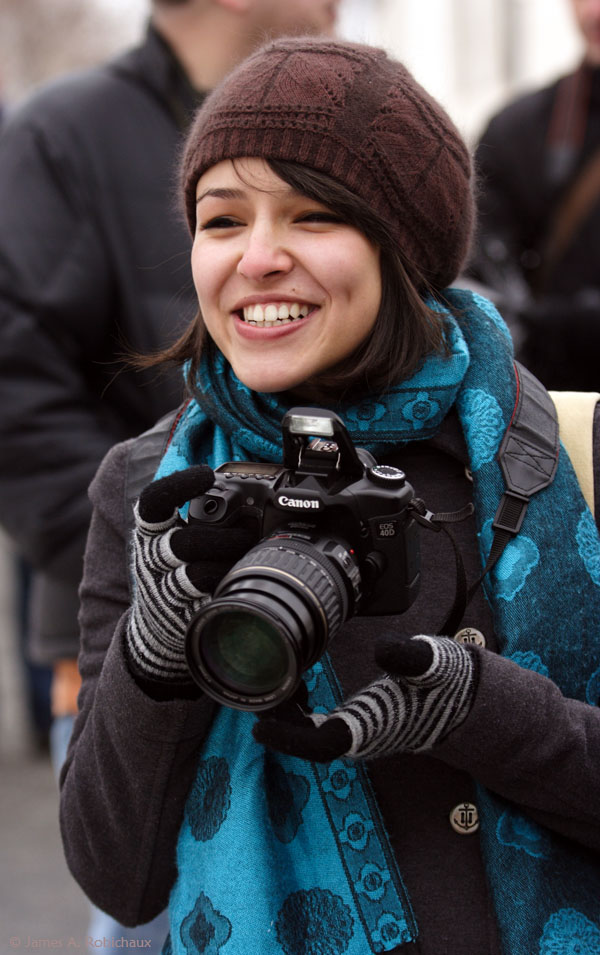 Below is Jaun Cabral of CNN En Español.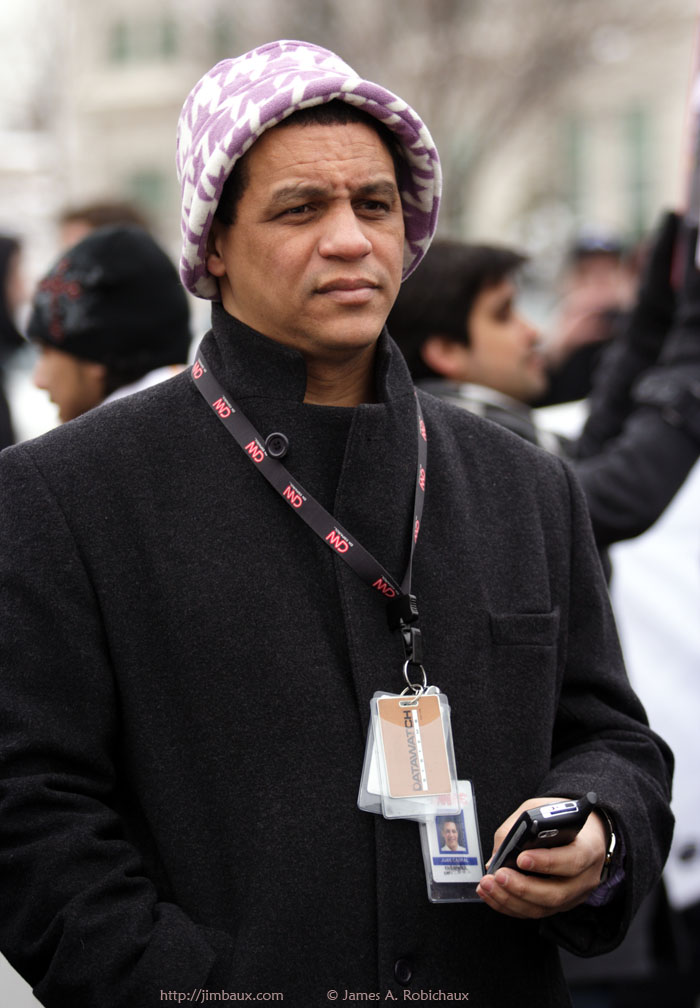 And that's really about all.  I had had enough and needed to break away to go do other stuff.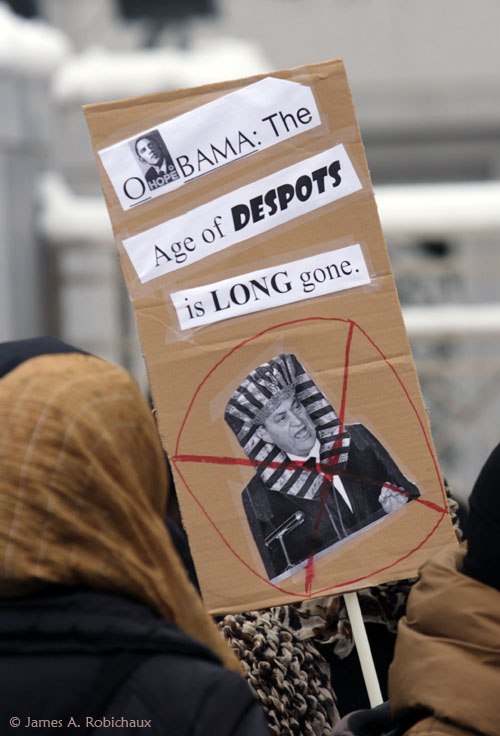 And now it's time for the commentary!
Ellie Got Shots
While I was waiting on the Red Line train in Metro Center to take me to the demonstration, there were two nice-looking young ladies doing the same thing, though I didn't realize it at the time, nor did I realize that they were both packing Canons.  Anyway, while we were on the train, one of them asks me, "is that the 70-200?"  Well, it sure is, and that's when I saw that they had cameras too, and they told me that they were headed to the demonstration too; sweet!
Anyway, one's name was Ellie Van Houtte, and if you want to see more and different shots of the demonstration as well as the march to the White House, check 'em out here!  Make sure you tell her that Jimbaux sent you, ya hurd may?
Now, I have some words on Ellie's pictures, especially in comparison to mine.  First, I don't say that one set is better; they're just both different.  Now, some of y'all who have been follow Jimbaux for years could probably tell that all of his pictures today were taken with the telephoto lens, the 70-200/f2.8 about which Ellie's friend was asking me.  Yes, I'm addicted to that lens, and I didn't bring my wider lens with me mainly because I don't have – and need – one of those belt thingies that holds lenses.  Anyone want to buy me one?  Cool.  I mean, if you can't buy me a 5D2, at least I can get some accessories, right?
Anyway, looking at Ellie's shots, I am reminded of the philosophical dilemma of whether telephoto shots allow more intimacy with the subject by getting far enough away and magnifying things.  Certainly, there is are elements of intimacy with Ellie's wide-angle shots, don't you think?
A Weekend of Wisdom
I've certainly had plenty going through my mind this weekend.  I have mentioned that Jimbaux's Journal is slowly evolving into something of a gratitude journal, something that it was not intended to be  when I first envisioned it in 2008.  My, have things surely changed, especially in the last six months.
On Friday, I reconnected with an old friend from the bayou for the first time in about a decade.  It seems like so long ago.  I was talking to him, and he quickly passed on this to me, saying he loves it himself.
"It is not the critic who counts; not the man who points out how the strong man stumbles, or where the doer of deeds could have done them better. The credit belongs to the man who is actually in the arena, whose face is marred by dust and sweat and blood, who strives valiantly; who errs and comes short again and again; because there is not effort without error and shortcomings; but who does actually strive to do the deed; who knows the great enthusiasm, the great devotion, who spends himself in a worthy cause, who at the best knows in the end the triumph of high achievement and who at the worst, if he fails, at least he fails while daring greatly. So that his place shall never be with those cold and timid souls who know neither victory nor defeat." — Theodore Roosevelt
I had heard that one years before, but I needed to read it again.  For too long, I've thought of myself as one of "those cold and timid souls," and there are some very legitimate reasons why it has taken me a long time to break out of that prison.  That leads me to the next quote that I want to share.
"Alcoholism is a disease, but it's the only disease you can get yelled at for having." – Mitch Hedberg
Hedberg was a comedian, and that line was often received with laughter, but that's actually a very serious statement to me for a couple of reasons.  First, I know from first-hand experienced that alcoholism is not the only disease that you can get yelled at for having.  I've seen it for years, and it has torn at me.  Second, in my efforts of becoming a more accepting person, especially for the reasons expressed in the previous sentence, I am, more and more, looking on things like alcoholism as legitimate diseases.
A friend posted this last night:
"Stress is nothing more than a socially acceptable form of mental illness" – Richard Carlson
Of course, I read that as I was suffering from a very bad headache that I know was stress-induced.
Need Help With WordPress
Does anyone out there know enough about WordPress and the Thesis option to be able to help me solve a few dilemmas?  I mentioned that these embassy demonstration pictures were more appropriate for the site I have yet to launch, and the launch of that site is being delayed by this problem.
You've Got Questions
Don't forget to send questions to AskJimbaux @ Gmail.com.  Also, if you like this site, show a friend!
All for now . . .
Jimbaux