[Jimbaux gets by with a little help from my friends.]
Friends, by definition, are a valuable part of one's life, and on the last day of February 2009, I got to spend time in New Orleans with a friend near whom I had intended to live.  The Mid-City Marine and his wife JMS were displaced from their Mid-City home by Hurricane Katrina, and their professional lives were disrupted as well.  Though I eventually settled in a place just a few blocks from their place, they were no longer there, having been displaced to Georgia, and we never got to be neighbors as we had intended.  Damn you, Katrina!
Like many people who leave home unwillingly, they spend plenty of their vacation time coming back home, and I have gotten to see The Mid-City Marine on probably more than half of those times, including their February-March 2009 trip.  He, JMS, and I got together for poboys, and we discussed many things including my recent Close Up trip (which can be seen in the middle five posts in the February 2014 archives, as those posts were made on the five-year anniversaries of each day of that trip), the second-to-last run on the Lockport Branch earlier that month, and The Shadow Warrior, who would die four years and one month later; before that, though, he and I went foaming for a little while on the NS Back Belt.
The first thing that we saw was this light power move westbound (railroad southbound) past the derelict L&N Junction Tower.

Someday, I'll be glad that I have pictures of that interlocking tower; it controlled the crossings at L&N Junction just to the east of the locomotive where the Louisville & Nashville merged with the Back Belt and for awhile still crossed it to serve remaining customers on the former mainline that once went up Elysian Fields Avenue all the way to the river.  Today, the tower's functions are performed by the NS dispatcher in Birmingham.
This little light power job was going to get a cut of cars off of the Northbound Mainline past Frenchmen Street.  Yes, that signal tower is really leaning!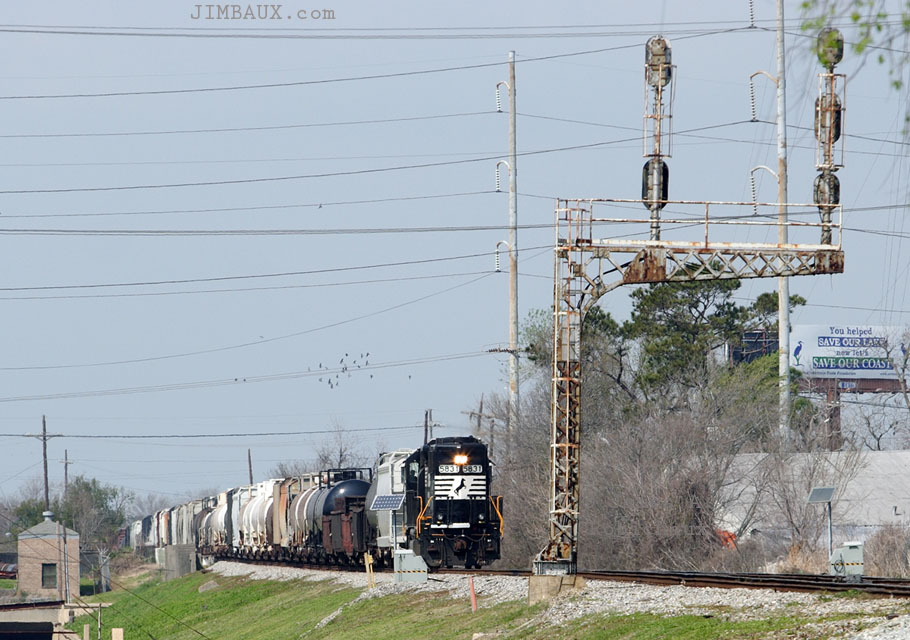 I promise you that the shot is properly leveled, and the leaning signal is no longer there as of February 2013 and was replaced with a non-cantilever signal.  Below is a cropped version of the same picture.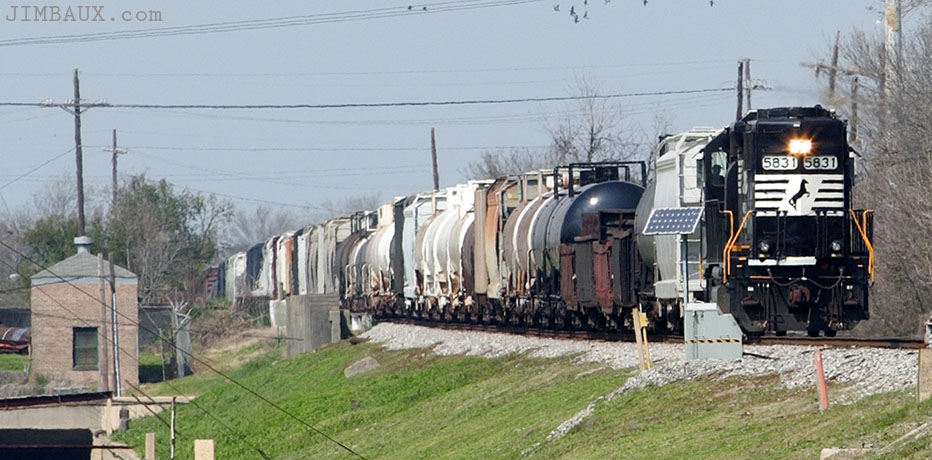 Right as this is happening, right as the brake pipe was being charged in that cut (or "train"), NS 345, which would become Union Pacific train MNSLI, rolled by, as seen here three minutes later.

Twelve minutes later, the yard job pulls.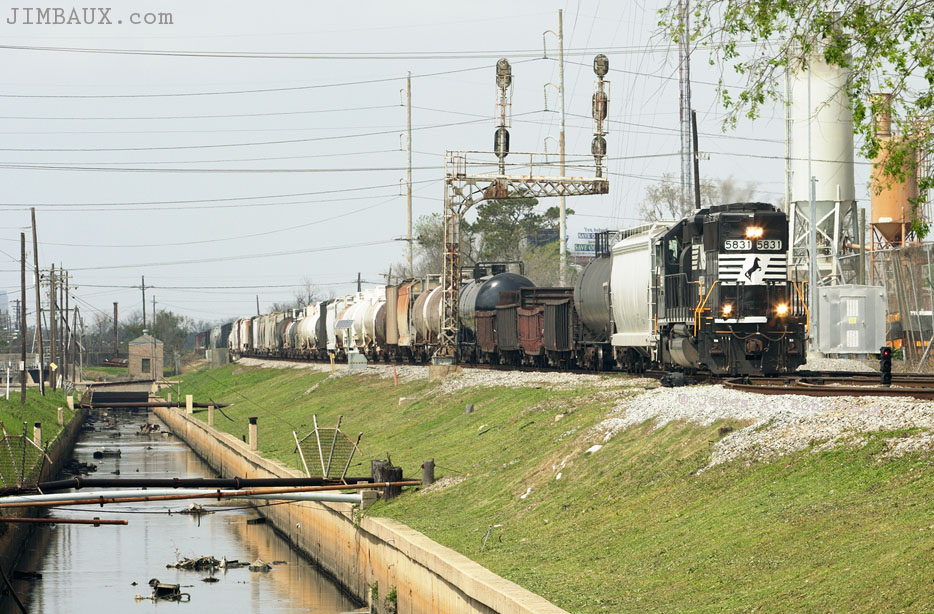 See, I told you that that earlier shot was properly leveled and that that signal bridge was really leaning!
This yard job almost trainblocked us from getting another shot.  Less than one minute after the previous picture was taken, CSX train Q601 rolled by, and closely compare this shot to the shot of the MNSLI, and you can see here that this train is curving onto the NS from the CSX.

Well, that was okay, I guess.  Fifty-one minutes later, right at 12:00, we see NS's morning transfer run to the Canadian National Railway's former Illinois Central Railway yard in town – Mays Yard – returning with its interchange cut.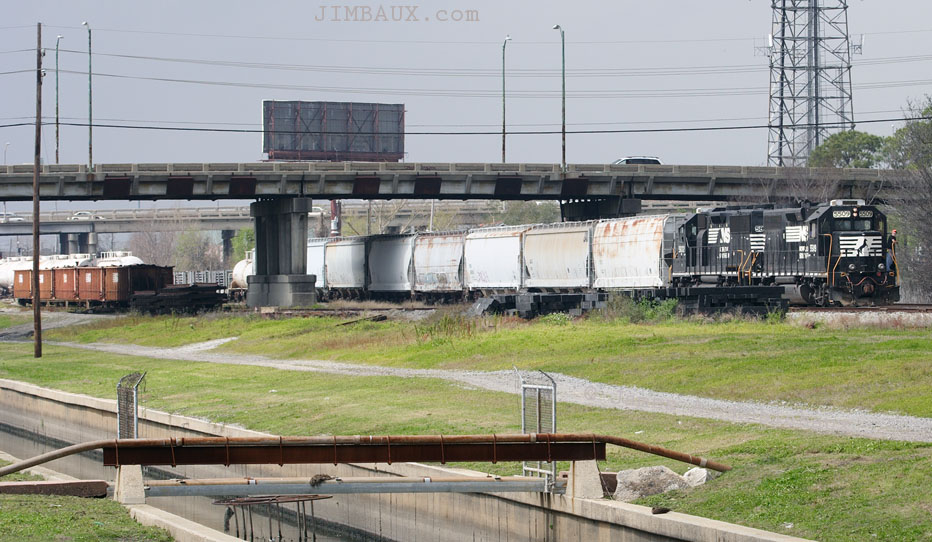 Do you see those steel bar cars?  They came from Bayou Steel in Grammercy but no longer are on this train when I see it.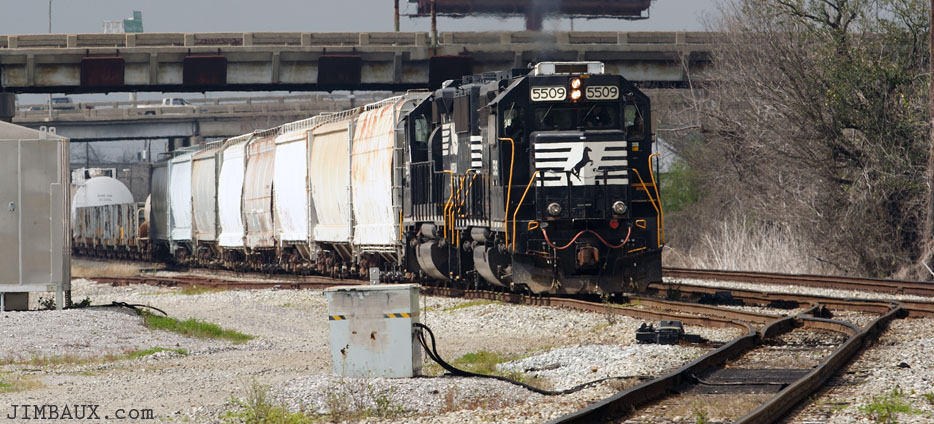 Well, now that he is moving and has the ditch lights back on, let's get one more shot of him before he gets into Oliver Yard and we have to call it a day (for foaming, at least.)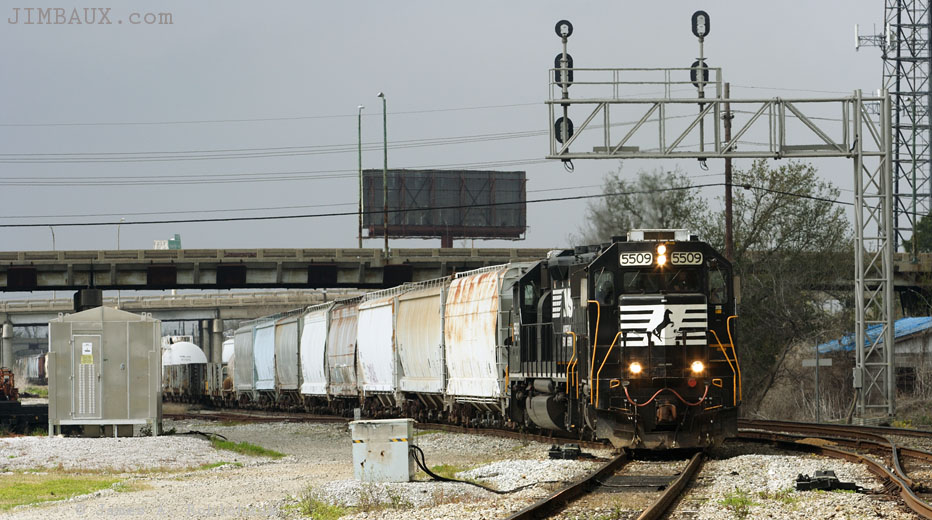 It's po-boy time!
Jimbaux