[Jimbaux wants you to let him live his life alone, or maybe not.]
If you are here only for my high-speed rail initiation proposal, scroll down until after the last picture to find that essay.
Welcome To 2014, Good Netizens
Many of you have already seen a sampling of my southern Mississippi work from early January.  I had some brief opportunity to do some foam projects that required day trips into Mississippi, and 2013 was the first year since 2002 that I did not leave the state of Louisiana!  Some of my friends found that hard to believe, given how much I traveled in the last decade, but all that travel then has reduced both my ability and my desire to do such now.  I'm more content with being home than I ever have been, though it would still be nice to get out.
On Saturday 4 January, Nitro and I went to Mississippi to chase the KCS's Hattiesburg Turn from Gulfport, but we learned that the train was not running on Saturday; however, we were able to catch the Delisle Job, which would not have been possible had we been chasing the Hattiesburg Turn.  Two days later, I took the pictures that you will see below in this post.
The Story Continues To End
So, then, does the story ever really end?  These pictures were taken on Monday 6 January.  That night was the beginning of the Polar Vortex (or whatever it was called) in our area, and it was also the day that I went to drop off the last piece of baggage that I had from a previous life that ended without fanfare two weeks before.  I went to spend the night at Le Jardin because the heater thing in my crib doesn't work too well, meaning that it works too well, meaning that I'm either shivering or sweating.
So, I pulled my lettuce inside like so.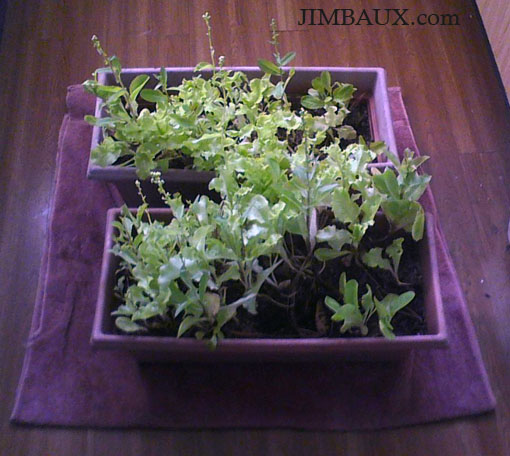 Now, before I go to the W'ank to drop off my baggage, let's see what is happening by the track on the East Side, or maybe the Western Side of the East Side.
The Past Is Resurfacing?
There is more than just a train in this picture, but, for now, the train is one that we have seen many times, CSX's daily transfer run to the Canadian National Railway in New Orleans seen here waiting to leave CN's Mays Yard.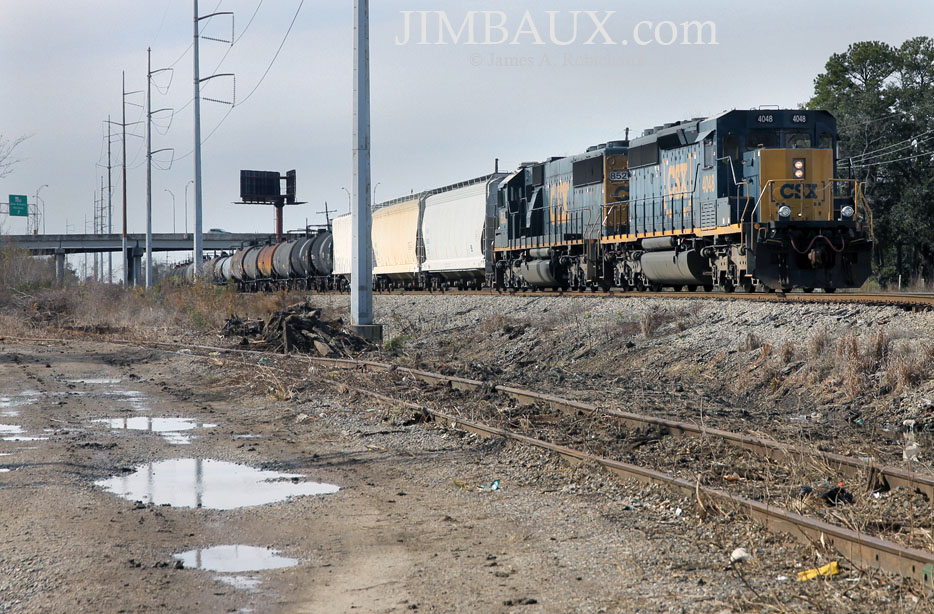 Now, check out the foreground.  See that?  That old track was buried under brush for years until very recently.   To the left, there are more tracks, as there were three decades ago, but I didn't realize that they were still there!  That was a transfer power yard for the Southern Pacific, which kept some power on this side of the river for transfer runs years ago.  I have the vaguest memories of SP power parked here as a kid.
I wonder what is happening with this area now.
Anyway, let's see what else is happening on the Back Belt before we head to the W'ank.
Z
The westbound Z-train was parked on the Passing Track.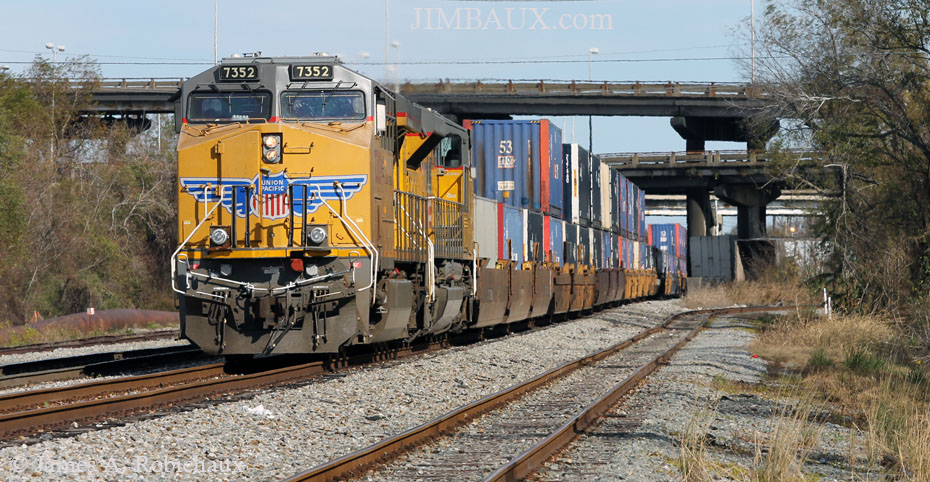 The track at right – well, at the center foreground – goes to the KCS yard.
Dental School Disappointment
I had an idea for a shot of the already-seen CSX-CN transfer job at the LSU Dental School, but it didn't work as I would have liked.

Damn, were my hands ever getting cold while standing on top of the truck waiting for the train to show up!  Don't I own any gloves?  Somewhere, I probably have gloves, but when you live in southern Louisiana, you really don't need them.  Still, I should get some.
W'ank
So, it was time to head to the W'ank, and while crossing the river, I got the erroneous impression than an NOGC train was about to leave Gouldsoboro Yard.  I raced over to Fourth Street to set up for the shot, and I waited . . . and waited . . . and waited.  This doesn't seem right.  So, I went to Gouldsboro Yard, keeping my ear open for an approaching train, but I only found this parked and crewless New Orleans & Gulf Coast Railway train at Gouldsoboro.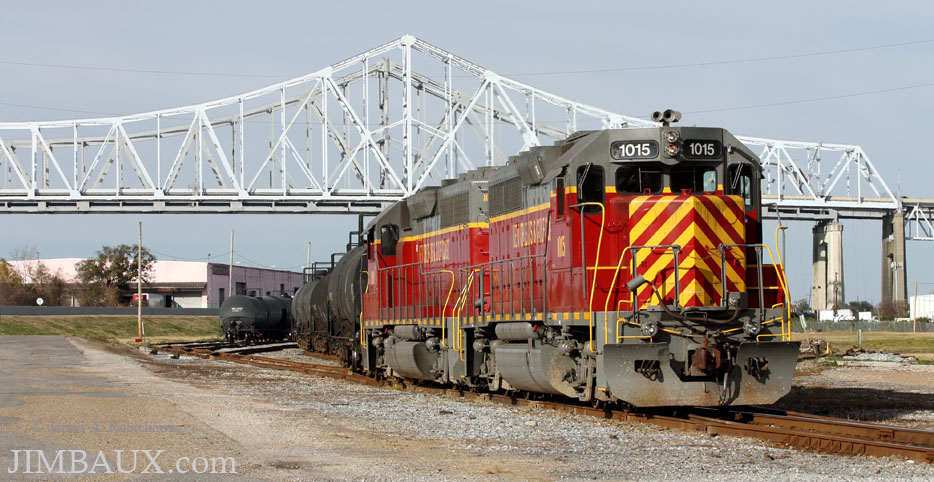 Well, I hope that this thing moves before dark.  Photographing these westbound trains – especially on Fourth Street – became such a tradition starting in 2005, a tradition that slowed to a trickle within a few years and stopped at the beginning of this decade with a few occasional exceptions.
Food
I was hungry, and on a day like this when I drop off one last piece of baggage, it was time to eat at my traditional spot where I had not eaten in nearly two years but had eaten many times before: the Subway on 4th Street right in front of the track.  Per tradition, I got my Subway Melt with American cheese, microwaved, with lettuce, tomatoes, pickles, onions, banana peppers, and extra mayonnaise: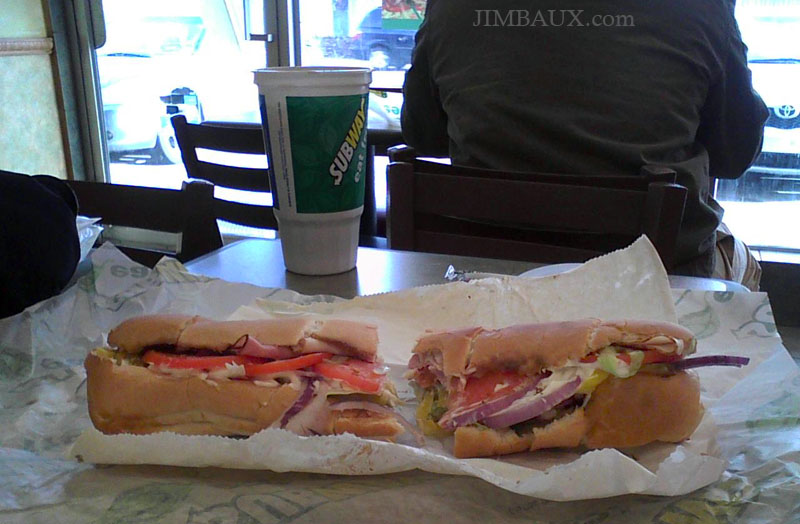 Well, that was good, but some things should remain in the past.  That is why it is called the past, mes amis.
Checking Again
Satiated, we return to Gouldsboro Yard to see that the situation there has not changed.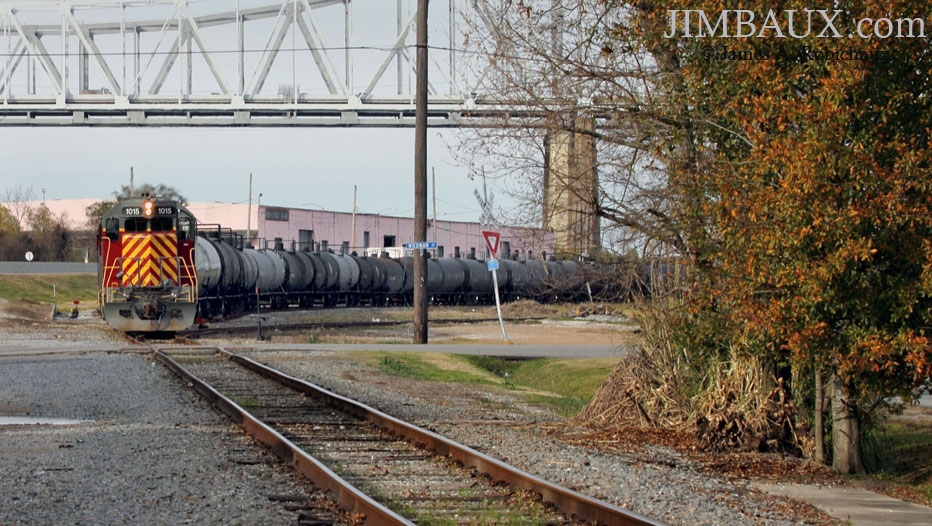 Oh, well.
Baggage Drop Off
At the risk of missing the train moving, I went to set out my baggage.  It felt good.  After that, I checked back at the track, but the sky was getting dark.
Channeling, Flowing . . .
While I was at it, I got a shot that I have wanted to get for a long time, but not like I had wanted it, as it was too dark.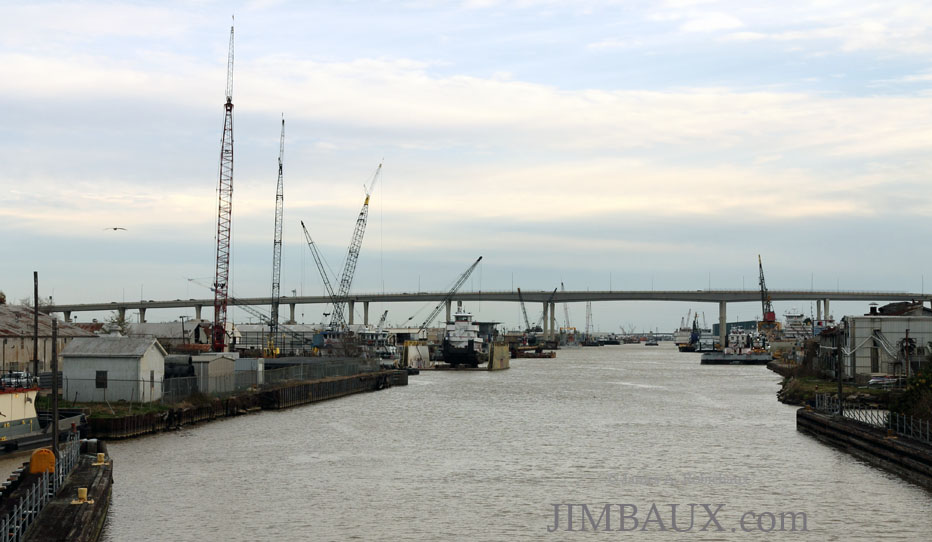 That is the Harvey Canal, amigos.  Above, you are looking down the canal with the Mississippi River about 1,000′ or so behind you behind the canal locks.  That is the Westbank Expressway Bridge, but there is also a tunnel under the canal here.  The economic slowdown a few years before hurt many of these shipyards and fabrication facilities.
Turning back toward the river, we see the railroad drawbridge.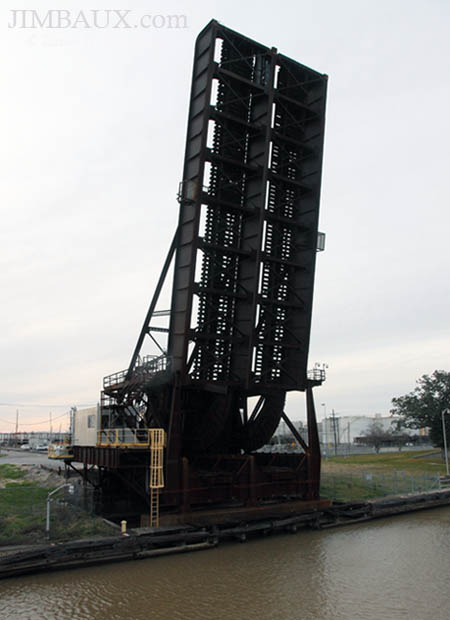 Turning to the right a little bit more, we see the other side of the bridge as well as the canal locks.  Years ago, the track in the foreground was SP's track, while T&P, later MP, and later UP used the distant track, the only track of the two still used.

Well, I guess we won't see our train moving today.  Damn, it's starting to get colder!  I can't even work the controls of the camera.
An Expensive But Rewarding Diversion To Procure Supplies
Well, it was damned near dark, and there was no train.  I headed over to the shopping center on Manhattan Boulevard (even though that part of it is not a boulevard), another place of old traditions (that need to die and had basically already died more than a year before), and I picked up a copy of the latest issue of Trains at the Barnes & Nobles and then went over to the Men's Warehouse to see about getting some gloves.  Yeah, I know, this is by far not the cheapest place to get gloves, but 1.) I'm fashion-ignorant and happily-so, 2.) I am already here in this shopping center, 3.) I don't recall ever purchasing gloves before and may never have to purchase any again, and 4.) it can't be that expensive.
I often put myself in these situations knowing that someone I know from the teaching days might see me, and that is what happened.  Someone recognized me right as I walked in the door, a student I remember well and who remembers me well, and I gladly let him sell me some pricey gloves.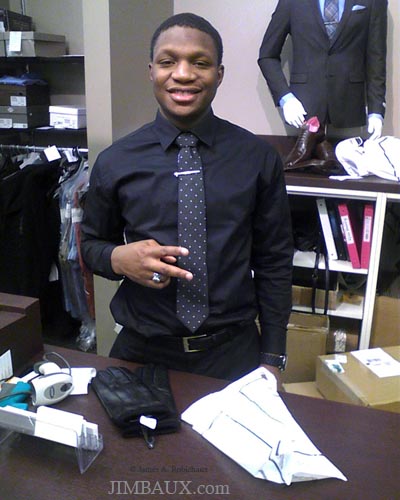 That is KL.  Drop by there, tell him "hi," and mentioned that you saw him on Jimbaux's Journal.  For $40, this wasn't a bad experience.
Well, I guess it is time to head to Bayouland, and it is getting dark.
All Is Well That Ends Well
The sunlight was already gone, but the sky wasn't totally dark yet.  So, just for the heck of it, with my new gloves, I went back east to Gouldsboro Yard, but just as I was passing the Lutheran School on 4th Street, I heard horns!  Yipee!
I had to quickly turn around and head back west.  Now, where am I going to get a shot?  Since there were no sun rays, there were no shadows, and since there were no shadows, I did not need to be on any particular side of the track (to avoid shooting the dark side of the train.)  I didn't think that I had time to get turned around again to get the shot of the train going through the very slight bend near Lavoiser Street.
A New Shot, a Jimbaux Original
I gambled.  I tried something new, knowing that it might not work.  I got onto the gulf side of the track in front of the furniture store, a place from which I had never before shot a westbound train, and I have two frames to show you from this perspective.
Yes, it was dark!  This is a shot that would have been hardly possible in the film days.  We are at 800 ISO here, f6.3 at 1/400 of second for both of these shots, and I rather like the way that we end things here, don't you?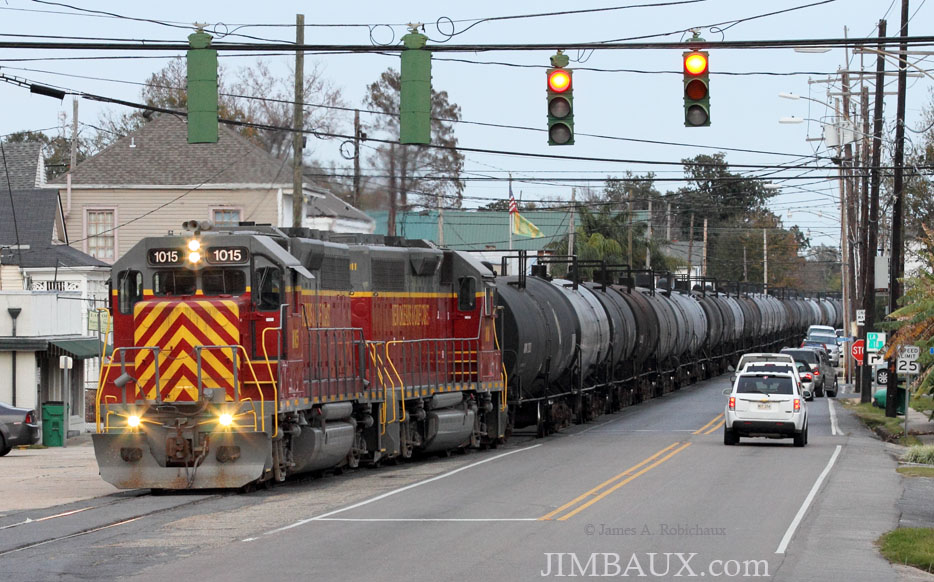 I'm satisfied.  Are you?  This has been a great afternoon.  It's time to get out of here and warm up.
Citrus
I got to Le Jardin a little bit too late to help with preparations for the record cold weather.  All across southeastern Louisiana, many people picked all of the fruit that they could off of their citrus trees, and my family was no exception.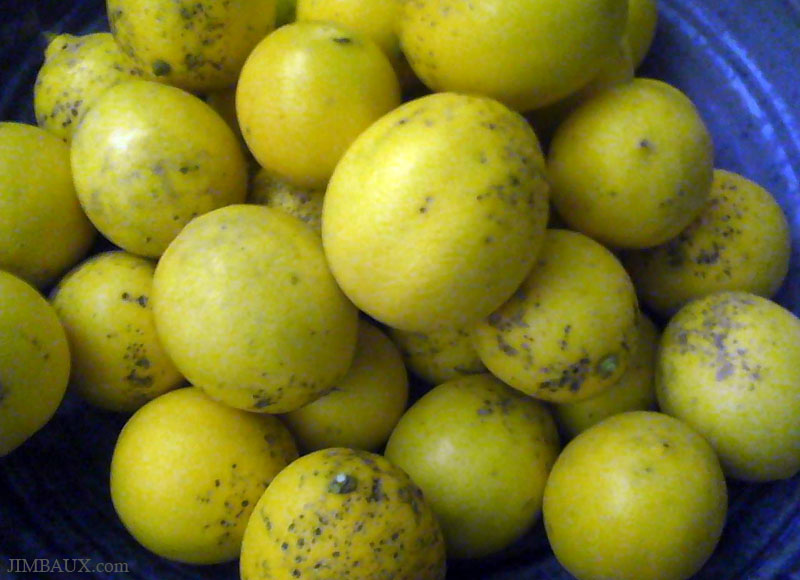 We're still feasting on some of these things, and a little bit more than we'd like to eat in such a short time!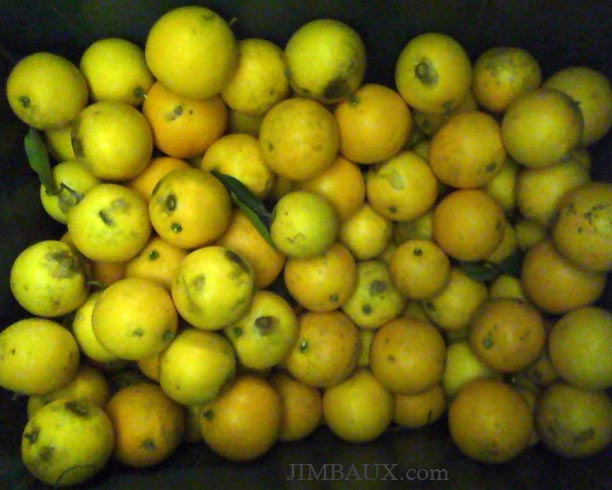 Some homemade orange juice came from this.  How was the Polar Vortex for you?  Heck, as this is being typed a few weeks later, we seem to be experiencing another one; those gloves really have been put to good use!
Three days later, I returned to Mississippi and finally caught KCS's Hattiesburg Turn doing interchange in Hattiesburg.  Two days later, I ventured to Bogalusa for the first time in nearly five years and finally was able to get the Bogalusa-Ferguson Turn; I chased it all the way to Ferguson and caught it making the turn at Wanilla, Mississippi.  I had so much fun and got so much out of that trip that I hoped to do it again within a week or so, but, alas, I have not had the time.  I hope to do it again at some point.  The line is really neat.  If I have time, I'll make full blog posts out of each of those three trips on the one-year anniversaries of each of them.
Miscellaneous Opining
Okay, while there is always plenty on mind (a blessing and a curse), I rarely have the inclination to type very much here beyond the text with the pictures (and even that is tiring.)  There are some topics that I will finally discuss here.
I have written plenty here; so, the inverted text (which exists for the photographs) might cause your eyes to hurt.  If you want to change this for this post and you use Firefox, from the menu choose: View -> Page Style -> No Page Style and text becomes black on white. Select View -> Page Style -> Basic Page Style to return to background to black.
High-Speed Rail, Mid-America Style, Including Dallas and Houston
Ten months ago, I mentioned here that I had my own idea – my own "plan" – for how high-speed rail should at least start in the USA, or it least in a part of it with which I am familiar.  A commenter wanted to know more, but I haven't had the time or inclination to write more on the subject until now, particularly after some recent discussions on the Railspot forum about a study for high-speed rail between Dallas and Houston.  I was hoping to make my explanation in the form of a video, but I lack the tools and-or expertise to animate such a video.
It seems like every time I hear or read about the possibility of high-speed rail in the United States, it is discussed as a replacement for the current system of Amtrak passenger trains that use existing privately-owned railroads (that once ran the trains before the creation of Amtrak.)  The discussion always seems to be an either-or thing, and this is troublesome on many levels.  So, before I describe where and how I would start construction of a high-speed rail line in the USA, we need to first address the issue of the important role of the current traditional passenger trains, an explanation that will require a few paragraphs.
For all of its deficiencies, Amtrak's current system gives good service to many small towns across the lower 48 states.  This would not and could not be true – or at least would not be practical – in a passenger railroad system that would only have high-speed rail.  We would be left with the problem that we have now with large airports being only in big cities, unfairly favoring urban people.  To get the hinterlands to support government expenditures on high-speed rail, the hinterlands need to have access to the system!
For example, if a high-speed rail corridor was constructed – and, yes, for high-speed rail to be successful, it needs to be on its own system separate from freight railroads and traditional passenger trains – between Chicago and New Orleans, the City of New Orleans (the daily passenger train between those two cities) should not be abolished, or at least service along its route should not be abolished.  Stopping at all of the small towns that the City of New Orleans currently serves would not make sense for a train traveling at 200mph or faster, but the people in those towns should not be left out of a high-speed rail system.  So, someone in Hammond, La., or Brookhaven, Miss., which are both served daily by the City of New Orleans, could get on that train at their hometown stations and then get off in Jackson or Memphis where they can get on a much faster train to Chicago or other places.  (Actually, due to its relatively short run compared to the big long-distance trains that cross the West, perhaps the City of New Orleans is not the best example to use here.)
In such a system, I envision two things that could and perhaps should change about the City Of New Orleans or the service it provides, and the first is suggested by what I had to add earlier in this sentence after the name of the train.  The train could be broken up into parts, meaning that a delay near one end wouldn't mean that the train was delayed all the way to the end.  We could have a New Orleans to Jackson train, a Jackson to Memphis train, etc., and people from small towns could connect to bigger, much-faster trains at each major point along the route.  Actually, the City of New Orleans is short enough that this might not be necessary, but it would make since if high-speed rail comes to the routes of the much longer western trains.
The second big change that could come would be that more small-town stations could be served, since additional station stops would not delay the arrival at far-off destinations, since most passengers would transfer to much faster trains at the next big station.  So, for our example of the City of New Orleans between New Orleans and Jackson, new service could be offered allowing passengers to board at Kenner, Kentwood, and Magnolia, and then get on much faster trains at Jackson.  This could happen with each segment of the current train.  In my home area, stations at places like Boutte, Morgan City, and Franklin could be added to the Sunset Limited route between New Orleans and Lafayette, where passengers from those stations could get on much faster westbound trains; it would not make sense to have such "stations" served now, as stopping there would not only slow the train down but would not yield many riders because of no options to connect to faster trains nearby.  Such a future involving an interactive mix of conventional passenger trains in existing routes and high-speed rail on long-distance routes could and perhaps would – and perhaps should – mean an end to the use of sleeping cars.
Now that I have made the point that the current passenger railroad system should be preserved as much as possible and used to augment and be augmented by any future high-speed rail system, I hope that you understand my position that the first high-speed rail line built should be in corridors where, unlike my City of New Orleans example, there is no existing passenger railroad service.  The existing service may not be nearly as good as high-speed rail, but the existing service is far better than no service.
Take a look at Amtrak's own system map and pay attention to where service exists so that you can pay attention to where service does not exist.  (If you are not a personal knowledgeable of trains, you'll really want to look at that aforelinked map for awhile for the rest of this essay to make sense; even if you are a person familiar with trains and Amtrak's current offerings west of Chicago, looking at that map would still help you understand the rest of this essay.)  You will see that, as I already mentioned and as many of you already knew, Amtrak travel is highly practical for some origin-destination pairs and highly impractical for other origin-destination pairs.  One huge problem is that if you are traveling from anywhere east of the route of the City of New Orleans (Chicago to New Orleans) to anywhere west of that route, you have to pass through either Chicago or New Orleans, and this is very impractical for those traveling from the Southeast to the Southwest, as it requires a layover of more than 12 hours in New Orleans.  Similar problems exist if you are going from Utah or northern Colorado to Texas; it just isn't practical to travel from Colorado through Chicago to get to Texas just to keep the route entirely Amtrak.
A look at the northeastern part of the USA shows that most corridors are already served, even if not with high-speed rail.  So, my soon-to-be-revealed choice for where I would begin construction of a high-speed rail system is not in the Northeast, and my choice is also made so that existing service can be augmented.  My choice, of course, is also influenced by own personal prejudices, which include knowledge about the particular area.
The place – the corridor – where I would begin construction on a dedicated high-speed rail line and system is from Minneapolis to Kansas City.  Now, if you are wondering what this has to do with the proposal to build a high-speed rail line between Dallas and Houston, you are not being imaginative enough!  If that statement doesn't give you enough of a clue, you'll just have to keep reading (and keep looking at that Amtrak map.)  The right-of-way of Interstate Highway 35 could be used for much of the route from Minneapolis to Kansas City.
Now, I will explain how just a high-speed rail line from Minneapolis to Kansas City alone could help increase ridership on three existing Amtrak trains and one state passenger train.  Even if there would be a quick connection in Chicago, it makes little since to take Amtrak's Empire Builder from Minneapolis, connect at Chicago on board the Southwest Chief, and get off at Kansas City, but a 15:55 arrival time in Chicago on the Empire Builder and a 15:00 departure time for the Southwest Chief – that's a 23-hour layover, my friends – makes such a practice more than impractical!  So, I am most-often hesitant to speak in absolutes, but it seems to be a safe assumption that nobody (or very close to nobody) travels via Amtrak from Minneapolis to Kansas City or even travels from the Empire Builder to the Southwest Chief by connecting in Chicago.
A high-speed rail line between Minneapolis and Kansas City could not only serve those two cities and not only serve those connecting from the passenger trains that already serve them, but it could also have a station in De Moines and could have a connection to Osceola, Iowa, where passengers could get on the California Zephyr.  Since the track of a high-speed rail system would be built only for high-speed rail passenger trains, there is both the incentive (due to fixed costs of infrastructure) and the possibility (due to lack of freight trains) to run as many trains daily as the market desires.  There could be non-stop trains from Minneapolis to Kansas City (and there could be non-stop trains from Minneapolis to points further south, once lines south of Kansas City would be built), and there could also be trains that stop in Des Moines and-or Osceola and even other places.
Right now, it does not make any sense for a family in southern Minnesota to travel by train to the Grand Canyon or to Rocky Mountain National Park or to visit Aunt Susy in Denver.  Right now, it doesn't make sense for a small-town working professional in Lamar, Colorado, or McCook, Nebraska, to travel by train to a conference in Minneapolis.  Right now, it doesn't make sense for a military service person, oil-worker, or college student, to travel by train from North Dakota home to Kansas City or anywhere in central Missouri.  However, with a high-speed rail line between Minneapolis and Kansas City and the connections that would be provided with four trains – Amtrak's Southwest Chief, California Zephyr, and Empire Builder, and the state of Missouri's "Rail Runner" between Kansas City and St. Louis – all of this would be possible!  And that would be just the beginning!
So, before we even get to Dallas and Houston, I hope that you can see that just a high-speed rail line between Minneapolis and Kansas City would not only not take away any riders from existing conventional passenger trains but could actually cause an increase in ridership on those trains!  Those trains would become far more useful to many people!  High-speed rail should not be an outright replacement for conventional passenger trains.  I remember 10 years ago when a teacher in bayou country told me that she had looked into taking students on a field trip to somewhere in Kansas, someplace that I seem to remember being not near a big city.  Even if they drove the kids to New Orleans to get on the City of New Orleans, it still would not have been practical to take that train all the way to Chicago just so that they could get on the Southwest Chief to get to Kansas, and the reason why I mention that her destination in Kansas was somewhere away from a big city is that high-speed rail alone is, as I have already mentioned, not practical for traveling to rural areas.
The big drawback for travelers in those small towns with Amtrak service today is that train travel is almost always only useful and practical if you are going somewhere along the route of the one and only train that serves your station.  A traveler boarding Amtrak's Crescent in Slidell or Hattiesburg can't go to Memphis or Chicago that way, even indirectly, without turning the trip into an almost-week-long railroad pleasure cruise.  Amtrak serves both New Iberia, Louisiana, and Denver, Colorado, but traveling by Amtrak from New Iberia to Denver – or to Dallas, Texas, which is also presently served by Amtrak – is not practical; however, it could become practical (both for Denver and for Dallas) if connecting trains, especially of the high-speed variety, existed.
Many high-speed rail maps that have been published all show Chicago as a hub; this is bothersome on many levels.  First, Chicago already is a hub of the existing passenger train network, and I have repeatedly and in many ways made the point that the places, patterns, and corridors where service currently exists should be the last or among the last to get high-speed rail service, although it would help to build one line from Chicago to connect with the Minneapolis-Houston corridor – well, I just spoiled the rest of the story – that I am advocating.  Second, I don't think that the hub model is desirable for the entirety of the high-speed railroad network; too many problems might be caused if travelers from Kansas City to Seattle and travelers from Cincinnati to Boston would all have to go through Chicago (or any other hub.)
So, yes, as you have now figured out, I propose that once the Minneapolis-KC segment is up and running that the high-speed rail line be extended southward to Dallas and eventually Houston.  I propose that the route follow I-35 at least to Oklahoma City where it could, instead of continue to follow I-35 southward to Fort Worth or Dallas, continue to go a little bit westward along I-44 to Lawton and Wichita Falls where it could then turn southeastward to Fort Worth and then into Dallas.  From there, the line could be extended to Houston.  Imagine that!
I hope that you now see why just thinking of a Dallas-Houston high-speed rail system on its own is myopic.  Having a system be limited to Dallas and Houston would severely limit its potential.  So long as gasoline and airfare are cheap – which is nothing certain – a Dallas-Houston-only high-speed rail system would still seem useless to many people in both cities.  Imagine, though, being able to travel from Houston to Kansas City in five or six hours without having to be crammed into an airplane! or without having to be subject to the idiots (including yourself) and the weather conditions on the highway!  Imagine being able to ride from Minneapolis to Dallas in seven hours or Minneapolis to Dallas in eight hours!
Imagine, too, if an auto-train service could be added to the route!  Imagine all of the snowbirds from Minnesota and northern Wisconsin descending upon Texas in late winter along with their money.  Imagine, too, the line being extended to Winnipeg; you'd have a high-speed rail corridor following a nearly-direct route from central Canada almost to the Gulf of Mexico!  Yes, you could then extend it to Galveston, but I also think that a traditional passenger train from Houston to Galveston would be far more viable if it could connect to a much larger high-speed rail system in Houston.
I have already mentioned how a high-speed railroad line between Minneapolis and Kansas City could benefit the ridership of the Empire Builder, the California Zephyr, the Southwest Chief, and the Missouri Rail Runner.  Now, imagine that those trains would benefit much further with the high-speed line extended from Kansas City to Dallas and, especially, Houston, as new connections could be made.  Imagine further that similar benefits would befall the three conventional Amtrak trains that currently serve the state of Texas.
An oil worker or military person could get on the Empire Builder in North Dakota, transfer to a high-speed train in Minneapolis – or even somewhere in eastern North Dakota if the line would be extended to Winnipeg – and then be home in Texas fairly quickly.  Someone in New Iberia, Lafayette, Lake Charles, or Beaumont, who wants to go to Minneapolis or Kansas City to attend a conference can get on the Sunset Limited and get to Houston and get on a much faster train going north.  Anyone on the route of the Heartland Flyer could get on that train and go south to Fort Worth where he or she could board a much faster train to Houston or go north to Oklahoma City where he or she could catch a much faster train to Kansas City, Des Moines, or Minneapolis.  An Airman stationed at one of the Air Force bases in southern central Texas could get on the Texas Eagle to Fort Worth and then get on a much faster train to go home to Missouri, Iowa, Minnesota, Wisconsin, or North Dakota.  Someone from Texarkana, Longview, Marshall, or Mineola, could board the Texas Eagle for Fort Worth where he or she could get on board a much faster train for Kansas City or Minneapolis, and such people would not have to pay for parking anywhere or worry that their parked vehicle will be robbed.  Families anywhere in eastern Texas could take a fast train to Minneapolis, board the westbound Empire Builder there, view the vast expanses of the North Dakota and Montana plains, and then spend a week in Glacier National Park, where they could rent a car.  If the line would be extended to Winnipeg, even the hapless Canadian – about as hapless as the Sunset Limited – could see a small increase in ridership from people traveling from stations near Winnipeg to Winnipeg.
Wouldn't all of this be great?  Do you see how it would add service where it does not exist and use the existing trains to their own benefit and to the benefit of potential riders?  Do you see how it honors and respects the existing small town stations by incorporating them into inter-city high-speed rail? Do you see how it makes the system entirely more viable for everyone?  Do you see how it helps get needed political support from small-town people? since it doesn't leave them out?  Yes, it all requires money, and so do new roads, new airports, new runways, higher automobile insurance premiums, increased risk of injury or death or obesity due to highway travel, money into the economy not being spent because people might otherwise stay home, and many other unforeseen and unknowable costs.
My reasons for preferring a longer bowing-to-the-west route between Oklahoma City and Fort Worth is multi-faceted.  First, it honors existing service along the Heartland Flyer route, even though a high-speed train would not stop at all of those towns; that means that even if the high-speed route went along I-35 between Oklahoma City and Fort Worth, the Heartland Flyer would still be very useful as a local train picking up passengers at small towns to board faster trains at each end of the line, meaning that there must be other reasons for my preference of the I-44 routing, and there are!  Second, it would allow service to Lawton and Wichita Falls, which are both more populated than any place between Oklahoma City and Fort Worth.  Third, by arriving into the DFW Metroplex from the northwest, there would not need to be separate lines for Fort Worth and Dallas, meaning that the entire Minneapolis to Houston corridor could be on one line.  (If the line arrived into Dallas from the north, then an extension southward to Houston would bypass Fort Worth.)  If traffic and market levels would demand such, eventually a second line could be built northward from Dallas to Kansas City via Sherman, Durant, McAlester, Tulsa, and Joplin, thereby giving service to those areas and increasing the possibility of being extended to St. Louis and beyond to eastern destinations.
Given the increased viability of the existing conventional passenger trains that would be caused, if other conditions like rising fuel prices would make automobile traffic more difficult, we could even see at least the demand for short-distance passenger trains on existing railroad lines where passenger trains don't already exist.  (I say "demand for" such trains rather than the trains themselves because the railroad companies would likely be highly resistant to such proposals, and for good reason.)  I already mentioned the Houst0n-Galveston example.  Maybe people along the route from Houston to Corpus Christi or even Brownsville (or maybe McAllen) would want to be able to access the fast trains in Houston.  Perhaps the Texas Eagle could be extended (or re-extended) to Laredo, a growing city, where people might be more willing to board a train if they could board a much faster northbound train at Fort Worth.  Perhaps the St. Joe Line along the Missouri River between Kansas City and Omaha could once again host a passenger train now that Omaha people could board a much faster southbound train in Kansas City.  (The CB&Q had such a passenger train.)  In these snow-prone areas, such access to passenger railroads might be important in the winter!  Service could resume between Minneapolis and the Duluth-Superior area so that people in those cities could board much faster passenger trains in Minneapolis and be in Texas in just a few hours (or they could just go to Minneapolis just to go to Minneapolis or they could get on the Empire Builder in either direction; the beauty of it is that even though an increase from zero to whatever of the number of people trying to get on the high-speed train to go south would be the reason for the new train, people with other purposes of travel could ride the train too!)  The much-discussed proposal for a passenger train between Tulsa and Oklahoma City would gain traction, as such a train would now become even more useful.
Once a high-speed rail corridor between Minneapolis and Houston is built, any corridor built that would connect with it would be much more viable.  Existing conventional passenger trains would need to continue to exist to be able to serve smaller cities, but they may have to be cut into smaller sections connecting with the high-speed lines at larger terminals; this, as I said already, might have a benefit in allowing the opening of more old stations that are currently bypassed (literally) by the existing trains.  Maybe one day if there is ever high-speed rail between New Orleans and Los Angeles, the Sunset Limited will be abolished and be replaced along its entire route by local passenger trains serving more stations; imagine that a Teche-Lafourche Flyer train would serve the Sunset Route between New Orleans and Lafayette and, in addition to its current stops of Schriever and New Iberia could stop at Boutte, Morgan City, and Franklin, and daily!  Actually, what I think is more likely is high-speed rail between Houston and Los Angeles, which would necessitate a conventional passenger train between New Orleans and Houston, which, again, as I have described, would likely have more ridership than the current train since being able to get on a much faster train at Houston would make riding the train east of Houston to get to Houston more viable, and the maintaining of service to the small towns west of Houston two, essentially cutting the Sunset Limited into several parts, which would allow people from the smaller towns like Del Rio and Alpine to get on the faster trains at San Antonio and El Paso.
Okay, I have written enough on this topic (over the course of several days during the ice storm) for now.  This should explain why I believe the first high-speed rail line should start in Minneapolis and work its way southward to Kansas City, DFW, and then Houston and how it would not take any ridership from existing passenger trains and would only augment their ridership.  What are your thoughts?
Thoughts, Rights, and News
I am nearly two-thirds of the way through reading Blink by Malcom Gladwell, and it is a really fascinating read!  So much of my writing here – especially about incidents about threats to photography – involves people making up reasons why other people do stuff.  That topic is not directly discussed in Blink, though, at least not in the parts of it that I have yet read, but there is more to say here about it.  I'll just save it for later once I have finished reading the book, as this post is long enough.  Look for a "five years ago today" post from my last-until-this-month visit to the Bogalusa line.
Also, the issue of ending prohibition of marijuana has been in the news plenty lately, and I eventually hope to write about it here too.  This is an issue on which my position has changed over time, but understand that it has almost nothing to do with marijuana and almost everything to do with personal freedom.  I may not think that it is a good idea for you to eat at McDonald's every day, but I certainly think that it is wrong – downright immoral – to imprison you for your own personal choices.  Again, I hope to write more about this later.
'Twas 10 years ago right now, this very last week in January, that I was in Washington, DC, for a week, an experience that changed my life in so many ways.  I need to write more about this too, and I also need to reread Confucius Lives Next Door, a book that greatly influenced me and how I perceived experiences far from home.  So much of what I write now has been influenced by my reading of that book more than a decade ago.
Oh, well, this is plenty enough for now!  I hope to hear from you in the comments section.
Merci,
Jimbaux