So, y'all liked those 2006 northern-central Texas pictures?  Well, I did too, and it made me miss being in places like that.  Tonight, I'll take you back even further, to the latter half of 2005 to the very beginning of my DSLR camera days, and we're going to go across the length of the "Lower 48" US map here.  I hope that you enjoy this different look back at different times and places, but please be ready for a big influx of content here on Jimbaux's Journal this weekend with the first two days of Jimbaux's 2012 road trip.  I'm probably only going to have time this year to publish the first two days of the trip.  If my back heals quickly, I may make some significant travels in 2013 before you see any more than the first two days of the 2012 travels.
Wow, I just learned of the death of the Shadow Warrior, my erstwhile New Orleans railroad enthusiast friend.  Both somewhat ornery types (hey, I can admit it), we hadn't really been in communication in nearly five years (which is also about the last time I went to any formal gathering of railroad enthusiasts), but I'm grateful to have known him, as it was 10 years ago last month that he introduced me to Rich Mountain.  I learned plenty from knowing him, and his legacy lives on not only in my work that I share here, but also in the many images and stories that he left, as well as the help he gave on KCS's Holiday Express train.
Wow, and here I am about to post some images this weekend taken one year ago on my trip, a trip where I visited placed to which Shawn introduced me.  Danebster was right; this is a real "kick in the gut."  I can only imagine how sad his mother is now.  Shawn introduced me to more than just Rich Mountain and many places I now frequently photograph and visit in New Orleans.  He (and MidSouth1069) introduced me to radio scanning, evidence of which you can see in most postings here.
Damn, I can hardly write right now, and here I am about to make a virtual trip way back to 2005 with this post.  Even though we hadn't talked in a few years (a situation that wasn't unique for either of us, and, yes, at least part of it was my own inability to be always be a good friend), this is really heavy.  The recent and ongoing situation with my back has been humbling enough, for better and for worse, as I was just discussing this with my head compañero who called me on the telephone this evening, and now this has happened.  Why is it that only upon his death do I think about the effect that he has had on me? or is it only now that I'm feeling such gratitude for it?  Have I been too proud?  I guess this is a normal human emotional experience, like when my grandmother died in the fall.  I still think about her every day.
I guess we all need a good humbling once in awhile, and perhaps a little bit more frequently than once in awhile.
Life Goes On, But Only For So Long
I guess I'll have more to say – or keep to myself – about this later.  I just need to process it.
Here, I present to you the very first digital SLR picture that I took, right after my first Canon Rebel arrived via UPS at the beginning of July 2005.  Wow, when I went digital, I got advice from Shawn, who had recently started shooting Canon DSLR.  Anyway, after taking one self-portrait in the bathroom mirror, I proceeded trackside to see what I could find, and I took my first-ever DSLR train picture – and my second-ever DSLR picture – of the westbound Chip Local!  How appropriate is that?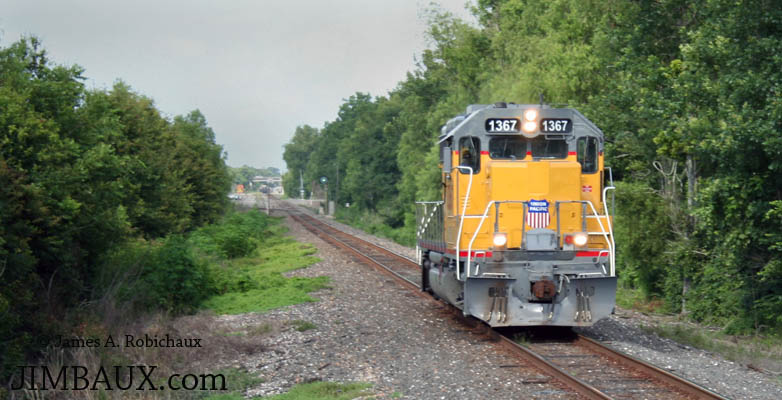 Actually, back then, Chip wasn't really significant to me.  Like many things, like my homeland, I took him for granted.  Only being away from the area for six months two years ago made me really appreciate what I have here like I never had before, and, wow, I guess that's even more true with the big news tonight.
It took me awhile to catch on to digital photography, perhaps a couple of years.  Here's the unprocessed and raw version of the above image, the only thing done to it is resizing it to match the dimensions of the above-presented image.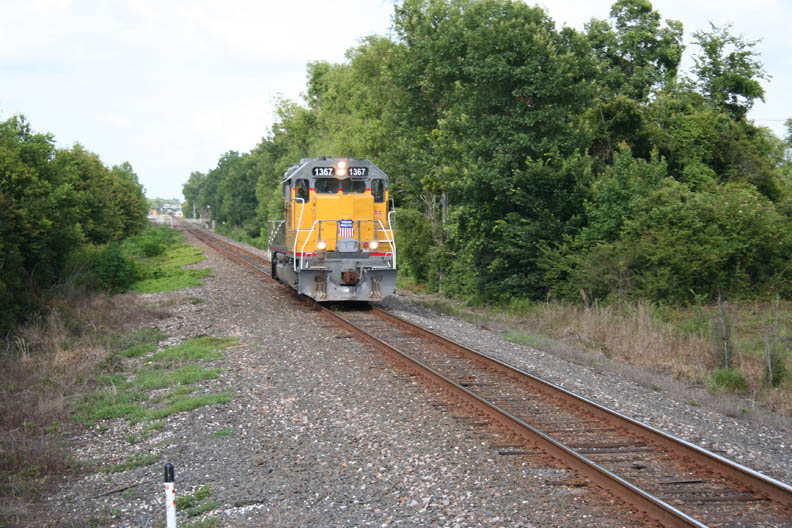 Yeah, I learned over time to be more diligent with my composition, but I still go a little bit wider than I need to go so that I can crop out anything that's not right, especially if I need to rotate things.
Two weeks later, I got this image of a passenger waiting for a very late eastbound Sunset Limited in Schriever, the last stop before New Orleans.
Yes, such was life on the Sunset Limited; the schedule has been changed at least twice since then.
Actually, even though I took this picture, and even though I do remember taking this picture nearly eight years ago, I had to do a bit of head-scratching as I dug it out of the folder in preparation for this post.  I was wondering why someone would be waiting to board the eastbound Sunset Limited in Schriever, since it's the last stop before the train ends in New Orleans, 55 miles to the east, but then I remembered that this picture was taken less than two months before Hurricane Katrina, and that prior to that, the Sunset Limited went to Florida.
I could launch into a long explanation of Jimbaux's plan for High-Speed-Rail in the United States of America, but I don't have the time now, and, given the news of the evening, don't have the inclination either.  I processed these shots yesterday to put into this post tonight, not at all knowing the news that would overshadow and influence the narrative.
One week later, one week after the above image was taken, we are very far away from Schriever, very far away from Louisiana.  We're still in the United States, but Canada is in the background of this photo.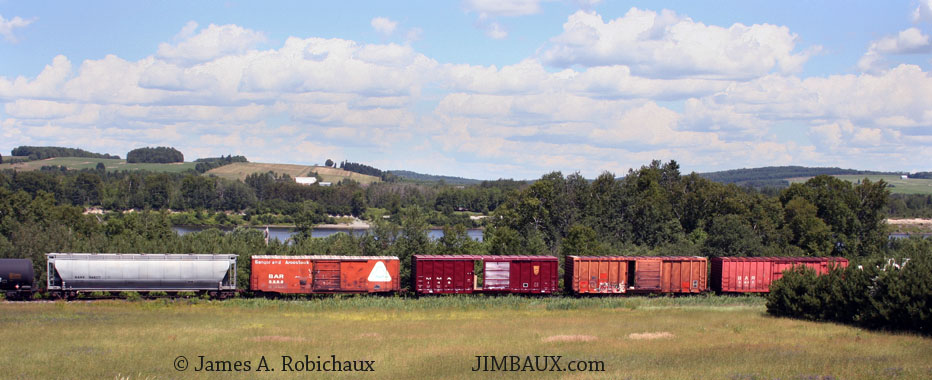 Yes, we're in Maine on the Montreal, Maine & Atlantic Railway, and the St. John River here forms the border between the USA and Canada.  We're looking at a westbound MMA train east of Madawaska, Maine, and Edmunston, New Brunswick, where I would spend this night.
How about that Bangor & Aroostok boxcar?  I think that this line might actually be inactive now.  Five years later, I would get some shots on the MM&A in Quebec.
I started a new job in the New Orleans area not long after that picture was taken, just in time for Hurricane Katrina to strike and upend the worlds of many of us.  Shortly after the New Orleans airport reopened in late September, I flew out on a badly-needed escape from the madness.  I flew to California, where I was hosted by The Sky King.  He was a great host, and he took me to many places, including here.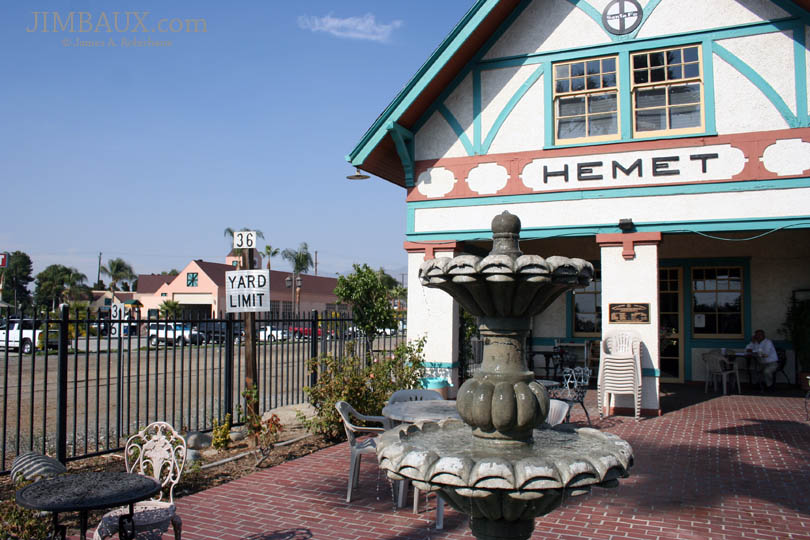 Yes, that's the old Santa Fe depot at Hemet, California.  The Golden State is somewhat enigmatic to me.  Maybe it's like that to many people.  I don't know.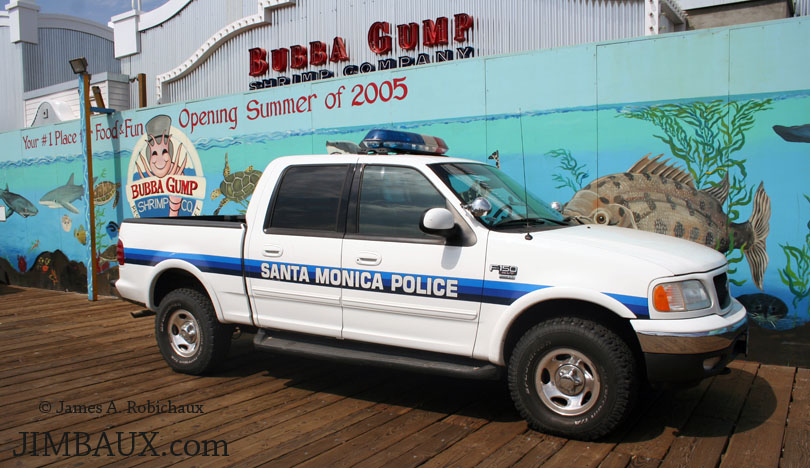 We then went to Cajón Pass, but we checked out San Bernardino too.  Here's the Metrolink.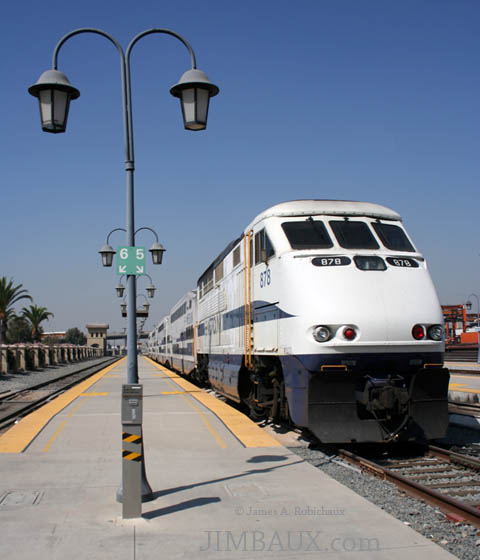 You know, since I'm in southern California, I get to check out some of the places of the heartland of the beloved railroad of my youth, the Southern Pacific.  I grew up along branchlines on its eastern extremity, but now I'm in its home state, and I may get fortunate to see some SP power still roaming the now-UP-owned rails.  So, The Sky King took me to West Colton, where I could observe the action.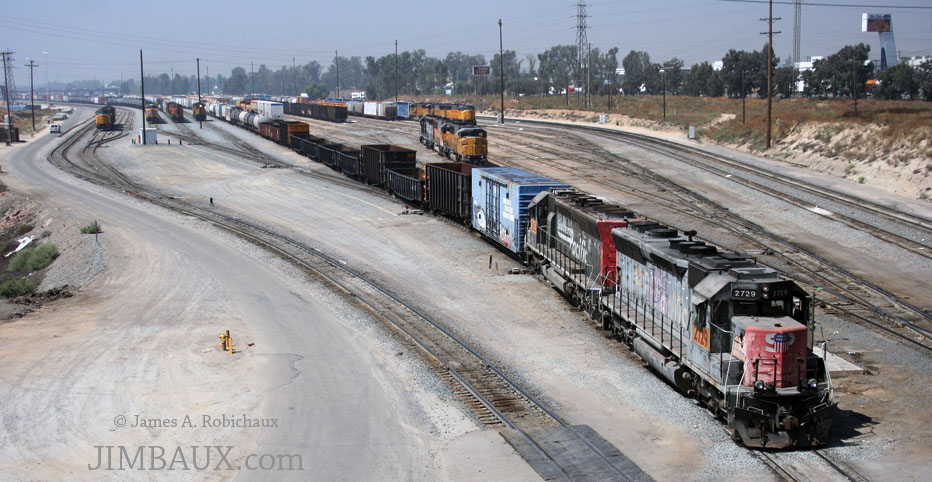 Ewww, yuck!  Oh, those dirty locomotives of my youth seem so clean now!  These particular paint jobs are not worth preserving.  Please sandblast these things and give them a coat of armour yellow and be done with it!
Actually, I like UP now much better than I did back then.  It helps that not only are the locomotives generally cleaner today but that the railroad itself is run quite well, it seems.
Here's The Sky King's young pet clamoring for attention.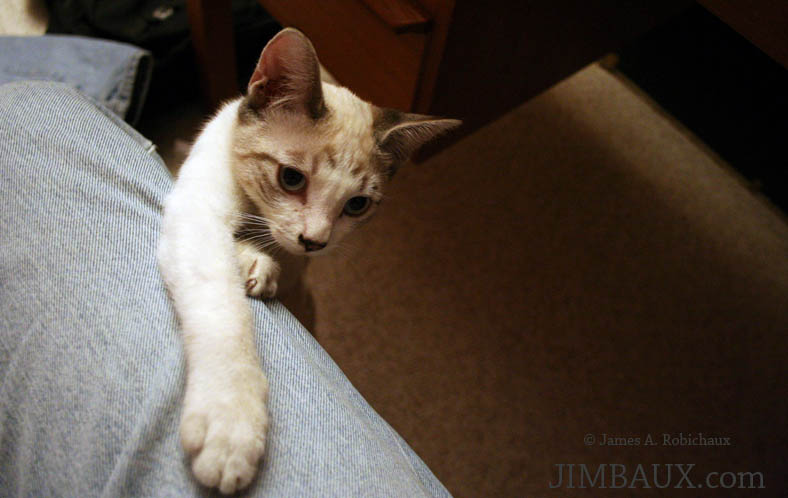 Well, that's nice.  Oh, and, remember, caption information for all images can be found in the filenames of each image, which can be found by moving your cursor over the picture.
Back home and back to work a month later, I'm in the Baton Rouge area, and I see UP's River Job out of Livonia climbing the Mississippi River bridge on its way toward CN's North Baton Rouge Yard to do interchange there.

Well, even in 2005, UP had some clean power on this job, and I don't think that you'll see solid SD40-2s on this job anymore.
That's the end of this trip back into the middle of last decade.  What did you think?
Miscellany
I had intended to write a bunch of miscellaneous stuff in this post, but I now just don't feel like it, for reasons that should be obvious.
"Still Alive"?
Yeah, wow, I just looked back at the headline I made for this post and how eerily foreshadowing that it was.  I made the headline and wrote the complete first paragraph before reading a message on one of the forums about Shawn's passing.  The headline was meant to reflect my own situation with my spine, but I guess it has taken on new meaning.  Shawn was known as a good photographer, and his images are still here.  I, too, hope that my images outlast me.
Anyway, I've just posted a shot I took of Shawn doing his thing on Rich Mountain.  Thanks, Shawn.
E-mail, Please, Not Facebook
Many readers lately have been writing to me.  That's cool, but many of them have been using Facebook to do it, which I don't particularly like.  Writing an e-mail to me at AskJimbaux "at" Gmail.com is a much better way, simply because to reply to you, I don't have to type in some little bitty box on a site that I cannot and do not access as often as I access e-mail.
And The Grumpster Says . . .
Grumpy, too, talks about preserving his images for the ages after his own demise in his latest post, but what I really like from that post is his two pictures and his description of the event with someone damaging his truck and his commentary on it!  Thoughts?
More To Come
Well, I've done plenty of foreshadowing of what is to come this weekend.  So, stay tuned, and, remember, if I've ever pissed off any of you, it wasn't my intention.  I hope that you are well.  Remember to let go and live and love.  Thank you.
Jimbaux