No, there aren't 2,006 pictures in this post.  There are only five.  They were just all taken in the year 2006, June 2006 to be specific, and all on a trip to Texas and northern Louisiana.  Texas has been on my mind plenty lately, especially northeastern Texas, though plenty has been on my mind lately, including what my future will be like as dictated by conditions in my lumbar region.  I really don't feel like talking much more about that right now, though.  I've had to think about it enough, constantly, really, and these pictures are a little diversion from that.
We start in Justin, Texas, north of Fort Worth, and just north of BNSF's Alliance Yard, from which this train is emerging onto the former Santa Fe route into Oklahoma and Kansas from Texas.

Yes, those two hopper cars behind the power are on flatcars, and, yes, those are automobile frames behind them.  My homie and I proceeded to chase this thing north a ways and eventually intercepted some nice southbounds, but, in the meantime, I shot a few pictures from the passenger side, including this view of some neat old rolling stock.

How about that?  This is the only time I recall ever shooting a Frisco car (even though it is lettered for BN), and that's not even true, since I don't even remember seeing this.
Nearly an hour later, after we had shot at least one more southbound, and after getting some nice "oncoming" shots of this train with these new Ferromex SD70ACes apparently in the process of being delivered to their home rails (perhaps via Eagle Pass), I got this going-away view of the head end of the H-TULTPL (High Priority Manifest – Tulsa, Oklahoma, to Temple, Texas) near Krum.
That was fun.
The next day, we were out on the Wichita Falls Sub, the first district of the old Fort Worth & Denver Railroad, a line that I find to be fascinating beyond the parts that I was able to visit in 2006 (or any time since 2001, unfortunately.)  Here's an empty coal train heading northwest, seen here some twenty-odd miles into the subdivision on its long journey back to the Jacobs Ranch Mine in Wyoming.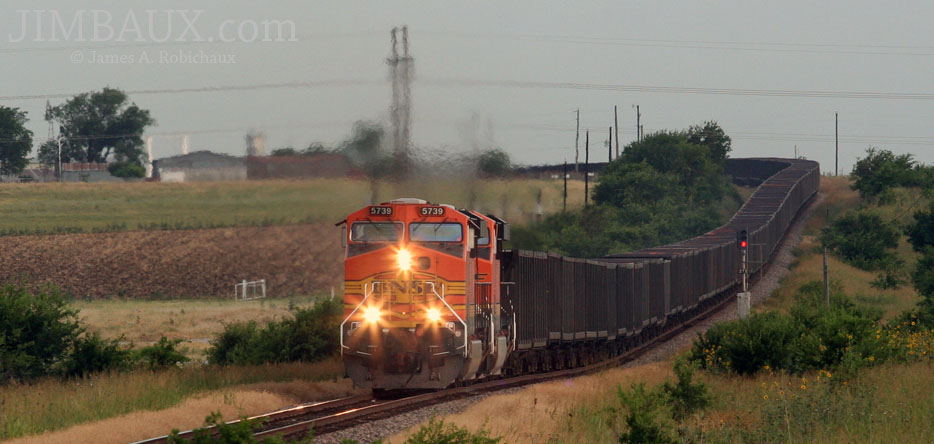 Yep, we're really not in southern Louisiana anymore, but, soon, we'll be back in northern Louisiana where we'll see plenty of Kansas City Southern Railway action, including this view in Shreveport yard as part of a guided tour.

Yeah, check out those Gateway Western units.  I'd see plenty of them on this 2006 trip.  In any case, the above picture is a preview of things to come, as this Saturday I will be publishing Day 1 of my March-April-2012 trip up the KCS corridor and the Missouri Valley.  Stay tuned, as there will be plenty of interesting stuff to see!
That's really all that I have to say for now.  I know that there are some recent incidents of court cases and arrests involving railroad photography, but right now, I don't have the stomach – well, actually, the spine – to comment on them or concern myself much with them.  In any case, I hope that all of you are well, or as well as you can be.
Merci,
Jimbaux