[Jimbaux should fight the good fight every moment, every minute, every day.]
It's Your Only Way
Isn't that song awesome?
For those of you who have come here only for my Presidential election predictions, you can skip down until you find the appropriate subheadline.
Getting Back To The NOGC, Finally
Schedules of work, work, work (mentioned thrice intentionally), life, class, school, and such have really altered my schedule from what it was like prior to Thanksgiving, meaning that it wasn't until Wednesday 01 February 2012, that I got my first pictures on the NOGC since publishing the "Terrorism" story that generated so much feedback and discussion, a topic that we really don't need to revisit now, even as my publishing of some military train pictures apparently set off another discussion about freedom, fear, and photography.
Anyway, one of my regrets is that I didn't sufficiently photograph the group of GP38-3s that are now in NOGC paint, colors, and reporting marks back when they were still wearing their yellow as HLCX lease units.  To be sure, they are still owned by Helm, but they're on long-term lease to the NOGC and are wearing such paint and reporting marks because of this.
No Longer Hating Yellow?
Back a decade ago, especially after it swallowed my beloved Southern Pacific Railway and didn't keep its own increasingly ubiquitous locomotives clean, I despised the Union Pacific Railway, but, in recent years, both of us have grown up!  We've grown up so much that I actually like seeing armour yellow, even on lease locomotives!  That's why I actually miss the NOGC locomotives painted yellow; even the old Katy switchers are now painted in NOGC paint, but I really miss them from when they were in their yellow paint.
So, imagine my delight toward the end of January when I saw yet another lease GP38 variety on the property.  It would be a few days before I got any shots of it, and it would be in the rain as it was parked at Gouldsboro Yard.

The GP38-3s that are in NOGC paint now didn't have that "HLCX" thing on the nose, and it reminds me of those KCS locomotives that were in the UP yellow for awhile.  By the way, what ever happened to those things?  Are any of them still on KCS's roster?
Do you see that the NOLR 1229 is behind that GP38-3 moving with the train in the background?  I like that old locomotive.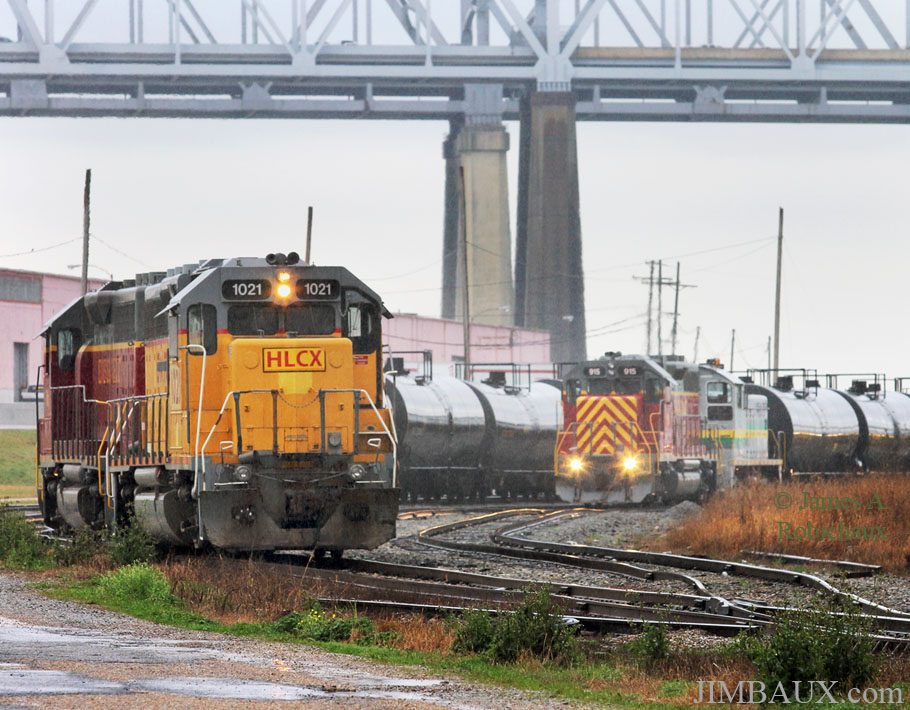 I didn't know it at the time I took the above pictures on February 1, but my days of being able to photograph the NOGC in the afternoons with ease were numbered.  As far as I know, the railroad doesn't do much on weekends.  I've been prompted to make some changes since the end of January that has resulted in this scenario, hence the choice of today's song.  Yes, I will be fighting the good fight, just in ways that I have not fought it in a long time, partly inspired by Rie's life and death.  I still have some NOGC pictures in the queue from as far back as last November, not to mention stuff from 2005 until 2010, but I won't be getting many more shots on this neat little railroad for awhile.  I hope that you have enjoyed what you've seen here of it (and keep in mind that most of what you've just read was written in March and that things change!)
Meanwhile, On The NS Back Belt . . .
Seventy-one minutes after taking the previous picture, it's damned-near-dark, and I'm in New Orleans on the Norfolk Southern Railway's Back Belt line doing a shot that I have not done in a long time and that if I cared about my own safety and life should never do again.  Here's a good way to get a few inches shaved off of your rear end.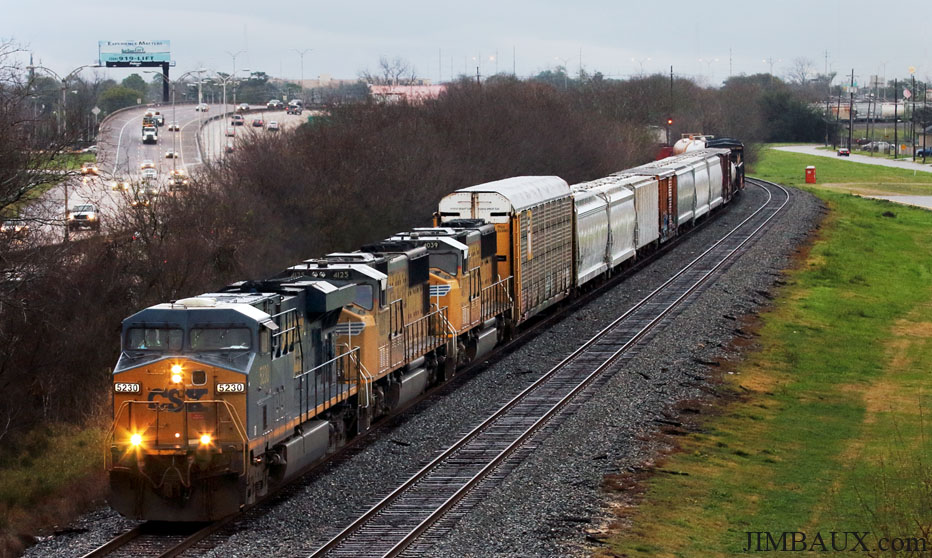 Yes, that's the CSX Railway's Q605 out of Waycross, Georgia, on its way to interchange with the Union Pacific Railway where it will become train MCXLI on its way to Livonia, UP's major yard in southern Louisiana.
This shot had to be rescued out of the muddy darkness that it was, taken so late in the afternoon as it was.  Thank goodness for photo editing programs, or this shot would not be presentable.
Presidential Election Predictions
So, finally, months after I wrote the above text and a more than a year after I had an epiphany on the Presidential election, I'm finally writing and posting this.  I'm sorry that it has taken so long, but I wanted to get it out before the 2012 election, especially if the bizarre and unique scenario that I prophesize eventuates in reality!  You will shortly, if you have the patience to read onward, see why I felt the need to qualify the election as the "2012 election" in the previous sentence.
You Heard It Here First
Understand, please, that I am predicting something a bit less cut-and-dry than simply who will win on Tuesday 6 November 2012, even though that is part of it.  Please omit from your brain the idea that all that I'll predict is whether Mitt Romney or Barack Obama will win on Tuesday.  The prediction that I am publicizing here is something that I conceived in August 2011, more than a year ago, and I've been meaning to share it for a long time.
First, Though, I Take The Easy Way Out
What I am about to predict is something that I have not seen or heard anywhere else.  If anyone else has thought of it, he apparently didn't really publicize it.  However, although, I think that the bizarre scenario that I am about to predict has a good chance of happening, I think that it has a less than 50% chance of happening.  So, before I tell you the odd prediction, let me take the easy way out and say that if I had to bet my next meager paycheck on it, I'd say that Obama gets re-elected in 2012, but, no, wait!  Don't stop reading yet!
Obama 2016 – Only Grover Cleveland Has Done It Before
My Massachusetts friend Ann very astutely figured out my prediction back in February in the comments section of a Sunday Sermon, as you can see.
Yes, that's right, kiddies; I am predicting that Romney will squeak out a victory this week and that Obama will be "re-elected" by defeating Romney in his bid for re-election in 2016, thus making Barack Obama and Grover Cleveland the only two Presidents in US history to serve non-consecutive terms.
Remember, once again, that you heard it here first, okay?
There's one very simple but very important question that you need to ask me, though, now that I've told you what I have been predicting since last August.
Why?
Yes, why would I predict that Obama would be elected in 2016 when no President in more than a century has served non-consecutive terms?  There are several reasons, and this is the first time in since FDR that we have the confluence of all of these factors at once.
The Stars Have Aligned
As I just said, several factors would come together to make Obama only the second President to serve non-consecutive terms.  I'll describe two of those factors here.  Let's start with the most important one and work our way to the second most important.
The Economy, Stupid
Before you make assumptions about my intentions and my beliefs (which is a big theme of Jimbaux's Journal, as you should know), understand, please, that this has everything to do with voters' perceptions about the effect that a US President has on the economy and nothing to do with the reality of that effect.  I could tell you that I'm not here to argue about what Obama has or has not done for the economy, and I could tell you that that would be irrelevant anyway because the President has a far smaller effect on the economy than so many angry voters (in any election year) think, but I can best illustrate this point to you by telling you that back in September 2008 when the financial markets crashed causing the economy to crash right during a Presidential election campaign, I said to myself, "I feel sorry for whoever wins this election, because, regardless of who wins, things will still be bad four years from now, and whoever is President will rightly or wrongly get blamed for it."  So, although I said that I first thought of the Obama 2016 scenario in August 2011, the truth is that its genesis goes back to September 2008.
My friends, most of you, my intelligent readers, know that it wouldn't have mattered had Hillary Clinton or John McCain or Mike Huckabee or even Mitt Romney won four years ago.  The economy would still be basically like it is now, but most people don't seem to know that, and most people seem to be simple-minded and shallow, correlating economic conditions with whoever the leader is at the time, giving him entirely too much credit.  ("Credit" here also means "blame" since even if you "blame" the President for the bad economy, you are still giving him too much "credit" by suggesting that he has that much power at all.)
Yes, the President does have some effect over the economy in very indirect ways, picking leaders of various departments and regulatory agencies based on their philosophies, but he doesn't decide what you purchase at the store, how much your employer pays you, and, most importantly, he doesn't decide demand for the products and services made by your employer!  (Well, one exception to that is that he and Congress – and not without Congress – can cut the military budget, meaning fewer jobs for defense contractors.  So, there are exceptions.)  The President  also does not decide the price of housing (the reason for the current recession), and to whatever degree our government did indeed affect the price of housing before the recession – and I believe that it did do so – by doing so, it exhausted any capacity that it had to affect those prices now.  It's too late.
It would be easy for me to criticize House Speaker John Boehner and President Obama for arguing with each other publicly about who is doing more damage to the economy, but how can I really criticize them when they are both facing unrealistic demands from angry voters (and remember that when emotion is high, logic is low, even for people who are normally logical) that they "do something" about the economy?  I don't really have plenty of hatred for politicians because they are just a reflection of the people who put them there, and the media fan the flames of anger about the President's effect on the economy because it helps them sell more advertisements for penis pills.  Much of what you see on CNN, FoxNews, and MSNBC is just a side show.
The Great Recession that started in 2008 is the worst since the Great Depression, and for the purposes of this discussion, that means that it is the only recession since the 1930s that is lasting longer than the length of one Presidential term.  Furthermore, because it all goes back to housing prices, things won't be rosy by 2016 either!  Yes, regardless of who is President, the economy will be better by 2016, but not "enough" better for most people, and that's why I think that whoever wins in 2012 would not be able to win in 2016 (if eligible.)
So, many of those people who voted for "hope and change" in 2008 and who have been disappointed by Obama since then and will vote Romney this week will be sick of Romney in four years and miss Obama and will vote him back into office in 2016.
Now, I'll give you a reason why a President serving non-consecutive terms has not happened since Grover Cleveland, which takes us to our second reason why I think it could well happen.
Compare – Or, More Specifically, Contrast – Obama to Recent One-Term Presidents
Let's go in reverse chronological order to see why other one-term Presidents could not have come back for a second term.  George H. W. Bush would simply have been too old in 1996.  Do you see where this is going?  Obama will still be young enough in 2016, unlike any other one-term president four years after the end of his term in the modern era.  Jimmy Carter may have been too old to run in 1984, but Reagan was really popular because of (among other things) the economy.  Obama  does not have that advantage now, and Romney will not have it in 2016.  If the economy is good, people won't so easily question you, regardless of what else you do.  I don't think that I need to mention Nixon, and LBJ died not long after his presidency ended.
So, do you see what I mean?  We have not since the Great Depression had a recession nearly this long, and the only two Presidents we've had who are as young as Obama – Bill Clinton and George W. Bush – won re-election despite whatever unpopularity they had partly due to the fact that they didn't have a crumbling economy and housing market.  It's a bit shallow, but it's human nature to conclude without deeper examination that a struggling economy – which you and I know is struggling due to decades of policy before it as well as technological changes, increasing free trade (which should theoretically balance out eventually, even if not in your lifetime), and your own overspending – must therefore be the creation of whatever leader is in charge at that time, as if whatever effects he has can all be felt immediately.
And There You Have It
So, that's it, amigos.  I've predicted that Obama will be the first President in the modern era to serve non-consecutive terms, and I've told you why.  I'm not so much saying that it will happen so much as I am saying that it has a better chance of happening than any time in 100 years.  Remember that you heard it here first, and if you think I'm on to something, show a friend.  If you think I'm full of fluff, use the comments section!
All for now . . .
Jimbaux