[Jimbaux is smiling, as he has been visited by angels.]
She Died
I couldn't believe it.  She died.  She was dead.  Someone who touched so many, including me, with her passion and conviction, with her apparent compassion, was gone.  Profound sadness overcame me.  Many others were were overcome with sadness too, so many who were inspired by her, people not only in different parts of the country but in different parts of the world as well.
A Greek Tragedy
Such a vibrant young woman she was, who had not only accomplished so much but who had such a promising future, and yet now she was gone.  How could this happen?
I don't remember how I received the news of her passing.  It may have been through my father, but I'm just not sure, and I suppose it really doesn't matter.  In any case, I was going to the funeral, an experience that I knew would be difficult, not just for me.  Worse, I could not bear the idea of attending her burial.  The thought of the image of her being lowered into the clay for eternity rocked me.  I could not at all bear it.
"Eternally Grateful"
I knew that the funeral would be difficult, but there were reasons I wanted to attend.  I could finally tell her parents, her family, what a positive effect that she had on me, how she forced me to finally face the largely theretofore hidden darkness inside of me, and how, on a very much related subject, she forced me to finally face a family demon that struck such a deep and paralyzing fear in me that I was a selective mute on the subject, a demon that poisoned me with toxic guilt and low self-worth.
I am "eternally grateful" that she came into my life, much like her parents were "eternally grateful" for what my father had done for their family, because she forced me to finally face the terrible darkness inside of me and make positive change.  In a sense, then, she paid it forward.
But that wasn't enough, not for me.  No, I wanted to tell her parents more than just that.  I wanted to also tell them that the extremely deep – far deeper than I realized because I had never really talked about it or dealt with it – fear regarding this family demon and my destructive desire to protect myself from being 'found out' about it was the real reason why I lashed out at her, that I was so sorry that I did it, that I know why I did it and other stupid things, that it was really a once-in-a-lifetime event for me, that I could never act like that to anyone again now that I finally faced myself, how that very rapid series of events was truly a watershed moment in my life.
And then I realized how selfish it would be of me to want to apologize like that, how selfish it would be to go beyond merely expressing my eternal gratitude for the positive changes that she helped me to make, to not just leave it at that.  Let it be.
No, I would not tell them all of that about what I did.  I'd only tell them of my eternal gratitude, as we said goodbye to her for an eternity.
The Funeral
Much of what happened at the funeral is now just a blur to me.  I remember her parents, crying, her sisters, crying, her friends and friends of her family, crying, myself, crying.  I remember placing my hand on the casket, wishing her peace, telling her I missed her, thanking her.  As we will soon learn, though, there was more that I needed to tell her.
And, now, it was all over.  She was to be no more.  She was to live onward only in the memories and the hearts of the people she had inspired, like me, like so many others.
Some kind of way, I did not make it to the burial.  I just couldn't do it.  I was an emotional wreck, and not for the first time, either.  I couldn't do it.  I could not watch there as her parents and sisters weeped, themselves overcome by profound sadness and anguish, as a vivacious person whose life ended too soon was slowly lowered into the ground forever.  The images strike so much sadness in me that I weep now as I type about it several days later.
I just remember that dark casket, and the silver lining around its sharp edges.  I remember placing my hand on that casket and its silver lining.  I remember the profound sense of sadness I felt, but then I also remembered it being overtaken by a comforting sense of gratitude.  I remember the sounds of the hymns playing, being sung, hymns that reflected this strange mixture of sadness and gratitude.  I remember wondering if I had even belonged at the burial.  Maybe I needed to go to the burial.
And then I remember darkness, nothingness.
The darkness endured only a little while.
And then, through the darkness, I heard something.
I heard the fan blowing.
And then, through the darkness, I could see the dim light radiating from the power button on my sleeping laptop to my right.
What Just Happened?
I grabbed the laptop, and powered it.  The monitor became illuminated, and it illuminated some of the darkness around me.  Then, I learned something.  It was about 03:30 Eastern Daylight Time, Thursday 16 June 2011, one week ago this morning.  Before I could forget what I had just experienced, I typed a few sentences worth of the most important details.  I wondered if the fact that I had not made it to the burial was a good thing or a bad thing.
Now What?
I could not go back to sleep, and once I realized this, I got up and started my day.  I played guitar for a little while, cooked my own breakfast for the first time in several days, and I took a badly needed shower.
I did not have any obligations until later that afternoon, even though I had plenty of work to do in the form of math homework and plenty of other things.  The morning was humid but relatively cool, as strikingly beautiful cloud formations formed the sky overhead.  The sun was rising, but through the clouds.
Two days before, when I got these pictures, I had ventured out onto the CSX's former Conrail, former Pennsylvania Railroad branch south of Bowie, Maryland, the Pope's Creek Branch.  I felt a calling to be out there again on this serene morning.  So, without a plan, which isn't really my style when foaming, that's where I went.
(This paragraph in parentheses is only for those unfamiliar with the concept of "foaming."  The rest of you can skip it.  A "foamer" is a term for a railroad enthusiast.  It actually originated as derogatory slang from railroaders who would say that railroad enthusiasts would get so excited about some old locomotive that they'd foam at the mouth.  In order to not take myself and the activities too seriously, which is often a problem for me, I now see, I use the term "foamer" and "foaming" to describe what I do by the track, but also because I don't really care for any of the other terms for such activity.  I don't much care for the word "railfan" especially when it's used as a verb, and especially when it's used as a transitive verb, but this is largely a matter of personal preference.)
Early Morning Foamed Pimp
(What, you don't like Kid Rock?)  Foaming and photography are, among many other things, a means to process what has happened and to interpret the fascinating world around all of us.  So, I decided that as daylight began to break, it was time to go foaming yet again on the Pope's Creek Branch, this time more in depth than I had yet done it, and I would start my search where the branch diverged from Amtrak's ex-PRR Northeast Corridor mainline in Bowie.
Before that, though, I had to tank up the beast with gasoline.  It's been at least a year since I enjoyed the act of filling the tank with gasoline as much as I did here, for now I was filled with the hopes of the opportunities and experiences it would bring as I was overcome with a sense of gratitude of a life well lived, a life that inspired.
I had the scanner on, and I had it tuned into both the channel for the branch as well as he EOT and HEP channels.  As I drove south down the branch, where I would soon be in places I had heretofore not been, the radio was dead quiet; there was no audial sign, nor any visual sign, of a train on the branch.  Sometimes, in life, we listen and we can't hear what we want to hear, but life does sometimes have a way of making us hear what we need to hear.
I drove southward into places heretofore unexplored, checking out almost every grade crossing along the line to scout out for shot potential as well as try to find a train.  Most of the shots were very foliated, the "tree-tunnel" type.  Is this what life is all about?
Finally, I Take Out The Camera
In many cases, I don't remember the names of whatever towns where I took the pictures on this day.  Those of you who have watched me and read my work for years might remember how detail-oriented I was about such things.  I've seen the downside of attention-to-detail in the last year, and I've learned to temper it.  Some things of which I once cared, I don't anymore.  When mixed with excessive fear, attention-to-detail, especially excessive attention-to-detail, is a toxic brew that can produce disgusting results.  I have seen it first hand, learning from my own mistakes.
As we were discussing this six months ago around Christmas, my increasingly affable Uncle Clyde, even as he was becoming a widower, said to me with a smile, "You're what the normal world refers to as 'anal retentive,'" a statement that was met with laughter by everyone present, including yours truly.  One question is whether the "re" after the apostrophe in "you're" in Uncle Clyde's statement was a contraction for are or were, because, as I buried someone who helped me face the darkness within me, I am improving, and my faults today aren't what they were back then.
So, on that note, here's a grade crossing picture from a town that I neither know nor even care to remember.  What I can tell you is that this is on the CSX's Pope's Creek branch in Prince Georges County, Maryland, but you already knew that.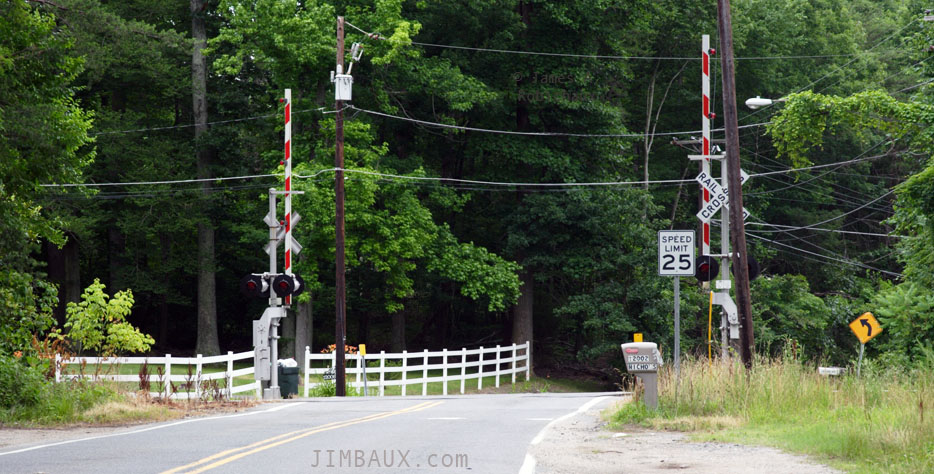 Given the memories that some of my cousins and I have of Uncle Clyde from our much younger days, and given that he has become such a mellow-but-passionate, humble, and caring man, he is proof that there is indeed hope for men in my family, and he is a continuing source of encouragement, grace, support, and love for me.
Churchill Says . . .
There's saying that is attributed to Winston Churchill that I like.  "You can always count on Americans to do the right thing, after they've tried everything else."  In that regard, I'm quintessentially American!
Here we see an empty railroad track shrouded by trees, a tale of mystery, at Duley Station Road.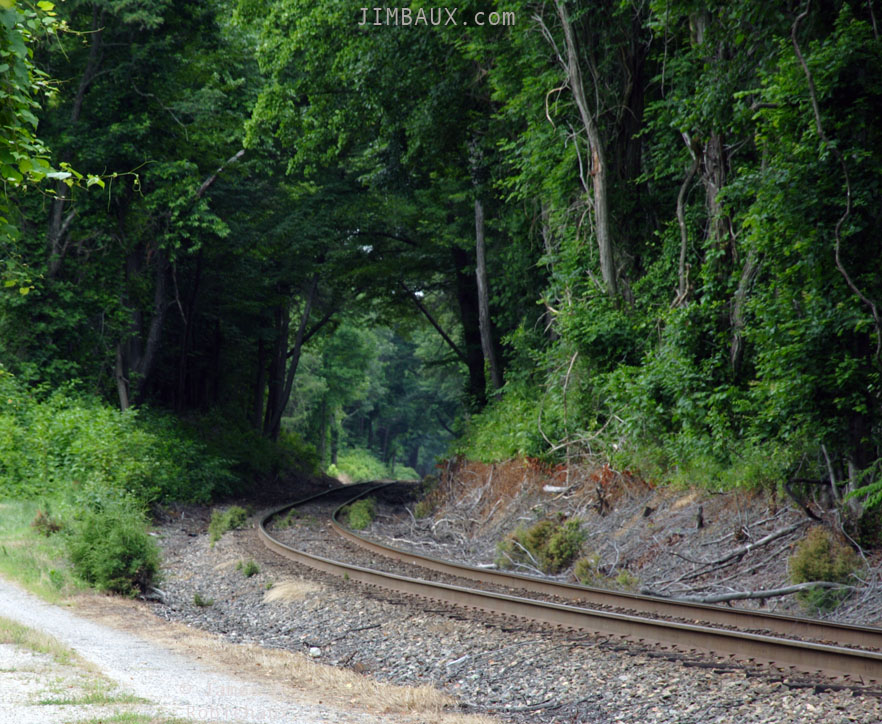 Perhaps you read my soulful piece about Uncle Clyde, the loss of his wife, and The Vietnam War that I wrote in January.
If my journey brings me back to the bayous of Louisiana, I look forward very much to fishing with Uncle Clyde, something that was impossible for the two of us to share as he was taking care of Aunt Teresa.
Everything Out Of Place Has Its Place
I am struck by the metaphors that I interpret from the below picture of a house that was on my journey.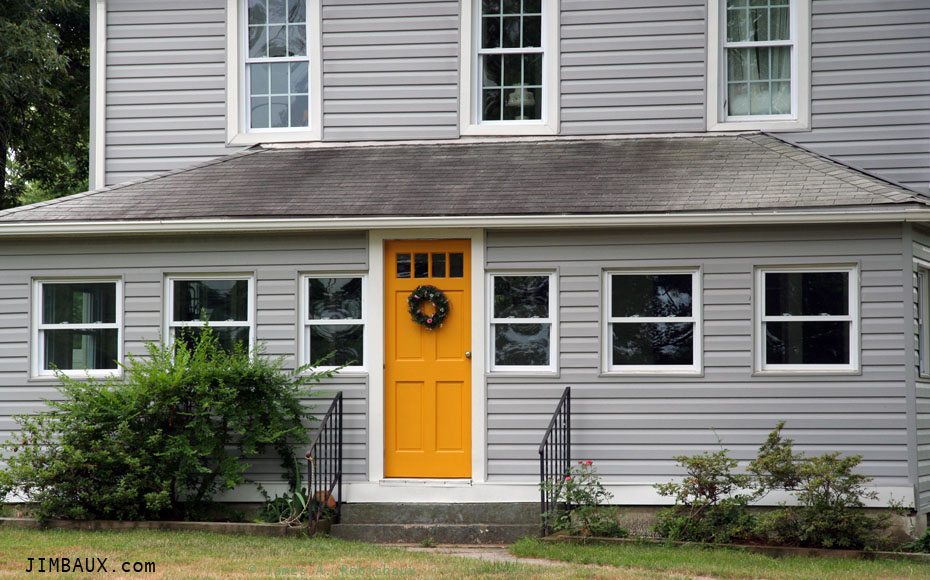 Some might say that a door that color does not belong on a house that color.  However, others might say that this is an example of making things work, of bridging the differences between people, for I have learned that love and friendship know no bounds except the ones that we build in its place, and, boy, I was surely guilty of that.  However, the guilt is not totally mine!  Guilt's only positive purpose is to teach and to affect positive change; after that, it is useless and destructive.  I'm done with it.  I bury it.
Those with the orangish door on the grey house inspire me.  They've made the combination work.  Others would quit.
Trains Come, Trains Go, Trees Grow
And life goes on.  Trees sprout, trees die, I do not lie.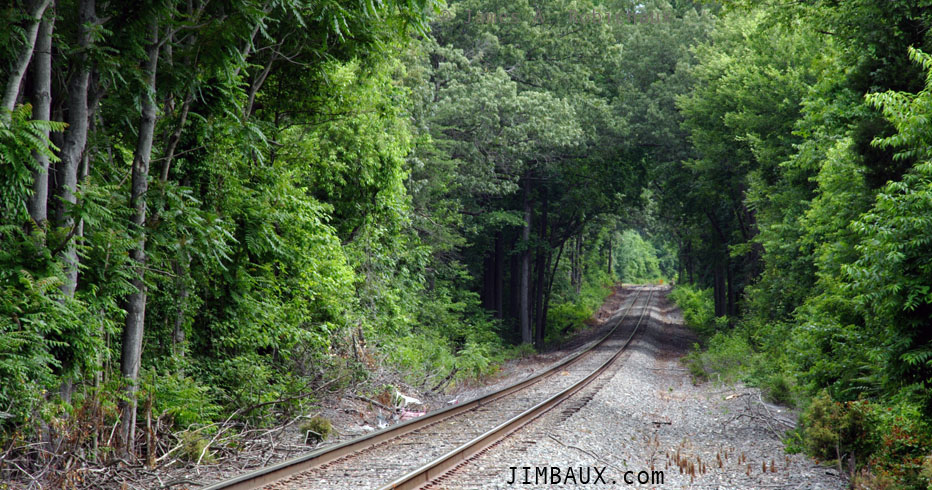 We're getting close to the town of Brandywine where there is a wye on the Pope's Creek branch where another branch branches from the branch.
Judgment And Relief At Brandywine
As I approached Brandywine, 10:00 EDT approached me.  I had been listening to NPR on the radio for the last hour or two on this adventure.  Specifically, Morning Edition was playing, and Steve Inskeep was interviewing a Jamil Ahmad who had written a book called The Wandering Falcon about tribal customs in tribal peoples in Pakistan's tribal reasons.  Here is the transcript of the interview.
As I arrived at the north leg of the wye in Brandywine, I heard Inskeep and Ahmad tell the story of how a young man and woman committed adultery, and, more significantly, how according to custom, they had to be killed.
As I was arriving at the intersection of two railroad lines, I was reminded yet again about intersections of love, life, and death, which seemed to be a theme for the day.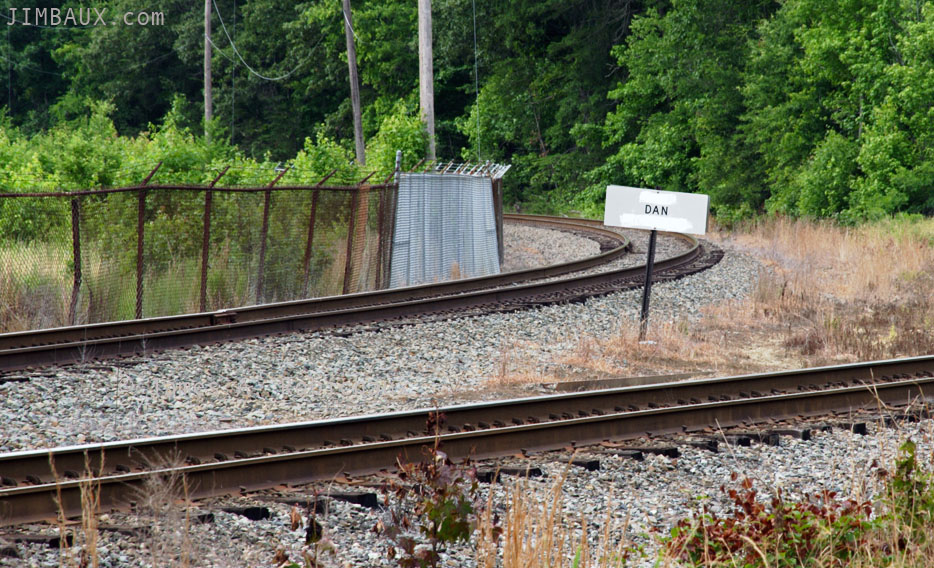 Yes, in the foreground in the above picture is the mainline (of the branch) to Pope's Creek, while in the background diverges the other branch to the southeast.
Time For Foamer Snacks
I arrived and found a grocery store by the track.  I felt like I deserved to go inside and get myself some refreshment.  I was thirsty, and needed a little break from the driving around.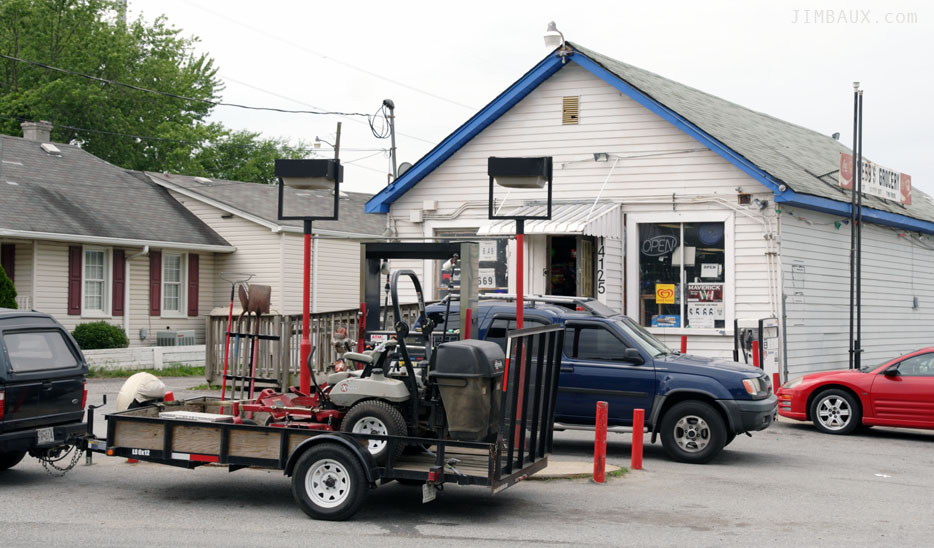 As I was inside buying my canned tea and a candy bar, the white lady behind the counter was telling some of the black male customers, who, it seemed, were regular visitors to the store, that her husband's ashes were on a coffee table in their house.  I had to replay that one in my head to make sure that I had heard it right.  Regardless, themes of the intersections of life, love, and death, were present yet again.
After that, I went to the highway crossing between the wye switches – the intersections of railroad lines – and took a few pictures.  Here's the view northward.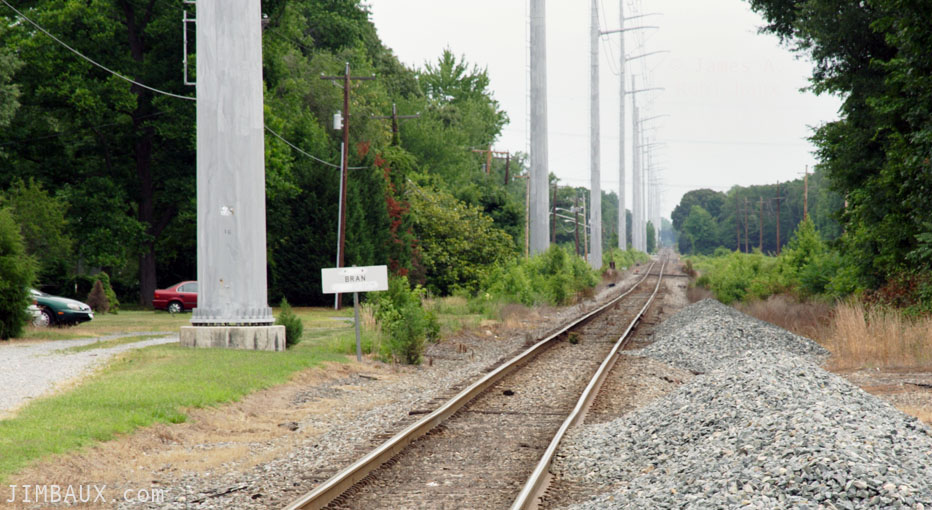 And, below, is the view southward.  I love the hogbacks on this railroad!  Oh, what I could do here if I had some long glass and a train!  Note the automobile-carrying truck at the left, as it just begins to dig its tires into the gravel.

Below, the truck crosses the south leg of the wye, and it approaches the mainline.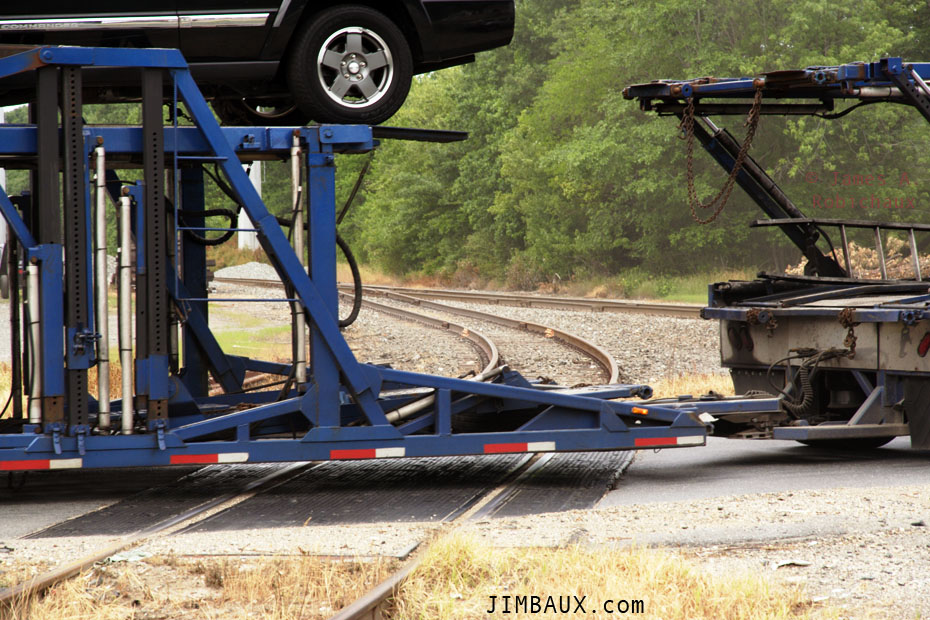 And, then, after it, some momentary peace and quiet in the same place.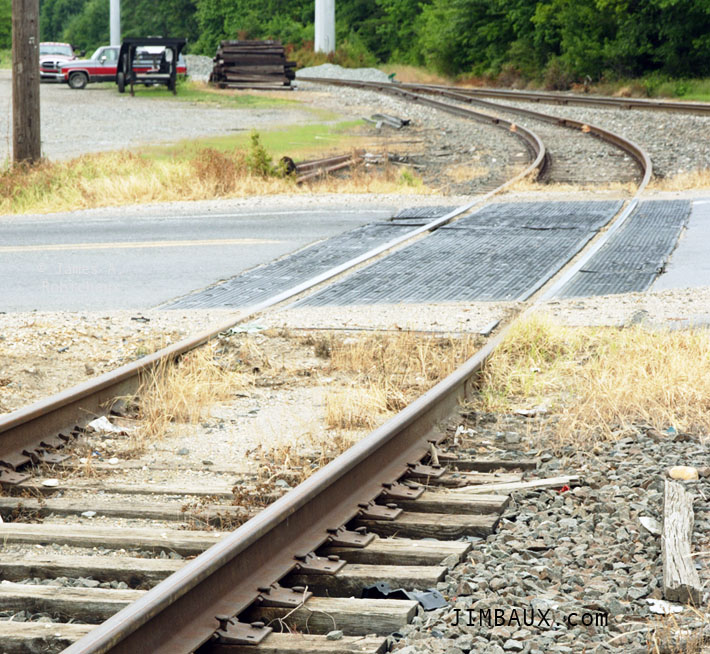 After that, I left and went a little farther southward.  Hydrated and having my fix of news and other stories, I changed the radio station from NPR to some of the rock stations.
"I Feel Like I'm Alive"
The first song I heard was "Love Hurts" by Incubus.  Really?  Is this some sort of divine joke?  I thought about changing the station, but I kept it right there, listening to the song that I first heard a little more than a year ago – which, too, is significant.  It's also when I heard "Dig" from the same album, which was the song for this significant post that I made in April.
"Love hurts, but sometimes it's a good hurt, And I feel like I'm alive."
Yes indeed.  And on this day of death and dreams, I felt more alive than I had in a very long time, if ever.
Well, listening to that song wasn't difficult.  It was followed on the radio by "Enter Sandman" of Metallica.  Really?
Waldorf and Lumber
I did not go much farther south.  I entered Charles County and found, rather by accident, the Chopp Lumber facility and saw two empty centerbeam flat cars there.  As far as I know, this is the only carload customer remaining on this line.  Not only that, but there usually isn't even a local train anymore, as the northbound empty coal trains set out and pickup these cars.
If you see any lumber cars, any centerbeam flat cars parked in Benning Yard in the Anacostia part of Washington, chances are, they are for Chopp Lumber in Waldorf.
Back At Brandywine
I arrived back in Brandywine, and a hirail truck was at the north switch of the wye.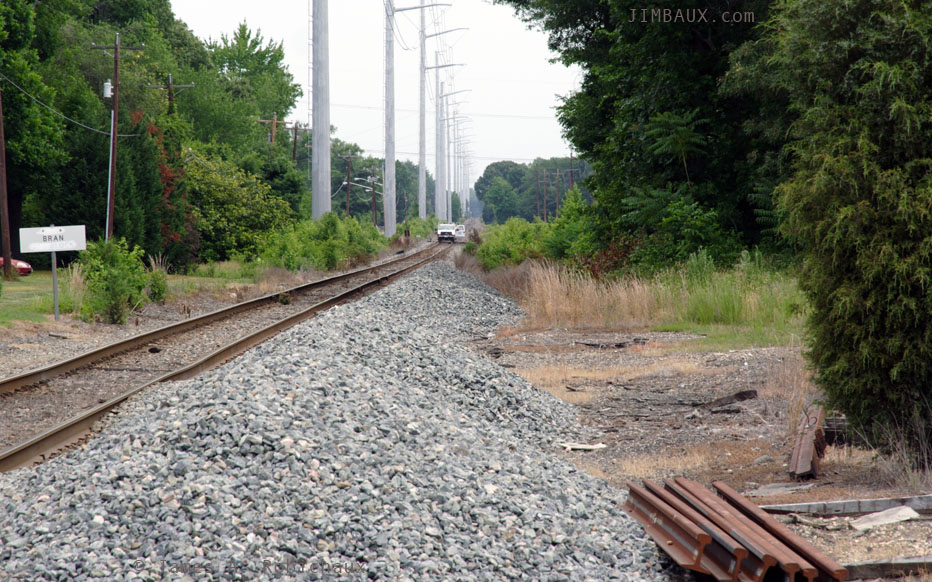 You've already seen a shot similar to the one above, but without the truck.
Sledgehammer
As I look at the below picture, I can only think of how I have, in the last year, taken a sledgehammer to the walls that surrounded me.  As I bury her, I can only smile with gratitude that she forced me to do just that.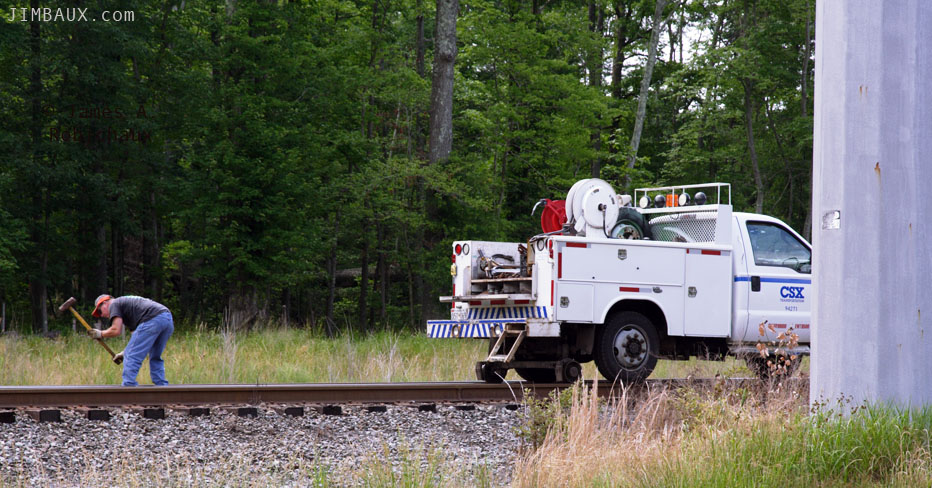 And yet what I now so clearly see is that I am far from being the only one who had walls around him.  Moreso, while mine got chipped away, the walls around her – walls to which I was blind even as I could begin to so clearly the walls around me to which I had been blind before – remained.
What is left, then, is a shell of the former self, much like this forlorn building next to the track.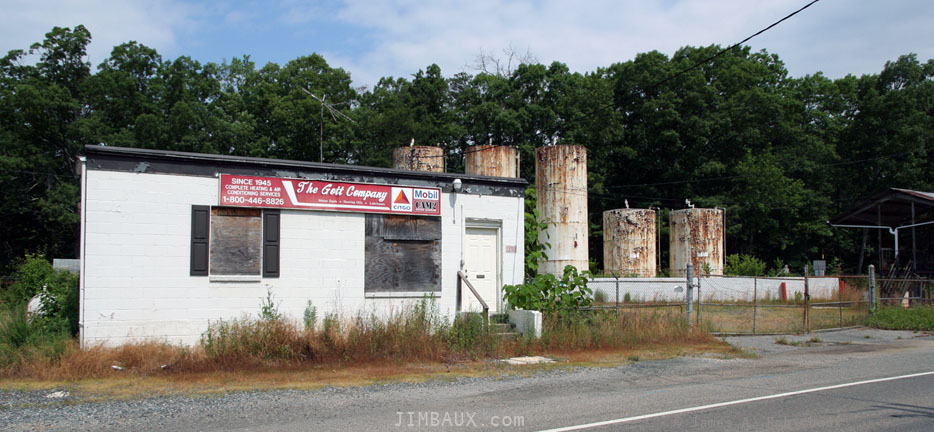 The MofW man then got back in his truck and moved south.  I followed, but only as far as back to the highway crossing in Brandywine, about 1000' to the south.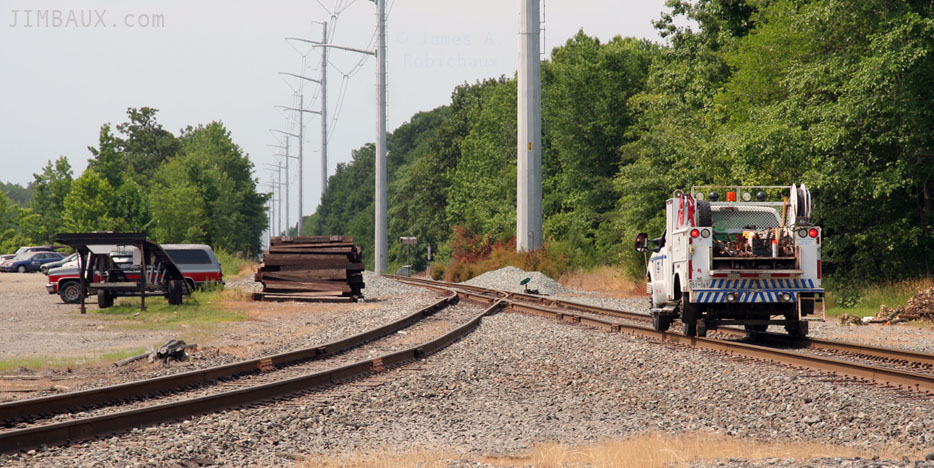 And after that brief deviation, it was time to go back north.   On a much more enormous scale, the opposite of that statement may be true, but I don't know just yet.  In the meantime, here is a curvy, hilly, tree-lined road.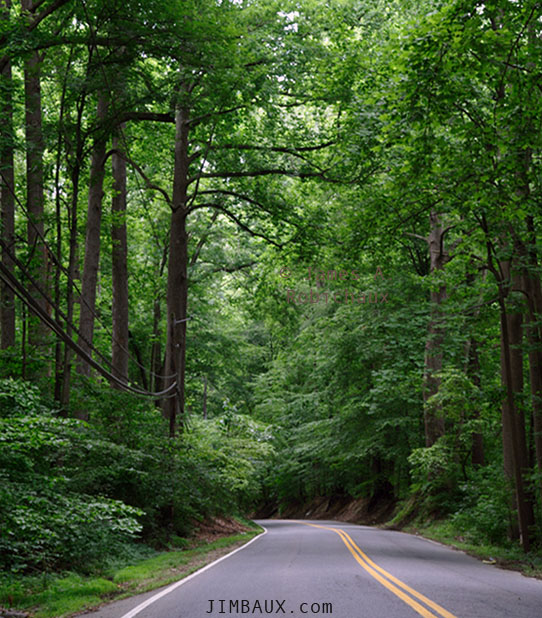 And it was time for more driving, driving back northward.  I was processing everything that was happening, and I needed to get back to the city to fulfill some of my obligations.
No Longer Unforgiven?
That's a question that may indeed be soon answered.  As I was approaching Upper Marlboro, the song "Unforgiven II" by Metallica came on the radio.  I really do like this trilogy of songs by the group.
"The door is locked now, but it's open if you're true
If you can understand the me, than I can understand the you."
Yeah.
"The door cracks open, but there's no sun shining through
Black heart scarring darker still, but there's no sun shining through"
Indeed!
"What I've felt, what I've known
Sick and tired, I stand alone
Could you be there?, 'cause I'm the one who waits for you
Or are you unforgiven too?"
Only now, in death, am I realizing the importance of that last question, and even as it relates to the self, as you shall soon see.
As I drove north on US 301 and then turned left on Leeland Road, "Black" by Pearl Jam was playing.  Dammit!  After that, the radio played "Paralyzer" by Finger Eleven.
"Well I'm not paralyzed
But, I seem to be struck by you
I want to make you move
Because you're standing still
If your body matches
What your eyes can do
You'll probably move right through
Me on my way to you"
Right.  So it was.  However, truth be told, I was indeed paralyzed; I just didn't realize it.  A family demon struck such deep fear in me that I was essentially a selective mute, which made it just a continuing, vicious cycle, which made me a ticking time bomb.
Finally, The Burial Can Begin
This was my first time ever driving on Leeland Road, but I knew that I'd be approaching the southern end of Church Road, where I had indeed been before.  However, I had only been there at night and didn't quite know what to expect.  When I got there to that intersection, I learned why it was indeed called Church Road, and this would give me the opportunity for the closure of which I was deprived by my fear of attending her burial.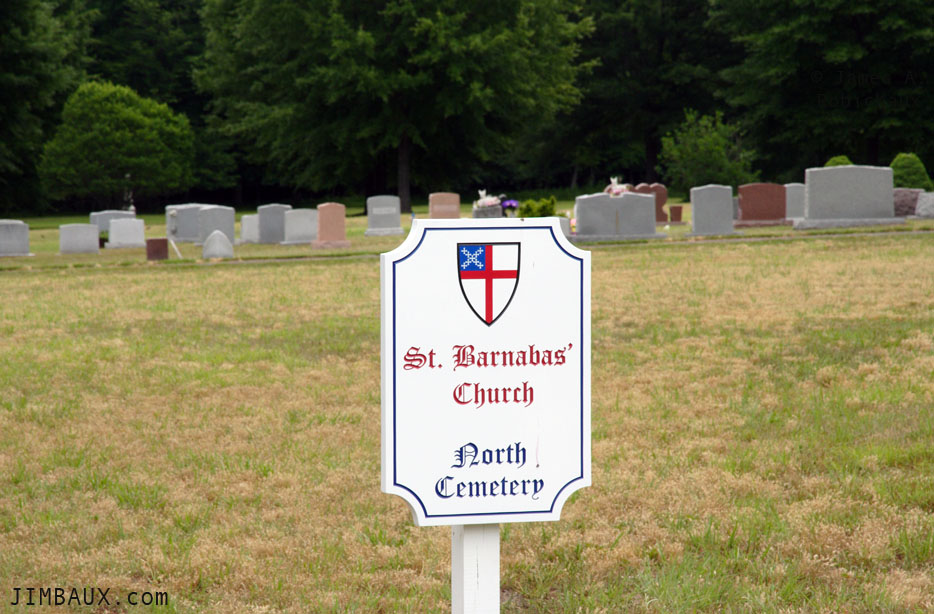 Wow.  It's even an Episcopal Cemetery.  I was awestruck.
I had to get out and take pictures, even as the Finger Eleven song was blaring from the speakers of my truck.  I supposed the dead didn't care.
I was reminded of the joke from British comedian Eddie Izzard, one of my favorite comedians, that the Church of England is more like a "hobby" than a religion.  Not only do I understand that joke more than ever before, because there's so much truth to it, but I also don't think that there's anything wrong with it!  I guess I've been conditioned in a bad way to the Catholic Church's idea of religion.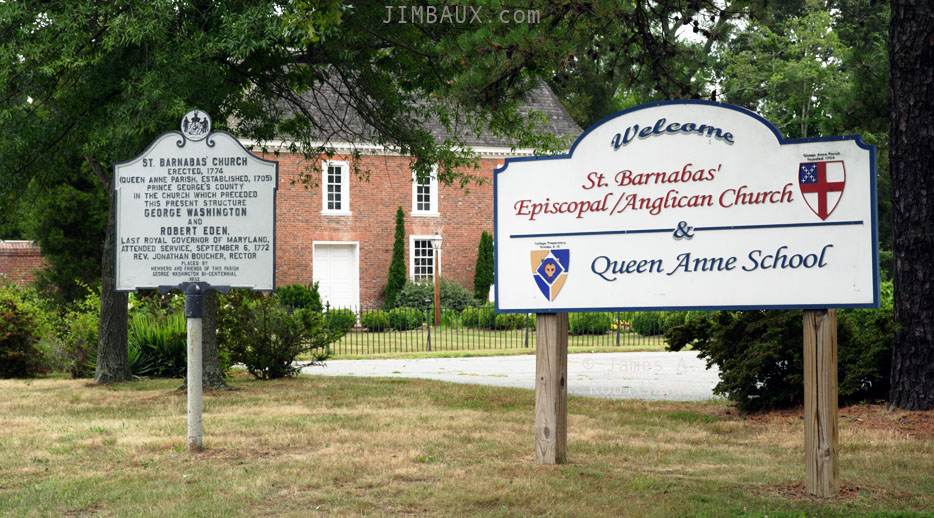 It wasn't long after I left the cemetery that I heard yet another most appropriately-timed song, "Outside" by Staind.  Oh, yeah.
"I'm on the outside
I'm looking in
I can see through you
See your true colors
Cause inside you're ugly
You're ugly like me
I can see through you
See to the real you"
Indeed, indeed.
And this, my friends, is what led to forgiveness.
See, recently, she made some of her recent public writings available to the public, and now see it is a gift that keeps on giving.  "Inside you're ugly, ugly like me" indeed!
Her recent writings revealed that she was still as hopelessly addicted to anger as I was a year ago.  It helped me realize that the same passion and conviction that I admired in her is also what made her oh-so-terribly unforgiving.  She's a feminist, and I did admire it and considered myself a feminist also.  Still, though, I was more sexist than I realized.  What's important, though, is that I have addressed (and should continue to address) that.  However, with the help of some female friends who have read her recent writings, I've learned something else, something so glaring.  Mostly due to a family demon I just could not face at the time, I had a very much enlarged sense of 'personal space' from the average person, but, as a few female friends pointed out to me, had the roles been reversed and I had acted the same way around her that she acted around me, I'd have likely been considered some wronghead, sexist, male-chauvanist pig.  Oh, how shallow!
Nope!  Her feminism, I now see, isn't so much or just about equality for women; it seems, rather, to be about ensuring that women can be as dominant and controlling (of men) as she perceives men to wrongly be toward women.  Nope!  I feel sorry for her, though, as she obviously has some anger issues (just like I had, but simultaneously very different.)  Something made her be that way.
I admired her passion and conviction about plenty of things, like environmentalism and human rights, but it also seems that she was overreacting to the ultra-Republican, ultra-conservative forces in her life.  I can't blame her for that, though, I guess; it's her authentic reaction.
The fact that she "died" less that two weeks after I had these revelations is not surprising.
The night before, I was at The Crucible, and I was talking to The Chopper.  Anyway, I read something of one of those Twitter profiles that puts out a bunch of quotes about love, sex, and relationships.  I read something that I liked.  It said this:
"I'd rather lose an argument than lose you."
I posted that to my Facebook wall that Wednesday evening before I fell asleep.  Apparently, she placed a bigger emphasis on being right than in maintaining relationships (wait, wait, I've done that), meaning she remained no less of a miserable person than I was way back then.  This was apparently the last reason of many, including those about which I had already written, that contributed to her 'death.'
"I'd rather lose an argument than lose you."  Yeah, I just didn't realize the double meaning of the last part until the next day.
The last time I had looked at her website was about two days before this (meaning nearly 10 days ago.)  There's no point in looking at it anymore.  There's no point in looking for new material from someone who is dead.  It's like laying flowers on a grave.  It's a gesture to make you feel good about yourself as you honor who is in the grave, since that person has no way of knowing.
So, Now What?
What to do now that we are at a cemetery?
My grandfather died in November, two days after Thanksgiving, the day he was so happy to see me playing guitar for the first time in years.  That inspired the lyrics to the song I wrote a few hours after his death.  (Yes, that's a little bit different than my rapping!)
Anyway, a few weeks ago, a family member told me that at my grandfather's funeral, she whispered into his casket, telling him the she forgave him for a few things.  With my grandfather, this family member also buried any anger she had with him.
Let The Perpetual Light Shine
And so it was here, as I looked at this cemetery.  It was my turn to whisper into her casket, forgive, close the casket, and lower it into the ground forever, leaving her in her eternal repose.
I forgive you for holding on to your anger for so long, because I know that I held on to mine for a long time because I didn't know how to deal with it, and I see that you simply are dealing with your own anger the best you can yourself.
I forgive you for turning too many things into global issues, because I do admire your passion and conviction.
I forgive you for your false compassion, because I know that you have your own issues to address, and I had to find in my heart the compassion for myself that I never had.
I forgive you for building walls, because I'm "eternally grateful" to you for prompting me to take a sledgehammer to the walls that were around me, to finally face my deepest and darkest fears, to finally address a family demon that terrified me so much that I couldn't even write about it in my journal, let alone talk to anyone about it.
I forgive you for erroneously thinking the very worst of me, even after you had erroneously thought the very best of me, because I needed to do the same thing for myself, even as I still, even now, even as there is so much new evidence to the contrary, want to believe the very best in you.
I forgive you for taking my private, personal, family pain and making it into a public matter, reducing me to some statistical analysis of a global issue, for it and subsequent actions showed me that beyond your admirable qualities, you're no less of a weak and nasty person as I was, and you have shown me that unlike me, you haven't really grown much in the last year.  I can forgive you for this because I went through years of stagnation in growth too.
I forgive you for not respecting my personal space, because it helped me see how excessively large that sense of personal space was.  My newfound capacity to share, to not fear myself so much, is attributable to your influence.  Thank you.
I forgive you for not seeing how I have dug within and found the better person, because I'm grateful that those in my life now can see the improved me, even as you chose to stay blind to it, and as I can now see the good with the bad in both you and myself so clearly, far more clearly that I've ever seen them.
I forgive you for failing to see that my actions stemmed not only from the demon I could not face, but also from my idea that you were actually far too important and worthy and wonderful to be used and objectified, and I am too worthy to be objectified too, which is partly what you did to me.
I forgive you for using such strict confines of time and space to pass judgment on me, especially as a family-and-personal demon I had not faced forced me to be so reactive, because I know that we must all be judgmental about some things, and I'm grateful to have finally faced my demons.  I also can only now see you for who you really are.
I forgive you for not even allowing me to apologize to you once I realized not only the depth of what I did but also, much more importantly, why I did it.  By not allowing me to even apologize to you, the guilt stayed locked up inside of me, making me unable to forgive myself.
And, perhaps, what I forgive you for the most is for being oh-so terribly unforgiving, for I now see it as the very dark side of what I admired and adored so much about you.
And maybe, just maybe, by forgiving you for being oh-so unforgiving, I have finally forgiven . . . . . myself.
Amen.
Rest in peace, my dear.  As you depart this life, I am eternally grateful that you entered mine.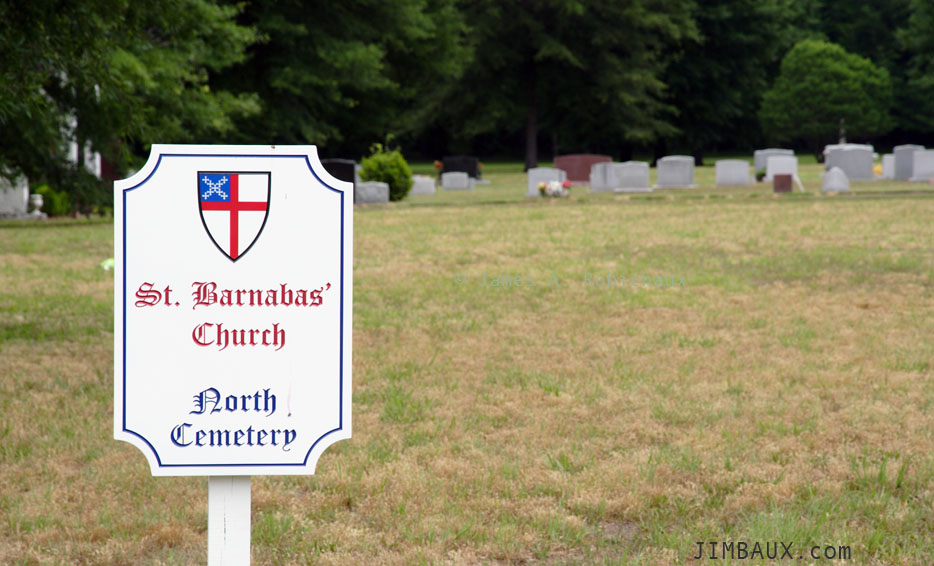 A wellspring of peace grew inside of me after that.  I had not felt a sense of peace like that in years, or even ever.  I had finally found a way to forgive myself, not just for the stupid things I had done, but also even for who I am.
I wept.  As I wept, I smiled through the tears, just like I did at my grandfather's funeral.  I smiled for the life that was, the life that was well-lived, and I smiled for the gratitude of what it left for me.
"For The Living, Life Goes On"
Remember that line from Raiders Of The Lost Ark when Sallah is consoling Indy at the apparent death of Marion?  So it is true here.
My grandmother's youngest child was disabled.  Uncle Bill had a neurological disease or disorder that kept him confined to a wheelchair for life.  My widowed grandmother took great care of him, and it was this great care that many in my family credit for the fact that Uncle Bill lived nearly twice as long as the 15 years that doctors expected he would live.
However, after he died, and after her mother died the next year, my grandmother was free, and she spent the next decade traveling the world, something she's too frail to do now.  In fact, I think that the reason why she wasn't at my high school graduation was that she was off in Europe somewhere, and more power to her!
Forgiveness is difficult, but forgiveness frees, and I feel freer now than I ever have.
I have forgiven myself for being so weak, because I have shown myself that sometimes, the weak do indeed become the strong.
"The weak can never forgive. Forgiveness is the attribute of the strong." ~ Mahatma Gandhi —
Indeed.
I went north on Church Road (knowing now why it is called that) and arrived in Bowie.  There was still no sign of any train.  I found this scene, and I smile at the level of trust it suggest in passers-by.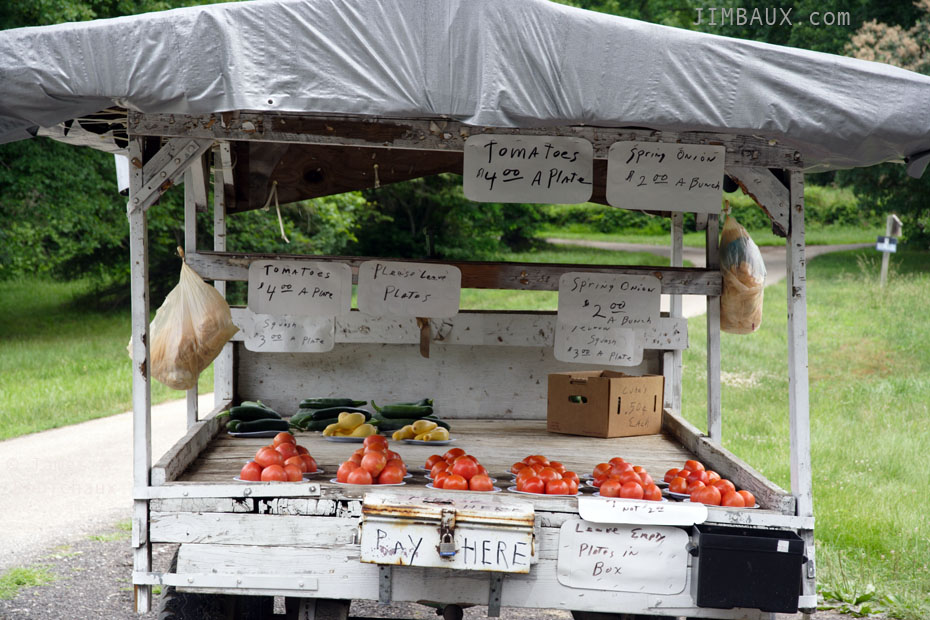 I have forgiven myself for being unable to trust, because I learned that I needed to be able to trust myself, someone I was taught to not trust a very long time ago.
The Journey Continues!
We're getting pretty close to the end of the day's journey.  We're getting close to the beginning of the branchline.
But where one journey ends, others begin, and others continue.
Things Are Not Always What They Seem
I arrived at milepost 1 and saw what appeared to be a trainmaster's vehicle parked next to the old PRR signals.  Sweet!  This must mean that they're conducting a crew rule test, which must meant that a train is coming!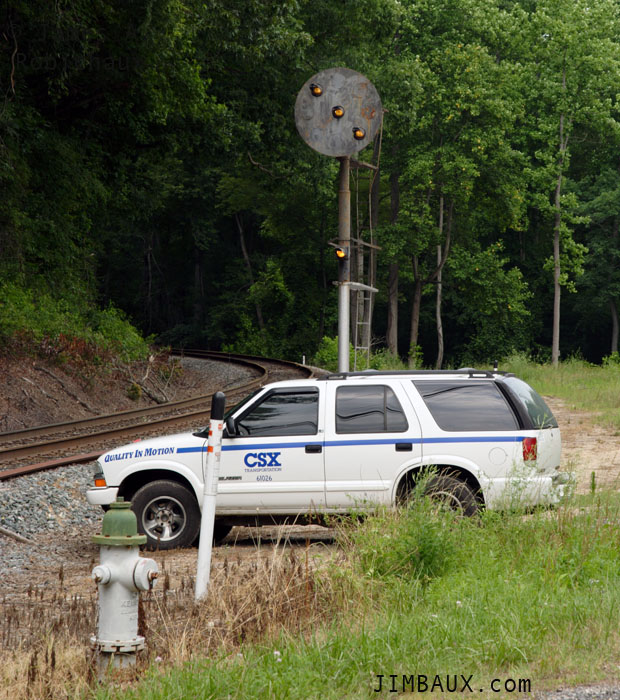 I sat nearby about 100' away in my truck, camera in hand, waiting for a train to show up.  However, sometimes, things aren't what they seem.  The CSX vehicle, which had no railroad wheels, leading me to think it was a trainmaster vehicle, soon drove away.
So it is true with the people in your life.  They are not always what they seem.  She was not what she seemed, I now, finally, see so clearly.  I was not what I seemed, not to her, or even to myself.
I admired her conviction and determination about things, but I see that it actually prevented her from thought and contemplation like it probably does to so many others, and it is also what made her so terribly unforgiving.  And so I now see that the fact that I do not have all of the answers does not make my thoughts any lesser, and that, being the ignoramus that I am, I'm actually the wiser one!
What Might Have Been . . . And What Could Still Yet Be!
So, the last shot of the day is of the S-curve at milepost 1, which I had scouted out two days earlier in my visit here.  This would be a really cool shot if there was only a train.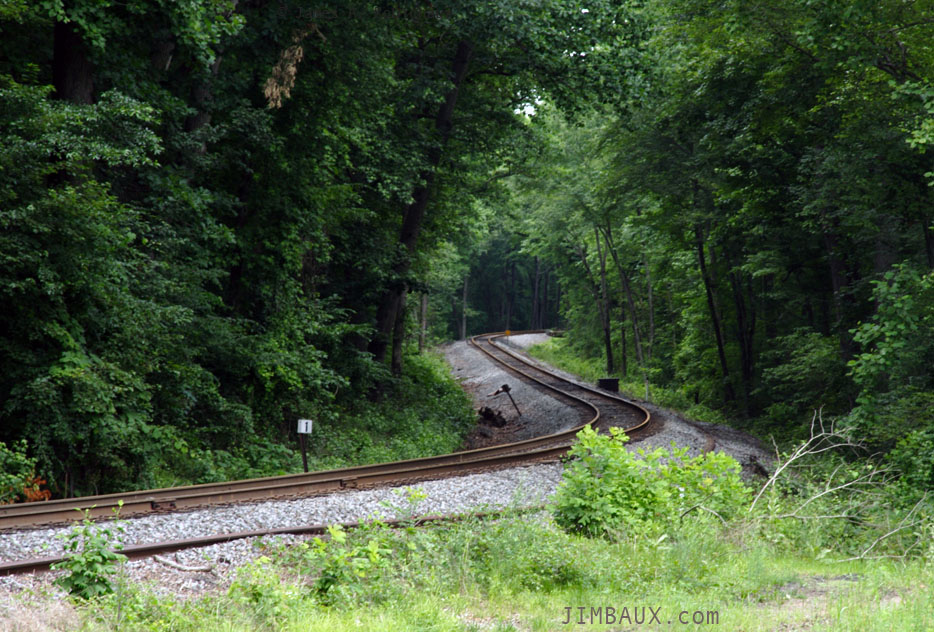 And there you have it, my friends.  In the picture above, you can see both what could have been, and you can also see what could still be!  What you see most of all, though, is what was.
And Then, The Rains Came . . .
That afternoon got very rainy, but before that, I allowed myself to cry a few more times, with eerily similar emotions to what I felt when my grandfather died more than six months before.  My tears left me with a newfound sense of peace and gratitude.  I can forgive, and I can now love.  I can love myself.  I lost someone on this day, but in losing someone, I gained myself.  I won!  🙂
Hope
Amidst my newfound peace is a sense of hope.  Later that day, I was playing guitar, and I was complimented by two people for my string stroking abilities, one of whom suggested I had a future in it, and another who said it didn't sound like the racket he normally hears from guitars.
I am filled with the hope that when one life ends, another begins!  The guitar has been something that has blossomed on the fertile fields of the death that preceded it, enriched by previous lives, yet a life all my own.  Remember, my friends, your friends and family are important, but you are ultimately all that you have.
Peace And Serenity
That night was the first night in three weeks that I got to sleep without the aid of any medication, though I did treat myself to some ice cream, thinking I deserved it!  Surely, awakening so early helped me sleep that night, but I had a sense of inner peace and serenity that I had not had before.  I've slept well most nights sense then, and with forgiveness, the virtue that it is, I have newfound sense of purpose and optimism and self-acceptance.  I can look forward into the future with hope!
This was no bedtime story!
Cherish the times you have with everyone, and don't be quick to judge, as people do things for their own reasons, reasons you – and even they – may never understand.
Mes amis, I thank you for reading this, and I wish you the sweetest of dreams!  🙂
Jimbaux