As we close the month of January 2011, a month of hope and change for Jimbaux, and as demonstrations for democracy and freedom in Tunisia and Egypt take place with their hopes for change (and see what I photographed here regarding those demonstrations), I bring you something different, something that is with all Americans, something that is within me, something that raises tough questions for all of us.  This is an unusually sentimental post for Jimbaux's Journal.  Please enjoy it.
The Fatherland
Earlier this month, we buried Nonc's wife who died after a long bout with diabetes.  The family came together in a beautiful and loving moment, a moment of acceptance, peace, and understanding that I needed for several reasons.  On Wednesday 12 January, just 19 days ago, we laid her to rest in Saint Mary's Cemetery in Raceland, Louisiana.  Before leaving the cemetery that day, though, I snapped a photo of the tomb of one of her classmates, one who was taken far too early.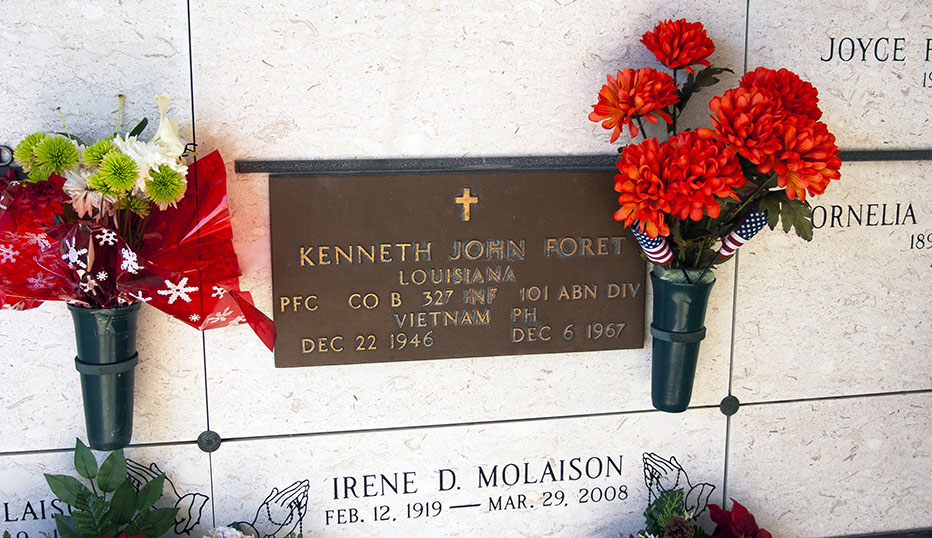 His name was Kenneth Foret.  I never knew him.  He died long before I was born, but he should not have.  He was the only Raceland casualty of the Vietnam War.
My own father, who is from Raceland and knew Foret casually, sought to avoid participation in a war that he thought was "completely wrong," but the small-town teenage boy he was in those days knew that his options were limited.  Going to Canada was not an option, he said, especially as his father had been a war hero.  Instead, he did what many in his situation did and joined the US Navy to avoid being drafted by the Army or Marine Corps.
Some of you out there who call yourselves activists may consider my father's actions cowardly, that he didn't stand up for what he believed in, that he didn't burn the draft card in defiance, but not only was it the only way he knew how to deal with the situation at the time, but he remains to this day very proud of his Navy service, and he often speaks of his experiences 40 years ago, something that helped him grow.
The Wall
Anyway, I wanted to get pictures in the same month both of Foret's tomb in Raceland and of his name on the wall nearly a thousand miles away, and the pictures below I took yesterday, which is also why I am posting this before the end of January.
First, I found where Foret's name was in the directory, something I've done previously here.

Raceland is a small town, and people along Bayou Lafourche know each other.  One of Foret's brothers married one of my father's cousins.
Nonc Clyde
As I've mentioned, the photo above of Foret's tomb in Raceland was made just after we laid Nonc's wife to rest.  She was the wife of my father's older brother.  While my father was successful in his attempts of avoid going to Vietnam and "coming back in a body bag," Nonc was drafted by the Army and went there.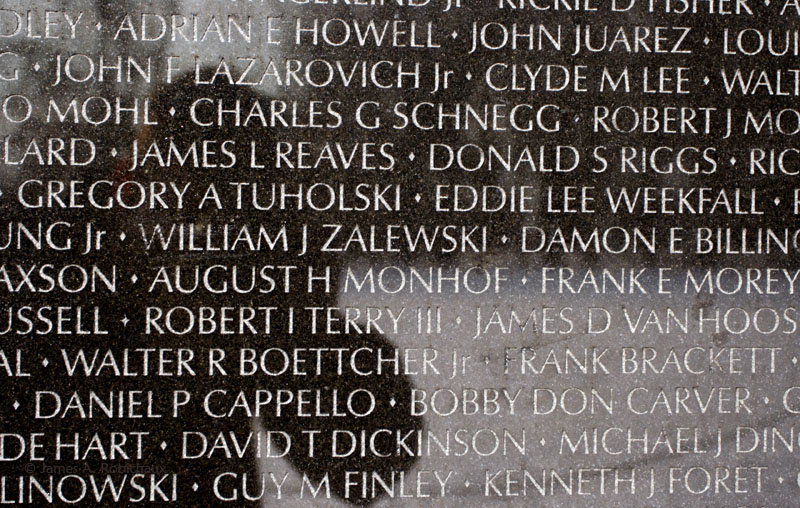 See Foret's name at the very bottom right of the above picture.
"Though Kenneth was killed in Vietnam one-and-half year before I was drafted, the significance of his death brought to bear the very real dangers all of us who were of draft age felt then," Nonc said.  "There was an unspoken but very real sense of anxiety among all of us in the 18-25 age group.  The fact that any of us still at home could be the next KIA from the sleepy town of Raceland – none of us wanted that to be our claim to fame," he told me yesterday.
You can see that there is somewhat of a self-portrait in the picture below, adding to the senses of place, memory, and identity explored in this post.
Looking at the wall lets the names meet your eyes, but you see yourself too.  It's a part of all of us, and the memories of that time and the lessons learned have still not prevented our government from sending our youth into ill-advised conflicts.  Most unfortunately, we saw this all too well almost eight years ago.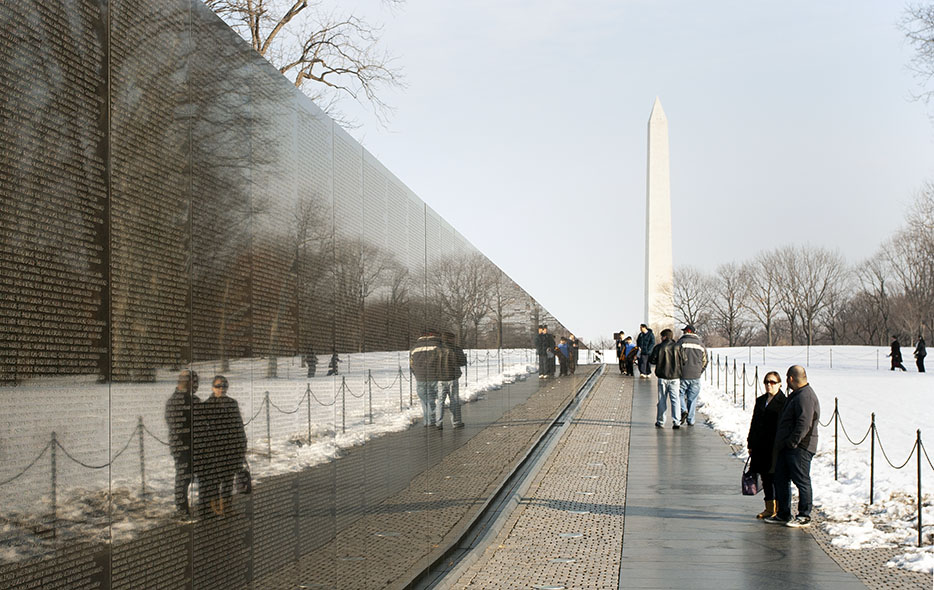 Nonc spoke of a trip that he and his wife took to the Wall and of Foret's name several years ago.
"We had the opportunity to visit the Wall in DC several years ago.  She made a rubbing of his name, like most friends and family members of KIA's do," he said of his recently-deceased wife, a classmate of Foret.  They were part of the last graduating class of Raceland High School before Central Lafourche High School, where Jimbaux himself worked for three years, was opened.
Kenneth Foret's story and the story of his role in his hometown of Raceland is not unique.  The saga expressed here is one felt through thousands of small towns across America.
Gratitude
In spite of some of the questionable things and even the downright wrong things that our leaders have recently done, and in spite of all of the reasons I too easily find to complain and whine about things and to succumb to pessimism, I'm fairly well convinced that there has never been a better time or a better place to be a living human being.  I want you to remember that too!  This recent death, as sad as it was, truly brought out the best  in my family, and my father and uncle, two very different but still very similar people, are bonding in the wake of the latter's loss.  Despite all of my troubles, we all know that we are blessed with a wonderful family.
As I've written before, Jimbaux's Journal was not conceived as an illustrated gratitude journal, but that's what it's becoming.  This post is a little bit more sentimental and more personal than the normal postings, and if you're uncomfortable with that or if you come here for train pictures and photography lessons (but, in a way, this was a photography lesson in the metaphysical sense), we'll resume our regularly-scheduled foamy stupidity next time.  Until then, remember to be grateful for what you have; if you are able to read this, you are fortunate.
All for now . . .
Jimbaux