Bonjour, mes amis.  C'est tu ami Jimbaux!
Thanks.
First, in all seriousness, I want to thank many of you for the kind comments, both public and private, that I received from the last post with family, war, death, life, peace, place, and identity.  Special thanks to my father for expressing his feelings about not visiting the Wall again, something I did not even know.  Check the comment section from the previous article to see what I mean.  It is a photo essay of which your humble author is most proud.  I am grateful that it touched so many of  you, even as this site is in its infancy with a relatively small readership.
As promised last time, though, we now return to our foamy silliness.
A Lesson In Perspective
Actually, just about every post here on Jimbaux's Journal is a lesson of some form, and for just about every one of them, I am as much a student as I am a teacher.
Anyway, below we see two shots of the same train taken from the same exact location about 15 or so seconds apart.  Please note several things in these pictures.  Please note the tall building in the back, how it appears different in size in relation to the train in both pictures.  Note, also, in the first picture, the building on the right; that's the US Army Corp of Engineers building on Leake Avenue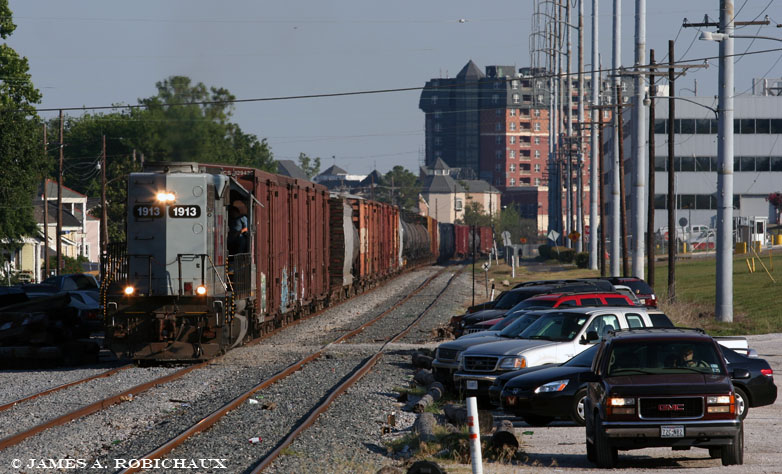 We're looking south here, downriver, along the New Orleans Public Belt Railway's riverfront trackage.  The Mississippi River is just to the right of the frame, parallel with both the tracks and with Leake Avenue, which is left of the tracks.
The train that we see here is Kansas City Southern's abbreviated #54, the transfer run from the CSX, on 9 June 2006.  I seem to recall that I was running some errands in that area for work and happened upon the train, drove through the Cooter Brown's crossing, went  north, parked the truck, hopped atop it, and took these pictures.
Prior to Hurricane Katrina and since late September 2007, the #54 and its southbound counterpart, the #53, were monster interchange trains between Shreveport and the CSX in New Orleans.  The official name for these trains are now M-CXSH and M-SHCX in KCS's alpha nomenclature.  However, after Hurricane Katrina, KCS sent the M-SHCX via Meridian, Mississippi, and the Meridian & Bigbee Railway.  So, the "abbreviated #54" that you see in these pictures is much shorter than the 100+-car trains that now pass here; these trains carried only the local traffic that came from CSX and terminated somewhere on KCS's New Orleans or Alexandria Subdivisions.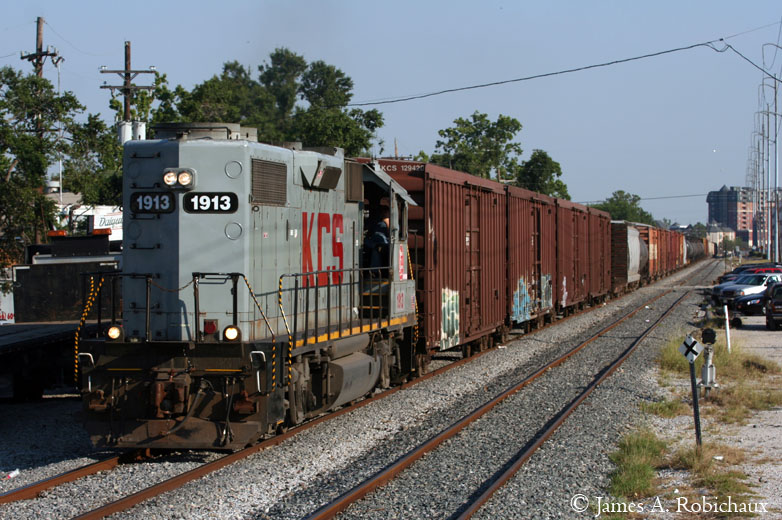 By virtue of its proximity to an active mainline railroad (well, terminal railroad), Cooter Brown's is my favorite bar in New Orleans.  A favorite pastime for Jimbaux in his New Orleans days was to get together with his pals at Cooter Brown's and chit-chat while sipping on some stout and munching on a bacon cheeseburger.  Ah, those were the days!  I seem to recall in late 2006 that some of us, after an evening of drinking, went about on a night mission of photography, complete with tripods in the truck, and then heard gunshots as we were shooting timed exposures of SD60s in NS Oliver Yard.  We didn't stay there too long, but your pal Jimbaux did wait until his shots were finished exposing.
Well, that's different than shots of demonstrations at the Egyptian embassy, right?
If You Like What You See Here . . .
Please show a friend, and remember that the Facebook fan page – see the Facebook badge in the right sidebar column – is the best way to receive site updates.  If  you're on the fan page and get updates that way, please go to the fan page and hit the "Suggest to Friends" button to suggest this page to your pals.  Jimbaux thanks you.
Coming Attractions
In either the next or the one thereafter, we will return to the subject of Idaho fauna.
Until then, stay warm, and be well.
All for now . . .
Jimbaux