Greetings, and welcome to the January 2013 Sampler essay. For me, this was the beginning of a strange year, though, for me, most years could be said to be strange. Still, this was the first full year that I would know that I would eventually be losing my home for the most embarrassing of reasons – something that, as described in the "November 2012 Sampler" essay, I learned over Thanksgiving break in November and took into December.
This year would be the first of six full years between the knowledge of the impending loss that has since come to define my life and the actual loss of my home, and it was the first of three full years between this knowledge and the realization that I am autistic, which helps to explain my life.
As I look at the pictures that I took in 2013, I once again feel – this time, more clearly – the quiet undertow that I felt during this time, knowing what my likely fate was.
Also, some time probably in December, I herniated a disc in my lower back, and this progressively started to be a problem in January, culminating with taking leave of absence from work in March. This was the beginning of another problem that has come to define my life.
The year 2013 was also the year of stand-up comedy and music performances. The year was both the first and – at least as of this writing a decade later, though I can't imagine it ever changing – last time that I did stand-up comedy and open-mic music performances in bars and comedy clubs.
I wrote more about this in an essay that previews these 2013 sampler essays.
My last grandparent to die also died in this year, making me feel old.
I came to see that school, at least as we know it, is a prison.
My summer of art and philosophizing – and making personal connects based on the art and philosophizing – was abruptly ended by authoritarianism, the tension and unhappiness at getting that position at a different school, with no reason to celebrate when the folks took me to that restaurant to celebrate.
The Mighty Quin came to my rescue.
Anyway, let's get right to the pictures.
Tuesday, The 1st
On New Year's Day, I photographed a burning sugarcane field.
Then, I again did the view of sugarcane trucks emerging from the western end of Raceland Raw Sugar that I had done five days before, though this time under cloudy skies.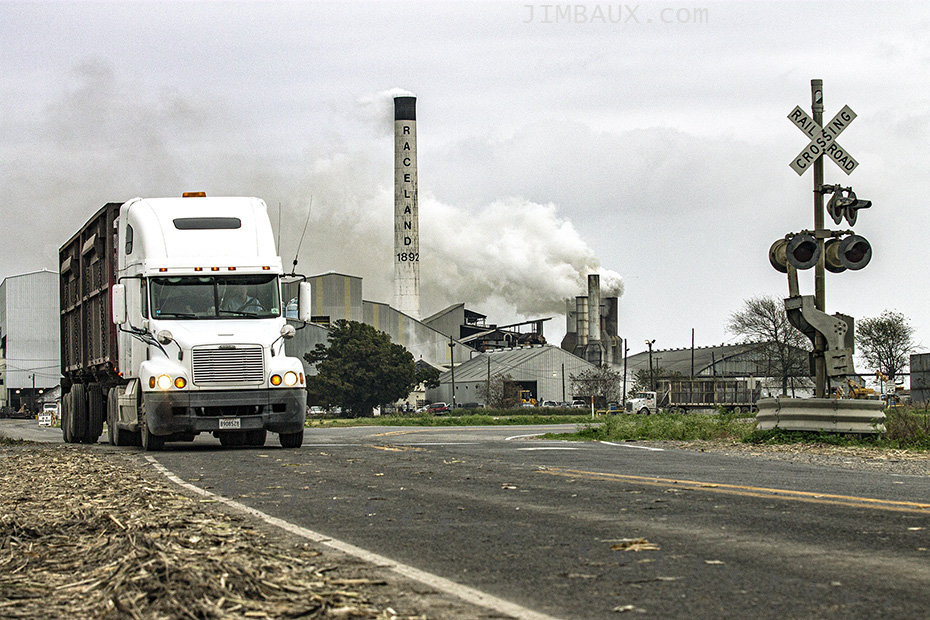 I like both views, and both are iconic of southern Louisiana sugarcane country, but, if you forced me to keep only one, I'd keep the sunny picture.
Saturday, The 5th
Okay, so, this is weird.  I am photographing people, which is not at all unusual for me, but, as I view this picture a decade later, I am reinterpreting what I see in my old pictures and remember in my old experiences through the lens of the knowledge of autism.
I don't remember the name of this place where I was late on this Saturday night, but I think that it was on Saint Charles Avenue in New Orleans on its northern side. I committed a small social faux pas that I immediately recognized after doing it, and was not a big deal at all, but I still think about it.
Sal's band was playing, and, as you can see, it was a tight affair.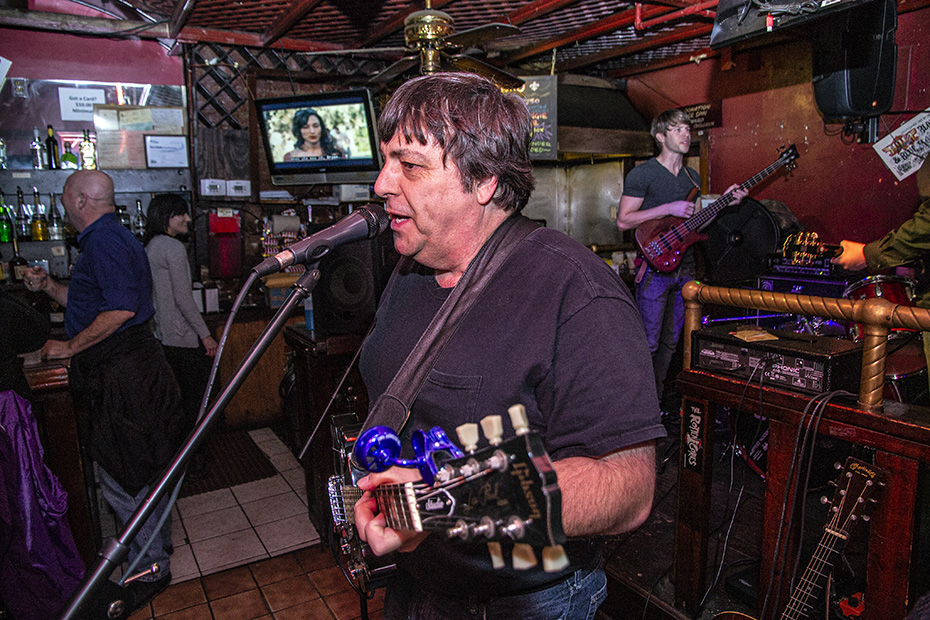 I had been trying to get in the scene of both stand-up comedy and music performing, the open-mic varieties, and I knew at the time that the late-night nature of these activities was a problem for someone who had to be up early for a school teacher job, especially the fact that that job required me to play a certain authoritarian character, but, in retrospect, I see that a major obstacle was sensory issues: specifically, loud noises, bright lights, and that godawful cigarette smoke.
Thursday, The 10th
After work, I stopped in West Harvey to get some shots of the foggy Mississippi River.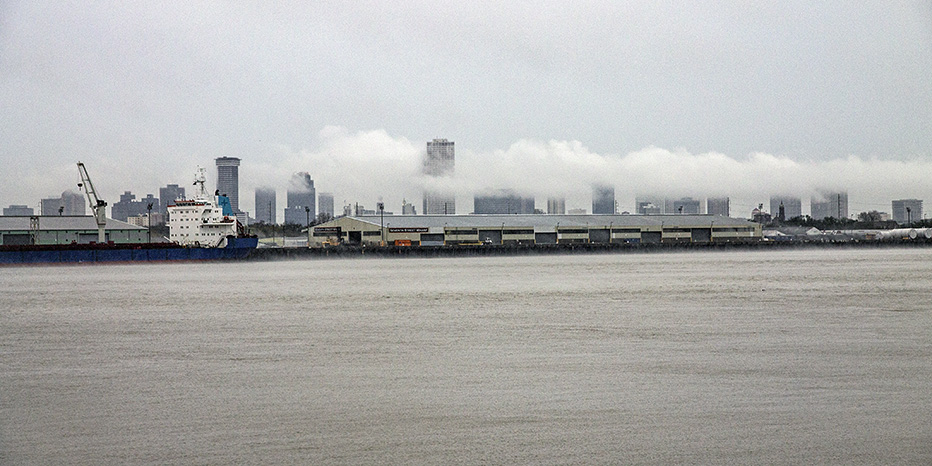 I wish that I still got to regularly see stuff like this.
There is so much history and commerce there.
Friday, The 18th
For the first time since the fall of 2011, I was able to resume my old after-work habit of catching trains – always westbound – on Fourth Street in Gretna. This was also my first train picture of 2013.
Sadly, this practice was not to continue, as this would also be the second-to-last time that I got shots of westbound trains on Fourth Street after a workday. This was also the first time that I photographed action on the New Orleans & Gulf Coast Railway in about 10 months.
One reason that it took so long to photograph a train in 2013 was the work monster, another was diminished desire, but a third was that the weather had not cooperated for much of 2013 so far. We had had a really weird spell of wetness, rain, mist, rain, clouds, rain, fog, etcetera, and my pal Kurt had said that he was tired of living in Seattle! So, the day that I took this picture was about only the second day that we had seen the sun in two weeks.
My back problems were worsening, and I was having to stay late at the job to stay ahead given that I was teaching a new subject for me and felt already past my prime doing it.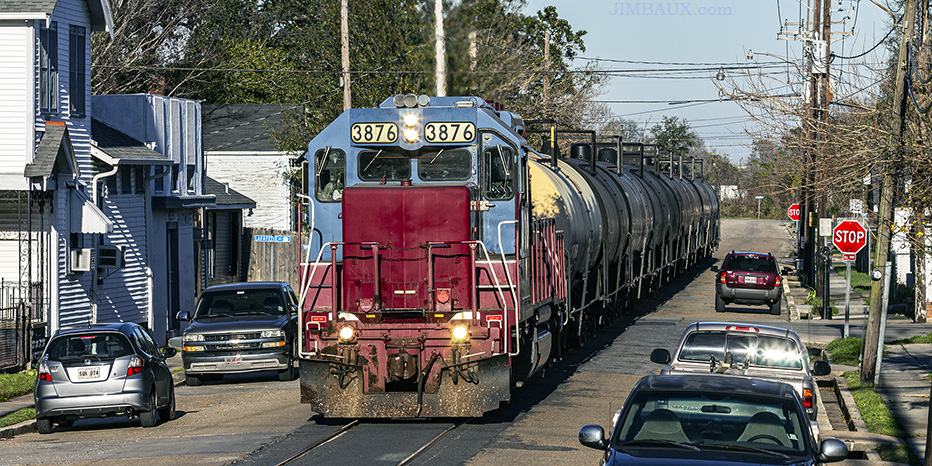 This was about the only time I got one of these Helm painted locomotives leading a train here.
Saturday, The 19th
Ha! There are no pictures on this day! I took plenty, though, of some carnival ball where I was hired as part of a photographic team. I didn't enjoy the experience at all and would not ever do it again, especially now that I know myself so much better.
Monday, The 21st
I remember that my back was hurting on this day.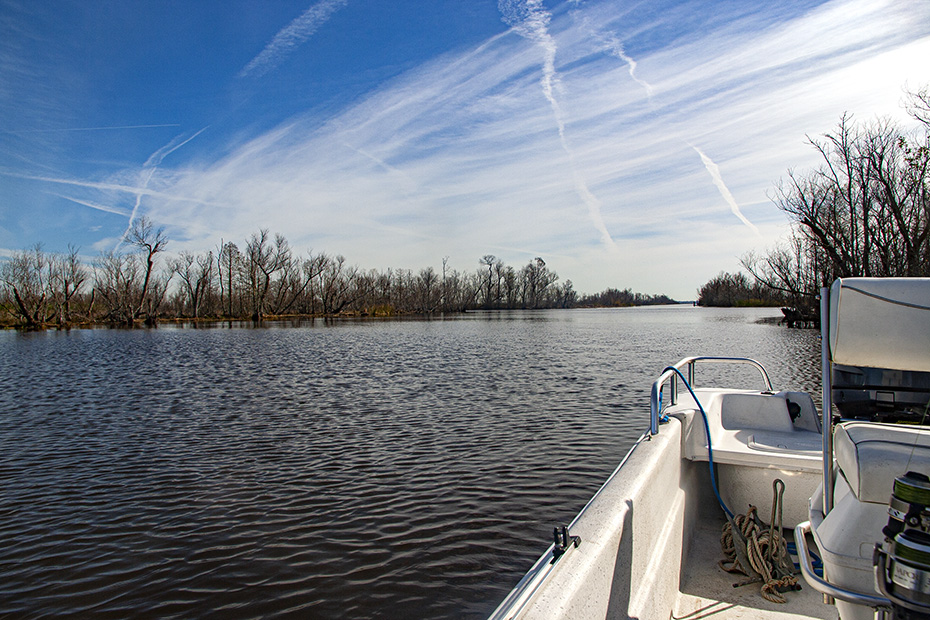 I remember the boat ride more than I remember the fishing, because the fishing was not successful. (I mean, it was for the fish.)
After the family gathering and fishing were done, I actually did catch something, something moving eastbound at Horseshoe Road in Schriever.
There is nothing like a solo Superfleet locomotive leading a bare-table train!
It is iconic!
Friday, The 25th
Here it is, the last time that I got some after-work action on the New Orleans & Gulf Coast Railway.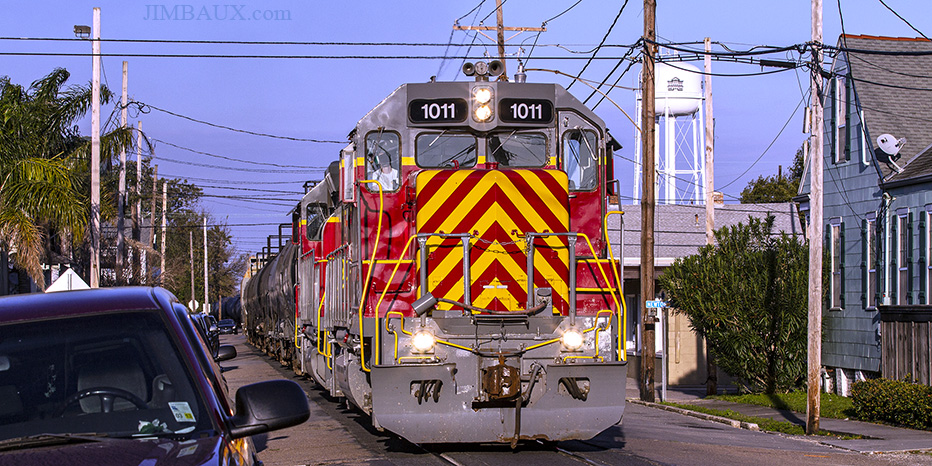 This had been a classic practice that I had developed in the fall of 2005 upon moving to this area and getting a job at the high school.
So much changed – including the NOGC's motive power – in fewer than eight years.
The GP7s were still on the property, but they had not been used in about a year.
About a month later, the GP7s would leave the property for good.
Sunday, The 27th
This is really nothing special, and I already blogged about it, the only post of new material that I made in January 2013.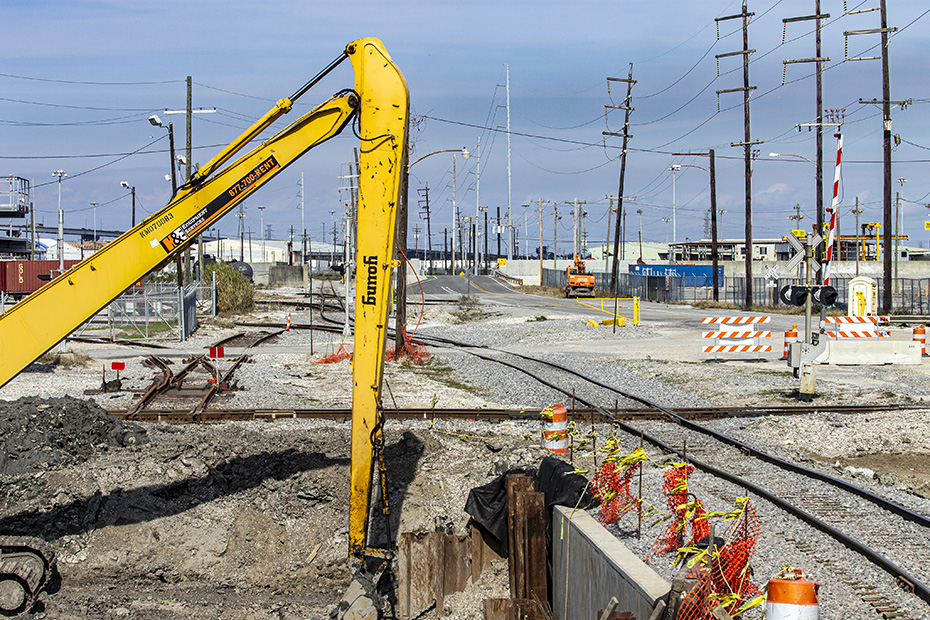 Well, that is that.
So ends January 2013. The year 2013 would get weirder, as I described.
Merci.
Jbx