Greetings, and welcome to the December 2012 Sampler essay. After the difficult and lengthy "November 2012 Sampler" essay, this one will be mercifully brief.
As I wrote near the end of that essay in the description of the November 25 images, I wouldn't take out the DSLR camera again until midway through the month of December, three weeks later. I was deeply immersed in the demanding new job that I had and probably didn't have the time or energy even on weekends for taking pictures, but I was also dedicated to health and fitness and losing weight, and, by the end of the year, I had lost about 10 pounds since Thanksgiving. Not having a job in which you have to sit on your ass all day helps!
I was also operating and living under the dark cloud of the newfound knowledge that I would eventually lose my home, but I talked about it with no one and didn't even write about it privately. Also, unbeknown to me until well into January of 2013, in my immersion back into health and fitness, which resulted in me losing 10 pounds in little more than a month, I also herniated a disc in my lower back, which compounded some old back problems, which led to multiple procedures and surgeries over the next two years.
Also, by December 2012, the Chip era was a thing of the past, as had been my time working near the confluence of the Teche and the Atchafalaya, though the bomb dropped on me over Thanksgiving break would mean that I might at least be passing through there more often, which made the knowledge that I gained working in the area convenient and useful.
Also, I was very busy working on the many pictures that I took in December 2007! I don't know why I decided to both process and post quinquennial retrospective blog articles about all of them, as seen in the December 2012 archives, but I suspect that it is at least in part because that was a memorable month with the last-ever railroad delivery to Valentine Paper and then The Duke's and my three-day trip up to northern Mississippi, which would foreshadow my June 2009 time in that area.
I think, however, that another factor in processing and posting all of those images then is that it gave me a way to keep posting my own photography work online once I had just come out of a situation, a long time period, in which I was often by tracks and taking pictures, making new material. Does that make sense?
Also, this month, my first full month back in the greater New Orleans area, was the time that I really started pursuing comedy and music, as in, me performing comedy and music. I had been thinking about this for months as I was slaving away unfulfilled by the banks of the Atchafalaya, with little 'market' for what I had in mind, and, now, back in Whoadieville, I could start working toward these ends, actually with a place to perform in front of audiences, though the rigidity of the day job colonized my mind so much.
That last part – the rigidity and authoritarian nature of a factory-school-teacher job – would come to define next year, and I remember reading the "school is a prison" article on Salon when it was published in August 2013, but I was really starting to already see the signs of it in December 2012, and it helped sap my creativity and energy needed for my artistic endeavors and sabotaged those efforts.
Sunday, The 16th
On this day, my first day taking a DSLR-camera picture since November 25, three weeks to the day prior, I finally caught that British Columbia Railway locomotive leading CSX's transfer run to and from – in this case, returning from – Canadian National Railway's Mays Yard in Metairie.
I saw it at Central Avenue and first photographed it at Metairie Road, as it was on Norfolk Southern Railway rails.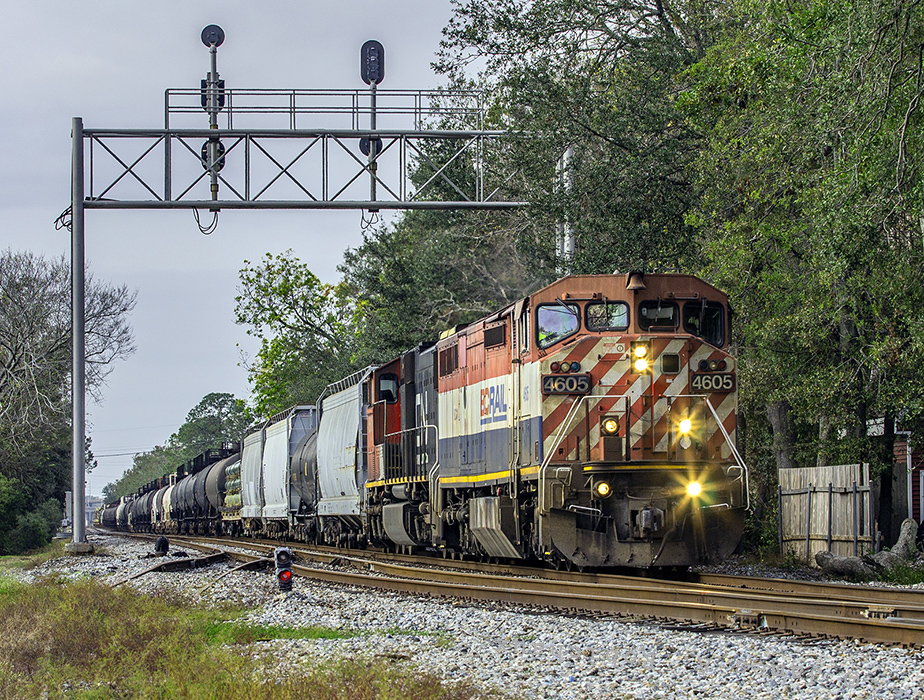 That yellow reflective tape really poisons the balance of a whole bunch of great, classic locomotive paint schemes.
The train then had to stop at Louisa Street as it – the train and the crew, not the locomotives – was on home rails to await clearance to proceed. The conductor got off to go grab stuff at the store, and as he passed me, without stopping, he said, "not getting in your business, but be careful in this area."
I just wished he'd have stopped to talk for longer. I wondered at the time if he knew who I was, since so many railroaders around here now know of the work that I post on the internet.
I then photographed the train at my old haunt at Alvar Street.
Like I said in the "November 2012 Sampler" essay, I think that these were horsepower-hour repays.
Wednesday, The 19th
It's almost time for the Christmas-New-Year break.
On the way from the workplace back to the crib, I photographed a Union Pacific Railroad grain train parked at the grain elevator at Westwego.
Had I been working at the newspaper still, I'd have had very little time off at around this time of the year, and I would have been miserable. We should all have more time off.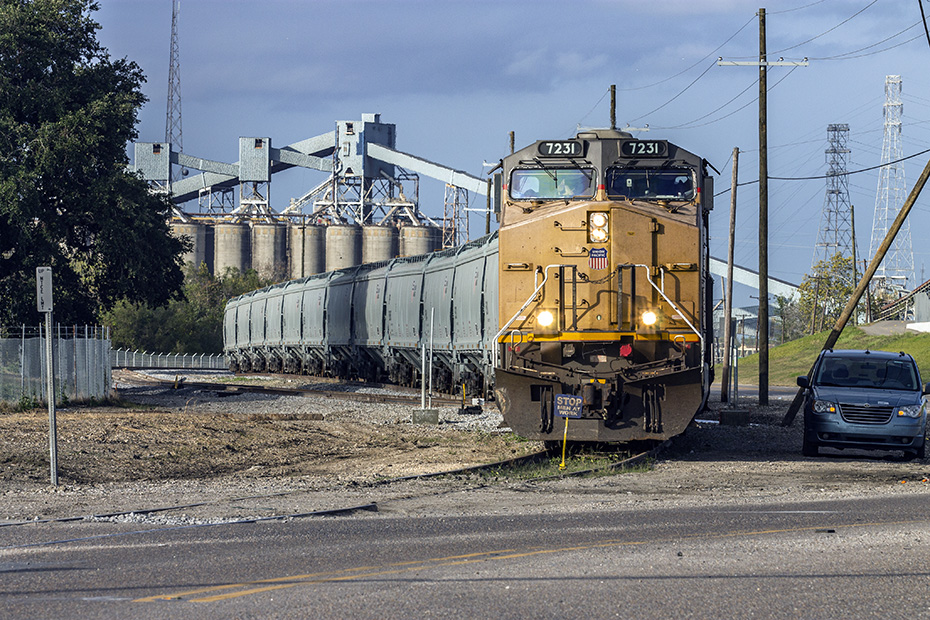 On this evening, I went to a stand-up comedy place where a weekly open-mic comedy show was happening to get a feel for the venue, the crowd, and the expectations of performers. Many of the performers were talking about nothing other than genitalia and drugs, and I figured that that meant that I had something different to offer audiences.
Friday, The 21st
This was the first full day off for the inter-semester break, as records day was on the 20th. Miss H and I went out for lunch together, on that Thursday, and I was rather smitten!
On Friday, on this day, the 21st, I wrote this to a friend.
"I went foaming this morning to try to catch that BC Rail power on the CSX transfer, but although it's still there, the power got turned again! Dammit! I got a few shots of the CN leader, but, really, this time of year on sunny mornings, there aren't many good shots on that route. However, I got the sensation as I was out there this morning in the cold – just as I did on Sunday – that I'm actually kind of jaded about foaming around here in the same places. This is the feeling that I had two years ago when I was about to leave Louisiana, and then I had the opposite feeling a year ago upon returning, but now I'm back to this! WTF? If I'm willing to make the sacrifice, though, there are plenty of new or seldom-done foam opportunities if I leave the city via the CN, KCS, NS, or CSX. I guess I just want to concentrate on other shit, like work, music, home-ownership, farming, working out, and stand-up comedy. Maybe continuing to just publicize stuff from five years ago is the way to go, or to continue going, and I can keep this up for three more years (since it's been just under two years since I launched the photo blog) and keep very busy and keep putting out good stuff!"
I was so aspirational!
What did I do as I was by the track in New Orleans – the East Bank – during the middle of the morning, doing a shot that would be a preview of what I would do here in 2014?
I then got a train over the Inner-Harbor Navigational Canal, just west of the CSX yard.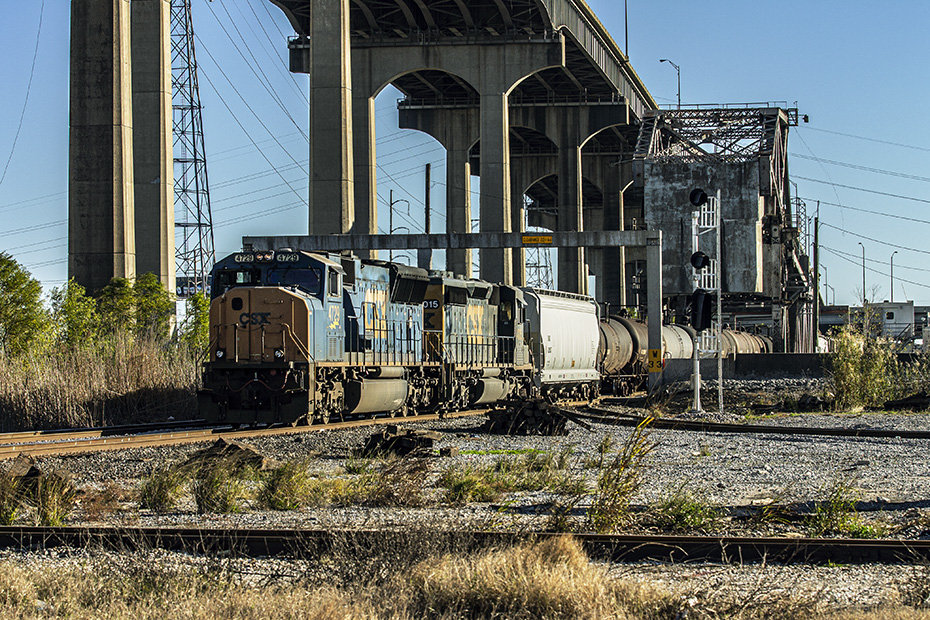 Well, it's really the holiday now.
Saturday, The 22nd
On this day, I photographed the repainting of the railroad bridge over Interstate Highway 10 in western New Orleans.
I think that the reason for the repainting is that New Orleans was hosting the Super Bowl in fewer than two months.
I then went to the Kansas City Southern Railway yard in Metairie.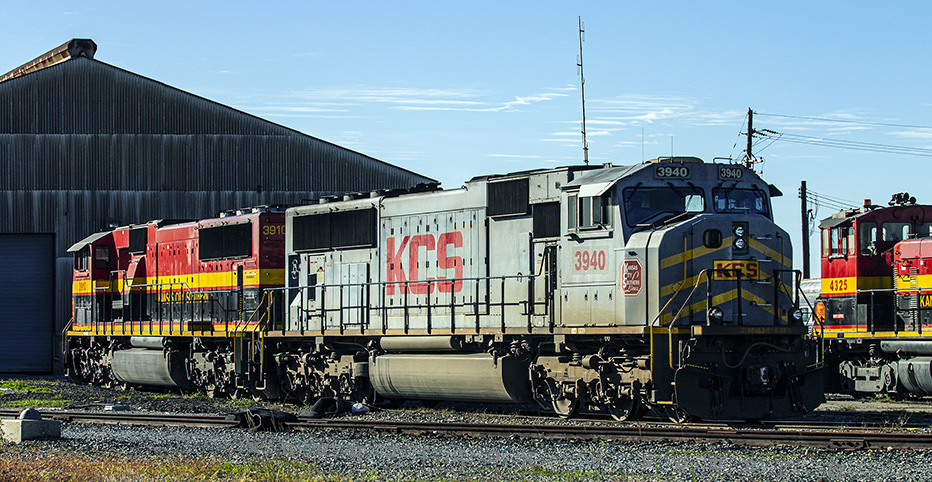 There were still grey SD70MACs, one of my favorites of the modern KCS locomotives, back then.
Tuesday, The 25th
This was a sad Christmas.
So, what do I do?
I go by the track to photograph the eastbound Amtrak Sunset Limited at Schriever.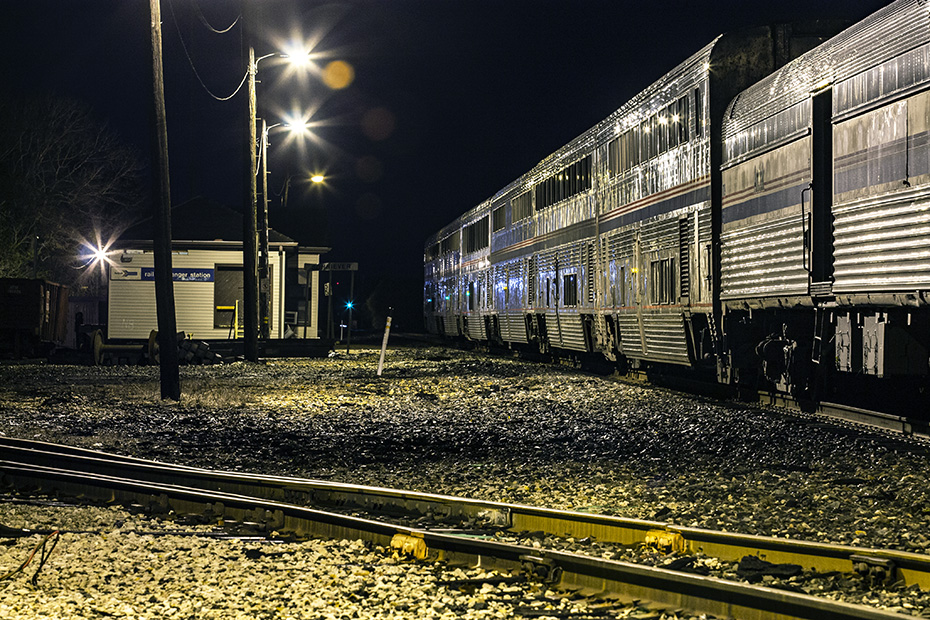 Then, I took some pictures of lightning nearby.
That's home, baby, and I had learned a month before that I would lose it, which was a greater reason for my sadness than the loss of my grandmother three months before, because at least the death of an 87-year-old woman was inevitable and imminent.
Thursday, The 27th
I remember this day fairly well, mainly because I made, a month-and-a-half later, a large post of the pictures from that day. I made my first pictures of the Chip Local – I still called it that, even though Chip retired – since Chip had retired a month before, and the funny thing is that I may not have photographed this train, a train that had for years been my favorite train to photograph, 10 times after Chip retired.
What else I remember about this day is the strange encounter that I had when I was taking pictures by the Waste Management facility.
The last main thing that I remember about this day is that The Duke was bringing something for me in his van to the crib, and that all of my train-chasing on the way delayed him.
Monday, The 31st
I remember this day, too. I went to Morgan City for the first time since my last day at the job there.
Here is what I wrote to a friend on this morning.
"Well, we're not going fishing. Not only is it quite cold, but the wind is really picking up, and my uncle said it's therefore not a good idea to take the boat out. That's okay. So, I'm wondering how this alters my plans. I guess I could go to Morgan City today instead of Wednesday, which would be really good since that's also the day I'm supposed to do stand-up comedy and want to be well-poised for that. That would really free up some time. That's what I'll do, I guess."
So, the initial plan for that day was to go out in the lakes of lower Terrebonne Parish with Nonc to do some fishing, but the weather had other plans. Cold and wind make for an unpleasant, unfruitful boating outing and, depending on the direction of the winds, fishing outing.
Later that night, I wrote again to the same friend that I had just returned to the house "from a fabulous outing! Yes, I went to Morgan City, visited the newspaper, visited Danika at the TV station, ate at Danny's Fried Chicken, then visited with the police chief; then I went to Houma and met the lovely copper artist Joycelyn Boudreaux. Wow! Stay tuned for a pic on the JJ Facebook page. Then I visited my uncle."
I had stopped at the prior workplace and visited some people, letting them know how the new job was going and checking in on them.
Then, I went to Houma, where I met a new friend.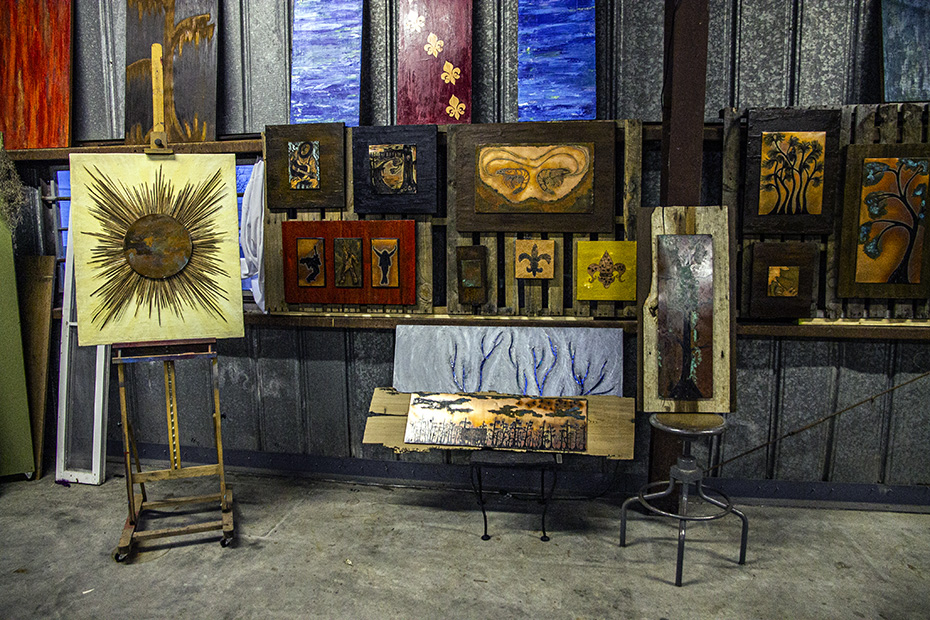 Autism comes to my mind, as do trajectories. There are so many things that I started back then that I didn't finish, even if that characterization is not really accurate and is unfair to me, but everything centered around the struggle to survive, which would soon take darker turns, making me unable to focus on my creative endeavors.
It's all a very strange thing to me in retrospect, and I see that I was building an even bigger wall around myself due to the bomb dropped on me the previous month about how I would be losing my home. Perhaps the prospect of losing my home inspired me – intimidated me – into trying to assert my Cajunness in more creative, catchy, and impressive ways. I don't know, and I was doing more than just that, for sure.
Yeah, that's how 2012 ended, my dear readers. I did my first standup comedy on the night of January 2 of 2013, but I would never again do standup comedy after 2013. The Summer Of 2013 was rather magical and even fanciful, though, and I didn't even travel! Imagine that! Then, in August, it was like I was imprisoned, and darkness fell.
The year 2012 was the last calendar year at which I did any work at the school at which I made my proudest achievements as a teacher, the highlight of my life as a paid employee, it's the year that my grandmother died, the year that Chip retired, and the year that I worked an educational – but not education – job at the confluence of the Teche and the Atchafalaya. Also, a decade later as I type this, I am, thanks to what the Trump Phenomenon has revealed, rethinking and reconsidering Staind, a band that was important to me not later than 2001 and as late as 2012, when I saw it in concert.
Thanks for checking out everything, and I'm sorry that the writing here doesn't necessarily flow well, as I wrote it in parts. The year 2013 was equally awkward, though I got some good pictures here and there. The year 2014 would be more focused, though fraught with back surgeries, and I would get some good pictures then and in the first week of 2015 and then very sparsely over the next six months before going into a dry spell until 2016.
That's all!
Jim