Jimbaux knows that you just don't get it, you keep it copacetic
And you learn to accept it, you know you're so pathetic
And you just don't get it, you keep it copacetic
And you learn to accept it, you know you're so pathetic.
Born To Be Down
This, 13 June 2022, is Peartree's last Monday as an active railroader.
I caught up with his crew working on the mainline with Ethan protecting the shove to the MoP yard.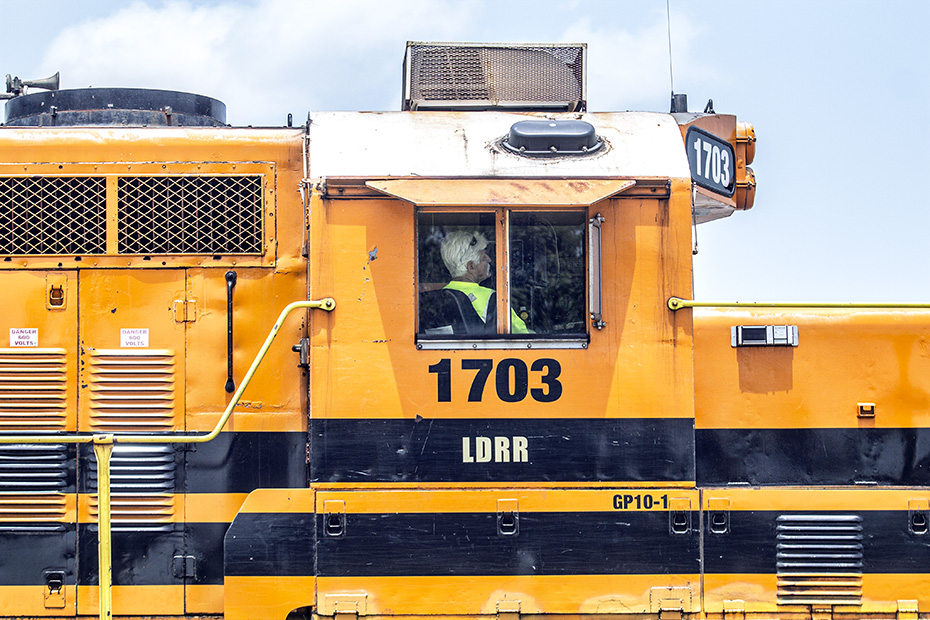 There is Peartree, in the cab of and at the controls of the LDRR 1703.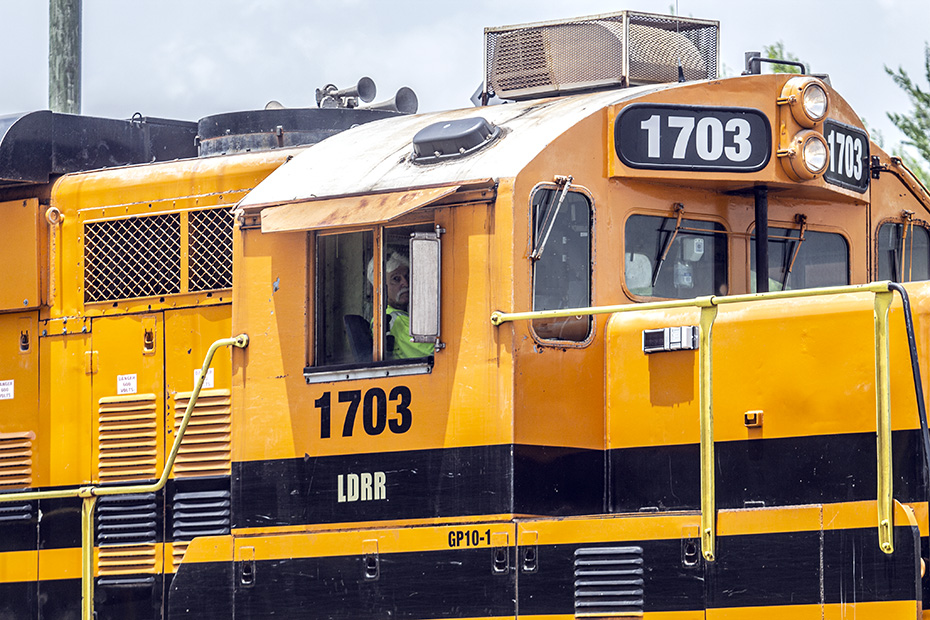 Next, we are by Lasalle Street.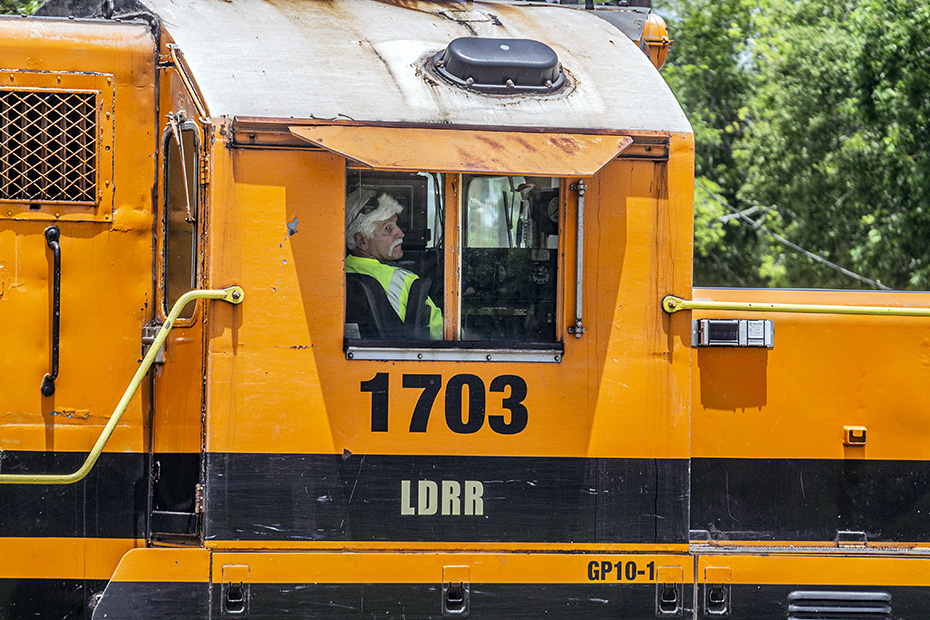 Peartree went to work for Southern Pacific in 1973!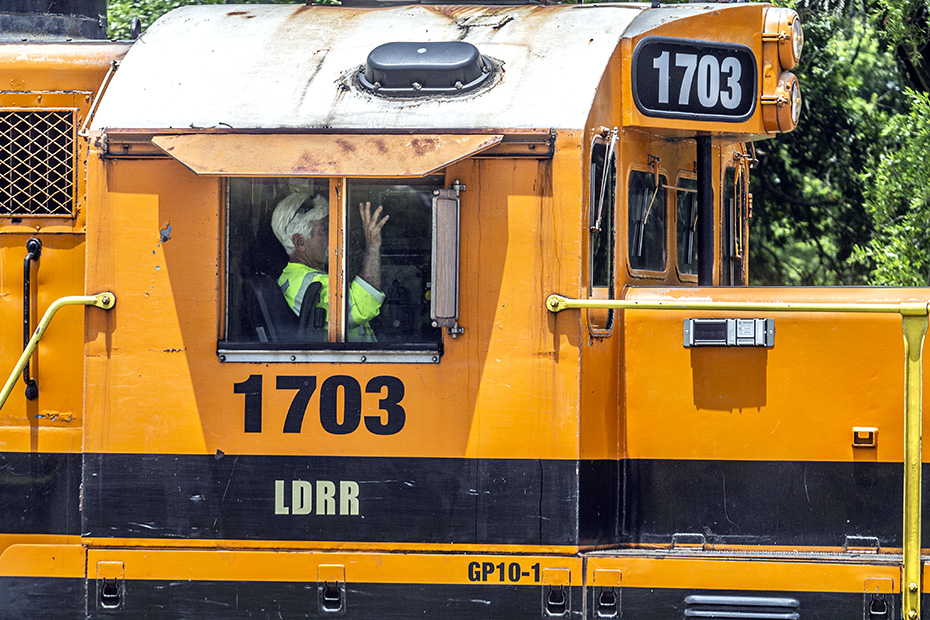 So, the locomotives are off of the mainline now and onto the MoP spur that was once part of the Missouri Pacific Railroad branch from Port Barre to Patterson.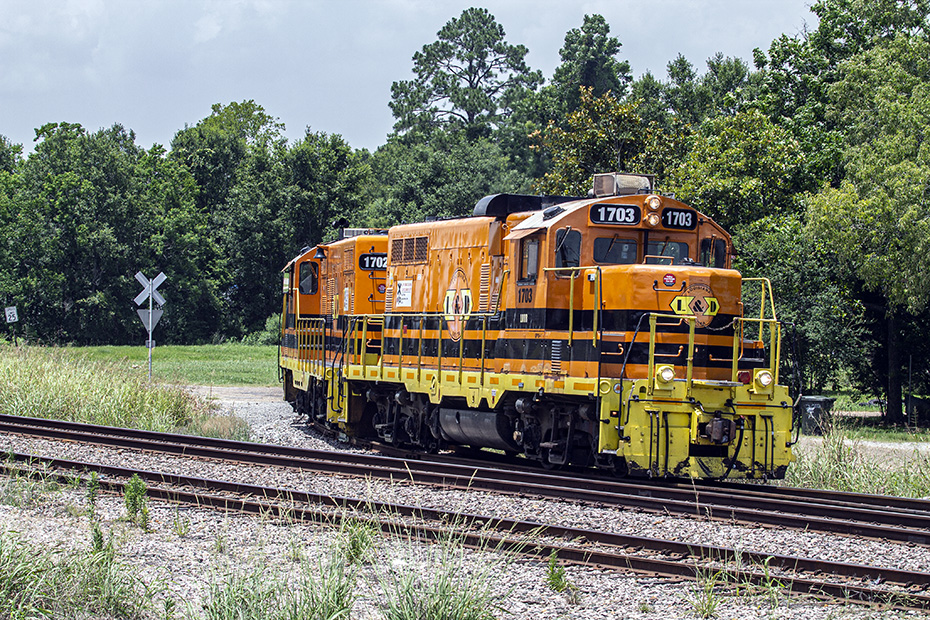 Here is a new shot, something that I have not before done, at Fulton Street.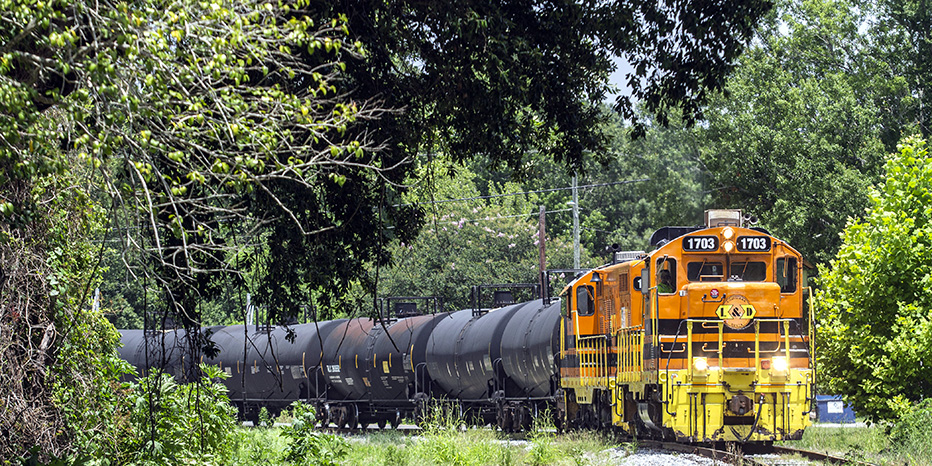 The train is still shoving there, moving away from the camera.
Next, we are at the MoP yard.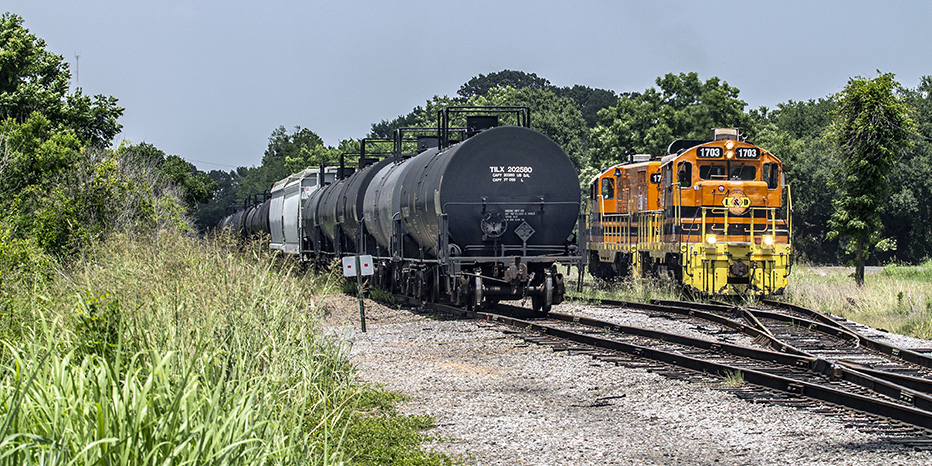 The first thing that they do is set out the other locomotive, the LDRR 1702, on another track so that it and the 1703 can bracket the train that they build.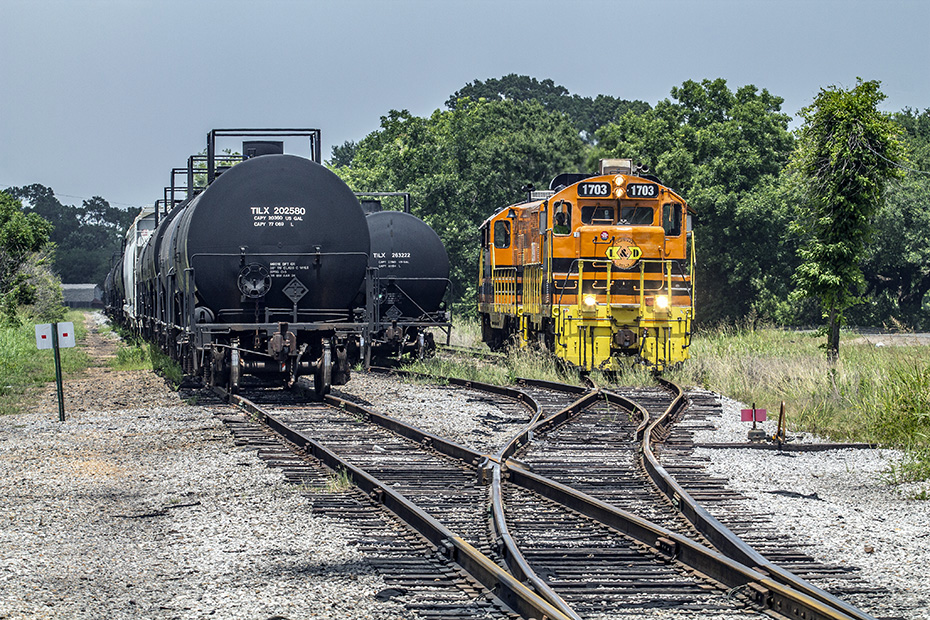 The main purpose of this yard is to be able to stage inbound cars for customers and then build trains of the cars when the customers are ready for the cars.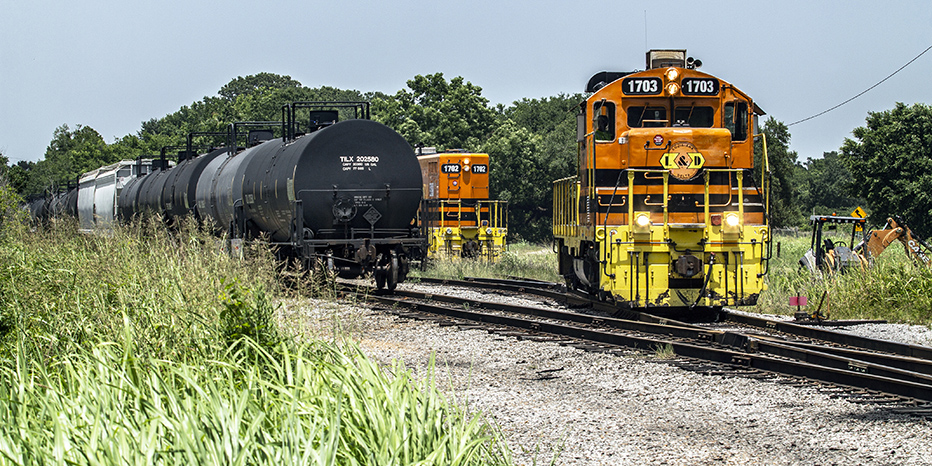 Until 2004, though, this was also the location of an active sugar mill.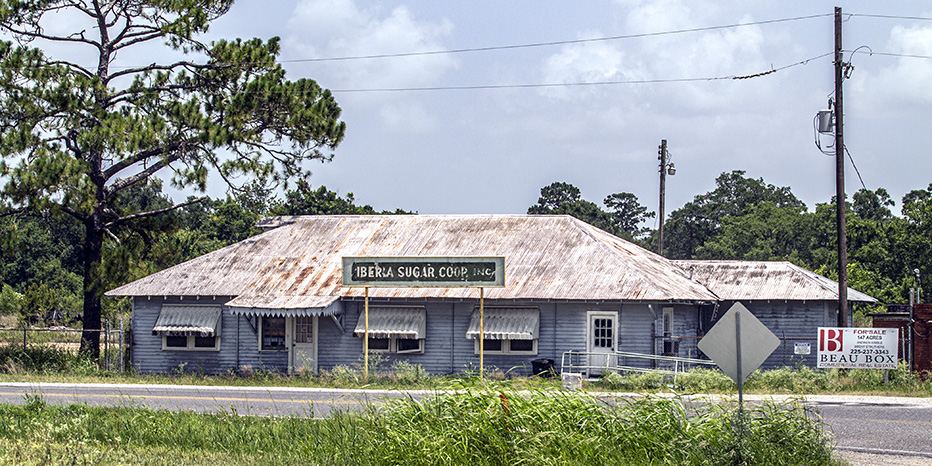 Now, the 1703 goes and grabs some cars out of one of the yard tracks.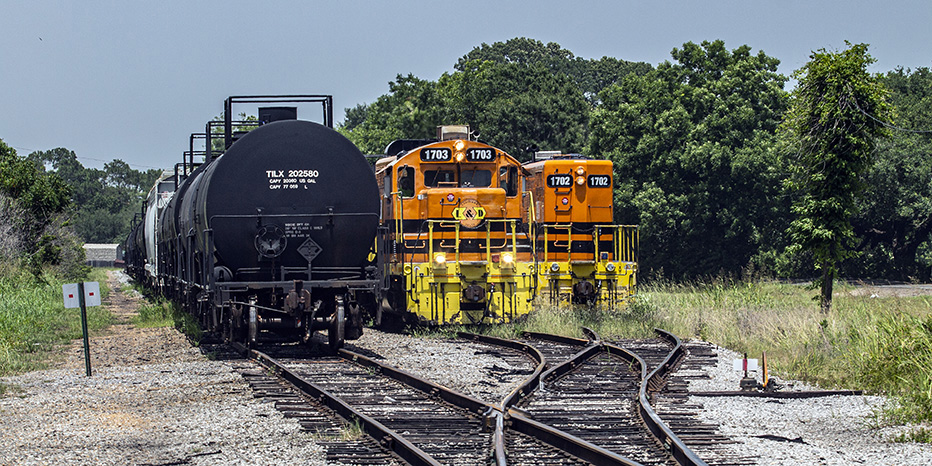 Jace is about to get out of the sedan and man the switches.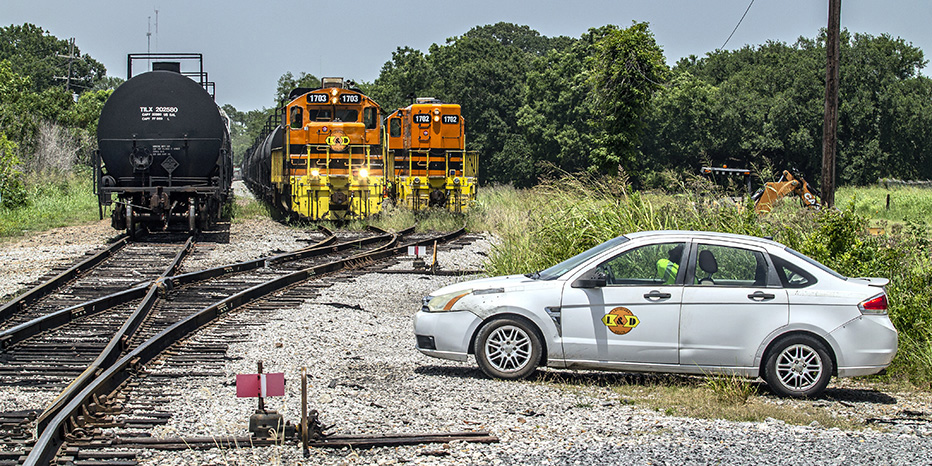 This is not as cool as it once was, but I can't do anything about that.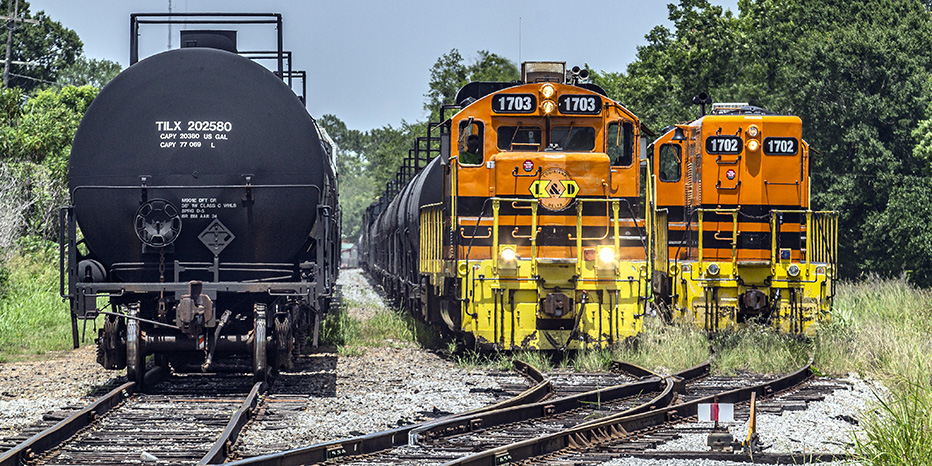 Peartree is cool, though.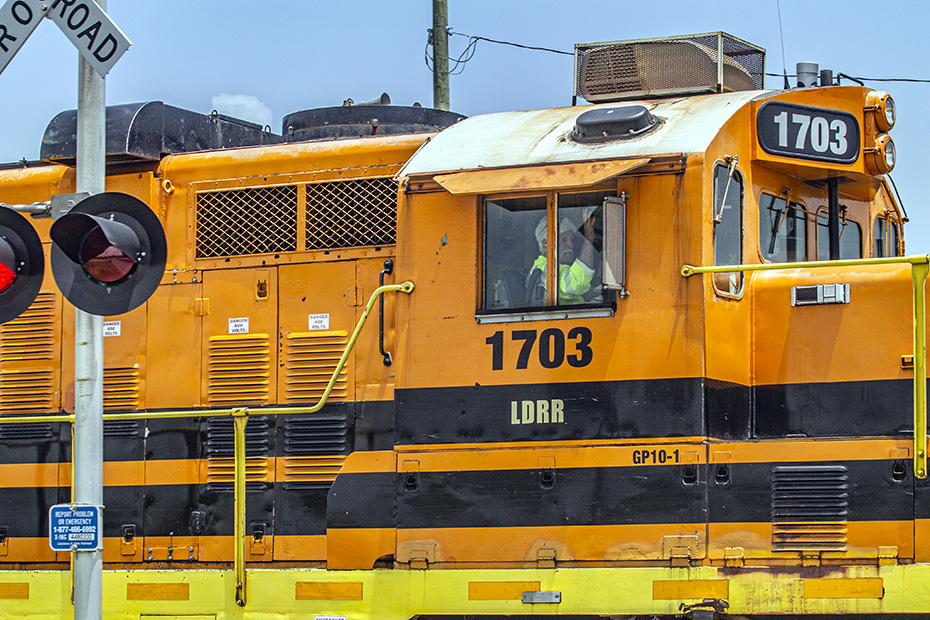 Peartree gives us a wave.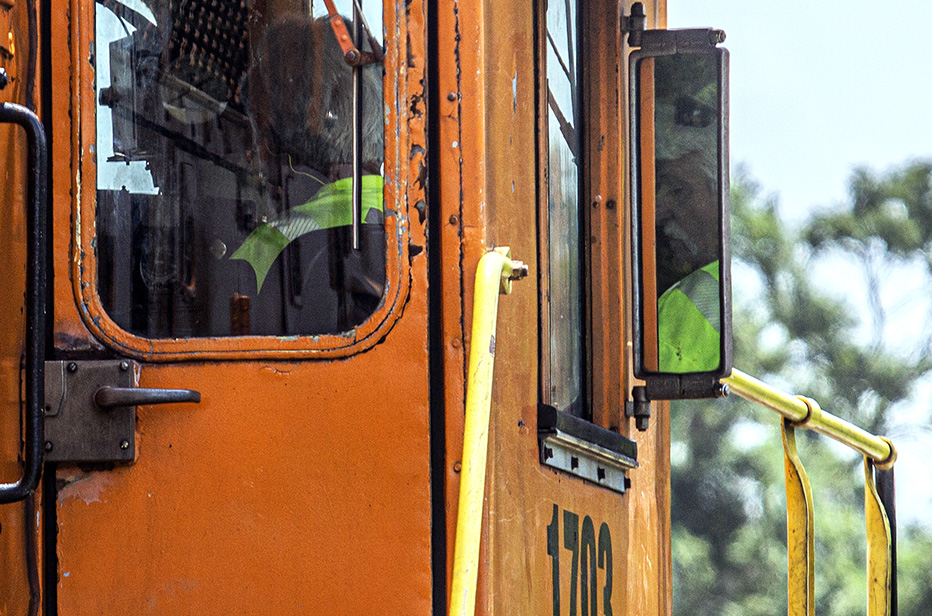 There is Ethan on the ground working the coupling and uncoupling.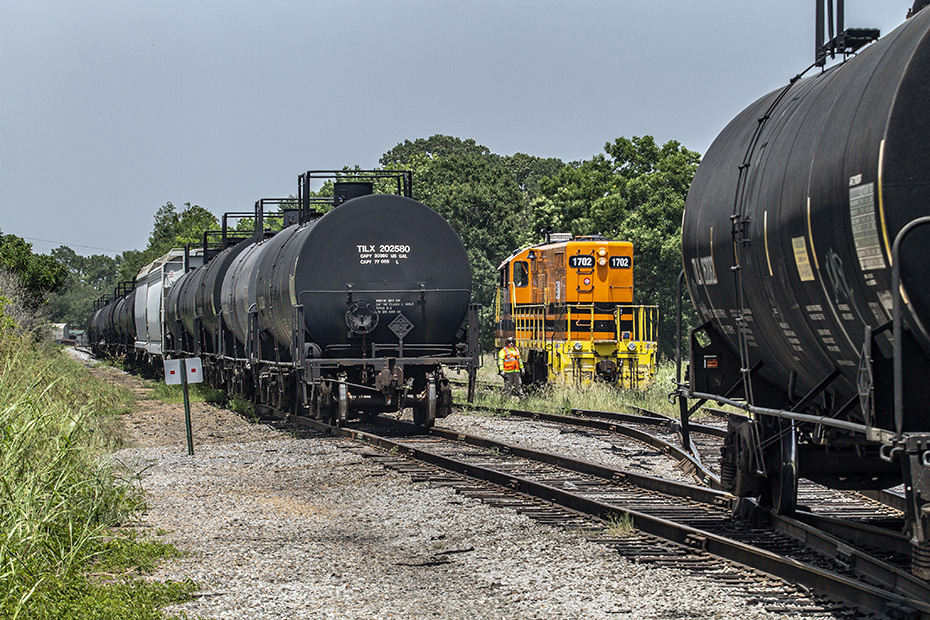 On this day, his third-to-last day railroading, Peartree is working with two guys who are much less than half his age.
Peartree's own children are much older than these two young men working with him today.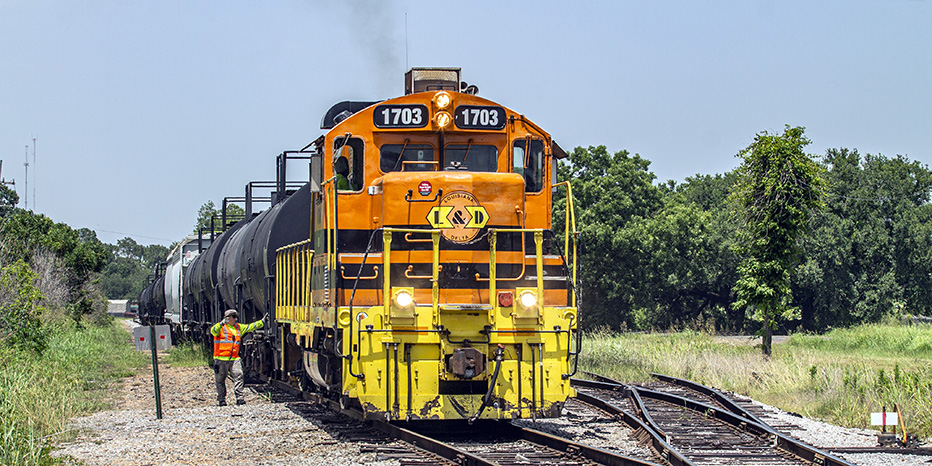 They know that they are working with a legend.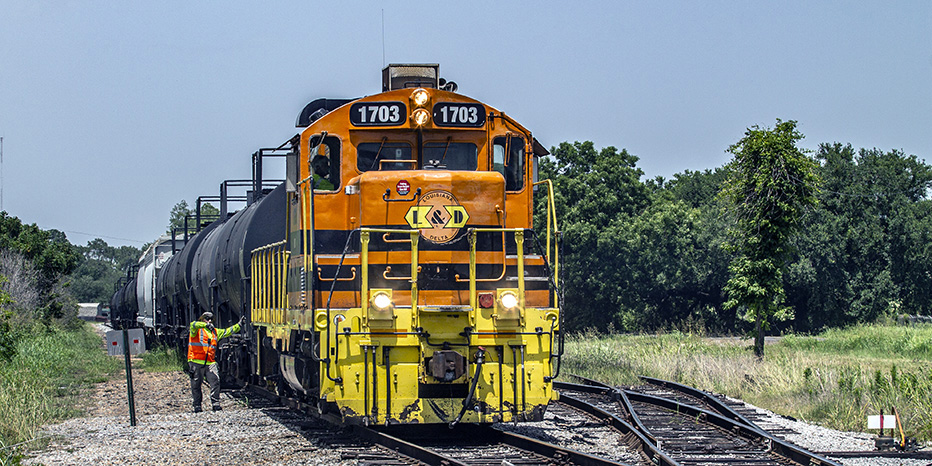 And Peartree knows that he is one!
It's hot.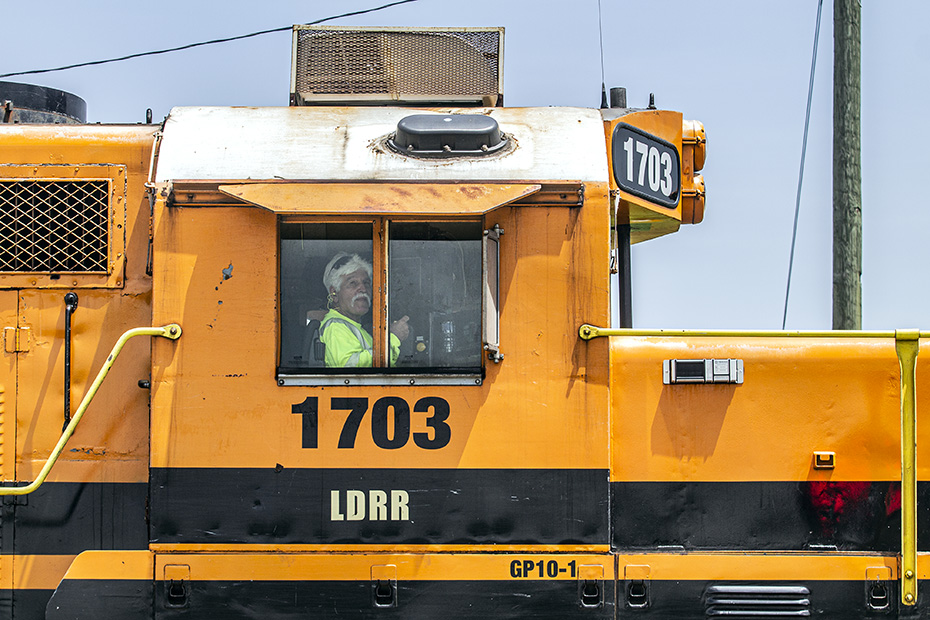 You can see parts of the old sugar-mill complex in the background here.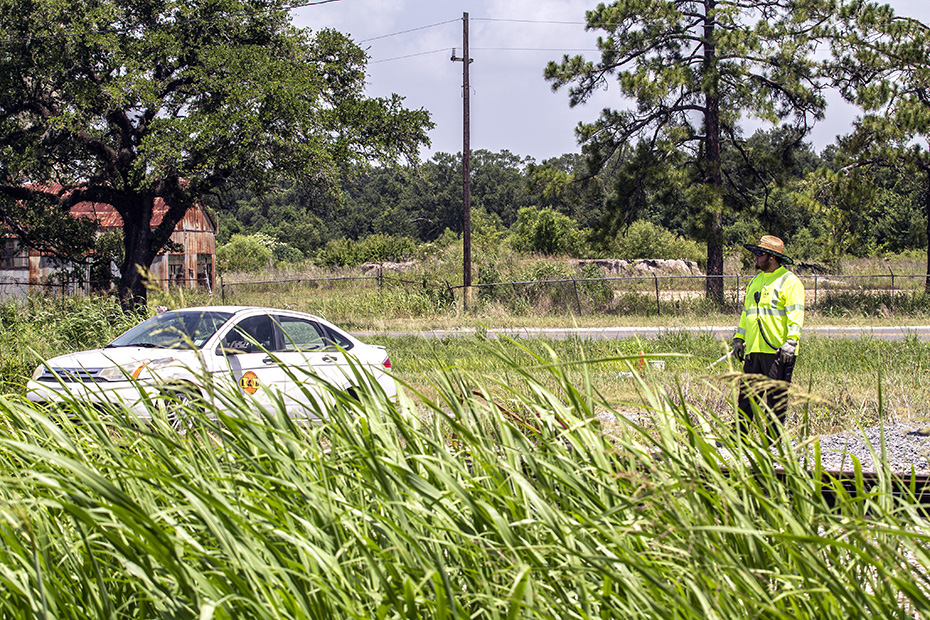 Having one man just on the switches speeds up this process.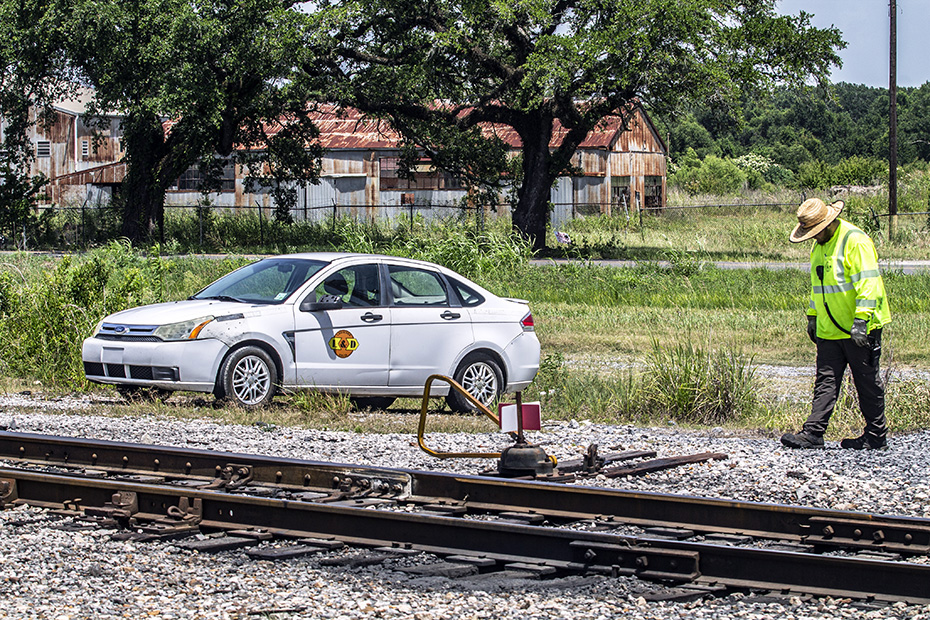 Did I mention that it's hot?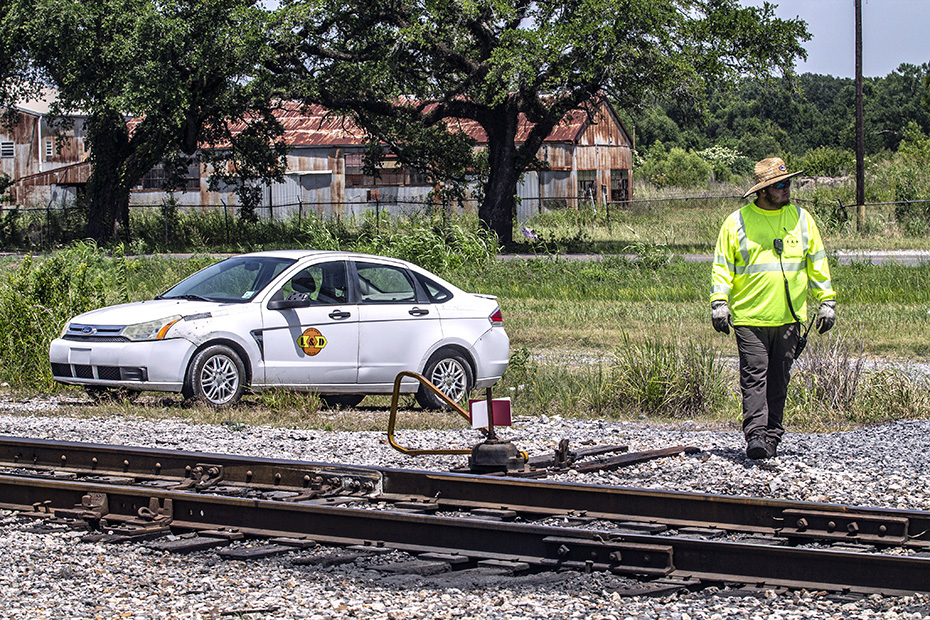 It's June in Louisiana.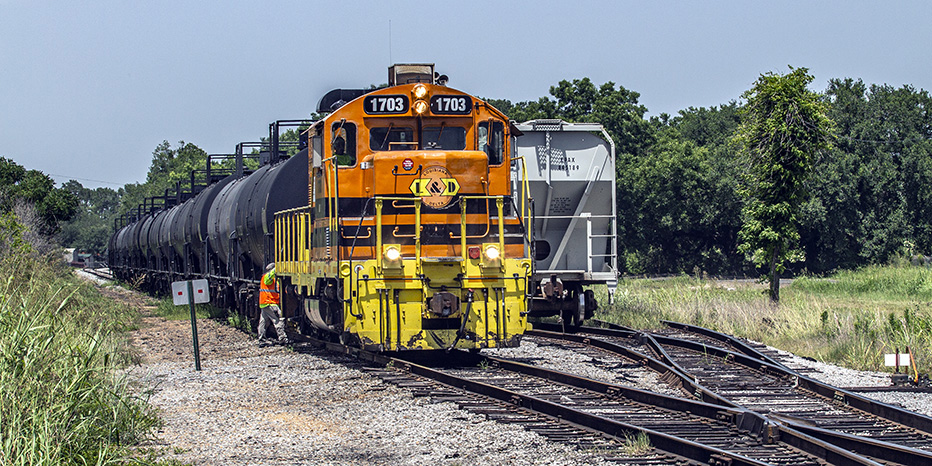 It's about time for the wave!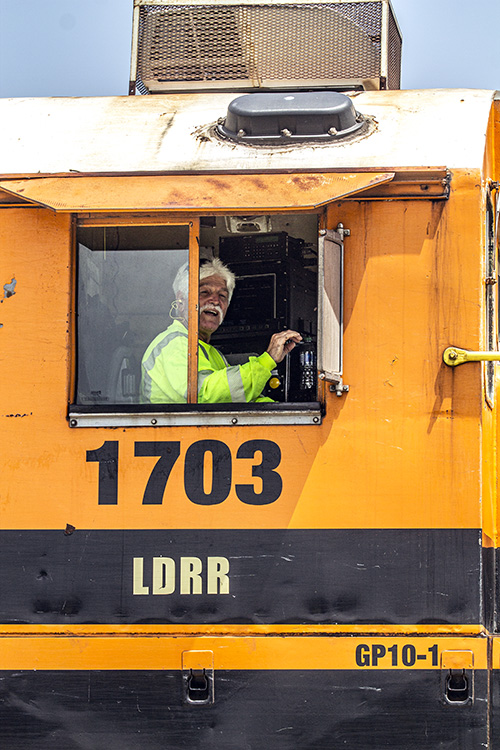 There it is.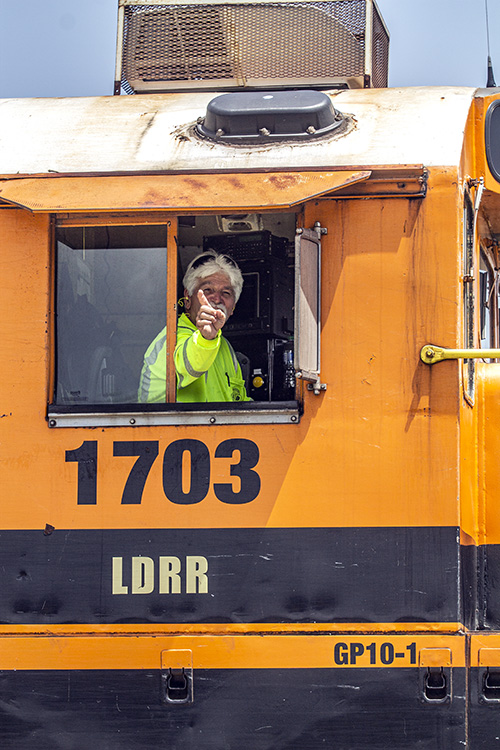 Okay, don't wave in such a way that it obscures the view of your face!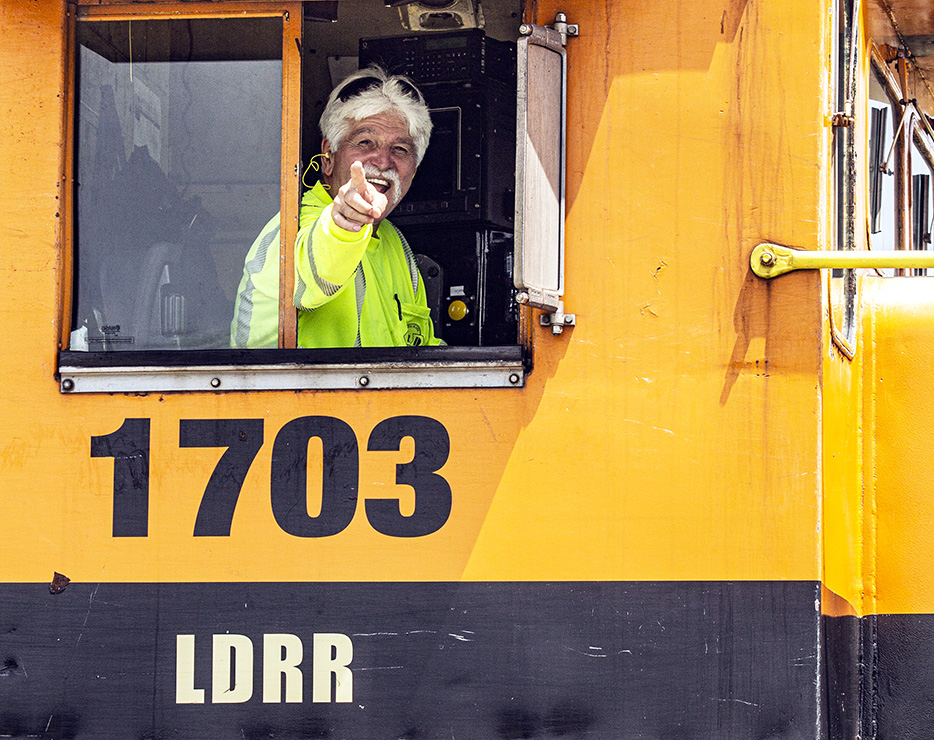 There we go!
That's a portrait of a very-much-veteran railroader at work.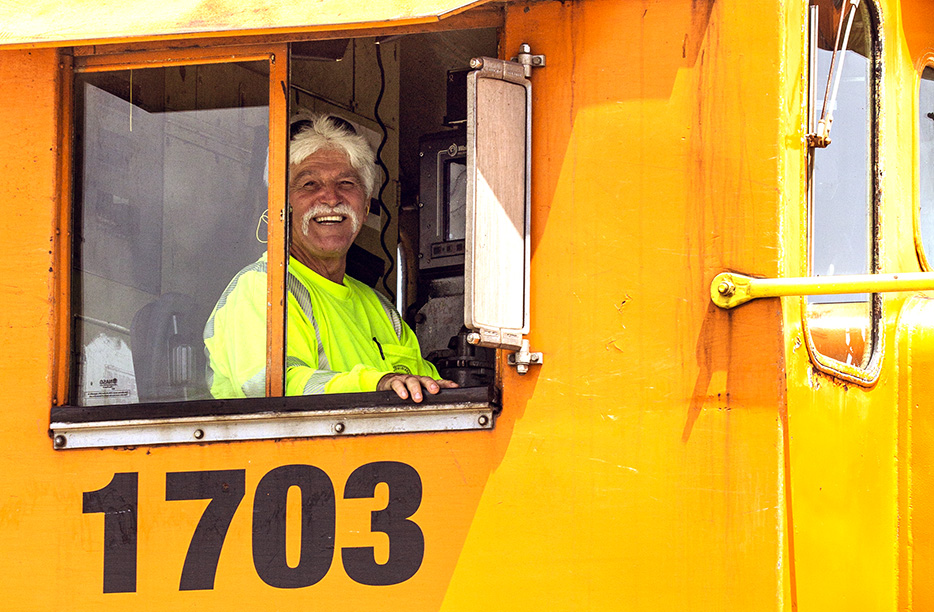 The Louisiana & Delta Railroad was formed in 1987 when the Southern Pacific railroad, as part of a trend spawned by the deregulation of the railroad industry the preceding years, sold all of its remaining branches along its Sunset Route in southern Louisiana. It was the third shortline of what was then a very small Genesee & Wyoming firm that has grown dramatically since then.
In 1996, the Southern Pacific would be swallowed by the Union Pacific Railroad.
For obvious reasons, all or practically all of L&D's original train-service employees were hired from the Southern Pacific locally.
So, even though the railroad would obviously hire new young people entering the railroad profession in the process of coming work for L&D, for all of its 35-year existence, L&D has had some ex-SP men working on its trains.
That will change before this week ends.
Peartree, the son of an SP railroader himself, went to work for SP in 1973, back when railroading looked much different, though so much is the same. He was not among the initial L&D hires and, instead, left railroading in 1988. In 1995, he returned to his roots, though, and went to work for L&D, which, at the time, still had plenty of ex-SP employees, and has been working there since then.
It's the end of an era that probably couldn't have a more congenial representative representing it, as the joie de vivre that you see in this image of Peartree working the old MoP yard at Sugar Mill Road today is real. Today, the man worked with two trainmen who are significantly younger than his own children, and he helped them "pass a good time" while working.
They know that they are working with a legend, a man who is not a railroad enthusiast like your photographer but who is 'into' being a railroader and into sociality in general, always generous with knowledge and kindness.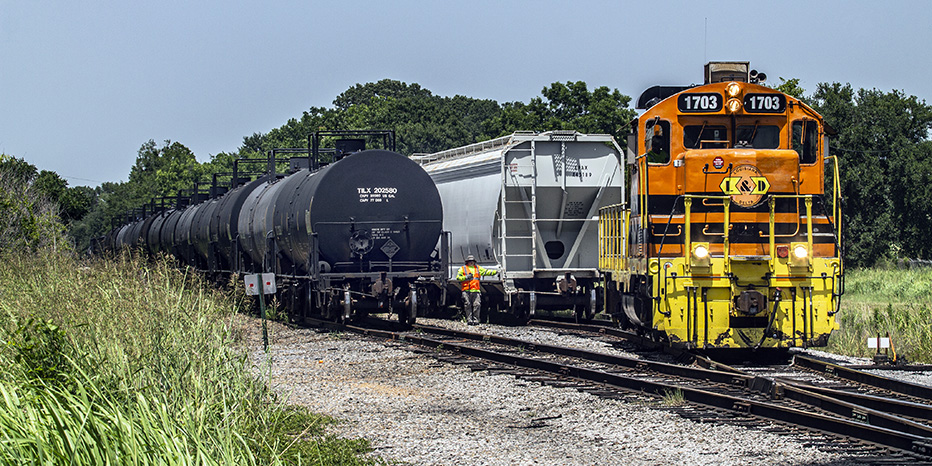 Now that they're done their work in the yard, I'm back at Fulton Street in time to grab the shot of them coming this way.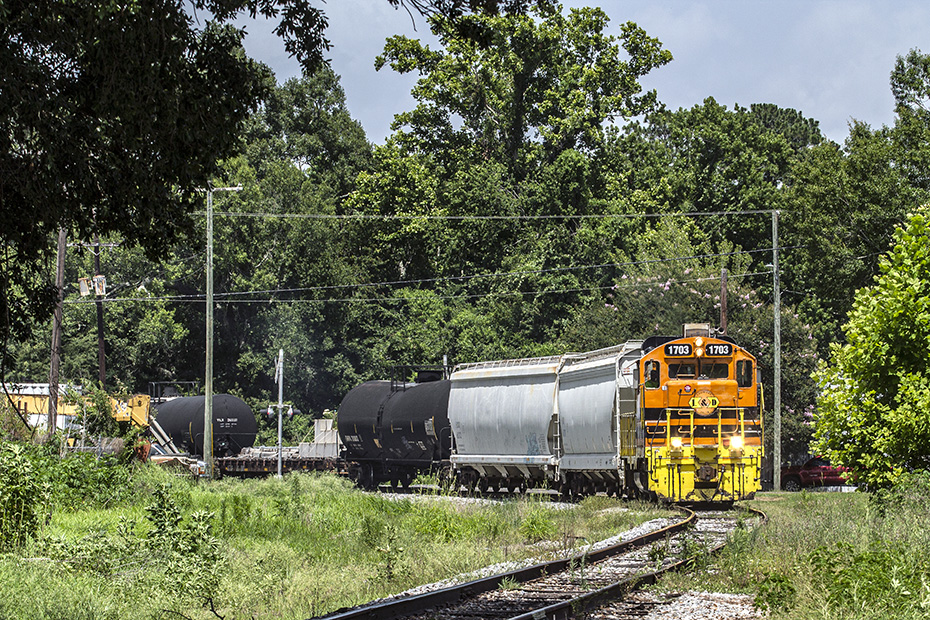 Okay, that flatcar makes things interesting.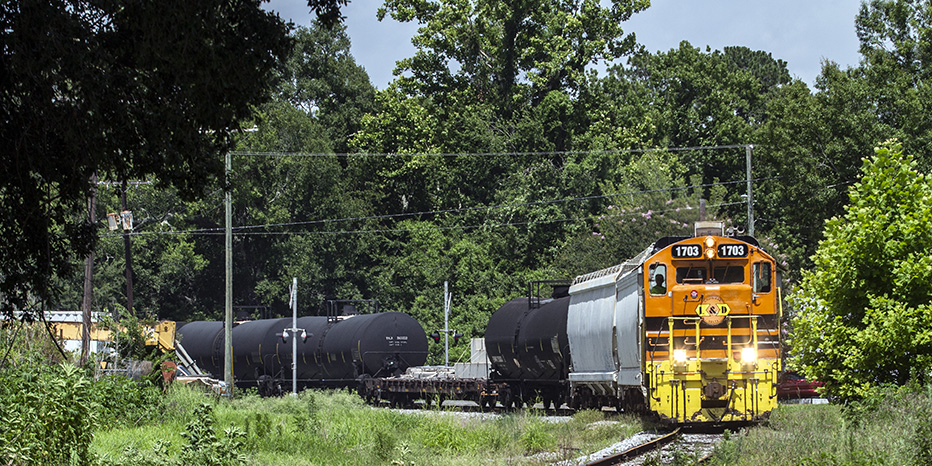 Do you like Rage Against The Machine?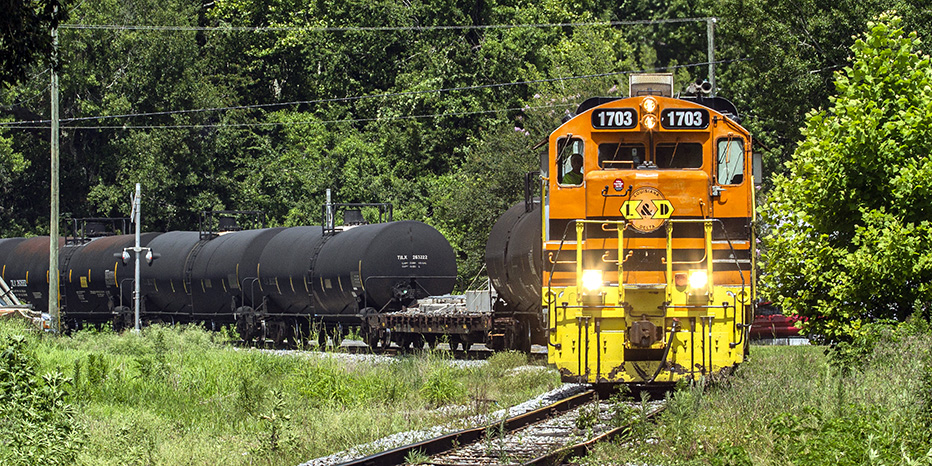 This is better, I guess.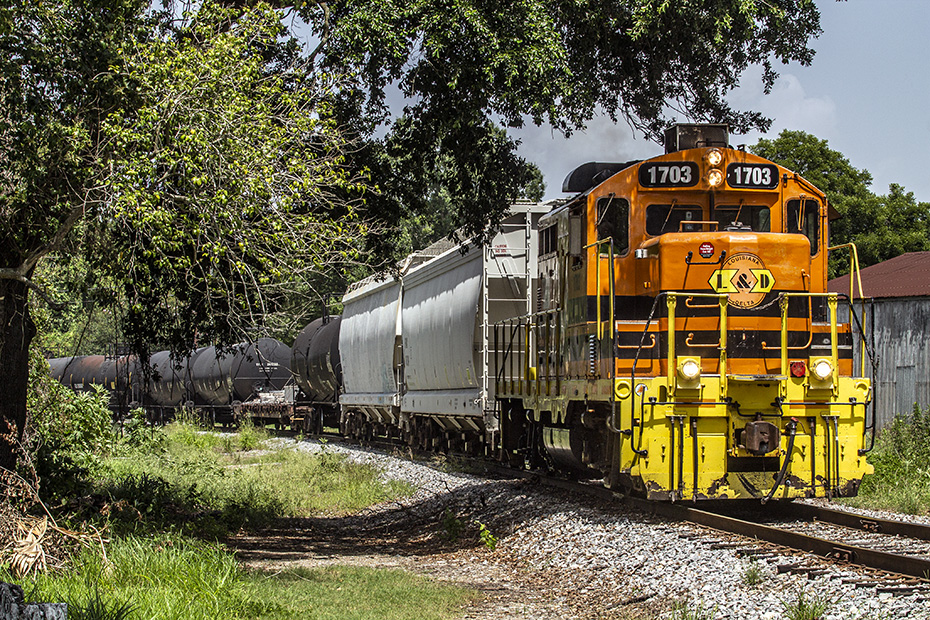 This is about to be a thing of the past!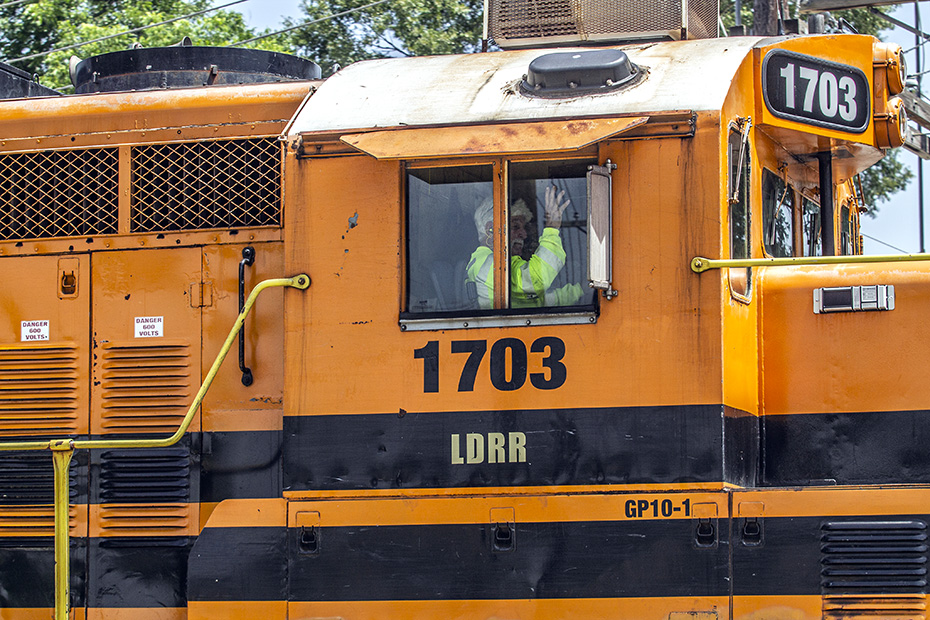 Here is the train getting off of the MoP branch and getting back onto the Sunset Route mainline.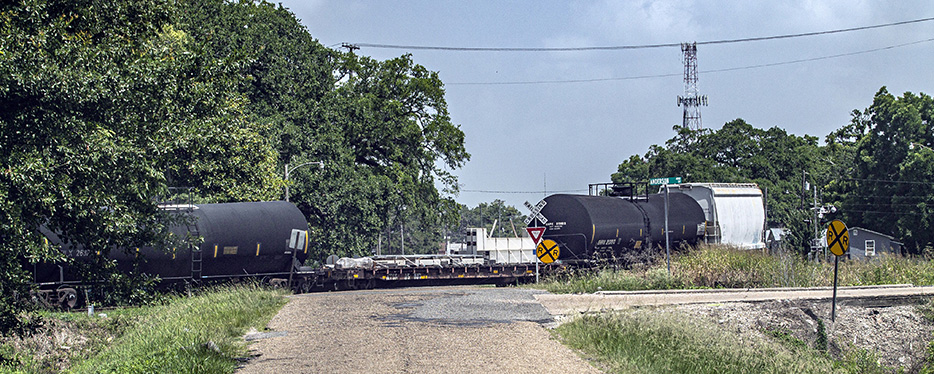 I guess that what the flatcar is carrying are parts for bridges or other right-of-way structures.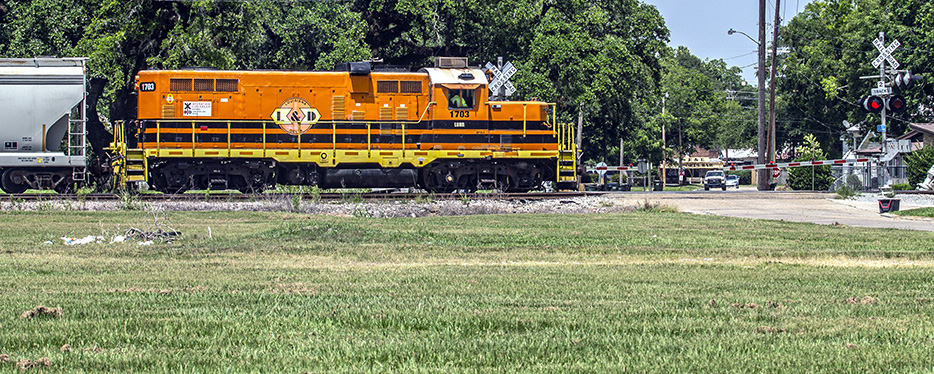 So, once on the mainline, Peartree swaps ends, meaning that he goes to the other end of the train to get into the 1702 – remember what I said about it being set out in the yard so that it could be on the other end of the train – and then the train reverses direction to go west.
We are at the ARA track on West Admiral Doyle Drive.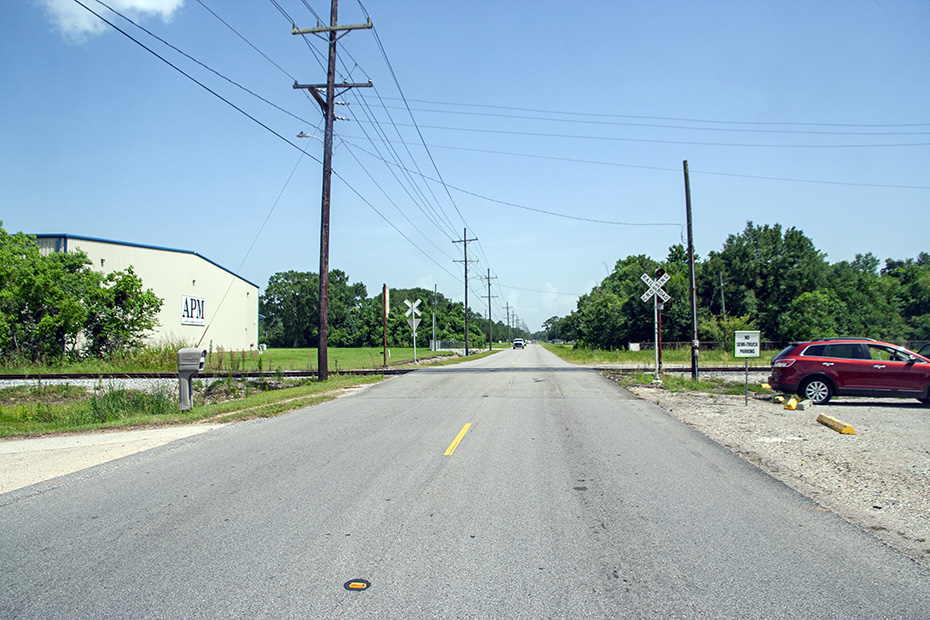 Here is a view down this short spur.
Ohmygod, why in the hell do I even do this?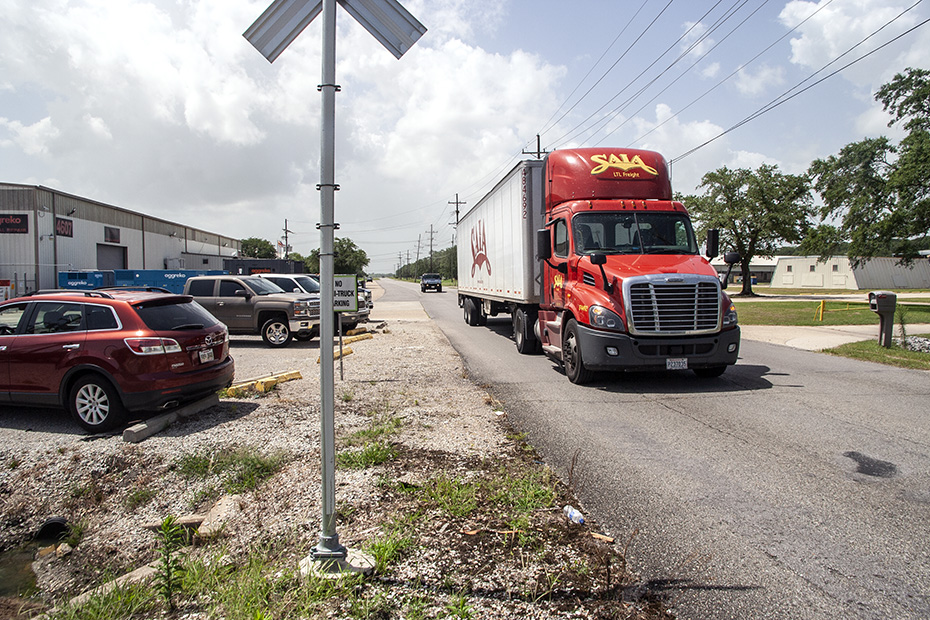 I felt like a real damn foamer standing at the crossing at ARA waiting in the heat with two SLR cameras hanging from me.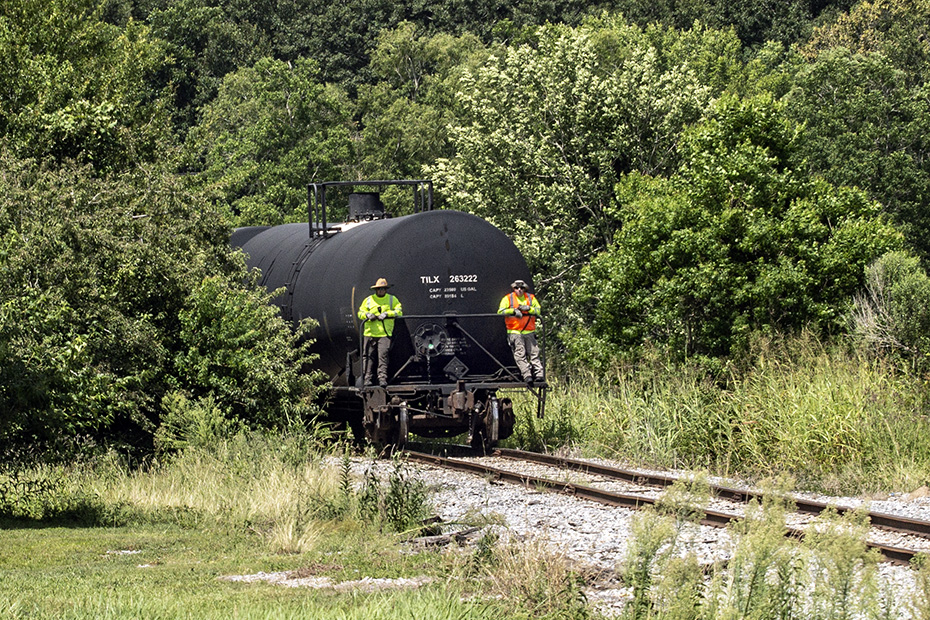 Unfortunately, that's because I am a foamer.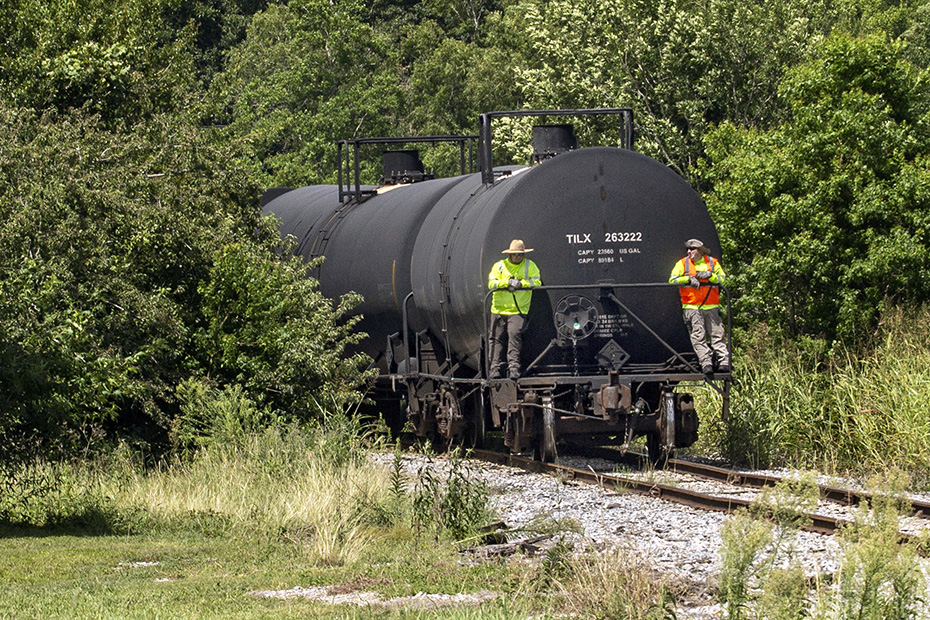 See? Ethan is telling Jace "look at that sorry damn foamer!"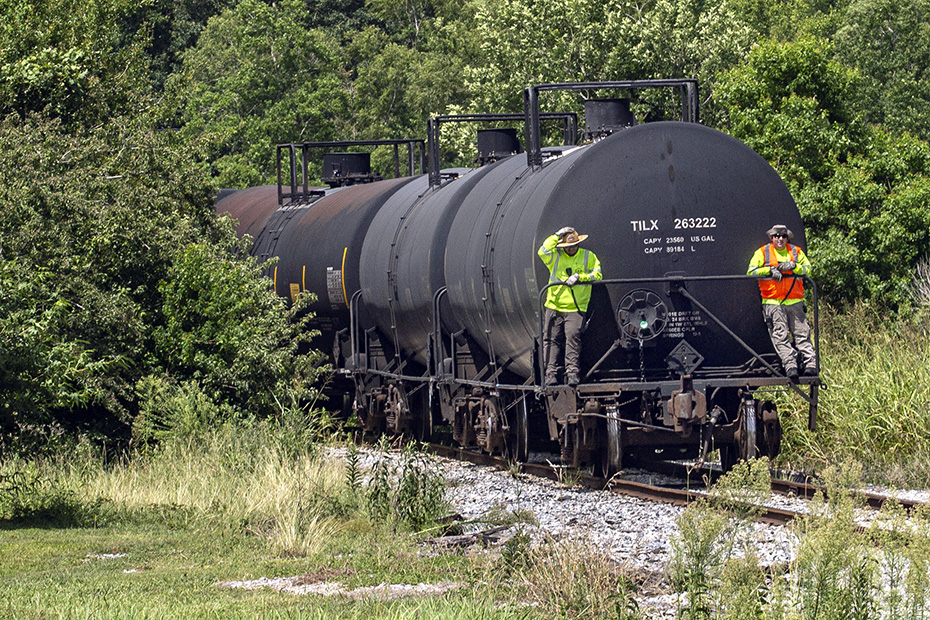 And who could blame him for saying that?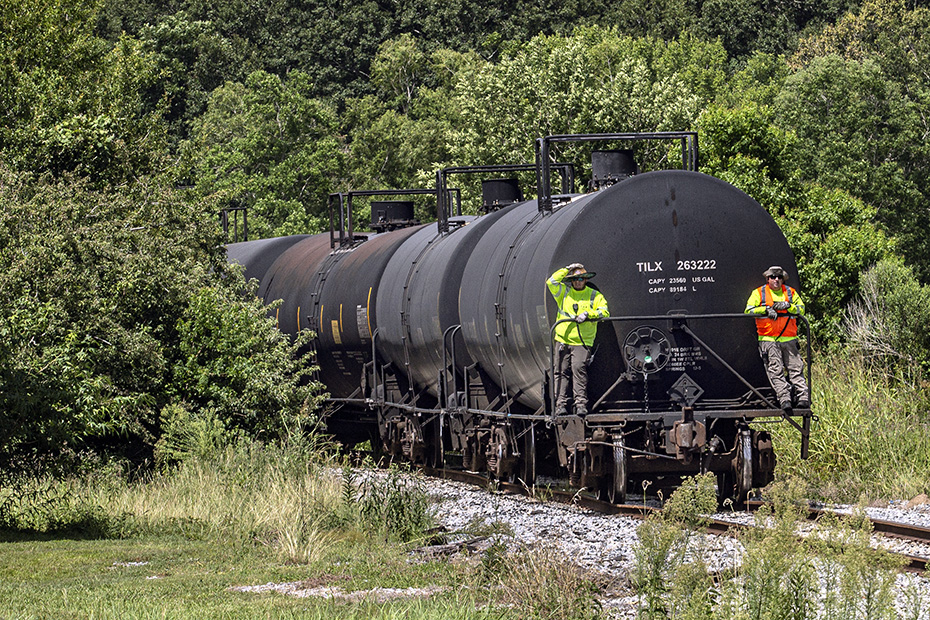 Well, anyway, when they are 67 years old, they, too, might find these pictures to be valuable.
I mean, their main concern right now is automotive traffic on West Admiral Doyle Drive.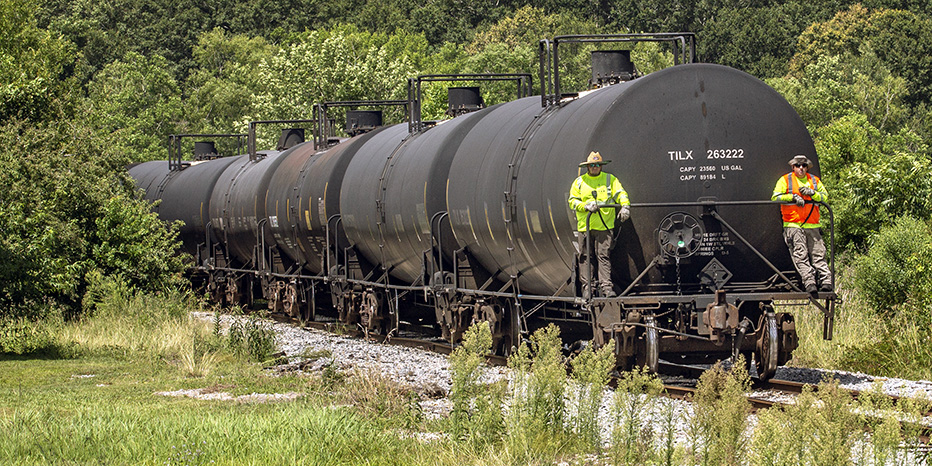 Peartree is at the other end of this train in the 1702 at the controls.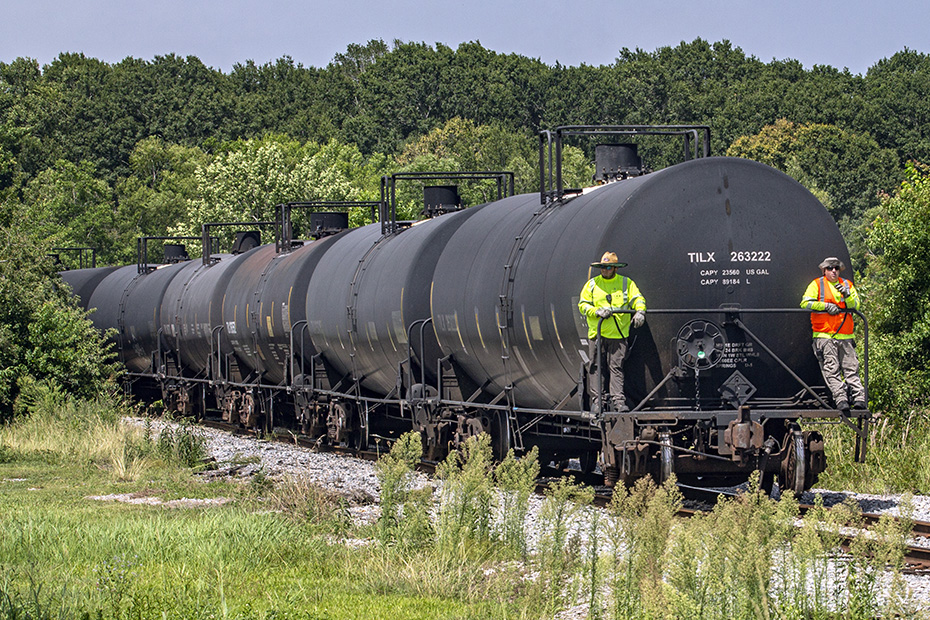 I remember when I tried to earn money by taking pictures of trains!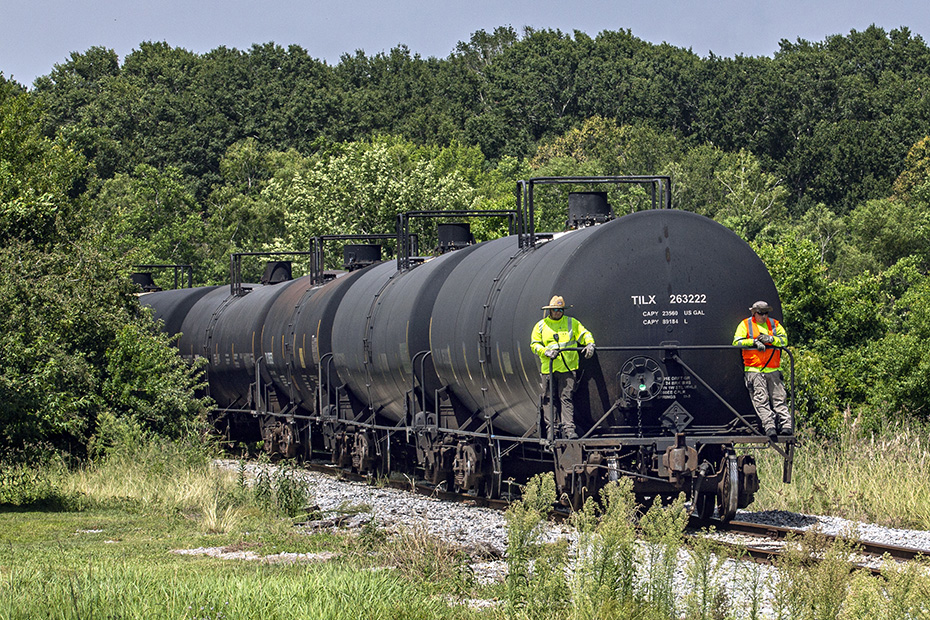 I was so naïve.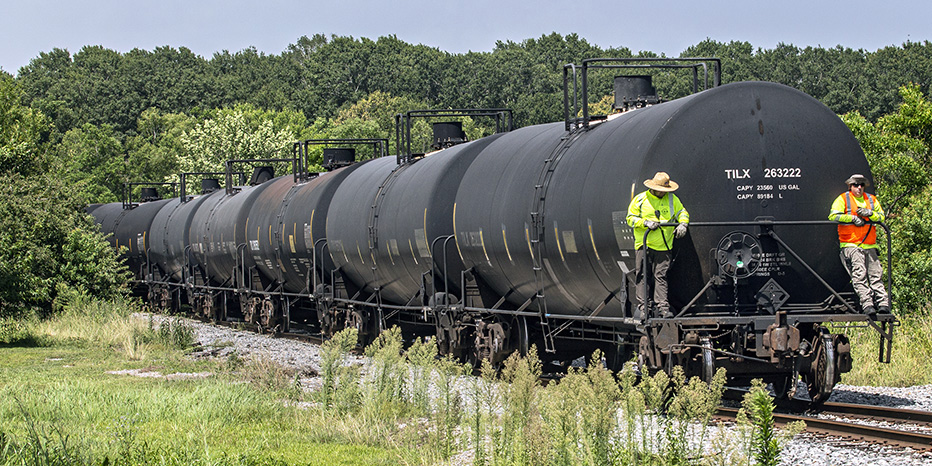 I guess that it's all clear to the west.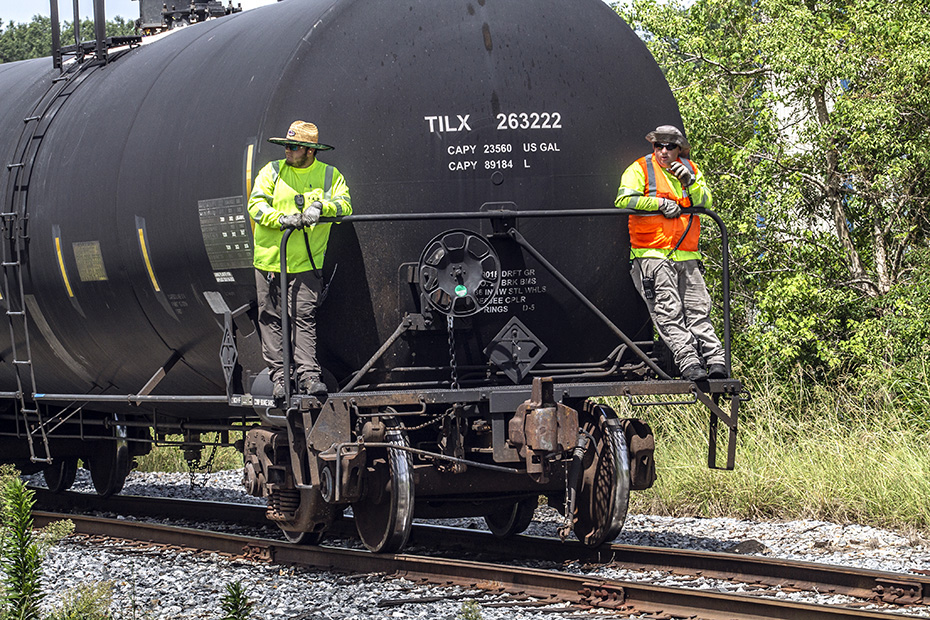 I guess that it's all clear to the east, too.
Well, that worked out okay.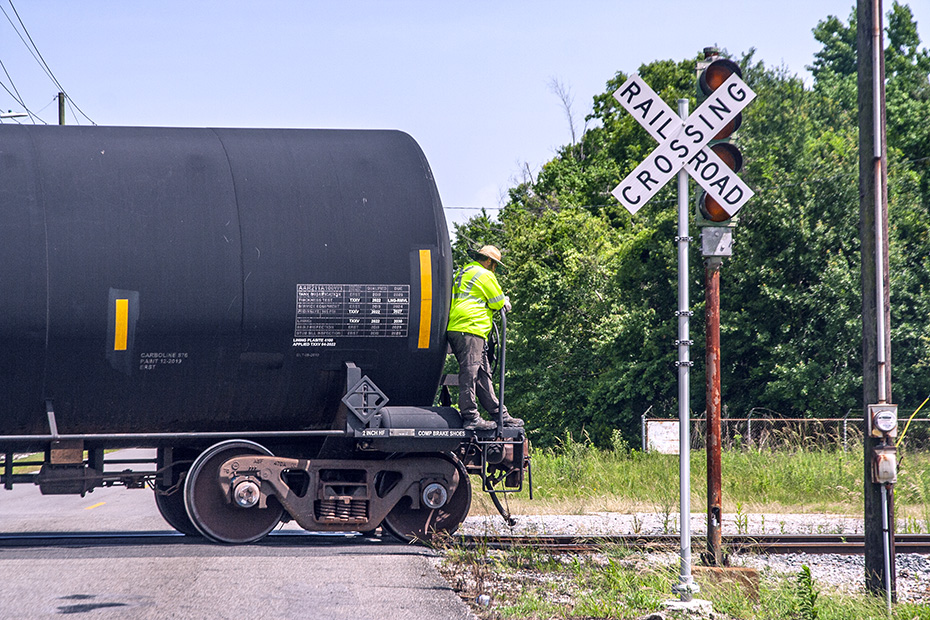 Here is what has been pushing this cut the whole time.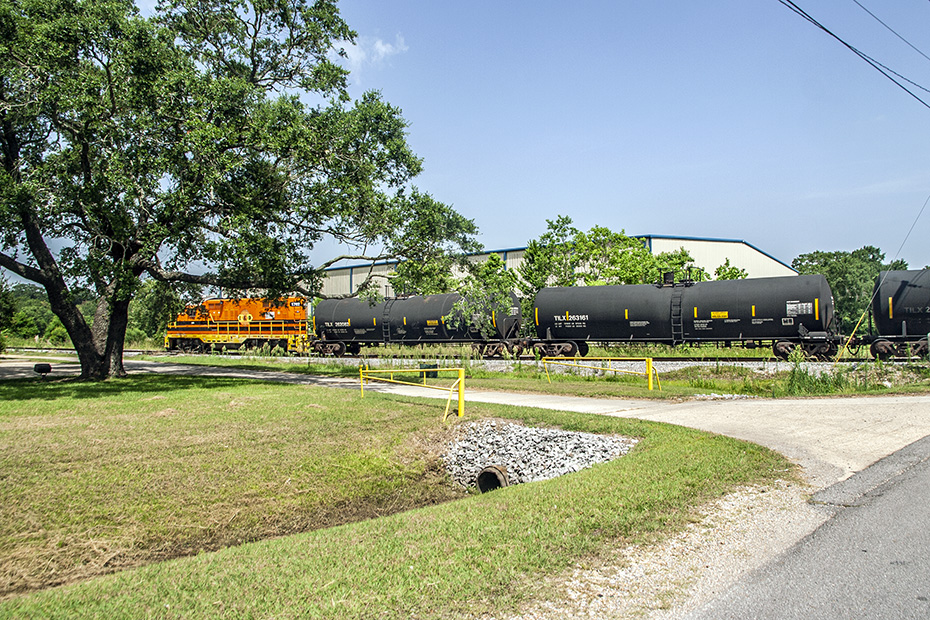 Well, there you have it.
"I Need You" by Lynyrd Skynyrd was playing as I watched them switch the transload. I like that song.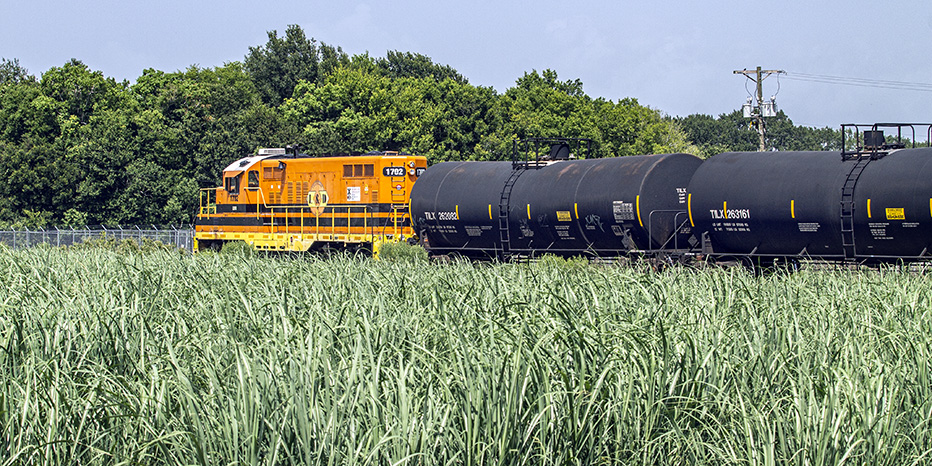 Then, "Cocaine" by Eric Clapton played as I took a tablet picture to send to Krystal, who had just messaged me to thank me for documenting her father's career.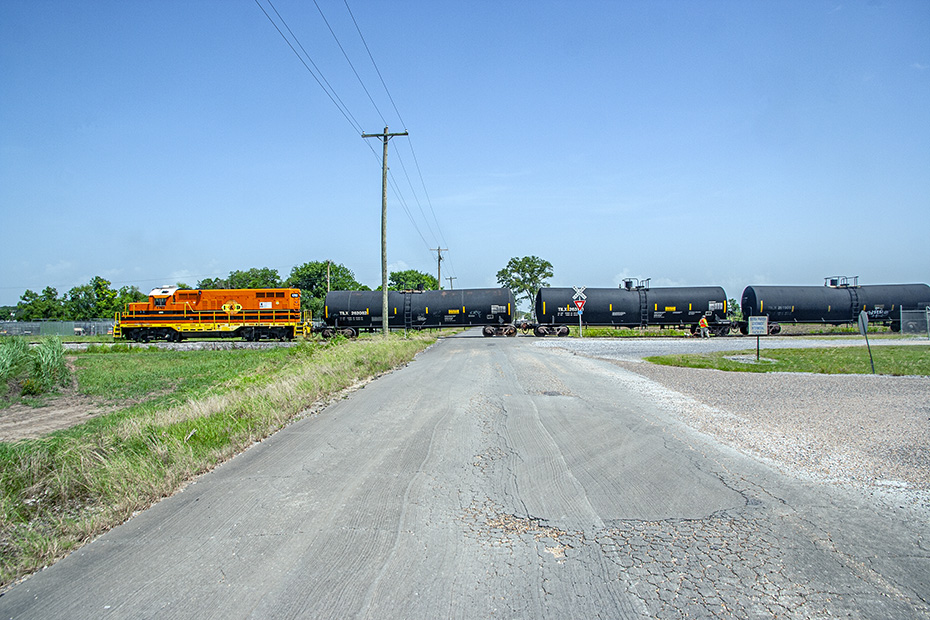 Below is the tablet picture.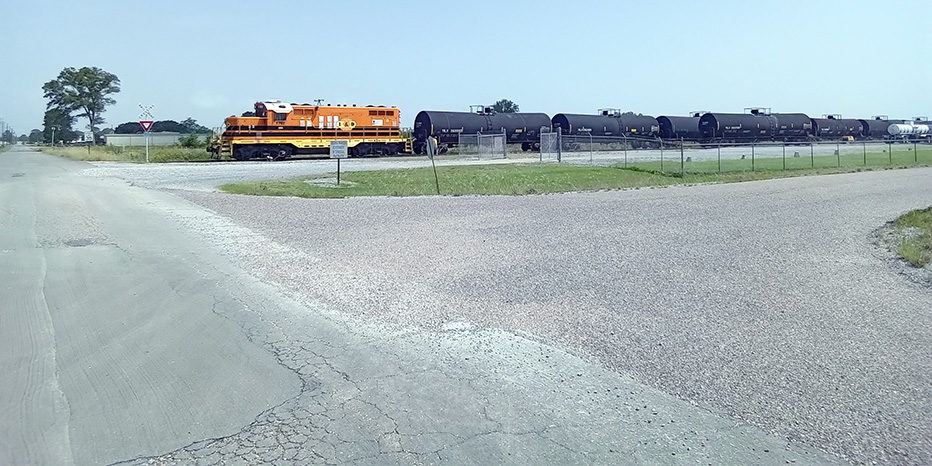 Well, now they are leaving with only one tank car.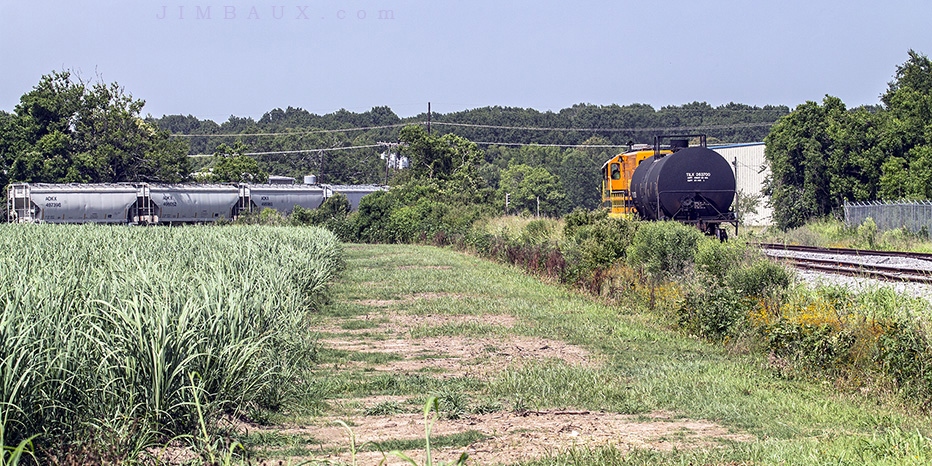 There is only one thing to do now: go to the interchange yard.
Well, I guess not. I guess that I should go back west to the NW Bypass Highway, and, so, I did.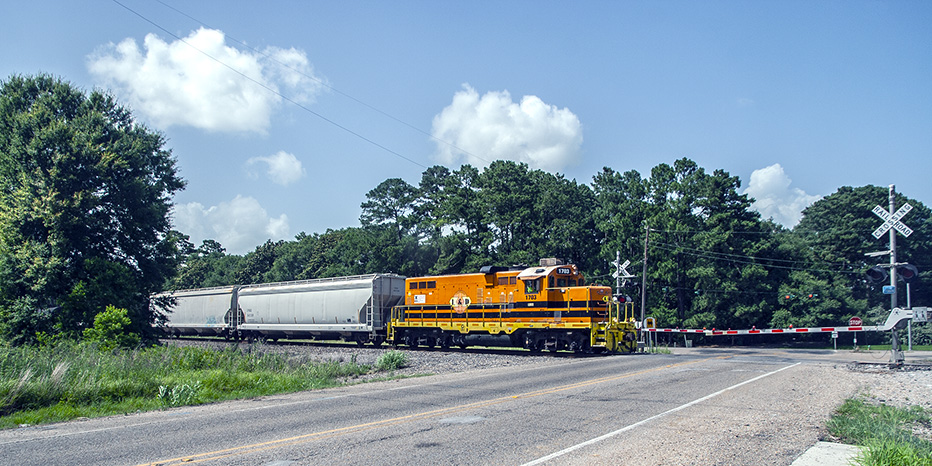 Okay, now, I am back at the interchange yard, trying to work the view as best as I can given the solution space.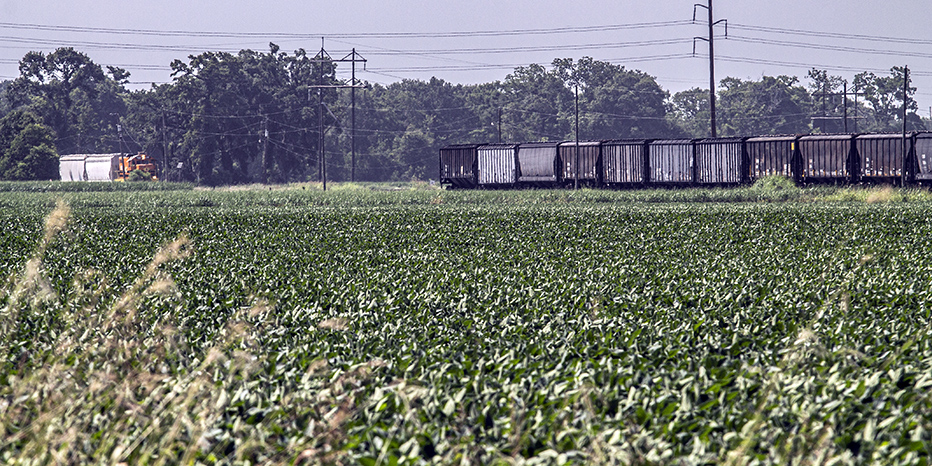 Wait, that doesn't look like sugarcane. What the F is going on here in New Iberia, Louisiana, queen city of sugar?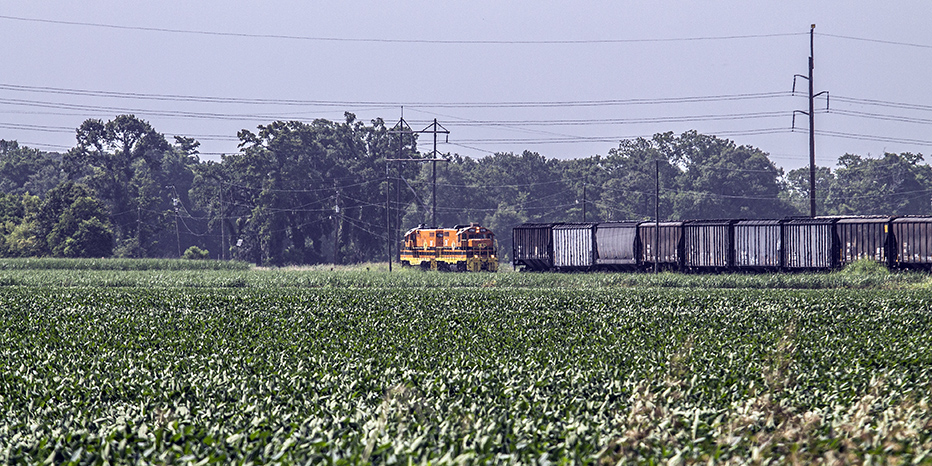 Yeah, I covered this a few weeks ago.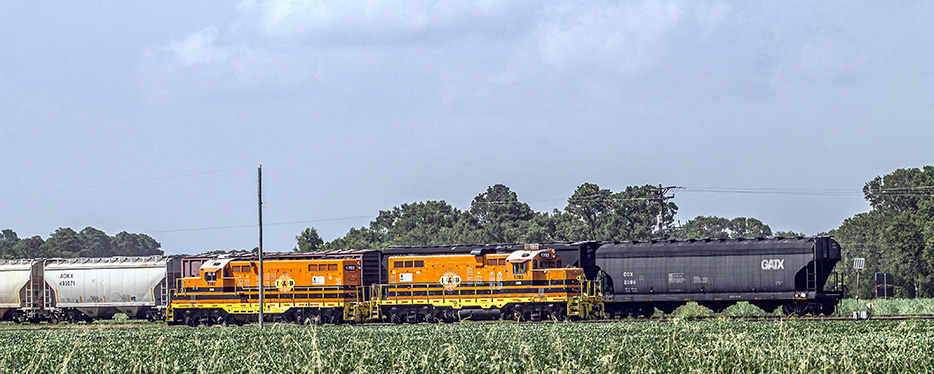 Now, I am waiting at South Landry, and "Mister Crowley" is playing.
Francis was at the controls of the 1703 as the locomotives crossed South Landry Drive at around 16:00 as The Duke is trying to call me on the telephone.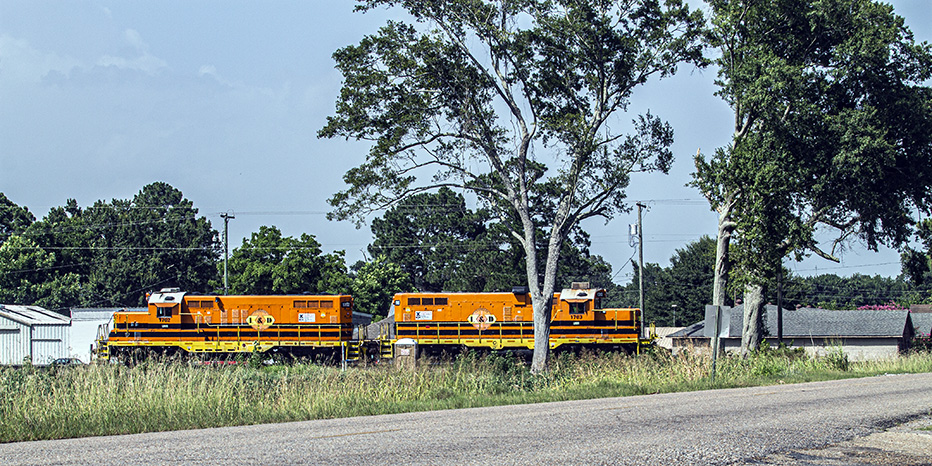 Here I am at South Lasalle Street.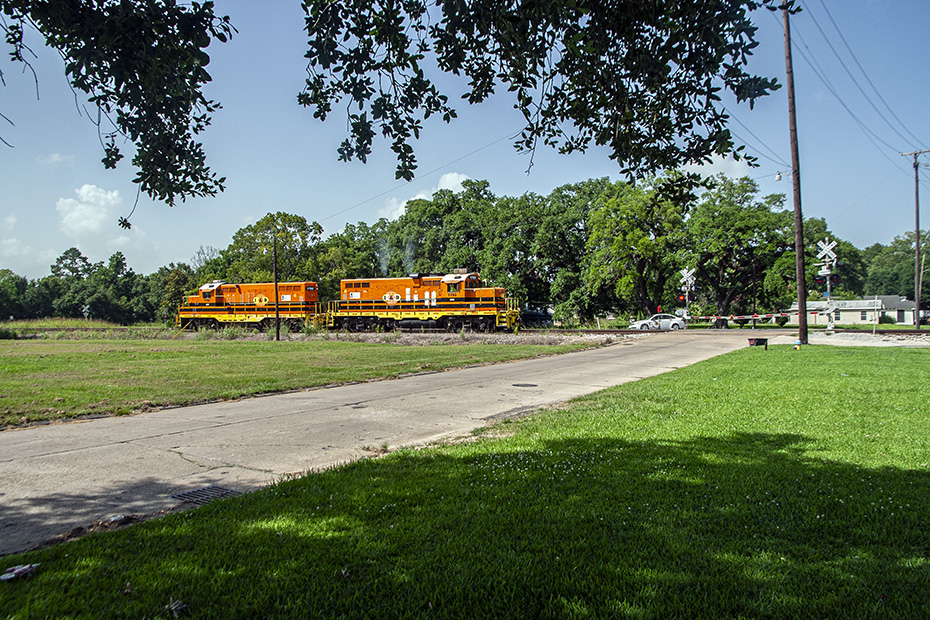 Back at the depot, Jace has just arrived back with the automobile.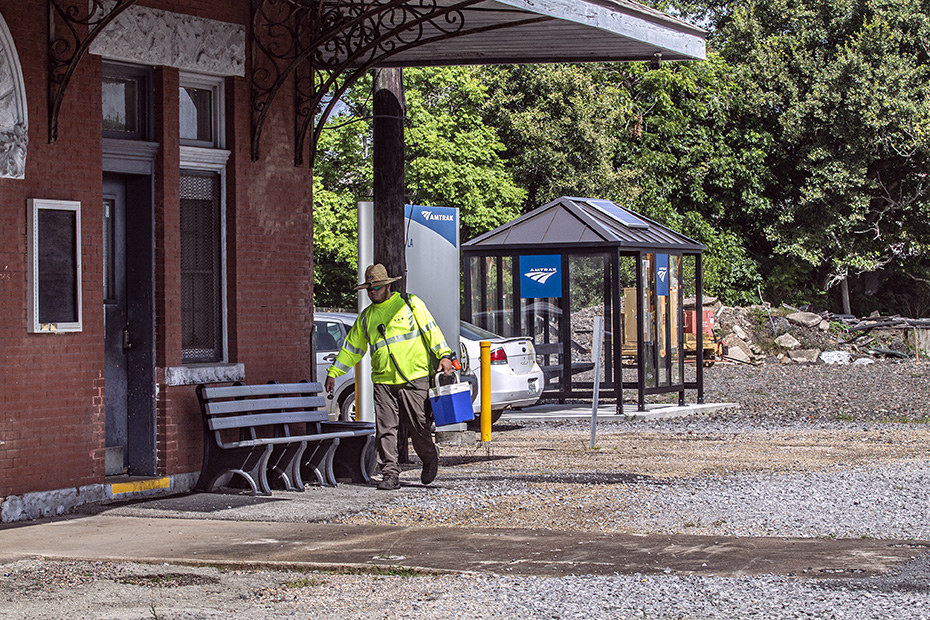 The two guys on the train are not far behind.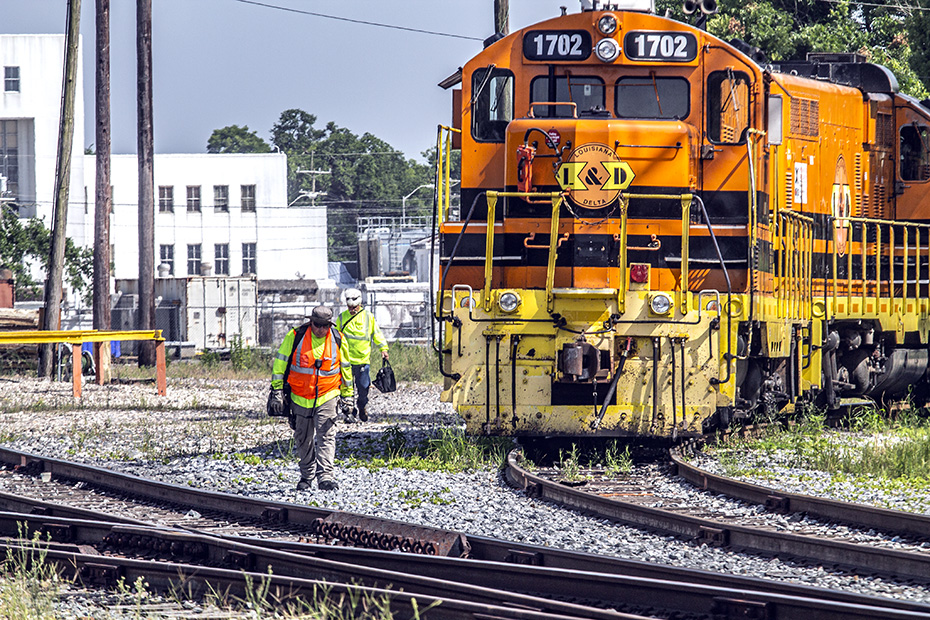 Peartree is staring at something.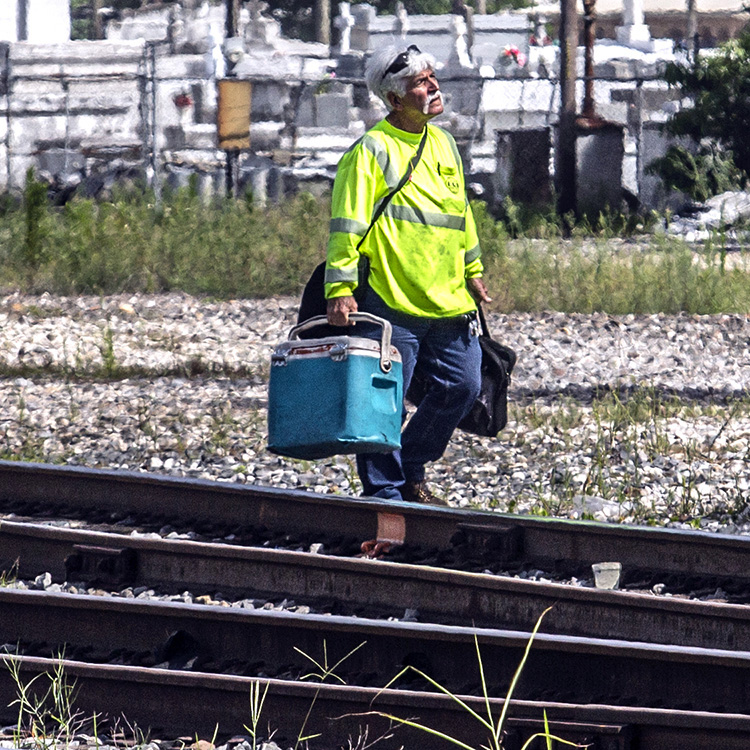 Now that is dedication!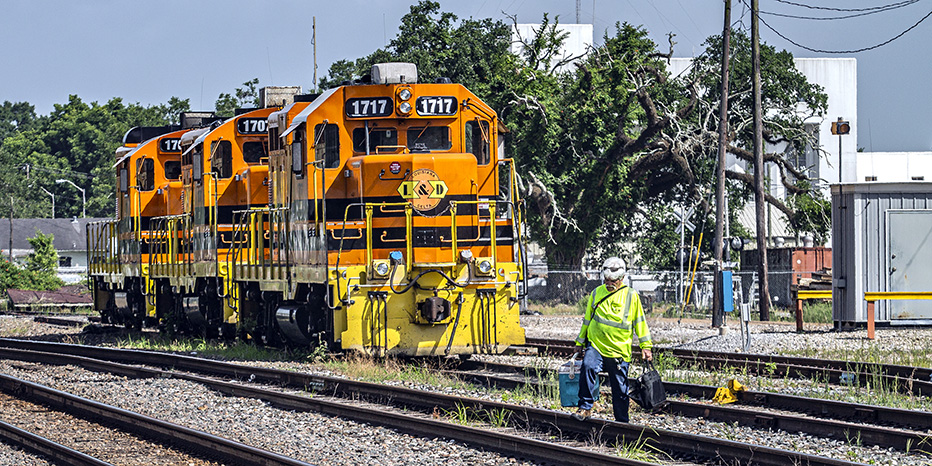 The 1717 has become my favorite locomotive on the L&D roster now that the CF7s are gone, which is to say that now that the roster has become so boring that the 1717 is the most interesting locomotive on it.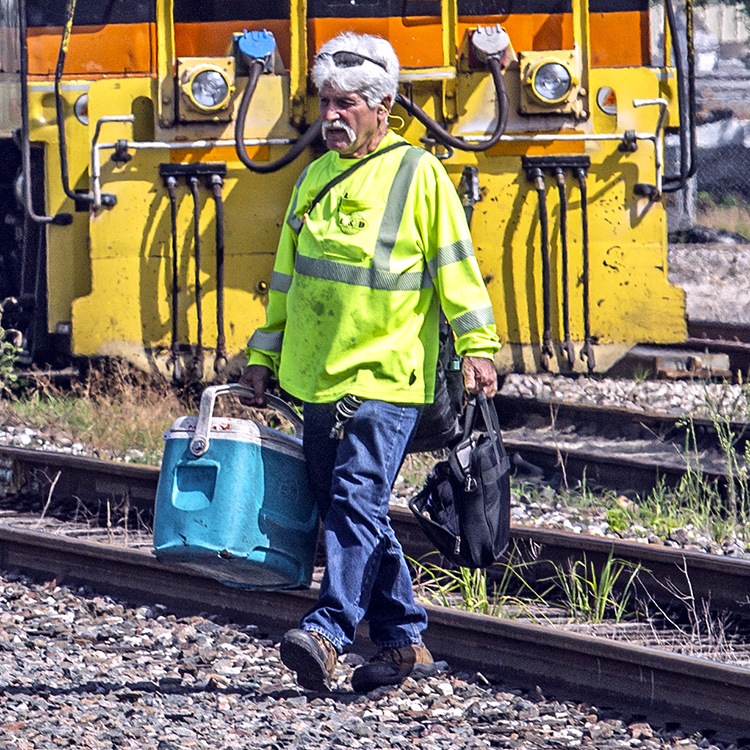 That's the third-to-last time that he'll cross the mainline to get to the depot after finishing the railroading for the day.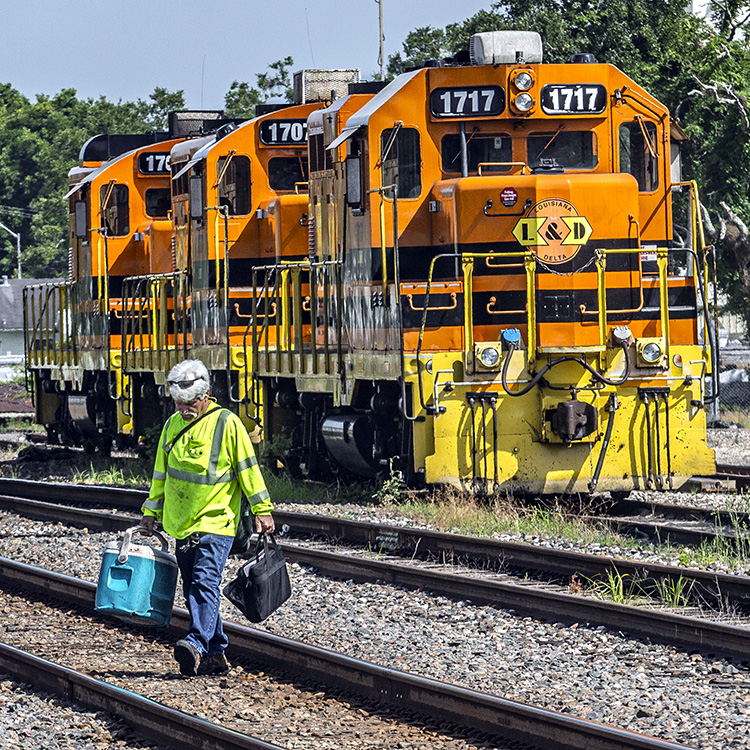 He would have done it in 1973!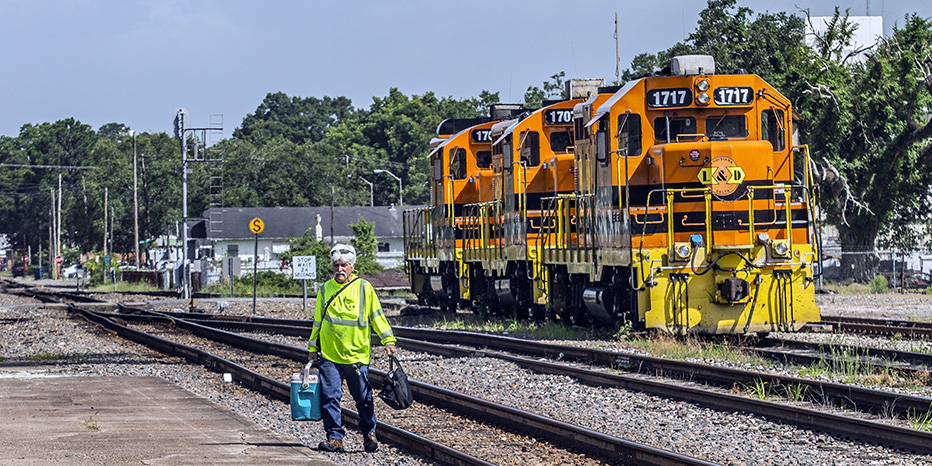 Such is life.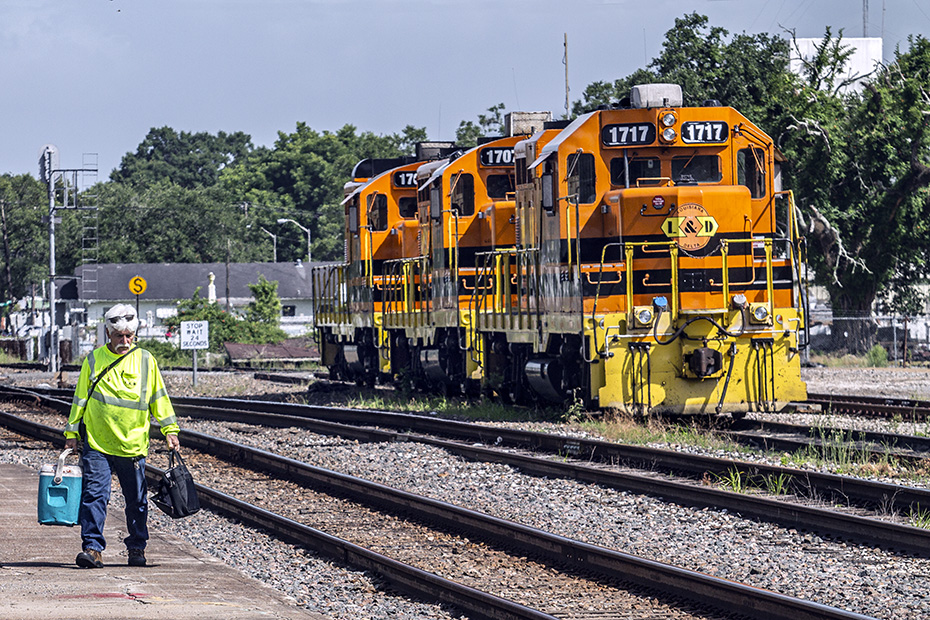 It's really just another day.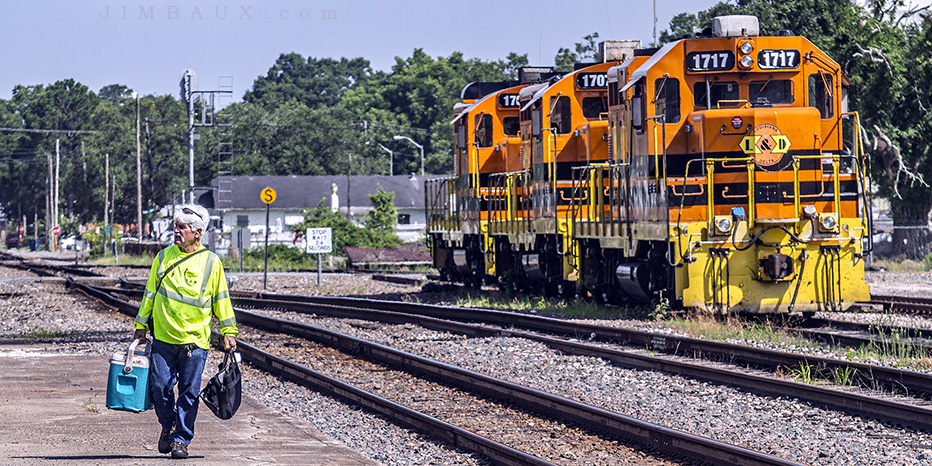 And it's a hot one at that.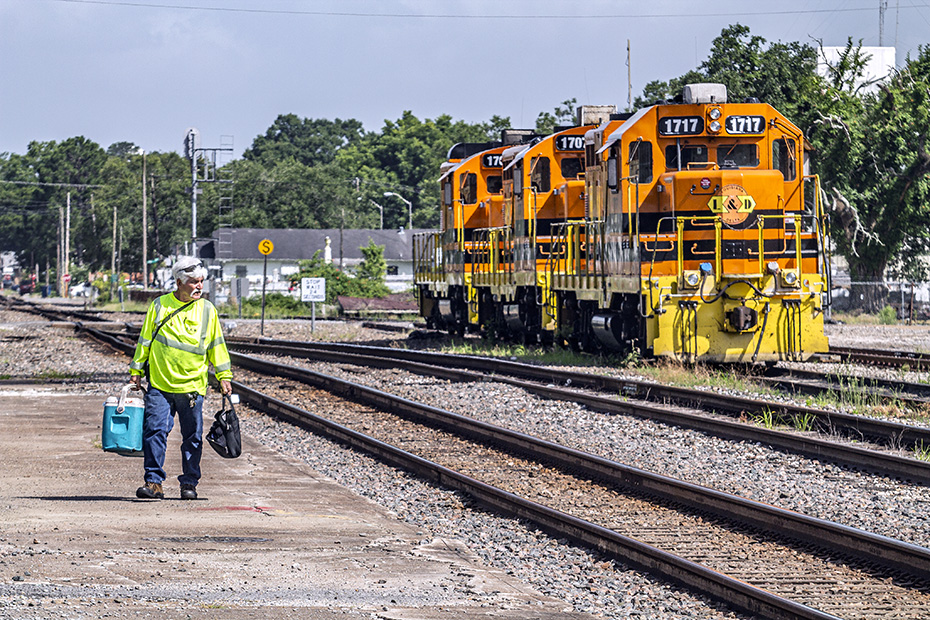 That's all for this for today.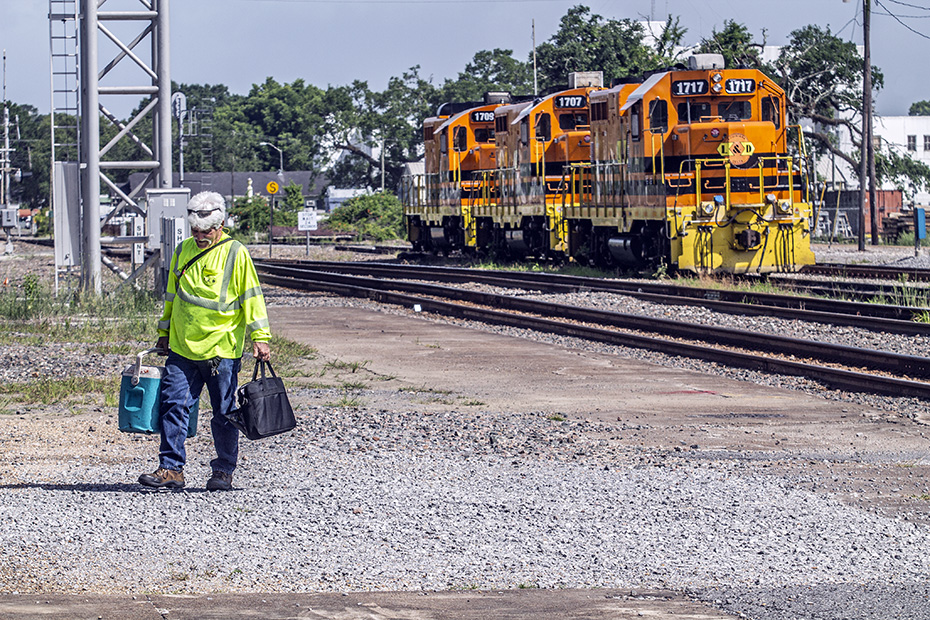 Later, a westbound BNSF Railway manifest train passed, and I got a few shots of plate steel loads on the train.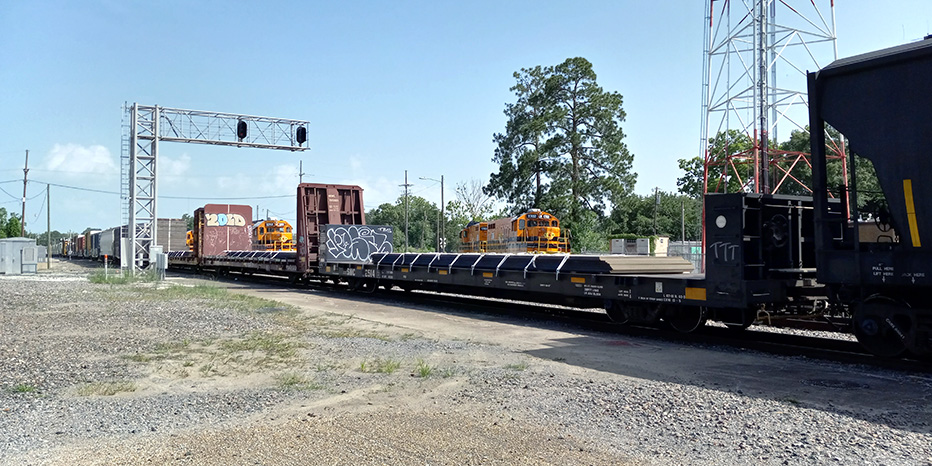 These are about the only kinds of interesting cars on trains anymore.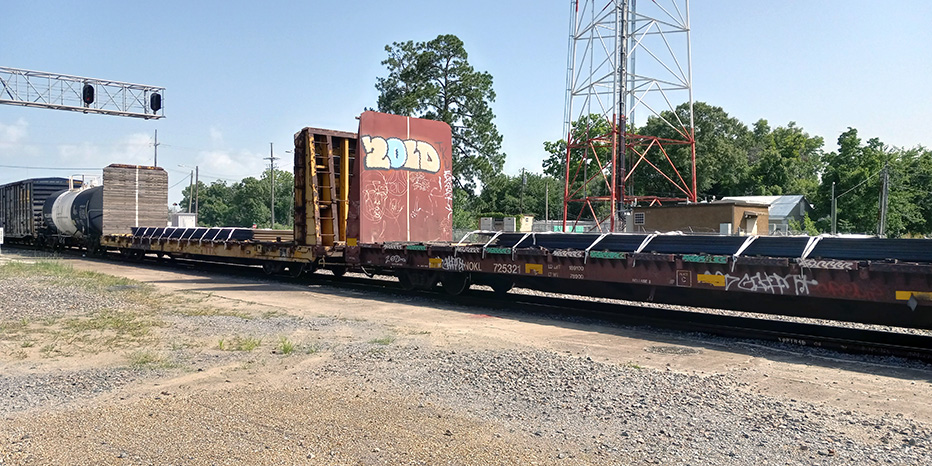 Okay, that's all. I'm hungry.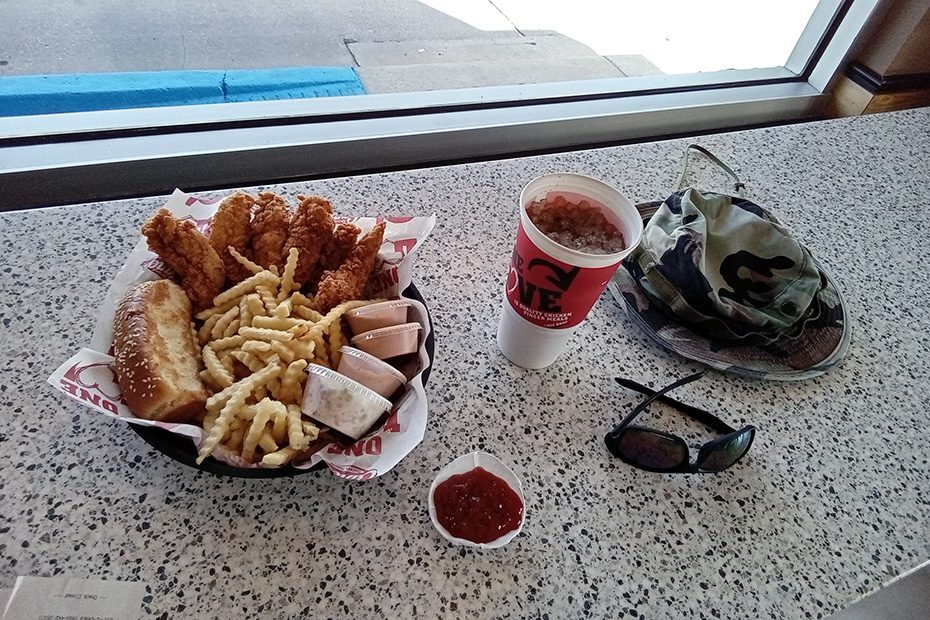 I'll be back along the track tomorrow to document Peartree's last day working the ground; that should be interesting.
Stay tuned.
Jbx