They told Jimbaux to run, but just how far?
Can he go wearing the black mask of fear? 
At first, I wasn't going to go out in the heat to chase a steam locomotive among a bunch of other people photographing it, but I decided a few days ago that, today, Thursday 19 August 2021, I would get out there and chase this historic locomotive, the 'Big Boy' UP 4014, on this memorable day, as the Delta variant of COVID-19 ravages Louisiana.
I had trouble sleeping last night.
Let's just say that there was a problem involving – but not a problem 'with' – the air conditioner, and I awoke rather sweaty.
I did not have time this morning to take a shower, so I washed up in the bathroom sink, figuring that I'd soon get sweaty anyway. The problem with this is that just washing up in the sink doesn't create the same Pavlovian signals in my brain that taking a shower does.
In other words, I forgot to put on deodorant, something that never happens when I take an actual shower, because the post-shower rituals are a Pavlovian signal saying "put on deodorant."
I left the house at 06:53 for Lake Charles, hoping to get some Port Rail action, which I got on June 4, before the UP 4014 arrived. I wish that I had not done this, and had gotten some more sleep and a shower, because I didn't get any Port Rail train.
That song "Show Me" by the Cover Girls – I had to look this up when I got home – was playing on the radio, on KYBG as I was driving west. Then came "Margaritaville", which I've always thought was silly. So did that song that I now, having returned to the house and looked it up, know to be called "Tarzan Boy" by Baltimora; knowing that song's backstory and name makes it seem even dumber. Then I heard "What's Love Got To Do With It" by Tina Turner, not a bad song.
Anyway, I got to Lake Charles.
I arrive at the Port of Lake Charles at 08:51 CDT. The GMTX 2607 was in the back of the port with wind-turbine blades. The GMTX 2134 is in the front working on hopper cars. Cool!
I was thirsty and needed a pick-up. So, I went look for cold coffee drinks, but I ran into our worldwide shortage problems!
I went to Burger King on Prien Lake Road, but the only thing that it had was croissants, and I was not hungry. The nearby McDonald's had a line of automobiles out to the street! These shortages are getting real.
So, I went to the CVS on the corner of Ryan Street and West Sallier Street, and I saw empty shelves there, too. I had to settle for a can of Starbucks vanilla double-shot energy.
By 09:28, I returned back at the port from CVS. It was then that I noticed the GMTX 106 parked near the 2607. There is a trackmobile here at the port, the first time that I have seen one operate here.
At 09:34, an oversized load truck with a wind-turbine pole piece is moving to the gate, as if to depart soon. I had seen the accompanying warning automobiles waiting near the gate a few minutes ago.
So, I had an idea! I got in position to get a shot of the truck that is also a position to get a shot of any train that might happen to pass.
At 09:52, at the West Walnut office building, I heard a horn, but I now see that it is the GMTX 2607 shoving back, apparently after pulling ahead.
I did get something really large emerging by wheels on land from the port, though!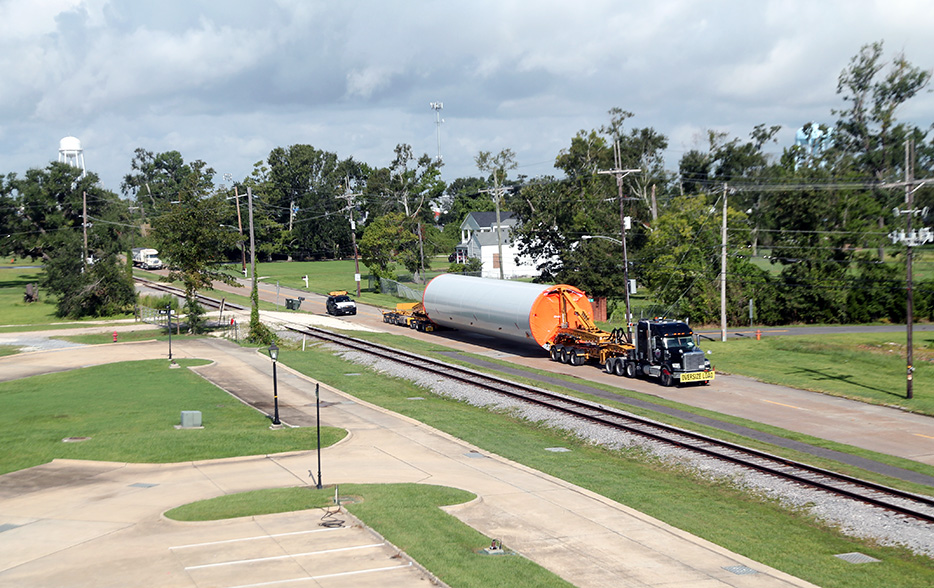 Yes, I went to my West Walnut Street shot and got a shot of something leaving the port that is geometrically identical to a shot of a train here.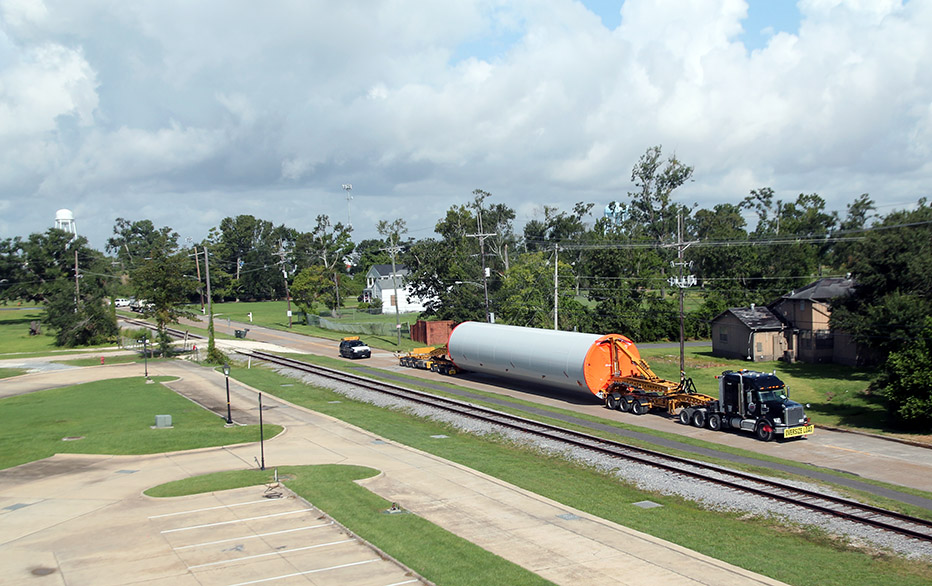 Then came some trucks.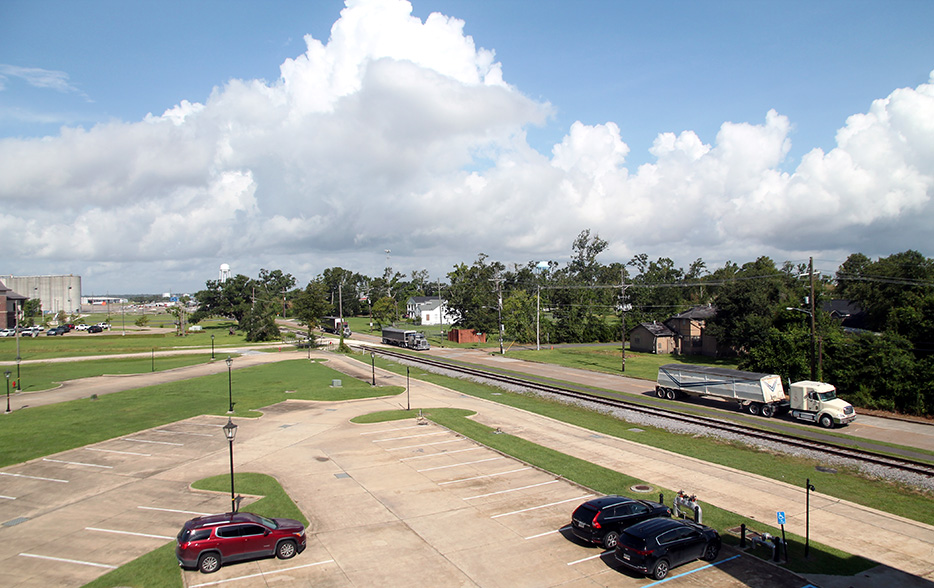 But there was never any train, not before I left for the UP 4014, though, and I was already hot, sweaty, and miserable. So, that was a bit of a mistake!
So, then, I left the port area and went north toward the Union Pacific Railroad mainline, the former Southern Pacific mainline, but I needed gasoline, which put me in a position to have a rather unpleasant experience.
I stopped at the Valero gasoline station just west of Enterprise Boulevard. Two persons asked me for money while I was there. I gave money only to the second one, a woman with no pants on who said that she needed the money to buy toilet paper. She asked for $1, and I gave her a $1 bill.
This was really unpleasant, but most of the other people who complain about stuff like this don't endorse policies that would make these kinds of encounters far less likely. They'd rather complain and act as though they are aggrieved.
I parked at Bilbo Street.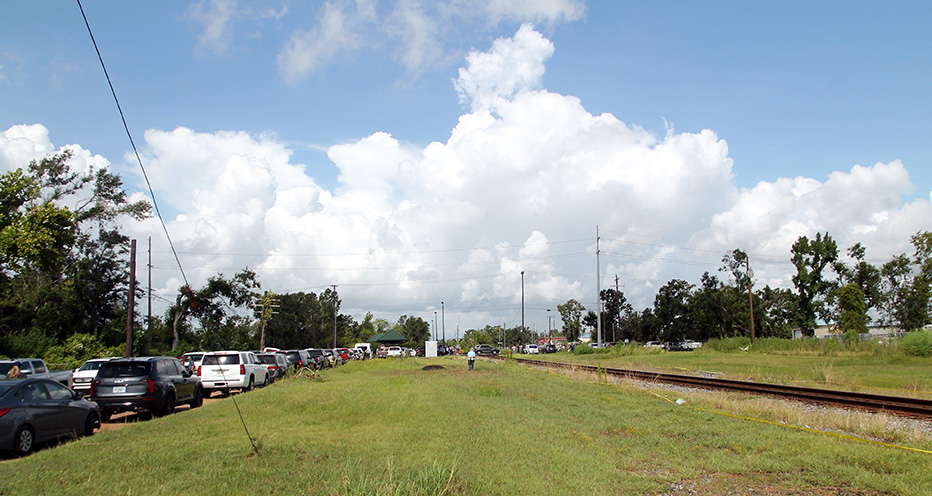 The above view is looking to the west. The below view is looking to the east, and the open area at right is where the old SP depot was.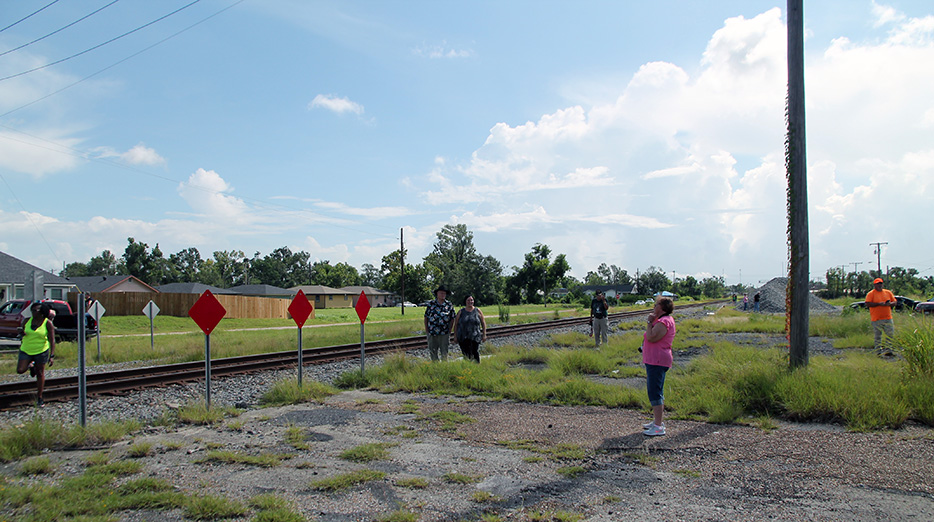 The below view is to the south, as you can see people showing up.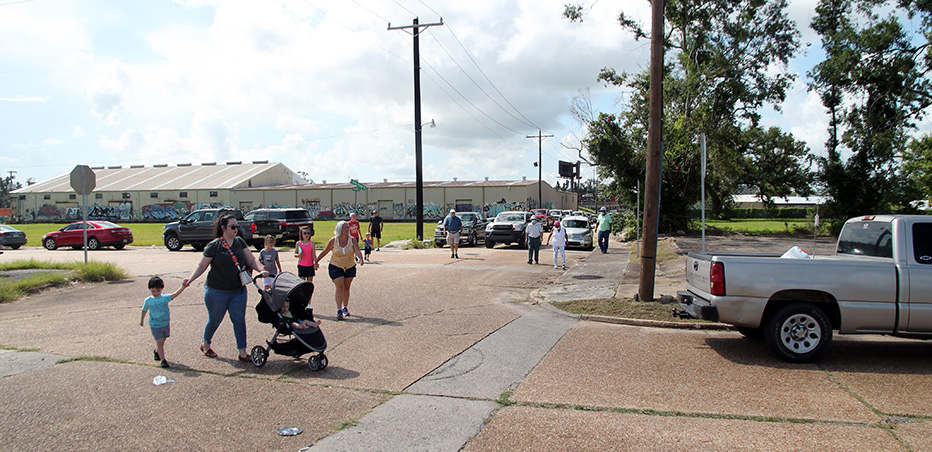 I guess that this was a crossing at one time.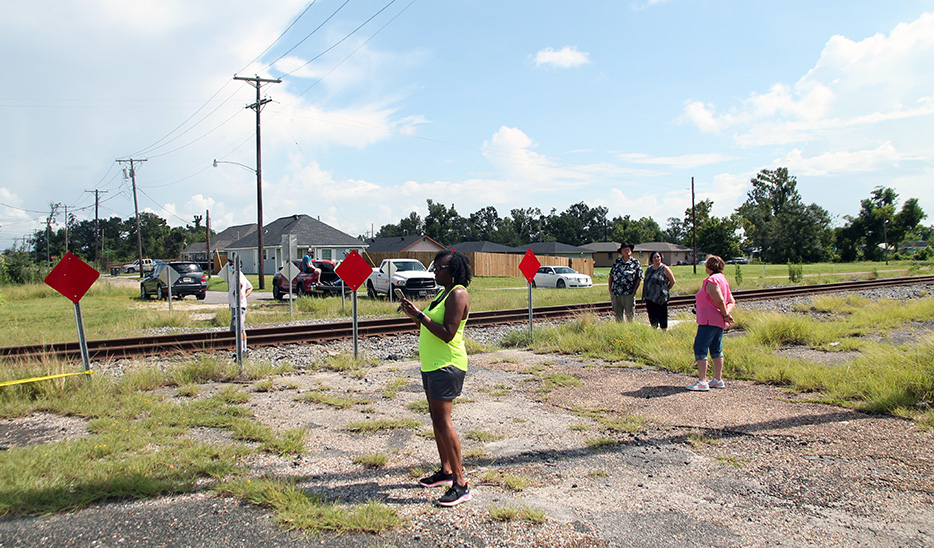 Here's the view westward along South Railroad Avenue from Bilbo Street to Ryan Street.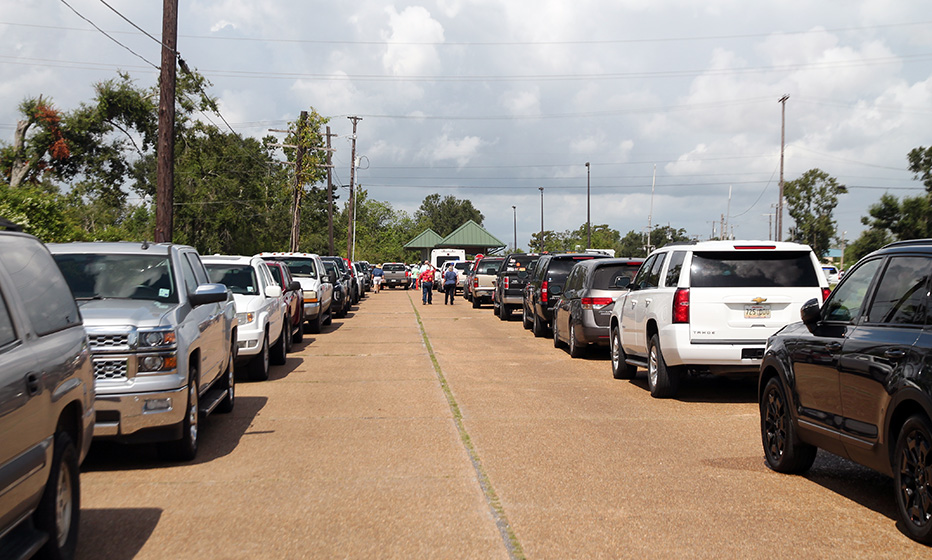 I'm getting closer to Ryan Street here.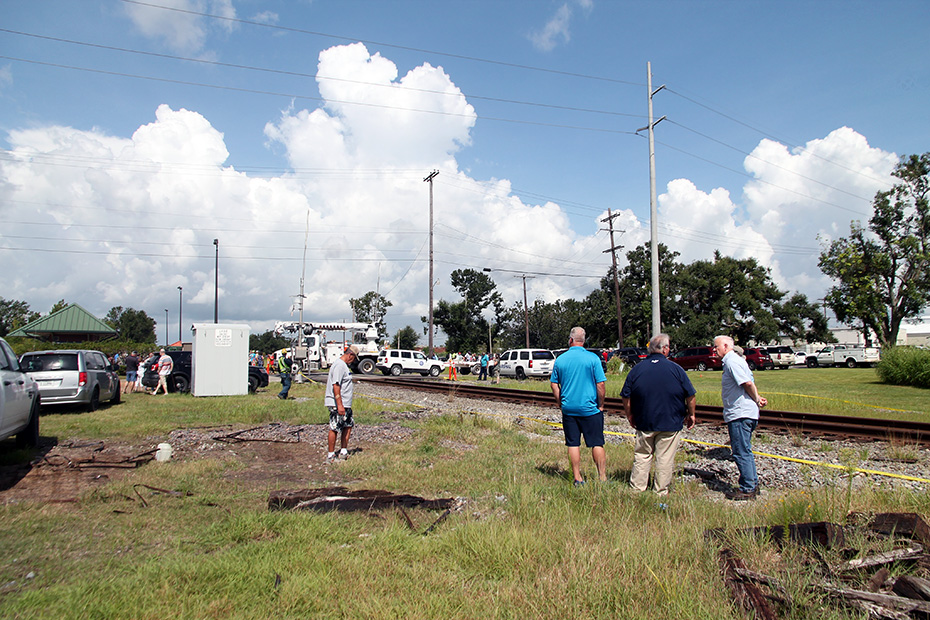 The Amtrak station is just across the street here.
The next two pictures are from my tablet computer.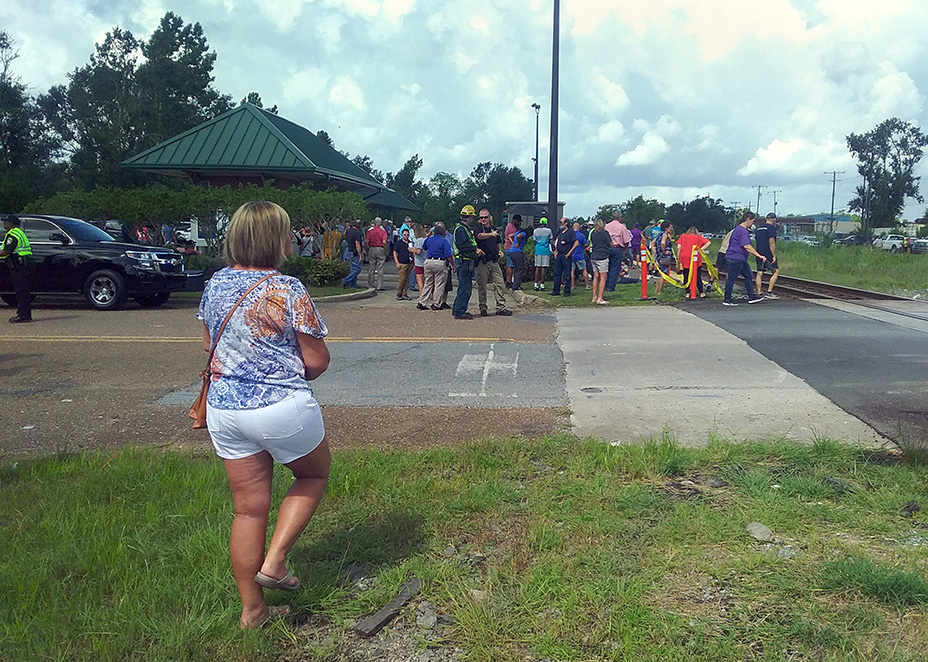 I talked to that lady for a while.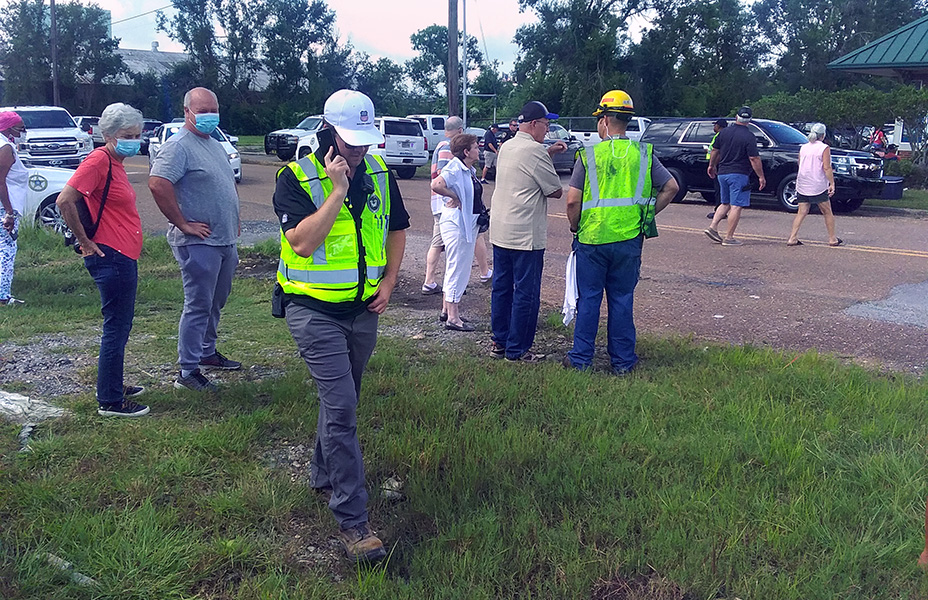 Look at those crowds!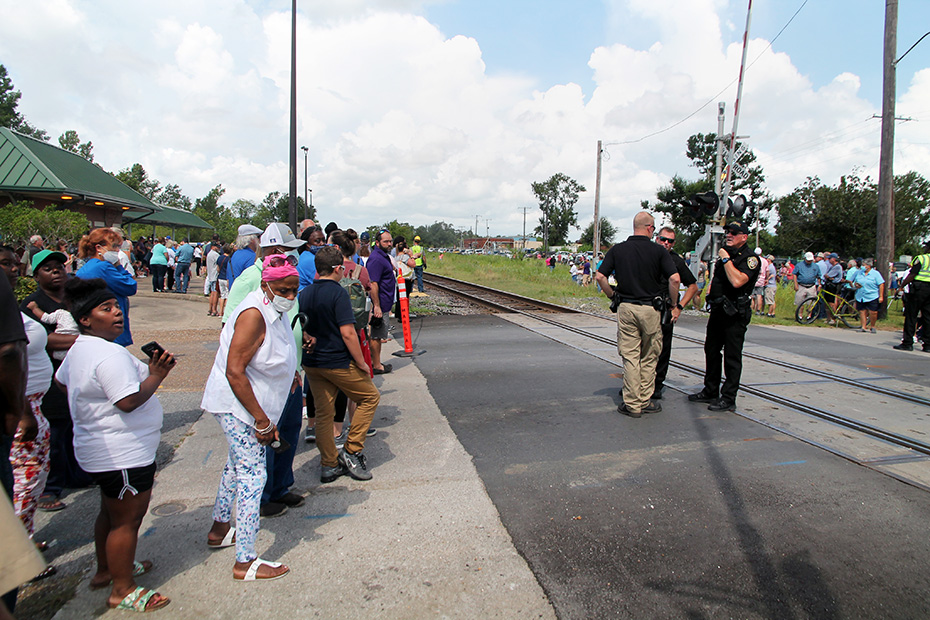 I should note that all of my pictures of the UP 4014 in Lake Charles are from either Bilbo Street or Ryan Street.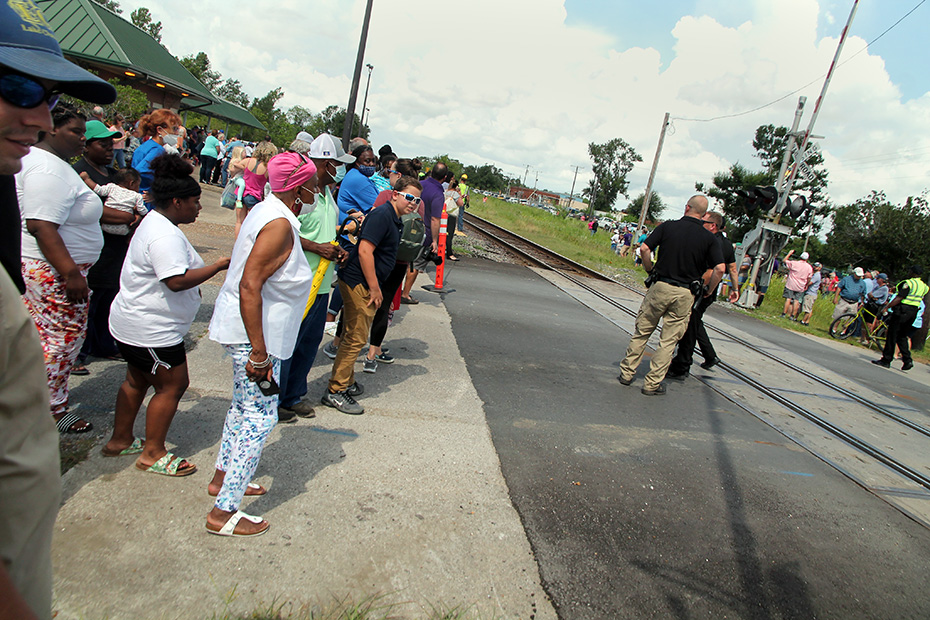 Look at all these people!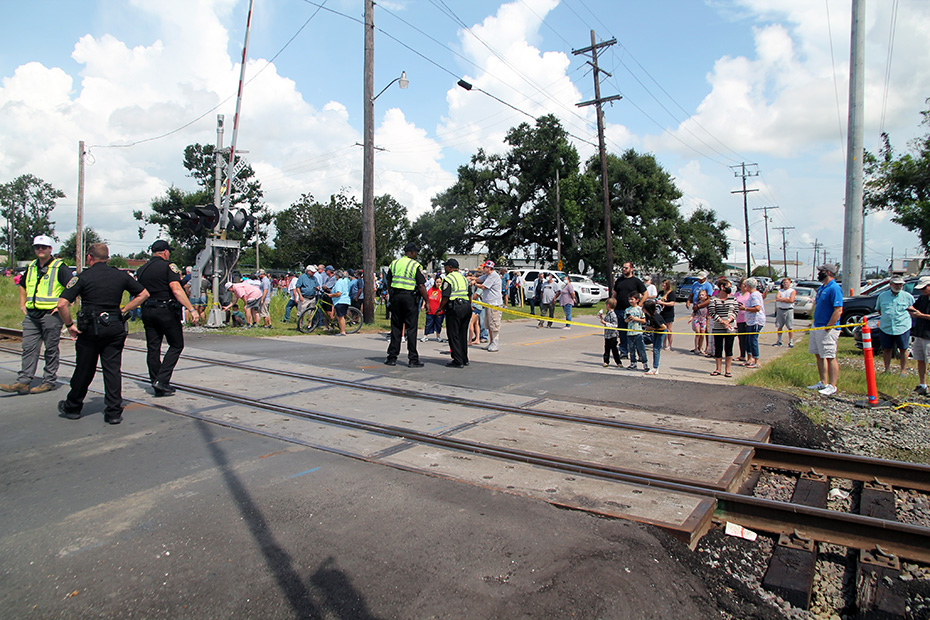 I did not cross the track.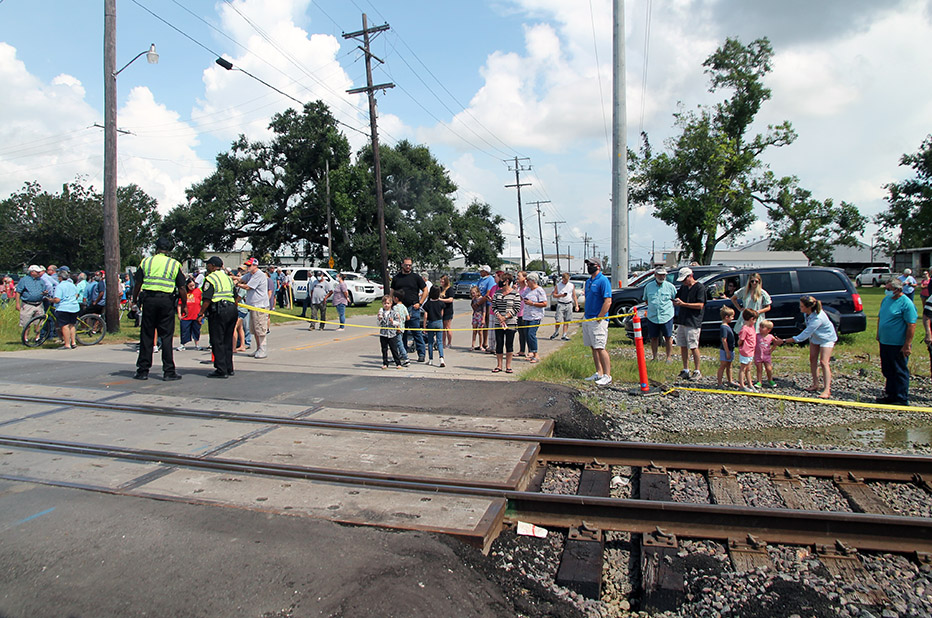 Even though the high sun made the lighting matter less, I wanted to stay on the lit side of the track.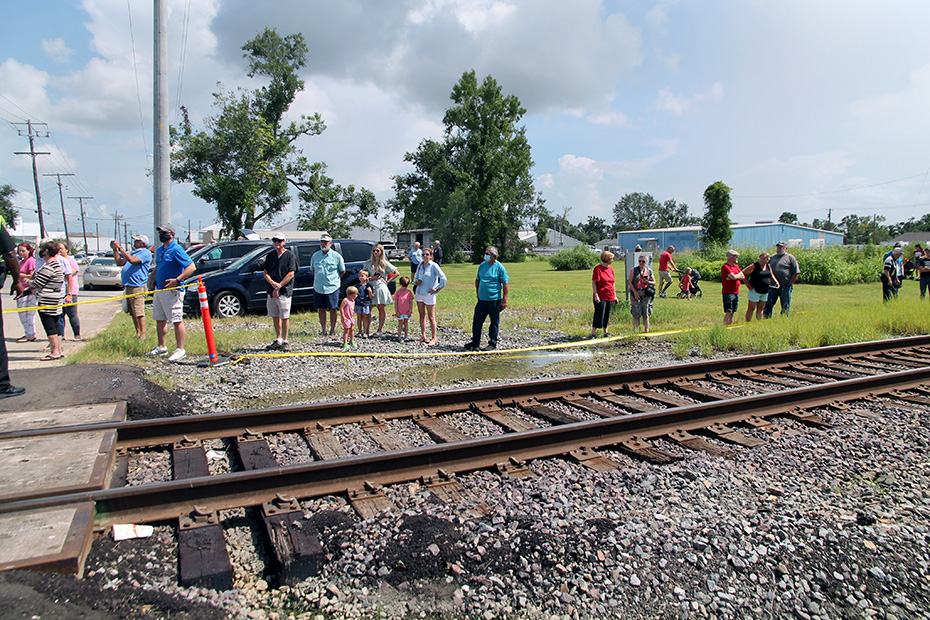 Yes, it was hot, of course.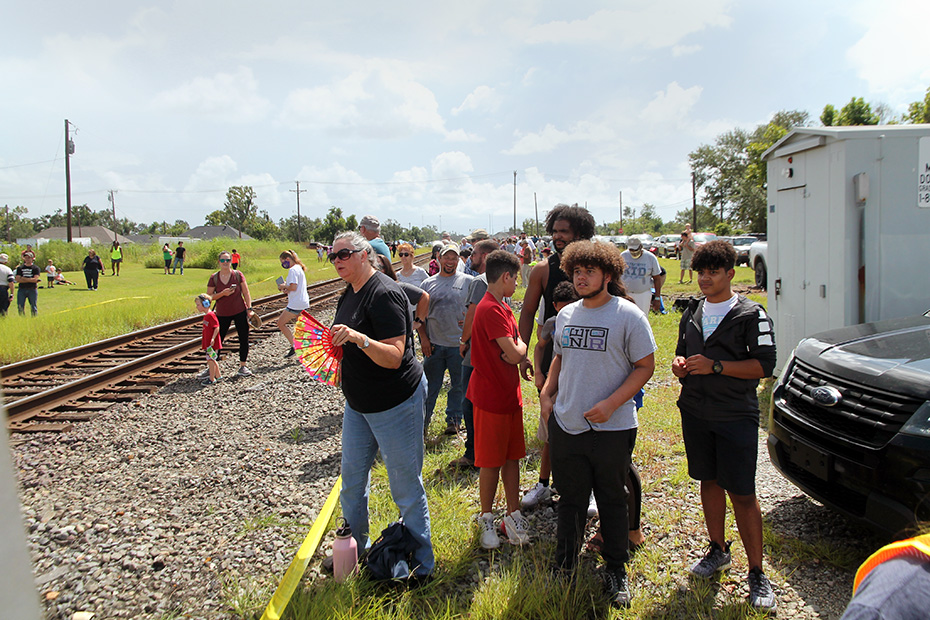 The man at the right in the hard hat is a member of the UP steam team that was there to service the locomotive at its stops.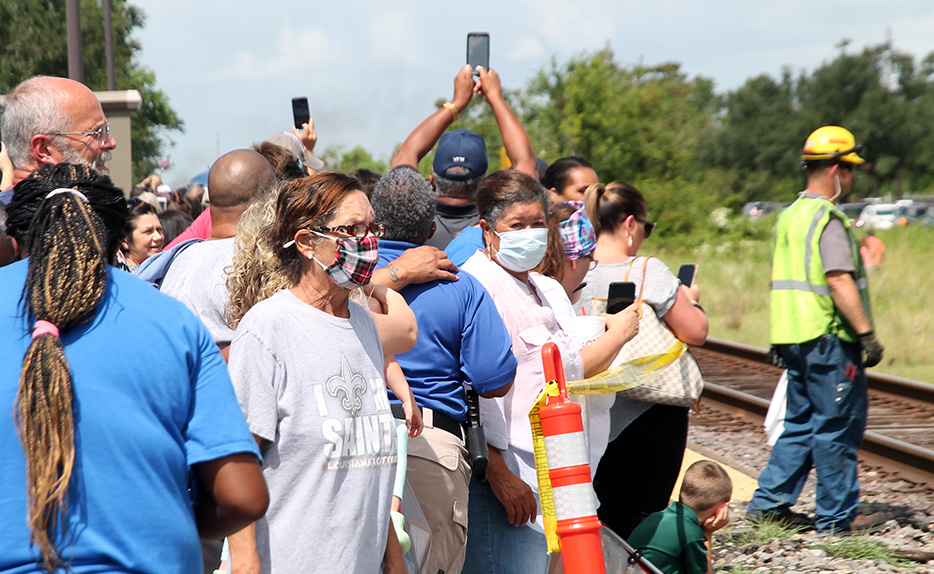 I was able to talk to him, and he seemed interested to know – i.e., to be told by me – that he was on ex-SP track now but would turn north in a few miles to use former Missouri Pacific Railroad track to get to New Orleans.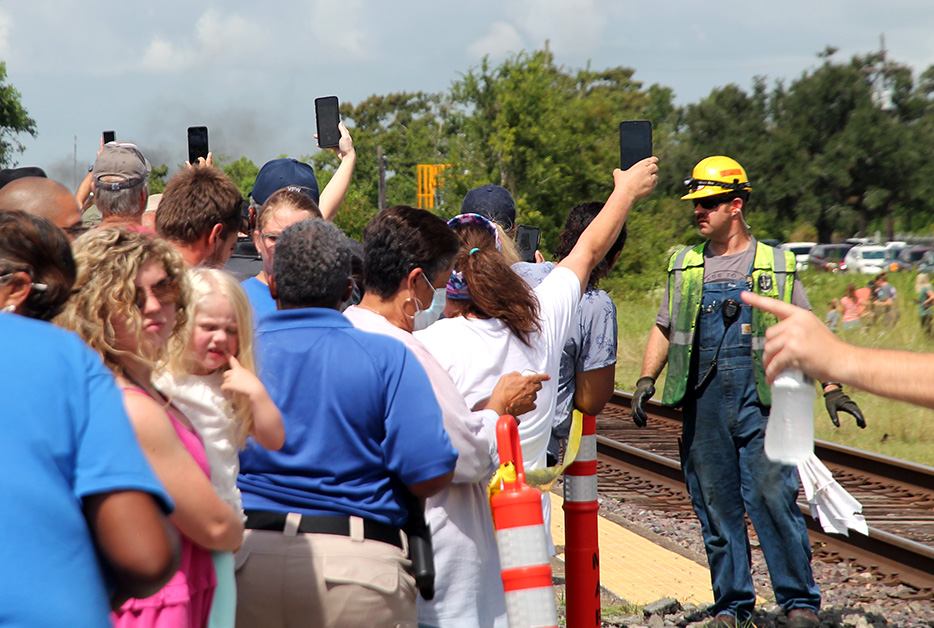 Look at all of the people taking pictures with their telephones!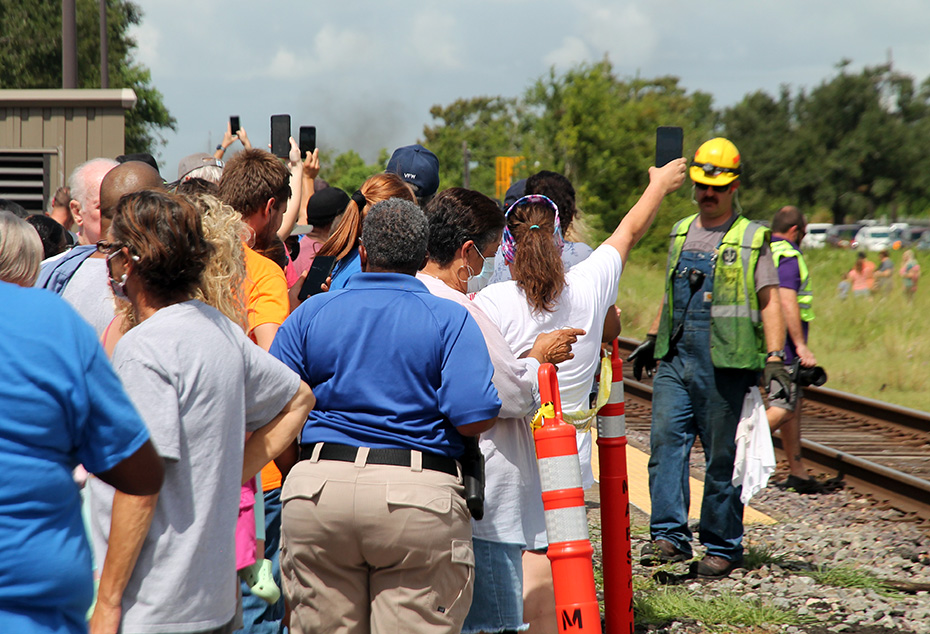 The train is coming!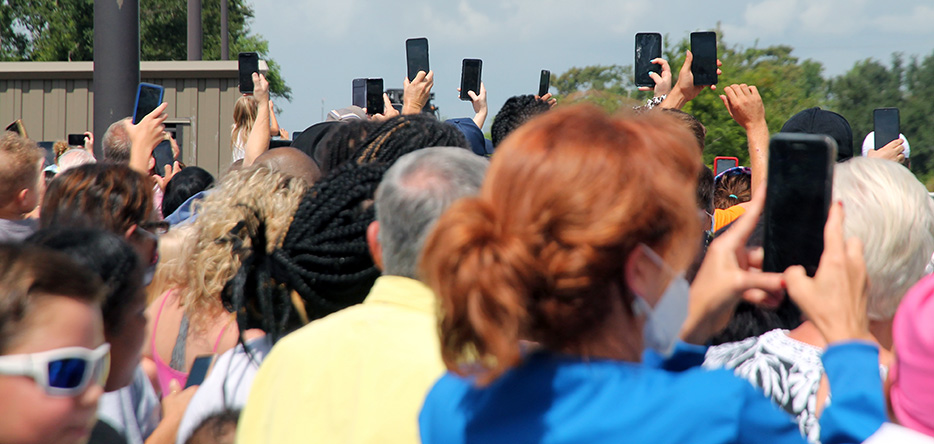 Do you see the locomotive now?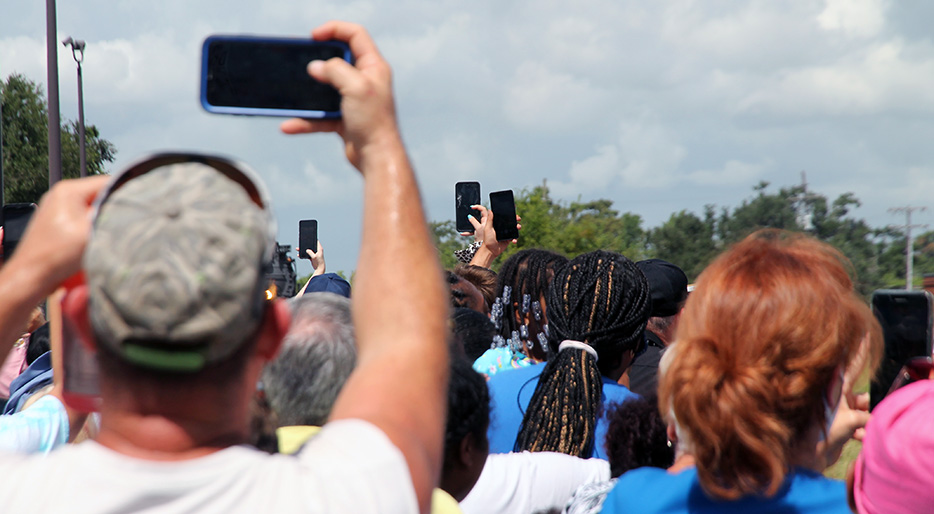 To me, the hordes of people who presumably are not railroad enthusiasts photographing the locomotive are far more interesting than the locomotive alone.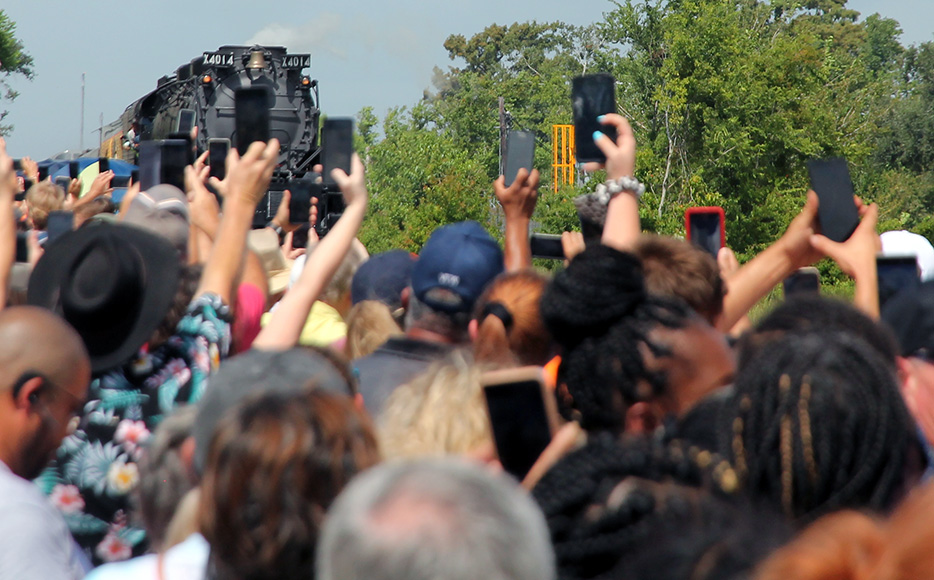 This is one of my favorite shots of the day.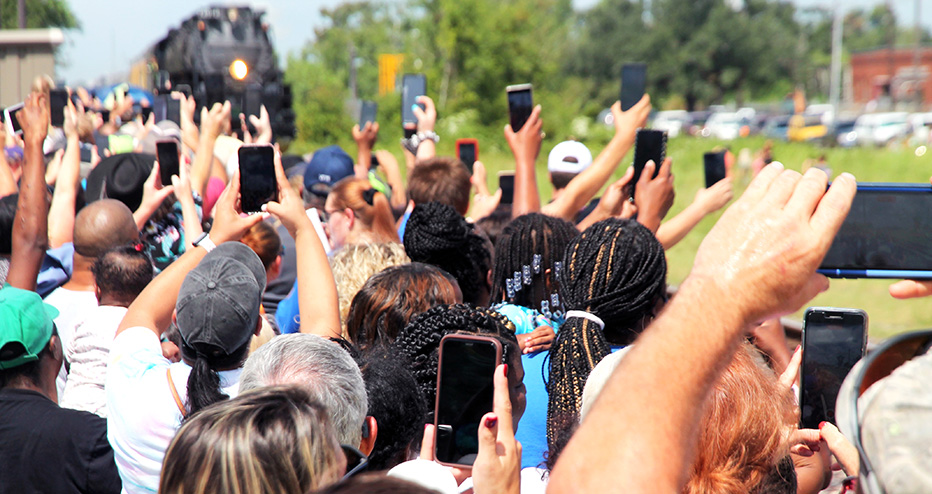 It's not like I can add anything or real quality to the huge stock of great photographs of this locomotive operating, and it's not like I should reasonably expect to get pictures of it here in my territory free of other people photographing the train in them.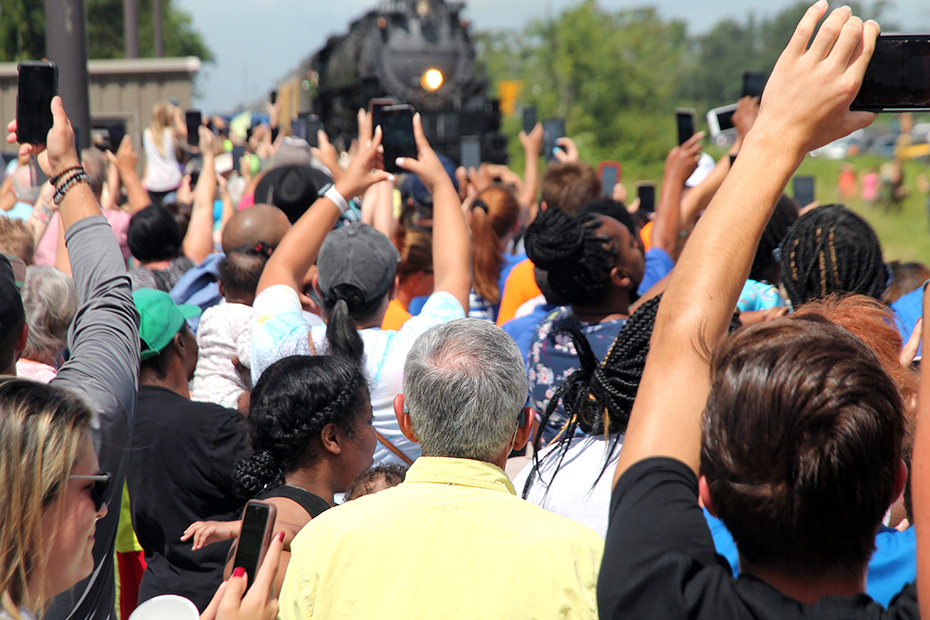 I'm glad that I came out here in the heat and humidity for this.
Let's see some wider views.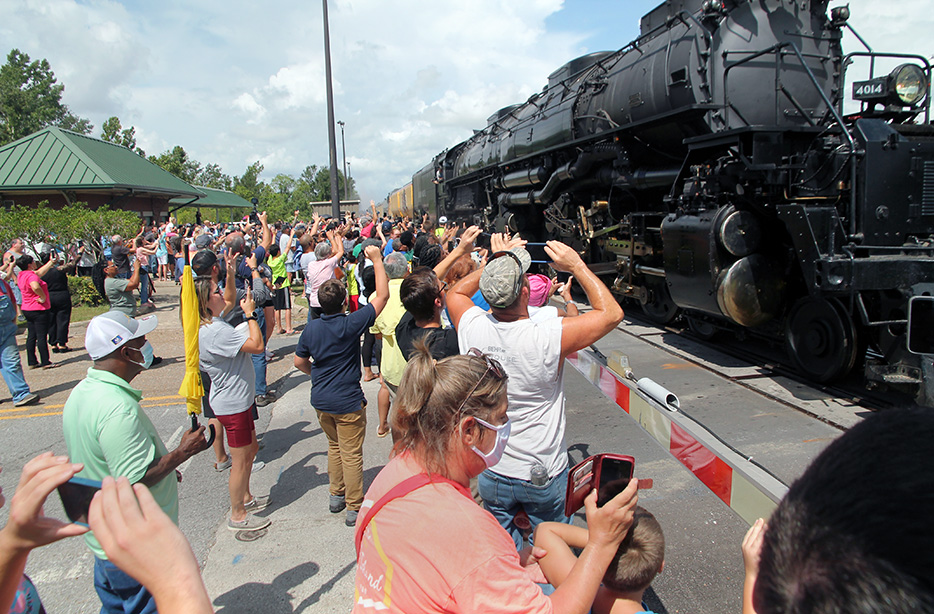 Look at how big that thing is!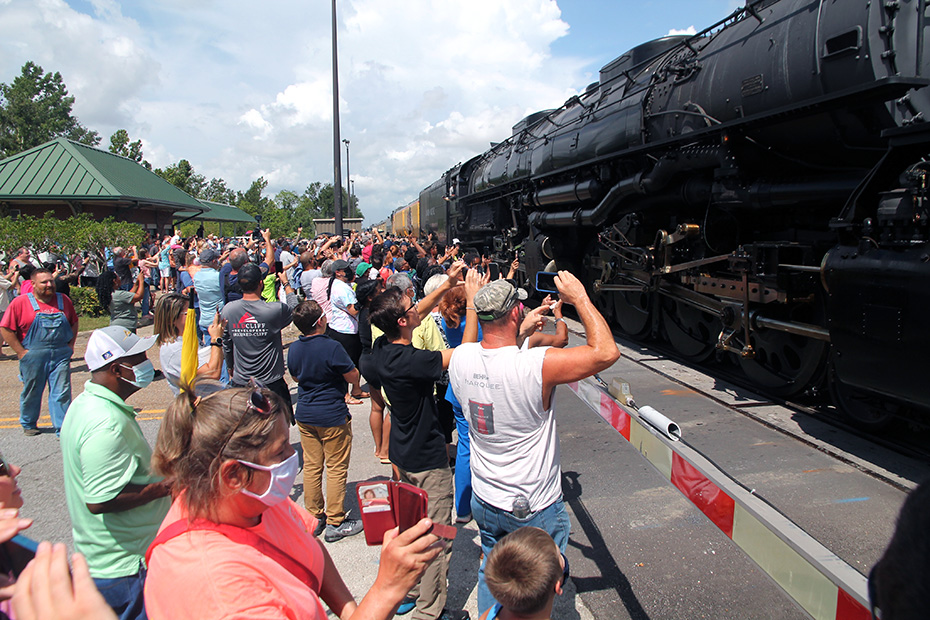 It's basically the largest active steam locomotive in the world.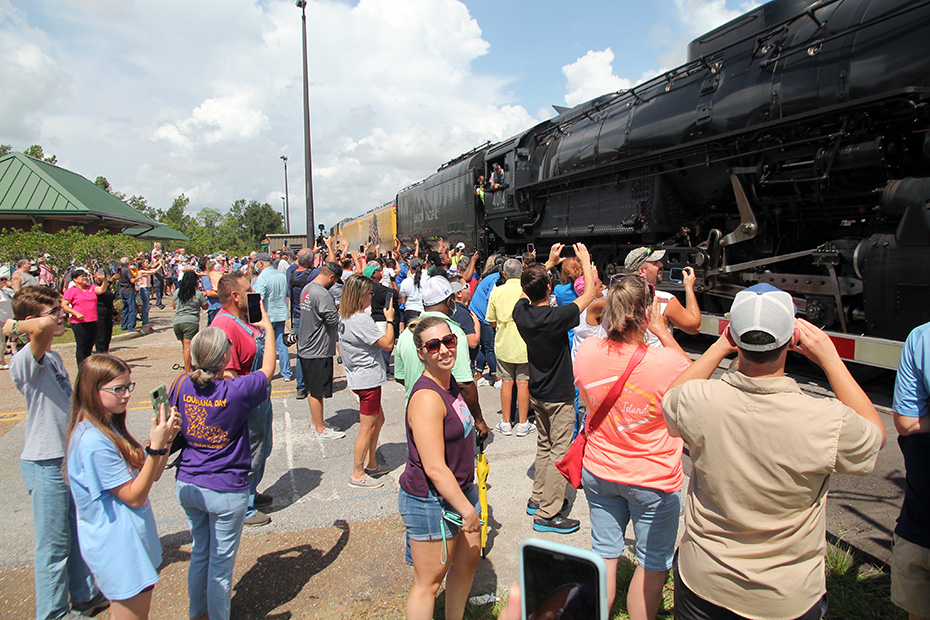 Some get hit by some steam!
The UP Steam social media team is really . . . forgive me . . . on top of things.
Here, the servicing crew does its work.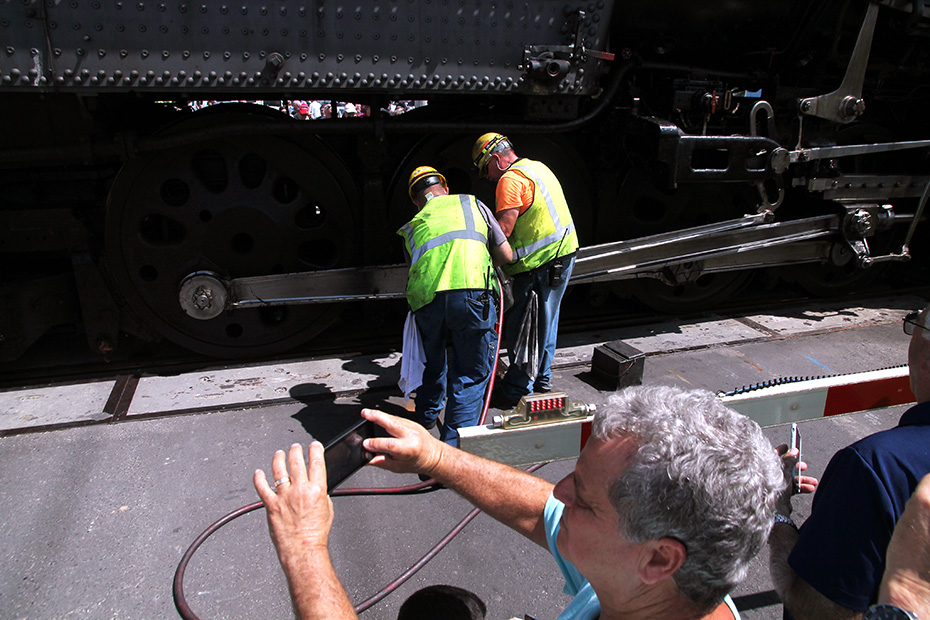 The need for this so-frequent servicing is a reason that steam locomotives soon became obsolete!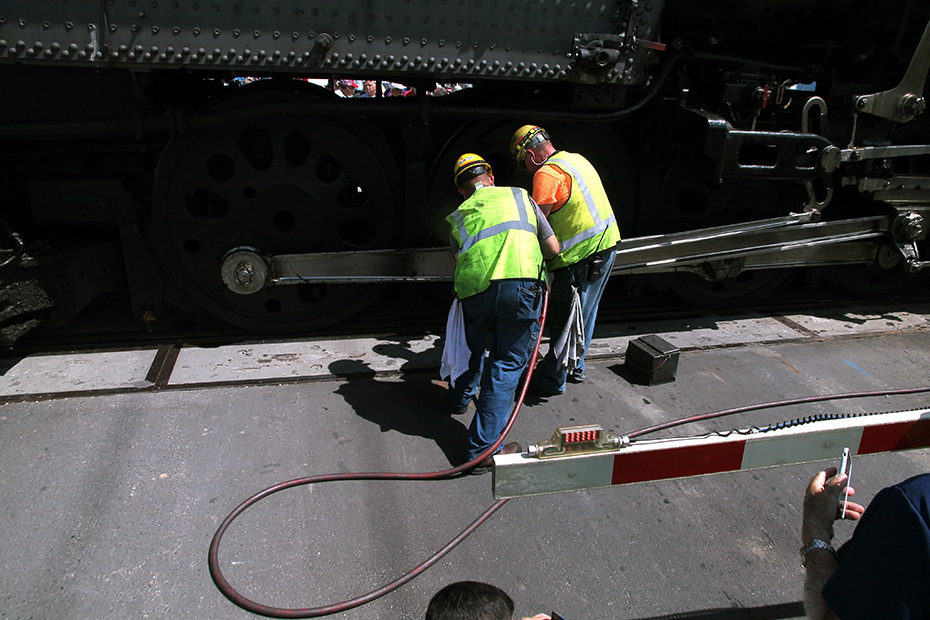 The subject of the demise of the steam locomotive, and particularly how it coincided with both World War II and the end of World War II, fascinates me.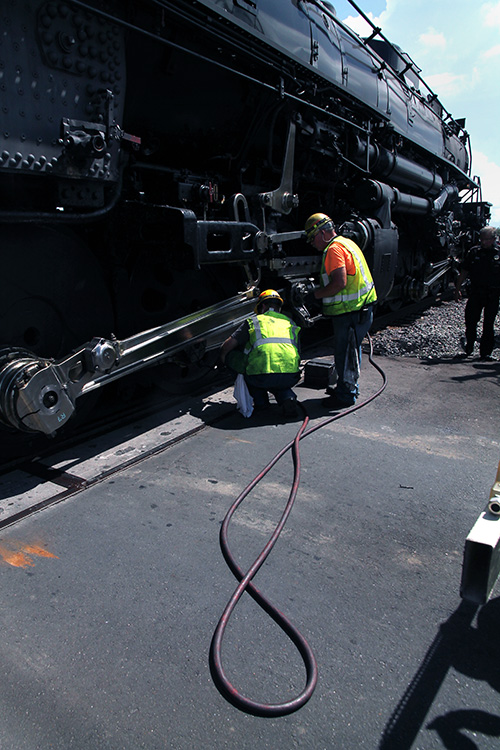 I love it when the police are interested in doing more than just policing at an event!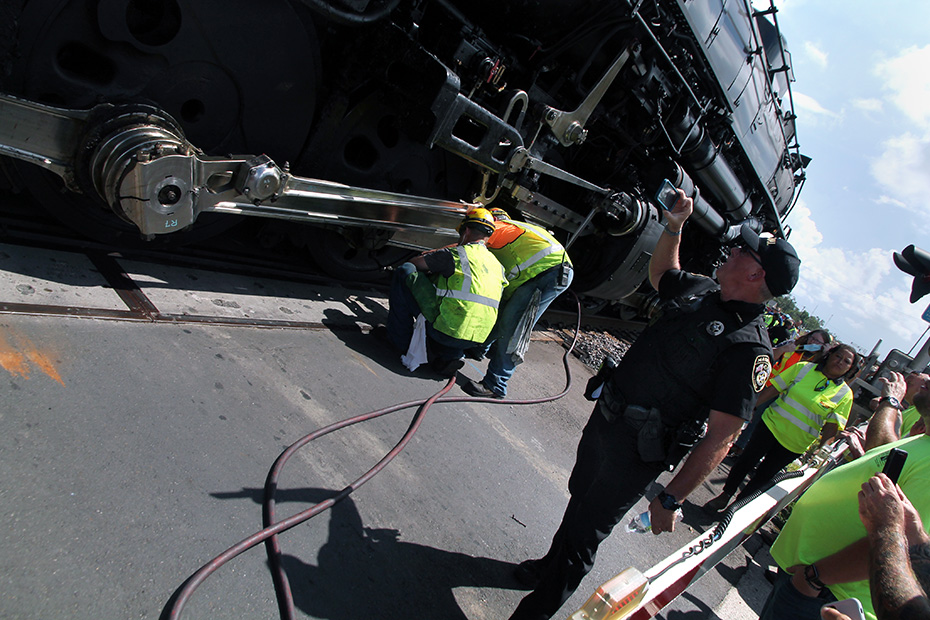 I do wonder what the officer has done with the pictures.
I wonder what questions it left him asking.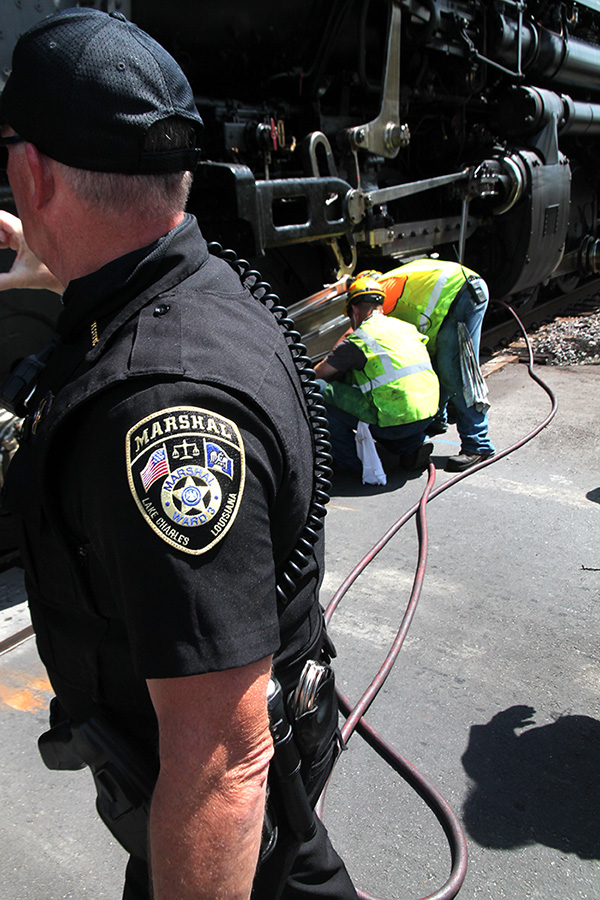 I wonder if he is awed by railroads now more than he was before.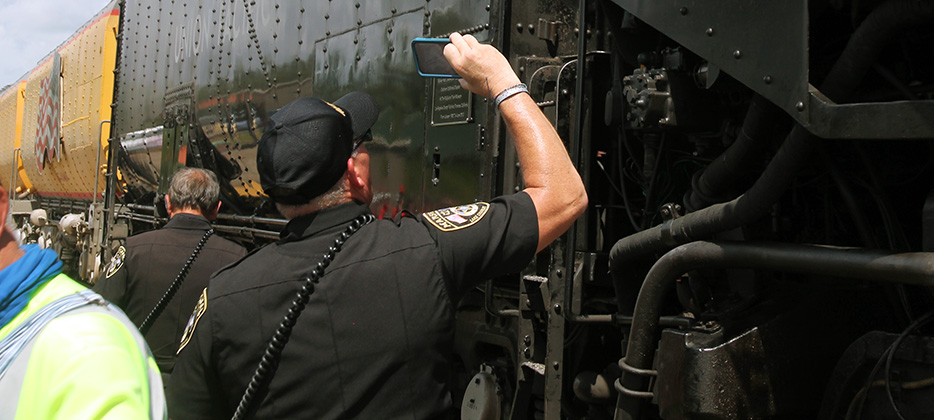 I wonder about so many things, yes.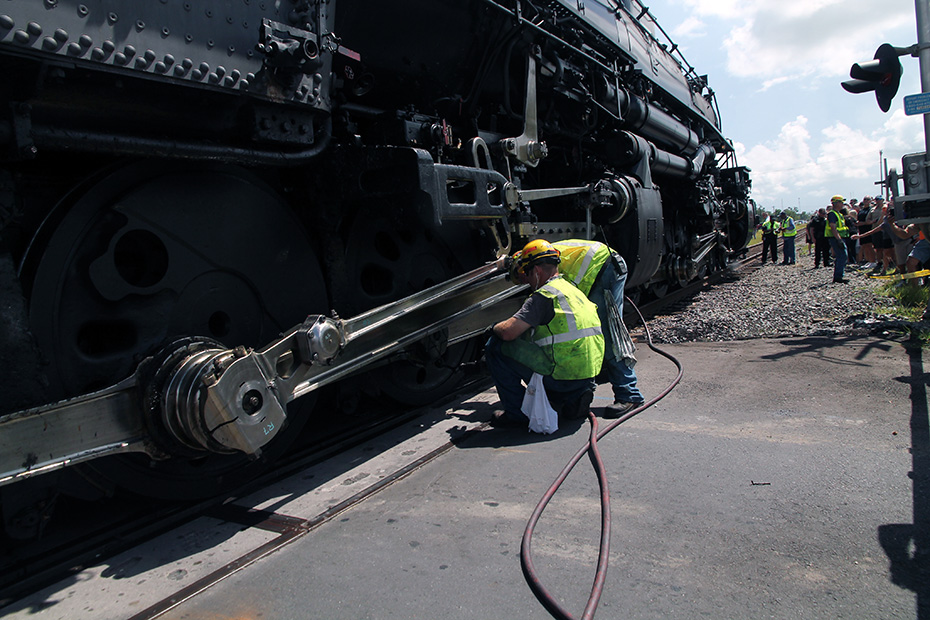 This was an amazing experience, brief and rough as it was.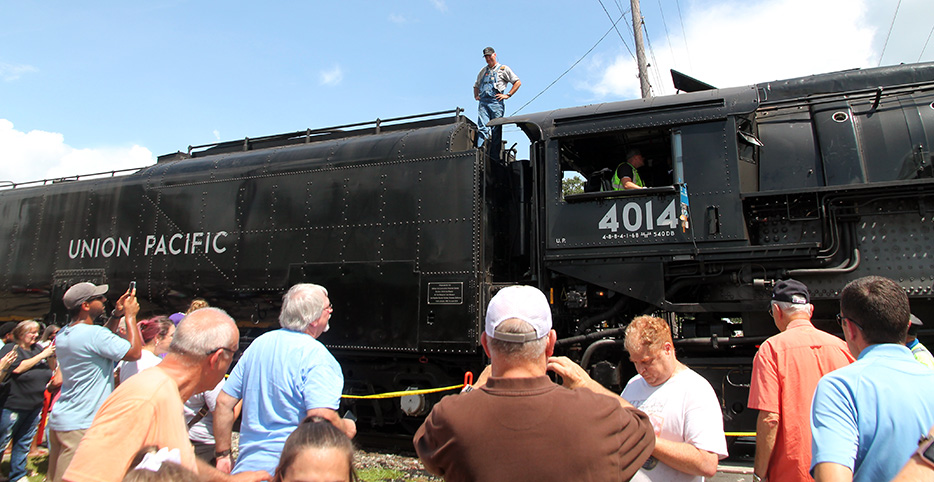 I cried. I talked to people about how cool all of it was, and they, too, talked about how cool it was.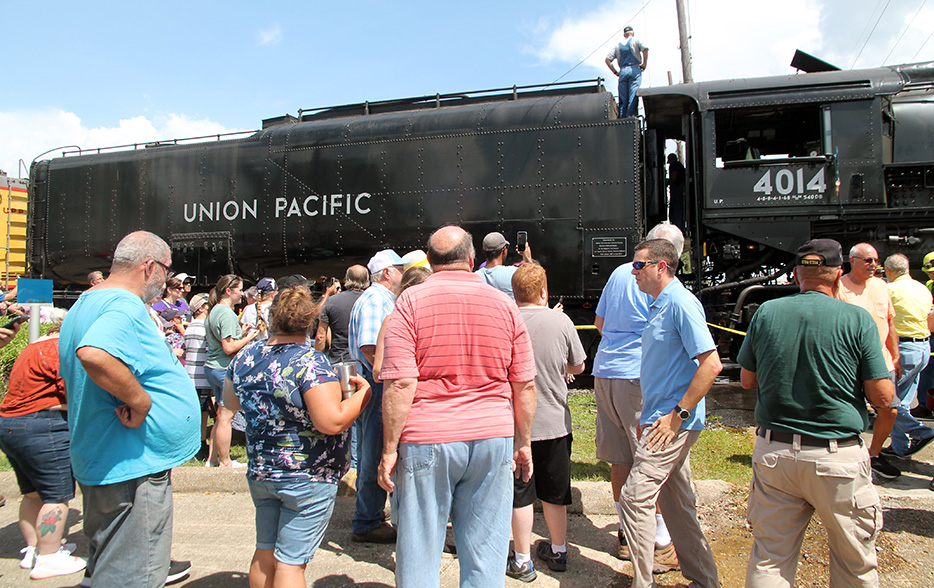 I talked to The Duke on the telephone from the event. He got to hear the whistle.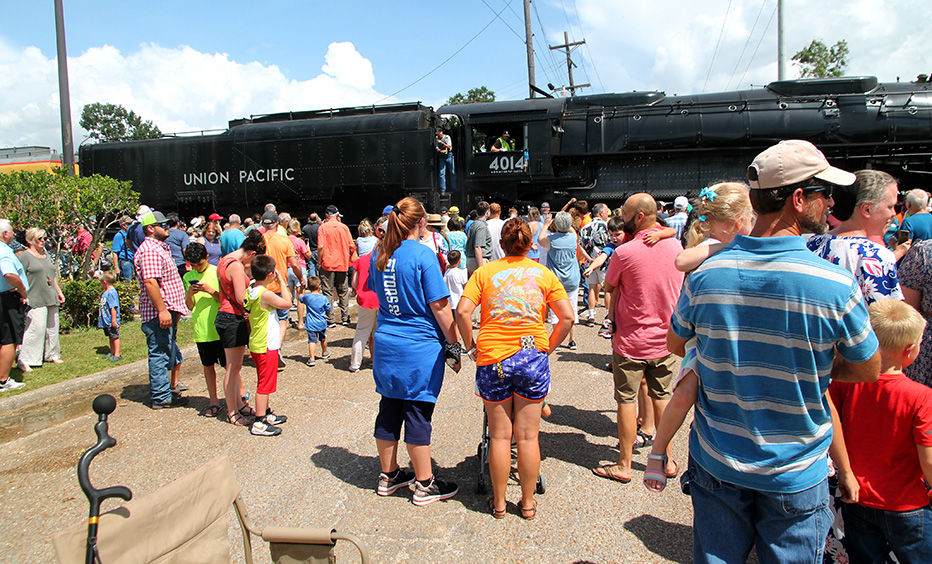 I had thought about trying to go to Vinton to get a shot of the train coming through there on its way here in that area where the lighting would be good for such shots at that time of day (except for the high sun.)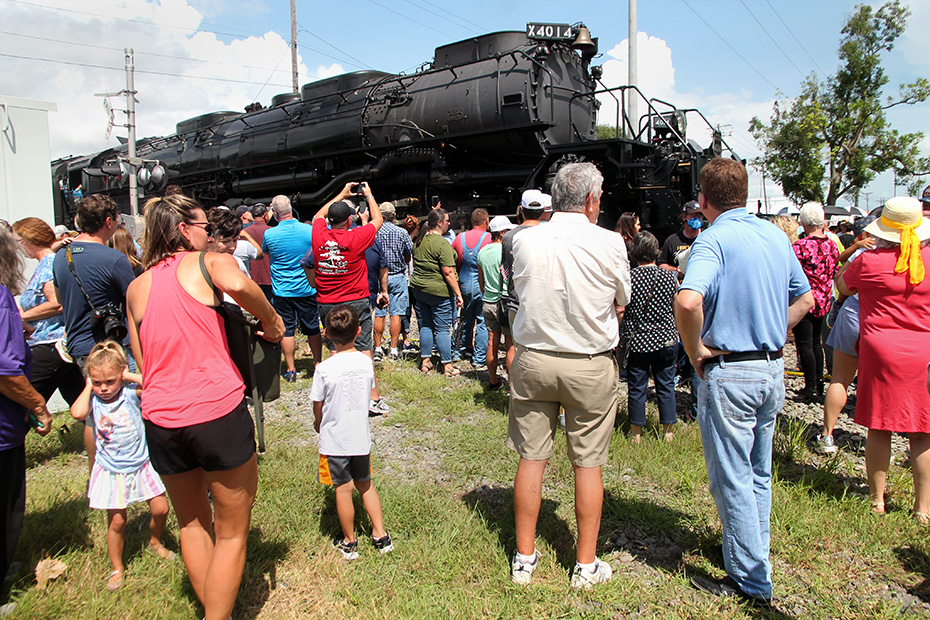 Had I gone to Vinton and gotten the shot there, though, I doubt that I would have gotten the parking spot that I got in Lake Charles, from which I got a decent from the top of the truck view that you'll soon see, or had the good conversations that I had there.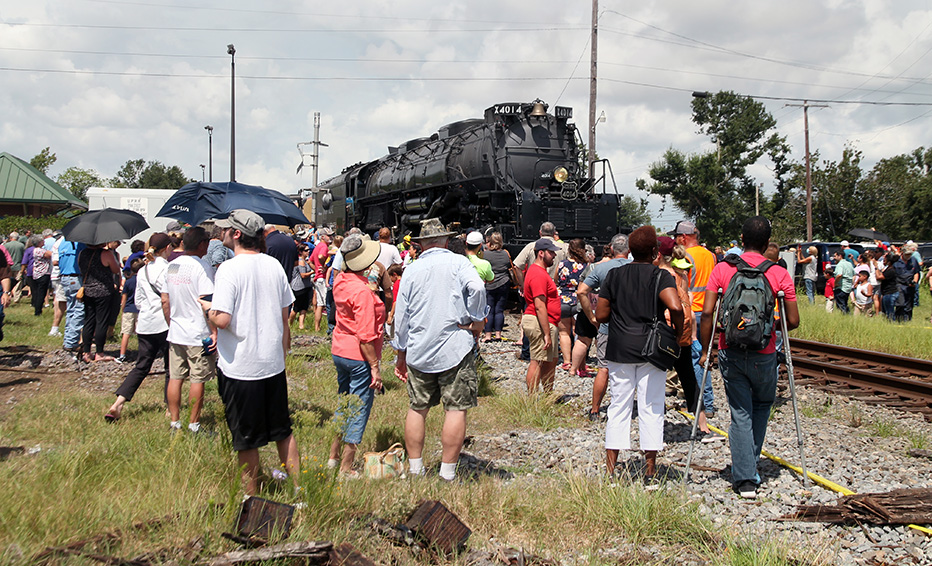 So many people in this area will remember this event fondly.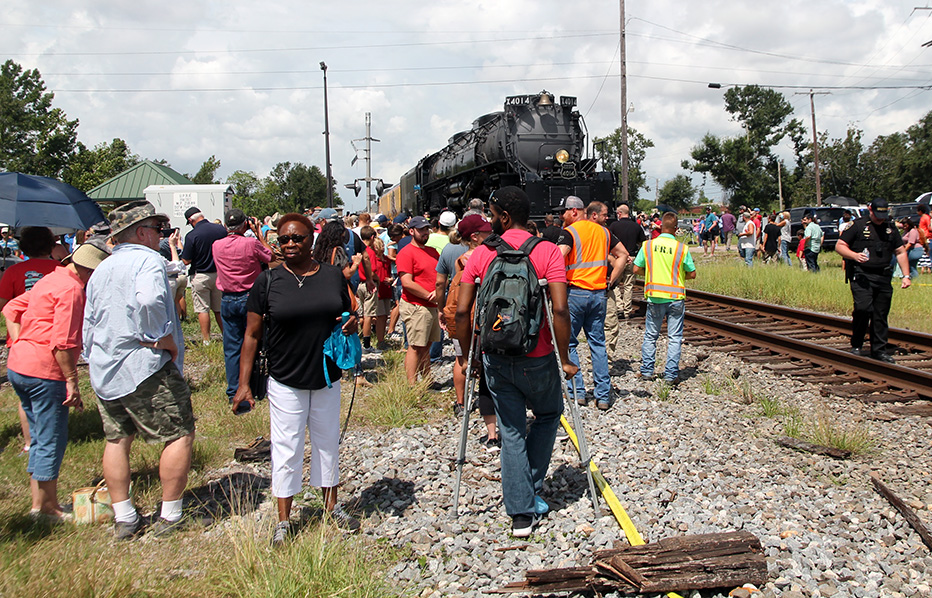 I don't recall seeing any news cameras in the area, but I wouldn't be surprised if some were there.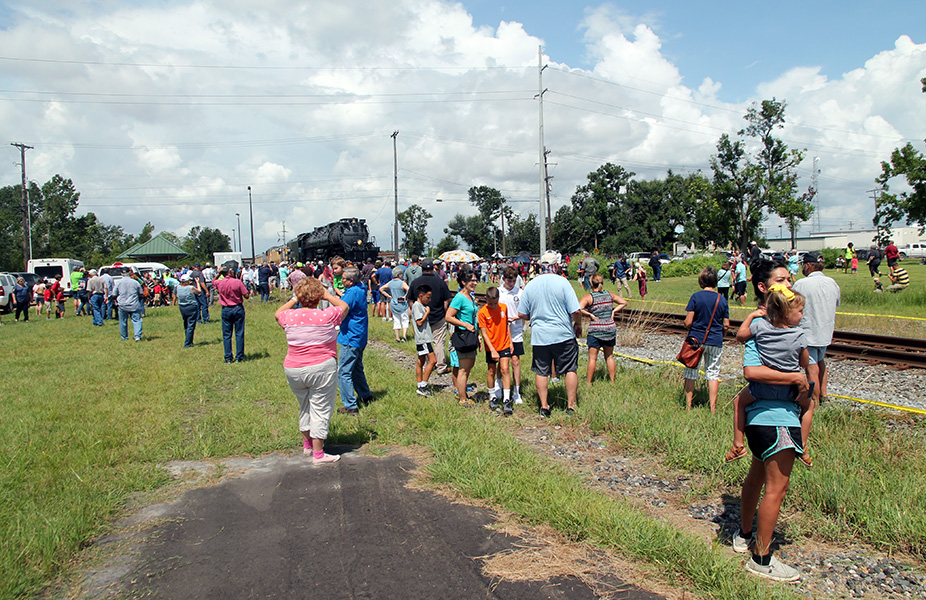 I would like to know how many people came here to see this.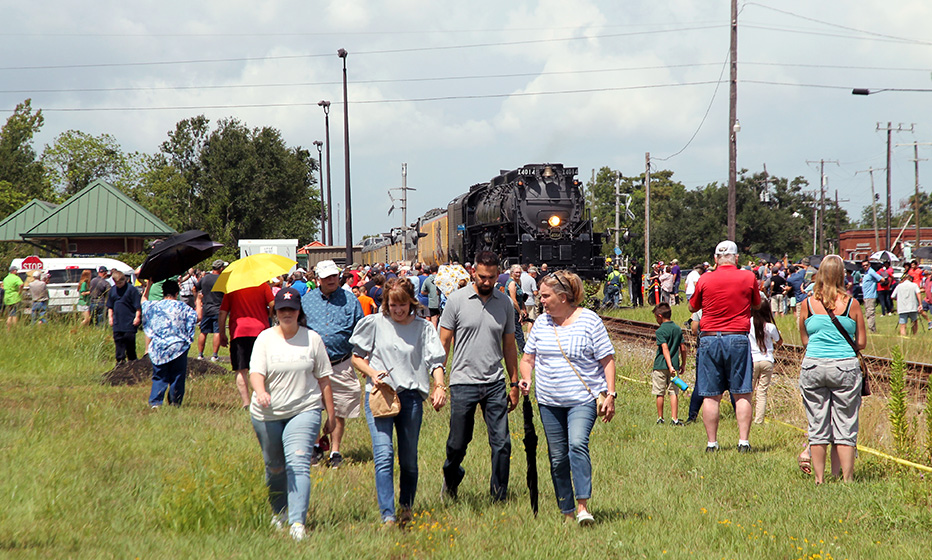 Yes, I do realize that these shots are repetitive, but, hey, I hardly take pictures anymore!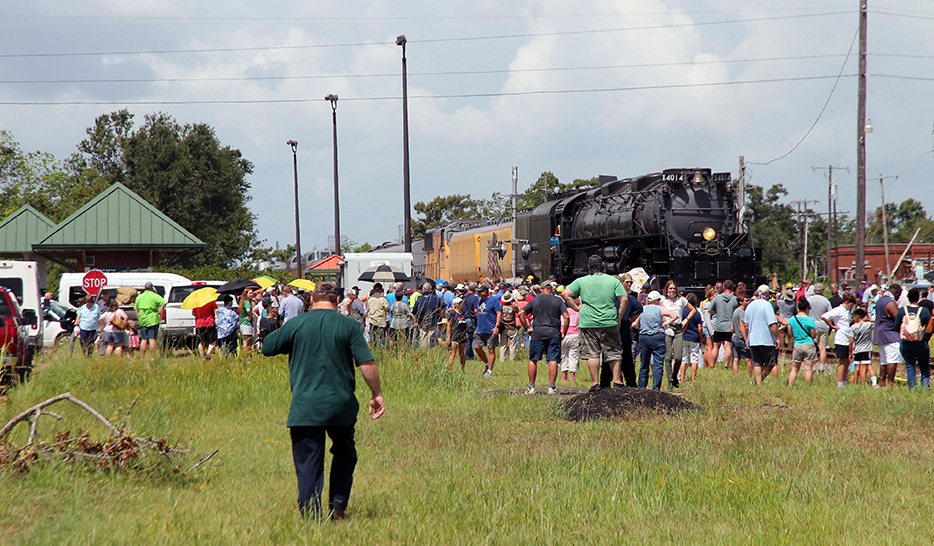 This is the first time that I take a picture of an eastbound train here, and I would not be surprised if it is the last.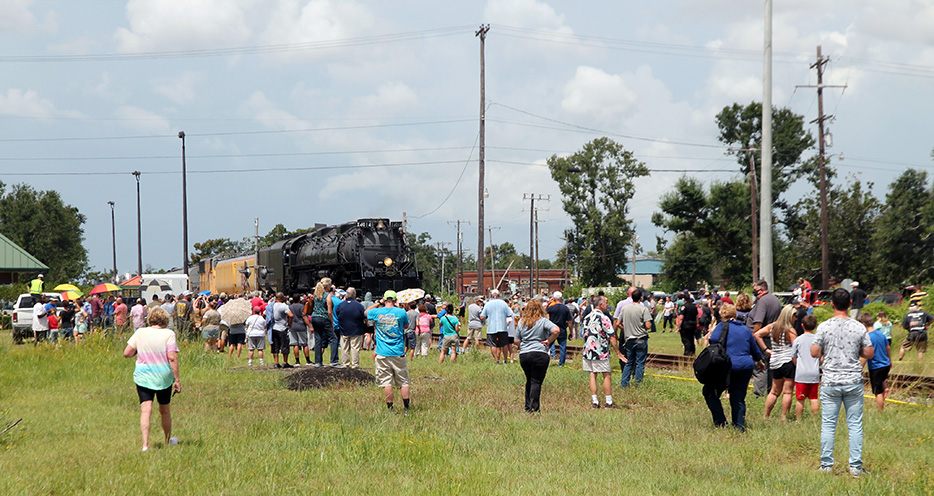 It's getting close to time for this thing to depart.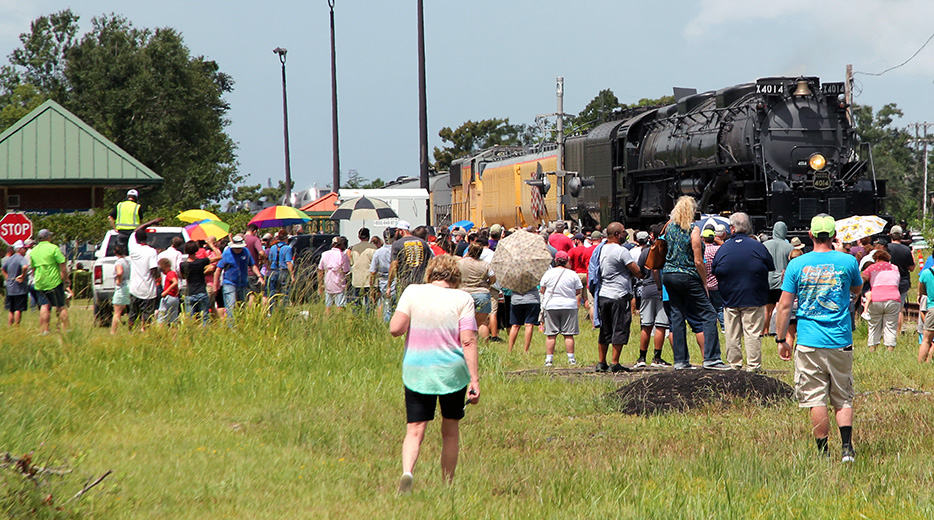 So, I got atop the truck.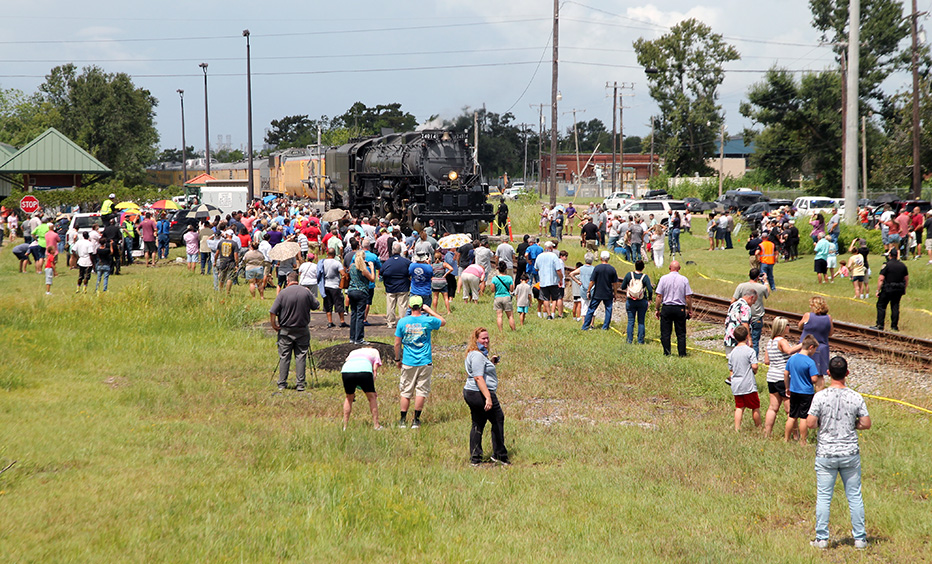 See, the real story here is not the steam locomotive; the real story is the crowd there for the steam locomotive.
The below image is an image of those two ladies at the bottom looking upon the scene.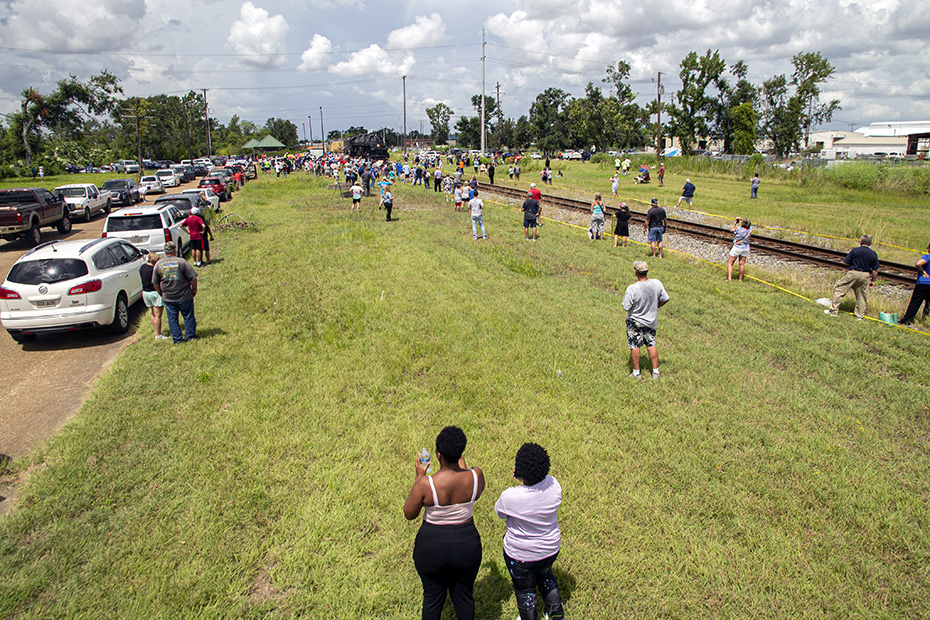 I like this perpendicular view of the track here.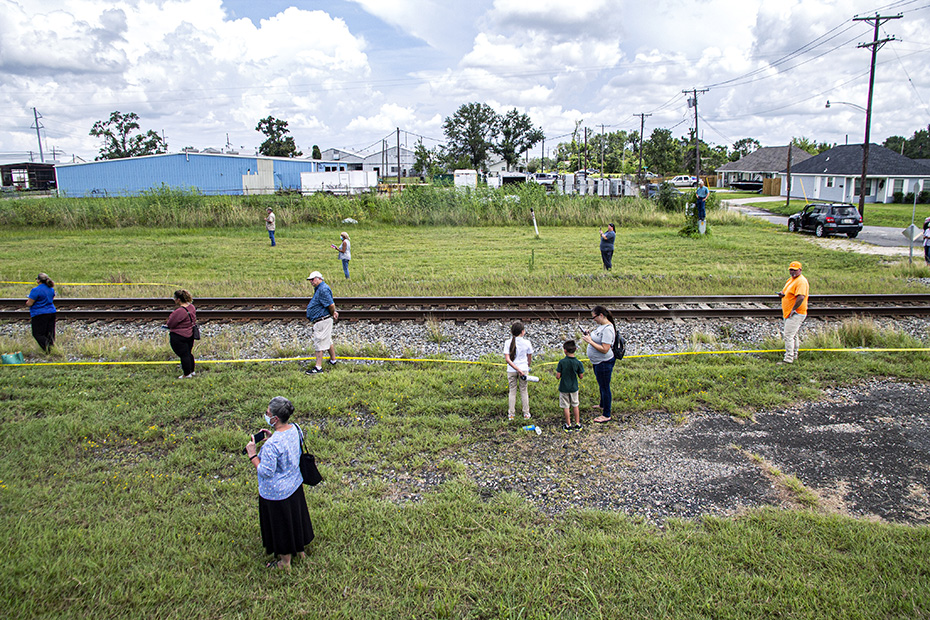 Here is a view in the other direction, to the south.
Okay, now the train is departing!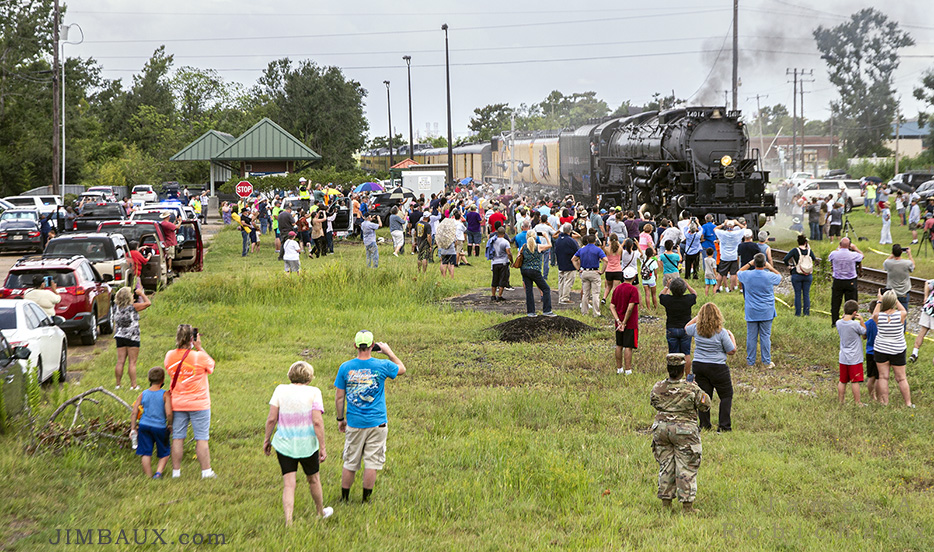 The crowd watches intently.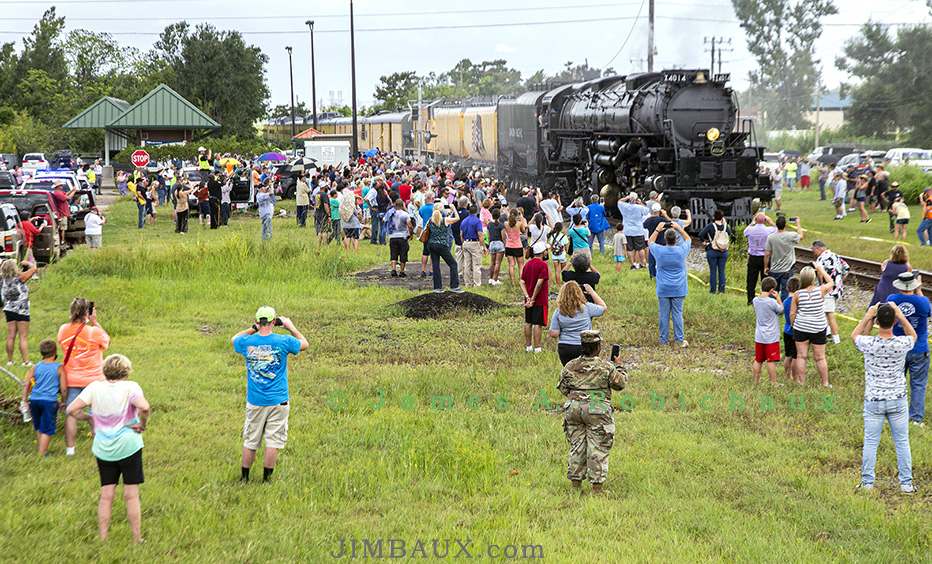 The clouds didn't cooperate, or maybe they did; I don't know, but it doesn't matter.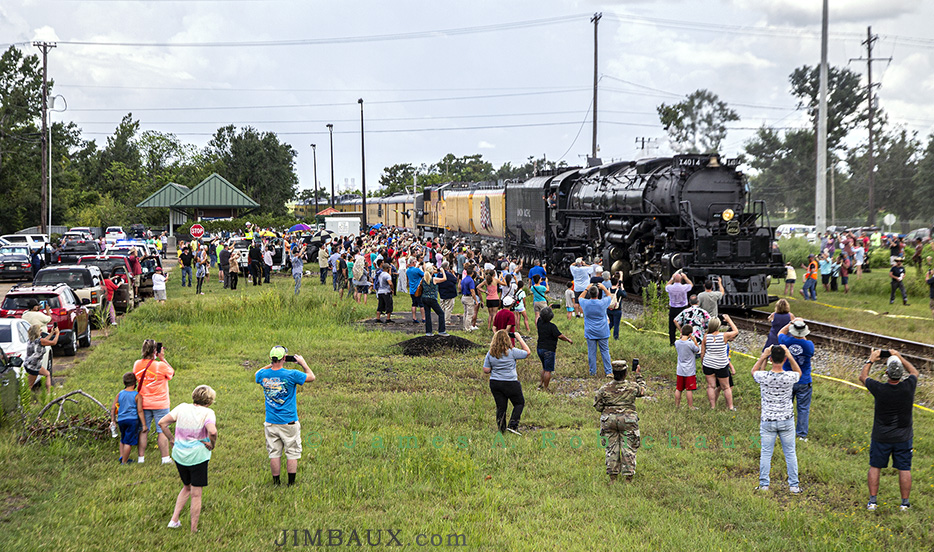 This (both the one above and the one below) is one of my favorite images of the day.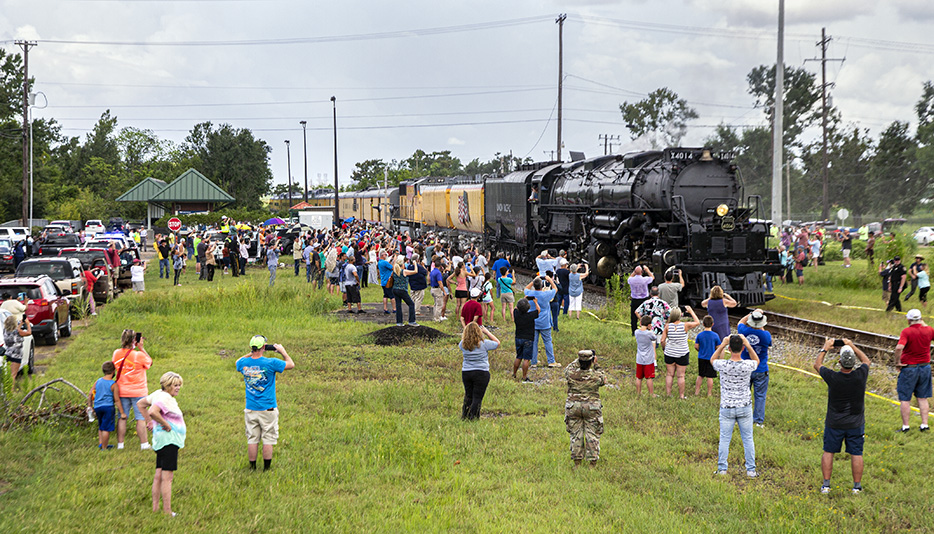 While shooting these still images, I did get some video.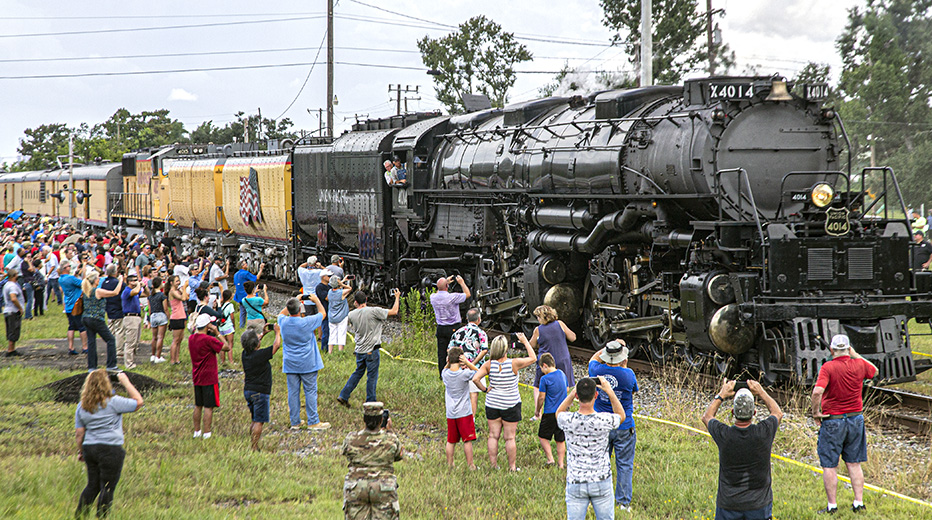 The video is the best that I could do with a tablet computer with just my left hand while my right hand held the still camera!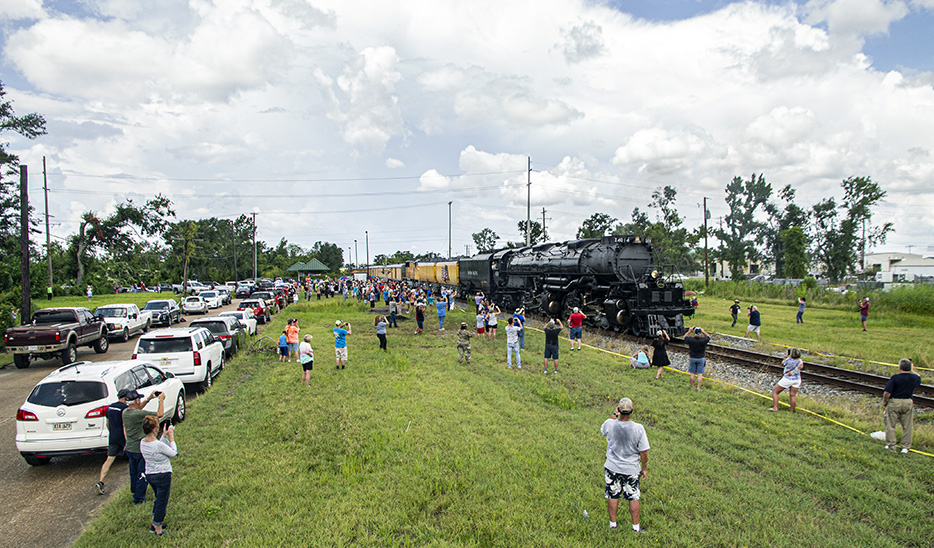 My new skills in using the new version of Adobe Photoshop really rescued this cloudy-sky shot to something presentable.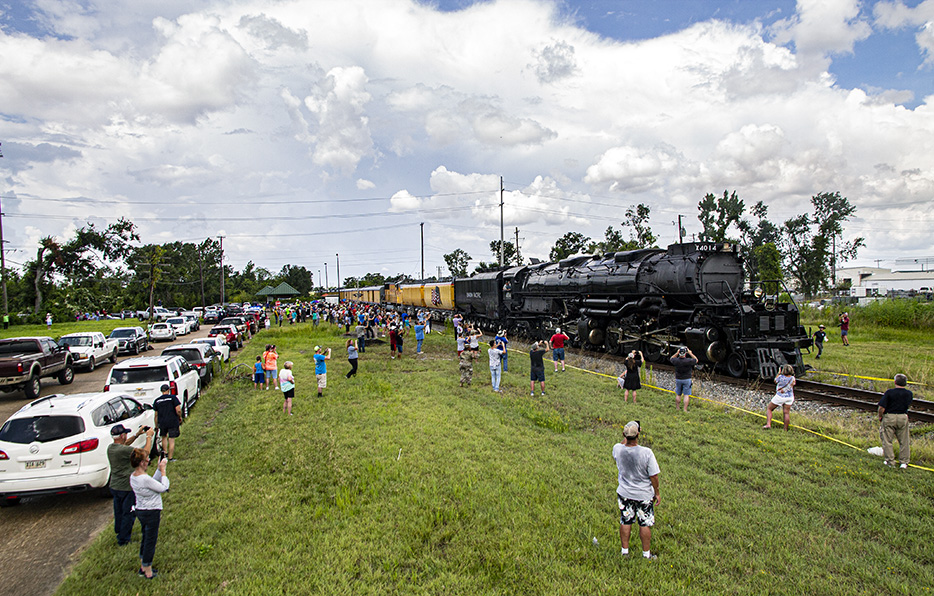 This is risky.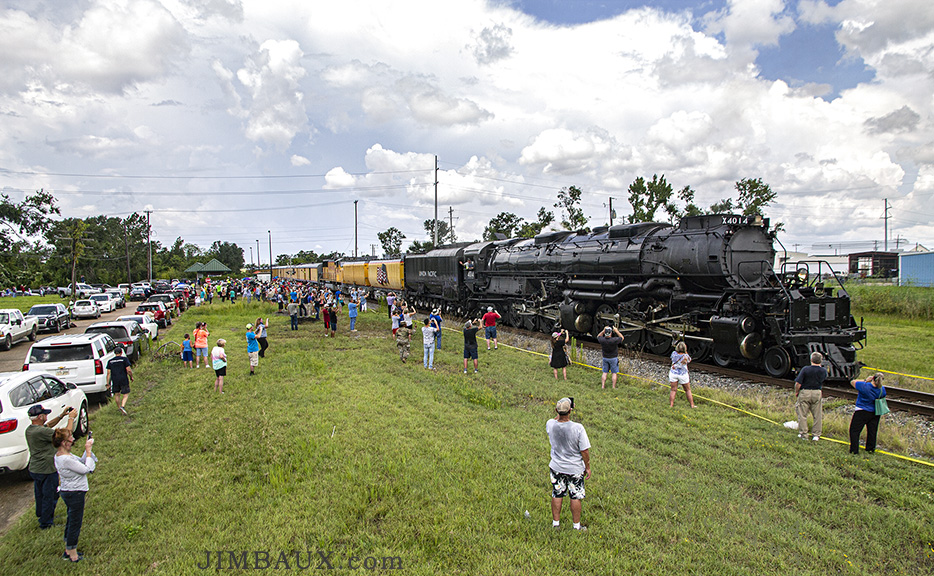 I like those background clouds.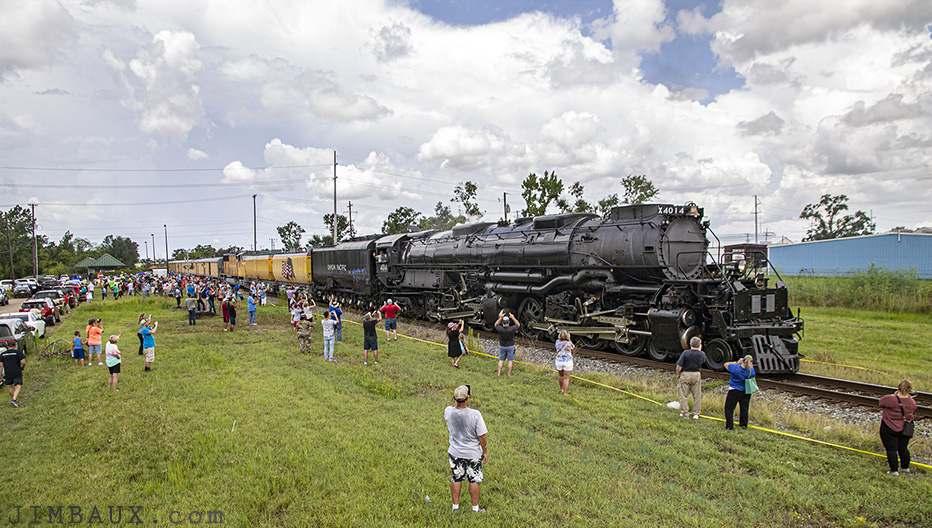 Well, I hope that the people of Lake Charles enjoyed this experience.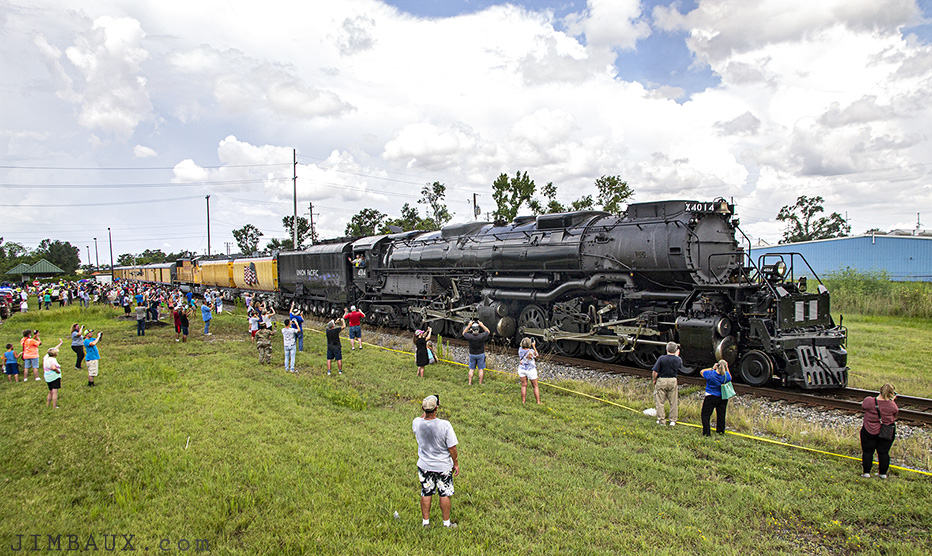 Immediately thereafter, sometime at about 12:10-12:15, I left, hoping to beat it to a shot location that I had in mind, but I somewhat thought that I should have just stayed around and talked to some people, to make this more of a social event.
I arrived at the US Highway 165 Bridge at Iowa Junction, and, even before I got there, the place was already crawling with foamers.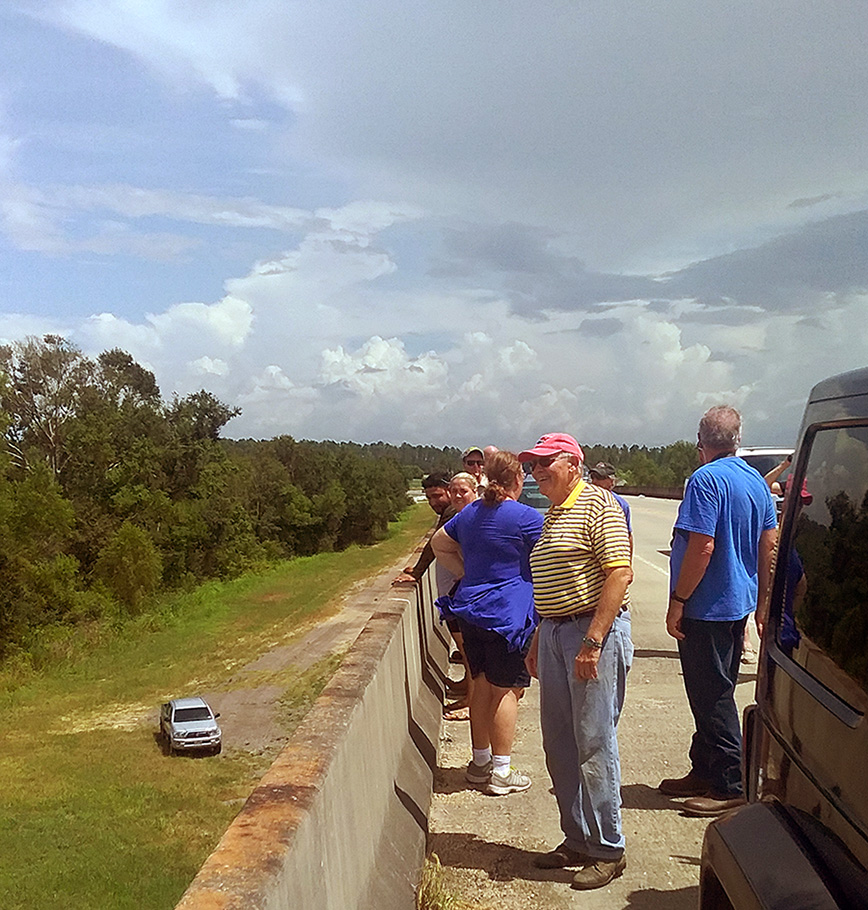 There were about eight automobiles here on the bridge by the time I got here, and another one or two arrived shortly afterward, plus there are some people on the ground below us.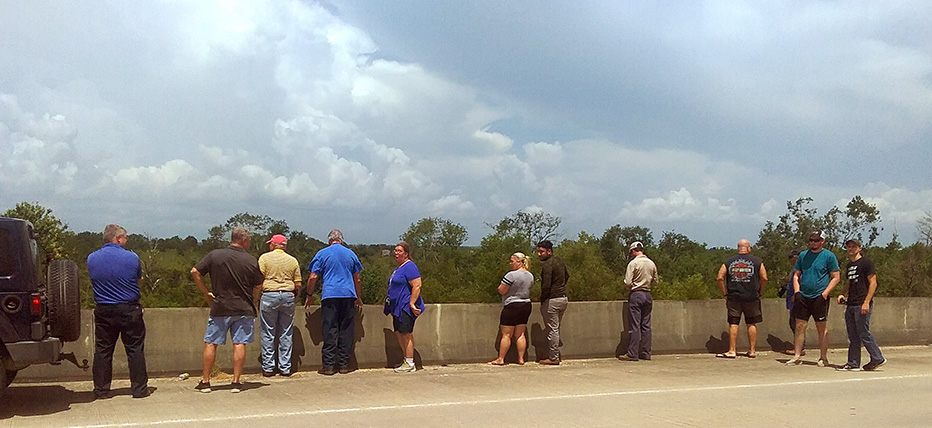 This is insane.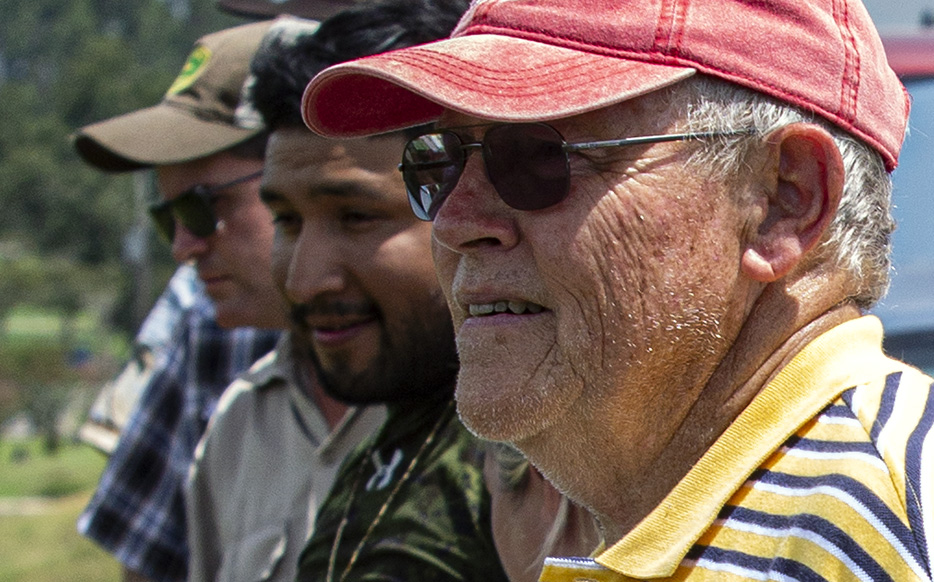 Here is the track.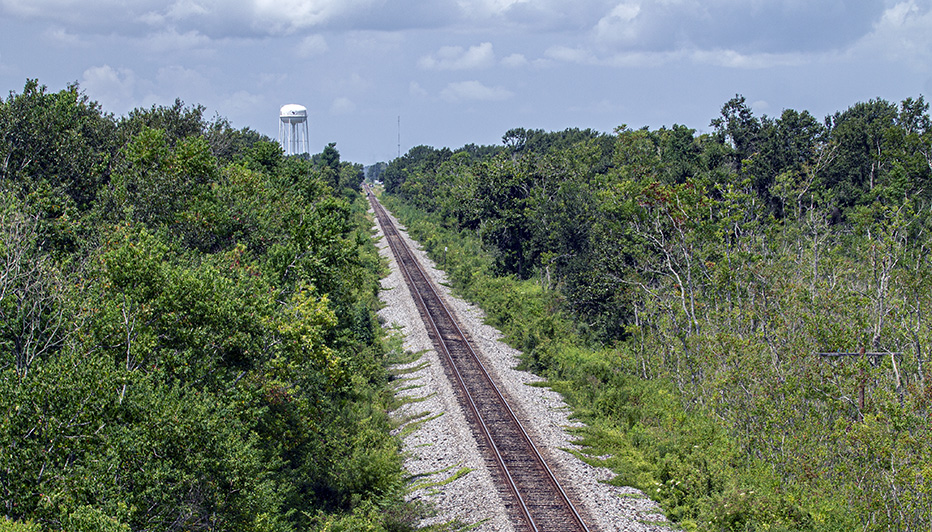 This dude had a funny Whataburger shirt!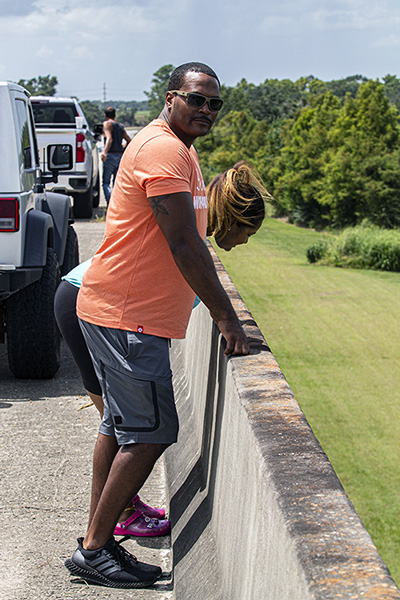 He posed with his lady.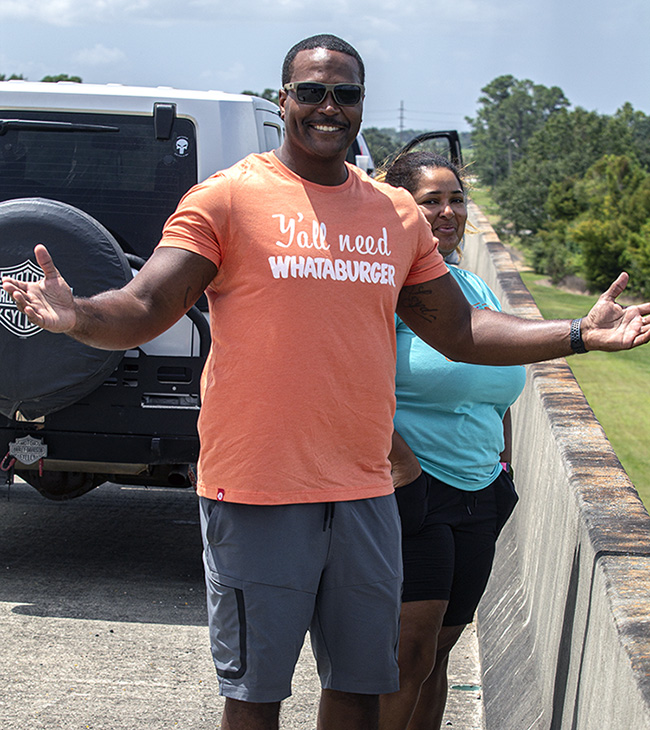 I wonder who they are and what their interest in the UP 4014 is.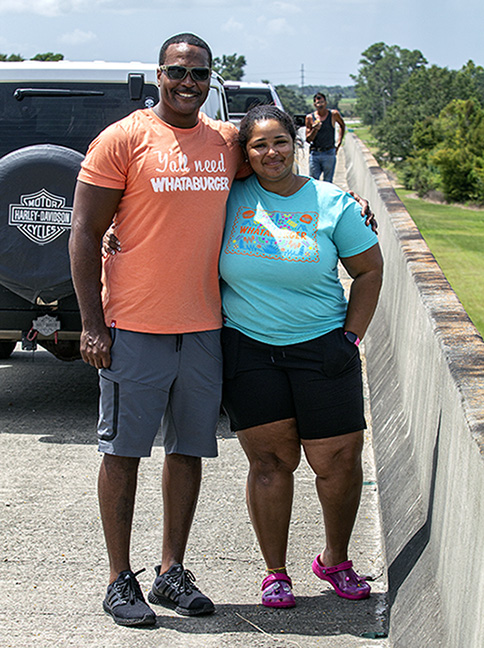 Here comes the train.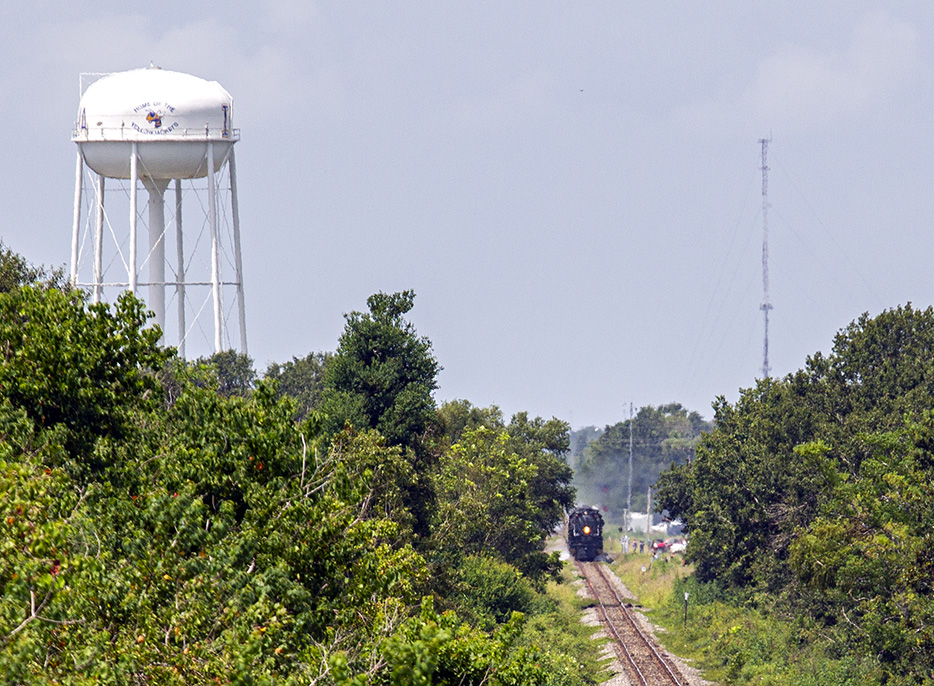 Here is a guy with a gun watching the train.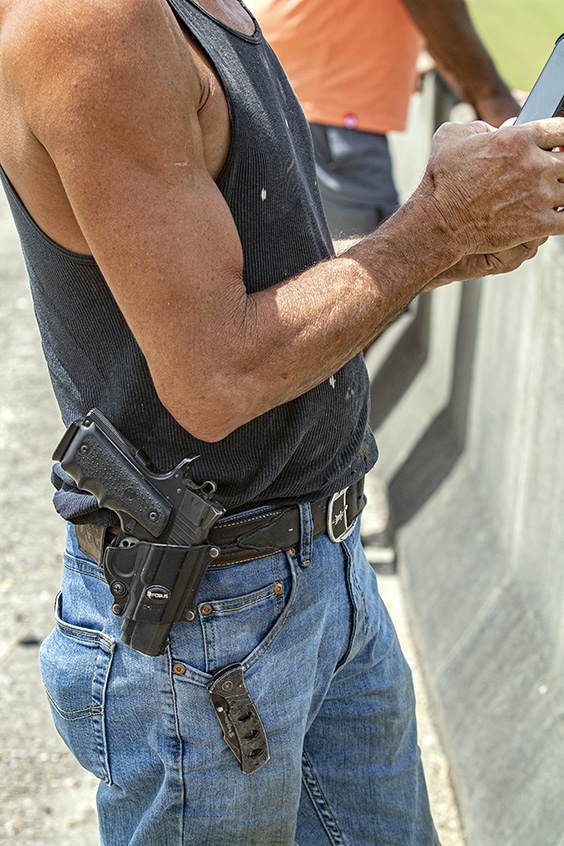 What the hell?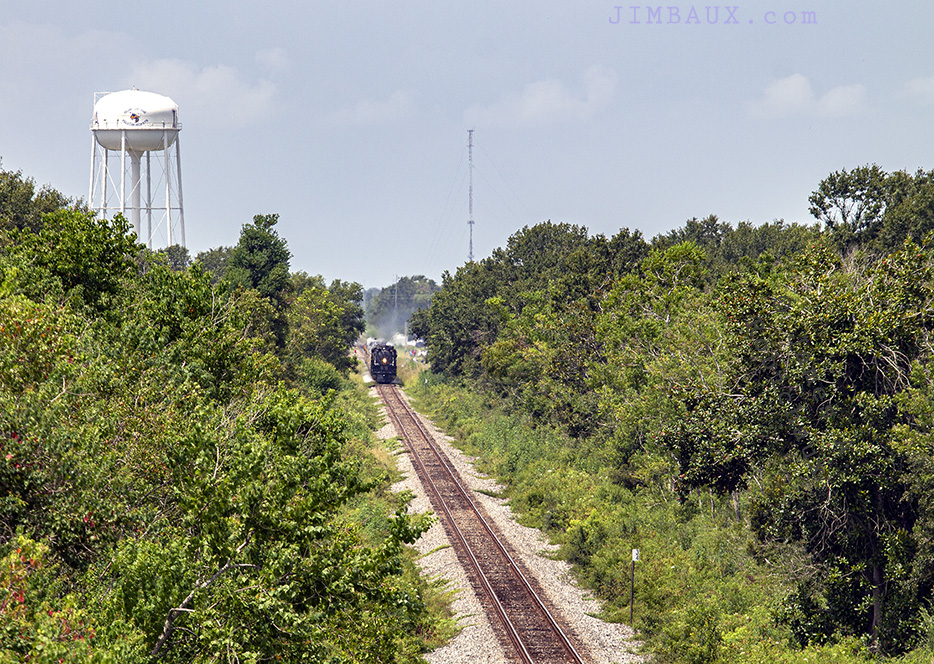 I don't recognize any of these people, and it seemed that most of the license plates were from out of state.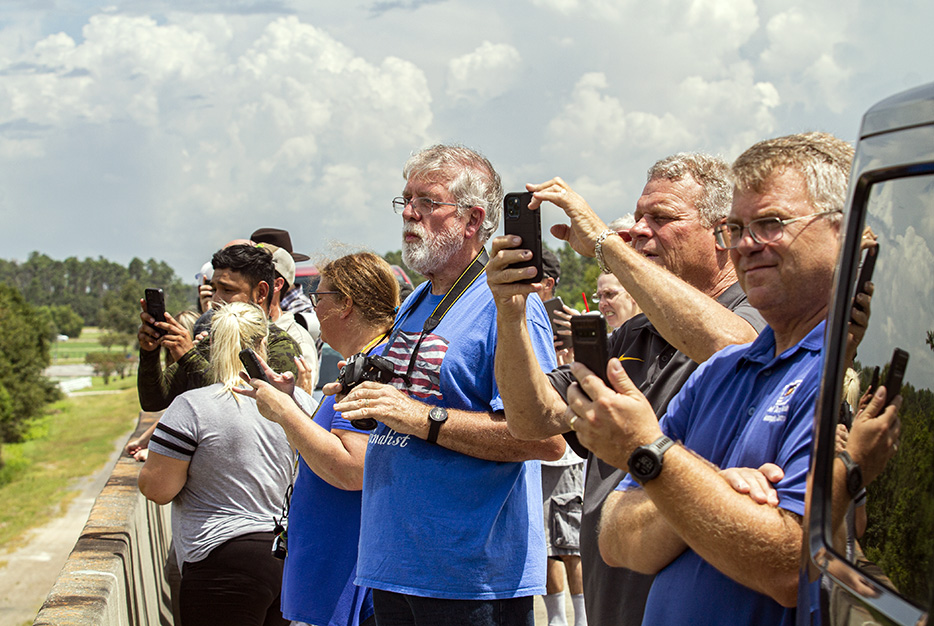 So, do regular people turn into foamers on a day like this?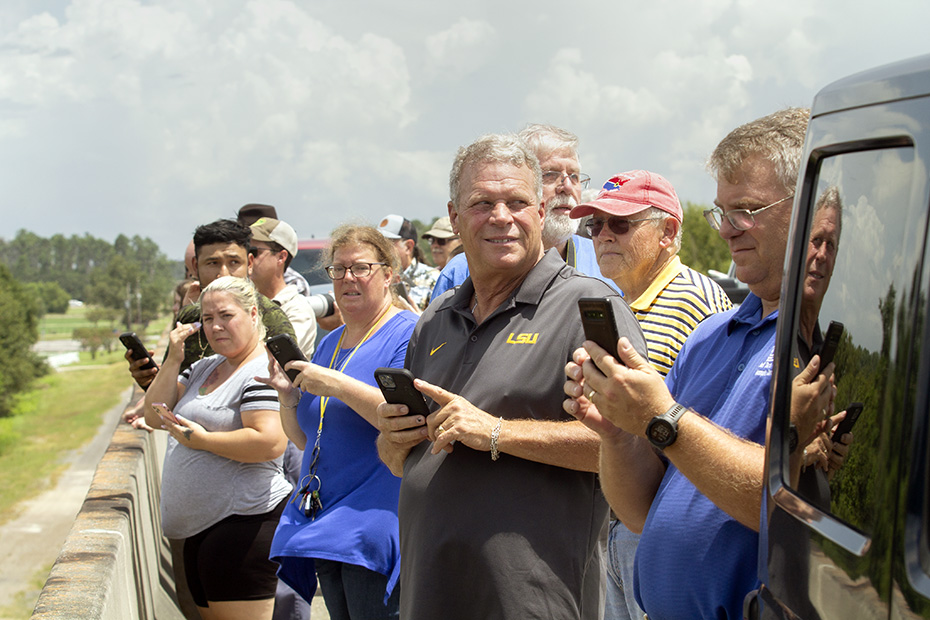 Oh, wait, let's see the train.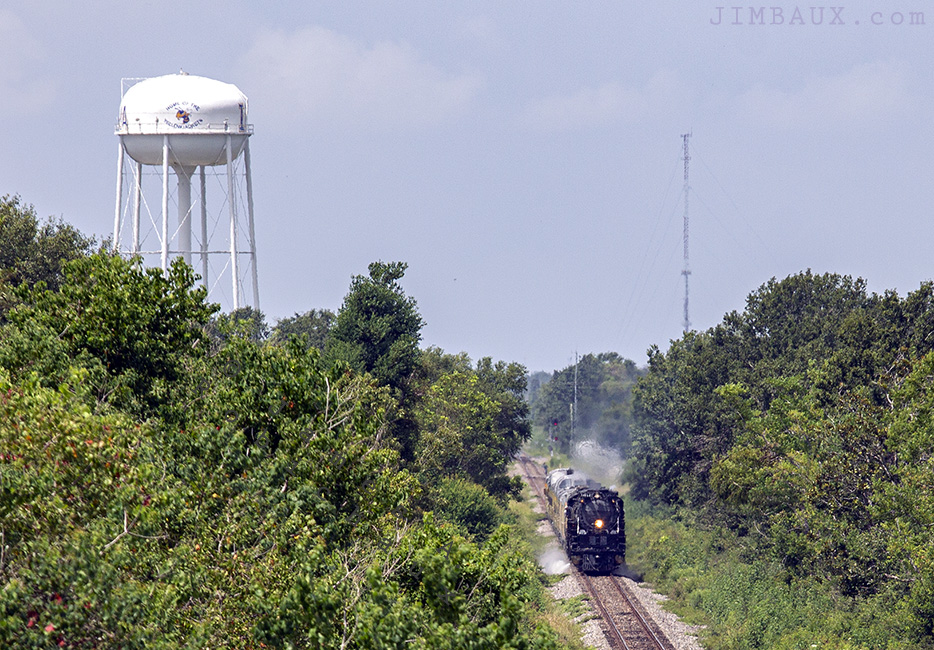 It's slightly backlit, it's very high-sunny, but it's the UP 4014.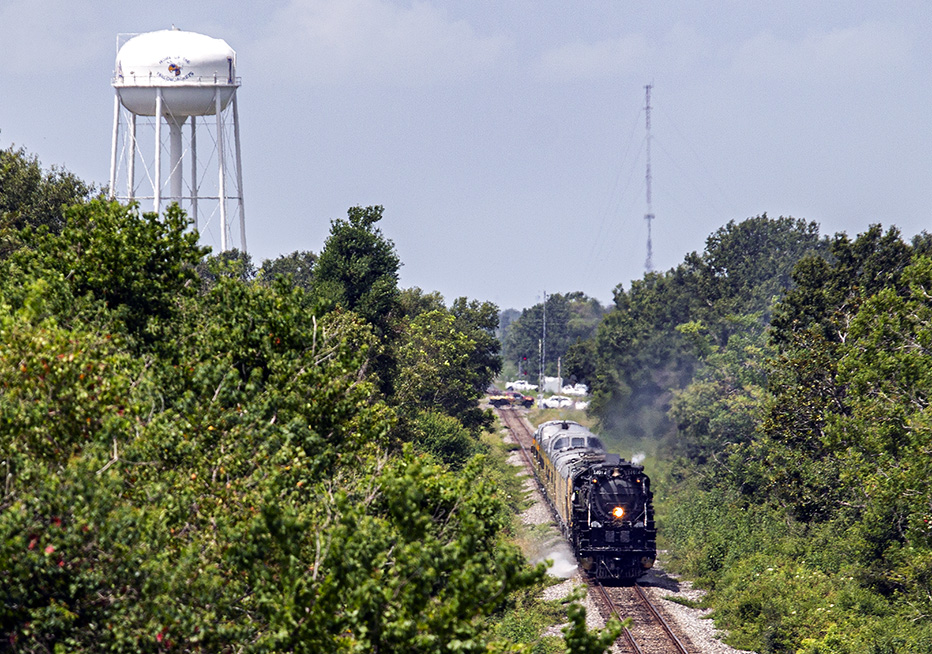 Also, it's a social event!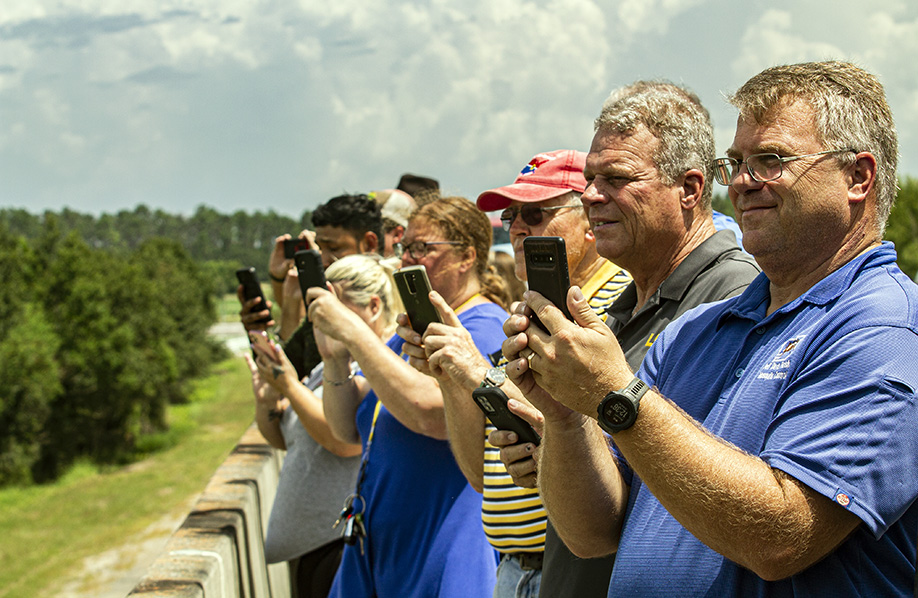 Yeah, you knew that I was going to do something like this – convert to greyscale – in these lighting conditions.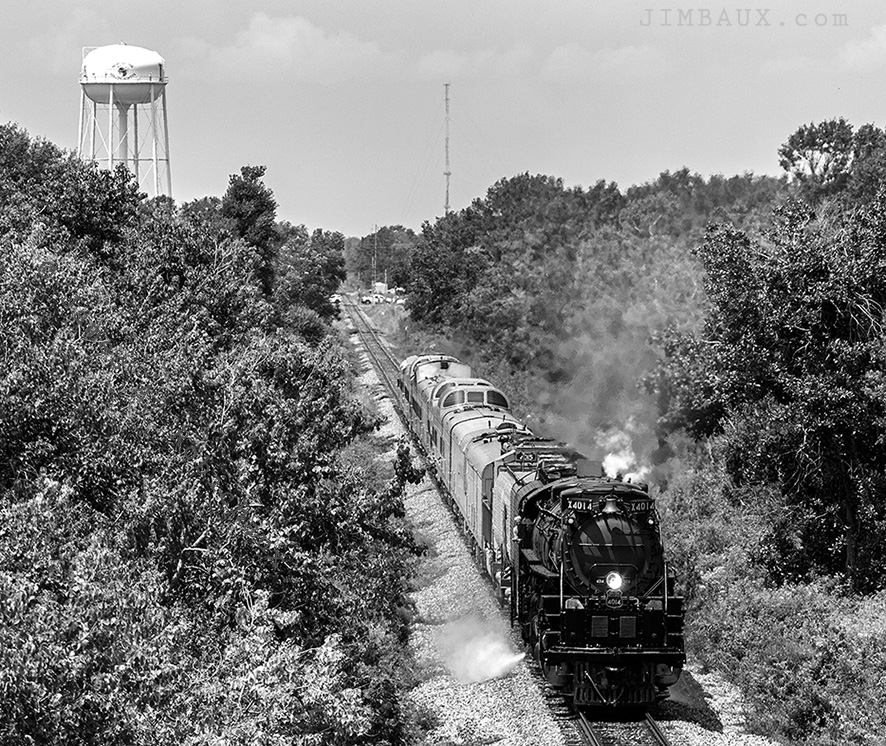 I can't decide which is worse.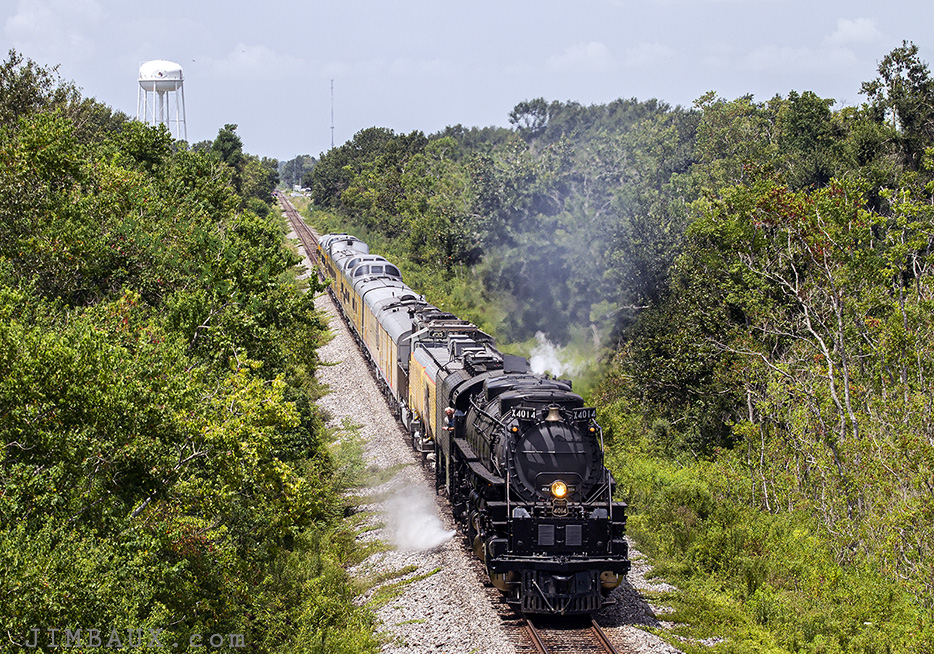 But I did get the shots, and I was here, and I saw and heard this thing, here!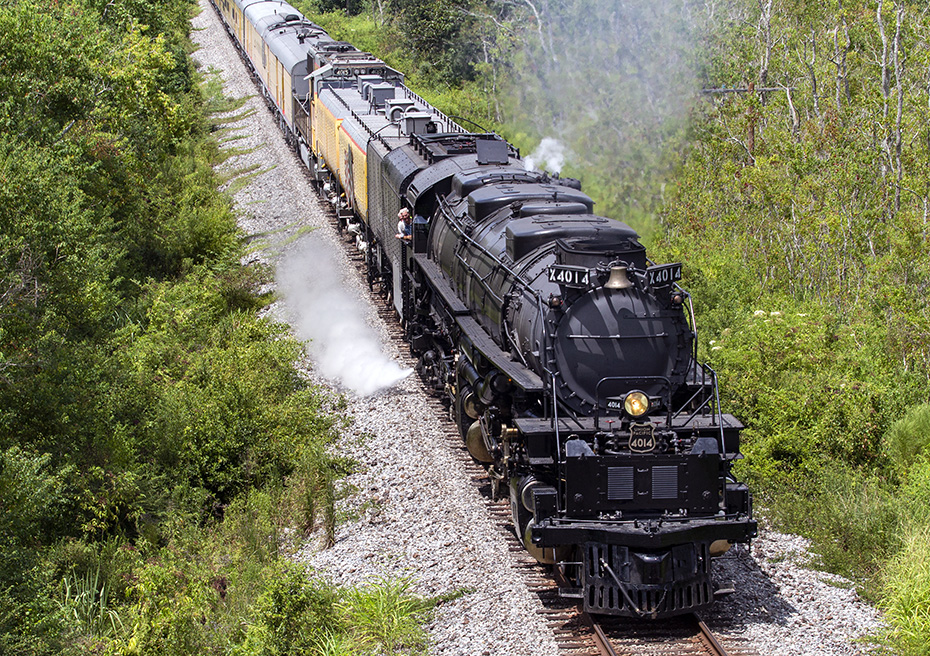 There is a reason that I wanted to get these going-away shots, even though it's not at all a good view of the train, and it's more than just that it's a view of people photographing this (not good view of the) train.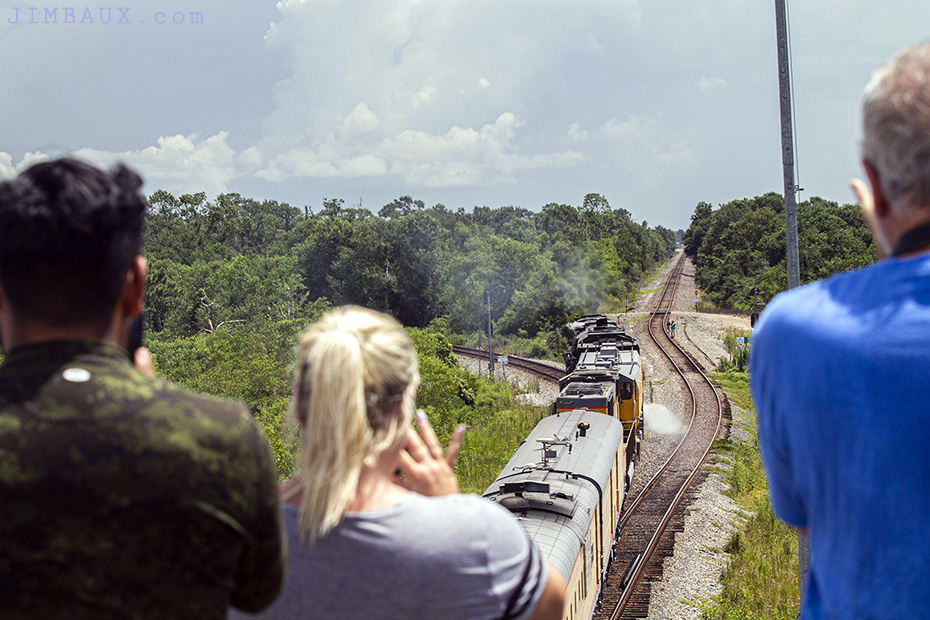 The reason that I really wanted to show these views is that it demonstrates some of the politics of railroad history, especially relatively recent railroad history. I think that you can tell that this junction did not originally look like this! The train is turning from the ex-SP mainline to New Orleans northeastward onto the former MoPac line from Alexandria to Lake Charles, which crossed the SP mainline where that roadbed that you see just past the curve.
The crucial piece of information to understand here is that the UP-SP merger resulted in this location becoming the point at which ownership of parts of the Sunset Route were split. Because the UP-SP merger would otherwise have meant reducing the number of major western carriers reaching the New Orleans gateway from two to one, the new BNSF Railway, itself a creation of a merger that had just happened, was given access to the New Orleans gateway in the form of trackage rights via the ex-SP Sunset Route from somewhere in southeastern to Texas to here at Iowa Junction and then ownership of the ex-SP route from here at Iowa Junction to West Bridge Junction, just outside of New Orleans, with UP retaining trackage rights over the line.
That's one of the reasons that this train is turning here, bypassing places like Crowley, Lafayette, New Iberia, Franklin, Morgan City, and Schriever (Houma and Thibodaux), where there would be plenty of people who would want to see this train, even though it means that it will travel the Livonia Subdivision twice.
The curve is the funny part of the story here, because it is a sign that, as you can see on the satellite view, the junction was rearranged after the UP-SP merger so that UP's line would be straighrailed at the switch, with the BNSF line diverging from the mainline, whereas, before, the east-west line that is under the part of the train that is yet to enter the curve to the north, on which the front of the train is, continued straightly to connect with the straight Lafayette Subdivision track that you see off in the distance.
There are practical considerations for this, due to the wear-and-tear on rolling stock and on switches, but there is a political element to this as well, as this is UP's way of saying "we are in charge here."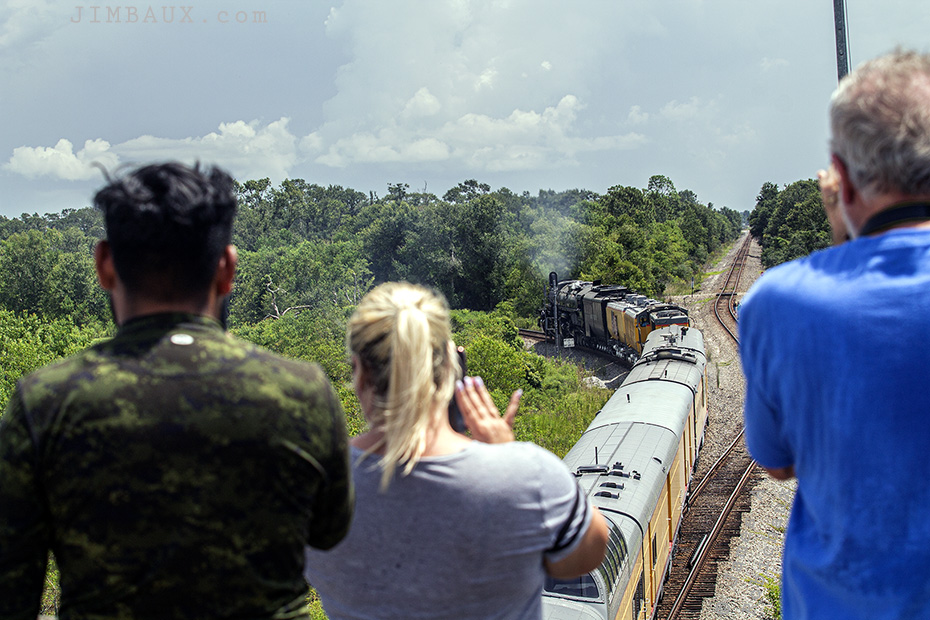 I hope that that explanation was interesting and-or useful.
From there, I took off northbound for what was a fun chase of a train on the Lake Charles Subdivision, my first time chasing a train on the Lake Charles Subdivision!
At Fenton, I got my best video of the day. Yes, I know that it's shaky, but it's done with my tablet computer, not any real video camera.
I was amazed by the sizes of the crowds of people in Kinder.
I took off my Rio Grande shirt, which I wish that I hadn't worn, because it identified me to other railroad enthusiasts as a railroad enthusiast, off in Kinder right at around the time that I photographed a freight train, the only other train that I managed to photograph today.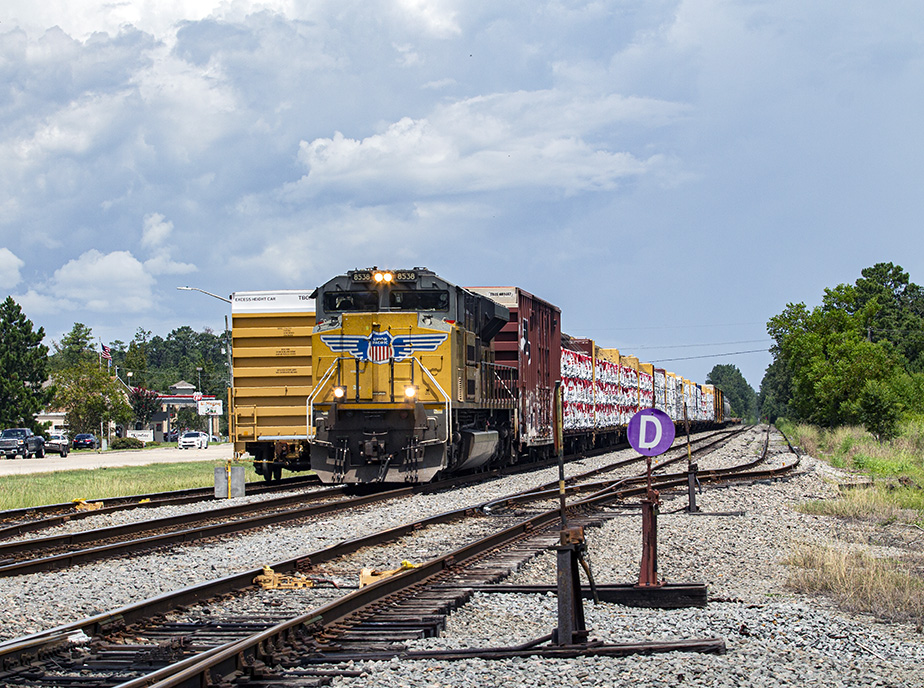 Before I even took that above photo, though, in the very brief time between me hopping out of the truck to take it and me taking it, two persons stopped to ask me about the UP 4014 passing here, which, as I told them, it wasn't, because this yard is north of the junction at which the UP 4014 would turn eastward as it stopped on 14th Street.
So, here is this train, and I wonder what train this is and where those loaded centerbeam flatcars originated.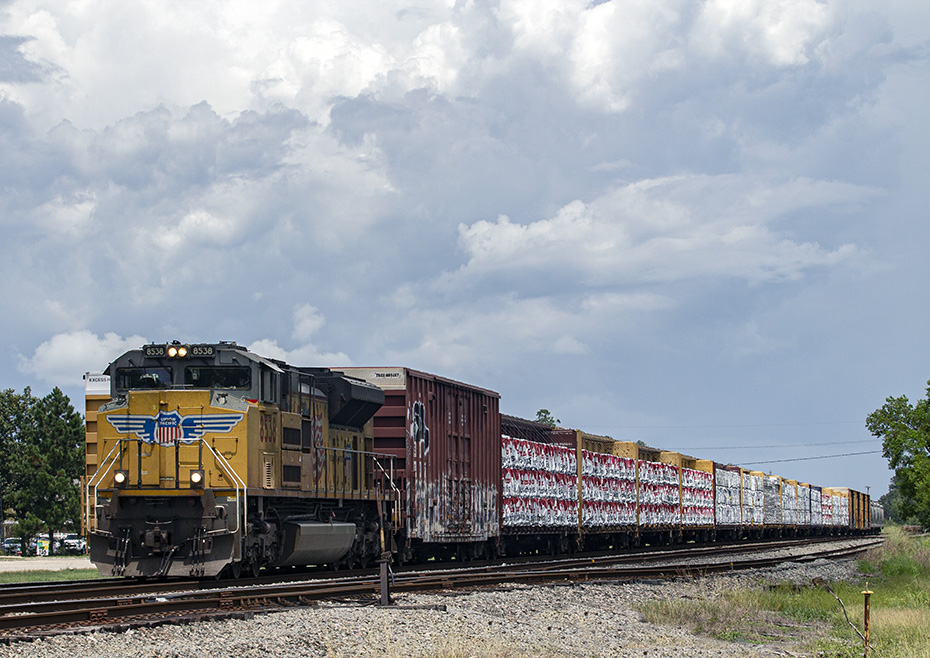 I presume that it was waiting on the UP 4014 train to pass.
Here is a view southward to the track on 14th Street.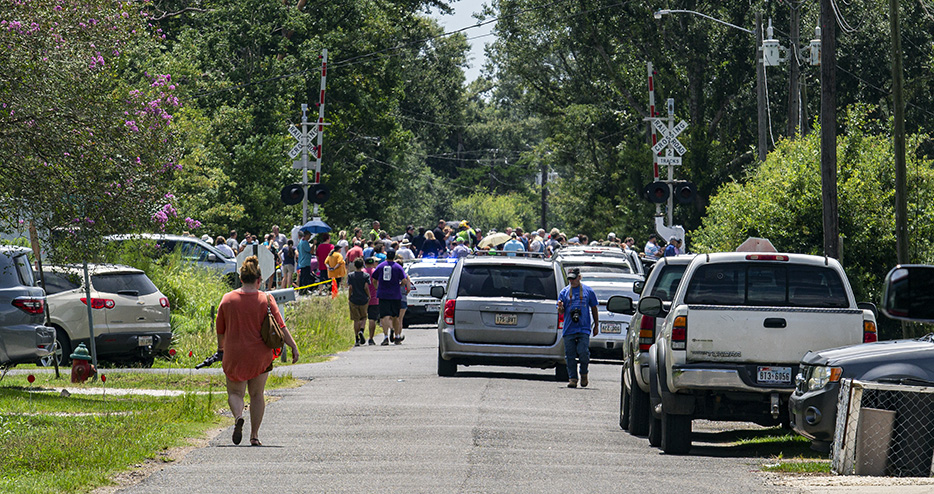 I don't remember what I did for the next several minutes, but I didn't try to get any closer to the train at its Kinder stop. I took a break from the light and the heat for a while and rested, then got ahead of myself to a shot at Lauderdale. I explored and relieved myself on the neat-looking Marshall Lafleur Road before settling back at the highway for the broadside shot of the train leaving Kinder eastward.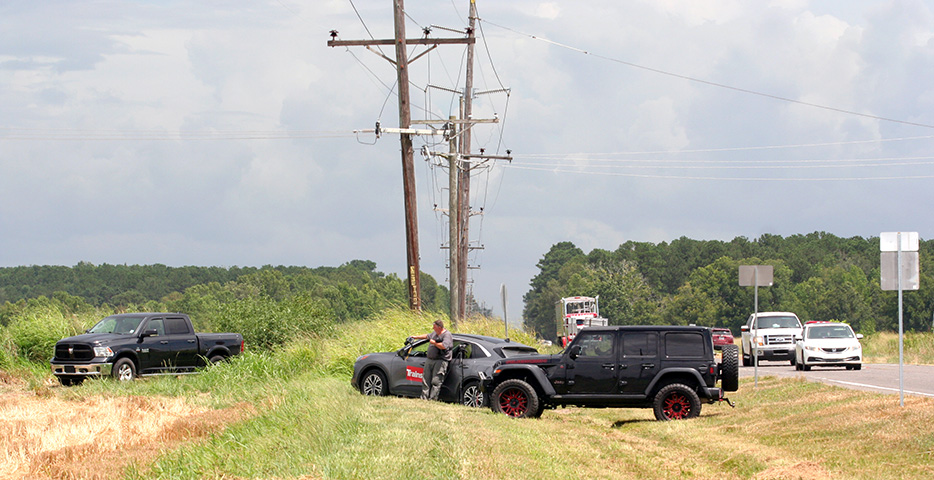 That's someone from Trains magazine there.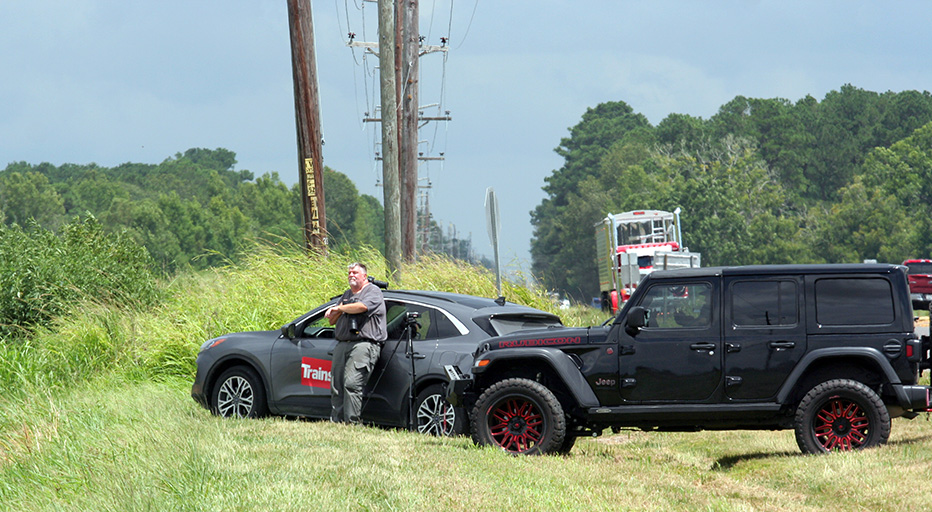 Here comes the train, in front of some southwestern Louisiana rice fields.
That's okay, but the high-sun angle makes it a bit insipid.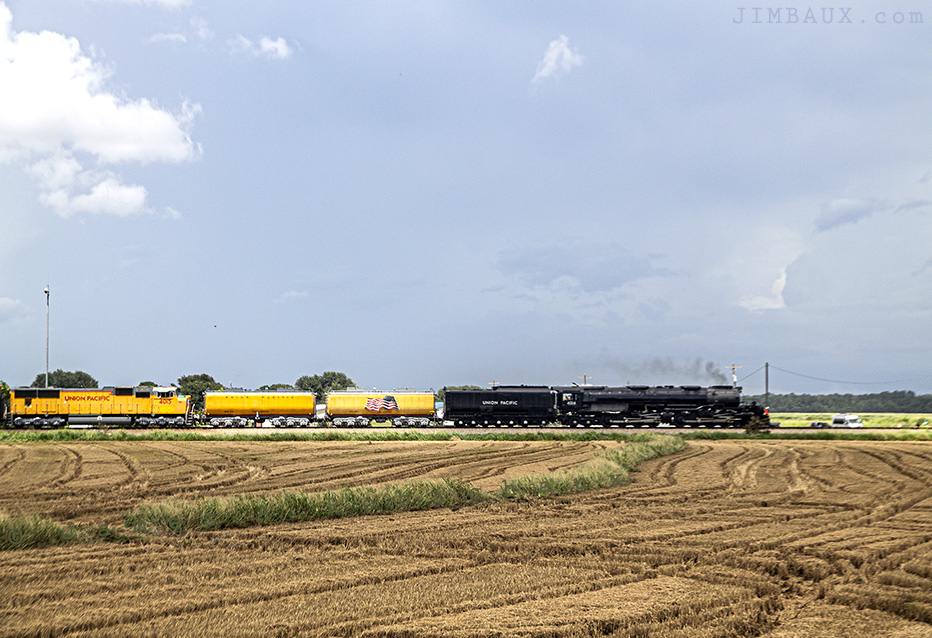 The rice field and the clouds are neat, though.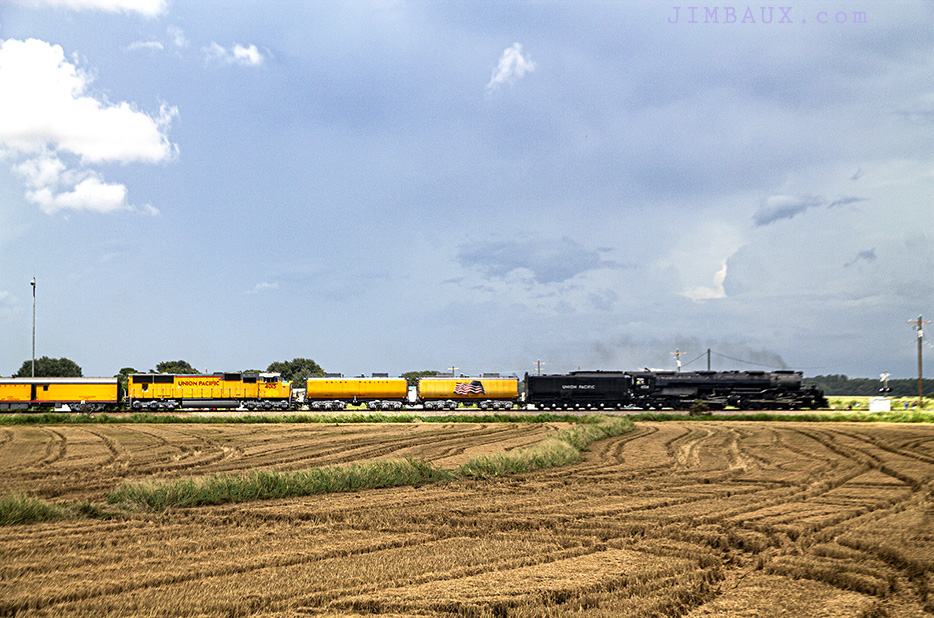 Twenty minutes later, with crowds on the highways, I caught up with the train again east of Basile.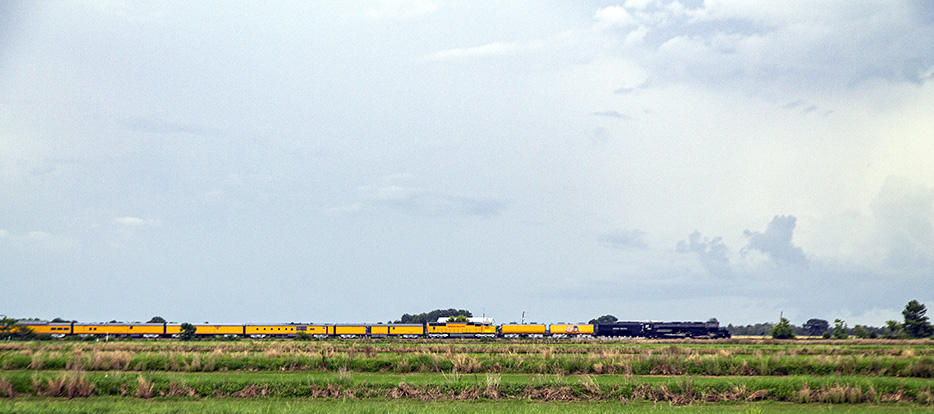 It's just a shot of some neat clouds that has a difficult-to-see train in the background.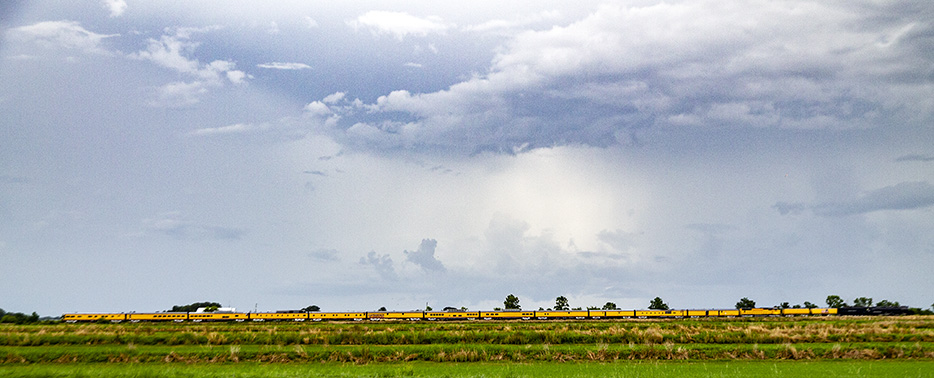 Exhausted and stinky, I had decided earlier that I was not going to chase the train past Eunice. I don't know the area east of there at all, and I figured that today wasn't a good day to explore it for the first time.
So, I made my final stand at the eastern end of the interchange yard in Eunice.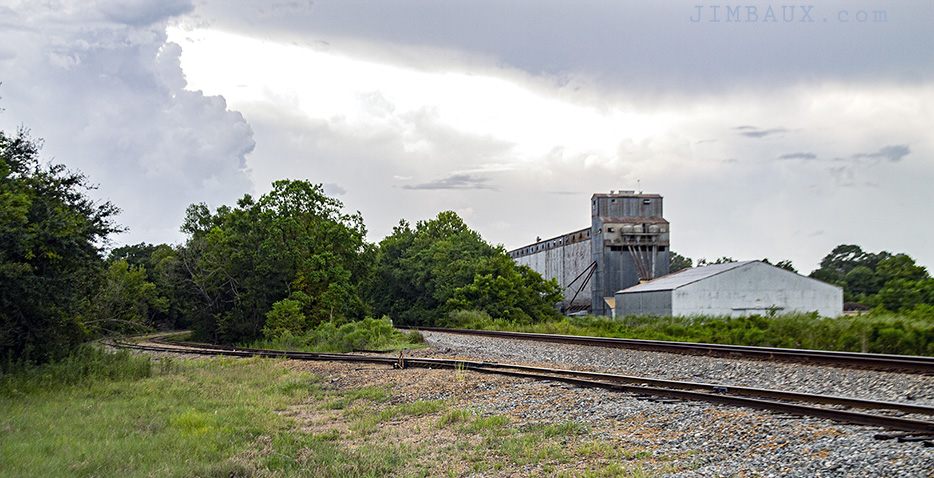 That yard at the left is where UP and the Acadiana Railway interchange cars for the line to Crowley.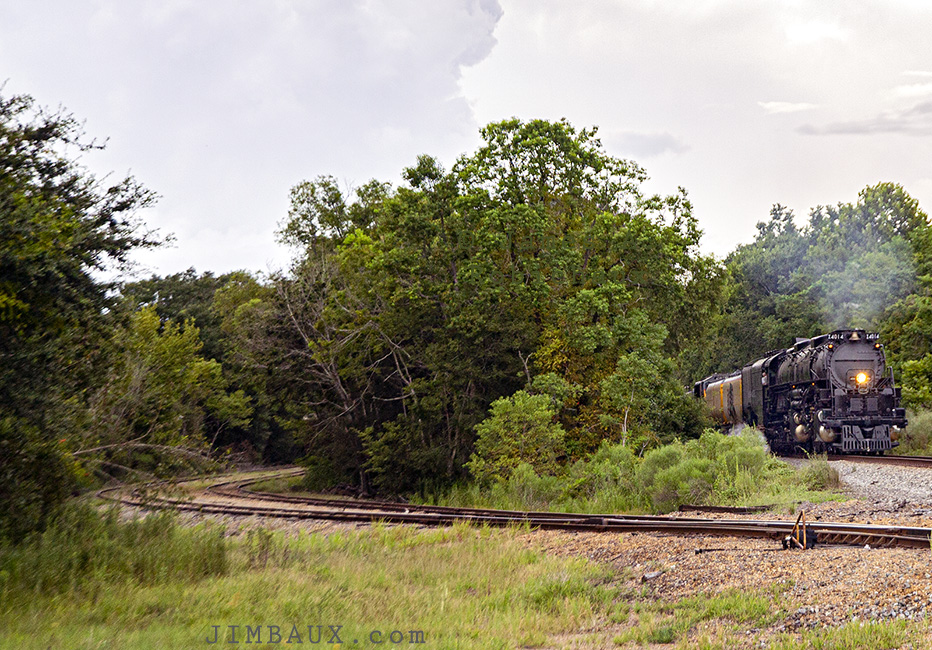 Here is the train.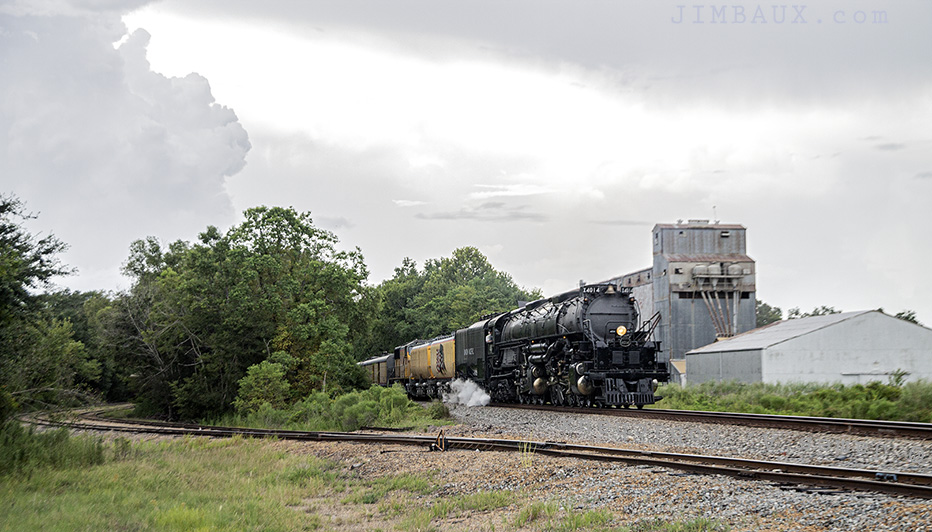 There was a line of us standing on the edge of the road, but there was a selfish and considerate man standing in the foreground just to the right of the frame, despite my attempts to get his attention in the hopes that he would move, blocking the view of a wider shot of this train.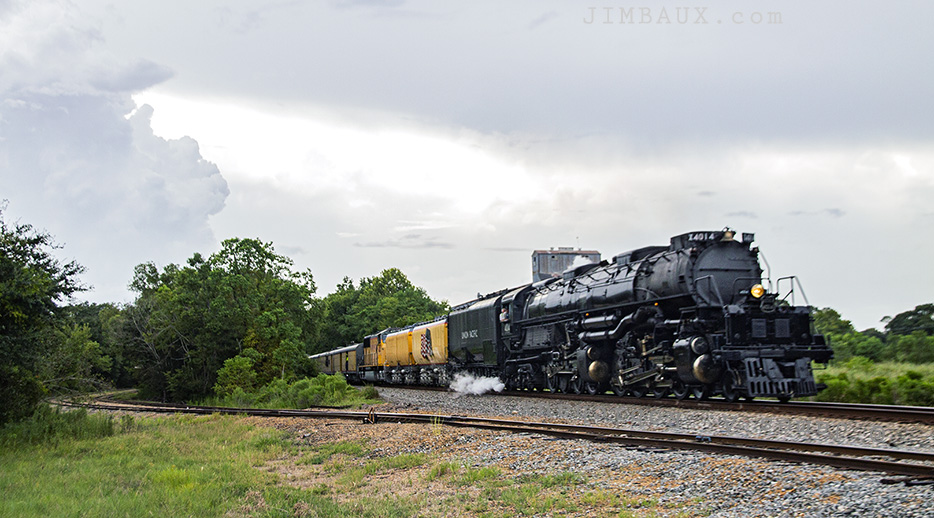 So, that's all, and it was time for me to relax and go.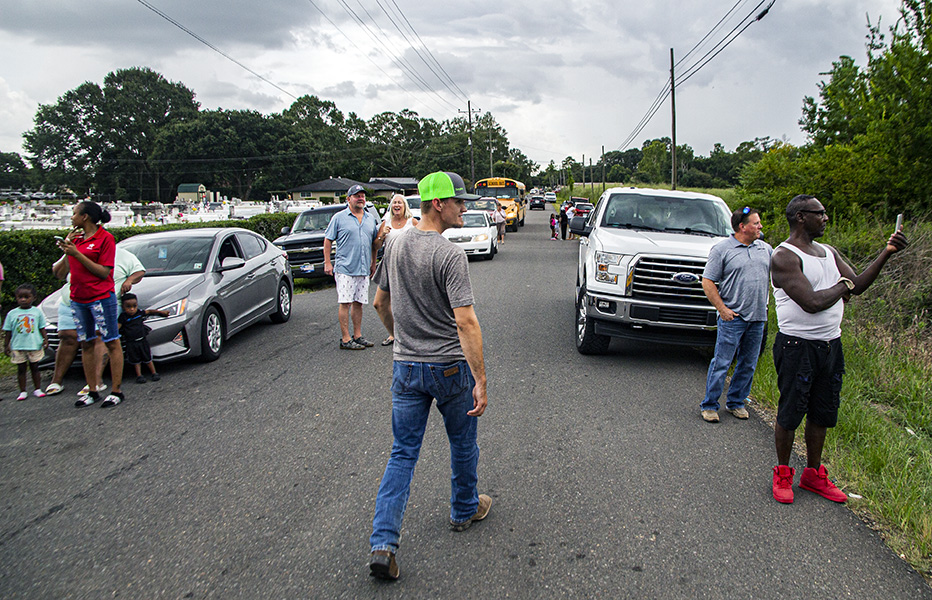 I then went toward the downtown area of Houston, near where the Rock Island and SP lines would have crossed the GCL mainline, and I ran into a familiar face!
Wow, Harlan Kirgan! I hadn't seen him in almost nine years, since I left the newspaper, and he said that he had thought of me earlier today (or whenever he was deciding to go and get a picture of this train) when he wondered if I'd be out chasing this thing today!
We had a good conversation, but both of us had to cut it short before too long.
I vaguely remember getting something to eat before I left Eunice, probably at the Taco Bell, but I don't really remember, because I'm not actually writing this "today."
Since there was no train to chase on the Eunice-Crowley line at this time, I decided to take a different way to Crowley. I took Highway 755 to Highway 3070.
I got to Crowley and saw the old MoPac Front Street trackage clear of cars, but it looks like that loading chute that I saw in June is still there, hanging over the track.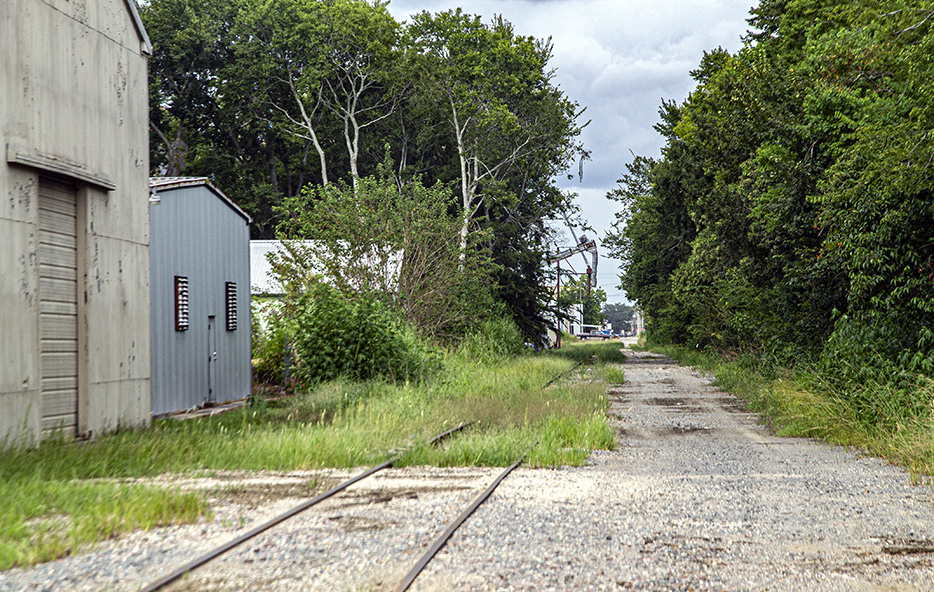 Meanwhile, a block to the south, at the rice mill, the new tracks there look good.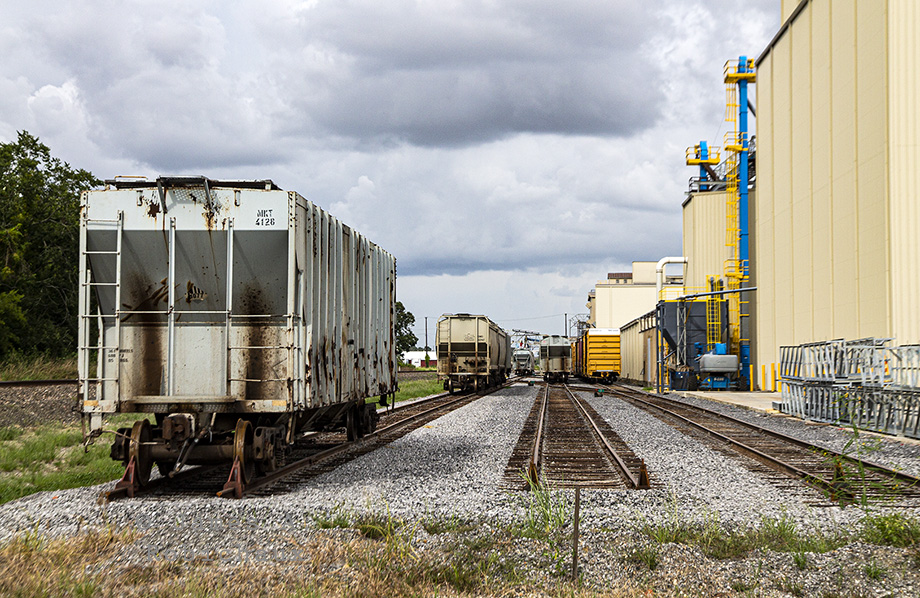 I ended up going to the Super 1 Foods in Crowley, because I had never been there before, and I bought lettuce, celery, and a few other things.
I forgot to get a needed refreshment to quench my thirst. So, I stopped at this neat old place on the southern side of town.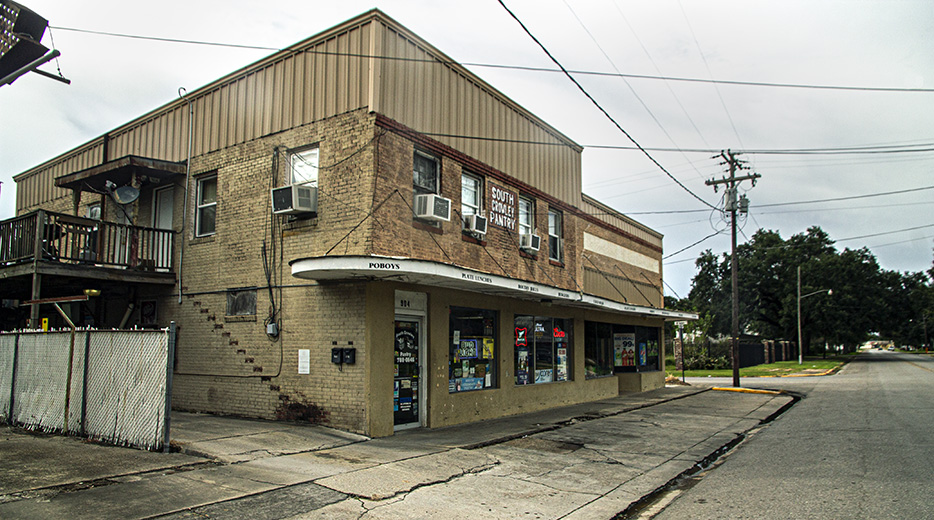 This is the South Crowley Pantry, and I will be back here.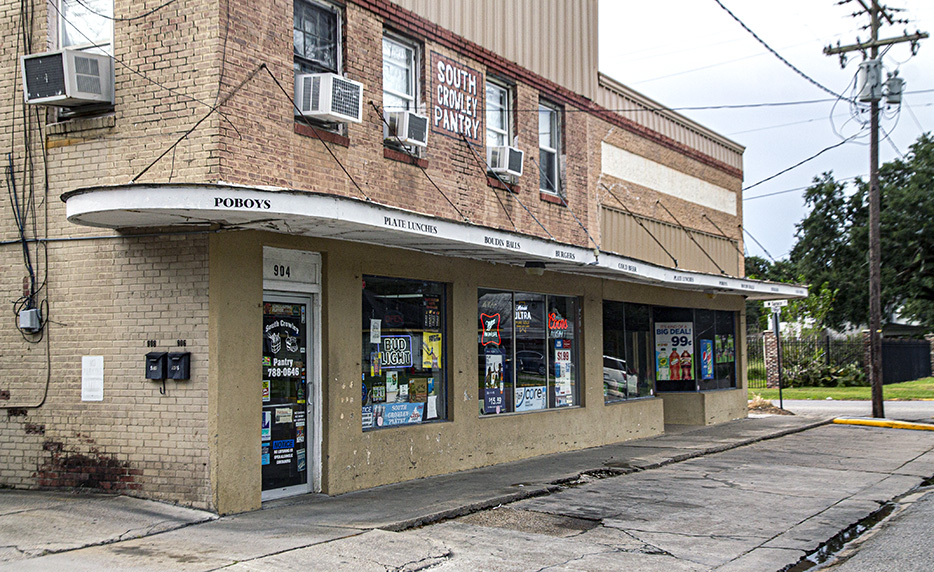 I was the only one around here wearing a mask.
As I drove onward, I heard that old Fine Young Cannibals "She Drives Me Crazy" song, which I had not really analyzed in years if ever, and then "Crazy On You" by Heart.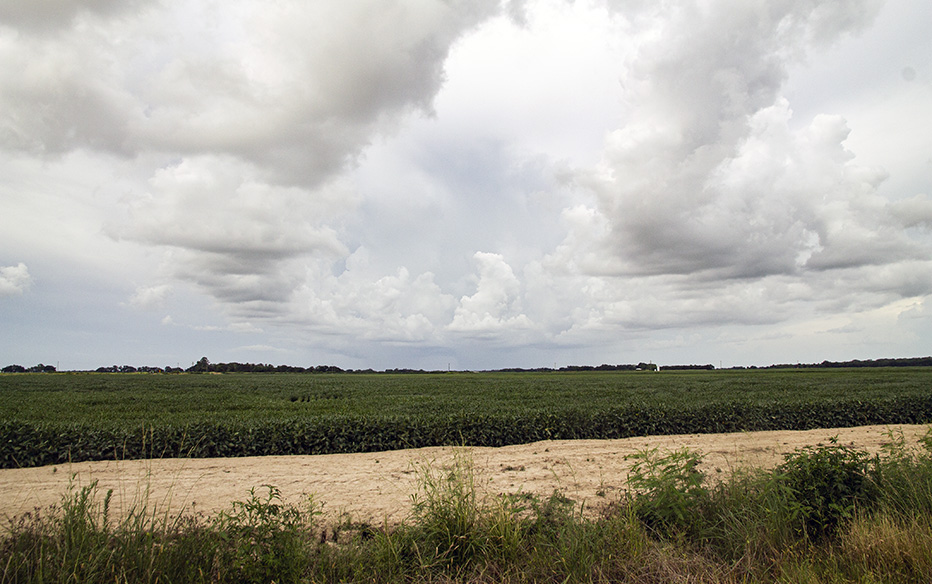 It was then that I heard the great Queensrÿche song that thus became today's song.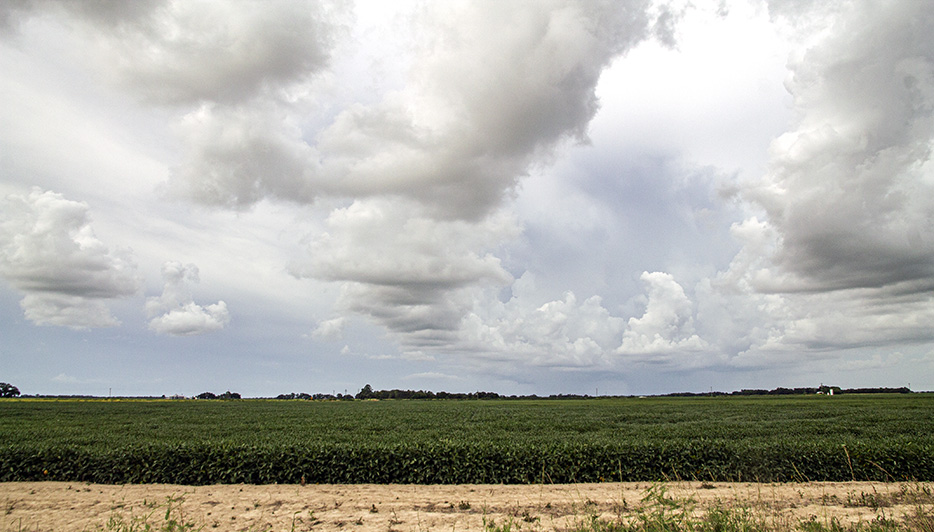 That's all for the pictures for today.
'Twas 10 years ago today that I got some memorable pictures in Raceland ahead of a memorable weekend for Racelanders, which means a memorable anniversary tomorrow, which is from frayed relationships that stay on my mind as I had a profound epiphany this February after the death of Rush Limbaugh.
I arrived at the house at 17:39.
The Duke got two pieces of good news today, both the needed appointment moved up by three weeks and the contractor news. In a much better mood he is.
The willfully unvaccinated are making life difficult for us.
The hospitals are clogged with willfully unvaccinated people, and it's making the rest of us unable to access needed care.
It's beyond selfish. It's utterly immoral.
So, that's all. I hope that you enjoyed this look at the 'Big Boy' UP 4014 making its way across southwestern Louisiana. Hopefully, it brings more joy to people in southeastern Louisiana this week, and I'm really getting homesick and New-Orleans-missing.
Thanks.
Jim