If Jimbaux doesn't listen to the talk of the town
Then maybe he can fool himself.
Today, I went to Lake Charles to get my brown file cabinet, the storage vessel for some of my oldest irreplaceable personal items, a sign of the end of the brief foray there, and I'm relieved that my future is not over there, even though I will miss some things about the place, like Port Rail, a cousin there, and access to the Kansas City Southern Railway.
That song "King Of Wishful Thinking" was playing on the 92.9 FM radio station as I came into Bell City just before 08:00. I hadn't heard that song years and never really paid attention to it before.
Yesterday afternoon, I cracked the screen on this tablet by dropping it from the driver seat in the van in the driveway at the house in Lake Charles, as I was there with my father in his automobile.
So, again, the air conditioning in the truck doesn't work. It's the same thing as before, working for about 15 minutes and then stopping working. Duy didn't fix it.
I am wondering if the AC problem is a fluid problem. I notice the temperature gauge in the truck pushing too close to the "H" thing.
The westbound morning drive was wet, with scattered showers; I got gasoline at the Spring Market in Lake Arthur.
I arrived at the Port of Lake Charles at about 08:45.
There are large stacks of Lumber labeled "binderholz" here, enough to load onto, I would guess, 10 centerbeam flatcars.
I saw GMTX 2607 switching cars, probably to lead today's train, and I have never photographed it before.
At 09:26, I got my first shot of the day, at Jabez Street, which is a new shot for me, with the GMTX 2607 leading, which is also new for me!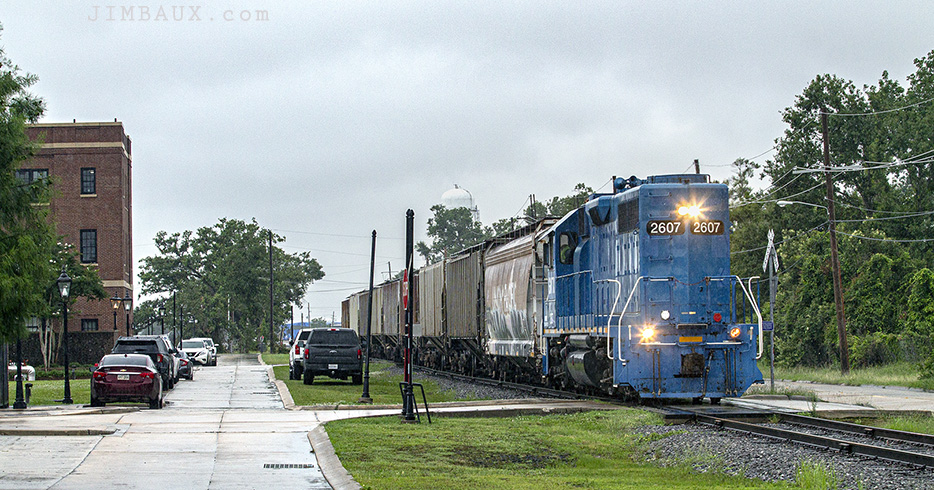 That's cool, but that first car, UP 77781, is badly graffitied, and I hate that, as you know.
Next, I am at Lake Street.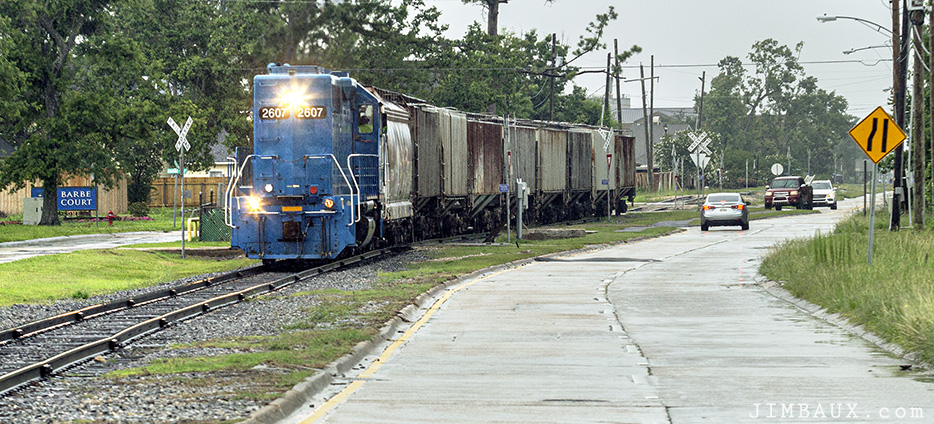 I hate summer.
I don't think that I've done this view before.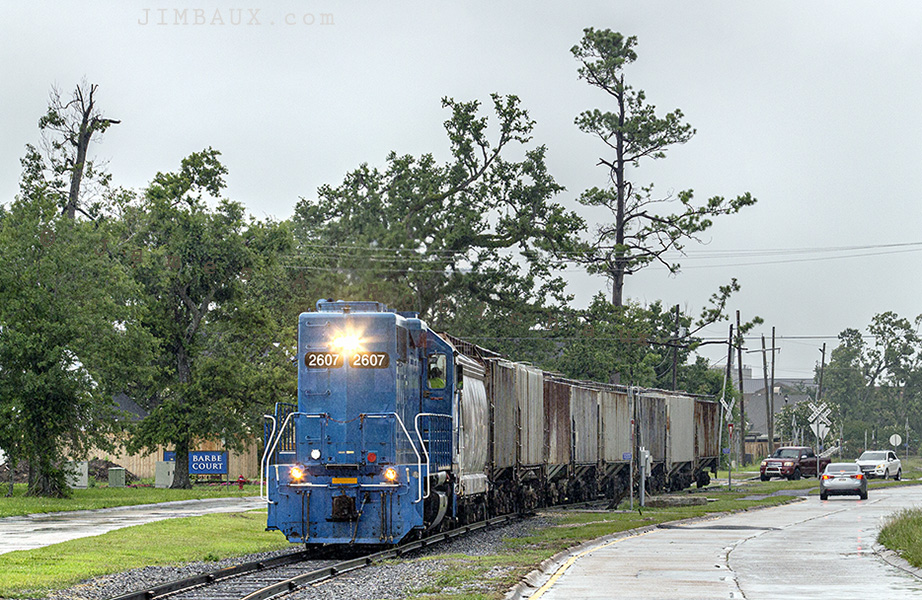 The horn of the 2607 sounds so lovely strange!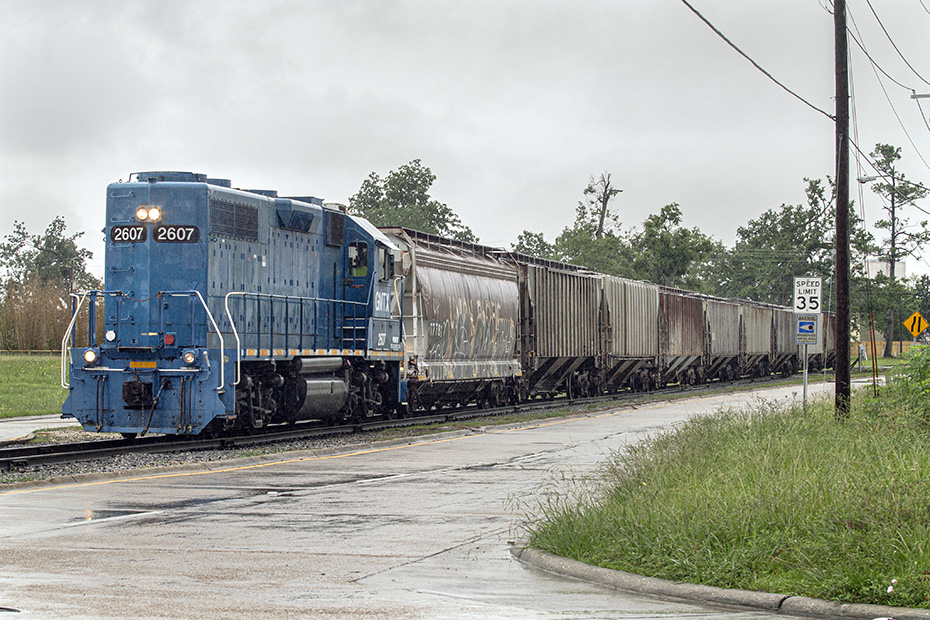 At 09:45, I arrived at what I now know to be called Harbor Yard.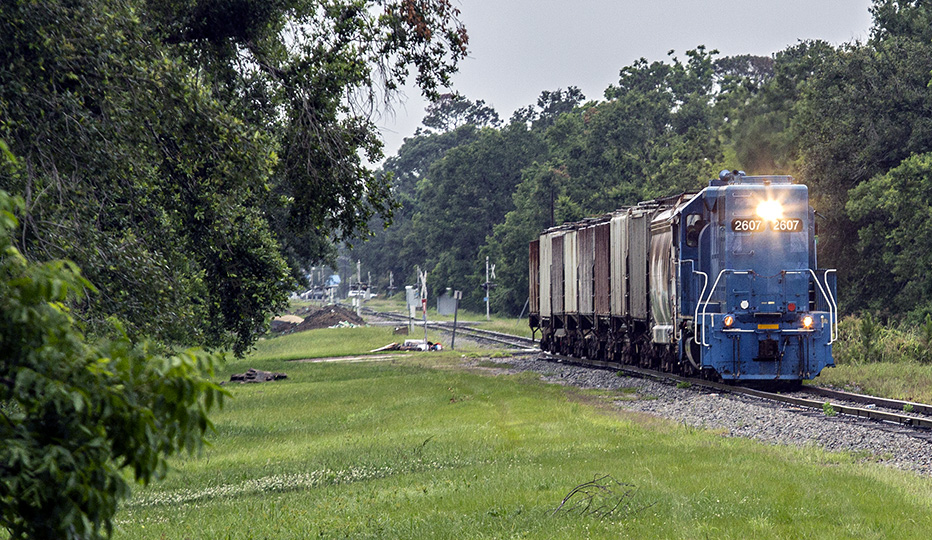 I didn't have to wait long for the train, and we are at Gerstner Memorial Drive here.
Only when I started processing these shots on July 6 did I notice that the GMTX 2607 has a dynamic brake thing.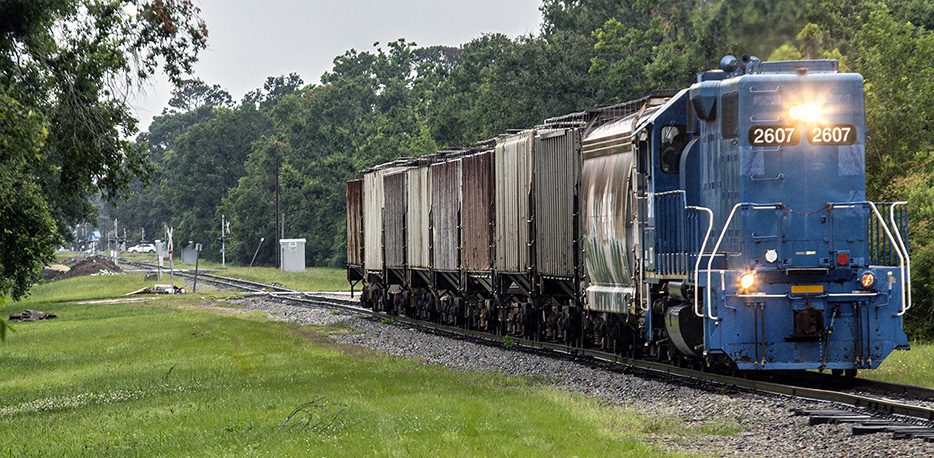 MP 722599 is one of the cars on this train of nothing but hopper cars.

At the yard, I hung out for a while because I was more interested in seeing what the train takes from here than I am in photographing it.
So, I am photographing this facility south of the yard that seems to have once had a railroad track.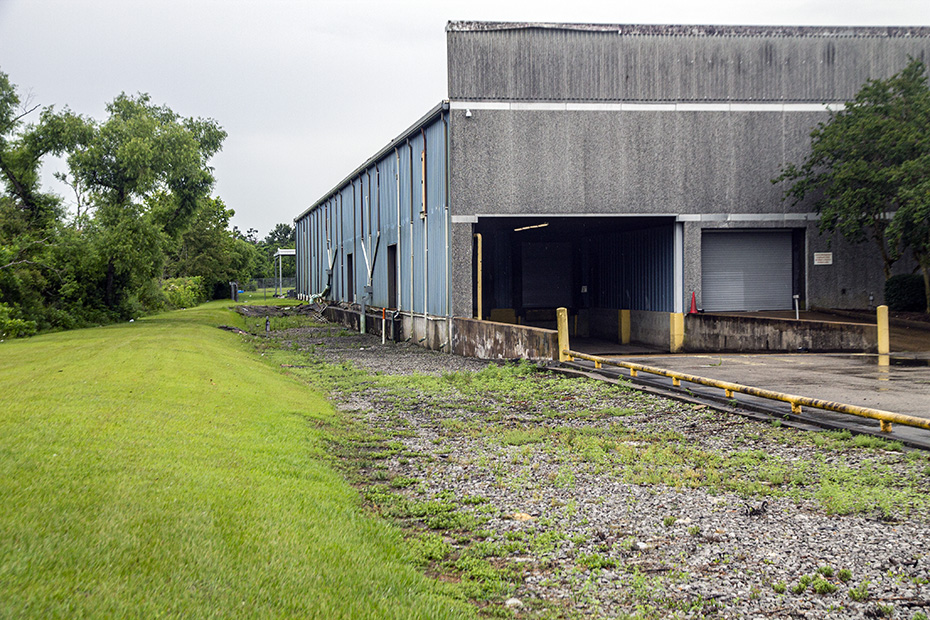 I wish that there were cool old boxcars here!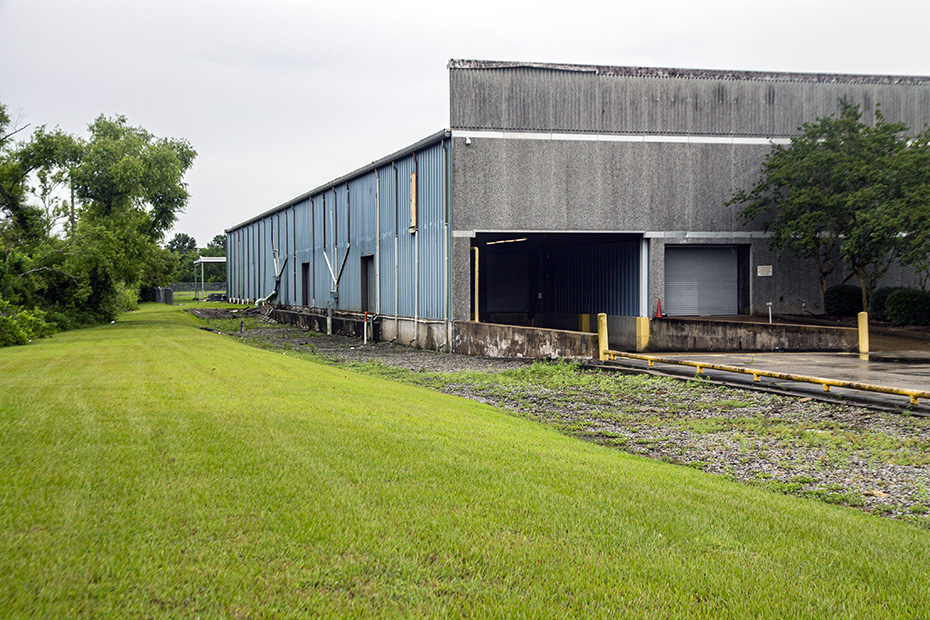 Here comes the locomotive.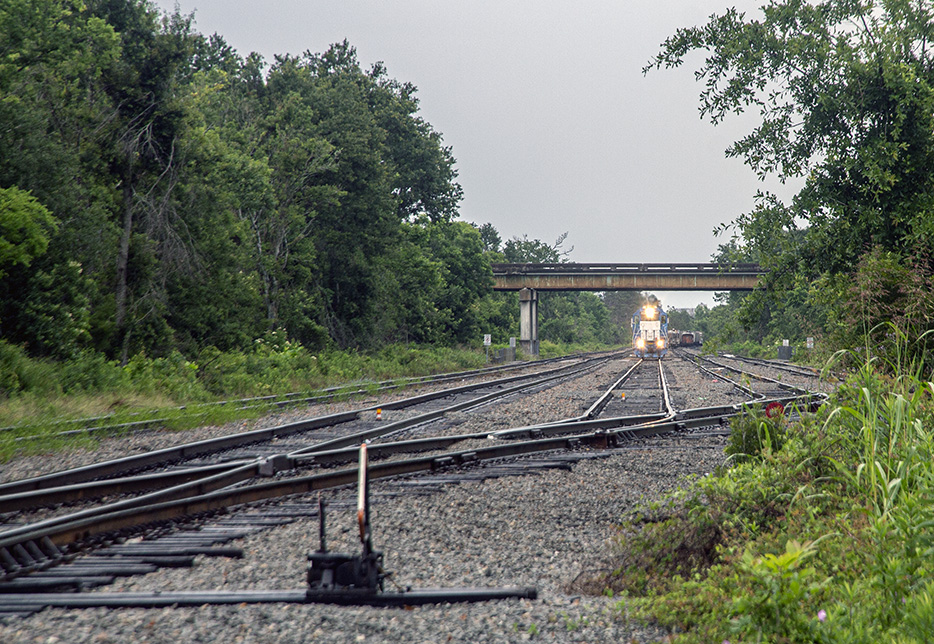 As it eventuated, the locomotive left and returned to the port with no cars.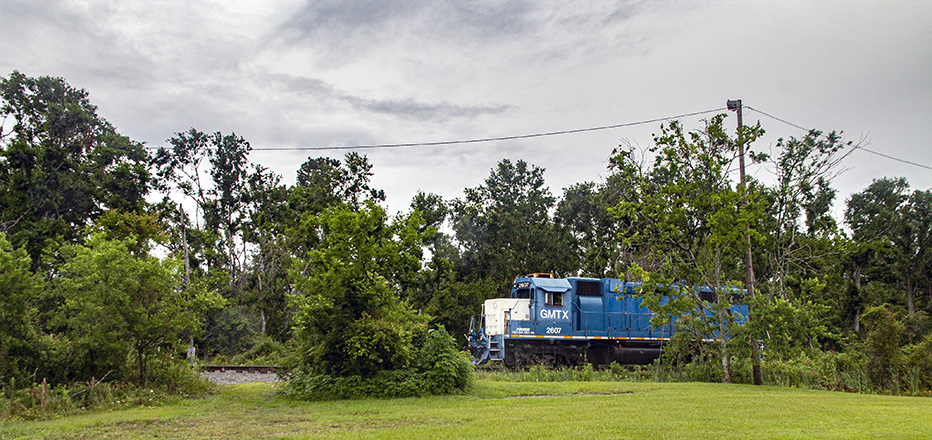 So, I left the yard and went to the house to do the main work of the day.
The brown file cabinet has most of my old film train pictures, all of my oldest train pictures, and all of the notes that go with them. I really need to get a film scanner to scan those images.
Anyway, it was very difficult to move the heavy thing and get it into the truck, but I did it.
With that done, I left the house and went foam my way back east again.
At new yard, I happened upon the Union Pacific local train right as it had just entered the Lake Arthur Branch! or the Lake Charles Industrial Lead, as this is called now. It had 13 cars.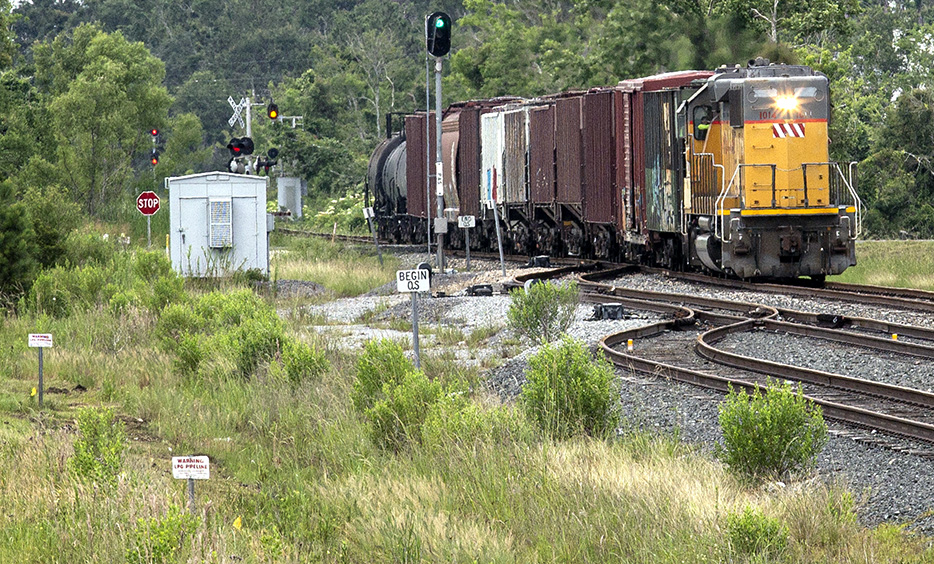 So, this is a new shot for me, another shot that I've never done before, on the old Lake Arthur Branch, at New Yard.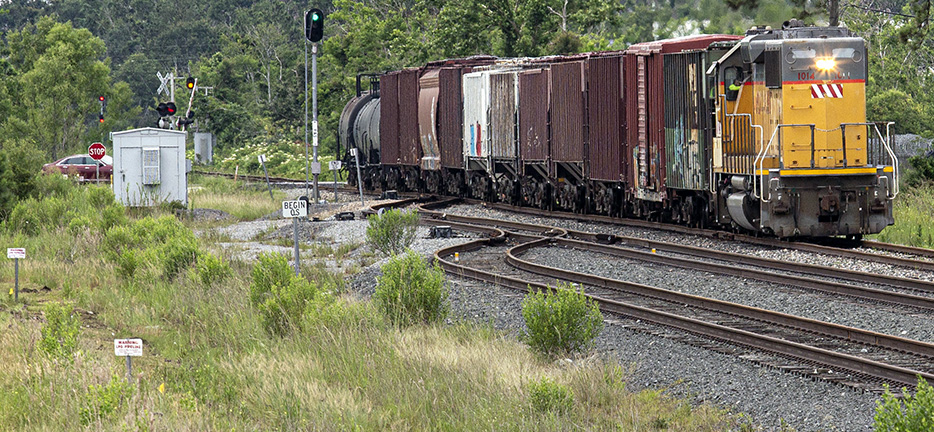 That big graffiti on that Burlington Northern car at the beginning of the train really pisses me the hell off, because this otherwise would be a cool shot under not-so-great conditions that I rescued based on my newfound knowledge and skills in the new Adobe Photoshop.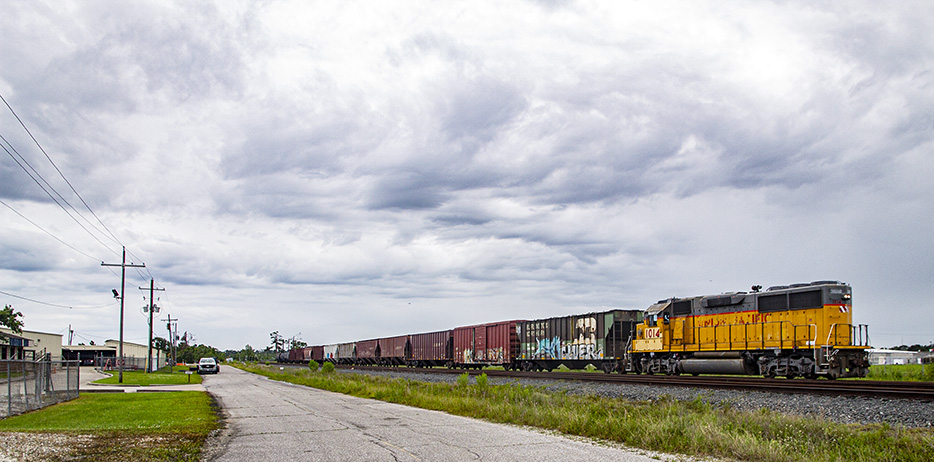 Well, at least the locomotive is cool.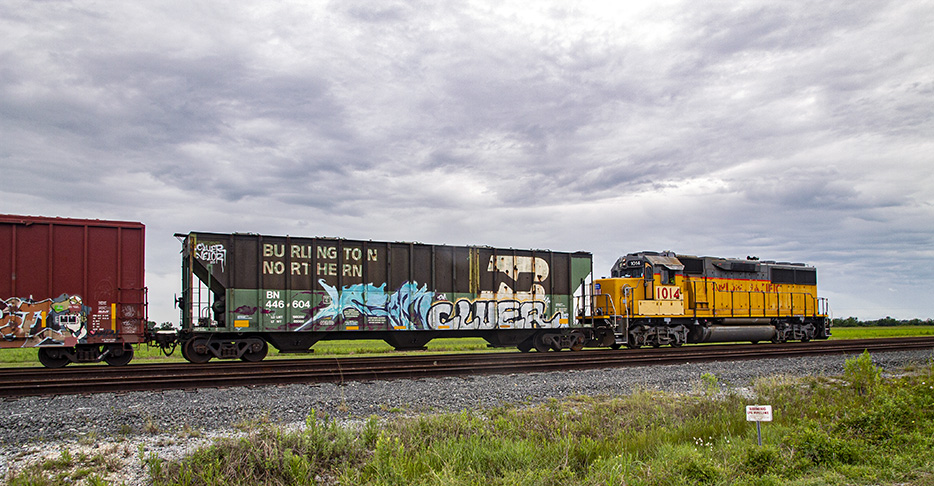 So, with that done, with little time or inclination to wait at the Farmers Rice Milling Company for him to do his switching.
So, next, I am in Iowa, and there is a westbound BNSF Railway train coming. I got him at the main crossing in town, the first time that I do this shot.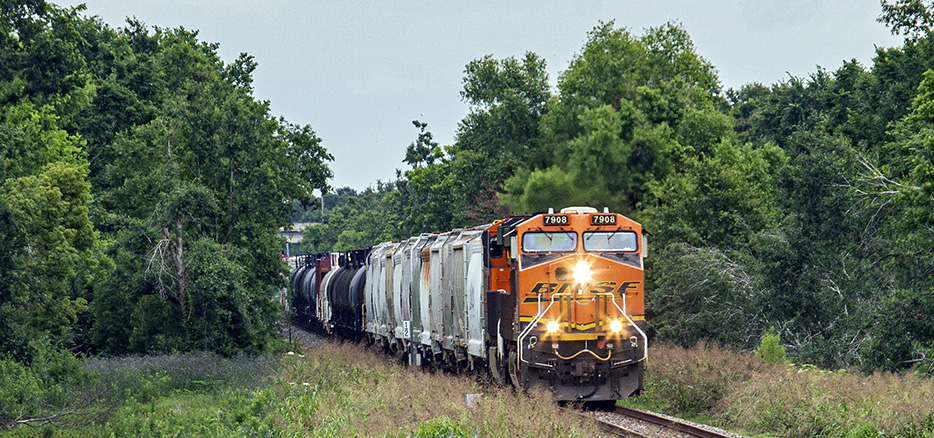 For many railroad photographer, a proclaiming something as a "new shot" can be something of a "box checking" exercise, but it's really about the creative process.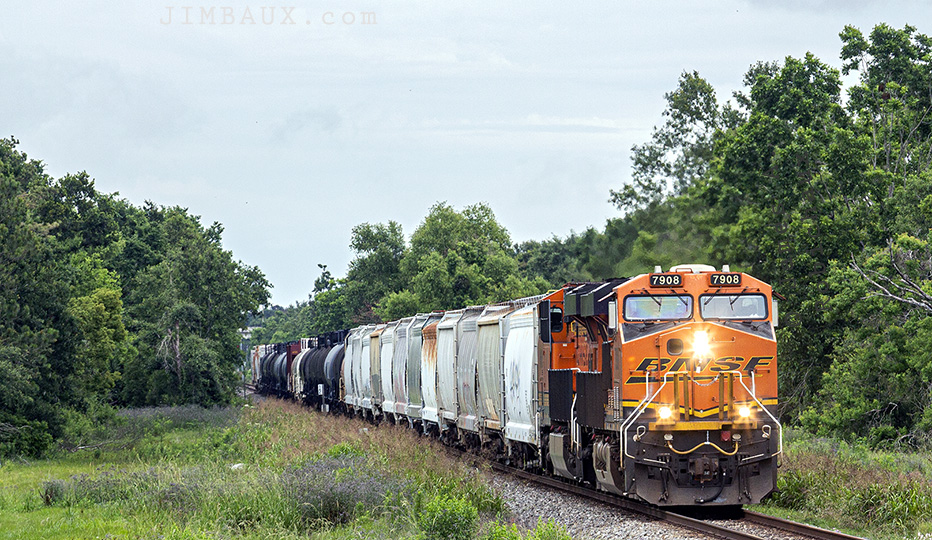 The problem is that this shot really isn't all that interesting, even though it shows a good bit of length of train, but a broader point is that I had to do the shot in order to discover this.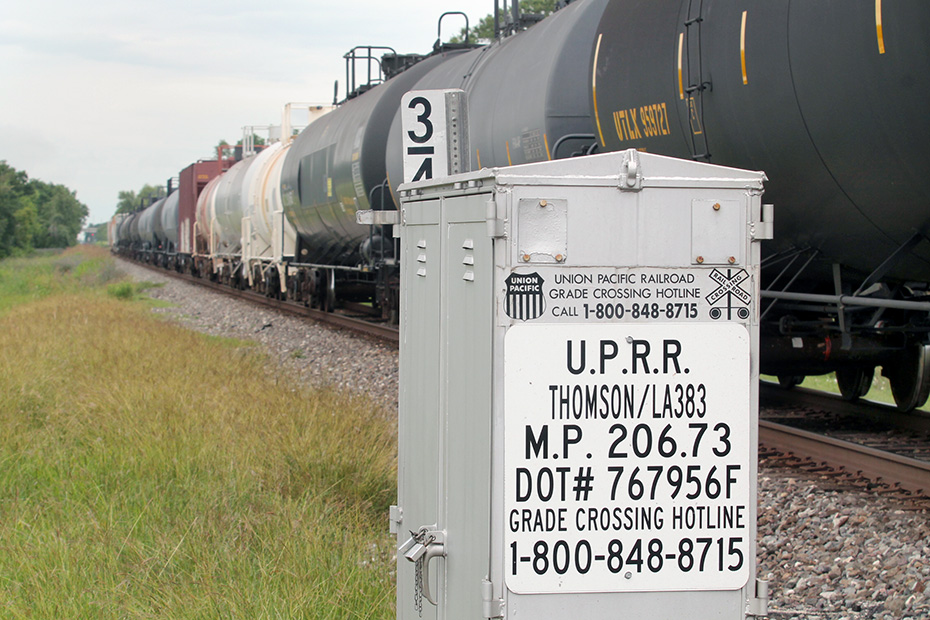 Oh, well, trains are boring, and I'm not going to be doing this much more.
So, I left
In Welsh, I finally found the Cajun Tales restaurant.
Next, I went to Crowley, because I hadn't been there in a long time, probably since January 5, and I wanted to check it out.
Here is something unexpected that I saw in Crowley.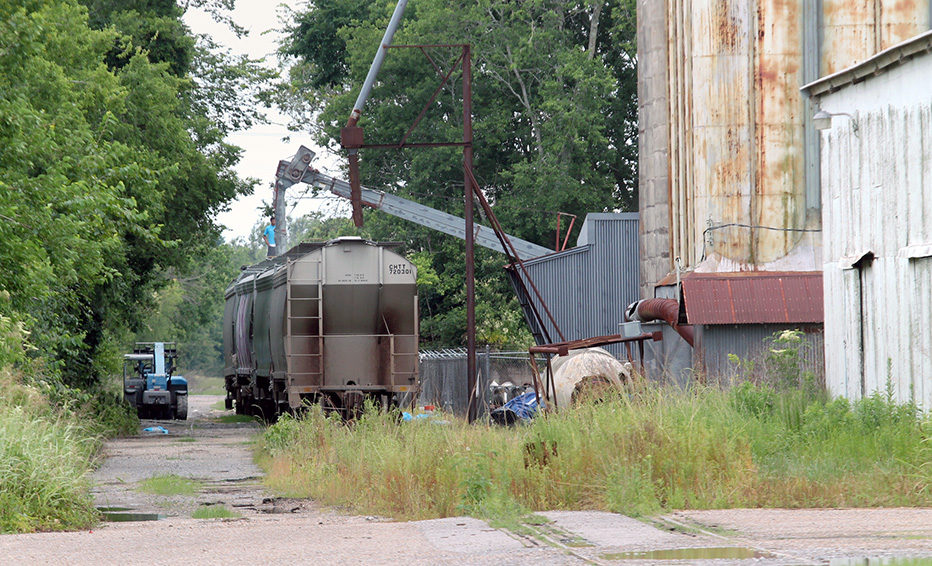 This is some hopper cars getting loaded on the old Missouri Pacific track on Front Street just west of North Avenue C.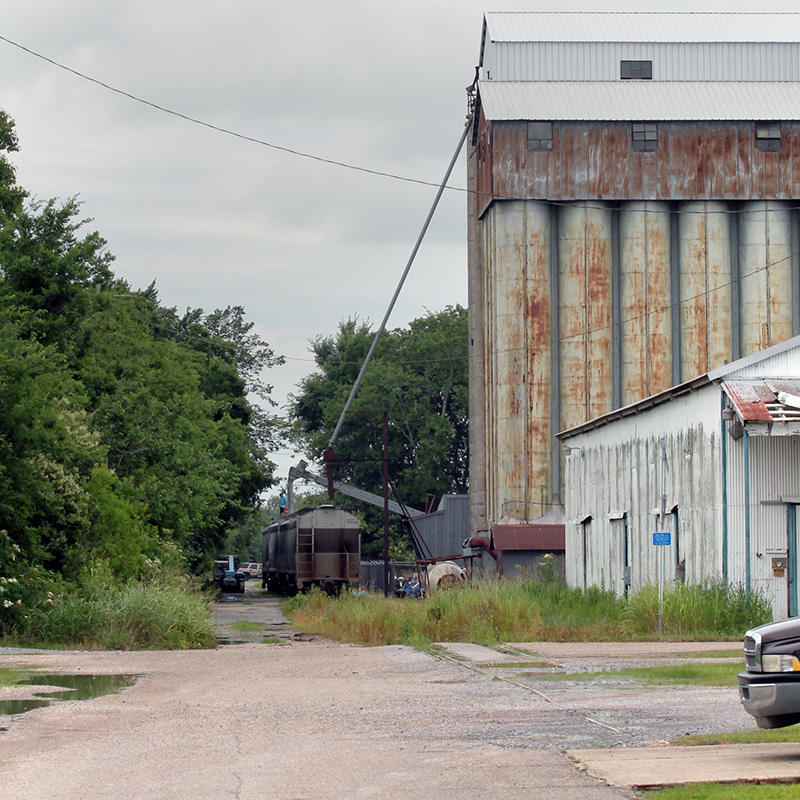 My best guess is that this is being done due to some of the construction work of the expansion of the Supreme Rice mill here, and it's obvious that these cars are being loaded from a loader under a truck.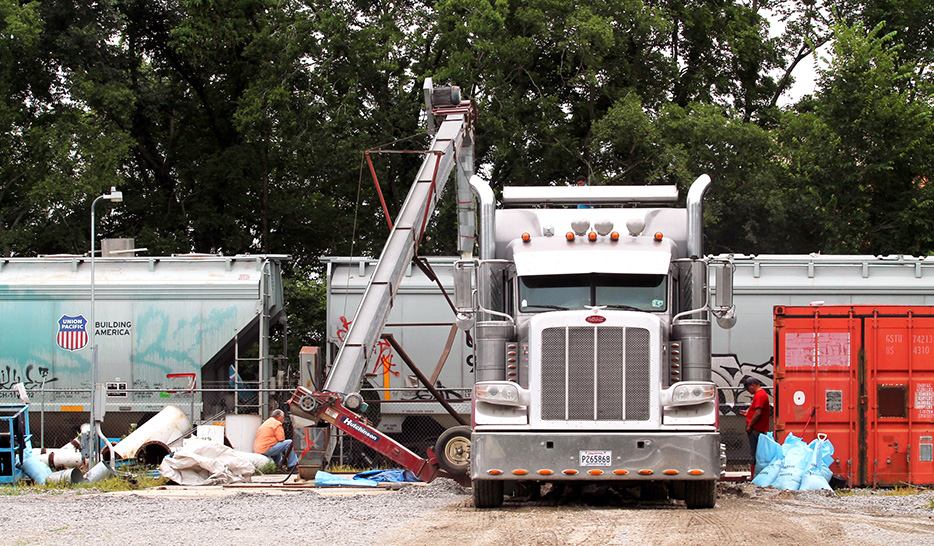 This looks to be the mill's little trackmobile.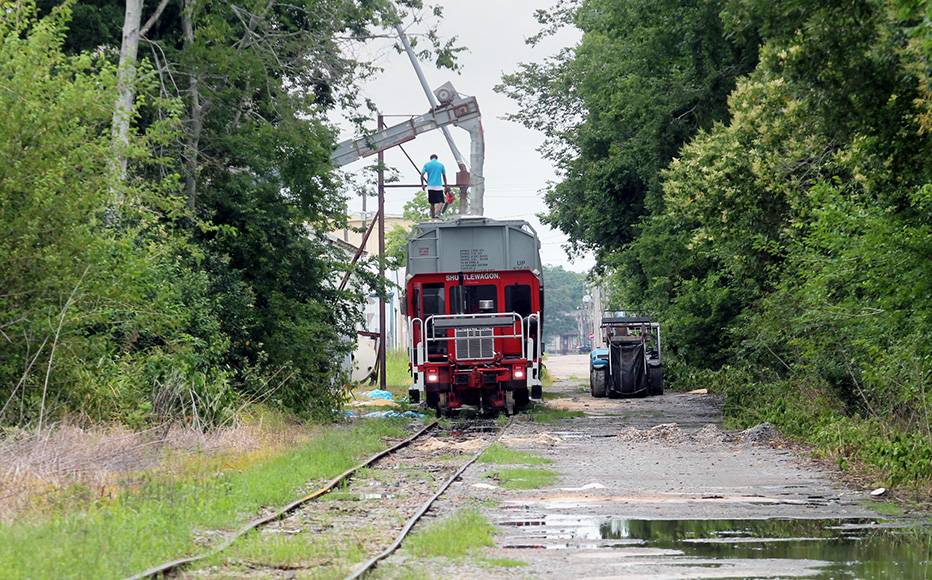 Over at the rice mill itself, we see some cars and some empty track, which would make one wonder why the mill would need to load cars by truck a block to the north, but I think that the very new appearance of the track is a clue, that maybe those cars on the old MoPac Front Street track were leftover from when all of this area was out of service, maybe just extremely recently.
I mean, look at how new all of this looks! It's a big improvement over what was here before.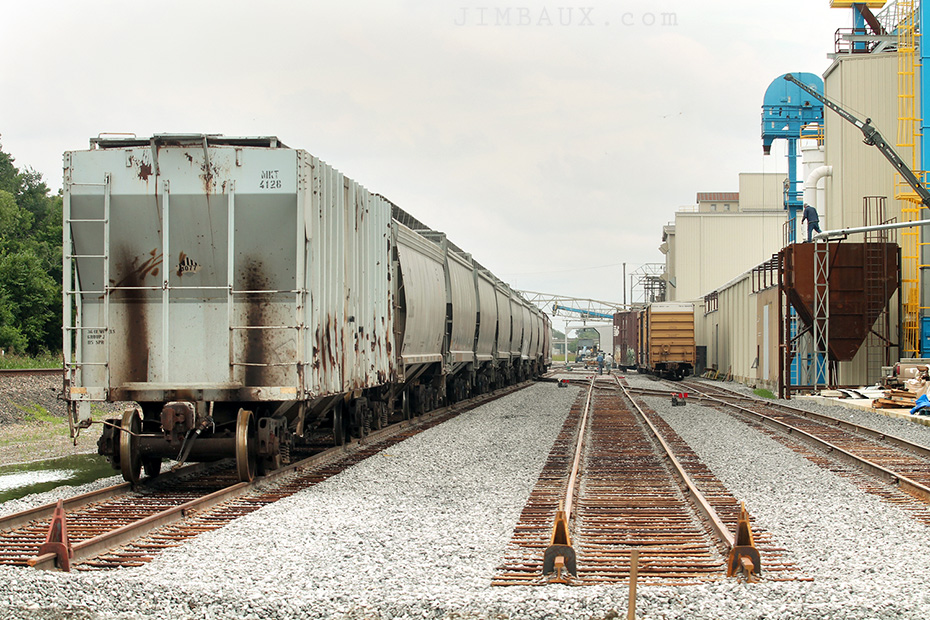 I do wonder if it will mean an increase in volume of railroad shipments, especially as it seems to be coinciding with an expansion of the mill, which, sadly, makes the reopening of the rice mill in Abbeville all the less likely.
Let's go to the west to whatever complex that is over by Roller Road.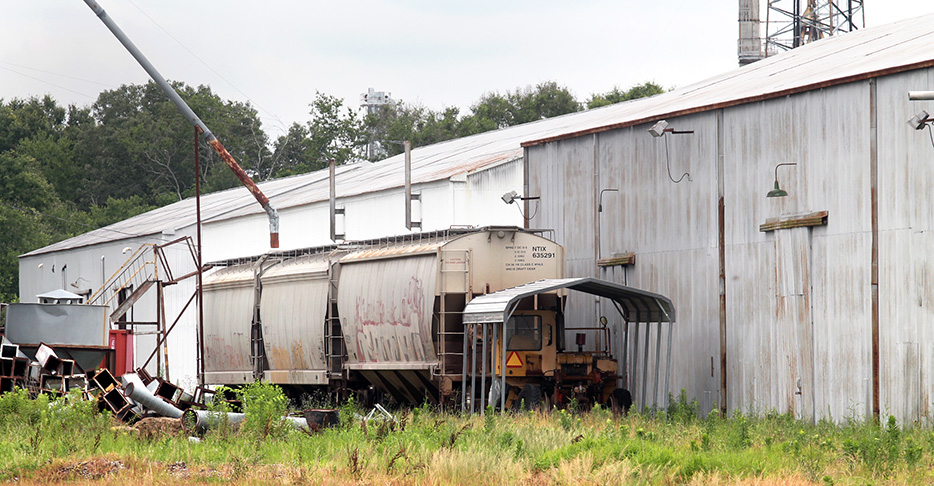 I don't know what is happening here, but I would have loved to have seen what this looked like 40 years ago.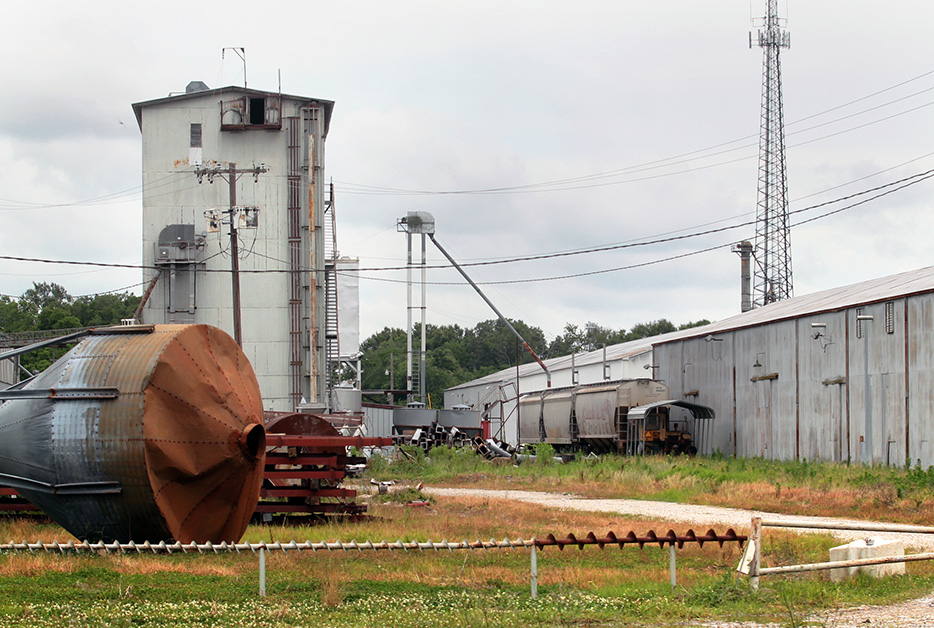 That's all for pictures. I was really sweaty by this point, with the AC in the truck not working, but, like I said, I wonder if it is a coolant issue.
I explored the parts of Crowley that I had been intending to explore; there is potential there.
That's all.
Merci.
Jimbaux