Water, Fuel, And Trains – Past, Present, and Future
Jimbaux wishes he could be the one you could be proud of.
I'm Losing Heart Again
There is a reason that I used the Pearl Jam song "Indifference" in my 25 November 2012 blog article, a reason that has become clear to me only recently, now that the bomb that was dropped on me that month is finally in the process of exploding, and I cannot describe to you the pain that I feel because of this.
I suppose that I was "masking" (or "passing") then.
That song so very much resonates with me now, as it did then.
I, too, stand arms outstretched, pretending that I am free to roam, and I, too, will make my way through one more day in hell.
Stop killing us!
Anyway, the condition of my life continuing to spin out of control, prompting me to long for its end, not because I want my life to end but because I am not even allowed to live it anyway, had me the opportunity to see a few trains and other scenes on the West Bank on Monday 4 February, and I hope that you turn your audial attention back to today's song.
If you have both the desire to see me freed to achieve my full potential and the means to help, please consider becoming a patron of my work, but the conundrum there is that I cannot truly put out the kind of work of which I am capable unless the Patreon income is high enough that I can truly live off of it, both absent the time and energy constraints that proving my right to exist demands of me and the fear of something that I say making me "unemployable," as I described in detail my "Creativity Stunted" essay, an essay that is no less relevant now than it was when I wrote it.
Anyway, I am not sure that you can tell from these images, but it appears that the New Orleans & Gulf Coast Railway is in the process of yet again laying new track along 4th Street.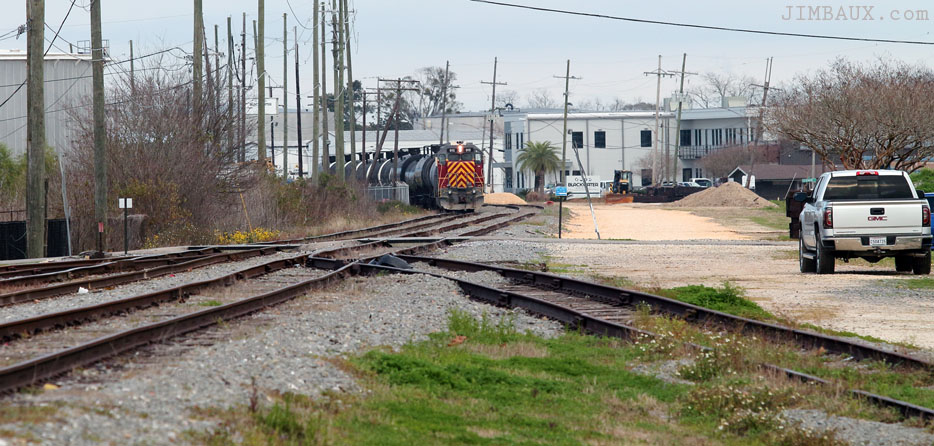 It appears that where that limestone (or aggregate that appears similar to limestone to my largely untrained eye) is is a roadbed for a yet-to-be-laid track.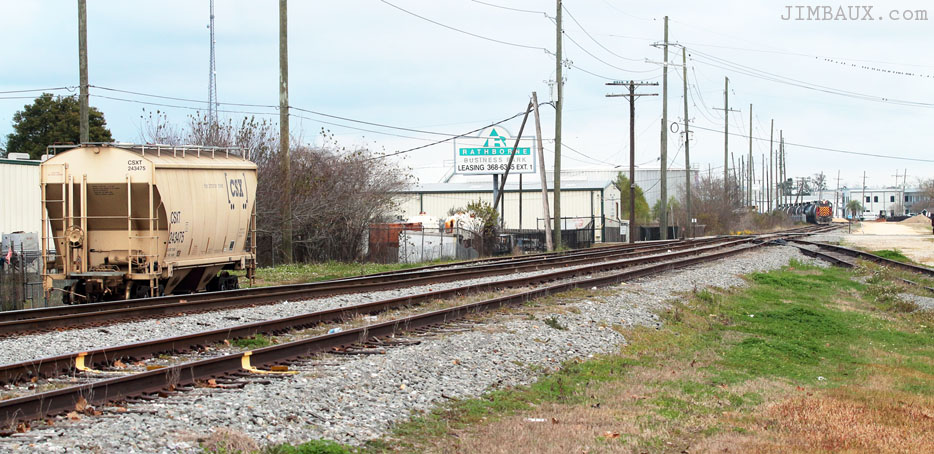 Oh, that spur going off to the right is part of the remains of the Peters Road Industrial Lead, which hasn't been used in at least about 15 years. 
I figured that this train, with a locomotive on each end as it worked local industries, was about to move west, now that was being almost confirmed by the engineer being brought to the locomotive on the western end, and I got set up to photograph it.
I have a certain love for crepe myrtle trees, them being a near-constant part of my life.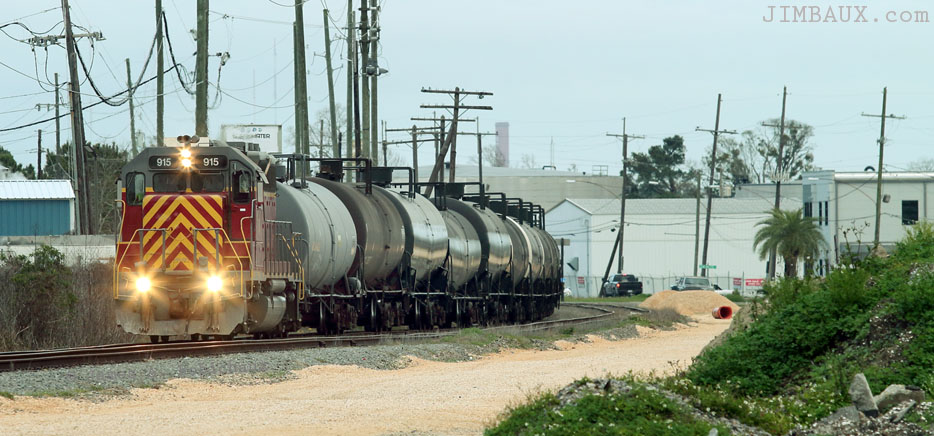 Now, the lights are on! Let's see a cropped version of that image.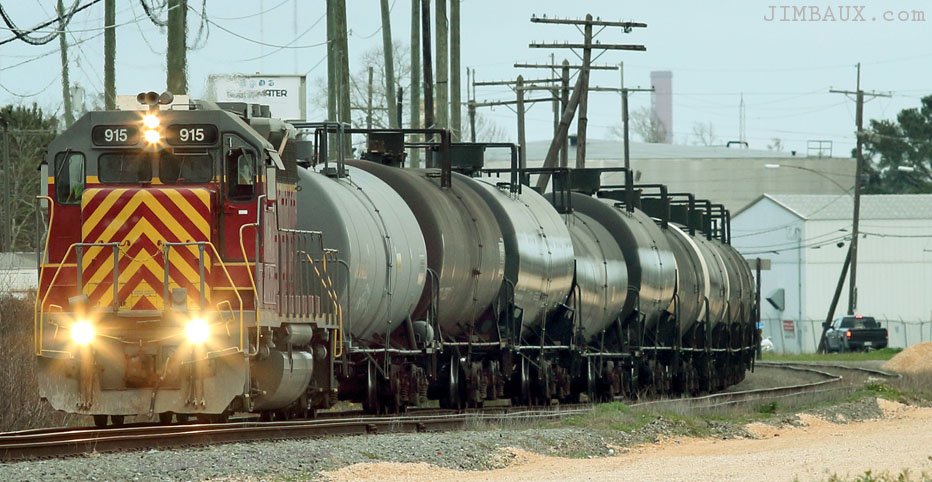 Oh, yeah, I remember this place, back when it was called "Miss Booties"; that was weird.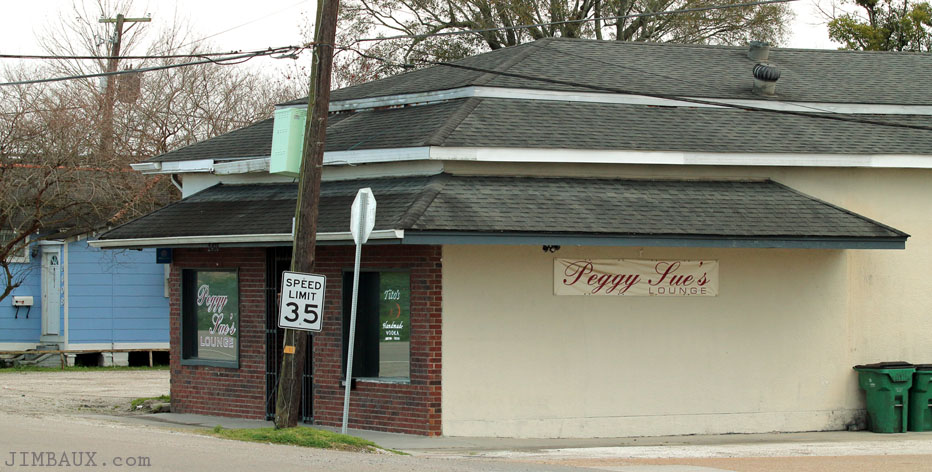 Here is the train.

Let's get a shot with some crossties, to show evidence of the apparent new track that is soon to be installed.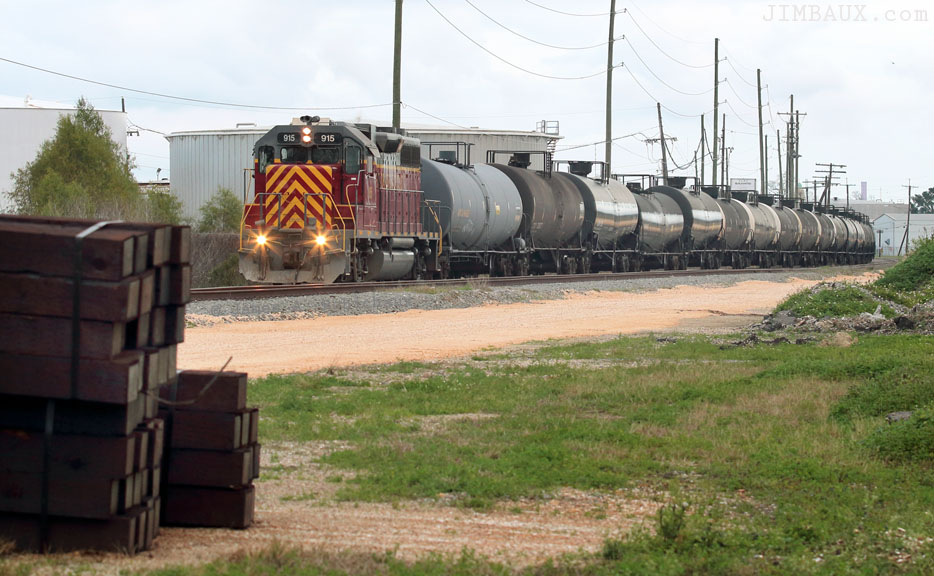 Okay, that was interesting, but I am not sure that it was worth the wait.
Let's head west, to go home while I still can.
I Wish I Could Show You What You Think I'm Made Of
I stop at the entrance to the Harvey Canal, and I see an impressive sight across the Mississippi River at the Harmony Street Wharf (or one of the wharves adjacent to it) at the Port Of New Orleans.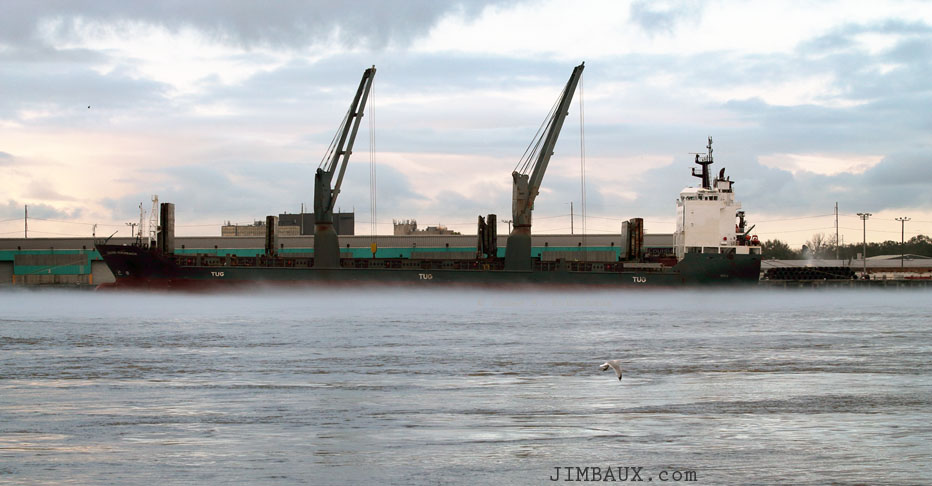 Gosh, the water level in the river is very high!
Let's have a look toward the Crescent City Connection bridges.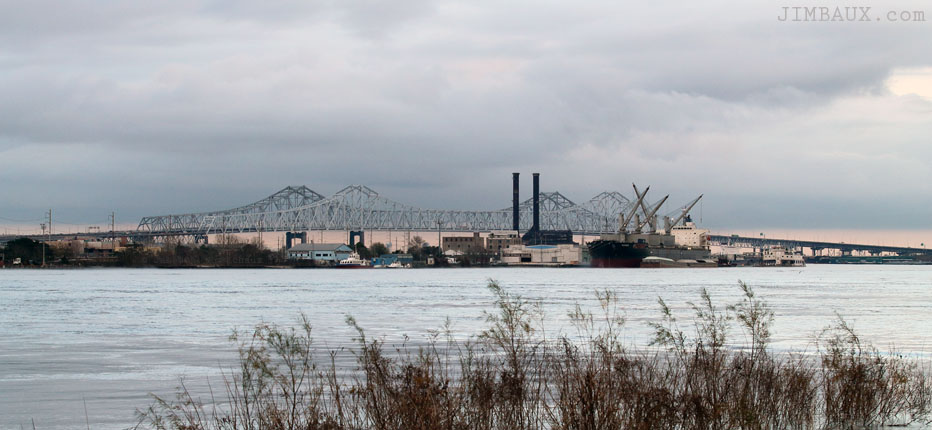 Those are the last bridges over the Mississippi River, of which there are another 110 or so miles after those bridges.
Let's keep going west, while we look for refuge in this stupid society.
I am glad that more people are seeing the light, but it looks like it won't happen in time to save my life.
Why Don't You Let Me Be?
Please let us be who we are! Stop forcing us to reinvent the wheel!
What in the world is "real life" anymore in a world in which capable, creative, intelligent, and civic-minded persons are denied both land and compensation for loss of land?
And I'll Pretend I'm Well
Anyway, west we go to Westwego, where I was struck by a rather interesting sight at the Union Pacific Railroad yard next to the river.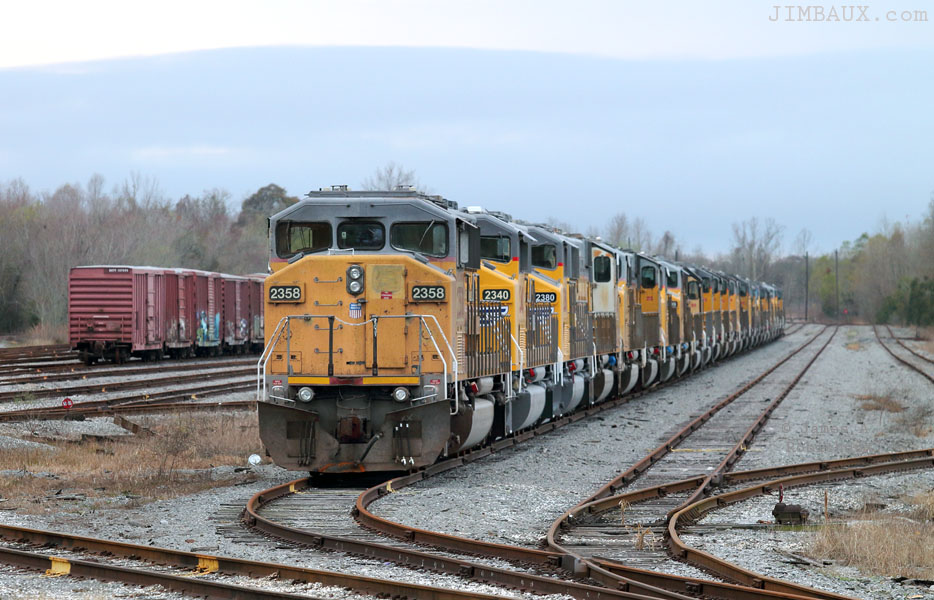 Wow, look at this! Here is a string of stored Union Pacific Railroad locomotives, many of them (especially in the part of the line closest to the camera) SD60Ms.
I worked a few views of this subject, showing both the locomotives and the yard differently, and I present four views here.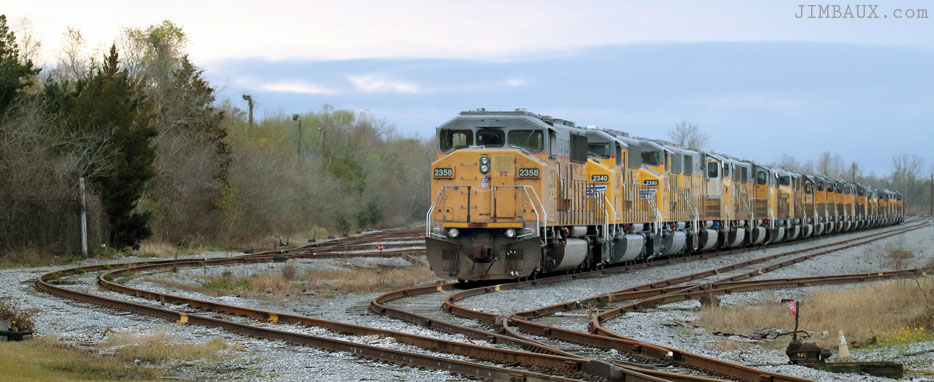 What do you think?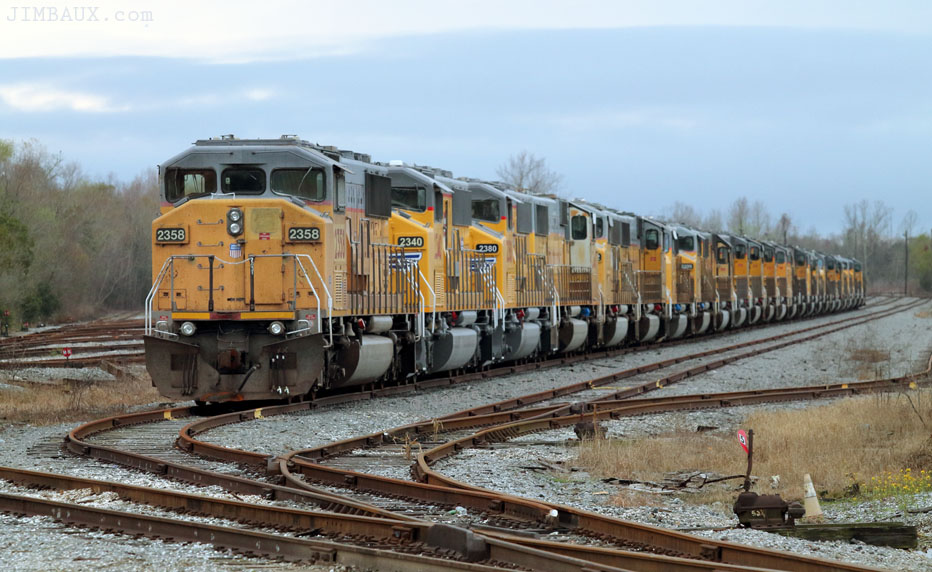 These are precisely the kinds of locomotives that I will miss from service, especially the non-SD60 locomotives in this set. I hope that they find a home working on the railroads somewhere else, but railroading is always changing, and something about this so-called hobby is a manifestation of an idealized past. That tangentially explains why, as I horrific as I think that Trumpism is, I relate, in some very limited way, to the longing for the past.
I just think that we need to shed that limiting-social-hierarchy garbage.
And we must all face reality.
Another Tragedy That You're Too Cold To Feel
I hope that you're listening to today's song! I am losing home. I am 11 years old. I am reminded of being 11 years old again. I can't believe that this is happening to me.
And it's the little things, in addition to the big things, that I will miss.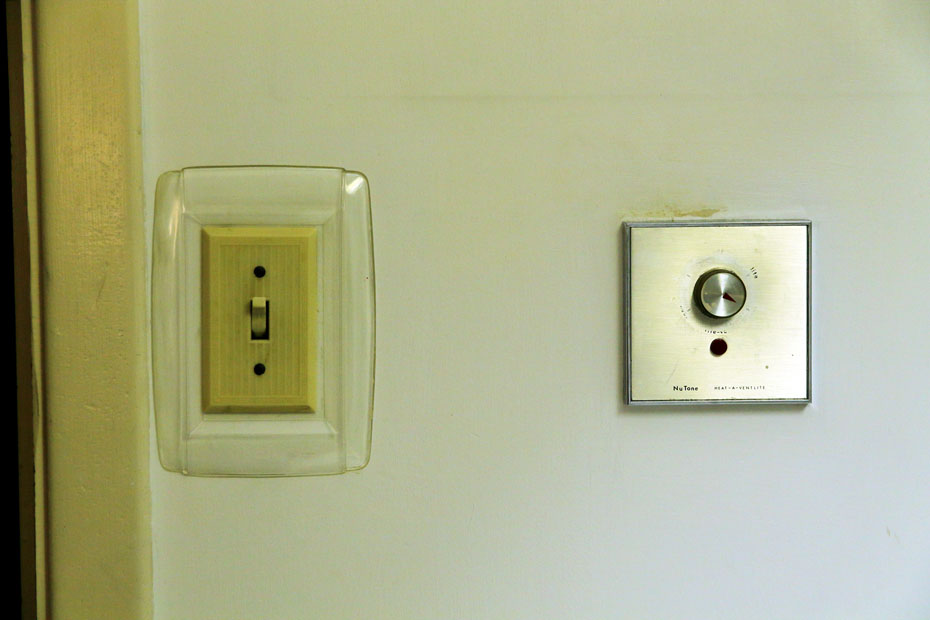 The controls seemed so nouveau at the time, though, even at the time that I first saw them, they were a quarter of a century old.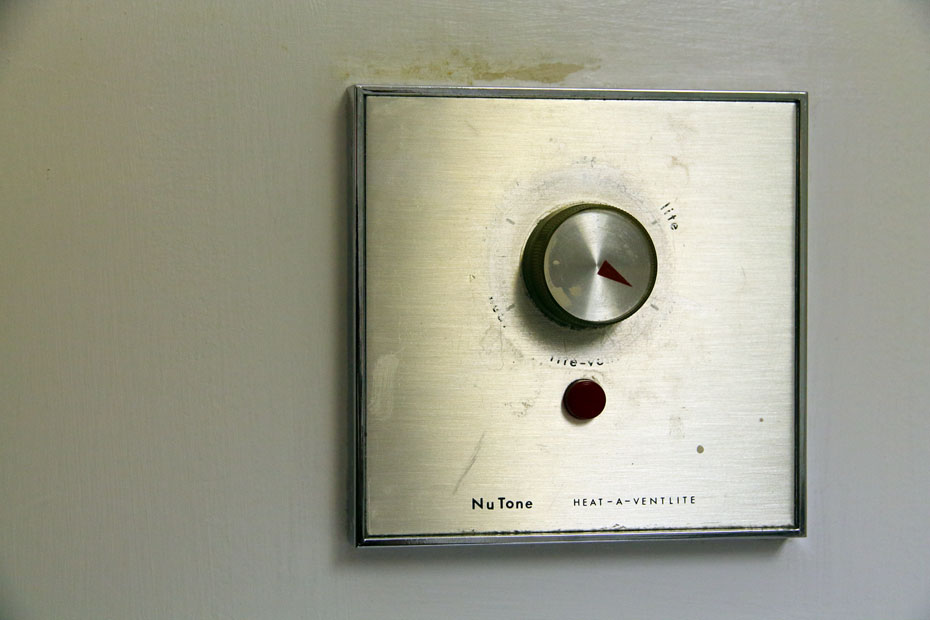 I want to go home. I just want to go home.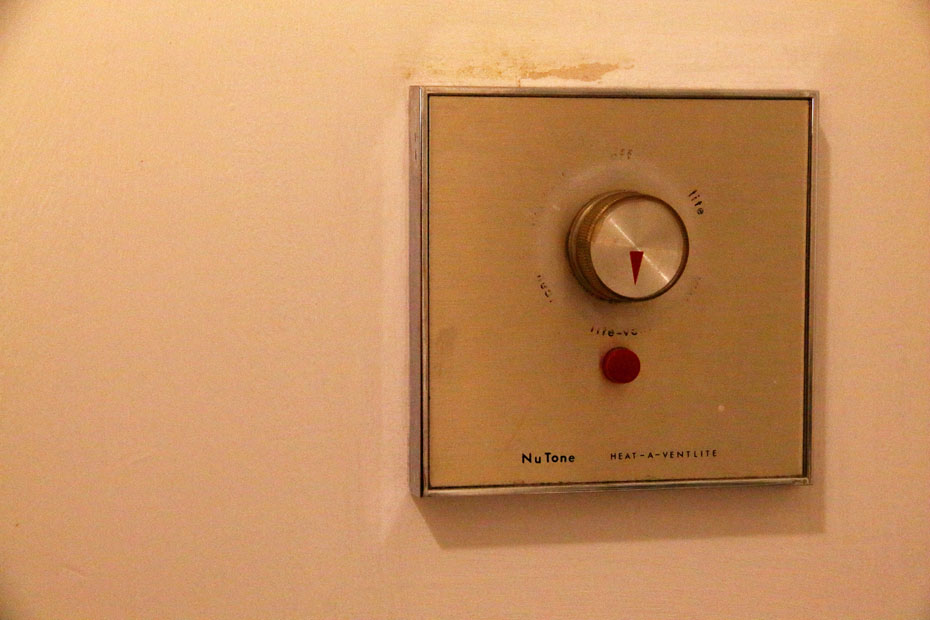 I cannot get over it.
That is all.
That is all.
Jim