[Jimbaux knows – and wants you to know – that there is more to the picture than meets the eye. ]
My, My
Hello.  Here are some pictures – more scanned 35mm slide film – of a couple of westbound trains at Thibodaux Junction, a location that you have seen here before and that was my go-to location for westbound trains on the Lafayette Subdivision in the Lafourche-Terrebonne area in early 2004, before I moved to Woadieville, which is a subject that we shall visit in-depth in three days.  The pictures that you see here in today's post were taken on the afternoon of Wednesday 14 April 2004, two weeks to the day after I got lucky to catch a one-car train on the Lockport Branch.
Hey, Hey
On this date, I got a little bit of after-work action.  That didn't sound very good, but, whatever.  Here is what I saw at Thibodaux Junction (MP54) and Schriever (MP 55.)
Out Of The Blue . . .
First, at 16:30, we see a big, heavy westbound Union Pacific manifest train with more than 500 axles and led by CSXT 298 and three other locomotives.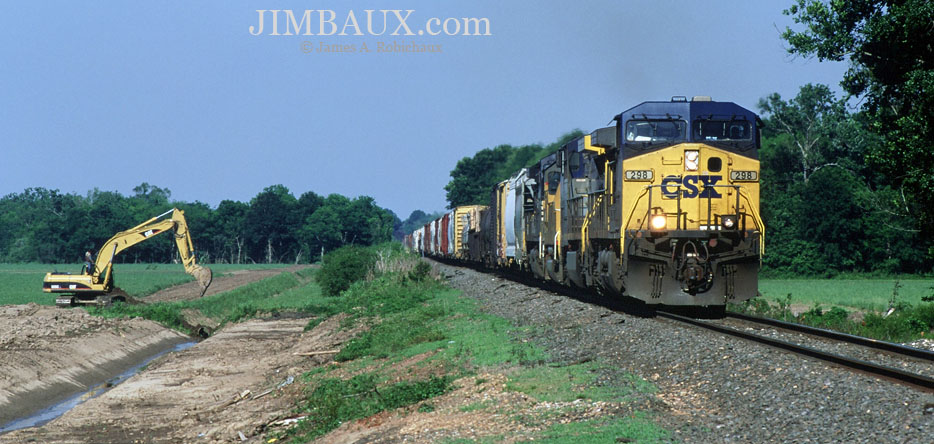 This was train MNOHO, which was my favorite train road train on the MudBug Sub at the time (supplanted in that artificial role by the MNSEW that partially replaced it.)
I spent the next hour next to the depot in Schriever reading about the problems and weaknesses of the Articles of Confederation; I had suddenly become inspired to deeply immerse myself in learning about this and similar topics after my first Close Up experience in Washington, D.C., two-and-a-half months before (and you can read about and see pictures of my last Close Up experience in 2009 in all but the first and last posts in the February 2014 archives.)  There were some spring foamers hanging out near the 54.8 signal (which has since been removed), but I did not recognize any of them; good <Grumpy Cat.>
Eventually, the signals light up again, and I made my way back to the junction, just in time to photograph the next train.
And Into The Black . . .
At 17:37, we see a fairly short westbound BNSF manifest train, the NWOHOU (New Orleans to Houston, but I don't know if it had an "H" prefix or an "M" prefix); it had about 174 axles.  I was delighted to see a striped-nosed locomotive in the lead!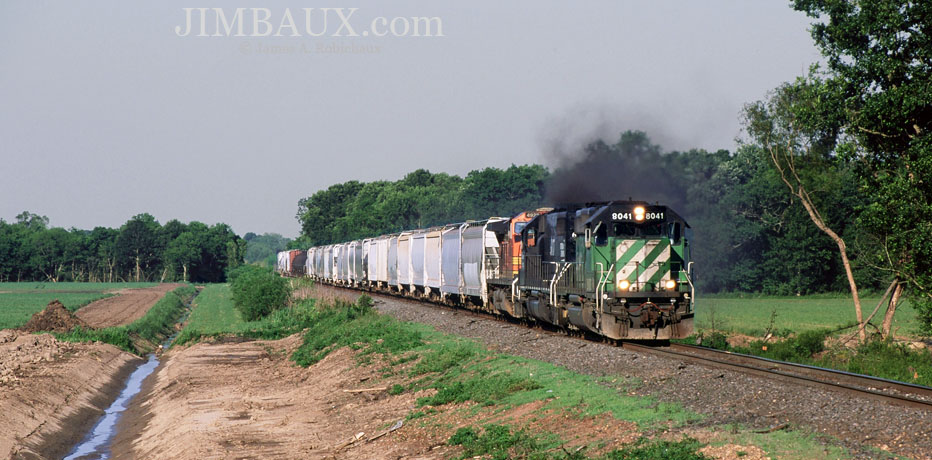 In 2004, it still was not a total anomaly – but it was getting rare – to see a Cascade Green locomotive leading a train; the same was true for SD40-2s.  ("Cascade Green" was the name given to the hue or shade of green that the Burlington Northern Railroad used for most of its existence, which ended with its 1995 merger with the Atchison, Topeka & Santa Fe Railway – the "Santa Fe" – to form today's BNSF.)
Below is a cropped version of the picture above.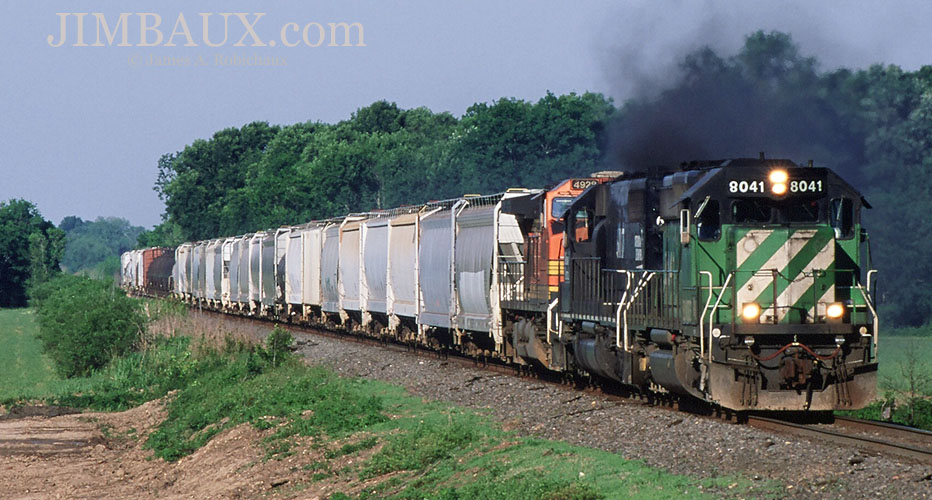 The locomotives for this train were BNSF 8041, IC 6017, BNSF 4928.  "My" wardie and eventual professional colleague Hiawatha Niagara saw this train at Avondale at 12:45 and also apparently saw The Chip Local departing.  ("My" is in quotes because I had yet to move to New Orleans, a subject that will be explored in-depth in the next post in three days, as promised earlier.)
Here is a wider view taken a couple of seconds later.

That's all for this episode.
Once You're Gone, You Can – Occasionally – Come Back
All of these pictures out on the Lafayette Subdivision in this post are taken in my homeland of Cajunland among Bayou Lafourche, Bayou Blue, and Bayou Terrebonne, though so many people today know me as a "New Orleans photographer," which I had yet to be when these pictures were taken.  Three days after these pictures were taken, I would be in New Orleans, and while the photographs of the one train that I photographed in New Orleans that day is not stellar, their historical importance for who the photographer whom so many of you now know came to be cannot be understated; the story is, too, about much more than just trains.  Stay tuned three days from now to see this genesis of my woadieness.
Merci,
Jimbaux