[Jimbaux wants you to say you will, say you won't, make up your mind tonight.]
A Difference of A Decade Is A Difference of Place, Habit, Priority, Identity, and Perspective
This morning, 10 years to the day after I shot a pair of westbound trains at Thibodaux Junction back home in bayouland and five years to the day after I was on Day 1 of a spring break trip to Georgia (which, yes, included some train pictures that you probably won't get to see for another five years), I got some action in New Orleans on the Norfolk Southern Railway's "Back Belt" line and on the New Orleans Public Belt Railroad.  That contrast between the homeland of the bayou and the more modern "home" of New Orleans is important for a post that I will make here in three days, and I make this post today partly in preparation for that upcoming post; the other reason that I make this post is that the middle of the three trains from this morning was something different than the usual daily trains along the 'northern tier' of New Orleans railroads.  The dual headline of the blog post is deliberate; again, this will make more sense in three days.
First, let's get the run-of-the-mill stuff out of the way as we show things in chronological order, starting with CSX's morning transfer run to the Canadian National Railway returning to Gentilly with the CN cut on the NS Back Belt; the tail end of the train is crossing Broad Street.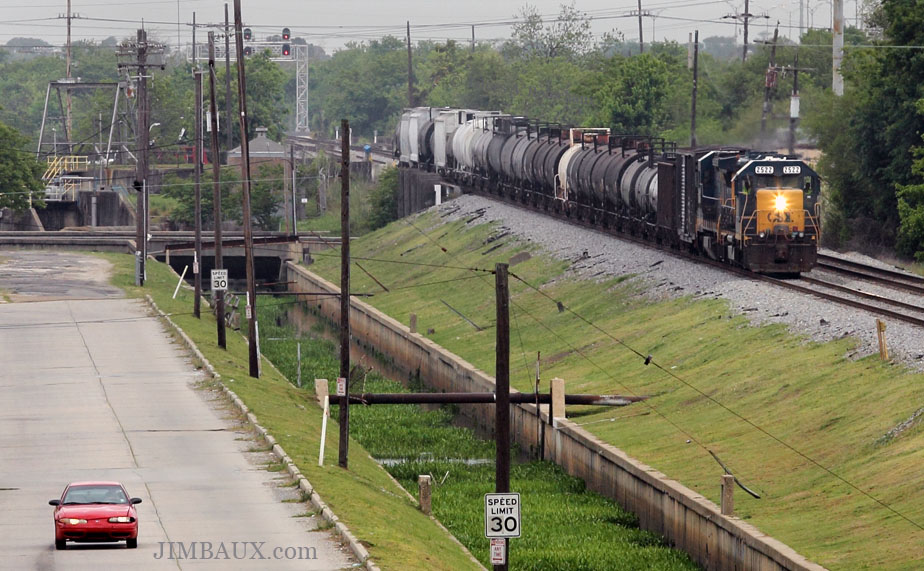 The little red car on Florida Avenue makes the shot, methinks.  Once again, just like five days ago when I got the NS's "GoRail" locomotive, I had to quickly jog up the Elysian Fields overpass, and I had to stop, because I couldn't go anymore, as I am so out-of-shape from not having run in so long thanks to recent emergency back surgery.  Because today was cloudy, unlike last time, I could shoot from the southern side of the track without having the side of the train be shaded.
Well, it looks like, below, there were not too many flares that prevented me from being able to properly turn on the ditch lights.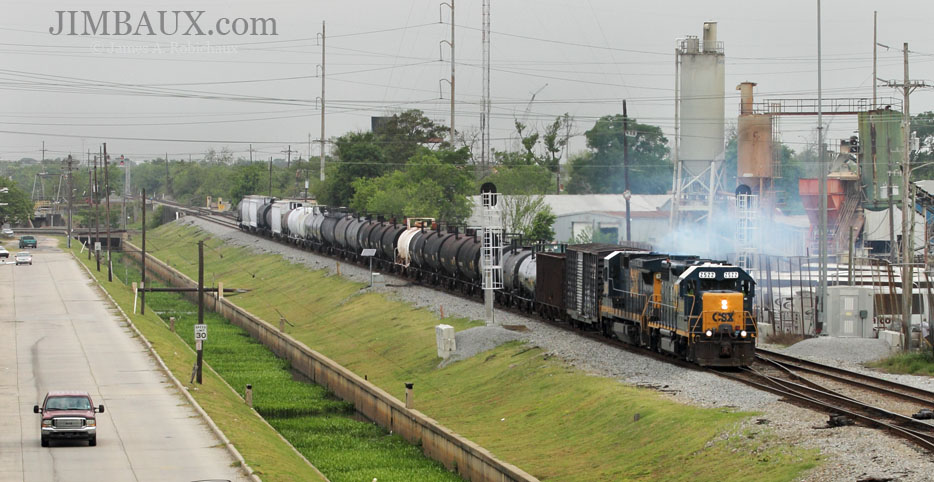 Okay, so the ruse is out, but I'm sick of it anyway!  Hey, CSX crew on this train, and any other railroaders reading this: put the freakin' ditch lights on!  I'm tired of turning them on in Photoshop, failed at my efforts to do so in the first shot, and am about to quit the practice – which I have only done a handful of times anyway – for good, which should make the purists less critical of my work.  Since I aim to make and keep good relationships with railroaders, I don't want to knowingly expose rule violations, but, as many readers here know, I have come to have no toleration at all for not having lights on, but particularly for those who operate automobiles; it costs you nothing to do the right and safe thing, and it is an important safety feature, because, in addition to making your vehicle more visible – which often means making your vehicle visible at all – to other motorists and pedestrians, it conveys movement, intensity, and occupation (of the train), that the train is not parked, like how that Ford truck is parked in the middle of Florida Avenue in the above picture.
So, for the rest of you people, I've done told y'all once, and I've done told y'all twice, have your headlights on at all times when driving, and help me work to make this a state law; the life that you save could be your own.  Just this rainy evening, it was utterly appalling to witness – once I could finally see them – people driving through this rainy, cloudy mess without headlights on.  This is far more important for automobiles than it is for trains, since only one train has permission to be on the track at any given time anyway, but railroads are, for now, the only place with rules mandating lights on at all times.  How bassackwards is that?  Let's get to it, State of Louisiana!
Now that I have caught my breath – both literally after running up this bridge and figuratively after typing madly about headlight non-use again – and the train has gotten closer, let me get closer to the track for one more shot before we get out of here.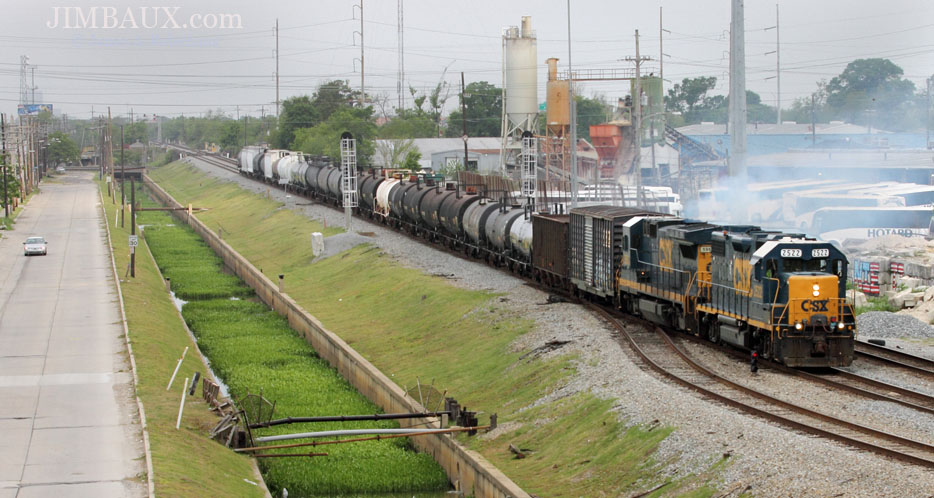 That second locomotive is the CSX 5963, which you saw facing the other direction and acting as the sole power on this train two weeks ago today.
Now, let's get to the noteworthy find of the day.  A quick run to the NOPB's France Yard found this job heading north behind NOPB 3003, but another important element of the below picture – presented because of the overall theme of the difference that a decade makes – is the trailer that now serves as the yard office here, the other yard office having been destroyed by Hurricane Katrina's floodwaters.

This almost-entirely-boxcar train – it had one refrigerator car and one hopper car – was apparently all of local service.  A block of boxcars – many of them KCS – on the rear were apparently of the paper loads that arrive on KCS's train M-SHCX and then get set out at Kearny Companies across the road here to get offloaded for local use.  Below is a noticeably better view showing the train approaching, our shot of the day, and the reason why I am making this post tonight at all.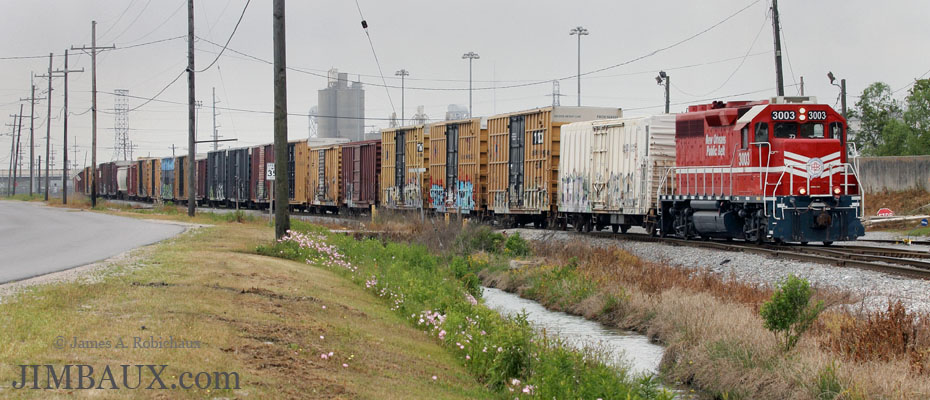 Donovan, do you see what I did here again with the aspect ratio and cropping?  The above image has an aspect ratio of more than 2, whereas your camera (and, for all that I know, all 35mm DSLR cameras) has an aspect ratio of 1.5 – or 3×2.  Having a higher aspect ratio is not the goal; it's just an inherent byproduct of chopping out dead and distracting space from the tops and bottoms of images.  Does this make more sense?  Do you see that there are parts of the original picture that you can not see here?  Do you see how getting rid of those distractions serves my agenda and forces you to focus your attention on the train (which is kind of my agenda) and its immediate surroundings?
Now, I need to get out of here, but let's make a quick run to Terminal Junction – the end of the NS Back Belt – to see if anything is there.  Something is there, though only this:
Yeah, you saw that locomotive last week near here.  I am not 100% certain, but I suspect strongly that this is NS's transfer from the CN – the same train that had the GoRail locomotive last week – waiting to enter Oliver Yard.  I just don't know, which is why the caption – the filename – says that this is a yard job.  You do know that you can get hidden Jimbaux's Journal information in the filenames of pictures, don't you?  That ought to satisfy the inquisitive among you, and if it doesn't, well, get the heck out of here and go somewhere else and leave me the holy heck alone, dammit.
That, dear friends, is the way that it is today.  I was supposed to go chill with The Cajun Porkchop at his new Uptown crib after my radio show this afternoon, but he got tickets to the Pelicans' game and went there, which was fine with me, since I went in the rain to get a badly-needed haircut.
Again, the next post is critical to understanding most of what you have come know Jimbaux's Journal to be in so many ways, not just of photography and not just of trains.  The one picture is not a really remarkable one (and is not bad either), but the story behind it is a huge step in what I – and, therefore, this site – became.
Stay tuned.
Jimbaux