These railroad pictures were taken on 28 March 2008 in the New Orleans area.
Photographing Military Trains Is Nothing New Nor Outrageous
We'll start with a military train making its way from the BNSF to the CSX.  The train has a BNSF crew at this point, but not for much longer, as it is on CSX rails almost into CSX's Gentilly Yard in New Orleans.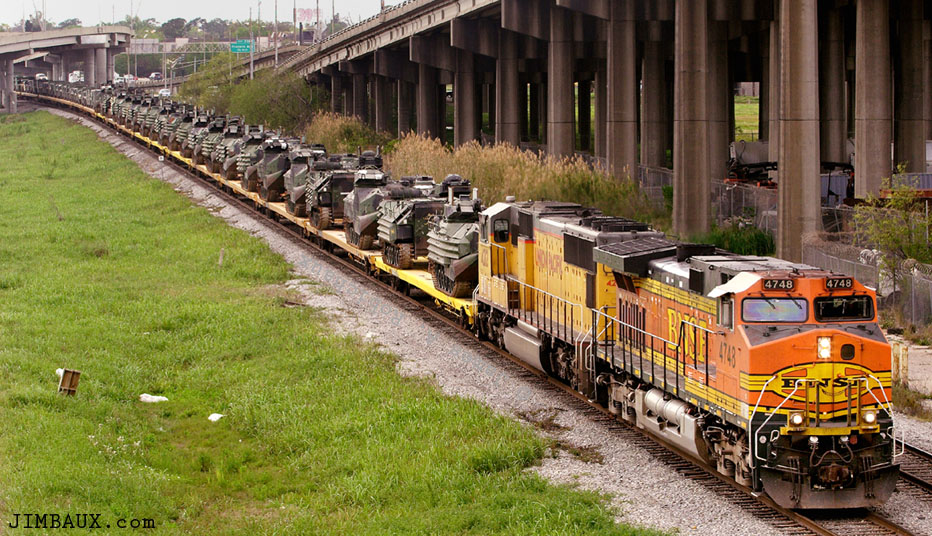 This is train U-BNTNWO1-27, originating in Beaumont, Texas.  A BNSF shuttle crew is aboard.  The train traversed BNSF's ex-SP Lafayette Subdivision to get to New Orleans and passed through the eastern end of the subdivision just before the line was shut down for a few hours due to a train colliding with a truck in Paradís.
What are these things?  They look like some sort of amphibious assault craft.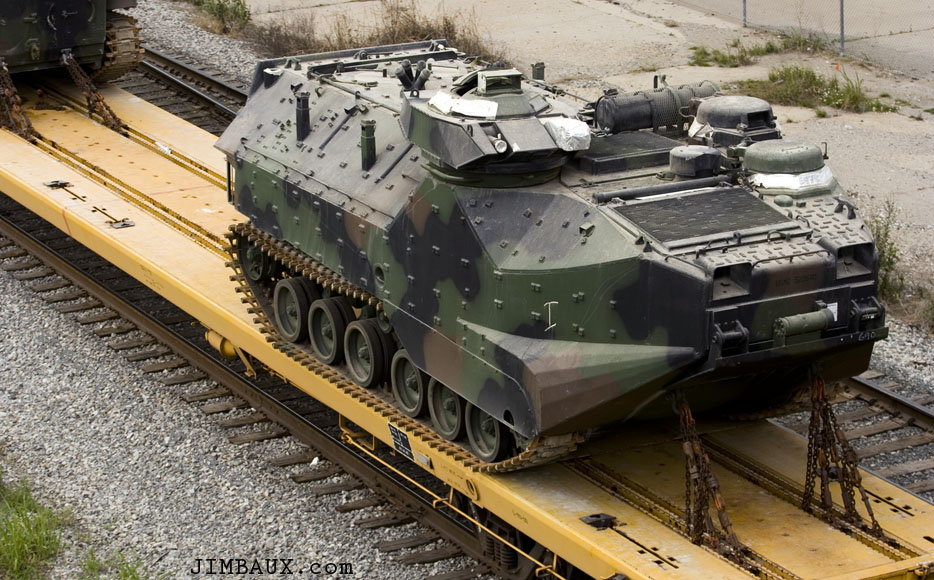 The next view looks eastward across the New Orleans Public Belt Railroad branch and across the Inner Harbor Navigational Canal into CSX's Gentilly Yard.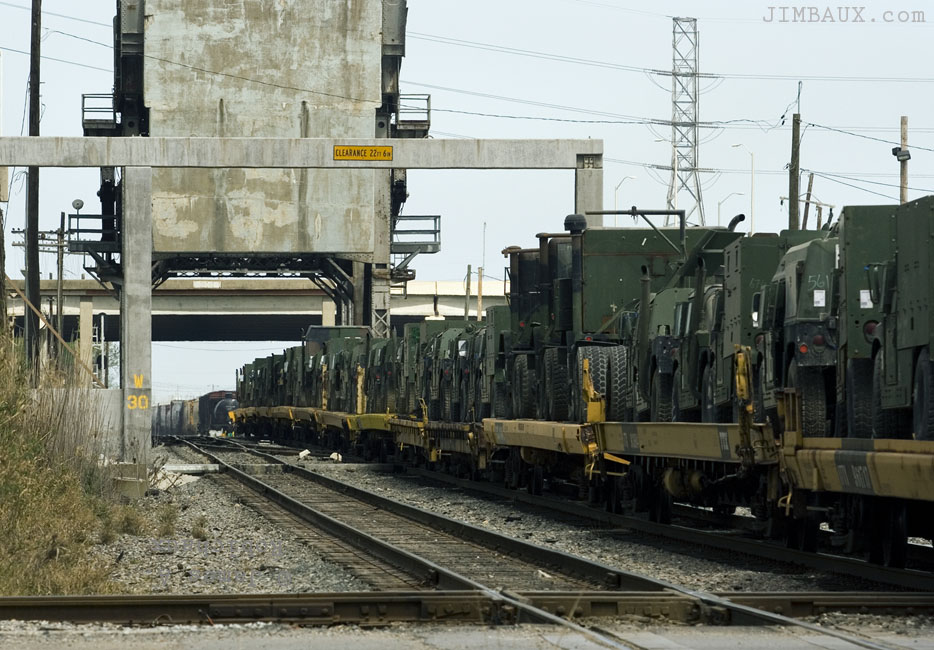 Okay, that's enough of that.
Rare Mileage, Even On Home Rails
Over to the west, an NOPB job on its way to CN Mays Yard stalled, necessitating the assistance of a locomotive and crew out of that railroad's yard to come and drag it across.  What's really weird about the below image is that even though CN owns this track, this is about the only time I've ever seen a CN locomotive leading a westbound train on this section of track across Central Avenue.

Do you see the black lease NOPB locomotive behind the CN unit?
Yes, sometimes, CN trains and crews cross Central Avenue on this track coming from the yard just to shove back into a track, but this scene here is rare.  It happens a few times a week with the few remaining customers east of here, but that job almost always runs in the middle of the night.
Anyway, here's one more view of this train, this one as it's going into the yard, and you can see Mays Tower in the background.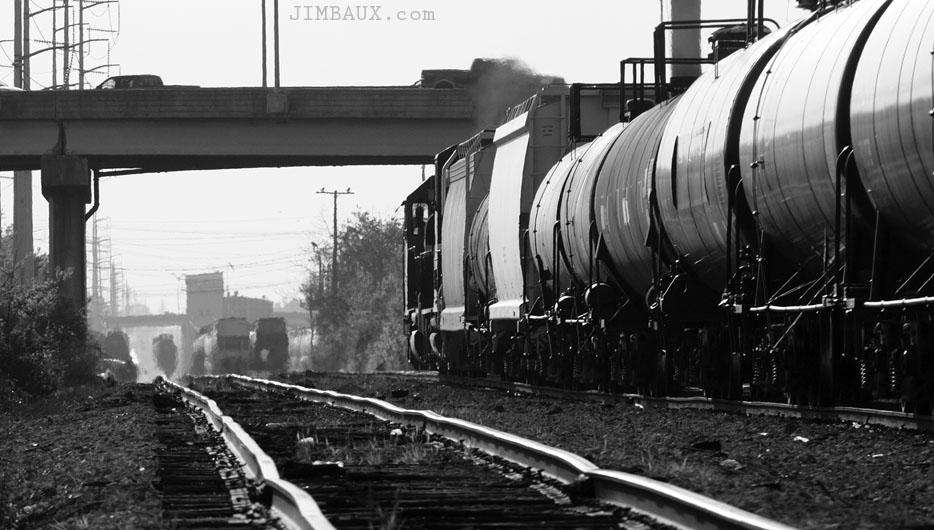 This image was "stolen" from me and posted by some website I won't name.  These guys have a site with some cool information, I definitely don't mind promoting other people's sites to my readers, and I wouldn't even be against these guys using my image, but I got no response from them when I raised the issue of my image being used without my permission; so, those guys will get no help from me either.  You know who you are, too.
A Rare Bird Indeed
Here it is, the only Gateway Eastern unit, and the only time that I ever saw it.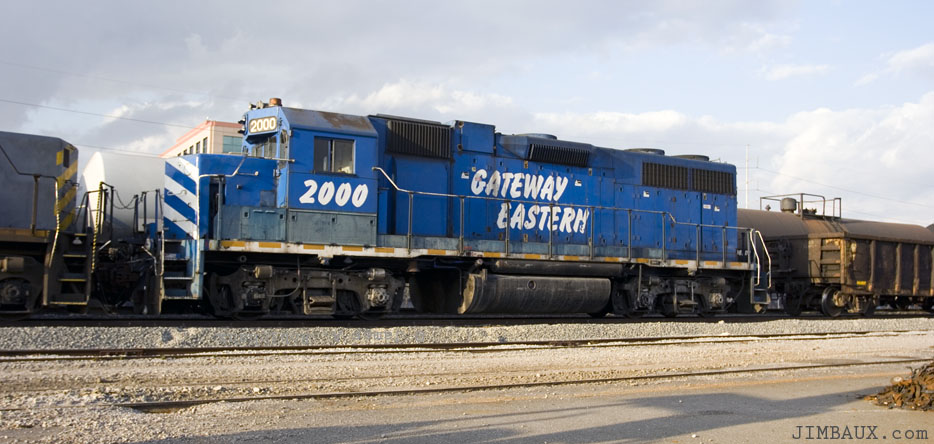 That was in the KCS yard, and I think that that thing has been repainted by now.  If you know of this unit's whereabouts and disposition, please post such in the comments section.
That's all for now.
Jimbaux