As my tour of duty in the lower Atchafalaya and Teche was about to begin, I wanted while I still could do so to chase the Chip Local – and its smiling Conductor Chip – from its base at Avondale all the way to Morgan City (and then back eastward until darkness), something I have only done a few times, and something that is difficult to do not only because of the commitments that it requires but also since the train only goes to Morgan City usually two days per week, usually on Wednesdays and Fridays (going only as far as Raceland or Vallier on other days.)
Since I need to eat every day and keep a roof over my head, only on rare occasions can I chase the train for its entire run.  Friday 16 March 2012 (two days after I had foamed the KCS's Gulfport Sub and had a police encounter there) was the day that I chose for this expedition.
Avondale, Where It All Starts
Rarely have I been at Avondale when The Chip Local goes on duty.  In the picture seen below, we are looking westward at the no-longer-occupied Avondale Tower (the yardmaster now works out of Livonia Yard and monitors the action at Avondale via several cameras), and we see the UP 281, power for the Morgan City Local, parked next to the tower in the spot usually occupied by that job's power.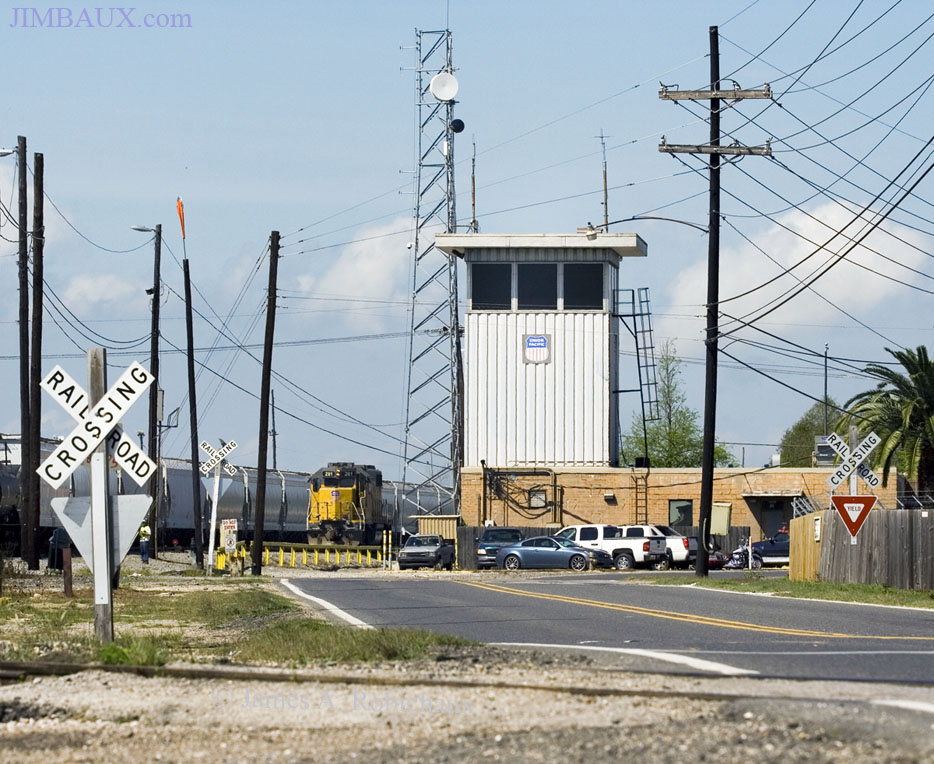 The train usually runs long-hood-forward out of Avondale because visibility is critical when working the Discovery Gas Plant at Paradís on the train's return trip, as a state highway crossing in a right-hand-curve is almost impossible for the engineer to see (and since the conductor is usually on the ground when that move is being made.)  So, what that means for the above picture is that the locomotive and crew will at first move eastward toward the camera to retrieve the train out of one of the yard tracks before heading westward.
One hour and 45 minutes later, here is the train moving west at Willswood on former Texas & Pacific Railway trackage.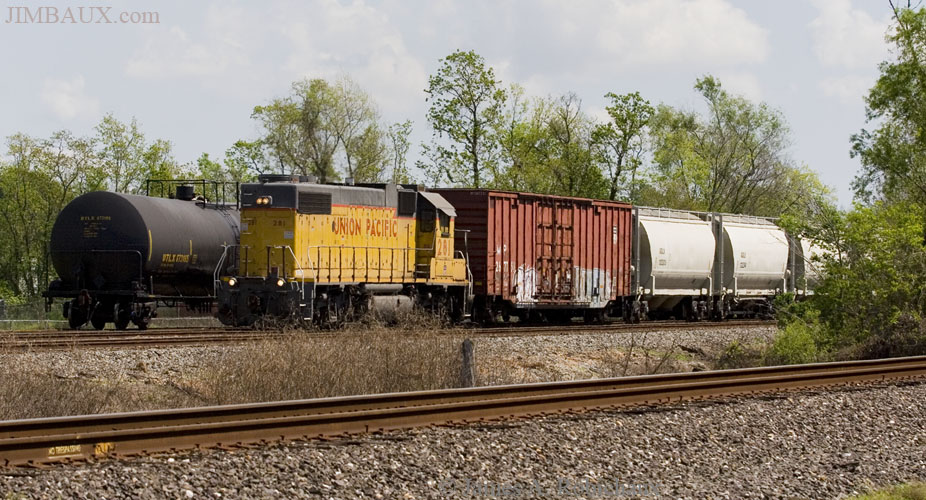 A mile or so to the west, the train would move through the Live Oak crossovers to get onto former Southern Pacific Railway trackage.
Speaking of Paradís . . .
Yes, here we see the westbound train in Paradís, though the train has no LPG cars for the gas plant (as it usually doesn't serve the gas plant on the same days that it goes to Morgan City.)
The entire train except for that lone boxcar right behind the 281 was for industries in Raceland, the hoppers for MTI and the tank cars for Raceland Raw Sugars.  A few hours spanned between the above picture and the below picture, and that it shows the first evidence that, even though it's cool to see Chip, I apparently wasn't going to get everything for which I had hoped on this day.
Look, It's Chip!
Hey!  Look, it's Chip!  He's smiling as he sees me, as he walks ahead with that radio in this eastward view at Schriever, which is still more than 20 miles east of Morgan City, and what's with those big blue SMW boxcars that started showing up around this time?
Neat!  Hi, Chip.  Wait.  It's an eastward view, and it shows the train going away (even though it's parked) toward the east.  What happened to Morgan City?  And doesn't that boxcar look familiar?  What's going on, Chip?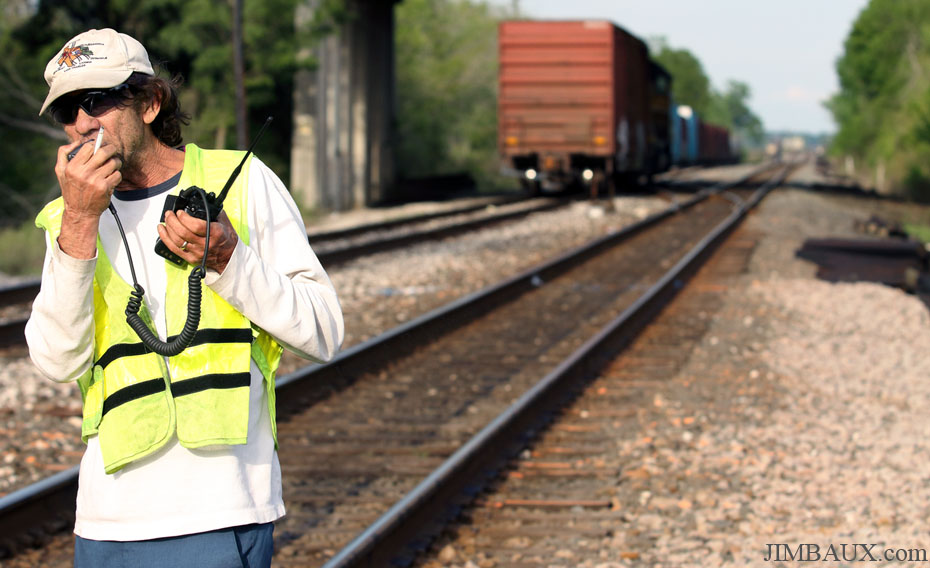 Well, in addition to serving industries in the Morgan City area (Morgan City to Bayou L'Ourse), the train also picks up eastbound tonnage from the Louisiana & Delta Railroad, almost entirely carbon black with occasional rice.  The L&D Schriever job usually hauls this tonnage eastward from New Iberia one day per week, at the time, usually Thursday, and, sometimes, a job out of New Iberia will bring tonnage on other days.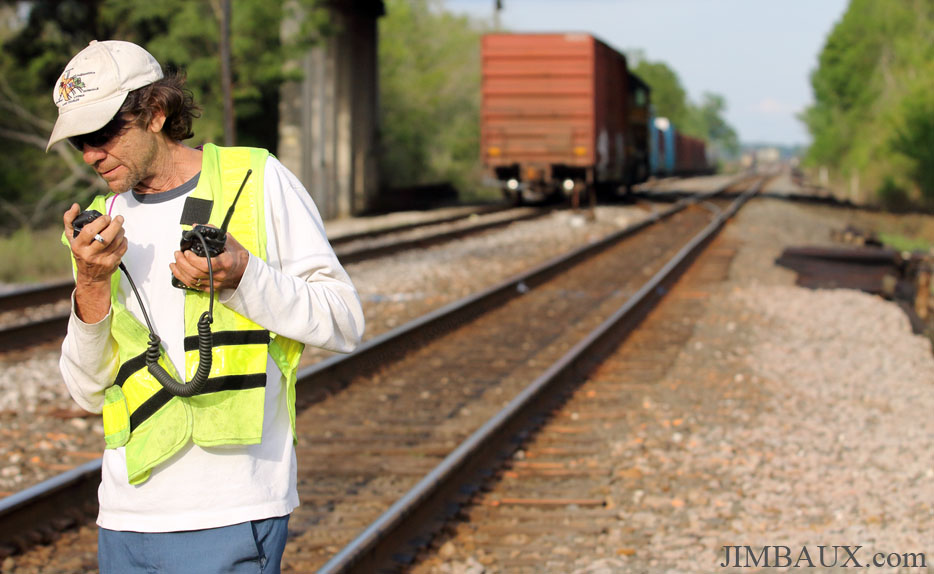 Well, for whatever reason, likely delays from earlier in the week, the L&D's Schriever job went westward on this Friday.  (It usually goes east on Mondays, Wednesdays, and Fridays, and goes west on Tuesdays and Thursdays.)  Also, those cars that Chip would have set out in Raceland were brought to Schriever and set out there (and you might be able to catch tiny glimpses of them in these pictures) because the track in Raceland was clogged with MofW equipment.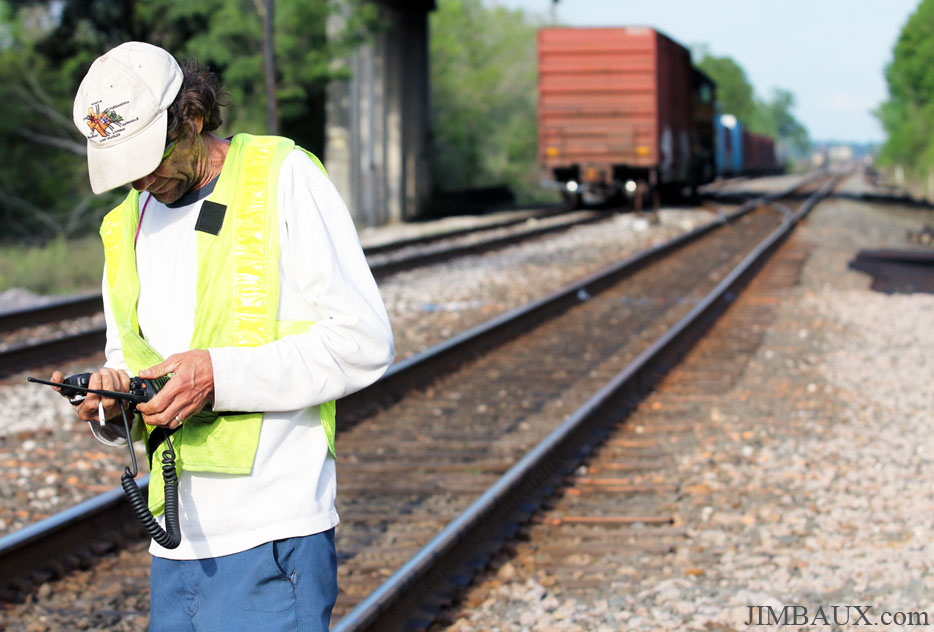 So, since the L&D job was coming back east, and that right there would impede Chip's ability to go any further west than Schriever for at least another hour, they decided to do the interchange live in Schriever, which is what is being discussed on the radio into which you see Chip speaking, and by the time I arrived on the scene, Chip and his engineer had already run around the boxcar.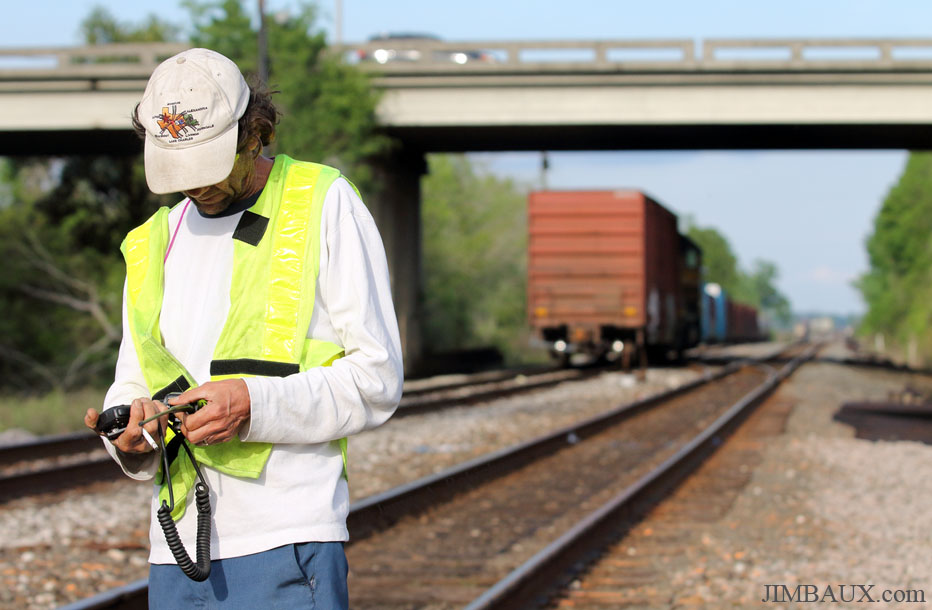 The boxcar is bound for one of the industries in North Boeuf, but it probably didn't arrive until the middle of the next week.
"D" Is For Derail
Below, we see Chip unlocking the derail on the west storage track, where the interchange would take place.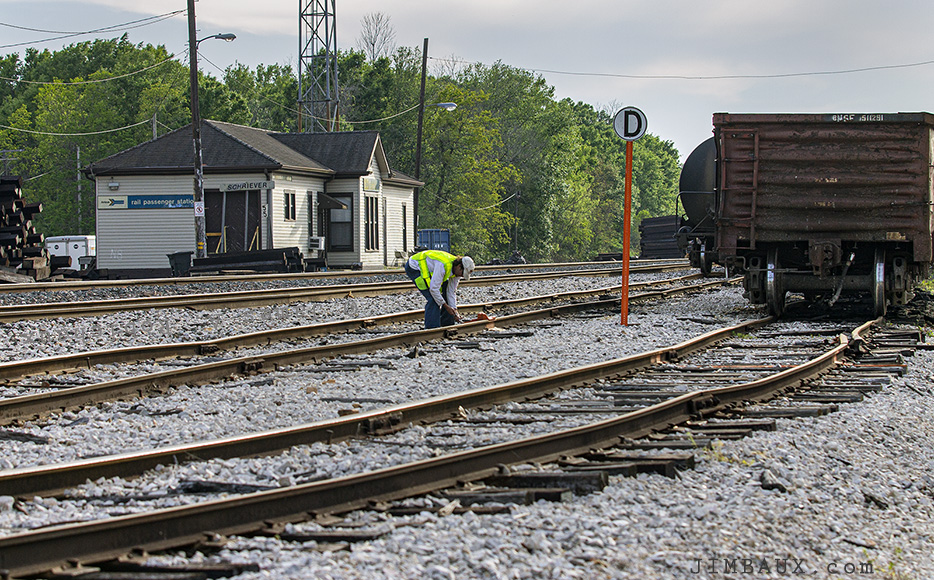 These pictures show two things – one mobile and animate, and one fixed in a location and one not – that are at the heart of Jimbaux's love for railroad subjects and for photographing them.  No, the depot is not staffed for passenger service; it's a flag stop on Amtrak's Sunset Limited, and you might remember my Christmas night photo of the eastbound stopping at the depot.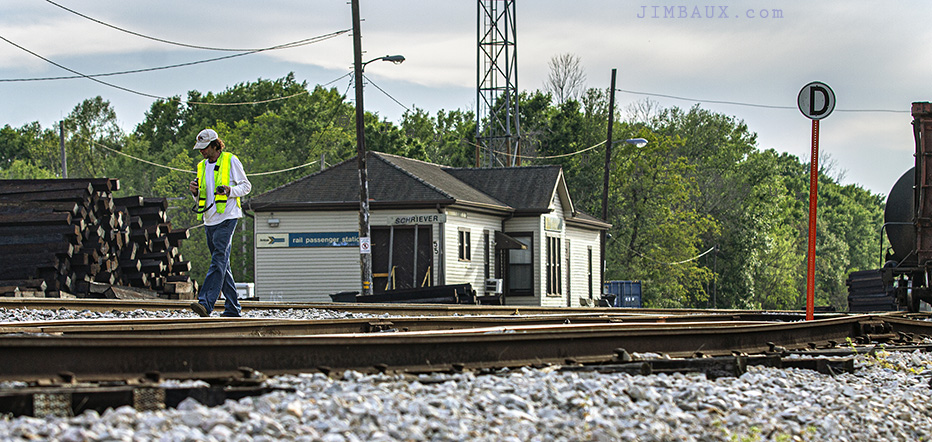 As I reported in February 2013, Chip retired seven months after these pictures were taken; he had 43 years of railroad experience starting in 1968 with the Southern Pacific.
Chip, Standing By, Ready To Help A Shortline Crew
At some point, radio contact with the L&D job was established.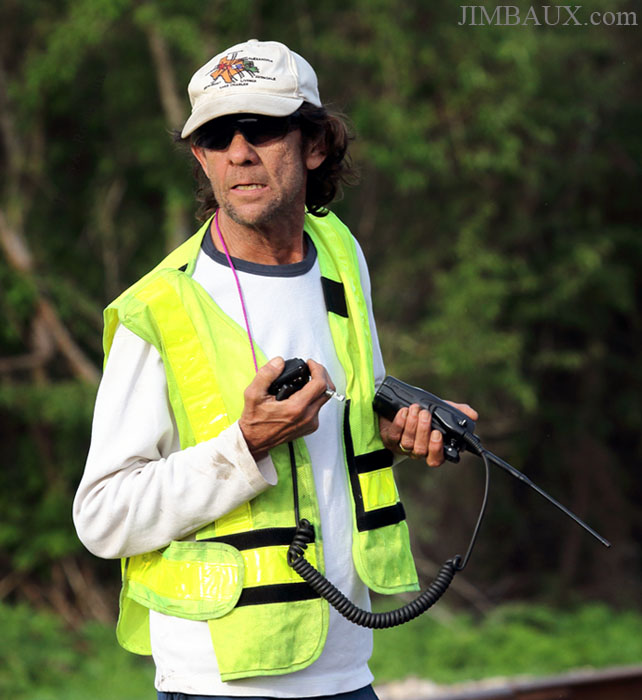 Here comes the L&D train.
Here is Chip manning the switch as the L&D train arrives.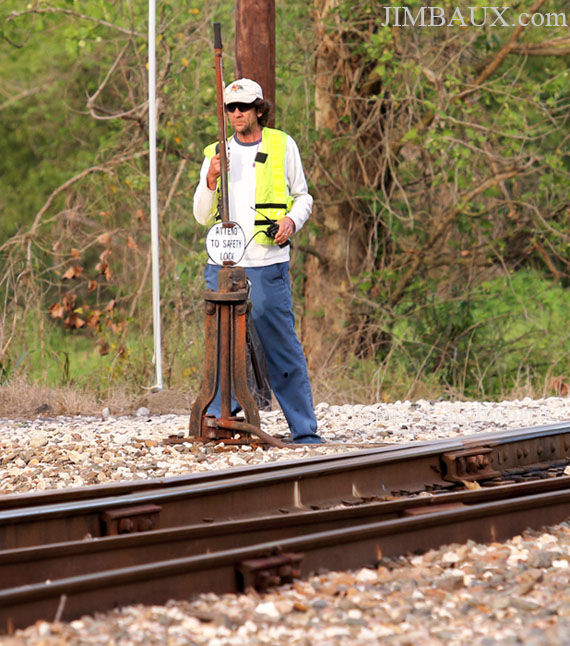 Here comes the L&D Schriever job – in the charge of the LDRR 1709 that you saw four days before – on the siding, with more of those big, blue SMW boxcars, which we would see a few days later too.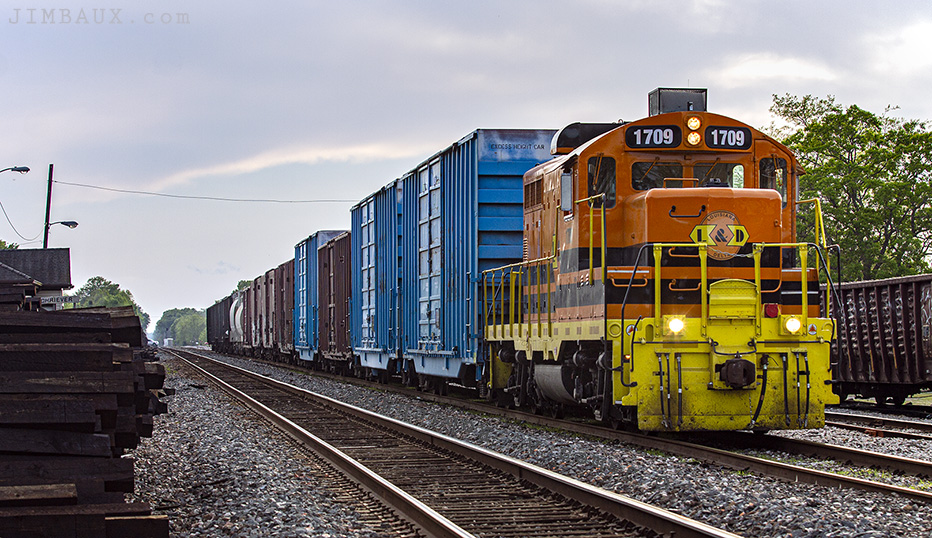 Yeah, this is as good as it's going to get, looking west in the late afternoon, but I actually like this shot a good bit.  Below, we see the head end pass by Chip manning the switch.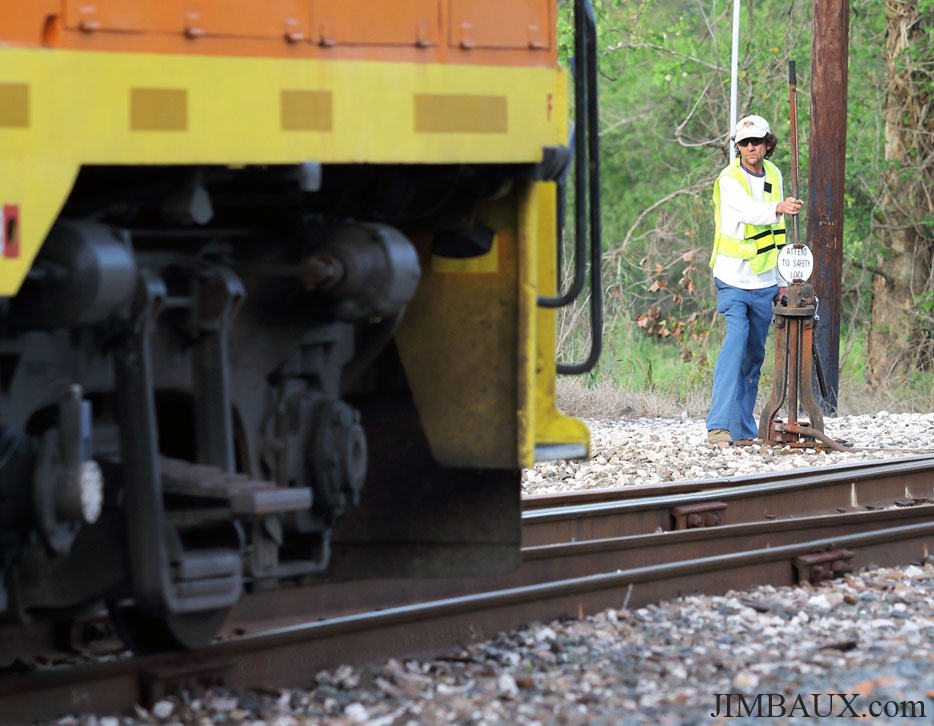 Apparently, not all of the carbon black cars that the Schriever job brought back were for Chip's train.  The two cars that were for Chip were apparently on the rear end and were shoved into the storage track, as is about to happen below.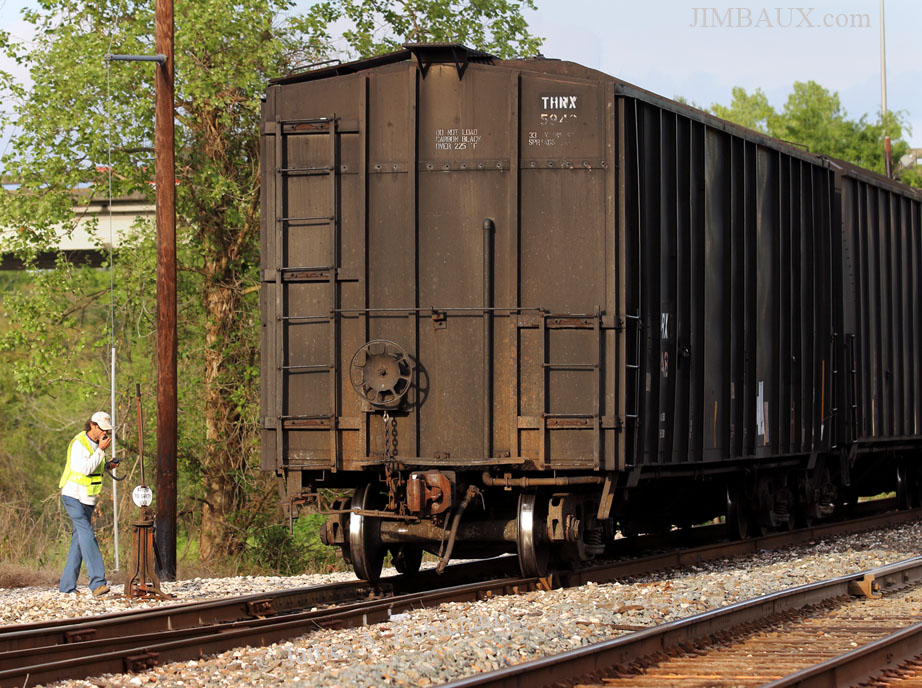 Now, Chip will stand by as the L&D job shoves back.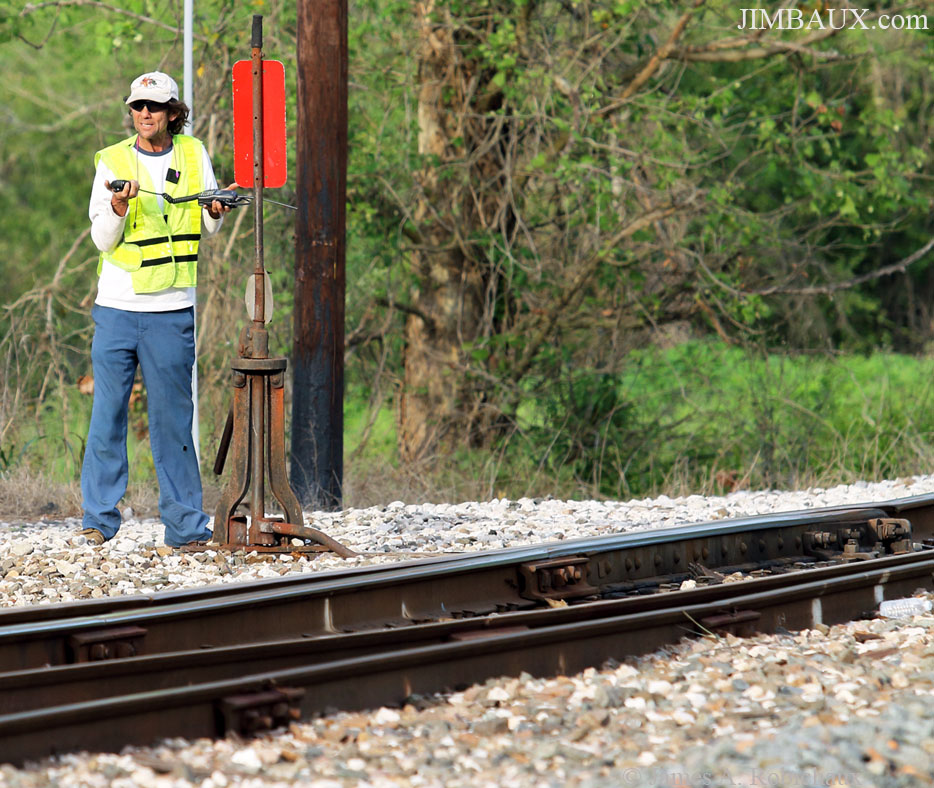 Hey, look, it's the "No Tory Us" B-I-G L&D Trainman!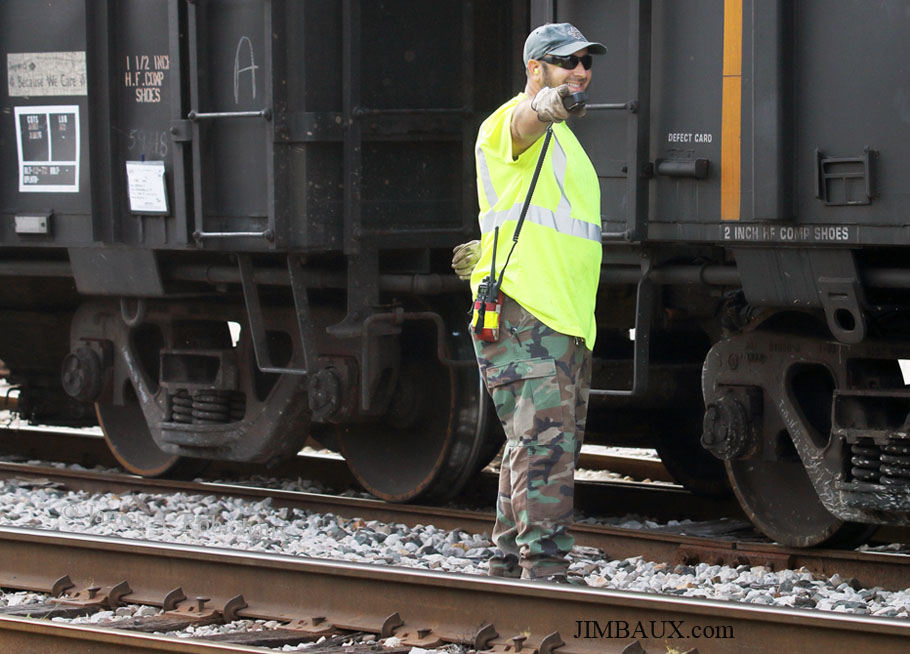 He's a good guy, too.
Below, the break has been made, and the Schriever job is moving forward, I guess into the East Storage Track, but I don't remember.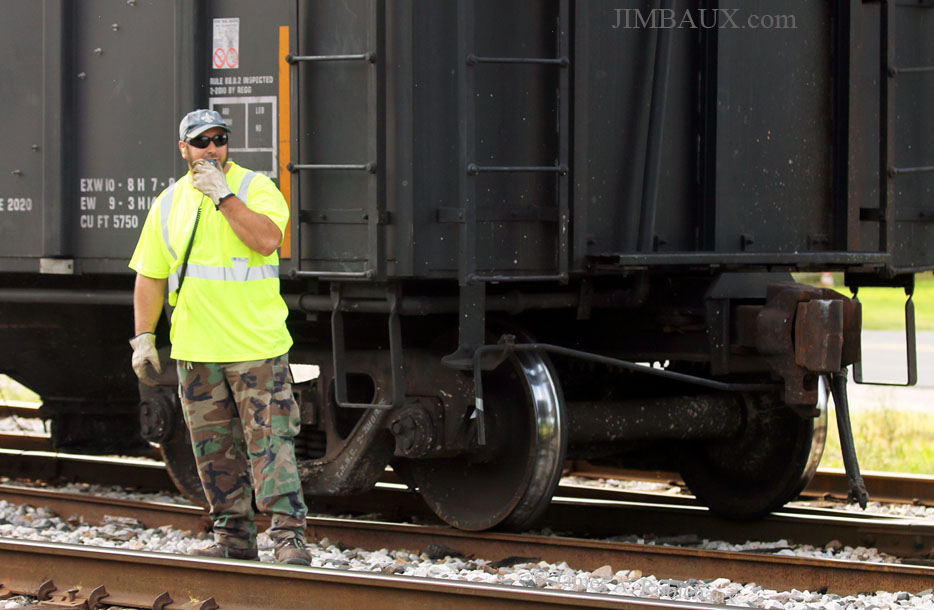 Soon, Chip will be able to come across the siding to its southern side so that his own train can now pick up the two cars.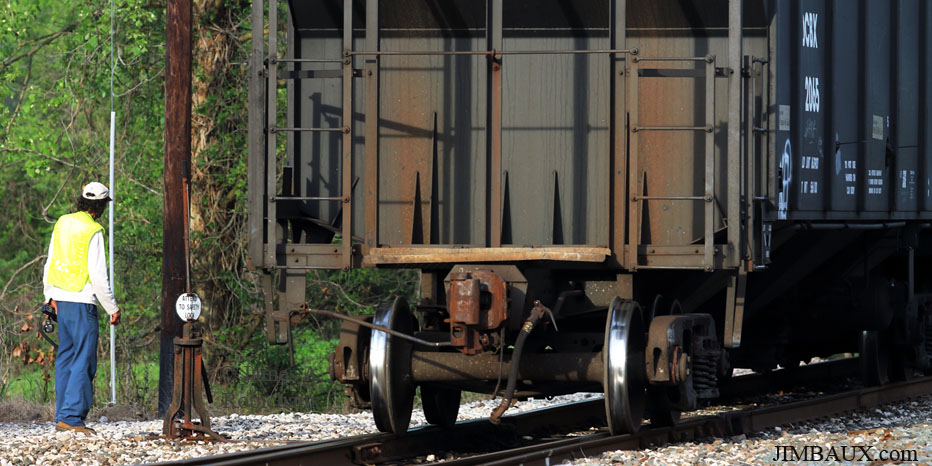 Notice that you see a different carbon black hopper – one that, judging by the truck springs, appears to be empty, meaning the fact that it got sent east was an accident – in the above picture.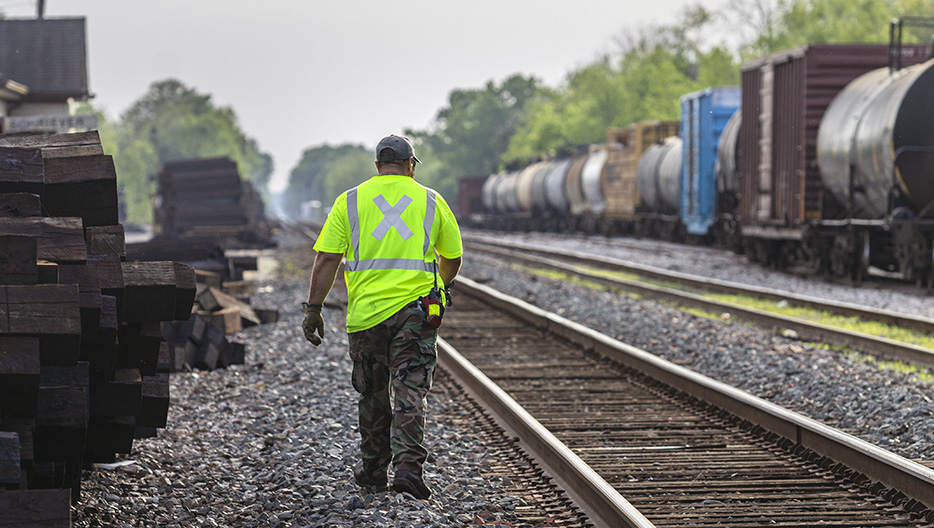 Okay, so now Chip can cross over to make the couple.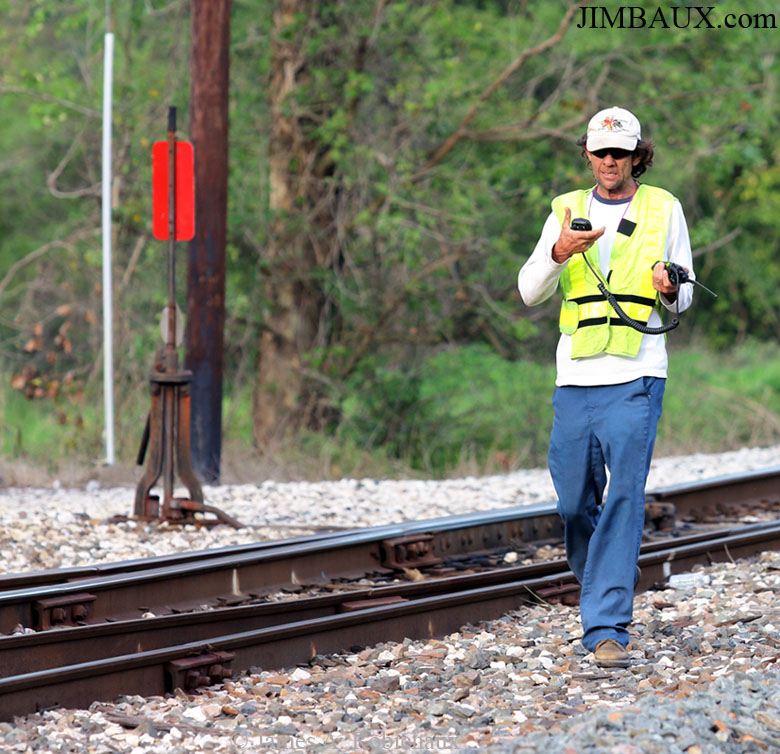 Chip apparently had not recently had one of his rare haircuts.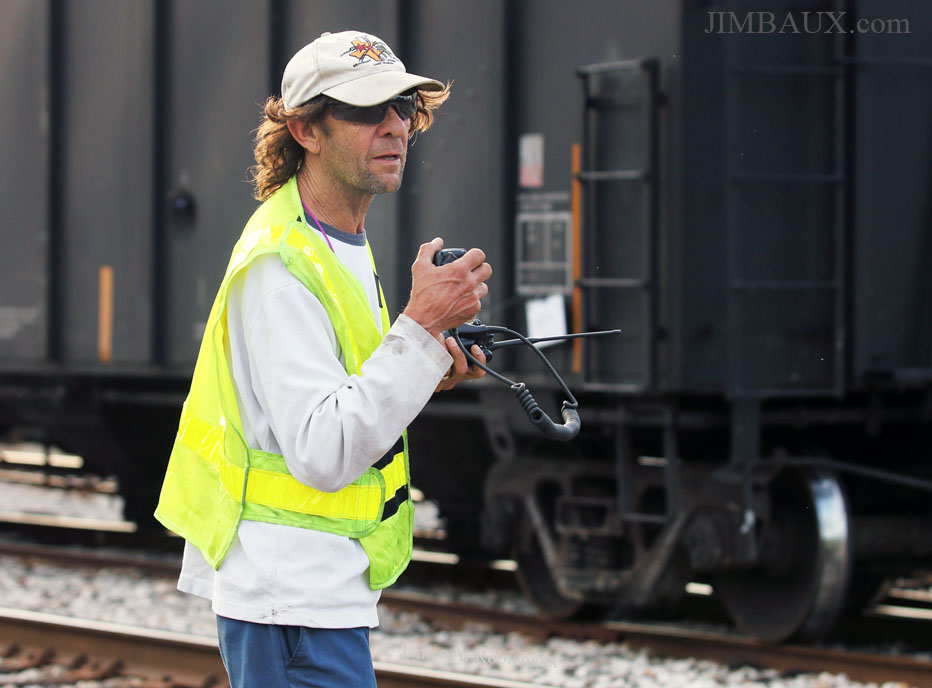 He once told me that he would get in "trouble" in his early days on the SP for his long hair, and even hid it under a wig!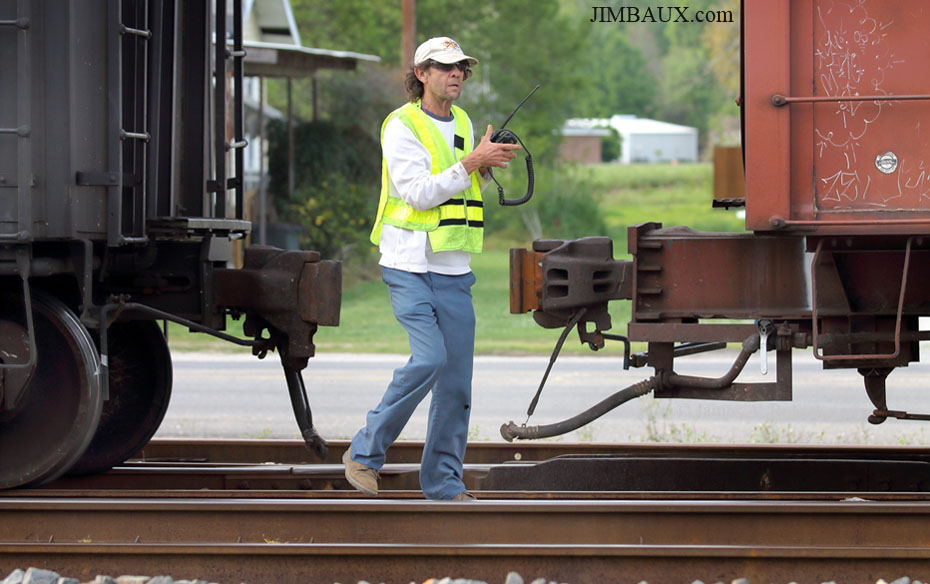 Here, we see Chip giving hand signals to Engineer Boudreaux.
Below, we see Chip in the "red zone" attaching the air hoses.  If any of you could invent some sort of automatic attaching device for railroad air hoses, you could potentially make oodles of money, and you could even breathe some more life into the carload business and help eliminate one of the more dangerous practices that still needs to be done on railroads.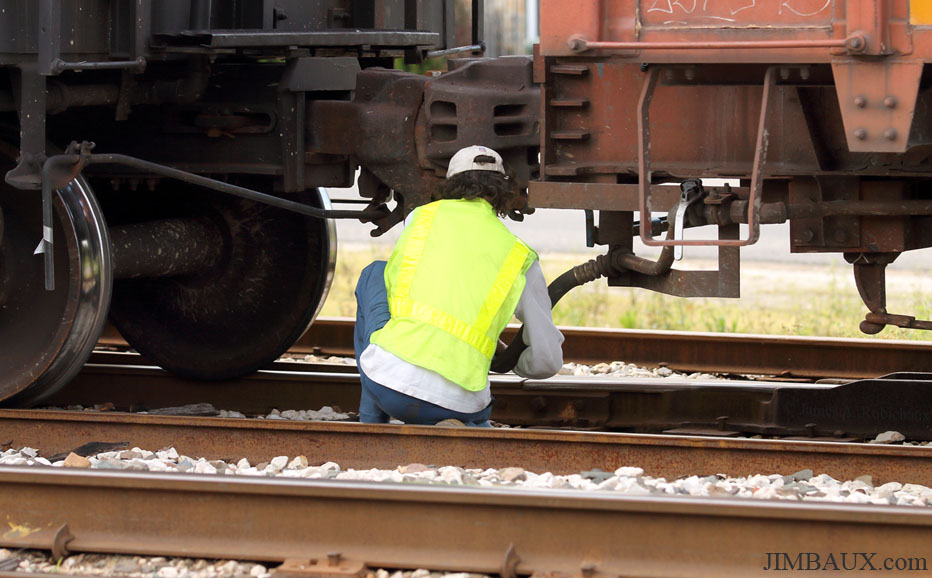 For all of its technological advances, railroading remains an inherently potentially dangerous practice, a practice that is responsible for moving products that you use, whether directly or indirectly.  Please remember that the next time that you flip a switch and have lights come on, or the next time you purchase anything at a store.
Here's Chip walking ahead back to the switch while his train moves ahead too.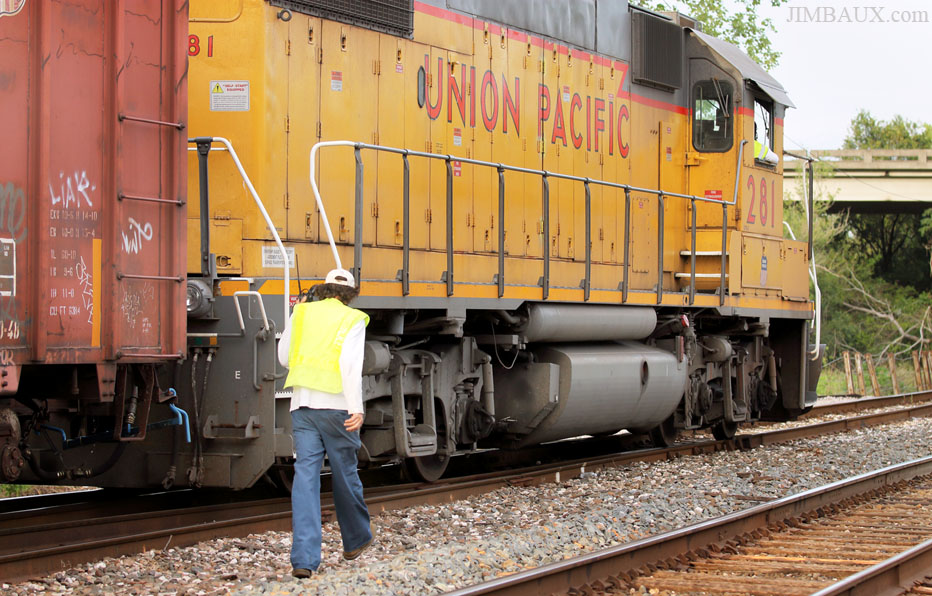 Do you see Engineer Boudreaux in the cab?  Below, Chip closes and locks the switch.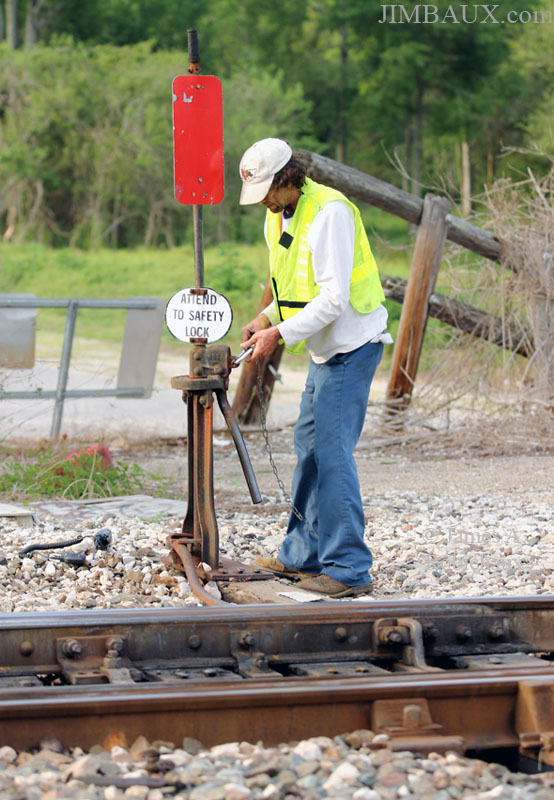 Before he goes, though, Chip has one last smile for his "personal photographer," and for you too, then.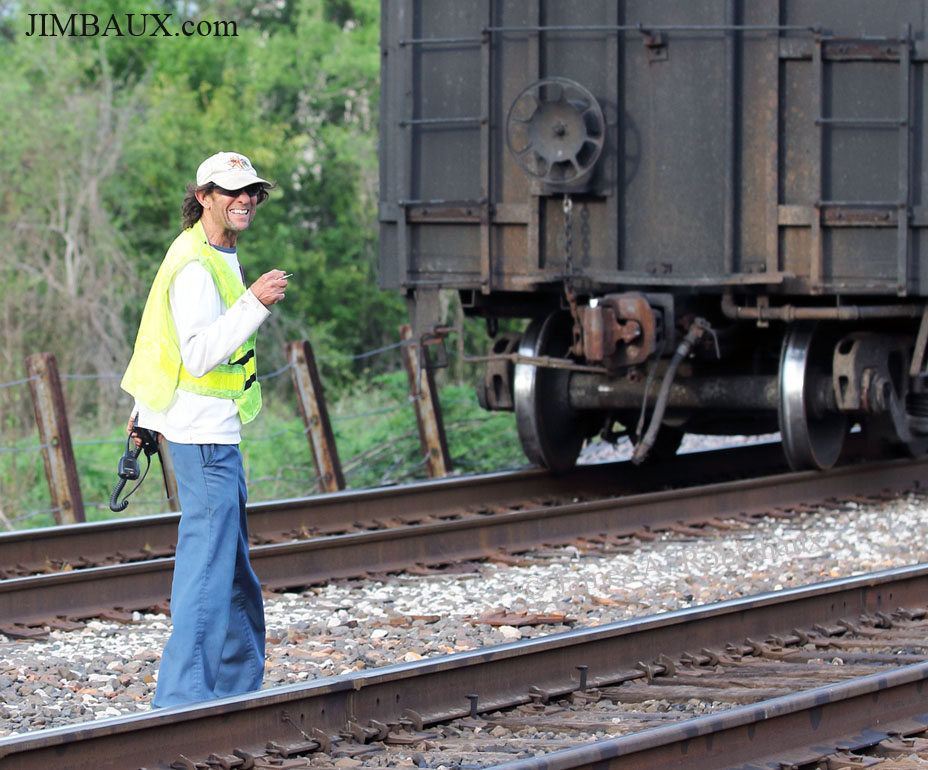 After that, it's time to hurriedly roll out of here to get in position for about the only spot I'd be able to get the train before the sun set.
Going Home
Here's the eastbound train, with only two carbon black loads and the boxcar with which it left to bring back to Avondale.  It's entirely possible that the train stopped to make a pickup in Vallier and maybe in Raceland too, but this spot among sugarcane fields would be my last spot seeing it on this day.
Yes, I had posted a similar shot not long after these were taken.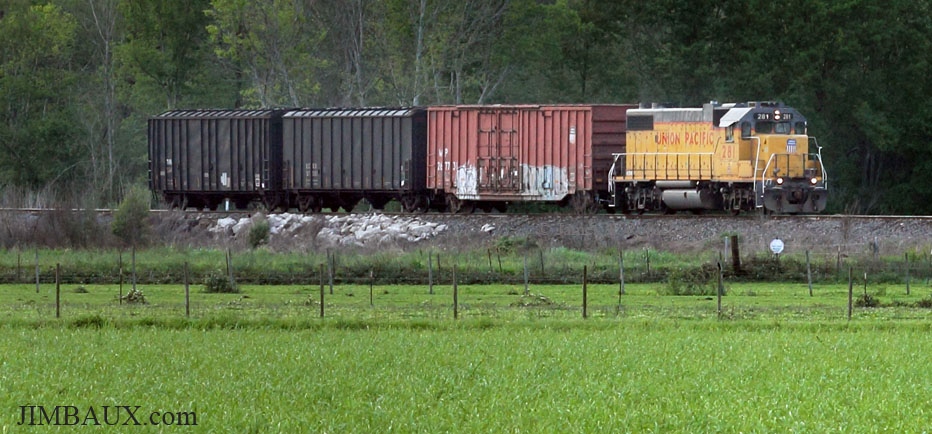 I guess I'd have to settle for only these locations on a day when I hoped to chase the train from Avondale to Morgan City and photograph it in various places.  What do you think of the results?
Yes, I'm getting better at processing cloudy-day shots with washed-out skies.  That burn tool really helps, and helps to do levels and curves adjustments after you burn the sky, some helpful photo editing tips from your pal Jimbaux.

That's all, my friends.  So long, Chip, and until next time, don't assume too much, my friends.
Thanks.
Jimbaux