[Jimbaux is no longer unforgiven.]
What's up, everybody?  How are y'all doing today?  I gots sum pikchaz fo y'all ri chea!
How about today's song?  It's a really awesome acoustic version of a great, albeit overplayed, song, and the live and acoustic natures of it serve to solve the problem of its overplayedness.  It's a big theme lately.
Y'all do remember that T. S. Eliot wrote that "April is the cruelest month," right?  Well, as I'm starting to type this in April, even though it won't get posted until May, I have long been in agreement, though March has surely rivaled April in cruelty in the last half-decade largely because our moronic leaders decided a few years before that we should start that annual mad monument to human stupidity known as daylight saving time in March instead of April, but that's not really the point.
Anyway, as April closes, the southern Louisiana heat and humidity has risen.  How high?  Not only high enough to make Jimbaux cranky, but also high enough to melt a candy bar in a car parked in the shade.
Thanks to those who wrote me after the previous post.
"Shenanigans"
Anyway, apparently (and this is part of the stupid "guilt" lesson from last time), Jimbaux is still in high school (and apparently never left), at least according to how a few others treat him.  Apparently, I'm punished, grounded, but, and y'all don't tell any of our classmates, I was able to defy my punishment very briefly to get, among other things, this shot of this stack train.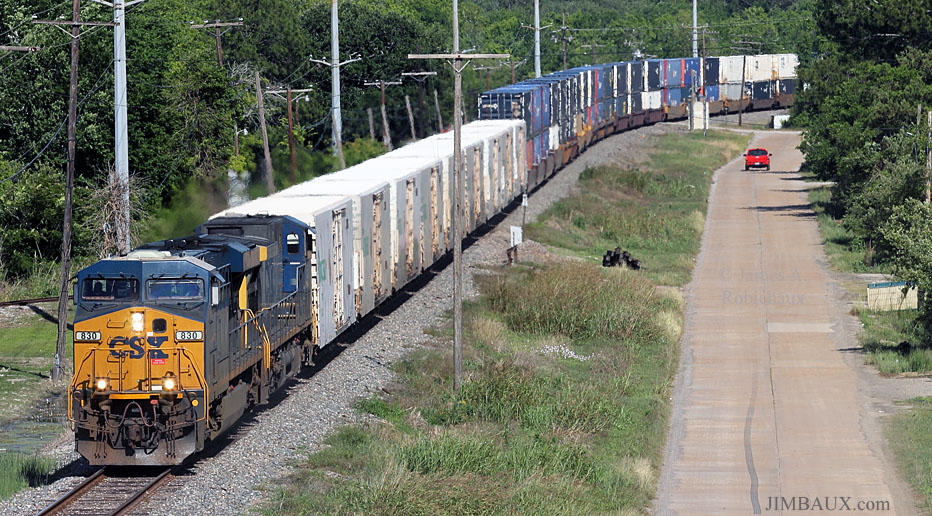 Yeah, that's the Z-train, dudes, with Florida orange juice riding chilled behind the power.  No, I really don't like how it looks like a big pole is growing from the cab of the lead locomotive, but with all the poles around here, it's hard to avoid; it's a case of a new problem being created by solving an existing one.
Now, look, you guys, I've got another stack train to show y'all, but y'all need to be cool about this, okay?  Let's keep this between us, a'ight?  Y'all don't be tellin' y'all parents that y'all saw these shots I took o' these trains, a'ight?  They might get me in trubble!!  I ain't supposed to be doin' this, these "shenanigans," okay?  So keep this stuff here on the down-low.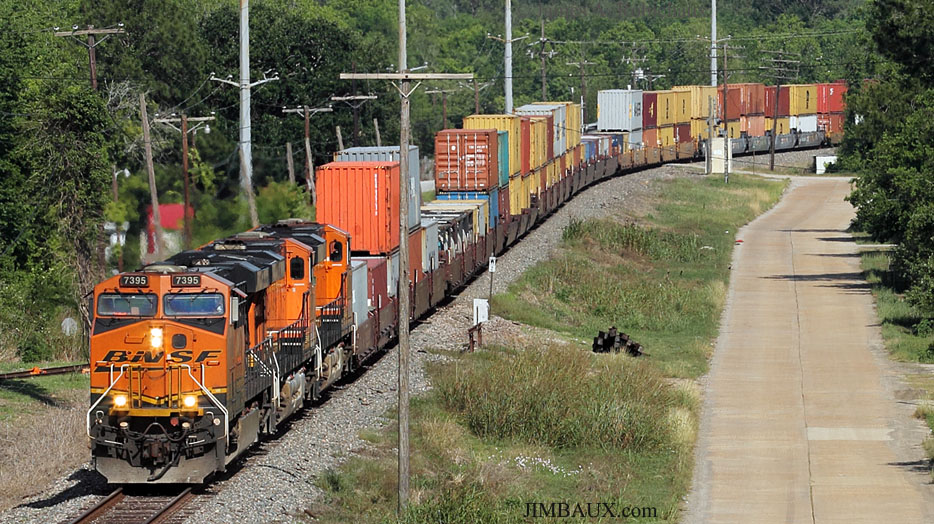 What in the heck is that?  Is that a BNSF intermodal train on the Lafayette Sub?  Not only do these things only run about once a week (in both directions, to and from Los Angeles) anymore, but I kid you not when I tell you that as far as I know, this may be the first time that I photograph a BNSF New Orleans intermodal train since Hurricane Katrina, which essentially means this is my first digital shot of a BNSF intermodal train (other than some detour trains a few years ago) on the Lafayette Sub.  Since I saw yet another one about a week later, I can only guess that another reason why I rarely see this train is that it only passes in mid-week, though I thought the reason was that it passed in the middle of the night, and until this spring, I wasn't in bayouland other than on weekends and holidays.
Chip Off The Old Block?
Remember that guy?  Here's Chip a few weeks ago – or, maybe not, since the conductor's side of the cab looks empty, and I never saw Chip or heard his voice that afternoon – with 34 cars behind the UP 281.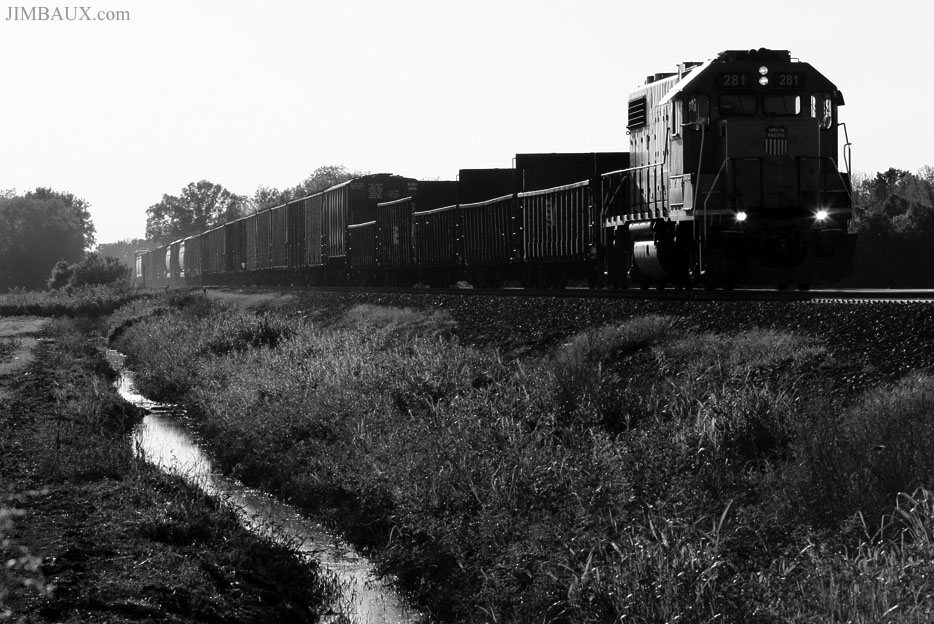 Well, that wasn't entirely terrible, now was it?
More Contraband Photos
We've got some more "shenanigans" for you, okay?  Here's a daybreak shot that is not a really good picture on its own but shows us some potential as we approach the summer solstice.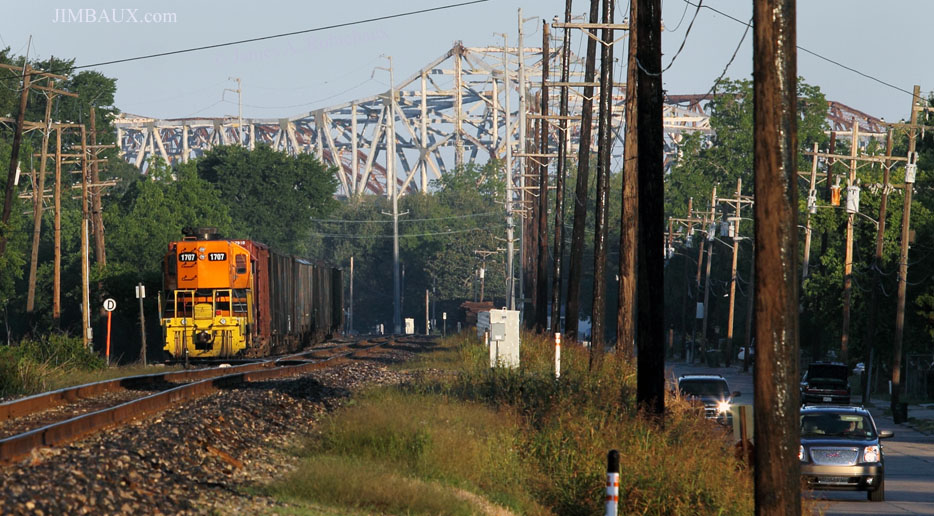 Yeah, that's the Louisiana & Delta Railroad's Schriever job with nearly two dozen carbon black cars.  It died there the previous night on its way back from New Iberia, and 12 hours later, Chip was picking up the carbon black here.
This Photo Contains Artificial Seasoning
And what in the heck is this?  A Warbonnet that even still has the "SANTA FE" written across the cigar band?  What year is this?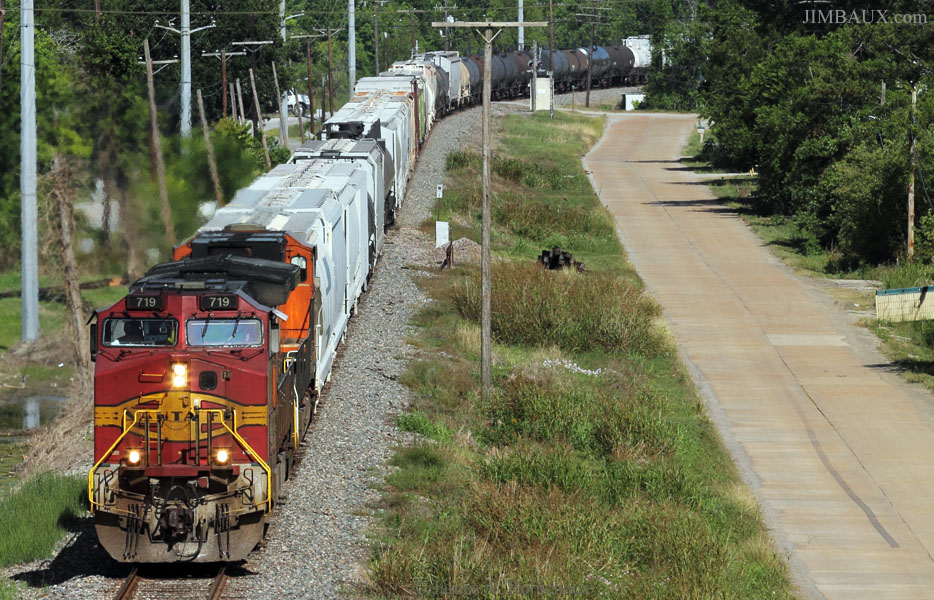 As the subheadline above the picture suggests, as I was cooking this photo in the kitchen (after shooting it out in the field), I added some seasoning, particularly to the face of the locomotive, so that my interpretation of it would be how I remembered it.
Some of you may be wondering why I did not crop out that big pole to the left.  The answer is very simple: locomotive shadow.
A few minutes later, we're back at that new shot I did for the first time on 4.20, and, looking at this picture, you're probably wondering, as you wondered with other recent pictures, especially given your knowledge of my previous pictures, why I am standing at ground level for this shot of the westbound Z-train, just like you might have wondered a few weeks earlier why I needed a short ladder for a shot in Arkansas.  Shouldn't this be one of those places where I climb a top my truck?  What in the heck is going on here?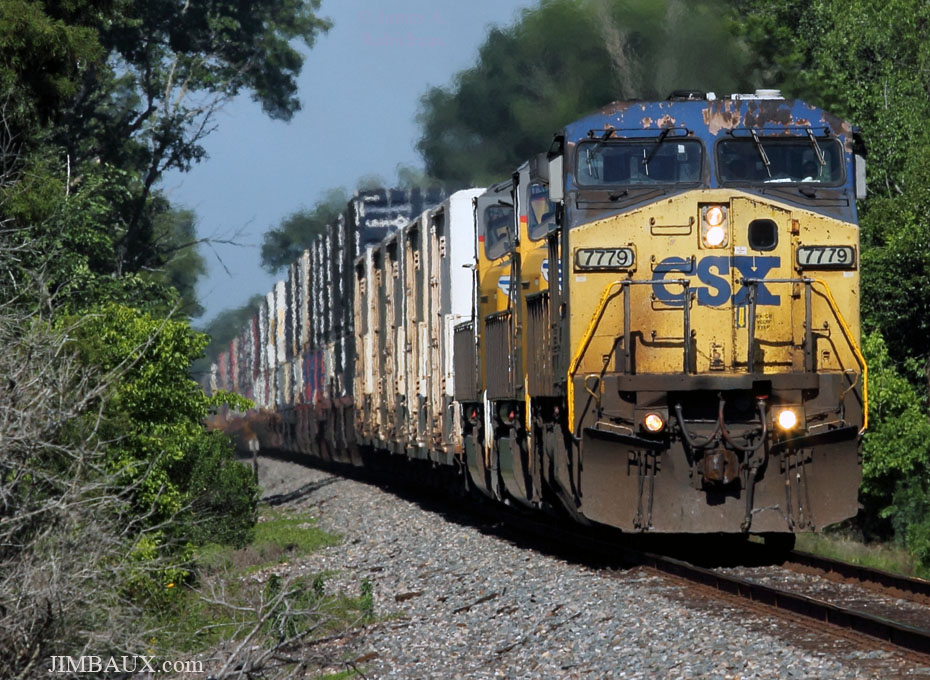 Holy hell, now that's a battered locomotive, isn't it?  I wonder, does it have a bright future?
Tidbits And Promotions
Godsmack And The NOGC
Y'all remember the saga with the "terrorism" stupidity on the New Orleans & Gulf Coast Railway last fall, right?  Well, check this out.  Y'all might have seen that I went to the Staind-Godsmack show in New Orleans two weeks ago.  I convinced my foamer-woadie Nitro to come along with me.  I was in the bathroom after the opening act (Halestorm, in case you care), and when I came out, Nitro was waiting by the door leading to the floor.  I could see that he was talking to two dudes, and one face looked a bit familiar.  Nitro later told me that he told them before I came out, "You won't believe who I'm here with."
"Hey, I'm the terrorist," is what one of them told me as he outstretched his hand to me and smiled!  No, it was not the conductor trainee who uttered those infamous and immortal words to me that October day, but it was the engineer on that train.  The other young man was one of his NOGC coworkers, and I had recognized his face from some pictures.  We talked about that incident briefly, with Nitro saying that stuff like that is "rampant," and me telling them that some stuff like that has happened to me since then.  I then asked just general stuff about the railroad.  They told me about how the GP7s are not long for this world; I'm not surprised, as I saw them all together in the yard in Belle Chasse a couple of months ago.  Isn't it great that I at least got a few shots of them in the fall?
The conversation would have lasted longer, but then the lights in the arena dropped, and I was the first to powerwalk out there to get in position for Staind!
The concert was totally awesome as expected, and Godsmack was intense as it always is, this being the third time I've seen/heard the band live.  Can you believe Jimbaux was tearing it up in the moshpit?  Nitro saw it with his own eyes, and he still had trouble believing it.
In Sickness And In Health
Thanks to those who wrote to me regarding my sickness in the last few days.  I went to the physician yesterday but still am in great pain, and I've been a useless, unproductive slouch since Thursday evening.
I'd actually write more, but this post is getting long enough.  Wait, it's the anniversary of bin Laden's death?  Oh, man, I've been planning a big post relating to that.  I need to get to it!
Y'all be good, and don't engage in any "shenanigans" lest ye be unforgiven.
Merci,
Jimbaux